2
3
PUBLISHER'S LETTER
Ilove my job. Actually, I am obsessed with my job. I get to travel to different places, photograph amazing people and build magazines and Times Square billboards out of what I photograph. After 15 full-time years of photographing people, my mission is not only make amazing memories with models, but to help them to create their own legacies and lasting imagery. After all, that is what the people I work with on the day-to-day do for me.
The legacy of my brands really does begin with these three inspiring people you see on this very special cover of Epic Fit Magazine. Jennifer England, Jamaal Lewis, and Yvette Kingston. I have soul-ties with each of them, and as you're reading through their stunning (if I do say so myself) pictorials you'll discover why each one of them individually has made SUCH a massive impact on my life and what I've been doing for the past 15 years.
SARAH L. GLABMAN PUBLISHER AND LEAD PHOTOGRAPHER EPIC FIT MAGAZINE
EpicFitMag.com
Getting back to the "obsession" part of what I do, as life would have it, my husband and I were actually on "vacation" when I did this shoot. We live in beautiful Scottsdale, Arizona, which is more-thanperfect 7 1/2 months out of the year. The summertime, however, can be a different story. Because it's so HOT! We decided to carve out the month of August and go to Carlsbad, California, where our great friends live 6 months out of the year. The idea was to relax. Well, if you know me, my brain is not exactly wired that way! I know I will have plenty of time to relax in the future, and I will take full advantage of that when it's time. But during this trip, I NEEDED to do this photo shoot. I was in Southern Cal, and these 3 people I NEEDED to shoot were within 2 hours of me. So, we made it happen! (Thank you to my husband Barry for your patience with me!)
Carlsbad did us proud! I am so incredibly happy with the outcome of this very special and PERSONAL edition of Epic Fit Magazine THIS is what I stand for. Connection, friendships, honor and most important, leaving a legacy behind.
Please enjoy this special edition of Epic Fit Magazine, and the stories of each person who made this issue possible!
Special thanks to my wonderful husband Barry, my best friends Kyla Dyas and Jerry Zarnekee for coming to assist me that day, Leiah Scheibel for coming to Carlsbad to do amazing hair and makeup, (and also man-glam on Jamaal!) Amigo Studio in Carlsbad for the use of your creative space, and lastly, special thanks to YOU our readers!
@Ky3944 @jzbling @leiahscheibel
@Amigostudiooceanside @Bodyscapemagazine
Hello readers!! Can you see yourself on the cover of Epic Fit Magazine? We would love to hear from you! Send us an email to BodyscapeMag@Gmail.com.
6
KERRIE LEE BROWN EDITOR-IN-CHIEF
First and foremost, I'd like to wish everyone a very Happy New Year and all the best for 2023! I have a feeling deep down in my gut that the next 24 months are going to be filled with love, laughter and a whole bunch of excitement for us here at Epic Fit and for you too.
With that being said, this issue is a very, very special one. A first of its kind!! Sarah Lyons Glabman has brought together three of the most sought-after model personalities to photograph for this cover and the inside feature – and we are tickled pink with the final result!
I am also honored to be the one who got to interview Jennifer, Jamaal and Yvette for their feature. It means so much to me to bring our models' stories to life on these perfectly designed pages (thanks Raj). Given all that we have been through over the last couple of years, I think we all need connection, support and selfcare now more than ever. In a world where we live behind devices and keyboards it is necessary to look up and actually connect with others from time to time. After all, it's human nature to desire community and often times we show up for ourselves more if we have a place that encourages us to connect.
That's why this issue is definitely one that I will keep in my portfolio for years to come. Our first-ever "trio" issue brings a lot of joy to my heart because I've been able to make valuable connections. Connections that I will hopefully keep for a long, long time. That's what we do here at Epic Fit Magazine – we create a space that is welcoming and where our cover models are seen for who they are and where they are in life. It's a truly positive process. And that's all because creating quality relationships in a hectic world makes us accountable for our feelings and actions moving forward. It helps us to show up for ourselves stronger because we want to show up for each other.
KerrieLeeBrown.com
I hope you love this issue just as much as I enjoyed helping put it together.
Best Wishes,
Kerrie Lee Brown Editor-in-Chief EPIC Fit Magazine
@KerrieLeeBrown
www.kerrieleebrown.com
EDITOR'S LETTER
EPIC FIT MAGAZINE
@KerrieLeeBrown
@redlilymedia @redlilylife
7
www.redlilymedia.com www.redlilylife.com
THE EPIC FIT TEAM
Editor-in-Chief
www.kerrieleebrown.com
Kerrie Lee Brown is a globally recognized magazine editor, author and women's health advocate. She has worked in media for 20+ years, most notably as the editor-in-chief of Oxygen Magazine. Kerrie is also the founder of RedLily® lifestyle brand and offers professional content services.
Sarah Lyons Glabman
www.bodyscapemag.com
Sarah is an award-winning photographer that has been photographing some of the most popular physiques in fitness since 2008. In 2018, she took a leap of faith and launched BodyScape Magazine. The popularity of that magazine catapulted her to create Epic Fit Magazine, a BodyScape Magazine special edition that comes out twice a year. Sarah is also the founder of EpicDestinationShoot.com. A lot of the content for both of her publications is photographed on her Epic Destination photoshoots.
Art Director & Graphic Designer
www.bodyscapemag.com
Raj is the Art Director for BodyScape Magazine as well as BodyScapeMag.com. Raj is a success-driven designer with his client's goals at the forefront of his mission. He generates design projects from inception to creation and he translates business requirements into effective advertising campaigns.
Epic Fit photographer and publisher
Kerrie Lee Brown
Rajpoot Talib
8
CONTENTS
PUBLISHER'S LETTER – PAGE 6
Epic Fit Magazine Publisher and Lead
Photographer Sarah Lyons Glabman provides her expert insights on this VERY SPECIAL ISSUE
EDITOR'S LETTER – PAGE 7
Epic Fit Magazine Editor-in-Chief Kerrie Lee Brown inspires readers with her thoughts on interviewing this issue's "TRIO" featuring three models for the price of one!
MEET THE TALENTED EPIC FIT TEAM
PAGE 8
Get to know the amazing people who put this magazine together. We're small but mighty!
INTRODUCING THE FABULOUS TRIO
PAGES 10-11
Introducing our amazing Epic Fit Magazine cover models! The team that dreams are made of.
By Kerrie Lee Brown
HOW THIS EPIC FIT PHOTO SHOOT CAME TO BE – PAGES 12-13
Exclusive interview with Sarah Lyons Glabman about her experience shooting our three models. By
Kerrie Lee Brown
COVER MODEL INTERVIEW #1
PAGES 14-27
Meet the STUNNING Jennifer England. By
Kerrie Lee Brown
COVER MODEL INTERVIEW #2
PAGES 28-47
Meet the TALENTED & CHARISMATIC Jamaal Lewis. By
Kerrie Lee Brown
COVER MODEL INTERVIEW #3
PAGES 48-55
Meet the GORGEOUS Yvette Kingston. By
Kerrie Lee Brown
10 14 28 48
9
10
THE TEAM that dreams are made of…
What do Jennifer England, Yvette Kingston and Jamaal Lewis have in common? (Besides being amazingly hot and super photogenic?)
Each of them contributed to massive landmarks on Sarah Lyons
Glabman's photography career, which led to creating two amazing magazines! They also made a HUGE impact on her life in general.
Read how this "dream team" met Sarah individually, and discover how this stunning tribute edition of Epic Fit Magazine came to be.
Photography/retouching: Sarah Lyons Glabman @BodyscapeMagazine
Hair and makeup/man glam: Leiah Scheibel @Leiahscheibel
Assistants: Kyla Dyas and Jerry Zarnekee @Ky3944 @Jzbling
Studio location: Amigo Studios Oceanside, California @Amigostudiosoceanside
11
HOW THIS EPIC FIT PHOTO SHOOT CAME TO BE
My interview with Sarah Lyons Glabman, Lead Photographer for the first-of-its-kind Epic Fit Magazine Photo Shoot!
BY KERRIE LEE BROWN
KB: How did you feel shooting the "trio" cover?
SLG: Shooting this cover was incredibly personal to me and I felt...accomplished.
KB: What was your time like on set? Must have been super exciting.
SLG: It was a beautiful day in Carlsbad, California. I had rented a cool little studio in the middle of town, and Jen, Jamaal and Yvette all met me at the studio. It was the perfect setup to capture their cover! I had my best friends Kyla and Jerry come in to assist me as well.
KB: Sounds like the shoot was almost like a "family affair" atmosphere?
SLG: Yes! We shot two different looks of each of the trio at the studio to start things off. We were VERY fortunate to have a professional stylist on hand and he provided all of the in-studio wardrobe. The fabulous Leiah Scheibel flew in from Phoenix for everyone's glam. Then we were off to the beach to capture some serious hotness of all three models individually and as a group. Carlsbad did not disappoint for this shoot!
KB: Why does this shoot in particular mean so much to you?
SLG: There is a reason why I call this issue "History in the Making". All three of these beautiful people have helped
to shape my career as a photographer, even long before I became a photographer.
KB: That's amazing to hear. Tell our readers something about Jamaal that only you would know.
SLG: I will say that Jamaal has come a long way from when I met him in his early twenties. We both used to go out in old town Scottsdale frequently. He has completely turned his life around and I am so proud of what he's accomplished in his career.
KB:
How did you meet Yvette?
SLG: She's amazing! I met Yvette in LA when Jen told me she was "bringing her friend that loves my work and really wants to shoot with me". I had no idea it was going to be "the" Yvette - the Frederick's of Hollywood model who inspired ME to get into modeling in the late '90's. I was floored and honored at the same time.
KB: How did you and Jennifer England meet back in the day?
SLG: Officially Jen and I met at the Hawaiian Tropic Nationals in '97. Jen was the reigning Miss Hawaiian Tropic and I was competing for the title that year. Our meeting there was brief. Then we were both on the same set on a shoot we did in LA about ten years later and we reunited. We've been friends ever since and the rest is history.
12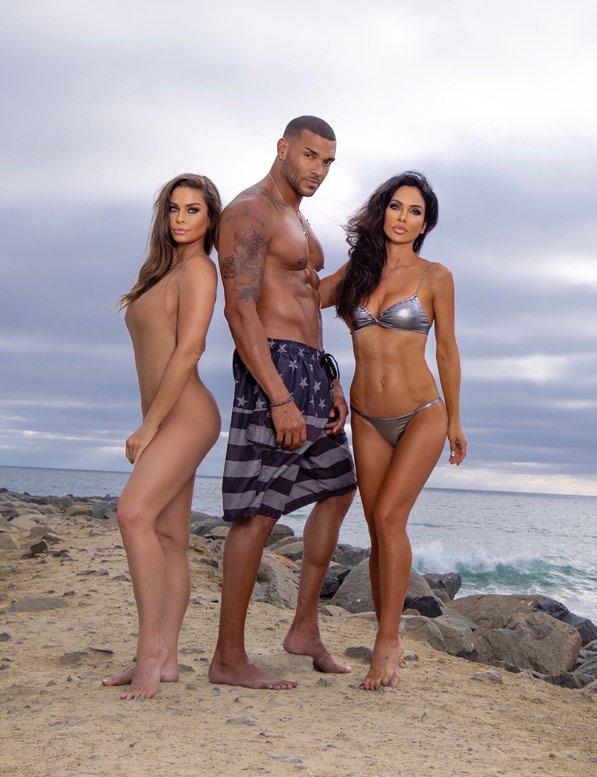 13
14
The Stunning Jennifer England
At 44 years young, Jennifer England has it all: Beautiful looks that I would personally die for, but more importantly, a positive outlook on life that many people are missing these days. She's a pleasure to interview and an inspiration to those who know her full story. I'm grateful to be the one to shed some light.
Jennifer is one of those women who shines bright no matter what difficulties come her way. She's also always there for her friends – even on the darkest of days. That's why when her life took a turn for the worst after being in a car accident at no fault of her own, Jennifer's positivity and faith came into play more than ever.
Having previously graced the cover of Epic Fit's sister publication BodyScape Magazine - Jennifer is a hero to many in print and on the screen. However, simply saying that she's a "hero" because of her accomplishments is an understatement. She's a true survivor in every sense of the word.
As a seasoned model and stunt double in LA, Jennifer's strength and determination shines through in everything she puts her mind to. Not only is she brave, courageous and smart as a whip – she's someone you'd definitely want on your side. She's also extremely passionate about living life to the fullest and tries to be a better version of herself every single day. Loyal to a tee and funny, this breathtaking Epic Fit cover model has conquered the world in her own way and come out on the other side through her faith and fitness.
On the next few pages you'll read a little more about what Jennifer England says about her life so far, which covers the aftermath of her horrific crash and her face being disfigured, to jumping back into work with an outlook and energy that's absolutely infectious.
Thank you, Jennifer, for being a part of our "epic" trio issue!
Kerrie Lee Brown Editor-in-Chief EPIC Fit Magazine
15
INTRODUCING OUR COVER MODEL Jennifer England
KB: Tell us a little bit about where you're from and how you ended up in LA?
JE: I moved from Michigan to Los Angeles about twenty years ago. I knew the small-town life wasn't for me long term so I had to make a change; and I'm so glad I did.
KB: How did you come to meet Sarah Lyons Glabman?
JE: All I can say is that Sarah is awesome and her lighting is amazing on set. I started modeling and won the Hawaiian Tropic contest in 1998 when I was 18 years old. I then went on to win international and moved out to LA when I was twenty. Sarah and I met modeling. We shot together way back and then during one of our photo shoots she wanted to do some digital work. We have a good soul sister connection. She's great to work with.
KB: What do you do for a living?
JE: I've been a professional model for two decades. Then, I started doing commercials and stunts as the opportunities came to me. Now I work for a very popular plastic surgeon in Beverly Hills.
KB: How do you fit a full-time job in with your modeling?
JE: I mostly model on the weekends and right now I'm in talks about partnering in a gym with a friend who has facilities already open. But, that's all hush-hush. Nothing for sure. I'm like that – always looking for the next exciting thing and something new to sink my teeth into.
KB: I heard about your terrible accident. Where were you working when that happened?
JE: I started working at Warner Brothers as the Executive Assistant to the Showrunner when I had my car accident. It seems so long ago now, but at the time it was a lot to deal with, especially since I had a chipped tooth and my face went through the windshield. It's all healed now but it took a lot of surgery and mental healing to get through it all.
KB: When did this all happen? How did you get through it?
JE: Three years ago. My knees were also broken and I couldn't move my wrists, so I was in rehab for months. The physical injuries I knew I could get through, but the mental healing was the tough one for me. My PTSD didn't kick in until weeks later – and was awful because I had to keep reliving what happened. My ex was driving at the time. But, I was really lucky that all my friends and family helped out. They sent me things all the time which helped with the healing process. I remember I took my supplements, ate well and did what I was supposed to do, and of course I regularly saw my doctors who were a great support system.
KB: Any important lessons learned?
JE: Yes, many! But, one great thing that came out of it was that I met my current employer, the unbelievable plastic LA surgeon Dr. Ben Talei. I can't thank him enough for everything he's done for me and my reconstruction and for also giving me a job where I can now help other people who don't feel confident in their own skin for different reasons. I love what I do. You see and hear so many different stories every day. I just want to help people be happy.
KB: Jennifer, that's awful to hear about what you went through with your car accident. You've shown great strength during the healing process. You're truly an inspiration.
JE: Thank you. Yes, it was extremely tough but my car accident was nothing in comparison to losing my father two years ago and then my mother just a year after who was my best friend.
KB: I'm so sorry to hear. I know exactly how you feel as I've lost my mother who I was very close to. How are you doing?
JE: She passed away from cancer just last year in 2022 after an extremely courageous fight. She is the strongest yet sweetest person that I've EVER met. 2022 definitely taught me that life is short so always live life to the fullest and never take anything for granted. It has taken my faith/ God as well as the universe and my family/friends to get me through it all. And it honestly took Sarah's photoshoot to get me motivated enough to get in front of a camera again because I knew I had to "show up." I firmly believe that showing up for yourself and others is what we're supposed to do for family/friends. It's what we need to go through the healing process during the difficult times and come out on the other side stronger.
KB: Wow. You've had to go through a lot of healing mentally, physically and emotionally over the last few years. Is that why you believe in living a healthy lifestyle?
JE: No, I've always loved working out. I train 3 days a week because I work full-time and I'm typically at the gym at 5 a.m. and at the office by 8 a.m. Sometimes I go after work if I don't have anything to run to. I just love waking up when it's dark outside and early because I have so much more energy in the morning.
KB: What are some of the jobs you've landed in the entertainment industry that stand out? And why stunts?
JE: I have always been athletic and I guess you could say flexible. One day I auditioned for a TV commercial for Xbox and the casting director asked us to kick and punch, which I can do well. I got the job. After that I worked with a celebrity stunt coordinator who used to call me up for jobs he heard about around town. He knew my physical abilities and strength to do certain fight scenes. Once you get in they start calling you. That wasn't through an agent.
KB: Very cool. Are there any stunts you won't do?
JE: I won't jump out of a building. Everything I do I have to do 100 percent so that's one that crosses the line for me. I have to feel comfortable with what I'm doing knowing that I can give my all and get the job done perfectly. I guess you could call me a perfectionist in that way.
KB: Did you grow up in an active household?
JE: Yes! I have two brothers and we used to play tackle football all the time. I was the only girl but probably the toughest. Just kidding. I also played softball and was a competitive swimmer. I also love to run. I was kind of a Tomboy. Working out and exercise – being physically active – has always been a huge passion of mine.
20
21
22
KB: What else do you love to do?
JE: I love weight training. My favorite body parts to train are my legs and glutes. I also like full-body workouts and also kickboxing. It keeps me fit and energized.
KB: You must eat well then. Anything you'd like to share on the food front?
JE: Yeah, I eat super clean but I love pizza. I am mindful of my calories and when (or if) I have a cheat day during my week. When I am being really good and watching what I eat for a photo shoot or an audition, I write my own meal plan. I usually have a cheat day here and there – and some weeks I change things up for variety and to keep me on track. Before I was always photo shoot ready 24-7 but as I've gotten older I let myself relax a little bit. The good thing is that I know my body and what I need to do to get ready in a pinch.
KB: Well, you looked AMAZING for the photo shoot with Jamaal and Yvette. What was your experience like working for Epic Fit Magazine?
JE: Any time I work with Sarah it's an incredible experience. She's an amazing photographer and everyone's energy was amazing on set. I can't thank the crew enough for having me! It was also cool shooting with two other people. I feel it's easy to model on your own in front of a camera but shooting with other people is different because of people's energy. That day I could have shot all day long. All three of us had amazing energy and Sarah's enthusiasm really set the tone for the photos. The outfits were also amazing.
23
24
25
KB: Any inspiring words for our readers?
JE: I think my advice is to try and always leave people happier than when you met them. We wake up in the morning and are very appreciative and grateful. And in my case, I am grateful that I survived my crash. We had a Jeep and a Pria at the time. The cop who came to the scene said that if we drove the Pria, we wouldn't be here today. So, I pray a lot and remind people to practice gratitude for what they have and who they have in their lives. Be thankful!
JENNIFER'S FAVORITE QUOTE:
Contact info
@jenniferengland11
Don't look down on anyone unless you're helping them up." - Jessie Jackson
26
27
28
The Talented & Charismatic Jamaal Lewis
To say Jamaal Lewis is a stud is nothing but malarkey. He's much, much, MUCH more. Jamaal is a huge commodity right now in the entertainment world – and it's not surprising with requests from such stars as Beyoncé, Muni Long and Saweetie (among a multitude of other celebrities) to appear in their music videos and films. He's also got a part in the upcoming Barbie movie starring Margot Robbie and Ryan Gosling, which is scheduled to release in July 2023. He says he was ecstatic when Will Farrell came up to him on the set and actually knew his name. But, why wouldn't he know? Jamaal also has a part in 80 for Brady starring Tom Brady, Sally Field, Jane Fonda and some other heavy hitters. He plays an ex-NFL player who catches a pass from Lily Tomlin. Now, I'd say that's super cool.
What can't this guy do? Well, if you ask him, Jamaal denies ever having a taste for film or fashion as a youngster, but after an unexpected football injury, Jamaal set his eyes on acting and modeling after a nudge from an ex-girlfriend. And, not surprisingly, he killed his first audition and landed a national television commercial. The rest is history.
At 38, he's already accomplished more than some people do in their lifetime – and he's grateful for everything that's come his way. But, his career highlights don't come without a lot of hard work, dedication and goal setting. Jamaal is just a mountain kid from Colorado he says, but his diligent work ethic (and undeniable good looks) have made the perfect combination for what movie producers, music stars, and top model scouts are looking for these days.
Originally, Jamaal met Epic Fit's publisher and the photographer of this issue, Sarah Lyons Glabman, through mutual friends. A lot of time has passed since then and life has changed dramatically for both, but today they're still connected through the limelight. If you ever run into Jamaal or Sarah, make sure to mention the "blue drinks" – an inside joke that immediately set the stage for this incredible cover shoot.
As you can imagine, Jamaal's a natural behind the camera. You can also get a glimpse of his personality in video on his popular social media channels. He's certainly no stranger at motivating others with his workouts and clean eating.
Sarah was the first professional photographer he had ever worked with back in the day. Interesting fact: Sarah's desert oasis photos from over 12 years ago are still used in his portfolio. This goes to show how timeless Sarah's photos are and how much staying power Jamaal has in the business. It's all about the connection in front and behind the camera.
29
Jamaal is also an entrepreneur. In 2008, he started his own clothing line, Stay Blessed, when a friend reminded him just how "blessed" he was. Stay blessed! So, out of interest in the clothing industry and a high demand for comfortable clothes with a positive message, Jamaal set out on a new path. Not long after his launch, he was elated to find out that Jamie Foxx was wearing his designs. Ever since, Jamaal's been promoting his trademarked brand because it's the perfect thing to keep him going after his dreams. He created and designed it himself and says it's what snapped him out of a funk back in the early 2000's. Too much partying and women could have done him in, but with God's encouragement he turned a dark corner and started to see the light. "Everyone has their own journey that they have to experience in their own way."
Jamaal's family is also very tight. They live in Colorado Springs, Colorado (where Jamaal grew up) and they've been his die-hard support system over the years. His dad is in the air force and particularly had a huge impact on his life growing up. Perhaps that's where Jamaal's discipline comes from. He still remembers being picked on as a kid and has dealt with bullies in some form or another all his life. However, his parents taught him to stay strong mentally and physically to get through the rough times – and it helped.
For years Jamaal was just a kid who played the tuba (he wanted to play the saxophone but the band teacher said he was too big!) and after school he'd go straight home to eat and sleep. No exercise. In fact, he had no interest in football until middle school. After gaining some notoriety in high school for his skills on the field, Jamaal got picked up by Arizona State University to play D1. While in Arizona Jamaal remembers he was a typical football jock. He came from being bullied as a kid to being in the limelight and was cocky. "I basically went from a band geek to D1 athlete overnight." But, today Jamaal's back on track and prefers to stay humble.
Jamaal says it was his family's love and faith growing up that helped him realize the benefits of being positive. To this day, he keeps his family close to his heart because they always believed he would inspire others. With that being said, I hope you enjoy the rest of my interview with Jamaal Lewis. What a pleasure it was to get to know him for this sensational issue of Epic Fit Magazine and hear his personal stories about life, love and living to stay blessed.
Thank you, Jamaal, for being a part of our "epic" trio issue!
Kerrie Lee Brown Editor-in-Chief EPIC Fit Magazine
30
31
32
KB: How did you get into the entertainment business?
INTRODUCING
OUR COVER MODEL Jamaal Lewis
KB: Where are you from?
JL: I'm currently living in Los Angeles, California but I am originally from Colorado Springs, Colorado.
KB: What are you mostly passionate about?
JL: LIFE! I think it's so important to focus and be passionate about the most important thing that most of us take for granted - and that is life itself and walking in my purpose.
KB: What makes you get up in the morning? What gets you excited?
JL: I'd have to say my lifestyle. I don't work a typical 9 to 5 job and I love it. I chose to follow my dream and become everything that God wanted me to be, which honestly has been a very difficult journey but that is what makes it so exciting.
KB: You seem like a very determined person. Someone who goes after your goals and achieves them no matter what. What is your mission in life? Your purpose?
JL: My brand Stay Blessed. It's my purpose. My passion. I believe it's my unspoken ministry and my way to shine in this lifetime. It's not only my light but God's light onto people and situations in a very delicate manner.
JL: Honestly, it was never even a thought in my mind. In other words, I never aspired to become an actor or model to be honest. When my football career was over I really had no direction and didn't know what I wanted to do with my life because football was always my life. It's all I did growing up in high school, at the collegiate level, and then a short stint in the NFL. The young lady that I was dating at the time is the one who actually suggested that I should try modeling. And, to be honest, I don't think I've ever laughed so hard in my life. But, I guess she was right. It's what I do now for a living and I am loving it.
KB: What exciting projects are you currently working on?
JL: Well, let's put it this way, 2023 is going to be a huge year for me! I'm super pumped about being cast in the new Warner Bros. Barbie movie and 80 for Brady, featuring Tom Brady and a ton of amazing female actresses that I was truly honored to meet. Both of these much-anticipated feature films will be released in theaters soon. It's actually a dream come true that I am still thanking God every day for. I can't believe it's all happening the way it is, so believe me, I never take a single day for granted. I am grateful for every opportunity that comes my way.
KB: What are some of the hardest things you've dealt with in LA?
JL: There are some very evil people in the industry living in LA – we are living in a spiritual warfare. To be honest, I'm going through an important season in my life right now. I'm in a state of solitude. The devil will always try to get to you, but I keep on pressing. The way I stay grounded and stay inspired is through my faith and keeping positive people around me. But, the good news is that I just signed with a new manager and things are looking up that's for sure. I feel like I'm already living my dream. I just want to be comfortable and have fun at what I do.
33
34
35
KB: Why did you decide to shoot for Epic Fit Magazine? How do you know Sarah Lyons Glabman?
JL: Sarah and I go waaaaaaay back. We've been good friends for years. In fact, Sarah was the first professional photographer that I shot with when I decided to further my career.
KB: How was the photo shoot? Describe the day.
JL: Whenever Sarah and I get together to shoot the best way that I can describe it is that we produce magic. Put it this way, it's very hard when she sends the proofs and I have to go through them and select just a few for her to edit and display, because there are literally so many good pictures. She does such a fantastic job! She's great to work with and I'm sure we will remain good friends for the rest of our lives.
KB: Do you have a message you'd like to share with our Epic Fit readers?
JL: Yes, sure! I reached a point in my career a while back where I was experiencing a little bit of heat – or jealousy - and even some envy from people around me. Over the past couple years, I have dealt with people lying about me, my name, and my motives that I used to be so close with. It was extremely disheartening and sad not to be able to trust people. This was really hurtful and I'm sure we all go through something similar to this. Not all people are who they seem. So, my advice in situations like this is to never stoop to their level and return evil with evil. Continue to glorify God and everything you do on the day-today and He will take you to a level where these lies will not only be exposed but you will become untouchable. In other words, they won't be able to hurt you anymore. You have to learn to rise above it all.
KB: You've already achieved so much from your football career to your time now in LA. What are your future aspirations in life? Do you have any next steps?
JL: Personally, I think it's really important to set new goals all the time, so you have something to strive for in your life. I used to do it all the time but I have achieved things that I couldn't even imagine achieving when I started off in this industry, so my biggest goal right now is to continue just being a good person and follow God because the industry that I'm in is very dark and people can get lost in it. Believe me, it's a challenge to stay motivated in this industry, so my primary goal is to stay level-headed amongst the chaos.
36
37
38
39
40
KB: What is something you truly believe in and why?
JL: Faith and family. I wouldn't be where I am today without those two things in my life. They have been the most important staples in my life, and the most consistent things that I have to rely on.
KB: Tell us about your fitness regimen. How many times do you work out a week?
JL: Being a former football player, the importance of working out and remaining healthy was instilled in me at a young age. So was maintaining your body in order to be able to perform. The same applies today as I get booked for a lot of jobs where I have to be shirtless or even put the football pads back on which is pretty cool. So, my fitness is very important to me as a whole because it keeps me healthy and working.
KB: What about your nutrition plan? Do you have a trainer?
JL: I am grateful to have recently partnered with Meal Prep Kingz, which is a healthy meal prep company based here in Los Angeles. Meal Prep Kingz believe in maintaining a healthy lifestyle and BMI through wholesome eating routines. They take care of my nutrition so I don't even have to think about it. My amazing girlfriend also keeps me super full since she loves to cook and feed me. I am super blessed.
KB: Is there anything else you'd like to share with readers about your health and wellness routine?
JL: Just that anything is possible if you put your mind to it. I know it's hard to believe but growing up I was a short, overweight, out-of-shape fat kid who got picked on. So, if I can do it, so can you! Anyone can with perseverance and a good attitude.
KB: What's your favorite body part to train? Looking at your photos, I think I can guess...
JL: Abs baby!
41
42
43
KB: Can you share a few tips for getting and staying in great shape?
JL: There's no real secret to my success – I just know what works for me and my body. I am no fitness scientist either. I do know, however, that being consistent with your workouts and eating healthy is the way to go. I also like cardio as you can probably see from my social media videos. I like to look at my body as my temple. If you put your mind to it, your body can change in so many ways. You just have to stick with it and you can build or subtract what you want along the way. My #1 rule is consistency.
KB: Lastly, you are an inspiration to a lot of people. But, what inspires you?
JL: What people see is so surface. I realize now when I look back that I could have used my platform for good when I was playing football, but I didn't and some bad habits caught up with me. I came to finally realize that I used my sport as protection from showing my vulnerability. So, I'd have to say that knowing everyone gets a second chance is what inspires me. It wasn't until after I launched my clothing line Stay Blessed that I understood God has given me my platform back to do good things.
44
45
46
Jamaal's favorite Quote:
I can do all things through Christ who strengthens me.' That simple quote has pulled me out of so many funks that I can't even count that high.
Jamaal's favorite song:
Right now it's the song Baby Boo by Muni Long and Saweetie because I'm the lead in the video! Believe me, it's definitely a surreal feeling watching yourself in a music video while you're lifting weights at a 24 Hour Fitness.
Contact info
@officialjamaallewis
47
The Gorgeous Yvette Kingston
Next, I'd like to introduce you to someone who is pretty and personable all rolled into one. Yvette Kingston has worked as a professional model almost all her life. She was scouted by a model agent in a shopping mall at the age of 17 and has traveled the world booking jobs ever since. Although this might sound like something out of a movie (or every teen girl's dreams) it is actually true. And, we're not surprised. Just look at these beautiful photos taken by the talented Sarah Lyons Glabman. They're absolutely gorgeous!
Throughout her career, Yvette has elegantly graced the pages of numerous health, fitness, fashion and lifestyle magazines – and has also been featured in a variety of exciting advertising campaigns across the country. In fact, she was on contract with Frederick's of Hollywood for over a decade! Her unique, freshfaced beauty has become synonymous with a plethora of high-end beauty brands; and her unrivaled work ethic has been awarded and recognized across the globe.
She has traveled coast to coast in the United States to model as well as abroad to Japan, Spain, Italy, France, Greece, and even South Africa on contracts from various global agencies. At the end of the day, I'm sure we can all agree that she's got natural good looks that would appeal to any international audience, plus a perfect beach body that any of us on American soil would die for. After all, versatility is key in life and in the modeling world.
Today, Yvette is still one of the most popular models on the circuit in LA and that's because she never disappoints! Whether she's in a studio modeling jeans and a t-shirt doing the casual look or on a beach in something that's barely there (omg those curves!) Yvette handles it all in stride. She's a professional through and through. Oh, and did I mention she's also a singer?
Just look at her on the cover of this month's Epic Fit Magazine with her famous counterparts Jennifer and Jamaal! We are so lucky to have Yvette participate in our first-ever "trio" issue. This is a HUGE milestone for everyone involved! On that note, I guess one way to describe Yvette Kingston is "east meets west" because she was born in New York but has spent most of her time living in California. But perhaps an even better way is to simply say that she's one-of-a-kind. Yvette was the perfect person to include in this issue.
So, without further ado, I hope you all enjoy this quick interview with Yvette that I was able to capture with our stunning cover model. She's one busy lady! (Little secret: This was coordinated during multiple auditions while she was on the road, literally!)
My hope is that you get a little glimpse into Yvette's exciting world of modeling, pets and clean eating that perhaps you've all been wondering about – and that her photos provide the inspiration you need to work towards your own goals. Enjoy!
Thank you, Yvette, for being a part of our "epic" trio issue!
Kerrie Lee Brown
Editor-in-Chief EPIC Fit Magazine
48
49
50
INTRODUCING OUR COVER MODEL Yvette Kingston
KB: Tell us where you grew up?
YK: I was born in New York and moved to California when I was 10 years old. Right now I live in Los Angeles.
KB: What are you passionate about?
YK: I have a few passions actually. I love nature, running, hiking, singing and art, but I would have to say that animals are at the top of the list. I love them more than anything and plan to have an animal sanctuary one day. My fur babies are my world.
KB: Me too. Animals are such sweet souls. How did you get into acting?
YK: I got into acting when I was 15 years old and booked a few films. Soon after, while I was shopping in a local mall, I got approached by a modeling agent from Wilhelmina Agency to sign with them, which led me to landing contracts all over the world. The next few years, I was getting contracts from other international agencies in Japan, Spain, Italy, France, Greece, and even South Africa. They all wanted me for a minimum of 2-3 months so in order to work. I was homeschooled and graduated at 16 years old.
KB: Wow, that's incredible. How did you land back in the US?
YK: I started off in Japan for three months and after a lot of traveling (and hard work) I started to get a bit home sick and missed my family. So, I decided to come back and base most of my work in Los Angeles.
51
52
53
KB: I heard you're also multi-talented. You sing?
YK: Yes! I love singing and music. I got into singing a bit later in life and did a lot of music out of Nashville, which led to a record deal with Lou Pearlman's label Trans Continental Records. I am blessed to have had all of these opportunities.
KB: Describe the photo shoot day with Sarah and the crew. How did you meet her?
YK: I met Sarah when Jennifer England brought me along to one of her photo shoots. I always loved the work that Sarah did throughout her career and I knew that everytime they worked together -- it was pure magic! So, I wanted to work with her too! I actually had no idea that my Frederick's of Hollywood images from back in the day inspired Sarah to get into modeling herself. I am flattered. I just love how the universe works and how it all came together -- and now we are friends for life! Sarah is such a joy to shoot with because she's extremely talented. I know I'll always get beautiful stuff from her photo shoots. Being on the cover of her gorgeous magazine Epic Fit is a great honor and something that I am VERY proud to be a part of.
KB: How was shooting with Jamaal and Jennifer?
YK: Amazing. I just met Jamaal that day and he was great! Jennifer and I go waaaaaay back and have done a lot of work together. I adore her! She's gorgeous inside and out, authentic, and a true professional.
KB: You're in such great shape! What's your diet like? Do you have a trainer?
YK: I have been a vegetarian since I was 17 years old. I basically eat pretty clean year round. And no, I train myself. I'm a cardio junkie! I love to run and do long distance hikes around the world.
KB: What's on your bucket list?
YK: So many things! But first and foremost I want to continue to grow, take chances and leave people feeling better than before.
Contact info
54
@yvettekingston1
55
56
Everyone is welcome! Aspiring authors, business owners, and anyone with a life lesson to share.
Share Your STORY in Your Own Words RedLily® publishing platform will help turn your "mess" into an important message. Visit redlilylife.com to learn more! JOIN OUR NE WSLET TER!