BHHSChicago.com
OUR PLEDGE TO YOU
We extend our warmest welcome to you. Thank you for trusting Berkshire Hathaway HomeServices Chicago with this most important decision. Count on us for personal service and integrity that will translate into results.
Backed by the most respected name in business combined with our local roots, we are eager to work with you to meet your real estate needs.
With strong, local leadership and the resources of a national real estate powerhouse, our name stands for unquestioned financial strength and smart business decisions. Our affiliation with the Berkshire Hathaway HomeServices network gives us premier international reach from the fastest growing national real estate network.
Our brokers are neighborhood experts, offering an unsurpassed level of service to clients. They are equipped with an impressive array of sophisticated technology tools to help you achieve your real estate goals. Additionally, our brokers have access to a comprehensive suite of real estate services including Fort Dearborn Title, HomeServices Insurance, and Prosperity Home Mortgage. We look forward to giving you the luxury of personalized service every step of the way.
Glass Chief Executive Officer
President of Brokerage
Joe Stacy Senior Vice President & General Sales Manager
Diane
Mark Pasquesi
WE WORK FOR YOU
A globally respected business name, national connections and deep local roots uniquely position Berkshire Hathaway HomeServices Chicago to meet the needs of our clients.
LOCAL ROOTS
Starting in 1930, we have been a part of the Chicago-area real estate landscape consistently providing high-quality representation and outstanding service to generations of home buyers and sellers. From our earliest days in Chicago and Glenview, we have
GLOBAL REACH
Berkshire Hathaway HomeServices is the top real estate brand in the nation. With more than 50,000 agents and 1,500 offices*, we offer an unmatched national and global network.
Our company is built on proven operational excellence, demonstrated integrity and the
become leaders in the brokerage industry by developing relationships with our clients and our communities. Our affiliation with the Berkshire Hathaway HomeServices network gives us unmatched international alliances with brokerages around the world.
reputation of Berkshire Hathaway, one of the world's most admired companies. Our powerful Global Network Platform equips our agents to work in a world that is mobile, online and social, complementing our deep industry expertise and unmatched business knowledge.
OUR COMPANY *2023
A GLOBAL NETWORK OF OPPORTUNITY
50,000+ AGENTS, 1,500+ OFFICES AND GROWING BHHS Network March 2023, map is subject to change along with the rapid growth of the network. Berkshire Hathaway HomeServices Reach CANADA 5 SALES MEMBER CAYMAN SLANDS BAHAMAS MEXICO UNITED STATES ARUBA UNITED K NGDOM PORTUGAL SPAIN TALY GREECE UN TED ARAB EMIRATES INDIA OUR COMPANY
*Chicago Tribune Top Workplaces, Top 3 large companies, 2019-2022 Berkshire Hathaway HomeServices Chicago TOP WORKPLACE CHICAGO 2022*
BEING GOOD NEIGHBORS
The powerful impact that individuals can have when they come together is insurmountable. Through projects like food pantry drives, our annual Toys for Tots effort, and our Community Kindness volunteer event, our agents and employees use their time and talents to serve others.
As good neighbors, we believe in giving back to the communities we serve. The Kindness Foundation was established as the charitable arm of our company. Through fundraising and local volunteer work, we strive to practice kindness and improve the quality of life for all.
Thanks to ongoing contributions from our generous agents and employees, we have granted more than half of a million dollars to charitable organizations.
This non-profit organization offers children with cancer opportunities for positive group activities and emotional support.
Chicagoland's Habitat for Humanity builds homes and strengthens communities through homeownership.
OUR COMPANY
Berkshire Hathaway HomeServices Chicago
Listening to needs Finding solutions Competitive products Superior service
847.853.6655
Full service title services ensure a smooth closing 847.853.6000
CustomerCare@FDTitle.com
Protection, savings, convenience and peace of mind
AHS.com/RealEstate
Berkshire Hathaway HomeServices Chicago's reach extends beyond real estate to offer clients a fullservice experience, with in-house lending, title and insurance partners and home warranty providers. Clients have the confidence of knowing that these affiliated companies share the same high level of commitment and customer service as Berkshire Hathaway HomeServices Chicago. Full service agency Connections to leading providers and products Comprehensive range of coverage options
800.277.0013
Insurance@HomeServices-ins.com
OUR COMPANY
HOME SEARCH IS ONLY THE BEGINNING
As a buyer's representative, your broker has the expertise to help you find the perfect home in the perfect location to meet your real estate goals. Using a blend of high-tech and high-touch tools, we make sure that you get timely information about properties along with local insight, and guide you through the process from offer to closing.
ANALYSIS & SEARCH
Needs Assessment
Property Search
MRED Private Listing Network
Mobile App Search
Broker Networking & Tours
Showing Appointments
Property Viewing & Feedback
Open House List
New Listing Alerts
Updated Pricing Alerts
LOCAL EXPERTISE
Neighborhood Research
Local Knowledge & Maps
School Rankings
Market Trends
Community Reports
NEGOTIATIONS & MANAGEMENT
Contract Insight
Disclosure Review
Offer Strategy
Present Offers
Counter Offers
Home Inspection
Post-Contract Negotiations
Coordinate with Attorney, Lender
Closing Costs Estimate
Reviews Inspection Repairs
Closing
HOME SEARCH
WHERE BUYERS FIND HOMES
PRE-MARKET
Coming Soon Properties
Private Listing Network
InTouch Agent App
FOR SALE BY OWNER
Co-Operating with Agent No Agent Co-Operation
SHORT SALES + FORECLOSURES
Broker Websites
Zillow & Real Estate Apps
Open Houses
INTERNET BUILDERS + DEVELOPERS
HOME SEARCH
REPRESENTATION & RELATIONSHIPS
BUYER'S AGENT
A Buyer's Agent has a fiduciary responsibility to represent only the home buyer's best interest throughout the home buying process.
SELLER'S AGENT
A Seller's Agent, also known as a listing agent, has a fiduciary responsibility to represent only the home seller's best interest through the home selling process. The listing agent is the seller's designated agent.
DUAL AGENT
A Dual Agent represents both the buyer and seller ethically and honestly, safeguarding the confidentiality of both clients. An agent must have the seller's and buyer's permission to act as a Dual Agent.
HOME SEARCH
Berkshire Hathaway FORTUNE World's most admired companies *Fortune – World's Most Admired Companies 2023 **Fortune 500 US Companies ***Forbes – Global 2000, 2022 No.4 FORTUNE Fortune 500 US Companies No.7 FORBES World's largest public companies No.1
FINDING YOUR HOME
BUYER TOOLS
POWER SEARCH
BHHSChicago.com
PROPERTY & PRICE ALERTS
Updates at digital speed
MOBILE
Take search anywhere
PRE-MARKET/INTOUCH
Exclusive Access
MARKET REPORTS
Market and sales trends
NEIGHBORHOOD PROFILES
Everything you want to know
ONE STOP SHOPPING
Mortgage, Title and Insurance work better together
SATISFACTION SURVEY
Your feedback matters
BROKER TOUR & NETWORKING
Connections with the top brokers in the area
OPEN HOUSE LISTS
Plan your weekend search strategy
HOTSHEETS
New properties and prices, daily
COMMUNITY GUIDES
A regional perspective
HOMEMAP
Know where to shop, dine and play
DOCUAGENT
Digital transaction management
HOME SEARCH
SEARCH BETTER
BHHSChicago.com attracts more than half a million visits each year. Flexible property search, incredibly detailed property information, and fast updates, make it the destination to find a home.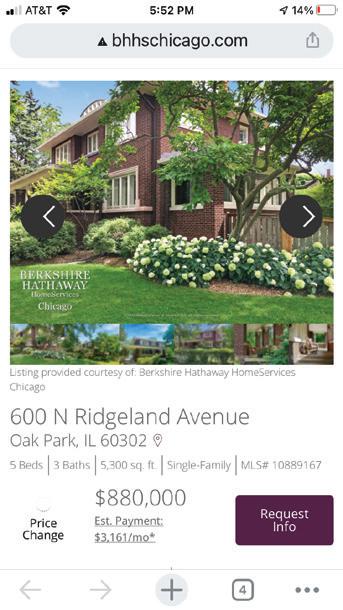 SEARCH
Map Search with Drawing Tools
30+ Filters for Precise Results
Save Favorites & Social Media Sharing
Alerts for New Properties and Prices
DRILL DOWN
Everything You Need to Know
Full Screen Photo View
Room Dimensions
Taxes & Assessments
Schools & Parking
Property Price History
Satellite Map View
Agent Contact Information
THE NEIGHBORHOOD
Population & Economy
Area Sales History
All Nearby Schools
Environment
Quality of Life
HOME SEARCH
BHHSChicago.com visitors come from 50 states and 81 countries. *Internal website analytics, 2023.
WE SPEAK YOUR LANGUAGE
BHHS.COM
BHHS.COM reaches more than one million users from around the world each month. New multilingual search features and pricing conversion for more than 45 currencies help us connect with buyers around the globe and just down the street.
CHINESE LANGUAGE DESTINATIONS
In addition to BHHS.com, we market homes on two international real estate portals to reach Mandarin Chinese speakers. Juwai.com is hosted in China and accessible to an exclusive audience of high net worth Chinese consumers.
MARKETING YOUR HOME
HOMESNAP
AN APP THAT IS AS MOBILE AS OUR BUYERS
Search anytime, anywhere with the Berkshire Hathaway HomeServices Chicago - branded HomeSnap mobile app.
• Instantly see homes for sale or rent nearby
• Snap a photo of a home to find it
• Search by schools or open houses
• Map, satellite and lot line views
• Real-time listing information
• Agent messaging
• Social media sharing
• Weekly neighborhood updates
Ask your agent for their direct download code, or visit SearchBHHSChicago.com.
MOBILE APP
OPEN HOUSE & HOTSHEETS
Daily Hotsheets deliver new listings and price changes to our agents each morning for all Berkshire Hathaway HomeServices Chicago listings. We generate broad exposure for our sellers at these critical marketing moments, and timely updates for our agents working with eager buyers.
Friday afternoon Open House lists help agents map out a weekend viewing strategy for buyers. City and Suburban editions offer sellers a marketing boost to maximize interest in an Open House event.
AT A GLANCE
A POWERFUL BROKER NETWORK
CONNECTIONS WITH THE TOP BROKERS IN THE AREA
Excellence inspires excellence. The power of Berkshire Hathaway HomeServices Chicago is our network of 1,400 real estate professionals and staff. In the company of the most productive brokers in the area, we bring clients together.
RELOCATION - WE MOVE COMPANIES FROM AROUND THE WORLD.
Chicago and our surrounding suburbs are top destinations for corporate expansions. We help that growing workforce find their homes here. Allied with the most prestigious relocation providers like HomeServices Relocation, we are the broker of choice when companies need to move their most valuable asset.
INTOUCH | AGENT APP
Our industry-leading agent app keeps our agents in the know. Only Berkshire Hathaway HomeServices Chicago brokers get exclusive access to select properties in the days before they hit the market - a critical marketing time for both buyers and sellers.
BROKER NETWORKING
NEIGHBORHOOD PROFILES, COMMUNITY GUIDES, HOMEMAP
Getting to know the neighborhood is key to finding your perfect home. Your agent is a local expert, with terrific insight about the community.
COMMUNITY GUIDES
Understand the story and distinct features of individual communities in the region. Informative summaries guide you through the region, so you can quickly get to know what makes each one special.
NEIGHBORHOOD PROFILES
Take a deep dive into a specific community with data about schools and ratings, real estate sales history, an economic outlook and environmental factors.
HOMEMAP
See how close stores, schools, restaurants and community services are to a home. Custom maps show the area features that are most important to you.
AT STREET LEVEL
MARKETING ACTIVITY REPORT
Get real life search stats about buyer demand, along with market metrics and comparable data.
MARKET INTELLIGENCE