AFFORDABLE HOUSING
THE VALUE OF COMMUNITY
As the call for affordable housing increases, so does the complexity and competition across the market. Berkadia Affordable Housing brings a balance of drive, versatility and focus that comes only from deep experience in local, state and federal regulatory and financing environments.
Partnering with Berkadia Affordable Housing comes with our promise to provide clear and steady guidance from start to finish. Whether you're looking to preserve and enhance existing affordable homes or create beautiful new properties, we look forward to partnering with you on this vital mission.
2 BERKADIA Affordable Housing
There's no greater need in the marketplace, and no more important mission for our partners, than strengthening communities by creating affordable housing opportunities for families across the nation."
Affordable Housing BERKADIA 3
DAVID LEOPOLD SVP - Head of Affordable Housing Berkadia
IT'S IN OUR DNA.
Our mission is inspired by our two shareholders who created Berkadia— Berkshire Hathaway and Jefferies Financial Group. Both firms are renowned for their capital strength, sophisticated investment strategies and exacting attention to their clients' diverse needs.
We're honored to infuse our Berkadia values into everything we do. When you work with us, you're more than a client, and more than a partner. You're a member of our family.
4 BERKADIA Affordable Housing
Mortgage Banking
Your projects, of any size and location, benefit from best‑in‑class financing partners and unparalleled access to capital.
Servicing
Get customized solutions and seamless service with our established resources and proven expertise.
Investment Sales
When you equip the right professionals with industry leading insights and tools, the result is better investment outcomes.
Technology
Advanced decision‑making with actionable insights backed by our powerful data.
Affordable Housing BERKADIA 5
6 BERKADIA Affordable Housing
SUCCESS IS NOT PURELY MEASURED BY NUMBERS.
But, they help tell our story: #1
In 2022, Berkadia was ranked Freddie Mac's #1 Affordable Housing lender for the second year in a row.
$1.5 billion
In 2022, we closed more than $1.5 billion affordable housing investment sales transactions, while Berkadia closed $22 billion in investment sales overall.
$3.5 billion
In 2022, Berkadia financed $3.5 billion affordable housing transactions, while our overall loan production totaled $35 billion.
$204 million
In 2022, our tax credit syndication experts closed $204 million of LIHTC equity transactions.
Affordable Housing BERKADIA 7
Growing The Future Of Financing
• Provides tax credit equity solutions for for profit and non profit developers
• LIHTC equity
• Proprietary and multi fund investment structures
• Fund and asset management services
$1.1 billion
Portfolio
165% Portfolio growth since 2015
23 states
In addition to D.C. & the Virgin Islands
10,700 Affordable housing apartments
Tax Credit Syndication 8 BERKADIA Affordable Housing
INVESTMENT SALES
Traditions at Bloomington
Bloomington, Illinois
$39 million
• Garden style property consists of one bedroom floor plans
• Amenities include a fitness center, business center, conference room, two pools, community playgrounds and an outdoor grilling area
396 Units 2004 Built
MORTGAGE BANKING
Sunset Ridge Apartments
Lancaster, California
$108.8 million
• 15 year, fixed rate Freddie Mac acquisition loan, with eight years interest only through the Targeted Affordable Housing program
• Uniquely positioned to satisfy demand for affordable and market rate housing
• Qualified for tax credits in a market with strong demand drivers, creating a compelling investment opportunity
800 Units 1986 Built
Affordable Housing BERKADIA 9
INVESTMENT SALES
Park Western Estates
Los Angeles, California
$62.9 million
• 2.72% cap rate on annualized in place operations
• Partial project based HAP contract subsidizing 104 units (48%)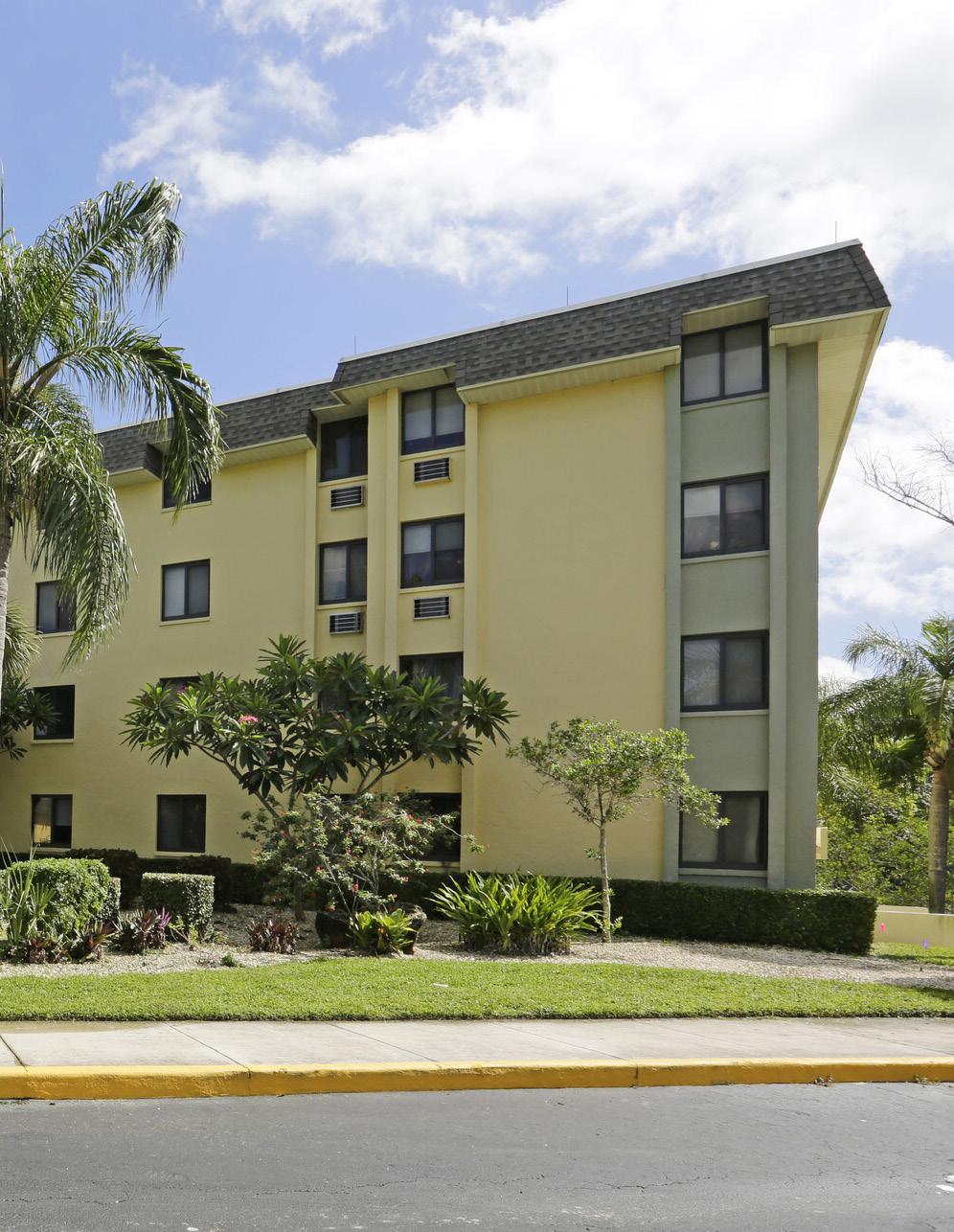 • 112 units were subject to LA City Rent Stabilization Ordinance (RSO)
216 Units 1969 Built
MORTGAGE BANKING
Goodlette Arms
Naples, Florida
$64 million
• Affordable community serving seniors and people with disabilities
• The asset's affordability will be preserved for at least 40 more years, due to the new financing structure
• The debt includes tax exempt bonds purchased by Berkadia and backed by Freddie Mac, as well as low income housing tax credits
250 Units 1970 Built
10 BERKADIA Affordable Housing
TAX CREDIT SYNDICATION
HŌM Flats at 28 West – Phase 2
Wyoming, Michigan
$6 million
• Under construction
• Mixed income, 132 units of high quality, affordable workforce housing and 28 units of market rate housing
• Financing for 28 West includes equity generated from the syndication of 4 percent Federal Low Income Housing Tax Credits
160 Units
Halewai'olu Senior Residences
Honolulu, Hawaii
$45 million
• 156 units for seniors age 62+ earning between 30% 80% AMI
• Halewai'olu Senior Residences is being developed by The Michaels Organization Financed by a construction loan, a RHRF loan, a Freddie Mac TEL perm loan, as well as 4% LIHTC credits and Hawaii State Tax Credits
156 Units
TAX CREDIT
SYNDICATION
Affordable Housing BERKADIA 11
CLOSING IS JUST THE END OF THE BEGINNING.
We're in this for the long haul.
To us, every deal is the start of a new relationship or the continuation of one built on performance and trust.
Our clients are family, and we're relentlessly focused on your long term success.
12 BERKADIA Affordable Housing
Atlanta 3550 Lenox Road Suite 2600 Atlanta, GA 30326 Austin 2500 Bee Cave Road Building 3, Suite 550 Austin, TX 78746 Boca Raton 5100 Town Center Circle Suite 550 Boca Raton, FL 33486 Boise 6255 N.Meeker Place Suite 210 Boise, ID 83713 Boston 10 Milk Street Suite 720 Boston, MA 02108 Bozeman 895 Technology Blvd Suite 102 Bozeman, MT 59718 Brentwood 5115 Maryland Way Office 210 & 211 Brentwood, TN 37027 Charlotte 6000 Fairview Road Suite 1200 Charlotte, NC 28210 Chicago 125 South Wacker Drive Suite 400 Chicago, IL 60606 Columbus 6555 Longshore Street Suite 280 Dublin, OH 43017 Dallas 5960 Berkshire Lane Suite 1000 Dallas, TX 7522 DC Metro 4445 Willard Avenue Suite 1200 Chevy Chase, MD 20815 Detroit 28411 Northwestern Highway Suite 300 Southfield, MI 48034 Irvine 2020 Main Street Suite 200 Irvine, CA 9261 Los Angeles 11111 Santa Monica Boulevard Suite 400 Los Angeles, CA 90025 New Orleans One Galleria Blvd Suite 1900, Office 1921 & 1920 Metairie, LA 70001 Portland 760 Southwest 9th Avenue Suite 2380 Portland, OR 97205 New York 521 Fifth Avenue 16th Floor New York, NY 10175 San Francisco 1 Post Street Suite 1000 San Francisco, CA 94104 Philadelphia Two Liberty Place, 50 S 16th St Suite 2825 Philadelphia, PA 19102 Seattle 601 Union Street Suite 3909 Seattle, WA 98101 OFFICES Berkadia Office Affordable Housing Office Affordable
Affordable Housing BERKADIA 13
Housing Offices
David Leopold
SVP Head of Affordable Housing 301.202.3547 david.leopold@berkadia.com
Investment Sales
Brandon Grisham Senior Managing Director 253.653.3313 brandon.grisham@berkadia.com
Jordan Skyles Director 208.631.4981 jordan.skyles@berkadia.com
Tax Credit Syndication
Susan Moro Managing Director 914.500.9387 susan.moro@berkadia.com
Corine Sheridan SVP Head of Acquisitions 240.204.5125 corine.sheridan@berkadia.com
Brian Blanchard Director 949.610.5377 brian.blanchard@berkadia.com
Jeff Irish Senior Managing Director 208.286.5013 jeff.irish@berkadia.com
Adam Tomberg Director 206.521.7218 adam.tomberg@berkadia.com
Bruce Furniss Managing Director 714.384.3266 bruce.furniss@berkadia.com
Mike Terry Associate 425.761.1640 mike.terry@berkadia.com
Marge Novak SVP Capital Markets 248.208.0526 marge.novak@berkadia.com
Andrew Anania Managing Director 215.328.3817 andrew.anania@berkadia.com
Chris McGraw Managing Director Acquisitions 980.208.1667 chris.mcgraw@berkadia.com
Zenzi Reeves SVP Asset Management 267.760.3691 zenzi.reeves@berkadia.com
Melissa Smith Senior Director 781.990.0157 melissa.smith@berkadia.com
James Grande Associate Director Acquisitions 215.328.3826 james.grande@berkadia.com
14 BERKADIA Affordable Housing
Mortgage Banking
Liz Diamond
SVP, Head of Affordable Originations 415.646.7704 liz.diamond@berkadia.com
Jay Abeywardena
Managing Director 310.209.3244 jay.abeywardena@berkadia.com
Anthony Cinquini
Managing Director 310.209.3288 anthony.cinquini@berkadia.com
Lloyd Griffin
Managing Director 512.226.8710 lloyd.griffin@berkadia.com
Jerry Getant
Associate Director 617.470.7388 jerry.getant@berkadia.com
Jeff Radcliffe
SVP Chief Underwriter 214.960.9860 jeff.radcliffe@berkadia.com
Anne Stephenson
VP – Originations 978.810.1060
anne.stephenson@berkadia.com
Tim Leonhard
Senior Managing Director 214.360.3849 tim.leonhard@berkadia.com
Matthew Baptiste Managing Director 404.654.2608 matthew.baptiste@berkadia.com
Chris Crump Managing Director 504.322.1196 chris.crump@berkadia.com
Jeff Lawrence Managing Director 404.201.0693 jeff.lawrence@berkadia.com
Joseph Mandeville
Associate Director 614.468.5785 joseph.mandeville@berkadia.com
Matt Byrd
VP – Product Originations 972.801.3060 matt.byrd@berkadia.com
Matthew Napoleon
Senior Managing Director 614.468.5805 matthew.napoleon@berkadia.com
Franklin Brown Senior Director 615.377.7676 franklin.brown@berkadia.com
Fred Dockweiler Managing Director 503.261.3668 fred.dockweiler@berkadia.com
Heather Olson
Managing Director 770.286.6446 heather.olson@berkadia.com
Emily Pope
Associate Director 413.522.8530 emily.pope@berkadia.com
Melissa Koppel VP – Originations 423.863.1957 melissa.koppel@berkadia.com
Affordable Housing BERKADIA 15
© 2023 Berkadia Proprietary Holding LLC. Berkadia® is a trademark of Berkadia Proprietary Holding LLC. Commercial mortgage loan banking and servicing businesses are conducted exclusively by Berkadia Commercial Mortgage LLC and Berkadia Commercial Mortgage Inc. This advertisement is not intended to solicit commercial mortgage loan brokerage business in Nevada. Investment sales / real estate brokerage business is conducted exclusively by Berkadia Real Estate Advisors LLC and Berkadia Real Estate Advisors Inc. Tax credit syndication business is conducted exclusively by Berkadia Affordable Tax Credit Solutions. In California, Berkadia Commercial Mortgage LLC conducts business under CA Finance Lender & Broker Lic. #988-0701, Berkadia Commercial Mortgage Inc. under CA Real Estate Broker Lic. #01874116, and Berkadia Real Estate Advisors Inc. under CA Real Estate Broker Lic. #01931050. For state licensing details for the above entities, visit www.berkadia.com/licensing 0423 23-246AW. BERKADIA.COM / 800.446.2226