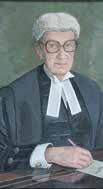 Legal THE UK MAGAZINE FOR ALL WOMEN WORKING IN LAW | NOVEMBER 2022
Years of Legal Pioneers Centenary of admission Mentoring Work/Life Balance
Women
See
2 | LegalWomen Xxxxxxxxxxxxxxxxxxxxxx
Don't change what you do. Just make it easier to do.
how Clio makes legal practice management easier.
Discover Clio today at clio.com/uk/legal-women or call +44-800-433-2546.
PUBLISHER
Benham Publishing
Aintree Building, Aintree Way, Aintree Business Park, Liverpool L9 5AQ Tel: 0151 236 4141 Fax: 0151 236 0440 Email: admin@benhampublishing.com Web: www.benhampublishing.com
ACCOUNTS DIRECTOR Joanne Casey SALES DIRECTOR Karen Hall
STUDIO MANAGER Lee Finney
MEDIA No. 1862
PUBLISHED
November 2022 © Legal Women Magazine, Benham Publishing Ltd.
LEGAL NOTICE
© Benham Publishing. None of the editorial or photographs may be reproduced without prior written permission from the publishers. Benham Publishing would like to point out that all editorial comment and articles are the responsibility of the originators and may or may not reflect the opinions of Benham Publishing. No responsibility can be accepted for any inaccuracies that may occur, correct at time of going to press. Benham Publishing cannot be held responsible for any inaccuracies in web or email links supplied to us.
DISCLAIMER
Legal Women Magazine welcomes all persons eligible to join our community regardless of sex, race, religion, age or sexual orientation. All views expressed in this publication are the views of the individual writers and not those of Legal Women unless specifically stated to be otherwise. All statements as to the law are for discussion and should not be relied upon as an accurate statement of the law, are of a general nature and do not constitute advice in any particular case or circumstance. Members of the public should not seek to rely on anything published in this magazine in court but seek qualified legal advice.
COVER INFORMATION
All images supplied by LW and used with permission: see LW website. Particular thanks to Gray's Inn, Inner Temple, Middle Temple, Lincoln's Inn and The Women's Library.
Anyone
Editorial
To submit editorial, please send to: info@LegalWomen.org.uk
Editor-in-Chief: Coral Hill. Features Editor: Molly Bellamy. Sub-editors: Gillian Fielden, Tilly Rubens, Joanne Skolnick. Editorial Team: Amy Fullerton, Enya Hood, Charity Mafuba, Serena Reynell, Elizabeth Shimmell, Agnes Swiecka and Emma Webb.
LegalWomen | 3 Contents 5 Foreword 8 Centenary 11 LW Likes 12 Affinity Groups 13 Mind the Gap 14 Mentoring 19 Smart Working 29 Work/Life Balance 30 International 35 Events 36 Review: Prima Facie 37 LW Recommends 29 19 14 Find us online at: www.LegalWomen.org.uk
Copy Deadline 27th January 2023 For the February 2023 edition Advertising
wishing to advertise please contact Catherine McCarthy before the copy deadline. 0151 236 4141 catherine@benhampublishing.com
08
4 | LegalWomen Introduction How's the weather looking this working week? Cloudy, but brighter with Quill. Quill's cloud-based legal software is chock-full of new and improved features, giving you everything your law firm needs to manage your cases, contacts, and bills in just a few clicks. The result? A clear workflow, and a clearer head, no matter the weather. SCHEDULE A DEMO TODAY! 0161 236 2910 sales@quill.co.uk quill.co.uk MONDAY TUESDAY WEDNESDAY THURSDAY FRIDAY
The centenary of women's admission to the legal profession is undoubtedly a milestone. The more I learn about their lives and the challenges they faced, the more awe-inspiring they are as role models. I was struck by the difficulty in obtaining images of these legal pioneers; completely unlike their male peers who were not only photographed but frequently captured in oil paintings. This element of invisibility, moving quietly in the background so as not to disturb the status quo, is our cultural norm. It means even the highest-achieving women can be quickly forgotten; such are the choices still made in terms of what is kept for posterity.
Young girls are still often held to different standards from young boys; behaving pleasantly without disrupting others is highly valued as a female attribute. This feeds through to working patterns, for example, worrying about being too challenging or asking for salary rises. We are all familiar with the double standards that are often exercised where a man's confident behaviour would be considered pushy in a woman; or a woman being angry is construed as a 'rant'. Julia Gillard, a former Prime Minister of Australia and now Chair of Global Women in Leadership at King's College London, reflects on this with the ten-year anniversary of her 'Not Now, Not Ever' speech. Men have licence to vent anger politically, but this speech stood out around the world because it was a woman comfortable and eloquent in her anger. If you don't know the speech you can find it here: Julia Gillard misogyny speech voted most unforgettable Australian TV moment: watch in full – YouTube
Cultural change requires embedding at a very early stage, and I applaud the fantastic work of End Sexism in Schools www.endsexisminschools.org.uk from campaigning on gender equality in sports, to ensuring that the school curriculum reflects the real demographic of society, so that History includes significant females as much as males; to highlighting the biased nature of the reading curriculum.
Workplaces more than ever, need to find approaches to redress
LW magazine is for everyone; lawyers, solicitors, barristers, advocates, judges, legal executives and those working as paralegals, legal secretaries, advisers or recruiters, the list is endless. We welcome the many male champions as readers and contributors.