Official Magazine for Wandsworth Chamber of Commerce | Issue 20 | Jan 2023 Inside • PATRON FOCUS Rob Kelly, CEO of Displayways explains how the company has evolved. Page 8 • ASK THE EXPERT Adapting to the changing face of the economy. Page 13 • BIG INTERVIEW David Fenton iSmart. Page 18 • HEALTH & WELLBEING New Year New Goals. Page 24 Wandsworth Business Awards 2023 A Grand Night Out in Clapham Page 4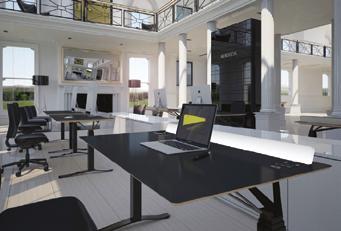 www.ismartbusinesssolutions.co.uk Welcome to I-Smart Business Solutions We offer bespoke office designs and professional healthcare management. Including air purification and analysis for corporate environments. Both for local and national businesses. Supporting hybrid workforces with productivity and working partnerships. SOLAR ENERGY SOLUTIONS For Sales & Support 0208 870 8707 Have a query? Email us on info@ismartbusinesssolutions.co.uk REMOTE SAFE AIR PURIFICATION MANAGEMENT SOFTWARE Innovators Renewable solution and safe air providers Renewable product manufacturers 1 of only 3 UK companies (out of 700) to have 3 live KTP products BESPOKE ERGONOMIC FURNITURE FOR BUSINESS & EDUCATION Creating the best possible environment for all businesses
Welcome to the latest Edition of the Wandsworth Chamber of Commerce Magazine
year for us to celebrate and be very proud of. We are looking forward to continuing this growth over the coming months and working with all members, new and old.
Welcome to the January edition of the Business Connexions magazine, our first for 2023. Happy New Year!
2022 was a significant year for Wandsworth Chamber, rebuilding was key as we emerged from the pandemic and, to add a further challenge I took on my role as CEO but what an exciting and at times a rollercoaster of a year it was!
We welcomed back many past members and are grateful for their continued support, but in very difficult times we also had 41 totally new members join us, so all in all a
There was a slow start to our events in 2022 due to restrictions and caution, but we managed to run 37 of them including special standout events with our Patron Sponsors, South Thames College, Battersea Power Station and AFC Wimbledon, and 4 Big Breakfasts at the Pestana Chelsea Bridge Hotel to name just a few. There are already a number of exciting events planned for 2023 so we are set to continue providing as many opportunities as we can for local businesses to engage, support and open doors for each other.
We continued to work with and build relationships with many of our valued key stakeholders including our Patron Sponsors, the Council and wider business community, and will continue with this work, looking for opportunities to collaborate and open possibilities for our members.
Last year Wandsworth Chamber website received an upgrade, this has enabled us more ways to add value to chamber membership and we will be rolling out webinars to help with making the most of this as we move forward.
Finally, we are happy to say that we have set a date and plan to bring back the Wandsworth Business Awards this year, so put the 20th June 2023 in your calendars now, it is an event that you will not want to miss. You can find out more about this exciting event and how to be part of it on pages 4-6 of this magazine.
Despite the uncertain and challenging times we are all facing, we firmly believe that as business continues, it is each and every one of our responsibilities to maintain faith and belief that we can succeed, to be proactive and relentless in pursuing ways to make that happen, and generous in our support of each other. We hope that you continue to see Wandsworth Chamber as a support channel and look to your local community for opportunities to enable you to thrive.
"The New Year stands before us like a chapter in a book, waiting to be written." Melody Beattie Wishing you success in 2023.
Beverley Corson Chief Executive Wandsworth Chamber of Commerce
Enquiries
Studio F8 (Le Bureau)
Battersea Studios 80 Silverthorne Road London SW8 3HE t: 020 3633 6575
e: enquiries@wandsworthchamber.org w: www.wandsworthchamber.org
Publisher
Benham Publishing Limited, Aintree Building, Aintree Way, Aintree Business Park, Liverpool L9 5AQ t: 0151 236 4141
e: admin@benhampublishing.com w: www.benhampublishing.com
Published January 2023 © Benham Publishing
Editor David Burrows e: David@benhampublishing.com
Advertising and Features Karen Hall e: karen@benhampublishing.com t: 0151 236 4141
Studio Mark Etherington e: studio@benhampublishing.com
Media No.1873
Disclaimer
Business Connexions is mailed without charge to all Chamber members and distributed to businesses in the Borough.
All correspondence should be addressed to the Editor at Wandsworth Chamber of Commerce. Views expressed in publication are not necessarily those of Wandsworth Chamber of Commerce. Reprinting in whole or part is forbidden except by permission of the Editor. © 2023.
Whilst every effort is made to ensure the accuracy and reliability of material published in this journal, Benham Publishing and its agents can accept no responsibility for the veracity of claims made by contributions in advertising or editorial content.
Benham Publishing cannot be held responsible for any inaccuracies in web or email links supplied to us.
Business Connexions | 3
WELCOME & CONTENTS Inside: Jan 2023 Scan the QR code with your phone camera to see our events and get them in your calendar app.
The Team behind the business 18 4-6 Business Awards 10 News 11 Legal 12 Battersea 13 Ask the Expert 16-17 Economy – Richard Burge The Big Interview 21 Life Skills 22-23 Skills 24-25 Health & Wellbeing 8 Patron Focus 31 27-28 Environment 29 Chamber Events 32 New Members 33 Starting Up 34 5 Minutes with…