E

CONTACT INFO info@ronival.com | Text info to 619.350.2525 www.ronival.com www.findmexicohouses.com SOLDSOLD SOLD CABO SAN LUCAS STARTING AT: $248,000 USD EAST CAPE SECOND PHASE NOW AVAILABLE PEDREGAL CSL CERRITOS BEACHCERRITOS BEACH
CONTACT INFO info@ronival.com | Text info to 619.350.2525 www.ronival.com www.findmexicohouses.com SOLD CABO CORRIDOR FROM: $355,000.00 USD TO: $ 525,000.00 USD (ONECERRITOSUNIT AVAILABLE) PRICE: $249,000 USD CABO SAN LUCAS FROM: $147,845 USD TO: $230,207 USD CABO SAN LUCAS FROM: $646,920 USD TO: $754,920 USD PEDREGAL, CSL SECOND PHASE COMING SOON
M avila Towers Offer an A mazing Golf & Pacific Ocean Vie ws 2 & 3 bedroom condos pool & social area 24/7 Securit y Q Life: The art of fine living · Quivira Golf Club · Quivira Beach Club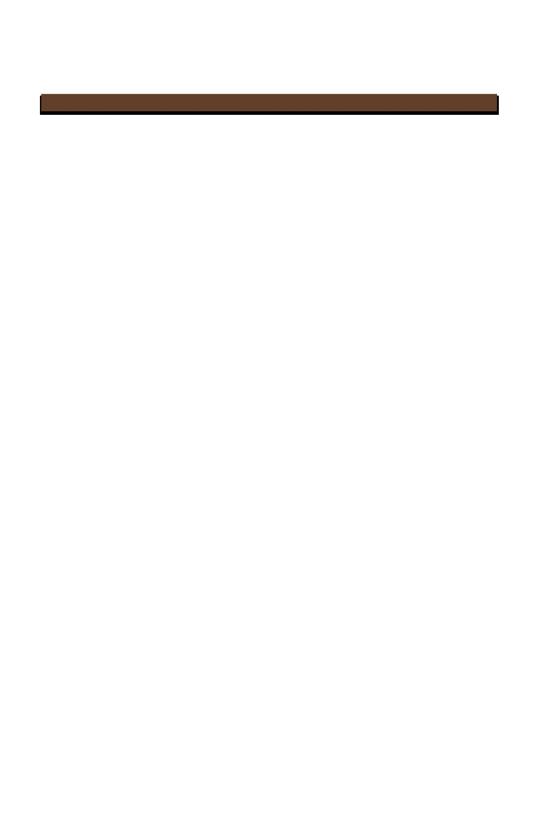 624 157 www.bajasurf.commax@bajasurfrealty.com3230 Max MontoyaBook Your Tour Today! @BAJASURFREALTY your local real estate experts in los cabos price $299,000 usd NEIGHBORHOOD: CUMBRE DEL TEZAL 3 BEDROOMS | 3.5 BATHROOMS NEIGHBORHOOD: RANCHO SAN LUCAS 4 BEDROOMS | 3.5 BATHROOMS Price $1,250,000 usd VILLA 3 MLS#: 21-3504CASA CUMBRE MLS#: 21-3711 price starting at $130,000 usd NEIGHBORHOOD: EL TEZAL 2 BEDROOM | 2 BATHROOM CONDOS NEIGHBORHOOD: SABINA, EL TEZAL 1 BEDROOM | 1 BATHROOM CONDOS Price Starting at $69,000 usd MARESÍA MLS#: 21-2476SABINA MLS#: 21-3861
+52 (624) 157-1775 | +1 (908) 267-9188 CABO DREAM HOMES CASA MILAGRO This 6 bedroom beachfront home was carefully designed to provide the best in luxury, extreme comfort, top-of-the-line home technologies and beautiful interior features. From a 900 wine cava, entertainment theater, executive office, steam room and more, no detail has been overlooked in this beachfront home. $8,950,000 USD BEACHFRONT LOT #10 is a flat, easy-to-build, lot with 30 linear meters (98 ft.) of Ocean Frontage. This single-story lot has a total of 2,756 sq. meters (over 29,600 ft2). Home design is easy to plan as adjacent lots are built-out. Expect peace and quiet surrounding your beachfront experience. SELLER considered.FINANCING $2,695,000 USD CASA NOROC Opportunity knocks! Buy into Puerto Los Cabos for under market value. This 3 bed/3.5 bath w/ service qtrs is offered at pre-construction prices that will increase as development continues. Sellers will consider a separate contract agreement to complete the home according to the planned project or your personal preferences. $899,000 USD
knowledgeable"ThereisnobetterrealtorinCabothanMichelle.Sheisextremelyprofessionalandineveryaspect.Infact,shewasourrepresentativefortwotransactions.WehavedealtwithmanyrealtorsinCaliforniaandHawaii,sheclearlywentbeyondourexpectations.WewouldrecommendMichelletoanyone,nohesitation."–SteveE.
your
interests
MICHELLE GEISLER ANDERSON michelle@cabodreamhomes.com | cabodreamhomes.com Residential Properties Resort Residences Investment Opportunities My passion is to help others discover all that this vibrant community has to offer. With 16 years of experience negotiating real estate for my clients, my success matching buyers with their dream property comes from my ability to listen. I'll spend time getting to know your vision so that I can meet your needs and guide your expectations. Your dreams are my priority. DREAM it It's my privilege to invite you on a tour, inform you about our local neighborhoods and introduce you to reputable businesses and trusted services. With my knowledge and relationships, I'm happy to help you find a home with a great yoga class, challenging surf break, or a new favorite restaurant nearby. That's because building a life in Los Cabos is about more than just finding a home, it's about discovering a community. Let me be your guide to Los Cabos.
LIVE
FIND it When it comes to negotiating and navigating the closing process in Mexico, my professional experience and long-standing business relationships are a huge benefit to my clients. With my exceptional communication skills and attention to detail, you can be confident that I will handle your interests professionally and will keep you protected, educated and informed every step of the way. have best in mind. it Take that first step toward living your dream. Contact me today. it
OWN
I
Our team specializes in cross border transactions helping people achieve their dream of owning property in Los Cabos, México We believe that a client agent relationship is a true partnership, and we take great pride in developing relationships that work admirably together to meet our clients' goals as if they were our own. Communication is the essence of every successful transaction, and whether purchasing or selling property, getting to know the real needs of our discerning clients, produces the best results All the while, we strive to provide an experience with the assurance of quality and professionalism to put our clients at ease Our Mission
Backed by over 15 years of market expertise, deep roots in the local community, and a broker and buyer network built on years of trust.
Distinctly Cabo. Globally Connected.
Querencia # 1 MLS Search Site in Los Cabos for Real Estate Search For Real Estate by: Community New to Market Oceanfront Homes/ Condos www.oceansideloscabos.com Dennis & Renee Fleming +1 (805) 618-2012 info@oceansideloscabos.com +52 (624) 688 9856 $2,495,000 USD $1,950,000 USD Pedregal Casa Nido del Mar | 4BD | MLS#21 V3901 illa Q | 5 BD | MLS#21 3823 Contact us to learn how you can own in Los Cabos, Mexico, or request a free home valuation to sell your property!
VILLA LOVE AND PEACE Palmilla | Oceanfront 6 Beds | 8 Full, 1 Half Bath Sq. Ft.: 16,756 | $23,850,000 CASA HIDALGO El Tule | Oceanfront 23 Beds | 23 Full, 11 Half Baths Sq. Ft.: 111,828 | $37,900,000 VICEROY 4C Viceroy Residences | Ocean View 2 Beds | 2 Full Baths Sq. Ft.: 1,963 | $1,450,000 GOLF VILLA G2 Puerto Los Cabos | Ocean View 3 Beds | 3 Full Baths Sq. Ft.: 2,634 | $1,150,000 theandgloballyCompetent,connectedtunedintomarketplace VANESSA FUKUNAGA Owner, President | CEO vanessa@snellrealestate.com | 52.624.157.3446 | +1 425.471.1485 Let's talk cryptocurrency, buyer options nowCASAavailableMESAMOURS Puerto Los Cabos | Oceanfront 6 Beds | 7 Full, 1 Half Bath Sq. Ft.: 11,373 | $7,900,000 GOLF VILLA F1 Puerto Los Cabos | Ocean View 3 Beds | 3 Full Baths Sq. Ft.: 2,634 | $950,000 LISTINGNEW @VanessaFukunaga
MORE THAN TWELVE YEARS OF EXPERIENCE PROVIDING REAL ESTATE SOLUTIONS TO BUYERS, SELLERS AND DEVELOPERS. LUXURY REAL ESTATE SOLUTIONS · PROJECT MANAGEMENT · PLANNING AND RESEACH · · COMMERCIAL ADVISORY · RESEARCH AND SCOUTTING · · SALES MANAGER · INVESTMENT AND FINANCIAL ADVISORY · · MORTAGE BROKER · PROPERTY MANAGEMENT · · RENTALS · LEGAL & NOTARY· SERVICES 624 120 8552 INFO@VENTURAONE.COM.MX WWW.VENTURAONE.COM.MX CONTACT US: Proud sales representative of: PLAZA PASEO LOS ARCOS L-B6, CARR. TRANSPENINSULAR KM 6.5 CABO BELLO, CABO SAN LUCAS.
CALL FOR APPOINTMENT VICTOR GONZÁLEZ MASTER BROKER www.VenturaOne.cavictor@venturaone.com.mx624·168·3560406·BAJA·SUR venturaone1 labajasur PEPE ACOSTA MASTER BROKER www.venturaone.com.mxpepe@venturaone.com.mx624·164·0830 PepeAcostaRealtor pepe_acosta_realtor Pepe Acosta Realtor 3 BEDROOM CONDO VENTANAS DE CABO Neighborhood: El Tezal 3 Beds | 2 Baths | 2,514 sq. . MLS#: 21-1790 $310,000 USD 2 BEDROOM CONDO CABO COSTA Neighborhood: El Tezal 2 Beds | 2.5 Baths | 1,323 sq. . MLS#: 20-3366 $300,000 USD 2 BEDROOM PH CABO COSTA Neighborhood: El Tezal 2 Beds | 2.5 Baths | 1,700 sq. . MLS#: 20-3369 $330,000 USD 3 BEDROOM PH LADERA #709 Neighborhood: Ladera San José 3 Beds | 3 Baths | 1,753 sq. . MLS#: 21-982 $388,850 USD 3 BEDROOM HOUSE TUSCANY HOME #18 Neighborhood: Ladera San José 3 Beds | 4.5 Baths | 3,852 sq. . MLS#: 20-2384 $531,400 USD Take a Peak, Los Cabos Real Estate 2 TOWNHOMEBEDROOM#703 Neighborhood: Camino del Mar 2 Beds | 2.5 Baths | 914 sq. . Furnished | MLS#: 21-3020 $179,000 USD


T: +52 (624) 143 1342 | E: info@cbriveras.com More than 15 years in Baja. #1 franchise in Mexico Find all properties for sale in Baja MLS. ScandreamFindnowyourhome! CBRIVERAS.COM
RONIVAL™ REAL ESTATE was founded in 2010, and in the past years has become the fastest growing agency in Baja California Sur, with a global service that begins in the sales office and continues with Ronival™ Property TheManagement.company has a team of more than 100 people between real estate agents and administrative, ready to help you to find your dream property, whether it's a condo or villa, commercial space or land. After the sales process, we can help with all your property management needs, from house administration to vacation rentals and remodeling Ronivalprojects.Real Estate works alongside his clients, both buyers and sellers, and provides specialized service at the highest level. NUMBERS IN $290,000,0002021USD IN SALES *FROMVOLUMEJANUARY TO NOVEMBER* CABO SAN LUCAS | SAN JOSÉ DEL CABO LA PAZ | LOS BARRILES | EAST CAPE | TODOS SANTOS VILLA BLUE SEA MLS #: 21-2163 PRICE: $8,000,000 USD BAJAS LEADING REAL ESTATE AND PROPERTY MANAGEMENT COMPANY
www.ronival.com LUXURYwww.findmexicohouses.comDIVISION|PROPERTY MANAGEMENT VACATION RENTALS | REMODELING | DEVELOPMENTS · Real Estate 50+ agents · Property Management (house administration, vacation rentals, remodeling projects) · Developments division · Marketing department · In-House Call Center · Media department (video, photo, Matterport ) WE HAVE YOUR HOME IN Baja Sur CONTACT INFO info@ronival.com | Text info to 619.350.2525 Our leaders Nick Fong & Rocío Montaño The Nick Fong Podcast / Ronival Real Estate / Ronival Property Management Ronival Real @lovingbajamx@nickfong_ronivalEstate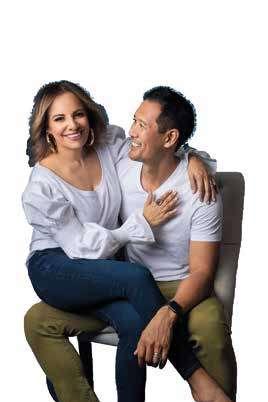 COVE 7 $7,288,000MLS#:PALMILLA21-3860USD VILLA MIRASOL BAY OF DREAMS MLS#: 21-1093 $ 4,900,000 USD CASA ESPERANZA PEDREGAL, CSL MLS#: $4,000,00021-1552USD VILLA ALTA VISTA PEDREGAL, CSL MLS#: $3,999,99920-1208USD CASA ALEGRÍAVISTA PEDREGAL, CSL MLS#: $3,900,00021-1702USD VILLAS DEL MAR $2,195,000MLS#:PALMILLA21-1057 CONTACT INFO info@ronival.com | Text info to 619.350.2525 www.ronival.com www.findmexicohouses.com SOLD SOLD
CASA CONTESSA PUNTA BALLENA MLS#: $2,750,00020-1576USD CORONADO 4.9 MLSA#:QUIVIRA $2,400,00021-1332USD CASA ROBERTO $2,299,000MLS#:LOSPUERTOCABOS21-2282USD POSADA LA POZA TODOS SANTOS MLS#: $3,250,00021-2235 CAFÉ SANTA FE TODOS SANTOS MLS#: $2,980,00021-2160USD PENTHOUSE 306 $949,000MLS#:DIAMANTE21-236USD CONTACT INFO info@ronival.com | Text info to 619.350.2525 www.ronival.com www.findmexicohouses.com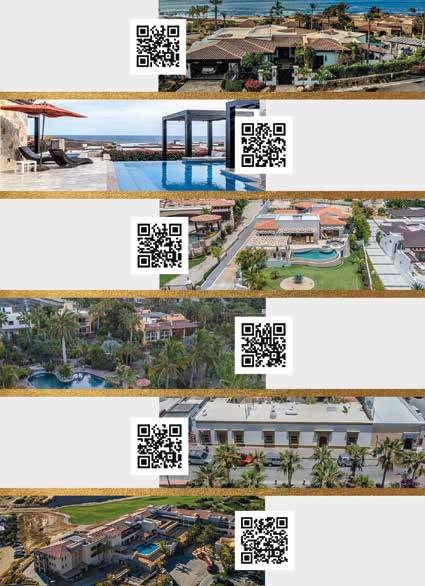 RESIDENCES AS A WANNAFOREIGNER.KNOW… MY IT'SGOD...SEXY LUXURY OCEAN $210,000VIEWS SCAN COMING SOON info@cabocribs.com COMING SOON info@cabocribs.com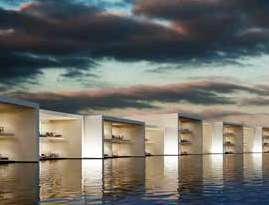 VISTANA ESTATES San Bedrooms:$260,000Lucas 3 Bathrooms: 2 Sq. Ft. 1,800 CAM. DEL MAR San Bedrooms:$750,000Lucas 4 Bathrooms: 4 | 1 Sq. Ft.: 3,176 PENTHOUSE ONE MEDANO San Bedrooms:$1,499,000Lucas3 Bathrooms: 5 Sq. Ft.: 5,283 CAMINO DEL COLEGIO San Bedrooms:$308,970Lucas 2 Bathrooms: 2 Sq. Ft.: 1,477 Bedrooms:$460,000SanAgave-24,JosedelCabo3Bathrooms: 3 | 1 Sq. Ft.: 3,098 COUNTRY CLUB, EL TEZAL Cabo Corridor, San Lucas Bedrooms:$1,500,0003 Bathrooms: 3 | 1 Sq. Ft.: 5,013 WWW.CABOCRIBS.COM 310.860.6063
U S O W N E D A N D O P E R A T E D , J R S H O W R O O M I S Y O U R N U M B E R O N E S O U R C E F O R A P P L I A N C E S A N D H O M E D E C O R





CUATROVIENTOS is the perfect package of modern design, location & stunning views. These 1, 2, and 3 bedroom condos feature an open concept living area, underground parking, and wonderful amenities including: 2 pools, ocean facing pickleball court, gym, dog park, & concierge services. Limited Pre-Sale Pricing Starting at $248,000 USD SOL GUTIERREZ M. US: +1 626 602 0488 MX: 624 126 3214 solg@ronival com http://sol.findmexicohouses.com LILIA NAVA US: +1 619 831 2000 MX: 624 151 5424 lnava@ronival com https://lilia.findmexicohouses.com
A COMMUNITY THAT HAS IT ALL / [Experience] CERRO COLORADO, SAN JOSE DEL CABO KM 24.5, MEX. CONTACT US TODAY: (624) 130 7037 / WWW.LADERA.MX Club RestaurantHouse 24/7 SupermarketSecurity SchoolHospital GymSpa & More MODERN ARCHITECTURE THAT PERFECTLY BLENDS WITH THE LANDSCAPE PRIME LOCATION IN THE CERRO COLORADO AREA, JUST STEPS FROM SOME OF THE BEST SERVICES IN TOWN. SHOPPING, DINING, HEALTH AND EDUCATION. 1, 2 & 3 Bedrooms Condos STARTING IN THE LOW 300K's 3 & 4 Bedrooms Homes STARTING IN THE MID 500K's Exclusive Community in Cerro Colorado Area, San José del Cabo
CONTACT US: MX (52) 624.172.6555 US Toll Free: 1 (877) www.loscabossir.cominfo@sirloscabos.com812.3219
P A C I F I C O C E A N S E A O F C O R T E Z 1 3
1 3 1 4 2 3 2 1 1 16 7 1 5 1 81 9 2 0 2 2 2 4
MX.US.lasventanas@snellrealestate.comlasventanas.snellrealestate.comCell(425)471-1485Cell(624)157-3446
Own Your Key To Paradise Where You Do Nothing, And We Do Everything For You Delivering Incomparable Personalized Service Since 1997, Las Venatanas al Paraíso, A Rosewood Resort has set the standard in luxury and superb service in Los Cabos with a host of Homeowner amenities. Become a permanent guest where an expert team of 600 staff members' only mission is to pamper you. 3 Bedrooms | 3 Baths | 5 Diamond Services Folio Establishment | Bill Pay Services In-Residence Dining Catering & Private Chef Twice Daily Cleaning Services Available Hurricane Storm Shutters & Service Personal Pool Maintenance Butler & Concierge Service Homeowners Services Menu Personalized Shopping Pre-arrival Activities Planning Exclusive App for Homeowners 24 Hour Service As a Homeowner, enjoy full access to the resort facilities including seven tailored culinary experiences, from La Botica, Los Cabos' only Speakeasy bar, to ARBOL, an elevated coastal cuisine with an Asian influence. Spend the afternoon at The Oasis Pool, Cabo's one of a kind Lazy River and indulge in the resort's state-of-the-art Salon, Spa and Fitness Center.