IT'S NOT A PLACE TO LIVE, IT'S A WAY TO LIVE. THE ENCLAVES, A RITZ-CARLTON RESERVE RESIDENCE, ARE NOT OWNED, DEVELOPED OR SOLD BY THE RITZ-CARLTON HOTEL COM PANY, L.L.C. OR ITS AFFILIATES ("RITZ-CARLTON"). BANCO INVEX S.A., INSTITUCIÓN DE BANCA MÚLTIPLE, INVEX GRUPO FINANCIERO DIVISIÓN FIDUCIARIA, FIDEICOMISO 192 PUERTO LOS CABOS – FONATUR 192 AND FIDEICOMISO 283 "PUERTO LOS CABOS III" (JOINT LY AND SEVERALLY) USE THE RITZ-CARLTON MARKS UNDER A LICENSE FROM RITZ-CARLTON, WHICH HAS NOT CONFIRMED THE ACCU RACY OF ANY OF THE STATEMENTS OR REPRESENTATIONS MADE HEREIN. THE DEVELOPER RESERVES THE RIGHT TO CHANGE OR MO DIFY PLANS, MATERIALS, SPECIFICATIONS WITHOUT NOTICE. RENDERINGS AND MAPS ARE ARTIST'S CONCEPTIONS AND MAY DIFFER FROM FINISHED PRODUCT. THIS IS NOT AN OFFERING FOR SALE IN ANY JURISDICTION WHERE THE PROJECT IS NOT REGISTERED. E.&O.E. WWW.THEENCLAVES.COM LOCAL: 011+52 (624) 105 6047 USA: 1 855 375 2266 CANADA: 1 855 322 2675 AN EXQUISITE COLLECTION OF RITZ-CARLTON RESERVE RESIDENCES INCLUDING 5 BEDROOM SINGLE-FAMILY HOMES AND 3 OR 4 BEDROOM CONDOMINIUMS, TUCKED AWAY IN ONE OF THE WORLD'S FAVORITE PLACES. AN OWNERSHIP EXPERIENCE TRANSLATED INTO A PERSONAL, PRIVATE-RESIDENTIAL LIFESTYLE.
SOLD THEANDGLOBALLYCOMPETENT,CONNECTEDTUNEDINTOMARKETPLACE@VanessaFukunaga VANESSA FUKUNAGA Owner, President | 52.624.157.3446vanessa@snellrealestate.comCEO|+1425.471.1485 CASA HIDALGO El Tule | Oceanfront 23 Beds | 23 Full, 11 Half Baths Sq. Ft.: 111,828 | $37,900,000 VILLA LOVE AND PEACE Palmilla | Oceanfront 6 Beds | 8 Full, 1 Half Bath Sq. Ft.: 16,756 | $23,850,000 CASA BRINKMAN Cerro Colorado | Oceanfront 5 Beds | 5 Full, 2 Half Baths Sq.Ft.: 9,996 | $8,200,000 CONTRACTUNDER CASA MES AMOURS Puerto Los Cabos | Ocean View 6 Beds | 1 Full Baths, 1 Half Bath Sq. Ft.: 11,373 | $7,900,000 VICEROY 4C Viceroy Residences | Ocean View 2 Beds | 2 Full Baths Sq. Ft.: 1,963 | $1,450,000 CASA MODERNA Puerto Los Cabos | Ocean View 4 Beds | 4 Full, 1 Half Bath Sq.Ft.: 4,885 | $2,500,000
+52 (624) 157-1775 | +1 (908) 267-9188 CABO DREAM HOMES Club Campestre Querencia Villas del Mar Las Mananitas Puerto Los Cabos Puerto Los Cabos OASIS PALMILLA, LOT 2 Build your dream home on a Jack Nicklaus' 27 hole course in Palmilla. This large, flat lot offers a one-of-a-kind fairway, mountain and ocean views. Option to join the private Club 96 or The Dunes Club. $495,000 USD In this market of historically low inventory, working with a Realtor who can get the job done, makes a difference. LAS MANANITAS PH 4504 Fully furnished, 3 Bed/3 Bath Ocean View Penthouse with two formal master suites, gourmet kitchen, private rooftop terrace with builtin outdoor kitchen, and garage. Oceanfront community with Resort style amenities. $1,300,000 USD RECENT SALES
MICHELLE GEISLER ANDERSON michelle@cabodreamhomes.com
FIND it When it comes to negotiating and navigating the closing process in Mexico, my professional experience and long-standing business relationships are a huge benefit to my clients. With my exceptional communication skills and attention to detail, you can be confident that I will handle your interests professionally and will keep you protected, educated and informed every step of the way. I have your best interests in mind. it Take that first step toward living your dream. Contact me today.
DREAM
| cabodreamhomes.com
Your
OWN
My passion is to help others discover all that this vibrant community has to offer. With 17 years of experience negotiating real estate for my clients, my success matching buyers with their dream property comes from my ability to listen. I'll spend time getting to know your vision so that I can meet your needs and guide your expectations. dreams are my priority. it
LIVE it
"Michelleknowledgeable"ThereisnobetterrealtorinCabothanMichelle.Sheisextremelyprofessionalandineveryaspect.Infact,shewasourrepresentativefortwotransactions.WehavedealtwithmanyrealtorsinCaliforniaandHawaii,sheclearlywentbeyondourexpectations.WewouldrecommendMichelletoanyone,nohesitation."–SteveE.isbyfaroneofthemostintelligentandknowledgeableagentsIhaveeverworkedwithintherealestatemarket.Shewillrepresentyourinterestswhetherbuyingorsellingasifitwasherownpersonaltransaction.AlwaysdottingtheI'sandcrossingtheT'sto perfection.Herethicsinbusinessandpersonalareaboveapproach.Youwillfindnoone bettertoworkwith.ThanksagainMichelleforallyourhardwork."–Patty.
It's my privilege to invite you on a tour, inform you about our local neighborhoods and introduce you to reputable businesses and trusted services. With my knowledge and relationships, I'm happy to help you find a home with a great yoga class, challenging surf break, or a new favorite restaurant nearby. That's because building a life in Los Cabos is about more than just finding a home, it's about discovering a community. Let me be your guide to Los Cabos.
PENTGARDEN #4101 mLS: 22-1138 3 BEDS | 3.5 BATHS | ARCH VIEWS | sq.ft: 3,067 price $949,000 USD www.bajasurfrealty.comwww.bajasurfrealty.comMaxMontoyaYOUR LOCAL REAL ESTATE EXPERT 624 157 max@bajasurfrealty.com3230 SCAN THIS QR TO FIND THE BEST DEALS IN CABO $145,000 usd price starting atprice starting at $209,000 usd price starting $209,000at usd la mar condominiums 2 BEDS | 2 BATHS | Ground Floor units| sq.ft: 968 price $209,000 USD Quintas California #31 mLS: 22-851 3 BEDS | 2.5 BATHS | storage room| sq.ft: 1,506 price $159,000 USD misiones del cabo #7303 mLS: 22-1299 1 BED | 1 BATH | beachfront | Arch views price $289,000 USD ventanas p3 #28 mLS: 22-1561 3 BEDS | 2.5 BATHS | ocean VIEWS | sq.ft: 2,167 price $519,000 USD ventanas p3 #27 mLS: 22-1560 3 BEDS | 2.5 BATHS | ocean views| sq.ft: 3,067 price $549,000 USD
OUR SERVICES: Venture with us WE BELIEVE IN A LOCAL MODEL OF REAL ESTATE. EXPERTS WHO KNOWS THEIR MARKET LIKE THE BACK OF THEIR HAND. INVESTSELLBUY VENTURA ONE IS THE NAME BUYERS AND SELLERS TRUST. PROUD SALES REPRESENTATIVE: info@venturaone.com.mxwww.venturaone.com.mx +52 (624) 120.8552 (624) 314.7597 Plaza Paseo Los Arcos Transpeninsular Km 6.5, Cabo Bello, 23455 Cabo San Lucas, B.C.S.
L O S C A B O S , B A J A C ALI F ORNI A S UR , MEXI C O CONTACT US: +52 624 172 65.55 | US Toll Free: 1 (877) 812.3219 | info@sirloscabos com www.loscabossir com | Two locations: Art District SJD l Marina CSL sirloscabos @loscabossothebysrealty Each Office is Independently Owned and Operated Casa Sur USD $8,950,000 CABO SAN LUCAS BAJA CALIFORNIA SUR, MEXICO GABRIELA VELAZQUEZ Sales Associate +52 (624) 141 6762 gvelazquez@sirloscabos com 7 Bedrooms | 7 Bathrooms AC SqFt: 8,111 75 Decks/Patios SqFt: 2,994 08 ID: Y6HZHP | MLS# 22 1497
CASA CORTEZ La Ventana | Oceanfront 7 Beds | 9 Full Baths, 2 Half Baths Sq. Ft.: 4,573 | $2,900,000 ENGEL & VÖLKERS SNELL REAL ESTATE FURTHER EXPANDS IN LA VENTANA NIKKY AVATARA Real Estate n.avatara@snellrealestate.com52.612.157.1688Advisor NEARLY BEACHFRONT PALMAS LOT El Sargento | Ocean View Lot 7 & 8 | 1,635 Sq. Mt. LA$800,000VENTANA KITESURF PARADISE Where the Wind Blows DUNA BEACH ESTATES LOT 5 El Sargento | Ocean View MLS #22-1283 | 1,123 Sq. Mt. $190,000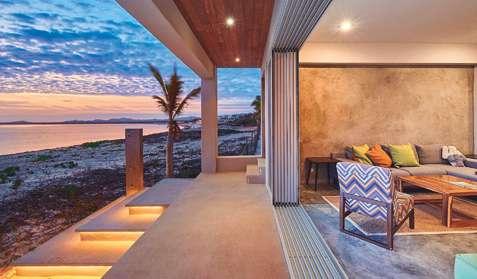 CONTACT INFO info@ronival.com | Text info to 619.350.2525
CONTACT INFO Textinfo@ronival.cominfoto619.350.2525
CONTACT INFO Textinfo@ronival.cominfoto619.350.2525
CONTACT INFO Textinfo@ronival.cominfoto619.350.2525
CONTACT INFO Textinfo@ronival.cominfoto619.350.2525
YOU'VETHISGOT $ 330,000 TO SEE OCEAN VIEW RESIDENCES (SCAN)
T: +52 (624) 143 1342 | E: info@cbriveras.com CBRIVERAS.COM $ 3,995,000 USD $ 549,000 USD $ 285,000 USD $ 1,485,000 USD $ 305,000 USD $249,000 USD Pedregal de Cabo San Lucas Costa Palmas, La Ribera Todos Santos Pedregal de La Paz San Jose del Cabo North Los Barriles MLS#22-1471 MLS#22-847 MLS#21-1071 MLS#22-1505 MLS#22-1432 MLS#21-2045 VILLA HART TO HART GOLF COURSE LOT LOT PASEO DEL MAR VILLA LUNA CASA de la artista ABEL'S BEACHFRONT LOT
V I S I T O U R S H O W R O O MS FOR ALL YOUR HOME DÉCOR NEEDS
PERSONALIZED ATTENTION • TECHNICAL SERVICE FREE LOCAL DELIVERY • EXPERT ADVICE SUPPORT LOCAL BUSINESSES
P A C I F I C O C E A N S E A O F C O R T E Z 1 3 1 3 1 4 2 3 2 1 1 6 1 7 1 5 1 8 1 9 2 0 2 2 2 4