FUTURE
BUILDING OUR
ANNUAL REPORT FISCAL YEAR 2016 JANUARY 1 – DECEMBER 31, 2016
TABLE
Blueprint 3 Letter from Leadership Foundation 5 Mission and History Brick by Brick 6 2016 Highlights Staircase to Success 8 Stepping Up & Out Scaffolding 10 Our Clients Nuts and Bolts 12 2016 Financial Statement Bricks and Mortar 14 Our Supporters Architects 17 Board of Directors, Management Team, and Advisory Board 1 " We do our job, and we do it well. The fac t that we are autistic doesn't keep us from doing that, as long as we have the understanding and suppor t." Maria, junior test analyst
OF CONTENTS
BLUEPRINT
Letter from Leadership
Dear friends,
Building Our Future is a ver y apt theme for our 2016 Annual Repor t. Thanks to the amazing progress we have made these past few years, our sights are set on tomorrow. Not only will Aspiritech continue to provide gainful and meaningful employment to a growing number of individuals on the autism spec trum, but also, as the first company of our k ind in Nor th America, we will continue to lead the way for others equally dedicated to creating brighter futures for neurodiverse individuals.
I t seems like it was only yesterday that we were three individuals pursuing a dream in the founder 's basement and to think we now have a team of 54 employees on the spec trum in our own office space! Believe it or not, it wasn't all that long ago that we faced a world unable to ack nowledge the needs of adults with ASD, much less appreciate their strengths and great potential to contribute to and par ticipate in the workforce.
Now, as one of the founding members of Neurowr x, a global alliance focused on accelerating the employment of autistic individuals in STEM (science, technology, engineering, and mathematics), we are work ing collaboratively with like minded companies from across the world to grow the field on an international level. And our Board of Directors will once again be embark ing on strategic planning in 2017 to ensure that we continue to build on the strong foundation described in this Annual Repor t.
S ome of our most rewarding experiences at Aspiritech come by way of testimonials from our QA analysts. For example, on a ver y chilly day last December, we received a note that really warmed our hear ts:
"I am beyond words! So ver y grateful for ever ything you've done for us as employees I have never k nown an organization big or small that continually shows as much compassion for its people as the one you have built The level of autonomy you allow us shows an immense trust and gives such a feeling of empowerment as I've never seen or felt at a work place. Impossibly, Aspiritech is a job that makes me feel SAFE at work I am forever grateful to be a par t of it."
We are forever grateful to you for your critical suppor t of our mission. Thank you for helping us to create a safe place where autistic individuals can thrive
Beverly Shapiro Brenda Weitzberg Chair, Board of Directors Executive Director
3
"Before I came to Aspiritech, I was worried I wasn't going to be able to find a job, and I didn't want to live with my parents unemployed forever."
Cour tney, QA analyst
2
QA analyst
FOUNDATION
Mission and History
Aspiritech provides a path for high func tioning individuals on the autism spec trum to realize their potential through gainful employment.
What does this mean? I t means we connec t the unique talents of individuals with autism talents such as laser like focus, attention to detail, strong visual processing sk ills, superior ability to spot ir regular ities, super lative technical sk ills, and lack of boredom with highly repetitive tasks with clients seeking this level of exper tise. Our employees provide quality assurance (QA) ser vices in regression testing, data migration, test design, compatibility testing, data analysis, user acceptance testing, automation, design consistenc y, hardware testing, and many more areas.
But Aspir itech is more than a connec tor. I t 's a place where employees find meaning ful wor k .
t 's a place where social quirks are embraced. I t 's a place where independence flour ishes and challenges are overcome.
come a long way since our founding in 2008. We look for ward to seeing what the coming years bring.
The company 's pilot program, a hands on software testing training program, launches
test engineers hired
New ser vices o ered; autism specialist hired
industries join as clients; business development direc tor hired
continues to thrive
revenue doubles compared to prior year
o ce and ser vice o erings; client revenue exceeds $500,000
"It's the first job that I've had that really plays to my strengths. I've never felt as fully appreciated before. I don't feel like I could be in trouble at any minute. It feels safe to work here. I didn't even know that was possible" Michael,
1
I
We've
45
Aspiritech
Aspiritech 2008incorporated 2009 2010 2011 2012 2013 2014 2015 2016 2008 2009 2010 2011 2012 2013 2014 2015 2016 First
New
Client
New
TURN THE PAGE
BRICK BY BRICK
Aspir itech continues to build on its success, br ick by br ick . We are proud to contr ibute to local, national, and even international conversations on autism and employment, but it all star ts right here at home. In fac t, our home doubled in size this year to better accommodate our growing team and new projec ts. Af ter all, it 's our employees who push us to be better day af ter day. Check out the highlights below to learn more about our dedication to our staff, our clients, and our community in 2016.
Nearly doubled the number of staff on the autism spec trum from 27 in Januar y 2016 to 50 in December 2016
Hired a social worker in December
Brought on a senior QA manager with 20 years' wor th of experience in July
Held a mini staff retreat focused on teambuilding sk ills at Heller Nature Center
Became a founding board member of a new Canadian based global alliance, Neurowr x, whose goal is to accelerate the employment of adults on the autism spec trum into STEM (science, technology, engineering, mathematics) careers
On average, 35 percent of our staff on the autism spec trum now work full time, including four salaried projec t leads
Introduced free group training in November; par tici pants receive a stipend to attend and 75 80 percent are typically hired
Received gifts from the wedding guests of a local couple who asked that donations be made to Aspiritech and three other organizations in lieu of a traditional registr y
Acquired a 2013 Honda Odyssey van from an anonymous donor
Changed Giving Tuesday to Grateful Tuesday in recogni tion of our generous suppor ters
Autism specialists worked with Rachel Loftin, PhD, AARTS program at Rush University, to design an enhanced staff super vision and suppor t system
Surpassed our budget goals by generating more than $1.2 million in client revenue and more than $1.5 mil lion in total revenue
Presence
from a dozen nonprofits, universities and ser vice organizations throughout the year
on ABC Channel 7, as well as in the Pioneer Press/Chicago Tribune, Chicago Woman magazine, and other media outlets, throughout the year
Community
Astellas Disability Fair booth in Februar y
5000
Global Summit 2016 on Autism and IT at AT&T 's headquar ters in Dallas on March 4
Employment
Sk ills for Adults Facing Social Challenges presentation on March 8
Nor
thwestern University 's Midwest Employment Symposium presentation and resource booth on March
12 Presentation,
panel, and resource fair with Steve Silberman, author of "Neurotribes: The Legac y of Autism and the Future of Neurodiversity," on April 13 TechWeek 2016 booth on June 23
Rock
in' the Spirit Fundraiser on Sept 24
Disability Employment Summit panel presented by Senator Julie Morrison and the City of Highland Park on Sept. 27
Presentation
to Astellas' People Living with Disabilities Employee Resource Group in November
Open
House on Dec. 11
Visits
Featured
7 2016 Highlights
6
STAIRCASE TO SUCCESS
Stepping Up & Out
Aspiritech employs individuals who sometimes struggle in social situations. Many adults on the autism spec trum have difficult y mak ing eye contac t or reading emotional and verbal cues, which can make job inter views, " water cooler talk , " and other social interactions challenging. Our Stepping Up & Out program tack les social isolation through week ly ac tivities, including game nights, ar ts and craf ts, and communit y meals.
Stepping Up & Out is open to adults ages 18 and up, and many par ticipants are not employed at Aspir itech. The program is led by par t time
weekend coordinator Brian Sundh and full time program ser vices specialist R obin K ac yn, who says, "I feel incredibly luck y to be involved with such a motivated and vibrant organization. I've met such incredibly interesting people and had tremendously cool exper iences since I star ted work ing here."
Par ticipants show improved communication, self confidence, social bonding, and self effi cac y, not to mention enhanced personal connections and friendship, emotional suppor t, and reduced isolation.
Stepping Up & Out par ticipant
9
"I like that I get to socialize with other people on the spec trum in a fair ly laid back atmosphere. I like to play Cards Against Humanity. I like to hang out and talk . I like to eat the delicious food. I t 's nice to be able to hang out with people in an informal setting and without any overly high expectations. I t 's pretty enjoyable being able to be with other people."
8
• Puzzles and craft projec ts • Pajama par ty • Beach outings • Picnics • Halloween par ty • Chicago Botanic Garden outing • 5K fundraising walk for Park inson's disease • Memorial Day barbecue and cookout • Ar t therapy with Linda Lee Goldman • Improv on Thursday afternoons with Jason Economus A Sampling of 2016 Activities
SCAFFOLDING
Our Clients
In 2016, we contrac ted with 10 clients in industries ranging from real estate to pharmaceuticals to technology. Our clients rely on us for quality testing that is on time and on budget. They appreciate our professionalism, accurac y, and willingness to go the ex tra mile. But don't take it from us. Here's what a few of our clients said about Aspiritech in 2016.
" With great attention to detail, excellent memor y, and incredible precision, Aspiritech's employees are an ideal par tner for quality assurance testing."
Zebra Technologies
" Wi t h o u t As p i r i te c h's i nvo l ve m e nt, we wo u l d n o t co nt i n u e to m e e t o u r projec t deadlines … The Aspiritech team helped us to consolidate ser vice l i n e d at a i nto a s i n g u l a r d at a m o d e l a n d c re ate a s t a n d a rd i ze d n a m i n g convention for multiple applications as par t of a larger effor t to reduce our implementation timeline."
Jones Lang LaSalle
"[QA analyst] approaches his tasks with eyes wide open. I don' t think the guy blinks because nothing escapes his view. I f you are look ing for a needle in a haystack , [he] will find the needle and a nail and a hairpin and ever ything else in that haystack . When per forming a manual regression test, [he] finds issues that existed but were not identified in previous regression passes. [He] is also a team player. When he learns a trick or a tool, he is eager to share it with others on the team."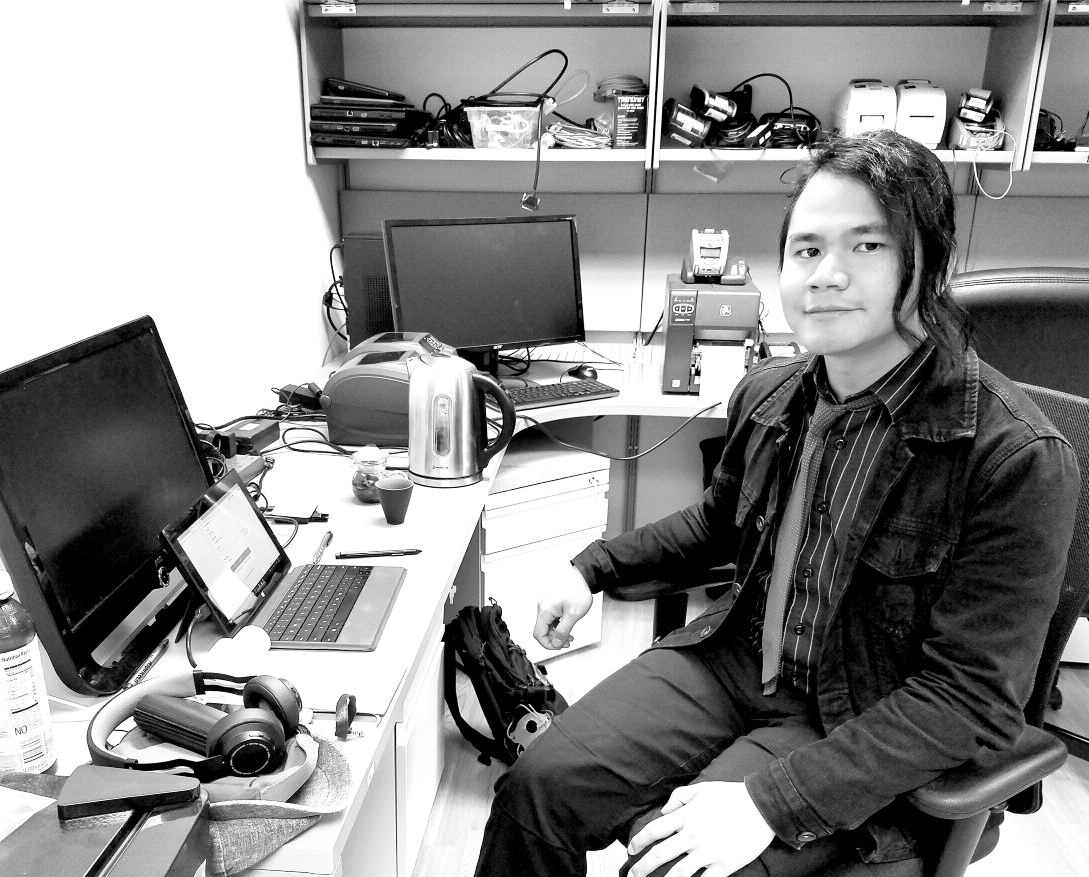 11
"
The r igorous testing makes it so the end consumer doesn't have issues. Some end consumers may not be able to describe when things are going wrong, so that is why we are here." Neil, senior QA analyst
10
SQAD LLC
13 2016 Financial Statement 2016 REVENUES AND EXPENSES 12 NUTS AND BOLTS O ther Individuals Foundations Businesses Program Costs Fundraising Management/General Costs 2016 EXPENSES $1,310,203 2016 REVENUE $1,548,254 Software Testing Revenue Re eased from Restricted Indidviduals $57,707 Foundations $148,248 Businesses $37,169 Released from Restricted $102,784 Software Testing Revenue $1,202,330 Other $16 Program Costs $1,142,991 Fundraising $24,576 Management/General Cost $142,636 2016 Surplus $238,051 "For a while, I almost felt this job was too good to be real. What are the odds t h at a co m p a ny t h at h i re s a u t i s t i c i n d i v i d u a l s a n d d o e s wo r k I l i k e a n d i s close to my house exists? Ian, QA analyst
BRICKS AND MOR TAR
Our Supporters
Aspiritech ex tends its hear tfelt thanks to the following donors who graciously suppor ted us in 2016.
$140,000
The Coleman Foundation
$34,000 35,000
Anonymous
Fred J Brunner Foundation
$25,000
Healthcare Foundation of Highland Park
$10,000 15,000
Alvin H Baum Family Foundation
Helen Brach Foundation
Betsy P Colburn
$7,500 8,000
100 Men Who Care + 10% (Suburban Chapter)
$5,000 5,500
Gregor y Cook
Finnegan Family Foundation
Louise Pearson and Jack Henk in, PhD
Modestus Bauer Foundation Sweeney Family Foundation
Under writer's Lab in suppor t of Marc Mar Yohana's board membership
Hong Zhang Sun, PhD and Xian He Sun, PhD
$2,000 $3,500
George M Eisenberg Foundation for Charities
Matthew Epstein
Trillium Foundation
Gene Weiss, MD and Shar yn Weiss/Squall Line Par tners, LLC
$1,000 1,999
Bruce Belrose and Ester Stein Simon and Rita Berger/Securitech
Rober t Bielsk i MD and Sharon Bielsk i
Eric and Laurie Chern
Brad and Jakee Cohen
CME Foundation Michele and Don Cronin Laleen and John Doerrer
Bill and Melinda Gates Foundation
Ida Kersz
Michael Lippitz and Susan Wagner Michael and K ar yn Lutz Family Foundation
David and K aren Rappapor t
Dr Lawrence and Dr Deborah Segil in honor of Moshe s bir thday Mick ie Lee Shapiro Steinback Trust James and Miner va Weiss Foundation Yun Zhang and Ping He
$500 $999
Action Electric Sales, Inc Carolyn and Ray Bur ton Philip H Corboy Foundation Abraham and Bette Cyzner in honor of Oran Weitzberg Teri and Dennis Dudasik Nora Epstein Yuji and Rik a Fukunaga Jim and Annette Ledder Jim and Marie McCallister Andy and Nanc y Mills
Mike Sahli/HP Professional Center Beverly and Myron Shapiro Yana and Gene Sosonk in Byron and Jean States Carmen and Donald Tozzo
$200 $499
Joel and Elaine Ahrens Natalie Belrose
Leon and Marcia Bernstein
Ben Bielsk i and Moselle De Long Bielsk i
Marilyn Blasē in honor of my daughter Gail Henjum
Barbara and David Campbell Emily and Rober t Carroll Linda Cutler
Dennis and Debbie Dean Paul and Deborah Doppelt Dan and Marilyn Educate Dr and Mrs Richard Elliott
Extrel CMS
The Ethical Humanist Society of Chicago
K arl and Deborah Fields in honor of the Leiners
Anne and Staunton Flanders Mar yAnne and Fred Geiger
Bud Glick
Therese and Dave Hughes Nanc y and Mar tin K arp Alan J K aufman MD
Dr Arieh Konigl
Ed and Abby Lasky
Terr y and Roseann LeFevour Moshe and Toby Leibowitz
Bill Leiner
Linch Family
Rinna and Eric Maletsky MB Financial Bank William and Annette McClellan Margaret McDonald Adam and Lori Miller Ronald and Patricia Miller Donna Piegore in honor of Colin and Patrick Piegore
Clint Pross and Amy Ecker William Russin
Patricia Sayre
Don and Peggy Shearn Glenn and Susan Snyder Steve and Cindy Vincent
Dr Moshe and Brenda Weitzberg
$100 $199
Anonymous
Br yan and Sarah Apple Bob and Debbie Barger Carol D Becker
Mark Becker and Ann Cerney in honor of Daniel and Nora s wedding
Dr John H and Jean Beckerman Celia Berdes
Andi and Alan Berkowitz Barbara and Marc Berman Bindy Bitterman
David Braverman in honor of Rachel, David, Jackson, Liv and Jagger Braverman Ron Brix Mar y Beth and Tom Brown Dr Duke and Claudia Cameron Marilyn Cargerman Richard Clark and Laura Whiting Clark
CNA Matching Gift Plan Marilee and Matthew Cole Floyd Cotlan in honor of Barbara Berman Betty Dayron
Dr Ira and Amy Dolnick Denise and Allan Edelson Scott Ernsteen Erik and Margaret Ford Lynn Franck
Janet and Merrill Freed Jeremy Gibson
Ashley Glicken in honor of Daniel and Nora's wedding Elizabeth Gordon
Dr Louis and Suzanne Greenwald Sue and Dick Greenwald
Gar y Har t
Marlee Hasson, LCSW Julie Hecktman Chris Heiss
Merrill and Bernette Hoyt Brenda Jansen Lynn K auffman in honor of Neil Nieto
Dan and Amy K aufman
Kenneth and Maria K aufman Nicolette Kevin in memor y of Emmanuel Mar Yohana
Andrea and William Kidd
Vered and Israel Klinghofer
Steven LaKind
Margaret and Mark Lindsay Lisa Marcus in honor of Daniel and Nora's wedding
Marc Mar Yohana and Rachelle Jer vis
Timothy G Mur vey
David Nehmadi
Cristine Noll
Thomas Peroulas in honor of Constance Mar Yohana
Elizabeth Phillips
John and Linda Piegore
K aren Pierce MD
Eric and Debbie Pock ross
Ted and Joan Podesz wa
Dr Gar y Posner
Alan I Rosenblatt, MD
Marlene Schwab
Roman Segal
Cynthia Seifer t
Julie Solomon
Peter Tarpey
Virginia Tobiason
Mark Vilimek and Sharon Stuck ley
Vilimek
Michael and Francine Wagner
Dave and Sharon Weinberg Scott and Betsey Wills Melissa Wish in honor of my son Max Jessica and Michael Young in memor y of Ar thur Segil
Dr Moshe Zamir
K aty and Hugh Zwick
Under $100
Mel and Donna Alexander
Allstate Giving Campaign
AmazonSmile Anonymous in honor of Andrew Berman
Gur v Anand Natalie Badawi in honor of Constance Mar Yohana
Bruce Belrose and Ester Stein in honor of Therese Hughe s bir thday
Ruth Bittner and Dr Paul Helman
Bruce Braverman
Abigail Buhle
Michael Burczak
Leslie Corn
Brindha Dyer
Ken Fairbanks
Dorothy Fiedler
Laura Fischer
Harold and Marbeth Freise
Ronald and Anita Futterman
Sheila and Vern Gideon in honor of Mark and Laura Friedman Richelle Gittens in honor of Cour tney Heiss
Debbie Glienke
Jorie Gracen
Meg Graf in honor of Constance Mar Yohana Jack and Ruth Gruener Paul Guggenheim
James and Kelly Har t Deborah Jordan
Jeffrey K adison in honor of Eric States
Dr Doug and Sherrie K alvin Judy L K atz OTR
Anne Klingeberger and Matt Vogel in honor of Daniel and Nora's wedding
Alyssa and Jeremy Knobel Arlene Koenigs
Joan Krillic in honor of Sharon Bielsk i
Ingrid Lamp and Rein Ninemae Philip Lapin
Har vey and Debby Lazar in memor y of Robbie Willis
Har vey and Debby Lazar in memor y of Leah Preis
Barbara Levine
Carolyn and Larr y Levine in honor of Beverly Shapiro
Dr Phyllis Loeff
Sandra Lopez
Crisler Lovendahl
Marilyn and Gar y Meyers
Peggy Noble
Rodney and Joy Onusaitis K ayhan Parsi in honor of Constance Mar Yohana
Tor y Peña
Jan Pilarsk i and Jay Tidmarsh Valerie Please
15
14
ARCHITECTS
Ben Prozinsk i
Shelbi Raney in honor of Sharon Bielsk i
Ruth Sang
Bradley Schneider and Julie Dann
Irene Sewell in honor of
Constance Mar Yohana
Teri Shiley in honor of Sharon Bielsk i
Jamie Specht
Christ and Cynthia Stacey
Philip Steptoe
Douglas Sturm
Dorothy Thigpen
Sue Tolpin
Daniel Weinberger
Brenda and Moshe Weitzberg in memor y of Emmanuel
Mar Yohana
Lynn West Cindy Wolfson
Gar y and Lauren Wool Donald Zabelin and Barbara Sered Zabelin
In Kind Donors
Aaron Freeman
Abt
Aitz Pilates, Darlene Bickshorn
Aks Allure Salon and Day Spa
Alice Cour tney, fine ar tist
Beam Suntor y
Betsy Phillips, Baird and Warner
Blink Optical
Blue Man Chicago
Blue Mercur y
Bluegrass
Bob Chinn's Crabhouse
Bobby s Deer field
Chicago Botanic Gardens
Chicago Shakespeare Theater
Cooper's Hawk
CorePower Yoga Suburban Chicago
Crossroads Soft Cloth Car Wash and Detail
Darlene Bickshorn
Dimitrios Jewelers and Impor ters
Einstein Brothers
Enáz
Foodstuffs, Lake Forest Forest Booter y, Lake Forest and Liber tyville
Fresh Thyme Market
Gene Siskel Film Center
Golfsmith International Half Price Books
Hub 51
Il Forno Kitchen
I talian Kitchen
Josh s on the Square Lake Forest Frame and Design Studio
Lillie Alexander Ltd
Lou Malnati s Pizzeria
Max and Benny s Mesa Mexican Restaurant Mindy S Kolof Communications Mizrahi Grill
NBC Nor ton's Not for Profit Band Omega Restaurant
Orangetheor y Fitness Lake Forest Pavilion Restaurant Bar and Lounge
Per fect Setting
Perspectrum Photo K atie Levin
PF Chang s
Pierce Interiors
Piero s Pizza Inc
Pilates Studio of Lake Bluff
Piven Theater Workshop
Player's Grill
Regal Theaters Lincolnshire
Remington's Restaurant Salesforce Scandia Home
Smylie Brothers
Stir Craz y
Susan and Glenn Snyder
Ester Stein and Bruce Belrose
Sweet Pete's
Tavern TRAX Grill
The Claim Company
The Fresh Market
The Lantern of Lake Forest
Therapeutic Kneads, HP
The Village Optical Shop, Lake Forest
TimeLine Theater Company
Trader Joe's
Trattoria D O C
Dr Gene and Mrs Shar yn Weiss
Michael Wexler, Seyfar th & Shaw
Women's Life Center
Writer's Theater
WXRT FM (93XRT )
Dean Zelinsky Private Label Guitars
We
Please
at
org
Board of Directors, Management Team, and Advisory Board
Board of Direc tors
Beverly Shapiro
Chair
Gene Weiss, MD
Vice Chair
David Rappapor t Treasurer
Alan Berkowitz
Barbara Berman Sharon Bielsk i Ron Brix
Brad Cohen Bud Glick
Marc Mar Yohana
Danielle Moushon (on leave)
Ben Prozinsk i
Ester Stein
Moshe Weitzberg, PhD
Management Team
Brenda Weitzberg
Executive Director
Moshe Weitzberg, PhD Director of Operations
Andrew Costello Automation Lead
David ( Vid) Deamer
Senior QA Analyst
Connie Gomez Senior QA Manager
Bonny Goldin, LCSW Counselor
Robin K ac yn Program Ser vices Specialist
Jake Klein
Job Coach/Tech Specialist
Neil Nieto Senior QA Analyst
Tor y Peña, MEd Project Manager
Brian Tozzo Lead Tester
Eric States Lead
Advisor y Board
Ed Asner
Brian King, LCSW
Bennett Leventhal, MD Dan Mayo Marc Noland Louise Pearson Keita Suzuk i Hong Zhang, PhD
16
apologize for any errors or omissions that we may have inadver tently made
notify us of any errors or omissions
info@aspiritech
1893 Sheridan Road, Suite 103 Highland Park, IL 60035 312-945 TEST (8378) info@aspiritech.org aspiritech.org Designer: Laurie Wurster Writer/Editor: Kelsey Schagemann Photographer: Katie Levin Interviewer: Alex Dudasik