WHAT'S ON TOURS SPORTS OUT & ABOUT CHECK OUT YOUR STORIES July/August 2022 Singapore THE AUSTRALIAN & NEW ZEALAND ASSOCIATION Heritage Issue SINGAPORe's Top Secret Spots For: Hidden architecture Homegrown arts & crafts Neighbourhood gems Iconic landmarks Heartland experiences The best local food - by the locals The HOTELS STEEPED IN HISTORY
The
INQUIRY BASED APPROACH IGNITING CURIOSITY
The Early Learning Village is a purposebuilt environment that has been developed exclusively for our youngest learners, from Infant Care to Prep. Founded on the universal truth that the environment nurtures the child, the Early Learning Village is a place which captures the imagination of each and every child, encouraging them to make new discoveries and lead their own learning journey. Space has a Pool, Library and Inquiry Centre, Multi-purpose Gym, Dance Studio, Medical Centre and Parent Café Our Campus Village operates within the inquirybased philosophy of Reggio Emilia and the IB Primary Years Program, and provides the ideal environment for bright, enquiring young minds to play and learn. Adjoining the main AIS campus, the children and staff at the Village enjoy their own special world, while also remaining connected to the wider school community. The transition between the Early Learning Village and the main school environment is made seamless through the sharing of common values and principles across the two campuses.
DID YOU KNOW? Our classrooms feature their own outdoor playgrounds, with sandpits, water play or activity tables and sensory play equipment.
Swimming
NUTURING AND ENGAGING YOUNG MINDS 2 MONTHS TO 6 YEARS DID YOU KNOW? Our Learning
Child-sized
Imagine a school day which is tailored to your needs, which allows you to organise your week in a way that suits both the needs of you and your child — the AIS Early Years program does just that. OUR SCHOOL WEEK IS AS INDIVIDUAL AS YOUR CHILD AND WORKS AROUND YOU DID YOU KNOW? The Early Years program at AIS includes weekly: Mandarin, SmartSteps, Music, Science, Technology, Engineering, Arts and Mathematics Globally focused, distinctly Australian Find out more SCAN CONTACTME To find out more please contact our friendly Admissions Team on admissions@ais.com.sg or 6653 2958
child? AIS Early Learning Village If not, now is the time as enrolments are still open for the start of our academic year 24 th January 2022 . Whether you're new to Singapore, new to parenthood or looking for a bespoke environment for your young one. We are here to help… Have you visited the Early Learning Village located at the Australian International School Singapore?
A village to raise a
B efore I moved to Singapore nine years ago, I was aware of the epic levels of cleanliness, the lack of chewing gum, and the presence of not just trees but Supertrees. However, nobody gave me a heads up on the amount of history and heritage that comes with this tiny island. In the early days, I made it my personal mission to visit the likes of Raffles Hotel, the Merlion and the Durian-esque Esplanade, but quickly moved onto spending my weekends scouting out lesser-known landmarks on the red dot. Thanks to stumbling upon local blog The Long & Winding Road by history buff Jerome Lim, I became privy to the impressive architecture, characterful people, and intriguing tales of yore that we have right on our doorstep. For this reason, I was thrilled when Jerome agreed to speak to us for this, our heritage issue, which shines a light on Singapore's background and culture ahead of her 57th birthday in August. Turn to p30 to read why Jerome is making it his mission to document how this humble fishing village evolved into the buzzing modern metropolis it is today. Local insights don't stop there. On p38 we talk to three locals who recall the Singapore they used to know. The story of Australian ANZA member and columnist Raelene Tan, who moved here in1970, is a fascinating and charming read. Speaking of charming, check out the heritage-inspired illustrations by local artist Yeni Lim-Borde, whose work features on this month's cover. We chat with her on p24. Of course, Singapore's past also comes in the platefuls of egg noddles and spoonfuls of spicy Laksa we enjoy at the hawker centres. Food is so ingrained in the culture here that the humble hawker centre was officially added to the UNESCO Representative List of the Intangible Cultural Heritage of Humanity in 2020. With so many dining options to choose from, we asked the locals to reveal their favourite homegrown dishes and where to find them on p34. In my opinion, you can't beat Tiong Bahru Hainanese Boneless Chicken Rice at Tiong Bahru market (see above and prepare to queue behindElsewhereme!). in the mag, we reveal how our group activities are getting back on track and larger social events are being planned once more. The highlight of my calendar is ANZA's legendary Melbourne Cup which will be taking place on 1 November 2022. Head to our website at anza.org.sg to buy your tickets. From what I hear, it's an occasion that could well become part of Singapore's history itself! Enjoy the issue, Jo Kerry Low gm@anza.org.sg Karen Henaghan Nikki Hutchins Christina Lim
Jo Upcraft, Editor editor@anza.org.sg EDITOR'S NOTE AUSTRALIAN AND NEW ZEALAND ASSOCIATION 261A Beach Road, Singapore 199541 Hours: Mon–Fri, 9am–5pm +65 6291 6301 linkedin.com/groups/ANZA-Singapore@anzasingaporewww.anza.org.sgfacebook.com/anzasingapore@anzasg THE ANZA TEAM
info@anza.org.sg DESIGN
ACCOUNTS Ellie Mills accounts@anza.org.sg ADVERTISING
marketing@anza.org.sg MEMBERSHIP SERVICES
GENERAL MANAGER & SPONSORSHIP
design@anza.org.sg MARKETING MEMBERSHIPSAND Brinta Nandy comms@anza.org.sg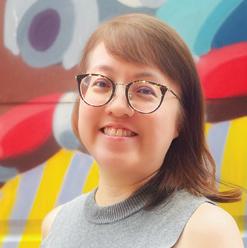 2 anza July/August 2022 the fine print ANZA will not be liable for any consequential loss or damage occasioned by the failure of any advertisement to appear due to any cause whatsoever, nor does it accept any liability for error in any advertise ment published or its failure to appear on a specific date. ANZA does not endorse or promote any product, service, or view offered through any advertisement, community service notice, or club or group activity that may appear in the magazine, nor does it accept responsibility for any specific advice or opinions offered by contributors or writers, and any subsequent reliance on such advice or opinions by its readers. ANZA magazine permit number: MCI (P) 070/10/2021 REGULARS 01 Editor's Note 04 President's Message 06 Post It 07 Partner's Page 08 New Zealand High Commission 10 Australian High Commission 12 ANZA Tours 14 What's On 19 Out & About 22 ANZA Action 54 Ask the Expert 57 Tuckerbox 56 Let's Talk 58 Hotspots EAT 60 ANZA Click 62 ANZA Sports 72 New Members 76 10 Minutes With … WINNERS!16FEATURESWEHAVE We reveal the winners of The Young Writers' Competition 2022 24 PRETTY AS A PICTURE We chat to Yeni Lim-Borne, the artist behind this month's heritage cover 30 MEET THE MEMORY KEEPER Heritage enthusiast Jerome Lim reveals some secret historical spots in Singapore 34 EAT LIKE A LOCAL - BY THE LOCALS Where to find the best heritage cuisine in town, by those in the know! 38 HOW TIMES HAVE CHANGED Three locals recall how the red dot has changed over the decades 42 FEELING FOGGY? A dive into the symptoms and causes of memory loss, a lack of focus and general blurriness 44 FREEZE THE FEAR & DO IT ANYWAY We give The Wim Hof Method a go 46 NOT GOING OUT If the 'new normal' has left you anxious, it could be a case of Cave Syndrome STEP BACK IN TIME YENIDRAWSCOVER: meCallin2025 24 30 465248 TAKE IT OUTSIDE How to create a soothing outdoor space to survive SG's summer in style 52 TIME MACHINE TRAVEL Journey to a bygone era with these hotels that are steeped in the past 38 JULY/AUGUST 2022
www.imc-healthcare.com@IMCSG@international_medical_clinic INTERNATIONAL DOCTORS CARING FOR YOU International Medical Clinic (IMC) is a GP practice for the whole family. We have 25 Doctors that speak eight languages and have provided care to the international community for over 24 years. Your Family, Our Priority. Scan for informationmore Children's 1 Orchard ETSingaporeCamden#14–01/02/03BoulevardMedicalCentre24864968874440paediatric@imc-healthcare.com Jelita 293 Holland Road ETSingaporeJelita#02–03/04ColdStorage27862864654440jelita@imc-healthcare.com Camden 1 Orchard ETSingaporeCamden#14–05/06/07BoulevardMedicalCentre24864967334440camden@imc-healthcare.com Katong 86-88 East Coast Road Katong#02-07 ETSingaporeSquare42337163424440katong@imc-healthcare.com
Megan Kinder William High Commissioner Jo Tyndall,
I continue to take in the country's heritage when I'm on my bike. One of my cycling routes has affectionately become known as 'The Chicken Run' and it takes in new and old Singapore. It starts at Orchard Road before detouring into the former plantation area, the 'twin hills of Sophia and Emily' off Selegie Road, then goes through Little India and the alleys of the Arab Quarter. The route follows the full Singapore skyline from the Fullerton-anchored city side, sometimes includes a photo opp incorporating the Merlion and MBS vista, and covers the less-familiar panorama from Straits View for an out-and-back to Marina Barrage and the Cruise Centre. I love the turn into South Bridge Road in Chinatown where we see rows of shophouses on both sides. First comes the small yet elegant pale-green Masjid Jamae (one of Singapore's oldest mosques. Next is the splendidly loud Sri Mariamman Temple (Singapore's oldest Hindu temple), followed by the majestic Buddha Tooth Relic Temple, all seated under the sky-high towers of Pinnacle@Duxton. Being city-based, this route is not one for PBs but offers an amazing scenic sunrise Rojak experience. The fowlinspired nomenclature derives from the Strava 'art' the route creates. Check out the map to see if you agree. If we stop at a hawker along the way, my go-to is always Milo Peng (Iced Milo) or a Milo Dinosaur, the ultimate Singapore beverage!
Hodgman,
for Australia | Her Excellency
Sports Coordinator James Lindsay PRESIDENT'S MESSAGE 4 anza July/August 2022 Sports Coordinator Alistair Green
John Debra
R ojak is the first word that springs to my mind when considering Singapore's heritage and culture, the theme of this month's issue. A salad found at pretty much every hawker centre, comprising fruit and veg with an aromatic and tangy sauce, Rojak is also a common Singlish expression to describe a multi-ethnic, diverse character, which I find so fitting for our island home. Indeed, our adopted home is filled with diversity. Singapore architecture fabulously and inclusively demonstrates the essence of Shiok!, a wonderful Singlish word expressing 'bliss or relief'. An area in Bugis I find fascinating is on Beach Road, between Ophir and Rochor Roads, where three very distinctive properties can be appreciated both on their own merits and for how they interact with each other. Another favourite is the Art Deco Parkview Square, often dubbed 'The Gotham Building', which houses the Atlas Bar, and is absolutely worth a visit at apero o'clock. Reminiscent of a 1930s build, Parkview Square was actually built in 2002. It's often cited as an example of how this solid mountain-like structure was positioned as a counterpoint Feng Shui remedy to The Gateway building just opposite.
High Commissioner for New Zealand ANZA AMBASSADOR PJ Roberts President Megan Kinder SecretaryMembership Philip Simmonds Committee Member Zenaida Bharucha SecretaryAssociation
Neilson Vice President Mark Neo Committee Member Don Northey Community CoordinatorService
de Reeper Committee Member Maria Taylor Committee Member Rochelle Brown Committee Member MaryScot Thom Treasurer Tristan Perry Committee Member Christo Fangupo COMMITTEEEXECUTIVEANZA
CO-PATRONS His Excellency
As an IB World School, CIS offers the PYP, MYP and IB DP. Canadian International School Pte. Ltd. CPE Registration No: 199002243H. Period of Registration: 8 June 2019 - 7 June 2023 Book a tour or learn more at www.cis.edu.sg/university or call 6734 8088. CHANGINGWORLDoneOXFORDACCEPTANCEatatime. Like Emily who's headed to Oxford, CIS's Class of 2022 have been accepted into leading universities including Imperial College, The University of Hong Kong, University of Michigan, and the University of Toronto. Preparing your child for a changing world.
We believe our global product set, costs and quality of execution from stocks, and options to foreign exchange are second to none. This is because IBKR offers a direct market platform that has been designed to provide the best execution without selling order flow. With access to 150 markets in 33 countries and 25 currencies, IBKR clients can invest globally in stocks, futures, currencies, bonds and funds from a single integrated account with no ticket charges, custodial fees, or costs for technology, software, platform or reporting. What do you like about being an ANZA partner?
The ANZA community is diverse and enjoyable to be around. It's nice to kick back and relax with the various groups outside of work. This magazine is also a valuable source of ideas and things to do around the island. We intend to remain a proud sponsor of ANZA. What do you get up to when not at work? I enjoy hiking, yoga or hitting the gym, eating out (a current favourite is Le Bon Funk) or just hanging out at home reading. Right now, I'm working through a friend's book Financial Cold War by James Fok. I also love listening to music - anything from rock to classical. My recommendation would be Kamasi Washington, a jazz saxophonist out of Los Angeles. What's the best financial advice you can give our readers? There is no such thing as a free lunch. Do your homework and choose a partner with a solid track record whom you can trust. At times I feel some people spend more time deciding where to eat Chilli Crab than where to open a brokerage account or invest! interactivebrokers.com A Featured
Meet
6 anza July/August 2022 POST IT KEEP UP-TO-DATE WITH THE ANZA COMMUNITY EACH MONTH AT ANZA.ORG.SG POST IT STAY CONNECTED WITH ANZA linkedin.com/groups/ANZA-Singapore@anzasingaporefacebook.com/anzasingapore@anzasg GOT SOMETHING TO SAY? Email us at info@anza.org.sg or comment on our Facebook page facebook.com/anzasingapore Tell us about Interactive Brokers … I head up our group in Asia. My role is to drive our business forward, innovate, and provide a great service to enable our institutional and retail clients to invest, trade and hedge at the best possible overall cost. How do you stand out above your competitors?
PartnerDIDYOUKNOW?
The Hungry Ghost Festival will be held from 29 July to 27 August, when many Buddhists and Taoists remember deceased family members. Neighbourhood activities include dinners, Chinese opera performances and auctions, all held to appease hungry ghosts, or spirits who have no living family to remember them.
HAPPY SINGAPORE!BIRTHDAY
– Raelene Tan
Singapore is gearing up to celebrate its 57th National Day on 9 August with some pre-pandemic party vibes. This year the theme is "Stronger Together, Majulah!" and islandwide celebrations will kick off on 6 August before the first full-scale National Day Parade in three years. "NDP 2022 is not only a celebration of the resilience that Singaporeans have demonstrated but it's also a call for Singaporeans to come together and strive onwards," said Brigadier-General Goh Pei Ming, chairman of the executive committee. Expect the Lion City to roar into action with events, exhibitions by the Singapore Armed Forces, fireworks, and celebrations throughout the heartlands and around the Padang.
DAVID ofManagingFRIEDLANDDirectorInteractiveBrokers,AsiaPacific
ANZA PARTNERS July/August 2022 anza 7 PLATINUM PARTNERS GOLD SILVERPARTNERSPARTNERS THANK YOU TO THE FOLLOWING ANZA PARTNERS, VALUED GREATLY FOR THEIR CONTINUED SUPPORT OF THE ASSOCIATION. wisecrackdrinks.com Pantone 201C & Cool Grey 11C
W hen PM Ardern, Minister O'Connor and the business and media delegation visited Singapore it marked the first official overseas visit for two years. The fact that PM Ardern made Singapore her first stop speaks to the value New Zealand places on the bilateral relationship between our two countries. She also brought trade minister, Damien O'Connor, and a high-level business delegation. Meeting virtually has helped us get through the pandemic, but nothing beats face-to-face contact, and the PM's visit was a clear signal that New Zealand is open for business (and has been open for travellers from Singapore since 2 May). There were many memorable moments, but for the team here at the New Zealand High Commission, this is what really stood out: PM Ardern having substantive bilateral discussions with PM Lee at the Istana, and having an orchid named after her PM Ardern with one of the carvers of the kūwaha and cultural performers from New Zealand Māori Arts & Crafts Institute (Te Puia)
NEW ZEALAND HIGH COMMISSION 8 anza July/August 2022 New Zealand High CommissionSingapore One George nzhc.sin@mfat.govt.nzSingaporeLevelStreet,21-04049145Tel62359966Fax65368180 STAY CONNECTED Follow us on Facebook: NewZealandinSingaporefacebook.com/ Register when travelling: safetravel.govt.nz Find out more: mfat.govt.nz/singapore
The addition of a comprehensive 'Climate Change and Green Economy' pillar to the Enhanced Partnership The unveiling of the imposing 800 kilo 'kūwaha' (carved doorway) created by the New Zealand Māori Arts and Crafts Institute and now installed at the Gardens by the Bay Cloud Forest In particular, the new pillar sets up a significant programme of work to cooperate in a number of areas where we have mutual interests and complementary expertise/ strengths. Initiatives under the 'Climate Change and Green Economy' pillar include: A Memorandum of Arrangement on Sustainable Aviation A regular climate change policy dialogue between officials of both sides Jointly providing capacity building training on carbon markets to ASEAN countries Information exchange on policy and technology perspectives on low-carbon shipping and de-carbonisationKnowledge-sharingdialoguesonwastemanagementtechnologyandstrategyItcertainlyhasbeenabusyfirsthalfoftheyear,butnoneofitwouldhavebeenpossiblewithoutthesupportofourNewZealandcommunityhereinSingapore.AverybigthankyoutoeveryoneforhelpingusmakethePM'svisitasuccess.
A visit to our little red dot marked the first trip for PM Ardern from New Zealand in two years. We report on some of the standout moments from her time in Singapore.
PM ARDERN COMES TO TOWN
CommissionHighZealandNewcredit:Photo
Dover Court International School (Pte) Ltd is registered with the Committee for Private Education. CPE Registration No: 197100313E Registration Period: 05/07/2019 to 04/07/2023. The Committee for Private Education (CPE) is part of SkillsFuture Singapore (SSG). We are a community with inclusion at the heart of all that we do, and we celebrate the individuality of each student and family. This is our heritage and ethos and will continue to serve us well in the future, as it has for the past 50 years. Mr Richard Dyer, our Principal shares how this philosophy has fully prepared our students to transition to life beyond school. Please scan the QR code to find out more. www.dovercourt.edu.sg +65 6775 7664 admissions@dovercourt.edu.sg
High Commissioner Hodgman was given a crash course in wrapping Madam Lee's famous rice dumplings by her grandson, Raymond Wong, who also shared his grandmother's story and his generation's commitment to honouring and reimagining her legacy. can watch the full video on our social media accounts.
High Commissioner Will Hodgman has a history lesson in food, and the largest exhibition of artworks by Aboriginal and Torres Strait Islander artists comes to Singapore.
You
A Peranakan treasure that has been around since 1945 and spanning three generations, Kim Choo Kueh Chang's current custodians are dedicated to preserving their grandma Madam Lee Kim Choo's recipes and the art of wrapping triangular Nyonya rice dumplings.
ChangKuehChooKim
In the lead up to Singapore's annual Dragon Boat Festival in June, High Commissioner Will Hodgman enjoyed a taste of Singapore's rich heritage at the iconic Kim Choo Kueh Chang shophouse over on East Coast Road.
Unwrapping heritage cuisine in Joo Chiat
AUSTRALIAN HIGH COMMISSION STAY CONNECTED Follow us on Instagram:LinkedIn:AustraliaInSingaporefacebook.com/Facebook:linkedin.com/company/ahc-sgTwitter:@AusHCSG@AustraliaInSG Australian High CommissionSingapore 25 Napier Road Singapore, 258507 Tel 6836 4100 Fax 6737 5481 10 anza July/August 2022
Ever Present: First Peoples Art of Australia exhibition on now The largest exhibition of artworks by Aboriginal and Torres Strait Islander artists to visit Asia is on right now in Singapore. Running until 25 September, Ever Present includes historical and contemporary pieces by over 150 Aboriginal and Torres Strait Islander artists from across Australia. Drawn from the collections of the National Gallery of Australia and Wesfarmers Collection of Australian Art, the artworks show deep interconnections between past and present, as well as extraordinary artistic innovation. The Australian High Commission is honoured to support this aboutFindcomplexwithalsoIslanderTorresAboriginalcelebratesexhibitionsignificantthatandStraitart,whilegrapplingAustralia'shistories.outmore PresentEverand related events at everpresentnationalgallery.sg/ Kickstart your health in July the Aussie way! Looking for some healthy inspiration? This month, we're featuring incredible Aussie-run health and fitness businesses on our social channels. Whether you're after a tasty non-alcoholic beverage to stay motivated during 'Dry July' or keen to step up your fitness regime with one of the awesome Australianrun gyms or trainers operating in Singapore, there will be something for you! Join our community on Instagram at @australiainsg or follow the hashtag #GreatMatesAUSG. High Commissioner Will Hodgman, Raymond Wong and Paige Tuieng (presenter) at Kim Choo Kueh Chang Tony Albert, Girramay/Yidinji/Kuku-Yalanji peoples, ASH on Me, 2008, vintage ceramic ashtrays on vinyl lettering, overall 150 x 150 cm, National Gallery of Australia, Kamberri/Canberra, purchased 2009, ©the artist and Sullivan+Strumpf, Gadigal Nura/Sydney
Discover the Difference DUCKS EARLY YEARS PROGRAMME (65) 6890 1003 Dulwich College (Singapore) CPE Registration Number: 201027137D. Period of Registration: 09 January 2020 to 08 January 2024. School Location: 71 Bukit Batok West Avenue 8, Singapore, 658966 LIVE admissions.singapore@dulwich.orgsingapore.dulwich.org D ETUR PONS MUNDO A environmentdual-languagewhereevery class is taught by at least one native English-speaking teacher and one native Mandarinspeaking teacher. Forest School provides real world learning and problem-solving opportunities to young children in a natural environment. The DUCKS specialist teacher programme allows children to excel and meet their own potential in speci c areas of the curriculum like music, sport, drama and art. We focus on developing con dent and happy children with a zest for life and a love of learning, to fully achieve their academic potential.
12 anza July/August 2022 JUL/AUGTOURSANZA Summer's looking fascinating with these exclusive tours that showcase famous streets, traditional food, and stories of the past. 17A  Keong Saik Rd Book Tour Discover what Keong Saik Road means to Charmaine Leung, the author of 17A Keong Saik Road, on a walking tour with our guide Charlotte. As a red-light district in the 1970s, for Charmaine, Keong Saik Road was also home, where she grew up as the daughter of a brothel operator. In this personal memoir, hear as she recounts the stories of the marginalised, forgotten women of Singapore's past and their struggles to make life better for themselves and their loved ones. Join us for this tale of love, forgiveness and redemption. Participants will receive a signed copy of the book. Secrets of Shophousea Travel back in time as we uncover secrets of the shophouse with our architecture guide Sarah Lev. Discover the beautiful Peranakan Baba House and see a mixture of ownTanjongenddesignedinsidePortersmuralsdetails.glimpse theprivateArtBaroque, JubileestylesofLearnalong EvertonarchitectureRoad.abouttheoriginshophousesandsuchasRococo,andDecoandvisitashophousetointeriorSeethestunningandvisit ArtGallerylocatedabeautifullyproperty. We'llwithlunchinPagaratyourcost. DATE: Thursday 21 July TIME: 10am – 12.30pm MEET: 9.50am, Outram Park MRT, Exit G COST: Members $45, non-members $55 DATE: Tuesday 26 July TIME: 9.30am – 11am MEET: 9.20am Outram Park MRT, Exit H above ground, next to Dorsett Residences COST: Members $50, non-members $60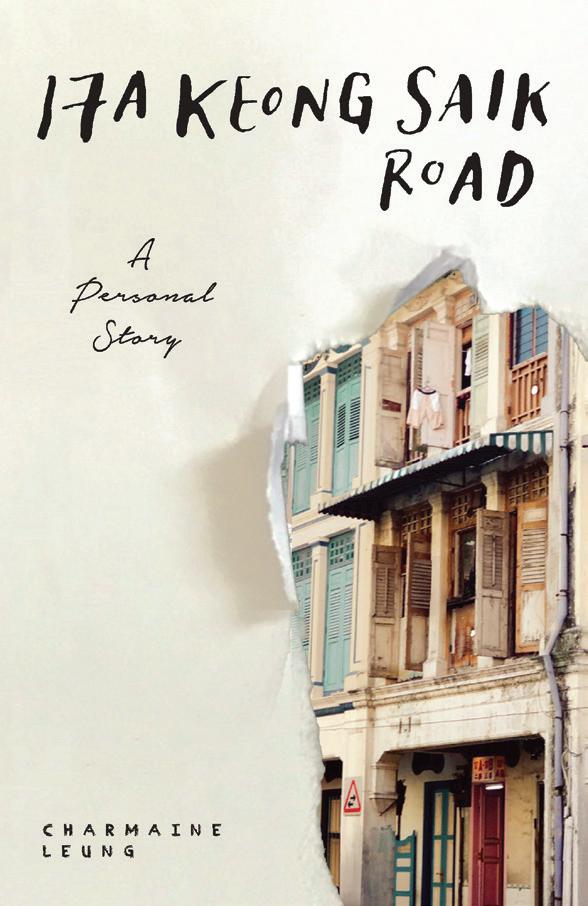 July/August 2022 anza 13
Harmony Street Waterloo Street is also known as "Harmony Street" as it houses multiple places of worship for Buddhists, Hindus, Christians and Jews. Learn about the history and development of these buildings borne from very humble beginnings, the ceremonies and festivals associated with each, and the relationships between them. On our way to our last stop at the Albert Mall wet market and hawker centre we'll enjoy the street's specialty stores, and see trishaw uncles and art murals by Yip Yew Chong.  DATE: Wednesday
street level COST: Members $35, nonmembers $40
Jalan Besar Jalan Besar in Malay means "the big road". The area we'll walk through during this tour is located between the Rochor and Kallang rivers, a swampy area back in the day, until the land was reclaimed in the 1850s. Hear about the origin of various street names, see the unique collection of shophouses and learn about the various architecture styles. Uncover the patrons who commissioned the shophouses and see how the area has changed from hardware shops to boutique hotels.
DATE: Thursday 18 August TIME: 10am – 12pm MEET: McDonalds at Lavender MRT, Exit B COST: Members $35, nonmembers $40 DATE: Saturday 27 August TIME: 10am – 12pm MEET: 9.50am Chinatown MRT, Exit A COST: Members $25, nonmembers $30 4 August TIME: 10am – 12pm MEET: Bras Basah A,
Amazing Race For Charity Join us for ANZA's third Amazing Race. Grab a group of friends or family (or we can add you to a friendly group) and discover some hidden gems of Chinatown. From temples to murals, famous eats to Peranakan treasures, this self-paced tour invites you to solve clues and riddles along the way. This is a fun activity for everyone, and all proceeds raised from tickets will be donated to charity.
MRT,  Exit
WHAT'S ON 14 anza July/August 2022 HILLMUSWELLHITS LIMELIGHTTHE Muswell Hill is a hip enclave in north London and also the name of the latest offering from local theatre group, Pandemonium. The social satire involves a dinner party, eccentric people, a passive aggressive marriage, a tone-deaf blind date and first world problems, and promises laughs along with a bit of a look at our inner selves. Until 10 July. Drama Centre, 100 Victoria St, #03-01 National Library, 188064. Ticket $35-$85, available from pangdemonium.com and sistic.com.sg NHB J oy of joys, Singapore Night Festival at Bras Basah Bugis precinct returns this year from 19 - 27 August 2022. The festival aptly revolves around the theme "Rebirth" and onlookers can expect cool projection mappings, light art installations, live performances, and general creativity and imaginative works. This vibrant event promises more intimate experiential programmes than previous years alongside the usual food and retail experiences. It's always a great gig with plenty to take in, so we recommend setting several nights aside to enjoy all it has to offer. nightfestival. gov.sg EPIGRAM BOOKS GETS A NEW HOME (& CAFE!) After a tough few years, local book store Epigram has a place it can call home. If you're a reader, head to SAM @ Tanjong Distripark. With a gorgeous view of the port, the 20-seater space features a wide selection of tomes from Epigram Books, as well as other publishers including Ethos Books, Math Paper Press and World Scientific. It's a serene spot to show some support to a local business as well as browse the latest in local literature. 39 Keppel Road #01-02, Tanjong Pagar Distripark, 089065 RETURNSFESTIVALNIGHTSINGAPORE
July/August 2022 anza 15 Calling all SG memories! Step into Singapore's past at the Share Your Story, Shape Our Memorial travelling exhibition. Showcasing stories of the island throughout the 1950s - 1970s, this free display is currently moving around venues across the island and will be at Funan Shopping Centre throughout most of July. Find out more at foundersmemorial.gov.sg/shapeourmemorial. gov.sg MELBOURNE-STYLEBRUNCH-TIME, If anywhere knows how to do good brunch, it's Melbourne. So it made us hungry to hear that Melbourne Brunch Festival 2022 is taking place around Singapore throughout July and you won't find boring old Weet-bix on the menus. The selection lunchandemptysoVictoria,produceusesmashedeggsthewhippingrestaurantsofuplikesofbennyandavowillpremiumfromAustraliaarrivewithanstomachplantoskipentirely. For participants,detailsfurtherand log onto vgtisea/com/company/linkedin.
marinabaysands.com
We
art
NATURE'S TOUCH Don't miss Artscience Museum's latest virtual reality exhibition, Live in an Ocean of Air. The immersive multi-sensory installation first premiered in 2018 at The Saatchi Gallery in London before its Asian debut here in Singapore. Created by Marshmallow Laser Feast (MLF), it transports across the to California's Sequoia National Park and blends the animal, plant, human and natural worlds together via a VR headset, heart rate monitor and breath sensors. Groovy. Until October 2. Artscience Museum, 6 Bayfront Ave, 018974.
you
globe
WINNERSTHEAREIN!
THUD I t is 1 January 2027 in Singapore. Kate was in her room looking at her voice recorder collection. Suddenly, she heard a "Thud!" outside her window. She curiously looked out. First, she saw nothing. Then, she saw that one of the dried leaves had a weird shape. When she looked closer, she saw that it was a baby sparrow. She quickly ran down the front steps to that patch of dry leaves.
ENTRIESPLACEFIRST6-10years
A NZA Young placepresentdiscussion,Afterinimaginationthewritingyoungtheoverwhelmingasheavilychangewarthehowever,ofwaswriting,islandentriesyearofHobby,Competition,"2022forlikeWritingstudentsandacrossamountattractedCompetitionWriters'2022arecordofentriesfromSingaporefromlocalinternationalschoolaged6-15."OnbehalfoftheANZAGroup,wewouldtothankeveryoneparticipatingintheANZAYoungWriters'saysKristenorganiserandonethejudgingpanel."Thisweattractedover150fromaroundtheandthestandardofcreativityandflairhigh.Awidevarietygenrescamethrough,theeffectsofglobalpandemic,theinUkraineandclimateisclearlyweighingonouryoungpeoplethethemesshowedanconcernforfutureoftheworld."Weencourageallourscribestokeepandwehopetoseesameexcellentlevelsofandhardworknextyear'scompetition.muchdeliberationandwe'reproudtoouroutstandingfirstentries.
YOUNG WRITERS COMPETITION 16 anza July/August 2022 Stories have been read, imaginations have been stretched, minds have been blown. We are proud to announce the very creative winners of this year's ANZA Young Writers' Competition.
Just after she said that, she heard a mother bird call and its chick came walking towards her. Kate had a sudden realisation, "Oh! Why haven't I thought of that?" She got her loudest recorder, hurriedly picked up the baby sparrow, and went to Bandy Park. When she reached Bandy Park, she patiently waited for the baby sparrow to chirp. She felt as if everybody was watching her. She had her recorder on standby, one minute …two minutes"Chirp!...there!Chirp!" the baby sparrow called. Kate recorded it then played it a few times. The mother sparrow recognised the call and came. It was a tearful reunion, watching the mother and baby sparrow fly around each other.
WINNER: Lauren Afable
The baby sparrow seemed very confused. Kate wanted to help the bird, but the main question she had was, "Now how do I get you back to your home?"
"Oh! I think I saw that bird in Bandy Park!" she exclaimed.
Kate smiled and whispered "You're welcome!"
The judges say: "The judges loved Lauren's story with its strong narrative arc that took the reader along with her on her adventure."
She looked out and sighed, "Sorry sparrow, why won't you give me ideas?"
Every 1 January, Kate remembers the baby sparrow and that "Thud" on her window. Then each time she whispers "You're welcome."
Before they flew back, they chirped their "thank you."
She pondered about that question for days. In school, she could not concentrate in class and she just kept thinking about how to get the baby sparrow to his home. She wrote all the possible ideas, crossed out the bad ones, and kept adding new ones every day. In the end, she was left with two options: first, she will try to ask someone in Bandy Park if anyone saw a baby sparrow's nest. Second, she could look into the big Oak tree in Bandy Park. She tried to do the first idea, but no one in Bandy Park saw any baby sparrow's nest. She tried the second idea, but even when she looked through every branch, the sparrow's nest was nowhere to be found. She said with a sigh, "What now? I have tried everything! Argh! What am I missing?! I've been thinking and pacing this room for days! And I still have tons of homework!"
ENTRIESPLACEFIRST11-15years I t
Second place (6 - 10) Rohaan Palit Second place (11 - 15) Sophie Tan Third place (11 - 15) Josiane Lee Jie-Xin is 1 January 2027. I write from my room in the heart of Canada as I look out of my window. The tiny cracks that fissured the window glass from the riot, the dirt-brown snow stained with the muck from peoples' shoes. The homeless man. U sually, looking out of this window calms me. Today, I look out and think. I think of the many reasons the homeless man could be out there. In his rugged coat and boots that were probably way too small for him. In the cold. Alone. The people wearing elaborate coats that were in much better condition than his one walked past him without acknowledging his existence.Icansmell the smoke and hear the screams from a nearby riot. The icy wind shears my face like razors and I close the windows. My room sinks into suffocating silence. The world is in chaos. I feel like I am the only person who acknowledges it. The world is perfect, everyone says that. I bet people in faraway places like Singapore and Cambodia even say that. But it's not. It all started in 2019. The pandemic. The food shortages. 2020. Climate change hit hard that year. 2021. Lack of healthcare. 2022. I let a tear slip down my face. The Russian invasion of Ukraine. I glance at the statue of the soldier on my desk. That's how I lost my Grandfather. I'm at the window again. I slam my fist against the window and watch as the fissures spread like spilled ink. Now it's 2027. One disaster after another. I open the window. The riot has stopped. All that is left is the sickeningly sweet smell of smoke. I walk back to my desk. While some countries are in a new era, one of technological innovation and new discoveries, most of the countries struggling with poverty can only attempt to keep up with the ever-changing world. Climate change has not stopped progressing. Neither has global warming. So what has changed? I guess more people have started campaigning about what they believe in. The homeless man on the corner of street 78 is yet to be helped. There is a fire down the street. More smoke. I am about to close the windows again when I see something. A girl who looks about my age is talking to the homeless man. I straighten. The girl's lustrous black hair swishes as she hands the man a sandwich. My eyes widen as she takes something out of her bag. A coat. The way the smile crinkles the homeless man's face and erases the hard lines of years of hardship is enough to make me open the window fully. I feel the icy wind. I hear screams. But I also find peace. And as the girl walks away, I feel like my heart could burst into a million feathers because it felt so light. Because right then, I knew. When humans unite, we are so much stronger than anything else. The judges say: "We were really struck by Angelique's use of evocative descriptions of the world around her. The story took the reader on a journey through despair to hope."
July/August 2022 anza 17 WINNER: Angelique Lamouri WE NEED CHANGE
The ANZA Melbourne Cup Race Day Tuesday 1 Nov 2022 Proudly presented by AAM Advisory 10am to 3pm at Singapore Turf Club The ANZA Melbourne Cup Race Day is back! Held at Singapore Turf Club, the buzz of the Melbourne Spring Racing Carnival is recreated with on-site live betting and the much anticipated Fashions in the Field competition. A glamorous crowd, a room full of excitement, sporting passion and the sound of popping corks all contribute to what is a firm favourite on Singapore's social calendar. The ANZA Melbourne Cup is ANZA's biggest fundraiser of the year in support of RIDING FOR THE DISABLED ASSOCIATION SINGAPORE (RDA) Platinum and Presenting Sponsor Sparkling and Wine SponsorPhotography Sponsor Organised by onearlybirdTicketsSaleNowanza.org.sg Gold Sponsor Silver Sponsors Art Works Group
July/August 2022 anza 19 OUT & ABOUT MATILDAS It was a busy weekend in June for ANZA Soccer with the Season Final Presentation Day (see below) and the JSSL Singapore National Youth League 2022 final taking place. In a fiercely contested tournament playing five games over five weeks, resulting in three wins, two draws and zero losses, the ANZA Matildas Girls 10 team won Division 1 after playing the final match winning 11 – nil. The ANZA Matildas G10 are the Matildas' youngest competition team – go girls! MAHJONG Things have been getting suitably shuffly at our popular mahjong sessions which take place several times a week. We're thrilled to see welcomeplayersreturningandtoalot of new faces. learningSeeing, & doingANZAwith
SOCCER
Also in June, the entire ANZA Soccer community came together to celebrate their end of season Presentation Day. It was a fabulous time of fun, friendship and soccer – and free ice-creams for all of the players! There was so much joy that final games could be played and trophies and medals were awarded without the restrictions we've become accustomed to over the past few years. One highlight of the day was when the parents took on our ANZA Soccer players for a few friendly matches. don't need us to tell you who was limping the most afterwards!
You
20 anza July/August 2022 SCOUTS Our Joeys, Cubs and Scouts had a brilliant time at Boys Brigade Sembawang Campsite. Led by the Scouts, friendship, leadership and fun were top of the agenda and a blast was had by all. CASUAL COFFEE Coffee and chat has been taking place at various venues around the island. A big shout-out goes to Boomerang who allowed some of the more furrier members of ANZA to join the table! LADIES NIGHT We said goodbye to our 'Little Ladies Nights' consisting of just five people. Thanks to Miss Fitz (below left), The Lobby Lounge at the Intercontinental (below right) and Bayside Drinks and Eats for hosting us.
July/August 2022 anza 21 KILL-O-METRES Our Kill-o-Metres enjoyed a morning jaunt through the Gallop Extension of the Botanics, Dempsey Hill, and ended up at Tiong Bahru. Coffee - which almost turned into lunch - ended the walking and talking session perfectly. ANZA TOURS No nook or cranny could escape ANZA Tours when the group made their way around Tanjong Pagar. Meanwhile, the talk from Victor at Peranakan Tiles was very insightful. NETBALL Presentation Day in June brought the netball season to a fantastic end and the girls all embraced being able to play full court games again. Bring on Term 2!
Volunteer with Kodie at Riding For The Disabled Association Singapore (above) and as a coach with ANZA soccer (below)
● SKILLS-BASED VOLUNTEERING This is where you can use your knowledge and experience to support an organisation. For example, volunteer at styling sessions for Dressed for Success, use your research expertise to assist AIDHA in the fields of education, migration, gender and development, or join ANZA Knitters to make cute clothing for newborns Sense achievementof "We volunteer for many reasons," says Debra. "These include a sense of giving back to the community, learning new skills, personal growth, a feeling of achievement and making a difference in people's lives, and finally, for the social aspect of working together with peers." Whilst no one should ever pressure anyone to volunteer, know that in doing so you will reap as many benefits as the organisation you donate your time to. ANZA's website (anza.org.sg) has a list of organisations in Singapore requiring volunteers, with links directly to their volunteer sign-up pages. Giving.sg and SG Cares also have sites showcasing volunteer jobs and events at giving.sg/ virtual-volunteer and volunteer.gov.sgANZA members helping out with the Salvation Army food distribution programme
● SERVICE BASED ROLES Join organisations to provide services such as meal preparation and delivery, or aid the elderly in arts and crafts. Alternatively, play a game of mahjong with the Salvation Army or help out at Riding For The Disabled Association Singapore (RDA Singapore) assisting physically and mentally disabled children and young adults with horse riding therapy sessions (Hippotherapy). Lending your time and skills to youth sporting groups such as ANZA Soccer, Netball or Nippers is also a great way to get involved
ANZA ACTION 22 anza July/August 2022
Volunteering in Singapore goes back over a century. We look into how our community gives back through ANZA Action and ask why do we volunteer anyway? I f you're looking at volunteering in Singapore, ANZA Action is for you. This charitable arm of our community offers members the chance to give back to our adopted home through fundraising and volunteering - and we're always open to newTheopportunities!historyofcharitable activities in Singapore can be traced back to the arrival of Sir Stamford Raffles in 1819 and the foundation of modern Singapore. Indeed, despite the pandemic's toll on life, Singapore continues to rank highly in the Southeast Asia region today for its philanthropic spirit. According to a recent report in The Straits Times, Singaporeans gave generously to charity throughout 2021. There were more than 4,800 fundraising campaigns on Giving.sg (an impressive 21 per cent jump from 2020), which provides plenty of inspiration. As we re-enter a new normal, volunteering will rebound to suit the modern volunteer. "At ANZA Action we're seeking less commitment, shorter termbased roles, and there are three primary areas in which you can give your time," explains ANZA's Community Service Coordinator, Debra de Reeper.
● EVENT BASED ROLES Assist in fundraising campaigns or benefit events such as the yearly toy drive for LOVE, NILS who work to support children with cancer. Or maybe staff a fundraising booth for IC2 who support children with visual impairments
The Counselling Place has an international team of Therapists experienced in serving Expats in English, German, Spanish, Bahasa Indonesia/ Melayu, Korean, Japanese, Mandarin, & Cantonese. www.thecounsellingplace.com Psychological testing for: Learning/ behavioural issues Career/ vocational guidance Emergenetics® profile for individual, couples, families & corporate team Children's & teens' issues Parenting Relationship/maritalconcerns conflicts Anger & stress management Anxiety & depression Grief, trauma & loss Relocation & adjustment Career/ Life Coaching Counselling for: 105 Cecil Street, #11-00 The Octagon, Singapore 069534
What happened was a charming selection of simple, stylish artworks which pay homage to Singapore's heritage and bring together Yeni's fascination with local history, tiny details and memories of her own upbringing in Telok Blangah. "I want my art to be accessible, playful, nostalgic, a little eclectic, and fun," she says. Here she talks us through her journey so far and shares her hopes of keeping the past alive through her designs. Tell us about your art … All of my pictures are digital illustrations. I create them on screen and use local history and heritage as my inspiration. I rarely sketch out the designs beforehand, I just start and see what happens! My first drawing was a blue shophouse and it wasn't based on anywhere in particular, although I do love the shophouse books by expat artist Tatyana Kildisheva (kildi.com). Each piece of artwork takes around two to three weeks to complete, but sometimes they can go on for a few months. What is it that takes the time? I think because I'm not copying an image, I can keep playing with no restraints. Each of my shophouse pieces has something different about it - the blue one has two lanterns, the mint one includes the addition of a bicycle, the yellow one features a chilli padi plant, and so on. Choosing the colours is time consuming because I need to balance them out and make sure they contrast but still pop. I love yellows, lilacs and blues. I keep adding layers to the image and then taking them away. Sometimes I have up to ten layers on one artwork.
Above:
How much does your own heritage influence your designs? So much! My mum is Indonesian-Malay and my father is Singaporean-Chinese, so I grew up within a family of many cultural influences. When I was younger, my family celebrated different occasions and the food we ate was very different to that of my friends. My Great Aunt lived on Blair Road and I have such strong memories of visiting her as a child. It was not a nicely renovated home back then. I remember being terrified of going up the Home accessories. Yeni with her bamboo platesYeni's 'Shelfie' illustration captured on a tea towel (above right)
INTERVIEW 24 anza July/August 2022
Not only is local artist Yeni Lim-Borde responsible for this issue's stunning magazine cover, but she's as sunny and delightful as the pieces she creates.
S ome people baked bread during the pandemic. Others used the time as an opportunity to get fit. Yeni Lim-Borde realised that she is a very skilled artist. The 39 year old ex computer programmer and mother of two girls discovered her hidden talent just over two years ago. As life closed in on itself due to Covid-19, she decided to use her new-found creativity to bring some joy, positivity and colour into the world. "I was struggling a little with being a new mum again and maintaining my sense of identity," she tells us from her bright and cosy new store, YeniDraws (yenidraws.com) in Tiong Bahru. "I started to play around with digital drawing on my computer, using images and ideas I'd formed in my head, just experimenting to see what happened."
Right:
July/August 2022 anza 25
I love my 'Shelfie' artwork which showcases all of my favourite foods. The strawberry jam is for my dad because he's very particular about his spreads, the cookbooks remind me of my mum, and the mugs are quintessentially Singaporean. Which other local history would you like to immortalise in your work?
The brainchild of Radhika Mayani, Left-Handesign sell a range of plantable stationery (yes, you read that correctly). The range of pens, pencils, notebooks and gift tags can all be planted, sprouting herbs such as tomato, chilli, tulsi (Indian basil), spinach, okra, and mustard seeds. left-handesign.com
More
KIN'S MINIATURES Those who love the little things in life will adore these miniature models of local dishes and activities (think bowls of laksa and mahjong tables). Kin also conduct clay food making lessons for those with particularly nimble fingers. kinsminiature.com
26 anza July/August 2022
What's your personal favourite piece?
I'm very excited about my National Day series which is coming out imminently. It's my first foray into glassware and ceramic plates and will only be stocked in the Tiong Bahru store. My artwork is a way of preserving the past and an ode to a bygone era. My wish is for coming generations of Singaporeans to celebrate our local culture. It's always important to progress as a nation, but we also need to remember our roots. Find Yenidraws at 55 Tiong Bahru Road, Unit 01-53, 160055 yenidraws.com @yenidraws stairs which were so steep with large gaps in the floorboards. The house had a cockatoo and German Shepherd dogs and I really felt like I was stepping into the past. The property is no longer there which is a great shame. It's incredible that you only discovered your artistic flair a few years ago ... Once I'd developed my illustration style, I started out by putting my designs on to small postcards. When these became popular, I ventured to tea towels and bamboo plates. The plates are really helpful for teaching children how to do the washing up because they are unbreakable! At the same time, I set up my social media platforms to promote my work and sell my wares. A few local stockists got onboard, and I opened my physical store in March this year. Had you owned a store before? No! It's been quite a whirlwind! But I wanted to do something big and significant before I turn 40 this year, and this is it. Once I started drawing and getting a following, I began to have vague ideas about owning my own shop. I kept browsing property websites, but not seriously. Then, one night this shop popped up and I recognised where it was in Tiong Bahru. I contacted the agent who sent a video through of the space, and I just got this instinctive feeling it was right. How has opening Yenidraws been so far? I love it. Along with my own custom postcards, prints, notepads, tapestries, plates and totes, I stock lifestyle items, accessories, bags and jewelry from local artisans. You can find items from the likes of Northbridge Paper (facebook.com/Northbridge. Paper), Colorfull store (colorfullstore.com), Nodspark (nodspark. com), Brass in the Sun (brassinthesun.com), and Pinacola girls (@ pinacolagirls). There are some gorgeous throws and cushions by HeyRumah, as well as a small selection of vintage clothing. I try to choose pieces that are unique and fun, and can bring a bit of happiness into your life. local talent Great arts & crafts to know ARCH ARCH is a hallmark heritage gallery offering wood crafted masterpieces put together by hand. Choose the style and design and they'll painstakingly create a superdelicate bespoke piece for you. PS. They make fab gifts! archsingapore.com.sg
There's an old building along Moulmein Road which is part of Tan Tock Seng Hospital and it's amazing. I keep driving past it and capturing it in my mind. What are you working on now?
DIRTY HANDS ONLY Love the plates and bowls taking centre stage in your favourite restaurant? It could be the work of Dirty Hands Only. This local company have a fresh and modern selection of homeware, and they also host bespoke pottery classes. dirtyhandsonly.com Yeni outside Yenidraws which showcases her artwork dedicated to Singapore's past
LEFT-HANDESIGN
Grass Fed, Hormone F ree, Cage F ree, P lant Based, H a l a l p r o d u c t s o n l i n e T H E M E AT C L U B . C O M . S G
Small Business SPONSORED CONTENT 28 anza July/August 2022 As we slowly exit the pandemic and enter into a time perpetuated by the "Great Resignation", starting your own business has become an increasingly popular direction for many expats and locals in Singapore. Whether you're seeking a better work-life balance Payroll, accounting, marketing - argh! Starting your own business is exciting but it can also feel overwhelming. Read on for tips on how to manage without a meltdown. and quality of life, or finally feel ready to take the leap with that business idea that's been bubbling under for a while, now is the ideal time to try out a new direction ˗ and Singapore is a great place to do it. As an expat, there are a few additional hurdles to consider when it comes to incorporation and work passes, but you don't have to do it all alone. A consulting agency can help with everything you'll need as a small business owner from incorporation and finance services to HR, marketing and public relations.
"Throughout the pandemic, we've seen a huge demand for new companies to incorporate and launch in Singapore," says Louisa Meredith, Director of Finance & Corporate Secretary for Accela Group. "We have incorporated more than sixty five new companies in Singapore since the start of 2021 alone."
Easy & pain free From company incorporations to annual compliance, Accela is a consulting agency that helps clients to meet Singapore's regulatory needs, quickly and efficiently, meaning they have your back from the moment you start your business. Once you're up and running, you'll also want to consider a partner for financial services such as bookkeeping, payroll and more. When it comes to Financial Services, Accela is a trusted Xero partner, meaning the company can help to manage all of your accounting needs with one easy to use software. Founded in 2006, Xero now has 3 million subscribers and is a leader in cloud accounting. For small business owners directly or bookkeepers and accountants at an agency like Accela, Xero's mission is to be the most insightful and trusted small business platform, and make life better for small businesses, their advisors and communities around the world.
EFFICIENCY: Managing a small business means you have endless details to keep track of, so finding a one-stop shop for your accounts and contact management is key. Xero also offers complimentary software products such as Hubdoc which can be fully integrated to capture data automatically
INVOICING: Xero can raise and send invoices, which are then directly linked to your accounts receivable ledger, so transactions are seamless
If you're not quite ready to engage a third party, accounting software like Xero is intuitive for small businesses to use on their own. As a cloud-based system, it can be securely accessed anywhere in the world and has multi-currency functions that make recording foreign currency transactions easy andAccelastress-free.Group provides businesses with localised expertise across communications, finance and talent – empowering them with the knowledge needed to grow and evolve. As a professional yet compassionate partner, Accela Group connects clients to new communities, people and ways of working. For more information about our services, visit accela.asia or get in touch at hello@accela.asia
What's more, its functionality allows you to take care of your bookkeeping in a fast and efficient manner. "Bank reconciliations in Xero can take just minutes, and the simplicity helps many of our clients to balance their 'financial housekeeping' with the busy workload that comes with starting a new enterprise," says Louisa.Ifyou're seeking an accounting solution for your start-up, here are some considerations to keep in mind: REPORTING: Consider what kind of reporting you'll need to provide for your new business. Xero offers clear and concise reporting which can also be customised to suit your needs SHARED ACCESS: Chances are you won't be the only one who will require access to your accounts. Using a platform like Xero makes it easy to give access to accountants, auditors or tax advisors
SECURITY: Relieve stress about keeping your account details secure - Xero guarantees safe storage of information
July/August 2022 anza 29
Thanks to his persistence and passion, Jerome began to work
INSIGHTS 30 anza July/August 2022
Local heritage enthusiast Jerome Lim documents the unseen, unheard and unappreciated parts of Singapore. He talks to ANZA about history, storytelling, and the time an Australian Prime Minister popped to his HDB for tea. I f you want to find Jerome Lim, head to the 11th floor archives in the National Library where he'll be immersed in archival material. Indeed, there is little about Singapore's history and heritage that he doesn't know. A naval architect by trade, Jerome became interested in learning about - and preserving - his homeland's history back in 2007. Interestingly, it was leaving the red dot that ignited a fresh new interest in it. "I was posted to Penang, Malaysia for work. While there, I'd walk around the neighbourhood in my spare time, and I realised how much it reminded me of the Singapore I grew up in," he says. "The architecture, the old English churches, the eateries by the sea - I started to miss the 'old Singapore.'" Jerome, 57, started to get flashbacks to the Lion City of the late 1960s. "I remembered the stories my father would share back in the day, and how my parents used to take me to places in Singapore that have now completely disappeared," he says. "Did you know the island used to have a wonderful coastline with cliffs? There were beaches you could not imagine here today!"
Connecting the present & past Filled with nostalgia, Jerome made it his mission to document his experiences of childhood. Upon returning from Penang, he spent his spare time exploring and doing research. "I started with my time growing up in Toa Payoh. I was an urban kid, but I spent a lot of time in the kampongs. One friend of the family had a chicken farm in Punggol, alongside pig farms and vegetable farms, in what my father would call 'the fresh country air!'" Keen to connect the present with the past, he started his blog, The Long & Winding Road, as a way of rediscovering Singapore.
"As luck would have it, at around the same time I started blogging, there was an announcement about the closure of the railway track between Singapore and Kuala Lumpur, Malaysia (the track known today as the Rail Corridor)," he says. "I got interested in highlighting what was happening. I'd go to the old Tanjong Pagar train station at 6am to take photos and talk to the staff - I became a bit obsessive!"
This makes sense when Jerome admits to having an emotional attachment to the train route. He continues; "Back in the 90s, I spent a lot of time riding that journey to see a really nice girl who lived in KL. Weekends were spent travelling to see one another, and that girl is now my wife!"
BukitCorridorTimah Railway Station in 1968
July/August 2022 anza 31 with the Nature Society Singapore (NSS) who were also highlighting the plight of the rail service. Together, they hosted talks and walks about the route before closure, and Jerome kept the public up to date with the latest news on his blog. Before it closed on 30 June 2011, he organised a farewell commemorative gathering and a final journey. "I'm sad the railway closed, but glad that the Rail Corridor has been preserved and it's been kept as rustic as possible," he says.
Above: Inside 5 Kadayanallur Street. Below: Former Kallang Airport ON FOR JEROME'S SECRET SG TIPS >>
Jerome's participation in the railway project got him noticed, and he started helping out the likes of the National Heritage Board (NHB), the National Library Board (NLB), and the Singapore Land Authority (SLA). His contributions include taking photographs and collaborating on exhibitions, hosting history tours and carrying out general research. Essentially, he gets the opportunity to learn about parts of Singapore history that not many people know about. Indeed, the places Jerome has researched are extensive and include Pasir Panjang Power Station, Old Changi Hospital, Beach Road Police Station, Old Admiralty House in Sembawang, Woodbridge Hospital, and View Road Hospital, an old British naval building which is believed to be haunted. "Recently, I've been researching Orchard Road which is fascinating. Beyond the shops you can find derelict mansions, such as Chee Guan Chiang House at 25 Grange Road, which was left abandoned after it became the New Leonie Guest House which was closed in Despite1972." loving his research and knowing that change is necessary, Jerome is sad to see the rapid development of his country. "To me, the closure and demolition of buildings is such a shame and it's very wasteful, especially when we think about environmental damage," he says. "Unfortunately, it's something we see a lot in Singapore, which is why my documentation and the telling of stories of our past is so important to me."
EllisonMichael
The old Rail Corridor before the train line was closed down. Image: We Support The Green
READ
History tours & research
Singapore's Top
9
Occupation
"There are many architectural gems in Singapore which I consider to be 'hidden in plain sight.' One example is quite a plain looking building opposite Maxwell Market. You would never know to look at it, but it was built in 1923 and used as a hospital before and during the Japanese Occupation. The installation of a lift in 1929 was carried out to aid the treatment of children afflicted with a rare and debilitating tuberculosis of the bones and joints. The unusual triangular-shaped design of the building with a hole in the middle for an airwell was the only opportunity for these children to gain access to sunlight and fresh air. The lift is still in working order and comes complete with wooden panels and collapsible gates - it may be the oldest lift in existence in Singapore today."
we
The Housing and Development Board (HDB) there also come with a story. When I was growing up in the late 1960s and early 1970s, we lived on the top floor of a block that had been built intentionally with a vantage point of the latest public housing project, Toa Payoh New Town. For this reason, various dignitaries came to visit our humble 3-room flat. Not only did we welcome HM Queen Elizabeth II, Prince Philip and Princess Anne, but also John Gorton, Prime Minister of Australia back in 1968. I was too young to understand, but I do remember a towering man giving me a gold-coloured tie-pin with a kangaroo on it!"
airfield
Where to find an oldofslicelife 2020FertivalHertigateSingaoire
Way,
5 Kadayanallur St, off Erskine Road, 069183
favouriteJerome'sheritagebuildings
"For a real taste of old Singapore, head to the heartlands. Toa Payoh offers an insight into the old and new. A number of temples there predate the housing estate, including the Toa Payoh Seu Teck Sean Tong and the large Siong Lim Temple complex (Lian Shan Shuang Lin Monastery). The crest of the hill at Toa Payoh Hill points to where one of the major public hospitals in Singapore once stood. You'll also find the grounds of the former Thomson schools, now occupied by SJI International School.
Heritage Spots inHiddenplainsight "So many! The Art Deco Quadrant building at 19 Cecil Road which was built in 1929 as the Overseas Chinese Bank; Pasir Panjang Power Station which is a photographer's dream; and the Golden Mile Complex on Beach Road come high on my list. Singapore's very first civil airport, Kallang Airport is particularly special - did you know that Amelia Earhart flew into it on 20 June 1937, just eight days after it opened? The airport was equipped with a paved landing strip during the Japanese (it was used as a fighter by the allies in the lead up to the Fall of Singapore), and then in 1951 an version was built which became the Old Airport Road know today." Kallang Airport 397750
32 anza July/August 2022 Jerome reveals some of his favourite historical places and spaces to ANZA.
extended
BlackWhite&sites
"Eng Tiang Huat is a Chinese cultural shophouse and home to floor-toceiling wooden shelves filled with old artefacts. Known for its handmade Chinese embroidery services and products, it's now helmed by Jeffrey Eng, the third-generation proprietor of the family business. Festive red ang chai bai (red decorative cloth) used to hang above doorways and ceiling, and it's the only shop to contain preserved Chinese instruments - Jeffrey's father used to supply all of the instruments to the Chinese opera."
"The Arts House (also known as the Old Parliament House) at Empress Place was built in 1826-1827 to be the colonial home of Scottish merchant, John Argyle Maxwell. However, after building the house, it was discovered that it shouldn't be in an area designated only for government buildings. Maxwell kindly rented what was supposed to be his home to the government and it was used as public offices. The courthouse moved out in 1865 because of the noise from the boatyard and blacksmith shop nearby. In 1992, it was gazetted a national monument, and in 2004 it became the venue for the literary arts that it is known for today."
"I think the View Road Hospital will be demolished soon, which is very sad as it's a fascinating site with a huge history. It was built in 1941, then in the 1950s it became the Naval Base Policemen's accommodation until 1971. In 1975 it became a branch of the mental hospital before closing in 2001. Other buildings already being demolished or under threat include parts of the former Police Academy at Thomson Road, remnants of ammunition bunkers at Attap Valley (Woodlands), and the buildings around Khalsa Crescent (Woodlands) and Guillemard Camp, once the home of the 1st Regiment of the Singapore Armed Forces." View Road Hospital, View Road, off Admiralty Road West, Woodlands Seetheybeforethemgo Follow Jerome's work on @jeronimoloco, at facebook.com/thelongnwindingroad, and at his blog thelongnwindingroad. wordpress.com/ Secret Singapore, by Heidi Sarna and Jerome Lim, is available from local bookshops.
Kay Siang SIT Modernist built in the 1950s
July/August 2022 anza 33 HouseArtsThe
1 Old Parliament Lane, 179429
10 Lor 24A Geylang, 398534
Singapore'soldestnationalmonumentBestforvintageshopping
"Singapore's black and white houses are incredible because there are so many different styles which each showcase a period of development. They represent a captivating part of our history and a full range of architectural evolution from the 1910s to the 1950s. Adam Park was developed in the 1920s and 1930s, partly to house Singapore Improvement Trust (SIT) officers. Kay Siang was built from the 1930s to the 1950s and includes typical black and white houses to ones with Art Deco and modernist features. Those built from 1939 were built with air-conditioning in mind and had low ceilings for this purpose."
LimJeromebyprovidedimagesAdditional
Fadhli Rahmat
Hokkien Mee Hong Heng Fried Sotong Prawn Noodles, Tiong Bahru Hawker Centre, 30 Seng Poh Road, #0201,168898 "I've been going to this stall for the last 15 years. The noodles and thick bee hoon are fried to perfection, coupled with the prawn stock, fresh prawn, sotong and egg. With the noodles and ingredients well immersed in the prawn stock and fried until semi-wet, it looks like science at its best! Expect to queue if you go at lunchtime and expect to get nothing if you go after lunchtime, meaning it's sold out at lunchtime! Personally, I think it tastes better when you have this dish as a takeaway at lukewarm temperature. The stall has got such a reputation, and they have been honoured with a Michelin star."
Alex Neo Prawn Noodle Lor Mee Mei Xiang Prawn Noodle Lor Mee 208B New Upper Changi Rd, #01-10, 462208
"This stall only has three dishes on their menu – prawn mee soup, dry and lor mee. You can choose your noodles: flat Hokkien mee, kway teow flat rice noodles and bee hoon thin rice noodles. From the thickened sauce, fried fish and braised pork belly to the condiments of black vinegar, sambal chilli and garlic purée, it's the best in town. It's only $3 and there is always a queue by 11am."
Luke NgStall owner Abu, whose family have been selling homecooked food since 1963
INSIDER SECRETS 34 anza July/August 2022 We know the cuisine in SG is great, but how do you know if you're dining on the best? Ask the locals! Here's their personal guide to getting your fill in this foodie wonderland. M ake no mistake, Singaporeans love to eat. Virtually every cuisine on the planet is available here and the best spots for an authentic bite are undoubtedly the hawker stalls and local kopitiams. But while the island's most popular dishes are everywhere, it's not easy to know which stalls and options to go for. Check out these tried and tested favourites to sip, slurp, and satisfy your hunger pangs. Nasi Jenganan Gerai Nenek Obek, Geylang Serai Market, #02-136, 402001 "Everyone in Singapore is familiar with nasi lemak, but they may not know nasi jenganan, a similar dish of Javanese origin. The recipe at Gerai Nenek Obek is from the 1960s and has been passed down through generations. It's now in its fourth generation and the flavours remind me of when I was young. It comes with a spicy signature peanut gravy called "sambal pecel" which is almost like satay peanut sauce, but thinner and more tangy, with a hint of belachan. The rice is topped with tempeh, tofu, and vegetables like theIndonesia.inyousodon'tabeans.beansprouts,kangkung,andlongItalsoworksasvegetariandishifyouaddthemeat.It'sgood,Idon'tthinkcanfinditbetterMalaysia,orevenSingaporeislinchpinoffood!"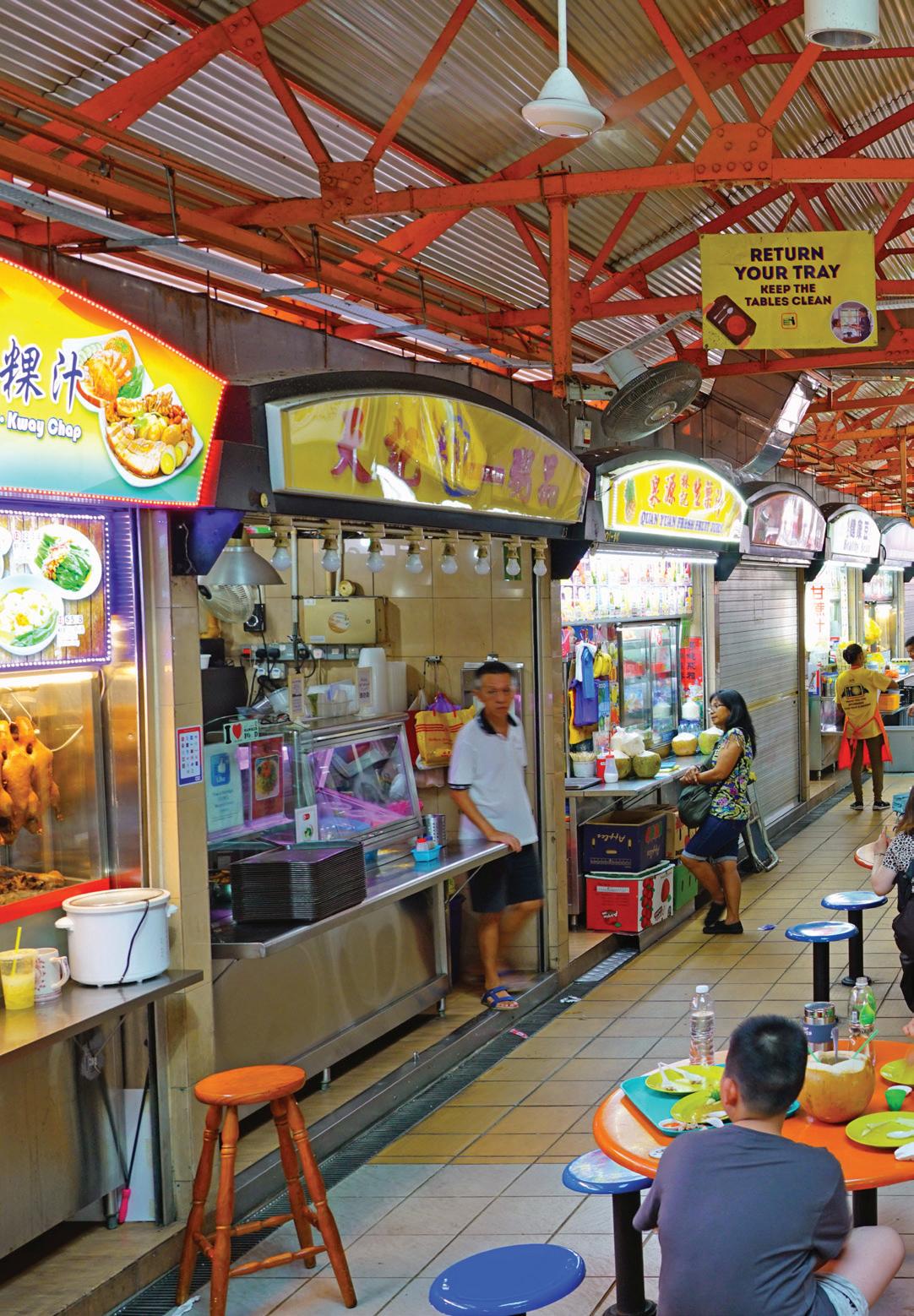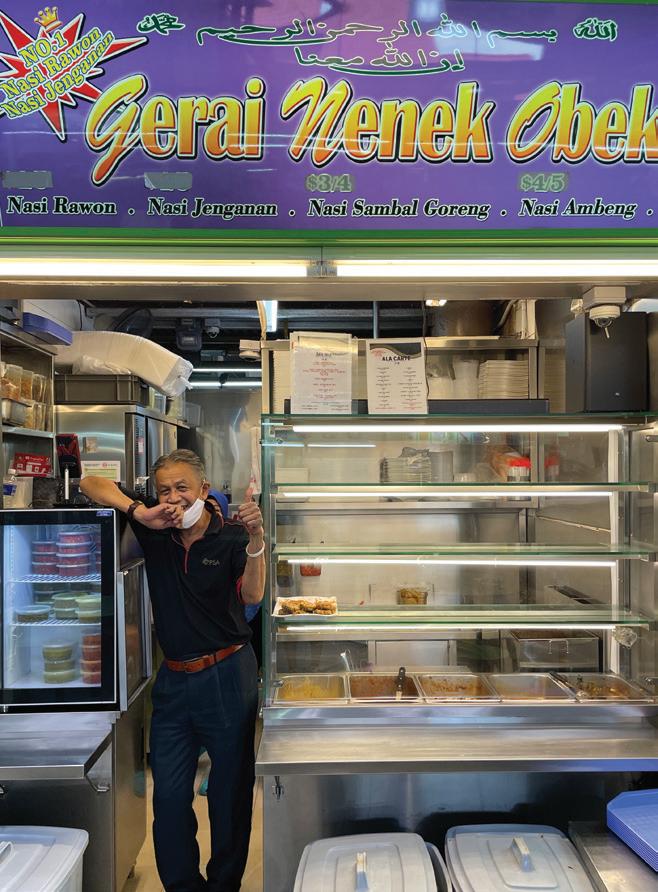 Chendol Mei Yeong Yuen Desserts, 65B Temple St, 058604 "With a 50-year history behind them, this chain serves traditional Singaporean desserts including hot and cold puddings, snow and shaved ice, pastes and icecream. Their Shaved Ice Chendol on a hot day is a total treat with its red bean, glass jelly, attap chee and coconut milk. A bottle of (addictive) gula melaka syrup is also provided to add
as you go." Chong Heng Poh Mee Pok  Hua Bee, 78 Moh Guan Terrace, #0119,162078 "This restaurant has been operating for more than 70 years, and there's even a film named after it (Mee Pok Man). The soup portions are quite generous, filled with bouncy fishballs, fishcake, minced meat and "hu kiao" (meat dumpling) with a chilli and vinegar flavour. It's the noodles that make me return each time - they're really al dente, comforting, and good for a slurp."  Li Jun Ji Wanton Mee Brunners Coffeeshop, 228 East Coast Rd, 428925 "I don't know why, but the Wanton Mee here tastes different from all the others. The dish usually features thin egg noodles, sliced char siew, boiled vegetables, fried wanton, and a side bowl of wanton soup. I love how fresh and springy the noodles are, and how the sauce tastes a little charred, but in a good way!" Beryl
Ying Tong Soo
Carrot Cake 26 Carrot Cake, 127 Lor 1 Toa Payoh #0226, 310127 "Black carrot cake is a childhood favourite and still my comfort food now. I prefer the black to the white, when the cake cubes are not too mushy and with lots of egg! I've been asked by the hawker if I actually want the egg or the carrot cake more and honestly, I don't know!" Rae Mok
Soon Soon Huat (SSH), 220 East Coast Rd, 428917 "Every puff here is handmade from scratch, from the different puff fillings to the pastry dough. I believe they use an original recipe from SSH's founder who started out in the 1990s. I like the chicken curry and curry sardine flavours best. They're spicy without being oily, the pastry is really buttery, and they make the perfect on-the-go snack."
July/August 2022 anza 35 Curry Puffs
36 anza July/August 2022 Bak Kut Teh Sin Heng Claypot Bak Kut Teh, 439 Joo Chiat Rd, 427652 "This famous place has been going since the 1980s and offers the Teochew and Hokkien version of bak kut teh. The broth is herby and peppery with crisp lettuce, large juicy button mushrooms and tender pork ribs. Besides the traditional dish, they also serve dry bak kut teh, claypot noodles, tofu, omelette and yam rice." Tony Chan PrawnMee Whitley Road Big Prawn Centre,Airport#01-98Noodle,OldRoadFood390051 "This stall has a Michelin Plate under their belt so you know it won't let you down! The prawns are boiled for many hours which makes the taste and the aroma so good. The noodles are coated in a spicy-savoury and home-made chilli paste with some zing. Don't be fooled if you see a short queue at the stall as a buzzer system is being used!" Raemier. J Roti Prata Prata Saga Sambal Belada, Tekka Market, 665 Buffalo Rd, #01-258, 210665 "This place has a great variety of murtabak (cooked meat in the double flour prata) which can be eaten without the curry or sambal. It's all handmade, from the dough to the flipping part, and the result is thin prata which is crispy in the middle with little pockets of air to soak up the ingredients. I like the one doused with fish curry. It melts in your mouth."  Ismail Hakim Biriyani Biriyani Express, Geylang Serai Market, #02-119, 402001 "The Briyani portions here are huge and really well-priced. You can get chicken, beef and mutton. The sauce is always thick and the rice fragrant and not too oily. There's always a long queue, but it's worth the wait." Fadhzli OsmanNasiKampongGoreng Seisan Bukit Batok West, 132 Bukit Batok West Ave 6, #01-308, 650132 "Nasi Goreng is a Malay fried rice made with eggs, onions, cucumbers and spices for the kampong taste. The onions, shallots, garlic and hot peppers are puréed and fried with the anchovies in oil which give the fried rice just the right amount of spicy kick and wok hey. Nasi goreng kampung (countryside-style fried rice) is usually garnished with tomato or cucumber slices and with a few dried anchovies on top. The true identity of Southeast Asian food. Try it today!" Michael Morgan Chwee Kueh Ghim Oh Chwee Kueh, 20 Ghim Moh Rd, #01-54, 270020 "Chwee Kueh is a type of steamed rice cake topped with radish relish and Mr. Lee has been making it since he was eight years old, helping his mother and brother to push their street food cart. Today he still insists on making Chwee Kueh the old-fashioned way and rumour has it that he spends 16 hours a day perfecting it! What makes this dish so addictive is that he uses garlic and pork lard (instead of vegetable oil) which adds more fragrance to the radish. The radish also seems chunkier than the usual type and therefore provides a very nostalgic eating experience." Zhi Qi Curry Samy's DempseyRestaurant,Curry25Rd,249670 "This is an institution in Singapore! I love the authenticity of eating straight off of a banana leaf, the massive portions and the general ambience. The spicy fish head curry is their signature dish and also my favourite. I always try to replicate it at home, but never can." Veronica Rai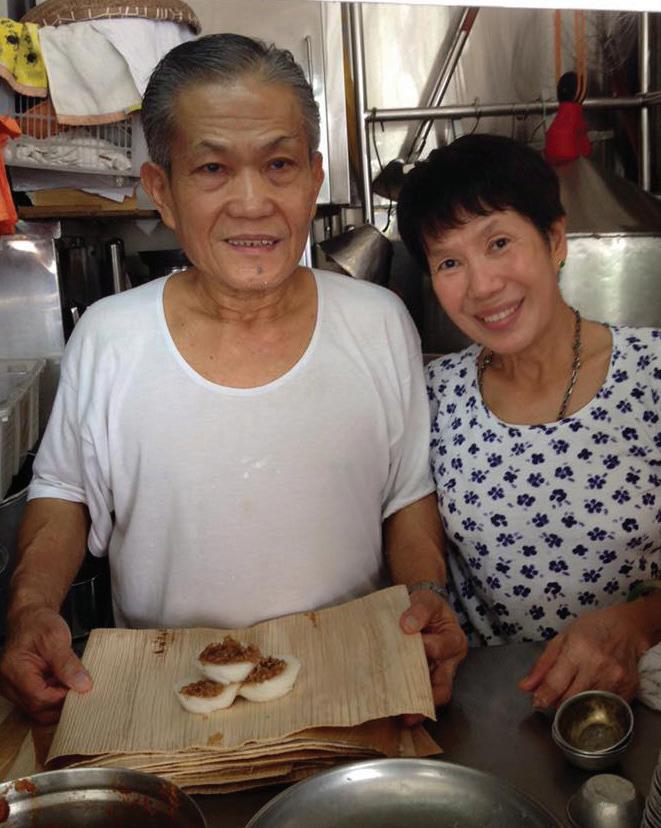 ANZAGROUPRUNNING For more information and to register anza.org.sg/sport/runningvisit Start the week off on the right foot with the ANZA Running Group! Botanic Gardens: Monday evenings, 7pm You don't need to be an ultramarathon runner to join this friendly running group – the pace and distance varies and is suitable for both experienced runners and keen newcomers. It's a great way to get fit, meet people and set yourself a running challenge!
blossomed. We married in August 1968 at Westminster. When did you first travel to Singapore? I arrived on board 'Flotto Laura' on a National Day public holiday in August 1970. This was also when I met my parents-in-law for the first time. We lived in the family home at Cuscaden Road, off Orchard Road. The imposing, 14-bedroom home, set in large grounds, housed about 30 people, comprising Soo Ren's parents and his siblings. My husband is one of 12 siblings, 10 boys and two girls. It was a lively household! A bevy of traditional amahs looked after the extended family. Tell us about life back then … In the newly-1970s,independentSingaporewaslikeabigcountrytown,rusticandunhurried.Extended families tended to live together, such was the simplicity of life. Around our house it was junglelike, where today Regent Singapore and Hotel Jen now hold fort. The wet market, where Tanglin Mall now stands, bustled daily with sights, sounds and smells that were unfamiliar to me. A walk to the market entailed my traversing through foliage, keeping clear of frisky monkeys and avoiding kampong roosters and dogs. Orchard Road had two-way traffic, large open odorous storm-drains, one department store of repute (C. K. Tang) and two hotels (Crown Prince and Singapura), both long since gone. The Hilton Hotel Singapore opened in 1970. Did you experience culture shock? Learning different customs, culture and etiquette filled my early days in Singapore, as well as getting to know my new family and adjusting to then-unfamiliar tastes (rice for breakfast, lunch and dinner!). Not long after arrival, I commenced work at the Australian High Commission. I relished familiar accents, humour and camaraderie – I had the best of both worlds.The original Tan family home circa 1944, and after renovations in 1970 Raelene Tan, who moved to Singapore in 1970, with her extended family in April 2022
LOCAL LIFE 38 anza July/August 2022
We may know Singapore as a modern and thriving metropolis, but it hasn't always been this way. JO UPCRAFT meets three locals who have watched the red dot rise up over the decades as they take us on a trip down memory lane.
You met your husband before you moved to SG. Please share your love story! Soo Ren and I met in London in April 1965. He was studying architecture and I was with the Australian High Commission. We lived with three other boarders in a boarding house in West Hampstead and were good friends before romance "A walk to the market entailed my traversing through foliage, keeping clear of frisky monkeys" Raelene Tan was born and bred in Adelaide, South Australia and moved to Singapore with her Singaporean husband, Soo Ren, back in 1970.
When did you first come across ANZA?
Cosmopolitan Women's Club (CWC) brochure, 1974
How did you find the local food?
TanRaelene
Above: A birthday party for Raelene's daughter at the family home in 1979. Below: Raelene demonstrating at the opening of Shangri-La Hotel's Rose Verandah Lounge, 1991
Wandering through Chinatown several decades ago was always surprising, with changing scenes, from moments of life and death, to haggling over best prices for market vegetables, clothing and cooked food. Aziza's on Emerald Hill was the go-to restaurant, from 1979 for 24 years, while Prima Tower Revolving Restaurant, atop a grain silo on Keppel Road, afforded harbour views while enjoying Beijing fare, from 1977 for 43 years.
How have you seen Singapore change? It has emerged from a big country town to a bustling, thriving, cosmopolitan City in Nature. The cleaning of the Singapore River, and of the country as a whole, has been transformative. Public transportation has taken leaps and bounds, making it relatively easy to move around, unlike the days of unreliable buses and pirate taxis. The skyline is modern and creative, reflecting the Republic's aspirations. I appreciate the mod-cons, but do often miss the charm of days of yore. What do you miss?
"In 1973, Cosmopolitan Women's Club, founded by myself and friend Patricia, was registered to provide emotional support to ladies in cross-cultural marriages"
July/August 2022 anza 39
ANZA and I first met in 1970 through my work at the Australian High Commission. We have remained loyal friends ever since! ANZA was small then, comprising mainly Australian and New Zealand members, unlike now with its international appeal. The monthly newsletter was a simple roneoed page received in the post. Giving monthly culture-related presentations at the regular newcomers' mornings for a number of years was something I enjoyed, as well as penning regular thoughts for ANZA magazine since 2003. I cannot imagine myself without ANZA.
In the 1970s there were barely a handful of restaurants that served fare other than local Singapore favourites. Mandarin Hotel in Orchard Road took the country by storm in 1971 when its newly opened Chatterbox Coffeehouse served chicken rice, previously only found at hawker centres. I remember a humble bakery, Dong Log Wee, on the corner of Orchard and Killiney Roads, being popular for its local coffee and snacks. I would often sit on a chair by a marble-top table with hessian bags of flour, taking up floor space to enjoy a cake reminiscent of a Victoria sponge, for just a few cents. Two supermarkets offered 'foreign' fare like frozen meat, packaged biscuits and canned items. Vegemite and All-Bran were unheard of. How easy was it to settle in and meet friends? It was not easy in those early days to meet like-minded people with a view to making friends. Action was needed! Through my work, I came across Australian women married to Singaporeans who also found it difficult and who understood the ups and downs of cross-cultural unions. With the blessing of the then Australian High Commissioner, an enlightened and caring gentleman, I gathered names and contacts of 20 such young ladies when they were renewing their passports or registering their presence in Singapore. My colleague and I then invited those ladies to lunch at the now defunct Cockpit Hotel. We had much to talk about and quickly became friends. Tell us about ClubCosmopolitantheWomen's(CWC)…
In 1973, CWC, founded by myself and friend Patricia, was officially registered as a society to provide emotional support and encouragement to ladies who were partners in cross-cultural marriages. Members and their families flourished, receiving monthly newsletters that my husband printed, collated and posted, with events such as couples' nights, family outings, playgroups, cooking classes and talks on culture. The CWC had about 200 members in its heyday. It was deregistered after 33 successful years when it outlived its original aim, and such marriages became more acceptable in society.
I was about nine years old in 1967 when I started to help out during weekends and school holidays. The staff at the store taught me how to tie flower garlands and speak respectfully to the customers, no matter who they were.
In the beginning, my family lived in a big bungalow house by the sea in Katong on Meyer Road. There would be three or four families living in one home. My grandmother was a very strong lady and she would welcome anyone who came over from India, so there were always around twenty people around. In the mid 1960s we moved nearer to the store in Little India - twelve of us in a two-room flat! How did Jothi Store progress?ShopFlower& Over time
40 anza July/August 2022 Tell us about the store your family opened in 1960 …
ChandraRajakumarbyprovidedPhotos
What do you wish for Jothi in the future?
We're one of just a handful of shops from the old times, except we are now a five storey building and have been since the 1990s. As time has moved on, we have adapted to cater to all ethnic groups from India. There has been an integration of local customs which means there is always a festival or celebration to prepare for. I hope we evolve with the generations and continue to adapt to provide the community with what they need. Will you ever retire? In time my son will take over the business, but I can't see me ever wanting to retire or my son agreeing to stand up for 18 hours a day! Jothi was originally started for the community, and now we stay for the community.
What age did you start working with your father?
Above: Murugaia at his shop in the 1970s
I started to take care of the business in 1985 after studying Computer Science.
Left: Father and son at Jothi Store & Flower Shop
"Trishaws were the main source of transport and hawker stalls would set up in the back lanes of every street"
Murugaia Ramachandra moved to Singapore from South India in 1947 aged 16 years old to live with relatives. After working as a librarian for a local publisher, he opened Jothi Store & Flower Shop, an ottukadi (hole in the wall), in Little India in 1960. We speak to his son, owner Rajakumar Chandra.
it was not just the men who moved to Singapore, but whole families came together looking for a better life. So my father started stocking items for females such as bangles and makeup. More temples in the area meant that we started selling flower garlands for the prayers from local farms in Toa Payoh and Bishan.
What was life in Little India like back then?
My father still comes to the shop every morning. Before the pandemic he would handle the cash register, but not so much now.
The shop soon grew bigger than a five-foot square space.
In the 1960s it was not called Little India, it was called Tekka. Tekka Market was an especially popular wet market and people from all over the island would visit. Trishaws were the main source of transport and hawker stalls would set up in the back lanes from 4am - 10pm. Things changed when Singapore became more sanitised, but there is hope that Little India will remain authentic.
The shop mainly catered to the first generation of Indians in Singapore who had moved here alone for work while their wives remained in India. The men would all live nearby with groups of friends and work in jobs such as construction, at the bus depot or for the electricity board. The shop would open at 4.30am so they could buy cigarettes, cigars, snacks and betel leaves as they went on their way each morning.
Did your family live nearby?
Jothi Store & Flower Shop, 1 Campbell Ln, 209882. jothi.com.sg
July/August 2022 anza 41
"There would always be a queue to purchase the YKK zippers and lace, everyone ordered by the hundreds" Kenny Ng and his brother run Sin Hin Chuan Kee (SHCK), a local haberdashery. The shop was opened by his grandfather, Mr Ng Koon Teng in 1965 and business is still in operation today.
(From right) Kenny Ng with his uncle, Ng Cheow Kok, his father, Ng Cheow Poh, and his brother, Adrian Ng
NgKennybyprovidedPhotos
Bottom: Mr Ng Koon Teng at North Bridge Road
What made grandfatheryouropen a shop? Back in the 1960s, our family was very poor and had to make ends meet. My grandfather was a taxi driver and doing many other jobs to feed his family. It was by chance that he entered the shop trade after learning the ropes from a trading company he worked in for a few years. When the company closed down my grandfather took over the clients and continued where it left off with Sin Hin Chuan Kee. Our first shop was at 47 Clyde Street, where Parkview Square currently is.
"There is an old saying for our business - it is akin to seeing a doctor. There would always be a queue to purchase the YKK zippers and lace"
Top: Kenny's father (left) at 47 Clyde Street
What did you sell? We were a trading shop dealing primarily in YKK zippers and lace. My grandfather relied on his bare hands as well as his childrenmy father and his siblings - to help out with deliveries and sorting the goods. Education wasn't the most important thing then. Fast forward to 2022 - we are now located on North Bridge Road. Most of our stock comes from China, Taiwan, Japan, SE Asia and some parts of Europe. SHCK was so popular, we've heard stories of legendary queues ... Hahaha, yes! There is an old saying for our business - it is akin to seeing a doctor. There would always be a queue to purchase the YKK zippers and lace. Everyone ordered by the hundreds, or whatever they could get their hands on! Did you live at the store? Yes, we also stayed in Clyde Street with the shop just downstairs. During that time, there were about ten of us in a very small house. Every day was like Chinese New Year as everyone in the neighbourhood was up early - and when one person starts cooking, everyone else follows! We were a very close knit community and still remain close today. Our business remains 80% run by our family members.
What are some of your favourite memories?
While growing up, SHCK was my Toys R Us! My brother Adrian and I would use the YKK zipper boxes to create a race track and me and my cousins would race mini battery Tamiya cars while we were supposed to be 'at work'! Back then, my favourite customers were those who gave us sweets and treats. Today my favourite customers are those who pay on time! How has living in Singapore changed? Singapore is a great place to live. Living expenses are high but there are many things we take for granted like security, food and the convenience to get things done. I studied in Perth, Australia for three years but I always wanted to come home when there was a break. What hopes do you have for SHCK? That it will ride out this difficult period. Business has been affected for the last two years and we are thankful that we managed to get through. We have become closer as a family and more resilient as a company. Watching everyone pulling their weight and getting involved has been very encouraging. Sin Hin Chuan Kee, 796 & 798 North Bridge Road,198766. shck.com.sg
W e've all had moments when we've forgotten what we walked into a room for, the point of what we were talking about mid-story, and people's names, but sometimes our forgetfulness or 'brain fog' seems a little more serious. It can be a freaky feeling, and one that's not only linked to ageing and the menopause, but more recently as a symptom of Covid-19. Dr Trisha Upadhyaya from Osler Health International shares insights and highlights when to be concerned.
WHAT EXACTLY IS BRAIN FOG? Brain fog is a lay term and not a medical diagnosis. It's also known as 'cognitive disturbance' and can be described with symptoms including: Difficulty concentrating SlowerInabilityForgetfulnesstofocusthinkingor not thinking as sharply as usual Mental fatigue or mental haziness You may experience some or all of the symptoms above at the same time, depending on any underlying health and medical conditions, or due to underlying neurological inflammation. The key thing to consider is the chronicity of these symptoms. The more longstanding the symptoms have been, the greater the degree of underlying neuro-inflammation there may be. WHAT CAUSES IT? There can be several causes behind cognitive disturbance. These include: Lack of sleep Poor Stressnutrition-bothphysical and/or mental Alcohol, smoking or recreational Medicationdrugs ARE PREDISPOSED?PEOPLECERTAINMORE
If your mind seems to be suffering from memory problems, a lack of mental clarity or an inability to focus, brain fog could be to blame.
Some research has shown that certain individuals may be prone to developing mild cognitive impairment in later life. Typically, these are people who may have a degree of neuroticism in their personalities, and whose approach to life and setbacks is with stress, anxiety and feelings of being overwhelmed. Identifying risk factors can help individuals and healthcare professionals in optimising their overall health and therefore lowering their risk profile. Underlying medical conditions such as thyroid disorders, deficiencies in iron or other vitamins, viral diseases (such as Covid-19 and its prolonged effects), menopause, dementia, mental health conditions (depression, anxiety), stroke or heart-disease related conditions
SPONSORED CONTENT 42 anza July/August 2022
HOW DO YOU KNOW IF YOUR SYMPTOMS ARE MORE SERIOUS THAN 'BEING FORGETFUL'?
July/August 2022 anza 43 HOW CAN A GP HELP? Find Osler Health clinics at 328 North Bridge Road, #02-27 Raffles Hotel Arcade, 188719 and 1 Vista Exchange Green, #B1-27, The Star Vista,138617. Email us at raffles@osler-health.com or starvista@osler-health.com
The treatability of brain fog depends on the underlying cause. For example, symptoms of disturbed cognition caused by thyroid disease will be treated differently than those caused by dementia. With appropriate assessment and management, we can help patients to overcome and manage their symptoms.
HOW
The theory behind cognitive disturbance is that there may be some neurological inflammation present which impacts our regular cognitive functioning. The good news is that this inflammation can be reduced and improved by taking up certain practices in our day-to-day lives:
Monitoring alcohol intake and keeping to weekly limits or less Staying away from any recreational drugs or sharpanddoctorsitmindcanKeepingMaintainingsubstancessocialconnections.Thepandemichasshownushowisolationcannegativelyimpactourmentalandphysicalhealth,whichtakesatollonourbrainhealthourmindsactivethroughlearningnewskills,continuingourhobbies,andengaginginmentalgamessuchasSudokupuzzlesIt'sunderstandablethatbrainfogfeelabitconfronting,andyourcanrushtoextremeplaceswhencomestoadiagnosis.Mostoften,canidentifyunderlyingcauseshelpyougetbacktoyourpreviousandsavvycognitiveform.
HOW DO YOU MEDICALLY DIAGNOSE BRAIN FOG? When a patient complains of brain fog, we try to identify their symptoms and find out possible underlying causes behind them. Healthcare professionals can perform tests to gauge the degree of memory problems. The results can then be used to decide whether any further investigations need to be performed and/or what next steps an individual would benefit from. For example, in somebody with low mood, tearfulness or anxiety, lack of concentration may be due to underlying mental health disorders. Similarly, if you've recently recovered from Covid-19 and you have new symptoms of mental exhaustion, slowness in your thinking or difficulty focusing, the brain fog may be due to the infection. Brain fog needs to be holistically assessed so specific treatment can be provided not only for symptoms, but also for any other potential underlying medical conditions.
Most people will have occasional episodes of forgetting things - not many of us can remember what we had for lunch three days ago! However, if you find your absent-mindedness seems to have increased lately, or your family, friends or co-workers have noticed a change in your tendency to remember things or your behaviour, it may be worth seeking medical advice.
BEFORE MEDICINE, WHAT CAN YOU DO TO SHARPEN YOUR MIND?
Managing stress levels with regular exercise, meditation and mindfulness Adequate nutrition in our diet, so avoiding high-calorie, high-fatty foods. Some individuals may need to consider vitamin supplements Stopping smoking. Even casual smoking can affect multiple organs in our body, including our brains
WHAT'S
Dr Trisha is a British trained family GP based at Osler Health International. She is located in their Star Vista clinic. osler-health.com MUCH DOES BRAIN FOG PLAY A PART IN PERI-MENOPAUSE AND MENOPAUSE? Symptoms affecting mental health such as mental fatigue, memory disturbance, and a lack of concentration are often experienced by women during the perimenopause and menopausal phase. Brain fog can have a significant impact on a woman's life, affecting her both personally and professionally. Some can often benefit from medication during this phase to help with symptoms of brain fog. If this sounds like you, make an appointment to speak further with a medical professional. THE LINK BETWEEN BRAIN FOG AND COVID-19? Post Covid-19 syndrome, otherwise known as long Covid, can present symptoms of brain fog. At this stage it's still difficult to ascertain who may experience cognitive disturbance post infection and how much it may impact them. From the latest research, it appears that even those who may have had asymptomatic or mildly symptomatic disease can still experience post Covid-19 syndrome.
Being cold is hot right now thanks to The Wim Hof Method. The aim is ultimate mastery over your body and mind, but can this be achieved in a carpark in Kallang? JO UPCRAFT dives in and investigates.
GIVE IT A GO 44 anza July/August 2022
So how I found myself bikini-clad with my arm elbow-deep in a giant sack of ice in a carpark in Kallang one recent Saturday is still somewhat baffling. Perhaps I was struggling from momentary heatstroke when I agreed to join the Breathwork & Icework (Wim Hof Method) session at wellness studio, Altered States? But there I was. And it wasn't the promise of a cashmere jumper or steaming hot chocolate at the end of it, but rather the potential of increased clarity, focus, calm, positivity, energy, immunity, better sleep patterns and general wellbeing. In short, I was there to be reborn.
T here are many reasons why I moved from the UK to Singapore, and one of them involves the climate. As someone who is perpetually cold, the idea of year-round clement temperatures is an appealing one. No matter that I'm often wrapped in a blanket at work, have been known to experience onset pneumonia at Golden Village Vivocity and am never more than three metres away from a cardigan, I still live a life several degrees warmer than I would back in Blighty.
Through decades of self-exploration and scientific studies, Wim created The Wim Hof Method, a simple behaviour combining powerful breathing, cold therapy and an unwavering commitment to stimulate our deep physiological processes to realise our full potential. After years of being viewed as completely woo-woo, his method has recently gained popularity. The idea of ice baths has become less crazy and celebrity fans are said to include Oprah Winfrey, David Beckham and Harrison Ford.
INNER POWER Welcome to the world of Wim Hof - a Dutch extreme athlete who got his nickname 'The Iceman' by breaking records related to cold exposure. It's safe to say that he's serious about his art: running a half marathon above the Arctic Circle barefoot, climbing Mount Kilimanjaro in shorts, and standing in a container while covered with ice cubes for more than 112 minutes are just some of his party tricks. Wim's extensive cold training has enabled him to learn to control his breathing, heart rate, and blood circulation and to endure extreme temperatures. "Over time, our relationship with the world has changed," says Wim on his website (wimhofmethod. com). "Our lifestyles have disconnected us from the natural environment. Our age-old survival mechanisms are no longer triggered and we've lost touch with our inner power."
Method, log onto his website, hyperactiv.us Above: Wim
"A big portion of participants who try the method here in Singapore are expats, I believe mainly due to Wim's huge influence on international media and personalities around the world," explains our teacher, Wim Hof Method Level 2 Instructor, Chun Yih Tan, who first discovered the practice in 2016 after several failed GP diagnosis' for inflammation. "A smaller portion repeat the experience when they find their personal reasons for doing so. These are usually professionals between 30-50 years old, but I have also guided 75 year olds."
Right: Our instructor, Chun Yih Tan. Below: Chun takes participants through the breathing exercises with the help of the handpan
INHALES AND EXHALES
To the tranquil sounds of the handpan, Chun guides us through a breathing exercise that involves a variation of specific inhales and exhales. "The goal of Wim Hof Method breathing is to teach you to develop command over your nervous, immune, and cardiovascular systems to help you be happier, stronger, and healthier," he says. Once mastered, we head outside to waiting bags of ice and paddling pools to put our new skill into practice. We proceed slowly, starting first with sliding our hands and then our arms into a bag of ice. The pace picks up as we step up to our ankles and then our knees in a paddling pool of icy water at a temperature of 3 - 6 degrees Celsius, for around 10 seconds each time. I do a lot of "ooh ooh ooh, ahh ahh arrrrgh!" and promptly forget the breathing technique we've just learnt.
Today's session did not begin with Siberian conditions. Rather, a group of sixteen of us kicked off in a comfortable and relaxing room furnished with cushions, throws, and Chun's soothing tones. He explained the theory beyond Wim's method and highlighted its many benefits: clinical trials have proven it to help with depression, anxiety, mood, mental focus, and pain management. "The pandemic definitely accelerated the urge in people to find something that can reduce stress and promote recovery in a short amount of time," says Chun. "What better way to 'biohack' your system than with a method that's practically free, fast, effective and easy?"
The maximum amount of time that anyone needs to stay in the water to reap the full benefits of ice therapy is two minutes. I manage to make it for the duration during our final immersion, although I have to lift my arms out halfway through because they physically hurt. Nevertheless, I do feel pretty proud that I've managed to stay the course and have not had a heart attack. Chun assures me that he hears a lot of "heart stopping" worries, but explains he has various strategies to help people understand that we all have the power within us to get through. According to Chun, the key to mastering the Wim Hof Method is authenticity. "If you can fully accept your body's messages of fears, worries, pain and sadness, even if it hits you with guilt, mocks your ego, or dangles death in your eyes, the practice can guide you through some incredible moments," he continues. "After a period of repeated practice, most people perform significantly better in breath exercises and ice dips, and realise that benefits have evolved within them physically, emotionally, mentally and sometimes spiritually. It's the ultimate lazy person's spa!" While I'm yet to dedicate all of my weekends to my new hypothermic hobby, I would do a Wim Hof session again. For days afterwards, I was buzzing with uplifting endorphins and felt like my body had been 'reset'. Best of all, I didn't even think about slipping into a pair of 40 denier tights for at least a week. Cool, or what? aordoctoryourtospeakAlwaystreatment.ordiagnosisadvice,medicalprofessionalforsubstituteabetoimpliedorintendednotisfeaturethiswithininformationThe wimhofmethod.comofcourtesyimageHofWimMethod.HofWimtheonembarkingbeforetrainerHofWimqualifiedHof Kampong Bugis, Chun's The Wim Hof Hof.
Every Breath You Take One round of the Wim
Method breathing technique includes these steps: Take in a strong inhalation through the nose Let out a relaxed exhalation through the mouth Repeat for 30 breaths On the 30th breath, exhale to 90 percent and hold for as long as you Whencanyou feel your body really needs to take a breath, inhale fully and hold for 15 seconds before releasing The basic technique involves three consecutive rounds of the above. Eventually, the breathing may feel like a wave flowing through your lungs. Altered States, 66
LAZY PERSON'S SPA
The session moves quickly. Next, we pair up and sit down in the freezing water. It's a simultaneously oddly stressful, painful and exhilarating feeling. The beauty (and madness) of it is that for the short period (around one and a half minutes) that you're immersed, your brain cannot focus on anything external. I stop thinking about deadlines I have to meet, why I said what I did back in 1998, and why I'm practically naked outside Lucali. Instead I turn all of my attention into, well, staying alive.
#04-00, 338987, alteredstates.sg. For more information about
July/August 2022 anza 45
work with
According to statistics, 49%
If getting into the groove of post-pandemic living is proving stressful, you're not alone. As the world heads out and about again, why do many of us want to stay at home?
After two years of being in our caves and protecting ourselves, we've adjusted to a new baseline. Research suggests that all the changes we made to our daily routines due to the pandemic such as quarantining, avoiding crowds, only dressing from the waist-up and staring listlessly out of windows, have been transformed into longterm behavioural patterns.
PSYCHOLOGY 46 anza July/August 2022
H ow's your social life looking? Has the recent lifting of rules got you packing your calendar with group meet-ups, minibreaks and plenty of nonmasky activities? There's no doubt that the lessening of restrictions a few months ago was much welcomed in Singapore, but if the heady days of initial freedom and filling up on missed-out fun now feels done and (whisper it) a little bit tiresome, you're not alone. After two years of waiting to go out again, why do so many of us just want to stay in? It could be down to peaking too soon. It might be due to having no new clothes to wear. It's more likely to be as a result of Cave Syndrome, a non-medical term coined to describe the fear and anxiety that many of us are experiencing about re-joining society as Covid restrictions ease. "Cave Syndrome gets its name from the desire to stay secluded in our safe spaces, instead of venturing out," explains Kristi Mackintosh, a psychotherapist at Promises Healthcare (promises.com. sg). "It can range from simply being uncomfortable about socialising to absolute fear, and while some hesitancy is to be expected, this fear may start to jeopardise our lives and careers if not monitored and managed appropriately."
A COMFORTCERTAIN While it may sound extreme, given the bizarre circumstances of the past few years, apprehension over rejoining society is completely normal. "In part, this is because generally, humans are creatures of habit. We grow accustomed to certain people, places and ways of being, and prefer to stay in the sanctuary of our bubbles," explains Kristi. "It's an evolutionary holdover from our prehistoric days when we lived in caves – a protective mechanism which keeps us feeling secure."
TOLLEMOTIONAL
RELAX: Practice stress-reducing, relaxing activities such as yoga, mindfulness or grounding techniques. Find something that works for you, start slowly and make it a regular habit
According to Kristi, it can be helpful to implement some practical strategies to help you to feel supported as you go:
According to Kristi, there are certain groups of people who are likely to find the readjustment back to 'normal life' more difficult, such as those who were naturally introverted before the pandemic, those who had social anxiety, and those who are in the 'ageing parent' bracket and have just got used to staying in. "For this age group, they are often less tech-savvy, and may not have the resources to connect with friends and family once more," explains Kristi. "Reentering life will have hit this sector harder and can lead to feelings of sadness and hopelessness, and perhaps depression, making it tricky for them to re-engage again." Whether it's you or someone you know who you think might be struggling, the emotional and psychological signs of Cave Syndrome will show up differently for everyone. Says Kristi, "Some may experience anxiety when engaging in activities outside of their home, while in more severe cases people may be unable to leave their home if this is the case, please speak to your GP, a counsellor or psychologist."Theemotional toll can manifest in a number of symptoms too, ranging from nightmares to somatic symptoms like headaches, stomach problems, body pains and insomnia. So, as the good times return, whether it be in the shape of a big blow-out party, a small brunch with friends, or Brix and a party bus, it's important to consider your re-entry into the world more as a dial, not as a switch. Be mindful of your feelings, and know that you don't need to go from 0 –100 straight away.
Anotherinteractions.issueisthat many of us enjoyed certain aspects of the pandemic – there was respite from office politics and crushing commutes; a hiatus from society and the endless judgement on everything from outfits to hairstyles; a pause on having to make big decisions as we managed day-to-day living; and greater control over our daily routines thanks to WFH. "Behaviour that is not natural for humans – like isolation, social distancing, and masking – had to be learned and practiced over an extended period of time," continues Kristi. "As a result, a certain comfort developed." It's no wonder we feel a bit weird now.
CONNECT: Stay connected with those whose company you enjoy, and who share the same values and interests DON'T COMPARE OR COMPETE: Don't pressure yourself to keep up with anyone else. The pandemic has caused many people to realise that they enjoy a more introverted or 'smaller' life and that is okay START SMALL: Go for a walk with a friend and slowly introduce more challenging situations into your days as you feel more confident
JUST DO IT: Humans are inherently social beings, which means living in isolation for prolonged periods can be quite an ordeal which is why we shouldn't let ourselves delay re-entry out of fear. Research strongly suggests that most people will bounce back eventually, and some will even grow as human beings – a phenomenon known as post-traumatic growth – which sounds like it could be rather lovely, doesn't it?
July/August 2022 anza 47
CHECK IN WITH OTHERS: Although there may be a physical distance, reach out through phone calls or video chat to friends and family you might feel worried about. Say something like: "I notice you're not going out much recently. Is everything okay?" or strategically invite them to join you in an activity you used to enjoy doing together. If they don't appear to be adjusting over time, encourage them to speak to their GP, a counsellor or psychologist
ShutterstockImage:AssociationPsychologicalAmericantheby*Statistics of adults* admitted to being uneasy about adjusting to inperson
PRIORITISE: Make time for your health, prioritising things that you can control, like sleep, diet and exercise. Where possible, try to decrease more negative coping strategies like over-drinking, over-eating or smoking
BREAK: Take a break from 24/7 news and social media
POSITIVE SELF-TALK: Celebrate all of your successes, no matter the size ACTS OF KINDNESS: Acts of service for others allow us to step out of our usual, often self-involved lives. It develops our compassion for others, in turn having a positive effect on our own happiness. Check out some of the brilliant initiatives that take place within the community by ANZA Action (anza.org.sg/groups/anza-action/)
THE STYLE FILE 48 anza July/August 2022 Enjoy the summer months in style with our pick of outdoor furniture and accessories to keep your space looking cool when it's hot, hot, hot! W hether you've got a sprawling lawn, a teeny terrace or a bit of balcony, getting the right outdoor furniture can transform your outdoor space into an extension of your home interior, because why not have a slice of well-designed paradise in your own backyard? Juliet Harper goes in search of the best stores on the red dot to find stylish and durable items and accessories for all budgets. Joyful, comfy, and ready for company and a cocktail, match Singapore's blue skies with these outdoor beauties. OHMM BEST FOR: Cool, sleek sofas and dreamy loungers For higher-end, chic, modern furniture, OHMM has over 30 collections to choose from. It offers an extensive range of everything you need for your outdoor setting, including durable Sunbrella fabrics, whether furnishing a larger space, terrace or small balcony. They have the best range of poolside sun loungers that are designed to fit around your shape so you feel beyond snuggly. Prices are not for the faint hearted.  Designer Tip: Customise the Cloud 9 day bed, designed for the Marina Bay Sands Skypark poolside 30 Merchant Rd, #03-09 Riverside Point, 058282 10% EXCLUSIVE DISCOUNT FOR ANZA MEMBERS! Present your e-membership card to access your exclusive Validdiscount.until 31 July 2023 ohmm.sg OHMM Cloud 9 Day Bed Double with Cushion and Side Table Oh , fancy !
CRATE BARREL&
July/August 2022 anza 49 Hansen - Bespoke L Shape Sofa from Originals Designer Tip For showstopping pieces, splurge on Crate & Barrel's The Walker Metal Outdoor sofa and dining set or Abaco low-slung chunky lounge chairs 2 Orchard Turn, #04-21/22, ION Orchard, 238801 TEAK & MAHOGANY BEST FOR: Custom, bespoke products and sophisticated teak furniture We're calling it: Teak & Mahogany has the most extensive range of outdoor furniture in Singapore. As their name suggests, they specialise in teak and also recycled teak products, synthetic rattan, steel and aluminum. Offering everything from a traditional look to retro and modern Scandi styles, it's practically impossible to come away empty handed. Don't miss their pretty range of cushions in geometric, striped and leafy patterns. Designer Tip: Check out The Copenhagen Series with its mid-century modern feel 100E Pasir Panjang, #07-02/03/04, 118521 HOUSE OF ANLI BEST FOR: Outdoor hammocks, lanterns and beanbags House of Anli offers a wide collection of colourful, cheerful and contemporary modern furniture and accessories by big names such as Fatboy and Costa Nova. The Fatboy Toni Tablo table and chairs can seat up to 10 people. They also have outdoor poofs for your pet! Designer Tip: The cordless, rechargeable Fatboy Edison Mini Lamps and outdoor beanbags 163 Tanglin Road, Unit, 02-21/22, #03-17 Tanglin Mall, 247933 Abaco Lounge Chairs from Crate and Barrel Fatboy RocknRoll Original in stonewashed silver grey from House of FatboyAnli variouslampsEdisoninsizes,fromHouseofAnliSquare Pillows in FretworkCameoFretworkandMist
BEST FOR: Premium furniture, lanterns, lamps and Sunbrella fabric outdoor cushions and umbrellas
Starting from scratch, needing it all and big on budget? Crate & Barrel offer an extensive collection of high-end European furniture and accessories, plus everything from outdoor games, to pillar candles, kitchenware and outdoor décor. Look out for the Weber smart grills, and barbeque utensils, the Cuisinart compact electric smokers and Ooni pizza ovens. Because we all know that pizza is always a good idea.
50 anza July/August 2022 HEMMA.SG BEST FOR: Finding the little thing you really need but have no idea where to look Hemma.sg is your one-stop-shop for everything. They offer a more eclectic range of outdoor furniture styles and have great prices to match. From cane Love Chairs, to folding teak tables or a swish and more traditional rattan set, this store is your go-to. Designer Tip: The Denver Table with Skano" armchairs  hemma.sg KONOPI BEST FOR: Swinging chairs and smaller outdoor furniture sets Konopi is the ultimate in modern, sleek outdoor tableware, towels, accessories and a wide range of furniture for tighter spaces without breaking the wallet. We love their slick range of cotton towels by the Turquoise Beach Co and are partial to their seriously fun range of doormats.  Designer Tip: The Tova Furniture range and Touch Swing Scotts Road, #03 -30/31, 228208 FOR RATTAN, TEAK BALINESE & INDONESIAN FURNITURE Castlery, Island Living, Layard Interiors OUTDOOR RUGS Originals, House of Anli OUTDOOR GLASSES AND SERVE WARE TheHomeshoppe.com.sg, Crate & Barrel OUTDOOR PLANTS AND PLANTERS Far East Flora, Crate & Barrel, Singapore Facebook sites  MORE CUSHIONS Spotlight, Teak & Mahogany  BOULEVARD OUTDOOR INSPIRATIONS BEST FOR: Modular furniture for small spaces, outdoor bar sets, rocking and swing chairs Here you'll find an extensive range of contemporary styles perfect for any outdoor areas, big or small. They offer a good selection of sectionals and modular sofas to adapt to changing needs or spaces and use high quality and durable Olefin outdoor fabrics. A complete outdoor lounge suite or table seating won't break the bank and will withstand the test of time. Designer Tip: Go for the Argos range in powder coated aluminum with solid teak arm panels and Olefin outdoor fabrics 200 Turf Club Rd, 01-18 The Grandstand, South Entrance, 287994 Claro Acrylic BarrelCrateStandwithDispenserDrinkGlassfrom& Cane Love Chairs with cushionshemma.sgfrom ARGOS 3-seater, swivel lounge chair and coffee table Touch Swing from Konopi Midrange Brilliantforabudget Juliet Harper is the owner of The Style Affair, offering interior design and styling the-styleaffair.comservices.
LADIES NIGHT We are delighted to be resuming our large group Ladies Nights! ANZA organises monthly girls-only get togethers at various hotspots around Singapore. It's a fantastic way to widen your social circle, meet newcomers to Singapore and have a laugh. We try to find buzzy new venues and great deals on drinks and food. It's always a fun night out - come join us! JUL AUG For more information and to register anza.org.sg/groups/ladies-night/visitTHURSDAY25August6.30-9.30pmMISSFITZ,6MarinaBoulevard #01-17 The Sail @ Marina Bay Singapore 018985 WEDNESDAY 20 6.30-9.30pmJuly CLUB 5, Park Royal on BEACH ROAD 7500 Beach Road Singapore 199591
W hile we love a bit of modern snazz, there's something very special about staying at a hotel that is steeped in local history. Creaky wooden floors, retro antiques, grand lounges made for afternoon tea and gossip, and maybe a hidden underground tunnel or two, have the power to practically time machine you into a bygone era. We reveal some of the region's most majestic places in which to take a satisfying step back. The past few years have left us dreaming of a brighter future, but there are few things more magical than a trip to the past, as these hotels with a colourful history demonstrate.
TRAVEL 52 anza July/August 2022
Temple Tree Resort, Langkawi
Not quite a hotel, but more of a mini-heritage village, Temple Tree makes you feel like you've pitched up on a glorious ancient film set. Featuring twenty beautifully appointed suites which come in the shape of lovingly preserved Malaysian heritage houses, the owners of the resort moved each building from around Malaysia, saving them from demolition. Each one, aged from 80 to over 100 years old, was taken apart piece by piece to complete the journey, before being conserved with a unique character. Today guests are treated to the ultimate authentic stay in properties that used to be a century-old Chinese farmhouse, a colonial-style bungalow, and a 1940s-era Malay home. Features corporate stilts, geometric latticework, wooden furniture, and airy layouts. Amenities at the resort include two swimming pools. The restaurant at adjoining Bon Ton Resort, Nam, is one of the best on the island. templetree.com.my
Sofitel Legend Metropole Hanoi Hotel,FromVietnamtheneoclassical facade to the interior garden courtyard, this address is golden-era glamour at its finest. Upon opening in 1901, the likes of Charlie Chaplin and writer Graham Greene rocked up at the hotel's streetside restaurant, often hanging out for the entire afternoon. In the decades following the Vietnam war, the property was revived once more to its former glory, resplendent with gorgeous antique furniture, spacious rooms and the historical Metropole Wing, which showcases preserved furniture, flooring and neoclassical touches. all.accor.com
The Majestic Malacca, Malaysia This is a heritage hotel that lives up to its name. Located on the banks of the Malacca River, the hotel showcases a standout white facade overlooking the thriving trade port that once drew merchants from all over the world. Originally owned by a tycoon, the original 1920s mansion remains at the heart of the hotel, while a newer building mirrors the original architecture and maintains allure with teakwood furniture, original Victorian tile floors, claw-foot bathtubs, silk drapes and stained-glass windows. The restaurant looks over the river, allowing guests to dine on Nyonya cuisine with a view. Well worth battling the Causeway on a Friday night. majesticmalacca.com
In 1962, King Sihanouk commissioned French architect, Laurent Mondet, to build a guesthouse that would enable visiting dignitaries to enjoy a luxurious stay, and provide them with close proximity to ancient ruins and rice paddies. Step forward Amansara, which now stands on these grounds and embodies a masterpiece of 1960's New Khmer architecture ten minutes from Cambodia's Angkor Wat UNESCO World Heritage Site. The 24 suites are suitably tranquil with private courtyards and soothing water features, and there's also a divine spa, curvilinear pool and dining room - previously the King's screening room. Whether he had a Netflix subscription remains unconfirmed. aman.com
Centara Grand Beach Resort & Villas, Hua Hin This property was originally known as the Railway Hotel. In the early 1900s, Thailand's southern railway route finally linked Bangkok and the west coast by train, granting easy access to gorgeous beaches. Hua Hin, which was once a small fishing port, suddenly became a seaside magnet for today's equivalent of hordes of Instagrammers. Ninety-nine years after its opening in 1923, this colonial-style hotel still sets a luxurious tone with its European-style decor, sweeping staircases, deep bathtubs and romantic verandas.
SiemAmansara,Reap, Cambodia
July/August 2022 anza 53
centarahotelsresorts.com
It should also be considered how different fund managers work together in a multi manager fund. A recent example of this was in 2021, when St James's Place merged Alternative Assets, UK Absolute Return and Multi Asset funds into a new Global Absolute Return fund. Part of the logic for the merger was that none of the original funds were diversified enough in their own right.
54 anza July/August 2022 SPONSORED CONTENT
How can I best diversify investments?my JAMIE
In creating this new fund, St. James's Place removed some fund managers, rebalanced others, and added new fund managers. For the fund managers removed, or whose holding was reduced, it was not necessarily just related to performance. Rebalancing was also carried out to ensure the fund was sufficiently diversified.
While some fund managers will be constrained in what or where they can invest (for example, in a regional equity strategy), they should still be looking to diversify. "These fund managers will still diversify across investment style sectors and industry factors to just name a few things they may be looking at," says Dr Sarah Ruggins, Head of Multi Asset Research. "So, throughout their processes, they will reduce stock-specific risk in their strategy by ensuring that there are various drivers of risk and return at play."
Partner at Select Investors, answers a reader's question about reducing risk. Contact Jamie on jamie.burgmann@sjpp.asia or +65 9167 9634 to arrange a consultation and discuss your planning needs for your financial future. The 'St. James's Place Partnership' and the titles 'Partner' and 'Partner Practice' are marketing terms used to describe St. James's Place Membersrepresentatives.oftheSt.James's Place Partnership in Singapore represent St. James's Place (Singapore) Private Limited, which is part of the St. James's Place Wealth Management Group,and it is regulated by the Monetary Authority of Singapore and is a member of the Investment Management Association of Singapore and Association of Financial Advisers (Singapore). Company Registration No. 200406398R. Capital Markets Services Licence No. CMS100851. St. James's Place Wealth Management Group Ltd Registered Office: St. James's Place House, 1 Tetbury Road, Cirencester, Gloucestershire, GL7 1FP, United Kingdom. Registered in England Number 02627518.
Ruggins adds: "The result is a product with improved diversification across managers and strategies. In time, this smooths out volatility and delivers more consistent performance in a simplified structure. By ensuring clients remain fully diversified at every level, we believe this will help minimise risk and volatility, without sacrificing those all-important long-term returns." BURGMANN,
A FREE LUNCH IN FINANCE While diversifying stock selection can offer some mitigation against risks, there will still be systemic or market-wide risks that could have negative implications. These include inflation, rising interest rates, or political instability - all three of which we are seeing in 2022. This is why diversification should be across all asset classes, as bonds, equities, property, and alternative investments will react differently to the same market conditions. Asset allocation is important and spreading investments across different asset classes mitigates against a variety of risks.
PUTTING BELIEF INTO PRACTICE Typically, diversification occurs at three levels: stock selection, the mix of fund managers, and how these funds are combined into portfolios.
T he saying goes: don't put all your eggs in one basket. In the same way, it's important that your investments aren't concentrated in one area, but are instead spread over a range of assets across the investment universe. Most investors will be aware that investing in a range of assets across industries and geographies is considered a sensible idea. This can help reduce negative impact from changing market conditions, without necessarily hurting long term returns. A recent example of this has been the wildly fluctuating cost of fuel and other commodities. This has driven up the value of oil and gas companies, which lagged behind in 2020 and the first half of 2021. This is in direct comparison with several companies which had been performing well who have now begun to struggle. A diverse range of investments will have had a smoother performance over this period compared to those concentrated in one sector.
According to Joanna Stocks, Head of Liquid Alternatives: "Whether it's asset allocation or stock selection, this is supposed to improve the outcome for investors. I should be able to construct a portfolio that's got similar levels of return for lower levels of risk." Therefore, diversification is sometimes known as the only free lunch in finance, she adds. While it's important to acknowledge that diversifying cannot eliminate risk, by combining asset classes that don't move in perfect sync, diversification should lead to reduced volatility, and smoother returns.
ANZA Mahjong meets up on various days and locations around the island. It's a great way to make friends and learn this fun, brain boosting Chinese tile game. From beginners and beyond, all levels are SESSIONS!EVENINGMONDAYanza.org.sg/groups/mahjongwelcome! SOMETIMES YOU JUST NEED A STRONG CUPPA AND A FRIENDLY WELCOME. Whether you're new to Singapore, new to ANZA or have been here a while, Casual Coffee mornings are a fantastic way to meet new people, pick up tips for living in Singapore and discover what ANZA offers its members. ANZA Casual Coffee meets at various locations around the island in group sizes that comply with the current restrictions. Register at org.sg/groups/anza.casualcoffee
To say things are on the up is an understatement.
Interest rates
When interest rates are rising in Australia, property prices are generally trending in the opposite direction. However, that doesn't mean you should jump for joy at the thought of buying a cut-price property. The correlation between Australian property prices and interest rates comes down to familiar supply and demand dynamics. Higher interest rates mean buying a property is more expensive, weakening demand, and making prices plateau and drop. The RBA will use higher interest rates to combat rising inflation - which is how they justified the most recent increase - but many will continue to feel a tightening in living standards.
That said, the RBA is pitching this rise as a "normalising" of interest rates and predicts it could rise as high as 2.5%, which could lead to a drop of 15% in property prices.
if you
The last time the Reserve Bank of Australia (RBA) increased rates was back in November 2010. On 7 June 2022, the RBA increased the cash rate by 0.50% bringing the official cash rate to 0.85%. It was an unexpected move by most forecasters in the market and unwelcome news for mortgage holders. How high will rates go? It's not great news. The RBA has signaled further rate increases are on the horizon. Right now, it's not unreasonable to expect the cash rate to increase to 2.5% over the next 24 months - this means a further cash rate increase of 1.65%. The RBA has an inflation rate target of between 2-3% and they will continually increase the cash rate until this target is achieved. Taking this into account, the forecast for inflation in 2022 is 6%. By mid2024, headline and underlying inflation are forecast to have moderated to around 3%. assume further in rates. Chances are, have
interest
increases
Homes & Loans SPONSORED CONTENT 56 anza July/August 2022 LET'S TALK:
Powering this is the RBA's prediction of a 4% increase in GDP this year, although a worse than predicted economic performance could see interest rates held and the housing market become stagnant while both buyers and sellers wait to see which way things move.
Anyone planning a purchase in Australia shouldn't wait to do it. Waiting for the market to move or making economic predictions is a fool's errand, so taking action now is likely to be far more fruitful than trying to be too clever. Contact the team at Odin Mortgage today to see how they can help you to achieve your dream sooner. odinmortgage.com
a mortgage in Australia, you'll likely feel the impact the most. For a clearer understanding of how things are going, see the table below for estimated changes in monthly loan repayments for different levels of increases: What can you do? Now is a good time to do some budgeting exercises. Consider fixing your mortgage interest rate before it's too late. Talk to your bank or broker to see what the best interest rates are on offer, then compare against your own and switch it if it's in your best financial interests. Investment property home loan rates are currently around 4 - 5 % for Australian expats and there are many banks offering cash incentives to refinance. Buying property, maximising your money and making smart decisions with Odin Mortgage 0.50% 1.00% 1.50% 2.00% A$500K $132 $268 $408 $552 A$1.0m $264 $536 $816 $1,104 A$1.5m $396 $804 $1,224 $1,656 A$2.0m $528 $1,073 $1,632 $2,208
These forecasts
Not necessarily. Property prices in the most desirable locations will likely continue to increase or, at least, won't drop off as much as they will elsewhere. This would mirror trends seen globally, including in the UK, where they face a full-blown cost of living crisis.
Does this mean good news for buyers?
Will the rate hikes lower Australian property prices?
SERVING FOOD
DINING ETIQUETTE Nyonya food is shared amongst diners, whether at home or in a restaurant. Serving dishes of food are placed in the centre of the table, for diners to help themselves. These generally remain on the table, although they may be moved closer, for transferring food to individual plates using serving spoons. Food is consumed from the spoon, with the fork aiding food onto the spoon. Soup is generally consumed throughout a meal, and not necessarily as a separate course.
SingaporePacificPanofscourtesyPhotograph
Peranakan etiquette places emphasis on genteel behaviour, including at the table. A circular table is preferred, where everyone is seated equally. Previously, food was eaten using fingers of the right hand, but it is customary nowadays to use tableware comprising a dinner plate with a fork to the left, spoon to the right, and soup bowl at the top right. Drinks are placed to the top right of settings. Antique Nyonya-ware, usually family heirlooms, seen on tables for special occasions, is colourful and elegant, and makes a great conversation point.
Excerpts from Chinese Etiquette-A Matter of Course by Raelene Tan, published by Landmark Books.
Peranakan food offers diners a taste of the region's celebrated history, but what's the etiquette when it comes to enjoying this heritage cuisine? Raelene Tan explains all. a Peranakan table
A condiment called sambal blachan is always served with meals, prepared with chillies, dried shrimp paste and lime juice. Be warned, it is very spicy! This condiment is generally provided in individual bowls. Should it be in a communal bowl, a serving spoon will be used to place some sambal blachan on the dinner plate. Another popular side dish is achar (pickles), utilising the same style of Whenetiquette.otak-otak (minced fish meat mixed with a spicy paste, placed in coconut leaves and grilled) is served, the leaves should be opened up fully, using fingers, before commencing eating the otak-otak from the leaves, using a fork and spoon. Upon finishing, the leaves are left on the plate or the table, depending on the setting. It is good manners to finish eating all the rice on your dinner plate. Upon finishing a meal at a Peranakan table, the fork and spoon are placed side by side in the centre of the dinner plate, with the handles towards the diner, fork tines facing upwards and the bowl of the spoon also facing upwards. Enjoy!
The staple food is boiled rice, accompanied by meat stews, poultry, fish and vegetables, prepared in bitesize pieces. Soups are rich without being heavy. Sweet desserts are almostFreshmandatory.limejuiceandbarleywater are popular, as well as coffee. Well known items include babi pong teh (stewed pork); assam prawns (prawns in spicy tamarind sauce); sayur lodeh (spicy vegetable dish); chicken macaroni soup and mee siam (fried vermicelli with spicy gravy), legendary cakes (kueh) made with rice flour and coconut milk; and gula Melaka (cold sago pudding with palm sugar syrup and coconut milk).
Born in Adelaide, Raelene Tan is an etiquette consultant and a food and travel writer. She has authored five books and has been a regular guest on radio and television.
TABLE SETTINGS
TUCKERBOX July/August 2022 anza 57
I n Singapore we are fortunate to have opportunities to eat at Peranakan restaurants, or at homes of Peranakan friends. Peranakans (Baba is the term for males, Nyonya for females) are originally of Chinese fathers and Malay mothers, with subsequent generations marrying within their own community or into the Chinese community. Nyonyas excel in the art of cooking, incorporating Chinese ingredients with Malay spices, resulting in a rich heritage cuisine.
At
HOTSPOTS RAF DALMAU checks out the dizzy panoramic heights and dazzling coastal Australian fare at new restaurant, Kaarla.
EAT
Arden andhoneytigernut,grownsaltedorangelime
Murray Cod, fermented fennel juice, bitter leaves and carrot anchovy and shiro dashi dressing, bunya nut and finger lime, and crowned with greens and flowers from Kaarla's own food forest. It was one of the most unique dishes we've everWetried.followed with Zucchini, Mussels, Tomato, Trout Roe (S$30), a sophisticated but light creation with locally sourced zucchini flowers steamed and infused with smokiness and a slight char on the coals. This was served alongside mussels from South Australia, pickled in mirin and chardonnay vinegar, and sweet Japanese tomatoes and trout roe sustainably sourced from Yarra Valley in Victoria. On the side was the Kaarla Closed Loop Salad - Roof Top Leaves and Flowers, Tiger Nut Curd, Daikon (S$28). This dish highlights ingredients from the day's harvest of edible leaves and flowers, all tossed in a housefermented calamansi juice dressing. For our main we ordered the White Pyrenees Lamb Saddle, Myrtle Honey, Salt Bush, Bunya (S$58). We also had the Aged King Island Beef, Braised Onions, Garden Salsa Verde, Kampot Pepper 600g (S$120). The Free-Range Pork, Minya, Riberry, Eggplant (S$58) could be cut with a fork, the sweet meat matching perfectly with the minya and the bitterness of the eggplant. For a taste of the pecan we chose the Murray Cod, Fermented Fennel Juice, Bitter Leaves and Carrot (S$62). The cod undergoes a quick salt brine with citrus and aromatics, and is then steamed and lightly finished in the wood-fired oven. A flavoursome beurre blanc-style sauce of fermented fennel juice and fish stock served alongside sea blite and pickled vegetables sets it off perfectly. Our desserts were Arden Grown Tigernut Ice Cream, Tigernut Nougatine, White Chitose Corn, Calamansi Jelly and Poached Oranges (S$25) - a great way to end a fantastic meal. VERDICT: Kaarla is not a cheap night out, but unlike other restaurants, the menu is guaranteed to surprise and the location features some of the best skyline views Singapore has to offer. Put it on your list of places to try. K aarla, meaning "where the home fires burn", is a new and exciting contemporary restaurant and bar highlighting coastal Australian cuisine. Helmed by Executive Chef John-Paul Fiechtner (JP as he is affectionately known), it honours nature by maximising every ingredient used. A central element of Kaarla's kitchen is its custom-built grill and oven designed by Samuel Fraraccio, a trained stone mason in Australia. In line with the concept, Kaarla's wine list features Aussie wines produced by sources that follow eco-friendly growing principles. We'd already heard the buzz around Kaarla before we arrived. The menu is truly inventive, mysterious, rich, and unique; the ambience is light and informal; and the offerings encourage the table to share. We started our culinary adventure with the Sydney Rock Oyster, Fig Leaf, Oyster Plant Vinegar (S$8/piece), a simple mix of raw Sydney rock oysters drizzled with subtly sweet house-fermented fig leaf and oyster plant vinegar. Next up was the Salt Cured Kangaroo and condiments (S$32). This 'carpaccio' of kangaroo loin was house cured and topped with nutty, chewy black barley ancient grain from Western Australia, Aged beef, braised onions, garden slasa verde and green pepper
VERDICT: Dining at Firangi Superstar can be all your plant-based dreams come true or a carnivore's haven. The effort, creativity and attention to detail that goes into every dish to deliver innovative, tasty and decidedly different gastronomy is second to none. Go for a night to remember. A t Firangi Superstar, you're transported into another land. Namely 1940s Calcutta, which doubles up as this flamboyant restaurant's entry point and the start of your journey, both physically and gastronomically. Am I actually in West Bengal or just down from the carpark on Craig Road? Things get fuzzyFirangifast.opened just over a year ago describing itself as "a foreigner's love letter to India". Launched by The Dandy Collection (Neon Pigeon, Fat Prince), it had big boots to fill and no problems in doing so. It swiftly gained a reputation as one of the swishiest places to find fresh and innovative Indian cuisine and tables are never easy to come by - not bad for a pandemic baby. With everything going so well, we could have forgiven Firangi for simply continuing on. However, aware of the ever-changing tastes of punters and the plight of the planet, they've launched a range of plantbased dishes on a "Veg Or No (V)eg" menu which pay homage to their most popular meaty offerings. Instead of presenting food made with wellknown meat alternatives, the chefs here use only fresh vegetables and talent to create delicious doppelgangers that replicate the original flavour profiles and spices. "We conceived "Veg Or No (V)eg" to be a menu as flexible as a yogi," explains head chef Raj Kumar. "We use as much local produce as possible, no MSG, and there is something for everyone. You will have to try it to truly understand the depth of the versatility of this menu!" We're presented with the original and new planty equivalent placed side by side. This provoked much oohing and ahhing from us over the elegant presentation and attention to detail: a purple flower petal here, a drizzle of Chermoula there - and yes that is a Parle-G biscuit attached to my Chai Masala Milk Punch. It's all par for the course in this Wes Anderson setting. We start with homemade flatbreads and a medley of chutney comprising Smoky Tomato, Coriander Mint and Roasted Almond. For an extra dipping option, the Sacred Earth Samosa joined the party. The meat version is a tangy wagyu beef tartare with citrus pickle and caviar; the herbivore alternative packs beetroot tartare, citrus pickle caviar. Remarkably,andbothdishestastesimilarwiththebeetrootmaintainingthesametexture,consistancyandtasteprofileofthebeef.Wedidn'tbelievethatplant-basedHolyCowcouldbeasimpressive, Clockwise from top left: Holy Cow (NonVeg). Dosa Pancake. Sacred Earth Samosa (Non-Veg) and Tawa Fried Brussels Sprouts with Garam Masala
FIRANGI SUPERSTAR 20 CRAIG RD, #01-03, 089692 firangisuperstar.com
July/August 2022 anza 59 Veg or no v(eg)? That is the question on everyone's lips at hip Indian restaurant Firangi Superstar, the latest venue to offer a new plant-based menu ...but this time it's serious. but boy, were we wrong. Crispy beef tongue mixed with a beef masala and pickled shallots served in a bone marrow had the plant-based option of spicecauliflowerversionbeyondofshallotswithgourd-potato masala mixedsnakecrispypotatoesandpickledhotonitsheels.Thebedaccompanyingnaan chipswereaddictive.Nextupwastheplant-basedofGrogu'sRoast,aroastedwithaMangaloreanmixandghee.Firm,hearty and satisfying with a chilli kick, it fully stood up to its carnivorous counterpart of tender and nutty Iberico pork. In fact, the two were a match made in heaven. Backing up ANZA's strong belief that Brussels Sprouts should not just be for Christmas were the Tawa Fried Brussels Sprouts with Garam Masala (S$16), which were delicately spicy and full of bite. As a special treat, Raj treated us to Back In The Saddle, a Tandoori Spiced Lamb, Confit Garlic and Curry Leaf. The melt-in-the-mouth Australian lamb comes smothered in tandoori spices and a moreish confit garlic sauce. Dessert is Dosa Pancakes layered with a delicate wild berry compote and light coconut chutney, served with coconut cream. Jaggery syrup creates a quintessential kick of Indian sweetness that ends our meal and escape to India on the ultimate high.
ANZA CLICK PHOTOGRAPHY 60 anza July/August 2022 STARS OF THE EAST If there's one street that screams 'old Singapore', it's Koon Seng Road with its colourful shophouses built by the Peranakan Chinese in the early 20th century. Next time we visit, we hope to be invited in for a cuppa. "Joo Chiat and its surrounding streets are so photogenic. Koon Seng's shophouse style terrace homes, decked out in Peranakan tiles and traditional embellishment, make the perfect models!" NANCY PADDISON @NANCYPADDISONPHOTOGRAPY
July/August 2022 anza 61 To join Click Photography log onto anza/org/sg/click "As the old saying goes, a picture paints a thousand words. Joo Chiat has such a rich history and so many stories to be told. Sometimes an image can do all the talking." JUDY CHIA
Bringing Nippers Back
It's a sigh of relief for ANZA Nippers who - dare we say it - are starting to embrace a new back-to-normal down on Palawan Beach. By KAT GILZMER.
NIPPERS 62 anza July/August 2022
W hen the new season of Nippers started back in March, most Covid-19 restrictions were still in place. But when the fences around Palawan beach disappeared overnight (no more pre-booking a beach slot in advance – yay!), we hoped good times were ahead! Finally, at the end of April, restrictions on group sizes were relaxed which allowed us to open membership to the many children on our waitlist – some of whom had been eagerly waiting for over two years to join us. As the ANZA Nippers community is growing and children and parents are now able to socialise, it's a joy to see friendships forming and age groups working together as a team again. Hotly anticipated is the return of our social events: the first parent night is set to take place at the end of May (practice your trivia and dust off those dancing shoes) and the events team plan to relight ANZA Nippers barbecue fires later in the year. We look forward to a great season ahead at Nippers and experiencing that beautiful community feel that's makes our Sundays at Palawan so special. One thing's for sure: it's going to get busy at the beach!
July/August 2022 anza 63 GINEVRA (U6) Time with ANZA Nippers: I just started this year. Favourite bit: Floating like a starfish on the water. We collect rubbish to prevent animals from eating it and dying. We also race on the beach and compete on who gets the stick first. Advice for potential recruits: You should absolutely join. It's super-fun!
Facebook
ANZA Nippers: All You Need To Know ANZA Nippers offers kids aged 5-13 the chance to participate in surf lifesaving activities in Singapore, and enjoy the beach in a safe environment. Sessions are held each Sunday from 8.45-10.30am at Palawan Beach, Sentosa and are run by a wonderful group of parent volunteers.Wehave two seasons: March to June and September to December. Children can only register if they can swim independently and they meet the swim assessment criteria. We carry out swim assessments at our first session of the season for all participants to get an overview of everyone's strengths. U6 – Swim 10m any stroke & 10 sec survival float U7 – Swim 25m any stroke & 30 sec survival float U8 – Swim 50m freestyle & 60 sec survival float U9 – Swim 50m freestyle & 60 sec survival float U12 – Swim 100m freestyle & 90 sec survival float U14 – Swim 200m freestyle & 120 sec survival float Fees to join ANZA Nippers are currently SGD330 per child per year (pro-rated for children joining later in the year). This includes the cost for the Nippers uniform. If your child is interested in joining, register on ANZA's website at anza.org.sg If you have any questions, please don't hesitate to contact us at Singapore.Nippers@gmail.com. For press and media enquiries please contact Kat at sgnipperscomm@ gmail.com Instagram @sgnippers @SingaporeNippers
Nippersof
MASON (U10) Time with ANZA Nippers: Only one season as I moved to Singapore nine months ago. Back in Australia, I'd been part of North Curl Curl Nippers since I was five years old. Favourite bit: Board riding and being with my mates. Advice for potential recruits: Join! It's great fun on a Sunday with friends. And because there are no waves, it's easier with boards and to swim. Time with ANZA Nippers: Almost five years. Favourite bit: Seeing my friends and playing with them. Advice for potential recruits: It's important to know how to save someone in the ocean and how to look after yourself in the water while having fun as you learn. TIP! Always shuffle your feet when in the water to let the sea animals know you're around. This prevents us from being hurt by them. BRIGITTE (U7) AND OLIVIA (U10), SISTERS Time with ANZA Nippers: Going up for two years. Favourite bit: Learning about the ocean, playing in the water and seeing my friends. Advice for potential recruits: I would recommend joining because you can learn about the ocean. TIP! Apply sunscreen, bring your water bottle and don't forget your thongs because the sand is hot on barefeet. The Voices
As the current season draws to a close, MICHELLE ADAMSON reports on how ANZA Netball were fortunate to celebrate the final session properly.
The ANZA Netball off-season programme, running from May to June, has been more popular than ever this year. Netballers have been enticed by the opportunity
END SEASONOFHIGH
T he timing could not have been better as Sport Singapore announced the reduction of Covid safe management restrictions in time for the ANZA Netball's end of season celebrations. We were lucky to have our Presentation Day 2022 and the final session of the 2021/22 season unrestricted by group number caps or vaccination differentiation. A great day On Presentation Day, netball games and matches were played throughout the various sessions. The girls embraced the opportunity to return to full court games for the first time in what seemed like forever. It was a fantastic end and truly a 'A great day for Netball' as the presentation day t-shirts announced. We hope our volunteers return for Term 2 and welcome any new additions!
NETBALL 64 anza July/August 2022
Registration for ANZA Netball is open for a block from September to December to complete the 2022 calendar year. Now we can include regular match play during training, the committee is excited that the length of training sessions will be returning to their previous duration. Spaces will also be available for our new intake cohort for those born in 2016. to play round robin tournaments and friendlies with other Singapore clubs while receiving coaching from our amazing professional coaches within the weather protected and air-conditioned facilities at Tanglin Trust School. Moving forward, the ANZA Committee has decided to alter the traditional ANZA programme year running from September to March to follow the calendar year (January - December). This will align the programme with the external competition calendar and ensure our players get the best preparation possible for matches. ANZA Netball is working with the other Singapore netball clubs to rejuvenate the netball competition calendar in Singapore. We're looking forward to a host of tournaments and leagues for all ages in the near future.
As always, the ANZA Netball Committee would like to thank the wonderful ANZA netball volunteers who've continued to provide help to the programme. Without their assistance, be it by coaching small groups, organising and conducting complicated checkin processes, managing uniform distributions, or collecting balls and equipment, this season would not have been possible. We hope to have all of our volunteers return for Term 2 and welcome any new additions! Rejuvenate the calendar
soccer REGISTRATIONSNOWOPEN! NEW SEASON AUGUST 2022 TO APRIL 2023 AT THE CAGE SPORTS PARK JointheCommunity anza.org.sg/soccer ANZASoccerisanot-for-profitorganisationwithover40years'experienceindeliveringqualitysoccerprogrammestochildrenandyoungadultsaged2-18years.Ouremphasisisonaffordable,funandcompetitivesoccer. SaturdayclubleaguerunbyparentvolunteersAllabilitieswelcomeProfessionalandparentvolunteercoachesFees:$675includesSaturdayclubgames,mid-weektrainingandkit Please visit our website for more information: anza.org. sg/sports/netball/ or email info@anza.org.sg RegistrationsNETBALLANZANowOpen!SaturdaymorningsatTanglinTrustSchool•LedbyProfessionalCoaches•Allabilitieswelcome.Ages5-16years•Fun,FriendshipandTeamworkSeason23Septemberto10December2022
ForemanDavid
B ack in 1975, as British troops prepared to withdraw from now-independent Singapore, parents wondered where their children would play soccer once they were gone. The British had sponsored a boys' soccer league and they knew such sporting opportunities would disappear with the troops. Fathers David Foreman, Frank Wakefield, John King and Gordon Gerachty, who was also ANZA's chairman, organised a new league from Foreman's dining room. They secured pitches and insurance, distributed flyers and commissioned goalposts for the younger groups. In January 1976, 33 boys arrived for the first games of the International Junior Soccer League (IJSL).Named for the departing forces, the original teams were the Flyers in blue, the Gordons in red, the Sailors in white, and the Warriors in green. Parent volunteers acted as organisers, coaches and referees. Word spread, and the league tripled in size during the first season. The basic format, still used today, was a round-robin league competition followed by a knockout cup tournament. At the end of that season, the organisers decided the league should gain official status. Gerachty suggested asking ANZA to accommodate them, and so IJSL became ANZA-IJSL; over time the name was simplified to ANZA Soccer. Teams were balanced to include different skill levels, schools, and backgrounds, and players remained in teams year-to-year, forming friendships that often endured over time and distance.
infantrySingaporeafterTheWhatGordons?WhyWarriors?originalteamswerenamedthefinalBritishforcestoleavein1976:FlyersfortheRoyalAirForce,inblueGordonsfortheGordanHighlandersregiment,inredSailorsfortheRoyalNavy,inwhiteWarriorsfortheJungleWarfareSchoolinJohor,ingreen
Clockwise from top: Gordon Vs Bombers in 2012, The Warriors, The Sailors and an early Flyers team
SOCCER 66 anza July/August 2022
SoccerANZAPast&Present
We take a look at the history of ANZA Soccer and how it came to be the hugely successful sporting group it is today.
Pitch changes & programme growth In the following decades, changing pitch availability meant the league had to move several times, often helped by the Singapore Sports Council, which recognised ANZA Soccer as a valuable recreational resource for expat families. Pitches at Portsdown Road (pre-AYE), Minden Road, Farrer Road and Loewen Road all hosted ANZA games. The first was remembered as "The Garden of Eden" by some; the last two as "bloody awful, potholed and waterlogged" by long-time volunteer Gina Kubal. In the 2000s, ANZA Soccer settled at Turf City on the pitches now used for cricket. After a redevelopment in early 2012, everyone was reunited at our current all-weather pitches, where we've remained since.
Founding volunteers David and Elsie Foreman returned for a visit in 2017 and were amazed to see how ANZA Soccer had grown, from a few dozen boys in 1976 to over 800 players each Saturday. They were especially excited to see our thriving girls' programme, with David commenting that "this is a fantastic development, and they certainly look like they can hold their own!" They also recognised how little had changed: a Saturday league where all play, original team names and colours (now supplemented with many others), an emphasis on "fair play" and "friends play," a reliance on parent volunteers, and a focus on fun and fitness through sport.
riding activities available near our pitches. ANZA Soccer
now ANZA Soccer Dependence on volunteers: fathers Dependence on volunteers: mothers and fathers Around 10 nationalities represented Over 25 nationalities represented Season started in January Season starts in August Kit bought individually by players at local supplier Kit included in registration Season fee: $10–$20 Season fee: $650 Soccer Committee met once per month Same PItches, goals and balls got larger by age group Same League round-robin followed by postseason Cup Same Awards Day, with trophies for all, at end of season Same Players remain with same team, promoting friendships Same Emphasis on fair play and having fun Same David Foreman and other league founders with early 2015:trophiesU9SEACup. Below: April 2019 U16 JSSL 7s Game 1 vs Gold Coast PhilipsColin&HuggettD.Peter ForemanDavid The Singapore Turf Club in 1965. The area where we now play hosted horse racing from 1933 to 1999 David Foreman returned for a visit to ANZA Soccer in 2017 2022: Parent volunteers in May 2022
1976 SEASON 2022–23 SEASON Started with 33 players, up to 100 by end of first season Around 800 players 4 boys-only teams per age group 8 mixed teams and
July/August 2022 anza 67
We
1977,
Tuft
girls' teams in most age groups "All play" on Saturdays "All play" on Saturdays, competition teams play on Sundays Games at UWC, then at Portsdown pitches (grass) Games at The Cage,
SEASON 46 IN THE BAG! The Covid-19 pandemic stressed our programme, along with so much else in Singapore and the world. Through it all, our enthusiastic volunteers, dedicated professional coaches, and above all our eager players made it worthwhile. Having ended our 46th season with a return to "real" games, league competitions, competition team action, and Awards Day, we look forward to a new season filled with all that makes ANZA Soccer so special: fun for all, great competition, and a family-centered environment that creates friends for life. City: Our Pitch With A Past play in a historic location. Turf City owes its unique layout to the fact that it used to be the premier horse racing venue on the island. Today the narrow road to our pitches traces the curve of the old race track. In 1933, the Singapore Turf Club moved from Farrer Road to a larger facility in a less crowded area. The nearby Bukit Timah Railway Station, now a conserved building on the Rail Corridor, also meant that horses could be moved to other locations on the racing circuit. Races ceased in October 1941, with first British and then Japanese troops using the area. The buildings may have housed hospital activities and prisoners of war, and food crops were grown on open spaces. Racing resumed in 1947, but increasing population pressure and traffic jams on race days led to the development of a new race course in Kranji in 1999. The area's horsey heritage can still be seen in the Then & Now Matildas Turf City ANZA became ANZA-IJSL,
(artificial turf) Started as International Junior Soccer League (IJSL) Joined
ANZA Cycling are on a roll with new members, day trips, planned events and the return of the communal big brekkie. By ANZA President MEGAN KINDER. T he good times are back for ANZA Cycling! We've welcomed new and prospective members, completed day trips and long distance 'Audax' (200 and 300km) rides, reintroduced social events such as en-masse Club Brekky and Club Drinks, cycled over to Malaysia,
A new way to Tri Triathlon Director Melanie Speet reports on the recent Super League Arena Games event. Back in May, twenty top professional triathletes descended on Singapore for the Super League Arena Games finale, an event that saw them swim in Marina Bay for the first time, and ride and run in the Zwift virtual world for the title of Super League Arena Games World Champion. As part of the event, ANZA Cycling competed in the club challenge which involved five runners on treadmills and five cyclists on wattbikes racing in a virtual Zwift relay format for 48 minutes. Our runners set a blistering pace, and our cyclists powered through a tough virtual course. ANZA came 4th, less than 200 metres behind 3rd place. Coming together as a team to compete on the same stage as world-leading athletes was an epic experience – we hope more opportunities like this open up soon!L-R: Ken Forbes, Lachlan El-Ansary, Trent Standen, Glenn Murphy, MC Delorme, Mel Speet, Christina Tubb, Ian Hughes, Darren Ma, Haythem El-Ansary and planned club trips to KL and L'Etape Malaysia in Desaru. Oh, and we also squeezed in Metasprint Triathlon and the OCBC TT as well. The long weekend in May was a particular highlight for our members, both socially and competitively. Over three days, around 120 members came together for our newly minted Club Breakfast at Terra Madre, Loewen. This feast went a long way to fuelling up those who were then set to compete in the OCBC Speedway (road) and the Arena Games (triathlon). It's been a blast! plan, repeat! Club Drinks, powered by Alexis Livanes from Eight Wealth
CYCLING 68 anza July/August 2022
Ride, feast,
The men's competition consisted of three rounds, an initial qualification round, a semi-final and a final. Representing ANZA were Janus Kaas Dalsgaard, Russell Vanderwater, Matt Bedard, Jock Hughson and Sanil Khatri as reserve. Janus and Russell were the first pair in all the races. Race One was an easy win for ANZA. Janus established a good lead with a break in the first half which Matt Bedard turned into a dominating lead, putting us into the semi-final.
A tougher semi-final draw saw us facing both Matador Racing and Integrated Racing. Matadors sat in during the first half before attacking and establishing a short break which they carried into the second half. Two laps in, the Matadors were up the road with Matt and Jock in group two. Realising the first two teams would make the final, we kept our powder dry and booked ourselves a place in the final. The final saw us pitted against Allied World, Matadors and CycleTraining.cc. Russell and Janus did a great job in the first half with the teams all coming in together. When one of the Matadors fell in the hairpin corner, it allowed Reuben Bakker from Allied World to establish a break that proved decisive and left a battle for second. Matt Bedard controlled the pace of the group at the front and Jock attacked establishing a small break. This was sufficient to gap CycleTraining. cc. and with Matadors one rider down, ANZA secured second place.
July/August 2022 anza 69 Run on the Sports Hub hotdog circuit, The OCBC Speedway Club Championships saw Singapore's top club's field teams of four riders split into two pairs. Pair 1 raced five laps against three other clubs before handing the baton to Pair 2, who completed a final five laps (do keep up!). With a hairpin corner at one end and a roundabout at the other, the circuit tested our riders' anaerobic abilities and high-speed cornering skills, with tactics playing a key role in the results. The winning team was determined by the Team Mean Time, calculated by the average finish time between gun time and finish time of the third and fourth riders. ANZA fielded teams in the men's and women's categories.
RACEWOMEN'STHE Representing ANZA in the Women's race were (L-R) Lily Low, Vivian Lim, Sonya Thompson, Jing Huang, with Nicolette Tan in reserve. The ladies were up against three other teams in the qualifier, the National Development Squad (NDS), and two teams from Pedal Bellas. With only the top three teams progressing to the finals, Team Manager Steph shared some insightful riding strategies to increase the team's chance of making it through. This included a line-out of Jing and Vivian to go out first, followed by Sonya and Lily second. The race started off steady, with all riders moving as a group for the first three laps, before Jing was distanced from the group. Vivian came in with the rest of the pack to change out Sonya. While Jing was the last rider into the changeover, her grit and determination kept the gap small for Lily to chase. NDS led the race, followed by the Pedal Bellas Team 1 and Sonya who was able to pass the pair of riders from Pedal Bellas Team 2. Lily managed to catch the Pedal Bellas Team 2 riders in the second lap, only to break away and maintain her lead to the finish, guaranteeing ANZA a spot in the finals. The line-out for the finals saw Nicolette stepping in for Jing who was injured. The first pair of riders completed their laps, leaving the second pairs to fight it out. The first two laps were largely uneventful. In the last three laps, NDS, the clear frontrunners, made multiple attempts for a breakaway, which was quickly shut down by ANZA. In the final lap, NDS broke away from the group with Sonya and Lily hot on their heels and leaving the Pedal Bellas behind. We finished just three seconds behind NDS, which made for an amazing race and result from the ANZA ladies team.
THE RACEMEN'S
HOTDOGS & HAIRPINS
Road Director Jock Hughson and Women's Team Manager Stephanie Lim tell us about the OCBC Speedway Club Championship.
"ANZA cricket is one of the founding sports of ANZA – it truly is part of our history. We're mostly (very handsome!) middle aged men who've taken time off the game and are back to enjoy the comradery, fresh air and fun that cricket can bring. As we have multiple teams and nets, there's something for everyone. Women and juniors are welcome to join nets anytime. For me, the cricket here is not as serious as it is in Australia or New Zealand, and many friendships are formed. It may feel scary to join, but you'll find it's really a great community!"
It's been quiet on the cricket front but now games are back on and it's time to go batty!
C ricket in Singapore has really had a tough time. Despite the game being played by 24 people spread over a very large field, we're only just able to dust off our (greying) whites once more. Unfortunately, many fields are still closed, which means there are now some 150+ teams fighting over limited resources. For ANZA Cricket, the impact is that we can continue our league teams, Bushrangers and Diggers, but the social side, Dream Team, has fewer games scheduled. However, all is not lost! With 31 games scheduled and only three completed by the end of May, the season is well ahead of us. It has never been a better time to join our group. Singapore Cricket comprises seven divisions with 15 teams each. ANZA Cricket plays in Division 4 and 5 (although there is little difference between lower divisions and higher ones). Bushies had one match washed out when our gun batsmen, Guy Hudson and Sandesh Gavade were in flying form, but during the next match Bushies just couldn't getDiggersgoing. started off the season on the most difficult wicket in Singapore, tip-toeing their way to 120 on the back of Blasie Habgood scoring 40 runs and whacking two big sixes! After strangling the opposition to 105 in replay (DL Target of 112), we've jumped to the top of the table. Hopefully we will still be there when you read this! SCC Youth Development As yet, ANZA doesn't run a junior team, but Singapore Cricket Club offers a youth development programme for kids aged 5 - 10. With a variety of sessions running weekends and mid-week, the Cubs Cricket environment is "all about fun and enjoyment through our brilliant game of cricket." The SCC's Cricket Academy welcomes teens aged 13-16. Interested? Drop us a line at CYD@ scccricket.com NETS stuff to know Nets kick off each Wednesday at Turf City from 7pm. We assemble 5-10 people who enjoy rolling the arm over through our WhatsApp chat. It's not a problem if you don't want to play games. Everybody is most welcome. A word with Graeme
Covers are off!
CRICKET 70 anza July/August 2022
ANZA'sGardiner,CricketCoordinator
CASUAL TENNIS Join our social tennis group at the Fairmont Hotel, Fridays, 9-11am. Clinics that focus on the fundamentals of tennis meet on Wednesdays and Fridays, 11am. Afterwards, take time out for coffee and a chat.
BOOK CLUBS We have a number of social book clubs that meet monthly in the morning or evening. Contact us to be connected with a group that meets at a time that suits you.
ANZA NETBALL ANZA Netball offers a fun, inclusive and competitive netball programme for players aged 6-16. Teams play Saturday mornings at Tanglin Trust School, with a mix of parent and professional coaches.
ANZA ACTION The community affairs arm for ANZA supports charities in Singapore through fundraising and volunteering activities. For info on the charities we support visit the ANZA website.
ANZA CYCLING Join our keen cycling group and you can get out on two wheels every morning of the week to explore all parts of Singapore. Suits most skill levels and includes road, racing, MTB and also triathlon disciplines.
Soccer Athletics Cycling Netball Nippers Cricket AFL Photography Scouts Casual Coffee Men's Group Volunteering Book Clubs Writers Group Knitting & Sewing Investors Group Mahjong Tennis Walking Golf Running Yoga Events Meet-ups Networking Friendships Soccer Athletics Cycling Netball Nippers Cricket AFL Photography Scouts Casual Coffee Men's Group Volunteering Book Clubs Writers Group Knitting & Sewing Investors Group Mahjong Tennis Walking Golf Running Yoga Events Meet-ups Networking Friendships Soccer Athletics Cycling Netball Nippers Cricket AFL Photography Scouts Casual Coffee Men's Group Volunteering Book Clubs Writers Group Knitting & Sewing Investors Group Mahjong Tennis Walking Golf Running Yoga Events Meet-ups Networking Friendships Soccer Athletics Cycling Netball Nippers Cricket AFL Photography Scouts Casual Coffee Men's Group Volunteering Book Clubs Writers Group Knitting & Sewing Investors Group Mahjong Tennis Walking Golf Running Yoga Events Meet-ups Networking Friendships Soccer Athletics Cycling Netball Nippers Cricket AFL Photography Scouts Casual Coffee Men's Group Volunteering Book Clubs Writers Group Knitting & Sewing Investors Group Mahjong Tennis Walking Golf Running Yoga Events Meet-ups Networking Friendships Soccer Athletics Cycling Netball Nippers Cricket AFL Photography Scouts Casual Coffee Men's Group Volunteering Book Clubs Writers Group Knitting & Sewing Investors Group Mahjong Tennis Walking Golf Running Yoga Events Meet-ups Networking Friendships Soccer Athletics Cycling Netball Nippers Cricket AFL Photography Scouts Casual Coffee Men's Group Volunteering Book Clubs Writers Group Knitting & Sewing Investors Group Mahjong Tennis Walking Golf Running Yoga Events Meet-ups Networking Friendships Soccer Athletics Cycling Netball Nippers Cricket AFL Photography Scouts Casual Coffee Men's Group Volunteering Book Clubs Writers Group Knitting & Sewing Investors Group Mahjong Tennis Walking Golf Running Yoga Events Meet-ups Networking Friendships Soccer Athletics Cycling Netball Nippers Cricket AFL Photography Scouts Casual Coffee Men's Group Volunteering Book Clubs Writers Group Knitting & Sewing Investors Group Mahjong Tennis Walking Golf Running Yoga Events Meet-ups Networking Friendships Soccer Athletics Cycling Netball Nippers Cricket AFL Photography Scouts Casual Coffee Men's Group Volunteering Book Clubs Writers Group Knitting & Sewing Investors Group Mahjong Tennis Walking Golf Running Yoga Events Meet-ups Networking Friendships Soccer Athletics Cycling Netball Nippers Cricket AFL Photography Scouts Casual Coffee Men's Group Volunteering Book Clubs Writers Group Knitting & Sewing Investors Group Mahjong Tennis Walking Golf Running Yoga Events Meet-ups Networking Friendships Soccer Athletics Cycling Netball Nippers Cricket AFL Photography Scouts Casual Coffee Men's Group Volunteering Book Clubs Writers Group Knitting & Sewing Investors Group Mahjong Tennis Walking Golf Running Yoga Events Meet-ups Networking Friendships Soccer Athletics Cycling Netball Nippers Cricket AFL Photography Scouts Casual Coffee Men's Group Volunteering Book Clubs Writers Group Knitting & Sewing Investors Group Mahjong Tennis Walking Golf Running Yoga Events Meet-ups Networking Friendships Soccer Athletics Cycling Netball Nippers Cricket AFL Photography Scouts Casual Coffee Men's Group Volunteering Book Clubs Writers Group Knitting & Sewing Investors Group Mahjong Tennis Walking Golf Running Yoga Events Meet-ups Networking Friendships Join the Community!
** Please check current Covid restrictions, which can change group sizes and scheduled meet-ups. For more information and to join ANZA Interest Groups visit anza.org.sg. Drop-ins to ANZA groups are not possible.
INVESTORS INTEREST GROUP This money-minded group meets monthly to connect and discuss investments and important financial matters for expats. CASUAL COFFEE Sometimes you just need a good cuppa and a friendly welcome. Mini Casual Coffee Catch Ups are being held on various days and locations around the island. SECRET MEN'S BUSINESS Secret Men's Business (SBM) is an exclusive ANZA group made up of men of all ages looking to catch up with like-minded, friendly blokes. The group's main activity is golf twice a week. There's also squash, cycling, tennis, lunches and drinks. MAHJONG Join small group mahjong sessions on various days and locations around the island. It's fast paced, social and great fun. STITCHES Interested in needlecraft? All levels are welcome to come along and learn and sew. KNIT FOR LOVE Join us in knitting beanies for Singapore Cancer Society chemotherapy patients. New knitters are most welcome. The group meets on the third Friday of the month in the ANZA office on Beach Road. SET LUNCH We seek out great value set lunch deals around Singapore to enjoy together in group outings. Discover new restaurants and cafes, meet new friends, and explore the red dot's highly diverse and always delicious food scene.
This group of new writers and published authors meets monthly online to read and discuss their creative work.
ANZA SINGAPORE WOMBATS AND WOMBETTES (AFL) This vibrant and welcoming Aussie Rules Football programme is open to men and women aged 18+. Training is on Thursday evenings and Saturdays, with regular social catch-ups.
why we offer a plethora
LADIES NIGHT ANZA organises monthly girls-only get togethers at various hotspots in Singapore. They're a great way to widen your social circle, and always a good night out.
disclaimer ANZA offers many and varied activities and events to benefit its members. Occasionally, and due to circumstances outside of ANZA's control, activities or events (including sporting competitions and seasons) may be cancelled or subject to date, venue or content changes. Every effort is made to avoid this, but where it does happen, neither membership or ticket fees are refundable. Current and prospective members and guests are encouraged to reference both the constitution and terms and conditions of ticketed events.
INTERESTGROUPS
ANZA members are an active bunch, which is of interest groups.
Find out more and register at anza.org.sg ANZA GROUPS July/August 2022 anza 71
WRITERS' GROUP
ANZA CRICKET Three ANZA Cricket teams play in the Singapore Cricket Association. Training usually takes place at Singapore Cricket Club nets from 7pm on Monday evenings and the indoor nets at The Cage, Turf City.
RUNNING Looking for some running buddies in Singapore for regular casual runs? The ANZA Running Group meets Monday evenings in the Botanic Gardens. SOCCER Get your kids kicking with ANZA Soccer! Our well-known programme is open to children aged 2-18, focusing on fair play and community. Saturday games and mid-week training at The Cage Sports Park, Turf City.
CLICK PHOTOGRAPHY The group meets regularly to share knowledge and advice in a friendly environment as well as going on photowalks across Singapore. Everyone is welcome with camera in hand! KILL-O-METRES Join ANZA's walking group to get moving around some of Singapore's great nature reserves and interesting neighbourhoods. Check ANZA's website for times and locations. EASY RIDERS Join ANZA's relaxed cycling group to explore Singapore's Park Connector Network (PCNs) and off-road bike paths. Participants will need their own bike and a helmet, but don't need to be an experienced cyclist.
SPORTS GROUPS ANZA ATHLETICS ANZA's track-and-field programme is for kids and teens aged 5-16. Organised and run by parents, the programme teaches children track and field skills, with a focus on fun, fitness and skills. *Note: this programme is currently on hold due to COVID-19 restrictions.
ANZA SCOUTS Open to everyone aged 5-17, ANZA Scouts is about meeting new friends, developing leadership skills and being outdoors. They meet every Saturday at various locations in Singapore from 2-4pm. ART AND CRAFT GROUP Join this group and learn new craft skills, such as silk painting, bookbinding, candle making, sewing, card creation, beading, batik, and more. Activities are designed with beginners in mind, and each month a new craft activity is introduced.
ANZA GOLF / 9 HOLE ANZA Golf is a great way to get outdoors, meet new people and learn how to play the game. The 9-hole golf group is aimed at beginners and is very friendly and relaxed.
NIPPERS Children aged 5-14 learn ocean awareness through fun surf lifesaving activities, including paddling, running and swimming. Sunday mornings at Palawan Beach, Sentosa. Meet a community of beach lovers!
AliceElizabethAdamYishaNatasaSilvijeJulietPeterNadyaKyleIanAngelaKerriDinhDaphneBrendanLydiaAntonyAnneDavidTimElizabethPierreEilishDanielCynthiaMarkDebraLorenaMarkGebhardCarrickDiCarloDonoghueChesherSanvicenteSanvicenteJenkinsFayaudFayaudFosterFosterFogartyTngMacleanMacleanRoyalGohMinhLaiFulginitiSinclairSinclairArtzArtzKiernanWarnockNosicVetmaStiskala-YuStiskalaTangGoh Tang Yin RaviShenelleShehanIvankaSteveKurtLeonaTrevorJosepMyiaMetteNielsSarahGregJudithEricLilizAndrewLarsLailaAmyJoshuaAnastasiaGillianRyanJessicaTimothyMichelleJoleneBenjaminSuyTangShenHowellHowellPagePageLiKaubBellBellSchoellerNielsenTaylorChenTrijbelsSowdenSowdenHuveHuveKochPetersenRossGarciaGarciaMulcahyLeoWilliamsWilliamsThomasThomasPrasad
NEW MEMBERS 72 anza July/August 2022 NEW MEMBERS WE ARE DELIGHTED TO WELCOME NEW MEMBERS EVERY MONTH TO THE ANZA COMMUNITY.
MuhammadJohariJemaineKenJadeEdYaninaAndrewJuliaSteveLucyFeliceDanielKirstinFrancoisEdwardKatieSamuelKateScottMelissaNickLeroyNikkiMarianaNoordyPascaruLangeveldLangeveldWalkerMontgomeryMontgomeryCairnsCairnsMartin-SperryMartin-SperryDeCannartRankinBlakeHalseFungHoCopeCopeSandersonSandersonFulleyloveYuktaseviCasperszBinHusinDarwisyFitri
Lida
Guy Alan Hudson Pip SukanyaJarlathWongLaurentReubenEmmaIrfanDewiSaurabhDaminiSteinarAngelaShiao-LingChrisVictorAllysonKellySalVictoriaNicholasOdysseasJaelenNanditaKartikPoojaSanjeevGeoffreyMikaLeonHenry-MooreMooreBaileyMcnamaraKumarSananBalasubramaniamNandakumarTeoPlapoutasJonFarrFarrBounkeuaHuynhRamekerRamekerCaveJonesCaveJonesFlynnJoergensenChawlaSharmaKartiniPutriChumaliZakariahCollinsInglisLafon-BarretPhikSeeFarmerFarmer
Bin Johari Mohamad Hisham Bakri Nuraishah Junid Naufal Zulfiqar Mohamad Hisham Michael Gebhard
Iko
Kasia Noske
Kunal LouiseNickAimeeRichardMichaelLoMarkBronwynSandraFranMatthewNatalieThakkarNormanNormanHernandezSaldanaRoseRoseJuiPingParkerCrownCrownVinceCliff
walk Discover Singapore on foot with ANZA Kill-o-Metres. Walking groups depart from all over Singapore for both day and evening walks. ANZA Kill-O-Metres anza.org.sg/sports/walking LookinginyourImproveswing2022!tokickstartyourgolf game and meet friendly female players? Join this relaxed group at a beautiful green course on Tuesday mornings. Other activities include group lessons and social events. Suitable for beginners and those seeking a VENUE:handicap.MandaiExecutive Golf Course Upper Seletar Reservoir, Mandai Rd Track 7, 779384 anza.org.sg/sports/golf-9-hole-ladies Ladies 9 hole g o fl ANZAGIVEAWAYMONTHLY Congratulations to Julia Cope Winner of this month's $50 voucher from The Fishwives. NEW MEMBERS PREMIER PARTNER NEW MEMBERS GOLD PARTNER Yukti KellyRossNandaRaziStephenKendallYujiSaraBenJanelBenKellyConsolataEujuneSadanandLewisDemelzaMichaelNicholasLauraSandeshJamieNancyGautamSharmaSharmaPeirsonJemmesonArunGavadeWilliamsWilliamsAllenPurcellPurcellGaichorKimYoonNeweyNeweyBriggsBriggsKellyMinamihataHamillHamillMohdMackayMackayGreig Mike Bourke Li
Damien Cramer Cecilia Cramer Jack JoseTristanTsaraClareFoleyMortonChiappiniChiappiniFlavianoPires Faleiro Mariana Faleiro Alex JessicaColinScottBlaynePeacockPeacockJasonFlowerHarrisBernard
MicahGillianStuartPatrickGordanaPaolaMarkRobertHeatherRobinCindyShanshanCarthyCarthyNewellNewellSherwillSherwillGospicMichaelAsanteLeeFraserKwek

The ANZA Discover Tennis Clinics are a six-week programme designed for newcomers wanting to learn the basic skills of tennis, or for players wanting to refresh their technique. Emphasis will be on enjoyment of the game and players will receive an excellent foundation to improve and develop. ANZA TennisDiscoverClinics: For more information and to register visit anza.org.sg/sports/tennis The ANZA Casual Tennis group get together each Friday from 9am to 11am to have a fun hit. Complete beginners and players of all abilities are welcome. Join us for a coffee and chat afterwards. Join ANZA Tennis Cost: $210 When: Fridays Time: 11am – 12pm Where: Savitar Tennis Fairmontcentre,Hotel, Raffles City JOIN THE ANZA AFL anza.org.sg/sports/wombats-aflWOMBETTESWOMBATS/Registrationsnowopen
all beers with free delivery when you
urbanorigins.sg 12% off regular purchases from Urban Origins VISAGE THE
for short hair
RAFFLES SINGAPOREHOTEL offer/#myaccountanza.org.sg/raffles-hotel-anzaGreat deal exclusive to ANZA members. Log in to your ANZA account to find out more sarnies.com 10% off total bill BAROSSA barossa.com.sg 10% discount off total food beverage weekends (Fri-Sun) and 15% off on weekdays (Mon-Thurs) GINGER resorts/pr-beach-road/dining/gingerwww.panpacific.com/en/hotels-and20% off CHUAN DOU HUA hua-restaurant.htmlpr-kitchener/dining/si-chuan-dou-panpacific.com/en/hotels-and-resorts/ pr-beach-road/dining/club-5.htmpanpacific.com/en/hotels-and-resorts/
TEMPLE STREET COCKTAILS templestreet.com.sg 20% off all cocktails with free delivery when you spend a minimum of $100 MOGAMBO BAR & RESTAURANT mogambo.sg 10% discount on all non-promotional beverages
and
on
20% off the total bill CLUB 5
20% discount on hair
Head to our link below to find out more. anza.org.sg/the-cellar-member-offer ORIGINS SALON visage.com.sg colour Brazilian Blowout at $280 and BREWING troublebrewing.com off spend a minimum of $100 FINE THAI CUISINE patara.com.sg 10% off the total food and beverage bill on weekends (Fri-Sun), and 15% off the total food and beverage bill weekdays (Mon-Thurs) HERO'S heros.sg 10% discount on all non-promotional beverages
services,
PATARA
shoulder length or below at $380, beauty services 30% discount for new customers and 15% thereafter DALLAS dallas.sg 15% discount off the total food and beverage bill TROUBLE
the total bill SI
20%
SARNIES
ANZA MEMBER DISCOUNTS July/August 2022 anza 75 URBAN
20% off the total bill MISS FITZ missfitzsg.com 10% off drinks 5:30pm - 7:30 pm daily BEVVIES bevvies.sg 10% off all products online HARRY'S harrys.com.sg 10% off total food and beverage bill and 15% off when registered using the Harry's mobile app e-card OHMM ohmm.sg 10% discount on all products Terms & conditions apply to Member Discounts. Please check our website for details of each offer before you go. Our partners at The Cellar have fabulous prices on selectedexclusivewinesto ANZA members
For expats in Singapore, why is The LKY Musical a must-see? This production covers the turbulent period of Singapore's history from Mr Lee's school years, through the Japanese Occupation of Singapore, the post-war struggles, and into Independence. It captures lighting in a bottle – a private glimpse of a very public man. It certainly will demystify him for many people who know him as a leader with a steely resolve and unwavering will. How did you prepare for playing LKY? There is a mountain of archival footage, and reams of literature, and I have delved into both. I've also spoken to individuals who knew him and interacted with him in his quiet moments. It was very insightful. Ultimately, it's about trying to recapture the essence of the man in the context of this musicalised story. How easy is it to step into his shoes?
When I played the role in 2015, I went through many moments of frustration and fear and self-doubt. How do you portray a man who is idolised as a hero by many and is also a figure of such controversy? The pressure was – and is going to be – enormous. In the end I cannot please everyone, and that is not the purpose of theatre anyway. I will shut out the noise and do the best job I can. How long will you be rehearsing?
What are your favourite scenes or songs in the production?
History lessons don't come better than The LKY Musical, which returns to the stage this September. It tells Founding Father Lee Kuan Yew's story from his student days in 1941 to the country's independence in 1965. We caught up with actor Adrian Pang who plays the formidable lead role. PANG
ADRIAN
10 MINUTES WITH 76 anza July/August 2022 10 MINUTES WITH...
Where do you go after playing LKY?
I do take a perverse delight in LKY's final "11 o'clock number". It's emotional, heartbreaking and cathartic. It's also a bastard to sing through tears, but that'll be close to curtain call and the bar, so I just look forward to that!
Tickets for The LKY Musical are available from Singapore Repertory Theatre, srt.com.sg
The first time this musical was staged a few years back, we rehearsed for seven weeks with script and song changes almost every day. This time round, we have just five weeks with some tweaks and embellishments. What surprising things did you discover about LKY by taking this on? Mostly things about his relationship with his wife Kwa Geok Choo. From what we can tell, they were a very devoted couple through thick and thin. She was his rock, especially in times of tremendous political strife. It seems to me that she gave him the strength to keep fighting even in his darkest hours. Many painful sacrifices had to be made. Their relationship was a tender and inspiring one … At the end of the day, it is personal and intimate relationships that matter; beyond politics, beyond personas, beyond the circus of public life, it is basic human connection – and yes, love – that will save humanity.
MRS LKY. Well, this we look forward to seeing!"It is personal and intimate relationships that matter; beyond politics, beyond personas, beyond the circus of public life"
Marlborough College Malaysia is a British boarding and day school in Johor, Malaysia catering for pupils age 3 to 18 within a 90-acre purpose-built site that includes an organic farm, golf driving range and lake for Pupilswatersports.carrythe torch for a new era of education. They embody the spirit of internationalism and emerge as the beneficiaries of cross-cultural exchanges, an international perspective and preparation for life in a global environment. Singapore's British Boarding School • Listed in the top 100 Schools Globally Spear's Schools Index 2021 • Sister school to Marlborough College UK • In the top 2% of IB schools in the world • Outstanding, international award-winning pastoral care and Strategic Leadership • Pupils go on to top Russell Group and Ivy League Universities including Oxford and Cambridge • Lifelong membership to the Old Marlburian Network worldwide