2022 Annual Report
"One Child, One Family, One Community at a Time."
Celebrating 25 Years of Ending Generational Poverty
84%
94% 100%
GRADUATION RATE SINCE 2009
AGAPE YOUTH AND FAMILY CENTER
Empowers and supports underserved families within its community to discover, embrace, and achieve their full potential.
Agape achieves this mission by providing academic support and family services focusing on character development, academic achievement, reading proficiency by third grade, successful high school graduation and post-graduation placement.
2 Contents 3 9 11 14 5 12 7 15 2022 SUMMER HIGHLIGHTS 25TH ANNIVERSARY CELEBRATION PROGRAMMATIC OUTCOMES AGAPE COMMUNITY ENGAGEMENT CAPITAL CAMPAIGN SUCCESS AFTERSCHOOL AND YOUTH DEVELOPMENT AWARD EMPLOYEES OF THE YEAR STUDENT PROGRAMS
STUDENTS SUREVEYED BELIEVE AGAPE HELPS THEM
PARENTS SUREVEYED BELIEVE AGAPE HELPS THEIR CHILD GO TO COLLEGE
AGAPE TEEN LEADERS 17 20 21 PARTNERSHIP HIGHLIGHTS COMMUNITY HIGHLIGHTS AGAPE REVENUE STUDENT ACADEMIC SUCCESS 4 13 VOLUNTEERS OF THE YEAR 22
Agape Programs
3
Student Success MEET GABBY
Gabriela was enrolled in Agape programs from kindergarten through twelfth grade. She applied and was accepted to 18 colleges and universities. She did this all while keeping a part- time job, continuing her involvement in orchestra, and keeping all of her grades above 85 percent or better.
"Agape has given me the opportunity to grow up with some of the most amazing people I've ever met. I was able to create a second family through Agape and have something to look forward to at the end of the day. Agape helped me achieve things I thought were unattainable."
Gabriela received a full ride scholarship to Eastern Connecticut State University, where she began as a freshman during the fall of 2022.
Programmatic Outcomes
2021-2022 SCHOOL YEAR
5
99%
47
RATE SINCE
98%
STUDENTS TRAVELED OUT OF STATE 34
144 SOCIAL EMOTIONAL LEARNING LESSONS
86%
MAINTAINED A GPA OF 80% OR ABOVE
501
AVERAGE YEARS IN PROGRAM FOR HIGH SCHOOL SENIORS 12years 6 STUDENTS
FAMILY HOUSEHOLD INCOME LESS THAN 40K
ENRICHMENT ACTIVITIES STEAM
VOLUNTEER HOURS PROVIDED
ACTIVITIES VOLUNTEERS
GRADUATION
2,590 94% 173 54 2009 PHYSICAL
WELLNESS ACTIVITIES
21,455 207
MEALS SERVED SATISFACTION RATING FOR PARENTS
Summer Highlights
7
Julie's Dream
THANK YOU JULIE'S DREAM FOR THE AMAZING, LIFE CHANGING OPPORTUNITIES FOR OUR STUDENTS.
JULIE'S
DREAM
TRIP 2022
DREAM NEW HAMPSHIRE TRIP 2022
COLORADO
JULIE'S
8
"Agape Events and Community
9
25TH ANNIVERSARY COMMUNITY DAY
2022 HOLIDAY GIFT STORE
2022 AGAPE BACKPACK GIVEAWAY
Community Engagement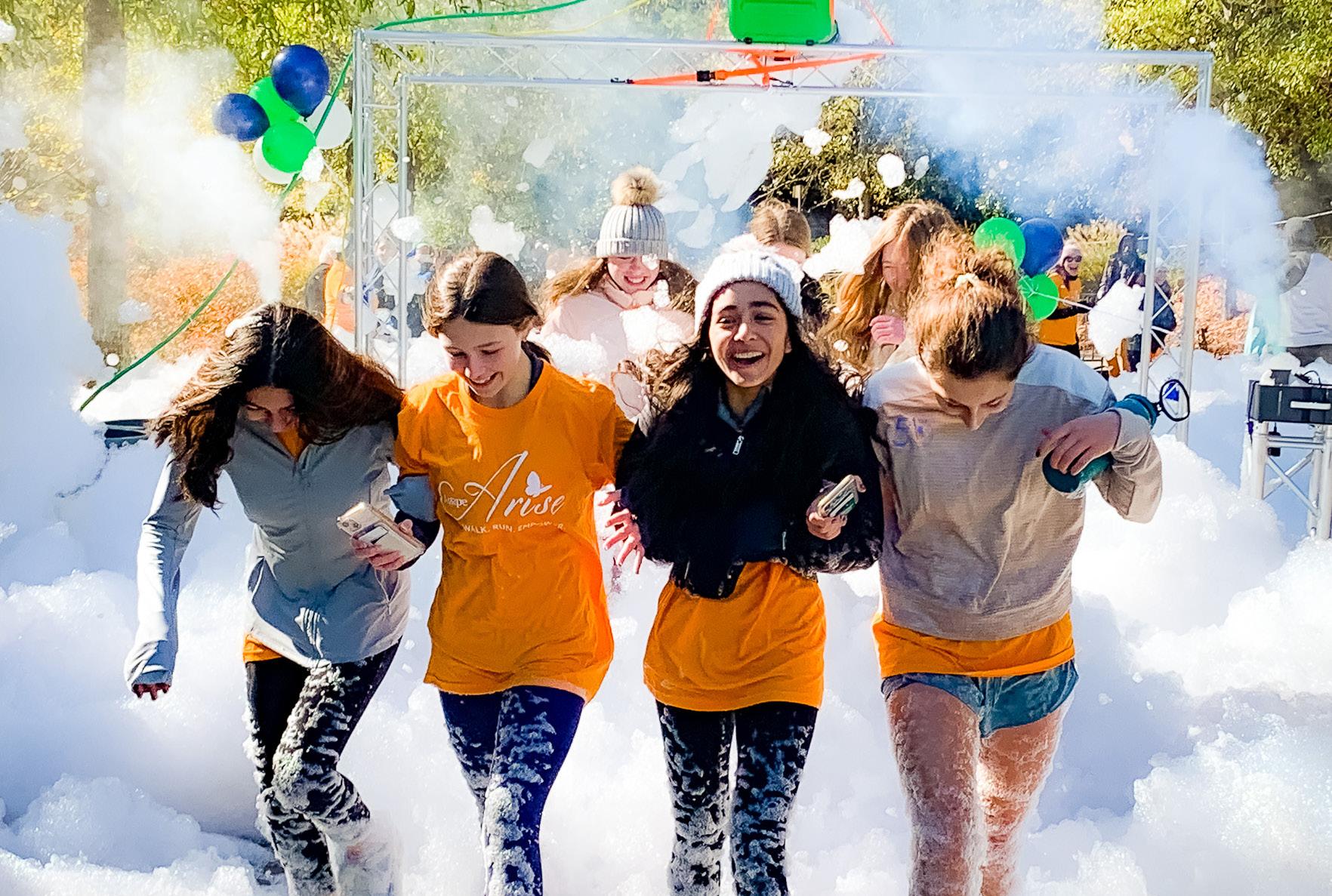 CLICK HERE TO VIEW RECAP 10
2022
ARISE BUBBLE WALK RUN AT PIEDMONT PARK GA
2022 AGAPE SPRING BENEFIT BRANDON P. FLEMMING
Agape Award Achievement
THE GEORGIA AFTER SCHOOL & YOUTH DEVELOPMENT CONFERENCE RECOGNIZES AGAPE'S EXCELLENCE IN 2022
On Friday, September 9, 2022, the amazing leadership and staff of the Agape Youth and Family Center received the Georgia ASYD Excellence Award for positive educational impact on youth in northwest Atlanta.
This amazing 2022 ASYD Excellence Award that Agape Youth and Family Center received, is administered each year by GSAN and Guide Inc.
Celebrating Agape Staff
AGAPE CELEBRATED THREE EMPLOYEES OF THE YEAR
Jessica Parks Programs Manager
Nichole Alexander-Thornhill Events Manager
12
2022 Volunteers of the Year
ELIZABETH
VIRGINIA
DAVIS (VOLUNTEER OF THE YEAR)
HERNANDEZ (YOUTH VOLUNTEER OF THE YEAR)
Agape Teen Leaders
50 Agape Teen Leaders (A.T.L.) during its second year, were accepted into our cohort with a goal of creating impact, serving the community and fundraising for Agape.  In 2022, the teens who represented nine high schools across Atlanta raised over $61,111 in support of Agape's after-school program.
9 SCHOOLS REPRESENTED
51 STUDENTS $61,111 RAISED
Capital Campaign Success
2022 CAPITAL CAMPAIGN ANNOUCEMENT
With the help of Agape donors and friends, we exceeded our $2.5 million Capital Campaign goal. To date, we have raised $2,752,390 to create an outdoor space, purchase new buses, expand our Technology and STEAM programs, seed an Endowment, and create a building maintenance fund.
15
"The Agape Backyard"
In 2022, we completed the Outdoor Space, The Agape Backyard, a place where children can Play, Learn, and Grow!
The 25th Anniversary Celebration
Agape celebrated the culmination of a wonderful 25th anniversary year and capital campaign with a memorable evening.
2022 CAPITAL CAMPAIGN CO- CHAIRS
JOHN OGLESBY EILEEN SCHERBERGER
17
AGAPE 25TH ANNIVERSARY CELEBRATION 18
HERE TO VIEW RECAP
CLICK
HOME DEPOT COMMUNITY GIVE BACK DAY
19 Partnership
Partnership Highlights
Home Depot
Provided a community service event at Agape for 75 employees from Home Depot's corporate office. The Home Depot team provided yard beautification for seven homes of Agape senior citizens, as well as served as homework buddies and engaged the children in arts and crafts projects.
Roark Capital
Officially renewed its parnership with Agape for the next three years engaging in career day opportunities, providing funding, volunteers and meal donations from their restaurant portfolio.
CapitalOne Bank
Capital One partnered with Agape to provide gift cards for high school students to deliver Christmas cheer!
20
Community Highlights
The Agape Youth & Family Center hosted an amazing meeting for the Atlanta Hispanic Chamber of Commerce where a number of leaders in the Latino community gathered to find out more about how our mission impacts everyone including the Hispanic community.
21
Agape is proud to be an offical partner of Buckhead Rotary.
22
sources General Operating Support $3,060,047
Income $263,673 Programs $2,051,984 Total Revenue $3,060,047 Management $306,361 Fundraising $571,029 Total Expenses $2,929,374 Includes Grant Carryover $133,000
Financial Highlights revenue
2022 Net
Agape's mission to empower underserved children and families is only made possible through the generosity of our community of supporters.
2210 MARIETTA BOULEVARD NW, ATLANTA , GA
PHONE (404) 355-1877 AGAPEATLANTA.ORG
30318