Botulinum Toxin Complications
Tear Trough
Ultrasound for Complications
Dr
Infection Control
Taruna
VOLUME 9/ISSUE 7 - JUNE 2022 20631 UK JUVÉDERM Trade Advert - Front Cover UK-JUV-220123_OUTLINE_ARTWORK.indd 1 23/05/2022 16:36
Chauhan explores cleanliness regulations and how to comply
Zainab Al-Mukhtar uses ultrasound to prevent complications in the nose
Techniques
Practitioners outline how to avoid adverse events in the under-eye
by botulinum toxin injections SUBMIT YOURABSTRACTS FORCCR!
Dr Martyn King introduces complications caused
HydraFacial is for everyone. It's suitable for all skin types and addresses all skincare needs. HydraFacial delivers immediate, noticeable results, with no downtime, that keep your customers returning regularly. HydraFacial is your connection to millions of believers that know that beauty is more than a physical attribute – it's a feeling.
Consumers want to be pro-actively offered personalised solutions for skin health and provide them with education on their ideal, easy-to-follow skin health regimen1
And your clients needs are as individual as they are, which is why HydraFacial has partnered with the best brands in aesthetics to bring you advanced booster options that meet the emerging consumer trends, which are influencing our industry more than ever before.
HydraFacial is scored as a '99% Worth It' rating by www.realself.com and on average, somewhere in the world, a HydraFacial treatment is now carried out every 10 seconds!
To see how one powerful device provides everything you need to power your business, contact us today:
One Treatment. Endless Options. give your customers what they want! Simplification Multi-benefit solutions that save time1 Personalisation Treatments tailored to specific skin concerns2 RecommendatioN Skin health technology and regimen education1
1 EddieWouldGrow Facial Research 2018, n=2000; 2 Mintel Trends 2017
DESTINATION GLOW
HydraFacial opens immersive new Flagship in London.
The doors are now open and aestheticians are assured a radiant reception at HydraFacial's latest venture in the capital – HydraFacial LDN Flagship. Located on Portman Square in the bustling West End, the hybrid space has been designed to help drive consumer demand and connect the European-wide HydraFacial community with innovative training, education and marketing opportunities. Following a two-year renovation, the state-of-the-art LDN Flagship is HydraFacial's largest investment to-date and underpins the company's 'skin health' ambitions for the UK and EMEA markets.
"Our UK HydraFacial community is valued and everything about our new LDN Flagship has been designed to support their commercial success", says UK & Ireland Country Manager, Lauren Gibson.
Every month, the LDN Flagship will deliver up to 750 deluxe treatments for registered members of the public, allowing the treatment-curious to - just once - 'try before they buy'. This novel ecosystem is designed to socially-inspire and source new patient prospects, before converting them to a skin health programme with a recommended local provider.
In 2022, the new LDN Flagship will play a part in delivering more than 2.5 million treatments globally.
Alongside media masterclasses on trending wellbeing topics, the venue will play host to collaborative brand events and expert-led forums with doctors, facialists and makeup artists alike. A new VIP suite means celebrities and journalists can be treated in comfort and confidence, with West End stars and sporting legends lined up to experience a radiance-reset.
hydrafacial.co.uk infouk@hydrafacial.com @hydrafacialuk 01788 572 007
LED DEVICES 13 CLINICALLY PROVEN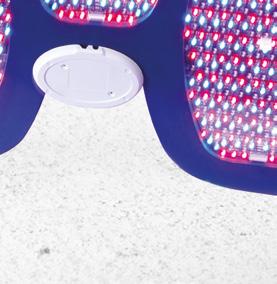 Accelerate wound healing following ablative LASER
Reduce inflammation, erythema and edema
Enhance collagen and elastin production
Speed post-procedure recovery
MEDICAL CE MARK FDA-CLEARED
Increase patient comfort levels ACNE | ANTI-AGEING | PAIN DERMAL WOUND HEALING
The issues behind the rise of marketing hay fever injections
Aesthetics reflects on the launch of the first consumer event of its kind
CLINICAL PRACTICE
Special Feature: Preventing Tear Trough Complications
Practitioners outline tips for avoiding adverse events when treating the under-eye area
Case Study: Using the Belotero Range
Dr Chris Hutton shares a successful rejuvenation case study
CPD: Exploring Toxin Complications
Dr Martyn King looks into complications caused by botulinum toxin injections 32 Understanding Milia
Louise Walsh provides insight into the different types of milia
Case Study: Treating the Lower Face
Mr James Olding presents a successful outcome
Using Polynucleotides
Dr Agnieszka Surowiecka explores the use of polynucleotides for restructuring and rejuvenating the skin 43 A Career at the Forefront of Innovation
As Prollenium acquires SoftFil, CEO Dr Sandrine Sebban explores what this means for the industry 47 Case Study: Fat Dissolving Complications
Two practitioners explore adverse effects following deoxycholic acid injections and their method for management 52 Using Ultrasound to Prevent Complications
Dr Zainab Al-Mukhtar describes using ultrasound to prevent complications during NSR procedures 54 Skincare Integration
How you can add SkinCeuticals products into your treatment plans 55 Abstracts
A round-up and summary of useful clinical papers IN PRACTICE 56 Working Ethically with Influencers
Dr Jigna Patel provides an overview on how you can partner with influencers 59 Purchasing Aesthetic Injectables
Mark Copsey and Hana Te Reo explain the importance of buying aesthetic products from authorised suppliers 62 Implementing Infection Control in Your Clinic
Business consultant Taruna Chauhan outlines the regulations on cleanliness and infection 64
Working with GetHarley
Dr Kam Lally explains why he has partnered with GetHarley and why others should join 65 In The Life Of: Dr Patrick Treacy
Dr Patrick Treacy details his typical working week and the importance of discussing complications 66 The Last Word: Ukrainian Perspective
Dr Tiina Orasmae-Meder on the current state of aesthetic medicine in Ukraine
Clinical Contributors
Dr Martyn King is the director of Cosmedic Skin Clinic, Cosmedic Online and Cosmedic Pharmacy. He is medical director of the ACE Group World, vice-chair of the Joint Council of Cosmetic Practitioners, and a member of the British College of Aesthetic Medicine.
Louise Walsh is an independent nurse prescriber, dermatology nurse, the owner of aesthetics business
The Skin Nurse and practises at The Waldegrave Clinic in Teddington, London. Walsh now carries out minor-op procedures and acne clinics for the NHS.
Dr Agnieszka Surowiecka is a general surgeon working in the field of aesthetic and regenerative medicine with a doctorate in plastic surgery. She graduated from Warsaw Medical University in 2012 and has contributed to studies in regenerative medicine.
Dr Olha Vorodyukhina is a dental surgeon, aesthetic practitioner, the clinical lead for training provider Cosmetic Courses and a trainer for Sinclair Pharmacy. She is the owner and founder of Shine Medical and Angels Twelve clinics in the Midlands.
Dr Tracy Xu is an advanced aesthetic doctor with more than 10 years of experience in cosmetic surgery and injectable treatments. She completed her Level 7 (master) degree in aesthetic injectables and Level 4 Cosmetic Dermatology with Harley Academy.
Dr Zainab Al-Mukhtar is a dental surgeon with several years of experience in facial aesthetics. She has led injectables training since 2014, and co-teaches the Non Surgical Rhinoplasty Masterclass. She is director of Harrow On The Hill Dental & Facial Aesthetics.
Special Feature: Preventing Tear Trough Complications Page 21 News Special: Advertising Prescription-only Medicine Page 17 Contents • June 2022
•
NEXT MONTH IN FOCUS: DEVICES • Combining RF Microneedling and CO2
Understanding Tattoo Removal 08 News
The latest product and industry news 17 News Special: Advertising Prescription-only Medicine
18 The Official Launch of Beauty Uncovered LIVE
21
26
29
37
39
Shannon Kilgariff Editor & Content Manager @shannonkilgariff
As I'm sure you will agree, patient safety is of utmost importance to our specialty. That's why this month's theme is preventing and managing aesthetic complications. With new botulinum toxins launching in the UK this year, we go back to the basics of toxin complications on p.29. An insightful read by Dr Martyn King, this CPD-verified article gives a great overview and reminder of the typical causes of toxin complications and how to prevent and manage them. Tear trough treatments are extremely popular at the moment, and so we spoke to three practitioners about their tips for safe and successful dermal filler techniques on p.23. We also look at the use of ultrasound for when treating the nose on p.52 and share an interesting case study on p.47 of the management of fat dissolving complications. I think complication management case studies are extremely important to share because it allows practitioners in aesthetics to learn from one another. If you have an interesting complication management case, or even an outstanding successful treatment result, then do get in
Clinical Advisory Board
touch with the team – editorial@aestheticsjournal.com
Speaking of patient safety, this was a huge focus at the first ever Beauty Uncovered LIVE event in London on May 7-8. This inaugural event opened up the world of aesthetic medicine to the public, and educated them on the importance of choosing a medically-qualified practitioner for safe injectable treatments. It also allowed them to see, touch and feel the latest treatments, learn more about the different type of procedures available to them, and help them navigate this sometimes confusing industry. If you missed it, we have a report of the highlights on p.18
This brings us to the release of our summer Beauty Uncovered magazine! For those of you who are Full Members of the Aesthetics journal, you will have received a free copy with your journal this month.
If you would like to receive a copy every quarter, just become a Full Member via www.aestheticsjournal.com. Remember, this is a resource for your patients, so while the Aesthetics journal is meant to educate YOU, the aesthetic practitioner, Beauty Uncovered should be handed out to your patients. You can get more copies of the magazine for your clinic by emailing hello@beautyuncovered.com
Leading figures from the medical aesthetic community have joined the Aesthetics Advisory Board to help steer the direction of our educational, clinical and business content
Sharon Bennett is chair of the British Association of Cosmetic Nurses (BACN), previous UK lead of the BSI committee for aesthetic non-surgical standards, and member of the Clinical Advisory Group for the JCCP. She is a trainer and registered university mentor in cosmetic medical practice, and is finishing her MSc at Northumbria University. Bennett has won the Aesthetics Award for Nurse Practitioner of the Year and the Award for Outstanding Achievement.
Mr Naveen Cavale has been a consultant plastic, reconstructive and aesthetic surgeon since 2009. He has his own private clinic and hospital, REAL, in London's Battersea. Mr Cavale is the national secretary for the ISAPS, president of the Royal Society of Medicine, and vice-chair for the British Foundation for International Reconstructive Surgery.
Jackie Partridge is an aesthetic nurse prescriber with a BSc in Professional Practice (Dermatology). She has recently completed her Master's in Aesthetic Medicine, for which she is also a course mentor. Partridge is a founding board member of the British Association of Cosmetic Nurses and has represented the association for Health Improvement Scotland.
Mr Adrian Richards is a plastic and cosmetic surgeon with 18 years' experience. He is the clinical director of the aesthetic training provider Cosmetic Courses and surgeon at The Private Clinic. He is also a member of the British Association of Plastic and Reconstructive and Aesthetic Surgeons and the British Association of Aesthetic Plastic Surgeons.
Miss Elizabeth Hawkes is a consultant ophthalmologist and oculoplastic surgeon. She is the lead oculoplastic surgeon at the Cadogan Clinic, specialising in blepharoplasty and advanced facial aesthetics. Miss Hawkes is a full member of the BOPSS and the ESOPRS and is an examiner and fellow of the Royal College of Ophthalmologists.
Dr Tapan Patel is the founder and medical director of PHI Clinic. He has more than 16 years' clinical experience and has been performing aesthetic treatments for more than 14 years. Recently, he was listed in Tatler's Top 30 Anti-Ageing Experts. Dr Patel is passionate about standards in aesthetic medicine.
Dr Souphiyeh Samizadeh is a dental surgeon with a Master's degree in Aesthetic Medicine and a PGCert in Clinical Education. She is the founder of the Great British Academy of Medicine and Revivify London Clinic. Dr Samizadeh is a Visiting Teaching Fellow at University College London and King's College London.
ADVERTISING & SPONSORSHIP
Courtney Baldwin • Event Director
T: 0203 196 4300 | M: 07818 118 741
courtney.baldwin@easyfairs.com
Judith Nowell • Business Development Manager T: 0203 196 4352 | M: 07494 179535
judith@aestheticsjournal.com
Chloe Carville • Sales Executive T: 0203 196 4367 | chloe.carville@aestheticsjournal.com
Emma Coyne • Sales Executive T: 020 3196 4372 | emma.coyne@easyfairs.com
MARKETING
Aleiya Lonsdale • Head of Marketing
T: 0203 196 4375 | aleiya.lonsdale@easyfairs.com
| peter@aestheticsjournal.com
Aimee Moore • Marketing Manager T: 020 3196 4370 | aimee.moore@easyfairs.com
Abigail Larkin • Marketing Executive T: 020 3196 4306 | abigail.larkin@easyfairs.com
WE WANT TO HEAR FROM YOU!
Do you have any techniques to share, case studies to showcase or knowledge to impart?
Email: editorial@aestheticsjournal.com
Dr Stefanie Williams is a dermatologist with a special interest in adult acne, rosacea and aesthetic medicine. She is the founder and medical director of multi-award winning EUDELO Dermatology & Skin Wellbeing in London, and creator of Delo Rx skincare. She is the author of three books and has published more than 100 scientific articles, book chapters and abstracts.
ARTICLE PDFs AND REPRO
Material may not be reproduced in any form without the publisher's
Editor's letter
Aesthetics Journal @aestheticsgroup Aesthetics @aestheticsjournaluk
Sharon Bennett, Clinical Lead
DISCLAIMER: The editor and the publishers do not necessarily agree with the views expressed by contributors and advertisers nor do they accept responsibility for any errors in the transmission of the subject matter in this publication. In all matters the editor's decision is final. PUBLISHED BY Aesthetics Media PORTFOLIO MANAGEMENT Alison Willis • Director T: 07747 761198 | alison.willis@easyfairs.com EDITORIAL Shannon Kilgariff • Editor & Content Manager T: 0203 196 4351 | M: 07557 359 257 shannon@aestheticsjournal.com Holly Carver • Senior Journalist | T: 0203 196 4427 holly.carver@easyfairs.com Ellie Holden • Journalist | T: 0203 196 4265 ellie.holden@easyfairs.com DESIGN Peter Johnson • Senior Designer T: 0203 196 4359
written permission. For PDF file support please contact Chloe Carville, contact@aestheticsjournal.com © Copyright 2022 Aesthetics. All rights reserved. Aesthetics is published by Aesthetics Media Ltd, which is registered as a limited company in England; No 9887184
Talk #Aesthetics
#Complications
#BeautyUncoveredLIVE
Dr Marcus Mehta
@dr_marcus_mehta
It was a pleasure to be invited to speak on the Ask the Experts stage about my approach to cosmetic treatments at @beautyuncovereduk last weekend
The British College of Aesthetic Medicine
@britishcollegeofaestheticmed
Another great planning session for our complications panel discussion. Watch this space for more news of this great initiative!
#Demonstration
Dr Dev Patel
@drdevpatel1
I had the pleasure of joining my colleagues
Dr Kasam and Dr Steven Mulholland, to deliver a presentation on Evolve X and Morpheus8.
Advertising ASA warns clinic over time-limited deal
The Advertising Standards Authority (ASA) has ruled that a hospital's Black Friday social media post was socially irresponsible. The Instagram post, posted on November 24 2021 by Transform, featured before and after shots of a woman who had undergone breast augmentation. The post included a caption which stated 'If you have been considering breast surgery and haven't yet booked, there is no better time. We have Black Friday prices on breast surgery starting from £5,990'.
A complaint was made to the ASA suggesting the offer of time-limited 'Black Friday prices' pressured consumers into purchasing surgery. Transform believed that the post was not inappropriate, irresponsible or pressured consumers into booking surgery. They stated they had ensured consent via a two-stage process which had a cooling-off period of two weeks between the stages to allow a patient to reflect on the decision.
Following its investigation, the ASA believed that the reference to 'Black Friday prices' and using the hashtag #BlackFriday referred to a specific day in the year. As promotions lasted for several days or weeks, consumers would interpret the reference to mean there was a time-limited opportunity to take up the offer, leading consumers to feel rushed to make a decision. The ASA ruled that the advert breached the Committees of Advertising Practice (CAP) code rule 1.3 on social responsibility and must not appear again. Transform were told to ensure that future ads were prepared with a sense of responsibility by not creating an undue sense of urgency for consumers.
Survey
BAAPS audit reveals increased complications from surgery abroad
#Conference
Sharon Bennett
@sharonbennettskin
The BACN had an amazing one day conference! It takes a lot of work to put on a conference and the whole team did an amazing job
#Education
Dr Xavier Goodarzian
@drxavierg.md
Off to Paris for a day with Vivacy for some training.
Figures from the British Association of Aesthetic Plastic Surgeons (BAAPS) suggest a rise in complications from patients having surgery abroad during the pandemic.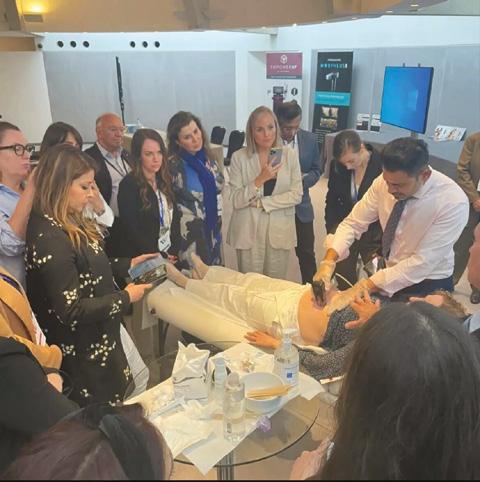 A new BAAPS audit evidenced that 324 patients required corrective surgery after returning to the UK in the past four years. The annual number rose by 44% in 2021 compared to the previous year, a period when people were being advised against elective surgery and unnecessary travel. In 2021, 75 women and seven men were treated for complications caused by surgeries abroad, which included life-threatening problems such as a need for emergency surgical removal of dead skin tissue and admission to intensive care for life support following systemic infection. The survey revealed that 100% of complications came from Turkey and abdominoplasty accounted for 75% of complications, followed by breast surgery at 25%.
Consultant plastic surgeon and BAAPS council member Miss Caroline Payne commented, "BAAPS members were very cautious in recommending surgery during the pandemic. Unfortunately, the pandemic does not seem to have deterred patients seeking low-cost options abroad and some UK clinics are paid to refer patients to Turkey which is not permitted by UK surgical associations."
Follow us on Twitter @aestheticsgroup
@aestheticsgroup @aestheticsjournaluk Aesthetics aestheticsjournal.com Reproduced from Aesthetics | Volume 9/Issue 7 - June 2022
Allergan introduces hybrid injectable
Global pharmaceutical company
Allergan Aesthetics has launched HArmonyCa to the UK market, a hybrid injectable combining hyaluronic acid (HA) and calcium hydroxyapatite (CaHA). According to the company, HArmonyCa has a dual effect, with the HA offering immediate lift and the CaHA causing new collagen production. Allergan explains that the product is intended for facial soft tissue augmentation via injection into deep dermal and sub-dermal layers. In a study conducted by the company, more than 90% of patients reported an improvement in the general appearance of facial areas following treatment with HArmonyCa. Allergan notes it will provide a range of in-person and virtual training packages to support medical professionals who wish to offer HArmonyCa to their patients. Carrie Strom, president of Global Allergan Aesthetics notes, "The launch of HArmonyCa with lidocaine represents Allergan Aesthetics' continued commitment to providing the latest innovations, treatments and possible outcomes for patients. We are driven by leading-edge science and are continually looking to diversify our portfolio. We are delighted to introduce our first hybrid injectable and believe its potential to offer immediate lift from hyaluronic acid with the lasting collagen stimulation associated with calcium hydroxyapatite."
Botulinum Toxin
Increased demand for toxin leads to shortage
Pharmaceutical company Galderma has experienced a shortage of the abobotulinumtoxin A Azzalure in the UK, resulting in practitioners unable to receive their full supply at their clinics.
A spokesperson from Ipsen, the manufacturer of Azzulure, commented, "Ipsen is currently experiencing a significant increase in demand for certain botulinum toxin products manufactured by Ipsen: Dysport/Azzalure powder and Alluzience liquid formulation for injection, which are marketed for aesthetic indications. Ipsen is implementing supply capacity increase projects in order to meet this strong growth and accommodate our customers and distribution partners. During this interim period, there may be some stock constraints."
A spokesperson at Galderma acknowledged the shortage is having an affect on clinic owners and their businesses. They commented, "We at Galderma are very mindful of the impact that this Azzalure shortage and out-of-stock situation is having on the industry, not only in the UK but in several other countries. We would like to reassure our customers that we are doing our utmost to resolve the situation and provide support where we can. We are working hard to secure updates from Ipsen on the anticipated supply chain and our sales team are keeping in touch with all customers to pass on any updates as soon as we have them. Ipsen referred to shipment phasing issues in their recent earnings call for the supply issues. We understand the frustration this is causing, and we are doing our best to secure a resolution as soon as possible with Ipsen."
Vital Statistics
In a survey of 1,000 surgeons, 51% reported there were black market hair transplant clinics in their cities
(The International Society of Hair Restoration Surgery, 2022)
According to 48,000 patients who made enquiries, not responding within one day reduces the chances of booking by 42% (WhatClinic.com, 2022)
47% of 2,000 women have anxieties about their skin with the main concern being wrinkles, facial hair and dark circles (OnePoll, 2022)
In a survey of 539 adolescents suffering from hyperhidrosis, only 42% received a diagnosis (Dermira, 2022)
34% of 2,000 UK adults admitted to enhancing their pictures due to unrealistic body image expectations (W, 2022)
In a survey of 17,000 consumers, 71% switched brands at least once in the past year (Salesforce, 2022)
Dermal Filler
@aestheticsgroup @aestheticsjournaluk Aesthetics aestheticsjournal.com Reproduced from Aesthetics | Volume 9/Issue 7 - June 2022
Events Diary
9th September
IAPCAM iapcam.co.uk
10th September
BCAM conference bcam.ac.uk
15th-16th September
The BACN Autumn Aesthetic Conference bacn.org.uk
13th-14th October
CCR ccrlondon.com
Education
New skin training course
unveiled
Aesthetic nurse prescriber Anna Baker has introduced a new skin training course. Guest speakers will share their expertise on specialised areas of dermatology. The webinar seminars are peer-reviewed by consultant dermatologist Dr Jinah Yoo and led by Baker. Pre-reading will be sent prior to each session and all learning is CPD accredited.
The next session will focus on 'Assessment of Skin' led by Baker and will discuss an overview of structural skin ageing in different genders and skin types. An overview of the available skin assessment and classification scales with discussion around the benefits, skin analysis tools and their use in practice, real-life clinical case-based scenarios for discussion and when to refer patients will also be discussed. The next sessions will take place on both June 15 and 29 as well as July 27 on 'Photoprotection for UV and Beyond with Dr Yoo'.
The sessions will take place online between 10am-4pm GMT. BACN members are eligible for a 10% discount with proof of active membership.
Business
Hamilton Fraser's ABC conference to take place
The Aesthetics Business Conference (ABC) organised by Hamilton Fraser Cosmetic Insurance will take place in October. The conference aims to teach aesthetic practitioners how to set up and be successful in their businesses. Speakers are to be announced soon, and topics will include training, insurance needs, boosting your business, working practices, business continuity and best practice.
CEO of Hamilton Fraser, Eddie Hooker, said, "ABC is an annual fixture in the aesthetics calendar as a go-to event for new, qualified practitioners and aspiring entrepreneur development. It's hard to know how to start and obtain success when stepping into the industry, which is why we created ABC, to help pave the way to professional triumph."
The conference will take place on October 4 at the Royal College of Physicians, London.
Sun Protection
Revision Skincare launches new tinted SPF
Clinical distributor AestheticSource has released the new Revision Skincare Intellishade TruPhysical in the UK. According to the company, the five-in-one daily antiageing tinted moisturiser aims to hydrate and enhance the skin's moisture barrier, whilst improving the appearance of fine lines and wrinkles. The broad-spectrum SPF 45 also protects the skin from UVA/UVB radiation and helps reduce photoageing, explains AestheticSource. The product is suitable for all skin types and is ideal for use post-procedure. Ingredients include zinc oxide and titanium dioxide to protect against UV rays; iron oxide to provide a tint to the skin; a blend of three peptides to improve the appearance of wrinkles; and vitamin C to brighten and even skin tone, adds AestheticSource. Lorna Bowes, CEO of AestheticSource, said, "The success of Intellishade around the world over the past few years can finally be enjoyed here – the product has had great feedback and has been praised for its ability to correct, protect, conceal, brighten and hydrate, all in one tinted moisturising SPF."
Device
Lustre ClearSkin introduces new LED mask
Device company Lustre ClearSkin has added the RENEW Pro Facewear to its portfolio. According to the company, the LED mask harnesses red, infrared and blue light to energise and revitalise the skin. The mask aims to reveal a glowing complexion and even skin tone. The device has been used by healthcare professionals and skin clinics to help patients suffering from recurring to moderate acne.
The mask is wireless and features multiple functions with an iOS/Android app included, enabling users to create personalised sessions tailored to a patient's needs.
@aestheticsgroup @aestheticsjournaluk Aesthetics aestheticsjournal.com Reproduced from Aesthetics | Volume 9/Issue 7 - June 2022
Submit your abstracts for CCR
CCR is accepting abstracts from practitioners interested in presenting content at the conference, which will be taking place on October 13-14 at ExCeL, London. Abstracts will be considered for the teaching lectures at CCR which includes a surgical focus on the breast, body and face, non-surgical procedures covering technique, innovation and trends, advice and guidance for achieving the best business results and a clinical skin topic. Aesthetics and CCR event director, Courtney Baldwin, said, "We are thrilled to be hosting another CCR event in October after a successful show last year. CCR has always been the UK's meeting place for medical practitioners and professionals to enhance their knowledge and discuss these changes across two days with leading experts in the aesthetics specialty." Scan the QR code to submit your abstract and register your interest to attend CCR by turning to p.67.
Statistics
Study reveals improved pigmentation from at-home peel
UK aesthetics distributor Harpar Grace International has released the results of its latest clinical study highlighting an improvement in pigmentation and skin texture following use of the iS Clinical Active Peel System. The study evaluated the benefits of the Active Peel System by cosmeceutical brand iS Clinical in improving dermal thickness/density and visual appearance of the skin, including fine lines and wrinkles, laxity, periorbital darkness, overall brightness, texture, pore size, radiance, tone and smoothness. Participants included 37 female subjects between 37 and 64 years of age and of various ethnic backgrounds. Subjects were instructed to cleanse their face and use the two-step Active Peel System every other evening on clean skin for eight weeks. The same cleanser and sunscreen were used throughout the study. Visia photographs were taken at intervals throughout the study and dermal ultrasounds were performed. At eight weeks, 79% reported that the product helped unwanted pigmentary irregularities, 80% had a better or healthier colour than before use and 80% believed that their skin texture had improved.
BACN UPDATES
A round-up of the latest news and events from the British Association of Cosmetic Nurses BEAUTY
UNCOVERED LIVE
Thank you to Beauty Uncovered LIVE for inviting our BACN nurses to present on the 'Ask the Expert' stage at your inaugural conference and exhibition! BACN chair Sharon Bennett provided delegates with knowledge focusing on lip augmentation and BACN regional leaders Amy Bird and Alex Mills gave some tips to ensure patients are educated from consultation to aftercare. We want to see more nurses feature at national events and be able to present on stage to represent our profession!
THE SPRING SYMPOSIUM
After the success of our Spring Symposium at the end of April, we're now gearing up for our next event – the Autumn Aesthetic Conference! Event coordinator Laura Watt reflects on the first Spring Symposium, "The Spring Symposium was the first national event for the BACN in more than two years. We were joined by a fantastic line up of speakers sharing their knowledge and expertise. There's lots of events coming up at the BACN, and we're excited to continue this success and deliver two days of educational content for BACN members!"
AUTUMN AESTHETIC CONFERENCE
The BACN Conference returns on September 15-16. For the first time, the BACN is offering a two-day conference and exhibition, with all conference sessions taking place in the main auditorium to offer more content from speakers within the specialism of medical aesthetics. We are sold out for exhibition space, with a range of fantastic companies, products, and services to help your business. We are excited to launch at a brand-new location, The Eastside Rooms in the heart of Birmingham.
Early Bird Full Two-Day Passes are available now. All delegates will receive refreshments, a warm lunch, goodie bags, and an opportunity to attend the BACN evening drinks reception as part of your ticket! Our hotel packages are selling fast, with under half remaining, so book soon to avoid missing out! All tickets are available on the BACN website, or by scanning the QR code.
This column is written and supported by the BACN
Conference
@aestheticsgroup @aestheticsjournaluk Aesthetics aestheticsjournal.com Reproduced from Aesthetics | Volume 9/Issue 7 - June 2022
Acquisition Aesthetics releases Level 7 initiative
Aesthetic training provider
Acquisition Aesthetics has unveiled a new initiative called 'The Diploma Sessions'.
The initiative is a quarterly forum hosted by industry professionals where Level 7 delegates are able to discuss treatment plans, complications, patient considerations and more, explains Acquisition Aesthetics. In the recent episode of the Diploma Sessions, a number of Level 7 delegates tuned in to watch aesthetic practitioner Dr Ana Mansouri and Acquisition Aesthetics' Level 7 lead Dr Bryony Elder discuss the important aspects of treatment planning for full facial rejuvenation cases including how to integrate a medical-grade skincare regimen for optimal treatment results. As well as the new forum, Acquisition Aesthetics offers a weekly 'drop-in clinic' with a Level 7 lead, to discuss any aspects of the qualification which delegates may need support with, explains the training provider. The next episode of the Diploma Sessions will be hosted on June 8 by another member of the Acquisition Aesthetics faculty.
Skin
New radiofrequency microneedling device launches
Medical aesthetic company Novus Medical has introduced the Sylfirm X device to its portfolio. According to the company, the device is a radiofrequency microneedling treatment designed to address both the face and body with a focus on conditions such as melasma, extreme blushing, vascular lesions and rosacea, as well as fine lines, dull skin, acne scars and large pores. The Sylfirm X has eight different continuous pulse wave bipolar RF delivery modes to treat the entire skin layer, explains Novus Medical. Jim Westwood, company director at Novus Medical, said, "The ability to tailor treatments based on what the patient wants and what their skin needs, using just one device, providing a method to treat vascular lesions and pigmentation without the requirement of IPL or laser is the definition of 'advancement' in the regenerative space."
Digital New photography course launches for aesthetics
Photography lighting system Clinical PhotoPro has launched a photography course for aesthetic practitioners.
The CPD-accredited course named 'Clinical Photography for Aesthetics with Mobile Devices' aims to teach delegates how to produce standardised images to document their patients using mobile phones and tablets, explains Clinical PhotoPro.
The webinar will look into what standardisation is needed for consistent images, the type of lighting which is needed for this application, how to get the highest possible quality from a smart device and how to achieve consistency for before and afters.
The course is one hour and is run by Clint Singh, the creator of Clinical PhotoPro system. Singh said, "A lack of standardisation and guidance is the reason we have such poor quality and inconsistent before and afters in the industry. This course aims to remedy this problem by teaching delegates what standardisation is needed for your clinic photography and how to get studio quality images using your mobile phones and tablets."
The first date for the course is on June 9 online at 7pm GMT.
Charity
Lumenis introduces new fundraising event
Aesthetic device company Lumenis will be hosting a summer fundraising dinner in support of the Children's Burns Trust.
The dinner is the first official fundraising event since Lumenis revealed Children's Burns Trust as their charity of choice for 2022 earlier this year.
The event will include a three-course meal, live entertainment and auction. The event will be attended by aesthetic practitioner Dr Tapan Patel as well as ambassadors from the charity, explains Lumenis.
Marina Lobanov Rostovsky, chairman of trustees of the Children's Burns Trust, said, "We are delighted to be attending the Lumenis Cares Summer Dinner in support of Children's Burns Trust. The funds raised by Lumenis' event are so important as they allow us to continue providing rehabilitation support for burned and scalded children, as well as prevention and awareness campaigns for which there is little or no national funding."
The event will take place on July 2 at 7pm GMT at The Ned, London.
Technology
Fillmed unveils new e-academy
app
Aesthetic company Fillmed has launched a new educational app. According to the company, the app enables practitioners to learn anatomy, safe injection techniques and how to enhance skin quality. Practitioners can be connected to 25 international healthcare professionals, watch an exclusive anatomy masterclass with associate professor of anatomy at Mayo Clinic, US, Professor Sebastian Cotofana, watch one new masterclass every Tuesday, as well as stream webinars and earn certificates.
The app is available live, on demand and replay.
Education
@aestheticsgroup @aestheticsjournaluk Aesthetics aestheticsjournal.com Reproduced from Aesthetics | Volume 9/Issue 7 - June 2022
ACE and CCR shortlisted for AEO Excellence Award
The Aesthetics Conference & Exhibition (ACE) and CCR have both been shortlisted for an AEO Excellence Award. The awards showcases the achievements from within the events industry and represent the best that the industry has to offer. Both ACE and CCR have been shortlisted in the Best UK Tradeshow between 2,000 to 8,000 square metre category. Courtney Baldwin, event director of Aesthetics and CCR, said, "We are so excited to have both CCR and ACE shortlisted for an award. Both events are an essential educational platform within the aesthetics specialty, with exhibitors, speakers, sponsors, brands, and visitors coming together and reuniting under one roof. It has been amazing to hold both of these events after the pandemic and we are hoping to bring home a win for Easyfairs."
Education
Teoxane Academy Conference returns
Aesthetic manufacturer Teoxane will be hosting its Teoxane Academy Conference in July. According to the company, the sessions will focus on full-face clinical education across assessment, anatomy and technique. The sessions will detail the treatment plan for the patient when treating the tear trough, lower face, mid-face and perioral areas. Sessions will include cadaver dissections by plastic, reconstructive and aesthetic surgeon Dr Patrick Trevidic who will be joining virtually from Paris, as well as live injections from the treatment studio on site, providing a look at how to utilise the Teoxane range of dermal fillers, explains the company. The company will be joined by its faculty members including aesthetic practitioners Dr Raul Cetto, Dr Lee Walker, Dr Kam Lally, Dr Jeremy Isaac, Dr Chris Rennie and Dr Saleena Zimri as well as ophthalmologist Dr Tahera Bhojani-Lynch. The conference will take place on July 12 at the Leonardo Royal London Hotel, London.
Training
KYSENSE unveils masterclass
Dermal filler company KYSENSE has launched a new masterclass for full-face rejuvenation. The Elevate masterclass is split into four modules to teach or deepen practitioners' knowledge. The training details the manufacturing process of KYSENSE products and the innovations behind the product. The masterclass will take an in-depth look at each of the products in the range and discuss how, where and when to treat, adds KYSENSE. Delegates can sign up for all four modules or select individual ones. The four modules will cover the upper third on restoring and rejuvenating tear troughs and temples; the middle third on rebuilding and restructuring cheeks, nasolabial folds and the piriform fossa; the lower third with rebuilding the chin, jawline and marionette areas; and the lips where delegates will use a variety of techniques to rejuvenate the perioral region. The masterclasses will be led by aesthetic practitioners and trainers Dr Helen Marsden and Dr Wasif Razzaq. Dates vary throughout June until October.
Destined to be an award winner?
Let's make 2023 yours!
As we look forward to the summer, it can only mean one thing. Entries open soon for the prestigious Aesthetics Awards, on July 31!
After hosting the ceremony in-person after two years on the second day of the Aesthetics Conference & Exhibition this year, we had a record number of entries and tickets sold out months in advance. It was, as always, a night to remember, but this year had something extra special about it. As our incredible industry proved its resilience, innovation and excellence time and time again, celebrating the UK's best practitioners, clinics, suppliers and companies felt like a win for us all.
This year we know that the aesthetics community will pull out all the stops yet again. We are planning for a bigger venue, better party and can't wait to read the incredible entries that you submit. Now is the perfect time to take stock of everything you've accomplished during the past year. Why not tell us about your achievements and receive a reward for your efforts?
Being named an Aesthetics Award Finalist is a significant acknowledgment of your work in the aesthetics specialty, which can help raise your profile and expand your marketing and PR prospects. Plus, you can celebrate your achievements after the ceremony on the dance floor! We can't wait to celebrate with you after two days of learning and networking at ACE 2023.
The Winner of The John Bannon Pharmacy Award for the Best Clinic Ireland & Northern Ireland Áine Larkin, of Younique Aesthetics Clinic, said, "The Aesthetics Awards have given us a chance to showcase what we do and that's what it's all about. Any company can say they are the best at something but if you are not recognised by others, it's hard to shine as an individual or company. The Award gave us a chance to reflect on all our hard work, our consistency and creativity as well as showcasing who we are as a business."
Don't forget! Your entry should not only be supported by evidence, but judges will be looking for new and exciting developments, so be sure to highlight what makes you different from the rest in your entry.
ENTRY WILL BE OPEN FROM JULY 31 TO SEPTEMBER 30
Scan the QR code for more information or if you have any questions, please call our team on 0203 096 1228 or email contact@aestheticsjournal.com.
Achievement
@aestheticsgroup @aestheticsjournaluk Aesthetics aestheticsjournal.com Reproduced from Aesthetics | Volume 9/Issue 7 - June 2022
Alison Telfer, nurse prescriber
Where do you practice?
I founded my clinic The Glass House Clinic situated in Clapham in 2009, with the aim of providing advanced technology and results.
I enjoy using the Juvéderm range of fillers at my clinic as the results are fantastic! I'm one of eight nurses in the UK to be an ambassador for Allergan, a leading manufacturer of injectable products.
What is Volite™ and why are you using it in your practice?
Volite™ is a cross-linked hyaluronic acid filler designed to be injected superficially into the dermis. My patients love it because it lasts for around nine months and can be used all over the body including the face, neck, hands and décolletage. Volite™ can also be used to treat micro fine lines, which patients might get around the eyes, and the oral commissures. In my experience, you can see an improvement in the tension, bounce and luminosity of the skin and I've found the results are fantastic, which is why I use it in my practice.
Who can Volite™ benefit?
We know that we begin to see signs of ageing and change from 25 years of age, so it is for anyone who wants to improve their superficial skin quality, tone and texture. In a clinic setting, we begin to see Volite™ come into its place in combination with skincare and additional injectable treatments within the mid to late 30s and onwards. The product can be used to add support or reconstruct skin or can be used as a standalone treatment to add hydration and elasticity back to the skin. It is designed for all skin types and can be used superficially in micro fine lines or for improving skin quality and texture.
What results can I see for my patients?
Patients can see results instantly but as with all hyaluronic acid fillers, we know that when we get tissue integration, we can get an increase in glow to the skin whilst seeing an improvement in skin quality and texture. Patients can see this improvement continue for a couple of weeks and are eager to get a top-up at my clinic after nine months has elapsed.
Adverse events should be reported, please see page 37 for more details.
This column is written and supported by
First Beauty Uncovered LIVE event a success
The first of its kind aesthetics consumer-facing event Beauty Uncovered LIVE took place on May 7-8 and was deemed a great success by visitors, exhibitors and speakers. The event allowed consumers to learn from top aesthetic practitioners, watch live demonstrations, discover new products and speak to experts about aesthetic concerns and treatment options. Headline sponsor HydraFacial conducted free treatments throughout the two days, Teoxane and Galderma gave visitors free consultations with top KOLs, whilst exhibitors had treatments on their stands for visitors to experience.
The event also had celebrities including supermodel Caprice and celebrity journalist Suzanne Baum discussing beauty and empowerment, whilst Love Islander Sharon Gaffka opened up about her treatment experiences, as well as patient transformations with the stars of 10 Years Younger in 10 Days Dr Tapan Patel and Cherry Healey.
Editor and content manager of Aesthetics and Beauty Uncovered, Shannon Kilgariff, said, "Beauty Uncovered LIVE was our first consumer-facing event and it was a huge success. Being able to bring the wonderful world of aesthetics to the everyday patient was a new experience and it was fantastic to be able to educate consumers on a specialty which is so widely unregulated."
Turn to p.18 to read more about the event highlights.
Skin
Lumenis introduces new Photofabulous protocol
Aesthetic device company Lumenis has launched its new skin rejuvenation treatment Photofabulous. The company explains that the treatment protocol aims to address early signs of ageing and provide results for pigmentation, age or sun spots, fine lines and overall skin appearance. The treatment uses updated photofractional multi-application Stellar M22 IPL and ResurFX technologies in the same treatment session to address both skin pigmentation and texture issues. Laure Boisseux, associate marketing director at Lumenis, said, "Our Photofabulous treatment underpins Lumenis' commitment as industry innovators and educators. We will be offering a programme of webinars, educational materials and first-person KOL testimonials that will give practitioners the opportunity to learn more about the latest Photofabulous innovations to boost their ROI and enhance patient experience."
Patient Education
60
DOP: UK-JUV-220122 May 2022 @aestheticsgroup @aestheticsjournaluk Aesthetics aestheticsjournal.com Reproduced from Aesthetics | Volume 9/Issue 7 - June 2022
5 Squirrels expands to the US
Private label cosmeceutical supplier 5 Squirrels has launched in the US. The company launched its US entry at the Miami Cosmetic Surgery and Aesthetic Dermatology Symposium at Miami Beach Convention Centre from May 4-7, 2022. Since 2014, 5 Squirrels has helped skincare professionals in the UK and Ireland launch their own skincare ranges containing highly concentrated active ingredients to improve the skin's overall health and appearance. Gary Conroy, CEO of 5 Squirrels, said, "We've had a lot of enquiries from medical aesthetic practices in the US over the years and they're facing a lot of the same challenges as our UK and Ireland clients. We've had a great response from everyone we've spoken to at the convention and we're so excited to be able to help practices in the US to launch their own brand of skincare ranges."
Conference report
BACN Spring Symposium, London
The British Association of Cosmetic Nurses (BACN) held its first Spring Symposium at the Royal College of Physicians in London on April 29.
There were 100 aesthetic nurses in attendance, as well as representatives from industry suppliers. These included Headline Sponsor Galderma, Aesthetic Nurse Software, Hamilton Fraser, Prollenium, Skcin, Skinade and the team from Aesthetics, Beauty Uncovered, and CCR. After the welcome and update from BACN chair Sharon Bennett, the event featured a comprehensive agenda led by nurses, covering skin assessments with Anna Baker, the latest research in botulinum toxin treatments with Rachel Goddard, Jude Dunican and Sharon King, tear trough treatments using Restylane Eyelight with Jackie Partridge, and tips for understanding your worth with Julie Scott. Consultant ophthalmic surgeon Miss Elizabeth Hawkes also presented her methods for rejuvenating the periocular area, aesthetic practitioner Dr Tristan Mehta gave his advice for complication prevention and navigating the danger zones for dermal filler treatments, and Dr Tapan Patel provided his tips for full-face treatments. The day concluded with networking evening drinks so that BACN nurses could reconnect with colleagues and make new acquaintances.
Following the event, Bennett said, "The feedback from members attending the Spring Symposium has been exceptional – all down to the wonderful speakers we had that covered a range of interesting topics. It was so good to be reunited after such a long time apart and a special thank you to everyone who came along."
BACN regional lead for East Anglia Emma Gray added, "We had a fabulous day at the Spring Symposium. The speakers had such a wealth of knowledge – it was lovely to be surrounded by so many of my peers once more. Miss Hawkes was especially brilliant – and I took so much away from the day. I cannot wait for our next one in September!" The next BACN meeting will be the Autumn Aesthetic Conference in Birmingham on September 15-16.
News in Brief
Lynton offers new features for device Laser and IPL manufacturer Lynton has announced new features to its Focus Dual device. Practitioners can now choose from both non-isolated and insulated needle tips, to deliver radiofrequency energy to the skin layers. Alongside the flexibility to select the needles, the amount of radiofrequency energy released is customisable, and the needle delivery depth is adjustable to the target area ranging from 0.5mm-3.55mm. Lynton explains that this provides practitioners with the ability to address a range of concerns for all skin types.
4T Medical launches combined non-surgical facelift course Aesthetic supplier and training provider
4T Medical has introduced a combined dermal filler and thread course. According to the company, the all-in-one Non-Surgical Facelift course will cover the techniques for Amalian dermal filler and Honey Derma PDO and P(LA/CL) threads, as well as advice on how to combine these individual treatments to achieve results. The two-day course is designed for aesthetic doctors, nurses and dentists. The training courses are CPD-certified and will take place on June 7 and 14 in Bristol and July 13 and 20 in Wallasey.
Exuviance unveils new serum Aesthetic distributor AestheticSource has introduced the new Exuviance Professional Brightening Serum to its portfolio. The serum has been formulated to brighten, exfoliate, reduce the appearance of dark spots and diminish the look of uneven skin tone, explains AestheticSource. Ingredients include niacinamide to improve dull, lacklustre skin and promote a brighter and more even tone as well as neoglucosamine to help with healthy skin renewal and rejuvenate the skin, adds the company.
On the Scene: IBSA Derma holds anatomy masterclass Distributor and training provider of the IBSA Derma portfolio in the UK and Ireland, HA-Derma, invited selected practitioners to attend an anatomy lab masterclass in Milan, Italy. The event featured two days of training led by Italian plastic surgeons Dr Fabio Ingallina, Dr Filippo Brighetti and Dr Giovanni Salti. The topics presented included an understanding of anatomy to optimise injection techniques, danger zones to be aware of, live dissections and a discussion of techniques for the full-face approach. Delegates had the opportunity to undergo hands-on training under the supervision of the trainers.
Development
@aestheticsgroup @aestheticsjournaluk Aesthetics aestheticsjournal.com Reproduced from Aesthetics | Volume 9/Issue 7 - June 2022
RM RF-Microneedle RV RF-Vaginal Hands-on treatments Orienteering Live demonstrations Indications & protocols Ice-breakers Experience the power of RF Microneedling and Plasma in one device Speaker: Dr Rehanna Beckhurst Time: 10:00 – 16:00 | Location: Midlands Thursday 7th July Limited spaces available, secure your space today!  ifabclinic Co-founder of iFab Clinic ChurchPharmacyUK @ChurchPharmacy 01509 357300 ChurchPharmacy.co.uk training@churchpharmacy.co.uk Aesthetic solutions for the modern clinic.
Advertising Prescription-only Medicine
and during hay fever season, I see hay fever injections promoted just as regularly."
Dr Shotter notes that practitioners have a duty of care and responsibility to patients and therefore should be upholding regulations surrounding advertising. She adds, "POMs should not be referred to by name and these treatments should be marketed responsibly. This means making patients aware that there are other treatments available and perhaps they should try those first. We also need to ensure that POMs don't appear on website landing pages. I would encourage clinics to write a blog about hay fever and include this treatment as an option rather than heavily marketing it as a 'quick fix'."
Serious repercussions
Advertising prescription-only medicines (POMs) is prohibited to the general public in the UK.1 However, this isn't stopping some clinics from bending the rules. In recent rulings by the UK's advertising watchdog, the Advertising Standards Authority (ASA), three medical aesthetic clinics and a beauty salon have been told to remove promotion of the hay fever injection, Kenalog, on their social media accounts for their summer campaigns.2-5 The ads all appeared on Instagram, with captions including: 'If you love spring or summer but hate the hay fever symptoms that the seasons bring, you might want to consider an annual Kenalog injection' as well as 'I now have Kenalog injections at £40 per shot'.
The ASA ruled that the ads breached the Committees of Advertising Practice (CAP) Code 12.12 regarding medicines, medical devices, health-related products and beauty products.6 As a result, the ASA ruled that the ads must not appear in their current form and the clinics faced a warning against promoting POMs to the general public.
This isn't the first time the industry has had to be reminded of rules surrounding POMs. In 2020, the CAP and Medicines and Healthcare products Regulatory Agency (MHRA) together issued an Enforcement Notice to the beauty and cosmetic services industry after noticing a rise of social media posts promoting botulinum toxin to the public.7 Following the new ASA rulings, we spoke to Matthew Wilson, media and public affairs manager from the ASA and aesthetic
practitioner Dr Sophie Shotter, who performs hay fever injections at her clinic, to find out why people are still breaking the rules against advertising POMs and what needs to be done to prevent this from happening again in the future.
A lack of understanding
According to the ASA, POMs are a specific class of medicine that must be prescribed by an authorised healthcare professional.8
In aesthetics, common POMs that appear in clinics include treatments like botulinum toxin, weight loss injections, hyaluronidase and hay fever injections.
Despite the ASA having regulations on this, it has not prevented promotional ads being posted online. Wilson says, "We can't presume to know all the reasons or second guess why a business or sole trader might advertise POMs. Perhaps one reason with regards to a small-medium enterprise or an individual is a lack of awareness of the rules. Ignorance of the rules is not, however, an excuse!" Wilson adds that it is therefore the responsibility of those marketing these treatments to educate themselves on the relevant CAP codes.6
Dr Shotter agrees that some people are unaware of the rules, however, believes others are happy to disobey them, including advertising for botulinum toxin injectables. She explains, "Unfortunately, I think that many clinics and practitioners are either unaware of, or choose to blatantly flout, advertising rules. I see clinics advertising botulinum toxin daily,
Advertising POMs online has serious consequences for practitioners and business owners and therefore a thorough understanding of the regulations should be upheld. Wilson notes, "Potential serious physical/medical harm can be caused to patients through the administration or sale of POMs for conditions which professional medical advice should be sought. Practitioners breaking the advertising rules will face an ad ban or potential further sanctions from the ASA, as it is an offence under the Human Medicines Regulations 2012.9 A business may also face consequences from a statutory enforcement body."
Be responsible
The repercussions of advertising POMs online can have a detrimental impact on a practitioner's clinic and their reputability. Dr Shotter advises other practitioners to firstly contact clinics directly if they see illegal advertising. She explains, "Many people will respond positively and highlight that they are unaware of the ASA regulations, so I feel it's important that we give our colleagues this chance. If this doesn't succeed, then consider reporting the post or website to the ASA for investigation.10 As practitioners, we have a responsibility to try to uphold high standards within our sector."
VIEW THE REFERENCES ONLINE! AESTHETICSJOURNAL.COM
After a recent ASA warning to four clinics, Aesthetics explores the rules against advertising prescription-only medicines online @aestheticsgroup @aestheticsjournaluk Aesthetics aestheticsjournal.com Reproduced from Aesthetics | Volume 9/Issue 7 - June 2022
The Official Launch of Beauty Uncovered LIVE
Fuelling passion in aesthetics and cosmetic surgery, Beauty Uncovered LIVE set up a residency at the Business Design Centre in the heart of Islington, London, on May 7-8. With Headline Sponsor HydraFacial and more than 2,200 attendees, 40 brands, and 70 speakers, the show provided a unique opportunity for the public to come and discover the latest aesthetic treatments, try the hottest new products and learn from industry experts.
Throughout the weekend the event featured live demonstrations, consultations from some of the industry's top aesthetic practitioners, and real-life patients sharing their first hand experiences.
With three stages dedicated to educational content including myth busters, latest trends and asking the experts, there were tonnes of chances for the public to become immersed in the world of medical aesthetics.
Some of the show highlights included celebrity journalist Suzanne Baum interviewing supermodel Caprice about beauty and empowerment, whilst Love Islander and our latest Beauty Uncovered cover star Sharon Gaffka opened up about her treatment experiences, as well as the effects social media can have on Eurocentric beauty standards.
Non-surgical facelifts with Dr Nina Bal were discussed alongside patient transformations with star of 10 Years Younger in 10 Days Dr Tapan Patel, and the show's host Cherry Healey. Plus, there was
plenty of pampering including HydraFacials, complimentary skin health drinks at the Skinade bar, body contouring, hair and makeup – all while being treated with some LIVE entertainment!
Shining a positive light on the industry
The world of medical aesthetics is going from strength to strength. No longer seen as an industry dominated by underhand techniques and hidden dangers, medical aesthetics has quickly risen to be one of the most exciting areas in medicine. Beauty Uncovered LIVE was a day dedicated to dispelling myths to
give the public a better idea of the wonderful reality behind aesthetic medicine.
Enhancing education
Beauty Uncovered LIVE was packed with educational talks from brands including dermal filler and skincare provider Teoxane and pharmaceutical company Galderma, which featured Restylane fillers and Cetaphil skincare. Both companies offered free consultations with qualified healthcare professionals. Dermal filler company Neauvia had live injectable demonstrations for visitors to watch in the sanitised treatment room. The Ask the Experts stage was the ideal
reflects on the launch of the first consumer event of its kind dedicated to the aesthetics specialty @aestheticsgroup @aestheticsjournaluk Aesthetics aestheticsjournal.com Reproduced from Aesthetics | Volume 9/Issue 7 - June 2022
Aesthetics
opportunity for visitors to ask their burning questions to industry specialists, hosted by
The Beauty Angels, Linda Lusardi and Debbie Arnold. Tatler health and beauty editor-at-large Francesca Ogiermann-White held a panel discussion with expert practitioners at the Beauty Uncovered Arena.
The ultimate VIP Experience
The Beauty Uncovered LIVE VIP experience, sponsored by skincare brand AlumierMD, provided an exclusive opportunity for visitors to mingle with expert speakers and celebs, get their hands on the latest skincare launches, enjoy refreshments in a stunning location whilst listening to a DJ play tracks from their favourite artists. Guests also made the most of the flower wall to capture all photo opportunities, whilst the glam squad offered hair and makeup slots for VIPs to make them look their best.
On exhibitor stands, there were lots of free offerings including a skin analysis with PCA Skin, muscle stimulation with Belle Health, HydraFacials, demonstrations of products with Dermalogica and LED light therapy with Celluma.
Positive feedback from the industry
The event received glowing feedback from the industry, with Neauvia country manager Simon Poustie commenting, "Beauty Uncovered LIVE has been brilliant. It's been so busy and there's a good mix of visitors. This is the first consumer show we have done and it gave us a great opportunity to reach new people!"
Georgina Howells, engagement manager at AlumierMD, also enjoyed the event, commenting, "Connecting the consumer to the aesthetics market for the first time was so innovative! We got a great brand awareness reception, and it's amazing for consumers to feel and try our products – we are so happy!"
SAVE THE DATE
Put May 6-7, 2023, into your diaries so you and your patients can come along to Beauty Uncovered LIVE! The event might only be once a year but our patient education and support takes place every quarter. Scan the QR code to get copies of Beauty Uncovered magazine for your clinic to distribute to your patients. Trade Password: 4429
Beauty Uncovered LIVE was a day dedicated to dispelling myths to give the public a better idea of the wonderful reality behind aesthetic medicine
@aestheticsgroup @aestheticsjournaluk Aesthetics aestheticsjournal.com Reproduced from Aesthetics | Volume 9/Issue 7 - June 2022
HIGH LEVEL TRAININGS KEY OPINION LEADERS NEW VIDEOS EACH MONTH REGULAR LIVE WEBINARS FACIAL & INTIMATE AESTHETICS
Eye bags and dark hollows are of significant bother for many people. They can affect any gender and any age; often making people look tired, unwell and aged beyond their years. In fact, a recent survey commissioned by Galderma found that 70% of men and women aged 25 and above felt they look tired and older due to their under-eye shadows. Our increased use of technology is also not helping, with 55% claiming that screen presence reminded them of how tired they look.1
As a result, it's likely that requests for treatment are common in your clinic. But do you know how to treat the area safely? According to those experienced, intricate anatomy and thin skin make tear troughs one of the most complex areas to treat. So to support you, we spoke to three professionals – aesthetic practitioner Dr Tristan Mehta and consultant ophthalmic and oculoplastic surgeons Mrs Sabrina Shah-Desai and Mr Daniel Ezra – for their best advice.
"Hyaluronic acid (HA) filler to address tear troughs is one of the most requested treatments year on year across all genders and adult age groups, because everybody gets an under-eye hollow," says Mrs Shah-Desai. She adds, "They believe what's written on social media – that it's a quick fix – but all tear troughs are not the same and that's a big problem."
Mrs Shah-Desai explains that it can be very easy to assume that every under-eye is going to respond in the same way to treatment but, actually, many variables can occur. A conservative and well-planned approach is therefore essential.
Patient selection
All three practitioners agree that appropriate patient selection is key to successful tear trough treatment. "Patient selection is where many practitioners go wrong," says Dr Mehta, with Dr Ezra adding that poor patient selection is the cause of most of the complications that he sees from other practitioners.
Dr Mehta outlines the four presentations that he has found are unsuitable for treatment with HA:
1. Excess skin under the eye: better addressed with surgery
2. Secondary tear troughs: pseudoherniation of fat that pushes down from above; again better treated with surgery
3. Malar oedema in the cheeks: signals that the patient's lymphatics aren't working effectively and adding HA to the area can lead to more oedema
4. Pigmentation: could look like a dark circle – HA won't necessarily help much, better treated with skin treatments
Mrs Shah-Desai adds that in peri-menopausal women, skin can become so loose that it won't support the HA that you're putting in. This can then lead to swelling and festoons, so patients would benefit from undergoing skin tightening before having their tear troughs filled. "We've got great energy-based treatments; from lasers, to radiofrequency microneedling, to ultrasound – all these things can help the area. Products I recommend include Sofwave, Tixel and Morpheus8. Once the skin is tightened and the tissue quality has improved, subtle filler placement will help," she says.
For Mr Ezra, patients with excessive bags under their eyes are a big no-no for non-surgical treatment. "If fillers are administered to patients who have significant bags, then the complication rate gets very high and patients are often unhappy with a very puffy look," he explains.
Mrs Shah-Desai adds, "The minute you see a large bag, then you know you're in the surgical arena and you should refer accordingly."
She emphasises that, as a rule of thumb, practitioners should only select patients with hollows who have thick, tight skin; this is generally people under the age of 45. "If you get the right patients, who have genuine volume loss that you can target in the right way, without puffiness, excessive skin or oedema, you're going to get a lovely results," reassures Dr Mehta.
Tear Trough Complications Practitioners outline their top tips for avoiding adverse events when treating the under-eye area Figure 1: Anatomy of tear trough deformity6 Intraorbital fat Orbital septum Orbicularis retaining ligament Malar bag Malar fat pad Palpebral portion of orbicularis oculi muscle Orbital portion of orbicularis oculi muscle Tear trough Nasojugal groove Levator labii superioris alaeque nasi (LLSAN) @aestheticsgroup @aestheticsjournaluk Aesthetics aestheticsjournal.com Reproduced from Aesthetics | Volume 9/Issue 7 - June 2022
Preventing
ALL YOUR AESTHETICS EDUCATION IN ONE PLACE Development plans ...and much more Injection techniques CPD modules ADVANCED LEARNING POWERED BY ECADEMY Search for Merz Aesthetics Ecademy today EXPLORE TODAY M-MA-UKI-1915 Date of Preparation February 2022. Developed and funded by Merz Aesthetics UK & Ireland. FOR HEALTHC ARE PROFESSIONALS ONLY SCAN ME
Anatomy
Jingo Jiang et al., summarised the tear trough's anatomy in their study on the area's deformities and treatment options published in 2016.2
The authors state that the position of the tear trough is most accurately described to be within the boundary of the orbicularis muscle. Normal changes in the insertion of the orbicularis muscle, from medial to lateral, have permitted a better understanding of the anatomy and treatment.
As a result, the term 'tear trough deformity' should be applied to the medial periorbital hollow extending obliquely from the medial canthus to the mid-pupillary line. There is absence of fat tissue from the central and medial fat pads subjacent to the orbicularis
oculi muscle in the area below the groove. Volume bone loss of the orbital rim seems to predominate in development of the nasojugal groove and there is advanced volume loss in the central cheek, the medial cheek, and the malar eminence with ageing. The integrity of the septum diminishes with advancing age, such that orbital fat bulging leads to the appearance of bags or fullness in the lower eyelid.
The tear trough deformity associated with ageing has been explained by gravitational descent, such as laxity of the supporting ligaments and descent of the mid-face.
The orbicularis retaining ligament creates a V-shaped deformity that correlates with the lid-cheek junction.
One of the reasons that ageing adds to the deformity of the tear trough
Product selection and treatment approach
Dr Mehta and Mr Ezra outline that the tear trough is probably the most complex area to treat because it is interconnected to so many areas of the face. Dr Mehta explains, "There are various anatomical considerations to be aware of and we need to understand the zones of the face that support the tear trough indirectly."
He continues, "Zoning into the cheek, we have two important fat pads that we need to make sure are adequately revolumised. These are the deep medial fat pad and the medial SOOF as they are the first fad pads that tend to lose volume through ageing." Dr Mehta notes that the temple should also be volumised, alongside ensuring the zygoma is well structured. He explains, "We want to create good scaffolding first. Once the temples, cheek bone and fat pads are restored and restructured, we can then move on to treating the tear trough itself."
Mr Ezra says that after poor patient selection, poor product selection is the next thing that leads to bad results. "Filler choice and volume placement are key issues; it's essential that the filler is of low cohesivity," he says.
Additionally, Mr Ezra argues that conventional wisdom should be turned on its head when injecting tear troughs. "Rather than providing different layered fillers in different areas, you actually just need to focus on the tear trough itself in very small volumes," he explains. Of course, once the result has settled, you can add more but, again, only in small volumes, he advises, noting, "I would make sure it's well tolerated and do a second dose a few months later rather than trying to do it all in one go."
Mrs Shah-Desai agrees, saying, "You can have two initial treatments depending on the depth and extent of the hollow in the first year and then, as a rule for the vast majority, maintenance should be every year to year and a half."
In terms of brands, Dr Mehta has been seeing positive results with Neauvia Intense Flux over the six months he has been using it. "It finds its way to the tear trough in the most naturally smooth way I've ever seen," he says, explaining that the product contains two amino acids – glycine and L-Proline that push away water, which reduces the chances of swelling or oedema.3
is attributed to the loose orbicularis retaining ligament. Other research defined the tear trough as the junction of the thin, pigmented lower lid skin with the thicker cheek skin at the medial canthus to the mid-pupillary line. The lid-cheek junction was found to be stable over time and its perceived descent was said to be due to age-related tissue volume changes and not actual movement. The tear trough is often related to underlying bony structure and particularly associated with age-related maxillary hypoplasia. Lower eyelid skin also progressively loses its elasticity and thickness with ageing. Other changes in skin such as hyperpigmentation, and actinic changes also play a role in the tear trough.2
Mr Ezra uses Teosyal Redensity 2 and also Restylane Eyelight – a new product on the market which launched earlier this year. He says that Eyelight has an excellent safety a profile and fills a key niche, being particularly beneficial in patients with deeper hollows, as it is very cohesive and allows for more lift and elevation with a smaller volume of filler. A study found that 88.6% of people treated with it reported looking less tired, while 94.3% said they would recommend it to a friend and repeat treatment.4
Teosyal Redensity 2 is Mrs Shah-Desai's product of choice. She's been using it for six years and says, "Redensity 2 has low hygroscopy, which means it has a low swelling factor.5 As it's been designed for the under-eye area, it's got a great spreadability. You can inject a small bolus, and it then spreads very uniformly and smoothly."
All the practitioners agree on using a cannula to inject the tear trough for patient safety, highlighting that the area has a dense network of blood vessels which are more easily avoided with cannula. Mr Ezra has designed his own Three-Point Tangent Technique which breaks down treatment into three cannula passes. He says it has demonstrated good safety and effectiveness in more than 1,000 treatments.
Mrs Shah-Desai also has her own technique, known as Eye-Boost. This involves putting a small amount of filler two planes. She explains,
"The minute you see a large bag, then you know you're in the surgical arena and you should refer accordingly"
Mrs Sabrina Shah-Desai
@aestheticsgroup @aestheticsjournaluk Aesthetics aestheticsjournal.com Reproduced from Aesthetics | Volume 9/Issue 7 - June 2022
MAILI IN CLINIC EVENT
TUESDAY 28TH JUNE, 10:00-17:00
Unit 13 Mercian Business Park, Felspar Road, Tamworth, B77 4DP
In an intimate setting, you will learn how to use the MaiLi range of products, how to maximise their potential and ask questions directly to our leading aesthetic expert, Dr Olha Vorodyukhina who uses MaiLi daily in her practice. Dr Olha is a regular speaker at national and international conferences, has numerous publications in aesthetics and dental peer review journals. Her articles have been featured in national and international press and she has appeared on Channel 4 and BBC radio promoting higher standards for medical aesthetics. Contact info@apothecaryaesthetics.co.uk or call 0345 319 1000 to register your interest and book.
Springpharm is an approved supplier and distributer of Sinclair products
Supplying a comprehensive catalogue of high quality, fully regulated aesthetics products to HCPs nationwide. Our trusted supply chain allows us to deliver whatever is required, whenever it's needed and wherever it's going.
Working in partnership with Apothecary Aesthetics
"We know from cadaveric studies that filler starts lying superficially even if we put it on the bone, which is why it needs very light treatment. There are very few people worldwide who do these kinds of biplaner techniques, so they're not for everyone."
Of course, there are many other products on the market so the practitioners advise conducting thorough research before adopting one. "If we're being generic, you want one with a low molecular weight of HA, that's not hydrophilic," recommends Mrs Shah-Desai. Reviewing clinical data is essential, they agree, highlighting that it's important to pay close attention to the longevity of studies rather than anecdotal cases. "Don't be afraid to ask filler companies hard questions," emphasises Mrs Shah-Desai.
Risks and management
The most common complications that can occur from tear trough treatment are swelling, oedema, lumpiness and bruising. If unsterile techniques have been used, then infection is a risk too. Mrs Shah-Desai notes that some patients are more prone to swelling, particularly those with allergies, which you should establish when taking their medical history. You can therefore pre-empt that they may see this side effect in mild to moderate form after treatment, and prepare them for it. "We can tell patients to massage, and give them oral anti-allergy pills to manage it in advance," she says.
While these side effects can occur straight after treatment, Mrs Shah-Desai points out that the tear trough skin is very dynamic and is continually thinning. This means that even years after treatment, a complication could occur. "It could suddenly start swelling or the patient will see a blue-grey discolouration under the eye (known as the Tyndall effect) because the skin has become thinner and looser, or as the filler is biodegrading you may see delayed swelling," she explains.
According to the practitioners, other complications that could occur include malar bags or festoons, which present as a more extreme version of normal under-eye bags. These, along with severe lumpiness or contour irregularities, usually need to be resolved by dissolving the HA. Mr Ezra points out that doing so requires an open and honest conversation with the patient. "It can require difficult discussions about what's happened, what the implications of dissolving might be and what the final outcome will look like," he explains.
Mrs Shah-Desai advocates the use of ultrasound to support the management of complications. She says, "Ultrasonography allows me to visualise real-time anatomy and pinpoint the location of the filler to allow for precise ultrasound guided dissolving."
In his practice, Mr Ezra uses 3D MRI scans to aid complication management. He says, "It gives a very detailed 3D representation of the distribution and extensiveness of filler in patients' faces. In our studies we've found that fillers will often persist for 10 to 15 years after application. The reconstruction tells us exactly where the filler is and how much of it there is. This helps to guide the discussion with the patient around the implications of dissolving it."
With any injectable procedure there is a risk of vascular occlusion, the worst case scenario being blindness, but the practitioners say that it is extremely rare when treating the tear trough. "Using a cannula, and injecting low volumes with a low pressure, is the best way to keep safe when treating higher risk zones," advises Dr Mehta.
Mr Ezra adds, "If you are thinking of treating the tear trough, make sure you have clear and rapid referral pathways to an eye specialist or department in case there are any issues."
Treat carefully and conservatively
"Always be conservative in treatment," is Dr Mehta's takeaway tip, while Mrs Shah-Desai emphasises assessment is key and Mr Ezra says be prepared to turn patients away if they are unsuitable or when you know you won't be able to treat them successfully. He highlights, "It's not fair to offer filler if there could be better alternatives; if you can't offer surgery, find someone to refer these patients to." Mrs Shah-Desai adds that, depending on the concern, you could consider other minimally-invasive treatments, such as mesotherapy, laser resurfacing or peels but, again, thorough research and training is essential. As always, whatever treatment you go with, the practitioners emphasise that it is essential to have the appropriate training in both administering the procedure and managing any complications that could occur.
REFERENCES
1. Galderma, Say Goodbye to Dark Under-Eye Shadows with Restylane Eyelight (US: Galderma, 2022) <https://www.galdermaaesthetics.com/say-goodbye-dark-under-eye-shadows-restylane-eyelight>
2. Jiang, Jindou et al., 'Tear trough deformity: different types of anatomy and treatment options', Postepy dermatologii i alergologii vol. 33,4 (2016): 303-8.
3. Neauvia, Intense Flux (UK: Neauvia, 2022) <https://neauvia.com/product/intense-flux/>
4. Aesthetics, Galderma releases Restylane Eyelight (UK: Aesthetics, 2022) <https://aestheticsjournal. com/news/galderma-releases-restylane-eyelight>
5. Teoxane, Leave your under eye hollows behind (UK, Teoxane, 2022) <https://teoxane.com/en/lightyour-look-patient-leave-your-under-eye-hollows-behind>
6. J Moon, Treating Infraorbital Hollows, Aesthetics journal, March 2021. <https://aestheticsjournal.com/ cpd/module/treating-infraorbital-hollows>
Before After @aestheticsgroup @aestheticsjournaluk Aesthetics aestheticsjournal.com Reproduced from Aesthetics | Volume 9/Issue 7 - June 2022
Figure 2: Patient before and after treatment of the infraorbital hollow/tear trough using the Teosyal range. Image courtesy of Mrs Sabrina Shah-Desai.
BELOTERO® balance & BELOTERO® revive
Merz Innovation Partner Dr Chris Hutton from Array Aesthetics in Belfast shares his approach to treating a 42-year-old patient with difficult-totreat lateral cheek lines using a combination of BELOTERO® Revive and BELOTERO® Balance
As a doctor, my background is in medicine, but, ironically, I was probably a much better student of the arts than I was in science at school. The visual arts have always really interested me, and as art is a huge part of aesthetic practice, it made sense for me.
What I enjoy most is rejuvenation. Typically my patients are women who are noticing the signs of ageing or are feeling like they look a little bit tired, and it's getting them down. Facial rejuvenation, particularly volume replacement using dermal fillers, can make such a profound change to how someone looks and then, ergo, how they feel, which is really what it's all about.
with skin texture as they are the lines themselves. She came in asking for filler, but my position was that she wasn't really a suitable candidate for volumising in the classic sense.
many skin boosters on the market, but one of the frustrating things about them is how long it takes before patients see anything happening! None of these products are going to give anyone a structural change like fuller cheeks or a sharper jawline; it's all about the skin. The great thing about BELOTERO® Revive is the fact that they've introduced glycerol to the product.2 Glycerol is a molecule that will absorb its weight in water in about 72 hours.3
Case Study
A 42-year-old female patient presented to me complaining of fine, static lines and textural skin changes, mainly in her lower medial cheek/lateral perioral region. These 'cat scratch' lines which are lateral to the cheek and extend to the perioral region,
use a little bit of topical anaesthetic to make it more comfortable.
This means patients start to see something happening quickly, usually within three days.
The bulk of my practice is really centred around hyaluronic acid dermal fillers, and I've been using the Merz portfolio really since I started about 10 years ago. I know them well, and they are the products we use in our training academy as well.
For me, there are genuine advantages of using BELOTERO®, the most important being their low propensity to stimulate an immune response.1
I chose to do a spot treatment using BELOTERO® Balance initially for the static lines combined with BELOTERO® Revive to treat the texture2 at subsequent visits. The changes this patient was experiencing were generally related to the ageing process but more specifically to photodamage. She described a combination of fine lines, erythema, hyperpigmentation, and the changes in skin texture, which is really what BELOTERO® Revive is about2
Patient safety is paramount. When it comes to BELOTERO® Revive, I think that Merz Aesthetics has been very clever with it because they've tapped into the mindset of the patient and the injector. There are
We did the first treatment in May 2021. At this visit, I used BELOTERO® Balance to the perioral region, injected with a 30-gauge needle using a superficial blanching technique4 . BELOTERO® Balance is really nice for these sort of static lines, but when you follow it up with BELOTERO® Revive to
I use a 30-gauge needle and inject as superficially as I can. The 30-gauge needle is what comes as standard with BELOTERO® Revive, and I just inject it generally, covering all the areas that we're worried about in terms of texture. You can also use a cannula to thread up and down the area. I prefer to use a needle because that's the method used in the 'Belove' study5
It's a relatively new product. I've just started to use it, so I have been ringing all my patients up at three or four days to see what's happening, and a significant number of them are saying, "It's hard to put my finger on it, but I just feel like everything just looks a bit plumper." The glycerol gives you that before the HA starts to kick in. Seeing more instant results keeps patients interested.
You want to inject as superficial as you can. It's difficult to get truly intradermal consistently with a needle, you're going to realistically be subdermal, but you want to be raising a little bleb in terms of visual feedback2. It's a straightforward treatment – a very similar technique to superficial blanching, which is a very well-recognised technique.
The other thing I like about BELOTERO® Revive is that you can spot treat. Where someone's got an issue, particularly with a localised area of skin laxity, that's just starting to crepe, and it's not really something that you can fill or volumise. Having something like BELOTERO® Revive up your sleeve to be able to go and spot treat, is particularly useful because it allows you to be a bit more flexible.2
In terms of outcome, a gradual improvement in fine lines, skin texture, feel and hyperpigmentation
Before After
to do BELOTERO® Balance twice a year and then just top with Revive once or twice a year. That's what I
26 @aestheticsgroup @aestheticsjournaluk Aesthetics aestheticsjournal.com Aesthetics | June 2022 Advertorial Merz Aesthetics
Exploring Botulinum Toxin Complications
Botulinum toxin treatment is the most popular non-surgical aesthetic procedure worldwide, with millions of treatments being performed each year.1 Although it is generally considered a safe procedure, complications can and do occur. A 2022 literature review by Zargaran et al. looking at a total of 17,352 injection sessions reported a complication rate of 16% following botulinum toxin injections for aesthetic use (with an incidence of bruising at 5%, headaches at 3% and unintended muscle weakness at 2%).2
It is important that treatments are performed by medical practitioners in an appropriate clinical setting having received in depth training in all aspects of botulinum toxin and facial anatomy to help mitigate risks (Figure 1). It is also essential that a licensed botulinum toxin is used for treatments that is sourced from a reputable supplier and it is appropriately transported and stored.
The toxin used and dilution volume may also be important when considering risk of complications. Finally, patient selection is paramount, taking into consideration absolute and relative contraindications (Table 1), medical history, and psychological concerns.
Bruising
There is usually none to a minimum amount of bleeding when performing botulinum toxin treatments and bruising can ensue. If a bruise does occur, it is usually small and discreet but can cause concern for patients who do not tell friends and family that they have treatment. Several factors can increase the risk of ecchymosis,2 including older age with thin and fragile skin, alcohol, certain medications, such as anti-inflammatory painkillers, herbal and vitamin supplements, and treatment technique.3,4,5 The risk can be reduced by avoiding certain medication and supplements, such as fish oils, omega-3 fatty acids, garlic, high dose vitamin E and gingko biloba.5 Practitioners may also reduce the instances through the application of cold compresses, topical or oral products (such as arnica or bromelain) and the use of imaging technology (such as ultrasound or infra-red technology) as they allow for the direct visualisation of veins.6
Ptosis
Ptosis refers to droopiness or abnormal downward displacement of a body part, and can occur anywhere in the body, although the most common area to be affected is the eye, both through the lid and brow.7
Brow ptosis
Depression of the brow can occur when excessive dosage is used, or if the injection area is too low or in patients where they are reliant on an increased resting tone in their frontalis muscle to keep their brows in position.7 This latter point can be demonstrated by asking the patient to look straight ahead with their head in a neutral position and asking them to close their eyes. If their brows drop when they close their eyes, they are not suitable for forehead treatment with botulinum toxin as this results in brow ptosis and instead may be more suitable for a surgical forehead lift.7
The incidence of brow ptosis is 1%,8 but should it occur, the brow can be lifted by injection of a few units of botulinum toxin (1-2 units of Botox/Bocouture at each injection site or 2.5-5 Speywood units of Azzalure) just beneath the arch and tail of the brow.7 However, caution needs to be taken to not cause a subsequent lid ptosis. In my experience, lowering the contralateral brow to improve symmetry may produce a more cosmetic outcome.
complications caused by botulinum toxin injections and
the methods of prevention Figure 1: Facial anatomy for toxin injections Sagging eyebrow Orbicularis oculi muscle Eyebrow lifting Glabellar lines Procerus & corrugator supercilii muscle Smooth vertical lines Forehead lines Frontalis muscle Soften horizontal forehead lines Crow's feet Orbicularis oculi muscle Smooth skin from the outer corner of the eye Bruxism Masseter muscle More oval face Gummy smile 1. Levator labii superioris 2. Levator labii superioris alaeque nasi 3. Zygomaticus minor Reduce an excessive gingival display Platysmal neck bands Platysma muscle Smoothing the bands and neck Chin dimpling Mentalis muscle Smoothing dimples Marionette lines Depressor anguli oris muscle Lifting corners of the mouth @aestheticsgroup @aestheticsjournaluk Aesthetics aestheticsjournal.com Reproduced from Aesthetics | Volume 9/Issue 7 - June 2022
Dr Martyn King provides an introduction into
outlines
Absolute contraindications
• Neuromuscular transmission disorder (such as myasthenia gravis, Eaton Lambert syndrome and amyotrophic lateral sclerosis)
• Current or recent aminoglycoside antibiotic use
• Infection or inflammation at injection site
• Previous allergic reaction to botulinum toxin treatment or human albumin solution
• Pregnancy
• Breast feeding • Children (under 18 years of age)
Table 1: Contraindications of botulinum toxin treatment16
Lid ptosis
Lid ptosis can occur when toxin spreads from the glabellar treatment area and affects the levator palpebrae superioris muscle, often from injections administered too low or excessive dosage.9 Nestor et al conducted a literature review including more than 17 journal articles and involving more than 6,000 patients, specifically looking at eye lid anatomy, pathogenesis, presentation, prevention and treatment of eyelid ptosis secondary to botulinum toxin treatment. Research shows that the risk can be reduced by ensuring that injection into the lateral corrugator supercilia muscle is superficial. If lid ptosis does occur, it can often be improved using 1% apraclonidine (Iopidine) eye drops, one or two drops up to three times a day.9 It is an alpha-adrenergic receptor antagonist and a mydriatic which acts on Müller's muscle (the superior tarsal muscle) and can lead to a 1-2mm elevation of the upper lid.9 In my experience, lower lid ptosis may occur when treating the eye roll, which can be caused by injecting too much product into the area. Anecdotally, it's known that a maximum dosage of 2 units of Botox and Bocouture, and 5 Speywood units of Azzalure should be used for this indication. Patients who have excessive skin laxity or prominent infraorbital fat pads are reliant on a small degree of hyperactivity of their orbicularis oculi muscle to prevent lower lid ptosis so if this is impeded by the administration of botulinum toxin, this can lead to some drooping. A snap test – where you pinch the skin and let it go to see how quickly it reverts back into place – should be performed prior to treatment. The lower eyelid skin should retain its original appearance within two seconds of performing the snap test. If this does not occur, it suggests lower lid skin laxity and the patient is unsuitable for treatment in this area.
Perioral ptosis
Smile and lip irregularities are possible from several botulinum toxin treatments, including treatment of the upper lip rhytids (smoker's lines), gummy smiles, masseters, melomental lines or mentalis.
If the lateral canthal lines (crow's feet) are injected too inferiorly, with excessive dosage or too great a dilution, the toxin may affect the zygomaticus major. This muscle extends from the zygomatic arch to the corner of the mouth at the modiolus and is responsible for lifting the corner of the mouth with smiling. If it is inadvertently affected by botulinum toxin, the patient will have an asymmetric smile. There is no specific treatment to rectify this, and patients often need to wait for the effects to wear off. Some patients may opt to have some toxin injected into the opposite side of the face to improve symmetry.7
Semchyshyn and Sengelmann published their clinical study of 18 patients, demonstrating that smoker's lines can be improved by the injection of 1-2 units of Botox/Bocouture or 2.5-5 Speywood units of Azzalure in four sites, avoiding the lateral quarters and superficial only.10 Even with successful treatment, a common side effect is that patients may notice some weakness making it difficult to whistle or
Relative contraindications
•
drink through a straw and they should be counselled on this prior to treatment. It is not a suitable procedure for those who rely on their voice for their profession, such as singers. Over treatment, injections too deep, too great a dilution, or injections too low can lead to some upper lip ptosis and irregularities on movement.
For the treatment of 'gummy smiles', the levator labii superioris alaeque nasi is injected because this muscle is responsible for elevating the upper lip and dilating the nostrils in a snarl expression. However, if too high a dose is used, this can lead to a ptosis of the lip when smiling, leading to a lack of show of the upper teeth.11
When treating the masseter muscles, injections should be placed deep, at least 1cm below the skin, so needles of 8mm length are not suitable for this treatment. If treatment is too anterior, there is a risk of weakening the risorius muscle, leading to a narrowed smile on animation. The risorius may be absent or vestigial in some people.12 A depressed corner of the mouth can be improved by injections into the depressor anguli oris muscle; this is a triangular muscle originating from the mandible and inserting into the corner of the mouth (Figure 1). It is safer to inject this muscle inferiorly to ensure that other expression muscles at the modiolus are not affected.12
Lower lid ptosis can also occur if the depressor labii inferioris is inadvertently targeted when treating the mentalis muscle for a dimpled chin. Injections in this area should be into each muscle pair, low down after palpating the muscle.12
The mephisto or Spock brow
The mephisto or Spock brow refers to the instance of a raised outer end of the brow, producing an intimidating and undesired appearance. This complication can happen when insufficient dosage of botulinum toxin is used in the lateral parts of the frontalis muscle and there is a paradoxical increase in muscle activity when the central portion is relaxed or from treating the glabellar complex too high and hitting frontalis. It is easily corrected by injection of further units in the lateral aspect of the upper frontalis muscle.13 However, over-correction may result in a brow ptosis so practitioners must take great care in their approach.7
Malar oedema
The orbicularis oculi muscle is a sphincter muscle and part of its function is in aiding lymphatic drainage in the under-eye area. By treating the crow's feet too medially, it may impair the sphincter activity and result in the accumulation of fluid in this region.4 Malar oedema is more common in certain people and patients seeking treatment should be asked if they are prone to swelling in this region, for example, after crying or a poor night's sleep. The incidence is also higher in patients taking certain medications, such as non-steroidal
Chronic disease/poor general health
•
Poor wound healing
•
Immunocompromise (acquired or drug-induced)
•
Undergoing treatment for cancer
•
Patients on anticoagulants or blood clotting disorders
•
Dysphagia
•
Eye movement disorders
•
Mental health problems/body dysmorphia
@aestheticsgroup @aestheticsjournaluk Aesthetics aestheticsjournal.com Reproduced from Aesthetics | Volume 9/Issue 7 - June 2022
anti-inflammatories, oestrogen, and calcium channel blockers.14 Treatment options include head elevation, cold compresses, and lymphatic drainage.14
Hypersensitivity reactions
There have been very few reported hypersensitivity reactions to botulinum toxin. However, if bacteriostatic saline has been used as a diluent, the benzyl alcohol added as a bacteriostatic preservative can lead to a localised reaction, including itching, hives, erythema, or a systemic reaction in more severe cases.15
Headache
Although toxin is a common treatment approach for migraines, a complication of toxin can actually be headaches. Clinical studies have shown that headaches are a common side-effect when treating horizontal forehead lines.16 It is unknown why this occurs, but could be due to a change in tension in the frontalis muscle or excessive contraction of the muscle in patients who have had treatment and are 'testing' the effect. In the author's view, this latter point is corroborated by the observation that patients who have never had treatment before are more likely to develop a headache than those who have had treatments previously.16
Muscle twitching
Although this is an uncommon effect of botulinum toxin treatment, muscle twitching can occur, usually starting within a few days of treatment and more frequently around the eye when treating crow's feet. Muscle twitching is listed as an uncommon side effect in the summary of product characteristics possibly due to some compensatory over-activity in neighbouring muscle that has not been affected by botulinum toxin treatment. It will often last a few days up to a week and settle spontaneously.16
Conclusion
Botulinum toxin treatments are one of the most popular treatments in aesthetic clinics and complications tend to be infrequent and relatively minor when conducted by an appropriately trained and experienced practitioner. However, it is important that injectors continuously audit their own practice and monitor their own continued professional development to ensure they are following best practice. If an unexpected complication occurs as the result of the product being used, it is important that the practitioner informs the pharmacovigilance department of the manufacturer and reports this to the MHRA via the Yellow Card system.
The ACE Group World will be holding its conference at CCR this year on October 13 and 14, scan the QR code to register your interest!
Aesthetics Clinical Advisory Board Member Dr Souphi Samizadeh reviewed this article and says...
Botulinum toxin injections are the most requested non-surgical cosmetic procedure carried out internationally and this trend has remained the same for many years. Botulinum toxins are potent toxins and can cause botulism and lead to death. As biological drugs for therapeutic and cosmetic purposes, they have a longstanding safety and efficacy profile. However, to benefit from its safety and efficacy, it should be administered by healthcare professionals with knowledge of anatomy, physiology, pharmacology and patient management and reputable and safe products to be obtained. Aesthetic practitioners must understand that various formulations are not interchangeable and be wary of fake or unlicensed products as even cosmetic doses cannot rule out chances of botulism. This is an excellent article on some of the complications caused by injections of botulinum toxin for cosmetic purposes (face) and the methods of prevention.
Test your knowledge!
Complete the multiple-choice questions and go online to receive your CPD certificate!
Questions
Answers: D, A, B, A, C
a.
Possible answers 1. Which of the following is an absolute contraindication to botulinum toxin treatment?
Huntington's disease b. Multiple sclerosis c. Parkinson's disease d. Amyotrophic lateral sclerosis 2. Which of the following does NOT increase the risk of bruising? a. Bromelain b. Alcohol c. Ibuprofen d. Cod liver oil 3. What can lid ptosis be treated with? a. Bimatoprost eye drops b. Apraclonidine eye drops c. Timolol eye drops d. Chloramphenicol eye drops 4. 'Gummy lines' can be improved by injecting which muscle? a. Levator labii superioris alaeque nasi b. Zygomaticus major c. Orbicularis oris d. Depressor angular oris 5. Which of the following is not effective for the management of malar oedema? a. Cold compresses b. Oral steroids c. Calcium channel blockers d. Lymphatic drainage
Dr Martyn King is the director of Cosmedic Skin Clinic, Cosmedic Online and Cosmedic Pharmacy. He is medical director of the ACE Group World, vice-chair of the Joint Council of Cosmetic Practitioners, a member of the British College of Aesthetic Medicine and board member for the British Association of Sclerotherapists.
Qual: MBChB, MSc, PGDip, PGCert
@aestheticsgroup @aestheticsjournaluk Aesthetics aestheticsjournal.com Reproduced from Aesthetics | Volume 9/Issue 7 - June 2022
Treating Milia
What is milia and how does it form?
There are commonly two types of milia; primary and secondary. Primary milia comprises benign, keratin-filled cysts, derived from the pilosebaceous follicle, seen just under the skin's surface,1 whereas secondary milia is an inflammatory condition characterised by plaques of milia.2,3,4 In children and adults (both men and women), they usually arise around the eye and on the cheeks; there is no evidence to explain exactly why these areas are affected more than others, but it may be because the skin is often thinner in these locations.5 Primary milia is frequently seen in infants, typically referred to as milk spots which often resolves itself. However, milia seen in adults is usually chronic; the evidence for why is unknown. It can be regarded as unsightly for some individuals and is difficult to cover with make-up due to its bumpy effect. The cause of milia in infants is also unclear, however there is some research that suggests milia in adults is caused initially by skin damage and/or the use of products with mineral oil and lanolin ingredients, such as emollients. It potentially arises because the skin is unable to absorb the product and there is a build-up within the follicle over time.6
It is not uncommon to see milia in aesthetic clinics as, nowadays, patients are frequently seeking skin rejuvenation treatments and may be conscious of this condition. Often, patients will have tried to treat their milia like regular breakouts but quickly learn that it isn't as easily resolved. In this article, I discuss the typical clinical presentations and how to treat and prevent milia.
Clinical presentation and diagnosis
Primary milia
On physical assessment, primary milia is firm, sub-dermal, uniform, pearly white to yellowish, with domed lesions usually measuring 1-3mm in diameter. The lesions are asymptomatic, non-itchy and commonly develop on the face, particularly around the eyes. It is common to see a single milia, as well as groups of 3-10 milium.5 No investigations are needed for the diagnosis of primary milia. The clinical appearance is diagnostic enough.6
Secondary milia
Secondary milia manifests as distinct plaques such as in Figure 1; this is a rare inflammatory condition characterised by plaques of milia in the periauricular area.2,3,4
These plaques can develop following trauma to the skin, for example, after a burn, in a blistering disorder such as epidermolysis bullosa, following a resurfacing skin treatment and even after tattooing.7,8 Secondary milia has also been described following potent topical corticosteroid use.9 These are all thought to be a result from damage to the pilosebaceous unit. Unlike primary milia (shown in Figure 2) which needs no further investigations, it is essential to investigate the underlying inflammatory condition that is present with secondary milia to address the initial problem to avoid secondary milia reoccurring.10
Multiple eruptive milia
Multiple eruptive milia is also a rare condition and is characterised by the sudden development of crops (patches) of milia over the course of weeks to months. If your patient has an acute history of milia it will need to be considered that they may be at risk of multiple eruptive milia.11,12 Eruptive milia can occur on the head, neck, and upper body.13 It is broken down into three categories:14,15
1. Spontaneous without a known cause or association (i.e. idiopathic)
2. A familial pattern with autosomal dominant transmission
3. A component of a genodermatoses. It is noted that only six cases of idiopathic multiple eruptive milia have been reported in the English literature14,15
Both primary milia and multiple eruptive milia have been reported as familial disorders with autosomal dominant inheritance.16,17
Management of milia
Although milia is harmless and treatment is not necessary, when the milia does not resolve itself (as it often does in babies) there are a few treatment options for adults to consider, which are now commonly being offered within aesthetic clinics.
No topical or systemic medications are effective to treat primary and secondary milia, however single case reports have demonstrated the success of topical tretinoin.16
Treatment options
Deroofing is the most commonly-utilised technique where a sterile needle pierces the skin, then the milia is taken out with the blade of the needle. The milia can often be scooped out whole, as it is
nurse prescriber Louise Walsh provides insight into the different types of milia and shares methods of treatment and prevention
Independent
@aestheticsgroup @aestheticsjournaluk Aesthetics aestheticsjournal.com Reproduced from Aesthetics | Volume 9/Issue 7 - June 2022
Figure 1: Secondary milia resulting from a chemical burn, potentially from a skin peel where the eyes weren't protected adequately. Images courtesy of Primary Care Dermatology Society22
Differential diagnosis
To avoid misdiagnosis and incorrect choice of treatment, it is always worth ruling out other skin conditions which may appear similar on assessment, such as:
• Acne vulgaris: specifically the closed comedones on the face
• Syringoma: skin coloured lesions around the eyes
• Xanthelasma: yellow plaques around the eyes
• Trichoepithelioma: slow-growing, single or multiple papules or nodules on the face
quite firm in texture. For a successful outcome, it is important to ensure the whole milium is removed. This procedure is fast and has minimal risks if an aseptic technique is followed. It typically leaves the patient with a small graze where the milia was, which should heal quickly.
Hyfrecation can be used to shatter and dehydrate the cyst.18 With this treatment option, a fine tip needle is used which delivers either an electric current or radiofrequency. This is usually only available in clinics where there is a dermatologist working within the team.
As well as this, cryotherapy is sometimes used to freeze the cyst; this can leave a small blister, which should resolve over a week or so. Secondary milia has also been treated effectively with electrodesiccation (the drying of tissue through the use of electrical current) or carbon dioxide laser (also known as CO2 laser that uses short pulsed light energy).19-21
Risks and complications of treatment
When choosing an appropriate treatment method, it is vital to be confident and competent with the procedure and its associated risks and outcomes. Milia is often located near the eyes, which makes it a high-risk region to work on. It is important that you have a steady hand and your patient is reassured and unlikely to jump. Clearly detailing what is to come in your consultation process should help to prevent this. As with most treatments that compromise the skin, infection, bleeding and swelling are all potential risks. Scarring needs to be discussed thoroughly during the consultation process as some patients may prefer to keep the milia, rather than gain a possible scar. The treatment options mentioned will cause discomfort and others may require local anaesthetic, (for the treatment of hyfrecation, for example) which then carries risks of allergic reactions. None of the procedures can guarantee that the milia will be completely removed, although a good result is commonplace. It is also important to manage patients' expectations as milia can return.
Prevention advice
As milia can return, retinols (under guidance) and gentle skin peels are recommended to keep the skin soft and encourage cell renewal, if suitable for the patient's skin-type and lifestyle.23 It is also good practice to remind patients to avoid skin products which contain mineral oils and lanolin to prevent the chances of reoccurrence.
Conclusion
Primary milia is completely harmless and very common. In our current times, our patients are more-often-than-not striving for immaculate unblemished skin, so the desire for milia to be removed is on the increase and having the skill to do so is a great asset to any practice.
Louise Walsh is an independent nurse prescriber, dermatology nurse, the owner of aesthetics business
The Skin Nurse and practises at The Waldegrave Clinic in Teddington, London. Walsh has experience with various types of wound care and skin management approaches, both post operatively and in an urgent care setting, and now carries out minor-op procedures and acne clinics for the NHS.
REFERENCES
1. Kurokawa I, Kakuno A, Tsubura A. Milia may originate from the outermost layers of the hair bulge of the outer root sheath: A case report. Oncol Lett. 2016 Dec. 12 (6):5190-5192.
2. Garcia Sanchez MS, Gomez Centeno P, Rosen E, Sanchez-Aguilar D, Fernandez-Redondo V, Toribio J. Milia en plaque in a bilateral submandibular distribution. Clin Exp Dermatol. 1998 Sep. 23(5):227-9.
3. Castelvetere M. Milia en plaque. J Eur Acad Dermatol Venereol. 1999 Mar. 12(2):195-6.
4. Garcia Sanchez MS, Gomez Centeno P, Rosen E, Sanchez-Aguilar D, Fernandez-Redondo V, Toribio J. Milia en plaque in a bilateral submandibular distribution. Clin Exp Dermatol. 1998 Sep. 23(5):227-9.
5. Ratnavel RC, Handfield-Jones SE, Norris PG. Milia restricted to the eyelids. Clin Exp Dermatol. 1995 Mar. 20(2):153-4.
6. Charles M G Archer, MBBS, MRCP(UK) Milia Clinical Presentation. Updated: Mar 10, 2017 https:// emedicine.medscape.com/article/1058063-clinical#b3 [accessed 16.01.19].
7. Calabrese P, Pellicano R, Lomuto M, Castelvetere M. Milia en plaque. J Eur Acad Dermatol Venereol. 1999 Mar. 12(2):195-6.
8. Miller LM, Schwartz JT, Cho S. Milia: a unique reaction to tattoos. Cutis. 2011 Apr. 87(4):195-6.
9. Connelly T. Eruptive milia and rapid response to topical tretinoin. Arch Dermatol. 2008 Jun. 144(6):816-7.
10. Berk D, Bayliss S, Milia: A review and classification, Journal of the American Academy of Dermatology, December 2008
11. Garcia Sanchez MS, Gomez Centeno P, Rosen E, Sanchez-Aguilar D, Fernandez-Redondo V, Toribio J. Milia en plaque in a bilateral submandibular distribution. Clin Exp Dermatol. 1998 Sep. 23(5):227-9.
12. Calabrese P, Pellicano R, Lomuto M, Castelvetere M. Milia en plaque. J Eur Acad Dermatol Venereol. 1999 Mar. 12(2):195-6.
13. Langley RG, Walsh NM, Ross JB. Multiple eruptive milia: report of a case, review of the literature, and a classification. J Am Acad Dermatol. 1997 Aug. 37(2 Pt 2):353-6.
14. Multiple eruptive milia in a 9-year-old boy. Diba VC, Handfield-Jones S, Rytina E, Hall P, Burrows N Pediatr Dermatol. 2008 Jul-Aug; 25(4):474-6.
15. Review Multiple eruptive milia: report of a case, review of the literature, and a classification. Langley RG, Walsh NM, Ross JB J Am Acad Dermatol. 1997 Aug; 37(2 Pt 2):353-6
16. Rutter KJ, Judge MR. Profuse congenital milia in a family. Pediatr Dermatol. 2009 Jan-Feb. 26(1):62-4.
17. Heard MG, Horton WH, Hambrick GW Jr. The familial occurrence of multiple eruptive milia. Birth Defects Orig Artic Ser. 1971 Jun. 7(8):333-7.
18. Graham-Brown R, Burns T, Dermatology, Lecture Notes, Wiley Blackwell, 10th Edition, 2011
19. George DE, Wasko CA, Hsu S. Surgical pearl: evacuation of milia with a paper clip. J Am Acad Dermatol. 2006 Feb. 54(2):326.
20. Sandhu K, Gupta S, Handa S. CO2 laser therapy for Milia en plaque. J Dermatolog Treat. 2003 Dec. 14(4):253-5.
21. Noto G, Dawber R. Milia en plaque: treatment with open spray cryosurgery. Acta Derm Venereol. 2001 Oct-Nov. 81(5):370-1.
22. The Primary Care Dermatology Society (PCDS), <http://www.pcds.org.uk/>
23. Kluk J, Understanding Retinol Tolerance, Aesthetics journal, December 2018 < https:// aestheticsjournal.com/feature/understanding-retinol-tolerance>
Figure 2: A single primary milia. Images courtesy of Primary Care Dermatology Society22
@aestheticsgroup @aestheticsjournaluk Aesthetics aestheticsjournal.com Reproduced from Aesthetics | Volume 9/Issue 7 - June 2022
It is not uncommon to see milia in aesthetic clinics as, nowadays, patients are frequently seeking skin rejuvenation treatments and may be conscious of this condition
EXIT SHADOWS TAKE CONTROL OF UNDER-EYE HOLLOWS AND MASTER TEAR TROUGH TREATMENTS ENTER LIGHT 1. Nikolis et al . A Randomized, Crossover-Controlled Evaluator-Blinded Trial Evaluating Cannula - Vs Needle-Assisted Hyaluronic Acid Injections for Infraorbital Deformities. ASJ 7-2021. 2. Data on file (MA-49047). Expert recommendations on the use of hyaluronic acid filler for tear trough rejuvenation, 2021. 3. Data on file (MA-39680). Global 50 Million Restylane Treatments, 2021 (Restylane 25 years valid from September 30, 2021). #EnterLight with us on Instagram and follow @Galderma.AestheticsUK TARGETED. RECOMMENDED. TRUSTED.1-3 Restylane and Galderma are registered trademarks. UKI-RES-2200046 DOP May 2022
Adverse events should be reported.
For the UK. Reporting forms and information can be found at www.mhra.gov.uk/yellowcard or search for Yellow Card in the Google Play or Apple App Store.
For Ireland. Suspected adverse events can be reported via HPRA Pharmacovigilance, Website: www.hpra.ie; Adverse events should also be reported to Galderma (UK) Ltd, Email: medinfo.uk@galderma.com Tel: +44 (0) 300 3035674
94.3% - would do the treatment again1 - would recommend the treatment to a friend1
AESTHETICSJOURNAL.COM Keep up-to-date with the latest aesthetic developments and best practice guidance on your desktop, tablet or phone AESTHETICSJOURNAL.COM @aestheticsjournaluk Aesthetics @aestheticsgroup
Treating the Lower Face
Mr James Olding presents a successful case study
Consultation
A 40-year-old man, originally from Brazil, presented to my clinic after being recommended by a friend. He was interested in a consultation regarding the jaw and chin, as he wanted more definition in this area, with a natural looking outcome. Every consultation should have a medical approach, exploring history: medication, allergies, and psychiatric/mental health (particularly screening for body dysmorphic disorder). You should also ask about treatment motivations, and previous procedures and outcomes. This patient had no dermal filler contraindications to note.
Examination
My holistic 'first look' assessment is based on three key factors. Does the patient look (1) Youthful, (2) Natural, and (3) Masculine/Feminine? This patient had a youthful, natural and masculine appearance. I then do a geometric examination – he had equal facial thirds in the vertical, mild asymmetry of the chin in transverse, and a skeletal two base in the anteroposterior dimension. Then there is the artistic consideration – the patient had excellent skin texture and good midface volume and contour. The gender should also be considered and he wanted a masculine appearance which corresponds to this patient's gender. Finally I look at the emotional aspects. The patient did not express any negative emotional attributes regarding his appearance and was happy with his appearance in general, had realistic expectations and I was in agreement with the goals that he conveyed to me as being appropriate and attainable. Following the examination, we discussed the treatment plan, costs, aftercare and gathered informed consent.
Treatment
To enhance this patient's lower face definition, the most appropriate treatment in my opinion was to inject Juvéderm Volux due to the filler's high cohesivity1 and high G prime.2 It lasts up to 18-24 months3,4 and has 25mg/ml hyaluronic acid.5 In the labiomental crease, I used a fanning technique and also injected small amounts of product anterograde to anaesthetise this sensitive area, as well as opening up tissue spaces to ease the pass of the cannula. In the pogonion, I placed product laterally to create a wide, angular jaw (to ensure a masculine look). There was different volume placement to address mild asymmetry (in the chin and at gonion). Table 1 details the injection locations and technique chosen for this patient; a total of 5.3ml was injected. The anatomy must always be respected. The main concerns for this treatment were the facial artery (runs deep against the bone just anterior to the masseter muscle), the parotid gland and the facial nerve. When using my introducer needle for cannula use in the gonial angle (JW1) area, I pinch the skin away from the jaw, and ensure I pierce just the skin itself, going no deeper. Depth is also key when it comes to the parotid gland – there is a tough fascia overlying the gland that would be very difficult to pierce when using a cannula in a safe manner, applying appropriate amounts of force. Provided the introducer needle is placed at the right depth and no undue force is applied when using the cannula (it should never bend), then you will be in the suprafascial layer – exactly where you want to place product.
Results
The treatment went to plan, and no complications occurred. We carried out a two-week follow-up and undertook no further treatment. The patient was extremely pleased with the results. He now has more facial symmetry and a more masculine appearance due to an improved projection of the chin and volume at the labiomental crease to mask a skeletal 2 base, a greater bigonial distance and a wider, more squared off chin. Based on his next assessment, I may recommend a biostimulating treatment to improve skin architecture using the new HArmonyCa product.
Mr James Olding is a specialty registrar in oral and maxillofacial surgery in London. He is dual qualified in both medicine and dentistry. In addition to his NHS role, Mr Olding is an aesthetic doctor and injectables trainer, and a Faculty member of the Allergan Medical Institute (AMI).
REFERENCES 1. Allergan. Unpublished Data. INT/0011/2018a(1). Juvéderm gel cohesivity data. May 2018 2. Allergan. Unpublished Data. INT/0141/2019. Juvederm (gel elasticity G') data. Mar 2019 3. Ogilvie P et al. Aesthet Surg J.2020;40:NP 499-510. 4. Allergan Aesthetics. Unpublished Data. INT-VOX-2150005. Juvederm VOLUX: Final Clinical Evaluation Report 2019. Apr 2021. 5. Juvederm Volux DFU. 73651JR10. Revision 2019-09-09
DOP:
May
Area Instrument Volume R Volume L Angle Mandible (periosteum) JW1 Needle 27G
Cannula
Cannula
Material produced and funded by Allergan Aesthetics, an AbbVie company. www.allerganaesthetics.co.uk
UK-JUV-220124
2022
0.5 0.5 Angle mandible (subcut) JW1
25G 38mm 0.4 0.6 Pre-auricular (subcut) JW2
25G 38mm 0.5 0.5 Labiomental Crease (subcut) C1 Cannula 25G 38mm 0.5 0.5 Pogonion (Subcut) C1 Cannula 25G 38mm 0.2 0.1 Lateral Chin Periosteum C5 Needle 27G 0.5 0.5 Table 1: Details of injection technique using Volux
Disclaimer: this article is based on Mr Olding's personal technique. Allergan Aesthetics respect the fact that ultimate decisions regarding patient care lies with the treating HCP and the patient. Side effects should be reported: yellowcard.mhra.gov.uk in the UK and www.hpra.ie in Ireland. Juvéderm is only licensed for patients over the age of 18.
37 @aestheticsgroup @aestheticsjournaluk Aesthetics aestheticsjournal.com Aesthetics | June 2022
Allergan Aesthetics 40-year-old patient before and two weeks after 5.3ml of Volux
Advertorial
Before After
A broad range of indications for face and body treatments
juvenus is easy to inject and specifically designed to treat a variety of skin concerns of the face and body, with instantly visible results. The moisturising and antioxidative activity help create the optimal environment for the growth of fibroblasts, which leads to an improved tissue elasticity.
The medical practitioner confi rms having informed the patient of a likely risk associated with the use of the medical device in line with its intended use. Please consult the instructions for use in order to choose the right product for each specifi c indication. Available with CE 0373 Croma-Pharma UK T: +44 118 206 6513 | Info.uk@cromapharma.com https://at.croma.at | cromapharmauk
age: 55 | treated areas: left hand age: 58 | treated areas: neck and décolleté
before after before after Treatment results
Using Polynucleotides for Skin Rejuvenation
Dr Agnieszka Surowiecka explores
Knowledge of the ageing processes in the face is mandatory for every aesthetic practitioner. There are three primary types of ageing that can be distinguished: intrinsic (e.g hormones), mimetic (e.g muscle ageing), and extrinsic (e.g photoageing). Photoageing and other external factors lead to skin thinning, fine lines, melasma, and telangiectasias.1,2 Decline in synthesis of collagen (primarily type III, but also type I), elastin, and other extracellular proteins of the dermis results in its flaccidity. Bony resorption and loss of volume in the facial fat pads are a widely known phenomena. Laxity and ptosis, characteristic of ageing, are also a consequence of muscle thinning and contraction, as well as flaccidity of the facial ligaments. These ligaments and septa separate the individual compartments of the face. When they lose their stiffness, drooping of the tissue becomes visible.3-6
Aesthetics is a branch of medicine that is devoted to preventing changes that result from the passage of time, and to restore what has been lost. Bearing in mind the mechanics of facial ageing, the aesthetic practitioner needs to improve the quality of the face on every level. To restore age-related changes, it is necessary to rebuild lost volume, strengthen the ligaments, and improve skin quality. There is no single procedure that would allow a practitioner to achieve comprehensive rejuvenation. That is why a combined and individualised protocol needs to be introduced. In my experience, devitalised and thin skin should first be stimulated and tightened, before more invasive procedures can be administered.
Polynucleotides actively fight the first signs of ageing and protect skin from damage caused by photoageing. The structure of polynucleotides (Figure 1) and aromatic rings capture free radicals,7,8 initiate DNA salvage pathways and protects fibroblasts' DNA damage caused by UV radiation.9,10 The aim of this article is to describe non-pyrogenic resorbable gel with polynucleotides for aesthetic indications that can serve as biorevitalisant and biostimulant.
Skin stimulants
The first 'skin boosters' were based on small-particle hyaluronic acid (HA). Their main indication was skin enhancement and improvement of superficial wrinkles.11 'Skin boosters' or skin stimulants do not restore volume loss, but are indicated to improve skin hydration, elasticity and overall quality. The market of biostimulators is rapidly developing. There are products available that are soft tissue fillers and have an additional biostimulating effects, such as fillers based on 33% or 55.7% calcium hydroxyapatite or based on polycaprolactone.12
Other biostimulators that are resorbable and are not fillers include low molecular weight and non-cross-linked HA, polypeptides, or amino acids.13,14 HA with a molecular weight below 50kD stimulates endothelial cells, and with a mass of 50-500kD it stimulates fibroblasts to produce endogenous HA and collagen through the CD44 membrane receptor.13 Polypeptides work on a 'lock-key' principle,14 and the available polypeptide cocktails contain such combinations as to activate selected mechanisms, for example, to prevent hair loss. Amino acid cocktails primarily nourish the extracellular matrix.15
Polynucleotide gels are not fillers, as they
1: The structure of polynucelotides
@aestheticsgroup @aestheticsjournaluk Aesthetics aestheticsjournal.com Reproduced from Aesthetics | Volume 9/Issue 7 - June 2022
the use of injectable polynucleotides
restructuring
rejuvenating
H N N N N N N N N N N N H H H N N H N H N H H P P P P P P
for
and
the skin
Figure
don't restore volume and are completely absorbed, with a half-life of approximately three hours. Therefore, polynucleotides present the broadest spectrum of action through hydration, antioxidation and stimulation of fibroblasts. They increase the ability of skin fibroblasts to synthesise collagen, elastin and endogenous HA by ensuring an optimal extracellular environment.16 Furthermore, they stimulate the natural mechanisms of tissue reconstruction and repair and have anti-inflammatory properties.10 Polynucleotides have been used successfully in the treatment of chronic wounds, including those associated with vascular ulceration or diabetes.7,9
Mechanism of action
Polynucleotide gel is highly purified by a heat treatment process. The half-life of polynucleotides is three to three and a half hours.17 In serum, they do not bind to proteins.18 Polynucleotides are mainly degraded by non-specific nucleases. The active metabolites have capacity to activate fibroblasts' surface receptor activity, and adding polynucleotides to fibroblast cultures stimulates their growth and proliferation. The stimulation of fibroblasts' differentiation into myofibroblasts occurs through the activation of the CD40 receptor and the adenosine A2a receptor.7,17,19 Moreover, binding to the A2 receptor has a strong anti-inflammatory effect through the secretion of cytokines such as interleukin 10 (IL-10)17 or growth factors for fibroblasts and endothelium. Increased secretion of VEGF stimulates neoangiogenesis and significantly improves tissue healing.20-22 Moreover, after binding to the CD39 receptor, the secretion of collagen and extracellular matrix proteins is stimulated.7 Finally, the specific structure of polynucleotide molecules with free, highly hydrophilic phosphate groups ensures extended iso-osmotic hydration.8 This effect is independent of the age and condition of the skin.23 Free polyanionic groups strongly bind water molecules like an electrostatic sponge, ensuring iso-osmotic hydration of the extracellular matrix.17
Indications
The registered indications for polynucleotides include dehydrated skin with wrinkles, signs of photoageing and loss of elasticity.8,16 An Italian group of researchers have recently published indications for the use of polynucleotide-based gels.24 These are the improvement of the quality and thickening of the skin of the face and body, scar and stretch mark therapy, as well as hair loss therapy.23 The action of polynucleotides depends primarily on the structure of the particle, so the advantages should benefit patients of all ages. However, in my personal opinion, it is still a biostimulator, thus polynucleotides should be used with caution in patients under the age of 30, or with active, severe autoimmune diseases and neoplastic processes.
A series of three to four procedures with an interval of approximately four weeks is most often recommended.24 From my experience, the best results and global skin quality improvement is observed after four weeks from the end of the series. The first noticeable signs of skin improvement by a patient is better moisturisation of the skin, which appears a day after injection due to active metabolites. Improvement in texture, skin elasticity, flexibility, thickening, and regeneration are visible after four weeks.8,16,24
The average volume of polynucleotides used in the literature is approximately 1ml per side, leaving fine deposits of 0.05ml but the protocols differ from the product.8,25 Polynucleotides can be
successfully used for facial rejuvenation on the neck, décolletage and body, and the effects are visible after the first treatment.8,26 Polynucleotides can be also implemented in combined treatments of striae and hypotrophic scars.24 In my experience, for best results, the deposits should be injected in the deep dermis and more superficial and bigger deposits might cause transient lumping and irritation. There are several techniques that could be used, both with a needle or a blunt cannula. Linear threading, serial puncture, crosshatching or fanning can be used depending on skin quality and the practitioner's expertise. Contraindications for the procedure include active infections, autoimmune and cancerous diseases, pregnancy and lactation.26 It is not recommended to apply high molecular and dense products (20mg/ml or 25mg/ml) to the lower eyelid area and periorbital area. The use of antiplatelet and anticoagulant drugs is a relative contraindication.27
Polynucleotide chains are processed at high temperatures, ensuring purification up to 95% and, consequently, have a low content of inactive proteins and peptides.17 As a result, they are immunologically indifferent and have a very low risk of causing an allergic reaction.8 No serious adverse reactions have been reported in the available literature.25,26 The most reported reactions are redness and itching that appeared after the second or third treatments in the series. After application to the lower eyelid area, a few cases of papules were observed that lasted for 14 days.24,27 Before the injection of polynucleotides, the patient should be carefully examined, and the injection points determined. In the case of a visible percutaneous vessel or a palpable pulse in a designated area, the site should be moved. After inserting the needle into the subcutaneous tissue, slow aspiration is recommended. One series in one area per year is recommended.27
Before After
@aestheticsgroup @aestheticsjournaluk Aesthetics aestheticsjournal.com Reproduced from Aesthetics | Volume 9/Issue 7 - June 2022
Before the injection of polynucleotides, the patient should be carefully examined, and the injection points determined
Figure 2: 50-year-old female before and after three sessions of three polynucleotide treatments every four weeks, using 2ml of polynucleotide gel.
Case series
Long-chain polynucleotides can be used regardless of skin type to improve skin density and quality.26 From March 2020, I injected 250 patients with polynucleotide gel. No serious side effects were observed. The most common side effect was bruising and oedema, especially when larger deposits of the products were administrated. Oedema was transient and ceased spontaneously. One patient reported itching after the procedure. Some patients feel tenderness in the injection points for few days. The level of pain during the procedure is minimal and in most cases it is feasible without topical anaesthesia, however in my experience some patients feel subtle skin burning while injecting the gel. Usually, a series of three procedures every four weeks was performed, but sometimes a shortened interval of two weeks was performed without negative outcomes. In the observation, the results lasted for 12 months and were stable after the third session. Polynucleotides were used to improve the skin quality as well as to prepare the skin for more invasive treatments like fillers, threads or surgical interventions. An interval of four weeks was maintained between polynucleotides and other procedures. Although there are no written recommendations, most of the physicians agree that injecting different skin boosters in the same area might bring unpredictable results. If a patient had a dermal filler treatment or threads before polynucleotides, the procedure was postponed for four weeks up to six months depending on the substance (for dermal filler with stimulating activity over six months in the same treatment area). Still, no recommendations are stated and it is up to the practitioner to choose the best treatment.
Before After
Figure 3: A 52-year-old patient before and after three polynucleotide treatments in the neck every four weeks using polynucleotide gel.
Case 1: 50-year-old patient
For this 50-year-old female, three sessions every four weeks were done, using a serial puncture technique and 2ml of polynucleotide gel 25mg/ml (Figure 2.) The deposits of 0.01ml were injected in the deep dermis with a 30 gauge needle. There were 10 points used on each side, in the area of zygomatic-temporal suture, laterally from the nasolabial fold, in the preauricular area, in the chin area and at the angle of the jaw. The first impression reported by the patient was a feeling of skin hydration and smoothness that was observed a day after the procedure. After three sessions a visible improvement in skin density, fine lines and jawline was visible.
Case 2: 52-year-old patient
Gel containing polynucleotides 20mg/ml was used for this 52-year-old patient for the skin rejuvenation of the neck. The protocol consisted of three sessions every four weeks. A serial puncture technique with
a 30 gauge needle was used. The injected areas were the neck and the submandibular region. Figure 3 shows improvements in skin texture, reduction in skin laxity and coarse wrinkles.
Stimulating the skin
Gel containing polynucleotides is a safe and efficient method for skin rejuvenation. It improves skin hydration, fights against free radicals and stimulates fibroblast to secrete collagen. No serious side effects have been reported. The most common side effect observed was transient oedema, especially when deposits larger than 0.1ml where left in during one injection.
Dr Agnieszka Surowiecka is a general surgeon working in the field of aesthetics and regenerative medicine with a doctorate in plastic surgery, plastic surgery resident. She graduated from Warsaw Medical University in 2012 and has contributed to several national and international studies in regenerative medicine and dressings. Dr Surowiecka is an international trainer for tissue biostimulators, threads, dermal fillers and autologous cell therapy.
REFERENCES
1. Mekić S, Hamer MA, Wigmann C, Gunn DA, Kayser M, Jacobs LC, Schikowski T, Nijsten T, Pardo LM. Epidemiology and determinants of facial telangiectasia: a cross-sectional study. J Eur Acad Dermatol Venereol. 2020
2. Kim EH, Kim YC, Lee ES, Kang HY. The vascular characteristics of melasma. J Dermatol Sci. 2007
3. Cotofana S, Fratila A, Schenck T, Redka-Swoboda W, Zilinsky I, Pavicic T., The Anatomy of the Aging Face: A Review Facial Plast Surg 2016
4. Zoumalan RA , Larrabee WF Anatomic Considerations in the Aging Face Facial Plast Surg 2011;
5. Mendelson, B, Wong. C "I Aesthetic Surgery of the Face 6 Anatomy of the aging face, 2012
6. Alghoul M, Codner MA, Retaining Ligaments of the Face: Review of Anatomy and Clinical Applications , Aesthetic Surgery Journal, Volume 33, Issue 6, 1 August 2013
7. Kim, J.H., Kwon, T., Lee, S.E. et al. Comparative Evaluation of the Effectiveness of Novel Hyaluronic Acid-Polynucleotide Complex Dermal Filler. Sci Rep 2020
8. Park K.Y., Seok J., Rho N.K., Kim B.J., Kim M.N. Long-chain polynucleotide filler for skin rejuvenation: efficacy and complications in five patients. Dermatol Ther 2016
9. Galeano M., Bitto A., Altavilla D., Minutoli L., Polito F. et al. Polydeoxyribonucleotide stimulates angiogenesis and wound healing in the genetically diabetic mouse. Wound Repair Regen. 2008, 16, 208-217Iorizzo M., De Padova M.P., Tosti A. Biorejuvenation: theory and practice. Clin Dermatol 2008
10. Ye J.L., Hak T.K., You J.L., Seung H.P., Young S. M. et al. Comparison of the effects of polynucleotide and hyaluronic acid fillers on periocular rejuvenation: a randomized, double-blind, split-face trial, J Dermatol Treatment 2020
11. Bertucci V, Lynde CB. Current Concepts in the Use of Small-Particle Hyaluronic Acid. Plast Reconstr Surg. 2015
12. Sturm LP, Cooter RD, Mutimer KL, Graham JC, Maddern GJ. A systematic review of dermal fillers for age-related lines and wrinkles. ANZ J Surg. 2011
13. de Almeida AT, Figueredo V, da Cunha ALG, Casabona G, Costa de Faria JR, Alves EV, Sato M, Branco A, Guarnieri C, Palermo E. Consensus Recommendations for the Use of Hyperdiluted Calcium Hydroxyapatite (Radiesse) as a Face and Body Biostimulatory Agent. Plast Reconstr Surg Glob Open. 2019
14. Horwacik, Irena, et al. "Structural basis of GD2 ganglioside and mimetic peptide recognition by 14G2a antibody." Molecular & Cellular Proteomics, 2015
15. Kandhari R, Kaur I, Sharma D. Mesococktails and mesoproducts in aesthetic dermatology. Dermatol Ther. 2020
16. Iorizzo M., De Padova M.P., Tosti A. Biorejuvenation: theory and practice. Clin Dermatol 2008
17. Squadrito F., Bitto A., Irrera N., Pizzino G., Pallio G. et al. Pharmacological Activityand Clinical Use of PDRN, Front. Pharmacol, 2017 ront Pharmacol. 2017
18. Cavallini M., Papagni M. Long chain polynucleotides gel and skin biorevitalization, J Plastic Dermatol 2007 19. Hinz B. The role of myofibroblasts in wound healing, Curr Res Transl Med 2016 20. Polito, F., Bitto, A., Galeano, M., Irrera, N., Marini, H. et al. Polydeoxyribonucleotide restores blood flow in an experimental model of ischemic skin flaps. J Vascular Surg 2012 21. Chung K.I., Kim H.K., Kim W.S., Bae T.H. The effects of polydeoxyribonucleotide on the survival of random pattern skin flaps in rats. Arch Plast Surg 2013 22. Bitto A., Galeano M., Squadrito F., Minutoli L., Polito F. et al. Polydeoxyribonucleotide improves angiogenesis and wound healing in experimental thermal injury. Crit Care Med 2008 23. Amorosa A., Di Pasquale B., Clemencia O. Cutaneous biorestructuration with polynucleotide-based intradermal gel: clinical experience and pilot study; AAAM 2020 24. Cavallini, M., Bartoletti, E., Maioli, L., Massirone, A., Pia Palmieri, I., Papagni, M., Priori, M., & Trocchi, G. (2020). Consensus report on the use of PN‐HPT™ (polynucleotides highly purified technology) in aesthetic medicine. Journal of Cosmetic Dermatology, 25. Cillard J., Cillard P., Ranson M. Prooxidant effect of alpha-tocopherol on essential fatty acids in aqueous media, Ann Nutr Aliment 1980 26. Jeong G.J., Ahn G.R., Park S.J., Hong J.Y., Kim B.J. A randomized, patient/evaluator‐blinded, split‐face study to compare the efficacy and safety of polycaprolactone and polynucleotide fillers in the correction of crow's feet: The latest biostimulatory dermal filler for crow's feet. J Cosmet Dermatol. 2020 27. A.Surowiecka,w. Barańska-Rybak, Polinucleotides, Polinucleotides, Functional Medicine and Medical Aesthethics, 2021
@aestheticsgroup @aestheticsjournaluk Aesthetics aestheticsjournal.com Reproduced from Aesthetics | Volume 9/Issue 7 - June 2022
A Career at the Forefront of Innovation
revolutionary and perfect partners for us as we share the same values and vision. Revanesse®'s safety profile is impressive, and its unique qualities make it a filler of the future. I like things committed to innovation and improving the aesthetics industry. I have been using Revanesse® dermal fillers in my clinic in Paris and I've become addicted to using them. My favourite is Revanesse® Kiss combined with my 25 gauge EasyGuide cannula to treat the perioral region. I couldn't believe the results – virtually zero swelling and beautifully crisp results.
What's next for yourself and the brands?
How has the dermal filler landscape changed?
I have seen a lot of changes since I began working in aesthetics in 1998. Things were simple back then; we had two fillers – collagen and hyaluronic acid – and our tools were needles. Slowly, the industry evolved and created different types of HA – classic for all indications and one that was viscous for volumisation in 2004. Practitioners were disappointed because at the time we knew needles weren't the right tool to inject with, so I used a cannula and decided to work with the industry to launch a range of micro cannulas. In 2009 I created SoftFil® and the 'soft filling' technique which allows for one insertion point.
You launched the STOP facial ageing method with the one point technique, can you describe it?
To avoid trauma, bruises and pain we use only one injection point, inject at different levels and across a large area. It was new, safer, less invasive and a more comfortable method. We created a lifting effect in the skin by covering a large area superficially. The insertion point is chosen strategically for safety, away from any danger points. This was developed into an award-winning method called 'soft filling'. With one insertion point different filler products can be used – it's revolutionary. The STOP facial ageing method involves two steps of injection –one deep and one superficial. We can also add a third layer of skin boosters for skin quality.
I'm always thinking about the next step to help aesthetics evolve. I am working on a new method for injecting the face and neck with only one insertion point and I'm actively training injectors globally. I love innovation and training – the two influence each other. Also, continuing to see patients allows me to remain at the forefront of the industry.
Prollenium® | One of The Fastest Growing Dermal Filler Companies
As HAs were evolving, so were the tools! Viscous products were created as it was deemed safe to inject with the cannulas that we developed. SoftFil® has 23 different cannula lengths for the face and body, suitable for beginners and experts. They contain markers to help locate the tip (graduations), have the roundest tip on the market with a balance between rigidity and flexibility. It's easier to slide into the fat as the steel is silicone-coated. A red dot indicates where the product will emerge. We have the award-winning EasyGuide pre-hole needle, a patented device to insert the cannula in a single action.
Which of your innovations are you most proud of?
I am very proud of my recent innovation Topilase® – a topical hyaluronidase. It was launched abroad last year, and doctors have been trying it and have been amazed at the results. Hyaluronidase can cause allergies and people are worried about using it as it can create holes in the tissue – I wanted a topical product for this reason. There is a limited risk of an allergic reaction as it is not injected, so there are no side effects! Topilase® makes it easy to remove any unwanted HA. It's won three awards and I'm proud as it took five years to develop. It can take a few minutes to work depending on how recent the product was injected but typically it's usually three sessions once a week for optimal results.
Prollenium® recently acquired SoftFil®. What does this mean for the brand and why do you feel Prollenium®'s filler Revanesse® and SoftFil® are perfect partners?
Prollenium® is building a strong aesthetic empire. SoftFil® is designed to push the borders of innovation to achieve beautiful, precise but importantly safe results. Prollenium®'s products are
Prollenium® Medical Technologies was founded in 2002 as a distributor of aesthetic lasers and thereafter pivoted to dermal fillers. In 2008, Prollenium® made the move to bring all research and development in-house with the goal of developing its own advanced HA formulation. In 2011, Prollenium® opened the first manufacturing facility for HA dermal fillers in North America to ensure that its products adhered to the highest quality standards. Prollenium® remains the only manufacturer of HA dermal fillers in North America, now operating out of two state of the art manufacturing facilities. To this day each syringe is still individually inspected for quality assurance before leaving the facility. Prollenium® now sells its dermal filler products around the world and is one of the few companies to obtain US FDA approval.
This advertorial was written and supplied by Prollenium
For more information about Prollenium® and Revanesse®, SoftFil®, please contact: info@prollenium.co.uk or info@SoftFil.com
How have SoftFil® cannulas impacted the industry and what are their benefits?
43 @aestheticsgroup @aestheticsjournaluk Aesthetics aestheticsjournal.com Aesthetics | June 2022
As Prollenium acquires aesthetic leaders SoftFil® CEO Dr Sandrine Sebban explores what this means for the industry
Advertorial Prollenium
Case Study: Fat Dissolving Complications
Having unique services and being an expert in what you provide is important both for a successful business and for patient safety and satisfaction. This includes being well-prepared for managing the complications. This article discusses the possible adverse effects following deoxycholic acid for the purpose of fat reduction. It also presents a case study with long-lasting cutaneous adverse events associated with deoxycholic acid administration for local excessive adipose tissue and our approach to management.
Intralipotherapy and its safety profile
The history of using chemical compounds such as phosphatidyl choline (PDC) and/or deoxycholic acid (DCA) to treat local adipose tissue deposit can be traced back to the early 2000.1 Widely known as injection lipolysis, DCA is extensively used for non-surgical body or face contouring, targeting localised excess fat pocket. The mechanism of DCA is leading to the lysis of local adipocytes, resulting in permanent improvement in contouring.2,3 According to the literature, DCA has a high safety profile, with a low percentage of patients experiencing adverse effects such as nodules lasting more than one month (0.9%) and skin necrosis (0.01%).4 There are two categories of side effects, which are all localised within the treatment areas.5 These include the common and normally relatively short-term complications, and those that are extremely rare and long-term.6,7
Common and short-term
There is a study by Amore et al. which showcases the common and short-term adverse effects associated with fat dissolving treatment well. In the study of 221 participants:4 75% experienced swelling (oedema) within three days post treatment, 60% had tenderness lasting more than 12 hours, 41% presented with ecchymosis, 39% experienced warmth to the treatment area, 30% reported temporary altered sensation (numbness), 28% presented with redness/ erythema and 14% of lumps/nodules which resolved with one month.
Rare and long-term
Reasons for extremely rare and possibly long-term major adverse events to occur are normally associated with the intralipotherapy technique, including uneven administration, bolus deposition, and superficial placement of the agent. Patient age (over 60) is also a factor whereby reduced metabolism could lead to inadequate treatment intervals, and overdosing will also cause issues, as will treating a patient too soon (before four weeks) after their initial session.8
Case study: cutaneous adverse effect
A 26-year-old lady presented to Dr Xu's clinic for a fat dissolving treatment. Her main area of concern was the upper part of the lateral thighs, superficial to the skeletal prominence of greater trochanter. It was agreed that DCA would be a good treatment for this patient because she had a healthy lifestyle with regular gym trips three times per week. All other body parts were within normal proportion, except a localised secondary fat pocket, which had been present at both lateral thighs since puberty. Dr Xu has been using the DCA brand DesoBody for body contouring since it was first available in the UK in 2018 and has achieved a good portfolio of satisfactory treatments, so this was the product of choice. For her treatment, after the skin was thoroughly disinfected three times with chlorhexidine to minimise complications, each 10ml vial of DCA was mixed with 1ml Lignospan Special (20mg/ ml lidocaine and 12.5ug/ml adrenaline) before being administered to the area of interest. Two vials were administered to the left lateral thigh (20cm2 surface area of soft tissue thickness 4cm), and one vial to the right lateral thigh (10cm2 surface area of soft tissue thickness 4cm). This dosage was according to the treatment protocol based on the physical assessment. A 23 gauge, 100mm intralipotherapy needle was used, injecting from the midpoint of the lateral thigh towards the cephalic side, using a fanning technique with multiple retrograde linear threads. The linear thread stopped at 1cm from the entry points to avoid agent accumulation. The fanning angles between each thread was 2-3 degrees and the angles were only changed when the needle had been retracted back to the dermis layer to avoid the needle bending. There was only one needle entry point on each of the lateral thighs. In total, 40 passes of 0.5ml each thread (20ml in total) was
@aestheticsgroup @aestheticsjournaluk Aesthetics aestheticsjournal.com Reproduced from Aesthetics | Volume 9/Issue 7 - June 2022
Dr Olha Vorodyukhina and Dr Tracy Xu explore the possible adverse effects following deoxycholic acid injections for fat reduction and present a patient case study
administered to the left lateral thigh, and 20 passes of 0.5ml (10ml in total) linear threads to the right lateral thigh. The whole treatment procedure was smoothly done without major discomfort from the patient. Immediately post procedure there was some redness at the treated area, especially on the left side, where a higher dosage was administered. The red area was padded with sterile gauze before helping her to put her tightening garment on, and she was advised to keep wearing it for 72 hours from the treatment, then keep it on at night when sleeping for seven days. The tightening garment is an essential part of the protocol in fat-dissolving injections for minimising swelling and assisting with lymphatic drainage post treatment. The patient was booked for a review in five weeks.
The adverse event
This patient emailed the clinic the next morning as she was experiencing extreme swelling and pain, induration, and difficulty getting dressed due to swelling, particularly the left thigh. Judging from the pictures she sent of her left thigh (Figure 1), the treated area had more than average swelling and looked inflamed. The patient was booked for a review appointment at the next available time, and in the meantime advised to take arnica tablets, massage with arnica gel, avoid contaminating the injection site, and keep a detailed track of image record of the changes. On day three post-treatment, the patient reported that the swelling had settled down, so she decided not to present to the clinic for review. She was advised to return for a clinic review at five weeks, where she would be assessed for a second treatment. At the five-week assessment, there was no redness, and soft tissue thickness reduced to 3cm, which was a good response in terms of result. However, there were three lumps on the left, and one lump on the right thigh and the sensation on the left lateral thigh was slightly reduced. There was an area of discolouration
with a diameter of approximately 10cm on the left lateral thigh, and a periodical shooting pain at the right lateral thigh, scoring 1/10, which is not exacerbated by physical pressure (Figure 2). From clinical examination, Dr Xu felt that the soft lumps were most likely caused by uneven distribution of the agent so another treatment was carried out using a 20 gauge 100mm cannula to help break down the lumps. A total of 17.5ml of DCA was administered. The next day, the patient reported low degree of pain scoring 0.5/10, and said the swelling was very subtle compared to the first treatment. The picture sent by the patient seven days after showed improvement of the induration and bruise (Figure 2). At the four-week review, the lump sizes were reduced by 50%, but the discoloration had very little improvement. The initial shooting pain the patient was describing was not reported since this point, and all clinical examination showed normal sensation.
Managing the complication
A few treatment options were proposed to restore normal circulation and break down the lumps of fatty tissues (cellulite). The first was deep tissue massage that the patient can perform with a manual massager at home. The second was carboxytherapy treatment in clinic. Although this treatment approach is not discussed in the literature for treating DCA complications, its therapeutical properties,9,10 and historical use to treat diabetic ulcers11 provided confidence that this would be a good treatment of choice for this patient. Carboxytherapy has also been recommended by UK DesoBody trainer and Botulinum Toxin Club founder Dr Harry Singh, as well as the inventor of DesoBody, Professor Roberto Amore, for the improvement of cutaneous and subcutaneous adverse effects from lipolysis injection.12
The first effect following CO2 injection is a strong vasodilation of the vessels; therefore increasing oxygenation in the treated area. It also improves regenerative activities and stimulates the formation of new capillaries – also known as angiogenesis. As a result, it increases circulation and stimulates localised metabolic activity of the tissues, which is known as the Bohr effect.13,14 About 1% of absorbed CO2 converts into carbonic acid CO2+H20=H2CO3; further reacting to leave bicarbonate dissolved in the blood plasma H+HCO3. These reactions cause the pH of the blood to decrease, and release oxygen to the tissues.13 The patient was prescribed 10 sessions of weekly carboxytherapy treatments with Dr Olha Vorodyukhina. Injection depth were subdermal and intradermal for both circulation stimulation and cellulite reduction. The total volume of gas administered at each
Figure 1: Patient one day following DCA treatment to the left lateral thigh.
Figure 2: Before the second intralipotherapy treatment and seven days after the second intralipotherapy treatment.
@aestheticsgroup @aestheticsjournaluk Aesthetics aestheticsjournal.com Reproduced from Aesthetics | Volume 9/Issue 7 - June 2022
Reasons for extremely rare and possibly long-term major adverse events to occur are normally associated with the intralipotherapy technique
Before After
treatment was 80cc (left) and 40cc (right). After five sessions of CO2, the right side had full positive resolution. After 10 sessions on the left side, there was significant improvement in colour and further lump reduction. The patient was advised to have another five to 10 sessions of CO2 for the right thigh, and after five more sessions her skin had almost returned to normal.
Discussion
The safe dosage regime and techniques, pharmacokinetics, pharmacodynamics and adverse events of DCA injection have been well researched and documented in the past 30 years.15 DCA is highly selective for adipose tissue, and very small interaction with protein-rich tissues such as muscle tissue, blood vessels, and skin.2,8,13,15 On the other hand, as DCA causes lysing effect to the targeted adipose tissue with disruption to the cell membrane, leading to cell death and tissue inflammation, its vasoconstrictive nature could result in undesired cutaneous effects, if dosage or treatment technique have not been optimal.16 Duncan et al. also described in a clinical safety survey about the consensual poor outcome at inner or outer thigh, compared with other areas such as abdomen, flanks and submental chin.17 The main reasons for the thighs to be a poor area to treat include:
1. It is usually accompanied by the skin laxity, which could mask the true effect of fat reduction
2. This area has a high incidence of cellulite, which makes the adipose tissue to form more lumps and therefore more difficult for a targeted medicine distribution
3. Higher incidence of fibrosis especially post lipolysis treatment
4. The distribution is normally over a broad area instead of the ideal bulky, rounded shape areas such as abdomen
On reflection of this case, it is likely that the dosage for the areas intended to treat was higher than this patient's soft tissue tolerance level. This indicates that, when assessing for fat dissolving at the area of skeletal prominence, the standard protocol of dosages should be lowered, halved, or even avoided completely, to minimise significant short-term and long-term complications such as redness, swelling, pain, and lumps. From the above we have learnt that when treating the lateral thigh, especially over the greater trochanteric area, the treatment should be performed with great caution at a minimal dosage, or avoid treating at all if less desired. To minimise the risk of possible cutaneous effects, when treating areas superficial to major skeletal prominence such as great trochanter, we propose:
• Assess the skin laxity, the soft tissue fibrosis and severity of cellulite carefully
• Start from the smallest dose required
• Use less traumatic techniques, such as cannulas for administration
• Evenly distribute the agent and avoid accumulative dose at certain areas leading to localised fat liquefaction
• The layer of distribution is also important to avoid too superficial deposition of DCA, which could lead to compromised systemic absorption of the emulsified adipose tissue18
Consider complications
It's important to be aware of the possible complications when administering DCA treatments and know how to handle both short and long-term adverse events. Carboxytherapy can be considered to correct the lumps, induration and discolouration from fat dissolving treatment and should be a widely equipped service for clinics providing fat reduction services.
Dr Tracy Xu is an advanced aesthetic doctor with more than 10 years of experience in cosmetic surgery and injectable treatments. Dr Xu was trained as a resident trainee in facial plastic surgery, as well as aesthetic injectables since her Bachelor of Medicine and Bachelor of Surgery (Hons) degree in 2009. She completed her Level 7 (master) degree in aesthetic injectables and Level 4 Cosmetic Dermatology with Harley Academy. Dr Tracy is an advanced aesthetic trainer for Cosmetic Courses.
Qual: MBBS(hons), PhD in Life Sciences
Dr Olha Vorodyukhina is a dental surgeon, aesthetic practitioner, the clinical lead for training provider Cosmetic Courses and a trainer for Sinclair Pharmacy. She has been practising aesthetics since 2011 and specialises in injectables. Dr Vorodyukhina is the owner and founder of Shine Medical and Angels Twelve clinics in the Midlands, which have both been selected as centres of excellence in the Midlands by Sinclair for their hyaluronic acid filler MaiLi.
Qual: Dip Stom Ukrainian Medical Stomatological Academy 2005
REFERENCES
1. Rotuna AM, Suzuki H, Moy RL, Kolodney MS. Detergent effects of sodium deoxycholate are a major feature of an injectable phosphatidylcholine formulation used for localized fat dissolution. Dermatologic Surg. 2004;30(7):1001-1008.
2. Shridharani SM, Behr KL. ATX-101 (deoxycholic acid injection) treatment in men: insights from our clinical experience. Dermatologic Surg. 2017;43:S225-S230.
3. Liu M, Chesnut C, Lask G. Overview of Kybella (deoxycholic acid injection) as a fat resorption product for submental fat. Facial Plast Surg. 2019;35(03):274-277.
4. Amore R, Amuso D, Leonardi V, et al. Evaluation of Safe and Effectiveness of an Injectable Solution Acid Deoxycholic Based for Reduction of Localized Adiposities. Plast Reconstr Surg Glob Open. 2018;6(6):e1794.
5. Pinto H, Hernandez C, Turra C, et al. Evaluation of a new adipocytolytic solution: adverse effects and their relationship with the number of vials injected. J Drugs Dermatol 2014;13:1451-5.
6. Pinto H, Hernandez C, Turra C, et al. Evaluation of a new adipocytolytic solution: adverse effects and their relationship with the number of vials injected. J Drugs Dermatol. 2014;13:1451–1455.
7. Yagima Odo ME, Cucé LC, Odo LM, et al. Action of sodium deoxycholate on subcutaneous human tissue: local and systemic effects. Dermatol Surg. 2007;33:178–188; discussion 188.
8. Duncan DI, Chubaty R. Clinical safety data and standards of practice for injection lipolysis: a retrospective study. Aesthet Surg J. 2006 Sep-Oct;26(5):575-85. Erratum in: Aesthet Surg J. 2009 May-Jun;29(3):262. PMID: 19338944.
9. Riyad abdulhamza G, Al-Omary H, Physiological Effects of Carbon Dioxide Treatment on Diabetic Foot Ulcer Patients. IOSR Journal of Pharmacy and Biological Sciences (IOSR-JPBS) e-ISSN:2278-3008, p-ISSN:2319-7676. Volume 13, Issue 5.
10. Brochado TMM, de Carvalho Schweich L, et al. Carboxytherapy: Controls the inflammation and enhances the production of fibronectin on wound healing under venous insufficiency. Int Wound J. 2019 Apr;16(2):316-324. Epub 2018 Nov 22.
11. Brandi C, Carboxytherapy. Practical Manual with Clinical Indications and Protocols, 2019, pp.27-99.
12. Eldsouky F, Ebrahim HM. Evaluation and efficacy of carbon dioxide therapy (carboxytherapy) versus mesolipolysis in the treatment of cellulite. J Cosmet Laser Ther. 2018 Oct;20(5):307-312. Epub 2018 Jan 17.
13. Sakai Y, Miwa M, Oe K, et al. A novel system for transcutaneous application of carbon dioxide causing an "artificial Bohr effect" in the human body. PLoS One. 2011;6(9):e24137.
14. Bunyatyan ND, Drogovoz SM, Shtroblya AL, Kononenko AV, Zelenkova H, Prokofyev AB, Sapovsky MM, Nikolaeva LL. The mechanism of the pulmoprotective action of carboxytherapy. Vopr Kurortol Fizioter Lech Fiz Kult. 2019;96(4):58-62. Russian.
15. McGraw Hill, Emergency Medicine Procedures Chapter 106, Subcutaneous Abscess Incision and Drainage. 2013.<https://accessemergencymedicine.mhmedical.com/content. aspx?bookid=683&sectionid=45343748>
16. Dayan SH, Humphrey S, Jones DH, et al. Overview of ATX-101 (deoxycholic acid Injection): a nonsurgical approach for reduction of submental fat. Dermatologic Surg. 2016;42:S263-S270.
17. Walker P, Lee D. A phase 1 pharmacokinetic study of ATX-101: serum lipids and adipokines following synthetic deoxycholic acid injections. J Cosmet Dermatol. 2015;14(1):33-39.
18. Ramirez MR, Marinaro RE, Warthan ML, Burton CS. Permanent Cutaneous Adverse Events After Injection With Deoxycholic Acid. Dermatol Surg. 2019 Nov;45(11):1432-1434.
Figure 3: Patient before carboxytherapy and after 10 sessions.
Before After @aestheticsgroup @aestheticsjournaluk Aesthetics aestheticsjournal.com Reproduced from Aesthetics | Volume 9/Issue 7 - June 2022
96% patient satisfaction with BOCOUTURE®,
FEEL GOOD LOOK GOOD
Bocouture® (botulinum toxin type A (150 kD), free from complexing proteins) 50/100 unit vials*. Prescribing information: M-BOC-UK-0432. Please refer to the Summary of Product Characteristics (SmPC) before prescribing. Presentation: 50/100 units of Clostridium Botulinum Neurotoxin type A, free from complexing proteins as a powder for solution for injection. Indications: Temporary improvement in the appearance of moderate to severe upper facial lines (glabellar frown lines, crow's feet lines, horizontal forehead lines) in adults ≥18 and <65 years when the severity of these lines has an important psychological impact for the patient. Dosage and administration: For intramuscular use only. Unit doses recommended for Bocouture are not interchangeable with those for other preparations of botulinum toxin. BOCOUTURE should only be administered by an appropriately qualified healthcare practitioner with expertise in the treatment of the relevant indication and the use of the required equipment, in accordance with national guidelines . The intervals between treatments should not be shorter than 3 months. Reconstitute with 0.9% sodium chloride. Glabellar Frown Lines: Total recommended standard dose is 20 units. 4 units into 5 injection sites (2 injections in each corrugator muscle and 1 injection in the procerus muscle). May be increased to up to 30 units. Injections near the levator palpebrae superioris and into the cranial portion of the orbicularis oculi should be avoided. Crow's Feet lines: Total recommended standard dosing is 12 units per side (overall total dose: 24 units); 4 units injected bilaterally into each of the 3 injection sites. Injections too close to the Zygomaticus major muscle should be avoided to prevent lip ptosis. Horizontal Forehead Lines: The recommended total dose range is 10 to 20 units; a total injection volume of 10 units to 20 units is injected into the frontalis muscle in five horizontally aligned injection sites at least 2 cm above the orbital rim. An injection volume of 2 units, 3 units or 4 units is applied per injection point, respectively. Contraindications: Hypersensitivity to the active substance or to any of the excipients. Generalised disorders of muscle activity (e.g. myasthenia gravis, Lambert-Eaton syndrome). Infection or inflammation at the proposed injection site. Special warnings and precautions: It should be taken into consideration that horizontal forehead lines may not only be dynamic, but may also result from the loss of dermal elasticity (e.g. associated with ageing or photo damage). In this case, patients may not respond to botulinum toxin products. Should not be injected into a blood vessel. Not recommended for patients with a history of dysphagia and aspiration. Caution in patients with botulinum toxin hypersensitivity, amyotrophic lateral sclerosis, peripheral neuromuscular dysfunction, or in targeted muscles displaying pronounced weakness or atrophy. Bocouture should be used with caution in patients receiving therapy that could have an anticoagulant effect, or if bleeding disorders of any type occur. Too frequent or too high dosing of
botulinum toxin type A may increase the risk of antibodies forming. Should not be used during pregnancy unless clearly necessary. Should not be used during breastfeeding. Interactions: Concomitant use with aminoglycosides or spectinomycin requires special care. Peripheral muscle relaxants should be used with caution. 4-aminoquinolines may reduce the effect. Undesirable effects: Usually, undesirable effects are observed within the first week after treatment and are temporary in nature. Undesirable effects independent of indication include; application related undesirable effects (localised pain, inflammation, swelling), class related undesirable effects (localised muscle weakness, blepharoptosis), and toxin spread (very rare - exaggerated muscle weakness, dysphagia, aspiration pneumonia). Hypersensitivity reactions have been reported with botulinum toxin products. Glabellar Frown Lines: Common: headache, muscle disorders (elevation of eyebrow). Crow's Feet Lines: Common: eyelid oedema, dry eye, injection site haematoma. Upper Facial Lines: Very common: headache. Common: hypoaesthesia, injection site haematoma, application site pain, application site erythema, discomfort (heavy feeling of frontal area), eyelid ptosis, dry eye, facial asymmetry, nausea. For a full list of adverse reactions, please consult the SmPC. Overdose: May result in pronounced neuromuscular paralysis distant from the injection site. Symptoms are not immediately apparent post-injection.
Legal Category: POM. List Price: 50 U/vial £72.00, 50 U twin pack £144.00, 100 U/vial £229.90, 100 U twin pack £459.80. Product Licence Number: PL 29978/0002, PL 29978/0005 Marketing Authorisation Holder: Merz Pharmaceuticals GmbH, Eckenheimer Landstraße 100,60318 Frankfurt/Main, Germany. Date of Preparation:August 2021. Further information available from:. Ground Floor Suite B, Breakspear Park, Breakspear Way, Hemel Hempstead, Hertfordshire, HP2 4TZ Tel: +44 (0) 333 200 4143
Adverse events should be reported. Reporting forms and information can be found at www.mhra.gov.uk/yellowcard for the UK. Adverse events should also be reported to Merz Pharma UK Ltd at the address above or by email to UKdrugsafety@merz.com or on +44 (0) 333 200 4143.
*Botulinumtoxin type A, purified from cultures of Clostridium Botulinum (Hall strain)2
References: 1. Prager W, et al. Clin Cosmet Investig Dermatol. 2012;5:53–58.
2. BOCOUTURE® (incobotulinumtoxinA) Summary of Product Characteristics Merz Pharmaceuticals GmbH.
M-BOC-UK-0450 Date of Preparation: March 2022
you can be confident of results that your patients come back for.1
(Botulinum toxin type A)
Continue advancing your knowledge on Ecademy Join our community to access tailored training modules and learn from industryleading experts
Free from complexing proteins
Using Ultrasound to Prevent Complications
nasal arteries sometimes run over the midline. In fact, it has been found that 26% of people have a dorsal nasal artery that courses through the nasal midline rather than either side of the midline.7
There has been a decline in the number of people undergoing surgical rhinoplasties.1
At the same time, an increasing number of patients are undergoing non-surgical rhinoplasty (NSR) annually.2 Although appearing to be non-invasive, the NSR comes with a significant risk. This article will outline relevant nose anatomy, and the valuable role of ultrasound in the prevention and management of vascular complications in the nose.
Nose anatomy
A comprehensive understanding of relevant anatomy is key to a safe non-surgical augmentation using filler. The nose usually consists of five layers:3
1. Skin, thickest at the nasal tip and radix
2. Fibrofatty layer, where major vessels usually lie
3. Fibromuscular layer, where major vessels may lie (on the nose, mainly nasalis, depressor septi nasi, procerus)
4. Deep fat, usually avascular
5. Perichondrium/periosteum and the nasal cartilages/nasal bones respectively
The arteries of the nose encountered during NSR originate from both the internal carotid (via the ophthalmic artery) and external carotid
(via the facial artery) with various anastomoses between the two systems.4 However, below is a basic account of the common arteries that can be encountered during NSR:5
• Dorsal nasal artery (DNA) and external nasal artery (via the anterior ethmoid artery), supplying the upper portion of the nose.
• The columellar artery and the lateral nasal arteries supply the lower portion of the nose. The lateral nasal artery is a branch of the angular artery which is a heavy contributor of blood supply to the nasal tip, usually located just above the alar groove.
The vascular supply of the nose is usually found superficial to the musculature.
Anatomical variations
Defining safe zones and danger zones for injections in the nose is not possible, as the vascular anatomy of patients can have variable anastomoses.6 The dorsal nasal artery (DNA) usually runs superficial to the muscle layer of the bony nose, then runs inferolaterally along the dorsum of the nose, and underneath the muscular layer and as it reaches the cartilaginous region.3 However, variability of DNA has been observed, for example the paired dorsal
In addition, although there is usually a five-layer arrangement in the nose, layers can be absent in the radix and nasal tip. The nasal arteries have been found at varying depths and within different layers of the nose. In 2021, Alfertshofer et al. found that the nasal arteries coursed superficially in 91.7% of all cases in the nasal radix, in 80% in the mid-nasal dorsum, and in 98.3% in the nasal tip. This translates to 1.7% of vessels lying submucosally in the nasal tip, and 8.3% submucosally at the radix.2 These anatomical variations serve to remind clinicians that there is no universal safe zone.
Potential complications
A serious complication of non-surgical nose augmentation is vascular occlusion (VO), whereby arterial obstruction causes a restriction of oxygenated blood to tissues, leading to necrosis if untreated or poorly managed, the result of which may vary from mild scarring to visible disfigurement. Evidence shows that the areas with the highest incidence of vascular occlusion are the glabellar region, nasolabial fold, alar triangle and nasal tip.8 The reason the nasal tip and alar are commonly affected is because they are supplied by an end artery with limited collateral blood flow.8 If conservative measures to resolve the occlusion have failed, urgent dissolving of obstructive filler is needed to resume adequate blood flow to deprived tissue.8 Albeit rare, the most serious potential complication of NSR is permanent visual loss, believed to be a result of emboli after inadvertent injection into a vessel lumen in the nasal region leading to ischaemia of the retina.9 One study showed that most reported cases of visual loss were from the nasal region (56.3%) with hyaluronic acid (HA) filler as the cause of visual loss in most cases (81.3%). According to the authors of the study, HA volumes of 0.2ml can cause permanent vision loss, but this does not mean that a lower volume could not also have an effect.10,11
The role of ultrasound
Our first goal as clinicians is in preventing vascular compromise, as, despite our knowledge of mainstream anatomy, it is acknowledged that there can be variations in the course of a blood vessel. Ultrasound
Dr Zainab Al-Mukhtar describes using ultrasound devices to prevent complications during non-surgical rhinoplasty procedures
@aestheticsgroup @aestheticsjournaluk Aesthetics aestheticsjournal.com Reproduced from Aesthetics | Volume 9/Issue 7 - June 2022
Figure 1: Ultrasound scan showing the five layers of the nose. Image colour augmented by Mr Vivek Kuvelker
scanning (USS) is the least invasive method to visualise tissues underneath the skin. Doppler ultrasound (DUP) is being considered as the first-line method for imaging in cosmetic medicine.7 USS can be used for vascular mapping before – or to guide injections during – filler placement in order to prevent intravascular injection.12
With sufficient training, USS also makes the prevention and management of complications more predictable, as DUP can identify the location, depth and course of veins and arteries and evaluate blood flow, vessel location, and locate VOs. In the case of a VO, it is possible to visualise the precise depth and location of problematic filler by assessing the area of disrupted blood flow and then targeting with hyaluronidase under ultrasound guidance.12 Ultrasound frequencies in facial imaging range up to approximately 20MHz. The frequency directly relates to the depth of scanning and the image quality. The higher the frequency, the shallower the scan depth. The higher the frequency the better the image resolution. High frequency scanners are used for superficial structures, such as the face/ nose where scanning is not required beyond a 4cm depth, to provide good resolution.12
Vascular mapping in the nose
Ultrasonographic interpretation requires knowledge of anatomy and an understanding of the echogenicity of tissues, in order to distinguish layers accurately. This is vital to identify the location of a blood vessel. Assessing the pulse on Doppler mode
helps to distinguish vessels, and depth measurements can also be made. Here, I present a case showing vascular mapping of the nose area prior to filler injection. As shown in the images, in the nasal tip, I observed blood vessels in the deep layers at close proximity to nasal cartilage layer, where filler is often deposited. In this case, I avoided injection in the nasal tip due to the risk of vascular injury. Instead, I injected her radix only.
I have also observed deep vessels in the radix, coursing deep through the fibromuscular layer at proximity to the periosteum, as seen in Figure 3 & 4. In these cases, after discussion with the patients, I avoided injection of the radix due to the vessel position, but did inject the nasal tip after vascular mapping.
Ultrasound-guided injections
In addition to vascular mapping, ultrasound-guided filler injections can be performed to add an additional layer of precaution. This is where filler is deposited at the same time as ultrasound scanning in Doppler mode to allow visualisation of a cannula (or needle) to further ensure filler deposition is away from vessels. This is an acquired skill, involving a high level of manual dexterity, precision and practice. This skill can be learnt on a facial ultrasound course for injectables provided the training includes a demonstration and some form of practice of this technique. Thereafter, a commitment to regular practice in clinic would be needed.
Treatment of complications
In the case of a VO without ultrasound, reversal can be successful after use of the ACE Group World High-dose, Pulsed Hyaluronidase Protocol which involves repeated injection of relatively high doses of hyaluronidase, not only where the filler was injected but into the entire area of compromised tissue. This is repeated every hour until clinical resolution is observed, through reassessment of the skin.8 Doppler ultrasound enables assessment of
vascular branches to allow direct injection into the area of obstruction. Guided hyaluronidase injection techniques are more precise, allowing real-time assessments of blood flow throughout treatment, indicating either success or the need for further dissolving.11 When an unusually complicated VO occurs, this can be challenging to resolve despite high hyaluronidase volumes. For example, the nasal septum may be at risk of necrosis without external skin changes.12 In the case of ischemic internal tissues like this, monitoring for perfusion during dissolving may not be straightforward due to the lack of skin involvement. From my experience, in such cases, restoration of blood flow can be seen on Doppler ultrasound as an indicator of resolution.14
Implementing ultrasound
Filler injection in the nose carries the highest risk for permanent blindness than any other region in the face. The safety of non-surgical rhinoplasty is enhanced by a sound understanding of layered nasal anatomy with special attention to the depth and location of the main vessels, along with using as many precautions as possible to decrease the risk of vascular injury. There are anatomical variations in the nasal vasculature. Ultrasound provides an additional layer of precaution to filler injections in the nose through vascular mapping or ultrasound-guided injections. Thorough understanding of facial anatomy is essential in order to scan successfully, and skilful scanning and interpretation comes with ultrasound training and experience.
Dr Zainab Al-Mukhtar is a dental surgeon with several years of experience in facial aesthetics. She has led injectables training since 2014, co-teaches the Non Surgical Rhinoplasty Masterclass, and teaches facial ultrasound for aesthetic practice. She is director of Harrow On The Hill Dental & Facial Aesthetics.
Qual: BDS, MFDS RCS (Edin), MJDF RCS (Eng)
Figure 2: Ultrasound scan showing blood vessels in the deep layers at close proximity to nasal cartilage layer. Image colour augmented courtesy of Mr Vivek Kuvelker.
Figure 3&4: Ultrasound scan showing deep vessels in the radix. Images courtesy of Mr Vivek Kuvelker.
VIEW THE REFERENCES ONLINE! AESTHETICSJOURNAL.COM @aestheticsgroup @aestheticsjournaluk Aesthetics aestheticsjournal.com Reproduced from Aesthetics | Volume 9/Issue 7 - June 2022
Skincare Integration
Born from decades of research, SkinCeuticals' high potency formulas are proven to be absorbed optimally into the skin to help improve skin health with a dedicated purpose, of providing advanced skincare backed by science. SkinCeuticals provides complete skincare solutions recommended by dermatologists, plastic surgeons, medispas and other skincare professionals worldwide to both correct the appearance of the signs of ageing and help prevent future damage with a comprehensive library of products.
Dr Munir Somji, aesthetic practitioner and founder of DrMediSpa, comments, "SkinCeuticals is a great complementary and popular brand with patients at the DrMediSpa clinics that we are confident to recommend. They are high-performance and grounded in science unlike many other 'clinical' brands. We find that patients, more than ever before, expect to be given reliable skincare advice to continue their treatment programmes at-home and to maximise treatment benefits with some considered skincare pre-prep. The history of the brand is impressive and its commitment to continuous innovation, research and development is second to none."
Unveiling the integration case study at IMCAS
Dr Ana Mansouri, aesthetic practitioner at Kat & Co in Birmingham, said, "I have always been very encouraged by the performance of SkinCeuticals products on my patients at all stages of their treatment programme. Most recently I have embarked on my own patient case study which I am presenting at this year's IMCAS, centring around the integration of medical-grade skincare early with injectables, as well as combining collagen induction therapies into treatment plans. By formulating integrated treatment plans and utilising different treatment modalities, we can allow for more age-appropriate and undetectable results. I will be presenting how I have managed to improve patient satisfaction and achieved more valuable long-term outcomes with the use of a carefully curated skincare programme as part of my treatment programme."
SKINCEUTICALS BRAND HISTORY
The latest product news from SkinCeuticals
Introducing the latest addition to the best-selling Phyto range; Phyto A+ Brightening Treatment – a lightweight, active, gel-crème moisturiser. An essential upgrade for blemish-fighting routines, Phyto A+ Brightening Treatment helps to regulate oil production and soothes inflammation from blemishes all while tackling post-inflammatory hyperpigmentation. The result… clearer, smoother and brighter skin. It is common to find that even once breakouts have passed they often still leave their mark via pigmentation caused by excess melanin production. Additionally, an overabundance of oil on the skin's surface can lead to clogged pores and uneven texture, resulting in skin that lacks radiance, clarity and smoothness. Phyto A+ Brightening Treatment's hydrating yet oil-free formula features a synergistic combination of azelaic acid, alpha arbutin and a phyto botanical blend to help modulate discolouration, cell turnover and oil production.
Contact SkinCeuticals
Speak to your SkinCeuticals representative for more information about the range. If you do not have a dedicated contact please email Contact@SkinCeuticals.co.uk
54 @aestheticsgroup @aestheticsjournaluk Aesthetics aestheticsjournal.com Aesthetics | June 2022 Advertorial SkinCeuticals
How you can add SkinCeuticals products into your treatment plans 1987 1992 1997 2005 2012 2014 2017 2001 2004 2008 1996 2016 2003 2015 2018 Dr. Pinnell publishes "Induction of collagen synthesis by ascorbic acid" Archives of Dermatology Dr. Pinnell patents "The Duke Formulation Parameters" which outline the parameters necessary for formulating a stable and effective serum with l-ascorbic acid (vitamin C) Dr. Pinnell publishes on topical vitamin C in aging Clinics in Dermatology Dr. Pinnell publishes The Duke Formulation Parameters Journal of Dermatologic Surgery SkinCeuticals introduces its Prevent, Correct, Protect philosophy along with Integrated Skincare, supported by a professional line to complement in-office procedures Dr. Pinnell publishes on photoprotection of the skin by combination topical antioxidants vitamin C and vitamin E Journal of the American Academy of Dermatology Research published on the protective effects of vitamin C ferulic acid and phloretin Journal of Cosmetic Dermatology SKINCEUTICALS IS FOUNDED WITH DR. PINNELL AS LEAD SCIENTIST Research published on the comparison of a prescription solution with Blemish + Age Defense in treatment of acne Journal of Drugs in Dermatology SkinCeuticals publishes research on antioxidant protection against Infrared-A-generated free radicals Photodermatology, Photoimmunology, Photomedicine Clinical study published on the efficacy and tolerance of a nighttime antioxidant Resveratrol B E Journal of Drugs in Dermatology Study published on C E Ferulic effectiveness on post-laser skin recovery Laser in Surgery and Medicine Clinical research published on cholesterol-dominant, physiological lipids for skin barrier deficits in aging skin Journal of Drugs in Dermatology C E Ferulic is patented and found to provide 8x the skin's natural defense against environmental aggressors Journal of Investigative Dermatology Research published on C E Ferulic and Phloretin CF protection against ozone pollution in Journal of Investigative Dermatology SkinCeuticals publishes study on a multimodal facial serum to increase hyaluronic acid levels in skin Journal of Drugs in Dermatology New science published on antioxidant protection against atmospheric skin aging Journal of Cosmetic Dermatology 2021 Partnership with Cutera 2022 Clinical studies take place investigating the role of topical skincare as an adjunct to aesthetic treatments with presentation at IMCAS June 2022
Figure 1: The brand history of SkinCeuticals
This advertorial was written and supplied by SkinCeuticals
A summary of the latest clinical studies
Title: An Attempt to Explain Visual Aesthetic Appreciation
Authors: Bjørn Grinde, et al.
Published: Integrative Psychological & Behavioral Science, May 2022
Keywords: Evolution, Supernormal Stimuli, Visual Stimuli
Abstract: We suggest an evolutionary based explanation for why humans are preoccupied with aesthetic aspects of visual input. Briefly, humans evolved to be swayed by positive and negative feelings in the form of rewards and punishments, and to pursue situations that induce rewards, even when the feeling is not sufficiently strong to be recognized as a reward. The brain is designed to offer rewards when a person focuses on certain types of visual stimuli. For example, warm colors are typically pleasant because they are associated with edible fruits, and complex images appeal to curiosity. At some point people began exploiting these types of brain rewards by beautifying objects and creating art. The utility of objects, and the associative aspects of art, may dominate the design, but the artist tends to add aesthetic elements. These elements imply visual aspects that do not add to the functional value or evoke memories or associations based on easily recognized features in the picture. The adaptive rationale for the rewards offered by the aesthetic elements should help explain human aesthetic appreciation.
Title: Use of Micro Botulinum Toxin for a Face-lifting Effect
Authors: Zhi Yang Ng, et al
Published: Dermatologic Surgery, May 2022
Keywords: Facial Rhytides, Face-Lifting, Facial Asymmetry
Abstract: Micro-Botox was described in 2000 for the paralysis of superficial muscle fibers to address facial rhytides. Increasingly, there are reports of its off-label use for a face-lifting effect. A systematic review was performed according to PRISMA; only Level evidence from 2000 to 2020 were included. Data extracted include patient demographics, type of botulinum toxin, dilution, dosage, injection sites and spacing, needle size and syringe, follow-up, patient and physician assessment, and complications. 372 patients (average 35.2 years) underwent different botulinum toxin injections of varying dilutions with 30- to 32-G needles, typically with 1-mL syringes, by forming 0.2- to 0.5-cm wheals 1 cm apart. Follow-up averaged 10.5 weeks with both subjective and objective assessments. Facial asymmetry and minor bruising were common. Subjective assessment of face-lifting effects between patients and physicians was highly discordant and injection sites reported were highly variable. Much heterogeneity in dosage, injection sites, definition of "face-lifting," and assessment methods remain, all of which preclude accurate and objective evaluation of the current evidence for micro-btx.
Title: Effectiveness Of Jawline, Jaw Angle, and Marionette Lines
Correction in Combination with Double Needles Threads and a Collagen-Stimulating Dermal Filler
Authors: Samad Rezaee Khiabanloo , et al
Published: Journal of Cosmetic Dermatology, May 2022
Keywords: APTOS Threads; Ageing Face, Dermal Fillers
Abstract: Facial aging is a multifactorial process in which
considerable changes occur in different face structures. Thread lifting is one of the most common minimally invasive treatments related to facial rejuvenation. 50 patients with ptosis candidates for lower face correction were included between October 2019 and February 2020. To perform correction of the jawline, jaw angle, and marionette lines, APTOS thread (LLN2GS) and ELLANSE M type were used through an innovative technique. The efficacy and safety were assessed by two surgeons independently. In this study, 50 patients (4 male and 46 female) with were included. Regarding the results, patients' level of satisfaction increased from 74% at 6 months after the surgery to 86% at 12 months after the surgery. Moreover, the level of satisfaction obtained from surgeons decreased from 96% to 86% at 6 and 12 months after the surgery, respectively. Based on the results, there were substantial and perfect agreements between the surgeon and the independent surgeon to evaluate the surgery efficacy of facial rejuvenation 6 and 12 months after the surgery. No side effects were reported. Due to rare complications, deep satisfaction, and short downtime, the correction of the lower face through our innovative technique be considered an efficient and safe treatment.
Title: Vaginal Hormone-Free Moisturising Cream is not Inferior to an Estriol Cream for Treating Symptoms of Vulvovaginal Atrophy
Authors: Susana Garcia de Arriba , et al
Published: PLOS One, May 2022
Keywords: Post-Menopausal, Vulvovaginal Dryness, Estriol Cream
Abstract: This prospective, open-label, multicentre, multinational, randomised trial investigated the non-inferiority of treatment with a vaginal hormone-free moisturising cream compared to a vaginal estriol (0.1%) cream in a panel of postmenopausal women suffering from symptoms of vulvovaginal dryness in a parallel group design. In total, 172 post-menopausal women were randomly allocated to either one of the two treatments, each administered for 43 days. The primary endpoint was the total severity score of subjective symptoms of the respective treatment period. Secondary endpoints were severity of single subjective symptoms as well as assessment of safety. In both groups, women treated with hormone-free moisturising cream and those treated with estriol cream, total severity score improved significantly compared to baseline by 5.0 and by 5.4, respectively, after 43 days of treatment. One-sided test of baseline differences confirmed the hormone-free moisturising cream to be non-inferior to the estriol cream. Subgroup analysis of women with mild or moderate impairment of daily life at baseline caused by "vaginal dryness" symptoms benefited from both creams, while women with severe impairment showed a significantly greater benefit from the estriol cream. Both treatments were well tolerated with no serious adverse events occurring. This study provides clinical evidence that a hormonefree vaginal moisturising cream cannot only improve vaginal dryness compared to an 0.1% estriol cream but also can relieve dyspareunia as well as improve woman's impairment of daily life, justifying its use as a first choice for mild or moderate vulvovaginal dryness symptoms.
@aestheticsgroup @aestheticsjournaluk Aesthetics aestheticsjournal.com Reproduced from Aesthetics | Volume 9/Issue 7 - June 2022
Working Ethically with Influencers
Working with social media influencers has a number of benefits for aesthetic practitioners. A successful partnership can introduce both sides to new audiences and increase both online engagement and real life enquiries. However, connecting with an influencer needs to be conducted with care, adhering to the Code of Non-broadcast Advertising, which is set by the Committee of Advertising Practice (CAP) and enforced by the UK's advertising and communication regulator, the Advertising Standards Authority (ASA). In this article, I outline how to work ethically with influencers, and the many benefits this has brought my business.
Defining an influencer
What makes a social media user an influencer? According to the ASA, anyone with a captive audience, regardless of the number of followers, is deemed influential. This can be measured by engagement levels. The average engagement rate on Instagram, for example, is 0.98%. Therefore, anyone with a higher engagement rate than this may be deemed an 'influencer'.1 Those with more than 30,000 followers are considered by the ASA to be a 'celebrity'.2
Benefits to your business
The benefits of working with influencers are numerous for both of you. Tangibly, I have seen an increase in enquiries for appointments, product sales and an increase in follower numbers for my own social media platforms. I have also received very positive feedback following the Instagram Lives I have conducted with influencers, leading to an increase in engagement (seen via new followers and an increase in likes and comments) for all of my posts, with the end result being an increase in leads. Working with influencers also provides practitioners with a powerful platform for empowering and educating new potential patients about safe treatment. I have noticed that followers connect with educational content that influencers share; in a hyper-photographed, digital world, unedited images help followers relate to the content as it is more trustworthy. Parents of young people have contacted me following my work with influencers, reflecting on the importance of sharing reliable, healthy and honest information with young followers, who may predominantly rely on social media avenues for their information.
Choosing an influencer
When looking to work with an influencer, whilst follower size and engagement is important, I suggest there are other criteria that predict success for the partnership. For example, does their ethos reflect yours, and will they share a healthy message with their followers? Are they
projecting a responsible image both mentally and physically, for example not sharing any potentially body dysmorphic content or ideology? By this, I mean putting across realistic and accurate messaging. Some people share images using a filter, and then claim the image actually shows the benefits of a skin treatment. Of course, this is against advertising rules, but is often overlooked by some influencers.4
It's also important to consider whether the influencer will be reliable and enthusiastic enough to work with you – do they have a genuine interest in what you do or the brands you're using? In addition, you should be researching if the influencer has been involved with any online issues which do not reflect the ethos of you or any brand you work with.
In terms of finding an influencer, I work with brands like AlumierMD, who share their chosen influencers with me, and influencers also approach me directly. You can also research and approach influencers directly or work with a PR who might already have well-established relationships.
The first meeting
After you've sourced an influencer you're interested in working with – or have vetted one you've been approached by – the next step is organising the first meeting. At this meeting, you may want to discuss the deliverables of a campaign. I work with mid-tier level influencers (who range from having 10-50K followers), and I don't pay them for any campaigns. They are usually excited to receive free products and treatments, and my time is gifted also. This is then all put in writing in the form of an influencer agreement.
Whether you meet face-to-face, in the clinic, or virtually depends what you are offering the influencer. If an influencer is having an in-clinic treatment, or has a complex case, seeing your patient face-to-face is important. If the influencer wants a new skincare regime for wrinkles for example, then a virtual consultation might be appropriate as long as you are experienced in identifying skin types and needs via a camera.
I introduce myself to influencers in the same way I would with any patient, offering a tailored, bespoke consultation of an entirely holistic nature. Demonstrating how the consultation journey works is key to ensuring the messaging with their audience is authentic, as I take the time to explain why medical-grade skincare is different,
@aestheticsgroup @aestheticsjournaluk Aesthetics aestheticsjournal.com Reproduced from Aesthetics | Volume 9/Issue 7 - June 2022
Dr Jigna Patel provides an overview on how you can partner with influencers effectively and ethically
why a consultation is imperative, and how it is going to rejuvenate their skin. They can then relay this to their followers. What's more, an indepth appointment when you first meet them provides a sound basis for a long-lasting and enjoyable relationship with the influencer. In taking a genuine interest in them and their aesthetic goals, I have established a healthy relationship with the influencers I work with. This helps the influencer feel comfortable, feel seen and heard, whilst giving me protected time to safely and correctly convey a message regarding following guidance when using skincare.
To make sure that both you and the influencer succeed in your partnership I would recommend discussing what to expect at the beginning of the process to help set expectations. Discussing what to expect at the beginning of the process, mapping out a timeline of reviews and helping to set expectations can all help avoid disengagement. Communicate efficiently and provide safety net advice, for example sharing what is a true adverse effect and how to report this, and what is to be expected when using a medical-grade product. This can both increase adherence to the skincare routine or treatment aftercare and help build trust with your influencer and patient. For example, medical-grade products are potent, and even influencers who have trialled many beauty products before might be surprised at the impact that it has on their skin.
Collaborative marketing
Once you've developed and nurtured a good relationship with the influencer and they've seen great results, there may be a number of ways they will look to showcase this. To name a few, this may be social media posts, stories, lives or reels. Each influencer will share this in their own unique style, according to their brand. For Instagram and Facebook, I have found that videos, Stories and IG Lives are particularly effective for showcasing the effects of an influencer's aesthetic treatment. Viewers enjoy seeing their results in real time, as they can follow the influencer on their journey. I would recommend asking the influencer to share a series of posts, rather than a one as a Story for example, so their followers can see their progress. This ties into authentic messaging, as the influencer can outline that it takes commitment and consistency to get great skincare results.
Responsible messaging
Responsible messaging, in line with the ASA guidelines, is vital when working with influencers.3 There has been a specific guide released that talks about influencer marketing called An Influencer's Guide To Making Clear That Ads Are Ads, so before you start working with influencers you should become familiar with this.3 For example, the ASA outlines that if you give an influencer a payment, any posts then promoting or endorsing the brand or its products/services become subject to consumer protection law. Payment means any form of monetary payment such as: commission, a free loan of a product/service, a free product/service (whether requested or received out of the blue), or any other incentive.3 In addition, it's great to be appreciated for your work, but with the impressive results they've achieved they may be tempted to promote you as a miracle worker. It's important that they don't accidently promote false information; which is why education during your consultation is key and ongoing reviews are vital. This will help the influencer express factual and trustworthy content with their followers. If the influencer is making a claim, you must ensure it is substantiated.4 Again, these key points should all be discussed in the initial consultation to minimise miscommunication and checked at regular intervals along their journey to ensure the information remains consistent and accurate.
The ASA also advises that influencers promoting beauty products should avoid applying filters to photos or videos which are directly relevant to the product being advertised and which are likely to exaggerate the effect the product is capable of achieving.4 Transparency on social media is the most ethical way to achieve this. To be part of a positive change towards ethical advertising I am always upfront about when I have used a ring light, for example, as lighting can change how we look online – I will outline its usage in my caption. As medical professionals, we should encourage influencers to talk about filters that they've used, discussing the smoothing and blurring impact even the most subtle filter can have. As the influencer is talking about their skin, and the treatment they are undergoing, the use of candid images are impactful and necessary. As healthcare professionals, it is important to note that promoting prescription only medications such as botulinum toxin is against the law and so shouldn't be referenced within any influencer content, or in your advertising campaigns in general.5
Cutting ties
If the relationship is not proving to be productive, and the influencer is not engaging, or if they go against ASA guidelines, then you should feel no guilt in cutting ties. I once worked with an influencer who seemed engaged, but once she received her products didn't contact me again. I would suggest the following: document what went right, and what elements could have been improved upon, so that you can conduct a relationship more fruitfully next time. If you are working with a brand, notify them as soon as possible and be honest and reflect both professionally and constructively on what happened. I wouldn't meet with an influencer if the relationship isn't working, as it is important to maintain a professional boundary.
Get searching!
Building a relationship with the right influencers for your business and brand can be beneficial for both of you. When they get great results and share them authentically with your audience, it can help increase your online presence and promote your expertise to others. Influencer content requires particular care, ensuring posts adhere to ASA guidelines, and reflect truthful messaging. These details help ensure content is appropriate and healthy for all.
Dr Jigna Patel is a part time NHS GP and aesthetic practitioner and is the owner of Vedaskin. She practises in Buckhurst Hill, West Essex. Accolades include a Bachelor of Science in Anatomy and Cell Biology, later followed by qualifying with distinctions in Bachelor of Medicine and Bachelor of Surgery from Kings College London School of Medicine in 2008. She is a KOL for AlumierMD.
Qual: BSc, MBBS, MRCGP, DCH
REFERENCES
1. Instagram statistics you need to know for 2022, 2022, <https:// sproutsocial.com/insights/instagram-stats/>
2. Advertising Standards Authority, Our Rulings Podcast –Episode 6: Who's A Celebrity? What's An Add?, 2019. <https:// soundcloud.com/advertisingstandards/our-rulings-episode-6whos-a-celebrity-whats-an-ad>
3. Advertising Standards Authority, An Influencer's Guide To Making Clear That Ads Are Ads, <Influencers' guide to making clear that ads are ads - ASA | CAP>
4. The (mis)use of social media beauty filters when advertising cosmetic products, 2021 <https://www.asa.org.uk/news/the-misuse-of-social-media-beauty-filters-when-advertising-cosmeticproducts.html>
5. ASA, Prescription Only Medicine, 2022,<https://www.asa.org.uk/ advice-online/healthcare-prescription-only-medicine.html#:>
@aestheticsgroup @aestheticsjournaluk Aesthetics aestheticsjournal.com Reproduced from Aesthetics | Volume 9/Issue 7 - June 2022
N-Finders PDO Threads are made in Korea and are the most advanced PDO threads available. 3 CE Marked 3 Manufactured in ISO approved facility 3 Made in Korea 3 KFDA Approved Beginner and advanced training available. Contact Eden Aesthetics to book. Discover the most advanced PDO Threads – exclusively available from Eden Aesthetics Tel: +44 (0)1245 227752 E-mail: info@edenaesthetics.com www.edenaesthetics.com
different languages on the packaging and is likely to be missing CE mark labelling for the EU (and UK whilst we transition postBrexit). Such products may be bought at attractive prices by parallel importers for sale at a small per unit profit in the UK. The same is true for EU-destined products, where currency fluctuations can make it attractive to buy stock in Euros for resale in Pound Sterling. This denotes the 'grey area' of their existence as they are being sold outside of the authorised distribution channels.
How grey market products are sold
Within the last few years, we have seen a significant growth in online pharmacies and social media-based sales reps targeting aesthetic practitioners with the offer of cheap deals or bulk buys for many of the injectable brands available from leading pharmaceutical companies – everything from dermal fillers, injectable lipolytics, and weight loss drugs to unlicensed botulinum toxins.
Purchasing Aesthetic
The temptation to save a few pounds when purchasing consumables such as dermal fillers and botulinum toxins may seem an attractive option when running an aesthetic business; anything to improve your bottom line, right? However, many of the discounted offers and cheap cosmetic injectables promoted directly to aesthetic practitioners via email, social media, or marketplace sites are not always the great deal they might appear at first glance and are, in most circumstances, so-called 'grey market' or 'parallel importations.'
This article will explore the concept of parallel imports, explaining why buying your cosmetic injectables from unofficial suppliers will risk invalidating your insurance, voiding product warranties, and will mean you are putting yourself at risk if something goes wrong with your treatment.
What are grey market products?
Parallel importation is a legal practice and refers to non-counterfeit, legitimate products, but they have been imported from another country without the permission of the intellectual property owner (the manufacturer).1,2 This may include products which were not intended to be sold in the EU, thus do not have the appropriate CE markings and manufacturing compliance. For example, batches of a well-known dermal filler brand may be produced by the manufacturer for sale in non-EU countries. It may or may not include
This is usually achieved by individuals either bulk buying through approved distributors or subsidiaries in other territories, who may or may not be aware of the final destination of the products that are being purchased from them. Similarly, some medics in other territories may gain advantages from onward sale of stock that they have sourced legitimately for their territory.
Many sellers appear legitimate; they may be linked to other businesses such as UK-based training academies, claim a presence or sales base in the UK, or have an existing pharmacy business. However, be warned that many are offering brands that they are not approved to directly sell within the UK, thus can only be supplying parallel imported products. As a buyer, unless you ask, you are often none the wiser that you are not getting products that are genuinely fit for sale in this territory.
Some appear even less legitimate – often targeting non-healthcare practitioners who struggle to source products from official routes. They may approach practitioners asking to be a Facebook friend or contact practitioners using direct messaging apps. Many of these operators do not have a fixed address, business name, or pharmacy licence and seek payment through PayPal or even direct bank transfer. Many are simply scammers – they take your money, block you, and have no intention of honouring the purchase, leaving you out of pocket with no recourse.
associate director Mark Copsey and operations director Hana Te Reo explain the importance of buying aesthetic products from authorised supply chains and the dangers of parallel imports @aestheticsgroup @aestheticsjournaluk Aesthetics aestheticsjournal.com Reproduced from Aesthetics | Volume 9/Issue 7 - June 2022
Injectables Insurance
Understanding the authorised supplier network
Pharmaceutical companies are committed to meeting the highest standards through stringent quality control and quality assurance processes. Prescription-only medicines (POMs) are manufactured according to good manufacturing practice (GMP) regulations and medical devices sold in the UK are CE marked (moving to UKCA marking post-Brexit).3 They maintain full visibility and traceability across their entire supply chain, with an end-to-end approach that supports patient safety. Sadly, these companies are not immune to either counterfeit products or the movement of their goods from multiple resellers.
Businesses who have exclusive rights to be a distributor for a dermal filler brand in the UK and Ireland have entered a contractual obligation which ensures that the products they distribute within this territory are approved under regulations and come from these traceable sources. They will then create official wholesale routes with chosen pharmacies to disseminate the products within the marketplace via a managed supply chain. If you buy from one of these official distributors, or direct from a local subsidiary of the manufacturer, which may also be an option, you can be guaranteed that you are receiving a product that was destined for sale in the UK and Ireland. It can be traced back from the moment of manufacture, has been continuously stored appropriately, and is safe to use on your patient. Should you encounter any complications during use, or failures with the syringe, then you have a guaranteed route for advice, assistance, and recompense with the distributor or subsidiary.
The problems with parallel imports and grey market products
Traceability, storage and handling
Approved supply chains mean that practitioners can be certain of the traceability of medical devices that they buy, that correct storage and handling has taken place, and that only products earmarked for use in the UK are in circulation.
Through parallel imports, there is no way of ensuring correct handling whilst the products are in the supply chain because their journey cannot be sufficiently traced. As noted in individual package inserts, products such as Profhilo require specific storage temperatures and handling between 0° and 25°C and must not be frozen or exposed to heat sources to ensure the safety of your patients. Other cosmetic injectables, like botulinum toxins, can require uninterrupted cold chain storage as detailed in their summaries of product characteristics. The lack of reliable information with grey market products
concerning storage temperatures and handling means that products could be damaged, defective, compromised in both efficacy and safety, or even expired. This all poses a significant risk to patient safety, as often identified in the manufacturer's guidance for particular products.
To ensure that products distributed via official supply chains are fully traceable in cases of product recalls, many pharmaceutical companies, distributors, and subsidiaries implement tracking systems which can, by barcode, track each box in every location after leaving the manufacturing site on its onward journey to the end user. This might not be the case if purchased from a supplier who operates outside the official supply chain with no direct links to either manufacturer or a distributor/subsidiary.
Complications and product support
As an aesthetic clinician, if you purchase grey imports then you have bought product from an unapproved source and the authorised UK distributor/subsidiary will not support your actions. This can have far reaching implications for both your business and clinical practice.
An unauthorised wholesaler will not have sourced their products directly from either the authorised country distributor or the originating manufacturer/pharmaceutical company, thus neither will have a relationship with such sellers or have any means of controlling the products that they sell.
All injectable products carry unique stickers – which should be kept and documented within patient notes, and include batch numbers, dates of manufacturer and expiry.
Manufacturer (e.g. US overseas company) Manufacturer (e.g. France) Authorised middleman Authorised middlemen Unauthorised middleman Unauthorised middlemen Figure 1: Parallel importing diagram
@aestheticsgroup @aestheticsjournaluk Aesthetics aestheticsjournal.com Reproduced from Aesthetics | Volume 9/Issue 7 - June 2022
Be warned that many sellers are offering brands that they are not approved to directly sell within the UK, thus can only be supplying parallel imported products
The authorised distributor can tell if the batch number of the product that you used on a patient was part of their managed supply chain.
Purchasing grey imported products often voids warranties with both the authorised distributor and the originating manufacturer which would apply had you used official and recognised supply chain routes. If you have a problem, such as an adverse reaction to a product, you may also find that the unauthorised wholesaler is also unresponsive, and you find yourself out in the cold with no support to manage the situation. Seeking advice on social media forums should not be a replacement for advice from an authorised distributor as we often see incorrect information is being given by people not directly involved with the brand.
Insurance
One of the biggest risks posed by purchasing grey market products is invalidating your medical malpractice insurance. Hamilton Fraser Cosmetic Insurance policies would not cover any practitioner that performed cosmetic procedures using unauthorised products, and this will be the case for other insurance providers too.
When you take out an insurance policy, you are paying for the reassurance of legal and financial support should something go wrong with the treatments you perform. By purchasing products from unauthorised sources, you are inadvertently invalidating your cover from the outset, because this could put your patients at risk of harm. It is important that you make sure all products have been sourced from reputable and listed suppliers and that your standards of product choice are always maintained. Sadly, many practitioners are unaware of the dangers of invalidating their cover, either through ignorance or genuine error, when deciding where to source the products that they use on their patients.
In the event of a claim on your policy, your insurer will request proof of the manufacturer and the batch code of the product used. The product batch stickers should always be included in the patient's file and in some cases the insurer may also require a purchase invoice, if there is an issue with the product or if there was a claim for stock damage from fridge failure, for example. If it transpires that the product was not purchased from an authorised supplier, then the claim can be repudiated and your policy may be cancelled because you, as the
policyholder, have violated policy conditions in relation to product sourcing. It is therefore best practice to keep receipts, ensuring that they are from a reputable source, to avoid the risk of the insurer declining cover and the policy being void due to non-compliance with policy conditions.
Similarly, you risk invalidating your policy by training to use a specific brand of injectable product with a company who is not approved by the manufacturer. Most approved training certification is accessed directly through the authorised UK and Ireland distributor or the country subsidiary. They may also authorise individual training providers to offer training using their approved educators. Like many things within the UK aesthetic sector, regulation on training and certification is poor and there are a multitude of businesses offering CPD or accredited training in the use of branded products without any manufacturer approval or scrutiny of their training materials. This can lead to inadequate and potentially dangerous instruction, risking patient safety. Investing in unauthorised and unapproved training courses will render the certificate that you show to your insurer simply not worth the paper it is written upon. Always seek manufacturerapproved training certification by speaking directly to the approved territory distributor, country subsidiary, or original manufacturer for guidance. In addition, check with your insurer whether there are any other conditions when it comes to training, for example, Hamilton Fraser requires that training for injectables is taught by a medical professional.
How to find an authorised stockist
If you are not sure who the authorised stockists or wholesale pharmacies are for your preferred brands, do not be afraid to ask the UK distributor/subsidiary for a list. You can also contact the manufacturer directly for country guidance; many often list distribution information by territory on their website. Not every aesthetic product wholesaler is contractually approved to sell every brand, even if they are a well-known and reputable provider, they may still stock grey imports for those brands which they are not authorised to sell. The Medicines and Healthcare products Regulatory Agency (MHRA) and European Medicines Agency (EMA) also provide a database (EudraGMDP) to allow healthcare practitioners to identify legally operating pharmacy suppliers.4
Consider your supply partners
Hopefully, this article has made you carefully consider where you buy your cosmetic injectable products. Practitioners are encouraged to purchase products from the manufacturer's selected group of pharmacies or distributors. Whatever you are buying in this field, you should look at quality, substance, and a high level of support services alongside price rather than just price alone.
Deliberately or knowingly buying products not intended for the sale in the UK on the grey market could cause physical harm to your patients as well as reputational and financial harm to you and your business. Do you really want to be practising aesthetics knowing that neither your insurer nor the authorised distributor has your back if there is a complication and a claim against you? Sleep easy, choose your products and suppliers wisely.
Mark Copsey is associate director at Hamilton Fraser Cosmetic Insurance, heading up the healthcare division. He has more than 30 years' experience in the insurance sector and was previously at Millstream Underwriting Limited where he held the position of development underwriter, leading on the expansion and growth of the business internationally.
Hana Te Reo is the operations director at HA-Derma, the exclusive UK and Ireland distributor of IBSA's dermo aesthetic portfolio. Te Reo graduated from the University of Economics in Prague with a Master's of Science.
REFERENCES
1. MHRA, Parallel Imports of Medical Devices, 2019, <http://www. gov.uk/government/publications/parallel-imports-of-medicaldevices/parallel-imports-of-medical-devices>
2. MHRA, Medical Devices Regulation and Safety, 2019, <http:// www.gov.uk/topic/medicines-medical-devices-blood/medicaldevices-regulation-safety>
3. Department of Health and Social Care, Blood Regulation and Safety, 2019, <http://www.gov.uk/topic/medicines-medicaldevices-blood>
4. EudraGMDP, Compliance with Good Manufacturing Practice, 2004, <http://eudragmdp.ema.europa.eu/inspections/ logonGeneralPublic.do>
@aestheticsgroup @aestheticsjournaluk Aesthetics aestheticsjournal.com Reproduced from Aesthetics | Volume 9/Issue 7 - June 2022
Aesthetics | June 2022 61 aestheticsjournal.com Business Development Parallel Importing
Implementing Infection Control in Your Clinic
Business consultant Taruna Chauhan outlines
Infection control and control of substances hazardous to health (COSHH) go hand in hand. We use COSHH in our daily life, however, we tend not to call it that. When we use bleach or washing-up liquid at home, these are all classed as hazardous to health, and we need to be mindful of how we use them. In your clinic this is essential to ensure you are following COSHH guidelines and have the correct protocols in place. Many substances used for cleaning your clinic will come under COSHH, hence the link to infection control. Infection prevention is imperative in a clinic setting. Being aware of what makes a good cleaning regimen and how to manage COSHH is essential, so it doesn't become burdensome. Having staff on board and trained ensures a good clinical environment with a reduced risk of infection. With COVID-19 measures slowly diminishing, this article aims to ensure that infection control measures are still upheld whilst providing tips that can help to ensure that you are using the best practice in your clinic. Infection control is an ongoing process and clinics need to maintain standard precautions daily. These are good hand hygiene, use of personal protective equipment (PPE) and respiratory hygiene/cough etiquette in healthcare settings.
Areas of infection
It's important to think about the premises from the front door to the back offices. Think about the patient and staff journey as staff can transmit infection from the back office to the front desk as well as any additional areas they walk around. An interesting exercise is to place post-it notes on each surface you touch without even thinking about it. This can be conducted during training or when undertaking an audit. Standard infection control precautions, formerly known as universal precautions, underpin routine best practice, protecting both staff and patients from micro-organisms that may cause infection.1
Key areas to focus on in your clinic are:
• Hand hygiene
• PPE such as protective glasses or masks. These can be determined by the treatment being undertaken
• Disposal of sharps and waste
• Decontamination of equipment
• Single use equipment
Ask yourself what you are implementing in each area. Are you undertaking audits consistently? Audits are different for each clinic as it is dependent on the size of the clinic. In my view, an audit is a quality assurance tool for you to see if best practice is being followed and that written procedures are mirrored in working practice. It's all very well training staff, however it is just as important to check competency and adherence. Findings from audits should be discussed among the team and checked for any areas that need improving. When undertaking routine tasks, it can be easy to forget a step. Implementing standard operating procedures when undertaking treatments is good practice as in the circumstances of something going wrong, you can check this against the process. It might not be much, but if there are a chain of errors then the potential for something catastrophic to happen is increased.
The Infection Prevention Society (IPS) has some useful resources and audits which can be adapted, meaning you do not have to start from scratch but can change it to the needs of your organisation.2
Hand hygiene
All staff should have training on hand hygiene and posters should be up by sinks on the necessary hand washing methods. Hand hygiene audits should be undertaken annually. This should involve observations to ensure that the correct technique is being used by all staff.3 The key areas to look at include the five moments of hand hygiene, which include before patient contact, before a clean/aseptic procedure, after body fluid exposure risk, after patient contact and after contact with patient surroundings.3
PPE
The PPE used in-clinic needs to be fit for purpose and you should conduct regular audits to ensure that staff are using PPE correctly for their own safety and their patients.2 The current legislation which refers to the supply of personal protective equipment is the Personal Protective Equipment Regulations 2016/425, which is enforced by the Personal Protective Equipment (Enforcement) Regulations 2018.4 By using the correct PPE and disposing of it correctly reduces the likelihood of infection being spread from one area of the clinic to another.
Safe handling and disposal of sharps
Effective management of sharps comes from the Health and Safety (Sharp Instruments in Healthcare) Regulations 2013.5 Each employer should do a risk assessment on the sharps used and ensure that staff
@aestheticsgroup @aestheticsjournaluk Aesthetics aestheticsjournal.com Reproduced from Aesthetics | Volume 9/Issue 7 - June 2022
how to ensure your clinic complies with the regulations on cleanliness and infection
are adequately trained. Sharps need to be disposed of appropriately into designated sharps bins. Sharps bins need to be specifically sourced for sharps and must have a contract to be collected by an appropriate waste management company after they have reached the max line. The areas I have seen errors in when disposing of sharps has been no label on a sharps bin, the wrong size sharps bin for the area and placement of sharps bin in an unsafe manner. Britain's national regulator for workplace health and safety, The Health and Safety Executive, states, 'Regulation of COSHH requires systems to dispose of contaminated waste safely. The sharps regulation supplement this by requiring that clearly marked and secure containers are placed close to the areas where medical sharps are used. Instructions for staff on safe disposal of sharps must also be placed in those areas'.5
Safe handling and disposal of waste
The management of healthcare waste is essential to reduce the risk of infection, however, it is also regulatory. The 'Health Technical Memorandum Management and disposal of healthcare waste' gives guidance on the best practice for waste management and top tips which aesthetic practitioners can learn from such as the correct type of bins for the appropriate sharps you use, the right colour bags for clinical waste and general waste, ways to improve the environment and carbon impacts of managing waste.6 Be aware of your responsibilities as a waste producer.
Although it is not mandatory, here is a useful colour coding system which is used in England, Wales and Northern Ireland, and I believe it's a good idea to implement it. When staff move from one employer or location to another, they will understand the system and consistency can be maintained. It is also good for the environment to have the waste segregated correctly. Storage of the waste whilst awaiting collection is important and must be done in a safe manner.
The colour coded system for waste is:
• Orange – clinical and infectious waste
• Blue – medicinal waste
• White – dental amalgam waste
• Yellow – clinical and highly infectious waste
• Red – anatomical waste
• Tiger – offensive/hygiene waste
• Purple – cytotoxic and cytostatic waste
• Black – mixed municipal waste
Decontamination of equipment and single use equipment
Personally, I believe it is advisable where practicable to use single use items. However, when decontamination is required, it needs to be undertaken under proper environmental control, which is dependant on each clinic's set up.7 Clean and dirty areas must be separated, thereby reducing the likelihood of cross contamination. Staff using the decontamination equipment must be trained on using it and each manufacturer will train staff differently based on their protocols. Good practice in this area reduces the likelihood of the spread of infection. There are three levels of decontamination, which include: general cleaning, disinfection, and sterilisation. Equipment used in healthcare settings may be designated as single use, single patient use or reusable multi-patient use. The likelihood of contamination and infection risk will depend on the contamination. Each clinic should do a risk assessment, so they know what level of decontamination, if any, is required.8
Cleanliness is key
Managing the chemicals and hazardous waste is important. The NHS have a colour coding system for cleaning, which, if you use in your clinic, will ensure that the cleaner attending the workplace can help to reduce infection too.9
The colour coding system is:
• Red – bathrooms, washrooms, toilets, basins and bathroom floors
• Blue – general areas including wards, departments, offices and basins in public areas
• Green – catering departments, ward kitchen areas and patient food service
• Yellow – isolation areas
It is to be found in the national standards of healthcare cleanliness.9 When using a cleaning company check if they are a member of the British Institute of Cleaning Science or the British Cleaners Association. This is a positive as it will mean they have specific requirements to meet.10,11
The 'National Standards of Healthcare Cleanliness 2021: Health and Safety' is a place to start.12 It provides a good understanding of what cleanliness is in a healthcare setting and covers auditing as well. If you aren't already auditing, you won't be aware of where improvements can be made.
Have an infection-free clinic
Infection control is imperative in a healthcare setting of any capacity. By using these recommendations and aligning them to the size of your clinic, you will be able to make it a safe place for your patients and staff whilst meeting good practice as well as any statutory standards you need to meet as a clinic.
Taruna Chauhan is the director of T Chauhan Consultancy. Her work involves supporting aesthetic businesses who undertake a regulated activity with the Care Quality Commission (CQC). She mentors and coaches the sector from the start of their journey with the CQC application and then provides ongoing support to be inspected using her Continuous Quality Success Framework. TO VIEW THE REFERENCES GO ONLINE AT WWW.AESTHETICSJOURNAL.COM
@aestheticsgroup @aestheticsjournaluk Aesthetics aestheticsjournal.com Reproduced from Aesthetics | Volume 9/Issue 7 - June 2022
Working with GetHarley
What first attracted you to partnering with GetHarley?
It's unique concept. Some of my colleagues and trusted friends were early adopters, and when I spoke to them about the service, they spoke very highly of GetHarley.
I said 'what's the catch?' But that's the beauty of GetHarley, there is no catch.
It's a service that saves you time. I've always felt I never had time to focus on skincare. As the practitioner, you broach the topic of skincare with your patients and have an initial conversation, but then you can pass the baton on to GetHarley when they leave – who send them the selected skincare plan, instructions, details and products. They also deal with all the communications, logistics and essential initial handholding. I also have multiple clinic locations. I didn't want lots of stock sitting in clinics and I didn't want to have to delegate someone to follow up with patients for repeat sales. I also appreciate different skin brands have different strengths, but I didn't want to invest in inventory for each brand.
That's the beauty of having a digital shelf – you can add products from multiple brands without any additional cost to you; unlike an actual shelf in your clinic, which always incurs an initial inventory cost.
How were you selling skincare before GetHarley and how does that differ now?
I might be quite an unusual case, but I didn't sell skincare at all before partnering with GetHarley. I advised my patients what to buy and referred them to colleagues for medical-grade skincare. But other than that, I didn't think it was worth my time to go through skincare plans in detail and explain each product. Therefore, I would refer them elsewhere and spend my time with them on higher ROI treatments (for example, injectables).
What were your customer touchpoints and how have these changed since joining GetHarley?
If I had sold skincare before partnering with GetHarley, my clinic team would have had to check in with patients at two weeks, four weeks, six weeks and eight weeks, which is overwhelming! Alternatively, by working with GetHarley, you technically have less touchpoints yet the patient feels as though their touchpoints with me have increased!
Why do you think people should join GetHarley?
I would ask, why wouldn't you join GetHarley? Join GetHarley and see what you lose out on. You won't. You will only gain.
GetHarley picks up the slack! It reduces your skincare workload by a significant amount. You can use the online consultation service and fit that around your clinic hours.
What are your top tips for getting good results with the platform and concierge service?
I've made all of my consultations include the concept of a skincare concierge. The patient develops buy-in and trust with you as a practitioner, and then I explain about the GetHarley service.
I always say to my patients – 'GetHarley is not about sales, the service is not about selling. The team are there to support and guide you and help you to get the best from your skincare regimen, and if needed, they can connect you to me.'
Once you phrase it like that, and they realise that the concierge service is for them – to optimise their plan and get the most from their investment – they are more than happy to buy-in to the service. Now I am offering everything in-house, patients are better engaged, comply better with their treatments and skincare and are noticing their results. That is what it is all about.
I am more motivated about my patients' skin now and enthusiastically recommend tailored skincare regimens.
By working with GetHarley, I make more 'passive' income from skincare sales, feel more connected to my patients and am keeping my patients within my own business!
This advertorial was written by Dr Kam and Emma Bracey-Wright and supplied by GetHarley www.getharley.com
We sometimes forget that the ultimate goal is not sales, it is happy patients with healthy skin who step out into the world with bags of confidence.
Aesthetic practitioner Dr Kam Lally explains why he has partnered with GetHarley and why others should join the digital skincare platform
64 @aestheticsgroup @aestheticsjournaluk Aesthetics aestheticsjournal.com Aesthetics | June 2022 Advertorial GetHarley
In The Life Of Dr Patrick Treacy
Dr Patrick Treacy details his typical working week and the importance of discussing complications in aesthetics
A typical working week…
On a usual working day, I wake up at around 7am, except on Wednesdays when I work the late shift. Before I go to work, I enjoy reading a variety of newspapers, particularly The Guardian, The Times, The New York Times and the Irish Independent. As well as reading, I do my emails, answer lots of WhatsApp messages from colleagues around the world and keep up to date on the industry through social media. I arrive at work at 9am and see patients up until 1pm, when I have my lunch.
I usually see around 10 patients in the morning and eight in the afternoon on a normal medical day. It is interesting with lots of skin cancer appointments, and complex botulinum toxin concerns, especially Bell's palsy cases and chronic migraines. We also conduct aesthetic medicine in both our Dublin and Cork clinics, and I can see a lot of patients during this time, sometimes 20-30 in a day. I have recently employed another doctor to share this workload. Our top treatments are botulinum toxin and dermal filler injectables. I also have a lot of acne and polycystic ovary syndrome dermatology patients, requiring Roaccutane and Spironolactone. These patients often need further treatment or a referral for hormonal problems, as well as laser resurfacing or radiofrequency microneedling for extensive acne scarring. My clinic team will perform other treatments including HIFU or vascular IPL. We have around 11 staff in each clinic, and I supervise and oversee the day-to-day running of the clinics as well as seeing patients.
I finish work at around 6pm where I catch up on any last-minute emails or messages. I like to spend my evenings relaxing or seeing friends at the local pub after work. Often, I will also spend this time preparing lectures for international conferences or writing – I wrote six books on a variety of topics in aesthetic medicine during the pandemic which are going through different stages of publication and drafts. Currently, we are releasing them every six months. My most recent book was called The Evolution of Aesthetic Medicine
Any hobbies…
I enjoy writing books, I play guitar and used to sing in a band.
Industry pet hate…
Lack of government regulation in aesthetic medicine.
Career you would do if you weren't a doctor…
I studied molecular biology before medicine so would have liked to research into vaccines for malaria. I would also like to do some humanitarian work!
Opening up about complications…
Throughout my career, I have been fortunate enough to lecture internationally about my research within aesthetic medicine for which I have won many awards. One of my most popular lectures is about '20 Years of Dealing with Aesthetic Complications'
It details my views from a vast bank of complication experiences, from HIV lipodystrophy patients to dermal filler vascular occlusions. I like to be able to spread awareness of this in our industry, as dealing with a complication can be a stressful and difficult situation as a practitioner, so I think it's important to have the correct tools and knowledge to be able to deal with one appropriately.
I'm also on the board of the IMCAS Academy Complications Alert (Paris) covering injectables, threads, lasers, energy-based devices, peels, and clinical dermatology. This Alert allows doctors to receive expert advice on complications, cases, or procedures. When a doctor selects the topic in which their case belongs, they can submit their case anonymously and it will be visible to the IMCAS Academy community of experts for them to answer. Being a board member of these associations allows for me to be at the leading edge of innovation in the aesthetic specialty whilst also ensuring that regulation standards are brought to the forefront of Government policy in Ireland. This is pivotal for our industry to ensure that the correct and most qualified practitioners are injecting patients. I conduct any external work, such as interviews, on Wednesdays.
Most memorable day…
My most memorable day in aesthetics probably was when I was treating Michael Jackson's vitiligo. Nelson Mandela rang him, and he handed me the phone. I thought it was a concert promoter calling about a HIV concert we were organising in South Africa! After discussing the fact that we both had lived in Cape Town I mentioned that I had lived in Clifton, Camps Bay and Bantry Bay. He replied, "You know Cape Town better than me. I suppose I am really just a blow in." I actually said, "Where did you live before that?" before Michael put his hand to his mouth, hurriedly pointed to the phone and said, "It's Madiba!"
@aestheticsgroup @aestheticsjournaluk Aesthetics aestheticsjournal.com Reproduced from Aesthetics | Volume 9/Issue 7 - June 2022
The Last Word
I was travelling to Ukraine in the morning of February 24 as I planned to visit and meet Ukrainian colleagues and friends. However, my flight was cancelled when I was queuing at Luton airport. I received a call, and heard bombs and sirens in the background. It was then I found out that the office where I should meet my long-time friend and organiser of aesthetic events in Ukraine had been destroyed by Russian bombs. It was a beautiful office – I called it The Hive because it was always busy and full of people, just like a bee's hive of the aesthetic industry.
Background of Ukrainian aesthetics
The aesthetic industry was born in the 90s on the post-USSR space, led by Russian-owned companies. Before 2014, Ukraine had been seen by many as a business satellite of Russia. The majority of aesthetic providers had been selling products and devices in Ukraine via Russian based or owned companies and bringing Russian key opinion leaders (KOLs) to educate Ukrainian doctors. It created, in my view, a false impression of similarity in aesthetic preferences and choices, but more and more Ukrainian practitioners and patients had been looking for a European aesthetic approach.
Growing relationship between Ukraine and Europe
Things started to change in 2014, when Ukrainian aesthetic medicine became European-oriented. Aesthetic conferences began taking place that were Ukrainian focused. The round table Modern Market of Laser Medicine and Cosmetology Issues and Prospects event organised in Kyiv on September 2014 became one of the first of the coordinating and reuniting national Ukrainian aesthetic industry events.1
At this point, the power of the anti-Ukrainian propaganda in Russian media was so strong that many Russian speakers refused to visit Ukraine and participate in conferences and events despite their previous peaceful experience and friendly relationships. Finally, the new generation of Ukrainian dermatologists and future KOLs became
seen and known in their own country. Their voices were different as they were not so engaged by brands and businesses but instead adopted EU safety standards and the western style of the doctorpatient relationship. Working groups of dermatologists also collaborated with the NHS and EU Health organisations to create new Ukrainian guidelines of the diagnostic and treatments with working groups of cardiologists, gastroenterologists and other colleagues.2
Current landscape
In November 2021, there were 35,000 Ukrainian companies offering beauty services and aesthetic medicine procedures all over the country, creating more than 250,000 jobs in this sector. The market was worth two billion USD at the end of 2019 and didn't suffer a lot during the pandemic due to the mild restrictions. As of 2021, there were around 840 companies importing products and devices, 103 of them importing injectables, and more than 50 aesthetic clinic chains have been created in the last few years. All of this evidences that aesthetics was becoming an important part of the Ukrainian economy and that the industry was developing at a rapid rate.3
However, as of today, most Ukrainian male doctors and aesthetic practitioners are working in the military medical service and civilian hospitals. Many female colleagues are also volunteering to help. Dr Natalya Lelyukh, a KOL and well-known aesthetic gynaecology speaker, is evacuating people from occupied territory and specialising in helping women and children who have experienced sexual violence. Before the war she was speaking about laser aesthetic gynaecology procedures and now she is travelling over the country with a portable ultrasound and surgery bag. National antiageing and nutritionist Oksana Skytalinska is volunteering for the army organising medical help, protective equipment and healthy food supplies. Professor Tetyana Svyatenko is leading a team helping Ukrainian children and families in the war.
Although a lot people within the aesthetic industry remains in Ukraine, many of the Ukrainian female aesthetic doctors and practitioners have now become refugees in EU countries and the UK and most of them are looking for the opportunity to validate their professional diplomas and certificates to be able to practice out of Ukraine. Even for English speakers it is not easy moving to a new country, and many of my colleagues are now volunteering in refugee centres or working in low wage jobs to provide for their families, rather than being able to partake in the industry they specialise in and love.
Supporting Ukrainian colleagues
The Russian aggressive war in Ukraine is an unbelievably tragic event with unknown consequences. The UK is supporting Ukraine enormously and the people of Ukraine are incredibly grateful for this support, which is saving lives every day.
For those in aesthetics who are looking to help, you can start by contacting your Ukrainian colleagues known by previous international conferences and offer them emotional support – it would be a great help. If you don't know anyone from Ukraine, you could join Facebook groups dedicated to the cause. If you could do more for medical funds and charity organisations, such as British Ukrainian Aid or Caring for Ukraine, that would also be amazing. But most of all, I believe we need to look into a validation of professional diplomas for medical professional refugees at least in our industry by contacting the General Medical Council or raising discussions with industry associations. This shouldn't be for Ukrainians refugees only, but for previous and future refugees as well so they can continue to work in the industries they are trained in and passionate about.
Dr Tiina Orasmae-Meder is a Ukrainian specialist in dermatology, having more than 20 years' experience in the professional beauty industry. She is the founder of Meder Beauty Science, based in Switzerland. Dr Orasmae-Meder has led new product development for many professional brands and since 2007, she has been working with one of the largest independent labs, Iris Brand Vigilance, as a leader in cosmetic safety.
REFERENCES
1. Olena Derevyanko, 2014, <http://derevyan.com/en/articles/ novosti_zhizni/kruglyy_stol_sovremennyy_rynok_lazernoy_ mediciny_i_kosmetologii-problemy_i_perspektivy.html>
2. The Finish Medical Society, Guidelines, <https://guidelines.moz. gov.ua/>
3. Data on file with Dr Tiina Orasmae-Meder & Tetyana Fedorova, internal database of Premier Expo Ukraine. < https://pe.com. ua/en/>
Dr Tiina Orasmae-Meder outlines the current state of aesthetic medicine in Ukraine and how she believes practitioners in the UK can help
@aestheticsgroup @aestheticsjournaluk Aesthetics aestheticsjournal.com Reproduced from Aesthetics | Volume 9/Issue 7 - June 2022 The Last Word Ukrainian Perspective
+44 (0)20 3196 4371 | ccrlondon.com 13 & 14 October 2022 | ExCeL London, UK Scan for the latest event news Headline sponsor The UK's flagship event in aesthetic medicine uniting the surgical, dermatological and aesthetic specialties. Save the date Whats on? Dr Tapan Patel Masterclass | In Practice Theatre | ISAPS Symposium UK | Press Conference + Studio | CCR Trends Report | ACE Group World Meeting | CCR Party @ccrlondon CCR London
The delicate eye area, needs the strongest expertise
MaiLi Precise, is our safest and effective HA formula yet. Created to help you refresh and rejuvenate the most tired of eyes with care, precision and most importantly confidence*.
This deluxe treatment harnesses the power of the world's first OxiFreeTM HA technology and uses lidocaine to make your clients comfortable, so you can focus on your work and help turn back the clock.
®
MaiLi.com
Actual patient, individual results may vary. * The application of MaiLi Precise in the periorbital area is reserved to specialists specifically trained in this technique and having sound knowledge of the anatomy and physiology for this area CE mark CE2797. MaiLi devices are intended for correction of facial wrinkles or folds, for the definition or enhancement of the lips, and for the restoration or enhancement of the facial volume.
Refresh with the power of MaiLi Precise.