A month of miracles
I believe this is the time of year when most miracles happen. The holiday season causes many people to set aside frustrations with family and friends and join them for a meal, or to reconnect around a buffet of delicious goodies.
The roots of the season are simple. We have set aside Dec. 25 as the day to honor the birth of Jesus, the Christ. This celebration brings out the best in humanity and opens our hearts to reconciliation and our pocketbooks to generosity. We're also reminded of both personal and community celebrations and traditions. Many of them are listed in our Calendar of Events to help you make festive plans.
This issue is themed "Traditions" because rituals and customs give us a sense of roots. They play a role in the rhythm of our lives, and if you try and skip a holiday tradition, your children and grandchildren will quickly remind you!
We are a regional magazine that celebrates life in 11 counties. This month we bring you a Christmas cookie from each county, along with many recipes. We also share David Glaze's tradition of decorating multiple trees throughout his lovely home. Sam and Dana Boyster remind us to invest time in creating gifts in a feature about gingerbread houses. Like me, you'll wish you were on their Christmas list!
Don't miss our pet feature which explains the life of circus animals, or the artist feature about Angela Barry whose canvas is cakes. See the spectacular cake she crafted for 501 LIFE on page 7.
In his column, Dr. John Robbins of Pulaski Heights UMC - Little Rock reminds us of the simplicity of the Savior's birth. Also, be sure to read about Grandma Sue of Morrilton who is the embodiment of Southern hospitality.
And remember the saying from "The Santa Clause" movie: "Just because you can't see something doesn't mean it doesn't exist." There is love. There is forgiveness. There is hope and there are miracles — just look across the table during Christmas dinner.
4 | 501 LIFE December 2022 Betsy Bailey Amy Burton Tara Cathey Cassandra Feltrop Phil Hays Natalie Horton Matt LaForce Mike Parsons Brooke Pryor Judy Riley Carol Spears Kristi Thurmon PUBLISHER/ART DIRECTOR Jeremy L. Higginbotham EDITOR Stefanie W. Brazile FOUNDERS Donna Spears and Sonja Keith BRAND AMBASSADOR Donald Brazile ADVERTISING DIRECTOR Paulette Higginbotham ADVERTISING SALES Donna Spears DIGITAL DIRECTOR Levi Gilbert PHOTO DIRECTOR Mike Kemp COPY EDITORS Andrea Lively and Andrea Miller FINANCE DIRECTOR Debbie Flowers CONTRIBUTORS Becky Bell Don Bingham Jessica Duff Dwain Hebda Linda Henderson Colleen Holt Vivian Lawson Hogue Tammy Keith Beth Jimmerson Mark McDonald Susan Peterson Dr. Robert Reising Judy Riley Dr. John Robbins Carol Rolf Donna Lampkin Stephens Rita Thomas Morgan Zimmerman Johnny Adams Jack Bell Don Bingham Jessica Brown RaeLynn Callaway Glenn Crockett Beth Franks Russ Hancock Spencer Hawks Mathilda Hatfield Roe Henderson Jerry Hiegel Mike Kemp Julie LaRue Karl Lenser Monica Lieblong Lori Melton Deanna Ott Pat Otto Jon Patrom Amy Reed Lori Ross Margaret Smith Jan Spann Kim Tyler Suzann Waggoner Jennifer Whitehead Kay Dalton Wood FAULKNER CO. EDITORIAL BOARD Mary Clark Shelli Crowell Dr. Larry Davis Shawn Halbrook Alicia Hugen Alisha Koonce Stephanie Lipsmeyer Stewart Nelson Kristi Strain Jim Taylor Morgan Zimmerman CONWAY CO. EDITORIAL BOARD WHITE CO.
72034, 501.327.1501)
The
501
EDITORIAL BOARD
501 LIFE is published by Make the Jump Media, LLC (920 Locust Ave. Ste. 104, Conway, AR
and is owned by Jeremy Higginbotham and Stefanie Brazile.
contents of
LIFE are copyrighted and materials presented may not be copied or reproduced in any manner without the written permission of the publishers. Articles should not be considered specific advice, as individual circumstances vary. Advertisements are not necessarily endorsed by 501 LIFE.
On the cover
6 | 501 LIFE December 2022 Volume 15 Issue 8
34 78 December2022 4 Letter from the Editor 8 501 Holiday Events 10 Loving LIFE photos 12 Veterans Day event meaningful 14 Conway Downtown Partnership awards 16 Couple
Rebeca
18 The
Cookie Makers
22 Oh
26 Youth
Nataleigh
30 The
34 The Boyster's gingerbread houses
36
hosts
40 SPECIAL SECTION: Santa's Twelve Cookies of Central Arkansas 40 I. Heart of Arkansas Iced Shortbread Cookies s 41 II. Cleburne County's Molasses Cookies 42 3. Conway County's Easy Coffee Cookies 44 4. Faulkner
Orange & Raisin Cookies 46 V. Maxine's Cookies of Garland County 48 6. Hot
Cherry Pop Cola Cookies 50 7. Lonoke
Peanut Butter Clusters 51 8. Perry
Peanut
No Bake Cookies 52 9.Pulaski
Oatmeal Peanut Butter Sandwich Cookies 53 X. Saline
Chocolate Peppermint Cookies 54 XI. White
Sugar Cookie Cut Outs 56 XII. Marlene's
of Van
County 58 Kid
63 The simple
64
66
68
72
74 Energy-smart
76
78
82
84 Playland
and
returns
85
86
Santa is coming to town to share his 12 Cookies of Central Arkansas with 501 readers. photo by Mike Kemp
of the Month:
& Jaime Santillan
Christmas
By Chef Don Bingham
Christmas Trees! Story by Donna Lampkin Stephens
of the Month:
Lindsey By Carol Rolf
Clinton Clydesdales By Rita Halter Thomas
By Judy Riley
Morrilton Chamber
annual event
County's
Spring County's
County's
County's
Butter
County's
County's
County's
Strawberry Bliss
Buren
of the Month: John Havard By Becky Bell
moments of Christmas By Dr. John Robbins
Pet of the Month: Zoppe' circus animals By Colleen Holt
Conway Rotary Youth Football League By David Grimes
Artist of the Month Angela Barry By Donna Lampkin Stephens
Author of the Month: Bryan L. Hendricks By Susan L. Peterson
Christmas By Beth Jimmerson
The days of Auld Lang Syne By Vivian Lawson Hogue
Window to a winter wonderland By Linda Henderson
Athletic Excellence: Will Walls By Dr. Robert Reising
Skating
Bowling
By Morgan Zimmerman
Morrilton's Sweet Grandma Sue By Morgan Zimmerman
Person of the Month: Mark Amox of Unity Health
A 501 LIFE subscription is the Icing on the Cake to a wonderful Central Arkansas Christmas!
For only $20 a year, get the perfect gift for yourself and the ones you love by having 501 LIFE delivered right to your door. Home delivery ensures you are always on the nice list!
Visit 501LIFEmag.com or call 501.327.1501 to subscribe.
501 LIFE would like to thank our advertising partners.
Bledsoe Chiropractic, 28
Chicken Salad Chick, 24
Conway Corp., 74
Conway Institute of Music, 59
Conway First United Methodist, 63
Conway Flooring, 57
Conway Regional Health System, 87
Conway Regional Rehabilitation Hospital, 37
DJM Orthodontics, 84
Downtown Conway, 38-39
Edward Jones, 67
Essence Healthcare, 77
First Community Bank, 21, 86
First Security Bank, 88
First Service Bank, 13
Freyaldenhoven Heating and Cooling, 75
Girl Scouts - Diamonds, 9
Halter's Body Shop, 73
Hartman Animal Hospital, 65
Harwood, Ott & Fisher, PA, 81
Heritage Living Center, 5
Julie's Sweet Shoppe, 45
Kilwins Little Rock, 49
MSC Eye Associates, 83
Ott Insurance, 32
Patterson Eye, 24
Pulaski County Special School District, 61
Renewal Ranch, 33
Restoration Wellness, 71
Reynolds Performance Hall, 47
St. Peter's Episcopal Church, 63
Salem Place, 25
Searcy Holiday of Lights, 9
Sissy's Log Cabin, 15
Shelter Insurance, 83
South Conway County Schools, 43
Stoby's/PattiCakes Bakery, 62a
Superior Health & Rehab, 2
Unity Health, 3, 55
University of Arkansas
Community College Morrilton, 85
University of Central Arkansas, 27
Velda Leuders- Coldwell Banker, 8, 16
Zellner's Appliance, 31
Catch 501 LIFE on KARK Noon News and Conway Corp each month!
welcome to the Writers' Room
Don Bingham
Recognized throughout the state as an accomplished chef, he has authored cookbooks, presented television programs and planned elaborate events. He was the administrator of the Arkansas Governor's Mansion for a decade and his wife, Nancy, was the First Lady's Assistant. They have five children and 12 grandchildren. Contact him at donaldjbingham@gmail.com.
Morgan Zimmerman
was raised in Northwest Arkansas and studied journalism at Arkansas Tech University where she met her husband, a Morrilton native.
She works as a freelance marketer, writer and mom to two young children.
Morgan is a volunteer for Main Street Morrilton and Sacred Heart School among other organizations in her community.
Linda Hoggard
Henderson
A resident of Central Arkansas for most of her life, Linda shares her love of photography and traveling Arkansas each month. A graduate of UCA and retired from the Conway Human Development Center, she and her husband, Jim, have a son, John Mark. Contact Linda at lindahenderson@ conwaycorp.net.
December 2022 501lifemag.com | 7
Benton
Celebrate the season as The Royal Players present A Christmas Carol: The Musical, Dec. 1-4 and 8-11. This adaptation breathes new life into the classic by Charles Dickens. The Historic Royal Theatre is located at 111 S. Market Street in Benton. Tickets are: $18 for adults; $15 for seniors, college students and members of the military; $8 for 12th grade and younger. Buy tickets at theroyalplayers. ticketleap.
Conway
Gather around the large tree in Rogers Plaza for photos and enjoy the attractions starting at 5 p.m. Dec. 1 - 23, unless otherwise noted. Many stores offer extended shopping hours. Dec. 1-23, see the city's lights from a 100-foot Ferris wheel for $5 per person, and $3 for rides on the Mini Ferris wheel. Starting Dec. 3, the mini-train runs 5 to 9 p.m. Thursday-Saturday. Rides are $4 per person.
The Conway Symphony Orchestra's Holiday Spectacular is planned for 7:30 p.m. Dec. 3 at Reynolds Performance Hall, featuring the Conway Men's Chorus, Arkansas Festival Ballet and Santa. Tickets are $25 - $45 per person. Visit conwaysymphony.org.
Conway Men's Chorus will perform at 7 p.m. Tuesday, Dec. 6 at Reynolds Performance Hall. The 50+ men will perform "You're A Mean One, Mr. Grinch," "Silent Night," "Dona Nobis Pacem," "O Holy Night" and more. The event is free.
A Charlie Brown Christmas will be held Dec. 10 at Reynolds Performance Hall. The Peanuts' timeless holiday television special comes to life on stage with the national tour performance the whole family can enjoy. The Peanuts gang will uncover the true meaning of Christmas. For tickets, go to uca.edu/reynolds.
Greenbrier
Glisten in Greenbrier at Matthews Park is planned from Dec. 3-31 and features a skating rink and light display. The Mistletoe Market is planned for Dec. 3, opening at 10 a.m. and featuring many vendors with holiday goods. There will be concessions and a tree-lighting ceremony at 5:30 p.m. The parade is planned for 6 p.m. Thursday, Dec. 8, with the theme "The Magic of Christmas." After the parade, enjoy photos with Santa and a bedtime story at Matthews Park. The Piccolo-Zoppe all-new Winter Circus will run from Dec. 16-Jan. 1. Visit piccolozoppe.com.
Little Rock
Enjoy the 84th anniversary of the Arkansas State Capitol Christmas Lighting Ceremony at 5:30 p.m. December 3. There will be a performance by Miss Metro's Outstanding Teen Bella Crowe, the Catholic High Jr. ROTC and Santa Claus. After the fireworks show, the public is invited inside to view the decorations, visit Santa in his workshop, and shop in the gift shop. The 2022 ornament will be available.
River City Men's Chorus will perform at 2 p.m. Dec. 4, at 7 p.m. Dec. 5 and at 7 p.m. Dec. 8 at Pulaski Heights UMC, 4823 Woodlawn Drive. All performances are free. A special appearance by the Wildcat Chorale of Episcopal Collegiate School is planned. Learn more at rivercitymenschorus.com.
Maumelle
Arkansas Circus Arts will present The Nutcracker Circus at 6:30 p.m. Dec. 3 at the Maumelle Performing Arts Center. While the Nutcracker is typically performed through ballet, the circus will present the same classic using high-flying aerialists and acrobats, with many more surprises in store. Tickets purchased through Dec. 2 are $25. Visit arcircus. com for tickets.
8 | 501 LIFE December 2022
North Little Rock
White Christmas - The Musical is planned for 7:30 p.m. Dec. 7-17. Based on the beloved film, this stage adaptation features 17 Irving Berlin songs. A series of romantic mixups and a dazzling score including Blue Skies, I Love a Piano, and the title song, White Christmas, this is an uplifting musical any time of year. For $25-$35 tickets, visit argentacommunitytheater.org.
Sherwood
The Enchanted Forest Trail of Lights can be enjoyed from 6-9:30 p.m. daily through Dec. 30. This display can only be viewed by driving through. The entrance is in the Sherwood Sports Center parking lot, which must be accessed from Dee Jay Hudson Drive and Highway 107. Admission is free, but cash donations help provide new displays. Visit "Enchanted Forest Trail of Lights, Sherwood, Ar" on Facebook.
Searcy
Holiday of Lights runs through Dec. 31 featuring special events around the community. Visit searcyholidayoflights.com. Skating at Spring Park is offered from 5 to 10 p.m. on Thursdays, Fridays and Saturdays. Cost is $5 for 45 minutes. The Berry Merry Christmas celebration will be 2 p.m. Dec. 10 at Berryhill Park featuring Santa, favorite princesses and movie toys. The World Championship Chocolate Gravy Cookoff will begin at 9 a.m. Dec. 3 in Downtown Searcy. The Living Nativity is planned for 6:30 to 9:30 p.m. Dec. 2 at Searcy First Assembly of God. It is a free drive-thru experience.
December 2022 501lifemag.com | 9
A CHARLIE BROWN CHRISTMAS SPONSORED BY 501 LIFE • DEC. 10 • CONWAY
NUTCRACKER CIRCUS BY ARKANSAS CIRCUS ARTS • DEC 3 • MAUMELLE
Headed out on a special trip? Have a special occasion or get-together coming up? Pack a copy of 501 LIFE in your suitcase, snap a photo at your destination and send it to us for publication in a future issue!
Photos can be submitted by email to stefanie@501lifemag.com.
"LOVING LIFE" AT THE CONWAY AREA CHAMBER OF COMMERCE BUSINESS EXPO.
10 | 501 LIFE December 2022 THIS WINTER, 501 READERS ARE
LEFT: Baptist Health Medical Center staff members Katie Floyd (from left), Jenni Harrison and Justin Hardaway.
RIGHT: Partner's Bank staff members Michelle Garza (from left), Michael Bynum and Stormy Iberg.
Maci England (from left), Mia Waddell, Delaney Van Wilpe, Madison Ogle and Julia Trantham, who are staff members of UCA's publication "The Echo," were "Loving LIFE" at the Arkansas Press Women's fall conference held Nov. 12.
A group of Conway Regional Health System nurses recently attended the Magnet Conference in Philadelphia. Courtney Kirkpatrick (from left), Tilli Watson, Leisa Green, Caitlin Castellani, Gabe Gartman, Rae Rhodes, Suzanne Harris and Brandi Johnson.
501 distribution specialist Preston Higginbotham was "Loving LIFE" when he received a cookie from Blue Barn Bakery during deliveries.
Faulkner County Master Gardeners were "Loving LIFE" and welcoming the Fall Class of students with an Ice Cream Social held at Legacy Gardens in Conway, which are open to the public in front of Antioch Baptist Church.
Brantley
December 2022 501lifemag.com | 11
Travelers with the Saline County Gold Club of First Security were "Loving LIFE" and adventure at the Nubble Lighthouse in York, Maine.
Doug and Patty Coppock (from left) were "Loving LIFE'' with Mary Mosley and Sally Roden in Gulf Shores, Ala. They are from Conway.
Charlie Nabholz (left) was "Loving LIFE" when he received a laminated copy of his 501 LIFE cover shot from Charles Brantley, who is 97, at the magazine's office.
was gifted an official Nabholtz hard hat.
Will Granberry and Callie Wells were "Loving LIFE" when they dressed up for the Arkansas Symphony's Halloween Spooktacular.
'They're like family to me'
Another huge turnout at Julie's Sweet Shoppe's annual Veterans Day event
A Veterans Day Celebration was hosted Nov. 11 at Julie's Sweet Shoppe in Conway. More than 100 veterans braved the cold temperatures to attend the annual event, which featured a ceremony, singers, a bugler and speakers. Area businesses donated door prizes, and veterans also enjoyed refreshments and fellowship.
Julie Goodnight began hosting the event more than 25 years ago. "I host the Veterans Day Celebration because they're like family to me," she said. "I feel like this is one way to show our appreciation to them for their sacrifice and also to honor the memory of my grandfathers, who were World War II veterans."
TOP LEFT: Jim Oldham was recognized for 38 years of service.
TOP RIGHT: Bugler Hughie L. Craig was honored by Faulkner County Judge Jim Baker for his willingness to play the bugle at events. Baker declared Nov. 11 "Hughie L. Craig Day."
2ND ROW: Bob Connell (from left), Floyd Brantley, Julie Goodnight, Jack Grimes and Congressman French Hill.
3RD ROW: The Conway Women's Chorus sang.
4TH ROW: Carol Rolf (from left), Ruth Bass-Burgess, Karen Homes, Lynn Tanguay and Susan Jenkins. All members of Cadron Post Chapter, National Society Daughters of the American Revolution.
BOTTOM LEFT: The eldest veteran present was 97 years old. Jack and Elsie Grimer always look forward to the annual event.
BOTTOM RIGHT: Stanley Woodard (from left) won the 501 LIFE gift basket. Brand Ambassador Don Brazile presented it to him.
12 | 501 LIFE December 2022
DOWN HOME
Conway businesses gather to celebrate their place in downtown
T he Conway Downtown Partnership 2022 Annual Meeting was held Nov. 1 at The Brick Room Event Center. Numerous businesses were represented at the seated dinner, and awards were presented for outstanding achievements in the past year.
"501 LIFE is honored to be part of the Downtown Partnership and we are proud to have been the media partner for this event," said Publisher Jeremy Higginbotham. "Having our offices in Historic Downtown Conway places us right in the center of our community. We always enjoy coming to this event to celebrate the many accomplishments of this organization."
Congratulations to the following awardees:
Downtown Award of Distinction — Jessica Crum of Silverlake Design Studio and the Creative Institute of Central Arkansas.
Downtown Achievement in Design — The City of Conway for Martin Luther King Jr. Square. The award was presented by Centennial Bank's Eric King and received by Felicia Rogers.
Main Street Arkansas Downtown Revitalization Grant Recipients — BMB Creations, Brick & Forge Taproom, Cajun Brothers Furniture, H+N Architects, Krab Kingz, The Rogue Roundabout and U.S. Pizza Company.
14 | 501 LIFE December 2022
Felicia Rogers and Eric King
Bret Carroll
Justin Blake Crum (from left), Jessica Crum and Maddie Porter
Jordan Broadstreet (from left), and Chris Hall
Ali and Adam Dyer Austin and Haley Watt
Jill and Brooks Davis
Ashley Martin (from left), Janet McPhate and Lori Melton
Pamela Jackson (from left), Crystal Floyd, Julie Gillaspy and Allison Cowles
Representing Main Street Arkansas Susan Shaddox (from left), Executive Director Greg Phillips, Mark Miller with Downtown Partnership Executive Director Kim Williams
501

REBECA FLORES & JAIME SANTILLAN
CONWAY
HER STORY:
WHERE DID YOU GROW UP: Maravatio Michoacan, Mexico.
EDUCATION: I graduated from the University of Tamaulipas with my master's degree in physical education.
BUSINESS: Jaime and I run Bob's Grill together as a family and make sure everyone feels at home here!
FAMILY: My parents are Manuel, deceased, and Carmen Flores, who lives in Mexico. My children are Jaime, 20, Meliza, 18, Victoria, 12, Chris, 9, and Nimsy, 7.
HOBBIES: Spending quality time with my family and making memories with my kids. I love to run and ride bikes with my son.
HOW DO YOU DESCRIBE YOURSELF: I am very much an extrovert and the soul of the party wherever I go. I'm always happy and positive.
MOST ENJOYED WEEKEND ACTIVITY: I enjoy spending time with my family.
WHAT IS YOUR MOTTO: Smile!
WHAT DO YOU ENJOY MOST ABOUT LIVING IN THE 501: The tranquility and peace of mind I have from knowing that my kids are safe.
HIS STORY:
WHERE DID YOU GROW UP: Maravatio Michoacan, Mexico.
EDUCATION: I graduated from culinary school in Santa Barbara, Calif.
BUSINESS: I run Bob's Grill with my wife.
FAMILY: My parents were Dolores and Belen Santillan, who are deceased. We have five children.
HOBBIES: Cooking. I love being in the kitchen.
WHAT IS ONE THING PEOPLE DON'T KNOW ABOUT YOU: I love to draw. It's something that I always love doing, especially with my kids.
MOST ENJOYED WEEKEND ACTIVITY:
I love having our clients come in on weekends to enjoy breakfast.
WHAT IS YOUR MOTTO: Be creative.
WHAT DO YOU ENJOY MOST ABOUT LIVING IN THE 501: The people are very kind and friendly, and it is a very calm place to live.
The Santillan family back: Meliza (from left), Jaime and Jaime middle: Victoria, Chris and Rebeca front: Nimsy
16 | 501 LIFE December 2022
LIFE COUPLE OF THE MONTH
THEIR STORY:
W e met in high school and were friends for a couple of years. Then Jaime asked me to become his girlfriend. We were together for about a year before he moved to California, where he lived for a couple of years. Then, Jaime returned to Mexico and proposed to me.
We got married in 2001, then moved to California and had our first two kids in Santa Barbara and lived there for six years. Some friends invited us to visit them in Bentonville during the summer of 2008. We immediately fell in love with the area and moved that same year in the fall. We lived in Northwest Arkansas for about four years and had our third child. Jaime got a job offer in Conway in 2012, and we decided to move here. Our last two kids were born here.
Photos by Mike Kemp
By Chef Don Bingham Photos by Mike Kemp
I t's cookie delivery time! I was able to visit with three of Conway's extraordinary bakers who are ready to deliver the most delectable desserts this holiday season! Get ready to bake as 501 LIFE pays tribute to the holiday favoriteTHE COOKIE!
Cookies have been, and continue to be, a staple in the bakery choices of mankind! That's why I have loaded up in a Golden Anniversary Edition 1929 Ford Model A Roadster with Patti Stobaugh, Laura Holloway and Julie Goodnight on a trip to discuss the 'small wonders' they are preparing to bring to your holiday table.
As we present our Christmas holiday issue, packed full of cookie recipes and Christmas features, let me be the first to say "Merry Christmas" from all of us at 501 LIFE!
December 2022 501lifemag.com | 19
PattiCakes Bakery owner Patty Stobaugh (from left), Blue Barn Bakery owner Laura Holloway, 501 LIFE Entertaining Contributor Chef Don Bingham and Julie's Sweet Shoppe & Bakery owner Julie Goodnight are ready to deliver yummy baked goods in a car owned by Bob Crossman, founder of Crossman Printing. Crossman purchased the replica of a 1929 Ford Model A Roadster in 1980 when the company reproduced 4,800 Ford Shay Roadsters to celebrate its 50th anniversary.
One of the "new kids on the block" is highly successful in offering options for people with dietary concerns. The Blue Barn Bakery, owned and operated by Laura and Courtney Holloway, offers baked goods, coffee, herbal tea, health supplements and healthy lifestyle coaching. Their baked goods are always free of gluten, grains and refined sugar, and most of their products are dairy-free. Their services also include vegan and food allergy options.
The mother-daughter team started the business 10 years ago and moved to a larger
location in March in downtown Conway. The pair regularly contributes to local charity events and animal rescue groups and hosts special events in their event space.
Upon entering, you immediately enjoy the aroma of baking cookies and croissants. The atmosphere is set for guests to relax and decide what they will be taking home.
Laura and Courtney have submitted an all-time holiday favorite — the Keto Monster Cookie! It has peanut butter, chocolate chips and candies but is still healthy and a favorite with customers.
Those who have been in Conway for 50 years or longer will remember the amazing pastries that were available in Simon's Grocery on Front Street downtown, baked daily by Ed Bradley. Julie Goodnight, Bradley's daughter, has continued this glorious tradition by cooking for 36 years and owning Julie's Sweet Shoppe for nine years.
Her bakery offers a large variety of pastries and savory items — including sausage balls, which are baked daily, and December Fruitcake, which has been called
PattiCakes Bakery ranks in the top selection of pastries and other professionally baked items, with varieties of cookies and cakes, breads, chocolates, nuts, frozen entrees and so much more! Nothing says "Merry Christmas" more delightfully than Patti Stobaugh's version of the Cranberry White Chocolate Walnut Cookie! When asked, Patti said that she chose this cookie to share with 501 LIFE readers because it is her bakery's most popular.
This delightful bakery has been a source of culinary enjoyment in Faulkner County for 16 years. The holidays are always a special
the best ever!
The bakery offers custom-made wedding cakes, fried pies, donuts, decorated cookies, brunch items, candies and take-home gifts for parties and showers. Julie said the Gingerbread Cookie is at the top of the list for customer requests and that's why she chose to share it with 501 LIFE readers.
Julie's Sweet Shoppe hosts an annual Veteran's Day Celebration to honor local vets, with hundreds of participants and dignitaries celebrating at her bakery each year.
time of giving, and the bakery's neighboring restaurant, Stoby's, offers monthly pancake breakfasts for charitable fundraising efforts like Harbor Home, Renewal Ranch and Daughters of The Other Side. Patti also serves on the board of Bethlehem House. While the Cranberry White Chocolate Walnut Cookie is a star at the PattiCakes Bakery, the croissant is the star at the downtown location.
501 LIFE wishes a very Merry Christmas and Happy Holidays to David and Patti Stobaugh.
Blue Barn Bakery's Keto Monster Cookie
Julie's Sweet Shoppe's Gingerbread Cookie
Patticakes' Cranberry White Chocolate Walnut Cookie
December 2022 501lifemag.com | 21
David Glaze, decking the halls requires almost 60-feet of Christmas trees
By Donna Lampkin Stephens
Y ou can call David Glaze "Mr. Christmas" because he just couldn't help himself. Glaze, artistic director and conductor of Little Rock's River City Men's Chorus, had intended for 2021 to be his last big Christmas hurrah.
"I have always truly loved the holiday season and all the decorations that go along with that time of year," he said. "However, because October, November and December are the busiest months of the year for me (rehearsals, rehearsals, rehearsals), my own personal decorating at home has usually been little more than a Christmas tree and a few other knick-knacks around the house."
Over the last decade or so, though, he had enjoyed changing the color scheme each year — maybe all red, or silver and lime green, gold/bronze/copper, all white — and sometimes combinations of all.
"After years and years of ever-changing color palettes, to say that I had quite a collection of Christmas decorations would be an understatement," he said. "The attic was full."
A self-taught artist, he would create a new abstract painting for the last several years to match whatever colors he'd chosen for the tree. But in the midst of the pandemic, he decided it was time to pare things down — after one final splash in 2021.
"I was going to pull every bit out and put it all up," he said. "I'd never done that. Then, when it was time to take it all down, I planned to sort and throw away and give away and decide what to keep." His bounty required him to buy more trees.
The final tally for '21? Eight — four 9-footers, two 7.5-footers and two 4-footers. Here is his description of each:
"Just inside the front door was the 9-foot gold/bronze/copper/silver tree. The decorations on the sideboard in the dining room matched this color scheme and featured conical-glittered trees and gold reindeer.
"The 9-foot tree in the living room beside the fireplace was decorated in all red and different shades of green (lime, emerald, etc.). The double garland on the mantle matched the tree.
"The 7.5-foot tree in the piano room was done in all white and silver snowflakes and icicles. There was a snowscape on the grand piano featuring conical trees and tiny white lights.
"The 4-foot tree in the room adjacent to the kitchen was sentimental for me in that it was the last tree my mother had in her assisted living facility before she died at almost 102 years old.
For
Continued on page 24
Photos by Mike Kemp
"The 7.5-foot tree in my bedroom was flocked and was decorated in all blue ornaments, mostly seafoam and light teal.
"The 9-foot tree in the TV room was decorated entirely and solely of ornaments given to me through the years by my piano students, by members of my children's choirs from years in church work, and of course, by good friends. How much fun I had when unwrapping these special ornaments. Also displayed in this room was most of my Santa collection. Some of the Santas made their way to other parts of the house.
"The 4-foot tree sitting in a metal tub on my kitchen island was decorated with the first ornaments I bought myself when first living on my own. I had no money, so they obviously weren't too expensive. Also on this tree were some candle holders (for real candles) that I brought home from a trip to Germany. Also in the kitchen was my Dickens Village collection, displayed with cotton snow and greenery over the stove and on countertops on either side.
"The 9.5-foot tree on the front porch was simply decorated in tiny white lights and ribbons to match the red, green and gold decor around the front doors. The wreaths on the doors were very traditional — my favorite — fir with red velvet bows."
Besides all the trees, he also placed several nativity sets around the house. The massive decorating project started in late October. Glaze had aimed for the weekend after Thanksgiving to unveil the masterpiece for friends.
"I saw I was not going to meet my deadline,
so I called my friend Judy Davis, who is a freelance designer, one of those who in October and November is busy every day putting up Christmas decorations with clients," he said. "I called and said, 'I'm overwhelmed; you've got to come help me.' She was really important in getting everything in place."
Glaze, who grew up in Camden, credits his mother, the late Rubye Glaze, for his love of all things Christmas. "It was just always a big deal," he remembered. "She started early in the fall trying to think how we would decorate the front door, what color we would flock the tree. One year we had some pink paint at the house, and she had my dad attach it to a spray gun, and it was actually pretty and kind of different. She was creative and made a lot of ornaments."
Taking everything down after the holidays last year — sorting, packing, cleaning up all the glitter — was also a monumental task."I even found some glitter in my dog Midas' bowl," he said. "But it was such a joy for me that I couldn't get rid of anything, and I went to extremes again this year." He encouraged
24 | 501 LIFE December 2022
Chicken Salad Chick makes any Holiday Party a hit! ® 2235 Dave Ward Drive 501-710-6677 chickensaladchick.com/conway Continued from page 22
Watch Midas "sing" as David plays the piano at 501lifemag.com.
501 LIFE YOUTH OF THE MONTH
Nataleigh Lindsey BEEBE'S BUSIEST BADGER
By Carol Rolf
Photo by Mike Kemp
T here does not seem to be just one adjective to describe Nataleigh Lindsey. Active. Busy. Outgoing. Industrious. These are just a few of the words that describe the 17-yearold senior at Beebe High School, who is involved in a myriad of activities.
Nataleigh is a cheerleader, a thespian, an honor student, a future medical professional and, most recently, a homecoming queen. "Nataleigh is not defined by any one group or organization," said her high school principal, Karla Tarkington, Ed.D. "She is always happy and is friendly to everyone. She is not afraid to come to me with suggestions about how we can improve our school. She is not only willing to provide suggestions but will roll up her sleeves and do the work needed to make BHS a better place."
Nataleigh is a daughter of Nathan and Brandi Lindsey. She has one brother, Langston Lindsey, 19. She hopes to be a Highest Honors graduate in 2023 and is currently maintaining a 4.1 GPA. After graduation, she plans to attend Harding University and major in nursing. "I want to be a pediatric nurse," she said. "But that might change. I want to explore all my options."
She plans to visit Greece next summer as part of the university's Study Abroad Program. Nataleigh has been a cheerleader and in the Drama Club for three years. She is president this year.
"Since the first day she stepped on the stage for our program, she has never given less than her best," said Cortnie DeVore-Byrd, drama teacher. "She has been the lead in several productions, always balancing all her activities, holding down a job, and always serving as an example of what hard work and dedication can bring to a performance. She is a great friend and a teacher's dream."
Natalie has been a member of the school choir for seven years, singing alto 2. "I was All-State one year and All-Region for six years," she said.
As a future medical professional, Nataleigh is a member of HOSA-Future Health Professionals, which, according to hosa.org, was formerly known as Health Occupations Students of America. She is also vice president of Arkansas HOSA. "Nataleigh is a model for our 2,000+ Arkansas HOSA-Future Health Professionals." said Matt Burns, HOSA state adviser.
"I am beyond impressed with Nataleigh's work ethic, community involvement and passion for serving others," Burns said. "What many may not know about her is that she does all these activities while working part-time for a doughnut shop, often working several hours very early each morning," he said. "This drive and work ethic is above and beyond, and I'm excited to see Nataleigh be recognized for her achievements."
Paula Dodge, instructor in the medical professions program and HOSA adviser for Beebe, said Nataleigh has been involved in HOSA far longer than her high school career.
"When she was in fifth grade, she started tagging along with me to HOSA events," said Dodge, who is Nataleigh's aunt. "She even went to HOSA Nationals in Nashville, Tenn., with me that year. She told me while we were in Nashville that was going to be her one day.
"Fast-forward to high school, and she has been active in HOSA all four years," Dodge said.
Another special honor came Nataleigh's way Oct. 7. She was selected Homecoming Queen by the student body at Beebe High School. "My dad escorted me out onto the field," she said. "That was so much fun."
It's our place – and yours. UCA is a hub for academics, innovation, the arts and much more, with top programs that turn into real careers. Tuition? Surprisingly affordable. Location? Go from college town to capital city to outdoor adventure with ease. UCA has everything, so you can take on anything. Learn more and apply today.
501lifemag.com | UCA.edu
CENTRAL IS MORE
OUR NAME.
THAN
28 | 501 LIFE December 2022
Photos by Stephanie Willock
CLINTON GETS ON ITS HIGH HORSE
Cowboy Clydesdales offer carriage rides once again at Christmas Event
By Rita Halter Thomas
C hristmas in Clinton is an annual event full of traditional holiday activities, but with a touch of cowboy flair. Would one expect anything different from a town well-known for hosting the National Championship Chuckwagon Races?
Fear not. Santa doesn't race around this town in a chuckwagon. Instead, the first Saturday in December each year, Santa trades his reindeer and sleigh for a bright red carriage pulled by The Cowboy Clydesdales, whose names are as fitting as his reindeer: Nate and Gunner, Rocket and Hummer, Chance and Dixon.
The festivities begin at 10 a.m. Saturday, Dec. 3, with the Christmas in Clinton Trade Show & Fundraiser at the Bar O F Ranch Store. There, patrons spend time with Santa, take photos with him and Mrs. Claus, browse rows of vendors, enjoy baked goods, hot cider or chocolate, and take free carriage rides with The Cowboy Clydesdales. Sometime around dusk, The Cowboy Clydesdales, with the help of a police escort, deliver Santa and Mrs. Claus via carriage from the Bar O F Ranch Store to downtown Clinton for the annual Christmas lighting ceremony.
According to Steve Landers Jr., owner of The Cowboy Clydesdales and area auto dealerships, a few years ago Dan and Peggy Eoff and their family, particularly their daughter, Dapple, wanted to do something a little different at Christmas, and the Clydesdales were a natural fit.
Breathing new life into the traditional downtown Christmas shopping experience, Dapple Eoff introduced the trade show fundraiser, tapping into the community's spirit of giving, and now Christmas in Clinton has grown into a destination event with a worthy cause.
"We raise money for the backpack program for Clinton Public Schools. A hundred percent of the vendor fees from the Christmas Market Trade Show, as well as sales from the hot chocolate, apple cider, and bake sale, plus a portion of the sales from our western store, all go to fill 225 backpacks every week throughout the school year," Ms. Eoff said.
"Steve is such a good community partner, and when he saw what we were doing, he wanted to be a part of that," she said. Landers purchased his first Clydesdales in 2018 and became a part of Christmas in Clinton the same year. "We started with four but had the idea to grow to six, so we got two more. They were all part of a world champion team of 12 out of North Carolina," Landers said.
"They're just amazing. I mean, who hasn't grown up watching the Budweiser Clydesdales and just been in awe?" he said. "I love these horses, and I love getting them out, sharing them with our communities."
The Clydesdale experience isn't just in the rides, but it's the entire production. "We get people calling, wanting to know when we're going to get the horses out so they can watch us handle them and hook them up in the flashy harnesses we use," Landers said.
The Cowboy Clydesdales graciously make appearances in other parades, school events such as homecomings and proms, and area community festivals because Landers believes in supporting small towns and locally owned businesses. When asked about the cost, Landers laughed. "I haven't really put pen to paper to see just what it costs to haul them. I mean, I have an idea, but it's probably best I don't know exactly."
30 | 501 LIFE December 2022
Continued on page 32
Mark the calendar, set the GPS to Clinton, load up the family and start a new Christmas tradition.
To learn more about Christmas in Clinton, visitfacebook. com/barofranch, and keep up with The Cowboy Clydesdales at facebook.com/thecowboyclydesdales.
32 | 501 LIFE December 2022 Continued from page 30
Hosting your event
If you or your Church, Business, or Organization are looking for a beautiful scenic location for a catered event, reception, wedding, party, or fundraiser, take a look at the Renewal Ranch Restoration Center.
Contact Bryce McGhee at (501)-733-4263
Servicing your vehicle
"Quality work at discount prices" The Renewal Ranch Auto Shop can take care of all of your auto needs such as service and repair, oi l changes, tire services, and maintenance. Contact Seth Pearson at (501)-391-5532
Shopping our store
We are able to provide our customers with a boutique shopping experience at thrift store prices. All proceeds from our sales go back into the program to help restore broken lives.
Contact The Renewal Store at (501)-358-6042 or visit us at 1120 Markham St. Conway
Having us help you
Our community development division at Renewal Ranch provides services such as yard maintenance, landscaping, and more!
Contact Raymond Akin at (501)-548-5393
December 2022 501lifemag.com | 33 HELP SUPPORT US BY HELP SUPPORT US BY
75 Lake Drive Houston, AR 72070 www.TheRenewalRanch.org 501-269-4306
A faith-based residential A faith-based residential addiction recovery program for addiction recovery program for
and
and older
men ages 21
older men ages 21
holiday house
N othing ushers in the holiday spirit quite like the aroma of freshly baked ginger confections. Sam and Dana Boyster turn the lowly gingerbread cookie into stunning houses and surround them with a village. It is easy to see why Hansel and Gretel were attracted to the gingerbread house in the Brothers Grimm fairy tale of old. In fact, the tradition of baking gingerbread houses dates to 16th-century Germany.
The Boysters live in a Charles Thompson-designed home originally built for Little Rock businessman Gustave Lyon and family. The house was built in 1904 in what is now the Governor's Mansion Historic District in the Quapaw Quarter of downtown Little Rock. It is the perfect backdrop for the gingerbread houses and accompanying village they construct each year.
The Boysters began their tradition of baking gingerbread houses when they lived in Germantown, Tenn., and continued the effort when they moved to Little Rock in 2010. Why gingerbread houses in particular? Sam said his mother was a home economics teacher, and he fondly remembers baking with her during the holidays. "I was intrigued by the notion of baking holiday decorations for our family, and by the uniqueness, scarcity and long history of gingerbread houses," he said. "We have always had an interest in history and historic preservation, so finding a custom to reintroduce was fun for the family."
Sam and Dana grew up in different towns in the Arkansas Delta but met at the University of Arkansas. Both have master's degrees: Dana in industrial engineering and Sam in operations research. Their combined expertise plays out in their creations. Dana supervises the layout of the village, using as much natural material as possible while managing size and scale. She uses boxwood and yaupon holly branches out of their yard for trees and fashions fences and shrubbery out of twigs and moss. Sam, with his meticulous attention to detail, oversees baking and decorating the houses.
As one would expect, these are not your garden-variety gingerbread houses. The Boysters originally bought a John Wright cast iron mold, Gingerbread Chateau, from Williams Sonoma. They are currently not available from Williams Sonoma but can sometimes be found for purchase online. The Boysters prefer these molds because of the details baked into the gingerbread, like tiles on the roof and stones on the chimney and edges of the houses. The windows, doors and drooping shingles all pop with detail once the completed houses are dusted with a final "snowfall" of sugar before placing them on a plate or within the village.
Because they share houses with an increased number of family and friends, they invested in additional molds, using the original recipe found with the first mold. They alter the recipe slightly, adding more cinnamon and ginger to increase holiday aroma. The baking and decorating are no small tasks. Including baking, cooling and decorating time, one house takes about 5.5 hours over four days. They now do the baking in stages over a couple weeks. Rooftops and dormers get the extra touch of layers of snow with Royal icing. All houses in the village are lit with LED string lights, which are hot-glued to the eaves. Battery packs are hidden in the landscaping.
The village has become as much a tradition as the houses they gift. A stately church with an accompanying tower and trees stands at the end of the long dining table. Houses are interspersed within the village with period cars, trucks and people. At the end of the table, villagers board an electric train on the way to church for caroling. The village covers the entire table with goodness.
Receiving one of their creations is quite a gift. Most recently one of their houses appeared in the Governor's Mansion. What motivates this couple to do such detailed, creative and short-lived work every single year? In a word, it is love, love of family and friends and love of sharing their creations!
Sam and Dana Boyster are laying a new foundation in gingerbread
By Judy Riley
December 2022 501lifemag.com | 35
Photos by Mike Kemp
1. 2. 3. 4. 5. 6. 7. 10. 11. 12 13. 8. 9. 7.
NBigight in Morrilton
Chamber of Commerce hosts annual awards event
By Morgan Zimmerman
1. The prestigious Earl Love Business Leaders of the Year Award, typically given to an individual, was awarded to Mayor Allen Lipsmeyer and wife Stephanie Lipsmeyer. Presented by '21 winner, Sarah Ryals.
2. Brooks Davis (from left) and Rita Birch of Arvest Bank with Mike Miller.
3. Community Project of the Year is Morrilton Parks & Recreation. Donnie Crain (from left), Mark Koscenski, Jan Cummings and the Lipsmeyers.
4. Sarah Kersey (from left), Stacy Drilling, Misty Willbanks and Mary Reese Fisher with Southern Sippery Mobile Bar.
5. Betty Ann and Jerry Smith. Smith was Chamber president/CEO from 2014-2021.
6. Incoming Chamber Board Chair Robert Keeton accepts the gavel from the 2022 Chair Kara Jones.
7. Melissa and Donnie Crain, new president/ CEO.
8. Business Site of the Year is Point Remove Brewing Co. Lee Green (from left), Suzan and Mike Miller.
9. Educator of the Year is Natalie Moellers. Crain (from left), Moellers and Lipsmeyer.
10. Volunteer of the Year is Sharon Clarkson. Crain (from left), Clarkson, Courtney Martin and Lipsmeyer.
11. Education Project of the Year was awarded to Koontz Electric Co. for The Koontz Promise. Crain (from left), Richard Dold, Dean Hoover and Lipsmeyer.
12. Farm Family of the Year is Stobaugh Brothers Farm.
13. Citizen of the Year is Delores Hartman. Crain (from left), Hartman and Lipsmeyer.
T he Morrilton area business community gathered at Point Remove Brewing Co. on Nov. 7 for the 95th annual Morrilton Area Chamber of Commerce Banquet. More than 300 people were present for an evening of fellowship and celebration.
Guests enjoyed an artisan pizza buffet, a lavish charcuterie spread, craft beer and sangrias. Christopher Crane and his band CC and the Phunkbari 5 entertained the audience with their jazzy set.
The celebration concluded with the presentation of awards that had been announced prior to the event, as well as a surprise presentation of the Earle Love Business Leader of the Year Award to Allen and Stephanie Lipsmeyer for their outstanding contributions to the community. Both of them were honored to have been chosen for the prestigious award, which is selected by a committee of previous winners.
"Like they say, if you love what you do, you'll never work a day in your life, and I love what I do," Mayor Lipsmeyer said. He then thanked his city council, staff and the community for their support and added, "The best thing this community has going for it is the people. We are a great community!"
Stephanie said that the Earle Love family had been role models to her when she was young. "I'm just so honored. I was born and raised here, and I love this community and I love everybody in it," she said.
December 2022 501lifemag.com | 37 On-site Physician • Certified Rehab RNs Physical Therapy • Occupational Therapy Speech Therapy • Average Stay 10-14 Days The only certified acute inpatient rehabilitation hospital in Faulkner County One Step Closer to Home One Step Closer to Home 501-932-3558
Photos by Stefanie Brazile
And just like that, the holidays are upon us! December in Downtown Conway brings the holiday attractions to Roger's Plaza including the giant 100-foot Ferris wheel, the giant 54-foot Christmas tree and programming that will take place throughout the holiday season.
Downtown always looks forward to Mistletoe Madness which happens this year on Saturday, Dec. 10, from 10 a.m. to 8 p.m. This is a time when visitors can catch holiday bargains from our fabulous shops and restaurants.
The holidays also mean holiday parties, and downtown is the place to find the perfect outfit or the perfect location for your office holiday party. No matter what you are looking for, you are sure to be amazed by the tremendous selections that our stores have to offer. Just a reminder we have more than 60 shops and restaurants ready to serve you in Downtown Conway!
Happy Holidays to you from the Conway Downtown Partnership and all our partners!
38 | 501 LIFE December 2022
A message from Kim Williams Executive Director, Conway Downtown Partnership
December 2022 501lifemag.com | 39
1. Heart of Arkansas Iced Shortbread Cookie
1. How to make the best toys.
2. Where to find the best cookies.
While his base of operations may be found a little to the north, there's one place he returns each year for his favorite Christmas treat - Central Arkansas!
So this year, 501 LIFE partnered up with the big guy to create a special section featuring a favorite cookie from the eleven counties we serve - Cleburne, Conway, Faulkner, Garland, Hot Spring, Lonoke, Perry, Pulaski, Saline, White and Van Buren.
We hope you'll join us on this edible adventure that includes recipes, traditions and events that hopefully you can add to your holiday celebrations!
As we begin it all with an iced cookie that celebrates the very heart of the natural state, we hope you enjoy ...
40 | 501 LIFE December 2022
There are two things Santa Claus knows better than anyone else:
Santa and Mrs. Claus enjoy the treat created by Julie's Sweet Shoppe. Visit Santa's website HeDoesExist.com to learn more.
Lyndall and Carla Mast have been running Little Hannah's Bake Shop in Cleburne County's small town of Drasco for almost 20 years. Their recipes and skills have been handed down from the mothers and grandmothers of many employees over the years. This holiday season, the staff most look forward to making fruit cakes and cookie platters to share with friends and family during the holiday season.
The cookie that Little Hannah's Bake Shop is highlighting is their Molasses Cookie. This is the recipe that Carla uses at home. It yields 6 dozen cookies.
Molasses Cookie 3 cups brown sugar 2 ¼ cups oil ¾ cup molasses 3 eggs • 1 ½ tsp. salt 2 Tbsp. baking soda 1 Tbsp. cinnamon • 2 ¼ tsp. ginger 1 tsp. cloves • 6 2/3 cups flour White sugar Beat brown sugar, oil and molasses together. Add eggs and beat well. Add salt, soda, cinnamon, ginger, cloves and flour. Beat well. Scoop cookies and roll in white sugar. Bake at 350 degrees for 9-10 minutes.
County's Molasses Cookie
2. Cleburne
Photos by Mike Kemp
3.Conway County's Easy Coffee Cookies
with a mocha pecan coffee icing
Christina Loyd has lived in Scotland in Conway County for 26 years. For 25 of those years, she has taught Family and Consumer Sciences and Family, Career and Community Leaders of America at Nemo Vista.
Her students cook meals for teachers and staff each week. They fulfill cake, cinnamon rolls and bakery orders, as well as making dinner rolls. "You name it, we will make it," Christina said.
"This helps my students learn how to talk to people and gives them life skills in catering to people's needs. They also learn budgeting, prep skills, sanitation skills, public relation skills, but most of all, I want them to problem solve," she said.
The veteran educator is glad to have the support of the administration for the Career and Technical Education programs. Christina and her students chose to make a cookie with pecans and coffee to represent Conway County. "Morrilton has a coffee shop that has local roots called Big Cuppa, and we have two local pecan orchards — Paw Paw's Pecans and Maus Pecans. The students at Nemo Vista look forward to the 4-H Christmas Parade on Dec. 9 for the Center Ridge area. Everyone is welcome, and Santa will be there to greet the kids.
Easy Coffee Cookies
1 yellow cake mix
1/2 cup vanilla coffee creamer (or preferred flavor choice)
1 Tbsp. instant coffee
1 egg • 1/2 cup of oil
Heat oven to 350 and line a cookie sheet with parchment paper. Use an electric mixer to combine the cake mix, eggs, instant coffee, coffee creamer and oil until well-blended.
Once dough has formed, scoop out the cookie dough onto a prepared cookie sheet and bake until the edges are slightly golden. We use an ice cream scoop so the cookies are large. Makes approximately eight per batch. Allow cookies to cool on the pan, then transfer to a cooling rack. Allow cookies to cool completely before topping.
Mocha Pecan Buttercream Icing
2 Tbsp. of any dark roast instant coffee
2 tsp. vanilla extract • 1 cup real butter, room temp.
1 pound powdered sugar (or 4 cups)
1/8 cup cocoa powder • ¾ cup chopped pecans
Dissolve the instant coffee in the vanilla and steep for at least 15 minutes. Combine with butter into mixing bowl. Mix together on medium speed until thoroughly combined (about 2 minutes). Scrape mixture down from the sides of the bowl.
Combine powdered sugar and unsweetened cocoa powder to mixture. Mix on lowest setting until the butter and sugar are incorporated (about 30 seconds). Scrape mixture down sides, then increase the speed to medium another 30-45 seconds until light and fluffy. If the frosting is dry, add 1 teaspoon of milk and mix again. Top cookie with icing, sprinkle with pecans and drizzle with melted chocolate.
42 | 501 LIFE December 2022
4.Faulkner County's Orange & Raisin Cookies
By Chef Don Bingham
Close to the top of my bucket list was the desire to attend Macy's Thanksgiving Day Parade in New York City at Christmastime. Among the myriads of blessings from dear friends of ours, this was made possible by our friends who gave us the use of their Madison Avenue apartment on numerous occasions, enabling us to "do New York" many times.
On one such occasion, we visited a deli named Gracie's that was within walking distance of the high-rise apartment. The options for meats and sweets were amazing. One such offering was a mesmerizing Orange Raisin Cookie. Nancy and I immediately began to dissect and analyze the ingredients, and this cookie has been a regular on our menu at Christmastime since then. I chose the Orange Raisin Cookie for Faulkner County because it is reminiscent of all things holiday. We love the combination of orange with golden raisins — this is one of our favorite holiday comfort treats!
How grateful we are for the blessings of friends and great cookies!
Orange and Raisin Cookies
1 1/2 cups all-purpose flour
1/2 tsp. baking powder
1/2 tsp. salt
1/2 cup butter (softened)
1/2 cup sugar
1 large egg, beaten
1/2 tsp. vanilla
2/3 cup golden raisins
1 tablespoon grated orange zest
Preheat the oven to 350 degrees. Line the cookie sheets with parchment paper. Mix together flour, baking powder and salt in a bowl and set aside. With an electric mixer, beat the butter and sugar at high speed until creamy. Add the egg and vanilla, and beat until just combined. Fold in the flour mixture, then the raisins and orange zest. Drop teaspoon size balls, pressed thin, on a cookie sheet and bake until lightly golden. Cookies are meant to be crisp and golden.
December 2022 501lifemag.com | 45
Jane Oliver of Pearcy has lived in Garland County for 22 years. She is a leader of the Garland County Extension Homemakers Council (GCEHC), which is very active, offering a huge craft fair each fall at the fairgrounds and providing volunteers and special services throughout the county.
About 15 years ago, a friend taught Jane to make Maxine's Cookies. She makes them for friends, family and neighbors and included the recipe in a book she had made for her family. Jane's favorite holiday activity is making candy and baking cookies with her daughter.
46 | 501 LIFE December 2022
Cookies of Garland County
Cookies 1 cup sugar • 1 cup brown sugar 1 cup vegetable oil 1 cup butter, softened 1 egg • 1 tsp. vanilla 3 1/2 cups flour 1 tsp. baking powder 1 tsp. salt • 1 cup Rice Krispies 1/2 cup flake coconut • 1 cup quick oats
sugars, oil,
butter, egg and vanilla. Add flour,
powder and salt. Mix well. Add Rice Krispies, coconut and oats and stir by
5.Maxine's
Maxine's
Mix
softened
baking
hand until well-mixed. Drop by tablespoon onto an ungreased baking sheet.* Bake for 10- 12 minutes at 350 until just slightly brown on the edges. Makes about 5 dozen. *Flatten the dough a little before baking for a thinner, crispy cookie.
48 | 501 LIFE December 2022
Christmas
Cherry Pop
Cola Cookies
Velda Keeney owns Curiosity's Corner in Malvern and also works at a school. She has called Hot Spring County her home for 55 years. Not only does she make and sell baked goods, but she has also incorporated her city's history into a cookie, and it's a holiday favorite.
The historical connection of this cookie to Malvern and Hot Spring County follows: Clem's Bottling Works was a fixture in Malvern from 1907-1972. Some of the most delicious soft drinks were produced by this company, including Clem's Cola, R-Pep, Orange, Strawberry and many more. In 1972, the company was sold to the Dr Pepper Company. Clem's Bottling Works is a significant part of Malvern's history.
"When I was a little girl, our church had a soda box that was full of Clem's soft drinks," Velda said. "If I best recall, you could get a bottled drink for 25 cents! When you drove down Main Street, you could look through the big window of Clem's Bottling Works and see the soft drink conveyor with bottles hanging and waiting to be filled."
To celebrate Clem's Bottling Works, ladies from the community created this cookie that combines some of the great flavors associated with soft drinks produced in Malvern with a colorful red topping for Christmas.
Cherry Pop Christmas Cookies
1 ½ cups all-purpose flour
½ tsp. baking soda ¼ tsp. salt ½ cup Dr Pepper
1 stick salted butter
1 cup semi-sweet chocolate chips
1 ½ cups granulated sugar ½ cup cocoa powder
1 egg
1 tsp. vanilla extract (do not use imitation vanilla)
15 maraschino cherries drained, patted dry and cut in half
Preheat oven to 350. Drain the cherries on a paper towel, slice in half, place on a dry paper towel and pat dry. In a medium bowl, combine flour, baking soda and salt. Whisk by hand to combine dry ingredients. Set aside.
In a small saucepan, bring Dr Pepper to a boil, then lower heat and simmer for 10-15 minutes. The liquid should reduce to where you have ¼ cup of liquid. Pour into a small bowl and place in the refrigerator for 10-15 minutes until cool.
In a microwave-safe bowl or medium saucepan, melt the butter and chocolate chips. If microwaving, do so in 30-second increments, stirring well after each heating cycle. If melting on the stove, stir frequently. You should get a mixture that looks like chocolate sauce.
Place sugar and cocoa powder in a 5-quart mixing bowl and whisk by hand to combine (this keeps the cocoa powder from flying out of the bowl and helps it combine with other ingredients). Using the paddle attachment of your mixer, combine the sugar and cocoa mix with the butter and chocolate mix. Add the vanilla, egg and cooled Dr Pepper and mix. Add the flour mixture and mix well until combined.
Using a tablespoon-sized scoop, scoop the dough and place on the parchment paperlined cookie sheet. Place a cherry half on top of each scoop (do not flatten the scoops on the baking sheet). Bake for 10-12 minutes. Cool completely.
If you want to add a little extra Dr Pepper sweetness to the cookie, make a thick powdered sugar and Dr Pepper glaze, place in a piping bag, and drizzle over the cooled cookies. Prep Time: 35 minutes. Cook Time: 10-12 minutes. Yields 30 cookies.
7. Lonoke County's Peanut Butter Clusters
Barbara Troutman of Austin is a lifelong resident of Lonoke County. She retired as an owner of a gas dealership and gas station. Her husband was the late Charlie Troutman, a Lonoke County Judge.
She was taught to bake cookies by her mother. Barbara describes her mother as an accomplished cook, as she was the director of food services at Cabot Schools. Troutman continues to bake cookies for family and friends and for potlucks at her church, Woodrow Church of Christ. Her favorite tradition during Christmas is getting together with family and having good food and making happy memories.
An event she looks forward to each December is the tree lighting ceremony, which is planned for 5 to 7 p.m. Dec. 3 at Austin City Hall. Barbara's Peanut Butter Clusters are requested each Christmas by her family and friends.
Peanut
of corn flakes (Kellogg's brand)
Melt butter in a heavy saucepan. Add Karo syrup and sugar. Stir for two minutes on medium heat. Remove from heat, add peanut butter and mix thoroughly. Pour corn flakes in a medium size mixing bowl, pour mixture over corn flakes and coat all flakes. Then pour mixture onto a large sheet of wax paper.
Take a spoon and move over to the side of the paper to create enough space for one cookie. Continue moving over enough for other cookies, so that there are about 15. Press with fingers to make them stick together.
Cool for a few minutes and enjoy.
1 Tbsp. of butter (not margarine) 1 cup dark syrup 1 cup sugar 1 cup
4 cups
Butter Clusters
crunchy peanut butter
8. Perry County's Peanut Butter No-Bake Cookies
Lori Fallen is a retired teacher from Hollis who has lived in Perry County for 42 years. Her mom and mother-in-law both taught her how to make cookies, and she makes them for pretty much everyone. Lori's favorite Christmas tradition is having all of her family spend the night on Christmas Eve and seeing the excitement from her grandchildren when they see what Santa left them.
Lori continues to care about the school where she taught and is known in the community for bringing baked goods to them. They especially love it when she brings her Peanut Butter No-Bake Cookies.
Peanut Butter No-Bake Cookies
2 cups sugar • ¼ cup margarine
½ cup milk • 1 cup peanut butter
1 tsp. vanilla • 1 ½ cups quick rolled oats ¼ cup M&M's Minis or Reese's Pieces Minis
In a large saucepan, mix sugar, margarine and milk. Bring to a full rolling boil over medium heat. (Full rolling boil = large bubbles rising to the surface that can't be stirred down.) Boil for exactly 1 minute, stirring constantly. Remove from heat and stir in peanut butter and vanilla, stirring until peanut butter is melted; stir in oats. Add M&M's Minis or Reese's Pieces Minis. Quickly drop mixture by spoonful onto waxed paper.
December 2022 501lifemag.com | 51
9. Pulaski County's Oatmeal Peanut Butter Sandwich Cookies
Mary Ann Tilley, a resident of Pulaski County for the past 42 years, learned to cook from her mother and some favorite television chefs. She bakes for friends and family and says that her Oatmeal Peanut Butter Sandwich Cookies are always on the table for Christmas dinner.
Mary Ann's favorite Christmas tradition is to attend the Christmas Eve service at church, followed by a dinner that features a favorite dish of each family member or friend who is at the table.
A community event she looks forward to and invites fellow 501 LIFE readers to attend is the River City Men's Chorus Christmas Concert at 2 p.m. on Dec. 4 at Pulaski Heights United Methodist Church, and at 7 p.m. on Dec. 5 and Dec. 8 at the church. Admission is free.
Oatmeal Peanut Butter Cookies
1 ½ cups all-purpose flour
1 tsp. baking soda
½ tsp. baking powder
1 tsp. salt • 1 cup softened butter
1 cup peanut butter
1 cup white sugar
1 cup packed light brown sugar
2 eggs • 2 tsp. vanilla extract
2 cups quick-cooking oats
In a large bowl, cream together the softened butter, peanut butter, white sugar, brown sugar and vanilla. Add eggs and beat well. In another bowl, combine the flour, baking soda, baking powder and salt. Add the dry ingredients to the creamed mixture and stir. Add oatmeal and stir.
Chill cookie dough for one to two hours. Once chilled, make uniform balls and roll each one in turbinado sugar (raw sugar). Place on cookie sheets, either lightly greased or covered in parchment paper. Press each ball down in a crisscross pattern with a buttered fork dipped in the turbinado sugar. Cookies should be about ¼ inch thick. Bake at 350 for 9-10 minutes or until the cookies are golden brown.
Filling:
2 cups peanut butter
½ cup softened butter
12 Tbsp. powdered sugar
Cream together peanut butter and butter. Add powdered sugar 1 Tbsp. at a time, stirring until smooth after each one. Make sandwich cookies by placing some of the filling between two cookies.
52 | 501 LIFE December 2022
X. Saline County's Chocolate Peppermint Cookies
Jessica Scott is an owner of SugarDumplin's Cupcakes in Bryant. She is a self-taught baker who has passed her knowledge on to her daughter, Emily.
SugarDumplin's donates to charities throughout the year. "We love helping our Second Chance Youth Ranch by providing birthday cakes for their kids, free of charge," Jessica said.
"We also help Saline County Safe Haven Women's Shelter by collecting items they need for the ladies and children coming in."
The Scott family's favorite Christmas tradition is to buy new coloring books and crayons and color together (no matter the age), to play games and "eat way too much."
Jessica and her staff invite 501 LIFE readers to the Bryant Christmas Parade at 10:30 a.m. Saturday, Dec. 10, followed by Santa's Block Party from 11 a.m. to 4 p.m. on Main Street. The Chocolate Peppermint Cookie recipe is top secret but can be tasted at SugarDumplins.
XI. White County's Sugar Cookie Cut Outs
Leslie Martin of Searcy is the owner of Oven Art Creations. Her business is based on the love she has for baking and art and combining the two.
She learned to decorate cookies by trial and error and by tutorials generously placed online by other bakers. Her family's favorite holiday tradition is to drive around and look at Christmas light displays.
Each December, she looks forward to the Jolly Jubilee on Dec. 3 in downtown Searcy. This event includes the World Championship Chocolate Gravy Cook-Off, a Christmas craft fair, free carriage rides, the Searcy Christmas parade, a petting zoo, pony rides and more.
Leslie shares her Sugar Cookie Cut-Outs recipe, including how to make the icing. She'll leave the decorating up to your imagination.
Sugar Cookie Cut-Outs
¾ softened butter (unsalted)
1 cup white sugar 2 eggs ½ tsp. pure vanilla extract
2 ½ cups all-purpose flour ½ tsp. salt
Preheat oven to 350 degrees. Mix softened butter and sugar until creamy. Stir in vanilla and eggs. Set aside. Combine dry ingredients and stir into butter and sugar mixture in small amounts until combined. Place between two sheets of parchment paper and roll to around ¼ thickness. Place cookie dough in freezer for 30 minutes and then cut desired shapes. Bake on ungreased parchment paper for 10 to 12 minutes or until you can move the cookies freely on the paper. Cool completely, decorate and enjoy!
Royal Icing
2 lb. bag of confectioner's sugar, sifted 5 Tbsp. meringue powder
2-3 tsp. pure vanilla extract
½ - ¾ cup of warm water
Mix confectioner's sugar and meringue powder on low speed until combined. Add vanilla extract to water and pour slightly into the sugar until it reaches a honey-like consistency. Turn the mixer to medium speed and watch carefully. Stop mixing when icing forms soft peaks. Store in a bowl with a lid and keep covered while working. It is very sensitive to air and will dry out quickly.
You may also choose to purchase pre-made cookie icing.
December 2022 501lifemag.com | 55
XII. Marlene's Strawberry Bliss Cookies of Van Buren County
Marlene Lucas of Shirley has lived in Van Buren County for 18 years. She is the owner and manager of Wade Lucas Farm's Store, where she bakes and cooks. Wade Lucas Farms is known for producing sweet strawberries and baked goods throughout the county and beyond. "We started growing strawberries in Shirley in 2006 and, most importantly, I love everything strawberry!" Marlene said.
She also loves to make cookies "for anybody and everybody," but especially her family. Her mother taught her everything she knows about baking. "She's a precious gem to me," Marlene said.
Her favorite December tradition is getting together with family to cook and bake. They create a Christmas menu that includes everything they love to eat. Then, Marlene, her mom, sister, aunts, cousins and grandchildren pick a recipe from her mom's recipe box and make that item. "We spend hours/days together fixing food and sharing laughs and love," she said.
Maxine's Strawberry Bliss Cookies
Sift first five ingredients into bowl and set aside. Cream butter and sugars together for at least five minutes until light colored. Add eggs one at a time and mix well. Add vanilla. Gradually add sifted flour mixture until incorporated. Pour freeze-dried strawberries in small bowl and mash with fingers until you have some powder, but mostly strawberries. Fold this and the white chocolate chips, cranberries and pecans into dough until incorporated. Refrigerate at least 12 hours. Set dough out for 20 minutes, so it's easier to scoop. Using a No. 20 scoop, drop onto parchment-lined baking pan. Press slightly with palm to flatten, and bake at 350 for 15 to 18 minutes, until edges are golden brown. Cool completely.
Optional icing: Melt strawberries and cream chocolate melts in microwave at 30 second intervals. Transfer into piping bag and drizzle. Cool completely before serving.
56 | 501 LIFE December 2022
cups
1 2/3
1
tsp.
1 ½
1 tsp.
2 ½
1
cups
1 cup
2 large
2 tsp.
1-ounce
1 cup
1 cup
1
2
cake flour
cups bread flour
¼
baking soda
tsp. baking powder
salt
sticks unsalted butter
¼
packed brown sugar
granulated sugar
eggs
vanilla
bag freeze-dried strawberries
white chocolate chips
dried cranberries
heaping cup chopped pecans
Optional: strawberries and cream chocolate melts
501 LIFE KID OF THE MONTH
John Havard
By Becky Bell
W hether it is in the classroom or in athletics, John Havard, 13, likes to be involved in many activities.
John's parents are Jason and Jessica Havard, and the family lives in Conway with their two dogs, Snoopy and Scout. Since the third grade, he has played on the Conway Christian School Eagles basketball team. But this fall, as a seventh grader, he had the opportunity to try throwing the old pigskin around with the football team. And, oh boy, does he already have a thirst for the way it makes him feel as the team makes their way down the field to make a touchdown.
"I probably like football over basketball, and I don't think it's because it's new to me. I think it's because it seems more special," he said. "If you make a touchdown, it is a lot more meaningful than if you make points in a basketball game, and if you get a tackle, then it means more than blocking a pass in basketball."
Although basketball fans might disagree with John's opinions on basketball vs. football, most people would agree with his thoughts about the importance of being kind to others and lending a hand when it's needed.
Mendy Clanton, who taught John English in the fifth and sixth grades, said she remembers him as one of the most thoughtful students.
"He made sure others were included. He expressed concern for his teachers, as well," she said. "John worked hard at academics, but his kindness towards others is what I will always remember about him."
Parker Whitson, John's football coach and Bible and history teacher, admires him for his abilities in the classroom.
"John is a wonderful student to teach. He works hard and is a natural leader in the classroom," Whitson said.
History is John's favorite subject along with his Bible class, which allows students to delve into a new book of the Bible each week. "History is my favorite because it's like no other subject," he said. "You get to learn about cool things from the past, and that is interesting. It is important to learn from our past, so we don't repeat our mistakes in the future."
John also enjoys Bible class and appreciates the opportunity to study it daily in school.
"We are doing a course over the book of Mark. We read about it and discuss it," he said. "When you study the Bible every day at school, it reinforces what you learn at home and church."
Other activities outside of school that John enjoys are being on the school trap team, the quiz bowl team, camping, hunting and being in the junior high choir.
58 | 501 LIFE December 2022
Photo by Mike Kemp
Food for Thought
PCSSD works to ensure students are fueled for learning
By Jessica Duff
T he Pulaski County Special School District is committed to providing well-rounded and nutritious meals to students. Part of ensuring that all students receive breakfast and lunch is making sure families know all of their options to pay for these meals.
PCSSD accepts Free and Reduced Lunch applications throughout the year. The application is available at bit.ly/PCSSD_FRLApp. Once the application is received, a determination of eligibility will be made within 10 days. Until you receive a written notification letter from the Student Nutrition Department that your student is eligible for free or reduced-price meals, full payment must be made for each meal received. Notification from any other source, or any means other than written, is not valid.
"Families have a lot of stressors in their lives," said Student Nutrition Director Regena English. "We want to eliminate the stress of trying to figure out what to pack for your kid's lunch box or how to afford a school lunch. The dollar doesn't quite go as far as it used to, but one thing that should not be in jeopardy is a student's opportunity to get a healthy school meal. We are here to help you and we want to help you make sure your student is fueled to learn."
Completing your application can help in many areas beyond just free or reduced-price meals. These include:
• Increased funding for schools to ensure students receive the support they need and deserve
• Discounts on fees associated with applying for college
• Discounts on fees associated with academic tests such as the ACT, SAT and Advanced Placement (AP)
• Discounts on fees associated with participating in athletics programs in the district
• Increased technology funds to improve internet access, wireless and network services
• Discounts on fees associated with some Pulaski County Community Education courses
A dozen PCSSD schools have qualified for the Community Eligibility Provision (CEP) program for the 2022-2023 school year. CEP is a non-pricing meal service option for schools and school districts in low-income areas that allows high-poverty schools to serve breakfast and lunch at no cost to all enrolled students without collecting free and reduced lunch applications. The participating schools this year include Cato Elementary, College Station Elementary, Crystal Hill Elementary, Daisy Bates Elementary, Harris Elementary, Joe T. Robinson Middle, Landmark Elementary, Lawson Elementary, Mills University Studies High, Mills Middle, Oak Grove Elementary and William Jefferson Clinton Elementary.
About PCSSD
Pulaski County Special School District spans more than 600 square miles in Central Arkansas and requires highly skilled and passionate personnel to adapt educational policies and personalization to 26 schools. Every school is accredited by the Arkansas State Board of Education. PCSSD has served schools across Pulaski County since July 1927. PCSSD is committed to creating a nationally recognized school district that assures that all students achieve at their maximum potential through collaborative, supportive and continuous efforts of all stakeholders.
Nutritious &Delicious
December 2022 501lifemag.com | 61
the momentssimpleof
Advent -- which includes the four Sundays before Christmas -- is a time when Christians prepare for and anticipate the coming of Christ. This year, you are invited to join the church family at Conway First United Methodist Church for a closer look at the book of Isaiah. On this journey through the scriptures, we will be looking for the different ways we might be missing Jesus coming into our midst. Is Jesus missing from Christmas? Are we just looking in the wrong place? Join us as we seek to identify the one we call Prince of Peace, Wonderful Counsellor, Creator, Beloved Son and King of Kings!
I n our culture, the birth of a child is big business. Gender-reveal parties, baby showers and birth announcements are commonplace, even expected. Contrast that with how the King of Kings was born into the world.
There was scandal surrounding the birth of Jesus. A young unwed woman was soon to deliver a child. Mary and Joseph found themselves in a small out-of-the-way town with nowhere to stay but a cattle stall. There was no pomp and circumstance. No public declaration. No sanitary conditions. And that's how God chose to come into the world. How utterly simple!
What is even more unusual is that dignitaries weren't invited to celebrate the birth of Jesus, but lowly shepherds were. In addition, the only witnesses, outside of Joseph and Mary, to the birth of the Savior of the world were most likely sheep and cows.
The One who would say, "The humble shall be exalted," came among us in the humblest of conditions. His mother had no experience in rearing a child and his earthly father was a poor laborer. Even the birth announcement came from the mouths of dirty and uneducated shepherds. A simple, but profound declaration.
This child was God wrapped in bands of cloth and lying in a manger. God chose simplicity over extravagance as the way to become one of us.
Christmas is really about simplicity, though we have made it a time of stress and busyness. I hope this year you will look for the Christ child in the simple moments, because that's how he chose to come to us from the very beginning.
December 2022 501lifemag.com | 63
Conway First United Methodist Church Advent and Christmas 2022 1610 Prince St. 501-329-3801 Christmas Eve Worship Carols,
11
Jesus' Sunday Worship Times 8:30 & 11 a.m., Sanctuary 9:05 a.m., Great Hall www.conwayfumc.org www.facebook.com/ conwayfirstumc Live-streaming available on Facebook at 9:05 and 11 a.m.
Candles and Communion
a.m. in the Sanctuary 4 p.m. in the Great Hall 7 p.m. in the Sanctuary Christmas Day 10 a.m. in the Sanctuary Worship for the whole family! 'Missing
By Dr. John Robbins Senior Pastor of Pulaski Heights UMC – Little Rock
By Colleen Holt
F or members of the Zoppé family of Greenbrier, every day is "Take Your Pet to Work Day," considering that humans and animals alike are members of a ninth-generation circus family that started in Italy and tours across the country and abroad.
The Piccolo Zoppé boutique circus is just one part of a larger circus family that has been around for 180 years. The current configuration of animals in this show includes six horses and 11 dogs. These animals may be trained performers, but more importantly, they are beloved members of the family.
Tosca Zoppé has three draft horses and three miniature horses with her husband, Jay Walther. In the circus, Tosca is an equestrian ballerina, and Jay is a clown. "The pets are part of our family. We are passionate about our animals. When we take on a new horse or a new dog, they become family," she said. "Yes, we work with the animals, but it is like communion with each other. I don't choose the horse. The horse chooses me."
One example of this is the story of a beautiful white horse named Toulouse. Tosca and Jay said they had gone to look at two black draft horses in Texas. Upon arriving, the black horses "could care less that we were there," Jay said. However, a white horse in the field came right up to Tosca and nuzzled her, even going so far as to push the black horses away if they came close. "I told Jay, 'We're buying three horses today. He has chosen me.'" Toulouse is Tosca's current performing horse.
Tosca said her horses also choose what, if anything, they will do in the circus. The two black draft horses, for instance, were not happy in or around the ring, even after a year of watching the rest of the horses perform. The horses eventually found their calling with a family in Northeast Arkansas. This family had 100 acres and 12 children — some of whom were adopted — and the horses are now happy, pulling wagons for the children. One horse, in fact, completely bonded with one of the children who has autism.
Those that choose a circus life get really excited when they are sitting in the chute and they hear their music playing. "You have to get a bond first. You can't just look at 20 horses and say everyone is going to do what they're going to do," Tosca said. "They'll come up with what they will do. They might pick up the bucket or get on the pedestal. You have to go in and play with them. It's amazing what's going to come out of that. They have a mind of their own and a personality of their own."
When it comes to the dogs, they are the domain of Tosca's older sister, Carla. She has eight poodles (both standard and miniature), a blue heeler/border collie mix and a Jack Russell terrier. Three of the dogs are rescues. One of the
dogs, Zsa Zsa, is a poodle mixed with Chihuahua. Carla is also a former equestrian ballerina.
"When I get a dog, I don't just pick one. They pick me," Carla said, snuggling Zsa Zsa. "They're not just props. They're actually our babies."
As with the horses, the dogs choose what they will or won't do in the ring. Zsa Zsa, for instance, was not interested in anything to do with the sights and sounds of the circus after having been scared by the noise of fireworks near her home. "I left her out (of the ring) for a year, but she was watching every day. Now she's doing things I never taught her to do."
Being in a one-ring configuration, Carla said she started with seven dogs and then was up to 16 after about a year and a half. A favorite story is about her smallest poodle, who had been practicing riding in the wagon. All of a sudden, she jumped out of the wagon and decided to go down the slide with the bigger dogs.
"It's funny how they're all so different. They are so much like kids," she said. Tosca added, "They're animals. They're not going to be perfect. They're going to do what they want, and the audience laughs and loves it. That's life!"
The sisters agreed that observation is the best way to train an animal for a circus job, which is something they learned from their father, Alberto. "It's always good to have older animals around when you get new horses. It's good to have an old soul. Just like people, they need a mentor," Tosca said.
The Piccolo Zoppé boutique circus harkens back to earlier times in Italy when the circus was presented in more intimate one-ring settings. Their website describes the circus as "petite and unique. You will become enchanted with our performance and, before you leave, you will be part of our family."
When Carla was born, her parents, Alberto and Sandra Zoppé, had a dog and horse act, and they also had a duck, a cat and a rooster. Having performed largely out of state, the Zoppés moved to Greenbrier on Christmas Eve 1984, with children Carla, Giovanni and Tosca. The children all have circus careers, although their parents did not push them toward that life. "The ring is made of sawdust, and I guess we have sawdust in our blood," Tosca said.
Both of the girls began riding horses at an early age. "I learned to ride on a white Arabian," Carla said. Carla fondly remembers times of sitting in pastures with their horses. "Horses are just addictive. It's the bonding thing," said Carla.
"They can feel your heartbeat from four feet away," said Tosca. "Everything in life for me is about this connection."
The Zoppé life is a circus of animals ... and they wouldn't have it any other way.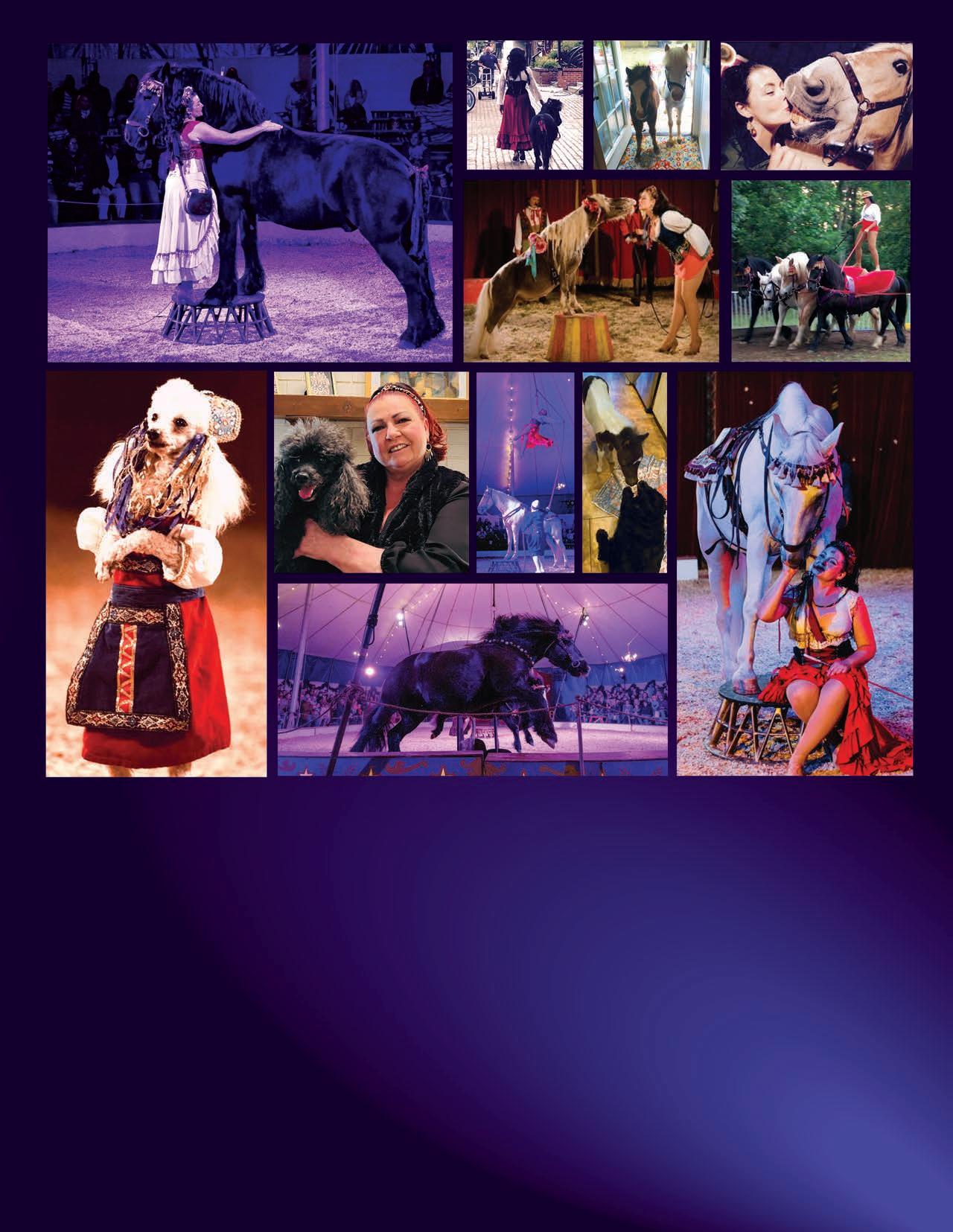 December 2022 501lifemag.com | 65
CELEBRATING A SUPER SEASON
Conway Noon Rotary hosts Youth Football League's Super Bowl
By David Grimes
T he Conway Noon Rotary Youth Football League's 2022 season recently came to a close.
A large crowd braved the cold and rain at Curtis Walker Park on Nov. 14, to watch the program's final Super Bowl games. The league is operated by the Conway Noon Rotary Club and a host of volunteers, with help from multiple sponsors.
The Rotarians are now in their third year of running the program, taking over from the Conway Noon Optimist Club in 2020. The Optimists had previously dedicated several decades to the effort. Countless Faulkner County youth have participated in the program since the 1970s, making memories and friends.
The league, which welcomes both boys and girls, currently splits into two divisions based upon age. The younger group is made up of second- and third-graders, while the older classification is fourth through sixth grades. In addition, more than 70 girls were involved throughout the year as cheerleaders.
Thirteen teams participated this year. They are named after NFL franchises, including the Packers, Jets, Buccaneers, Saints, Patriots, Steelers, Jaguars, Bears, Titans, Chargers and Broncos. All were sponsored by local businesses. Squads from Mayflower and Bigelow participated as well. The games are played on Peyton Hillis Field, named after the former Conway High School and NFL star who played in this youth program when he was in elementary school.
This year, the trophies presented to the winning teams were named in honor of two other local football legends, Elijah Pitts and Greg Lasker. Both men were Super Bowl champions while playing in the NFL.
Pitts was born in Mayflower in 1938 and graduated from Conway's segregated Pine Street High School in 1956. After
playing at Philander Smith College, the running back was drafted by Green Bay in 1960. Playing for legendary coach Vince Lombardi, Pitts and the Packers won the first two Super Bowls ever played. He passed away in 1998.
Lasker is a Conway native who graduated from Conway High School in 1982. He went on to be a four-year starter at safety for the Arkansas Razorbacks. Drafted in the second round by the New York Giants in 1986, they won Super Bowl XXI his rookie season.
The early matchup featured the top two teams in the younger age group, the Centennial Bank Bears and the O'Malley's Irish Grill Packers. The Packers scored on the very first play of the game but ultimately fell to the undefeated Bears, 217, to claim the Elijah Pitts Super Bowl Trophy. Grant Gordy, Conway community president of First Community Bank, who was the awards sponsor along with Billy's Trophies, made the presentation to the victorious Bears.
In the older age group, the DeBoard Electronics Steelers squared off against the Jason Owens Law Firm Saints. The B-teams from each squad got to play first. The Steelers took a 14-0 lead into halftime, and that ended up as the final score.
In the much-anticipated A-team matchup that followed, the boys battled to a scoreless tie at halftime as the field conditions continued to get wetter and sloppier. In the second half, the Steelers finally broke through with the game's only score to win, 6-0. The win avenged their only regular season loss.
Lasker was on hand to present the Super Bowl Trophy that bears his name to the champion Steelers. Each player from the winning team also received a Super Bowl ring.
Registration for the 2023 season will begin in the summer. More information can be found at ConwayYouthFootball. com.
66 | 501 LIFE December 2022
December 2022 501lifemag.com | 67
Grant Gordy (from left) presents the Elijah Pitts Super Bowl Trophy - 2nd & 3rd grade division - to Bears' Head Coach Preston Jones.
Photos by Mike Kemp
ANGELA BARRY
MEET THE ARTIST WHOSE TALENT TAKES THE CAKE — AND THEN BAKES IT!
By Donna Lampkin Stephens
Photos by Mike Kemp
Barry, 36, owns A&M Cake Designs, a specialty cake business. She works mainly with cakes and cookies but can do other specialty desserts.
Her artistic talent comes naturally from her Peruvian roots. Her grandmother, Rosa Viacava, is a 2006 inductee into the International Cake Exploration Societé Hall of Fame; her specialty is sugar and rice flowers. Barry's mother, Mariella Major, was a cake designer in Miami before moving to Conway in 2009. Her specialty is handmodeling figurines for her designs.
"I do both of those, and I sculpt and paint on cakes," Barry said.
She said Viacava's cake career began in Peru as a hobby when she needed something to do besides stressing out over her four children. The hobby grew into a cake decorating school and included creations for the Peruvian president. It also became a family vocation.
Barry was 13 when she started working with her grandmother and other family members. "They would do all the wedding cake decorating, and I was doing the baking," she remembered. "Then when I was done, I'd sit next to them and try to learn. I was always asking, 'Why are we doing that? Why don't we do this?'"
She said she'd always loved painting and described herself as a tinkerer and jack-of-all-trades. "If there was something to be learned, I wanted to know it," she said. "I was always around my grandma's skirt. We are self-taught and discoverers of little things."
But by 16, she'd had enough. "I told my grandma, 'I'm never going to touch another cake as long as I live. I'm going to culinary school and travel the world.'"
She trained at Le Cordon Bleu in Peru and took her only painting classes after she graduated. "I have an eye for painting; I have an eye for drawing," she said. "For a month, I took a class on how to get a little better. Everything else has been YouTube videos when I have time."
She worked at the Ritz Carlton in Key Biscayne and Naples, Fla., and was planning to move to Australia for a three-year culinary position when she visited her mother and sister in Conway for the
December 2022 501lifemag.com | 69
A ngela Barry of Conway is an artist who just happens to work mostly on edible canvas.
Continued on page 70
Artist Angela Barry learned to make sugar and rice flowers from her grandmother Mariella Major as a child in Peru.
holidays in 2009. She'd met Darren Barry earlier while helping her mother move, and their friendship grew into something more.
"I had a plane ticket to go back to Peru in January, but he proposed, and I never left," she recalled. After their son Adrian was born 12 years ago, Barry, like her grandmother before her, needed something to do, so she went back to her roots.
"I started decorating cakes and going to cake competitions," she said. "The cake community is a very tight-woven community, so you get to know everybody, and everyone is so supportive."
Through word of mouth, she began doing cakes. Her clients are mainly in Conway and Little Rock, but she has delivered cakes to Fort Smith, Memphis and Dallas and has shipped cookies to Colorado, Miami, Kentucky and Hawaii. "I don't want to have 20 cakes in one weekend," she said. "I want to be able to take care of what I have with the artist's freedom."
Her grandmother also now lives in Conway. Viacava still has her business in Peru as well as a thriving social media presence. Now a fourth generation is involved with the family avocation. "Adrian likes cooking, and Ava, 8, enjoys cooking, painting and cake decorating," Barry said. "My grandmother is always creating. She instilled in me a never-ending hunger to create."
Typically, Barry sketches out her ideas before the actual cake creation. Ideas come from daily life. She has intentionally kept her business small in order to focus on her art.
"I want to keep quality over quantity," she said. "I like to oversee everything. I probably should hire people, but I've tried that before, and it didn't work. I don't want to ever compete with businesses. I'm not a bakery. It's just little old me, and people who can't get what they want there come to me. I'm a very good well-kept secret," she said.
70 | 501 LIFE December 2022
Continued from page 69
Photos show samples of Angela Barry's detailed cake designs.
1. She was commissioned to make a cake replica of the Arkansas Governor's mansion to celebrate the 70th anniversary. 2. Inspired by Salvador Dali's painting The Burning Giraffe, Barry contributed to "Dali in Sugar" to commemorate the 30th anniversary of Dali's death in 2019 (see Facebook page for details).
1. 2.
Author of the Month: Bryan L. Hendricks
By Susan L. Peterson
'St. Tom's Cathedral is not merely another book about hunting. It is a tribute and parable, a collection of memoirs that honor the majesty of the noble turkey and celebrate the virtue of family and friendship.'
- Sid Dorbin, University of Florida
B ryan L. Hendricks is an award-winning "outdoors" editor for the Arkansas Democrat-Gazette. This talented writer received his degree in radio, TV, and film with a journalism minor from the University of Arkansas at Little Rock in 1991. Although he has published articles in nearly 100 magazines and written hundreds of columns, it is his recently published book, "St. Tom's Cathedral: A Turkey Hunter's Quest for His Best," that has given him the most gratification.
"St. Tom's Cathedral" was released in March. A reviewer describes it as "a tribute and parable, a collection of memoirs that honor the majesty of the noble turkey and celebrate the virtue of family and friendship."
Writing the book was a joyful experience for Hendricks, even cathartic. He chose to self-publish in order to keep full control, from the cover design to the typeface. He said he felt great when he held the first copy in his hands. "It's sharp. It's clean. I got it right. Newspapers are ephemeral, but books are permanent. I hope it will still be relevant in 100 years."
It was in May 2020 when the book was magically born. "I was in my camper while hunting turkey in an isolated spot in Oklahoma. It was cool and the wind was blowing. I recalled all the turkeys I'd killed over the years and began writing about that." When he showed the manuscript to a friend, she told him the subject matter didn't interest her and suggested that it focus more on relationships.
Hendricks took this advice to heart. The tale now weaves his hunting adventures with watershed life events, from his son's death, a friend's suicide, and thoughts of his own mortality after a stage 3 cancer diagnosis. His accounts of relationships, good and bad, are heartwarming and sometimes humorous, told with the flair of a true Arkansas storyteller.
Hendricks' career as an outdoor adventurer began when he and his wife, Laura, backpacked from Arkansas to Maine in 1987-88. This journey of escapism and self-discovery led to writing his first book the following year. He chronicled various adventures, serendipitous moments and interesting characters they met on the trip. He sent the manuscript to publishers but got only rejections. Disappointed, Hendricks tried other jobs, working as a roofer, auto mechanic and farm hand. He even tried to start his own business. But the lure of adventure and writing about those adventures won out.
Early in his journalistic career, he bounced around like a pinball. He first wrote an outdoors column for a newspaper in Northwest Arkansas, then ricocheted to Oklahoma, Missouri and Georgia. Each stopping point gave him opportunities to absorb the intricacies of the newspaper/publication industries.
In 1997, Hendricks contracted with Out There Press to write an outdoors travel guide for Arkansas. After two years of painstaking research (he developed many of the maps himself), "Arkansas: A Guide to Backcountry Travel and Adventure" was published.
Today the author lives in Little Rock and is cancer-free. His six children are off on their own adventures, scattered around the globe from Arkansas to South Carolina to New Zealand.
Hendricks loves working for the newspaper. His columns contain anything and everything related to the great outdoors, from all forms of hunting and fishing in Arkansas, marlin fishing in the Sea of Cortez, dove hunting in Argentina, big game hunting in South Africa, to tying knots and boat maintenance.
And more good news for his fans. That manuscript Hendricks wrote more than 30 years ago? He still believes in it, knows the content is good, and is now revising it for future publication. His books are available on Amazon and in local bookstores.
December 2022 501lifemag.com | 73
W hether you prefer a light touch or are the next Clark Griswold, holiday lights are a part of the season. While traditional string lights and decorative lights are a staple, they can use significant amounts of energy. The U.S. Department of Energy reports that annually, American Christmas lights consume 6.6 billion kilowatt-hours of electricity — that's enough to power 14 million refrigerators.
At a time when we're already worried about additional shopping, traveling and hosting, you don't need to worry about your next utility bill. Luckily, there are a few ways to decorate for the holiday while keeping efficiency in mind and your energy costs down.
ENERGY-EFFICIENT LIGHTS
It's time to toss out your old strings of lights. Today's newer LED lights let you shine through the holidays for a fraction of the cost.
Outdoor LED lights use 80 to 90 percent less energy than incandescent string lights so you can stay festive while saving energy. Plus, they last up to 100,000 hours – around 10 years – versus the 3,000 average lifespan for incandescent Christmas lights.
If you have a typical modest Christmas display on your home, your energy costs would be approximately $10-15 for incandescent lights but only around $2 for LEDs for the entire holiday season. And the savings improve with every addition to your holiday display.
For heavy usage where people slow down to see your house, the typical energy costs would be approximately $115 for traditional lights versus $15-20 for LED lights.
For a jaw-dropping display where people actually make your house a destination to admire your holiday cheer, the costs could be more than $300 with traditional lighting versus a modest $40-50 with LEDs.
BENEFITS OF LED LIGHTS
It's clear LED holiday lights are the front-runner for economical Christmas decoration. In fact, the U.S. Department of Energy calculates the cost of lighting a 6-foot Christmas tree with LED mini-lights for 12 hours a day only adds 82 cents of additional power consumption over the holiday season. But that's not the only benefit.
With traditional lights, you can only connect four or five strings of lights together on one outlet, limiting the amount of lights you can safely use in one area. With LED lights, you can safely connect 20-plus light strings together. If the ultimate decorations are your holiday dream, LED lights are the safer solution.
By Beth Jimmerson
LED Christmas lights also come in a wider range of colors, are generally brighter than incandescent light strings and even come in strings connected to dimmers for different lighting effects. Look for warm white to recreate the look of incandescent bulbs.
LED light sets are generally rated to last decades, not just a season or two, meaning you can keep adding to your holiday collection each year instead of merely replacing burned-out old versions of the same lights year after year.
LED lights are also great inside because they don't produce any heat, unlike incandescent bulbs. This means they're safe for use within reach of children and pets and pose almost no fire danger in case you have dry trees or grass in your landscape. This is especially true when considering LED bulbs for indoor use on natural trees.
CHRISTMAS LIGHTS AND ELECTRICAL SAFETY
LED lights burn with less heat, which reduces the risk of fire. But electrical safety with Christmas lights is still an important topic. According to the National Fire Protection Association, nearly half of home Christmas tree fires were caused by faulty electrical plugs or lighting equipment. The easiest way to avoid the issue? Use an artificial tree that is labeled fire retardant. If it does catch fire, it will resist burning and the fire will be easier to put out.
For indoor decorations, make sure any extension cords are rated for the number of lights you are plugging in and the distance the cord is running. Occasionally check the extension cord at the electrical outlet – if the outlet or extension cord is warm, that's a problem. Unplug the lights and talk to an electrician.
Extension cords have a big role in outdoor lighting safety as well. Use an extension cord that's rated for outdoor use and based on how far the power needs to travel. If you need a longer cord, purchase one with a 12- or 10-gauge weight. For strings of lights, use 16-gauge extension cords for light runs of 25 feet or less and go with a heavier duty 14-gauge cord for runs more than 25 feet.
You can always save energy and have a safer Christmas by skipping decorations all together, but it's just not the holidays without a few twinkling lights. It's easy to stay safe and save money while still enjoying all the season has to offer. If you haven't switched to LED lights yet, now is the time.
Looking for more ways to save? Visit ConwayCorp.com/ EnergySmart and find energy-saving tips or call 450.6000 to schedule a free energy audit from a Conway Corp certified energy professional.
74 | 501 LIFE December 2022
THE DAYS OF
Auld Lang Syne
By Vivian Lawson Hogue
A re you familiar with the old depiction of the new year as the smiley, excited baby with the new year banner across his chest and confetti floating around? He wears a silk top hat implying it's going to be a prosperous and joyful time for all! Well, that was before the virus closed schools, before spring flooding and late gardens and before straight-line winds blew down his historic tree. It was before he had another birthday, before the Queen died and Hurricane Ian hit — and that's the shortlist. The "old year" man looks tired, worn out and alone.
The comforting news is that the Old Year Man has other events and other years to ponder in his retirement rocker in front of the fire, and many are pleasant. His wide-screen mind recalls riding a long-ago intercity bus that transported a few Conway residents to and from work in Little Rock. A gallon of gasoline, and probably my dad's billowing pipe smoke, propelled the bus on its journeys, stopping for people waiting on roadsides on the way.
Our town's intra-city bus system transported local citizens and students to and from colleges, neighborhoods and downtown. Ten cents a ride. When a better postwar economy arrived, more two-car families caused the bus service to fade. Hey, Mr. Old Year, do you remember seeing a 5-year-old girl playing hopscotch on the wide front walk of her College Avenue home? Braids and a sun dress, often wearing roller skates and waving? Yeah, that was me! There is only one skate now, and it's rusted, but she's still often on her front walk, sweeping and sometimes imagining hopscotch diagrams.
The Old Year Man backtracks time to his elementary school days. Students only needed two items: a pencil and paper. Central Grade School had a bell tower, the bell of which rang to start and end school each day. For lunch, a quarter for a home-style hot cafeteria meal with a choice of 5-cent chocolate or whole milk. A recyclable brown paper bag
containing a bologna sandwich and a peanut butter cookie, both provided by a mother's hands, had that taste of home. Some could actually walk home for mom's homemade vegetable soup. Some who received an allowance, therefore had extra coins, would slip a quarter to another student who lacked a meal or sandwich.
This man of many old years has seen multiple wars and he's not through yet, at least according to the Bible. Along with the sad loss of military personnel, he has seen the loss of respect for the flag and the reason our country exists. Not many know about the World War I statue on the Hendrix College campus, or the trees dedicated to lost servicemen or a recent memorial placed on the University of Central Arkansas campus. The most unusual UCA memorial features the remainder of 48 oak trees that were planted in 1948 in honor of student soldiers lost in World War II. Each has recently been marked with plaques naming the soldiers.
The next "new year" baby has a lot to do as he does every year, but it seems his annual efforts remain ineffective. Old Year Man has the wisdom that comes from experience and has recommendations.
He believes we should push for teaching the Constitution, basic education, discipline and self-discipline, the words to the national anthem, the Ten Commandments, respect for all of our defenders and a couple of other issues, the mention of which will only get me in trouble. Reinstating all of these, even the two not mentioned, could immediately change us for the better! We've been there before; we could be there again and live in peace if we want to badly enough.
It would not hurt to do some roller skating and waving, either.
76 | 501 LIFE December 2022
*Benefits may differ by plan. Copay amounts are for preferred generic medications and are applicable at preferred pharmacies. You are not required to use a preferred pharmacy and other pharmacies are available in our network.
can call from 8 a.m. to 8 p.m., seven days a week. You may reach a messaging service on weekends from April
through September 30 and holidays. Please leave a message, and your call will be returned
business day. Essence Healthcare includes HMO, HMO-POS and PPO plans with Medicare contracts. Enrollment in Essence Healthcare depends on contract renewal. Y0027_23-649_M A New Way to Get MORE from Medicare Speak with a licensed Essence Medicare advisor. Join a FREE informational seminar. Schedule a one-on-one consultation. Call 1-844-762-5176 (TTY: 711)** or visit EssenceHealthcare.com/RSVP Now you can get complete protection for your health and budget plus more of everything you deserve. Essence—a long-standing leader in healthcare—has launched new plans in your area. 501_ARK_AEP Multiple plan options to best fit your unique needs More Choices. More Flexibility. More Savings. Preloaded Flexible Benefit Cards for over-the-counter items, dental, vision and hearing $0 Monthly premiums $0 Primary care copays $0 Generic medications and more*
**You
1
the next
I am a country gal. I really do not like big cities, but if I were going to go to a big city, aka New York City, it would have to be during Christmastime. I have always had the desire to see the Christmas tree in Rockefeller Center, see the Radio City Rockettes performing their Christmas show, and stroll down New York's Fifth Avenue viewing all the department store windows decked out in Christmas decor. Since that is not likely to occur until that "Star Trek" transporter is available, I decided to go looking for community Christmas trees and glittering festive store windows transformed into holiday-themed displays in the 501. I was greatly rewarded for my search, and maybe I can delay that trip to New York City for another year.
The history of decorating store windows is credited to Macy's Department Store in New York. Macy's decorated its store windows with an extravagant display in 1874. After that first Christmas display, other stores on Fifth Avenue wanted to try and compete with Macy's by creating holiday windows and a tradition was started. Nowadays, these large stores continue this tradition, but Macy's remains famous for its windows. During the Christmas season, nearly 10,000 tourists will pass by.
As I researched Christmas window displays, I found that during the 1800s windows were designed to lure children into stores. The focus for most stores was toys and sweets. As displays became increasingly elaborate, huge toy trains were filled with all kinds of presents. Eventually, as airplanes and autos became more prevalent, they were used in displays. In the early 1900s,
Santa Claus, otherwise known as Saint Nicholas, became the primary subject of store windows and displays. He became the jolly old man who brings toys. It was also around that time that stores started having Santa visit to allow children to tell him what they wanted for Christmas.
Over the years, window décor has changed according to whom they are appealing. Now windows, even those in the 501, still have a festive look but appear to be interested in catching the eye of adult shoppers and not the kiddos. Today, big box stores no longer have windows for displays, and only local retail stores continue the tradition of decorating their windows.
The tradition of a community Christmas tree in a public space or town square dates back to the 19th century when the White House put up the first National Christmas Tree. The tree was a 60foot balsam fir covered in 2,500 light bulbs. It was lit with electrical bulbs to introduce the American people to the glories of electricity. During the Great Depression, the first Rockefeller Center put up its Christmas tree. The tree was meant to be a symbol of hope and goodwill.
In these days of changing retail habits, where most of us utilize online shopping or shop in the big box stores, it is still wonderful to see small towns in the 501 continue to get shoppers in the Christmas mood by decorating their windows. Every Christmas, more 501 communities are having public Christmas trees so residents can gather around and celebrate the reason for the season.
Story and photos by Linda Henderson
- Linda Henderson
December 2022 501lifemag.com | 79
'This holiday season, I hope you'll make time to enjoy a community tree and visit some store window displays that are sure to remind you that there is no place like Central Arkansas at Christmas.'
80 | 501 LIFE December 2022
December 2022 501lifemag.com | 81
John S. Harwood, MS Tax, CPA, CFF, ABV, CGMA, CFE
L. Tray Ott, CPA, PFS
Alliance Family of Companies Harwood, Ott & Fisher, PA is in the business of helping individuals and businesses achieve their financial goals with accounting, insurance and retirement strategies. From tax returns and retirement to business and personal insurance – and so much more – our firm is committed to providing the best in personal service with a "total client service" approach. Harwood, Ott & Fisher, PA (HOF) Certified Public Accountants Tax return preparation/planning Financial statement preparation Consulting Services And many more ... Alliance Insurance Group of Arkansas, Inc (AIGA) Independent Insurance Agency Business and personal, Health and life policies, Employee benefits Alliance Financial Group, LLC (AFG) Retirement Strategies Retirement plan analysis (both business and individual)
Connie Cody Fisher, CPA
The
celebrating athletic excellence
By Dr. Robert Reising
Lonoke County's Will Walls
His parents were deaf and unable to speak, yet his learning was normal, his growth likewise, peaking at a handsome 6-foot 4-inches and a solid 225 pounds. His mind creative and his spirit adventurous, his 80 years were filled with confidence, popularity and success. Whether in New York City, "the Big Apple," or in Hollywood, "the Dream Factory," Will Walls enjoyed life — and life enjoyed him.
Born in Lonoke County in December of 1912, William Thomas Walls, Jr., was two years older than Jim Lee Howell, another Lonoke product who was to enjoy glory with the New York Football Giants. The son of Nonie Edna Hicks and William Thomas, Sr., Will completed his early years of formal education in his native county, but by high school was living in Little Rock, his father a printer at the Arkansas Democrat.
For three years he was a much-celebrated multisport athlete at North Little Rock High School. Confining his considerable baseball talents to summers, he was a star performer in track, in which he set a shot-put record; basketball, which he captained; and football, which he led as Line Captain and in which he twice earned Second Team All-State honors. He won nine Varsity letters.
Awaiting him at graduation were about forty athletic scholarship offers. He chose Texas Christian University (TCU) in Fort Worth, Texas. There he found success, and another nine Varsity letters followed. Entering TCU in 1933, he spent a year on freshman teams in football, basketball and baseball before moving to stellar Varsity performances in all three. He captained the 1935 and 1936 basketball teams and was a unanimous all-conference outfielder as a sophomore in baseball.
His greatest achievements were reserved for the gridiron. In 1934, against Arkansas, he was on the receiving end of the first collegiate pass thrown by iconic "Slingin" Sammy Baugh, thought by many pundits to be not only the finest quarterback the game has ever seen but also the greatest athlete ever. In TCU's first bowl appearance, the 1935 Sugar Bowl, Will played 55 minutes in the Horned Frogs' 3 to 2 triumph over LSU and caught a Baugh pass that set up the winning field goal. In the 1936 Cotton Bowl, the pair were members of another TCU post-season winner. Celebrated as one of one of Baugh's favorite pass-catchers for three seasons, Will Walls also earned honorable mention All-America honors en route to a 1937 contract with the New York Giants of the National Football League (NFL).
In the following fall, he launched the first half of his successful six-year career with the Giants and, despite injuries, appeared in 25 games as the team won, first the 1938 NFL Championship and, in 1939, the Eastern Division title. When idle, Will dabbled in ways that the tape recorder and the 35 mm camera might prove useful in coaching and scouting.
While the gridiron continued to dominate Will's thinking, his affection for baseball lingered, and thus he spent three summers as an outfielder in professional leagues: 1938, 1939 and 1941. Despite bashing a dozen home runs in his first season, his performance in the low minors was hardly noteworthy.
But his final trio of NFL seasons were pure joy for him. In 1941, the Giants claimed another Division title, and in 1943 yet another. Will appeared in 30 games and scored four touchdowns. He became so innovative with the tape recorder and the 55mm camera that coaching and scouting beckoned.
In 1938 he married his college sweetheart, Francys Ballenger, who was described as a beautiful and gracious Southern lady with award-winning high school English-teaching skills. Will again looked westward. A few years into their marriage, the pair returned to TCU for Will to complete his bachelor's degree, to add a master's degree, and to assist in coaching.
Hollywood intrigued him and he appeared in four major films in 1944 and 1945, developing his talents in the midst of the industry's most idolized stars. Van Johnson, Robert Mitchum, Spencer Tracy, Donna Reed and Kathryn Hepburn headed the group of Hollywood's finest, and he acquitted himself handsomely with them before leaving for duty with the U. S. Navy.
Upon completing his military service, Will learned from his agent that major and lucrative contracts awaited him both in
movies and television. He needed, however, to be prepared to ride horses and sing. Since he had never been on a horse and couldn't carry a tune in a washtub, enthusiasm failed to dominate his response, and his disenchanted agent never reappeared. Will later wondered about his hasty decision: one of the roles discussed had him playing Matt Dillon in TV's classic Western series "Gunsmoke."
Kilgore College subsequently benefited from his multiple talents: he won as Head Coach of basketball and football. In 1948 in Pasadena, Calif., his gridiron squad topped the team from Hutchinson, Kansas, a triumph moving Will into the elite group of "men to have either played or coached in every (pre-Super) bowl classic." His penchant for winning, and especially his uncanny eye for talent, soon propelled him into scouting and administrative duties alone. Thus the 1970s found him responsible for combining Pittsburgh's now-famous "Steel Curtain," led by "Mean" Joe Greene, with the powerful offense quarterbacked by Terry Bradshaw, to earn the Steelers a record-breaking four Super Bowl Championships in six seasons.
Clearly, by 1980, when inducted into the TCU Lettermen's Association Hall of Fame, Will had proven to be not merely one of the most versatile athletes in the history of TCU athletics, but also one of the school's all-time athletic greats. Dying 13 years later, he had simultaneously proven to be an accomplished and admired native in whom Lonoke County and the 501 can forever take pride.
December 2022 501lifemag.com | 83
Christmas Roe Henderson 1416 Prince St. Conway, AR 72034 501-327-3888 (Call or Text) RHenderson@ShelterInsurance.com We're your Shield. We're your Shelter. ShelterInsurance.com Thank you for your business and friendship throughout the year. ®
Merry
The fun rolls on!
Morrilton celebrates revitalized Playland Skating and Bowling
By Morgan Zimmerman
M embers of the Morrilton community gathered on Oct. 29, for a ribbon cutting and grand opening celebration for the recently revitalized Playland Skating and Bowling center. The facility has been closed for 13 years. The city of Morrilton purchased it in 2021 and set to work updating the space. "I believe this is one of the best things we've been able to do for our citizens," Mayor Allen Lipsmeyer said. "It's a place for kids and families to gather and have a good time."
Upon entering Playland, one is immediately taken back to a simpler time. The theme is intentionally nostalgic. City staff completed most of the renovations themselves, and they were able to save the original light installation over the skating rink and repurpose the original neon "skating" and "bowling" signs from outside into indoor signage.
The mayor said the project has created around 25 new jobs, many of those for local youth. The facility includes private party rooms that are available for rent, an arcade and 10 bowling lanes. It is open seven days a week from 11 a.m. to 9 p.m. Monday through Thursday, 11 a.m. to 11 p.m. on Friday and Saturday and 1 to 7 p.m. on Sunday. For more information, call 501.477.4120.
84 | 501 LIFE December 2022
TOP: A repurposed bowling sign from outside the orginal alley. CENTER: The community celebrates the opening of the bowling alley and skating rink. BOTTOM LEFT: Miss Conway County Camry Eller was "Loving LIFE" in skates at the new rink. BOTTOM CENTER: Jaime Krutz (from left), Austin Krutz, Arden Krutz, Linda Burns and Marty Krutz make up the Big Cuppa bowling team. BOTTOM RIGHT: Mayor Allen and Stephanie Lipsmeyer and kids.
Sweet Grandma Sue
By Morgan Zimmerman
Get an affordable, quality education close to home § General education credits for seamless transfer to a university § Hands-on training leading to high-demand, high-wage jobs
S ue Hill, known by many in Conway County as "Grandma Sue," has been making cookies for her family and friends in the Morrilton area for more than 70 years. Over the years, she's shared that tradition with her daughters, granddaughters and great-grandkids, creating a multigenerational love for baking.
Sue was a Title 1 Reading Aide at the South Conway County School District for 21 years, and her husband owned and operated the Morrilton Motor Company for more than 60 years. She is a lifelong member of the Downtown Church of Christ. "If the church doors are open, our mom is there," Vicky Ronk said.
Sue taught herself how to bake with a recipe she got from her favorite aunt, the pinwheel date cookies. "Date cookies are the cookies I made for my husband's business supporters at the Morrilton Motor Company, our family and our church family," She said.
Years later, when her daughters (Ronk and Patti Hill) were coaching and teaching at South Conway County School District, she would make Rice Krispies treats for the athletes to take to away games and chocolate chip cookie bars for the Morrilton Mighty Pup Singers. She also has a son, Ricky Hill, and a daughter who passed away in 2007, Rita Fougerousse.
More recently, capturing the interest of the youngest generation, she taught her great-grandson how to make her strawberry cookies for a bake sale to raise money for a school trip.
"One thing about mom is that you never leave her house hungry, even if she just made you a quick grilled cheese," Vicky said. "When we were kids, there was always some kind of homemade snack for us coming home from school, and mom always hosted family lunch after church on Sunday. We got to help with that."
While her love for God, food and family goes far beyond the holidays, Sue looks forward to celebrating Christmas traditions with her large family and community. Attending the Morrilton Christmas parade, Morrilton Church of Christ Christmas parties, neighborhood parties and family get-togethers with "lots of food, visiting and fun" are all on the agenda this holiday season.
When asked if she likes baking for any one person in particular, Sue said, "I just love surprising people with cookies, pies and bread."
Find receipes for Grandma Sue's Date, No-Bake and Strawberry White Chocolate Cookies as picture at 501lifemag.com
WWW.UACCM.EDU | 501-977-2000
Happy Holidays from...
Grandma Sue of Morrilton looks forward to the Christmas parade, Christmas par-ties at church, neighborhood parties and family get-togethers. Daughter Vicky Ronk (from left), Grandma Sue Hill and daughter Patti Hill.
HOME TOWN: Our family recently relocated from California back home to Arkansas and loves living in Searcy.
FAMILY: My incredible wife, Carrie, and I are blessed with our children Madeleine, 18, a college freshman; Luke, 8, our second-grader; and Anne Marie, 4, who is in pre-K.
EDUCATION: I received a Bachelor of Music from Henderson State University and then attended the University of Houston – Clear Lake, where I earned a Master of Healthcare Administration and a Master of Business Administration.
WORK: I recently joined Unity Health as President and Chief Executive Officer and have more than 20 years in the healthcare industry.
WHY DID YOU CHOOSE YOUR FIELD: Initially, I wanted to be a band director, but after gentle encouragement from my mother, who was a pediatric nurse, I found that healthcare was a better fit for my abilities and a career where I could find deep satisfaction through serving others.
PROFESSIONAL ACCOMPLISHMENTS
YOU'RE MOST PROUD OF: I am so incredibly proud of the work we have done throughout the COVID-19 pandemic, showing up each day to unknown challenges to take care of our friends and neighbors.
COMMUNITY OR CHURCH ACTIVITIES: We are excited to be involved in the Searcy community and are just beginning our transition to a new church family here in Arkansas.
MOST CHERISHED POSSESSION: Time with my family exploring The Natural State.
86 | 501 LIFE December 2022
501 LIFE PERSON OF THE MONTH
PRESIDENT/CEO UNITY HEALTH PROUDLY PRESENTS HOW WILL YOU CELEBRATE YOUR FIRST HOLIDAY SEASON IN SEARCY? : We are looking
well
time with grandparents and family.
MARK AMOX
forward to all the events during the Searcy Holiday of Lights celebrations, as
as spending quality