YELLOW T h e C O V E R M A G A Z I N E S U M M E R & F A L L E D I T I O N BUSINESS IS THEATRE A U G U S T 2 0 2 2 P R E S E N T I N G IAm Nathasa Rae
WestElmAvalonLighting,PhotographybyJoshuaSmithYC
BUSINESS IS THEATRE
BusinessisTheatreaYellowCoverMagazineSummer&Fall2022Issue
We present "Business is Theatre," an emotional Summer Fall Issue for 2022. This special issue will combine the brand work of some incredible entrepreneurs told through our storytelling and honor the genuineness of each contributor. The Yellow Cover Magazine team wanted a clever concept or theme carried throughout the issue and page title to give a more straightforward idea. From brand visualization to the one note contact page, our content production had to be honest, moving, fresh and inspiring. A kind and thoughtful process yet powerful, visually stimulating with the ability to help you imagine life with every piece of the stories and procure a moment that will evoke you to read more. www.theyellowcover.com
THEDRAMAOFGUCCI Gucci'svisionforstyleistrulythebestintheshowandcreatestheperfect drama.Youcanfindtheseandotheruniqueframesforyoursummer/fall wardrobe purchasethematSunglassHutAvaloninAlpharetta,Georgia. https://storessunglasshutcom/us/ga/alpharetta
BusinessisTheatreaYellowCoverMagazineSummer&Fall2022Issue
BusinessisTheatreaYellowCoverMagazineSummer&Fall2022Issue www.theyellowcover.com Vision
Photoby Joshua Smith
Issue2022Fall&SummerMagazineCoverYellowaTheatreisBusiness VISION
BusinessisTheatreaYellowCoverMagazineSummer&Fall2022Issue Theperfect deep treatment forluxurious hair.
Blaque Hair Co. is a hair care line of products formulated to stimulate robust and healthy hair. Their clinically effective ingredients are natural, cruelty free, and contain no parabens or sodium chloride. That means its color and straightener are safe. Revival deep treatment is a spa for your hair and is part of the Essencial Blaque Hair Co's wash collection. This keratin infused deep conditioning treatment, supercharged with proteins and extracts, reduce breakage, stop frizz, restores moisture and strengthens Great for all hair types and safe for colored, straightened, and chemically treated hair. www.blaquehairco.us
BlaqueHairCobelievesinprovidingnaturalhaircare productsforyoureverydayhaircareneedsandcreatinga globalmarketwhilemaintainingaqualityprocessthatis makingthemahouseholdname—atthesametime. Nichole Ross, Founder & CEO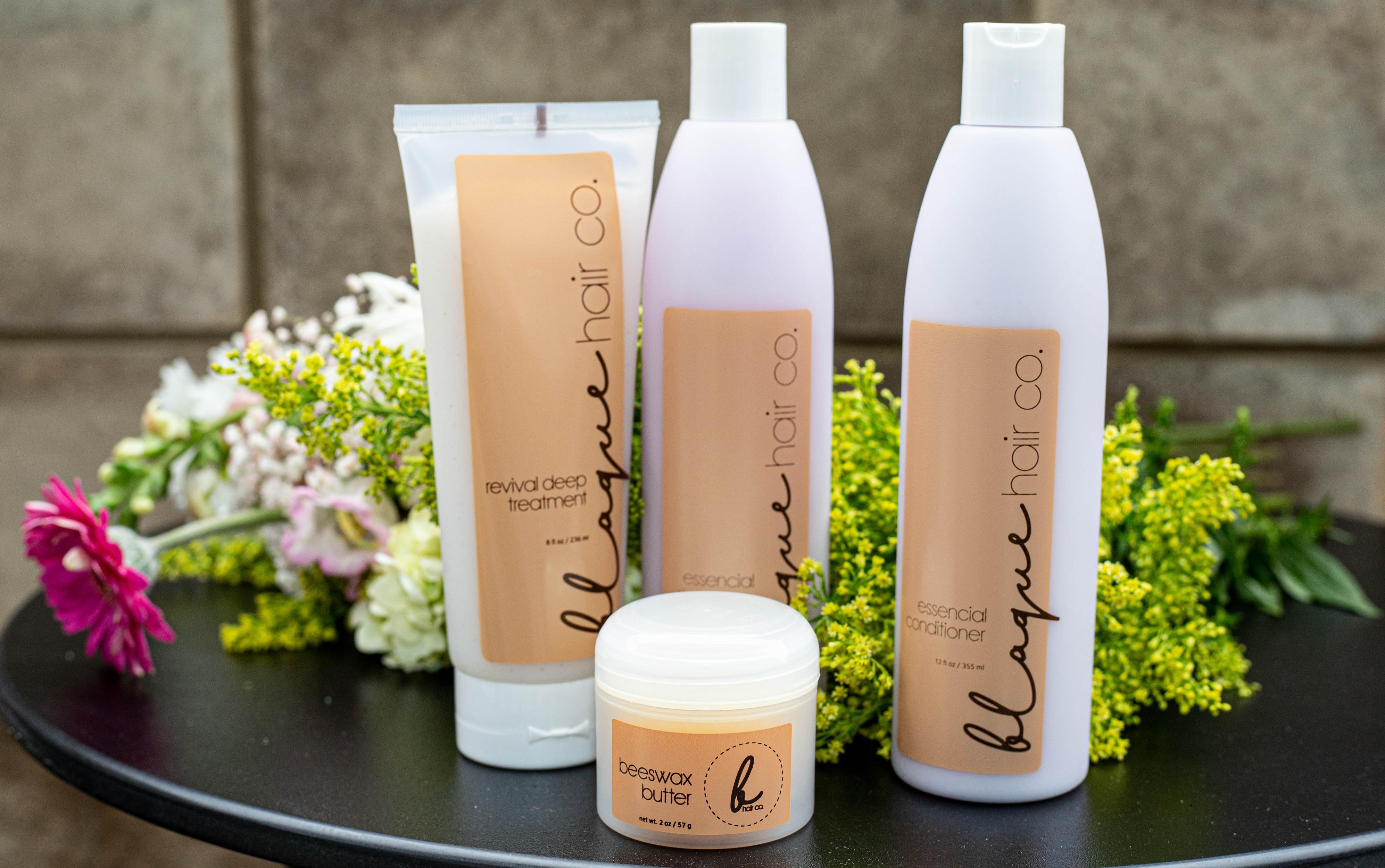 www.blaquehairco.us
Priceless Event Planning ™ Avisos Architectural Signage Soul By Ame CK Wall Designs Goliath Views 18 22 26 30 30 With Humberto Perez With Jeff Hendricks With Khadidra Muhammad With Clinton & Kerry Lindo With Micah & Phillip Contents The Face of My Battle Cry 39 Cover Story Exclusive Wth Nathasa Rae 22
Sharp Crisp Clean The Mind of Fashion Contents The Tears of Evolution A Songbird For This Time... 46 50 54 64 68 With Corii Esha With Larae With With CEO Dr. Marvin Dupiton With J. Bolin Wth Afua Sam The A CONCEPT by Afua Sam 50
Express your brand with the perfect custom gift card design G i f t C a r d c u s t o m i z a t i o n & b r a n d i n g
www.theyellowcover.com
WEST ELM AVALON
BusinessisTheatreaYellowCoverMagazineSummer&Fall2022Issue
WestElmAvalonPhotosbyJoshuaSmithYC
A29thBirthday celebrationforthe beautifulKendra Randle WithKhadidra Muhammad CelebrityEvent Designer&Owner ofPricelessEvent Planning.™ PhotographybyJames WillisPhotographyof DallasTexas.
www.pricelesseventplanning.com BusinessisTheatreaYellowCoverMagazineSummer&Fall2022Issue 18
www.pricelesseventplanning.com
A 29TH
hadidra Muhammad is the Founder and CEO of Priceless Event Planning™ and to speak to such a phenomenal woman was a great experience. Some of the less reported or written stories are stories of great entrepreneurs who do great things, and The eye for beauty is a gift. At the beginning of her career, she often dreamed of visually dressing the mannequins in the Gap store, where she worked as a cashier This humble talent worked with all top A list celebrities, leaving them speechless My first question was; how do you develop your ideas? 'It all starts with the location, she replied ' I design for the client's personality, but the space is essential K It can't be a focal point; it has to be the entire space Khadidra believes that there must be an impact at every entry point by her vision to achieve a successful overall balance. There is no recipe to how her mind works; she thinks about the color, space planning, and the number of people attending This is a critical factor for this remarkable event planner to ensure that every area of her creativity is in respect of the number of guests She is more than a designer; she is genuinely heaven sent I can think of the song, this gift that she has the world didn't give it, and the world can't take it away. Back in the time when she worked at the Gap, she would visualize dressing the mannequins or imagining what the holiday themes would be Khadidra said "I couldn't define what it is that helps me decide overall " She loves to be inspired, and she gets ideas from seeing things on a walk down Fifth Avenue, like a cherry blossom that looks amazing. She stated she would capture it with her camera phone and save it for closer viewing. Khadidra started as a one stop shop; she stated it was just me in the beginning ' thinking I could do it all, and in some cases, she did. Her team has grown to about seven, and she only works with top quality vendors. She doesn't have a favorite fashion designer, but her love of shoes and handbags is on her list When you arrive at this level of success, it often comes from life experiences and one day early morning, like 4;15 am Khadidra was shot unexpectedly; hearing this was shocking, and even at that very moment, she managed to contact all her vendors for an event that would take place later that day. Her star power goes without saying, and her work for some A list celebrities brings us to this unique birthday party design event for the famous Kendra Randle We give it up for this impressive and beautiful woman Moreover, Khadidra's magic is worth taking note of. For a stellar event design, don't hesitate to get in touch with her today via email: Contact: info@pricelesseventplanning.com BIRTHDAY CELEBRATION FOR THE BEAUTIFUL KENDRA RANDLE WITH KHADIDRA MUHAMMAD CELEBRITY EVENT DESIGNER & OWNER OF PRICELESS EVENT PLANNING.
™ W r i t t e n b y T r e b r e s a S m i t h
KHADIDRA MUHAMMAD BusinessisTheatreaYellowCoverMagazineSummer&Fall2022Issue www.pricelesseventplanning.com
Some newly crafted geniuses are championing and creating drama with a portfolio that will leave you speechless. CK Wall designs, owned by entrepreneurs Clinton & Kerry Lindo, transform spaces one wall at a time Scan QR code with your phone or tablet to begin the process. Contact Clinton or Kerry For Complimentary Consultations at clintonwalldesigns@gmail.com CK WALL DESIGNS BY CLINTON & KERRY ANN LINDO 22 BusinessisTheatreaYellowCoverMagazineSummer&Fall2022Issue
C K Kerry entrusted her husband to design a simple shiplap wall design they saw as an inspiration for their bedroom, which turned out great. With her inspiration going even grander, Kerry asked her husband Clinton to incorporate some mirrors in a wall design, and those two came out fantastic! Every project moving forward will have something special; it depends on the moment. implied Clinton Lindo, Owner & Self taught Master, carpenter. Having started with just an ax saw, it's simply unbelievable what he has accomplished, and now, Clinton can impress clients with his craftsman talent, expanding his vision.
SmithTrebresabyWrittenJones,JoybyInterviewed
@ckwalldesigns CK WALL DESIGNS, OWNED BY ENTREPRENEURS CLINTON & KERRY LINDO, TRANSFORM SPACES, ONE WALL AT A TIME.
These over 40 years combined, nurses have found a strategy for amazing transformations that involve some great taste and some winning personalities. They came up with a name for some of the art wall designs like X marks the spot, and this one is trendy. In short, this dynamic couple, CEOs and visionaries, have a perfect plan for enhancing homes, and they are the future in creating some incredible "DRAMATIC" finishes. To re-emphasize, CK Wall Designs - the wall design company that started by finding inspiration in spaces that drew their eye is taking us to the next level.
In wall art, and we can't get enough, don't hesitate to get in touch with them today via email: See more of their design work on page 74. Contact: clintonwalldesigns@gmail.com
Clinton has graduated to a table saw, and the future is now a new interpretation of their work in their soon to be opened Content Studio. To add value to these incredible entrepreneurs, they recently hosted a training class in their hometown, and people near and far came to attend.
CK Wall Designs the wall design company that started by finding inspiration in spaces that drew their eye to is taking us to the next level in wall art, and we can't get enough.
Clinton & Kerry Lindo owners and accent wall designers are initially from New York; while living there, they lived in a two bedroom apartment and decided to move to Texas They purchased a huge home and hated the walls "There were so many of them, and we didn't know what to do with them." said Kerry Lindo, Owner.
INTERVIEWEDBYJOYJONES,WRITTENBY:TREBRESASMITH
On a very significant launch day, August 5, 2022, I want to thank and welcome your support, participation, and partnership in this beautiful summer/fall issue On behalf of the Yellow Cover Magazine, we thank you for your confidence and trust in our ability to present your products and services in our profound and professional storytelling manner We are building the 21st century infrastructure of design storytelling brands, and every milestone will be better than the previous one Our magazine represents markets from food, design, spirits, beauty, fashion, hospitality, technology, entertainment, and now quality, unique, children and pet brand solutions
Cover Nathasa Rae By, (YC ) Design Team Theme: Business is Theatre Afua Sam, of The A Concept by Afua Sam Style Editor, Joy Jones & Jay Jones Photography, Torrie Hudson of Torrie Hudson Photography
Fashion Design By,
EDITOR'S
LETTER
BusinessisTheatreaYellow CoverMagazineSummer& Fall2022Issue
Our soft spoken voice is our echo, and we want to be remembered for how we cared for our neighbors at home and abroad while building a brand that can transcend into storytelling media In closing, You are important to us, and there is no better time for us to come together to shed light on businesses Our team of experts is capable of all aspects of design branding, and we are happy for you to peruse our pages I hope you enjoy it
DESIGNER AND EDITOR MANAGING EDITOR CREATIVE SENIOR COUNSEL STYLE EDITOR HOUSE PHOTOGRAPHER SALES & MARKETING Trebresa Smith Darren Jay Jimmy Colette Tonyia Kutz Traron White Joy Jones Jay Jones Joshua Smith Christine Deruji CORPORATELOCATION 11720AmberParkDriveSuite160 Alpharetta,GA30009 Tel:770 217 0999 DESIGN&MARKETINGLOCATION 444N.MichiganAvenueSuite1200 Chicago,Illinois60611 wwwtheyellowcovercom Instagramcom/yellowcovermagazine YC&TheYellowCoverMagazinelogo®isaregisteredtrademarkofTheYellowCover®,Magazine™Inc AllRightsReserved Disclaimer:Theviewsandopinionsexpressedinarticlesorprintcollaboratewiththeowner,author,orspeaker,andweprideourselveson presentingqualityandcleanwriting Weaimtoofferamagazinethatincludeslocalandabroadbrands,stories,andlikenesses Yaj& Anai™soft spoken,passionatesisterprincessesaretrademarked,imagined,andownedsolelybyTheYellowCoverMagazineIncowners AllRightsReserved ThecharacternamesNola,Day&SamarealsoatrademarkofTheYellowCoverMagazineIncbrandandcan'tbe usedwithoutpermission NathasaRaewastheartistTheYellowCoverMagazineInccommissionedtodrawthedrawingpieces Yellow CoverMagazineIncisnotapartnershiporownershipoftheNathasaRaebrand BRAND SPONSORS & PARTNERSHIPS WEST ELM AVALON| SAM'S WINES & SPIRITS IT'S KEY TIME WITH KEYATTA JOHNSON| E BEAUTY CO CHOCOLATE SAUCE & MINT, INC CASSMO INC| VERIFONE| BLAQUE HAIR CO.
Muse, Black love, art, women, men, collection, culture, clothing, tapestry, signature, handbags, just saying, 4 DA Shorties, official, iconic, portfolio, speak, presence, transformative, purpose, uniting, fashion, myriad, advocate, expression, strong voice, energy, we are one, passion, SOUL community, trailblazers, protest www.soulbyame.com BusinessisTheatreaYellowCoverMagazineSummer&Fall2022Issue 26
SOUL BY AME IS A BRAND FOUNDED IN 2021. RECENTLY, ONE OF THE MOST INCREDIBLE VOICES FOR FASHION LOCALLY IN SALT LAKE CITY, UTAH, AND THE WORLD.
The two are in unison with one another and often gel the brilliant ideas to present a stunning vibrant collection that is recognizable but uniquely modern. In the beginning, they threw fashion shows as a means of direct impact with people nearby at a time when everyone was eager to get out and do something due to the shutdown. Alongside the creative vision, the two fashion ambassadors understand that the assignment and the brand feel right. Phillip works at the creative desk, and Micah is more into marketing.
The brand is for people of all races Fashion is changing, so versatile pieces that demonstrate or express love open a line of communication and respect Soul By Ame introduce Muse, a line inspired by black love and art with a bold and expressive undertone that reveals a moment, creates a moment, and makes the moment want to linger forever "The only way to do this is together, said Micah," and we can't agree more The Lines characteristic of brand affection stands out with a hint of love for basketball Pre order now Please make no mistake. Micah & Phillip are cut for this business; they know what's going on in America, and their out-of-the-box thinking makes them genius.
MagazineCoverYellowThe
INTERVIEWEDBYJOYJONES,WRITTENBY:TREBRESASMITH wwwsoulbyamecom
oul by Ame has grown and been recognized phenomenally in less than one year. During our interview, we learned just why. Community is everything for two visionaries, Micah & Phillip, owners and creators of a bold, unique, and creative collection of clothing; This phenomenal company embodies control and has fascinated many with their Father line of clothing. "Here's to KINGS, may we praise them, may we raise them, may we be them." S Micah & Phillip of Soul by Ame, a bold, unique and creative collection of clothing and everyday wear by Essence By Soul From the looks of it, these two entrepreneurs are on the cuff to be the next in fashion Soul By Ame was founded in October of 2021 After a summer of protest In short, it has a trending fashion message with its incredible vision pulled from different artists, sports figures, historical figures, and actors
Order The Collections: www.soulbyame.com
www.soulbyame.com
I'm In Control of My Destiny Never In Doubt BusinessisTheatreaYellowCoverMagazineSummer&Fall2022Issue @goliathworldwide 30
Later into his hobby was the reality of happy people who were part of his footage, pleased that they had someone they could share their moments with, and better, someone that cared to listen. "I love to see people's dreams come alive on camera, " said Jeff.
Jeff was truly walking in faith and didn't know that the once hobby would turn into a rewarding company. To backtrack in 2016, he picked up a camera and began filming people, plants, animals, and parties.
GOLIATH VIEWS, LLC
MagazineCoverYellowThe @goliathworldwide
Offering my work for free was great, and all the positive feedback often made him wonder where his camera would take him
Check out his cost sheets on the forward pages and get in touch.
The challenges of his own depression were healed through his camera or the focus of other people in his condition. He asked the question, what is your Goliath, and now his company is far beyond the days of small beginnings. Goliath Views works today with some of the biggest names in the business, and he is ready to take on your project.
Introducing Jeff Hendricks, owner and founder of Goliath Views; while in college studying psychology, he got an epiphany to capture moments tHe stated his goal was to leave school with his mark and enjoyed the perfect opportunity to provide such moments for people. Is the dream of entrepreneurship the future of his capture? We will learn more.
"TOLD EM, SEE YOU AT THE TOP, AND THEY MISUNDERSTOOD ME " JEFF HENDRICKS
Contact: goliathviews@gmail.com
AGENTS, BROKERS & INVESTORS $5,000 Closings Testimonials Event Recaps (Appearances & Experiences) Tips & FAQ's** Listings Lifestyle Content (Photo or Video) **LiveStream Option MUSICIANS & POETS $5,000 Music Video Photoshoot Interviews & Announcements** Show Recaps **LiveStream Option CHEF'S & RESTAURANTS $5,000 Private Dinner Recaps Custom Recipe Content** Brand Content Products **Livestream Option Content Retainer $5,000 Venue / Storefront Testimonials Event Recaps (Appearances & Experiences)** Tips & FAQ's** Product Marketing Lifestyle Content **LiveStream Option Products Marketing $2,500 Product Only Photo Product Only Video SPORTS $5,000 Gym Visual Testimonies // Client Appreciation Stories Highlight Reel Training Visuals Event Recaps @goliathworldwide BusinessisTheatreaYellowCoverMagazineSummer&Fall2022Issue
$10,000
Looking for an affordable & consistent live stream crew? Powered by StreamTech Pro, you can go live through Goliath Views using professional grade cinema cameras on ALL your online & social media platforms including Facebook, Youtube, TikTok and yes even your Instagram! We want to provide the best experience possible, so we recommend you choosing the best plan for your visual needs! Livestream setups can be minimal to achieve, subjective to the project, while most setups include a film crew on site.
Minimal Setup / Add-On $5,000 Up to 3 Angles (Tripod Only) Professional Audio Feed Graphics (Lower Thirds, Logo, Etc.) Standard Setup (Recommended) $5,000 Up to 4 Camera Feeds Professional Audio Feed Camera Operators (Up to 2) Graphics (Lower Thirds, Logos, Etc.) Full Crew $10,000 Up to 8 Camera Feeds at once (Concerts, Church Services, Sporting Events) Free Consultation Professional Audio (Provided) Camera Operators (5+) Graphics (Lower Thirds, Logos, Etc.) Re Broadcast of Event or Service Content Crew at Event or Service (Photo & Video Recap)
@goliathworldwide
SPORTS $5,000 Gym Visual Testimonies // Client Appreciation Stories Highlight Reel Training Visuals Event Recaps CHANNEL HOSTS $5,000 Modules or Classes** Tutorials** Interviews** Announcements** Podcasts** Lifestyle Content **Livestream Option
LIVESTREAM
The World. Jeff Hendricks
BusinessisTheatreaYellowCoverMagazineSummer&Fall2022Issue
Honored To Be Using My Gift
I'm To shed A Light On
@goliathworldwide
www.avisosdgs.com 36
WehavetheexperienceandqualitysignsinAtlantatohandleallofyourmarketingneeds. AvisosDigitalGraphics&Signagecanhelpyourbusinessmanagethedetailsanddeliver resultsfromthesmallest,lastminutesignjobstoanationalmultimediasignagecampaign AtAvisos,theArchitecturalSignageteamcancreatethebestsolutiontofityourprojectby utilizingstateoftheartdigitaltechnologyandinnovativeideas AvisosIsYourFullServicePartnerForSignageofAllShapesAndSizes.Theywillmanage yourprojectfromtheinitialestimatethroughflawlessexecution.
asigncompanyfor thistimeandthefuture.TheyalsodeliveredthesignageforSuga'sCheeseShoppe& CaféinPowderSprings,GA,anditisexcellent.Perusetheirwebsiteformoredetailsofa companythatcontinuedtodelivereveninhardworldtimes. Contactinfo: 1840SCobbIndustrialBlvdSE,Smyrna,GA30082
MondayFriday:9:00am5:00pm wwwavisosdgscom (678)-466-7939
BusinessisTheatreaYellowCoverMagazineSummer&Fall2022Issue
AvisosArchitecturalSignagehasbeenanindependentlyownedAtlantasigncompanysince 2004,whoseteammemberspridethemselvesondeliveringoutstandingserviceinthesign industrytocustomers.WehavetheexperienceandqualitysignsinAtlantatohandleallof yourmarketingneedsFromthesmallest,lastminutesignjobstoanationalmultimedia signagecampaign,AvisosDGScanhelpyourbusinessmanagethedetailsanddeliver results.HumbertoPerezfoundedAvisostomeldhisloveofcolor,design,andtechnology. Anarchitectbytrainingandanavidfanofallthingsprinted,Perezknewhecouldimprove thesolutionsavailabletoclientsandagenciesalike
LocatedinAtlanta,Avisosisanindependentlyownedsigncompanywhoseteammembers pridethemselvesondeliveringoutstandingcustomerservice.Fromthesmallest,last-minute jobtoanationalmultimediacampaign,Avisoscanhelpyoumanagethedetailsanddeliver resultsLookingforapartnertoprovideprintingexpertise,looknofurtherthanAvisos
38
Myhusbandisfantasticandenjoyscookingdinner. Thisgivesmefocusedtimewithmyartandoftena nappingpuppyatmyside.Ibreakfordinnerand familytime,frequentlywalkingwiththefamilyand dogbeforehelpingmyhusbandputthekidsdown forbedIthencontinueworkingonartattimes untilalatenightstrollwiththepuppybreaksupthe focusIthenfallasleeptorepeatthisroutinethe followingmorning.Myjourneyisrelatable,andI understandpain.Lifeisnotalwaysthisperfectly plannedoutidealroutine.Sooftenseeourlives throughtheInstagramlens,tryingtomakeourselves look'perfect.'Ihavemedicalissuesthatcan significantlyimpactmydailyfunctioning.Inreality, Iwakeupmanytimesdependingonmyphysical andmentalhealthI'mnotperfectathomeschooling, butItrytoensuremydaughterslearndaily Myfatherisagreathelp,andevenwithhissupport, Istrugglebetweenthebackandforthofartand givingattentiontokidswhowantsomemommy attention,andyes,Istrugglewithmomguilt. Bedtimeforthekidsisawholeotherbattleitself. ThenIsitdowntoworkonartwithvaryingenergy levelsandoftenpainasmychronicillnessormental healthstrugglestonotjustsleep
THE FACE OF MY BATTLE CRY MagazineCoverYellowTeam
Eachday,IwillfightthebestIcantoserveandlove myfamilywellandcreateartworkthatwillinspire otherstokeepgoing.Istartedmywarriorstoinspire metopushthroughmylife'smostphysicallypainful momentsIknewIwasnotaloneinfeeling heartache,pain,anddepressionIknewothers neededtobeencouragedtocontinuetogoonwhile embracingtheirtruenaturalbeautyIcreateartto helpotherssailthroughlife,andit'sanhonor.
N
BusinessisTheatreaYellowCoverMagazineSummer&Fall2022Issue
Photography by: Torrie Hudson Photography. Fashions by Afua Sam.
thasaRae,ismyname,andIamawarriorartist"Imakepowerful,fiercewarriorwomenwho embracetheirinnerstrengthandbeauty,andIamanaveragepersonwhoputshershoesononeata time.Ihavelearnedtoembracemycryofpowerandexpressionthatpushesmenevertoquit.My battlecryfaceisforallyouwomenwhoneedtoscreamoutandmovetofollowtheirdreams.My mothertaughtmehowtodraw,andsheisstillthatpersonofsignificantinfluenceIrelyonformy strengthandinspiration
My work has been in the public eye on HGTV Urban Oasis 2021 with the talented Designer Brian Patrick Flynn, and it was one of my most honored commissions. I make powerful, fierce warrior women who embrace their inner strength and beauty, and I am an average person who puts her shoes on one at a time. www.nathasarae.com
BusinessisTheatreaYellowCoverMagazineSummer&Fall2022Issue I AM BOLD I AM STRONG I AM NATHASA RAE
IncMagazineCoverYellowThe
ISSUE: SUMMER/ FALL 2022 THE SISTER PRINCESS CHARACTERS ARE FROM LEFT TO RIGHT: YAJ, NOLA, DAY, SAM (THE PUPPY) & ANAI.
We introduce to Family Time a unique expedition piece for you and your families to enjoy, an imagined work by The Yellow Cover Magazine Inc's team and hand drawn and painted by Nathasa Rae. The sister princess characters are from left to right: Yaj, Nola, Day, Sam (the puppy) & Anai. The setting is in Albuquerque, New Mexico, on July 29, 2022, at 6:04 am The passionate sister princesses and their pet Sam go out for an early morning adventure to help drive their motivation for the day ahead. The beauty of their capture goes far beyond what they imagined to see, and it is incredible Family Vacation adds to The Yellow Cover Magazine's kindness mission and passion for children and pets to give back to charity.
The collection showcases in color & black and white sizes: 11x14 for $92 50, and 17x22 for 199 50 Frames are available Picture this piece in your space of choice, an expedition art collection for everyone to enjoy. Printed on quality exclusive natural linen paper. Support our movement today and purchase at: www theyellowcover com Thank you, © 2022 by The Yellow Cover®, Magazine™ Inc All Rights Reserved
WORDS & CREATIVE IDEA: THE YELLOW COVER MAGAZINE
STORY SETTING: ALBUQUERQUE, NEW MEXICO
Family Vacation adds to The Yellow Cover Magazine's mission to tell stories through art and to give back to charities. Yaj & Anai™ are the leaders in the family of softspoken, passionate sister princesses.
ARTIST: NATHASA RAE STORY TITLE: FAMILY VACATION
DATE OF VACATION: JULY 29, 2022 TIME OF DAY: 6:04 AM
www.theyellowcover.com BusinessisTheatreaYellowCoverMagazineSummer&Fall2022Issue
BusinessisTheatreaYellowCoverMagazineSummer&Fall2022Issue www.nathasarae.com BLESSED DAUGHTER, WIFE, MOTHER & WARRIOR
wwwnathasaraecom
BusinessisTheatreaYellowCoverMagazineSummer&Fall2022Issue www.theaconceptbyafuasam.com46
G L O B A L F A S H I O N B R A N D
www.theaconceptbyafuasam.com
A humanitarian to the core, Afua Sam believes that her success and achievements are not complete until she's had the chance to influence the lives of others, especially young children and women For this reason, she founded Afua's Foundation with a mission to empower women and young people.
Afua Sam is a remarkable professional, a tenacious fashion designer, and the Founder/Owner of The A CONCEPT by Afua Sam and STUDIO D'MAXSI DESIGNS; two of the most notable fashion design houses in the Washington DC metropolitan. The brand is dedicated to making unique designs for the modern-day sexy, classy, funky, chic, and confident woman. A Ghanaian native, Afua's achievements in the fashion and design industry have made her a pacesetter with outstanding contributions, featuring a brand of elegant yet edgy collections. She has gained her diverse clientele from everyday people to celebrities.
A S
AFUASAMISAREMARKABLEPROFESSIONAL,A TENACIOUSFASHIONDESIGNER,ANDTHE FOUNDER/OWNEROFTHEACONCEPTBYAFUA SAMANDSTUDIOD'MAXSIDESIGNSANDTHE FASHIONDESIGNERBEHINDOURCOVERSTORY MODELANDWARRIORARTISTNATHASARAE. www.theaconceptbyafuasam.com
A multiple award winning and highly sought after fashion designer, the journey taken by Afua Sam in the design industry started more than 20 years ago, learning how to sew with inborn creativity. Motivated by the desire to become a global expert in her field, Afua Sam leveraged the wisdom of her Ghanaian culture and pushed herself to her fullest potential Drawing her creative artistic gene from her parents (late), Afua Sam attributes her background to one of her many inspirations for creating her designs. A self taught industry professional celebrated for her invaluable uniqueness, innovativeness, and edgy fashion designs, Afua Sam's gowns are worn in Hollywood and across the globe amidst her distinctive accomplishment Even then, she remains a gentle spirit which is true to her values She has made numerous TV appearances, including WUSA9 FOX5DC news, Good Day Baltimore, ABC7 News, and FOX45 Baltimore, among others. With deep industry knowledge and an analytical, detail oriented approach, Afua Sam is equipped to understand the needs of the most discerning clients, delivering an experience rooted in customer service, integrity, and expertise Her strong creative and design skills make her a keen advocate for clients, proactively seeking new opportunities to enhance her services and continually attain excellence, with client satisfaction the ultimate objective. She was recently inducted into the DC HALL OF FAME DESIGNERS 2019 In 2017, she was named by C HUB Magazine in LONDON as one of the 100 most INFLUENTIAL CREATIVE people LIT IN DC HONOREE 2019. Also, in 2018, Afua Sam of STUDIO D'MAXSI was mentioned by The Chief Marketing Hall of Famer Miss Bozoma Saint John in Essence magazine as one of her favorite designers.
IncMagazineCoverYellowThe
Moreover, this fashion designer is incredible, and don't hesitate to contact her with any questions regarding her fashions.
Contact: Afua Sam, Fashion Designer. T: 301 442 3977 E: afua@theaconcept com
MOD.ish collection is available. J. Bolin Style Agency J. Bolin Creative director, stylist, speaker & master of achievable style. Read the story on page 52 www..shopjbolin.com BusinessisTheatreaYellowCoverMagazineSummer&Fall2022Issue 50
About a month or two into school, he received word from the admissions department, and it was not a good report. They instructed him to attend a meeting with the decision to withdraw immediately (with his parents in the office;) they gave him the condition. If he could prove how he achieved such a high score on one test and such a lower score on another, it would result in a consideration. Bolin already knew the outcome This was the coming to Jesus moment, and he was devastated to learn he would have to attend a different school While in the first year at the new school, he decided to join the fashion squad and was denied; he tried again in the second year with the same result and was eventually the outcome for the remaining two years. Here was another rejection moment, but he graduated college with a degree in engineering He went on after college to work for a Nissan plant with the idea that this could be an excellent path for him, and in his mind could see the collation of his studies aligned with the company's foundation He hated it!
Being disappointed again, Bolin would go to his car and cry big tears every night; one night, someone encouraged him not to settle. He heard a song from Smokey Norful that says I need you now and from that moment gained the courage to move past his job at Nissan.
INTERVIEWED BY JOY JONES, WRITTEN BY: TREBRESA SMITH A Song of Change
Fast forward seven years, he could stand on the steps and style the very person whose song catapulted him into a new confidence. That person is no other than Smokey Norful.
olin adored being a southern kid from Mississippi in a small town with literally no stop lights He grew up going to the rodeo, which he loved He also played the sport, basketball, and even football His younger days were awkward, he was bullied, but he continued being the friendly kid. Being a people pleaser was his focus so much that it became his strength for being, and his studies lacked; as a result. Read how God brought a change one day while listening to his now styled client Smokey Norful.
J. Bolin, you are called for such a purpose, and the light is shining on you and your future. The world needs you now, and you are a one of a kind gift to fashion For inquiries, please Contact: shop@stylistbolin.com
J. Bolin was so stylish and was asked to start a fashion squad because someone liked his look, and this was an incredible moment and the beginning of his future in fashion He went from an awkward kid to now being a leader in orchestrating fashion shows that would embody an audience of over 500 people.
The new vision has allowed J. Bolin to walk confidently and forge a clear path and now has entered celebrity status and style top stars His making was through the fire and now has a new tone and voice rooted in love. And his strong brand is without stopping. See him in Essence, Own, Vogue on The View and Bet.
J.B
J. BOLIN HAS VOWED TO ADD PURPOSE TO DESIGN AND CONTINUES TO SET THE STANDARD FOR PERFORMANCE AND INNOVATION DESPITE EVERYTHING HE HAS BEEN THROUGH.
J. Bolin battled with understanding his purpose or what would be life for him. Having come from a highly successful family, his dad and mom are to that fact He didn't know how to walk in their steps and achieve life from a traditional path Bolin attended college and got there in a rather precarious way, initially His way of entry was through cheating on his college admissions, and he was fascinated after finding out he had scored a 22 on his ACT. Bolin explained that I studied. Basking in this incredible moment, he began to feel some purpose for his life, and then the unimaginable happened.
IncMagazineCoverYellowThe
www.shopjbolin.com
BusinessisTheatreaYellowCoverMagazineSummer&Fall2022Issue 54
Sharp Crisp Clean
"I FOUND IT VERY DIFFICULT TO FIND VIBRANT, BOLD BOW TIES AND TIES. BEFORE STARTING SHARP CRISP CLEAN," HE BEGAN LEARNING HOW TO SEW AND MAKE THE PRODUCTS ON HIS OWN, SPECIFICALLY BOW TIES. DR. MARVIN DUPITON
IncMagazineCoverYellowThe
Dr.MarvinDupitonwasborninQueens,NewYorkbutraisedinFt. Lauderdale,Florida.BothparentswerebornandraisedinHaitibefore makingthattransitionandcomingtotheUnitedStates.He'saSportslover andhighereducationenthusiastwithastrongpassionforfashion.Hetakes prideinintertwiningallthreeinallhedoes heisarecentgraduateof LouisianaStateUniversitywithadoctorate.AgraduateofFloridaState University,hebeganworkingatMen'sWearhousesoonafter."Iwasafull timestoremanagerandbegantoengagewithintherealmofMen's fashion."Stylingprofessionalconsultants,stylingweddingparties,and puttingtogetherlooksforindividuals(collegestudents,professionals,and justfashionlovers)aroundTallahassee,hebeganatruepassionforit." Whilestartinghismaster'sprogramatFloridaAgriculturalandMechanical University,hebegancreatingabusinessthathefeltcouldserveandcater totheblackcommunity."Ifounditverydifficulttofindvibrant,boldbow tiesandties.BeforestartingSharpCrispClean,"Hebeganlearninghowto sewandmaketheproductsonhisown,specificallybowties.Oneofthe tailorsatMen'swarehouse,thejobhewasworkingatwhileingradschool, showedmehowtocreateapatternandmakethebowties.So,in2014,Mr. Dupitonembarkedonajourneyofhisloveandpassion,startedSharpCrisp Clean,andneverlookedback.SharpCrispClean'snewbrandisfollowed bypassion,acomprehensivestrategy,andthebestpackaginginthe business. For a stellar wedding or special event don't hesitate to contact Marvin today via email at info@sharpcrispclean.com
Exclusive Handmade Bow Ties Sharp Crisp Clean ~Live Sharp Stay Crisp Look Clean~ www.SharpCrispClean.com
www.SharpCrispClean.com
"There's a Joy behind smile..."
Beautyandpersonalcareareatan84billion evaluation,andtheUnitedStatesaccountsfor 22%ofthevalueoftheglobalcosmetics.Her clientsarebookingfast!Joyrecommends seeingyourregulardentistandprovidesteeth caremaintenanceproductsasanextensionof suggestivecare. Herbusinessmodelisamodernteeth whiteningspecialist,traveler,andeducator Contactherandseewhyeveryoneissmiling. Theresultsarejoyful. Booknow! ebeautyco.as.me
every (:
TEETH WHITENING SPECIALIST TRAVELER
Joyisfocusedonthefuture,andthegood newsisshetravelseBeautyCO'sapproachhas helpedmanysatisfiedcustomers,andJoyis justgettingstarted.Watchhergrowher businessinarapidlytakingcenterstagearena ofteethwhitening.
eBeautyCO
ebeautyco.as.me
Photos by
Joshua Smith - YC @samsliquorsb 770-265-2257 Sam's is your local go to spirits & alcoholic beverages brand and has positioned itself as a stellar store. You'll work with highly knowledgeable professionals to help you with your selections. Purchase online or in store. J O H N S C R E E K , G A samsliquors.gotoliquorstore.com
2022 Sam's Liquors Johns Creek
2022Sam'sLiquorsJohnsCreekPhotosbyJoshuaSmithYC
AN UPSCALE DRAMATIC TASTE ONLY AT SAMS LOCATED IN JOHNS CREEK, GA." samsliquors.gotoliquorstore.com
samsliquors.gotoliquorstore.com
L A R A E L A R A E 64
IncMagazineCoverYellowThe @officiallarae A
aRae is a multi-talented singer, songwriter, dancer, model, and actress. LaRae admires musical artists such as Lalah Hathaway, Erykah Badu, Jill Scott, Tori Kelly, Jhene Aiko, Lauryn Hill, Queen Naija, SZA, HER, Beyonce and Elli Mae.L LaRae has performed on many stages, expressing her talent through her sultry R&B style, and has captivated audiences with her stage presence and delivery of her vocal talent LaRae has a hefty resume and continues to add to her list of accomplishments with powerful performances. She has performed on shows with powerhouse performers such as Tank, SWV, Rico Barrino, Ginuwine, Miss Mullato, The SOS Band, Ray J, Kool Moe D, Brothers Johnson, and the MVP Band.
LARAE IS A MULTI TALENTED SINGER, SONGWRITER, DANCER, MODEL, AND ACTRESS LARAE ADMIRES MUSICAL ARTISTS SUCH AS LALAH HATHAWAY, ERYKAH BADU, JILL SCOTT, TORI KELLY, JHENE AIKO, LAURYN HILL, QUEEN NAIJA, SZA, HER, BEYONCE AND ELLI MAE AND SHE IS OUR OFFICIAL TOP PICK FOR THE BEST VOCALIST FOR SUMMER 2022. Songbird For This Time & Beyond.
"In Beef," Pride and Prejudice on Lifetime, BET Tales 2 on BET, Saints and Sinners on the OWN network, Morty on Amazon Prime, Legacy, and Missy Elliott's music video "Why I Still Love You " LaRae was featured in Laggodess Magazine with an up close and personal from cover to cover publication Step into your Sunday at Suga's Cheese Shoppe & Café in Powder Springs, Georgia, with live music by Larae'. and get some of the best breakfasts in town. Especially her very own specialty dish called "Bling Bling Pancakes. LaRae is known for high performance and will take you to a happy place with her singing For Bookings Contact: MsFitzManagement 470-363-3311 @msfitzmanagement
LaRae maintains a consistent performance schedule and a few of her past performances include: The Black Women's Expo (Atlanta, GA), Blazin 102.3 What Women Want Conference (Tallahassee, FL) 2018, Spellman College Women in Business Technology (Atlanta, GA) Suite Food Lounge (Atlanta, GA) The E93 Family Reunion (Savannah, GA) Car and Bike Show (Atlanta, GA) MVP Birthday Bash (Jacksonville, FL) and The Walk Fashion Show (Atlanta, GA), What Women Want Conference 2019 Cobb County Special Olympics LaRae was honored to receive a promo tour sponsored by FYE Music Stores/Trans World Entertainment for her Mad About Us project, released in July 2019. LaRae continues her musical journey with live performances, interviews, and building her catalog of new music LaRae has appeared in BG and Feature roles in the following films: a film written and directed by Briana James entitled.
A Songbird For This Time & Beyond LaRae LaRae is a multi-talented singer, songwriter, dancer, model, and actress. @official larae BusinessisTheatreaYellowCoverMagazineSummer&Fall2022Issue
@msfitzmanagement
W i t h C o r i i E s h a coriiburns.com 68
THE MIND OF FASHION With Corii Esha, Written by: Trebresa Smith
orii Esha is from Syracuse, New York, and talks about her path to fashion and how her cause to shed light on mental illness makes up her forward mission & current provocative collection.C Corii's beginning path for her education was in business Management, which is what she thought would be her overall mission of studies in college. She got into fashion as a minor in her third year. And over the five years, she did shows outside of school and tons of networking. She also traveled in participation to work with other upcoming designers. During her undergrad, she was allowed to put on shows, which provoked her to make fashion her total significant major. Working internationally was also excellent and inspiring. After college, she moved to New York City & stayed there for about four years, raising money to later move to Paris to study for her master's degree, which was life changing. She was a recent grad just last month. This incredible designer, activist, and creator has had a long journey and has worked earnestly on her collection with countless numbers of sketches. Corii doesn't want to miss anything and is influential in collecting her thoughts.
During COVID and the height of The Black Lives Matter protest, she was living in Paris, and to have that experience so far from her hometown of New York was a bit daunting. This precarious time allowed her to envision, draw from purpose, and rework her collection to relate to the experience of the current movement. To reflect her passion for the subject of mental health, which goes underaddressed in the black communities, she would use fashion as a liaison for her message. Corii fosters a gift and innovation in fashion; her stance is luxury deconstructed fashion. While creating this genuinely relatable line, the twist and turns reminded us of how our minds think in distress. The flow of tears is how we interpret the draping and puddling of fabrics, the positioning, and the cuts that Corii so purposely placed evolved into her deep story, mission, and tagline. ( Luxury deconstruction Fabric) and modern art. The brand collection and story are amazingly consistent, and Corri is a person to know; for more information on her fashions, go to: Website: coriiburns.com
SmithTrebresaby:Written
A DEEP
IS THE
THE
MENTAL HEALTH EMPHASIS OF HER COLLECTION, WHILE DOING IT WAS GENUINELY RELATABLE, TWIST AND TURNS OF THE POSITIONING, AND THE CUTS EVOLVED INTO STORY.
AND
THE FABRIC,
coriiburns.com
BusinessisTheatreaYellowCoverMagazineSummer&Fall2022Issue
coriiburns.com
coriiburns.com
BusinessisTheatreaYellowCoverMagazineSummer&Fall2022Issue @ckwalldesigns 74
@ckwalldesigns BusinessisTheatreaYellowCoverMagazineSummer&Fall2022Issue CKWALL DESIGNS, OWNEDBY ENTREPRENEURS CLINTON& KERRYLINDO, TRANSFORM SPACES,ONE WALLATATIME
BusinessisTheatreaYellowCoverMagazineSummer&Fall2022Issue www.shopjbolin.com
Harnessing
J. Bolins Brand to amplify some wonderful Bolinistas. BusinessisTheatreaYellowCoverMagazineSummer&Fall2022Issue
W W W . S H O P J B O L I N . C O M J . B O L I N S T Y L E A G E N C Y
BusinessisTheatreaYellowCoverMagazineSummer&Fall2022Issue
I S S U E 1 9 2
Natalie Louis
Tell us about yourself Be sure to include the name of the business, what your business does, and what inspired you to start your business.
What advice would you give other entrepreneurs in your line of work?
When I put on my Shop J Bolin pieces I feel empowered, motivated, and like royalty . The quality, the bold colors, patterns, and fabric make me feel rich! I am a firm believer that when you look good you feel good and wearing Shop J Bolin does that for me!
My brand provides inclusivity by being open to those from all walks of life I root hard for the underdog, the misfits, the ones who people said they would never be anything because that's my story I lived through that and now I am helping those who struggle with feeling seen, heard, and supported become confident in the gifts God has given them As an entrepreneur, why is it important to look your best?
It's important to look your best as an entrepreneur because you are the brand! When you show up you have to show out! You represent your brand and when you show up it's a reflection of who you are I believe that you should dress for where God is taking you and he does above all I can think or imagine so I choose to dress to impress!
www.shopjbolin.com
NBolinista. atalie Louis HARNESSING J BOLINS BRAND TO AMPLIFY NATALIE LOUIS WHO IS A WONDERFUL BOLINISTA
As a brand, Shop J. Bolin focuses on inclusivity by preparing curated collections for all body types size S 3X How do you provide inclusivity in your business?
I am Natalie Louis CEO of Release The Queen In You Enterprises where I help women on the journey of becoming the queens God called them to be. I am an author, empowerment speaker, and certified mindset coach that helps women who feel unworthy, unqualified, and unequipped to turn their pain into power and walk boldly in the purpose God has for them I am the host of the Just Queening podcast, I host empowerment events, and I am the founder of Crown Up Community a virtual group of women who help adjust each other's crowns. Above all that, I am a single mother to a young king, caregiver to my lovely mother and Sista friend I love to travel, I love fashion, and good food! In 2015 I became a published author. My first book Release The Queen In You shared my story of how I realized I was royalty and that my colorful past does not cancel my future After it was released God showed me that a lot of women felt like they aren't worthy of having an abundant life I started speaking at different engagements and he birthed this business from what I thought was just going to be one book. I was inspired to reach as many women as possible to let them know that no matter what has happened that God still has a plan for them, they are royalty and they are loved Describe how wearing Shop J. Bolin makes you feel while conducting business.
The best way to show up is to be unapologetically one hundred percent authentically yourself! There is a specific tribe waiting on you that needs your uniqueness, your voice, and to hear your story Be bold, be different, and stand out
Questions:
IncMagazineCoverYellowThe
BusinessisTheatreaYellowCoverMagazineSummer&Fall2022Issue
Tamika Rich
Tell us about yourself. Be sure to include name of business, what your business does, and what inspired you to start your business.
There is a saying, "Trust the process." I advise the entrepreneur to build your process first, so you have a process to trust! While you develop your process, remember to embrace change, stay in the know, ask for help, and partner with others! www.shopjbolin.com
Anyone who meets Tamika walks away with three evident impressions. She has cloud 9 energy, genuinely cares for people, and loves fashion. This is who she is and has been since she was a little girl, and is why she started Blessed Her Life. Blessed Her Life is the fashion of living. While selling fashion is part of the business, the real heart is helping others find their unique fashion profile. Blessed Her Life offers wardrobe consulting services. Services range from complete fashion reboots to specific events and moments, including personal shopping if braving the stores is not your thing. However, the real inspiration and spirit behind Blessed Her Life is the desire to see people whole. Tamika desires that people look good inside and out So she also offers life coaching as a service!
IncMagazineCoverYellowThe
TBolinista.
J BOLINS BRAND TO AMPLIFY TAMIKA RICH WHO IS A WONDERFUL BOLINISTA
Describe how wearing Shop J. Bolin makes you feel while conducting business. Building confidence is often an essential part of the process when working with clients When Tamika encounters people wearing her J. Bolin pieces, she describes feeling an extra confidence boost that instantly translates to her clients and potential clients. The color palettes send a "you got this, you can do this" message, and they are ready for their fashion journey. As a brand, Shop J. Bolin focuses on inclusivity by preparing curated collections for all body types size S 3X. How do you provide inclusivity in your business?
Indeed, you don't buy the book because of the cover You buy the book because of the content However, if the cover isn't appealing, you may never pick the book up to explore the content So this book of Tamika must look its best at all times so that clients want to examine the content of Blessed Her Life She is the brand! What advice would you give other entrepreneurs in your line of work?
Questions:
amika Rich HARNESSING
Fashion and high fashion looks should not be reserved only for those with abundant money. This is important to Tamika, so she spends a lot of time and effort curating budget conscious looks, so no one feels left out As an entrepreneur, why is it important to look your best?
ERSIN GÜNDÜZIS IS REDEFINING CAKE ARTISTRY RIGHT BEFORE OUR VERY EYES BusinessisTheatreaYellowCoverMagazineSummer&Fall2022Issue ersingunduzcakestudio@gmail.com
ErsinGündüzisapastrychefspecializing inrealisticcakes.Hewasbornin1988,in Mardin/Turkey.Hehasbeenlivingin Istanbulsince2010.Heworkedin variousbusinessesinthefoodindustry. Hecontinuedhiswaywithboutique pastrybasedonhistalentandinterestin thevisualizationandmodelingofcakes.He startedtobeinterestedinrealisticandboutique cakesandbegantoworkinthisfieldandcreate uniqueediblecakesculptures.Realisticcakes, whichhecontinuedwithErsinGündüz CakeStudioreceivedworldwideacclaim throughsocialmedia.TheYellowCoverMagazine ishonoredtofeatureageniusinthemaking. ersingunduzcakestudio@gmail.com BusinessisTheatreaYellowCoverMagazineSummer&Fall2022Issue
BusinessisTheatreaYellowCoverMagazineSummer&Fall2022Issue "Cinnamon Biscuits brings out the good in all of us, order some today!." @sugascheesecafe www.sugascheeseshoppe.com
www.sugascheeseshoppe.com
O W N E D B Y S T A C E Y & R O B E R T W E S T
BusinessisTheatreaYellowCoverMagazineSummer&Fall2022Issue
Suga's Pimento Cheeses, a soughtafter staple since 2017 at farmers markets, festivals, local stores in the Atlanta metro area, and more recently via nationwide online ordering, has opened a brick-andmortar restaurant with an imaginative menu focusing on gourmet pimento cheese. Suga's Cheese Shoppe & Café is the first restaurant in the South and possibly in the nation to centerpiece pimento cheese. The 1,700 square foot shop, located at 4456 Marietta Street in the northwestern Atlanta suburb of Powder Springs, is currently open Thursday through Sunday.
BusinessisTheatreaYellowCoverMagazineSummer&Fall2022Issue Original Pimento Cheese, lettuce, tomatoes, pickled red onions & house sauce www.sugascheeseshoppe.com
www.sugascheeseshoppe.com
TO ADD FRESH CORN IN JUST ABOUT EVERY DISH MagazineCoverYellowThe
Jerriod Allen is the founder and Ceo of "Fresh Corn n Evrythang," a family owned Food Truck business here in Atlanta. Bringing the freshest corn in various dishes, including his famous fried deviled eggs. His humble ambition was to be locally known for his creative thinking and the dramatic corn inspired dishes that now sell out every time he is present at an affair! Having worked in a corporate environment for over 17 years as a contract specialist, this phenomenal food inventor is used to precise details and looking things over thoroughly. This skill has trickled into his business, so let's discuss his inspirations. Jerriod was a hater of deviled eggs, but he wanted to figure out how to get his two daughters, Jerrion (20) and Nakyah (22), to want to eat them.
FRESH CORN N EVRYTHANG FOOD
He mustered up his ingredients for the traditional deviled eggs and added his fresh corn, and the kicker is he "FRIED" them, and oh, what an invention. After serving this phenomenon to friends and family, Deep Fried Deviled Eggs was the most requested dish on his menu. Fresh Corn n Evrythang was tasked to create other fun and unique entrees, including Deep Fried Corn on the Cob, Lemonade Chicken Wings, Elotes, Mexican Street, Corn Nuggets, and his amazing Loaded Nacho Tots. Furthermore, his passion – plus creative thinking and superb service makes this family team of entrepreneurs a creator of dramatic, fabulous foods. for more information, contact Jerriod at: (470) 746 4313 freshcornnevrythang@gmail.com Website: www.freshcornnevrythang.com TRUCK ALLEN MOVE BusinessisTheatreaYellowCoverMagazineSummer&Fall2022Issue
IS ON THE
OWNER JERRIOD
BusinessisTheatreaYellowCoverMagazineSummer&Fall2022Issue www.freshcornnevrythang.com
www.freshcornnevrythang.com
www.freshcornnevrythang.com
THE YELLOW COVER IS PROUD TO HAVE FOUND THE PERFECT MATCH FOR OUR TEAM AND LED THE WAY IN OUR PHOTOGRAPHY; NOW, WE WILL SHED LIGHT ON SOME OF HIS FANTASTIC CAPTURE & EXPRESSIONIST PHOTOGRAPHY WORK FROM NEOCON 2021 AND TALK ABOUT A NEW CHALLENGE THAT HE IS FACING.
YC
Photography by Joshua Smith Senior Photographer
BusinessisTheatreaYellowCoverMagazineSummer&Fall2022Issue WAYS OF EXPRESSION www.theyellowcover.com 92
W O R K F R O M N E O C O 2 0 2 1 C H I C A G O NEO CON 2021 /www.jsifurniture.com
WAYS WOF AYS OF EXPRESSION EXPRESSION
BusinessisTheatreaYellowCoverMagazineSummer&Fall2022Issue
JJ
With Joshua Smith, Lead Photographer Written by: Trebresa Smith
oshua Smith, with a camera in hand, has captured the essence of our visual storytelling message. Now he wants me to shed light on a subject he is currently facing called Chardoma. Chordoma [kor DOH muh] is a rare type of cancer that occurs in the skull base and spine bones It is part of a group of malignant bone and soft tissue tumors called sarcomas Chordomas account for about 3 percent of all bone tumors and about 20 percent of primary spinal tumors. They are the most common tumor of the sacrum and cervical spine. A chordoma tumor usually grows slowly, often without symptoms initially, and might cause symptoms for years before doctors find it. Chordomas are complicated tumors to treat due to the involvement of critical structures such as the brainstem, spinal cord, vital nerves, and arteries They can also come back, or recur, after treatment usually in the same place as the first tumor. Chordoma is diagnosed in just 1 in 1,000,000 people per year. That means about 300 patients are diagnosed with Chordoma each year in the United States and about 700 in Europe Fewer than 1 in 100,000 people live with Chordoma at any given time Chordoma is often diagnosed in people in their 50s and 60s, but it can occur at any age Skull base chordomas arise more frequently in younger patients, while spinal chordomas are more common later in life. About twice as many men are diagnosed with Chordoma as women. While Chordoma can run in families, this is very rare. Chordomas can rarely start in more than one place along the spine. Sporadic cases of Chordoma occurring in bones away from the spine have been reported in the ribs, legs, and feet If chordomas spread to other body parts (metastasize), the most common places they spread to are the lungs, liver, bones, or lymph nodes. Metastasis usually only occurs when the primary tumor has advanced and is rarely reported at the initial diagnosis.There are a handful of known cases where multiple members of the same family are affected by Chordoma This indicates that a strong genetic predisposition for Chordoma can be inherited in these infrequent instances It is known that some families with familial Chordoma have an extra copy of the brachyury gene. Still, currently, there is no available test for the presence of additional copies of the gene. It is important to remember that the prognosis for each person is unique, and depends on many different factors These include the patient's age, type of chordoma, size and location of the tumor, method of treatment, extent of resection, and other factors Only your doctors can advise about your individual prognosis and risks, and it's very important that this advice come from doctors who have experience treating chordoma. With appropriate treatment, many chordoma patients will live for a decade or more, and some will be cured.
IncMagazineCoverYellowThe
©2022ChordomaFoundation.AllRightsReserved
Joshua JSmith oshua Smith
Joshua Smith, with a camera in hand, has captured the essence of our visual storytelling message. Now he wants me to shed light on a subject he is currently facing called Chardoma. 95
Photography by Joshua Smith Senior Photographer YC
BusinessisTheatreaYellowCoverMagazineSummer&Fall2022Issue NEO CON 2021
Don't DQuit on't Quit BusinessisTheatreaYellowCoverMagazineSummer&Fall2022Issue www.theyellowcover.com
R E A L E S T A T E W I T H K J Y O U R H O M E . M Y P R I O R I T Y . Your home is her priority, and this amazing realtor is Intimately connected to the needs of her clients. Keyatta is dedicated to ensuring that each of her listings is treated special. Maybe that's why she is in the top 20. Congratulations Keyatta! www.itskeytime.net
www.theyellowcover.com
www.sharpcrispclean.com BusinessisTheatreaYellowCoverMagazineSummer&Fall2022Issue