INSIDE THIS
Brokers' listings, p35
Auctions & events: YAMS, p14
Landscape news, p16
Livestock news, p20
Lamma preview, p21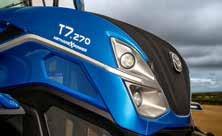 NEW HOLLAND: PIONEERS OF ALTERNATIVE TECH, p18 Methane tractor and allelectric prototype revealed LIVESTOCK NEWS: BVL FEEDS DEMAND, p20 Demand for its triple auger mixers is unprecedented JCB: SMALLEST LOADER JOINS THE PACK, p6 The diminutive JCB Loadall can fit through most any gap
Deere's specialty crops solution
ISSUE
John
BROKERING THE DEALS THAT MAKE BRITISH AGRICULTURE GREAT Wrights FARMING REGISTER LATE WINTER EDITION • JAN-FEB 2023
russells.uk.com HUNDREDS OF ITEMS IN STOCK: russells.uk.com DEPOTS AT: YO17 | DL6 | YO51 | DN14 | DL8 | DE6 | NN14 | DE4 | NG22 COME AND VISIT OUR STAND AT YAMS 2023 STAND NUMBER C1 russells.uk.com Ex Hire, year 2019, 560 Tyres, Air/Oil, Rear draw bars, Full width arched window, Beacon, Grain chute, Load Sensing, Roll over sheet, 24ft Long Stewart GX19-25SZ Jim Nash t: 07734 550 400 £23,500 SN:41047110 2021, 2015 hours, 50kph Eco, 200amp alt, 4 speed pto, AGR VR, 170 L Pump, Power Beyond, Joystick 2MMV, 4 Remotes, hyd top link, FHM, 650/65R42 &540/65R30 Michelin tyres, HTS2. New Holland T7.245 Jim Nash t: 07734 550 400 £99,000 SN:11038137
823 engine hours, 627 threshing hours, yield & moisture, straw chopper & chaff spreader,
tyres, 25FT VF Header, Side Knife and Trailer. New Holland CX8.80
927 432 POA SN:61046924
4042 hours,
headstock, third service, hydraulic
pin, pallet
tyres.
Holland TH7.37
07976 464 028 £45,000 SN:C1045729
2019,
800/70R38 & 600/65r28
David Hirst t: 07792
2019,
Manitou
locking
tines, air con, 460/70R24 Michelin Bibload
New
Eddie Greaves t:
wrightsregister.com
Wrights Farming Register
EDITORIAL
Editor: Jeff Porter
Tel: 07914 400295
Email: editor@wrightsregister.com
Designer: Anita Waters
ADVERTISEMENT SALES
Fran Taylor: 01323 849890/07764 230515, sales@wrightsregister.com
Natalie Brough-Darby: 07921 088407, natalie@wrightsregister.com
ADVERTISEMENT
PRODUCTION
Publishing Works, Suite 3/4, Stanhope Hall, Boston Road, Horncastle LN9 6NF
Sue Fixter: 01507 524496 sue@publishing-works.com
MANAGEMENT
Managing director: Shaun van den Bos
Publishing consultant: Paul Appleton
Subscription marketing manager: Sue Fixter
BROKER SERVICE
Lincolnshire, Yorkshire, Humberside and the North East
Shaun van den Bos Tel: 07850 978188 email: shaunvandenbos@sky.com
East Midlands & East Anglia Robin Sparrow Tel: 07931 886601 email: robinsparrow@btinternet.com
The South East Luke Williams Tel: 07769 665649 email: l.williams349@hotmail.co.uk
Scotland Alan Ross Tel: 07718 739078 email: alanross1888@live.co.uk
SUBSCRIPTIONS
6 issues of Wrights Farming Register
UK subscription price: £10.00 Europe subscription price: £19.00 USA subscription price: £19.00 Rest of World subscription price: £22.00
Contact us Customer service email address: subs@wrightsregister.com
Customer service and subscription postal address: Wrights Farming Register, Customer Service Team, Suite 3/4, Stanhope Hall, Boston Road, Horncastle LN9 6NF
Website
Find current subscription offers at wrightsregister.com Buy back issues at wrightsregister.com/backissues or call 01507 524496
PRINTING
Mortons Print, Lincolnshire, 01507 523456
PRIVACY POLICY UPDATE
Wrights Farming Register Ltd takes your personal data very seriously. For more information of our privacy policy, please visit wrightsregister.com/ privacy-policy/. If at any point you have any queries regarding Wright's data policy you can email our data controller at data.controller@wrightsregister. com.
Wrights Farming Register 2023 © All Rights Reserved. Wrights Register is a trading name of Wrights Farming Register Ltd. Reproduction in whole or in part is forbidden except with permission in writing from the publishers. Note to contributors: articles submitted for consideration by the editor must be the original work of the author and not previously published. Where photographs are included, which are not the property of the contributor, permission to reproduce them must have been obtained from the owner of the copyright. The editor cannot guarantee a personal response to all letters and emails received. The views expressed in the magazine are not necessarily those of the Editor or the Publisher. Wrights Farming Register Ltd accepts no liability for products and services offered by third parties.
Wrights Farming Register Ltd uses a multi-layered privacy notice, giving you brief details about how we would like to use your personal information. For full details, visit wrightsregister.com, or call 01507 524496.
If you have any questions, please ask as submitting your details indicates your consent, until you choose otherwise, that we and our partners may contact you about products and services that will be of relevance to you via direct mail, phone, email or SMS. You can opt out at any time via email: data.controller@wrightsregister.com or 01507 524496.