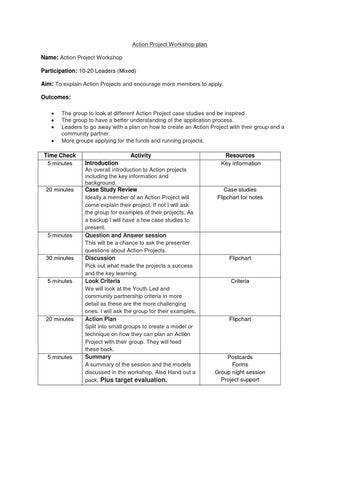 Action Project Workshop plan Name: Action Project Workshop Participation: 10-20 Leaders (Mixed) Aim: To explain Action Projects and encourage more members to apply. Outcomes:    
The group to look at different Action Project case studies and be inspired The group to have a better understanding of the application process. Leaders to go away with a plan on how to create an Action Project with their group and a community partner. More groups applying for the funds and running projects.
Time Check 5 minutes
20 minutes
5 minutes
30 minutes
5 minutes
20 minutes
5 minutes
Activity Introduction An overall introduction to Action projects including the key information and background. Case Study Review Ideally a member of an Action Project will come explain their project. If not I will ask the group for examples of their projects. As a backup I will have a few case studies to present. Question and Answer session This will be a chance to ask the presenter questions about Action Projects. Discussion Pick out what made the projects a success and the key learning. Look Criteria We will look at the Youth Led and community partnership criteria in more detail as these are the more challenging ones. I will ask the group for their examples. Action Plan Split into small groups to create a model or technique on how they can plan an Action Project with their group. They will feed these back. Summary A summary of the session and the models discussed in the workshop. Also Hand out a pack. Plus target evaluation.
Resources Key information
Case studies Flipchart for notes
Flipchart
Criteria
Flipchart
Postcards Forms Group night session Project support
Action Project Workshop plan