Wilde Lake High School's satirical newspaper
April 1, 2023
Wilde Lake High School
Columbia, MD 21044
ThePshawPrint Hallway Pile Up "Worst" on Record
Administration Scrambles for Solution to Traffic Violations in Halls
BY AMY MANZENARES
On March 13th at 10:18 a.m., Wilde Lake experienced its first ever major hallway crash, leading to a seven person pile and sending four to the Health Room.
Disaster hit the intersection on the second floor between the main stairs and the bridge after a student who was on his phone failed to give the right of way to a group of three freshmen on his left, according to the Wilde Lake Department of Safety.
Three more students were caught in the mix as the freshmen stumbled back into another group. Several students attempting to dodge the accident tripped over one another but managed to avoid the wreck.
A total of seven students were involved in the pileup, according to Wilde Lake police: Anthony Palmer, Reagan Irvine, Liam Field, Oliver Owens, Omar Olsen, Olivia O'Brien, and Lexi Smith. Four of the students are being treated with ice packs and band-aids.
First responder Elizabeth Woolridge says this is the "worst" accident she has seen in years.
"I got a call from the administration telling me the situation and I was still absolutely shocked when I arrived on the scene," she said. "Seven people involved and a whole hallway at a
standstill is unheard of for a passing time crash. It really was a terrifying sight to see."
Although Wilde Lake police and staff have declined to comment on the details of the crash for "privacy reasons," it is believed that the problem originated from slow walkers. According to 2022 Howard County statistics, 95% of in-school traffic collisions in the past five years were due to slow walkers.
Slow walking is caused, in part, by students being on their phones, according to HCPSS. Freshman Abel Tesfaye, who was on the scene when the crash occurred, describes the experience as "scarring."
"I was heading to my fourth period when all of a sudden I heard a loud noise in front of me," said Abel. "I looked over and saw one body crashing after another. If I hadn't quickly swerved to the right, I would've been one of them too."
At an emergency staff meeting, principal Ms. Leonard expressed concern not only for the students, but for staff safety as well.
Ms. April, a Culinary Science teacher, says her safety has been put at risk multiple times on the way to the microwave due to slow walkers.
"Everytime I'm forced to go outside to heat up ingredients for my next class, I'm scared I'm going to knock
Fourth Floor Pool "Unsafe"
BY ARIELLE
someone over," she said.
Just one day after the accident, Wilde Lake traffic guards were put in place at every intersection.
To further prevent another collision, Ms. Leonard says she is introducing a "safe walking class" next year to teach students about the importance of following hallway traffic laws.
Junior Montero Hill says he has decided to sign up for the class next year instead of taking his required math credit.
"I didn't realize how bad the problem was until now," said Montero. "I'm excited to learn more about how to be safe in the hallways in this year long class. It seems like a great opportunity that will teach me more useful life lessons than Calculus, like how to walk in a hallway."
On March 24th, the fourthfloor pool was declared "unfit for activity" by the Maryland Health Department after failing their yearly chemical inspections.
According to the five-person team, all of them emerged from last Monday's practice with "lime green hair."
"I'm no chemist, but my hair shouldn't be bright green," says Phelps Micheal, Wilde Lake's star butterflier for the swim club.
Swim club President Fisher says he attributes this to the lifeguards' "inattentiveness."
"That's how we almost lost one of our swimmers last year," said Fisher. "The lifeguards are so distracted by their phones that they don't even notice when someone goes under the water for too long or when the pool is oozing green."
One of the two lifeguards on duty when the swimmers' hair turned green, who chose to remain nameless, says that "minimum wage only motivates so much."
The course will be taught by the gym teachers. Administration says they "hope" that HCPSS adopts this class around the county.
As for now, Wilde Lake is holding an open forum on April 1, 2023 to draft new hallway traffic patterns.
Freaky Friday Upends the Lake
Students and Teachers Switch Places from New Disease
BY DARIUS LEWIS
During fourth period, at 11:11am on Friday the 13th, the school fell into anarchy when a freak accident occured causing students and teachers to switch places.
The event is called "the Freaky Friday incident" caused by the newly discovered Neocerebrumitus. This condition switches the minds of Wilde Lake High School staff and students. Scientists hypothesize that this was caused by bacteria in the water supply from the water fountains.
Former Student Member of the Board Abisola Ayoola has taken a liking to her new position as acting principal, replacing Ms. Leonard. "I was basically running the county anyways, so nothing really changed," she said.
Some of the teachers are also enjoying being able to relive their adolescence.
"I feel 20 years younger," said Coach Wingfield after swapping bodies with senior Dylan Gooden.
While Coach Wingfield seems pleased with his refound youth,
other former staff members are not so accepting of their new state.
The new student body and their new student bodies are planning a protest citing the "excessive workload" for causing them emotional distress.
Some of the English teachers, now students, admitted to using ChatGPT to finish homework.
One former teacher who asked to remain anonymous said that she has "gained a new perspective on homework."
"When things go back to normal, if they ever do, I'm permanently getting rid of homework," she said after submitting another essay ChatGPT wrote for her.
But some of the switches did not result in negative experiences.
Mr. Wallace, a History teacher, switched bodies with known Theater kid and SGA associate Nick Shidle, and insanity ensued.
"I went to bed normally," Nick explained. "All of a sudden, I woke up with a blond ponytail and an excessive knowledge of the U.S.
government."
Mr. Wallace, on the other hand, says he had "the most relaxing time" once he lost his celebrity status.
"I can finally go a day without someone screaming my name from across Main Street or calling me Mr. Walrus," he said.
Unfortunately for some, the cure for Neocerebrumitus is still unknown.
Principal Ms. Ayoola says the administration is collaborating with health departments nationwide to "mitigate this situation."
"Sure, I test the chemical levels or whatever, but it's not like I know what they mean," said the lifeguard.
President Fisher asked Science teacher Dr. Poole to do a pH reading. The results were "so extraordinarily abnormal" that Dr. Poole said they "didn't even show up on the monitor."
Vice President Dolphin says that the lack of attention from the lifeguards is putting the club at risk. "Without this pool, our five members have nowhere to practice," said Dolphin while drying his light green hair after practice. "The meet is in a week. We can't practice in a pool that is the same color as Kermit, the frog."
Despite the challenges, the club says they plan to take their practices a few blocks over to Wilde Lake, where local officials have permitted the club to hold practices before sunrise and after sunset so as to not disturb residents.
"It's the best we can do," said President Fisher. "In all honesty, it's better than what we usually swim in, and the marine life keeps us company."
According to Dr. Poole, the water in Wilde Lake is "considerably cleaner" than that of the fourth-floor pool. "This is really astonishing, considering I'm pretty sure some of the fish have three eyes."
Micheal says that this solution will likely work best for the club and "carry us to victory" at the meet, in five days.
For the time being, Wilde Lake will have to host swim meets in the Lake. As for the pool, administration has allowed the environmental club to "restore biodiversity."
Seven were found piled up after a hallway traffic jam caused by slow walkers. (Photo by Amy Manzenares)
LEVINE
"I didn't realize how bad the problem was until now,"
-Montero Hill, 11th
On Friday the 13th, students and teachers swaped places. As captured above, a student was teaching an English class. "It was nice to finally understand what was going on in class," said Joe Cyrus.
The Bathroom Barber Looks to Expand Outside of the Stall
BY ZOE MACDIARMID and WILLIAM BROWN
This school year, a student hairdresser has taken up work in the second floor boys' bathroom. Known to customers as "The Barber," this anonymous student has been cutting hair during period four since October.
Now, in March, an influx of loyal clientele has allowed him to hire a small staff and operate from periods one through five. The Barber says he is looking to create a space on campus where he can cut his peers' hair.
"At first, this was just a way for me to get out of class and practice my hair cutting skills," said The Barber while cutting a student's hair. "But now it's evolved into so much more."
The Barber's staff includes two other hairdressers, a receptionist, and four lookouts. The two other hairdressers are scheduled at different times so someone is always staffing the salon. There is always a lookout outside the bathroom to alert anyone inside of administrators or teachers who suspect trouble.
"It feels so rewarding to be a part of this," said one of the lookouts, senior Winson Itall.
However, The Barber was not an overnight success. The first few cuts he did at Wilde Lake were free for customers. "It all started on a dare," said the barber. "Me and my friends just wanted to see if we could get away with it – and we did."
From there, the barber says he started inviting his friends to come during the fourth period to get their hair cut. This time around, he began charging five dollars. "Again, I was just trying to see what I could get away with," said The Barber. "But when
people were so willing to pay, I started thinking, 'What if I ran this like a business?'"
The Barber quickly generated interest, says sophomore and frequent customer Moe Ron. "Honestly, paying only five dollars felt like taking money from him," said Moe. "He's the only barber who knows how to style my hair."
Now, between the three barbers, at least twenty boys get their hair cut or styled everyday. The word has spread to the girls, some of whom are pushing for The Barber to expand his services to cutting everyone's hair.
"I was willing to pay at least one hundred dollars for just a trim," said freshman Isabelle Ringing. "I would wait in line all day, skip all of my classes, if that meant he would do my hair."
As of this past week, The Barber is charging upwards of sixty dollars for a dry cut, plus an additional twenty dollars for a wash and another twenty dollars for styling.
Despite the steep prices, getting a reservation is competitive now that the business is popular, according to the five customers waiting in line during period three.
"We had to enact a no walk-in policy," said one of the barbers, Junior
Bob Smith.
"I never thought that we would be so successful."
And, according to The Barber, the attention is not only people that want to get their hair cut, but people who want to work for them.
"I don't even have time for school anymore," said The Barber. "I haven't been to class in weeks. But the business is really taking off."
The Barber's English teacher Mr. John Looker says that he is falling behind in academics, but is really ahead in life.
"The students involved are missing classes, sure, but they're making up for it in learning practical life experiences," said Mr. Looker. "These kids are learning how to run a business, which is far more valuable than reading Shakespeare and answering a packet of questions like they would be in my class."
This isn't the only way business is booming. Already, a live band selling CDs and merchandise has been set up in an unused stall, adding to the ambiance of the shop. According to the bathroom zoning department, a luxury clothing store and small theater will be available by the end of the year.
Looking ahead, The Barber says his
OpinionWilde Lake Needs Only One Sport
ball will be placed in the center of the field by a referee.
For sports without balls, the athletes cannot score in the traditional sense but instead focus on stopping others from scoring. Wrestlers may pin opponents, swimmers can take away balls, and fencers can duel people.
For sports with specialty equipment like baseball bats and tennis rackets, each athlete in their respective sport starts with that piece of equipment. These must be ditched when the player gains a ball from a new sport.
Games last 8-18 hours, depending on whether the game went into overtime, how many player swaps were needed during play, or if, at any point in time, the torch stops burning, which activates phase two of the sport.
BY LAUREN KELLY
At Wilde Lake High School, sports clubs are incredibly popular. Those who don't play sports have friends who do. Sports are nearly the fabric of the social life at Wilde Lake.
However, despite what sports contribute, they can create a financial burden for the school. With all the equipment, transportation, and other miscellaneous expenses, the price can skyrocket.
While contemplating the issue, I figured: what would happen if every sport was combined?
Think about it. It would be much more cost and time efficient to only have one sport for students
to participate in. This is why Wilde Lake needs a crossockeyball team.
The rules are simple. Each athlete is assigned to a starting sport, in whatever formation their coach deems fit.
Eighteen balls (i.e., footballs, soccer balls, pucks, birdies) are in play at any time, but what kind of ball varies throughout the game. The ball determines the sport. For example, if you are a soccer player and you catch a football, your role changes into a football player until you release it.
Once a ball is scored, it gets swapped for a ball from the original sport of the player. If that soccer player gets a touchdown, a soccer
During phase two, anyone in the bleachers may enter the field and attempt to score for either team. Phase two does not end until all the observers have been shooed off the field and the torch has been relit. The game cannot end until phase two is over.
One of the key strengths of this sport is its flexibility. If at any point the school decides it wants to offer another sport, it is simple to incorporate a new layer into the field. For example, the recent addition of the chess tables offering poker shows that it only takes a small change to make the sport open to more people.
Crosshockeyball is a fresh take on sports. Let us not be afraid to try something new. Wilde Lake could lead a movement against unnecessary sports.
future seems "clearer" now that he knows how to run a business. He says that what keeps him going in times of turmoil is setting goals.
His biggest goal now? A proper salon.
"By the end of the school year, hopefully we'll have a bigger space and we won't have to wash hair in the dirty sinks," said The Barber. "For now, though, the bathrooms will do. I'll never forget where we started."
2 Snews
This is a crosshockeyball field. There are many opportunities for athletes to score while incorporating aspects from most popular sports. Referees can move freely about the playing field to ensure every rule from every game is being followed. With the implementation of this game, Wilde Lake has the power to lead a movement against unncessary sports. (Graphic by Lauren Kelly)
Advisory Makes First General Assemblies Possible
Student Leaders Bring Diverse Voices Through Assemblies
time. After one school year of General Assemblies, two student representatives per advisory continue to gather once a month in the cafeteria to "have an impact," according to Mr. Wallace.
SGA Secretary, sophomore Liz Cho, says that the SGA board needs outside influence when leading school wide decision making. "We become close-minded at some point when we're just talking with each other," said Liz. She says that the General Assemblies have exposed the SGA executive board to ideas they "never thought about."
Wilde Lake administrators and the community as a whole have provided this space for students to speak their opinions and listen to student voices, says SGA President Sajana Vigna-Mclaughlin. "Wilde Lake allows you to hold your strong opinions, and accepts them, which is important instead of being shut down immediately," she said.
She says that the SGA has started to see participation in student democracy from more students and not just from student leaders. "The demographics [of those involved in student voice] are changing, and they should be changing," she said.
BY ARIELLE LEVINE News Editor
In 2018 when Mr. Wallace first came to Wilde Lake and took on the role of SGA sponsor, he says he wanted to see the whole student body represented in student democracy by making the expression of the student voice "accessible" to all students. With the implementation advisory, General Assemblies were able to take place, creating
a governing body where students are able to voice their opinions during school rather than using after-school hours at SGA meetings. This, according to Mr. Wallace, has provided the SGA with more feedback "than ever before."
Mr. Wallace and the SGA were able to implement the General Assembly after the introduction of advisory to the bell schedule. With this new addition, students representing each Advisory could meet during Advisory
"Student democracy is for the underdogs to be heard," SGA Vice President Gabby Oshadiya said. She says that ensuring that all student voices are heard is a reflection of true student democracy.
At the county level, as the Student Member of the Board, Abisola Ayoola has to establish that all HCPSS student voices are heard. "The importance of student government is to ensure that student voices are always at the table when decisions are being made," she said.
Peace Room Changes Disrupt Students
BY ARIELLE LEVINE News Editor
This January, five teachers replaced Ms. Anjole Wright as Peace Room staff. The change from a single staff member to multiple has some students concerned that the Peace Room's original vision has been compromised.
In 2021, the Restorative Justice Committee opened the Peace Room in response to nationwide mental health concerns among teenagers.
For two years, Ms. Wright served as the single supervisor of the Peace Room until she resigned in 2023. During her tenure, she established strong connections with students and created an environment that allowed students to adjust to their "new normal."
According to Special Educator Ms. Collier, the Peace Room is a resource for students to step away
from a classroom environment and take a break while "getting what they need" to return to the classroom.
School data shows that students are still widely using this resource. Between January 24th to 31st, 2023, 302 students signed in.
But without Ms. Wright's guidance, some students struggle to connect within the space.
Sezer, many students still have more of a general connection to the space rather than a personal connection. "One of the main reasons I went there was to communicate with someone willing to help me. But I haven't been able to build that bond with whoever's in there right now," said Ela.
"When you're there with that one person, they make you feel confident in yourself and just confident that you want to stay," she says.
Autumn misses the consistency of having the same adult present "if you were going through a hard time."
Abisola says that speaking on behalf of the student voice allows any student to step up and "make things better for other students." She says that it is important that "any" student can share their voice because "We all experience things differently. We all have a different take.
"It is unfair that we as students are subject to rules and policies that we had no input in," said HCASC President Oliver Song, "We need to advocate for ourselves."
Mr. Wallace says that the school cannot run without the voice of students. "I want decisions to be made with kids' input rather than just going to adults to make decisions," he says.
Student democracy, with the active participation from students, makes the school "more than just a school," according to Abisola. "It makes it a community and a good place to be."
HCASC Liaison Aly Abel says that it is important at Wilde Lake, in particular, student voices are heard to reflect "our diversity" as a school. "It is important to get all voices in order for education to be equalized," she said.
Aly says that giving the diverse demographic of students a space to voice their opinions and talk within Wilde Lake "gives a new light to the people who are already there."
HCASC President Oliver hopes that more students embrace the space of student democracy. "I hope that students who are not normally active in expressing their voices are involved in making sure that they can advocate for themselves," he said.
As Sajana says, "I think we're all seeing the cusp of democracy right now. Whether kids are aware of it or not."
Advisory Chopped Down Again
From Three Days to Once a Week
BY ZOE MACDIARMID Editor-in-Chief
For the second time this year, Advisory — the 20-minute period between periods two and three — was cut back. Administration announced on March 20th to students that Advisory would only be held on Wednesdays.
Earlier this year, in November, Advisory was changed from five days a week to Tuesdays, Wednesdays, and Thursdays.
floor main stairwell, ensuring that students get to where they need to be. He says the school offering Advisory is a "balancing act."
"How much are people using Advisory in the way that it was meant to be used as compared to well if it's not going to be used then should we maybe rededicate that to academics," said Mr. Molin.
Sophomore Mary Gill has been going to the Peace Room since it opened, so she has experienced the changes of the Peace Room firsthand. She says she notices the lack of a significant personal connection.
"It is always a different person here, and there's not that one person you can talk to," said Mary.
The new staff members, such as Science teacher Mr. Walters, says he recognizes that building valuable relationships takes time.
According to freshman Ela
With Student Services and a Guidance department, some question the necessity of a Peace Room. Still, students see the Peace Room as different.
Ela says that she would look to the Peace Room as a safe space in the building for support over the guidance office. "I know [the counselors] want me to go back to class," she said, "[In the Peace Room] they wait until you're ready to leave."
Continued on Page 3
Assistant Principal Brett Molin says that much of this decision has to do with giving back more instructional time to teachers. He said that on Advisory days, approximately 25 minutes worth of instructional time is lost.
According to Administration,the time taken for advisory disrupts the flow of state mandated testing and preparation for seniors graduating. Accommodating testing on an Advisory bell schedule was "almost impossible" last year.
During advisory, Mr. Molin spends his time on the second
Students, like junior Madison Hays, value the advisory time for their academic success. "I'm disappointed that we no long have advisory," she said, "the time was really helpful for catching up on work and getting a breath of fresh air from back to back classes."
Sydney Dandridge, junior, says that the connection she built with her advisor outside of academic time over the past two schools years is valuable. "I just miss my advisor She is a mentor figure to me, but due to the new advisory schedule, I have lost a lot of time with her," she said.
Mr. Molin says the future of Advisory for next year has not yet been determined by the school.
Wilde Lake High School Columbia, MD 21044 An independent publication of Wilde Lake High School wlhspawprint.com
ThePawPrint
From left to right: Abisola Ayoola [SMOB], Oliver Song [HCASC President], Gabby Oshadiya [SGA Vice President], Sajana Vigna Mclaughlin [SGA President] , Aly Abel [HCASC Liaison] , Liz Cho [SGA Secretary], and Logan Peyton [SGA Treasurer]. Student democracy leaders know that students at Wilde Lake are ready to talk, according to SGA President Sajana Vigna Mclaughlin (Graphic by Arielle Levine)
Volume 49, March 2023
"Day to day is hard, and it does not have to be."
- Ms. Collier
"I feel like that personal connection is a little lost,"
-Mary Gill, 10th
County Grant Widens Healthcare Access to Students
BY AMY MANZANARES Staff Writer
In 2017, a School-Based Wellness Center was introduced to Wilde Lake to support students' health and well-being. Today, this center continues to grow at Wilde Lake, funded by a $815,000 grant won by the county in 2022.
Wilde Lake is the only Howard County high school in the Wellness Center Program. The program has recently received an $815,000 grant from the Maryland Department of Health, allowing the elementary school centers to hire two nurse practitioners and a medical assistant.
Wellness Centers offer medical care for students inside the school, provided by an onsite nurse practitioner or physician. Ms. Hobson, the program administrator and provider at Wilde Lake's Wellness Center speaks on the benefits of the grant.
"It is already making a huge difference in the elementary schools with the program," said Ms. Hobson. "They have performed a large number of physicals, worked with kids to manage their asthma,
identified health problems, and treated infections."
Wilde Lake's Wellness Center offers a variety of services, one being its reproductive healthcare options. Students can receive family planning, including birth control pills and Depo-Provera (a birth control injection), condoms, pregnancy tests, and screening and treatment of sexually-transmitted infections under the Maryland Minor Consent Statutes. Students can receive all of these services without parental consent or the Wellness Center Program providers contacting their parents.
The center is also crucial in supporting the teen parenting program, caring for the students and their children, says Ms. Leonard, the principal at Wilde Lake.
Ms. Anderson, the Wilde Lake school social worker in charge of the teen parenting program, says the Wellness Center has been a "blessing" to the school.
"Our babies are able to go there just like the students," said Ms. Anderson. "It allows [the students] to be able to go down there and have someone look at the babies so they can stay in school."
G/T Biology teacher Ms. Archibald says the center benefits students academically. "[Keeping students in class] allows them to build their class community and to be a part of their class community which is going to help their mental health overall," said Ms. Archibald.
In the 2021-22 school year, according to the Howard County Public School System, 23.1% of Howard County students were enrolled in Free and ReducedPrice Meals. (Graphic by Amy Manzanares)
"It helps the teacher because then we have a better relationship with the students."
The Wellness Center also benefits students struggling financially or with no medical insurance.
Ms. Leonard says a family struggling financially may also struggle with accessing health care. In the 2021-22 school year, according to the Howard County Public School System, 23.1% of Howard County students were enrolled in Free and Reduced-Price Meals.
"I think the big thing is that for those that don't have medical insurance, [the Wellness Center] is a resource for them to be able to get care and have access to care, so it takes away that barrier," said Ms. Anderson.
The Wellness Center, which is part of the Howard County Health Department, only bills Medical Assistance, a Maryland insurance provider for low-income individuals. Families never have to pay the School-Based Wellness Center for the care provided.
The centers do not charge a copay or any portion of the bill not paid by Medical Assistance or any private health insurance the student may have, according to Ms. Hobson.
Students believe in the importance of equitable healthcare as well, such as junior Setutsi Abdallah, founder of the Future Medical Professionals club at Wilde
Lake. "Everyone should be able to have access to a medical professional if they need it," said Setutsi. "For various socioeconomic reasons, some people's parents may not be able to take them to the doctor, so having the Wellness Center at our school closes these gaps."
The most important aspect of the Wellness Center is its accessibility, according to Ms. Hobson and Ms. Leonard.
"We have a healthcare system in our country that is inequitable in access, and our Wellness Center is an important part of creating a more equitable healthcare system for our community," said Ms. Leonard.
Students like senior Sajana Vigna-McLaughlin appreciate having easy access to the Wellness Center. "We need support right now, and we should always have a place where we can be helped," said Sajana. "I value having the resource of the Wellness Center because it's helping us better the community."
As Setutsi says, the Wellness Center is important because it offers needed support to students in school.
"Supporting students mentally and physically at school is important so that we're raising students that can achieve the most in life," Setutsi said. "They can be academically equipped for the real world, and overall, it leads to a healthier populace, a better-functioning society, and better students."
2 News
"I value having the resource of the Wellness Center because it's helping us better the community"
- Sajana Vigna-McLaughlin
"It is already making a huge difference in the elementary schools with the program"
- Ms. Hobson
Students Adjust to Changes in Peace Room
As these new leaders make the space their own, some students come to the Peace Room to strengthen connections they previously held with the new leaders.
Students with prior connections to Peace Room leaders have begun to find more comfort in the space, according to senior Erikka Coleman.
Sophomore Caleb Mackenna says he sees Mr. Blount as a "big brother" and has recently started going to the Peace Room to strengthen his bond with Mr. Blount.
"Knowing he is there is something I can
always fall back on, just in case," says Caleb. Moving forward, Ms. Collier hopes that the Peace Room continues to be a space in the building.
However, beyond just the Peace Room, she also hopes that other rooms in the school remove the "barriers" found in a school building, making every space feel like a Peace Room.
As Ms. Collier said, "day to day is hard, and it does not have to be."
THANK YOU TO OUR DONORS:
Meyer Jacobson
Michele and Rob Levine
Denise Giuliano
Perry Berman
CONTINUED FROM PAGE 1
For Autumn, the Peace Room is an accessible space where she can go to have a quiet place to herself, while Student Services is a more specialized space and often less accessible due to the counselors' busy schedules.
"[In] Student Services, you're kind of expected to talk to people. It is a lot easier to just go to the Peace Room and have a quiet place," said Autumn, "I know the counselors are really busy, and they have tons of students to attend to, so it's a lot easier to have the Peace Room as an option."
Autumn says the Peace Room and the guidance counselors have their separate benefits as resources and safe spaces for students.
"It really benefits the students to not only have a place to go talk to your counselors but also just having a place to be quiet," she said.
The Peace Room staff members are working to maintain the Peace Room as a safe space.
Each new staff member brings something to the table, according to Mr. Greengold, Alternative Education Paraeducator.
"They're making it their own space as well, so kids can relate," he said.
Quinn Moses
Ms. Wilson
The MacDiarmid Family
Karen Halterman
Wilson Manzaneres
Elise Varoli
Jeanette Frigo
Marie Frigo
HCPSS Pilots LGBTQ+ Studies Class at Two Schools
with me or be engaged or ask questions. They just sort of come in and are ready to talk," said Ms. Franckowiak.
what opinions other gay and trans people had," said King. "I feel good. I feel good to be a part of the change, you know?"
"I feel privileged," says Wilde Lake senior Andrew Heffner, a student in the class. "Not everyone has space in their schedule to take an elective like this. I'm really happy [in the class.]," says Andrew.
Ms. Paparazzo hopes that students will continue to sign up next year. "Unfortunately, the reality of high school courses is that if we don't have enough students sign up for a course, it's just not taught at that school, so it's really going to depend on if students sign up to take the course since it's an elective," says Ms. Paparazzo
BY LAUREN KELLY Staff Editor
Ms. Franskowiak will be the first teacher at Wilde Lake to teach an LGBTQ+ Studies class.
Though it is currently only at two schools, Wilde Lake and Hammond, according to HCPSS, there are plans to expand it to all other high schools in HCPSS next year.
This class comes during a time of turmoil for LGBTQ+ education. In Florida, for example, the introduction of the "Don't Say Gay" bill limits how teachers can discuss "sexual orientation or gender identity" throughout their time in school, outright prohibiting it through grade 3.
Science teacher Ms. Franckowiak gave up an additional planning period to teach the class. "I am deeply interested in the subject matter," they said. "I felt like among the staff here at Wilde Lake, I was fairly confident that I had the most appropriate knowledge base to teach the class well and effectively."
Social Studies teacher Ms. Paparazzo volunteered to teach the class at Hammond. "I've done work previously about helping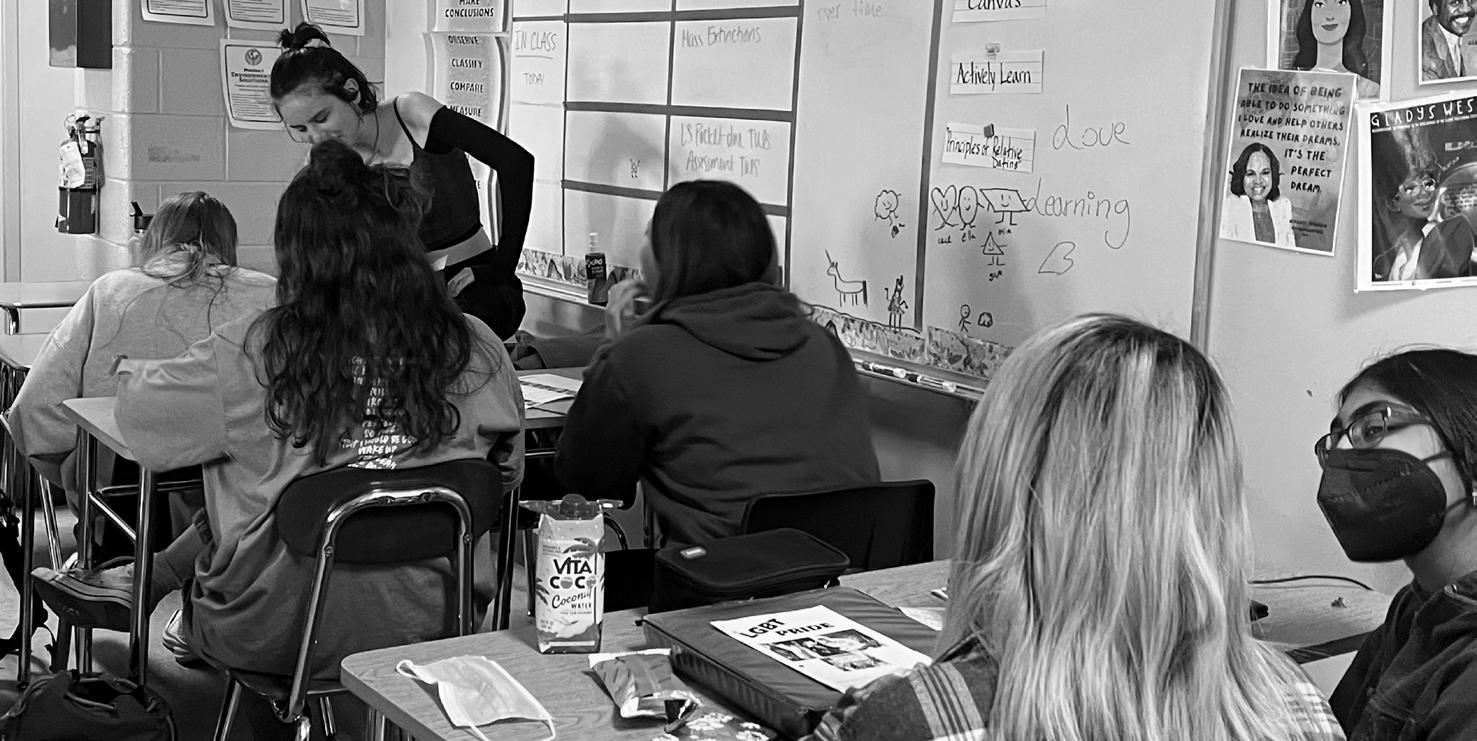 equip teachers to better teach LGBTQ students," says Ms. Paparazzo. "I'm an ally to that community and wanted to bring that course to Hammond."
This is the first year that the school system is offering this course, though according to Ms. Franckowiak, it has been in the works since the 2018 - 2019 school year. Much of the curriculum was piloted by the teachers with the guidance of the Social Studies Advisory Board for HCPSS.
According to Ms. Paparazzo, "[the course] examines history and contemporary issues from the perspective of LGBTQ+ people."
Ms. Paparazzo enjoyed pioneering a new curriculum, despite the hardships. She says that it was "stressful just because there was no one to ask."
Both teachers say that the response to the seminar-style class has been overwhelmingly positive. Ms. Franskowiak says they feel the students are more invested when they are able to discuss topics relevant to them.
"I [don't] need to do a bunch of fancy teacher tricks to get students to follow along
Wilde Lake Sophomore King Francisco is a part of the class. "I'm in the community. I'm gay, and I'm trans, and I wanted to see
Ms. Franckowiak says that the Florida bill is "honestly a bit of a nightmare. It is outrageous to me that there are school communities that are actively making it less safe to exist as their whole selves in school spaces."
According to King, the class "feels more like a safe space. I feel more willing to share my opinions."
The Paw Print Staff 2022-2023
The views exressed in this issue are not necessarily those of the staff, the administration or the staff board. Letters to the editor are encouraged. The Paw Print reserves the right to edit any submissions.
Greta Giuliano, Lauren Kelly, Yasmin Roach
Fetters
Brown, Blaiz Blackston, Matthew Cho, Josh Cofie, Eudora Ezirike, Marran Frigo, Darius Lewis, Amy Manzanares, Joseph Ortiz-Rivera, Caroline Sorensen
News 3
A group of Ms. Franckowiak's students discuss a presentation during ther LGBTQ+ studies course. (Photo by Lauren Kelly)
Mr. Blount talking with junior Vickel Liverpool in the Peace Room. Mr. Blount says that he "speak[s] to the kids in a bit of a freer way: almost like a sibling relationship."
(Photo by Arielle Levine)
Adviser.......................................................................................................... Ben Townsend Editor-in-Chief........................................................................................ Zoe MacDiarmid News Editor.................................................................................................... Arielle Levine Staff Editors...............................................
Layout Editor...............................................................................................Charlotte
Staff Writers.......................Wiliam
"I [don't] need to do a bunch of fancy teacher tricks to get students to follow along with me or be engaged or ask questions. They just sort of come in and are ready to talk,"
-Ms. Franckowiak, Teacher
A sign outside the door of the Peace Room left by former leader Ms. Wright reads, "Soft people are all around you. May you find them. May you be them. I love you, peace room." (Photo by Arielle Levine)
To Sneakerheads, They're Not Just Shoes
BY MATTHEW CHO Staff Writer
At Wilde Lake, we wear all kinds of different shoes.
Among the most popular shoes, Jordans are one of the oldest. Despite being first released in the 1980's, they still manage to maintain their relevance. Nowadays, they are considered the origin of streetwear
and sneaker culture.
"You don't have to be a basketball player to wear Jordans," said freshman Jaielle Smith. Jaelle says he wears Jordans because he likes the appearance and the history behind the shoe.
It was largely Michael Jordan's talent in basketball that led to international success of the shoes. Jordans created a new interest
in the streetwear community, with other signature shoe lines like Kobes and KD. The popularity of sneakerhead culture, in which people collect certain popular brands of shoes, quickly spread to every corner of the world, including Wilde Lake.
Freshman
Olu Oluwo says that shoes are very representative of culture at Wilde Lake. "You see all types of shoes in the hallways, and you can kind of make out a person's personality by their shoes," he said. "People wearing running shoes are typically athletes, people who wear things like Jordans wear them for many reasons like history, the looks, or the status, and I think it's a very important thing to a lot of people at Wilde Lake."
Another factor for some is family. Sophomore Kamil Roberts says he finds his sneakers very important to who he is today, and it began with watching basketball with his dad.
"When it comes to shoes, my dad kind of shaped me into the
sneakerhead I am now," he said. "My dad would watch Michael Jordan play, and he took influence from him and it passed down to me, and it is very significant to who I am today."
However, there have been several controversies in the sneaker world in the past few years. Issues within the culture have led to some concern. Yeezys and Kyries, are the former brand dealerships between Kanye West and Adidas and Kyrie Irving with Nike.
Both have been popularized at Wilde Lake alongside Jordans, becoming immensely popular among some students like Oluwo, but recent anti semitic comments from these figures have students questioning whether it's acceptable to continue to wear their shoes.
"I think [West and Irving's actions] are not only detrimental to Wilde Lake, but to society as a whole. Kanye has such a big influence on everyone else, that him saying [antisemitic things] influences the way younger people act," sophomore Sam Helicke said.
Natalie Noyes, a sophomore, says it's unacceptable to wear their shoes after their statements. "You shouldn't wear them because both
of them are antisemitic and by purchasing and wearing their shoes, you are supporting them indirectly and giving them publicity," she said.
Many have lost their faith in the future of sneaker culture due to artists' bigoted statements.
"[When]
Kanye comes out and says all this [antisemitic] stuff it gives a bad name to the sneaker community," says junior Elijah Dean. "I feel like the generation of culture we grew up on as kids is taking a bad path."
These issues have shaken the sneaker community. But despite this, some sneakerheads are trying to earn back respect for the art.
Sophomore Justin Vosilis says he would like to see a recovery in the community. "There's so much history in the genre," he said. "The shoes influenced almost an entire generation to this day, and I don't think the history and culture should be lost just because of a few problems. People just need to be more mindful of who they support and put on a pedestal, as well as knowing what's right and what's wrong."
Surgeon General Warns Against Social Media Use for Teenagers
BY ZOE MACDIARMID Editor-in-Chief
On January 29th, on CNN Newsroom, United States Surgeon General Vivek Murthy said that 13-years old is "too early" to join social media.
This warning comes during a time when teenagers are using their phones more than ever. According to the American Academy of Child and Adolescent Psychiatry, surveys show that ninety percent of teens ages 13-17 have used social media. Seventy five percent report having at least one active social media profile, and 51 percent report visiting a social media site at least daily.
At Wilde Lake, many students report getting phones as young as elementary school. Blessing Gross, a junior, got her first phone — a flip phone — when she was five years
old. By eight years old, she had an Instagram account.
"As a child, I was told a lot that I should enjoy being a child, which made me only wanna grow older and be an adult to understand why they said that stuff," said Blessing.
Jiselle White, a sophomore, began using social media when she was around ten years old. From a young age, she said social media pushed her to want to be grown up.
"I felt like I had to change everything about me to be more feminine, more grown up, older. And I think I just grew into being older," said Jiselle.
This is a relatable experience for many young people across the United States. The amount of children aged 13-17 years old on social media rose 17 percent from 2019 to 2021, according to Common Sense Media
data from 2022.
Dr. Murthy gave two main reasons as to why he believes children 13 and younger should wait to get social media.
First, he says that having social media may impair a young person's ability to develop their own identity. "It's a time where it's really important for us to be thoughtful for what's going into their own self worth," said Dr. Murthy on CNN Newsroom.
His second main concern was that policies regarding age limits on social media are inconsistently enforced. In addition, social media is hard for teenagers to limit their time on.
Research in the Journal published by the American Medical Association shows that frequent use of social media affects the way brains develop. Today's teenagers as a result feel the need for more stimulation, and therefore have shorter attention spans, which makes it harder for them to perform in school and form meaningful relationships.
What some teachers see is students struggling to function, socially and academically.
Harpers' Choice Middle School Social Studies teacher Madi Aman says that most of the students she teaches have social media. Ms. Aman says that as a result of having social media at a young age, many students believe that they are "more mature than they are, even more so than what's normal for the age group."
"I think something that concerns me is the level of disconnect," said English teacher Ms. Kostelec. "But I also try to ask myself as a teacher: what is the root cause of that disconnect? I think the phone can be a security blanket for if you feel disengaged because you're confused or maybe you're just struggling with something else. I think it can be comforting to people to have that escape."
Additionally, Ms. Aman says that her students' attention spans and academic stamina are "very short."
"A lot of what we've been talking about is that apathy is a huge, huge problem," said Ms. Aman. "If it's not something that they're personally interested in, they just don't care, and they don't want to listen. They don't want to try or do work."
UCL Great Ormond Street Institute of Child Health says that social media not only creates harmful situations for users but it also disrupts activities like sleeping and exercising that are positive for mental health.
The future of social media is in the hands of legislation, Dr. Murthy told CNN. "None of this is out of our control. When we had dangerous vehicles on the road, we passed laws to make those vehicles less dangerous," he said. "We should make decisions to make [social media] a healthier experience that would make kids feel better about themselves and less alone."
The amount of children aged 13-17 years old on social media rose 17 percent from 2019 to 2021, according to Common Sense Media. (Graphic by Charlotte Fetters)
4 Features
Features 5
Students Trained to Lead Peace Circles
BY YASMIN ROACH Staff Editor
The week before Thanksgiving break, ten Wilde Lake students were invited to Slayton House to receive training in holding Peace Circles — a method of restorative justice where people meet to create community or resolve conflict. These students are the first students in Howard County to receive Peace Circle training.
The students who attended were freshman Ela Sezer, sophomores Ven Heffner, Tolu Oliwo and Bria Kagwima, juniors Laurel Sands, Zaki Scarborough, Caitlin Beasley, and Lia Tarawali, and seniors McKenzie Lawings and Samya Miles.
Since 2017, Wilde Lake began incorporating restorative justice practices. According to The New York Times, restorative justice is the philosophy of giving offenders the chance to speak openly about their feelings among community members with the goal of bringing harmony back to a community.
Circles are hosted by a group of people sitting around a centerpiece — objects to represent earth's four elements that hold importance for the people involved. The purpose of the training at Slayton House is to make students into leaders in a movement that, since 2017, has been led by teachers, according to Special Educator and Diversity, Equity and Inclusion Liaison, Laura Collier.
According to junior Laurel Sands, Peace Circles are about "creating safe spaces [where] people can express how they feel about a number of different topics."
Peace Circles and Restorative Justice initiatives as a whole are important for Wilde Lake, according to Ms. Collier.
"I think it's important for students to hear from people that are equal to them," junior Caitlin Beasley. "As long as there is always outside support for the students, it is a very effective approach."
One of the cornerstones of restorative justice is communication. Senior Samya Miles says she learned how to better express herself.
"So many problems could be eradicated if you could just talk to someone," she said. "I think this world would be so much easier if people
Wright, every member is equal. "There's no head of the table. There's no person standing over everyone," she says, "Everyone is equal. Their voices are equal, and their bodies are equally placed."
Though participants are working towards a shared vision of restorative justice and community, the initial attraction to the training varied. For Caitlin, the Peace Circles allowed her to exercise her sense for "right and wrong."
These students have been active members of Peace Circles since their training, according to Laurel Sands, one of the attendees.
"I now know how to make people comfortable," said freshman Ela Sezer. "I think [the peace circle] was one of the places where I felt that I didn't have to worry about what I said. There was nothing to be afraid of there."
Ms. Collier says that while not everyone at Wilde Lake has participated in opportunities like Peace Circles so far, they are still welcome. "Over time, even the people who feel excluded will feel led to it," she said. "It's not an overnight fix. There are things we are forever learning."
knew how to effectively communicate."
Alongside communication, one of the central purposes of restorative justice is to restore community. "One of the major ideas that fuels restorative justice is that in community, people engage and respond differently," said Ms. Anjole Wright, former Peace Room leader. "So [with] practices like circles, we focus heavily on relationships and caring for people so [that] when conflict arises there is less need for punishment or exclusion."
Within this community, according to Ms.
Who are the Chairs for Alpha Achiever's?
Mr. James Beale
Mr. Deon Wingfield
Who are Alpha Achievers?
Targeting African American males in grades 9 – 12, the Alpha Achievers is an educational program of the Alpha Phi Alpha Fraternity, Inc., Howard County Chapter. Operating in all twelve Howard County high schools, the program fosters a positive learning environment to facilitate students' pursuit of excellence by attaining, maintaining, and exceeding a 3.0 grade point average, the minimum required for membership. The program also seeks to encourage and motivate those students who have less than a 3.0 grade point average to strive toward it.
How do you become an Alpha Achiever?
Maintain a 3.0 GPA for club membership. Every member has been inducted into our program and receives a pledge pin representing academic excellence.
How are Alpha Achievers serving the community?
Currently, we are building and volunteering in Elementary schools. Recently, we have a fundraiser sponsored by Chipotle in the Columbia Mall. We are looking for more ways to express our creativity and serving the community.
For More information, please contact Mr. Beale james_beale@hcpss.org
In addition, please check out our twitter pages: @achieverslake and https://www.alphaachievers.org/
"I think it's important for students to hear from people that are equal to them."
- Caitlin Beasley, 11th
6 Sports
Wilde Lake Boys Varsity Basketball Nets Historic Season
BY BLAIZ BLACKSTON and JOSEPH ORTIZ-RIVERA Staff Writers
On March 2nd, in the second playoff game of the season, the Lake faced off against one of their toughest opponents of the year, Long Reach. With two minutes left on the clock in the fourth quarter, junior small forward Kain Corkeron scored three points to put Wilde Lake up 68-65. In retaliation, Long Reach scored another three pointer, tying the game. In the final minute, junior guard Ethan Jackson sunk a game clinching three, leading Wilde Lake to the win and crowning them regional champions.In the game prior, Wilde Lake took the title of county champions with a ten-point lead against Glenelg, a title last held by the Cats in 1978.
Wilde Lake was eliminated from the playoffs in their third playoff game, where they faced Aberdeen High School in a close 76-72 loss.
Last year, the boys' varsity team finished their season 9-8. The 2021-22 season ended in a close game against Long Reach in the first round of playoffs. After the loss, the school buzzed about questionable officiating and injured players hampering the team's success.
This year, the Cats were looking to bounce back, and they did, finishing the season 21-4.
However, this team's success didn't happen by chance. Power forward junior Xavier Gilliam says the coaches have been working the players harder than ever.
"Practices were very tough," said Kain Corkeron. "All our plays this year were new, and we would even make plays specifically for the team we were playing against." Coach McMillian and Coach Wingfield would tailor plays for teams using the players' strengths, according to Kain.
"We had a great coaching staff," said Coach Wingfield. "They held all the kids accountable and pushed them for greatness."
Xavier Gilliam said that part of the team's
success was due to the players trusting the coaches.
"Putting trust in [the coaches] to lead us to victory, they really brought the team together because they all have a drive to win," said Xavier. "They don't want to coach a losing team."
Because of their success this year, there has gradually been more interest in the team from the school as a whole. Some of their games were sold out, such as their first home game, along with four others, including all their playoff games.
Part of this popularity was because the team had three returning all-county players: Xavier Gilliam, Nate Hiteshew, and Kain Corkeron, which attracted big crowds, says Coach Wingfield.
Although there has been much success for the team, they have had their share of struggles throughout the season. "Everyone has to be mentally prepared and have to understand what to do because if they don't, then it can cost us the game," said Xavier.
In their first game facing Long Reach for the season, Wilde Lake looked to get back at them for the loss that eliminated the Lake from the playoffs last year, creating one of the most anticipated games of the year for Wilde Lake.
"All of us knew what we needed to win,"
It was games like this and their county playoffs where Wilde Lake proved that they were capable of rewriting their history from last year's season that fell short.
Wilde Lake continued their playoff run when they played River Hill at home. The Lake defended their home and took care of business with a 83-63 point win.
Fresh off of the 20-point win at River Hill, the team prepared for their second game against Long Reach, determined to take the title of regional champions. From tip-off, this was anyone's game until Wilde Lake was down by ten at the beginning of the third quarter.
was the best," said Xavier.
With this title, Wilde Lake rose to the top of the county as they went on a tear with a 12-game win streak.
In state quarterfinals, Wilde Lake faced Aberdeen at home in what was set to be a thriller. Wilde Lake jumped out to an early lead and was never looking back until Aberdeen fought back hard and was able to take the lead late in the 3rd.
said Elijah Dean, a junior guard on varsity.
The high-stakes game against Oakland Mills was around the corner. With strong defensive plays, however, Wilde Lake kept the game under control. During the second half, things started to heat up. The game went back and forth until Wilde Lake sophomore Deandre Hoskins made a layup that gave the team a two-point lead with three seconds left on the clock.
They stormed back against the Lightning, putting them up in the fourth quarter 7067 with five seconds left. Off the inbound, however, Long Reach hit a buzzer-beater that forced overtime. Wilde Lake wasn't going to be sent home by Long Reach two years in a row, and they scored two back-to-back three-pointers during overtime.
These shots helped the Wildcats win the game and snag the regional championship title. "Winning the regional championship
The game was still going back and forth until the one minute mark when Dylan Gooden made a layup setting the score 7276. Wilde Lake was able to get the ball back with 18 seconds left and a chance to pull off a miracle. Then Wilde Lake was called for a double dribble and Aberdeen got the ball back and dribbled out the clock, ending Wilde Lake's historic run.
"This year, we had some really good players who were able to play together and wanted to be coached," said Coach Wingfield.
"It was super fun. The team environment was great," said Xavier.
Players Put "Pen to Paper," Commit to Division 1 Schools
BY BLAIZ BLACKSTON Staff Writer
A few Wilde Lake athletes are taking the next step in their sports journeys with commitments to play for several Division 1 colleges. From lacrosse to football, from Virginia to College Park, these Wildecats are taking their talents throughout the DMV.
Cassy Montgomery: Virgina Tech Lacrosse
For Cassy Montgomery, lacrosse is leadership. When deciding where her next journey would begin, Cassy, now committed to Virginia Tech for lacrosse, wanted a program that allowed her to embrace this aspect of the sport.
Virginia Tech's D1 lacrosse program is upcoming. Cassy saw this as an opportunity to continue to help teach the sport to others.
At first Cassy was unsure of where she wanted to take her talents, knowing that she wanted to play at the Division One level.
"I kept my options open," said Cassy, "Virginia Tech reached out and I got really interested and it just kinda happened."
Cassy points to her time spent on the field as a club lacrosse player as a key in hr recruitment process. The club had her involved playing in many showcases and tournaments up and down the east coast. These showcases, according to Cassy, could be intimidating at times, but they helped her get to where she is now.
"Playing club and going to all the
showcases and seeing the coaches is kinda of intimidating especially when you can't talk to them but they're there," said Montgomery.
Having a strong support system throughout the recruitment process was incredibly important to Cassy and her commitment journey. "My parents, my teammates were always super supportive of me. They never held me down, they always pushed me forward, but they never forced me to do anything" said Cassy.
According to Cassy, her involvement in the Wilde Lake Lacrosse program helped her succeed on her club lacrosse team. "Wilde Lake helped me take a leadership role. It made me speak up and teach other people how to play lacrosse," said Cassy.
Cassy says that consistent effort and dedication were vital for her as an athlete.
"I just picked a goal and I stuck with it... There was no stopping. Once I had a goal in mind, I just kept going.
Grace Dunbar: UMBC
Soccer
Soccer runs in Wilde Lake Soccer
Captain Grace Dundbar's veins. From the moment Grace Dunbar stepped on the field, she was filled with a love for soccer.
Grace first started playing at an incredibly young age and her love was influenced by her older sister, Lily, who now plays soccer at Drexel University.
"I started when I was two or three years old because my sister who's 4 years older than me started playing when she was young and my parents just kind of put me in it for fun to see if it worked out"
says Grace.
Grace said her love for the sport took off when she started playing for the Baltimore Celtics. Her interest and passion for the sport continued to grow as she pursued club soccer. "It was immediately something I was good at. I liked being on a team. I liked playing with my friends. And I'm very competitive."
When deciding where to continue her athletic and academic career, Grace decided she wanted to stay local. After receiving offers from St. Mary's of Maryland and New Jersey Institute of Technology, Grace decided that University of Maryland Baltimore County was the place for her.
Both the athletic and academic opportunities at UMBC appealed to Grace.
"It was a really good fit for me academically. I love the school, and I love that campus," she said, "It was just a big combination of the academics, the athletics, and the teammates were super nice. I loved the coaches"
Soccer is a large part of Grace's life and she is looking forward to her college career playing for the UMBC Retrievers Girls Soccer Team. "It's just been a really good outlet for me. No matter what's going on as soon as I'm playing it feels right" says Grace.
Dylan Gooden: University of Maryland Football
As a transfer from Good Council, Dylan Gooden is a new face at The Lake. However, his talent does not go unnoticed. An invitee to the Under Armor All American Game, where stars such as Jamar
Chase, Travis Hunter and Justin Fields have played, and ranked number six in Maryland by ESPN, Dylan is a star on the football field.
After receiving a total of 26 offers, including schools such as Penn State and Virgina Tech, Dylan decided to keep his talents close to home and committed to the University of Maryland. According to Dylan, this will put him on the field as a Freshman.
When Dylan first started getting offers, it felt like something out of a dream for him. "It just didn't feel real at first. It's something you dream of most of the time so when it first came in it just wasn't like a real thing" says Dylan.
The support Dylan received from his parents and coaches guidied him to where he is today. "Without my parents pushing me probably wouldn't be where i'm at. Plus, good coaching" says Dylan.
Dylan looks forward to being able to continue honing his craft. He says he hopes to eventually carry his passion for the sport
Wilde Lake's starting five. From left to right: Michael David (12th), Xavier Gilliam (11th), Kain Corkeron (11th), Dylan Gooden (12th), Nathan Hiteshew (12th). (Photo by Jeremy Coles)
From left to right: Grace Dunbar (Soccer, UMBC), Dylan Gooden (Football,UMD), Cassy Montgomery (Lacrosse VT). The athletes represent Wilde Lake in their team's respective atheltic gear.(Graphic by Arielle Levine)
"All of us knew what we needed to win,"
-Elijah Dean, 11th
Working Her Way Up the Scale: Johanna Shin's Piano Journey
BY CHARLOTTE FETTERS
Arts 7 Rock Saved My Life
In Wilde Lake's piano class one student in particular shines–Johanna Shin. Since age five, Johanna has been playing the piano. Now, practicing every day, she finds herself representing Wilde Lake's finest artists.
Johanna credits the start to her piano journey to her older brother. "Since he is five years older than me, I just wanted to copy what he did," she said, "I just joined the lessons that he was doing."
Johanna says the classes she was placed in gave her the foundation to make the art her own. After six years of lessons, she began to take the stage. "By fifth grade it was more to the level of performing," she said.
In kindergarten Johanna started to dedicate herself to the piano. "I started with a private instructor," says Johanna.
She says her teacher helped her. "She was such a committed teacher. I think her passion for music kept me in lessons. She wanted to help me, so I decided to help myself."
In eighth and ninth grade, Johanna decided to take a step back from the piano as her passion began to fade. "It was a landmark for me. I realized I can't rely on a teacher to tell me to play song after song."
However, after the intermission, Johanna decided to pick up piano once more. This time, she found herself looking deeper into the art.
"I also wanted to learn how to add cool embellishments to my piano playing," says Johanna. "Instead of simple chord progressions, you improvise and add these extra melodic elements to spice it up."
With time her talent grew. After some time, something clicked. Around 9th or 10th grade she came to appreciate the piano again. She took the craft and made it her own. "There are so many cool things you can do with a piano. There are so many different genres and styles."
Johanna sees the piano as a hobby that she enjoys. "My favorite part about piano is how versatile it is. With enough practice and the right music you can make something really complex."
Now, she is enrolled in Music Theory class at Wilde Lake, allowing her to pursue her art as her own. "I've always been interested in learning the funky sounding chords. It's so cool how people can identify a chord and keep using it," she said.
Johanna is one of the most talented piano players in Wilde Lake, according to Ms. Spiro. Johanna has a genuine appreciation for piano and has a bright future ahead of her.
Samadhi Davis: Dynamo on the Mic
A peppy, casual tune echoes through the Wilde Lake cafeteria. Samadhi Davis, lead singer of the band BLACKOUT, is grinning as she sings "Santeria" by Sublime. The guitar bounces with her voice as the highs and lows of the song carry the audience away.
Samadhi is extremely diverse in her art. She has taken on acting, drawing, and singing in a band throughout her years as an artist.
However, the art that resonates the most with her is music. "I've always been around music," she said.
Both in and out of school, she devotes her time to her trade. Her connection to music is a form of expression. "As a person I don't necessarily talk about my feelings and I don't really express anything. So music was kind of my way to be vulnerable, and singing really tapped into that."
For Samadhi, music is not only expression but communication as well. "I find myself being in my most vulnerable state when I'm singing because it's hard to talk about what I'm going through," says Samadhi. "I use music as my way to say it without people having to know what's going on, but they can still feel the emotion behind it."
Samadhi says that she is able to be the most expressive when performing her original music. One song she wrote, "Guardian,"
is about her guardian angel watching over her. "It's also about how much I care for others before myself," she says. To Samadhi, the day of a performance is like the Fourth of July. "Everybody's stressed out about who's doing what, like cooking and setting up fireworks, but once the fireworks start everyone shuts up," she says. "The performers, the musicians, the audience, everybody just stops and just enjoys that moment together."
With her love of music, Samadhi has found herself viewing the world in new "colors." This is more commonly known as synesthesia. Synesthetes are people who can hear colors when music is playing, or they could eat food and taste shapes. "Simply put, when one sense is activated, another unrelated sense is activated at the same time," says Psychology Today.
"When you see the color blue you think of being sad," she explains. "But when I see it I think of a blue sky." Samadhi continues ro describe the colors as representing more memories than emotions. "It gets weird, but I can hear music as colors."
Due to her lifelong love, Samadhi says that she wants to make a career in music, and with the band, BLACKOUT, and her own raw talent, her future in music is looking pretty rock 'n roll.
Jake Domenick-Urbansky: A Jake of All Trades
That interest was awakened by the euphonium, his favorite instrument. "It was my first instrument; it's the best sounding in my opinion," he says. "But it's difficult, too. It's hard like a trumpet where you have to produce a sound and know all of the proper fingers for notes. You need the right embouchure."
Jake's second favorite instrument would be the trombone. "Trombone is basically a giant tuning slide. You can make really cool sounds on the trombone that you can't for other instruments. For me it's all about keeping tempo and consistency. It teaches me how to be more confident while playing."
Jake is currently in Wind Ensemble, Marching Band, and Jazz Band. For him, band is how he can come out of his shell.
BY CAROLINE SORENSEN Writer
Music has been a big part of my life since I was a baby. My parents always played it around the house, so I was able to grow up listening to all different types. It has always been my escape, whether it be from myself or a situation. Whether I'm playing or listening, it never fails to impact me through the words and harmonies.
My dad was always the person that played rock. It was primarily bands like The Cure, Pearl Jam, and Foo Fighters. It was a genre I occasionally listened to for years until I realized the effect it had on me.
Starting in middle school I realized I was struggling with my mental health. It's a very strange feeling to realize your brain is not "normal." The best way to describe it is feeling like you're alone in a room and you want so badly to leave, but you just can't.
When I looked for ways to make me feel less alone the first thing that I turned to music, all types except for rock. When I was picking the music I was listening to, rock never crossed my mind as a comforting genre. I tried music as therapy for months and nothing was working. At that point, I felt hopeless. Finally, I stopped hiding it and had to see a therapist.
After months of therapy, I turned to music again. This time, however, with rock. Although I listened to many artists, there were a few specific bands that always played. Those were primarily the same ones that I was introduced to rock with. There was something about these bands that gave me extra comfort.
I think the reason rock suddenly became "my genre" is because of what it reminded me of, the emotions it evoked in me, and the opportunities it gave me. Listening to rock reminds me of my dad because he is the person that introduced me to it.
There's something about the lyrics that hit me more than any other genre. lyrics such as "The sun is gone but I have a light" from Dumb by Nirvana, and "There's a time you'll seek out a disguise when you think people hate you the most and it gets worse before it gets, that's one thing that I have come to know" from Do Not Wait by Wallows.
Today, I am still playing and listening to music. Even after all this time, my favorite bands still have the same effect. These bands not only are nice to listen to, but they have made me many friends because we can connect through our favorite genres and bands.
It isn't uncommon for students to pick up an instrument at a young age. Whether it be through parental encouragement or in elementary school, many musicians start their journey young.
Jake Domenick-Urbansky, a senior at Wilde Lake, has been playing in band as early as fourth grade. His first instrument was the euphonium. When he started his freshman year he picked up the trombone, and just recently started the tuba, but his
interest in music dates back to before brass.
"My interest started ever since I got my first instrument at seven, which was a piano," Jake says. "I just remember sitting down and playing whatever I wanted. I would listen to music and I wanted to learn how to recreate it."
Music is something that has always piqued Jake's interest. "I like to know how things work, and music is definitely my number one."
"Music encourages me, especially in marching band," Jake says. "I feel like during the marching band season, I'm much more confident about things and more outgoing. I see myself doing things that I wouldn't usually do."
His love isn't the only driving force in his music. The people around him are what motivates him as well. "I want to make people smile when I play. I want to make people happy and comfortable."
With his love of music, Jake sees himself passing that down to others as he grows.
To Jake, music is magical. "It gives me strength," he explains.
Music is a significant part of my life. Music has become my life path; it's what I want my future to be. It has opened and made such an impact on myself, and I want to be able to work and give that to others. Music has taught me the importance of self expression. A lyric I think best shows this is "I'm free to be whatever /I Whatever/ I choose, and I'll sing the blues if I want I'm free to say whatever /I Whatever/ I like, if it's wrong or right, it's alright" from Whatever by Oasis. Through the years as I've listened to music I've grown and become my true self and that is why I rely on music.
"The sun is gone but I have a light."
-"Dumb" by Nirvana
8 Opinions
A Tall Tale
BY ZOE MACDIARMID Editor-in-Chief
Jeans never reach my ankles.
As a 6'5 girl, I'm an anomaly. An odd sight to see. Oftentimes, people's eyes will scan me, their heads tilting up, then down, then back up. Some will whisper to their friends, whereas some kids will blurt out: "Are you the tallest person ever?" (I have had many kids ask me that.)
Other times, people are more confrontational. It is not uncommon for people to approach me in public and start a conversation. Most of the time I admire their courage and will engage, even though I get the same questions and reactions every time.
At this point I have a script: "I'm 6'5. My brother is 6'6 and a half. My dad is 6'1. My mom is 5'8." But this doesn't always satisfy everyone's curiosity. Some will ask about relatives I've never met or if I simply drank a lot of milk growing up. A few have tried to diagnose me with disorders that make limbs unusually long.
Once they know my height, they ask if I play basketball. I don't. Volleyball? I don't play that either. Swimmer? No. Runner? Definitely not.
Some ask about my shoe size. Some ask if I can "give them some of my height." A few have stood right next to me, on their tippy toes, and were surprised that they still can't reach past my shoulders.
Most of the time, I don't mind these questions or reactions. I understand that people are curious. But sometimes, even well-intended people can strike a nerve. For me, there is one question that I avoid at all costs: "If you could be shorter, would you?"
Last year was the first time I remember being asked this question. I'm not sure why it hadn't occurred to me before. Of course there have been times where being tall was awkward and an inconvenience. For example, hitting my head every time I'm getting into a car. Or standing next to people who aren't as tall. But I take issue with this question for a few reasons.
Firstly, the question is pointless. No matter how much I wish for it, I will never get shorter. I can slouch, but the height is still there.
Second, I think this question points to a bigger problem. A lot of people expect me to feel awkward at my height. And as I've admitted thus far, I do occasionally wish I could blend in, or at least find jeans that reach my ankles.
But I have found that standing straight up is the best option, because being tall has its upsides, too. Studies show that tall people have an advantage over their short counterparts in terms of leadership. Another study found that taller people are less likely than shorter people to develop type two diabetes.
And there are more practical everyday reasons to love my height, like always being able to see over crowds or never needing a step stool to reach the top shelf. Or just the feeling of being the tallest person in the room.
For too long, we have been shown what a girl is supposed to look like: short and thin. Self-esteem issues are very prevalent in young girls, namely because of what mainstream media tells us what companies think is beautiful.
We shouldn't be made to want to change fundamental parts of ourselves. We all have features that make us unique. And however cliché it sounds, the best thing we can do is to embrace it.
That's why my answer when people ask whether I want to change my height is always a simple but firm: "No."
Stop Asking Me If I'm Hot in This
BY YASMIN ROACH Staff Editor
In my seven years as a hijabi, I've been the target of a lot of questions. Although I try my best to answer politely, they are often ignorant and upsetting to hear. Many of them stem from damaging assumptions, but most of all, being asked these questions makes me feel like an outsider in the places where I should be at my most comfortable.
One example is when I am asked if I'm hot in my clothing. Although this usually seems to stem from legitimate curiosity, singling me out because of my clothing is alienating. If you're feeling hot, I probably am too.
It is especially ignorant of the purpose of my clothing. That "thing" on my head is a headscarf, which is also called a "hijab," Arabic for partition. It is a religious garment that symbolizes modesty. In Islam, modesty is not only required in dress, but also in behavior, a standard which applies to male and female Muslims.
But it's more than just fabric covering my hair. To me, wearing the hijab means the removal of physical appearance as part of interactions. People's value is so often linked to how beautiful they are in society's eyes. I believe that eliminating beauty as an element of communication is a step towards a world where people are treated as humans, not bodies.
I am not going to take it off or leave Islam when I move out, because my choice has nothing to do with my parents. There are absolutely women for whom that isn't the case–and I find it ironic that the response to that is to attack others for their decisions over their bodies.
I am not oppressed by my religion. The idea that all Muslim women are oppressed is a racist, Orientalist trope
that objectifies us, erases our individual stories, and denies us even the illusion of choice.
The Western obsession with the hijab has long been connected to the idea of a clash between the "West" and the "East," or rather European colonizers and colonized Muslims.
Attacking the headscarf has been a method of maintaining power over Muslims in colonies. For example, during the Algerian war of independence, the French staged ceremonies where they unveiled Muslim Algerian women.
These ceremonies were aimed at "demonstrating how Muslim women had been won over to European values and away from the independence struggle," according to The Independent.
Today, the insistence that the hijab is oppressive and that Muslim women should take it off remains a tool of imperialism — the act of one country using its power to control another. When people express this way of thinking to me, even if they have good intentions, it is a reflection of all the marginalization that Muslim women continue to experience at the hands of imperialism. It makes me feel that neither my choices nor my personhood are valued.
Some people seem to be under the impression that as a Muslim woman, I am
unable to have a personality or a life. I've had people be shocked when I make jokes or they see me having fun. But, there is a human under the scarf. I promise you that despite reports to the contrary, misery is not the 6th pillar of Islam. In fact, we consider smiling to be an act of charity.
I realize that for some people, I'm the first visibly Muslim person they've ever met. I'm different. Because of that, I'm willing to provide some education about myself and my faith.
But the questions I am so often asked–and the assumptions inherent in them–are deeply harmful. Going up to someone you don't know well and questioning their clothing choices is rude. This is just a basic social concept. It's othering. It's hurtful. So please don't ask me if I'm hot in this. Of course I am.
The Beautiful Complexity of Having Sisters
FaceTimes me, and texts me from her iPad.
Jocelyn's role in my life quickly moved from cousin to little sister. She has changed my view completely on the importance of siblings, biological or not.
Ashley says she instilled my desire for academic achievement. I watched Ashley excel in school, which motivates me to work hard.
BY AMY MANZANARES Staff Wriiter
I used to consider it an insult to be compared to my older sister. In elementary school, I was called "Mini Ashley" by my teachers because they all taught my older sister Ashley first.
I felt like they forgot I was my own person, and I didn't like being compared to her.
I was only three when my sister Abby was born, so I can't recall a lot about her growing up. However, I was eight when my cousin Jocelyn was born, so I can remember most of her life.
Jocelyn is an only child and lives near me, so she constantly sleeps over at my house,
I think life is easier with an older sibling guide. Ashley taught me a range of lessons, from how to do math to what a healthy relationship looks like. In return, I let her download Snapchat on my phone, so my parents wouldn't find out.
My relationship with Ashley is unique because I fully trust her. I know Ashley would never snitch on me, which I think defines a healthy sibling bond.
"I'd rather have a dog than a husband," is something Jocelyn said to me. Husbands can leave you, but a dog never will. As funny as this statement may sound, it made me realize I'm the person Jocelyn feels she can tell her thoughts to, which is how I feel about Ashley.
Outside of my personal experiences, there are studies that show that younger siblings copy and elicit care from older siblings, which is why older siblings are often leaders and caregivers.
Sometimes, especially in single-parent households, older sibling responsibilities turn into parentification, where the older sibling assumes a parental role. According to the U.S. Census Bureau, 19.8% of households in Howard County with children are run by a single parent.
Sophomore Lilian Droney lives with her mom and ten-year-old sister Melody. Lilian says although she and Melody are two completely different people, she can still see ways her sister reflects her.
Lilian views Melody copying her positively. "I think I'm not that bad, so it's not a bad thing if she's doing things that I do," she said.
Ashley helped shape my personality, which I didn't want to acknowledge until I noticed Jocelyn taking after me. It makes my day when Jocelyn calls to talk about our hobbies because it feels like there's a part of me in her.
Sibling relationships are some of the longest-lasting relationships someone can have, and they are constantly changing. I'm very fortunate to have a healthy relationship with my sisters because that isn't true for all siblings.
I'm grateful for Jocelyn, who encourages me to value my sisters more. I'm grateful for Ashley, who constantly sets an example of who I should strive to be. And I'm grateful for Abby, who allows me to make mistakes as an older sister and learn to be better.
Jocelyn (left) and me (center left) on combined with a photo of Ashley (right) and me (center right) at her sorority formal. (Art by Amy Manzanares)
There are many different ways of styling the hijab. Personally, I change my style based on what looks best with the outfit I'm wearing and comfort level. (Photos by Zoe MacDiarmid)
The idea that all Muslim women are oppressed is a racist, Orientalist trope that objectifies us, erases our individual stories, and denies us even the illusion of choice.
AI Means "Awful Intelligence"
BY CHARLOTTE FETTERS Layout Editor
Ever since I could hold a pencil, I've been creating art. Whether it's a finished piece, a sketch, or just a doodle in my notebook, I enjoy the process of creating something from nothing.
But my love for art expands past creating. I read art history books and visit galleries and museums often. Art has shaped my past, present, and what I hope to be my future. So you can imagine how frustrating it is for me when people talk about artificial intelligence as if it is the future of art.
As ironic as it may sound, artificial intelligence is wrong on a human level. It is nothing more than a computer program, and it has been created to do one thing: create artwork. The problem is that it doesn't create art, it just copies it. It takes the work of real artists and reproduces it without giving them any credit.
Taking inspiration is one thing. Directly copying is another. This act is plagiarism, pure and simple.
Furthermore, artificial intelligence takes away jobs from real artists. There are already a limited number of opportunities for artists to make a living from their work. As reported by the U.S. Bureau of Labor Statistics, artists make up 1.6% of all U.S. workers. Now that machines will be able to
produce art faster than humans, artists lose their job security.
One person who has publicly used AI over a human artist is Collin Waldoch, creator of the online game, "Twofer Goofer." He said in "The New York Times" that "he didn't feel guilty about using hiring human artists because human artists were too expensive to make the game worthwhile."
Luckily for me, I go to Wilde Lake, a school that gives artists such as myself opportunities left and right to pursue their passion. During high school, I have been taught to value the arts.
I have been drawing all my life, and through Wilde Lake, I have been able to grow and establish myself in my art. This school not only deepened my love for drawing but introduced practical outlets for my talents that could get me somewhere in life.
Graphic design has become my career path, and I would never have gotten there without Wilde Lake's resources pointing me in that direction.
Going to a school like Wilde Lake that encourages originality and community has taught me that all things filled with love come from love. AI is not filled with love, and it most certainly did not spawn from love. AI is, simply put, another way for businesses to squeeze more money out of consumers.
Artists like me spend hours brainstorming, planning, and
Words Have Power
producing art. I take time to experiment with ideas and concepts, doing everything by hand. The most that these self proclaimed "artists" have done is type in a text prompt and wait about three minutes for the "art" to be finished for them.
I know that we will never be able to get rid of AI. Unfortunately for artists, artificial intelligence will only grow from here. Technology is advancing in a way that predicts that AI will become a household tool.
As the next generation, I say that we learn to be mindful. When we ask for art pieces, we need to clarify where it is coming from. If you insist upon an AI-created piece, fine. You know what you asked for, and you will get what you want.
To all the AI "artists," be fully transparent with what you're doing. Do not create or sell the AI art claiming that you made the piece. You must explain to your customers that the art was generated by artificial intelligence and sell it under those terms.
When you claim that your art is original when it is not, you are misrepresenting the product and giving yourself false credit. In the real world, this is called fraud.
I ask not just artists but art lovers everywhere to support the living people who make art from the heart. AI has not earned its place in the art world, and it should never be accepted into it.
Advisory Can be Possible
BY ZOE MACDIARMID Editor-in-Chief
When Advisory was cut down to three days a week in November, I figured that would be the last of the changes to it.
However, on Monday, March 20th, it was officially announced to the school that Advisory would be held only once a week on Wednesdays, with a few exceptions due to testing or other scheduled school events.
Some students might be unaware of the history Advisory has at Wilde Lake. There has been an Advisory, in some form, since the opening of Wilde Lake in 1971. How many days a week we have an Advisory has fluctuated over the years.
Every time Advisory has been cut, the problem has been similar: Students were being unruly, spending their Advisory time in the hallways. The same thing is happening now. We're following a similar trajectory.
I can't help but resent the students who likely were the underlying cause of this decision. The students who refused to listen to the repeated requests to just go to their Advisory. Even when switching Advisories was made available, some students opted to turn it into a free for all.
This begs the question of whether this was preventable. Though I valued the extra time I received, I don't blame the administration for making this decision or the teachers who did not want the extra class. If staff has to spend an inordinate amount of time wrangling the wandering students, it's not worth it.
I know that we need a break during the day. In my first opinion about Advisory, "Advisory Falls Short of Vision," that I published on November 18th, 2022, I defended the hallway wanderers.
"There are always going to be those bad apples who would rather walk around the halls. But who can blame them? We sit all day hunched over computers and textbooks, cramming material into our brains. We go from periods one to three, a short lunch, and then to periods five to six. There is no real break during the school day."
Looking back, I think I was too lenient. Yes, we need a break, but there are certain expectations we have to meet as students.
In "Advisory Falls Short of Vision," I split the blame between students and teachers. I argued that one reason Advisory was failing was that some teachers understandably did not want the additional responsibility of an Advisory. Now, I'm looking at the students.
Some people seem to not grasp that Wilde Lake
BY ARIELLE LEVINE and LAUREN KELLY News Editor Staff Editor
They say, "Don't let history repeat itself."
The Holocaust ended 77 years ago. It started with words of hatred against the Jewish people. It did not start with the horror it is often remembered by: the mass genocide of the Jewish people. But just as antisemitism did not start with the Holocaust, it also did not end with the Holocaust.
Over the past months, celebrities such as Kanye "Ye" West and Kyrie Irving have proved to the Jewish community that there is still fear to be felt. On October 8th, just three days after Yom Kippur, one of the holiest days of the Jewish calendar year, Ye tweeted that he was going to go "death con 3 on Jewish people."
When he tweeted this, his Twitter platform allowed him to reach over 30 million followers. There are only 14.8 million Jewish people in the world. It is likely that there were more people who read that Tweet than there are Jews in the world.
After the tweet, brands that held deals with Ye like Adidas and GAP "terminated relationships" and ended deals. However, these public oustings did not stop him.
On Dec 1, 2022, Ye appeared on conspiracy theorist Alex Jones' show, InfoWars, and throughout the episode, made claims that when looked through a historical lens, are horrifying. "I don't really care that much about Hilter," Ye said. "I love him…He did not kill six million Jews. That is just factually incorrect… I see good things about him."
Ye is not the only well-known public figure who has recently shared antisemitic views to large platforms. Kyrie Irving, a Brooklyn Nets player, shared an antisemitic film to Twitter in November: 4.6M followers. On November 12, comedian Dave Chappelle delivered a 15-minute monologue with the majority of his jokes playing into the antisemitic trope that Jews run Hollywood: 4.8 million views, reaching an SNL season high.
Jewish student, Noah Davidson, a senior at Wilde Lake, has been completing research on antisemitism.
"Back in the 40s [in] early Germany, a lot of forms of hatred were turned into action," says Noah. "After [Ye] made his remarks in early November, a sign was hung on top of an LA highway saying 'Ye was right about the Jews', so the fact that his words have now turned into actions from other hateful groups is really frightening to say the least."
Teaching the Holocaust is more than just teaching an event in history. Teaching the Holocaust is teaching the warning signs of hateful people growing in power, the dangers of dehumanization and prejudice, and the way that this hatred still runs rampant today. In this day and age, the Holocaust has shaped into a cultural touchstone, something to be referenced in media, arguments, and jokes. Oftentimes with these references come misconceptions about the Holocaust such as the fact that "jews did not resist" or simply that the Holocaust did not exist, which is pushed forward through the #Holohoax Twitter hashtag.
These misconceptions are dangerous. They are drawing a veil over a horrific event in history while actively tarnishing the memory of the lost lives. They are minimizing the struggles that Jews have faced in rebuilding their lives and culture post-Holocaust. They are denying a critical event in the history of Judaism itself.
If we fail to widely learn about the Holocaust and the address antisemitic misconceptions that thrive to this day, we are not doing our job to prevent a future mass genocide against a minority group.
In response to recent hateful actions taken towards Jewish members of the Howard County Public School System, Howard County Superintendent Dr. Micheal Martirano made a statement primarily sent out to parents and teachers.
offers things that most other schools don't. But we can't take these resources for granted. When we run around in the hallways, smoke in the bathroom, and disrespect our teachers, we are showing that we don't understand the value of it.
Looking ahead to next year, the future of Advisory is unclear. What is clear, proven repeatedly and again this year, is that everyone has to buy in for it to succeed.
But what Advisory advocates know is the good it can bring the school. Advisory can create community. Advisory can give students a much-needed break in the day. Advisory can be possible.
If you want to voice your opinion on an article or a school issue, write a Letter to the Editor
As of 2019 data, Howard County is home to 18,700 Jewish individuals. 3,900 of these individuals are children, impressionable and scared by the antisemitism that frequents their social media feeds, often times from celebrities their generation looked up to.
The Jewish community is small, and as a global community, we have seen what happens when antisemitism is responded to with silence. Jews need allies in fighting antisemitism, which is often cited as the oldest form of hate.
If we as a global population continue to fail to respond to antisemitism, we are actively contributing to letting history repeat itself.
Please, use your voice, for it can be strong, especially when you are echoing a minority community. Even if you aren't Jewish, your words carry more power than you may believe.
Please, if you are a fan of a public figure who has committed an act of antisemitism, know that there comes the point where separating the person from their art or work is not an excuse. Know that when you stream their content or follow them on Twitter, you actively give them a platform to spread antisemitic views.
Please, educate yourself and others about the history of antisemitism. Do not let your knowledge of antisemitism stop at the Holocaust. Make sure you and others know that antisemitism still prevails. After all, ignorance is not bliss.
Editorials 9
Advisory can create community. Advisory can give students a muchneeded break. Advisory can be possible.
activities events programs
DOMORE CAwith
Columbia Association has MORE programs, MORE activities, and MORE fun than you know Subscribe to our DO MORE WITH CA newsletter (twice monthly) to discover ever ything that CA has to offer Featuring potter y classes, yoga wor kshops, Lakefront events, mini-golf par ties, community forums, aqua fitness programs and so much more.
To subscribe, scan here or visit ColumbiaAssociation.org/DoMore.