WINTER/ SPRING 2023 WHISTLER'S PREMIER PUBLICATION SINCE 1980 MAGAZINE DECADENT DESSERTS SPORT & ART WORLDS COLLIDE TIPS FROM THE PROS SHOPPING | HOMES | PEOPLE | GALLERIES | DINING | MAPS & MORE Rejuvenate your mind, body and soul in the mountains IMMERSE YOURSELF COMPLIMENTARY MAGAZINE Please take one
E X P E R IEN C E ALL T H A T W HI S T LER H A S T O O F FE R Something for everyone S T ON E SEDGE K I T C HE N T A K E T HE JOU R N E Y G IB BON S WH IS TL E R C O M Drink Dance BU F F A L O B IL L S F I R E R OC K L ONG H O R N S A L OO N Party Dine
BY MARIA STEVENS
BY ALISON TAYLOR
BY ALISON TAYLOR
BY MEGAN LALONDE
BY LISE BOULLARD
BY BRANDON BARRETT
BY CLARE OGILVIE
COVER PHOTO BY JUSTA JESKOVA
BRANDON BARRETT is features editor for Pique Newsmagazine. He is the 2018 recipient of the John Collison Investigative Journalism Award. In his free time, he is a theatre producer, performer and playwright.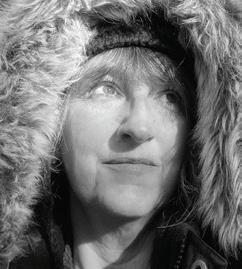 MARIA STEVENS is a young writer who was recently published in Chickenscratch, a Student Anthology for her poetry. An aspiring screenwriter and poet, Maria also enjoys spending time with her partner and their dog Harry.
contents DEPARTMENTS Editor's Greeting 8 Fresh Tracks: Things to do and see in and around Whistler 10 Events Calendar 14 Mountain Roots 16 Unwind: Lifestyle & Adventure Guide 35 Shopping Whistler 62 Services Directory 72 Scene in Whistler 73 Maps 74
CONTRIBUTORS
Soaking up health benefits in the cold pools at Scandinave Spa. CLARE OGILVIE: There aren't a lot of stories about Whistler that Clare hasn't written about in her 25 years of living here, raising a family, and working as
Newsmagazine. Go ahead ask her anything! LISE
ARTS SCENE: Sport and Art: Worlds Colliding 19
editor for Pique
BOULLARD is a journalist with bylines in Reader's Digest, The Vancouver Sun and The North Shore News. When not glued to her laptop, Lise can be found cooking, travelling and volunteering with service dogs.
COVER FEATURE: Immerse Yourself 22
THE GREAT OUTDOORS: Tips from the Pros 29
FACES OF WHISTLER: Growing Old with Whistler 37
WHISTLER HOMES: Slope Style 42
FINE DINING: How Sweet it Is 48
Dive into Wild Blue, by
54 Fortified or Fizz, by
55 CASUAL DINING: The Inside Scoop 57
Brandon Barrett
Samantha Rahn
MEGAN
graduated
STOCKSTUDIOX/GETTY IMAGES
LALONDE
with a degree from Carleton University's School of Journalism. She is a reporter and social media editor for Pique Newsmagazine.
Your adventure awaits Ziptrek Ecotours hosts a selection of breathtaking zipline tours. Our wilderness adventure area is located directly above Whistler Village, in the spectacular temperate rainforest valley between Whistler and Blackcomb Mountains. Discover eco-exhilaration® ziptrek.com 604.935.0001 »open-air »open-air
WINTER/SPRING 2023
GENERAL MANAGER, ADVERTISING/OPERATIONS
Skiing Flute with friends, enjoying a picnic at the top while really appreciating the surrounding view, followed by après.
Catherine Power-Chartrand
EDITOR
Alison Taylor
What is your favourite way to elevate your health and wellness in Whistler? Scandinave Spa all the way! Go alone you can move at your own pace and fully chill out.
ART DIRECTOR Shelley Ackerman
CONTRIBUTING WRITERS
Brandon Barrett
Lise Boullard
Megan Lalonde Clare Ogilvie Maria Stevens
PHOTOGRAPHERS & ILLUSTRATORS
David Buzzard Mike Crane Justa Jeskova
A workout at Altitude Fitness, followed by a smoothie from Fix Cafe at Nita Lake Lodge, before grabbing my snowboard and heading up the mountain.
Getty Images Tourism Whistler
PRESIDENT, WHISTLER PUBLISHING LP
Sarah Strother
ACCOUNTING
Heidi Rode
CIRCULATION/DISTRIBUTION
Denise Conway
I head out to walk the Valley Trail whenever I need a reset, which is pretty much every day. From the bird song to the cheeky chipmunks to the lumbering local bears the locals trails put me back in touch with nature.
Sipping a negroni by the fire after a vigorous skate ski on the Lost Lake Trails.
Whistler Magazine (ISSN-0835-5460) is published twice annually by WHISTLER PUBLISHING LIMITED PARTNERSHIP, a division of GLACIER MEDIA GROUP 202-1390 Alpha Lake Road, Whistler, B.C., Canada, V8E 0H9 Phone 604-938-0202 | Fax 604-938-0201
Email: cpower@whistlermagazine.com
Also publishers of Pique Newsmagazine, weekly on Thursdays, piquenewsmagazine.com
PRINTED IN CANADA
One-year (2 issues) subscription: $20 within Canada, $30 to the USA, $45 overseas. Call to charge to VISA, MasterCard or American Express. Copyright © 2022, by Glacier Media Group.
All rights reserved. No part of this magazine may be reproduced in any form without prior written permission of the publisher.
6 WHISTLER MAGAZINE WINTER/SPRING 2023
4242 VILLAGE STROLL 604 932 4442 ILCAMINETTO.C A for reservations visi t ILCAMINETTO.C A WHISTLER'S ICONIC ITALIAN RESTAURANT