CELEBRATING 30 YEARS - 2022 SOURCEBOOK
Design Firm | Showroom | Online Shoppe 800 W Broadway | 307.733.0274 | elevatedliving.design
BO JOEKEONIJEWELRYFINE ART 3 WELCOME 5 SCHEDULE 7 2022 AWARDS & JURY 9 ACCENTS 11 FASHION 14 JEWELRY 16 MIXED MEDIA 18 WOODWORKING 21 WESTERN DESIGN ART AUCTION 24 DESIGNER SHOW HOUSE 31 INDEX ON THE COVER, CLOCKWISE FROM RIGHT: WAYNE DELYEA FURNITURE MAKER, JW BENNETT (PHOTO BY AUDREY HALL), GINA PANNORFI, JILL DUZAN JEWELRY, HOW KOLA FURNITURE, HARKER DESIGN ELYSE ALLEN TEXTILES sponsored by..... WesternDesignConference.com 1 TABLE OF CONTENTS
WesternDesignConference.com 3 WOMEN
10,
ye ar!
Snow King Center • Jackson Hole, Wyoming • September 8 11 one-of-a-kind objects into a home environment with rooms curated by professional designers. The WDC Designer Show House is sponsored by Integral Thread and Outer.
HOUSE
WesternDesignConference.com visit our website for more on
Join us next year, save the date: September
Artists, Fashion Designers, and Interior Designers unveil something for everyone...
Welcome to a show honoring tradition and encouraging creativity –a show as spectacularly breathtaking as the surrounding Tetons. Let yourself be inspired and your imagination run DESIGNERwild.SHOW EXTERIOR 2019 BY B&B BUILDERS AND OLD HICKORY FURNITURE
TH
ALLISON MERRITT EX ECUTIVE DIRECTOR
The Western Design Conference Exhibit + Sale showcases the finest Western design and American craft ranging from cowboy to contemporary. The 30th annual WDC Exhibit + Sale is an opportunity to meet the talented makers and shop directly. With over 100 nationally recognized artists presenting contemporary and traditional handcrafted, original creations of furniture, fashion, jewelry, and home and lifestyle accessories, there are beautiful handmade objects at every price point. The WDC Designer Show House is centrally located in the expansive 28,000 square foot Exhibit + Sale space. Here the juried artists' creations and custom interior design come alive with the integration of 30 JACKSON HOLE, WYOMING our featured artists. 7 2023 FOLK PHOTO BY AUDREY HALL are thrilled to be celebrating our 30th A nniversary t his
And we are thankful to continue the wonderful tradition of recognizing and supporting the outstanding craftsmanship of our American artists.
Few events embody the singular spirit of the West more than the Preview Party + Fashion Show. This celebratory opening gala is for locals and visitors alike. The highlight of the evening is a live Runway Fashion Show with innovative stunning couture and dynamic music, sponsored by Belle Cose.
We
EXHIBIT + SALE FRIDAY, SATURDAY, SUNDAY Exhibit + Sale • Designer Show House The preeminent exhibition of the finest Western design in the world with a twist - from cowboy to contemporary. Meet the maker and shop direct at every price point. Over 100 national artists present contemporary and traditional handcrafted, original creations of furniture, fashion, jewelry, and accessories for the home during the 30th annual Exhibit + Sale. Don't miss the Designer Show House, custom interior design in a home environment and Artitude Adjustment, a daily sponsored happy hour. Tickets: $30/day *all tickets include 2PM daily happy hour FRIDAY, SEPTEMBER 9 | 10AM – 5PM Design Excellence Awards Artitude Adjustment Happy Hour – 2PM View award winning craft as we present with our sponsors over $17,000 in awards for excellence in design. Enjoy handmade artisan chocolates by Meeteetse Chocolatier and signature cocktails SATURDAY, SEPTEMBER 10 | 10AM – 5PM Artitude Adjustment Happy Hour — 2PM SUNDAY, SEPTEMBER 11 | 10AM – 5PM Artitude Adjustment Happy Hour — 2PM T ICKETS In advance: WesternDesignConference.com At the door: Snow King Center, 100 E. Snow King Avenue, Jackson, Wyoming 30 TH JACKSON HOLE, WYOMING THURSDAY, SEPTEMBER 8 | 6PM 10PM PREVIEW PARTY + FASHION SHOW Fashion Show • Live Auction • Designer Show House Early entry into the Exhibit + Sale allows a first glance at one-of-a-kind creations in furniture, fashion, jewelry, home and lifestyle accessories. Meet and shop with this year's artisans and exhibitors, walk through the Designer Show House, experience a Runway Fashion Show and Live Auction. Enjoy local culinary creations and signature cocktails during a festive night of shopping and entertainment. Tickets: $150 VIP reserved seats w/ 5:30 pm entry | $75 General Admission w/ 6:00 pm entry *all tickets include open bars + catering by Cooking with Music Judith Flood Wilbur Chase Reynolds Ewald LOUNGE HAPPENINGS JLF Architects WesternDesignConference.com 5 BOOK SIGNINGS Friday 10-3pm SCHEDULE OF EVENTS SNOW KING CENTER | 100 E. Snow King Ave. 30th Anniversary WDC Lounge, a space to collaborate, network and relax. Interior design by Harker Design Hosted by
HANDMADE NATURAL WOOD FURNITURE KELLY MAXWELL DESIGNS Nashville, kellymaxwelldesigns.com615-878-6216Tennessee
HONORABLE MENTION - MIXED MEDIA $200 sponsored by: Tito's Handmade Vodka
BEST ARTIST - WOODWORKING $1,000 sponsored by: JLF Architects HONORABLE MENTION - WOODWORKING $200 sponsored by: Meeteetse Chocolatier SONNY TUTTLE WESTERN SPIRIT $1,000 sponsored by: Dr. James Ciaravella
HONORABLE MENTION - METAL $200 sponsored by: Western Design Art Auction
BEST COLLECTION - FASHION SHOW $1,000 sponsored by: Belle Cose
Chase Reynolds Ewald has been writing about Western design, food, art, travel, craftsmanship, and rustic style for more than 25 years. She is a graduate of Yale University and the Graduate School of Journalism at U.C. Berkeley and the author of over 10 books. Signed copies of her upcoming book Rancho Sisquoc; Enduring Legacy on an Historic Land Grant Ranch are available during the WDC.
sponsored by: Wyoming Whiskey BEST ARTIST - FASHION $1,000 sponsored by: Skin Works by Jana
HONORABLE MENTION - LEATHER $200 sponsored by: Western Design Art Auction
BEST ARTIST - ACCENTS $1,000
CHASE REYNOLDS EWALD
HONORABLE MENTION - ACCENTS $200
HONORABLE MENTION - JEWELRY $200 sponsored by: Jackson Hole Still Works BEST ARTIST - LEATHER $1,000 sponsored by: Western Design Art Auction
ELLIE THOMPSON Ellie Thompson is a Chicago based jeweler, designer and artist who has won numerous awards for her innovative use of precious colored gemstones and metals. Her custom jewelry line is both classic and contemporary, combining an adventurous Western spirit with a timeless approach to design and exceptional craftsmanship.
BEST ARTIST - METAL $1,000 sponsored by: Western Design Art Auction
sponsored by: Vine Connections & The Ramkowsky Family EXHIBITORS CHOICE 2022 PEDESTAL $1,500 sponsored by: Tara Hazlewood Foundation
sponsored by: Deanna Briggs Jackson Hole Sotheby's International Realty
BEST OF SHOW $5,000 sponsored by: Maggie & Dick Scarlett
JOHN GALLIS John Gallis, founder of Norseman Designs West, a constant award-winning woodworker from Cody, Wyoming, has now retired with over 50 years' experience. Gallis began his career as Bloomingdale's lead high-end cabinet maker before moving to Cody, and opening Norseman West Designs. He is known for his impeccable craftsmanship, his skill and creativity in his custom rustic designs as well as his Molesworth style furniture. His son Ian is continuing his father's legacy for Norseman Designs West.
Design Excellenc e over $17,000 presented Friday, 9/9 @ 2PM
Awards
HONORABLE MENTION - FASHION $200 sponsored by: Grand Teton Distillery BEST ARTIST - JEWELRY $1,000
TERRY WINCHELL Terry Winchell is a longstanding resident of Jackson Hole. He has owned and operated Fighting Bear Antiques for nearly 40 years, successfully growing the business from a small antiques store to a nationally recognized gallery. He is the authority on rustic furniture and the author of Thomas Molesworth, "The Pioneer of Western Design."
WesternDesignConference.com 7 30 TH JACKSON HOLE, WYOMING 2022 AWARDS & JURY
ELIZABETH CLAIRE FLOOD Elizabeth Clair Flood is a writer, author and photographer focusing on Western culture and the outdoor lifestyle in Jackson Hole, WY. Flood is the author of five books including Cowboy High Style: Thomas Molesworth to the New West.
HONORABLE MENTION - FASHION SHOW $200
BEST ARTIST - MIXED MEDIA $1,000 sponsored by: First Western Trust
sponsored by: Fighting Bear Antiques
ALEX POPE Moose, Wyoming (307) artshopjh.comalex@artshopjh.com733-3944 ArtShop WAYNE WISE Dublin, Texas (254) bullskullz.comwayne@bullskullz.com307-9277 Bull Skullz BLAISE CAYOL Santa Fe, New Mexico (505) celuiquitresse.comblaise.cayol@gmail.com660-3131 Celui qui Tresse AL CHANDLER GOODSTRIKE Hayes, Montana (406) goodstrike@hotmail.com749-1091 Goodstrike Buffalo Art ELIZABETH DRYDEN Dallas, Texas (972) elizabethdryden.comelizabeth@elizabethdryden.com966-9288 Elizabeth Dryden Fine Art Bridger Home Leather Arts JENNY KELLER Bozeman, Montana (317) bridgerhome.comjenny@bridgerhome.com694-1091Accents MOUNTAIN GIRL STUDIOS WesternDesignConference.com 9
CAROL SIGNORE Green Valley, Arizona (215) gourdfineart.comcarolasig@gmail.com870-0693 Gourd Fine Art SUPAYA GRAY WOLFE Sedona, Arizona (928) supayagraywolfe2@gmail.com587-1990 Many Tears JACE ROMICK S teamboat Springs, Colorado (970) jaceromickgallery.comjaceromick@gmail.com846-8377 Jace GalleryRomick JOHN BLAIR Greybull, Wyoming (307) jlblairsaddlery.comjlblairsaddlery@gmail.com358-3232 J. L. Blair Saddlery CHARLOTTE DU TOIT Montreal, Canada Austin, Texas (514) outpostoriginal.cominfo@outpostoriginal.com697-9000 Outpost Original JENY STOESZ Laramie, Wyoming (307) jenystoeszweavings.comjstoesz@wyoming.com745-3816 Jeny WeavingsStoesz KIMBIE NOBLE Bozeman, Montana (832) kimbieart.comkimbie@kimbieart.com443-8282 Kimbie Art ASHLEY DELONAS Pocatello, Idaho (208) mountaingirlstudios.commountaingirlstudios208@gmail.com244-1035 Mountain Girl Studios 10 WesternDesignConference.com
WesternDesignConference.com 11 SCOTT CORDNER Sisters, Oregon (760) scottcordner.comme@scottcordner.com207-2688 Scott PhotographyCordner MICHELLE WRUBEL Houston, Texas (917) annairion.commichelle@annairion.com826-3848 Anna Irion CANDY WOOLLEY Pembroke Pines, Florida (305) candywoolley.cominfo@candywoolley.com319-1230 Candy AccessoriesWoolley ELYSE ALLEN Santa Fe, New Mexico (917) elyseallentextiles.comelyse@elyseallentextiles.com626-5617 Elyse Allen Textiles ANDREAS TSAGAS Denver, Colorado (720) atsagasfursandleather.comatsagas@gmail.com296-6614 A. Tsagas Designs Fashion THE FORT-TX JOE ADAMS AND ERICH ELFELDT Manvel, Texas (713) timberfire.comstudio@timberfire.com299-5655 TimberFire Studio
EWA KIELCZEWSKA Twisp, Washington (509) ewkasuede.comartewkak@gmail.com997-7900 Ewka Suede JOYCE RIGGEN Tetonia, Idaho (858) jackethabit.comjmriggen@gmail.com531-1823 Jacket Habit W. ZEB SMITH Jackson, Wyoming (307) gritgeneral.comgeneral@gritgeneral.com200-6373 Grit General SARAH KJORSTAD Jackson, Wyoming Park City, Utah (307) jwbennett.comsarah@jwbennett.com699-1496 JW Bennett MICHELLE RIDLEY Bellvue, Colorado (760) livinganddyeing.commichelle@livinganddyeing.com443-7673 Living and Dyeing BARBARA GRIMES Santa Fe, New Mexico (505) gossamerwingssantafe.combarbaragrimes@gossamerwingssantafe.com424-7771 Gossamer Wings Santa Fe GINA PANNORFI Chicago, Illinois (773) ginapannorfi.cominfo@ginapannorfi.com573-0970 Gina Pannorfi KATHLEEN COTTER New Orleans, Louisiana (504) 1hidebags.com1hidebags@gmail.com451-4386 Hide 12 WesternDesignConference.com
DANA SOUTHER Jackson, Wyoming (307) terra-jackson-hole.myshopify.comterrajh2003@gmail.com734-0067 Terra SCOTT WAYNE El Paso, Texas (310) falconhead.comtresoutlaws@yahoo.com709-8236 Originals by Scott Wayne Tres Outlaws Boot Co. TAMARA LARSON Thompsonville, Illinois (618) tamaralynn1961@gmail.com923-1460 London 1961 JENNIFER MCKNIGHT Fort Worth, Texas (817) thefort-tx.comjmckmcmanus@gmail.com845-1330 The Fort-TX CELESTE SOTOLA Basin, Montana (406) montanadreamwear.comsotola7@aol.com225-3909 DreamwearMontana JOLIE HELMS College Station, Texas (281) sapanadreams.cominfo@sapanadreams.com690-1370 Sapana TERRA WesternDesignConference.com 13 MICHELLE FOWLER Helena, Montana (928) shotgunchelle.comstellarfi7@gmail.com707-1499 Shot Gun Chelle
JOE ORELAND Sheridan, Wyoming (310) bojoejewelry.combojoejewelry@gmail.com801-7165 Bo Joe Jewelry THERESA WANGIA Saint Louis, Missouri (314) beltshazzarjewels.comtheresa@beltshazzarjewels.com761-1812 JewelsBeltshazzar DENISE HAGOOD Richland, Washington (208) hagooddenise@gmail.com521-4392 Denise Hagood Studio ALINA ROMINGER Santa Fe, New Mexico (505) alinajewels.comalapearls@msn.com660-0037 Alina HEATHER BENJAMIN Santa Monica, California (310) heatherbenjaminjewelry.comheatherbenjamin@me.com867-3909 Heather Benjamin Jewelry KRISTAN PRIGMORE Riverdale, Utah (801) instagram.com/autumnavenuejewelrykristanprigmore@yahoo.com599-9418 Autumn Avenue Jewelry JACKSON HOLE BEADWORK 14 WesternDesignConference.com
LILLIE LAUTERBACH Jackson, Wyoming (307) jhbeadwork.comjhbeadwork@gmail.com690-3627 Jackson BeadworkHole MIRTA TUMMINO Houston, Texas (713) mirtatummino.cominfo@mirtatummino.com965-3744 Mirta StudioTummino JILL WILLEY McCordsville, Indiana (317) jillduzanjewelry.comjillw@jillduzan.com413-8614 Jill JewelryDuzan HUGO RODRIGUEZ Scottsdale , Arizona (480) platella.comsilver@platella.com862-4880 Platella Jewelers OLIVE PARKER Stevensville, Montana (406) montanaleatherdesigns.comolive@montanaleatherdesigns.com381-0284 Montana Leather Designs SYLVIA MEDINA Idaho Falls, Idaho (208) sylviamjewelry.comsylvia@sylviamjewelry.com520-8353 Sylvia JewelryMedina MELINDA DENNIS Cascade, Colorado (913) tresmelindas.comtresmelindas@aol.com530-9261 TresMelindas JOHN GLOSSA Dillon, Montana (541) johnglossa.comjohnglossa@gmail.com367-8857 John JewelryGlossa WesternDesignConference.com 15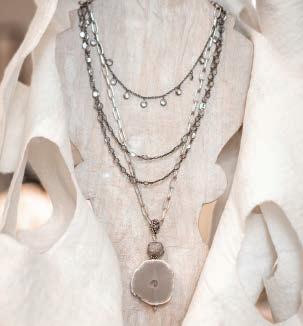 BRIAN CRANDALL Loma, Colorado (970) briancrandallart.combcfarrier@earthlink.net260-6411 Brian Art UniqueCrandallMetal JAMES CIARAVELLA Shreveport, Louisiana (318) westernmirrors.comjim@westernmirrors.com469-6298 Dr. C's Designs ANDREW PARENT Worden, Montana (406) andrew-parent.comyellowstoneandy@gmail.com860-0178 Andrew PeacemakerParentGrills Mixed Media NATURE'S PALETTE LUXURY ANTLER ART Cody, Wyoming (307) bywesternhands.orgadmin@bywesternhands.org586-1755 By Western Hands STEPHANIE ZIER Parkman, Wyoming (307) zierjewelry.comzierjewelry@gmail.com751-4285 Zier Jewelry MONTANA LEATHER DESIGNS 16 WesternDesignConference.com
TIM LOZIER Cody, Wyoming (307) howkolafurniture.comhowkola16@yahoo.com250-0322 How Kola ANTHONY MARTIN Fairview, Tennessee (615) redtailforgeworks.wixsite.com/forge864-4013 Red Tail Forge Works JERRY VAN VLEET Polson, Montana (406) legendaryheirloom.comlegendaryheirloom@gmail.com261-0758 HeirloomLegendary DOUG NORDBERG Cody, Wyoming (307) nordberggallery.comdoug@northmountaingallery.com272-5319 Nordberg Gallery TYREL JOHNSON Billings, Montana (406) tyreljohnsonfineart.comtjandco@live.com591-1108 Tyrel Johnson Fine Art JOSEPH LAKE Rochester, Minnesota (307) lakeantlerworks.comlakeantlers@gmail.com359-8804 Lake AntlerWorks JOHN GUTE Wilson, Wyoming (206) vankind.cojohn@vankind.co465-2074 Vankind JEFF SHORT Pocatello, Idaho (307) jeffpoletopcowboy@gmail.com267-8118 Nature's Palette Luxury Antler Art WesternDesignConference.com 17
STEVE HENNEFORD Kalispell, Montana (406) hennefordfinefurniture.comhennefordfinefurniture@gmail.com253-3906 Henneford Fine Furniture TANNER RAEKES AND GERRIT DEVOS P rosser, Washington (509) devosbuilders.comtannerraekes@yahoo.com619-6702 Devos Builders KELLY MAXWELL Nashville, Tennessee (706) kellymaxwelldesigns.comkellymaxwelldesigns@gmail.com573-8854 Kelly DesignsMaxwell Woodworking HENNEFORD FINE FURNITURE ANDY SANCHEZ Algodones, New Mexico (505) andysanchez.comandyandaarons@gmail.com710-7426 Andy FurnitureSanchez JOHNNY GERAGHTY Southampton, Massachusetts (347) grainofthought.comgrainofjohnny@yahoo.com482-5222 Grain of WoodworksThought 18 WesternDesignConference.com THOMAS HARVEY Conifer, Colorado (303) earthwood.designtom@earthwood.design522-0238 DesignEarthwood
KEONI Colorado Springs, Colorado (719) keoniwoodart.comkeoniwoodart@gmail.com491-5503 Keoni Wood Art ROY FISK Jackson, Wyoming (307) 730-4440 Lone Wolf Furnishings Western WAYNE DELYEA Granbury, Texas (817) waynedelyea.comwaynedelyea@gmail.com559-1346 Wayne FurnitureDelyeaMaker RON BENOIT Preston, Idaho (208) woodensound.comron@woodensound.com339-1542 Woodensound Fine Woodworking LON HOLMGREN Marine on the St. Croix, Minnesota (612) stonebarnstudio.uslon@stonebarnstudio.us598-8294 Stone StudioBarn WALTER WOGEE Skyforest, California (909) 336-1065 rockingchairsbywogee.comwogee1@verizon.net  WoodArt WesternDesignConference.com 19 EARTHWOOD DESIGN
WesternDesignConference.com 21
ESTERN DESIGN ART AUCTION
The excitement of the Western Design Conference Preview Party begins with the live auction where all proceeds equally benefit the contributing artists and the award winners. Together with our art auction and sponsors the Western Design Exhibit + Sale presents over $17,000 in awards for design excellence. Juried artisans from across the country showcase new works to a panel of five distinguished judges who select the Thisrecipients.eventcelebrates functional museum-quality creations, the finest design with a twist – from cowboy to contemporary. In this high-tech mass-produced world, we choose to celebrate the one-of-kind, handmade creations that keep the spirit of the West alive. Contact us at WesternDesignConference.com to become a sponsor or contributing artist and join us!
CLOCKWISE FROM RIGHT: BULL SKULLZ, CANDY WOOLLEY ACCESSORIES, MIRTA TUMMINO STUDIO, JOHN GLOSSA JEWELRY, AMERICAN DAKOTA, SCOTT WAYNE ORIGINALS, HENNEFORD FINE FURNITURE, ELYSE ALLEN TEXTILES
SPONSORED BY INTEGRAL THREAD AND OUTER Outer exists to inspire conscious connection to our planet and each other. We founded Outer to bring life outside, creating the most durable, comfortable, and sustainable furniture so we can feel inspired to disconnect from our screens and instead connect to nature and the people around us. OUTER Santa Monica, California saraann@liveouter.com818.452.2149liveouter.com Integral Thread's showroom is filled with artistry and beautiful hand-knotted rugs in an array of styles and colors from all over the world. We pride ourselves in an unrivaled custom experience whether you are working with us virtually or here at the showroom. INTEGRAL THREAD Denver, integralthread.cominfo@integralthreadstudio.com303.282.4444Colorado 24 WesternDesignConference.com INTEGRAL THREAD HARKER DESIGN Front HARKERPorchDESIGN GALLERYDIEHL RENDEZVOUSINTERIORSJUNIPERDESIGNVANKIND OUTER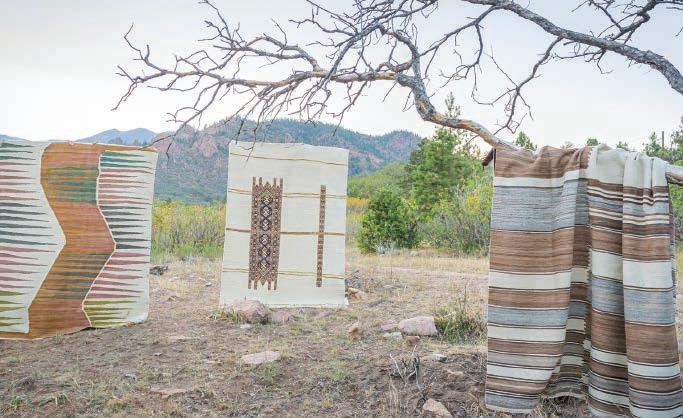 DIEHL GALLERY Mariam info@diehlgallery.com307.733.0905Jackson,DiehlWyoming
Patricia rendezvousdesign.comrendezvousdesignco@gmail.com307.284.9990Jackson,Kennedy Wyoming
VANKIND John vankind.cojohn@vankind.co206.465.2074 Wilson,GuteWyoming
Harker Design is a nationally renowned, full-service interior design firm with offices in Jackson, Salt Lake City and Idaho Falls. Harker values quality and focuses on building and honoring strong personal relationships. With extensive custom furniture lines and three showrooms they offer complete project management and design for residential, commercial, architectural and remodel projects. Harker's attention to detail and the use of antiques as collected accessories are combined with many textured elements reminiscent of the western outdoor environment. Clean lines highlighted by western influences, many textured surfaces, a variety of naturally finished woods, all combine to create comfortable, sophisticated, and inspiring spaces. Juniper Interiors believes our homes should be beautiful, practical, and thoughtful, reflecting our lives and our travels. Emphasizing quality and craftsmanship, their approach is intentional and organized. Juniper Interiors appreciates that clients' needs are unique and individual. Therefore, each project starts from scratch. Working diligently to consider every detail, they establish an overall aesthetic and design direction. The circulation and layout of each space, the interior architectural elements, finishes, fixtures, furniture, accessories, and art are all considered before the project commences. This ensures the overall design is cohesive. Erika and Jacie are involved in every phase, from collaboration with the architect and builder through construction to the very last piece of artwork. Rendezvous Design is a luxury Wellness Interior Design studio based in Jackson Hole.  Interiors for Wellness™ is the studio's trademarked methodology that integrates wellness in the mountain modern home.  Kennedy reveals her new style 'Modern-Vintage-Western' through collaborations of original artistry, organic and sustainable materials, and cultural heritage commemoration in composing a truly original, genuinely relevant, and timeless western manifesto. Her motto for WDC 2022 is COMMEMORATE. COLLABORATE. CELEBRATE. Rendezvous Design is in the press in Mountain Living, Western Home Journal, and Homestead Magazine and was featured in the 2021 Jackson Hole Showcase of Homes. Vankind creates the highest quality custom cabinetry that offers a better experience through flawless designs. Design and fabrication of highly functional beauty for the modern age, Vankind specializes in componentry for vehicular and residential applications. Just a few projects are "Hero" steel ski storage rack on wheels; "Helix Diamond" wine room with laser cut, formed, and powder coated aluminum and steel for 1200 bottles of wine; a modern firewood storage rack with rustic timbers and shaped and powder coated aluminum shelves. The Vankind philosophy is to create "components that free the heart and mind, encouraging freedom and bliss." Vankind's high-end, sophisticated cabinetry will inspire all your life adventures for years to come.
HARKER DESIGN Pat Harker, Scott Adams and Andrea Wood  Jackson, harkerdesign.com andrea.wood@harkerdesign.comscott@harkerdesign.compat@harkerdesign.com307.733.5960Wyoming
JUNIPER INTERIORS  Jacie Coleman and Erika Hachey Idaho Falls, juniperinteriors.cojacie@juniperinteriors.co208.251.6453Idaho RENDEZVOUS DESIGN
WesternDesignConference.com 25
Diehl Gallery offers fine art and professional art collecting services for new and established collectors, both private and corporate.  The Gallery specializes in the acquisition and sale of contemporary art, with a focus on painting and sculpture.  The Gallery has established relationships with architects, art consultants and interior designers, and regularly works on project-specific installations.  Projects range from high-end residential homes to corporate offices, development properties and hotels.  Now in its 21st year, the Gallery has earned a reputation for honesty, discretion, integrity and resourcefulness.
406-261-0758 | legendaryheirloom.com | legendaryheirloom@gmail.com Specializing in original handcrafted furniture LEGENDARY HEIRLOOM OFFICE SPACES + BARS + TABLES + FIREARM CONTAINMENT + ANTIQUE REPRODUCTIONS
time honored... (307) 739-3008 | studio@jjstiremandesign.com | #TheCurrentTradition | @JacqueStiremanDesign
2022 INDEX ZIER RENDEZVOUSJEWLERYDESIGN WesternDesignConference.com 31 Andy Sanchez EarthwoodDevosFurnitureBuildersDesign Grain of Thought Woodworks Henneford Fine Furniture Kelly Maxwell Designs Keoni Wood Art Lone Wolf Western Furnishings Stone Barn Studio Wayne Delyea FurnitureWoodArtMaker Woodensound Fine Woodworking 191919191919181818181818 Woodworking Integral ThreadOuter Diehl Gallery Harker Design Juniper RendezvousInteriorsDesignVankind 25252525252424 Designer Show House Artshop Bridger Home Leather Arts Bull Skullz Celui qui Tresse Elizabeth Dryden Fine Art Goodstrike Buffalo Art Gourd Fine Art J.L. Blair Saddlery Jace Romick Gallery Jeny StoeszManyKimbieWeavingsArtTears Mountain Girl Studios Outpost Original Scott CordnerTimberFirePhotographyStudio 11111010101010101010999999 Accents Andrew Parent Peacemaker Grills Brian Crandall Unique Metal Art By Western Hands Dr. C'sHowDesignsKola Lake LegendaryAntlerWorksHeirloom Nature's Palette Luxury Antler Art Nordberg Gallery Red Tail Forge Works Tyrel Johnson Fine VankindArt 171717171717171716161616 Mixed Media A. TsagasAnnaDesignsIrion Candy Woolley Accessories Elyse Allen GinaEwkaTextilesSuedePannorfi Gossamer Wings Santa Fe Grit OriginalsMontanaLivingJacketGeneralHideHabitJWBennettandDyeingLondon1961DreamwearbyScottWayne-TresOutlawsBootCo.SapanaShotGunChelleTerraTheFort-TX 13131313131313121212121212121211111111 Art to Wear - Fashion Alina Autumn HeatherDeniseBeltshazzarAvenueJewelsBoJoeJewelryHagoodStudioBenjaminJewelryJacksonHoleBeadworkJillDuzanJewelryJohnGLossaJewleryMirtaTumminoStudioMontanaLeatherDesignsPlatellaJewelersSylviaMedinaJewelryTresMelindasZierJewelry 161515151515151515141414141414 Art to Wear - Jewelry GINA PANNORFI WAYNE DELYEA FURNITURE MAKER
MUSIC DIRECTOR SIR DONALD RUNNICLES
e Grand Teton Music Festival's mission to provide exhilarating musical experiences does not stop when the summer ends. As part of our commitment to share our passion for music, GTMF provides a variety of events and community programs throughout the year. We greatly appreciate the support of our community, donors, board, musicians and sta , all which help to ensure that great music in Jackson continues.
1
JACKSON HOLE, WYOMING
Celebrating 30 Years annual Western Design Conference Exhibit + Sale is a four day, multimillion-dollar event brings together craftspeople, collectors, interior and the public with a love West. Western Design Conference was founded 30 years ago in Cody, Wyoming, to promote contemporary artists working in historical American craft The Western Design Conference moved to Jackson Hole in 2007 when it was purchased by Powder Mountain Press, LLC and the Jackson Hole and in 2014 was sold to Kicking Horse Event Production. 15 years Executive Director Allison Merritt has continued the strong commitment to Western arts in Wyoming while expanding the reach of the show. WDC
To view
juried exhibitors all year long find us online. Media and Sponsors: Word PR + Marketing WesternDesignConference.comamy@wordpr.com SAVE the DATE S EP T EMB ER 7 - 10, 2023 Follow us: @WesternDesignConference About the Western Design Conference
methods.
designers, architects, fashion designers
of the
For
News & Guide
that
The
The
JACKSONCOORDINATOR@JACKSONHOLEARTAUCTION.COM866-549-9278|JACKSONHOLEARTAUCTION.COMHOLE|SCOTTSDALE|SANTAFE|NEWYORK SAVE THE DATE! LIVE AUCTION SEPTEMBER 16 – 17, 2022 HOWARD TERPNING (1927– ), AWAITING THE SIGNAL (DETAIL) OIL ON CANVAS, 42 X 28 IN., ESTIMATE: $500,000 – $700,000