2021 WEST END COMMUNITY FOUNDATION, INC. Impact Report Our community. Our center.
A REFLECTION ON LEADERSHIP
When I became the executive director of the West End Community Foundation, Inc. (WECF) in August 2020, I was so excited to dive in and do the work! I made it a point to learn from the past, observe the culture, and listen to the people. I learned a lot! And all during a pandemic!
2021 has been a year of growth and perseverance for myself and our organization. I have stretched myself more than I thought I could stretch. I am becoming more grounded in my leadership style and becoming a staunch self advocate. Our organization has strengthened our current relationships with community partners all the while gaining more wonderful community partners. We have also created some new initiatives that were designed to empower the citizens of the West End.
My heart is full of gratitude for our hard working staff, board of directors, and community partners. I look forward to continuing the work of the organization and actualizing our vision of being a self sustaining vibrant hub of the community that is culturally diverse, inclusive, and responsive to the expressed needs of the community.
With gratitude, Dosali Reed-Bandele Executive Director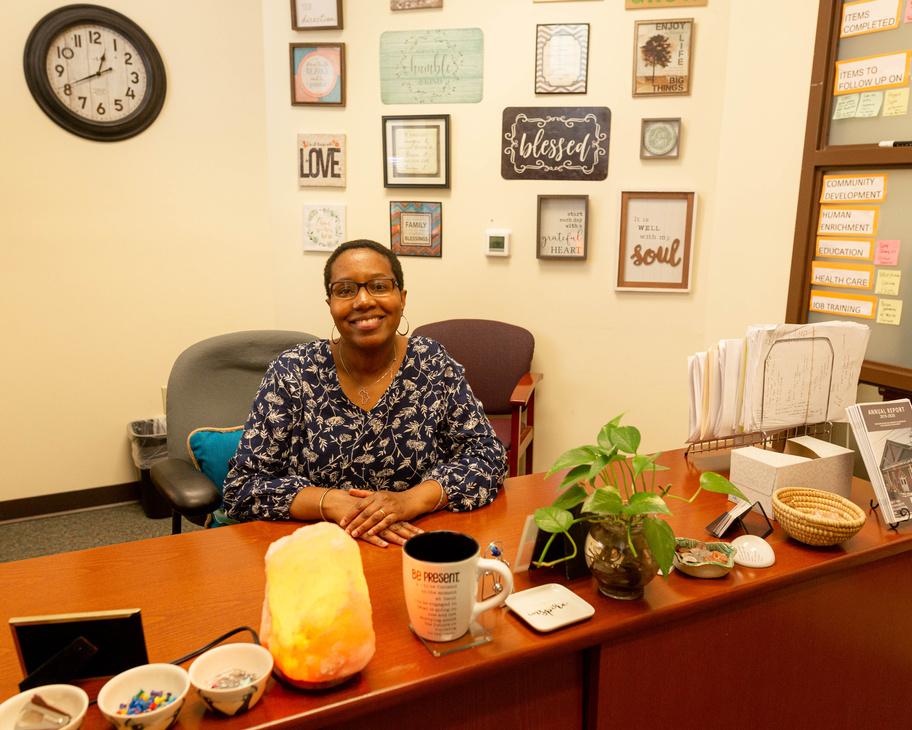 If you want to go fast, go alone. If you want to go far, go together. ~African proverb WE ARE GRATEFUL FOR ANOTHER YEAR OF GROWTH. Our hearts are full of gratitude.
SANKOFA: REMEMBERING THE PAST TO MAKE POSITIVE PROGRESS IN THE FUTURE
Originally built as the Lyon Park School when Durham's schools were racially segregated, it opened for the 1922 1923 school year to serve children of the African American and predominantly blue collar families living in Durham's West End. Local residents donated their own money and helped raise other funds to construct the school on the two acre site at the intersection of Kent and Halley Streets.
For more than 60 years, the Lyon Park School served its community Through world wars, political turmoil, civil unrest and times of prosperity, it was an educational, recreational and social hub. Then, as so often happens, the school was closed and sat empty for many years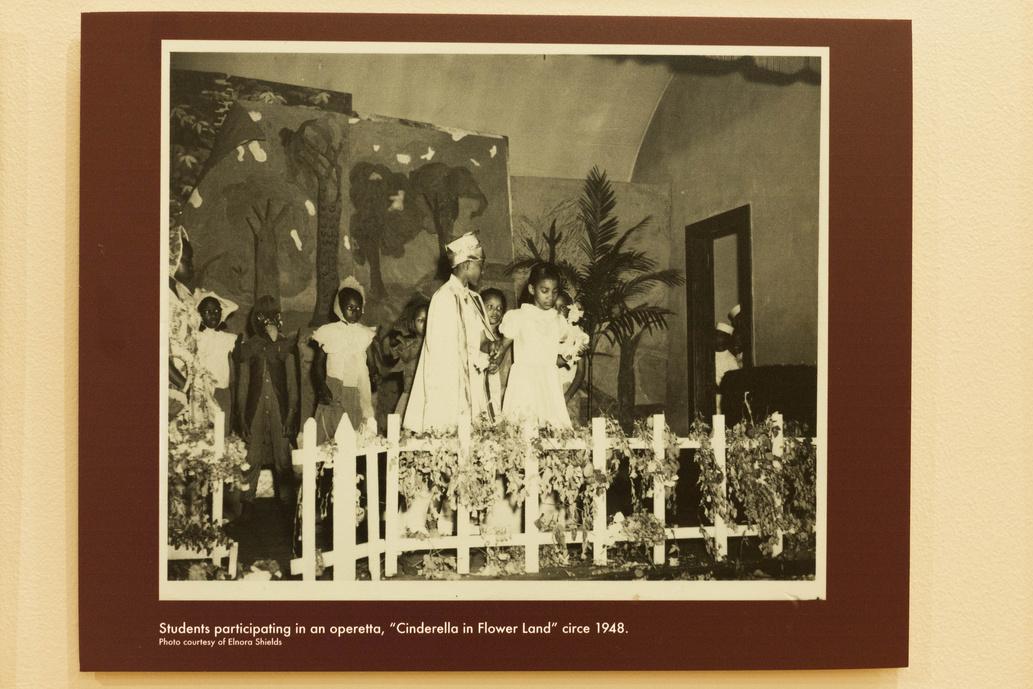 Then, in the 1990s, Pastor Fredrick A. Davis spearheaded a group of forward-thinking members who launched an effort to reclaim the abandoned school. These visionaries believed it could once again serve as a community hub and help to revitalize Durham's West End. In 1996, the citizens of the City of Durham agreed, approving a $6.4 million bond to pay for extensive renovations. Six years later, the beautifully transformed building reopened, renamed the Community Family Life and Recreation Center at Lyon Park.
The teachers and principal, Frank Bennett made sure that there was no child left behind before it became popular. I am happy that there is still a Lyon Park.
Frankie J. Perry (former Lyon Park School Student)
WE RECOGNIZE
OUR RICH HISTORY AND HONOR THE EFFORTS OF THOSE WHO CAME BEFORE US.
Our
roots run deep.
PERSEVERING IN A PANDEMIC
Camp Calvary 2.0
Camp Calvary 2.0 continued academic enrichment and recreational activities with twenty eight (28) participants in our free virtual camp during the summer of 2021. The camp teachers and staff worked on helping students review and understand topics learned during the 2020 2021, school year which most children were learning remotely We administered reading and math assessments and conducted hands on learning experiences during camp. Our campers participated in Wellness Wednesdays with yoga as their main activity. They also went on virtual field trips to a wood shop, the zoo, and an urban farm. In the final evaluation of each 3 week session of Camp Calvary 20, 80% of the families reported that their children learned new skills and information that prepared them for the upcoming school year.
CommUNITY Scholars Afterschool Program
To support families, the CommUNITY Scholars afterschool program provided free online tutoring by 83 Duke University students
Twenty nine (29) children in grades kindergarten to 6th received assistance with homework and tutoring in reading and math.
Project FINE
Project FINE, a free Saturday tutorial program for all educational levels (K college), did not conduct any programming during 2021. Volunteers from the Durham community who work with students were unavailable due to the pandemic.
The Wonderful Senior Citizens at the Lyon Park Center (Mature Adults)
WECF kept the mature adults engaged by sending "thinking of you" postcards and gift bags to senior citizens throughout 2021. By the middle of the year, most felt comfortable returning to the center where they enjoyed fun but safe activities such as bingo and movie matinees
"Without service, we would not have a strong quality of life. It's important to the person who serves as well as the recipient. It's the way in which we ourselves grow and develop." Dorothy Height
WE ADJUST TO THE TIMES TO SERVE OUR CLIENTS. Our programs are innovative.
WORKING TOGETHER TO
Throughout 2021, WECF partnered with several community organizations to strengthen the relationship and communication with West End community members to provide educational and social opportunities for youth and adults. These partnership initiatives included the following.
Community Engagement Projects:
Coping Together (in partnership with Duke Global Health Institute and Durham Together for Resilient Youth)
Dementia Community Care and Creative Engagement (in partnership with Dementia Inclusive Durham)
Live Grow Learn Initiative (in partnership with The Beautiful Project)
West End Strong (in partnership with the Lyon Park Neighborhood Association, Village of Wisdom, and Jamaica Gilmer)
Free Community CPR Classes (in partnership with Life Saving Credentials)
Celebration of Black Artists in Neighborhoods Tree Planting Festival and Drum Ceremony (in partnership with the City of Durham and Keep Durham Beautiful)
Community Health Projects:
Lyon Park COVID PPE Giveaway (in partnership with Neighborhood Improvement Services and Lyon Park Neighborhood Association)
Lyon Park Vaccine Clinic (in partnership with Lincoln Community Health and Duke Health)
Thursday Food Market at Lyon Park (in partnership with the Lyon Park Neighborhood Association, Durham Parks and Recreation, Part & Parcel, and Reality Farms)
As a result, we encouraged healthy lifestyles, fostered a sense of connectedness during the pandemic, especially for those who otherwise felt isolated, and enhanced access to resources
SEE CHANGE WE BELIEVE IN KEEPING OUR COMMUNITY ENGAGED AND INFORMED. Our community is connected. 558 Individuals served 247 Vaccines Provided 65 Volunteers 202.5 Volunteer Hours
Board
WE VALUE OUR STAFF AND BOARD OF DIRECTORS. Our team is engaged.
Catherine Prince Lisa Green
Tony Mangum
Tosh Mitchell Djuana Langley
Cecil Yates Sparkle Yates Kaitlyn Vickers Wilhelmenia Thornton Elnora Shields
Fredrick A. Davis
Kenisha Bethea
DeWarren K. Langley DeLois Washington
Adam Perry
Kesha Reed
Aaron T Jeffries
Ava Brownlee
Sandra Chambers
Wilda Carter Neville Charles Barnes
Stephanie Williams
Administrative,
Front Desk,
and
Programming Staff
of Directors
GILMER

LyonPark Neighborhood Association
WE THANK ALL OF OUR COMMUNITY PARTNERS FOR THEIR SUPPORT. Community Partners
JAMAICA
PHOTOGRAPHY