wakeliving
BRINGING THE CAPITAL AND ITS COMMUNITIES TO LIFE
BEAUFORT, SC THE OTHER ONE
Vitamin Sea
OFF THE EATEN PATH EASTERN NC HIDDEN GEMS
FREE FALLIN' IN FRANKLINTON TAKE TO THE SKIES
VINTAGE OR VIVACIOUS? WE'VE GOT YOUR SPRING STYLE COVERED!
March/April 2023
$3.79 per sq. ft.
KARASTAN CUSTOM RUGS
KARASTAN CUSTOM RUGS
• Made On-Site in our Raleigh Location
KARASTAN CUSTOM RUGS
• Made On-Site in our Raleigh Location
• Choose From 3,000+ Karastan Styles and Colors
• Made On-Site in our Raleigh Location
• Choose From 3,000+ Karastan Styles and Colors
• Custom-Made to Your Specifications
• Choose From 3,000+ Karastan Styles and Colors
• Custom-Made to Your Specifications
• In-House Binding & Serging
• Custom-Made to Your Specifications
• In-House Binding & Serging
RALEIGH SHOWROOM: 4600 Paragon Park Road 919-872-2775 | brentwoodcarpetsraleigh.com CARY SHOWROOM: 207 East Chatham Street 919-461-0441 | brentwoodcarpetscary.com
MATTERS WHERE YOU BUY FLOORING
IT
RALEIGH SHOWROOM: 4600 Paragon Park Road 919-872-2775 | brentwoodcarpetsraleigh.com CARY SHOWROOM: 207 East Chatham Street 919-461-0441 | brentwoodcarpetscary.com
MATTERS WHERE
BUY FLOORING
IT
YOU
Serging
LUXURY VINYL
ft. SALE!
RALEIGH SHOWROOM: 4600 Paragon Park Road 919-872-2775 | brentwoodcarpetsraleigh.com CARY SHOWROOM: 207 East Chatham Street 919-461-0441 | brentwoodcarpetscary.com
MATTERS WHERE
BUY FLOORING
• In-House Binding &
KARASTAN
PLANK Regularly $5.49 per sq.
IT
YOU
Raleigh's Newest Dining Destination, The NCMA Café. Located inside West Building at the North Carolina Museum of Art. See full menu and make a reservation now. Operated by Catering Works at The North Carolina Museum of Art 919-218-0073 2110 Blue Ridge Road, Raleigh, NC 27607
Call today for a FREE home consultation. 919.380.8994 or 1.866.380.8994 Scan this code to visit our website or go to SunProtectionLLC.com get the right perspective… on solar protection • safety films • solar films • security films • decorative films • glare reduction • heat reduction Increase your Comfort & Improve the View while keeping your home Cooler in the summer & Warmer in the winter! with the ONLY Window Film for EVERY Season VOTED Best Window Films Tinting/Solar Protection Company
MARCH/APRIL 2023 Imagine if everything you used the internet for was just... better. Enjoy buffer-free video calls, ultra HD TV and a smarter smart home with our fast and reliable internet. Check your address at ting.com/newhome Up to 1,000 Mbps upload and download speed Connect 20+ devices seamlessly Unlimited data Enjoy buffer-free video calls, ultra HD TV and a smarter smart home with our fast and reliable internet. Switch today and we'll waive your standard installation fee, plus give you a free router and a $75 gift card. Order now at tinginternet.com/NEWHOME or call 1-855-846-4626 and mention promo code NEWHOME to claim offer
contents MARCH/APRIL 2023 TAKE A FLYING LEAP: FACE YOUR FEARS IN NEARBY FRANKLINTON BEAUTIFUL BEAUFORT BY THE SEA HOLE-IN-THE-WALL HAVENS GREAT ESCAPES THE GATORBUG BOUTIQUE 18 24 38 54 74 24 18 24 38 74 6 WAKELIVING
Your children. Your family. Your health. Your well-being. Your place.
WakeMed Women's
From pregnancy and childbirth to mammograms, menopause and more, the care is as compassionate as it is comprehensive. Covering everything and anything female from outpatient and inpatient surgery to specialty and subspecialty care, and the most advanced technology. After all, when it comes to you, your health and your family, you're the decision maker. And the decision is clearly WakeMed Women's.
MARCH/APRIL 2023 7
wakemed.org/womens-services
10 14 64 68 70 80 87 89 92 96 98
FROM THE EDITOR OUT & ABOUT IN WAKE COUNTY
MARCH/APRIL 2023
GROUP PUBLISHER Bill Zadeits
PUBLISHER Kris Schultz
SENIOR EDITOR Erica Hinton
CREATIVE DIRECTOR Lauren Morris
STAFF WRITER Dena Daw
COPY EDITOR Tara Shiver
SOCIAL MEDIA Arlem Mora
CONTRIBUTORS
Erica DeLong
L.A. Jackson
Carey Johnson
PHOTOGRAPHY
David McCreary Teri Saylor
Jonathan Fredin, Chief Photographer
Bryan Regan, Photographer
PRODUCTION
Atiya Batts, Graphic Designer
Jennifer Casey, Graphic Designer
Dylan Gilroy, Web Designer
Beth Harris, Graphic Designer
Matt Rice, Webmaster/SEO
Rachel Sheffield, Web Designer Lane Singletary, Graphic Designer
PUBLIC RELATIONS
S&A Communications, Chuck Norman, APR
ADMINISTRATIVE
Kristin Black, Accounting
Cherise Klug, Traffic Manager
Lisa White, Circulation Coordinator
Valerie Renard, Human Resources
PUBLISHER EMERITUS
Stuart Weiss
Wake Living © is published six times annually by Cherokee Media Group. Reproduction or use, without permission, of editorial or graphic content in any manner is prohibited. Subscriptions are $18/year.
WAKE LIVING
Westview at Weston 701 Cascade Pointe Lane, Suite 103 Cary, North Carolina 27513 (919) 674-6020 • (800) 608-7500 www.wakeliving.com
8 WAKELIVING
departments wakeliving
LETTER
HAPPENINGS WRITE
PAY
ON TREND ECO-FRIENDLY OUTDOOR GEAR ERICA CHATS PLENTY TO SEE IN NC SMALL BUSINESS SPOTLIGHT UNORTHODOX VINTAGE IN THE NEXT ISSUE on the cover: A SETTING SUN PAINTS THE SKY IN BEAUFORT COUNTY, SC. READ MORE ON PAGE 24. PHOTO BY JONATHAN FREDIN. CELEBRATED SPIRITS BEBESOTA
CELEBRATED SPIRITS IN BLOOM FROM EAST
This publication does not endorse, either directly or implicitly, the people, activities, products or advertising published herein. Information in the magazine is deemed credible to the best of our knowledge. CIDER COMPANY GARDEN ADVENTURER THE BODACIOUS CROSSVINE readers' choice awards
LIGHT
IT FORWARD FRIENDS OF THE MOUNTAINS-TO-SEA TRAIL
BY CUYA COCKTAIL BAR
BOWER
BEFORE AFTER Recently highlighted on Actual patient 919.556.6200 1704 South Main Street, Suite 110 Wake Forest Multiple year recipient of America's Top Dentist Award National Lecturer and Author Adjunct Professor for the AEGD Residency of the UNC School of Dentistry Fellow with American Academy of General Dentistry Regional Director for The Las Vegas Institute
Readers' Comments...
"A HUGE THANK YOU TO WAKE LIVING MAGAZINE FOR THE WONDERFUL FEATURE OF OUR STUDIO!"
— ARADIA FITNESS CARY, JAN./FEB. ISSUE
"I WANT TO THANK YOU SO MUCH FOR THE EXCELLENT ARTICLE FEATURING HYDRATE MEDICAL IN WAKE LIVING! I, AS WELL AS THE HYDRATE MEDICAL TEAM, APPRECIATE IT MORE THAN YOU'LL EVER KNOW!"
— DUSTIN METZ, SOCIAL APE MARKETING, JAN./FEB. ISSUE
"THANK YOU FOR THE OPPORTUNITY TO BE OF ONE OF YOUR FEATURES IN YOUR JANUARY ISSUE."
— DOREEN RIVERS GRAHAM, NCOYSTER365, JAN./FEB. ISSUE
"THE STORY WAS JUST LOVELY! THANK YOU SO MUCH TO YOU AND YOUR TEAM FOR THIS!"
— ERIN WESTON, WESTON FARMS, NOV./DEC. ISSUE
"WE LOVE THE ARTICLE YOU RECENTLY WROTE ABOUT OYSTER POP-UPS. WHAT A COOL CONCEPT!"
— BROOKE PARSONS, TABLETOP MEDIA GROUP
SPRING IS NEARLY HERE! But, wait, did we really even have a true winter? I didn't see any sleet, snow, or that dreaded ice and freezing rain that shuts down the city for a day or two. I always love a good snow day, but with spring comes numerous other things I enjoy, like fresh flowers, planning my garden, and getting more outside time with my dogs.
This time of year might inspire you to plan a trip to savor the warmer weather. I am lucky to be able to spend a good amount of time in Beaufort, NC (pronounced BOW-firt), but there's another Beaufort in South Carolina (pronounced Bew-furt),
and that's where we traveled for this issue so we could tell you all about this beautiful destination, along with the best places to eat and all the fun things to do. Or if you decide to stay in state and just head east, we've put together six restaurants that are off the beaten path where you can get your food fix along the way — everything from pork tenderloin biscuits and barbecue to shrimp burgers and hot dogs.
With the signs of spring beginning to peek through, you may want to add a few new pieces to your wardrobe to match the colors of the season. To this end, we headed over to the local fashion hot spot The Gatorbug, where they put together five fresh spring looks that will give you all the warm weather feels.
Spring is also a time for new beginnings. For me, that means starting a new job, meaning this will be my last issue of Wake Living. I have enjoyed nearly four years as editor, and hope you — our readers — have picked up the magazine from time to time and it's brought you a little closer to this great community in which we live. If so, it's been my pleasure.
Senior Editor
10 WAKELIVING editor's letter WE WANT TO HEAR FROM YOU! Email letters to the editor to editor@wakeliving.com Submitted comments may be edited for length or clarity, and become the property of Wake Living
Let' s Connect!
SENIOR EDITOR ERICA HINTON SPORTING A BLAZER FROM THE GATORBUG BOUTIQUE.
Reservations available at (919) 677-9229 or at koancary.com 2800 Renaissance Park Place Cary, NC 27513
MARCH/APRIL 2023 13 All loans subject to approval. Federally insured by NCUA NMLS Number 619449 • First-Time Home Buyer • Adjustable Rate • Fixed Rate • HomeReady® Mortgage • Jumbo Mortgages • Construction-to-Perm • Lot Loans • Investment Property Loans If you're looking to buy a home in the Triangle area right now, you need every advantage you can get. Coastal can help, with mortgage options and low fees that can make all the difference. Learn more at COASTAL24.com Flexible mortgages that fit your needs, and this market. Named Best-In-State Credit Union by
1
Celebrate Irish and Celtic culture in downtown at the Raleigh St. Patrick's Day Parade and Festival on March 11. The parade begins at 10 a.m., followed by a daylong festival with plenty of food, drink, and live music. raleighstpats.org
2
A perennial favorite among visitors to the NC Museum of Art, Art in Bloom runs from March 15–19 displaying the stunning creativity of floral designers who interpret works of art in the museum collection with more than 30 stunning floral arrangements. ncartmuseum.org/bloom
3
Do you like golf and dogs?
Then combine the two at the Cause for Paws of NC's Golf 4 Paws Charity Tournament. With a unique twist on traditional golf tournaments, this funfor-all-ages event will be held at Drive Shack in Raleigh on March 29 at 7 p.m. Come out for night of tee-rific fun, prizes, and a little competition for a great cause. golf4paws.com
4Get ready to put on your party sombrero and go south of the border for the Tacos 'N Taps Festival at Cary's Koka Booth Amphitheatre on April 1. Enjoy an all-you-care-totaste beer and tequila festival served alongside some of the Triangle's best tacos and Mexican food, plus great music, margaritas, contests, and many surprises. cary.tacosntaps.com
14 WAKELIVING
Art in Bloom
Cause for Paws
Tacos 'N Taps
Spend the morning shopping from local vendors at the Midtown Farmers' Market, which begins Saturday, April 15, and continues every Saturday through Nov. 4. Vendors must live and produce their items within a 100-mile radius of Raleigh. 8 a.m. to noon in the Commons at North Hills. midtownfarmers.com
Raleigh's Fayetteville Street will come alive from noon to 6 p.m. on April 16 for the NC 'Cuegrass Festival with great barbecue, local brews, and toetapping bluegrass. While this is a freeflowing event, you can also enjoy a large covered area with draft beer options, plenty of seating and shade, and a comfortable place to enjoy the festival. Extra canned beer stations will be set up throughout the event. cuegrass.com
North Carolina's largest craft beer festival returns! Brewgaloo runs from April 21–22, and the fun begins Friday night with a sampler event from 6–10 p.m. featuring limited releases, barrelaged, and sour beers. Saturday's street festival spans the length of Fayetteville Street and fills downtown Raleigh from 1–9 p.m. with more than 110 NC craft breweries, local food trucks, and vendors. With two stages featuring local bands all day long, this lively festival is sure to be a good time for all. shoplocalraleigh.org/brewgaloo
Wake Forest's premier arts and crafts event, the Meet in the Street Festival, returns to downtown on May 6. Browse booths filled with handmade items, eat from nearly two dozen food vendors, and listen to live music in the streets of the historic downtown. wakeforestchamber.org/meetinthestreet
Twenty years ago, Clay Aiken and Ruben Studdard were competitors on American Idol. Flash forward to April 29, and they will perform together again in at Cary's Koka Booth Amphitheatre for Twenty | The Tour, a special night to benefit the Kay Yow Cancer Fund as part of the 2023 Concert 4 Cancer Series. boothamphitheatre.com
Head to Fayetteville Street on May 20–21 to celebrate spring at one of the area's most popular events, Artsplosure – The Raleigh Arts Festival. Enjoy live music, local artists, and plenty of food and fun. artsplosure.org
MARCH/APRIL 2023 15 6
march/april 7
Meet in the Street Festival
8
9
5
Twenty | The Tour Artsplosure
Midtown Farmers' Market
10
Brewgaloo
Jonathan Fredin
Duke Health
Brings Top-Ranked Cancer Care to Cary
Duke Health brings the state's top-ranked cancer care to you and your loved ones with convenient locations in Raleigh and Cary. We're here for you with more than 50 years of cancer care expertise –expertise in caring for your cancer.
DukeHealth.org/CancerCareRaleigh
16 WAKELIVING
MARCH/APRIL 2023 17 Schedule an appointment online today! www.atlantictireonline.com Hours: M-F 7:30 a.m. - 6 p.m. Sat 7:30 a.m. - 4 p.m 1380 NW Maynard Road Cary 919.319.1614 5412 South Miami Boulevard Durham 919.941.0712 3001 Wakefield Crossing Drive Raleigh 919.234.0738 360 Ashville Avenue Cary 919.803.6159 We carry Michelin® Premier® A/S THE MAGGY AWARDS WINNER 20 1 9 THE MAGGY AWARDS WINNER 20 1 9 OIL CHANGE $5 Off WL-SPRING-2023 EXPIRES 5/31/2 Thank you for voting us Best Auto Mechanic! FREE PICK UP & DELIVERY OF YOUR VEHICLE FROM YOUR HOME OR OFFICE! Spring into savings by visiting Atlantic Tire! Proudly serving our strong community since 1998 $29.95 WL-SPRING-2023 EXPIRES 5/31/2 SPRING SPECIAL Brake Inspection • Alignment Check • Battery Inspection Inspect and fill fluids as needed • Tire Rotation
Take a Flying Leap
Face your fears in nearby Franklinton
WRITTEN BY CAREY JOHNSON
AS A WELDER, Tasha
Buckner was used to seeing sparks fly. But there's nothing like hurtling 120 miles per hour toward the earth — with nothing to lean on but training, experience, and a carefully packed parachute rig — that sparks her to dive out of an airplane again and again. And again … "Skydiving's like that in-the-moment thing," said Buckner,
"When you're diving, nothing else matters," said Buckner. "Like, anything in your personal life doesn't matter because all you gotta do is skydive. You can be sad about something else, but when you're jumping out of that plane you're not thinking about it because you're in that realm for a little bit and making sure you can save your life."
Raleigh resident Scott Simmons expected Cadence Sky Sports to be the place where he and fiancée Amy Pauline could say they began
who was a welder before a career change to skydiving 12 years ago. She started out packing parachutes and working as a rigger at landing zones around the country before becoming a tandem skydiving instructor at Cadence Sky Sports in Franklinton. Buckner is one of only about 40 women tandem instructors in the United States — and three of them are at Cadence.
their life together. Scott talked Amy into skydiving, and he planned to pop the question right after they got to the ground.
Unfortunately, those plans had to be scrapped, and he settled for a more traditional proposal. Still, the itch to jump out of a plane remained. So, in mid-January, they headed to Cadence to scratch that itch.
"I would definitely do it again, 100%," Simmons said shortly after the pair
executed tandem jumps they say they will remember for a lifetime. "Coming here, I did not think I would want to do it again. I was like, 'This would be one and done.' But I'd do it again. I can see why these guys do it a lot. I can see where the thrill is. There's nothing quite like it."
"If I had another friend who wanted to skydive and needed someone to go with them, I'd be like, 'Yeah. Let's do it!'" Pauline said.
18 WAKELIVING
It was sort of the business model Joshua Lukes was going for with Cadence Sky Sports. The operation at their landing zone along NC 56, between Louisburg and Franklinton, promotes the opportunity to "experience the rush" while falling from up to 13,500 feet — at 120 miles per hour. They offer tandem skydiving, where divers are fitted into a harness and strapped to an instructor, providing the exhilaration of flying through the air without the responsibility of popping
or controlling the chute.
They also have a variety of video packages for folks who want to capture the experience — generally a smart idea when that first jump can overload the senses.
"Most people who go up on a tandem for the first time, the adrenaline dump is just so much that time basically compresses," said Lukes. "Sixty seconds feels like 10 seconds, and they don't remember because they're so overloaded. It's why we recommend video
packages so they can relive it from the comfort of their own home."
Annually, Cadence performs about 2,500 to 3,000 tandem jumps. And, save for two weeks in December, the landing zone and skydiving operation is open year-round. It affords Cadence the chance to serve people whenever the skies call their names.
"We see all different sorts of people," said Lukes. "We get doctors, lawyers, construction workers. Everybody wants to have that experience."
Wife and husband Sheria and Marcus Barrett were split on the actual jumping, but they jointly enjoyed the experience. Sheria said jumping out of a plane was a "bucket list" item for her and she had been thinking about it for at least a decade.
"I am a daredevil, so I like to check things off my bucket list," said Sheria. "I wanted to do it when I turned 30, but the weather was bad and I wasn't able to do it, so I said, 'I still need to get out there.'"
She jumped on the same morning that Simmons and Pauline did. Marcus said he's a bit more conservative and didn't jump. However, he said he felt like Sheria was taking him up there with her.
MARCH/APRIL 2023 19
"It's really intense for the first minute. You're flying at 120 miles per hour and then, after you pull your chute, it's quiet. It's peaceful."
— Mike Hollister, skydiving enthusiast
photo contributed by Cadence Sky Sports
DAVID MALTA, WITH THE AID OF TANDEM INSTRUCTOR MIKE MURPHY, GOT TO TAKE THE REINS OF THE PARACHUTE, CONTROLLING SOME OF THE ACTION DURING HIS DESCENT.
20 WAKELIVING
SKYDIVER STEPHANIE KUHR AFTER HER MOST RECENT JUMP AT CADENCE SKY SPORTS IN FRANKLINTON.
CERTIFIED SKYDIVER JORGE CHACON IS ALL SMILES WHILE PACKING A CHUTE IN PREPARATION FOR HIS NEXT JUMP.
Photo by Carey Johnson
Photo by Carey Johnson
photo contributed by Cadence Sky Sports
ANTHONY CANNIZZARO, IN FRONT, PREPARES TO MAKE HIS JUMP WITH THE AID OF TANDEM INSTRUCTOR GREG UPPER.
"I kind of live vicariously through her," Marcus said. "She's really big on moments, and this is a moment she can cherish and look back on and say that she did it. She's really big on overcoming a lot of her fears, and this is another one of those things that she can add to that list. I'm actually proud of her that she's jumping."
Cadence offers more than tandem skydiving opportunities. They also offer the course work and training necessary for folks to earn a skydiving license.
Jorge Chacon, who has been doing accelerated freefall tandem instruction for almost a decade, has used that experience to help others develop a love for skydiving. If he's got a newbie who is a bit nervous, he tries to coax them out of their shell so they can enjoy the experience. If he's got someone who is already gung-ho, he feeds into it. "It really just depends on the person," he said.
One of those persons happened to be his mother, who got him interested in skydiving to begin with. "My mom was from Ecuador, and she was in the first group of women paratroopers in Ecuador," Chacon said. "So growing up I always knew about skydiving. One of the main reasons I got my instructor rating was to take my mom. So I've taken my mom on tandem. It's a huge deal because she hadn't jumped since back in the '70s. So, when I took her up, she really relived that, her younger days. It made me feel good."
Making as many jumps as he can makes Mike Hollister feel good, too. The Knightdale resident has been skydiving since 2000 and, probably like a lot of folks, attributes the movie Point Break to his interest in skydiving.
He got his license in 2002, when Cadence operated under the name Triangle Skydiving Center, and has been using crisp
clouds and blue skies as the backdrop to his real life ever since.
"It's really intense for the first minute," said Hollister. "You're flying at 120 miles per hour and then, after you pull your chute, it's quiet. It's peaceful."
At the same time, it's an adrenaline rush and a type of high. Hollister said whether it's the first jump or your 800th, that high never goes away.
"Your adrenaline's going every single time," he said. "There's no way to avoid that. There might be someone with like 50,000 jumps under their belt who can read a book on the way down, but I think for 99% of us, it's like that rush every time. You get that rush of adrenaline. Your heart's going. You're falling toward the earth at 120 miles per hour. There's really not much way around it." t
Visit Cadence Sky Sports at triangleskydiving.com or find them on Facebook.
MARCH/APRIL 2023 21
JUSTICE WHITE SMILES FOR THE CAMERA, ALONG WITH HER TANDEM INSTRUCTOR, GREG UPPER. CADENCE SKY SPORTS OFFERS A VARIETY OF VIDEO AND PHOTO PACKAGES.
photo contributed by Cadence Sky Sports
22 WAKELIVING 600 New Waverly Pl., Suite 310, Cary, NC | 2116 Werrington Dr., Holly Springs, NC Schedule today 919-678-6900 DR. VIJAY SHESHADRI | DR. LISA GRANA | DR. RONALD ROGERS | DR. CASEY COOPER Ob/Gyn • 3D Mammography • Midwifery • Rejuvenation
Beautiful BbytheSeaeaufort
WRITTEN BY DENA DAW
PHOTOGRAPHED BY JONATHAN FREDIN
24 WAKELIVING
THE SUN SETS OVER PORT ROYAL SOUND.
WHEN SEARCHING FOR the best way to describe Beaufort, South Carolina, two words immediately come to mind: hauntingly beautiful. The moss that drips from the trees, the gentle sway of the salt marsh, the shafts of sunlight streaming through the canopy of live oaks above. It's almost as if you've stepped into a Nicholas Sparks novel, full of achingly tender moments shared on a wide front porch, the ceiling painted haint blue to ward off evil. The hustle and bustle of Charleston, Savannah, and Hilton Head, all less than an hour away, seem impossibly far as you quietly observe the sun-glittered waves in the lap of a waterfront swing.
MARCH/APRIL 2023 25
FORMALLY FOUNDED IN 1711
and known as "the Queen of the Carolina Sea Islands," Beaufort is the second oldest city in South Carolina after Charleston. The echo of its rich and remarkable history still lingers in the salt-tinged air — columned homes, raised high on tabby foundations, line the streets, their "welcoming arms," or staircases, directly facing the Beaufort River. Historic graveyards are the resting place for those on both sides of the Revolutionary and Civil wars, and the 225-year-old Beaufort Arsenal now serves as the Beaufort History Museum and Visitor Center.
Whether you're a history buff, nature lover, cinephile, adventurer, or sun worshiper, it's easy to be charmed by this "Little Charleston." Named the "South's Best Small Town" by Southern Living and "One of the Best Small Towns in America" by Travel + Leisure, there is plenty to see and do — and after three days of exploring the area, we're
happy to share some of the pearls in this oyster shell of a town.
Local History
From exploration to foundation, Beaufort's history is multifaceted and complex — but for history buffs who enjoy a good story, a historic carriage tour of Beaufort is a must.
"We were named Beaufort after Henry Somerset, the 2nd Duke of Beaufort, one of our founders. It's pronounced BOWfort, North Carolina, and BEW-fort, South Carolina. Same guy, we just say it the right way," said Charlotte Lawrence, a carriage driver with SouthurnRose Buggy Tours. "Both sets of locals are picky — I know because my daddy's from
Beaufort, North Carolina, but my mama's from Beaufort, South Carolina. So just remember us as Beautiful Beaufort by the Sea and you'll be just fine."
The buggy tours last approximately 50 minutes, leaving from Beaufort's Waterfront Park and winding through the historic streets of downtown. Tour guides offer a deep dive into the town's history, as visitors pass the longest surviving tabby sea wall in
26 WAKELIVING
BUGGY TOURS IN DOWNTOWN BEAUFORT TAKE VISITORS PAST HISTORIC HOMES, CHURCHES, AND ICONIC MOVIE LOCATIONS.
SPANISH MOSS PROVIDES THE PERFECT FRAME FOR LOWCOUNTRY SUNSETS.
the country and a B&B that once housed General Sherman and Union troops during the Civil War. Other highlights include the Parish Church of St. Helena, once used as horse stables for the British Cavalry, and the historic Tabernacle Baptist Church — the resting place of beloved South Carolina icon Robert Smalls and the future site of the Harriet Tubman monument, honoring her role in the Combahee River Raid that freed hundreds of slaves in 1863.
Despite the fact that the Articles of Secession were drafted in town, the Union occupied Beaufort during the Civil War within a year, preventing the town from being burned to the ground.
"They sailed in on Nov. 7, 1861, with 14 battleships to attack the two forts protecting Beaufort. They kept both forts under fire for hours, and then took a 30-minute lunch break," said Lawrence, laughing. "The Confederates used this as a great opportunity to retreat. They got out so fast they left food on the table in this town — it was called The Great Skedaddle."
In addition to a wealth of historic highlights that cannot possibly be contained within these pages, the tour also takes you past famous movie sites from The Big Chill, The Prince of Tides, Forrest Gump, Glory, The Great Santini, and more.
Other historic must-sees in town include the Beaufort History Museum, the Old Sheldon Church Ruins (best seen when coming into town), tours of historic homes (including that of formerly enslaved Civil War hero Robert Smalls), and the Beaufort National Cemetery. Carriage tours are only the tip of the iceberg — you can learn about Beaufort's history by foot, boat, kayak, golf cart, or van.
Gullah Culture
You cannot visit Beaufort without learning about the Gullah people — African
BEAUFORT IS THE HOMETOWN OF SOUTH CAROLINA ICON ROBERT SMALLS. BORN INTO SLAVERY, SMALLS WAS AN AMERICAN POLITICIAN, PUBLISHER, BUSINESSMAN, MARITIME PILOT, AND CIVIL WAR HERO.
DOES THIS LIGHTHOUSE LOOK FAMILIAR? IT WAS RECENTLY FEATURED IN THE POPULAR NETFLIX SERIES OUTER BANKS.
OLD SHELDON CHURCH IS A MUSTSEE ON YOUR WAY INTO BEAUFORT! ORIGINALLY KNOWN AS PRINCE WILLIAM'S PARISH CHURCH, THE STRUCTURE WAS BUILT BETWEEN 1745 AND 1753 AND SUBSEQUENTLY BURNED BY THE BRITISH DURING THE REVOLUTIONARY WAR. IN 1826, IT WAS REBUILT ONLY TO BE BURNED AGAIN BY GENERAL SHERMAN IN 1865.
ONE OF THE HIGHLIGHTS OF BEAUFORT IS ITS HISTORIC DISTRICT, LINED WITH BEAUTIFUL HOMES BUILT IN CLASSIC BEAUFORT STYLE, FEATURING WIDE PORCHES, OVERSIZED WINDOWS, TABBY FOUNDATIONS, AND HAINT BLUE CEILINGS.
MARCH/APRIL 2023 27
Americans who live in the Lowcountry region of South Carolina and Georgia who have preserved their unique linguistic and cultural heritage over the years due to geographical isolation. The Gullah language, influenced by English and numerous Western and Central African languages, is still widely spoken within the community. The African influence also extends to their crafts, cuisine, folk tales, music, and farming and fishing traditions.
Reverend Kenneth Hodges, who pastors Tabernacle Baptist Church, the oldest African American congregation in the area, opened the Gullah Geechee Visitor's Center on Lady's Island almost 45 years ago.
"I established it as an art gallery, but it puts a lot of emphasis on the history and
culture as well, so it's set up similar to a museum," said Hodges. "We emphasize the Gullah-Africa connection, so in this gallery you'll find local Gullah work all the way down from sweetgrass baskets, the local vibrant art of Jonathan Green and others of this area, and some authentic pieces from Africa."
"I think it's so important for us to preserve our history, our heritage. I grew up in an isolated Gullah community, even more isolated than St. Helena. But the values that my parents taught us developed a sense of community and a sense of self-sufficiency. That's how they were — they were geographically isolated and they were able to survive. A lot of people don't understand how far we have come as a people, and the contribution that our foreparents made, so it's important for us to put the emphasis on that."
To learn more about Gullah history, Hodges recommends that visitors tour the Penn Center, one of the country's first schools for formerly enslaved people, located on St. Helena Island. A historic and cultural institution, the Penn Center sits on 50 acres
28 WAKELIVING
ABOVE RIGHT: LOCATED ON ST. HELENA ISLAND, THE PENN CENTER, FORMERLY THE PENN SCHOOL, WAS THE FIRST SCHOOL IN THE SOUTH FOR FORMERLY ENSLAVED WEST AFRICANS.
RIGHT: REVEREND KENNETH HODGES SHOWS OFF THE ART OF SWEETGRASS BASKETRY, ONE OF THE NATION'S OLDEST HANDICRAFTS OF AFRICAN ORIGIN.
THE GULLAH GEECHIE VISITOR'S CENTER EMPHASIZES THE GULLAH-AFRICA CONNECTION THROUGH ART.
and was declared a National Historic Landmark District in 1974.
"As you explore this island you will find that the people here love education; they are just always wanting to learn more," said Joanne Heyward, a Penn Center volunteer. "Penn Center brings out something in you that makes you just want to keep coming back. Even as a volunteer, I feel like I learn something every time I come here. There's just so much history, so much to discover on campus."
When it comes to authentic Gullah cuisine, visitors don't have to look far — Gullah Grub, which has been featured in many documentaries over the years, sits directly across the street from the Gullah Geechee Visitor's Center.
"When I go, I might get something like fried shrimp and shark steak, along with red rice," said Hodges. "But if you really want to experience the culture, go on a Gullah Geechee tour or attend a festival, like the Gullah Festival on Memorial Day weekend, or just go into the community, speak with people, and learn."
Lowcountry Adventure
Although you don't have to be a hardcore nature enthusiast to enjoy a trip to St. Phillips Island (there is a beach, after all), if spotting and learning
MARCH/APRIL 2023 29
LOCAL VIBRANT ART AND AUTHENTIC PIECES FROM AFRICA CAN ALL BE FOUND AT THE GULLAH GEECHIE VISITOR'S CENTER.
THE TABERNACLE BAPTIST CHURCH WAS BUILT IN 1811. ORGANIZED IN 1863 AS THE FIRST BAPTIST CHURCH FOR AFRICAN AMERICANS IN BEAUFORT, IT IS THE FINAL RESTING PLACE OF ROBERT SMALLS AND THE FUTURE SITE OF THE HARRIET TUBMAN MONUMENT.
Not a fan of shark steak? Gullah Grub also offers shrimp or chicken gumbo. served with fresh cornbread.
LOCATED DIRECTLY ACROSS FROM THE GULLAH GEECHIE VISITOR'S CENTER ON LADY'S ISLAND, GULLAH GRUB OFFERS A TASTE OF GULLAH CULTURE.
about wildlife is your thing, then this is a trip you won't want to miss. Departing from Hunting Island State Park Nature Center, Coastal Expeditions take visitors on a naturalist-led ecotour on a typical Tuesday/Friday/Saturday schedule (summer schedules are tidal dependent).
"Beaufort County, if we're looking at it from an ecological perspective, is 50% underwater — so it's got about 250,000 acres of estuary, and that's the most estuary of any town on the East Coast," said Claire Mueller, operations manager at Coastal Expeditions. "From that standpoint, it's just a really special place. It's mostly islands, which just
919-891-6747 k9resorts.com
30 WAKELIVING
AN ALLIGATOR ENJOYS AN AFTERNOON SWIM AT THE CYPRESS WETLAND LOOP IN PORT ROYAL.
"Beaufort County, if we're looking at it from an ecological perspective, is 50% underwater — so it's got about 250,000 acres of estuary, and that's the most estuary of any town on the East Coast."
— Claire Mueller, operations manager, Coastal Expeditions
Stress-Free environment
Trained and loving staff
Come tour our State-of-the-art facility
WHITE IBIS AND SNOWY EGRETS ARE A COMMON SIGHT ON ST. PHILLIPS ISLAND.
K9 Resorts of Apex provides cage-free luxury boarding and daycare for your dog! •
•
•
K9
Resorts Luxury Pet Hotel is the ultimate place for ALL dogs to play and relax.
One free day of
doggie daycare for new customers!
means that there's a ton of opportunity to see a bunch of wildlife during the migratory season or all year round. But there's really something out here for everybody. We get a lot of kids in the summertime, and they love it. They go shelling and play out at the beach, so it's kind of like a kids' playground."
Owned by Ted Turner for 40 years, the 4,680-acre island was sold to the SC State Park service in a major conservation deal in 2017. Existing infrastructure is limited to trails, a guest house, and a few other additional structures, but a conservation easement
MARCH/APRIL 2023 31
ARRIVE BRIGHT AND EARLY TO THE HUNTING ISLAND STATE PARK NATURE CENTER
A NATURALIST-LED ECOTOUR TO ST. PHILLIPS ISLAND! We happily accept donations of gently used items and pet supplies. Pinching Pennies? Come Shop With Us! NEW INVENTORY DAILY! High Quality Clothing • Unique Vintage Treasures • Jewelry Household Items • Books & More All At Affordable Prices Shop to support Cat Angels Pet Adoptions A 501(c)(3) Nonprofit and no kill cat and kitten shelter in Cary. 2436 SW Cary Parkway, Cary, NC 27513 984-333-0207 Monday-Saturday: 10:00-5:00 Closed Sunday www.catangelsthriftstore.com Follow us on Facebook: Cat Angels Thrift Store Coins and Precious Metals WE BUY GOLD & SILVER! COINS • GOLD • SILVER DIAMONDS • ESTATE JEWELRY • FLATWARE APPOINTMENTS ONLY 103 Kilmayne Dr., Suite A • Cary, NC 27511 919-461-0014 • jewelsbyjr@yahoo.com Owners: Jeff Reid & Josh Bobbitt, American Numismatic Association A Coins Partner
FOR
prohibits further development. Once visitors reach the island, they board a tram and ride 3.5 miles to the beach. From there, visitors can shell, explore the boneyard beach, hike the interior island trails, spot wildlife, or simply bask in the sunshine.
Commonly spotted wildlife on this tour includes bottlenose dolphins, loggerhead sea turtles, indigo snakes, alligators, bobcats, and a myriad of bird species, including spoonbills, bald eagles, and painted buntings. Fox squirrels, brought to the island years ago by the Turner Endangered Species Fund, are also frequently seen.
Many of the visitors to St. Phillips Island are campers at Hunting Island State Park, home of thousands of acres of marsh and maritime forest, 5 miles of pristine beach, and the historic Hunting Island Lighthouse, built in 1859 and rebuilt in 1875.
"People are amazed because this lighthouse can be taken apart and put back together," said Lisa Montgomery, camp host and volunteer. "There are cast iron plates, about 1,200 pounds apiece, and they are bolted together. It was moved once already due to severe beach erosion — otherwise it would be underwater now."
For those who would like a bird's eye
view of the area, Beaufort Biplane Tours offers 30-minute open cockpit flights above Beaufort and the surrounding islands. If you're afraid of heights, don't worry, you're in good hands. Owner Michael Rainey, a retired Marine aviator with over 40 years of flying experience, attended Top Gun, the famed Navy fighter weapons school. Fun Fact: Rainey's call sign was "Irish," as his father was born in Dublin.
"The plane is a 1943 Meyers OT, and
there were 100 of them built," said Rainey. "There's four in a museum and two that are flying."
An unexpected highlight of the tour is Rainey's hangar, filled with his collection of flight jackets, modern helmets, a collection of WWI propellers and other historic memorabilia, and a pinball machine, bar, and a poster of Jean Harlowe.
32 WAKELIVING
THE FOG LIFTS AND UNVEILS THE "BONEYARD BEACH" AT ST. PHILLIPS ISLAND, PERFECT FOR SHELLING AND SPOTTING WILDLIFE.
THE DOCK OF THE HUNTING ISLAND NATURE CENTER, COVERED IN SWIRLING MORNING MIST.
THE PORT ROYAL BOARDWALK AND OBSERVATION TOWER PROVIDE THE PERFECT SPOT FOR DOLPHIN SPOTTING, BIRD WATCHING, AND PICTURESQUE SUNSET VIEWS. (VIEW FROM TOWER, BELOW RIGHT)
BeaufortBonusesCounty
• Sands Beach, Port Royal
• Cypress Wetland Loop, Port Royal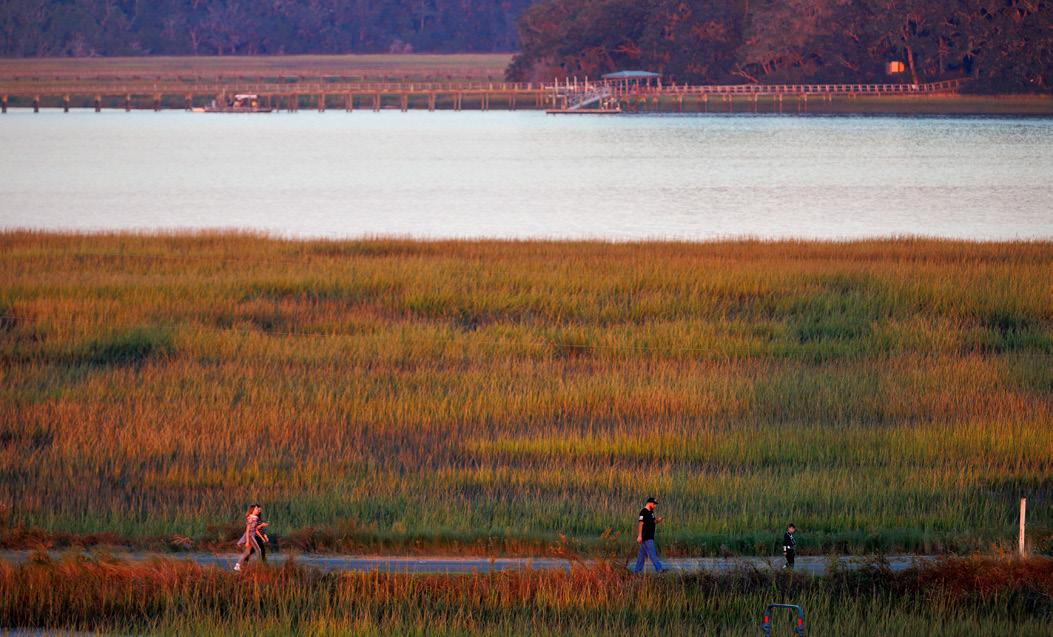 • Spanish Moss Trail
• Henry C. Chambers Waterfront Park
• The Chocolate Tree (favorite of Tom Hanks)
• Parris Island
MARCH/APRIL 2023 33
THE MARSH, AS SEEN FROM PORT ROYAL'S OBSERVATION TOWER.
UPON REACHING ST. PHILLIPS ISLAND, VISITORS BOARD A TRAM TO THE BEACH. STOPS ALONG THE WAY PROVIDE LESSONS ON LOCAL ECOLOGY AND WILDLIFE, AS WELL AS OPPORTUNITIES TO DISEMBARK AND HIKE THE INTERIOR TRAILS
TOURISTS JOHN AND MARY DROSKE OF AMHERST, WIS., ENJOY A NATURALIST-LED RIDE TO ST. PHILLIPS ISLAND. EVEN ON A WARM DAY, IT'S BEST TO BUNDLE UP FOR THE EARLY MORNING TRIP ALONG THE STORY RIVER, WHERE DOLPHINS OFTEN SURFACE BESIDE THE BOAT.
34 WAKELIVING
THE PINK TONES OF SUNSET COLOR A FLOCK OF WHITE IBISES FLYING OVER THE MARSH IN PORT ROYAL.
Drinks & Dining
After a long day of sightseeing, there's nothing better than having a few drinks and a delicious meal to unwind — and in Beaufort, there are plenty of places to choose from. If you're into spirits, Rotten Little Bastard (RLB) Distillery offers tasting tours Tuesday through Saturday.
"We are a grain to glass distillery," said Steve Smiley, brand ambassador. "We source our grains from the Charleston area. On the tour you'll taste moonshine, vodka, a white rum, a gin, an American whiskey, and two bourbons. The bourbon and gin are customer favorites." Owned by Brian Fackrell, jokingly referred to as that "Rotten Little Bastard" by his mother, and his wife, Brigid, RLB's award-winning spirits can be purchased on-site or in certain liquor stores throughout SC. While you're there, be sure to greet the "boss" at the door — Juniper, the distillery cat.
If you're looking for an upscale meal in the heart of downtown Beaufort, Breakwater Restaurant & Bar offers delicious seafood, steaks, and other Lowcountry delicacies. Other downtown gems include Lowcountry Produce for breakfast, Plums Restaurant for a delicious lunch on the waterfront, and Lost Local for inventive tacos and tasty margaritas.
For a more laid back vibe, we highly recommend a visit to Shellring Ale Works, situated directly on the marsh in Port Royal, for some of the most beautiful sunsets you'll see in this lifetime (no exaggeration). After enjoying a cold brew and live music, wander next door to Fishcamp on 11th Street for more waterfront views and fresh seafood — a local best-kept secret. t beaufortsc.org
MARCH/APRIL 2023 35
TOP: LOOKING FOR AN OUT-OF-THIS-WORLD BREAKFAST? VISIT LOWCOUNTRY PRODUCE MARKET AND CAFÉ FOR AVOCADO TOAST, CHEDDAR BISCUITS, CRISPY BACON, AND A GLAZED YEAST DOUGHNUT (SERVED FRESH AND WARM).
BOTTOM: BE SURE TO GREET RLB'S DISTILLERY CAT, JUNIPER, AT THE DOOR BEFORE YOUR TASTING! LEFT: VISITORS AT RLB TASTE MOONSHINE, VODKA, A WHITE RUM, A GIN, AN AMERICAN WHISKEY, AND TWO BOURBONS.
The Emerald is located in the historic Downtown Beaufort, just a short walk from Waterfront Park and the local shopping and dining options of Bay Street. Unlike other conventional hotels, our unique fully automated check-in process means no front desk allowing for 100% contact free check-in.
To book, please email us at allhospitalityteam@gmail.com or visit theemeraldbeaufort.com
36 WAKELIVING
501
Carteret St, Beaufort, SC 29902 @theemeraldbeaufort
MARCH/APRIL 2023 37 7440 Six Forks Rd. Raleigh, NC | www.vinniessteakhouse.com | Call for reservations or 7440 Six Forks Rd. Raleigh, NC www.vinniessteakhouse.com 919.847.7319 Please call for reservations follow Vinnie's on • Local, Seasonal Chef's Features • Wine List of over 175 wines, including a reserve list. • Private rooms for large parties and intimate dinners. • Gift cards available in store and on our website. • Make reservations now on Thank you for voting us Best Steak House in Wake County 7 years in a row. NIGHTLY FEATURES Tuesday & Thursday All bottled wine is half price. Includes our Reserve Collection Saturday Slow-roasted, certified Angus Beef Prime Rib Complimentary Deviled Eggs Every Night VINNIE'S GIFT CARDS MAKE THE PERFECT GIFT follow Vinnie's on
Hole-in-the-Wall Havens
WRITTEN BY DAVID MCCREARY | PHOTOGRAPHED BY JONATHAN FREDIN
38 WAKELIVING
a food pilgrimage to six unpretentious restaurants yields more than just a full belly.
SOMETIMES A SIMPLE MEAL AT A HUMBLE PLACE IS GOOD FOR THE SOUL.
What better time than spring to expand your horizons and try some of the best no-frills restaurants our state has to offer?
Over the course of two days, we ventured out to eastern North Carolina and then headed south to the coast to visit six notable hole-in-the-wall eating spots. There were drive-ins. An old-school diner. Iconic establishments that have stood the test of time. Read on to discover what food reigns supreme, who's dishing it up, and why each place is so doggone special.
MARCH/APRIL 2023 39
GREENVILLE FLO'S KITCHEN, WILSON B'S BARBECUE, GREENVILLE BILL'S HOT DOGS, WASHINGTON EL'S DRIVE-IN, MOREHEAD CITY 4 CORNERS DINER, ATLANTIC BEACH BIG OAK DRIVE-IN, SALTER PATH
RALEIGH WILSON SALTER PATH ATLANTIC BEACH MOREHEAD CITY WASHINGTON
Flo's Kitchen
A BREAKFAST MAINSTAY for more than 30 years, Flo's Kitchen in Wilson opens five days a week before roosters even think about crowing.
"Cars are lined up around the building when we start serving at 4 a.m.," said manager Terri Raper, a spunky straight shooter who oversees a hardworking all-female crew.
People come for the scratch-made biscuits — each as big as a cat's head
— filled with protein like pork tenderloin, bacon, link sausage, and chicken. Order a hobo biscuit, and you'll get eggs, sausage, and cheese scrambled together and stuffed inside fluffy buttermilk goodness.
"We're also known for our cheese biscuits with sharp cheddar mixed into the dough before they are baked," Raper revealed.
Visit on Wednesday for the local favorite sweet potato biscuits.
Fresh biscuits are created throughout the day by dedicated ladies like Dianne Lamm, who for more than three decades has arrived at 12:30 a.m. and stays until closing.
"I cook ham and fatback and get the water going for grits," Lamm said during a smoke break around 8 a.m.
Prefer a breakfast plate instead? Omelets, pancakes, and French toast also are available.
Flo's is a takeout- and cash-only eatery open Tuesday through Saturday until noon. Friendly staffers take orders near the front of the building or at your car window. Be prepared to hear a term of endearment like "honey," "shug," or "baby" during your visit. It's a great way to start the day — even if it's at an ungodly hour.
1015 GOLDSBORO ST. S., WILSON (252) 237-9146
40 WAKELIVING
THE DRIVE-THRU LINE AT FLO'S MOVES FAST THANKS TO A SKILLED STAFF PROVIDING EFFICIENT SERVICE.
ABOVE: BEHOLD A COLOSSAL PAN OF CATHEAD BISCUITS.
LEFT: THE HOBO BISCUIT INVOLVES EGGS, SAUSAGE, AND CHEESE ALL SCRAMBLED TOGETHER.
ABOVE: THE POPULAR PORK TENDERLOIN AND CHEESE BISCUIT.
LEFT: FRESH CHEESE-FILLED BISCUITS ARE MADE THROUGHOUT THE DAY.
MARCH/APRIL 2023 41
B's Barbecue
HOW DO YOU KNOW
when a barbecue outpost is the real deal? When it sits on a road named after it.
If you're looking for gold-standard pit-cooked pork and chicken, you've arrived at the Promised Land in Pitt County. B's is listed among just 20 swine-centric institutions on the North Carolina Barbecue Society's "Historic Barbecue Trail." The restaurant began in 1978 when longtime farmer Bill McLawhorn hung out a shingle.
Starting around 9 a.m., a mixture of blue- and white-collar clientele pull into the gravel parking lot and begin queuing up outside a window where orders are taken. Ever since the recent pandemic, B's has shifted to takeout only.
"We average selling anywhere from five to six hogs a day," said Tammy Godley, a good-natured woman who runs the operation along with her sisters Judy Drach and Donna McLawhorn — all daughters of the founder.
Many customers come for an Eastern-style chopped pork sandwich topped with creamy coleslaw. Others opt for a pork or barbecued chicken plate with side items like boiled potatoes, green beans, and corn sticks.
The meat is smoked over Kingsford
charcoal in a pit situated just a few steps behind the restaurant. The day we visited, it was so hot the devil himself would have asked for a cup of sweet tea.
"I get here at 6 o'clock every morning to cook the chickens," said gregarious Greenville native Arthur House, who has worked at B's for over 17 years.
Take a seat at one of the tree-shaded picnic benches, open the Styrofoam clamshell, and enjoy the food while it's still hot. Chances are good you'll strike up conversation with other barbecue enthusiasts while you eat.
A cash-only spot, B's is open Tuesday through Saturday from 9 a.m. to 2:30 p.m. (or sooner if the food runs out).
42 WAKELIVING
751 B'S BARBECUE ROAD, GREENVILLE (252) 758-7126
A TRANSCENDENT BARBECUE PORK AND CHICKEN PLATE WITH BOILED POTATOES AND CORN STICKS.
B'S FANS COME EARLY AND OFTEN TO GET THEIR FILL OF PIT-COOKED GOODNESS.
Bill's Hot Dogs
FOLKS IN AND
AROUND THE historic waterfront town of Washington have made a ritual of visiting this legendary hot dog joint ever since it opened back in 1928.
Almost everything about the Bill's experience is vintage, from the screen door that slams shut upon entry and exit to the assembly line of workers
serving up each dog with precision. Order your hot dog all the way (trust us). This involves a deep-fried pork frankfurter and a steamed bun with Sauer's mustard, onions, and an inimitable white bean chili made from a top-secret recipe.
"We can sell up to 800 hot dogs on any given day," said proprietor Jay Boyd while taking a break from making chili. "Most people get two or three hot dogs each when they order."
One gentleman standing in line
MARCH/APRIL 2023 43
"I get here at 6 o'clock every morning to cook the chickens."
— Arthur House
HOT DOGS ALL THE WAY INCLUDE MUSTARD, ONIONS, AND A TOPSECRET CHILI AND PAIR WELL WITH A GLASSBOTTLED PEPSI.
El's Drive-In
chili, coleslaw, and onions. The cheeseburger version includes a slice of American cheese.
STARTED IN 1959 by El Franks, this family-owned and operated landmark is beloved for its simple, consistently delicious hamburgers, hot dogs, and shrimpburgers.
Cars and trucks start lining up in the parking lot by 10:15 a.m. Seasoned waitresses emerge from the modest brick building, briskly walking to each vehicle and jotting down orders.
Don't miss the signature El's Superburger featuring 5 ounces of perfectly seasoned beef with mustard,
"We use top ground Braveheart beef, and we hand-patty the burgers each day," said owner Mark Franks, the founder's son, while cooking on a Friday at lunchtime alongside his son, Shelton Franks.
Another surefire winning option is the shrimpburger brimming with lightly fried shrimp along with homemade slaw and Hunt's ketchup.
"People think we use some kind of special sauce, but it's just the way the ketchup and the slaw mix together," Franks explained.
said he drove all the way from Nashville, NC, more than 60 miles away.
Regular patron Teresa Grooms indicated she has been coming to Bill's for nearly 60 years.
"I usually get two hot dogs all the way with extra onions," she said with a smile while clutching her brown paper bag like it was filled with gold.
Bill's is takeout-only and open 8:30 a.m. to 5 p.m. Monday through Saturday. It does accept credit cards. Grab a bag of potato chips, a MoonPie, and glass-bottled Pepsi before you go.
Word to the wise: Don't just eat in your car. Step across the road, find a bench, and enjoy the serenity of the Pamlico River while you try not to spill chili on your shirt.
109 GLADDEN ST., WASHINGTON (252) 946-3343
44 WAKELIVING
FOLKS START COMING IN FOR THEIR HOT DOG FIX WELL BEFORE LUNCHTIME.
THE EL'S SHRIMPBURGER ENCOMPASSES KETCHUP, SLAW, AND GOLDEN FRIED SHRIMP.
Loyal patrons come early and often.
"My husband and I were married for 41 years before he died, but we came here to El's on our first date," said Gail Parish of Newport, NC, as she waited for her Superburger to arrive. "This is a special place."
Savor your meal at a wooden picnic table shaded by mammoth oak trees. While you're there, watch seagulls flock to the parking lot or perch atop the restaurant building's sign. It's all part of the magical El's experience.
3706 ARENDELL ST., MOREHEAD CITY (252) 726-3002
ELSDRIVEIN.COM
MARCH/APRIL 2023 45
DELIVERS FOOD TO A HUNGRY CUSTOMER.
DESTINY MARSH
"people think we use some kind of special sauce, but it's just the way the ketchup and the slaw mix together."
— mark franks, El's owner
4 Corners Diner
Order a waffle and crown it with chocolate chips, pecans, or a fruit topping.
IF YOU'RE LOOKING FOR a solid breakfast-served-all-day option at the beach, 4 Corners Diner covers all the bases.
Appropriately casual and family friendly, the no-frills, full-service café has Formica tables, fluorescent lights, and a black chalkboard menu. But it's the reliable comfort food that draws a crowd.
Co-owner Anita Young runs the business along with her friend Jess Watkins. Several of Young's family members also work alongside her, including sisters Ruby and Rita and daughter Amy.
"I worked here as a cook before becoming part owner, and I still spend lots of my time in the kitchen," the softspoken Young said with a smile.
Popular "eggs n' omelettes" selections are served with proper (translated: not runny) grits or home fries and toast or a biscuit. Whether you choose scrambled eggs with bacon or a Western omelet stuffed with ham, cheese, peppers, onions, and tomatoes, you can't go wrong. Be sure to try the scratch-made hot sauce.
If you're exceptionally hungry, go with the 4 Corners Special, which involves two eggs any style; three pancakes or three slices of French toast or a waffle; and bacon, sausage, or ham.
"I come here every day, and the people are really nice," said longtime customer John Hughes as he looked up from his morning newspaper.
"My favorite breakfast is the corned beef hash and scrambled eggs."
Lunch items are served after 11 a.m. daily. Choices abound including soup, salad, a Reuben sandwich on rye, a hot roast beef plate, and a fried fisherman's platter with vegetables.
4 Corners Diner is open daily from 6 a.m. to 3 p.m.
100 E. FORT MACON ROAD, ATLANTIC BEACH (252) 240-8855
4CORNERSDINER.COM
CO-OWNER ANITA YOUNG (LEFT) ENJOYS WORKING WITH FRIENDS AND FAMILY MEMBERS.
46 WAKELIVING
4 CORNERS IS EASILY ACCESSIBLE AND OFFERS BREAKFAST FOOD ALL DAY.
THE DINER DRAWS A LARGE CROWD, ESPECIALLY IN THE MORNING.
CROWD-PLEASING BREAKFAST SELECTIONS INCLUDE WAFFLES, BISCUITS AND SAUSAGE GRAVY, OMELETS, AND MUCH MORE.
MARCH/APRIL 2023 47
Big Oak
Drive-In & Bar-B-Q
LOCATED IN THE Bogue
Banks hamlet of Salter Path between Atlantic Beach and Emerald Isle, Big Oak is known for its walk-up window and its mouthwatering-good burgers, barbecue, and seafood offerings.
Tempting ocean-centric choices include the crabcake, oysterburger, scallopburger, clamburger, flounder, and even a softshell crab sandwich.
But it's the showstopper shrimpburger that has won legions of devotees. The quintessential sandwich features superb fried shrimp, tartar sauce, coleslaw, and ketchup.
"I've been coming here for more than 20 years, and it's the first place I visit when at the beach," said Wanda Harrelson, from Raleigh. "I'm telling you, the shrimpburger — there is none other any better."
Smoked chopped pork barbecue is also first-rate. Consider a barbecue take-home pack with a pound of pork, a pint of slaw, and a dozen golden hushpuppies.
Be sure to order a side of delectable beer-battered onion rings.
"People really like the fried dill pickle chips as well," said manager Jamie Godfrey. "We also make homemade ranch dressing."
Closed Mondays, Big Oak opens Tuesday through Sunday at 11 a.m. (closing hours vary). To save time and avoid waiting in line, call ahead and place your order by phone. t
1167 SALTER PATH ROAD, SALTER PATH (252) 247-2588 BIGOAKDRIVEIN.COM
48 WAKELIVING
PEOPLE FLOCK TO BIG OAK, WHETHER IT'S FOR SEAFOOD, BURGERS, OR CHOPPED PORK.
PATRONS TRAVEL MILES FOR THE ICONIC BIG OAK SHRIMPBURGER.
MARCH/APRIL 2023 49 Central to North Raleigh 919.875.8008 www.raleighlandscape.com YOUR KOI POND AND WATER GARDEN SPECIALIST NC Registered Landscape Contractor #1151 NC Registered Irrigation Contractor#472 ICIP Certified LANDSCAPE DESIGN • INSTALLATION • MAINTENANCE TRANSFORM YOUR OUTDOOR LIVING SPACE. LET'S TALK ABOUT YOUR IDEAS! • Hardscapes / Retaining Walls • Patios • Walkways • Koi Ponds • Outdoor Living Rooms / Kitchens / Firepits • Cistern / Rainwater Harvesting • Water Features and Fountains • Landscape Lighting • Soil Preparation and Planting • Complete Landscape Maintenance • Irrigation System Install and Repair ONE CALL FOR ALL OF yOuR LANDSCAPE DESIGN, INSTALLATION, AND MAINTENANCE NEEDS Beautifully Crafted Outdoor Spaces Beautifully Crafted Outdoor Spaces LANDSCAPE DESIGN INSTALLATION • MAINTENANCE YOUR KOI POND AND WATER GARDEN SPECIALIST OUTER BANKS VACATION RENTALS & REAL ESTATE SALES joelambjr.com • joelambrealty.com • 800-552-6257 Whether you are looking for the perfect place to vacation or seeking to invest in your own Outer Banks beach house, we offer unprecedented service in making your experience the best it can be. Kick off your shoes and stay a while! Life takes you down many paths, but the best ones lead to the beach.
50 WAKELIVING 1130 Buck Jones Rd., Raleigh, NC, 27606 919.380.0122 \ ReysRestaurant.com Hours: Mon-Sat: 4-10pm Sun: 4-9 pm 6 private rooms seating 6-200 guests! Contact: Christina Reeves at Christina@ReysRestaurant.com
MARCH/APRIL 2023 51
staydrycenters.com CALL TODAY FOR YOUR FREE BROCHURE
Trips Are Better Without the Stress of Being Strapped for Cash
CONTRIBUTED BY COASTAL CREDIT UNION
If travel and adventure are on your priority list for 2023, you're not alone. Forecasters are predicting that people will spend more on travel this year than they did in 2022. This is despite inflation, the rising costs of travel, and competing against other travelers for flights and reservations.
The type of trips and the motivation behind them are also changing. More and more people are taking their remote jobs on the go and working from new places, for longer periods of time. All-inclusive resorts are gaining popularity. Off-the-grid locations or places tailored for disconnecting are high on travelers' lists.
No matter the style of your next adventure — hitting the road, crossing borders, or exploring new spots near home — good planning is crucial to skipping the stress and focusing on fun.
WHILE DAYDREAMING ABOUT YOUR NEXT ADVENTURE, TAKE THE STEPS TO FINANCIALLY PREPARE.
The first and most obvious piece of planning an incredible getaway is creating a habit of budgeting and saving. This can be harder than it sounds, but financial discipline has major benefits. Of course, it's important to first put money aside for emergencies or that unwelcome rainy day. Once you've reached your rainy-day goal, set up separate savings dedicated to your trip. You can even use direct deposit to save money from each paycheck to accomplish this on a schedule. Think of it like a monthly vacation subscription!
For many of us, simply saving won't get us to our dream vacation. That's where creative plans and help from your credit union can come into play. You can take small measures to jumpstart your travel savings or go big with large changes like utilizing a HELOC (home equity line of credit). A good financial partner will want to help you make your travel dreams a reality and give you strong advice so you're able to get on the road without putting yourself into financial trouble or hardship. Here are some examples of how your financial partner can work alongside you in your planning:
• Help you analyze your income, debt, and spending so you can get the most out of your budgets, savings goals, and investments.
• Show you options for small personal loans to get you going on your adventure faster.
• Especially if you were able to take advantage of fluctuations in the housing market, they can show you how to use equity in your home to fund your trips and adventures.
• And for the full-time explorer, you can work with your lender and real estate agents to downsize from your current home to your dream adventure-mobile or van.
PLANNING FOR UNEXPECTED EXPENSES WHILE YOU'RE TRAVELING IS JUST AS IMPORTANT AS SAVING FOR YOUR FLIGHTS, HOTELS, OR VACATION ACTIVITIES.
An emergency or pricey setback while traveling is always frustrating, but it's less of an interruption when you're prepared. Planning for these hurdles is way less exciting than booking flights, but just as important.
When you're unprepared, things like flight cancellations, sickness or injury, or lost wallets can derail the fun and adventure you've planned. Set aside some extra cash in your vacation planning for costs that pop up so you can handle them, move on, and get back to the excitement of new places and experiences.
For some of you, your next journey in 2023 may be a financial journey all on its own. Whether that's purchasing a new home, paying for college, starting a business, or just getting your finances in order, you need a trusted partner who's ready and willing to help and can guide you along the way. At Coastal Credit Union, we hope to see you soon and hear about your upcoming adventures, whether that is to a faraway place or achieving your financial dreams.
MARCH/APRIL 2023 53 SPONSORED CONTENT
Great Escapes 20 23
DESTINATIONS THAT NEVER DISAPPOINT
SPECIAL ADVERTISING SECTION
TUCKED AWAY ON THE NORTHERNMOST SLICE OF COASTAL NORTH CAROLINA, YOU'LL FIND COROLLA AND THE CURRITUCK OUTER BANKS, A 24-MILE SALTY STRIP OF WINDSWEPT REMOTE BEACHES, HOME TO LEGENDARY WILD HORSES, ICONIC HISTORICAL SITES, RICH WILDLIFE, FRESH COASTAL CUISINE, AND THE FINEST FAMILY-FRIENDLY ACCOMMODATIONS. THE COROLLA OUTER BANKS AND MAINLAND TRULY HAVE SOMETHING FOR EVERYONE.
TREASURE LEGENDS
Where the road ends in Corolla, wild Spanish mustangs have roamed the shores for centuries. Many visitors set out to explore these remote beaches by taking a guided four-wheeldrive tour. Seeing these wild horses in their natural habitat can be an unforgettable experience. Also, climb the 220-step Currituck Beach Lighthouse for an unbeatable 360-degree view of the area, and enjoy a tour of Whalehead, a 1920s-era mansion.
TREASURE MEMORIES
The Currituck Outer Banks beaches are some of the most tranquil on the East Coast and provide the perfect backdrop to enjoy a good book, listen to the waves, or simply spend time with loved ones, enjoying what the beach has to offer. Spend a relaxing afternoon sampling
award-winning wine and beer from our local wineries and breweries, shop for treasures at eclectic boutiques, enjoy mouthwatering North Carolina barbecue and freshly caught seafood from a local restaurant, or enjoy an awe-inspiring sunset over the Currituck Sound.
Planning to stay a week or a weekend? There are accommodations in our area to meet your needs on the Corolla Outer Banks. Vacation rental homes offer amenities including swimming pools, hot tubs, inhome theaters, gourmet kitchens, and pet-friendly options. Corolla also boasts an oceanfront hotel, a pair of inns, and a luxurious bed and breakfast.
TREASURE ADVENTURE
With water literally everywhere surrounding this barrier island, there are so many
adventure opportunities. From surfing to kayaking, to parasailing high above the coast, you can find plenty to do to make new memories here.
When it's time to take a break from the beach, enjoy what mainland Currituck County has to offer. Here you can explore the many unique shops and farm markets along US-158, as well as H2OBX Waterpark.
Find your treasure in Corolla Outer Banks. For more information and to request a free Currituck Outer Banks visitor's guide, call (877) 287-7488 or explore corollanc.com.
Great Escapes 20 23
north carolina Corolla
north carolina Kinston
BBQ FEST ON THE NEUSE
It's early on the first Saturday morning in May, and the breeze from downtown Kinston carries smoke and a sweet hint of the mouthwatering sizzle of pork that has cooked low and slow over enormous grills all night. Welcome to the BBQ Fest on the Neuse — "the largest whole hog cookoff in the world."
More than 90 cook teams from across the United States gather each year on the banks of the Neuse River in Kinston to roast whole hogs through the night in preparation for judging the next morning. The sweet aroma that fills downtown Kinston is the result of these cooks perfecting their golden brown crisp skin and tender, flavorful pigs — splayed on giant grates of custom cookers. Winners of the tastiest hog go home with bragging rights, cash awards, and a custom-made chopping board.
For more than 40 years, this popular festival has kicked off the springsummer season Down East with two days of cooking, live music and events, a car show, and shopping from vendors of all kinds including pottery, T-shirts, toys and more.
THE 2023 BBQ FEST ON THE NEUSE WILL FEATURE:
• Country music artist Easton Corbin
• 150+ vendors including food trucks, arts & crafts, home & garden, Got to Be NC, jewelry, farmers market & festival merch
• Carolina Classic Car & Truck Show and Coastal Plains Bike Show
• Beer, Wine & Spirits Garden featuring Kinston's own Mother Earth Brewing & Social House Vodka
• Super Grit Cowboy Band and opportunities to twinkle your toes with the Kinston Shag Club
• Fun for kids of all ages at Inners Shows & Amusements and The FUN Zone
And, of course,
• The "Chop Tent" where you can savor Eastern North Carolina's BEST barbecue, cooked, chopped, and sauced on site. Come early; barbecue is available from 11 a.m. Saturday until it sells out, and they always sell out.
SEE YOU MAY 5 & 6, 2023 AT KINSTON'S BBQ FEST ON THE NEUSE!
KINSTONBBQ.COM
Great Escapes 20 23
THE FIRST WEEK OF MAY EACH YEAR Kinston is host to the BBQ Fest on the Neuse. This is not just any barbecue festival, it's the largest whole hog cook o in the world. More than 90 cook teams gather downtown and fill the air with a sweet hint of pork cooked low and slow. This is the event that defines "what is good barbecue." Want a front row seat? Come judge for yourself. VisitKinston.com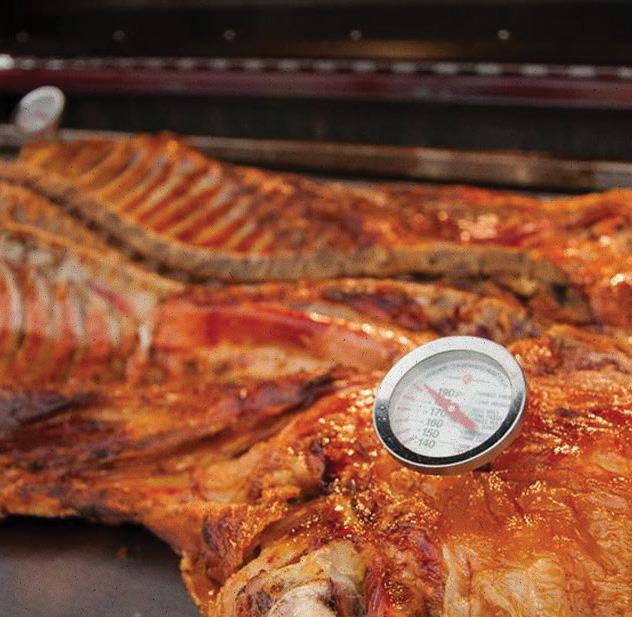 BBQ FEST O N T HE NEUSE
KINSTON
BEST-IN-THE-NATION
ANY OLD BARBECUE
north carolina Brunswick Islands
THE CURE FOR SPRING FEVER? RETURN TO YOUR SENSES — YOUR SUMMER SENSES — IN NC'S BRUNSWICK ISLANDS.
WHAT'S THAT FEELING OF RESTLESS ANTICIPATION? THAT LONGING TO RUN OUTSIDE AND PLAY? COOL THOSE SPRING FEVER SYMPTOMS NOW BY MAKING PLANS FOR YOUR SUMMER VACATION IN NORTH CAROLINA'S BRUNSWICK ISLANDS. JUST THE THOUGHT TRANSPORTS YOU TO LONG,
CAREFREE DAYS FILLED TO THE BRIM WITH MAGICAL MOMENTS AND NATURAL WONDERS.
WHERE TO START?
Close your eyes and return to your senses — the sound of soothing surf and children's laughter, the scent of salt breezes, the taste of fresh-caught seafood, with a touch of kick-back fun. The summer experience here immerses you in island after island of beaches in their purest form. Undisturbed. Unspoiled. Unlimited in ways to enjoy them.
There's a multitude of experiences to enjoy within the six island beaches of Sunset Beach, Ocean Isle Beach, Holden Beach, Oak Island, Caswell Beach, and Bald Head Island, plus the coastal towns of Leland, Shallotte, Southport, and Calabash. The Brunswick Islands cast a spell on all who visit here
with idyllic settings of pristine beaches, expansive marshes, and emerald fairways.
You'll find plenty of outdoor recreation here. Paddling through the back marshes uncovers amazing wildlife, and walking along the beaches introduces you to birds of every feather. Fishing will reap excellent catches, and the more than 30 championship golf courses offer rounds met with sea breezes, amazing beauty, and plenty of challenges for every skill level.
There are nature preserves, historical sites, and lighthouses to climb — all topped off with some of the best seafood you've ever tasted. (Don't miss a visit to Calabash — home of world-fa-
mous Calabash shrimp, scallops, and fish.)
At the end of day, rest your head in a choice of accommodations including vacation rental homes on the beach, seaside inns, golf villas, and cozy bed & breakfasts in town.
YOUR FIRST STEP TO SUMMER? GET THE GUIDE.
This beach reading comes highly recommended: the new edition of NC's Brunswick Islands Vacation Guide. Visit NCBrunswick.com and request your free copy by mail or get a head start by browsing online.
Great Escapes 20 23
Charlottesville & Albemarle County
SIP YOUR WAY THROUGH THE MONTICELLO WINE TRAIL IN CHARLOTTESVILLE AND ALBEMARLE COUNTY, VIRGINIA
Attention all wine lovers! You may know the Charlottesville area for its historic sites like Thomas Jefferson's Monticello. After all, this UNESCO World Heritage site is prominently featured on the back of the US nickel. But did you know that
Charlottesville and Albemarle County are also known for their renowned wines? Situated at the foothills of the scenic Blue Ridge Mountains, just a short 3–4hour drive north of the RaleighDurham metro, the Monticello Wine Trail is home to the Charlottesville area's 40+ wineries, producing wines that are making oenophiles from all around the country and the world take note.
The wineries are just as unique and intriguing as the wines themselves. Sip your new favorite vino in a tropical conservatory at Glass House Winery. Or discover your new favorite chardonnay at Blenheim Vineyards — owned and operated by none other than Dave Matthews of the Dave Matthews Band. Do a tasting at an intimate boutique winery or soak in epic views of the surrounding mountains at larger
vineyards like Pippin Hill Farm & Vineyards or King Family Vineyards. You can even take an unforgettable horseback ride through the luscious vines. Or sit back and let one of our many transportation companies do the work. They'll plan the perfect itinerary and transport you to the wineries of your choosing in style! Since you'll be visiting multiple wineries, download the Monticello Wine Trail Digital Passport to track your visits and win a prize after your 10th winery visit. And if wine isn't your leisure beverage of choice, the Charlottesville area is also home to a variety of craft breweries, artisanal cideries, and even a few distilleries!
After tasting award-winning wines, eat at farm-to-table restaurants found at every turn.
virginia

Stroll the historic pedestrian Downtown Mall for dozens of restaurants with patio dining, cafes, boutique shops, and entertainment venues. When it's time to turn in for the night, the area boasts a variety of places to stay including resorts, inns, bed and breakfasts, chain hotels, and vacation rentals, perfect for resting up and recharging for another day of adventures in Charlottesville and Albemarle County!
Start planning your stay today at visitcharlottesville.org.
Great Escapes 20 23
north carolina Edenton
THE BEAUTIFULLY PRESERVED COLONIAL VILLAGE OF EDENTON IS KNOWN AS THE PRETTIEST SMALL TOWN IN THE SOUTH. ALL IT TAKES IS ONE VISIT TO SEE WHY.
Seemingly around every corner is an Instagram-worthy view. For many, Edenton offers the ideal combination of historic charm and scenic beauty.
Edenton's history is impressive. Established in 1712, it was North Carolina's first Colonial capital, a place where signers of the Declaration of Independence and U.S. Constitution lived and worked alongside one of the first justices of the U.S. Supreme Court. The 1767 Chowan County Courthouse, still in operation today, is considered the most preserved Colonial courthouse in America.
It was in Edenton, in 1774 that the first organized female political activity in the Colonies took place. Penelope Barker and 50 other women conducted the Edenton Tea Party to protest taxes on British goods.
A stroll through this bayside town showcases immaculately maintained homes, including Penelope Barker's house, which sits on the bay and serves as a
welcome center. A few steps away is the departure point for the Edenton Trolley Tour, a popular attraction for visitors. From spring to fall, Edenton Bay Cruises provide daily maritime excursions along the town's coastline.
Another popular attraction is the 1886 Roanoke River Lighthouse. One of the few remaining screw-pile lighthouses in America, it had been removed from its original river post and brought onshore for a private residence. A town effort about seven years ago restored the lighthouse and placed it in the bay near the waterfront park. It's now open for regular tours.
Another nice aspect of Edenton is small-scale lodging. A half-dozen inns, several in grand houses, offer the opportunity to relax in a comfortable atmosphere.
Meanwhile, numerous vacation rentals are available for social distancing. Travelers arriving by boat can take advantage of boat slips that are free of charge for two nights.
To learn more about the Prettiest Small Town in the South, go to VisitEdenton.com or call (800) 775-0111.
Great Escapes 20 23
north carolina New Bern
TRY ON NEW BERN
Visitors often come to New Bern from near and far to explore well-known attractions like Caleb Bradham's Birthplace of Pepsi-Cola and North Carolina's first state capitol building, Tryon Palace.
However, it doesn't take long for them to discover the hidden gems that are New Bern's outdoor recreational activities. New Bern is home to one of four national forests in North Carolina.
The Croatan National Forest spans across 159,000 acres of coastal landscape. Here, visitors have the opportunity to hike on a variety of trails, bike, and explore the best of North Carolina wildlife.
Get out of the woods just in time for a tee time at one of the five public golf courses. If golf isn't for you, New Bern has 25 parks strategically located around town that also offer recreation like disc golf, volleyball, boat launches, and other thrilling activities. The 30 square miles of waterways provide guests the prime opportunity to
throw a line in the water and try their hands at fishing.
After participating in an outdoor adventure, there is no doubt you will have worked up a thirst. Stroll over to the Beer District to enjoy live music, cornhole, and local eats alongside family and friends.
As the day comes to a close, take a scenic boat cruise. Locals say that there is no better
place to watch the sunset than at the point where the Trent and Neuse rivers intersect.
For more information on booking your trip to New Bern, go to VisitNewBern.com. Upon entering the website, the automated travel guide, Ellie, will greet you.
Great Escapes 20 23
Pinehurst/Southern Pines
north carolina
THE PINEHURST, SOUTHERN PINES, ABERDEEN AREA IS KNOWN AS THE HOME OF AMERICAN GOLF AND WILL HOST THE 2024 US OPEN AT VENERABLE PINEHURST NO. 2 (JUNE 13–16, 2024). AND WHILE THIS GLOBALLY RECOGNIZED DESTINATION BOASTS NEARLY 40 GOLF
COURSES WITHIN A 15MILE RADIUS, THERE IS SO MUCH MORE THAN THAT TO ENJOY!
The Sandhills is home to four breweries, all part of the popular Pour Tour Passport Program. Earn stamps from those locations and others across Moore County to earn special prizes! Not into beer? The new Sandhills Wine Trail offers a similar passport program, too!
Red's Corner is the hottest social gathering spot in the area located on the south end of downtown Southern Pines. The food truck/beer pavilion features a variety of seating areas and a playground, so kids and pets are welcome. Nearby, the new Rec Room is a nostalgic trip back in time with retro games like PacMan and Skee-Ball.
Moore County is touted as one of the best foodie
destinations in North Carolina. Esteemed chefs create fresh farm-to-table meals with produce grown in our local farmlands. The shopping scene in our towns is fun and eclectic. Take a stroll down Broad Street in Southern Pines, or explore the Village of Pinehurst. Take a trip to Seagrove and watch dozens of multigenerational potters create keepsakes made from clay. Looking to stretch your legs? Hike the expansive Weymouth Woods, trek around Reservoir
Park, or take your youngster on a Sandhills Adventure on our new Story Trails. Ready for some 'cue? Head to Pik n Pig, then see murals come to life with a first for NC — the Carthage Digital Video Mural Trail.
For more information and to order or download the 2023 Destination Guide, visit HomeofGolf.com
Great Escapes 20 23
north carolina Sanford
WELCOME
Visitors and residents alike will find the history and culture of Lee County in our events, music, art and hospitality. A welcoming and cheerful vibe
linger on every block of this historic district.
EXPLORE
Many visitors set out to find all twelve murals using the guided Otocast app while some delight in finding treasures along the antique trail. Either way, you'll find your explorations engage all five senses.
INDULGE
Dine in a restaurant or brewery scene that truly amazes. Culinary creativity and craft beer mastery has a home here in Sanford, NC and you're invited to come dig in.
DELIGHT
From lively theater shows and
beautifully crafted art murals to amazingly delicious restaurants and fantastic shopping, Downtown Sanford never fails to excite visitors in the most surprising of ways.
DAZZLE
From antique stores to fashionable boutiques to art and craft galleries, Downtown Sanford
delights with unforgettable shopping experiences.
For more information and to request a free Visit Sanford visitor's guide, call (919) 7184659 or visit downtownsanford. com or visitsanfordnc.com.
Great Escapes 20 23
Friends of the Mountains-to-Sea Trail
A labor of love for one of North Carolina's greatest assets
WRITTEN BY TERI SAYLOR | PHOTOGRAPHED BY BRYAN REGAN
ON A BRIGHT MORNING in January, the temperature hovered around 28 degrees, and a thin film of ice across Falls Lake began melting as the sun chased the shadows away. Under still-bare trees, green sprigs of new growth peeked through the brown leaves along the Mountains-to-Sea Trail (MST) in Durham.
Despite the chill, a group of area residents gathered to receive instructions from Jennifer Browndorf, a volunteer and hiker who was leading a mission to clean up the trail around the lake.
Volunteers have been the backbone of the MST since its beginnings in 1977 and are still key to keeping it in good condition, said Brent Laurenz, executive director of Friends of the Mountains-to-Sea Trail, a Raleigh-based nonprofit launched 20 years ago to manage volunteer efforts, encourage people to enjoy the outdoors, and raise money to support these objectives.
"Early on, our purpose was building and maintaining the trail, but today it has evolved
into much more than that," Laurenz said.

In addition to serving as a resource for hikers, the organization participates in community events, supplies speakers for civic organizations, and serves as an overall trail ambassador.
The volunteers do the heavy lifting, from ridding the trail of trash and debris, to bushwhacking overgrown pathways, to serving as trail angels for hikers, and staffing exhibits at festivals across the state.
"There are many ways volunteers enable the MST to be one of the state's best
assets and a treasure residents can enjoy free of charge," Laurenz said.
One of the trail's biggest fans is Joe Miller of Eden, NC, founder of GetGoingNC.com, who is working with North Carolina's Hometown Strong program to help rural communities cultivate their recreational and cultural assets.
Miller says there's no time like the present to go outside and enjoy the state's natural beauty, especially during 2023, which has been designated as The Year of the Trail in North Carolina.
64 WAKELIVING pay
forward
it
A LOOK OVER FALLS LAKE FROM THE VIEW OF A DRONE.
Contributed by Friends of the Mountains-to-Sea Trail
Miller especially loves the trail's 88 miles along the Blue Ridge Parkway from Grandfather Mountain to Stone Mountain, and stretches along the south shore of Falls Lake in the Triangle.
"The mountain section is a mix of rough-and-tumble escarpment of geology and serene passage through open meadows," said Miller. "On the Falls Lake section, I love how quickly the trail whisks you from a major urban area into secluded coves and forests."
The Mountains-to-Sea Trail is cobbled together from traditional hiking trails across woodlands, roadways, waterways, and public lands. It passes through three national parks, three national forests, two national wildlife refuges, seven state parks, and a variety of county and local parks. It touches 37 counties and many cultural and historical places along the way.
"It's not just a walk in the woods for over a thousand miles, but a journey that gives hikers a good feel for what North Carolina is all about," Laurenz said.
About 700 miles of the MST are woodland trails, greenways, beaches, and even a paddle route of 170 miles on the Neuse River, from Smithfield to New Bern. The rest consists of back roads that serve as connectors to the off-road parts, Laurenz said.
A GROUP OF VOLUNTEERS FROM FRIENDS OF THE MOUNTAINSTO-SEA TRAIL AND KEEP DURHAM BEAUTIFUL WORK TO CLEAN UP AN AREA NEAR FALLS
LEFT: THE MOUNTAINS-TOSEA TRAIL BADGE SERVES AS A BADGE OF HONOR FOR FOLKS WHO HIKE ALONG THE 700 MILES OF WOODED TRAIL, GREENWAYS, AND BEACHES, OR PADDLE THE 170-MILE ROUTE ALONG THE NEUSE RIVER FROM SMITHFIELD TO NEW BERN.
MARCH/APRIL 2023 65
LAKE.
ABOVE: JENNIFER BROWNDORF LEADS THE DAY'S CLEANUP ACTIVITIES AT FALLS LAKE.
"It's really a community trail, and you don't have to be an experienced hiker to get out and enjoy a walk in the woods, through a state park, or on a beach, away from the busier aspects of life," he said.
For the more adventurous souls, the MST might be on a long-distance hiker's bucket list.
Records on the Friends of the MST website show 182 hikers completed the entire trail between 1997 and 2022. This list includes Brandon Stapanowich, a North Carolina native now living in Colorado, who recorded the fastest known through hike last June, covering the rugged 1,175-mile route in 23 days, 13 hours, and 28 minutes.
Laurenz points to the many people in communities across the state who take ownership of the trail and maintain it for everyone to enjoy.
The organization's 2021 Annual Report
reveals volunteers logged 38,000 hours of labor that year. It was a labor of love.
"We see pride across our volunteers who embrace this unique opportunity to pay it forward and feel they are a part of something that is growing and improving year to year," Laurenz said.
That was how Diane Watson of Raleigh felt about volunteering at the January cleanup. "I enjoy hiking, and I am here to give back, meet new people, and get out for some
exercise and fresh air," she said.
And for Miller, ambling along the MST is simply taking the scenic route.
"The slower you can go exploring a state as diverse as North Carolina the better, and walking the MST gives you a chance to appreciate that diversity, from the forest atop Clingman's Dome to the sand dunes at Jockey's Ridge," he said. "And best of all are the people you meet in between." t mountainstoseatrail.org
66 WAKELIVING
"It's not just a walk in the woods for over a thousand miles, but a journey that gives hikers a good feel for what North Carolina is all about."
Brent Laurenz, executive director, Friends of the Mountains-to-Sea Trail
LEFT: ON A COLD JANUARY MORNING, VOLUNTEERS WITH FRIENDS OF THE MOUNTAINS-TOSEA TRAIL AND KEEP DURHAM BEAUTIFUL WORK TO KEEP THE TRAIL AROUND FALLS LAKE CLEAN.
BELOW: DONNA MILES, JENNIFER BROWNDORF, AND IWONA BIRK ARE HIKERS WHO VALUE — AND WANT TO MAINTAIN — THE BEAUTY OF THE MOUNTAINS-TOSEA TRAIL.
MARCH/APRIL 2023 67
THE GROUP MEETS BRIEFLY TO GET INSTRUCTIONS BEFORE GETTING TO WORK.
on trend
eco-friendly outdoor gear
WRITTEN BY ERICA HINTON | PHOTOGRAPHED BY JONATHAN FREDIN
IF YOU'RE HEADING OUTDOORS this time of year for a hike or camping trip, you likely already have a fondness for nature, and what better way to sustain it than by using ecofriendly gear from green-savvy companies?
At Apex Outfitter and Board Co., office manager Chanel Bennett points to several brands that are popular with nature lovers. "We carry a large variety of Patagonia products, and 98% of them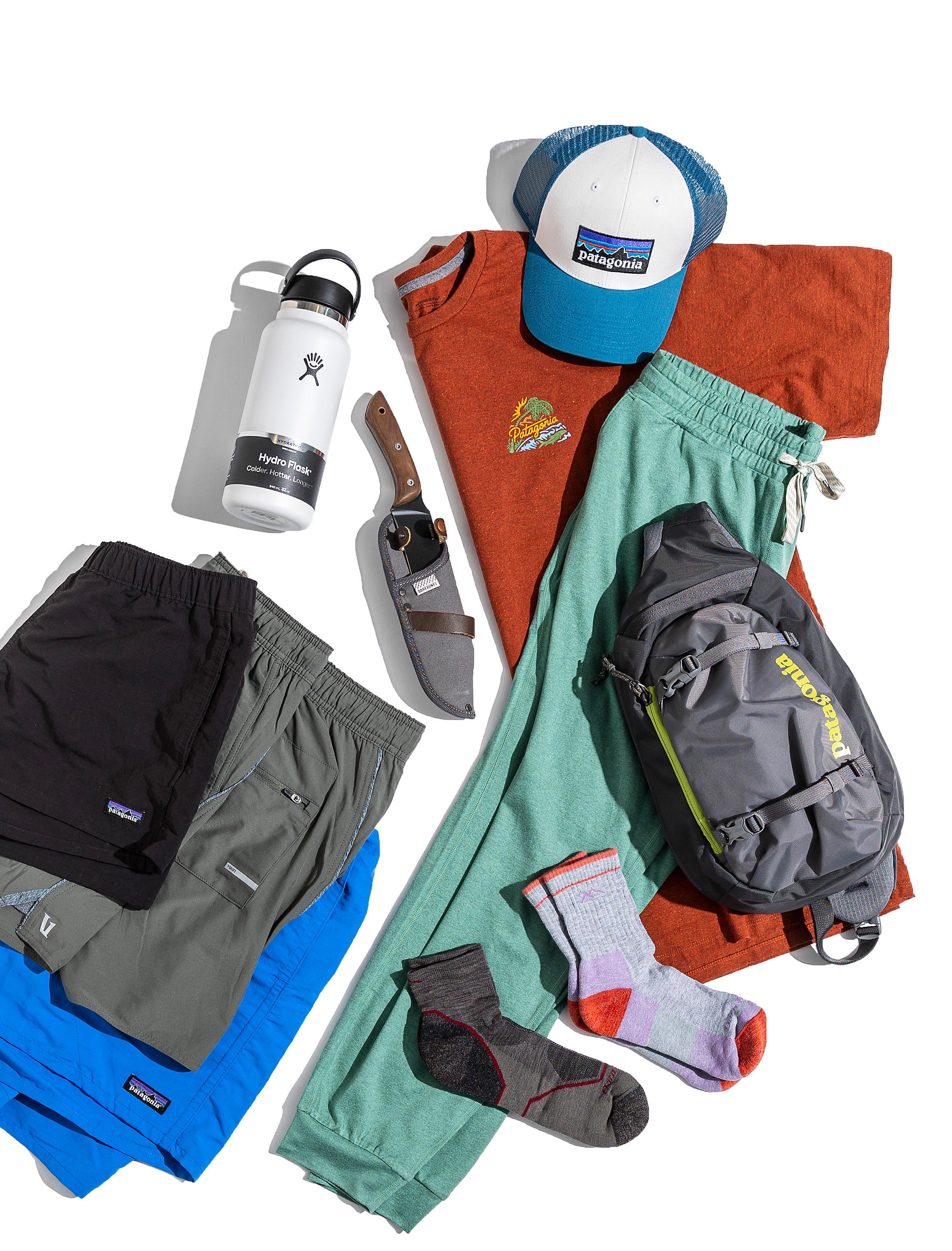 are made with recycled materials with a goal to have 100% renewable and recycled raw materials. Plus 100% of Patagonia's electricity needs are met with renewable electricity, and they invest in regenerative organic practices and participate in
fair trade. These are just a few of the ways Patagonia has a huge impact on the ecofriendly environment."
Another company called Hydro Flask makes reusable water bottles to encourage everyone to make the switch from single-use plastics. #RefillForGood is their rally cry to encourage folks do good for the planet. The Barebones brand is also working to remove all single-use plastics in their box packaging and master packs. "The company aims to help people feed themselves through tending the land and helping them become more in tune with Mother Nature while doing it," said Bennett. "We carry many of their camping products including cast iron pans, griddles, knives, and rechargeable lanterns, to name a few." With the increasing demand for eco-friendly products, the need to educate buyers on higher price points also rises. "Telling customers about how the companies are eco-friendly and what they are doing for the environment definitely seems to have an impact on the sale," said Bennett. "We do get comments about pricing being high for certain products, but when you explain that these companies are taking trash and turning it into a wearable piece of fabric, it justifies itself." t apexoutfitter.com
68 WAKELIVING
BRANDS LIKE PATAGONIA, HYDRO FLASK, AND BAREBONES OFFER PRODUCTS POPULAR WITH THOSE SEEKING ECO-FRIENDLY OPTIONS.
MARCH/APRIL 2023 69 107 Edinburgh South Drive, Suite 109 | Cary, NC 27511 | 984.333.0150 Raleigh Brewing and Chelsea Cafe 2036 Renaissance Park Pl Cary, NC 27607 raleighbrewing.com chelseacafe-rtp com at the Arboretum in Cary
PLENTY TO SEE IN NC
I DON'T KNOW ABOUT YOU, but I am a proud North Carolinian. This state has so much to offer! It's filled with beauty, adventure, great food, THE PEOPLE, and some unforgettable attractions and travel spots. From the beaches to the mountains, we have it all.
When you do a Google search for the best family vacations, the Great Smoky Mountains National Park is sure to pop up. It's the most visited attraction in North Carolina with more than 12 million annual visitors, and it's a must-see. If you've recently moved here, to be an official North Carolinian, you must visit the mountains, one of our beaches, and choose a local sports team between Duke, UNC, and State. I'm only kinda kidding on that last part, but you do want to experience a North Carolina tailgate.
It fills my heart to look back on my family's recent adventures. Even if time and finances aren't always on your side, there's
still plenty to do. Some of these gems may not show up in your next Google search, and several can be done in a day trip.
ROADSIDE ATTRACTIONS
Roadside America is my favorite app that I've been using for at least 10 years now. It's perfect to up the adventure on your next road trip. It shows you random roadside attractions that you would have never known existed. For example, in NC, it shows you maps to Vollis Simpson Whirligig Park, the Andy Griffith Museum, the World's Largest Ten Commandments, the world's biggest chest of drawers, and more. It's worth the download and a few bucks for access. roadsideamerica.com
BUSCO BEACH AND ATV PARK
Wear something you don't mind getting dirty, pack a few snacks, and hit the dirt. They have 1,800 miles of riding trails (with mud holes), and many bring their own ATVs and dirt bikes. They offer rental options, too, but call ahead. We made a day trip out of this, and the kids had a blast. You pay an entrance fee when you arrive, and kids 5 and under are free. They often have a food truck on site, but I recommend packing some food to pull over and take a break. Many choose to camp overnight! buscobeach.com
FREEMAN PARK AT CAROLINA BEACH
One of Carolina Beach's major attractions and one of
WRITTEN AND PHOTOGRAPHED BY ERICA DELONG
the only beaches in NC that you can drive your 4X4 vehicle on. We decided to rent a four-passenger side-by-side, which is road safe and great to drive on the beach. It was fun! We drove all over and even swung through a drive-thru for my kids' amusement. wilmingtonadventures.com
LAZY 5 RANCH
I've never laughed so hard as I did at this drive-thru animal safari in Mooresville. Our family is making another trip soon. You may want to rent a car for the day, as the animals are very close and sometimes stick their heads in the car as you feed them. For all ages and truly the best fun. thelazy5ranch.com
PARACLETE XP INDOOR SKYDIVING
This indoor skydiving adventure in Raeford is America's largest indoor skydiving wind tunnel! If you've ever wanted to jump from a plane, but aren't quite there yet, this is for you! Kids are welcome, too! paracletexp.com
PARACLETE XP INDOOR SKYDIVING
OCONALUFTEE INDIAN VILLAGE
When you head to the mountains, take some time to visit Cherokee. Often, people drive past not realizing what a gem this place is. Go back in time to the 18th century to see what life was like for the Cherokee. Experience a guided tour for a greater understanding of Cherokee art and way of life. cherokeehistorical.org/oconaluftee-indian-village
BUSCO BEACH AND ATV PARK
70 WAKELIVING
BEACHSIDE BIKES
If heading to Atlantic Beach, no matter the season, rent a bike, scooter, or boat! We frequent this company in the summer months, but they are open year-round. beachsidebikes.net
FLYBOARDING
Ever wanted to try hoverboarding over the water? Now you can! We found a company in Charlotte, and my husband and I both tried it. We were nervous at first, but once you get the hang of it, it's great! You will have folks stopping to check out the action. This is typically a warmer weather activity, so add it to your bucket list. carolinaflyboard.com
SWIMMING WITH SHARKS
I was proud of myself doing this adventure. My husband jokingly said he was staying ashore with the kids in case something went wrong. It was scary and incredible all
at the same time. My experience took place 3 miles out to sea in Florida, so I started looking for an experience closer to home. The North Carolina Aquarium on Roanoke Island offers experiences with sharks. Divers enjoy a 285,000-gallon Graveyard of the Atlantic exhibit, home of the largest shark collection in NC. Swim with sharks up to 10 feet and many other types of fish. ncaquariums.com/roanoke-island
Even as a North Carolina native, I still haven't experienced everything the state has to offer, but I'm working on it. What spots do you and your family enjoy? Reach out and share @EricaDeLong. t
SWIMMING WITH SHARKS
MARCH/APRIL 2023 71
FLYBOARDING
THE STORY OF THE GATORBUG BEGINS with family.
In the early 2000s, family matriarch Patricia Bishop and her daughter, Dawn Carter, decided to start a small business selling women's accessories and giftware. Instead of a traditional brick and mortar, they sold their merchandise at Junior League shows and holiday convention gift shows. Dawn's niece, Sydney Jarrell, was a small child at the time, but also a hard-working sidekick. Patricia called her granddaughter "gatorbug" as a term of affection.
Several years later, another gatorbug, Catherine Carter, was born. The demands proved too much, and the business closed. However, the retail fire burned brightly in Sydney, and she would go on to open a very successful online business selling monogrammed giftware. Of course, she named her business The Gatorbug. However, her online store closed when she was offered a job too attractive to refuse.
FASHION MEETS FAMILY
WRITTEN BY ERICA HINTON PHOTOGRAPHED BY JONATHAN FREDIN
The littlest gatorbug, Catherine, was born with a love of fashion and could spot a vintage Chanel design by the time she was 10. In late 2018, at the age of 24, she made the decision to open a brick and mortar specializing in women's contemporary wear. As she worked to pull the store together, tragedy struck the family when Patricia passed away in January 2019. Catherine had been struggling to find the perfect name for her store, when Sydney, her cousin, pointed out that there was really only one name to choose and that was The Gatorbug.
Their goal is to provide women of all ages and sizes with the most fashionable clothing in a wide range of price points, offering everything from clothing and shoes to jewelry and handbags. "Many people will go into the dressing room once, and if something doesn't work, they won't come out and try again," said Sydney. "We want people to come in and trust us to help them with the right fit and style for their body type."
Check out some of their amazing spring looks, which The Gatorbug graciously took the time to curate for us at their shop at Midtown East in Raleigh. You can also visit them in Cary at Fenton or at Atlantic Station in Atlantic Beach. thegatorbug.com
74 WAKELIVING
THESE DRESSES WORK BEAUTIFULLY FOR ANY SPECIAL OCCASION, LIKE A BRIDAL SHOWER OR SPRING HOLIDAY.
DRESS: ELOISE DRESS IN WHITE IKAT BY SHERIDAN FRENCH, $340
EARRINGS: SMALL SHAKEDOWN EARRINGS IN ORANGE BY SHEILA FAJL, $98
MODEL: KRISTEN BARNETT
DRESS: ELEANOR DRESS IN BONBON BY VICTORIA DUNN, $240
EARRINGS: GLOSS FLORAL EARRINGS IN TURQUOISE BY PINK REEF, $90
MODEL: MERRY GRACE BARNETT
MARCH/APRIL 2023 75
A WARDROBE MUST-HAVE FOR A WEEKEND BRUNCH OR A DATE NIGHT OUT.
DRESS: MAISIE DRESS IN WILDCAT BY CROSBY, $268
EARRINGS: AUGUSTA HOOPS IN SHINY 18 KARAT GOLD BY SHEILA FAJL, $98
MODEL: WENDY HAWLEY
76 WAKELIVING
THE ULTIMATE ELEVATED CASUAL LOOK.
TOP: FLINT TOP IN PAINT THE TOWN BY CROSBY, $172
JEANS: CONNIE HIGH RISE FAB ANKLE SKINNY IN HERO WASH BY KUT, $103.50
EARRINGS: CHERI STUD EARRINGS IN GOLD BY MIGNONNE GAVIGAN, $95
MODEL: KRISTEN BARNETT
MARCH/APRIL 2023 77
THE PERFECT OUTFIT TO TRANSITION FROM WORK TO A NIGHT OUT.
BLAZER: TUCKER BLAZER IN HOT PINK BY BUDDY LOVE, $140
TOP: SUIT YOURSELF SCOOP NECK TANK BODYSUIT IN WHITE BY SPANX, $68
SHORTS: MAE SHORTS IN HOT PINK BY BUDDY LOVE, $90
EARRINGS: JEWEL BOX EARRINGS IN LIGHT PINK BY PINK REEF, $135
MODEL: MERRY GRACE BARNETT
78 WAKELIVING
THIS SET IS PERFECT FOR A TROPICAL GETAWAY.
TOP: HAMPTON TOP IN MARBLE BY EMILY MCCARTHY, $188
PANTS: PALAZZO PARTY PANTS IN MAUVE BY EMILY MCCARTHY, $258
EARRINGS: DEVON EARRINGS IN SILVER-PLATED BY SHEILA FAJL, $98
MODEL: WENDY HAWLEY
MARCH/APRIL 2023 79
Unorthodox Vintage
WRITTEN BY DENA DAW PHOTOGRAPHED BY BRYAN REGAN
IF YOU ENJOY vintage and secondhand finds, Unorthodox Vintage in downtown Raleigh might be the Simon to your Garfunkel. Since its opening last June, this quirky establishment has been offering up an eclectic assortment of vintage and secondhand apparel with a mixture of street
style, everyday wear, decade pieces, and local maker items.
Owners Alexandria Monet and Julian Jacobs started selling vintage to the public in 2020 with their individual brands — She Thrifty and Sir Chance's — before teaming up for the birth of Unorthodox Vintage.
"Julian and I became the support we needed for one another," said Monet. "We both still operate our individual brands outside of our downtown Raleigh storefront, but now we don't feel so overwhelmed in business."
80 WAKELIVING small
business spotlight
RETRO EYEWEAR, ANYONE? CALLING ALL COLLECTORS OF VINTAGE TOYS — UNORTHODOX VINTAGE CARRIES MUCH MORE THAN CLOTHES!
Originally from Connecticut, Monet relocated to NC to attend the Art Institute of Raleigh-Durham, where she earned her degree in Fashion Marketing Management.
"I founded She Thrifty Apparel in May 2020 after learning more about circular fashion and the harmful impact of the fashion industry on the environment," said Monet. "I've also been a thrifter by choice since I was 14, well before it was considered cool. I've always been attracted to a different aesthetic in that way — it's truly a love, and my preferred way of expressing my way through clothing!"
Jacobs was one of the first vendors at the Pop-Up Shops at Martin Street in Raleigh. Following the opening of Unorthodox Vintage, he has since opened The Burrow, a vendor mall and creative space showcasing a diverse selection of handmade and local brands.
Want to know more? We reached out to Monet and Jacobs to learn more about our neighborhood vintage dealers.
WHY IS IT IMPORTANT TO SHOP VINTAGE/SECONDHAND?
MONET: It's important to shop vintage and secondhand because 98% of clothing is recyclable, yet only 15% of clothing is actually donated or recycled (according to the US EPA). This means that more than half of everybody's clothing is going directly
into the landfill. We have an out of sight, out of mind mentality when it comes to disposing, and the issue with this is that we are being affected without even realizing it. Apparel does not break down easily — decomposing clothing releases harmful gasses like methane, which ends up in the air we breathe. Shopping secondhand diverts clothing from going into the landfill. By rewearing, recycling, and reusing, we can decrease these harmful impacts.
JACOBS: Buying secondhand is the most cost-effective way to shop! People tell me all the time that they wear their favorite vintage items more than something they buy that's brand new.
WHAT DO YOU HOPE UNORTHODOX VINTAGE
BRINGS TO THE COMMUNITY AND ITS PATRONS, BEYOND CLOTHES?
MONET: Beyond clothing, we want Unorthodox Vintage to feel like a safe space for creatives and the community. It's important to us to build relation -
ships and experiences that become a good memory for someone. Through music, education, and events that we house in our intimate location, we plan to be that safe space and fuel our community with love and passion!
JACOBS: We want to bring a fun and lively vibe to shopping downtown. We want customers to feel like they're finding pieces instead of buying.
WHAT IS THE BEST PART OF OWNING YOUR BUSINESS?
MONET: The best part of owning our business is truly being able to show up to something that is ours every day and building the life we desire through our shared passion. The most challenging part is the operations learning curve — business taxes and proper inventory counting. We are both newly learning and educating ourselves as we embark on this journey. Building a business is challenging in itself, and scaling your business is a challenge we are growing through!
MARCH/APRIL 2023 81
PAGE 80: WITH AN EYE FOR OLD-SCHOOL STYLE AND VINTAGE FINDS, IT'S EASY TO FORGET THAT OWNERS ALEXANDRIA MONET (27) AND JULIAN JACOBS (24) ARE STILL IN THEIR 20S.
KEAH, A RALEIGH RESIDENT, BROWSES A SELECTION OF STREET STYLE, DECADE PIECES, AND LOCAL ITEMS.
BLAST FROM THE PAST! LETTER BEAD BRACELETS, NOTORIOUSLY POPULAR IN THE '90S, ARE SERVED UP ON A SILVER PLATTER.
82 WAKELIVING
CO-OWNER JULIAN JACOBS HAS A KNACK FOR TRACKING DOWN ONE-OF-A-KIND ITEMS, LIKE THIS SIGNED JERSEY BY FORMER PROFESSIONAL BASKETBALL PLAYER ELTON TYRON BRAND.
CO-OWNER ALEXANDRIA MONET TAKES THE WOMEN'S INVENTORY AT UNORTHODOX VINTAGE SERIOUSLY — TRAVELING BETWEEN 2-4 HOURS WEEKLY TO FIND VINTAGE GOODS.
JACOBS: Being your own boss! If you have a good idea, you can do it — there's not a person above you to say no. The most challenging thing is having to be "on" 24/7. Random fires happen, and you have to be ready to put them out.
WHERE DO YOU SOURCE YOUR INVENTORY?
MONET: 90% of the women's inventory is hand sourced from different cities/ states. I travel between two to four hours out weekly to find vintage goods! Other than that, I source on apps like Whatnot and with fellow vintage sellers.
JACOBS: Goodwill, Salvation Army,
other vintage sellers local and online. I've even found a Carhartt jacket outside on Fayetteville Street!
FAVORITE PIECES YOU'VE COME ACROSS?
MONET: This changes for me weekly, but I love a good jacket! At one point we had a '90s Wilsons Leather suede fringe jacket, and it was perfect — literal rock 'n' roll gold. I'm so happy for whoever gave her a good home.
JACOBS: I found an early '90s Chicago Bulls Starter jacket in mint condition in Boone. My other would have to be my pair of SilverTab Levi's, my favorite pair of jeans.
YOUR NEIGHBORHOOD VINTAGE DEALERS: OWNERS JULIAN JACOBS AND ALEXANDRIA MONET STAND IN FRONT OF THEIR STORE IN DOWNTOWN RALEIGH.
DO YOU HOST ANY SPECIAL EVENTS AT THE STORE?
MONET: We have hosted events in store, and we absolutely love doing so! We have found a lot of local talent that want to showcase themselves in an intimate, cool venue. Artists like Kate Rhudy and DJ Kino Del Sur, as well as others, have performed in the store for First Friday.
ANYTHING ELSE YOU'D LIKE TO ADD?
MONET: We plan on expanding in the future and serving the community with vintage + preloved goods for years to come!
JACOBS: Shop local and come check us out! t
@unorthodoxvintage
MARCH/APRIL 2023 83
84 WAKELIVING
Dental Technology Has Come a Long Way
CREATES EFFICIENCY, COMFORT FOR REGULAR DENTAL VISITS
Dentistry is a rapidly advancing field, and investing in new technologies keeps dental practices at the forefront of cuttingedge innovations that benefit the patient, meaning treatments can be performed in a more efficient, effective, and comfortable manner. Since routine dental checkups are so beneficial, make sure your dentist offers the following:
HEALTH TECHNOLOGY TEKSCAN
This computerized diagnostic tool is used to identify and treat problems with your bite. It reveals the level and timing of force on individual teeth, thereby helping to protect crowns, bridges, and veneers from high force, ensuring implants last longer, and improving efficiency by reducing repeat visits.
DIAGNODENT
This cavity-detection system uses laser fluorescence, which allows your dentist to diagnose and treat cavities at the earliest stages. This leads to fewer visits and a more conservative treatment.
BIOPAK
A complete system for neuromuscular dentistry, this device provides a plethora of precision data regarding jaw functionality, which leads to a more accurate diagnosis and treatment of TMJ and TMD.
ORALDNA
A noninvasive, comprehensive approach to addressing gum disease, this salivary test means no more painful and aggressive scraping, but rather a simple swish and spit to tell you about the presence of oral bacteria and how it relates to your overall health.
MICROLUX TRANSILLUMINATOR
This system provides a focused beam of cool white light designed to assist in the diagnosis of cavities and cracks, thereby reducing the number of X-rays needed.
CO2 LASER
The use of a carbon dioxide laser provides a microinvasive way to remove soft tissue lesions in the oral cavity, meaning less postoperative discomfort, minimal swelling, and less scarring.
TREATMENT TECHNOLOGY LASER DENTISTRY
Lasers provide fast, effective, and often completely painless alternatives to many traditional techniques involving tooth decay, gum disease, biopsy or lesion removal, and teeth whitening.
DIGITAL PHOTOGRAPHY AND IMPRESSIONING
A high-definition digital camera assists in the diagnosis, treatment, and documentation of all phases and types of treatment, while digital impressioning avoids the mess of traditional impressions. With E4D technology, only a single visit is required for things like crowns and veneers.
MYOTRONICS
This computerized process helps determine the proper relationship between the upper and lower teeth for quick and predictable treatment of TMJ issues, plus it can design a new bite just for you.
COSMETIC TECHNOLOGY
PORCELAIN TECHNOLOGY
Usually made from porcelain, veneers are a good option if your teeth
CONTRIBUTED BY DR. EDMOND SUH, D.D.S.
are in good shape, but you just want to cover up permanent discoloration, misshapen teeth, or spacing issues.
ORTHODONTIC TECHNOLOGY
In as little as a few months, patients can straighten their teeth without dealing with the appearance and discomfort of traditional braces. With Invisalign technology, custommade clear aligner trays are both virtually invisible and comfortable to wear, while also very successful when used properly.
WHITENING TECHNOLOGY
Zoom! and KöR are two whitening treatments that can deliver optimal and customized results. Zoom! employs advanced LED light technology and can brighten your teeth by up to eight shades in a one-hour visit. For more elaborate transformations, KöR produces permanent results with only periodic touch-ups.
Edmond W. Suh, D.D.S., is the owner of Supremia Dentistry in Wake Forest. He is an international lecturer on advanced esthetic dental procedures, and leads an award-winning team that has completed extensive training and continuing education to implement the latest technologies and techniques. For more information on obtaining the smile you deserve, call (919) 556-6200 or visit supremiadentistry.com.
MARCH/APRIL 2023 85 SPONSORED CONTENT
Surf City
BEACHES WATERWAYS DINING ATTRACTIONS FISHING BOATING SURFCITYNC.GOV (910) 328-2716
NORTH CAROLINA
Bebesota
by Cuya Cocktail Bar
1.5 ounces reposado tequila
0.5 ounces Cocchi Americano
0.75 ounces fresh lemon juice
1 ounce passion fruit syrup
6 dashes orange bitters
Shake all ingredients with ice and strain into a rocks glass. Fill with fresh ice and top with a splash of club soda. Garnish with a Luxardo Maraschino cherry and pineapple fronds.
About Cuya Cocktail Bar:
A new cocktail bar and music garden perched in the middle of Glenwood South, Cuya is the sister bar to The Cortez, a seafood restaurant and cocktail bar. The passion fruit in this recipe, which Cuya makes in-house, is also their namesake: "cuya" is short for "maracuya," which means passion fruit in Spanish. Visit them on Instagram @cuyaraleigh.
MARCH/APRIL 2023 87 celebrated spirits
PHOTOGRAPHED BY JONATHAN FREDIN
In Bloom from East Bower Cider Company
IN BLOOM is a semi-dry cider with hints of local elderberry syrup noticed upfront along with a slightly tart taste. It finishes with smooth notes of cinnamon and local honey.
About East Bower Cider Company:
Opened in August 2022 in Raleigh's new East End Market by Dustin Walker and Oliver Koch, East Bower Cider tends to stray from super-sweet ciders you may be used to, instead leaning toward drier ciders more comparable to dry sparkling wine. They feature eight rotating ciders on tap (they also serve beer). This spring and summer, look for ciders incorporating flavors of strawberries, peaches, and perhaps a spicy blend with habaneros. Visit them on Instagram @eastbowerciderco.
MARCH/APRIL 2023 89 celebrated spirits
PHOTOGRAPHED BY JONATHAN FREDIN
90 WAKELIVING COME VIEW OUR 12,000 SQ. FT. SHOWROOM CARRYING ONE OF A KIND CUSTOM FURNITURE. PRICED LOWER THAN ANYWHERE ELSE! FIND EVERYTHING YOU NEED FOR YOUR HOME IN ONE PLACE. LIVING, DINING, BEDROOM, OUTDOOR, LIGHTING, RUGS, BEDDING, DECOR. INTERIOR DESIGN SERVICES AVAILABLE ADORN Home Furnishings 111 N. MAIN ST. FUQUAY VARINA (919) 762-7176 NCADORN.COM | @NCADORN
SATURDAY | APRIL 29, 2023 • 9AM–5PM Bond Park • Cary, NC | townofcary.org/springdaze @caryartdaze
happenings
The Main District Expansion project at North Hills has announced another upcoming tenant. Limani Grille, a Mediterranean seafood restaurant focusing on traditional Greek specialties, is expected to open by early 2024. Look for the freshest ingredients found worldwide like premium first-pressed, cold-pressed olive oil from the Kalamata, jewels of fish and seafood, local organic vegetables, and special items such as capers and saffron from Greece. Limani has another location in Charlotte. limani.com
Wake County Parks, Recreation and Open Space is celebrating all year long with special programs, features, contests, and more. To participate, visit a trail at each Wake County park and preserve in 2023. Visit their website to plan trips, and use their handy Trail Tracker resolution card to keep track of your progress! wakegov.com/celebrateyear-trail-wake-county-parks
Two Roosters Ice Cream has announced its fifth location, this time in Wake Forest in The Factory complex next to Gonza Tacos y Tequila. They are expected to open just in time for summer.
tworoosters.com
Bougie eating is coming to Raleigh! Chef Eric Rivera out of Seattle is opening two new dining experiences:
Coqui and Sapo. They will both share the same location (they are looking for real estate downtown), but will have different concepts. Coqui will have a Puerto Rican flair, and Sapo will be a private dining room with a tasting menu. In fact, neither restaurant will have set menus; it's about making custom experiences for the diner.
92 WAKELIVING
2023 is the Year of the Trail in North Carolina, the largest statewide celebration of trails and outdoor recreation in North Carolina history.
Bigger, bolder, and more dramatic. That's how golf lovers should see the first new golf course at Pinehurst Resort in nearly three decades. Pinehurst No. 10, which recently broke ground, is being designed by Tom Doak, one of the most respected and decorated golf course architects of the modern era. Located 4 miles south of the main resort clubhouse, the 18-hole routing is expected to open late spring of 2024, coinciding with the return of the US Open to Pinehurst No. 2. Along with natural ridgelines, intriguing landforms, towering longleaf pines, streams and ponds, the course will mix sand, wiregrass, bluestem grass, and other native grasses that grow around the Sandhills. pinehurst.com
Well-known area chef SCOTT CRAWFORD IS OPENING A NEW RESTAURANT AT RALEIGH IRON WORKS. Slated to open in late 2023, Brodeto, named after a popular Croatian fish stew, will feature a blend of Italian and Croatian dishes centered around Adriatic Cuisine. The menu will include both raw and cooked seafood options, handmade pasta, risotto, and dishes like a Croatian lamb peka. The space itself will be Crawford's largest, featuring an open kitchen, live fire hearth, outdoor dining, and a large bar.
MARCH/APRIL 2023 93
First Tee — Triangle broke ground on its Center for Youth Development, a major step in its mission to provide a safe place where participants can study, learn about leadership, make new friends, and develop the life skills that come from playing the game of golf. Once completed, the center will allow First Tee — Triangle to serve an additional 1,000 kids annually. It will include a 5,000-square-foot learning center, outdoor pavilion, 30-bay driving range, 25,000-square-foot Himalayas-style putting green, and a par 3 course all designed by world-renowned golf course architect Gil Hanse. This new facility will also enable them to grow their diversity and inclusion efforts through partnerships with Title I schools in Wake and Durham counties. Having a home will give them the opportunity to offer kids healthy snacks, tutoring and mentoring, and a safe place to call their own. The expected completion date is fall of this year. trigolf.org
Throughout February, Cape Fear Seafood Company (CFSC) locations in North Carolina donated $1 from the purchase of every Surf & Turf Chimichurri appetizer to the Trawick Pediatric Cardiology Research Fund at Duke Children's Hospital. The funds were matched by CFSC's founders for a total of $2 per appetizer sold going toward research. The fund was established to further the research for thousands of children born each year with congenital heart defects. Since its founding in 2018, the Trawick Pediatric Cardiology Research Fund has raised more than $130,000.
A concept fermentation experience centered on the idea that beer should be more experimental, more experiential, and a lot more fun — which has been a pop-up experience since 2018 — now has a permanent location. ANCILLARY* FERMENTATION OPENED THE BRANCH, located in a defunct bank at 1420 Hardimont Road just off Wake Forest Road. They have partnered with Bo's Kitchen food truck. ancillaryfermentation.com
94 WAKELIVING
At Raleigh's NC Museum of Art, the newly remodeled NCMA Cafe in the West Building had its grand opening on January
14. Enjoy chef Rick Sloan's rotating culinary collection featuring signature dishes like Cider
Glazed Chicken or Carolina Classics Catfish
Farro Bowl. The coffee lounge will feature barista-crafted beverages for a quick pick-meup. ncartmuseum.org/visit/dine
On January 7, Cary resident Tim Chlopowicz, a volunteer with Second Chance Pet Adoptions, put on his fundraiser, Help Tim Save Animals for Second Chance. For every $1,000 he raised, someone got hit in the face with a pie. In just two years, they have raised more than $40,000! Pies are donated by Cary's Once in a Blue Moon Bakery. This year, a local youth hockey team, the Carolina Junior Hurricanes 15U Red squad, made it their community project. They raised $3,225, along with collecting food and supplies for Second Chance, the oldest no-kill rescue in Wake County.
Fans of Vivian Howard's food no longer have to drive all the way to Kinston. A Viv's Fridge location is now located outside of Wine Authorities at 211 E. Franklin St. in Raleigh. The concept is a mix between a vending machine and a refrigerator that serves prepared meals stocked by her Kinston restaurant, Chef & The Farmer. The "smart refrigerators" give consumers 24/7 access to Howard's family-style prepared meals to take home and either take and bake, boil and toss, or steam and eat. The fridges will hold entrees, snacks, and desserts ranging from $20 to $65. vivsfridge.com
Raleigh Popsicle Company is opening a location in downtown
Raleigh at 119 E. Hargett
St. Known for their gourmet popsicles with flavors like strawberry cream and blackberry cheesecake, this will be the shop's fourth location, with two already in Raleigh and one in Durham.
Hoffman & Associates announced that construction has begun on a 149-room Hyatt House hotel in Seaboard Station. The project will feature a modern rooftop bar and restaurant called High Rail and is slated for completion in 2024.
MARCH/APRIL 2023 95
Jonathan Fredin
The Bodacious Crossvine
HAVE AN UGLY fence or wall in need of being dressed up? Trellis looking bare and bland? Like the idea of lounging under a canopy of living shade? Searching for a vertical landscape accent? If your answer is "yes" to any of these questions, I have a solution, but it might not be for the fainthearted gardener.
The crossvine (Bignonia capreolata) is a strong climber that covers a lot of territory — its branches can effortlessly stretch to over 30 feet if allowed to roam. That's big. That's bodacious.
Native to the Southeast, crossvine is a woody ornamental that can survive typical winters in the Cary area, although it might slip to semi-evergreen during prolonged cold spells. Its name comes from the cross shape that can be found on the end of a cut stem.
Springtime is when this climber is really in its full glory because it becomes festooned — yes, I said "festooned" — with trumpet-shaped blooms that are normally reddish-orange and yellow in color, and they are irresistible to bees, butterflies, and (especially) hummingbirds. Its dazzling display can last up to a month, with lesser blossoming continuing well into the summer.
This native beauty caught the attention of plant breeders, meaning catchy cultivars have been developed. 'Tangerine Beauty' is probably the most popular of current selections, but 'Jekyll' is also worth considering for its improved durability to nasty winters. Crossvines
shouldn't be hard to spot at local nurseries this time of year, and they certainly are easy finds online.
Crossvine blooms best in full sun, so site it accordingly. Also, keep it happy by planting in well-draining soil that has been heavily amended. To maintain crossvine to a desirable size, every two to three years, whip out the pruners after its initial big spring flower show winds down. Crossvine can spread by root suckers that pop up close to the momma plant, but if you want to keep it in bounds on the ground, just dig up the crossvine wannabes.
Speaking of spreading, the similar looking trumpet vine (Campsis radicans)
is often compared to, and confused with, crossvine. The main difference is that trumpet vine, which is also a native capable of growing over 30 feet in length, is an invasive, garden-grabbing brute that aggressively multiplies by way of rampant, far-spreading underground runners and weedy seeds.
Stick with crossvine. Sure it can be a biggie, too, but it is an easier-to-control, beautiful, bodacious biggie. t
L.A. Jackson is the former editor of Carolina Gardener Magazine
Want to ask L.A. a question about your garden? Contact him by email at lajackson1@gmail.com.
96 WAKELIVING garden adventurer
CROSSVINE CAN COVER A LOT OF TERRITORY IN THE GARDEN.
Timely Tip
PREFER DIRECTLY SOWING SEEDS IN YOUR GARDEN? WELL, SLING AWAY, BACKYARD GROWER, BUT LET THE SUN SHINE, SHINE, SHINE ON THE SEEDS OF SUCH PLANT DELIGHTS AS OSTEOSPERMUMS, COLEUS, PETUNIAS, BALLOON FLOWERS, NICOTIANA, AGERATUMS, LETTUCE, AND IMPATIENS. THEIR SEEDS GERMINATE BEST WHILE BASKING IN THE FULL ENERGY OF DIRECT SUNLIGHT, MEANING IF YOU PLANT THEM TOO DEEP, IT WILL BECOME A GRAVE. SO, SIMPLY SPRINKLE THE PLANTS-TO-BE OVER PREPARED GROWING GROUND AND LIGHTLY PAT THEM INTO THE SOIL. SINCE THE SEEDS ARE SO CLOSE TO THE SURFACE, BE SURE TO KEEP THEM EVENLY WATERED UNTIL SPROUTS APPEAR. THEN, THIN THE YOUNG PLANTLETS TO THEIR PROPER SPACING REQUIREMENTS.
To Do in the Garden
MARCH
• Besides crossvine, if you also enjoy the pleasures of annual ornamental and vegetable vines, and will be stringing trellises to guide their rambling ways, why not add more color and interest to these structures? Sure, regular white string will provide upward paths for annual vines, but so can colorful yarns that are easily found at local craft shops.
• If your green thumb has been itching to get growing in the veggie patch, give it a good scratch this month by planting cauliflower, Swiss chard, collards, dill, lettuce, asparagus, broccoli, beets, carrots, cabbage, kale, leeks, mustard greens, parsley, onions, potatoes, spinach, radishes, or turnips.
• Going to till garden beds early this month? Good idea, but first grab a handful of dirt and
squeeze it. If it holds together in a tight ball, it is too wet, and if you turn the soil over in that condition, your first harvest of the season will be a bumper crop of dirt clods.
• Planning to put up new birdhouses this spring? Just remember to buy or build birdhouses made of wood. Compared to metal or plastic, wood is a better insulator, which helps prevent the feathered occupants from overheating during the sizzle of the summer.
APRIL
• If your green thumb is itching to get growing with warm-season edibles, the middle of this month is a good time to begin planting snap beans, beets, Swiss chard, cucumbers, dill, eggplant, watermelons, squash, and tomatoes.
• Planting warm-season vegetables in April certainly doesn't mean growing early spring veggies has come to a screeching halt. No, there actually is still time at the beginning of this month to start another round of spinach, mustard greens, radishes, lettuce, kale, collards, leeks, cauliflower, and broccoli.
• Don't apply high-nitrogen fertilizer to plants such as pyracantha, apple, quince, blackberry, or cotoneaster because it could encourage rapid new growth that makes the young limbs more susceptible to fire blight.
• Regular rains are naturally beneficial to a garden, but how do you know when Mother Nature provides too little, or even too much?
Invest in a simple rain gauge and an easy-touse soil moisture meter to help fine-tune your garden's irrigation needs.
MARCH/APRIL 2023 97
Written and photographed by L.A. Jackson
THE SEEDS OF OSTEOSPERMUMS, LIKE 'WHIRLIGIG,' GERMINATE BETTER IN SUNLIGHT.
write light
Good morning kiss
Silhouetted against an early morning sky, white-tailed deer greet each other at Green Hills County Park in north Raleigh.
98 WAKELIVING
BY JONATHAN FREDIN
Treasure Memories in Corolla.
Land of Legendary Wild Horses
Just North of where paved roads come to an end on the Outer Banks is where the official state horse of North Carolina roam. The legendary Corolla wild horses have been calling our beaches home for over 400 years.
Currituck Beach Lighthouse
A beacon guiding travelers for well over a century, the Currituck Beach Lighthouse towers over the Outer Banks landscape. For a small fee, visitors can climb the staircase for a wide-open view of both the Currituck Sound and the Atlantic Ocean.
Whalehead in Historic Corolla
In the heart of Historic Corolla Park you will find the Whalehead Museum, a restored 1920s era Art Nouveau architectural masterpiece with a storied history. Whalehead is host to several seasonal events, and offers tours Monday through Friday.
The Currituck Maritime Museum
Located just across the park from Whalehead, the new Currituck Maritime Museum tells the integral story of the history of wooden boats on the northern Outer Banks and their craftsmen through exhibits and artifacts. Open Monday through Friday.
With families reserving 2023 accommodations earlier than ever, there's never been a better time to find the perfect place for your spring or summer getaway. It is nice to know that awe-inspiring remote beaches, legendary wild horses and iconic historical sites are here for you to treasure on the Corolla Outer Banks. Find
CorollaNC.com
Ready To Explore Corolla, NC 877.287.7488
shopping, dining and entertainment with the new Corolla OBX Mobile App, available on the App Store and Google Play.
Schedule your annual 3D mammogram at Wake Radiology
Breast cancer impacts 1 out of every 8 women in the US. That number drops to 1 in 6 for women 40-49. Cancer diagnosis rates are similar for all women, but not mortality rates. African American women have a 40% higher death rate from breast cancer.
A screening 3D mammogram is the best tool for early breast cancer detection. Wake Radiology combines artificial intelligence with all 3D screening mammograms to obtain detailed information that helps determine a breast cancer diagnosis.
Wake Radiology has the most outpatient breast imaging offices in the Triangle and all have earned designation as a Breast Imaging Center of Excellence. Early morning & weekend appointments are available. Plus, you can request an appointment online.
100 WAKELIVING
WAKE RADIOLOGY UNC REX HEALTHCARE Outpatient breast imaging at 12 locations across the Triangle WakeRad.com/Schedule 919-232-4700