Emerald Collection
by Harry Winston
TIMEPIECES
Knownas the "King of Diamonds", it was once estimated that Harry Winston owned more than one-third of the world's most famous diamonds and gemstones. Often purchased as pieces of rough, Mr. Winston transformed these stones into incredible gems, many of which yielded the emerald-cut shape – from the Jonker to the Vargas to the Lesotho.
" Celebrating its founder, the House of Harry Winston's Emerald collection is a series of contemporary timepieces " that recall the sophistication and strength of Mr. Winston's preferred diamond-cut, the emerald cut.
18
mm Emerald Timepiece
LUDMILALACERDABARROS.COM
18 mm Emerald Timepiece
the Emerald Collection celebrates the individuality of the wearer. From versatile and refined, to bold and colorful joyful,
"
The silhouette of the feminine 18 karat gold case emulates the impeccable lines of Mr. Winston's celebrated cut.
The array of captivating color offering enrich the sophisticated collection bringing a joyful and playful spirit.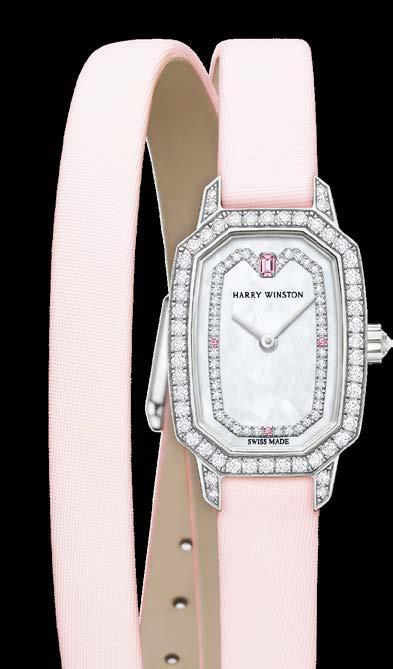 "
Ultimate Emerald Signature
The Ultimate Emerald Signature encapsulates the essence of Mr. Winston's magnificent high jewelry universe. An extraordinary homage to Mr. Winston's beloved emerald cut, The Ultimate Emerald Signature comes straight from the heart of America's legendary "King of Diamonds" with a minimal metal setting allowing the stones to dictate the design and bask in the limelight.
Bal Harbour Shops | Miami Design District 786.206.6657 786.275.3660
ESCADA BEVERLY DRIVE 401 N. BEVERLY DRIVE BEVERLY HILLS CA 90210 310-285-0330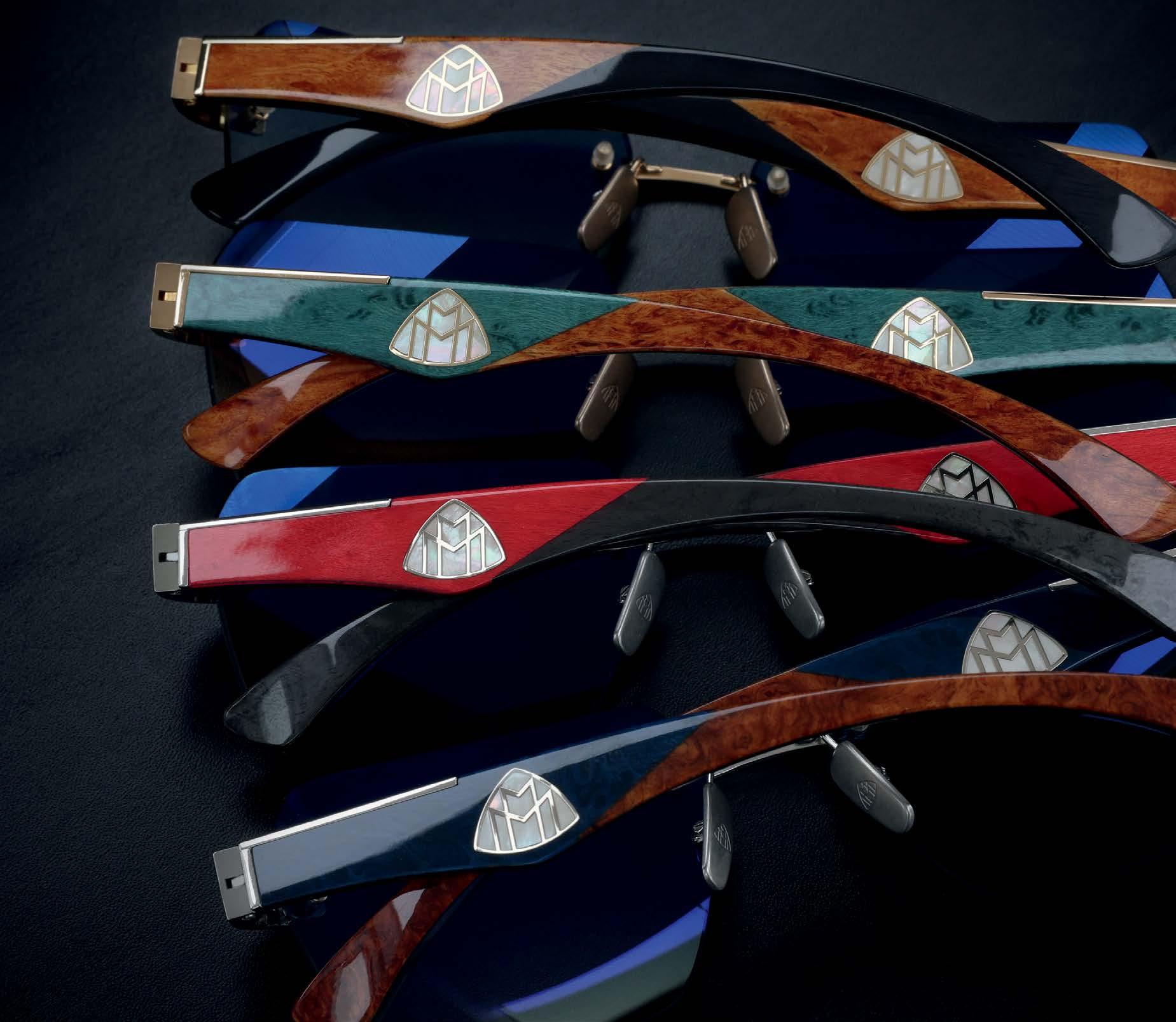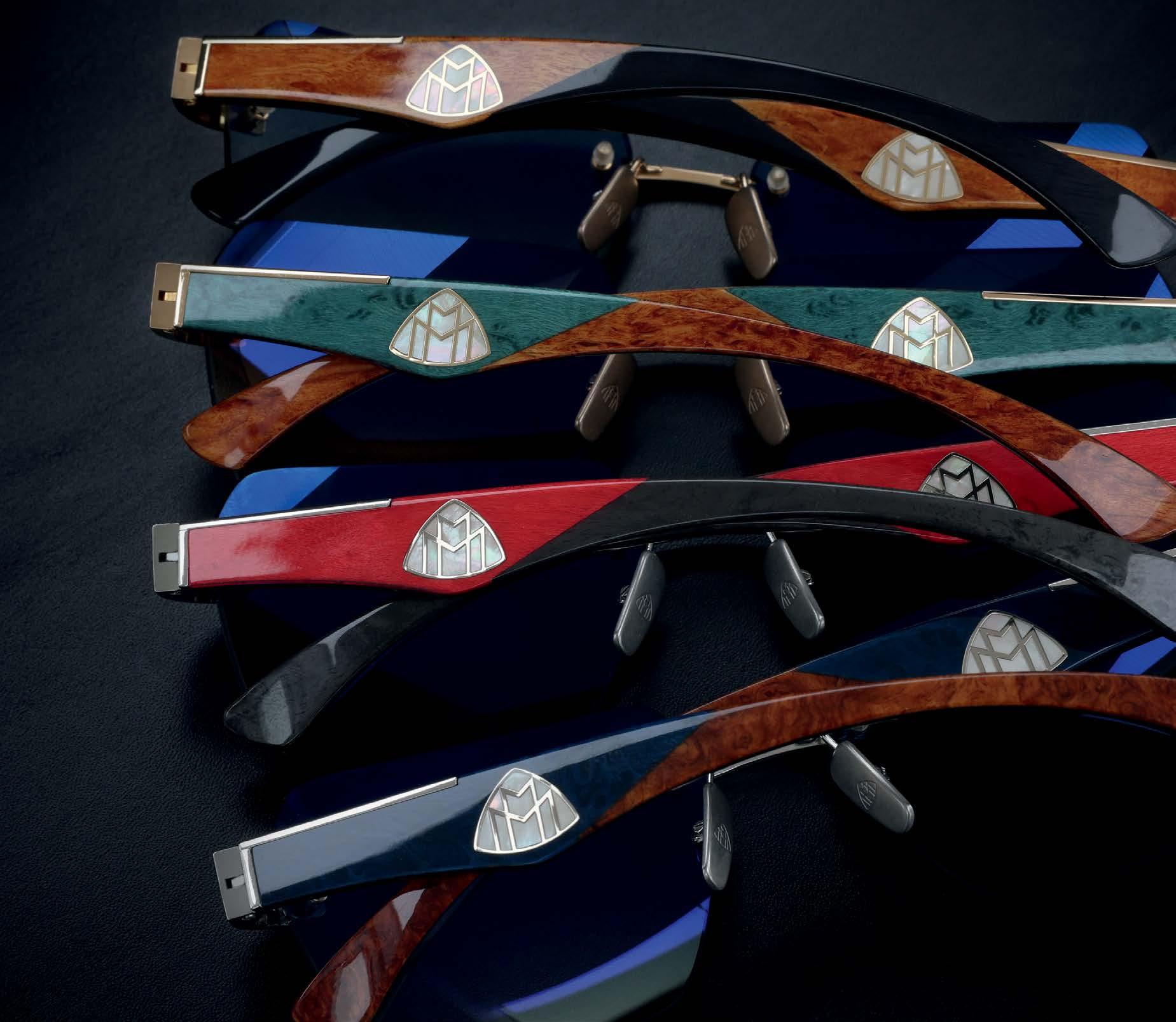 MIAMI SPECTRE Rolls-Royce Motor Cars Miami RollsRoyceBraman.com • (786) 577-5217 THE WORLD'S FIRST ULTRA-LUXURY ELECTRIC SUPER COUPÉ Now Taking Orders.
In-store
interior design & 3D modeling services (1) Quick Ship program available (2)
Bubble 2. Curved 3-4 seat sofa, designed by Sacha Lakic. Astréa. Armchair, designed by Sacha Lakic. Rocket. Cocktail tables, designed by Nathanaël Désormeaux & Damien Carrette. Sun Tropic. Rug, designed by Nany Cabrol.
PUBLISHED BY Freecom Luxury Art Book, LLC.
CHIEF EXECUTIVE OFFICER
Frederic Fournel
CHIEF OPERATING OFFICER
Charlene Laskin
CREATIVE DIRECTOR
Ludmila Lacerda Barros
FASHION PHOTOGRAPHER
David Benoliel
FEMALE MODEL
Alexandra Pekarkova - Elite Model Management Miami
Stylist
Jenna Debrino - Hot Pink Style
HAIR & MAKE UP
Davide Calcinai - Artist Management
Freecom Luxury Art Book, LLC 9550 Bay Harbor Terrace, Suite 203 Bay Harbor Islands, FL 33154 786.216.7007
charlene@luxuryartbook.com
Luxuryartbook.com
Acqualina Resort & Residences on the Beach 17875 Collins Ave, Sunny Isles Beach, FL 33160 305.918.8000
AcqualinaResort.com
EstatesAtAcqualina.com
contributors © Reproduction of any part of this publication is prohibited without the express written permission of the publisher.
A Racing Machine On The Wrist RM UP-01 FERRARI Ultra-flat manual winding calibre 1.75 millimetres thin 45-hour power reserve (± 10%) Baseplate, bridges and case in grade 5 titanium Patented ultra-flat escapement Function selector Limited edition of 150 pieces
Henry Jacques Rodeo Drive, Beverly Hills California T: (310) 928-9222 www.parfumshenryjacques.com
ON THE COVER
Resort Team Mansions Team Estates Team Dream Makers team 56 38 Designed to Dine Great Food and Great Outdoors Sunday Spreads Meet Chef Glen Carnagie A Party to Remember Avra Brings Aegean Charm to Acqualina culinary delights 84 North Tower Continues to Hit New Heights Villa Acqualina Takes Center Stage Estates 34 Making Dreams Come True visionaries 62 The Perfect Setting From Sunrise to Sunset Fashion Forward 90 Repeat Restoration esteemed guests 92 KOPU Water special partners 96 The Best Resort in America awards 98 The Virtuoso Effect Final Thought
Photographed by David benoliel
Dress by Ermanno Scervino, Bal Harbour Shops
table of contents
Sunglasses by Sospiri, Oberlé Opticians, Surfside
DEFINED BY CULTURE, STYLE AND TASTE. 300+ SHOPS, 50+ RESTAURANTS & EATERIES, A WORLD-CLASS ART COLLECTION AND MORE.
AVENTURAMALL.COM
Donald Baechler - Walking Figure
Traditionally Different
Welcome
At Acqualina Resort & Residences, we have much to celebrate. In the prestigious 2023 Tripadvisor Awards, Acqualina was named the #1 Beachfront Hotel in the U.S.A. Our Mediterraneaninspired slice of paradise was also named the #1 Best Resort in the U.S.A. and the #1 Best Hotel in the U.S.A. in the 2023 U.S. News & World Report's Best Hotels rankings. Our hotel and spa received the coveted Five-Star rating from Forbes Travel Guide for the 11th consecutive year. While we're humbled and honored to receive these accolades, the recognition also continues to push us to deliver an unrivaled stay for our cherished guests.
In this issue, you'll read about what it's like to live like you're on vacation every day, as guests are moving into the North Boutique Tower at The Estates at Acqualina where incomparable amenities and luxurious furniture choices fill the single-family homes and penthouses.
While beachfront dining is a rarity in South Florida, Acqualina offers the opportunity to indulgently dine beachside under the stars. As the waves lap the shoreline of our expansive stretch of beach, and a dedicated server caters to every whim, the ambiance is set for romance or a memorable family celebration. There are also decadent new reasons to spend your Sunday at Acqualina, where we have bragging rights to two of Miami's best brunch spots. Dine al fresco or under the bright bougainvillea at fine Greek dining restaurant Avra — you can also read about its stunning design in this issue — or dive into the exquisite brunch menu at Italian favorite Il Mulino.
Meet the Maple family from Philadelphia who hasn't missed a yearly trip to Acqualina in more than a decade. They look for any opportunity to visit and have become hotel evangelists for the resort where they feel at home and treated like family. It's how we strive to make every guest feel at Acqualina.
Lastly, we have an exclusive conversation with Matthew D. Upchurch, Chairman & CEO of Virtuoso, a global powerhouse for luxury travel. We are proud that Acqualina is one of their esteemed partner hotels, offering our guests an array of additional benefits and unparalleled experiences.
Deborah Yager Fleming | CEO and Partner Acqualina Resort & Residences
33
MAKING DREAMS COME TRUE
FOR
THE FOUNDERS OF ACQUALINA RESORT & RESIDENCES, THEIR MISSION GOES BEYOND CREATING DREAM VACATIONS FOR GUESTS — THEY'RE MAKING LIFE DREAMS COME TRUE FOR UNDER-SERVED CHILDREN.
By Angela Caraway-Carlton
As a group of third graders gleefully belted out the inspiring words, "I'm brave, I'm strong, I'm loved, I'm smart, and I'm unique," it was hard for attendees of last year's "I Have a Dream" Foundation Miami Gala to hold back their emotions,
with many wiping away tears or happily singing along. Part of the Miami 'Dreamers' class of 2032, these kids are shining examples of the power of a long-running program that helps impoverished children to succeed in school and, ultimately, life.
34
visionaries
Stephanie, Jules, and Eddie Trump, the principal owners of Acqualina Resort & Residences, founded the Miami-Dade chapter of the "I Have a Dream" Foundation in 1995. It's something that had been in Stephanie Trump's heart since she was a young girl leaving her homeland of South Africa during the apartheid, where she witnessed the inequality of education for Black children. "I'll never forget watching a school headmaster walk along a line of children, counting heads. When she came to a certain number, she told them that the school was full, and they'd have to go home and try again next year. That always stuck in my mind," she says.
It's something that had been in Stephanie Trump's heart since she was a young girl leaving her homeland of South Africa during the apartheid, where she witnessed the inequality of education for Black children.
35
The program's mission is to help young 'Dreamers' in low-income communities pursue higher education—and their most ambitious dreams—by providing academic and socio-emotional support. The Foundation also removes academic financial barriers, guaranteeing the children's tuition at a Florida state university for a four-year degree
or at an accredited trade school. Since the Miami chapter's inception, more than 200 Dreamers have graduated. "Education is the only thing that can level the playing field," says Stephanie, who adds that the program offers a domino effect, with many 'Dreamers' impacting their own children's educational future.
36
Stephanie invites all of Acqualina's guests and residents to look into this worthy program, whether it's to become a mentor, tutor, sponsor, or even start their own program. One of the Foundation's philanthropic highlights is the annual "I Have a Dream" Foundation Miami Gala, which raised $1 million last November to benefit the Miami Dreamers class of 2023.
Stephanie invites all of Acqualina's guests and residents to look into this worthy program, whether it's to become a mentor, tutor, sponsor, or even start their own program. One of the Foundation's philanthropic highlights is the annual "I Have a Dream" Foundation Miami Gala, which raised $1 million last November to benefit the Miami Dreamers class of 2023. The glitzy gala was full of memorable moments consisting of a delicious fourcourse meal, live and silent auctions that included exotic
vacations, stirring performances and inspirational speeches, and the chance to meet past Dreamers. This year's 28th gala is set for November 16, 2023, and Stephanie encourages the local community and hotel guests to mark their calendars for a night to remember. "I think they'll realize that this is a worthwhile investment when they meet these Dreamers and see the results of the program," says Stephanie. "It's changed us completely. We certainly get back much more than we give."
For more information, call 305.937.7834 or visit dreammiami.org
37
DESIGNED TO Dine
By Angela Caraway-Carlton
What's better than a day on the beach? An evening dinner on the beach, enveloped by the sights and serene sounds of Acqualina's dreamy beachscape. While South Florida presents many opportunities to lounge and frolic on the beach, dining on Miami's beautiful beaches is a rarity. With a covetable front row to a private stretch of pristine beach, Acqualina Resort offers its guests the chance to indulge in beachfront dining on Thursday, Friday, and Saturday evenings. Best part: You'll enjoy the fronting ocean and tropical surroundings without ever getting your feet sandy.
The ambiance is set for a night of intimate romance for couples, as well as meaningful moments for families.
culinary delights 38
The fairytale experience begins as you walk down a candlelit pathway to reach an elegant table dressed in Acqualina's signature white-andred colorway and fitted with flickering candles and flowers. Listen to the ocean's gentle waves rhythmically lap the shoreline and watch as the setting sun colors the sky in cotton-candy hues; after darkness settles in, the moon, stars, and candles provide the perfect mood lighting. The ambiance is set for a night of intimate romance for couples, as well as meaningful moments for families.
Every whim is catered to by a designated server as you dine on a special four-course meal. Begin the gastronomic journey with shareables such as ceviche and a caprese burrata, move on to a Caesar wedge or Greek salad, and then choose from entrees that include a melt-in-your-mouth beef tenderloin coupled with truffle mashed potatoes, a spicy glazed chicken breast served with mascarpone polenta, or a pistachio-encrusted black sea bass. Cap off the evening with a chocolate lava cake and light-as-air panna cotta with fresh raspberries.
It's a night to remember that will leave you craving more. Beachfront dinners are available by reservation on Thursday through Saturday. Dinners are $295 per person, plus tax and gratuity. For reservations, contact the concierge at 305.918.6860.
39
Great food AND THE GREAT OUTDOORS
By David Kaufman
40
culinary delights
Considering its prime location smack on the Atlantic Ocean, Acqualina was made for al fresco dining. And why not. The weather is ideal with balmy ocean breezes and moderate temperatures forming the ideal backdrop for some seriously memorable Acqualina meals. And memorable those meals are served at a portfolio of restaurants that indulge and delight every palate imaginable. The only challenge — choosing which one to try first. It's a challenge made all the more, well, challenging following a series of recent restaurant openings and upgrades which make Acqualina's dining scene more exciting than ever.
The newest resort destination dining delight is Avra Miami, the first South Florida offshoot of the fabled Avra Greek dining concept that's long won raves from fans in New York and Los Angeles. Avra just opened its doors in the new Estates at Acqualina. Accessed via a sky bridge to the main resort, Avra Miami offers foodies a wide range of just-caught and market-driven menus inspired by Greece and the Mediterranean – and served in a sleek and stylishly-designed indoor/ outdoor location.
41
Considering its prime location smack on the Atlantic Ocean, Acqualina was made for al fresco dining.
For Italian food-lovers, Il Mulino – another New York import – never fails to deliver thanks to its world-class dolce vita cuisine and wines. Old world and traditional – formal yet always fun – Il Mulino is both ideal for families or romantic dates owing to its drop-dead pool-side and ocean views.
42
Ke-uH offers classic Japanese with a contemporary twist – think traditional sushi and rolls (including many embedded with truffles) along with innovative fusion-style items including tuna tacos and salmon pizza. All of that Asian goodness is served in a dining room set directly on the Atlantic. Then there's Costa Grill, which is not merely ON the beach, but is the only restaurant in all of Miami set directly alongside the sea and sand. The stylish, contemporary Floridian menu overflows with something-for-everyone classics -- from a light and healthy tuna carpaccio to some of the best burgers on the beach.
43
SPREADS Sunday
By Lane Nieset
Sundays at Acqualina have long been the highlight of the week thanks to Il Mulino New York's lavish, buffet-style brunch unfolding on the Italian palazzoinspired outdoor terrace. One of Miami's most indulgent spreads, this oceanside brunch is designed to be savored, with Corporate Executive Chef Michele Mazza and his team keeping diners on their toes with dishes like Kobe beef sliders and porcini ravioli with champagne truffle cream, plus classics like brioche French toast and made-to-worder waffles and omelets
44
Il Mulino New York Sunday Brunch is a weekly affair, taking place from Noon to 4 p.m., with a parade of sushi and pasta stations — filled with a selection of the Italian eatery's signature dishes—plus bottomless brunch cocktails like mimosas, mojitos, Sangria, and Bloody Marys.
45
Last fall, another New York transplant, two-decade-old brand Avra, opened its fifth outpost at The Estates at Acqualina, a short stroll across the resort's sky bridge. And with the recent debut of the highly anticipated brunch menu, available from 11:30 a.m. to 3:30 p.m., Sundays just got even more exciting at Acqualina.
46
Looking to the traditional seaside taverns lining Greece's coastline and islands, Executive Chef Jose David Diaz injects a Mediterranean touch into sweet and savory à la carte brunch fare like grilled haloumi with orange peel and Greek honey, challah French toast with vanilla cream, and grilled fish of the day with spanakorizo, a Greek spinach-and-rice pilaf.
For something truly over the top, the smoked salmon tower stacked with bagel accoutrements and the fluffy scrambled eggs with Kaluga caviar are not to be missed—and neither are the views from inside the bougainvillea-wrapped pergola dining room or under the stone arches on the elegant, waterfront patio that exudes Greek summer vibes year-round.
47
Glen Carnagie
Meet the Head Chef of Acqualina Resort
By Juliana Accioly
Meet Glen Carnagie, Acqualina Resort's Head Chef of Culinary Concepts. Born in Jamaica, Chef Glen brings together his passion for food and hospitality at Costa Grill and Acqualina's weddings and special events. Keep reading to learn about how he became a chef, his favorite Costa Grill dishes, and much more.
48
culinary delights
Chef Glen, where are you from and what's your culinary background? What made you decide to become a chef?
I was born in Jamaica and growing up, I spent many years helping my grandmother in the kitchen after school, fascinated by the spices, colors, and textures in the foods she prepared. After graduating high school, I worked under a European chef at the Enchanted Gardens, one of Jamaica's most exotic hotels. From him I learned menu planning, French cuisine, and a variety of sauces. The creative aspect of the work made me want to become a chef.
Describe a day in your life as an Acqualina chef. A typical day for me begins with a team meeting with my chefs, followed by an inventory review. I work in the kitchen and also meet with a variety of food purveyors to place future orders. I love the days where I meet with the bride and groom and planners to plan their wedding and event menus.
What are some of the Costa Grill's must-try food offerings and what is your favorite?
Costa Grill's menu highlights are the Tuna Poke, made from fresh tuna and a homemade citrus ponzu and the Tender Grilled Octopus, cooked sous vide and marinated with Spanish paprika, fresh garlic and herbs. Our grilled Butterfly Branzino is also a highlight, imported from Turkey and accompanied with a choice of side menu item. My favorite dish is another musttry: Seared Yellowtail Snapper sandwich, local catch served on brioche bun with citrus cabbage slaw, lettuce, and tomato creole remoulade sauce.
What can guests expect from the food menus you serve for weddings and other special occasions held at Acqualina and how do these menus make these events even more memorable?
We cater to our guests with fresh, quality food that is healthy and carefully plated. We take pride in going above and beyond for our guests.
49
Remember A PARTY TO
On a beautiful day at Acqualina, this couple tied the knot surrounded by 115 family members and friends. Throughout the celebrations, entertainment and cuisine took the spotlight from the rehearsal dinner the night before at Il Mulino New York to the post-wedding brunch the following day.
50
Photos by @ktmerry
culinary delights
During the ceremony on the Front Lawn, a quartet played opera and instrumental music as the couple stood beneath a transparent arbor that showcased the panoramic ocean view.
A French duo performed at the cocktail hour on the Great Lawn, and in the nearby reception tent, a band took the stage during dinner. On the completely customized menu were Greek and Mediterranean fare representing the groom's rich heritage and bright Miami flavors in honor of the bride. The couple opted for food stations instead of a plated dinner to create a comfortable, informal atmosphere for their guests.
This wedding had every type of entertainment you can imagine, It was all about entertainment, about food. The couple were foodies. They wanted all the guests to enjoy little bites and have a wonderful culinary experience. says Jessica
Roldan
After dinner and dancing, the celebration continued in the expansive Mediterranean Room, which had been transformed into a club-like setting with white and blue lights to set a winter scene. A DJ set the mood while guests enjoyed bites of comfort food.
They found that mix of luxurious and beautiful but still relaxed and fun on the beach.
To learn more about Weddings at Acqualina, visit the wedding pages on acqualinaresort.com or contact catering manager Jessica Roldan at Jessica.roldan@acqualina.com.
51
BRINGS AEGEAN CHARM TO ACQUALINA
By David Kaufman
52
culinary delights
Avra Estiatorio is the first South Florida outpost of the now iconic New York Mediterranean restaurant group. Set at the Estates at Acqualina between the North and South Towers inside Villa Acqualina, the restaurant elevates Acqualina's existing portfolio of world-class dining to stunning new heights. Owing to its Mediterranean roots, Avra at Acqualina is all about light and water – with floor-to-ceiling windows offering panoramic vistas of the beach and pools. A 100-footlong terrace also features double-height ceilings and sturdy stone arches looking out to the Atlantic.
53
OWING TO ITS MEDITERRANEAN ROOTS, AVRA AT ACQUALINA IS ALL ABOUT LIGHT AND WATER – WITH FLOOR-TO-CEILING WINDOWS
OFFERING PANORAMIC VISTAS OF THE BEACH AND POOLS.
LOOMING OVER THE 360-DEGREE FLUTED MIRROR BAR
IS A TREMENDOUS TERRACOTTA URN WITH A LARGE FICUS TREE – ALL THE DESIGN HANDIWORK OF THE PRESTIGIOUS STA ARCHITECTURE GROUP IN MIAMI BEACH.
Although intimate in feel and aesthetic, Avra Miami is grandly proportioned, with 330 seats – including supremely comfortable oversized booths. The ceiling is designed like the al fresco pergola found in the Greek isles, covered with flowering bougainvillea vines to evoke the charming tavernas found along the Aegean countryside.
54
According to STA Principal Todd Tragash, a core element of Avra's design was its use of stone, as evidenced by the eye-catching stone installations at each end of the restaurant. "Our design was inspired from the remnants of the quarried blocks, after they're cut into slabs," says Tragash. "The stone masons call them 'skins.' We sourced the skins from the Mediterranean and Aegean regions and composed them into three-dimensions explosions of the extracted material."
Much like at existing Avra restaurants in New York and Los Angeles, Avra Miami is all about culinary drama. Each evening the restaurant's "catch of the day" is displayed so diners inspect and select their favorite seafood items. Sturdy travertine marble columns anchor the restaurant, accented and aligned by the large ficus trees native to South Florida, which are set in large terracotta urns, lending another nod to Greece and its iconic fig trees. And wafting through it all are those cool Atlantic breezes, brought into the restaurant through towering glass doors – ever-reminding diners that Avra, after all, comes from the word for "breeze" in Greek.
55
MUCH LIKE AT EXISTING AVRA RESTAURANTS IN NEW YORK AND LOS ANGELES, AVRA MIAMI IS ALL ABOUT CULINARY DRAMA. EACH EVENING THE RESTAURANT'S "CATCH OF THE DAY" IS DISPLAYED SO DINERS INSPECT AND SELECT THEIR FAVORITE SEAFOOD ITEMS.
56 TEAM
KEEPING UP WITH
BEHIND THE SCENES OF KE-UH RESTAURANT WITH GENERAL MANAGER SAYURI "SAI" JONES
By Sherri Balefsky Hanson
Where are you from?
I'm from Sapporo, Japan, the biggest city on Hokkaido Island. It is the mecca of fusion cuisine, known for fresh seafood, sushi, and pastries.
When did you join the Acqualina team?
After over 10 years working on South Beach, I joined Ke-uH at Acqualina in October 2020. We officially opened to the public in January 2021.
What makes Ke-uH stand out?
Some restaurants have great chefs. Some have quality ingredients. And others have the ambiance. Ke-uH has all the above! Our Executive Chef Edwin Delgado and Corporate Executive Chef Oscar Noborikawa carefully select the freshest ingredients – they know where to get them and how to properly treat fish (unfortunately, many chefs do not!). They have opened multiple award-winning restaurants, and their knowledge and extension of recipes are remarkable.
The rest of our staff is also amazing. We have such a bright and kind team. And when people around you are kind, you want to do the same. We complement one another and have the "Let's do it" power.
Can you give an example of a time you went above and beyond for a guest?
Personalized service is the core of hospitality, so "above and beyond" just comes naturally to us. For example, one of our frequent guests was an older gentleman who dined with us a few times a week. He stopped coming briefly, then one day, he showed up in a hospital gown and told us he snuck out to see us! He ordered his usual, but he struggled to take bites. So we made him some mini sushi so he could eat! When another repeat guest said he was sick, we delivered a care box with soup. I don't consider this going above and beyond...it's in our nature and we are just personable!
57
Personalized service is the core of hospitality, so "above and beyond" just comes naturally to us.
Sayuri Jones
A TASTE OFLuxury
AS FOOD AND BEVERAGE MANAGER AT THE MANSIONS AT ACQUALINA, GUIDO TASSINI ENSURES THE LUXURY RESIDENTIAL PROPERTY'S CULINARY OUTLETS EXCEED EXPECTATIONS ON ALL LEVELS.
By Sherri Balefsky Hanson
Where are you from?
I was born in Caracas, Venezuela.
Describe your role at The Mansions. As Food and Beverage Manager, I oversee the grill, the butler team, and breakfast operations.
How does The Mansions at Acqualina's F&B program compare to other residential properties?
Having worked in many luxury properties, I can honestly say that The Mansions' food and beverage program is the most comprehensive! For example, we serve breakfast every day in our grand salon with pastries, fruits, cured meats, and more. We also have The Grill, open Friday through Sunday, emphasizing fresh ingredients and seasonal fare. We also work closely with brand ambassadors from various wine and spirits companies and offer monthly masterclasses and tastings.
How do you ensure you are always exceeding guest expectations?
We are fortunate to have incredible, engaging residents. During our conversations, we learn their preferences and act on them. Luxury service is anticipatory, and Acqualina provides us with the tools to make our residents feel truly special.
If you moved into The Mansions at Acqualina, where would you most likely be found among the luxurious amenities?
I'd be using the F1 driving simulator. I am considering one for my house!
What is the best part about working at Acqualina?
The people here make it a joy to be part of the team. Acqualina has always been the gold standard in South Florida, and it is easy to see why.
58
Guido Tassini
Acqualina provides us with the tools to make our residents feel truly special.
TEAM
PERSONALIZED SERVICE AT Every Turn
AFTER BEING PART OF THE ACQUALINA TEAM FOR NEARLY A DECADE, THE ESTATES AT ACQUALINA'S ASSISTANT HOUSEKEEPING MANAGER JAMES CAPULONG SAYS THERE'S STILL NO TASK TOO BIG OR SMALL WHEN SERVING RESIDENTS.
By Sherri Balefsky Hanson
Where are you from?
Pampanga, the Christmas and culinary capital of the Philippines.
Describe a typical workday.
Between greeting coworkers, residents, and guests with the utmost welcoming attitude and ensuring satisfying experiences, there are no tasks I wouldn't tackle on a typical day! When we attend to the smallest details, we all succeed.
How do you ensure you are always exceeding guest expectations?
I listen to the people around me – not only their verbal communication but also their body language. I look for "golden nuggets" in case they share a reason for their visit, such as a birthday, anniversary, or graduation. I use that information to create a memorable stay and experience.
Tell us something not many people know about The Estates at Acqualina.
As a new property, we have several unique amenities, including an ice-skating rink, a bowling alley, an F1 racing simulator, a nightclub, a FlowRider surfing simulator, and more.
What is the best part about working at Acqualina?
The culture. Leadership empowers us to take ownership of our daily operations.
59
When we attend to the smallest details, we all succeed.
James Capulong
dream makers
By Sherry Balefsky Hanson
As a dual-licensed spa therapist at Acqualina Spa, Lakita Rudolf provides exceptional experiences by listening to guests' needs and concerns to customize their treatments. "I always ensure my guests are comfortable and safe in my hands," she says. "My intention is for them to leave in a state of bliss and relaxation."
"One time, it was a guest's birthday," Lakita recalls. "After she was relaxing on the table, I quietly placed a happy birthday sign on the wall. When she saw the sign at the end of the treatment, she started crying. She appreciated the gesture."
Apart from making guests' days, Lakita says her favorite thing about working at Acqualina is her fellow team members. "I have the best team," she says. "I know I can count on management for their support and am grateful for the opportunity to grow in my field."
Lakita Rudolph - SPA TherapistMiami, FL Joined Acqualina: 2014
For spa guests, Lakita recommends the Detox Package, which includes a body scrub, a customized body and scalp massage, and a poolside lunch, or the Rejuvenating HydraFacial, which combines the HydraFacial machine with a traditional facial.
60
Some of Acqualina's long-time team members discuss why they love working at Acqualina and how they go above and beyond for guests.
TEAM
I ALWAYS ENSURE MY GUESTS ARE COMFORTABLE AND SAFE IN MY HANDS, MY INTENTION IS FOR THEM TO LEAVE IN A STATE OF BLISS AND RELAXATION.
Named "Employee of the Year" in December 2022, Silina Fleuregiste applies exceptional five-star service in everything she does. She says her favorite thing about working at Acqualina is that "Every Dream Maker respects one another."
Silina's typical workday involves more than cleaning rooms; it is about creating memorable guest experiences. "My guests' expectations are my priority," she explains. "Before leaving each room, I ensure everything is perfect." She recalls one time a guest left their phone behind. She immediately gave it to security, who returned it to the guest before they departed the hotel.
She says her favorite thing about working at Acqualina is that
EVERY DREAM MAKER RESPECTS ONE ANOTHER.
Gracia Racine, Acqualina's "Employee of the Year" in December 2021, is a dry-cleaning presser, a position that goes beyond laundry.
"After my co-workers wash the clothes, I press them, ensuring no detail is missed," he says. "I don't compromise on my standards. I do not return any garment unless it's immaculately pressed and presented." He recalls a guest who had detailed requests for how they wanted their laundry handled. Gracia ensured all instructions were followed, and the guest was extremely satisfied. "My favorite thing about working at Acqualina is helping our guests look their best, whether for a business meeting or a romantic dinner," he says.
Gracia says guests typically expect outstanding service at five-star hotels, but they are always in awe at Acqualina as the service exceeds their expectations.
61
Silina Fleuregiste - Room AttendantPort-au-Prince, Haiti Joined Acqualina: 2007
Gracia Racine - LaundryPort-au-Prince, Haiti Joined Acqualina: 2006
MY FAVORITE THING ABOUT WORKING AT ACQUALINA IS HELPING OUR GUESTS LOOK THEIR BEST, WHETHER FOR A BUSINESS MEETING OR A ROMANTIC DINNER.
From sunrise to sunset
SettingPerfect the
PHOTOS
DAVID BENOLIEL
STYLING
JENNA DEBRINO
HAIR & MAKE UP
DAVIDE CALCINAI
MODEL
ALEXANDRA PEKARKOVA
fashion forward
Top and Sarong by Marissa Collection, Palm Beach
Dress by Ermanno Scervino, Bal Harbour Shops
Top and Sarong by Marissa Collection, Palm Beach
Sunglasses by Sospiri, Oberlé Opticians, Surfside Swimsuit by Ermanno Scervino, Bal Harbour Shops
Sunglasses by Anna-Karin Karlsson, Oberlé Opticians, Surfside Blouse and Skirt by Carolina Herrera, Aventura Mall Gold Hoops by Lagos
Dress by Ermanno Scervino, Bal Harbour Shops
Sunglasses by Sospiri, Oberle Opticians, Surfside
Sunglasses by Anna-Karin Karlsson, Oberlé Opticians, Surfside Swimsuit by God Save Queens
Jewelry and Watch by Harry Winston, Bal Harbour Shops Cardigan Pant Set by Carrolina Herrera, Aventura Mall
Watch by Richard Mille, Bal Harbour Shops
Dress by Marissa Collection, Palm Beach
Sunglasses by Sospiri, Oberlé Opticians, Surfside
Dress by Marissa Collection, Palm Beach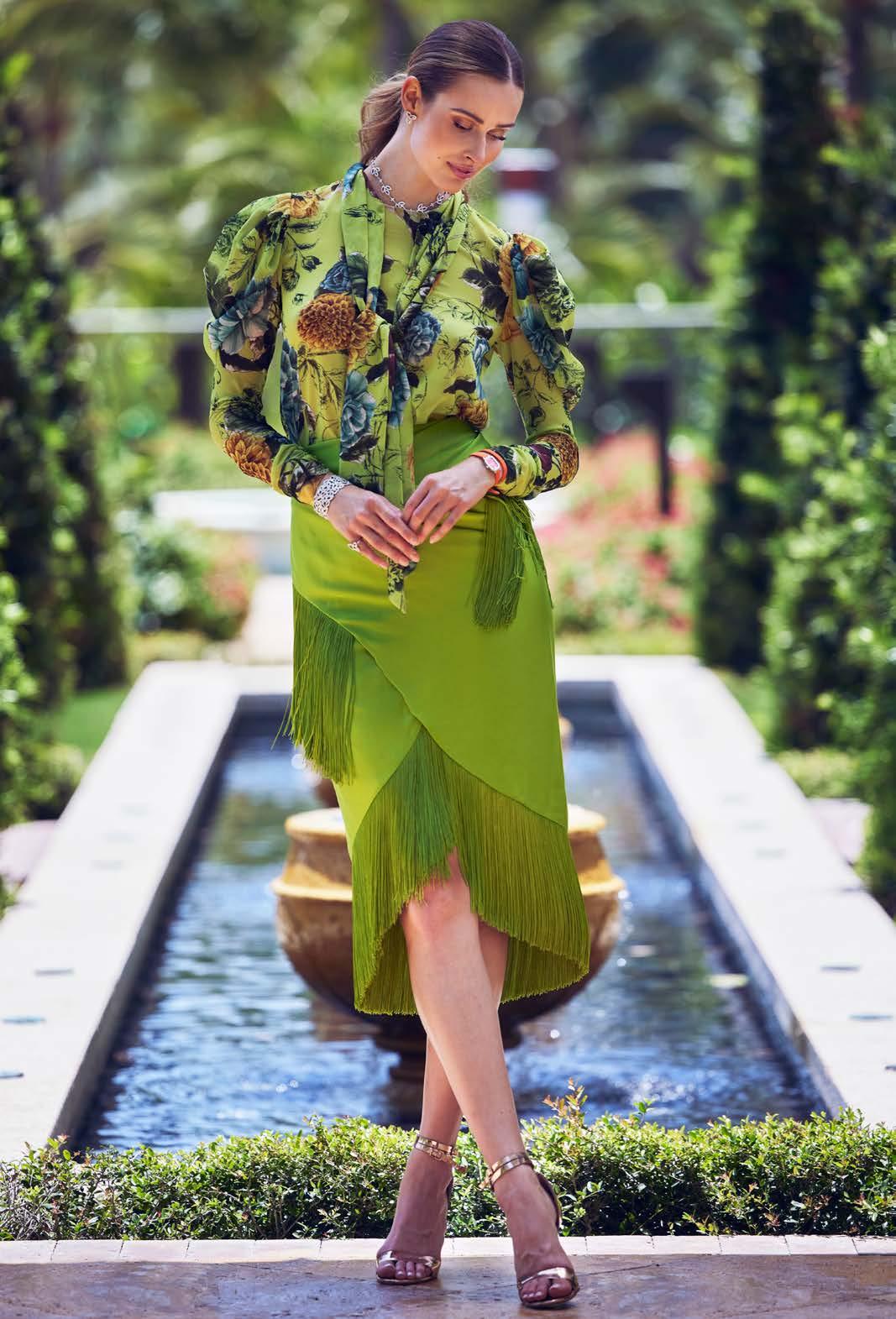 Jewelry and Watch by Harry Winston, Bal Harbour Shops
Skirt and Blouse by Marissa Collection, Palm Beach Heels by Jimmy Choo
Jewelry and Watch by Harry Winston, Bal Harbour Shops
Watch by Richard Mille, Bal Harbour Shops
Dress by Green and Serene
Sunglasses by Dita, Oberlé Opticians, Surfside
Dress by Green and Serene
Sunglasses by Maybach, Oberlé Opticians, Surfside Dress by Green and Serene Earrings by Lagos
Acqualina's Boutique North Tower
Continues to Hit New Heights
By David Kaufman
84
estates
Delivered move in-ready, the homes include a pair of sprawling units, Ravello and Amalfi, each with roughly 5,000 square feet of indoor and outdoor living as well as a massive single family home with its own private swimming pool. Each residence features grand terraces for panoramic ocean views as well as distinctive touches such as hand-crafted French ranges from the Parisian kitchen-specialist La Cornue. For folks seeking a truly turnkey experience, residences may also come fully furnished via design curation services from Luxury Living, featuring pieces from Baccarat La Maison and Trussardi.
Set on a pristine 5.6-acre parcel directly fronting the azure Atlantic Ocean, the North Tower is accessed via the Estate's signature – and singular – Karl Lagerfeld-designed lobby, the only one of its kind in the entire United States.
Rising more than 50 floors – and to nearly 700 feet in the sky – the North Tower at the Estates at Acqualina dramatically encompasses everything that's most magical about the Acqualina brand. Although grand and impressive, the North Tower retains its tell-tale "boutique"-like feel thanks to its strong sense of intimacy and attention-to-detail.
Standing proud amid the Estate's South Tower and amenity-packed Villa Acqualina, the Boutique North Tower completed its core construction in mid2021 and – and following two years of adding elegant final touches – is now open to residents this year. With 91 residences –compared to 154 units at the larger South Tower – the North Tower is intimate in feel, with just two homes on most floors (and only one in two of the Tower Suites floors).
the North Tower at the Estates at Acqualina dramatically encompasses everything that's most magical about the Acqualina brand.
takes center stage VILLA ACQUALINA
By Christie Galeano-DeMott
86
estates
VILLA ACQUALINA
RECENTLY DEBUTED ITS 45,000-SQUARE-FOOT WONDERLAND OF DIVERSIONS.
87
A lavish estate in the sky needs an equally unparalleled amenity arena on terra firma and that's what the Estates at Acqualina delivers to its residents. Villa Acqualina recently debuted its 45,000-square-foot wonderland of diversions. While most residential buildings feature a party room for entertaining, the Estates at Acqualina curated a recreation masterpiece for its discerning residents. A Mediterranean palazzo bookended by two recherche towers, Villa Acqualina effortlessly blends the brand's classic unrivaled hospitality with a sublime yet comfortable and playful amenity landscape.
Within the ultra-luxe, four-story space sits Circus Maximus, the entertainment hub. Villa Acqualina has perfected its flair for luxury recreation that the entire family can enjoy together, whether that's a movie night in the state-of-the-art private theater, bowling in the sleek alley, or ice skating in the indoor rink. But it's also a place where adults can harness their inner child with Formula One racing and sports simulators for refining gear changes, golf swings or soccer kicks. It also provides opportunities for social interaction among neighbors with its daily breakfast buffet on the fourth floor and a Wall Street trader room with massive TVs. When the sun goes down, Villa Acqualina transforms into a posh paradise of revelry with Avra, its world-class Greek restaurant, a fully stocked cigar room, and a two-story sultry nightclub with plush aubergine velvet banquettes and an impressive crystal chandelier floating down from the ceiling
88
THE FUN AND GAMES CONTINUE INTO VILLA ACQUALINA.
The expansive space also offers residents an oceanfront gym, salt therapy suite, juice bar, and group fitness classes.
Meticulously planned down to every minute detail, Villa Acqualina grants residents such a variety of experiences that it might be challenging to find a reason to leave home.
89
REPEAT Restoration
From family holidays to girlfriend getaways and solo retreats, a Pennsylvania family can't get enough of Acqualina Resort's coveted location and authentic hospitality.
By Angela Caraway-Carlton | Photos by Pipe Yanguas
90
Esteemed guests
or Dennis and Donna Maple, a vacation to Acqualina Resort is a consistent part of their lives that's comparable to visiting family. They are the epitome of repeat guests. The Maples, who live in a suburb of Philadelphia, first visited the idyllic Mediterranean-style villa in 2010 after a friend suggested it. "She told me that it felt like you're somewhere far away, but it's only a short flight," says Donna Maple. "As soon as we arrived, we understood what she meant. The warmth of the staff, the décor, and the prime location steps away from the ocean, we immediately fell in love with Acqualina."
That one getaway more than a decade ago morphed into annual vacations at Acqualina with their children—and now their adult children and their families—and a corporate retreat for Dennis. "There's something for everyone, at every age and stage of life," says Donna, who's a self-proclaimed shopaholic, and favors the resort's prime location to high-end Bal Harbour Shops and Aventura Mall. She even retreats to Acqualina on her own at least once a year. "I call them my mental health breaks," she says. "I literally prop myself on a red sofa on the outdoor living room, and just read for hours. I don't have to get up to eat, the staff offers beach service and constantly checks on me."
The couple has become evangelists for the resort, sharing their love of Acqualina with anyone who will listen. When Donna's friend turned 50 and was looking for a celebratory getaway, the group of girlfriends took her recommendation of Acqualina. "We had a ball. We were like little children on the beach, laughing and playing in the sand," she says. "The concierge recommended different restaurants at night, we treated ourselves to spa treatments, and the staff took cute pictures of us dressed in our matching robes."
The Maples say it's the staff's genuine care and meaningful gestures —from lining up to greet them upon arrival to placing framed pictures of the family in the hallway that they share when vacationing —that keep them coming back. New to their vacation ritual: they've spent the last two Christmas holidays at the resort. "It was unbelievable. We arrived to find a full-sized, fully decorated Christmas tree in our suite with real gifts," says Donna. "They'll do anything to make you feel at home."
91 F
The Maple family – Sydney, Dennis, Donna, Lauren, and Cameron.
Let it Flow
Health-driven H2O that's kind to mother earth.
By Erica Corsano | Photos by Pipe Yanguas
Luxury and sustainability aren't words you typically see side by side. But in a world where consumers are becoming more conscious about their carbon footprint, brands are responding with products that fit the bill. KOPU Water founders Justin and Mindy Mahy realized that the bottled water category was seriously lacking when it came to an upscale, healthdriven product that was truly sustainable. In fact, the numbers speak for themselves. Only an astounding thirty percent of all glass water bottles are actually recycled. You may do your part by placing them in your brightly colored recycle bins, but in reality, a small percentage of states in the United States (ten to be exact) actually have the capacity to recycle glass— sending these glass vessels straight to landfills, where it takes about a million years (yes, really) to decompose.
When the husband and wife entrepreneurs began to research this product category, they realized they had to do something to change the way we consume water. They say that KOPU is founded on love and respect for the planet and for each other. Their mission is unique: to deliver the best tasting water in the world while minimizing impact on the Earth.
92
special partners
The water itself is sourced from an artesian spring thousands of feet below the dormant volcanoes of Oregon's Cascade Range and happens to be loaded with minerals that are uber healthy. "The water is sourced from the best water spring in America- it's naturally alkaline at 8.0 pH and is filled with minerals that are very healthy for our bodies," Mindy explains. It contains bodyfortifying minerals like calcium, magnesium and potassium, and benefits from naturally-occurring silica, known as the "beauty mineral" for its hair, nail, and skin enhancing properties.
That's just part of the magical equation. The beautiful bottles that hold the water are made from 100% aluminum, which is a highly recyclable material. Justin explains, "One of our biggest world problems is packaging waste, so to build a company that is authentically sustainable is important to us. Aluminum is highly recyclable. Sixty days after our bottles are recycled, they will reemerge as a can of soda or maybe a Tesla! It's the sustainability wonder material." The savvy business owners' commitment to their mission of sustainability is truly next-level—the company takes all the bottles from their participating clients and delivers them to local metal partners, where they go back into the aluminum stream.
93
- IT'S NATURALLY ALKALINE AT 8.0 PH AND IS FILLED WITH MINERALS THAT ARE VERY HEALTHY FOR OUR BODIES.
The water is sourced from the best spring in America
The Mahy family, founders of KOPU Water.
As for the actual design of the bottle, it was inspired by a rare and expensive stone: the paraíba tourmaline. Discovered in 1989, paraíba tourmalines are among the world's most prized gemstones and are renowned for showing intense blue colors. "Whenever you see this color, it exudes happy and healthy and all of the things we want to embody and it stands out as a beacon of luxury and sustainability," Justin explains.
The luxury travel space was the perfect market to place the eco-conscious H2O. "We wanted to specifically go into upscale hospitality…we truly believe that luxury and sustainability go hand in hand," Mindy says. You can find their sleek aluminum bottles of sparkling and flat water at Acqualina Resort & Residences. Both brands felt that their missions aligned perfectly to create a long lasting partnership. "Deborah Yager Fleming, CEO + Partner of Acqualina, immediately recognized that we shared the same brand values and that takes real vision…we are thankful for that partnership," Justin says.
94
Additionally, a special partnership with Forbes Travel Guide expanded their reach. "Arbiters of luxury travel, Forbes Travel Guide had been looking for a water that truly embodies their values as well as future proofing from a sustainability factor…there were no brands meeting that threshold and we found each other and decided to partner," Mindy explains.
One of our biggest world problems is packaging waste, so to build a company that is authentically sustainable is important to us.
ALUMINUM IS HIGHLY RECYCLABLE. SIXTY DAYS AFTER OUR BOTTLES ARE RECYCLED, THEY WILL REEMERGE AS A CAN OF SODA OR MAYBE A TESLA! IT'S THE SUSTAINABILITY WONDER MATERIAL.
Mindy and Justin teach sustainability to their three children and incorporate best practices in their daily lives, including shopping at farmer's markets, eating local ingredients (when possible), and advocating for sustainable living in their community. A family of five living in Florida, the Mahy's feel that it's important to inform the next generation to make sure they can protect the Earth and change the way humankind consume water — and all products for that matter. "The stewardship of the packaging is huge…we are one of the few companies who do this and we are leading this movement," Justin says. "If we don't, we are going to be living around trash heaps… for our children and grandchildren, we have to address this now."
95 Learn more at kopuwater.com
WIN AFTER WIN Acqualina
By David Kaufman
96
The Best Resort in America
for
awards
This year has been monumental for Acqualina Resort in many ways, In the month of May, Acqualina proudly secured the title of #1 Beachfront Hotel in the U.S. by none other than Tripadvisor, the world's largest travel platform. Furthermore, Acqualina was ranked #2 Luxury Hotel in the U.S. and #5 Hotel in the U.S. In February, Acqualina was named by US News and World Report as the #1 Best Hotel in the USA and the #1 Best Resort in the USA.
The awards are significant in both scope and meaning: The Tripadvisor results were based on guest reviews. Guests log on to the Tripadvisor portal, rate their experience at the resort, and provided detailed comments for others who may be considering visiting the resort.
US News editors scoured vast amounts of unbiased data to consider everything from user reviews to industry accolades to a hotel's star numbers to determine the world's-best status. The results are then tallied by both category and region – and Acqualina has scored at the top of them all. Acqualina also excelled on Forbes' annual Travel Guide list – scoring a coveted 5-Star rating for the 11th year in a row (Acqualina's world-renowned Spa also received a 5-star rating). This prestigious award is rigorously calculated by in-person inspectors based on some 900 detailed criteria.
The awards don't come easily and require commitment and dedication from every member of Acqualina's team. Doorman Angel Guerra, nominated for the Inn Key Awards by the Greater Miami and the Beaches Hotel Association (GMBHA), says "attention to detail and willingness to go above and beyond always contribute to overall guest satisfaction." Of course, that begins from moment one at Acqualina: "A friendly and helpful attitude can create a positive first impression for guests," Guerra enthuses. How's that for a truly award-winning attitude.
97
Angel Guerra
More than 35,000 luxury properties were ranked in the USA and worldwide and Acqualina – topped them all.
A friendly and helpful attitude can create a positive first impression for guests.
The Virtuoso Effect
A conversation with luxury travel guru Matthew D. Upchurch, Chairman & CEO of Virtuoso.
By Erica Corsano
Once a small family venture founded decades ago, Virtuoso has become a global powerhouse for luxury travel. Today, with a collective buying power of more than $28 billion a year, Virtuoso is the leading travel network specializing in experimental and luxury travel.
With over 20,000 affiliated travel advisors scoring exclusive perks for elite travelers, Virtuoso is not only beneficial to them, but also to the vast network of hotels, resorts, cruise lines, tour companies and premier destinations they work with—after all, properly advised customers make for happy customers.
We recently sat down with chairman and CEO, Matthew D. Upchurch to learn more.
Where did the idea to start a luxury travel company come from?
Virtuoso was born out of two companies that my family owned coming together. Virtuoso began in 1951 as Allied Travel, a research and operations center cooperatively established and owned by a collective of travel agencies to provide leisure and group travel. In 1986, we merged Allied with Percival Tours, an upscale tour operator. Those two companies formed the basis for the Virtuoso network, bringing together independently owned but like-minded travel agencies that knew they could accomplish more together than they could on their own, and creating a preferred partner portfolio of the world's best travel brands that they could build relationships with and book with confidence.
How has the business grown and changed over the years?
The network has grown in ways I didn't initially imagine, namely globally. While we started in the U.S., now almost half of our 20,000plus travel advisors are located outside the country. As we expanded into different markets, what we learned is that luxury travelers across the globe may have different preferences for where and when
they want to travel, and even how they travel, but the common thread is the value they place on collaborating and working with a professional advisor.
What are the biggest challenges you face in the luxury travel space today?
When you are an experiential product or service, one of the biggest challenges is that it's hard for people to fully understand the value of it until they really experience it. There is so much that is false and glossy in the world, so it's difficult to discern what's real and valuable and unique about what you're offering until they personally see it for themselves. Ultimately, those of us who are in the luxury and experiential travel industry know that we are really in the 'how did you make me feel' business. When there's an authentic connection and the traveler comes away from their experience changed by how it made them feel, that is the ultimate luxury. And with the rise of artificial intelligence (AI), and the inherent doubt that it brings, it only raises the value of trusted relationships with actual human beings who can deliver those experiences.
98 Final Thought
What's your favorite thing about your work? i.e. the most rewarding?
The most rewarding thing for me, and one of the things I'm proudest of, is the decades-long path of supporting genuine human connection, collaboration and how people have come together to accomplish something they might not have been able to do alone. Seeing the outcome of Virtuoso travel advisors and our partners in enhancing people's lives through travel experiences, allowing them to make memories together with their families and friends. At the same time, also helping build a profession that has become increasingly more valuable and, as someone who loves technology, being able to apply tech to enhance the human factor rather than remove it.
It is also my belief that travel is a force for good. At Virtuoso, we champion three pillars of sustainability: supporting local economies, celebrating cultures and protecting the planet. Having grown up in the business, helping people understand the social and economic value of travel, that it can have a positive impact on the destinations visited and the people who live within those communities, all while actually enhancing the travel experience – that is important to me.
How many countries have you visited this past year?
I've visited more than 100 countries in total, so I quit counting a long time ago. If I think about it, though, maybe eight in the last year. But I'm like many other people, in that I'm always thinking about the next trip, where I want to go, what I want to do and see and experience. Travel is one of those things that hits on three different levels: there's the excitement and anticipation that comes with planning the trip, the actual experience while traveling and then the memories and storytelling afterward.
If you have to name your top 3 travel destinations, what would they be and why?
Given my position, I used to not answer this question and, the truth is, I love going to new places. Like many luxury travel clients, I maintain a creative tension between going back to favorites that I feel connected to and new places that excite me. I have a long list of additional countries that I still haven't been to and want to visit.
My favorite places to return include Mexico, where I spent my youth, but I mean cultural Mexico, not just beach and sand. Italy is another country I return to again and again. Africa, which is another place where I spent some of my childhood, is where I truly disconnect. Antarctica is one of those places where I gained a whole new appreciation for the fact that Mother Nature is in control.
As for what I'm most excited for next, I can't wait for my Virgin Galactic flight and the Earth overview effect.
What's your biggest piece of advice to anyone planning a big trip this year?
With demand so high and capacity becoming limited, my best advice is to plan ahead, use a travel advisor and consider places that are not in peak season. Think of combinations and alternative destinations. When you find the right advisor, you're going to have options you didn't know you had. And you're going to realize their value not only in planning and during the travel, which are more obvious, but after the trip as well.
What are some new and exciting initiatives coming to Virtuoso? The drive to always be looking towards that next trip, and the one after that, and all the places to visit in the future, is what led us to create Virtuoso Wanderlist®, because it builds excitement as people explore countless possibilities for their next travel experience. And as the people who craft those experiences, we're no longer sitting back and waiting for people to tell us where they want to go; we're helping create the proactive roadmap for what they want to do in the future. Travel advisors are like financial advisors. And why would you have a conscious plan for your wealth strategy and not for your most valuable, non-renewable asset – your free leisure time? Wanderlist allows you to create and action your travel strategy.
We also launched on Earth Day a sustainability hub on our website, Virtuoso.com, with rich, original, compelling content featuring sustainable travel experiences. More and more high-networth travelers want to do good, and we make it easy to not only have a great experience, but also to connect with products and partners that are doing amazing things. That's something that has become increasingly more important to our clients.
How does Virtuoso work with Acqualina?
Virtuoso has a preferred partner network with an exclusive portfolio of more than 2,300 of the world's best travel companies, encompassing hotels and resorts, cruise lines, tour companies and premiere destinations. We are proud to count Acqualina as one of our preferred partner hotels. Anyone who has been to Acqualina knows the exceptional quality and superlative service it offers, but being part of our program means that Virtuoso clients will receive additional benefits and special recognition.
99
CEVE
CÉVÉ specializes in contemporary gloss finish sculpture and is easily recognized for her unique style - simplicity of smooth lines and soft bronze crafted into charming characters. CÉVÉ intends for her sculptures to be both seen and felt in the viewer's eyes. An internationally renowned artist, CÉVÉ is also a curator for many exhibitions in France and around the globe. Her works are all designed and created in France.
´
´
LEO & STEPH
Léo & Steph are a France-Brazilian duo with a true passion for Pop Art who transform everyday objects into unique and exclusive works of art. They imagined an iconic character reflecting our inner child: "Kid Cup." This faceless, genderless character amuses itself in a colorful and cheerful world. It is resolutely optimistic and "drinks life" from the cup it hardly ever leaves behind.
Miami • Dallas • Laguna Niguel www.markowiczfineart.com • info@markowiczfineart.com • 214.200.3288
RICHARD ORLINSKI
Richard Orlinski is a French multi-media artist born in Paris in 1966. A sculptor since 2004, his work is built around the concept "Born Wild" - a style that employs contemporary materials to create visuals appealing to adults and children alike. Intent on making art accessible to all, Richard Orlinski draws on the imagery of popular social icons. His works are exhibited both at FIAC and in 90 galleries worldwide. He has been ranked in Art Price's Top 10 Best-Selling French artists worldwide since 2011. Art Price's 2015 New Ranking Contemporary Artists named Richard Orlinski the number 1 best-selling French contemporary sculptor. Markowicz Fine Art has been the go-to dealer for the artist for over a decade.
Miami • Dallas • Laguna Niguel www.markowiczfineart.com • info@markowiczfineart.com • 214.200.3288
FIGHTING FOR THE LAST HUNDREDTHS
UNITED IN THEIR PURSUIT OF TOP PERFORMANCE, RICHARD MILLE AND FERRARI ARE ENGAGED IN THE SAME PASSIONATE QUEST FOR EXCELLENCE IN THEIR RESPECTIVE DOMAINS: CONTEMPORARY HAUTE HORLOGERIE AND SPORTSCAR MANUFACTURING.
LUDMILALACERDABARROS.COM
In 2021, Richard Mille and Ferrari, driven by their shared quest for perfection, joined forces to create a long-term partnership. Naturally, Richard Mille felt compelled to celebrate this budding relationship by creating an exceptional timepiece. After many years of development, the RM UP-01 Ferrari has emerged, breaking with the Swiss watchmaker's usual iconography while remaining faithful to its identity, and once again pushing the envelope by taking up the ultra-flat challenge.
WITH THE RM UP-01 FERRARI, RICHARD MILLE IS PROUD TO PRESENT AN ULTRA-FLAT WATCH JUST 1.75 MILLIMETERS THICK. WORKING COLLABORATIVELY ALONGSIDE THE FERRARI TEAM, EXPRESSED MAINLY IN THE CHOICES OF MATERIALS AND THE LINES OF THE WATCH, LENT THE PROJECT PRECISELY THE COMPETITIVE SPIRIT SO ESSENTIAL TO MOST EXCITING ADVENTURES.
The quest to reduce thickness of a watch is one of absolutes, the very conception of many components had to be entirely revisited. The approach selected was to distribute across a large surface area the elements that could no longer be stacked, creating a greater symbiosis between the movement and the titanium case, which mutually stiffens each other. The extremely demanding brief made the movement's performance a priority, meaning it would have to be a caliber both extremely thin and equipped with a 45-hour power reserve with a balance beating at 4 Hz. The manual-winding RM UP-01 movement with hours, minutes and function selector presents a profile of just 1.18mm and weighs in at 2.28 grams.
The watch's movement required 3,600 hours of development. In addition, 2,400 hours were dedicated to functional design, and 2,000 hours of labor devoted to the casing. Batteries of tests at every phase of development included a 10-year accelerated aging of parts, water resistance tests, torsional tests, flex tests, and shock resistance tests certifying resistance exceeding 5,000 g's. As a result, the RM UP-01 Ferrari is not a concept timepiece, but rather a 150-piece limited edition fit for the purpose of everyday wear.
BREAKING NEW GROUND, BOTH TECHNICALLY AND GRAPHICALLY SPEAKING. A HIGH-PRECISION MECHANISM COMBINING MODERN LINES AND PERFORMANCE, AESTHETICS AND RUGGEDNESS. IN SHORT, A WORK OF INCREDIBLE PROWESS TO MEET THE REQUIREMENTS SPECIFIC TO A WATCH THAT CAN BE WORN IN ANY SITUATION. A MODEL WORTHY OF THE UNCONDITIONAL ADMIRATION THAT THE PRESTIGIOUS ITALIAN AUTOMOTIVE BRAND INSPIRES ALL OVER THE WORLD.
Haute Parfumerie Vivante
The Beginning
It all started with an intimate first meeting between Henry Cremona and the one who would become his wife, Yvette. Henry and Yvette, aesthetes at heart and avid pleasure seekers, would go on to launch their Perfumery with the sole aim of retaining and celebrating the beauty of life. By creating refined essences in beautiful bottles, at their own pace and wherever their hearts led them, a declining tradition was brought back up to date: French Haute Perfumery. Today, it is carried forth by CEO and daughter of the founders, Anne-Lise Cremona, with Artistic Director Christophe Tollemer.
Les Classiques
Like a living fresco, fifty fragrances—Les Classique -form the gateway to the Henry Jacques universe. It is this variety that gives Maison Henry Jacques its incredible olfactory freedom. Just like a sartorial gentleman expanding his wardrobe, everyone can build their own olfactory collection. There are those who explore every expression of a key ingredient and others who are more whimsical, venturing from one olfactory family to another.
Essences: A few drops on the skin
This exceptional concentration of juice reincarnates the forgotten, elegant gesture: the perfume is applied directly to the skin with the use of a crystal rod, restoring all its carnal presence.
Solids: A mark of allure
Nestled within its case, the Clic-Clac is a solid version of the perfumes. Once opened, it releases a scented wax, a unique recipe that took years to develop. By reviving the gesture of applying solid perfume, Henry Jacques has not only created a remarkable object but has also reintroduced a mark of allure into our daily lives. Like a precious lighter or a cigarette case, Clic-Clac is one of those companion items that gives its owner an elegant air of poise and nonchalance.
Mists: Splash or spray
This reimagined vision of a spray allows everyone to choose the gesture that best suits the moment: a splash brings the perfume in contact with the skin, or a press of the thumb on the spray forms a delicate cloud over the head and hair like an invisible cocoon.
in the
Now available
United States, discover the fragrances of Henry Jacques at the Henry Jacques Beverly Hills boutique, and online at ParfumsHenryJacques.com
LUDMILALACERDABARROS.COM
& The Look Where It's The Lens
Oberle Opticians was established in 1977. Our reputation for quality and service is unparalleled due to our expert licensed optical staff and incredibly unique selection of eyewear. Oberle Opticians has the fortitude to take your vision and your look to another level.
9552 Harding Ave Surfside, Florida 33154 | Phone: 305-861-1010 | www.oberleopticians.com
Bernie Oberlender
LUDMILALACERDABARROS.COM
Sospiri is Ottica Veneta 's signature line which expresses the ultimate in Italian luxury for clients as passionate about eyewear as the artisans who create it. Through a rich intertwining of elegance and innovation, Sospiri frames and sunglasses are defined by their superior use of Swarovski crystals, light metals, Italian acetates and unique artistic embellishments.
Designed for the most sophisticated customer in mind, Sospiri represents a truly limited edition collection with its small production and focus on detail. Sospiri's parent company, Ottica Veneta - Eyewear from the Mountains of Italy, was incepted as a tribute to the Venetian maestros of old and those craftsmen who still follow the same traditions today, making each piece by piece, hand by hand.
9552 Harding Ave Surfside, Florida 33154 | Phone: 305-861-1010 | www.oberleopticians.com LUDMILALACERDABARROS.COM
aventura mall A DESTINATION FOR LUXURY AND IMMERSIVE EXPERIENCES
Atthe nexus of Miami's thriving fashion and lifestyle scene, Aventura Mall reigns as the ultimate destination for luxury and immersive experiences. The shopping center represents the diverse style and culture of South Florida, making it a must-visit destination for residents and tourists. Bespoke experiences, a worldclass art collection, chef-driven dining, and over 300 luxury boutiques and shopper favorites are just a few elements that make Aventura Mall an oasis for culture-seekers and trendsetters.
Cultivating a lineup of the world's most coveted brands, Aventura Mall is one of the most visited shopping destinations in the U.S. Designer devotees can find legacy fashion houses and cutting-edge designers all within the mall's expanse. The opulent roster includes Hermès, Gucci, Balenciaga, Louis Vuitton, Fendi, Jimmy Choo, Ferragamo, Cartier, Givenchy, Tiffany & Co, BVLGARI and Saint Laurent.
Gucci's runway fashion, accessories and quality leather goods are available at the Italian atelier's 6,000-square-foot Aventura Mall boutique, which features womenswear, menswear and childrenswear. The fashion house's 100-year-long heritage of chic creations and fine craftsmanship is embodied in the sumptuous, expansive boutique, which offers ready-to-wear, shoes, handbags, luggage, small leather goods, jewelry, watches, eyewear, fragrances, and décor.
Hermès, known best for its coveted Birkin bag, has a 7,400-square-foot home at Aventura Mall. Drawing inspiration from Miami Beach, the boutique's design incorporates a palette of coastal hues with a French twist. As if suspended in a seaside paradise, the Hermès boutique provides a stunning ambiance to showcase its signature handbags, accessories, jewelry, and beauty products.
Valentino also recently debuted a new boutique, offering shoes, handbags, eyewear, jewelry and fragrances for both men and women. Aventura Mall's newest program, The Stylist, offers premier one-to-one personal shopping and styling for guests, helping them build seasonal or capsule wardrobes, select attire for a special occasion, find the perfect fit, choose gifts for loved ones and much more.
Hermès, known best for its coveted Birkin bag, has a 7,400-square-foot home at Aventura Mall.
Additional recent openings continue to solidify the shopping center as the premier harbor for popular fashion, ensuring there's always something new to discover.
Nike recently debuted its first "Rise" concept store in North America. The expansive two-story Nike Aventura is one of the most digitally advanced stores to date and is a cutting-edge wonderland for sneaker lovers and athletes alike. Lacoste opened a unique flagship store – the first of its kind in Florida – debuting the brand's new look and offering exclusive items and innovative in-store experiences.
Offering "everyday luxury," Canadian fashion brand Aritzia debuted its first Florida store at Aventura Mall, offering a personalized shopping experience and its coveted independent labels. European fashion brand
Mango provides visitors with the rare experience to shop the popular brand in person, and Danish affordable luxury brand Ganni offers clothing, accessories, and personalized styling services in a responsibly styled space.
In addition, the shopping center is anchored by five department stores, including Nordstrom, Bloomingdale's and Macy's, and is highlighted by 300 of the world's most popular retailers, including Apple, Adidas, Anthropologie, Ralph Lauren, Sephora, and a two-level Zara.
Complementing Miami's rich and diverse culture, Aventura Mall dining enables visitors to experience an array of international cuisines from renowned chefs and beloved local establishments. Guests enjoy a multitude of classics and newcomers, many offering indoor and outdoor seating, including Motek Café, Pubbelly Sushi, CVI.CHE 105,
Ladurée, PANI, Ralph's Coffee, Tap 42 Craft Kitchen + Bar, Pollos & Jarras, Serafina Miami, Sugar Factory, and more.
Treats Food Hall, a curated food emporium, is a gastronomical delight, offering a variety of internationally inspired cuisines in fast-casual form.
A taste of culture is also on the menu with The Arts Aventura Mall program. The curated collection includes more than two dozen world-class contemporary installations by globally renowned and local artists.
Aventura Slide Tower, a thrilling, 93-foot-tall spiral structure by Belgian artist Carsten Höller, is in the art and restaurant-filled Outdoor Courtyard. The program also includes pieces by The Haas Brothers, Louise Bourgeois, Ugo Rondinone, Robert Indiana, Jorge Pardo and more. Visitors can embark on the self-guided Art Walk audio tour by scanning QR codes located at the pieces.
For more than 20 years, The Aventura Market has shown #locallove to South Florida farmers and artisans. Each weekend, shoppers explore a variety of unique and thoughtfully created products, including an array of exotic foods, fresh produce, desserts, handmade goods and home décor from dozens of local vendors.
Aventura Mall not only epitomizes style – it celebrates culture and taste, embraces experiences, and constantly innovates the ways in which South Florida residents and visitors enjoy everyday life.
Gorillas in the Mist The Haas Brothers
Nike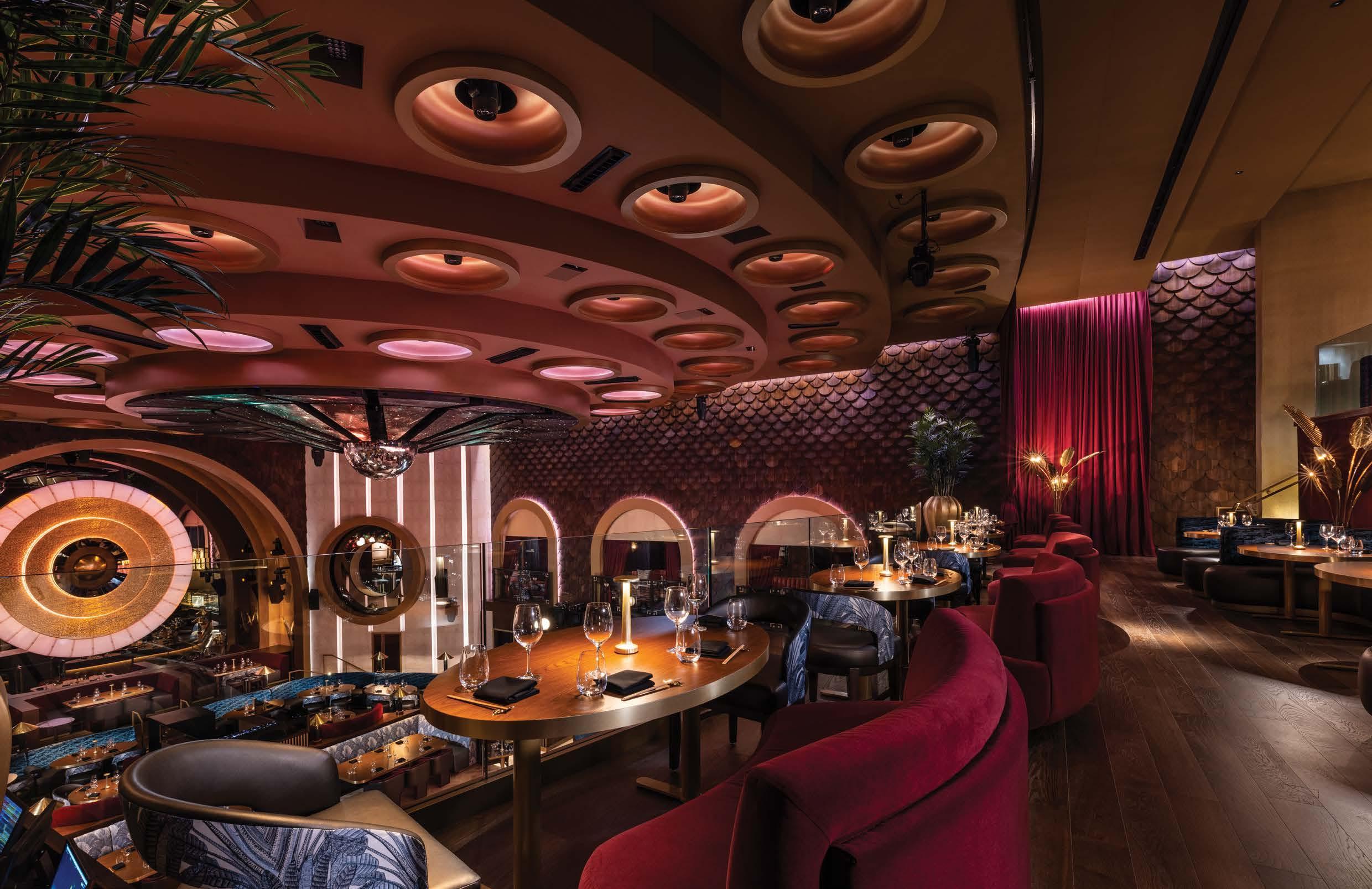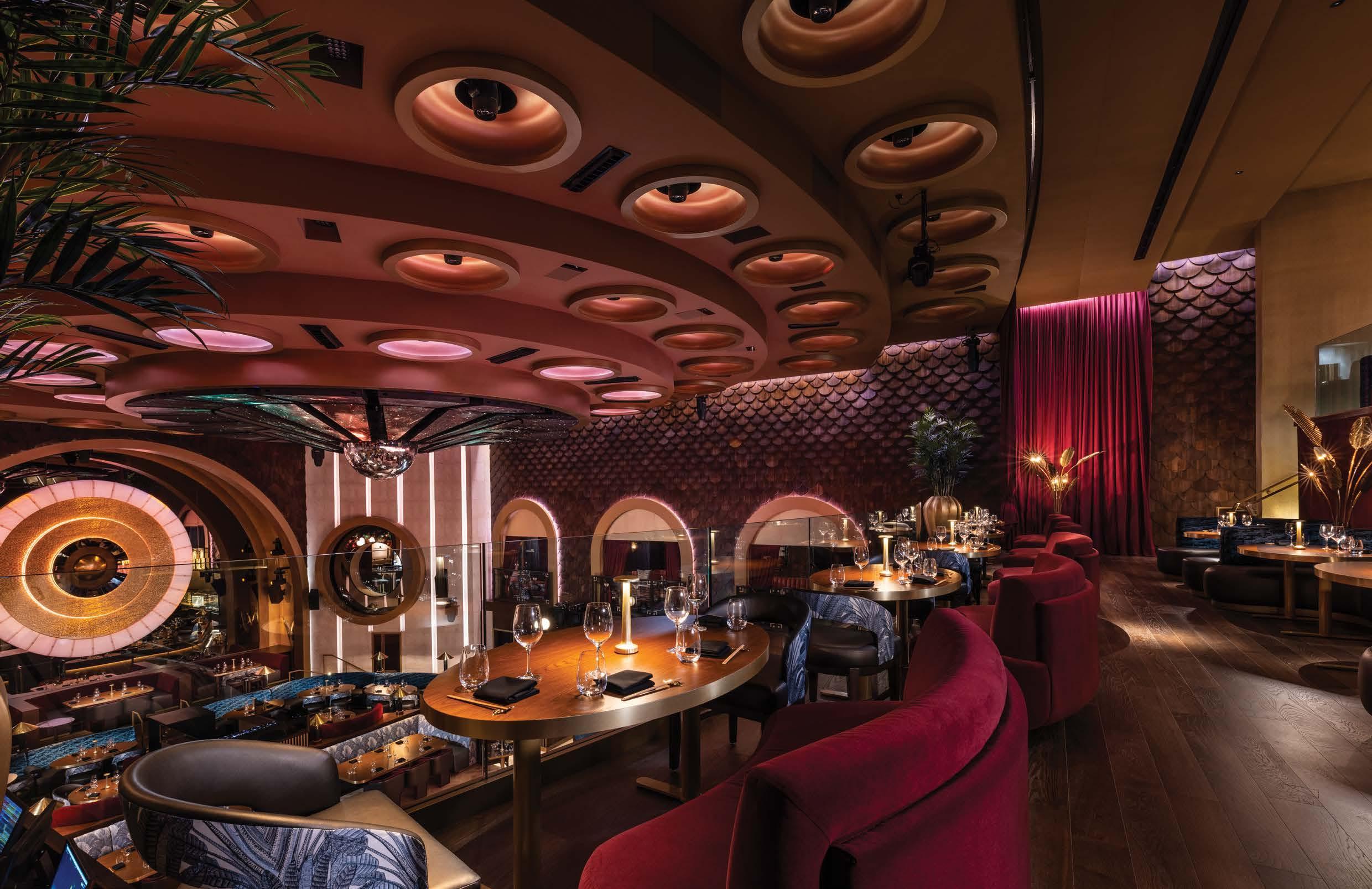 EMBARK ON A CULINARY VOYAGE WITH US PARIS THEATER 550 Washington Avenue, Miami Beach, FL 33139 reservations@queenmiamibeach.com (786) 373. 2930 QUEENMIAMIBEACH queenmiamibeach.com
Rated Best Stone Crabs in Florida by Billy's Stone Crab Restaurant and Market @billyscrabs
"ALL YOU CAN EAT Stone Crabs and King Crab Legs Everyday." *subject to availability 400 N. Ocean Drive | Hollywood | 954-923-2300 | www.crabs.com
SPECTRE
DAZZLING POWER EFFORTLESS PERFORMANCE LIMITLESS FREEDOM
The most powerful Rolls-Royce ever — a spiritual successor to the Phantom Coupé and an emblem of artisanship in perfect harmony with electric technology.
In 1900, Rolls-Royce co-founder, Charles Rolls, prophesized an electric future for the motor car. Having acquired an electric vehicle named The Columbia Electric Carriage, he foresaw its suitability as a clean, noiseless alternative to the internal combustion engine – providing there was sufficient infrastructure to support it. Today, more than 120 years later, the time has come for Rolls-Royce Motor Cars to fulfil the prophecy of its founding father.
Spectre is not only an historic moment for Rolls-Royce, but also an historic moment for electrification – with Spectre, the marque confirms that the technology has reached a standard that can contain the Rolls-Royce experience.
Spectre is more than a motor car. It is a statement of intent and a symbol of a bright, bold future as Rolls-Royce progresses into an all-electric era. This commitment to an all-electric powertrain will only enhance the Rolls-Royce experience – instant torque, silent running and the sense of one imperceptible gear have defined the characteristics of an extraordinary canon of products dating back to the very first Rolls-Royce, the 1904 10 H.P.
With Spectre, Rolls-Royce has harnessed a revolutionary 'Decentralized Intelligence' system that allows for the free and direct exchange of information between more than 1,000 vehicle functions, further elevating the marque's celebrated quality of ride. Its designers have captured a contemporary yet timeless aesthetic that significantly progresses the brand's iconography as it embarks on its electric age. Its craftspeople have created a suite of contemporary prêt-à-porter personalization possibilities, including Starlight Doors and Illuminated Fascia, inspiring clients to realize their own Bespoke visions.
ROLLS-ROYCE MOTOR CARS MIAMI • ROLLSROYCEBRAMAN.COM • (786) 577-5217
© 2019 Harry Winston SA. HARRY WINSTON EMERALD JEWELS THAT TELL TIME BAL HARBOUR SHOPS 786 206 6657 MIAMI DESIGN DISTRICT 786 275 3660 HARRYWINSTON.COM