Ultimate Emerald Signature
by Harry Winston
TIMEPIECES
THE ULTIMATE EXPRESSION OF THE HOUSE OF HARRY WINSTON
Knownas the "King of Diamonds", it was once estimated that Harry Winston owned more than one-third of the world's most famous diamonds and gemstones. Often purchased as pieces of rough, Mr. Winston transformed these stones into incredible gems, many of which yielded the emerald-cut shape – from the Jonker to the Vargas to the Lesotho. Celebrating its founder, the House of Harry Winston's Emerald collection is a series of timepieces that recall the sophistication and strength of Mr.Winston's preferred diamond-cut –the emerald-cut.
The Ultimate Emerald Signature timepiece dazzles with almost 10 carats of the world's finest diamonds and gemstones. On its 18-karat white gold emerald-shaped case designed like a pyramid, the different tiers are either set with brilliant-cut or baguette-cut diamonds of increasing dimensions while a majestic emerald-cut diamond, blue sapphire, or Paraíba, crowns the summit. Countering the powerful geometry of the emerald-cut case is an impressive halo of marquise-cut diamonds set so that the stones bask in the limelight. Suspended around the octagonal case with a minimum amount of metal and angled in different directions to catch the light, the 24 marquise-cut diamonds add a dynamic sensation of movement.
The enchantment continues as the secret watch reveals its dial. By swiveling the upper part of the case, the dazzling full diamond, blue sapphire, or Paraíba pavé surface the dial allowing the wearer to consult the time with absolute discretion.
More than 100 hours were required to hand-set the stones in this exceptional creation and is one of the most versatile creations in the Harry Winston High Jewelry collection. The Ultimate Emerald Signature can be worn as timepiece on sleek satin or silk straps, as a pendant or necklace, or even as a brooch.
" More than 100 hours were required to hand-set the stones in this exceptional creation and is one of the most versatile creations " in the Harry Winston High Jewelry collection.
Bal Harbour Shops | Miami Design District 786.206.6657 786.275.3660
LUDMILALACERDABARROS.COM
CAVIAR COLLECTION
The Caviar collection reinterprets a celebrated Buccellati design from the 1930s, whose decorative motif consists of minute spheres reminiscent of caviar. Always used by the Maison for jewels and silver, it has more recently been revisited to adorn the tableware series of the same name.
A few years ago, a variant with Murano glass on silver leaves was added. They literally bloom if you blow on them forming a casual and original decoration on the transparent surface.
"
LUDMILALACERDABARROS.COM
No matter whether an item is large or small, hand-crafted silver is an art form to be used, enjoyed and kept a whole lifetime.
"
The Caviar motif was so dear to Gianmaria Buccellati that, in 1981, he created a spectacular caviar chalice, the "Cratere delle Muse" in silver, gold, jade and with 200 sapphires, now part of the historical private collection.
The collection maintains its decisive design character only thanks to an extraordinary savoir-faire. And no matter whether an item is large or small, hand-crafted silver is an art form to be used, enjoyed and kept a whole lifetime.
BUCCELLATI
Buccellati is a renowned high-jewelry brand, admired for its craftmanship and the uniqueness of its creations. Distinctive is the use of rare stones with extraordinary colors, mixed with white and yellow gold, all nicely carved like laces. Today, the Buccellati jewels stand out for their design and for the techniques used to create them, such as the hand-engraving technique, dating back to the ancient goldsmithing traditions of the Italian "bottega" during the Renaissance times. The shapes of the collections are all inspired the historical archive drawings and by the very first creations of the founder, Mario Buccellati. Buccellati boutiques are present in the most important cities and in the most prestigious Malls of the world.
INFO@BUCCELLATI.COM
ESCADA BEVERLY DRIVE 401 N. BEVERLY DRIVE BEVERLY HILLS CA 90210 310-285-0330
Disrupting Diamonds
MIAMI SPECTRE Rolls-Royce Motor Cars Miami RollsRoyceBraman.com • (786) 577-5217 THE WORLD'S FIRST ULTRA-LUXURY ELECTRIC SUPER COUPÉ Now Taking Orders.
BELIEVE Solange as Mother Earth THINK A CENTURY AHEAD PLEASE DRINK RESPONSIBLY ©2022 E. RÉMY MARTIN & C ®., LOUIS XIII ® COGNAC GRANDE CHAMPAGNE, 40% ALC. VOL. IMPORTED BY RÉMY COINTREAU USA, INC., NEW YORK, NY
IN TIME
Magni ed
by Guo Pei
In-store interior design & 3D modeling services (1) Quick Ship program available (2)
Bubble 2. Curved 3-4 seat sofa, designed by Sacha Lakic. Astréa. Armchair, designed by Sacha Lakic. Rocket. Cocktail tables, designed by Nathanaël Désormeaux & Damien Carrette. Sun Tropic. Rug, designed by Nany Cabrol.
3015 Grand Ave Miami, FL 33133 Europann.com
Traditionally Different
table of contents
The Discreet Legacy How it Began VISIONARIES
gastronomy
68 60
46
94
of Calm beauty & wellness 52 56
74 Delight
the Details
96 Junior Jaunts FAMILY & KIDS 98 Modern
Resort Team Mansions Team Estates Team At Your Service team Larry Groll Art Scene 102 Luxury Living ESTATES AT ACQUALINA
AVRA Opens Il Mulino's Fresh Flourishes Japanese Flavors at Ke-uH
Waves
Waterfront Wonderland Villa acqualina The Acqualina You Love. Only better! Style and Design
in
FASHION FORWARD
Marvel
ON THE COVER
Photographed by Jacqueline Knabben Jewelry by Davidor, Bal Harbour Shops Gown with Cape by Ermanno Scervino, Bal Harbour Shops Heels by Stuart Weiztman
AVENTURAMALL.COM
DEFINED BY CULTURE, STYLE AND TASTE. 300+ SHOPS, 50+ RESTAURANTS & EATERIES, A WORLD-CLASS ART COLLECTION AND MORE.
Donald Baechler - Walking Figure
contributors
PUBLISHED BY
Freecom Luxury Art Book, LLC.
CHIEF EXECUTIVE OFFICER Frederic Fournel
CHIEF OPERATING OFFICER
Charlene Laskin
CREATIVE DIRECTOR Ludmila Lacerda Barros
FASHION PHOTOGRAPHER
Jacqueline Knabben
FEMALE MODEL
Katharina Mazepa - Elite Model Management Miami
Stylist Jenna Debrino - Hot Pink Style
HAIR & MAKE UP Davide Calcinai - Artist Management
OTHER PHOTOGRAPHERs
Troy Campbell Jacqueline Knabben Meg Pukel
Freecom Luxury Art Book, LLC 9550 Bay Harbor Terrace, Suite 203 Bay Harbor Islands, FL 33154 786.216.7007 charlene@luxuryartbook.com Luxuryartbook.com
Acqualina Resort & Residences on the Beach 17875 Collins Ave, Sunny Isles Beach, FL 33160 305.918.8000 AcqualinaResort.com EstatesAtAcqualina.com
© Reproduction of any part of this publication is prohibited without the express written permission of the publisher.
We are proud to announce the new arrivals from most luxurious crystal brands in the world - Daum, Lalique and St. Louis. MAKE YOUR HOME SPARKLE! EAST COAST JEWELRY IS KNOWN NOT ONLY FOR THE EXQUISITE WATCHES AND JEWELRY COLLECTION. Tel. 305-947-8883 | 16810 Collins Ave. Sunny Isles Beach, FL 33160 www.ecjusa.com DAUM ludmilalacerdabarros.com
Welcome
As we settle into a new year, I'm looking ahead to new experiences and fresh renewals here at Acqualina Resort, while reflecting on our storied past that's helped shape our Mediterranean-style sanctuary.
In this issue, we delve into Acqualina's history that extends to Williams Island in Aventura and how our vision for luxury hospitality transformed the once over-looked areas of Aventura and Sunny Isles into the covetable destinations that they are today.
Part of our constant evolution includes distinct refreshments to our hotel lobby, suites, kitchens and even our guest room bedding. We've also welcomed fine dining Greek restaurant, Avra Estiatorio, to our collection of gastronomic experiences, as well as a new Di Mare menu at longtime favorite Il Mulino and new tastes at the exquisite Japanese restaurant, Ke-uH.
While Acqualina Spa has mastered the art of relaxation, guests can also discover targeted treatments such as the TMJ-relief massage to collagen boosting facials. And parents can relax knowing that their children are having fun while learning at the newly enhanced Acquamarine Kid's Club.
Art and culture are a centerpiece of Acqualina, and you'll get a deeper understanding of Larry Groll's collection that's currently featured at the resort. Fashionistas and design enthusiasts will be blown away by the newly unveiled lobby of The Estates at Acqualina. Designed by the late Karl Lagerfeld, the residence lobby is dripping in jaw-dropping details like a 61-foot-long glass mural starring Lagerfeld's photos of Rome's standout fountains. As you'll read, the lobby is just one of the many over-the-top amenities for residents.
We always want to introduce guests and the community to the people who make the resort what we are, and you'll hear from five team members who have been at Acqualina for 10+ years.
I hope that Acqualina will always top your new year's bucket list for a luxurious stay with loved ones or friends, a memorable dine, or an indulgent spa treatment. We look forward to welcoming you like family.
Deborah Yager Fleming | CEO and Partner Acqualina Resort & Residences
45
The
Discreet Legacy
By Michelle Payer
Long before Acqualina Resort & Residences, The Mansions or The Estates at Acqualina fronted a nowprestigious and contiguous swath of manicured lawns and white sand, Sunny Isles was a virtual no-man's land within the wild west. It was 1980 when Eddie Trump and his brother Jules and wife Stephanie first vacationed in Miami and spied undeveloped, then undiscovered acreage west of Sunny Isles, south of Aventura. Though none of them were in hospitality, they were customer service experts from myriad successful businesses, and their instincts, coupled with the 84-acres of land for sale on the water inspired a vision for luxury living. The family, purchased the property nine days later, maintaining it's the fastest, most impulsive business decision they'd made in their lives.
At the time, well-heeled New York vacationers didn't venture south of Palm Beach, but The Trump Group knew they could change that with a lifestyle development South Florida had never seen. Within five years, they opened Williams Island, named after Jules' and Eddie's father, enticed affluent residents with previously unheard-of amenities and engaged screen legend Sophia Loren as a global brand ambassador. The burgeoning friendship with Sophia Loren led to research expeditions to Italy to source antiquities and materials and gain architectural and design inspiration. Robin Leach, who hosted the top-rated "Lifestyles of the Rich and Famous" television show filmed an episode of their Italian sojourn, then three more about Loren's life as a Williams Island resident.
VISIONARIES 46
From Williams Island to Acqualina Resort & Residences, The Mansions and The Estates at Acqualina, The Trump Group changed South Florida's residential landscape by delivering what luxury homeowners want, a great living experience.
Robin Leach, who hosted the top-rated "Lifestyles of the Rich and Famous" television show filmed three episodes about Loren's life as a Williams Island resident.
The development's success gave the family the confidence to expand on their idea of a Sunny Isles members-only beach club for Williams Island residents to a full-blown resort on what Jules coined "The Florida Riviera." They landed on the name "Acqualina," which loosely translated into "at the water's edge," because as Jules describes it, "our whole theme was a Mediterranean look: the water, food, the look of the buildings, great service, style of living, beautiful landscaping; all the things we sought to introduce with Williams Island we created here" on 1250 feet of private oceanfront land. "We hired architectural illustrator Alan Gleichman to artistically convey our story into something the architects could work with," explains Jules about the rendering that's still in his office. "It's almost a handbook that illustrates all the constituent parts, including various Italian buildings, cupolas, entrances, doorways; it was almost a handbook for the architects, who called him 'The Intimidator,'" he laughs.
More global partnerships followed with Il Mulino New York, ESPA and Luxury Living. In 2004, Deborah Yager Fleming joined the pre-opening hotel team as head of sales & marketing and in 2006, Acqualina Resort opened its doors. Soon after, Yager Fleming was appointed as CEO and Principal to lead the property into rarefied space as one of the world's foremost luxury resorts. Having Yager Fleming at Acqualina's helm garnered the resort the exclusive Five Star status, perfect timing for The Trump Group to expand with The Mansions at Acqualina, for which they purchased the neighboring La Playa motel, coined "The World's Finest Residences," developed 79 furniture-ready single-family homes in the sky and adhered to a "building from the inside out" philosophy.
Rather than hire a star architect who would design a gorgeous exterior into which you have to fit the condominium, we flip it and design the interior so form follows function. We always put the residents first and still think our buildings are gorgeous, but it's a result of a lot of other factors, explain Jules Trump
Explains Jules, "Rather than hire a star architect who would design a gorgeous exterior into which you have to fit the condominium, we flip it and design the interior so form follows function. We always put the residents first and still think our buildings are gorgeous, but it's a result of a lot of other factors," he says. Those factors were larger homes (up to 9,000 square-feet) when it opened in 2015. Each had direct ocean views, expansive walk-in closets, separate bathrooms, outdoor summer kitchens, a wine room with residential lockers, golf simulator, million-dollar Turkish hammam, Rolls Royce house car, an exceptional art collection and a bridge to Acqualina resort. "Our whole approach is deciding what the customer needs, what the customer trends are becoming," says Jules. "Even before the pandemic, we saw the trend was toward people needing additional rooms and because our whole approach is toward families, we recognize people need additional space for children," he says. "The Mansions is essentially a three-bedroom building with the option of making it into a four bedroom; then came the advent of home-offices and we started designing five-bedroom residences," says Jules, speaking about The Estates.
It was during this time The Trump Group was in the midst of an arduous eight year negotiation to acquire the adjacent Golden Strand Villa Resort - once home to New York Yankee great Babe Ruthon which they envisioned The Estates at Acqualina, a $1.8 billion oceanfront residential development. When Hurricane Irma intervened and caused widespread destruction in 2017, The Trump Group, which had just acquired the resort, partnered with baseball superstars Derek Jeter and Jorge Posada to donate all its furniture to affected residents in Puerto Rico and the Florida Keys.
VISIONARIES
Every Estate home was designed to feel like a penthouse with onyx bathrooms, French La Cornue ranges, outdoor saunas and summer kitchens, magnificent views from every room, a furniture-ready concept and no wraparound balconies that block ocean vistas. A 45,000 square-foot amenity mansion– affectionately called Circus Maximus – centers the two Estates towers and houses a bowling alley, fitness center, spa, speakeasy, ice skating rink, Flo Rider wave simulator and Avra Estatorio Greek restaurant among its jaw-dropping amenities. Outdoors is a virtual oasis with two-and-a-half acres of gardens, parks, soccer field, bocce court and 1200 feet of manicured beach. It's precisely what The Trump Group envisioned, upping the ante and outdoing themselves with every project. The Estates Boutique Tower is set to open early 2023, yet as with every Trump Group project, it's a safe bet that something else – grander, more unimaginable, is on the horizon. "Our philosophy is all about the living experience," says Jules. "That's what we preach and that's what people respond to. Most of all, it starts with having incredibly good people and treating them with incredible respect."
When The Estates broke ground in 2018, The Trump Group had already convinced the late, legendary designer, Karl Lagerfeld, to design his first-ever condominium lobbies. "We wanted a name that would add recognizability to the building on a worldwide basis," says Jules. "It took a lot of persuasion because Lagerfeld had never done anything like this before, but we showed him our huge red design book and everything we had to offer, and as he paged through it, he kept saying, 'Magnifique! Magnifique!'", recalls Jules. "We built a scale model of the lobbies and he worked from that. Our expectations were of different marbles and material, but he blew us away," says Jules about the lobby designs. "He was so specific about the colors that one day Lagerfeld brought a mug and said, 'This is the color! – it was a cerulean blue –'don't deviate from that.'"
WHEN THE ESTATES BROKE GROUND IN 2018, THE TRUMP GROUP HAD ALREADY CONVINCED THE LATE, LEGENDARY DESIGNER, KARL LAGERFELD, TO DESIGN HIS FIRST-EVER CONDOMINIUM LOBBIES.
How it Began
HISTORIC TIMELINE of Acqualina Resort & Residences, The Mansions at Acqualina and The Estates at Acqualina
1980
New Yorkers Eddie, Jules & Stephanie Trump vacation in Miami, envision luxury lifestyle possibilities in little-known Aventura, close on 84-acres of land in nine days, "the fastest business deal" the group has ever done, says Jules.
1990
The Trump Group finishes phase one of Williams Island Clubhouse and amenities and contacts screen legend Sophia Loren. They convince her to become the luxury development's first global brand ambassador; a lifelong friendship begins.
1997
The Trump Group purchases a five-acre beachfront motel with 1250-feet of private Atlantic Ocean waterfront with the idea of creating a members-only beach club for Williams Island residents.
2005
The Trump Group begins to curate partnerships with global luxury brands including ESPA, Il Mulino New York and Luxury Living.
1985
The Trump Group opens Williams Island, named after their father William, as one of the first luxury developments of its kind in South Florida. Today it includes more than 2,000 luxury residences, a Mediterranean-style village, resort amenities and a yacht club.
1995
The Trump family founds - I Have a Dream Foundation Miamichapter to help change the lives of at-risk youth through education.
2000
Stephanie Trump uses her design degree from New York's prestigious Parsons School of Design / The New School and joins Sophia Loren in Italy to gather inspiration from historic villas and study architecture across the country. Together, they gather antiques, materials, photographs and collectibles that inspire Acqualina's interior design.
2006
2008
Acqualina Resort receives the prestigious AAA Five Diamond award for the hotel and maintains the Five Diamonds every year.
Recognizing Sunny Isles' untapped potential, the Group brands their oceanfront land holdings The Florida Riviera, designs its iconic clover logo and opens Acqualina Resort & Spa (now Acqualina Resort & Residences) with 98 guestrooms and 188 homes inside a 51-story tower. The Mediterranean villa-style enclave features Il Mulino New York, Costa Grill, a private restaurant on the beach available only to guests, residents and beach club members, top-rated Spa and three ocean-view pools.
VISIONARIES 50
2012
Forbes Travel Guide awards Acqualina a Five Star Hotel and a Five Star Spa. Acqualina continues to retain the ultra, exclusive industry accolade every year.
The Mansions at Acqualina opens its luxurious residential tower for sale, including 79 "furniture-ready" homes and six penthouses. The Trump group coins and trademarks the description, "The World's Finest Residences."
2015
The Mansions at Acqualina opens next to Acqualina Resort with a slew of firsts: outdoor kitchens, cigar lounge with private humidors, wine room with residential lockers, private cinema, children's multi-purpose playroom, adult virtual game room with golf simulator, million-dollar Turkish hammam and Rolls Royce house car. Meant to bring families together, a grand, complimentary breakfast served in the lobby from 7 to 10 a.m., continues to this day.
2017
TripAdvisor names Acqualina Resort the Top Luxury Beachfront Hotel in the Continental US for the first time. It continues to achieve top ranking for five consecutive years.
After five years of negotiation, the Trumps acquired Golden Strand Ocean Villa Resort, a six-story, 152-unit resort, once home to New York Yankee Babe Ruth, to transform it into The Estates at Acqualina.
After Hurricane Irma caused widespread destruction as a Category 4 storm, The Trump Group partnered with New York Yankee greats Derek Jeter and Jorge Posada to donate Golden Strand furniture to charities in the Florida Keys and Puerto Rico.
2019
U.S. News & World Report names Acqualina Resort the #1 Best Resort in the Continental U.S.
2021
The Estates at Acqualina South Tower and Boutique Tower sell out.
2022
The Estates at Acqualina welcomes South Tower residents. Avra Estiatorio of New York and Beverly Hills fame opens Avra Miami inside Villa Acqualina.
2014
The Trump Group curates exceptional art for The Mansions. Pieces include Meredith Gratton's 23,000-crystal ribbon chandelier, an enormous gold-leaf and pearl-inlaid abstract Nancy Lorenz painting, two towering Guy Dill bronze sculptures, a Jean-François Rauzier photographic composition and the 360-degree free-moving Open Disc and Circle Sculpture at The Mansions pool.
2016
The Trumps are introduced to Karl Lagerfeld and a partnership begins for the late iconic designer to create what would be his first, last and only interior design project in the United States. He designs two residential lobby spaces for The Estates; it is the first and only U.S. condominium project to involve the late legendary designer
The Estates at Acqualina Sales Gallery opens with a decked-out South Tower model residence.
2018
The Estates, a $1.8 billion oceanfront residential development, breaks ground. Jules, Eddie and Stephanie Trump unveil plans for two 50-story towers with 245 single-family homes, 2000-feet of private beachfront, lobbies designed by Karl Lagerfeld and Villa Acqualina with 45,000 square-feet of innovative amenities.
CNN Money and Forbes report that Acqualina has the largest collection of independently owned Rolls Royce automobiles of any property in the world.
2020
Acqualina Resort becomes the only hotel to ever receive three #1 USA Today Awards in the same year - #1 Best Destination Resort in the U.S., #1 Best Waterfront Hotel in the U.S., and #1 Best Hotel Spa in the U.S.
The Estates at Acqualina hosts a grand opening to celebrate its new Boutique Tower and introduce its new model residence in the Sales Gallery.
51
waterfront Wonderland
By David Kaufman
Few residents-only amenity spaces can compete anywhere with Villa Acqualina, a 45,000-square foot leisure, lifestyle and entertainment zone at the newly-unveiled Estates at Acqualina. Set between the Estates' North and South Towers, the waterfront Villa has been given a cool, contemporary design scheme by New York City-based Reddymade Architecture and Miami's STA Architectural Group.
52 VILLA ACQUALINA
I wanted to create a singular signature in the amenity spaces that reflects the quality of the Acqualina brand. says Suchi Reddy, founder of Reddymade
"I wanted to create a singular signature in the amenity spaces that reflects the quality of the Acqualina brand." says Reddymadefounder Suchi Reddy. "We wanted to design unique experiences in each space that synthesizes playfulness and beauty," she continues, "from a magical ice rink that feels like an underwater ice cave to a vibrant and dynamic bowling alley that embodies the energy and movement of the game."
53
Spread over four full floors, Villa Acqualina is home to every pleasure imaginable. There's a cinema, golf simulator, Formula One racing simulator and an ice skating rink that feels like a translucent crystalline cave in one section, along with a duplex nightclub and speak-easy in another. The latter is wrapped in walls of translucent glass and video installations and, when not filled with revelers, feels like an oversized art installation.  It's an all-day destination for socializing, working out or indulging in a well-earned dose of self-care.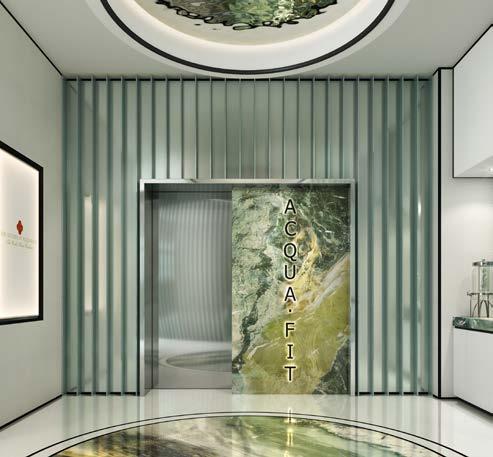 Meanwhile, up above is ACQUAFIT, the STAdesigned wellness space set at the Villa's upper level. According to STA's Todd Tragash, ACQUAFIT is divided into three distinct areas – all facing the Atlantic. At its airy center point is a cardio-fitness area; to one side is a studio for spinning, yoga, TRX and Pilates, while at the other side is space for cardio, a boxing ring and stretching.
54 VILLA ACQUALINA
the color palette is a striking contrast of black white with splashes of 'Dreaming Green' marble etched jade mirror accents, Within the ceiling we placed mirror polished stainless steel ovals to evoke a water ripple effect. says Todd Tragash, Principal of STA Architectural Group
Tragash has clearly looked to the ocean for his core inspiration; "the color palette is a striking contrast of black white with splashes of 'Dreaming Green' marble etched jade mirror accents," he said. "Within the ceiling we placed mirror polished stainless steel ovals to evoke a water ripple effect."
55
and design
THE ACQUALINA YOU LOVE, only better.
FROM A REFRESHED GALLERY LOBBY, ADULT POOL, ROOMS, SUITES, RESTAURANTS AND MORE, ACQUALINA'S NEWLY UNVEILED ENHANCEMENTS ARE A STUDY IN STYLE, GLAMOUR AND TIMELESS BEAUTY - LIKE THE VILLA HERSELF.
By Michelle Payer
When the grand Acqualina Resort & Residences on the Beach unveiled its glamorous, yet subtle refresh of the Mediterranean villa-style gallery and lobby, no one knew that was just the beginning. The Old World grand dame, which seamlessly melded the Italian and Florida Rivieras, retained its architectural and design integrity, while becoming lighter and brighter through white patinas, richly toned marbles that amplified magnificent structural details, and new-ly
uncovered windows into which sunlight streamed. Fendi Casa furniture was complemented by bespoke Nepalese area rugs to create sophisticated, yet warm conversation areas. Like any home renovation, Jules and Stephanie Trump, with CEO and Partner Deborah Yager Fleming, looked at the beautiful results and decided to elevate other Resort areas they knew clients and residents would appreciate.
56
style
Outdoors, they enhanced the ocean view Adult Pool with signature red loveseats, custom daybeds and modern chaise lounges to create a sophisticated vibe. For daytime luxury, four crimson cabanas take the alfresco experience to new heights. The opulent sanctuaries are bastions of comfort with elegant lounge seating, backgammon-set tables, refrigerator, television, privacy curtains, fans, beverages, international cheeses and tropical fruits, signature Acqualina hats, Hampton Sun products and so much more.
Our DNA is classic
with modern elements. says Deborah Yager Fleming
Inside the villa-style resort that Jules, Stephanie and Deborah consider a home for all who enter, there seemingly wasn't an area that didn't deserve an enhancement, all orchestrated in concert with Isabel Tragash and her team from STA Architectural Group. First, all bathrooms in 98 gues-trooms and suites were given lustrous makeovers with Italian marble floors, separate glass-enclosed showers surrounded by custom, white textured wallpaper, LED-lit Italian sconces, wall-to-wall Molteni vanities in the suites, new plush bathrobes, ESPA bath and Lady Primrose after-sun products and either Baci counter or Nameeks wallmounted makeup mirrors.
"Our DNA is classic furnishings with modern elements," says Yager Fleming. "The bathrooms adhere to this philosophy with curated finishes that are either custom-made or from high-end designers that manufacture everything for us," she says, while describing the White Vena Oro marble vanities as "fresh and translucent, brightening the entire bathroom space." New Boca Terry white robes and white slippers complete the luxurious experience.
57
furnishings
As one does when one looks at newly renovated bathrooms, it was natural that guestrooms and suites were next to receive a little love. Every bed has new, soft-as-silk linens, including a duvet cover with champagne trim and Euro shams with Acqualina's signature A. Then, the group collaborated with Ideal Casa's Virgilio Mariano to customize furniture for continuity and Italian elegance. From the sophisticated, yet practical, Italian-made Miami Sofa Bed with its hidden opening mechanism, to glass-topped bronze metal end tables and dining table with leatherstitched column, solid wood Tub chairs and curved oak bar stools, every new suite addition is elegant, comfortable and timeless. Even the suites' luxurious suspender lounge chairs were commissioned by RGS Europe and made in Spain. Suite kitchens were created for glamorous evenings in, with elegant Lapitec Stone Bianco Vittoria kitchen counters, LED high-hats and Everest chandeliers.
With the guestrooms and suites completed, the group turned to the arrival experience. "We wanted our guests to feel as though they have entered their own private foyer area as soon as they step off the elevator," says Yager Fleming. "We selected a bronze-toned carpet with black accents to tie into our beautiful zebrawood furniture pieces, and then a Luna custom wallpaper that artistically suggests ocean waves breaking," she says.
58 style and design
We wanted our guests to feel as though they have entered their own private foyer area as soon as they step off the elevator.
says Deborah Yager Fleming
Acqualina's venerable Il Mulino New York decided she, too, wanted a facelift. Her classic Italian ar-chitecture was elevated with soft white paint, done in layers for texture and vibrancy, while black and white photos of Italy replaced heavy tapestries. Weighty wall sconces were exchanged for light, glamorous chandeliers with tailored shades, the comfortable dining chairs were refinished in luxurious black leather that gleams against a refinished original mahogany backdrop. While it's rec-ognizable to longtime Il Mulino patrons, the fresh makeover is comfortably sophisticated.
The newest kid on the block is Avra Miami, the glamorous Greek restaurant that recently opened at the new Estates at Acqualina and connects via a sky bridge to the Resort. Inspired by its Greek menu and oceanfront setting, STA Architectural Group created a larger-than-life space with floor-to-ceiling windows, then introduced a bougainvillea-entwined pergola and three Fernando Mastrange-lo-designed salt stone sculptures for unexpected wow factors.
From every vantage point and from every angle, Acqualina has slowly and carefully selected beautiful, rare and specially curated elements to create a home like no other for Acqualina guests and residents. It's the Acqualina you love, only better.
59
By Juliana Accioly
Now Open NEW YORK legendary restaurant
Avra Miami is now open at The Estates at Acqualina, a world-class Greek restaurant offering a gastronomical journey through the land of Hellenic pleasures.
60 gastronomy
Avra is a collaboration between restaurateurs Nick Tsoulos, Nick Pashalis and Marc Packer and marks the fifth outpost of the Greek restaurant group Avra Estiatorio, which also operates three Manhattan locations and a fourth in Beverly Hills.
Your trip to Greece begins before you set foot into the elegant 12,000-square foot restaurant. The entryway features a bougainvillea intertwined pergola, set against the backdrop of three salt stone sculptures. Inside, you find into an airy, high-ceiling 330-seat indoor dining room decked in white color tones and brass finishes, which flows seamlessly into a lush oceanfront outdoor terrace. Acqualina Resort & Residences guests can access the sleek space through an exclusive sky bridge adjacent to the resort.
Your trip to Greece begins before you set foot into the elegant 12,000-square foot restaurant.
To dine at Avra is to submit to the warm, luxurious embrace of a team that is doing the absolute most. With each course, the menu created by Executive Chef Jose David Diaz's pays homage to Greece's unique flavors and techniques, influenced by the country's rich history, Mediterranean climate, and the zest of its people for food made with simple, traditional ingredients. Some must-try dishes include Chilean Seabass Souvlaki and grilled Halloumi Cheese, enhanced by a drizzle of signature honey, along with Miami-inspired offerings of Ceviche with Chickpeas and Seasonal Fruit in a leche de tigre sauce and an entrée of Dover Sole Meuniere, topped with Ossetra caviar.
To complete the experience of freshness and flavor, choose your favorite fish and seafood from an ice display of in-season catch, a signature part of the Avra experience. Familiar favorites like branzino and red snapper, as well as rarer Mediterranean gems like fagri and lithrini can be served as ceviche, carpaccio, baked in a salt crust or cooked whole over charcoal with a splash of Avra's signature ladolemono sauce.
gastronomy
There are more than 1,200 varietals to pair with the ample bounty, along with a robust by-the-glass menu with more than 30 worldwide labels The restaurant houses a 22-seat, 360-degree bar, where guest can refresh with a variety of spirits, including hard-to-find-American whiskies and Greek specialities like ouzos and mastichas. Don't leave without trying one of Greek-inspired cocktails like the Santorini, a refreshing concoction mixed with Hendrick's Gin, Crop Cucumber vodka, Giffard Pamplemousse liqueur and a touch of basil.
63
To dine at Avra is to submit to the warm, luxurious embrace of a team that is doing the absolute most.
IL MULINO's FRESH Flourishes
By Michelle Payer
There is possibly nothing gastronomes look forward to more than indoor/outdoor dining during Miami's winter months. At Acqualina's famed Il Mulino New York, combine romantic Romeo & Juliet balconies and beautifully enhanced interiors with spectacular new menu additions and there are multiple reasons to return again and again.
Corporate Executive Chef Michele Mazza and his team are keeping things fresh and lively with a new Di Mare menu. Seafood standouts like Red Snapper Ceviche, Hamachi Crudo and an impressive Seafood Platter are joined by an elegant caviar menu with six selections, ranging from Beluga and Imperial Ossetra to Kaluga Select and a special Organic Escargot caviar, all served in the traditional style with crème fraiche, red onions, capers, eggs and blinis.
Knowing how many of their clients prefer a vegan diet, Chef Mazza created an entirely new vegan menu, with highlights that include Melanzane con Vegan Mozzarella, Carciofi alla Romana, Risotto Porcini and Cauliflower Steak. Both menus are available for lunch and dinner.
64 gastronomy
Perfect for this time of year, the restaurant is offering two menus that create ideal escapes for lunch or early evening repasts. The Sunset Menu, available daily from 5:30 p.m. to 7 p.m. is three courses with mouthwatering antipasti choices including grilled octopus, salmon tartare and a salad with organic tomatoes, a hearty main course options of braised veal rigatoni, chicken paillard, risotto and poached salmon and choice of three indulgent desserts, all for $49 per person plus tax and gratuity. The pre-fixe lunch menu features first courses that include grilled octopus, meatballs with ricotta and burrata caprese, and robust second courses that range from salmon filet with capers, asparagus and mustard sauce to veal piccata, red snapper and braised veal rigatoni. Find room for dessert, for that is included as well, all for $35 per person, plus tax and gratuity, Monday through Saturday from Noon until 2:30 p.m. Bonus: valet parking is just $10 with validation.
Corporate Executive Chef Michele Mazza and his team are keeping things fresh and lively with a new Di Mare menu. Knowing how many of their clients prefer a vegan diet, Chef Mazza created an entirely new vegan menu
While the holidays may be over, family & friend gatherings continue, and Sunday Brunch is a celebrated weekly tradition. One of the most elaborate offerings in all of South Florida, the Il Mulino New York Sunday Brunch, served from Noon to 4 p.m., features such delicacies as poached salmon, Kobe beef sliders, porcini ravioli with champagne truffle cream, prime New York steak, barbecue baby pork ribs, brioche French toast, freshly squeezed juices and so much more, including renowned Italian Lavazza coffee.
Speaking of Lavazza, if you're an espresso martini lover, wrap your fingers around six new Lavazza espresso martinis the Il Mulino New York mixologists just created. From pairings with Stoli Vanilla and Bailey's Irish Cream to Espolon Reposado, Kahlua and Cointreau, each is more inventive than the last. It doesn't stop there. Indulge in one of three mouthwatering desserts as simple as house-made ice cream topped with Lavazza espresso, an espresso panna cotta or signature Tiramisu. If there's ever a reason to stay awake, this might be it!
Exquisite Japanese Flavors Ke-uH AT
By Juliana Accioly
66 gastronomy
Ke-uH, our warm, welcoming Japanese fusion restaurant, is now showcasing a revamped menu of tapas and shareable plates.
A diverse selection of robata and izakaya is still the star of the show at this sleek spot, but more kosher-friendly, straightforward recipes have been added to the eclectic roster.
"We have fine-tuned our offerings to our diners' palates and elevated our dining experience with new offerings," says Ke-uH's co-owner, Daniel Fernandez. "Our rotating list of weekly specials allows our guests to discover new flavors every time they visit."
Dining proceeds seamlessly from high-quality, seasonal sushi and sashimi options to chef Edwin Delgado's new creations. Dishes are thoughtfully executed with delicacies like Toro Cilantro, Rib Eye Tacos, and Caviar Salmon Ahi Amarillo. Options of Madai Dry Miso, Sunomono Salad, and Riceless Naruto Roll are also not to be missed.
new
The cocktail menu is as carefully curated as the food, with new additions like Yuzu Shitori, a concoction mixed with lemon drop martini, Tsukasa Botan Yuzu sake, and Organika Vodka.
says Ke-uH's co-owner, Daniel Fernandez
Enjoy dinner and drinks in the dining room or head to the outdoor terrace overlooking the Atlantic Ocean.
OUR ROTATING LIST OF WEEKLY SPECIALS allows our guests to discover
flavors every time they visit.
68 TEAM
THE DREAMTeam
ACQUALINA'S HUMAN RESOURCES DEPARTMENT IS DEDICATED TO MAINTAINING A POSITIVE, PLEASURABLE WORK ENVIRONMENT FOR HUNDREDS OF EMPLOYEES SPANNING THREE PROPERTIES.
By Sherri Balefsky Hanson
Where are you from?
Bobbie Mesa, VP of People & Culture: Miami.
Anna Wesierska, Talent Acquisition Manager: Warsaw, Poland.
Dasha Yesan, People & Culture Coordinator: Miami.
Gershwin Narraidoo, Director of Training & Development: I'm originally from Mauritius; I spent six years in Australia but have called South Florida home for 20 years.
Susann Banek, Assistant Director of People & Culture: I'm from Germany and have been living in Miami for 15 years.
Why is HR so important at Acqualina?
Bobbie: Our department plays a key role in developing, reinforcing, and changing the organization's culture. Payroll, performance management, training, recruitment, and reinforcing values are all essential elements that keep Acqualina competitive and evolving.
What are the top qualities you look for in employees?
Anna: At Acqualina, we exceed expectations. To do that, we need "dream makers" who think with their hearts. We look for skilled and knowledgeable individuals, but being courteous on top of that is what makes our employees so remarkable.
Acqualina has over 50 employees that have been with the brand for 10+ years! Why do you think this is?
Bobbie: Acqualina's mission revolves around team. If we have happy, dedicated team members, we have a successful business. We want employees to feel valued, recognized, and respected.
What's your favorite thing about working at Acqualina?
Gershwin: We have such passionate and caring individuals; it is a pleasure to come to work each day.
What is the best spot at Acqualina for a selfie?
Dasha: The bridge that overlooks the recreational pool.
What are some ways that you maintain a positive work culture?
Susann: We offer various recognition programs, growth opportunities, and benefits. We conduct regular check-ins with team members, and we celebrate employees with holiday parties, tenured team member luncheons, and our Forbes Recognition Week.
69
Gershwin Narraidoo, Bobbie Mesa, Anna Wesierska, Dasha Yesan, Susann Banek
SAFETYFirst
AS DIRECTOR OF SECURITY AT THE ESTATES AT ACQUALINA, STEVEN NELSON OVERSEES ALL SECURITY OPERATIONS ON-PROPERTY TO ENSURE THE CONTINUED SAFETY OF ALL RESIDENTS, GUESTS, AND EMPLOYEES.
By Sherri Balefsky Hanson
Where are you from?
Miami.
Describe your role. I oversee the daily operations of the security, receiving, and chauffeur departments for The Estates at Acqualina, acting as a liaison between construction operations and management pertaining to deliveries and unit entry. I also review and audit the installation of cameras and other access controls by subcontractors.
Why do you think a security department is so important?
Security is essential for maintaining a positive, proactive culture. Our presence is deliberate and distinctive in that we can offer quick responses to a variety of conceivable situations. Security also fosters situational awareness. Thanks to me and my team, a second set of eyes and ears is always available.
What are some of the security features that make The Estates stand out from other properties? We have state-of-the-art cameras with facial recognition and license plate reader technology.
If you moved into The Estates, where would you most likely be found among the luxurious amenities?
In the bowling lanes or billiards room.
What is the best thing about working at Acqualina?
The fast-paced environment and the great partnerships I have with fellow team members.
Security is essential for maintaining a positive, proactive culture.
team 70
Steven Nelson
REQUESTGranted
JOSSELL L. VELÁZQUEZ, WHO JOINED THE MANSIONS AT ACQUALINA AS CHIEF CONCIERGE IN JULY 2020, IS DEDICATED TO PROVIDING RESIDENTS WITH FIVE-STAR SERVICE – NO MATTER THE REQUEST.
By Sherri Balefsky Hanson
Where are you from?
Rochester, New York. I lived in Puerto Rico for 18 years, which makes me a Newyorican!
How do you ensure you are always exceeding residents' expectations?
I address all inquiries, concerns, and feedback with a sense of urgency. No request is too big or small. If we cannot meet a request, we must provide a proper alternative. The word "no" should never be a response!
Can you give an example of a time you went above and beyond for a resident?
I received a request for same-day dinner reservations, but the phone was off for religious reasons, and the website wouldn't let me book. So I drove to the venue! I secured the reservation and met the manager, who provided me with a direct way to contact them in the future.
One New Year's Eve, a resident found herself without a ride home at 2:30 a.m. (no Ubers were available). Without hesitation, I called a transportation company that was able to deliver her home safely.
If you moved into The Mansions, where would you be found among the luxurious amenities?
I'd be at the pool. The high-quality service and captivating ocean views make it a harmonious location to recharge.
What is your favorite thing about working at The Mansions?
Our team and residents! I found a new family at Acqualina.
I address all inquiries, concerns, and feedback with a sense of urgency. No request is too big or small.
71
Jossell Velázquez
AT YOUR SERVICE
Five long-term members of Acqualina's staff share their experiences working with the iconic hospitality brand.
By Sherry Balefsky Hanson
When Acqualina first opened its doors nearly two decades ago, its owners dreamed that one day, the lavish 4.5-acre beachfront respite in Sunny Isles would be a place where vacationers felt at home and residents felt like they were living on vacation.
Today, this vision has become a reality. And although the resort has grown and evolved in size and scope, one thing has never changed: a dedication to excellent service at every turn.
The corporate culture at Acqualina allows you to be yourself. We are part of an amazing team of leaders that welcomes change and challenges its team to strive for excellence.
One of our residents is an 11-year-old special needs boy dear to my heart. One day, his caretaker told me he was not eating because they ran out of his favorite juice brand. On my way home, I stopped by a local store and noticed the juice. I purchased it and returned to work to deliver it to the boy. To this day, his artwork is displayed in the office.
So how to ensure you maintain this high level of service? Through your commitment to your employees. And Acqualina does just that. In fact, Acqualina has more than 50 employees that have been with the brand for 10 years or more, a true testament to the brand's commitment to taking care of and regularly celebrating its staff and team members.
Any sustainable organization must instill a feeling of purpose in its workers, and Acqualina has excelled at this… From the owner to the employees, this company is like a large family.
Our relationships with one another —the ways we encourage one another, work together, mark accomplishments, triumph together, and support one another on a daily basis—drive the success of our team.
72 TEAM
Tania Alexander - Condo ManagerNew York Joined Acqualina in June 2004
Wilbert Petit - Security SupervisorHaiti Joined Acqualina in April 2006
I have worked at Acqualina for 12 years because I have had the opportunity to meet the most wonderful guests in the world... I have devoted so much of my life and receive so much in return in the form of support, the opportunities and advancement I have made in my career, and, especially, the Acqualina family of team members.
Most hotel owners are not known to the team, whereas at Acqualina, ownership is always visible and engaged with us. It is always 'us, our, and we' not 'they, them, or those.
We spoke with five of these long-serving employees about their experiences working with Acqualina. Although their backgrounds, departments, and roles with the brand vary, they can all agree on one thing: Working at Acqualina is more than a job; it is being a part of a family. And when you feel like you are part of a family, you treat everyone around you—whether it's guests, residents, or co-workers—as such.
Some of my best stories are moments where guests and I have laughed to tears from jokes or cried together from similar experiences. Sometimes they just want a tight hug. All of those I've done and will continue to do.
I love Acqualina because we are the true definition of luxury and one of the best in class. For someone who wants to grow in the hospitality industry, I want to learn and grow with the best—not to mention the family I have here!
Joined
I enjoy working at Acqualina because of the achievements, recognition, growth, and continuous training they provide that helps me improve my work ethic.
I think the employees, including myself, continue working at Acqualina because of our work ethics and excellent customer service. We treat each other like family and work as a team.
73
Mandela Xavier - Assistant Chief EngineerDominica
Acqualina in November 2008
Tommi-Ann Dove - Assistant Spa DirectorMiami Joined Acqualina in December 2012
Rachele Ibarra - Director of OperationsJamaica Joined Acqualina in February 2010
Details
Jewelry by Davidor, Bal Harbour Shops Gown by Ermanno Scervino, Bal Harbour Shops Heels by Stuart Weiztman
Delight
in the
PHOTOS JACQUELINE KNABBEN STYLING JENNA DEBRINO HAIR & MAKE UP DAVIDE CALCINAI MODEL KATHARINA MAZEPA
fashion forward
Jewelry by Davidor, Bal Harbour Shops
Gown with Cape by Ermanno Scervino, Bal Harbour Shops Heels by Stuart Weiztman
Jewelry by Buccellati, Bal Harbour Shops
Sunglasses by Oliver Peoples at Designer Eyes, Aventura Mall Gown by Ermanno Scervino, Bal Harbour Shops
80
Jewelry by Davidor, Bal Harbour Shops Gown by Dennis Basso
Jewelry by Davidor, Bal Harbour Shops Gown by Dennis Basso Heels by Stuart Weitzman
83
Jewelry and Watch by Bulgari at Mayors, Aventura Mall Blazer and Long Skirt by Escada
Sunglasses by Loewe at Designer Eyes, Aventura Mall Dress with Belt by Escada Heels by Stuart Weitzman
Jewelry and Watch by Bulgari at Mayors, Aventura Mall Blazer & Skirt by Escada
Jewerly by Buccellati, Bal Harbour Shops Eyewear by Silhouette at Designer Eyes, Aventura Mall Dress by Escada
Jewelry by Buccellati, Bal Harbour Shops Dress by Sandro at Bloomingdales, Aventura Mall Heels by Stuart Weitzman
Sunglasses by Persol at Designer Eyes, Aventura Mall Jewelry by Buccellati, Bal Harbour Shops Pantsuit by Revolve
89
Jewelry by Buccellati, Bal Harbour Shops
Dress by Chris Grammar
Top and Skirt by Escada
Jewelry by Buccellati, Bal Harbour Shops Pantsuit by Revolve Heels by Gucci
waves of calm
ACQUALINA'S OCEANFRONT SETTING MAKES FOR AN OASIS OF SERENITY.
By Samantha Brooks
set amid Sunny Isles' most striking contemporary skyscrapers and just minutes from bustling Miami Beach, Acqualina is primely located for experiencing some of South Florida's most exciting entertainment and action. However, when it comes time to relax, unwind, and reset, the property's stunning spa feels like a tranquil oasis, miles away from any commotion.
Upon stepping into Acqualina Spa, the welcome area greets guests with cool, dark-toned walls and a seductive array of loungewear and accessories in its retail boutique. Whether you've come straight from the gym and would prefer a change of fresh clothes for after your treatment, or you're just looking to continue the feeling of relaxation long after your treatment is over, there is no shortage of plush separates, cozy slippers, and soothing candles to choose from.
BEAUTY & WELLNESS
94
Upon entering the 20,000-squarefoot wellness area, guests are encouraged to allow extra time for experiencing the array of therapeutic rooms, including the Crystal Steam Room with color therapy, Dry Finnish Sauna with Salt Therapy and Experience Shower, which combines LED light therapy with an array of mists.  Head to the oceanfront outdoor spa pool and sun deck or unwind further in the Pink Himalayan Salt relaxation lounges, where an abundance of amenities are served to you while you are enjoying some zero gravity lounging. From aromatic teas and champagne to banana bread bites, frozen grapes or lavender cookies, the spa ambassadors are attentive to your every needs.
Newly added to Acqualina's spa menu, the TMJ Massage is a stress-relief treatment designed to release jaw tension that often causes headaches and neck pain, while the Collagen Sculpting Facial uses Swissline's facial products and a Signature 92 percent pure collagen professional mask to deliver visible results after just a single treatment. Other menu items like the Balancing Massage with Volcanic Stones and Sound Healing Massage are always guest favorites, but one of Acqualina's most outstanding offerings is the new collaboration with Apprize Beauty, offering aesthetic beauty and IV treatments from Dr. Matthew Cooper and board-certified nurse practitioner Briege Marie Azadi. This new collaboration offers Acqualina spa guests everything from customized IVs to address issues like sleep, allergies, fat loss, and muscle growth to cosmetic procedures using the finest-quality Botox and Dysport.
The only hard part about visiting the spa is deciding which of the many treatments to try.
Junior Jaunts
Acqualina's new and improved Kid's Club provides educational adventures for the resort's youngest guests.
By Erica Corsano
Planning family travel can be a daunting task, especially when you're looking for an elevated experience. But having young children doesn't mean you have to sacrifice luxury while on vacation. At Acqualina, a recently enhanced Kids Club for guests traveling with children, makes it a seamless process.
Offered on Friday, Saturday and Sunday from 10am to 4pm for ages 4 to 12 and midweek camps available upon request, the children's program AcquaMarine turns your child's Miami Beach resort experience into a learning camp adventure. AcquaMarine was designed and inspired by our ocean and all the sea life within. Children will become campers and have fun with learning and discovering a new appreciation, love and respect for the sea through hands-on educational activities.
The resort's signature kids program now works with itavi, a childcare provider founded and run by Miamian Ayana Rodriguez, to bring a revolutionary ocean-themed program to South Florida. Like most great businesses, itavi was created out of necessity. The mother-of-three got into the childcare business after needing trusted childcare while on vacation. "There had to be an alternative intention behind childcare. No one was there to take accountability or resolve, they were just connectors," says Rodriguez.
Rodriguez has become a media darling in the childcare industry and has also made a name for herself (and her childcare professionals) working with socialites and celebrities, including Miami Dolphins families. Her company, itavi, offers individual childcare to guests, and also manages and operates the resort's Curated Childcare, which applies the itavi Method, created by Rodriguez.
"We look to provide a situation where parents understand that their kids are having a great experience while they are off having a great experience…we offer a very different approach to childcare," explains Rodriguez. This technique's secret sauce includes implementing five pillars: arts and crafts, reading, playtime, exercise and learning. "These are key points in which we curate programming because our childcare professionals are trained in this method and provide unique experiences for children in the hotels we serve," adds Rodriguez.
96
Family & KIDS
Itavi
So what does a typical day look like in the new and improved AcquaMarine Kid's Club? It's broken up into sections each day and children learn, discover and explore everything ocean related. "The morning session often starts with an icebreaker, getting-toknow-you activity, then there's some movement, then arts and crafts, then some more movement, and then some lunch," explains Rodriquez." Parents can have their children join the morning session (10am-12:30pm), book the afternoon session after lunch (1-4pm), or spend the whole day at the camp (10am-4pm).
Active kids need healthy nourishment to fuel their day. Parents may pre-order from four pre-selected lunch options (at an additional cost), so even the finickiest of eaters can fill their bellies with a meal that makes them happy. The AcquaMarine program presents young guests with fun but educational activities and adventures. Think: beach yoga, seashell-themed arts and crafts, a marine life puppet show, reading about Miami's marine life and a cultural immersion in the form of a fun Spanish lesson. Rodriguez refers to such activities as "back door learning." Translation? Tykes are on vacation and may not want to feel like they are in school. o, education is woven into fun pursuits.  "We always want to leave that child better than when they entered that space," says Rodriguez.
AcquaMarine is for ages 4 to 12, and a lunch option is available at a cost. Subject to availability, reservations are easy to make and only require 24-hours advance notice. You can inquire with the property's concierge to do so. Adventure awaits!
WE LOOK TO PROVIDE A SITUATION WHERE PARENTS UNDERSTAND THAT THEIR KIDS ARE HAVING A GREAT EXPERIENCE WHILE THEY ARE OFF HAVING A GREAT EXPERIENCE…
- Ayana Rodriguez,
Founder
we offer a very different approach to childcare.
MODERN MARVEL
Bluechip art expert Laurent Groll helps galleries and collectors acquire modern masters.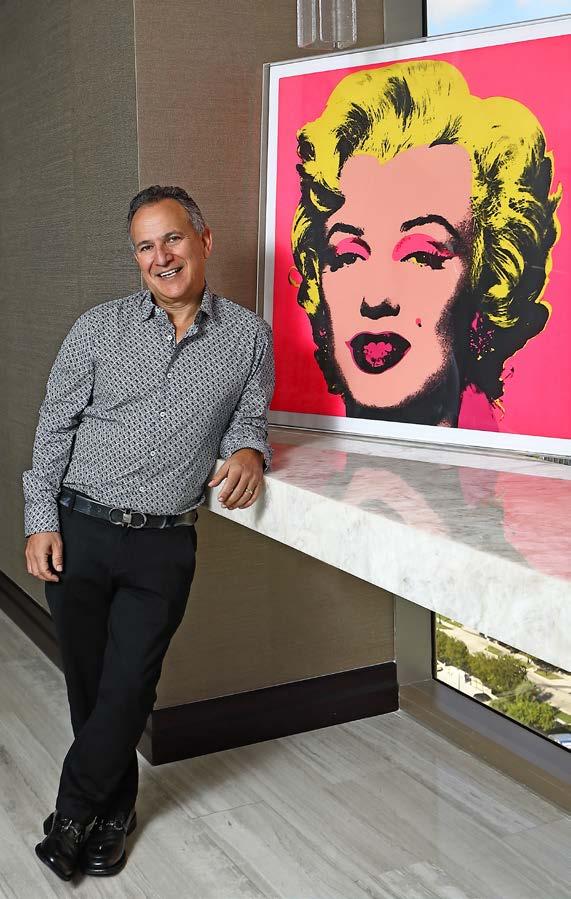 By Erica Corsano
When it comes to the fine art of buying fine art, laurent groll is a master. Fine art mia (fineartmia.com), a company he co-owns with michael sosner, acquires and sells some of the most remarkable blue chip art pieces on the planet from modern masters like andy warhol, roy lichtenstein and keith haring. We recently chatted with groll and learned more.
Tell me about your company. When did you open it and why?
I co-own a company by the name of Fine Art MIA. We are the largest owner of Warhol, Lichtenstein, and Haring modern-day art prints. We consign to different galleries. So we don't own galleries per se; we supply them, and they, in turn, sell to the end user: the customer, the client.  We buy worldwide, and we release the pieces at different times. And so if you're purchasing a Warhol, a Lichtenstein, or Haring, it's probably ours, but you may be buying it from a gallery in New York or London or any of the major galleries we supply to.
What's involved with the perfect timing for releasing one of these works of art to be sold?
It's more of a complex issue. We try to match the consumer's needs and when people want them. We are not looking to flood the market at any point in time. These are great works of art, so it's more time-sensitive in terms of when people want the pieces.  We usually hold them for a year or so.
Art Scene
98
Laurent Groll, co-owner of Fine Art MIA.
So like any business, is it a supply and demand situation?
Exactly. And I often keep a gallery in mind. My personal collection is in the Mansion at Acqualina, and we have a place in London and in New York as well.
Where are you from? And how long have you been in Miami?
I'm originally from South Africa. I've been here a long time, since the late 1970s.
You mentioned some of the artists you focus on. Why those artists?
Because I look for blue chip works of art, I prefer artists that are not living…artists with a maturity level that is proven and whose culture is known. So I don't focus on up-and-coming artists. It's more those that have an investment grade, going to go up over the years, so you know what you're getting, and that is in high demand.
Is your background in fine art? How did you get into the fine art world? No, my background is in law and business. I'm in finance. I was buying works of art for myself. I started collecting, and then people bought from me, and when I saw that it was challenging to replace, I realized that it is an attractive investment and something you can enjoy with your family and friends. So that's how I got into it.
How long ago was that?
I got into it probably in the early 80's.
Were you lucky enough to meet any of them in the 80's? I had seen Andy Warhol at Studio 54 and the other artists in New York but hadn't personally met them. And I'm not a person who likes to meet celebrities or artists because it changes your perception. I want to collect them for who they are [as artists] not as individuals.
On your website, it says, "making the process of buying and selling blue-chip fine art as transparent, friendly, and straightforward as possible." So can it be tricky and not straightforward?
Very much so. First of all, when people sell art, this type of art, it's very difficult to know who owns the art…so people could be selling you something that doesn't belong to them and they have no right to ownership. Because of the longevity and because of the reputation that we've enjoyed over a long period of time, and because of the resources we have behind us, it's transparent. We're not selling you someone else's art. We are selling you what we have. And that gives galleries comfort because they know the piece's provenance.
99
An elaborate collection of original contemporary art in partnership with Fine Art MIA at Acqualina Resort.
What are your clients like? Is it
strictly the galleries or do you also have private clients?
We do have a selection of private clients who are friends or family who we have known for a long time. And these would be prominent and prestigious people that you would know of, but because of confidentiality, I can't name them.
I recommend you start with something well-known like a Basquiat. The return you are going to get on great blue chip art, you can't match it anywhere. It's a great hedge against inflation.
What are they like as far as what they know about art? Do you guide them into this world? Or are some of them long time collectors?
Well, collectors, and there's not very many of them. All of them are very astute. They want the best at the very best price, and they're reliant on us for provenance, they're reliant on us for authenticity, but they do their due diligence and they know what they're getting. People don't come to us and say, 'we're looking for a piece of art to match the color of our wall.' Instead, they might say, 'we want a Marilyn Monroe that is this number by Warhol.' They know what they're getting, so there's just a question of what its condition is like, what is the price they're paying, and what is the provenance to it.
On a personal level, which artists are your favorites and why?
Andy Warhol comes to mind because he represents everything that America is, has been, and the direction it's going. He manifests this in terms of his works of art. I like Keith Haring, and I like Basquiat. It's very much personal taste; how I describe it is you have to feel comfortable with what you're buying. It can be a level of discomfort. For example, when Andy Warhol put lipstick on Mao… you may not like Mao, he was undoubtedly a dictator, but he [Warhol] enlightened and made fun of them in terms of humanity. So you've got to get real comfortable with the work of art that you've got.
Why is collecting art a great investment?
Well firstly, you have to get educated about what you buy. You can't buy any art. I recommend you start with something well-known like a Basquiat. The return you are going to get on great blue chip art, you can't match it anywhere. It's a great hedge against inflation—if the market goes down in terms of a down-cycle, over the long term, it's going to correct itself. And while it's not liquid, it's fairly transferrable. So I would say look for what meets your budget, look for what you're comfortable with, and stick to one of the artists that I've mentioned.
100
Art Scene
Laurent Groll photographed at his home at The Mansions at Acqualina.
Let's shift gears a second. What is your take on NFTs? It's too new… it's more in terms of like if crypto does well and those fields do well, then you look to an NFT. I'm not a lover of NFTs.
So, what do you think the future of art collecting looks like?
I think the future of art collecting is what it's been for the last couple hundred years: if you're looking at great pieces of art, you're looking at what's relevant and what's relevant to society. For example, Andy Warhol's moonwalk was about the moon landing. I would look at art that is going to be relevant in the future and that you enjoy.
Let's talk about Miami. Do you have any thoughts on the Miami art world positive or negative? I think the Miami art world is very positive. You have a tremendous amount of people moving down here. People used to feel comfortable with buying their artwork in New York. Even if they were bringing it down to Miami or Texas or California, New York was the main hub. I think Miami is now a legitimate source for buying art and I think that it could become more and more similar and take over New York in the future. So I am very, very, very bullish on Miami.
What I like about living in Miami is the ease of life. the sunshine and the mix of multicultural people… and the restaurants are getting just as good as other prestigious cities, if not better. It just offers so much and it's getting better and better.
What do you love most about living in Miami and, perhaps more specifically, at Acqualina? Well, Acqualina is, in my opinion, just the best place to stay if one can afford it. It's right by the beaches and has a world of luxury, as well as an element of people that are very, very intellectual and have come from different parts of the world looking to be progressive in making Miami more of what it should be. Miami certainly has got the energy, it has become more than just a destination for vacation.  What I like about living in Miami is the ease of life…the sunshine and the mix of multicultural people… and the restaurants are getting just as good as other prestigious cities, if not better. It just offers so much and it's getting better and better.
For more information, visit fineartmia.com.
101
His personal art collection.
Designed for
LIVING Luxury
By David Kaufman
THE estates at acqualina 102
The spectacular SouthTower lobby designed by Karl Lagerfeld at The Estates at Acqualina.
Nearly five years after breaking ground, the Estates at Acqualina are not just ready for their close-up — they're welcoming residents. And why not? As South Florida's most prestigious residential address, the twin-tower/$1.8 billion project offers unprecedented access to sea, sand, style and wellness — all just a short drive to the best of the Miami-metropolitan area.
At the center of the Estates — whose 154-unit South Tower is now complete while its North Tower is still adding final touches — is its show-stopping lobby, which was designed by style legend Karl Lagerfeld.
It's the only Lagerfeld design of its kind in the US, and offers residents a welcome dose of chic every time they arrive at or depart the building.
"This is a building for people who actually want to live there," says Michael Goldstein, President of Sales at The Estates at Acqualina and Acqualina Realty. "We know what buyers want in service and amenities and we give it to them."
103
Set next to the original Acqualina Resort, the new Estates builds off of the design and service acumen of both the resort, and Acqualina's original, nearby residential tower. The new Estates dazzle from moment one, with much of the shine owing to those pair of Lagerfeld lobbies in the Estates' North and South Towers. In the latter, which is now open, Lagerfeld based his design on photographs he himself took of Roman fountains and arches, which were then etched onto oversized panels. At the lobby's center is a monumental fountain that gives the space a piazza-like atmosphere. It's a dose of European splendor directly facing the beach.
104 THE estates at acqualina
For Lagerfeld — for whom Acqualina was his first and only US residential design project — lobbies are more than just entryways, they "are the first impression of a building and a common living room for socializing." They also, says Jeff Giasson, the Estates' Vice President and General Manager, add a welcome dose of appeal to folks seeking "a true lifestyle and not just another condo on the beach."
Beyond the Lagerfeld lobbies, the Estates include a sprawling outpost of the posh Greek eatery Avra, a 45,000-square-foot amenities villa, next-gen "smart" technology, and ultra high-end homes with everything from private spas and summer kitchens to oversized terraces and impact-resistant windows. "The level of amenities are what truly set the Estates apart from any other building I've seen," says Giasson. Add Goldstein: "These are truly the world's finest residences."
LOBBIES ARE MORE THAN JUST ENTRYWAYS, THEY ARE THE FIRST IMPRESSION OF A BUILDING AND A COMMON LIVING ROOM FOR SOCIALIZING.
- Karl Lagerfeld
105
aventura mall
A DESTINATION FOR LUXURY AND IMMERSIVE EXPERIENCES
Atthe nexus of Miami's thriving fashion and lifestyle scene, Aventura Mall reigns as the ultimate destination for luxury and immersive experiences. The shopping center represents the diverse style and culture of South Florida, making it a must-visit destination for residents and tourists. Bespoke experiences, a worldclass art collection, chef-driven dining, and over 300 luxury boutiques and shopper favorites are just a few elements that make Aventura Mall an oasis for culture-seekers and trendsetters.
Cultivating a lineup of the world's most coveted brands, Aventura Mall is one of the most visited shopping destinations in the U.S. Designer devotees can find legacy fashion houses and cutting-edge designers all within the mall's expanse. The opulent roster includes Hermès, Gucci, Balenciaga, Louis Vuitton, Fendi, Jimmy Choo, Ferragamo, Cartier, Givenchy, Tiffany & Co, BVLGARI and Saint Laurent.
Gucci's runway fashion, accessories and quality leather goods are available at the Italian atelier's 6,000-square-foot Aventura Mall boutique, which features womenswear, menswear and childrenswear. The fashion house's 100-year-long heritage of chic creations and fine craftsmanship is embodied in the sumptuous, expansive boutique, which offers ready-to-wear, shoes, handbags, luggage, small leather goods, jewelry, watches, eyewear, fragrances, and décor.
Hermès, known best for its coveted Birkin bag, has a 7,400-square-foot home at Aventura Mall. Drawing inspiration from Miami Beach, the boutique's design incorporates a palette of coastal hues with a French twist. As if suspended in a seaside paradise, the Hermès boutique provides a stunning ambiance to showcase its signature handbags, accessories, jewelry, and beauty products.
Valentino also recently debuted a new boutique, offering shoes, handbags, eyewear, jewelry and fragrances for both men and women. Aventura Mall's newest program, The Stylist, offers premier one-to-one personal shopping and styling for guests, helping them build seasonal or capsule wardrobes, select attire for a special occasion, find the perfect fit, choose gifts for loved ones and much more.
Additional recent openings continue to solidify the shopping center as the premier harbor for popular fashion, ensuring there's always something new to discover.
Nike recently debuted its first "Rise" concept store in North America. The expansive two-story Nike Aventura is one of the most digitally advanced stores to date and is a cutting-edge wonderland for sneaker lovers and athletes alike. Lacoste opened a unique flagship store – the first of its kind in Florida – debuting the brand's new look and offering exclusive items and innovative in-store experiences.
Offering "everyday luxury," Canadian fashion brand Aritzia debuted its first Florida store at Aventura Mall, offering a personalized shopping experience and its coveted independent labels. European fashion brand
Hermès, known best for its coveted Birkin bag, has a 7,400-square-foot home at Aventura Mall.
Mango provides visitors with the rare experience to shop the popular brand in person, and Danish affordable luxury brand Ganni offers clothing, accessories, and personalized styling services in a responsibly styled space.
In addition, the shopping center is anchored by five department stores, including Nordstrom, Bloomingdale's and Macy's, and is highlighted by 300 of the world's most popular retailers, including Apple, Adidas, Anthropologie, Ralph Lauren, Sephora, and a two-level Zara.
Complementing Miami's rich and diverse culture, Aventura Mall dining enables visitors to experience an array of international cuisines from renowned chefs and beloved local establishments. Guests enjoy a multitude of classics and newcomers, many offering indoor and outdoor seating, including Motek Café, Pubbelly Sushi, CVI.CHE 105,
Ladurée, PANI, Ralph's Coffee, Tap 42 Craft Kitchen + Bar, Pollos & Jarras, Serafina Miami, Sugar Factory, and more.
Treats Food Hall, a curated food emporium, is a gastronomical delight, offering a variety of internationally inspired cuisines in fast-casual form.
A taste of culture is also on the menu with The Arts Aventura Mall program. The curated collection includes more than two dozen world-class contemporary installations by globally renowned and local artists.
Aventura Slide Tower, a thrilling, 93-foot-tall spiral structure by Belgian artist Carsten Höller, is in the art and restaurant-filled Outdoor Courtyard. The program also includes pieces by The Haas Brothers, Louise Bourgeois, Ugo Rondinone, Robert Indiana, Jorge Pardo and more. Visitors can embark on the self-guided Art Walk audio tour by scanning QR codes located at the pieces.
For more than 20 years, The Aventura Market has shown #locallove to South Florida farmers and artisans. Each weekend, shoppers explore a variety of unique and thoughtfully created products, including an array of exotic foods, fresh produce, desserts, handmade goods and home décor from dozens of local vendors.
Aventura Mall not only epitomizes style – it celebrates culture and taste, embraces experiences, and constantly innovates the ways in which South Florida residents and visitors enjoy everyday life.
Gorillas in the Mist
The Haas Brothers
Nike
CÉVÉ specializes in contemporary gloss finish sculpture and is easily recognized for her unique style - simplicity of smooth lines and soft bronze crafted into charming characters. CÉVÉ intends for her sculptures to be both seen and felt in the viewer's eyes. An internationally renowned artist, CÉVÉ is also a curator for many exhibitions in France and around the globe. Her works are all designed and created in France.
CEVE ´ ´
& STEPH
Léo & Steph are a France-Brazilian duo with a true passion for Pop Art who transform everyday objects into unique and exclusive works of art. They imagined an iconic character reflecting our inner child: "Kid Cup." This faceless, genderless character amuses itself in a colorful and cheerful world. It is resolutely optimistic and "drinks life" from the cup it hardly ever leaves behind.
www.markowiczfineart.com • info@markowiczfineart.com • 214.200.3288
LEO
Miami • Dallas • Laguna Niguel
RICHARD ORLINSKI
Richard Orlinski is a French multi-media artist born in Paris in 1966. A sculptor since 2004, his work is built around the concept "Born Wild" - a style that employs contemporary materials to create visuals appealing to adults and children alike. Intent on making art accessible to all, Richard Orlinski draws on the imagery of popular social icons. His works are exhibited both at FIAC and in 90 galleries worldwide. He has been ranked in Art Price's Top 10 Best-Selling French artists worldwide since 2011. Art Price's 2015 New Ranking Contemporary Artists named Richard Orlinski the number 1 best-selling French contemporary sculptor. Markowicz Fine Art has been the go-to dealer for the artist for over a decade.
Miami • Dallas • Laguna Niguel www.markowiczfineart.com • info@markowiczfineart.com • 214.200.3288
Rated Best Stone Crabs in Florida by
Billy's Stone Crab Restaurant and Market @billyscrabs
"ALL YOU CAN EAT Stone Crabs and King Crab Legs Everyday." *subject to availability 400 N. Ocean Drive | Hollywood | 954-923-2300 | www.crabs.com
SPECTRE
DAZZLING POWER EFFORTLESS PERFORMANCE LIMITLESS FREEDOM
The most powerful Rolls-Royce ever — a spiritual successor to the Phantom Coupé and an emblem of artisanship in perfect harmony with electric technology.
In 1900, Rolls-Royce co-founder, Charles Rolls, prophesized an electric future for the motor car. Having acquired an electric vehicle named The Columbia Electric Carriage, he foresaw its suitability as a clean, noiseless alternative to the internal combustion engine – providing there was sufficient infrastructure to support it. Today, more than 120 years later, the time has come for Rolls-Royce Motor Cars to fulfil the prophecy of its founding father.
Spectre is not only an historic moment for Rolls-Royce, but also an historic moment for electrification – with Spectre, the marque confirms that the technology has reached a standard that can contain the Rolls-Royce experience.
Spectre is more than a motor car. It is a statement of intent and a symbol of a bright, bold future as Rolls-Royce progresses into an all-electric era. This commitment to an all-electric powertrain will only enhance the Rolls-Royce experience – instant torque, silent running and the sense of one imperceptible
gear have defined the characteristics of an extraordinary canon of products dating back to the very first Rolls-Royce, the 1904 10 H.P.
With Spectre, Rolls-Royce has harnessed a revolutionary 'Decentralized Intelligence' system that allows for the free and direct exchange of information between more than 1,000 vehicle functions, further elevating the marque's celebrated quality of ride. Its designers have captured a contemporary yet timeless aesthetic that significantly progresses the brand's iconography as it embarks on its electric age. Its craftspeople have created a suite of contemporary prêt-à-porter personalization possibilities, including Starlight Doors and Illuminated Fascia, inspiring clients to realize their own Bespoke visions.
ROLLS-ROYCE MOTOR CARS MIAMI • ROLLSROYCEBRAMAN.COM • (786) 577-5217