OFFICIAL VISITORS GUIDE Pueblos, Nations, and Tribes 30 36 54 72 Top 15 Must Experiences Cuisine Family Fun
1 Visit us at 203 Canyon Road, Santa Fe | 505.467.8297 | GalleryWild.com GalleryWild_SantaFe AN ART EXPERIENCE INSPIRED BY WILDLIFE & WILD PLACES
CARRIE WILD
PATRICIA A. GRIFFIN
THOMPSON CARRIE PENLEY
SILAS
JENNA VON BENEDIKT
THE SANTA FE STANDARD SINCE 1922 LUXURY STAYS | AUTHENTIC CUISINE | DRINKS & LIVE MUSIC | SPA SERVICES 100 E. SAN FRANCISCO STREET | SANTA FE, NEW MEXICO | 505.982.5511 WWW.LAFONDASANTAFE.COM
From your kitchen counter to your pocket... and everything in between! Santa Fe Stoneworks Studio & Gallery 3790 Cerrillos Road Santa Fe, NM 87507 505•471•3953 800•257•7625 santafestoneworks.com Cutlery of Santa Fe 107 Old Santa Fe Trail (@ La Fonda Hotel) Santa Fe, NM 87501 505•982•3262 cutleryofsantafe.com
EXPLORE 8 Welcome to Santa Fe 10 Culture of The City Different 20 What's New? 22 Santa Fe Tops Travel Lists 30 Pueblos, Nations, and Tribes 62 Map of Santa Fe 120 Map of Northern New Mexico PLAN 16 Get Santa Fe Ready! 36 Top 15 Must Experiences 58 Santa Fe Margarita Trail and other Self-Guided Foodie Trails & Tours 72 Family-Fantastic Santa Fe 84 Romantic Santa Fe 86 Day Trips 92 Santa Fe by the Season 96 Calendar of Events 102 Meet Different 104 Get Here! 106 Lodging Guide DISCOVER 24 History 42 Visual Arts 50 Performing Arts 54 Cuisine 64 Relax & Rejuvenate 66 Top 5 Neighborhoods of Santa Fe 76 Outdoor Adventures 94 Shopping and the Santa Fe Marketplace 118 Advertisers TABLE OF CONTENTS /SantaFeTourism /CityofSantaFe /CityofSantaFe /CityofSantaFe /VisitSantaFeNM UNCOVER YOUR DIFFERENT 4 WHAT'S NEW? | 20 2023 has arrived with new traditions to share, including Día de Muertos, a Day of the Dead celebration on the historic Santa Fe Plaza, October 27 & 28. TOP 15 MUST EXPERIENCES | 36 Get the most out of your time in The City Different! GET SANTA FE READY! | 16 Playful guidance on what to pack and the lingo to master for a great visit to The City Different! CULTURE OF THE CITY DIFFERENT | 10 Immerse yourself in a culture born of many influences, beginning in 1050 when Pueblo Indians established permanent communities on land that is now Santa Fe's Plaza and downtown.
& Spa Hotel St. Francis
Hotel Chimayó heritage hotels & resorts For other luxury new mexico hotels visit hhandr.com 877.901.7666
Eldorado Hotel
Inn and Spa at Loretto
The Official Santa Fe Visitors Guide is provided as a service by
TOURISM Santa Fe 201 W. Marcy Street Santa Fe, NM 87501 800.777.2489
SantaFe.org
MAYOR
Alan Webber
MAYOR PRO TEMPORE
Signe l. Lindell
CITY COUNCIL
Jamie Cassutt, Amanda Chavez, Lee Garcia, Michael Garcia, Signe I. Lindell, Chris Rivera, Carol Romero-Wirth, Renee Villarreal
CITY MANAGER
John Blair
OCCUPANCY TAX ADVISORY BOARD
Rik Blyth (Chair), Lutz Arnhold, Bonnie Bennett, Carlos Medina, Ray Sandoval
TOURISM SANTA FE
Randy Randall, Executive Director David Carr, Director of Sales Ryan Dodge, Program and Events Manager Jordan Guenther, Director of Marketing Melanie Moore, Operations Manager
PUBLISHER
TOURISM Santa Fe
GRAPHIC DESIGNER
Jasmine Quinsier
Copyright © 2023 by TOURISM Santa Fe.
TOURISM Santa Fe has made every effort to maintain the accuracy of information presented in this directory, but assume no responsibility for errors, changes or omissions.
TOURISM Santa Fe in no way warrants or assumes liability for the products and services offered. Inclusion in this publication does not imply endorsement by TOURISM Santa Fe.
For up to date information and more content visit: SantaFe.org
#THECITYDIFFERENT 6
C M Y CM MY CY CMY K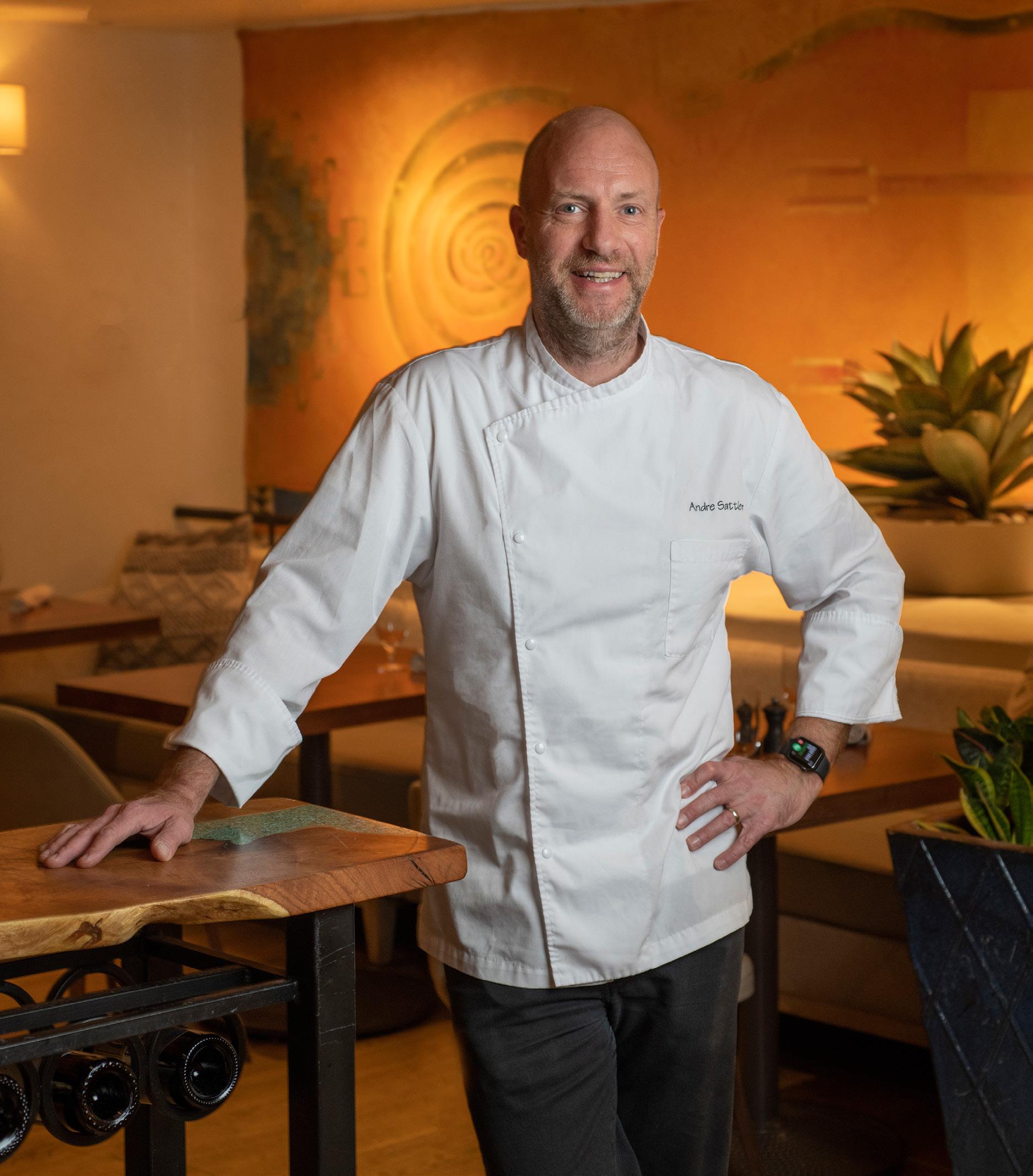 A N A S A Z I RESTAU R A N T B A R & L O U N G E discover the essence of santa fe dining Contemporary American Cuisine inspired by local ingredients. For reservations please call (505) 988-3030. ROSEWOOD INN OF THE ANASAZI 113 WASHINGTON AVENUE | SANTA FE, NM 87501