1 LIFE's Vintage Guide • www.LIFEseniorservices.org SENIOR RESOURCE GUIDE COMMUNITY AND CAREGIVING RESOURCES SERVICES HOUSING CENTRAL OKLAHOMA'S MOST COMPREHENSIVE
Arrow Senior Living Advisors was designed to navigate our clients and their families through the overwhelming process of researching, touring and selecting a senior living community. Our experience and intimate knowledge of the market has allowed us to assist families for their unique situations.
Follow the Arrrow
Scan the QR code to learn more about Arrow Senior Living Advisors and how we can help you in your search — with a personal touch for FREE!
www.ArrowSeniorAdvisors.com | 405-486-9976
Finding the right Senior Living community can be overwhelming. But it can actually be pretty EASY. Let our local Senior Living advisors help make your search EASY and FREE.
Independent Living | Assisted Living | Memory Care
Matt Wilson, CSA
LuxeRehab Get your spark back after a planned surgery or bout of illness. Ignite's dedicated team of in house therapists will customize a rehabilitation plan to get you back on your feet and back to the things you love. Orthopedic Rehabilitation • Stroke Recovery • Cardiac Care Pulmonary Rehab • Wound Care • Infection Management • Renal Management SERVING THE OKC METRO AND SURROUNDING AREAS Ignite Medical Resort OKC 6312 N Portland Ave, Oklahoma City, OK 73112 405-946-6932 | ignitemedicalresorts.com Ignite Medical Resort Norman 1050 Rambling Oaks Dr, Norman, OK 73072 405-292-2273 | ignitemedicalresorts.com
Samantha Blue Paula Brown Carol Carter Dr. Charles Hill, M.D.
Kathy Jones Erin Powell Adrian Rolle
LIFE's Vintage Guide to Housing & Services is published annually by LIFE Senior Services, Inc., the leader in nonprofit services for seniors and their families since 1973.The information in this publication was provided by each listed organization. Reasonable care was taken to ensure accuracy and relevance, and it is accurate, to the best of our knowledge, as of January 2023. The listings of businesses in LIFE's Vintage Guide to Housing & Services are free. While we strive for accuracy, the gathering and editing of information may occasionally result in errors in any listing. Neither LIFE Senior Services, LIFE's Vintage Guide, nor LIFE's Vintage Newsmagazine are responsible for any unintentional errors in a listing, and such errors will not give rights to any recourse against any such entity. Inclusion in this publication implies no guarantee that all information is currently correct. Exclusion of any major resource for older adults was accidental. To submit a service for inclusion in future editions of LIFE's Vintage Guide, call (866) 664-9009 or email okceditor@LIFEseniorservices.org. Inclusion of a service does not imply an endorsement of the provider or its services or products on the part of LIFE Senior Services, Inc., its employees, volunteers, or funding agencies or sources.
©2023 LIFE Senior Services, Inc. All rights reserved.
2
www.LIFEseniorservices.org Vintage Guide Dedicated to Advancing the Dignity and Independence of Older Adults. Links seniors to needed community resources including: • Senior resource directory • Senior meal sites • Home-delivered meals • Housekeeping services • Caregiver support • Hearing aids, dentures, eye glasses, durable medical equipment • Legal aid service • Health and wellness program • Long-term care ombudsman contacts • Transportation options Serving anyone over 60, and their caregivers in Canadian, Cleveland, Logan, and Oklahoma counties. 4101 Perimeter Center Dr., Ste. 310 Oklahoma City, OK 73112 areawideaging.org INFORMATION & ASSISTANCE LINE 405-942-8500 LIFE Senior Services, Inc. Publisher Kelly Kirchhoff Senior Director of Communications Dee Duren Managing Editor Alyssa Dillard Editor Bernie Dornblaser Advertising Director Leah Weigle Graphic Designer Charlie Neuenschwander charlieneuenschwander.com Cover Photo Contributing Editors
LIFE's Vintage Guide to Housing & Services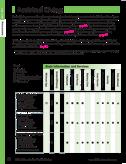 LIFE's Vintage Guide to Housing & Services 3 4 Starting the Conversation Before Your Loved One Needs Assistance 6 What is Long-Term Care? 7 Finding and Paying for Skilled Nursing Care 9 Hospitalizations and Planning for Discharge 11 The Basics of Medicare 15 Medicare and Home Healthcare 16 Adult Day Health Services: Person-Centered Daytime Care for Older Adults 17 VA Healthcare Benefits 19 Helping Seniors Remain at Home With PACE 20 ADvantage Program 101 21 Respite: A Caregiving Necessity 22 Legal Matters and Older Adults 24 An Overview of Dementia 25 Warning Signs of Alzheimer's Disease 26 Palliative Care: Not Just for End of Life 27 Understanding Hospice Care 29 Adult Day Health Services: How to Choose a Quality Program 31 Home Health Agency Evaluation Checklist 33 Independent Living Evaluation Checklist 35 Assisted Living Community Evaluation Checklist 37 Skilled Nursing Care Evaluation Checklist 39 Hospice Care Agency Evaluation Checklist Discussing important aging issues with your loved one can be a difficult conversation to approach. According to national survey, seniors and their adult children rarely discuss aging issues, and many suspect that this trend may even apply to spousal and other caregiver relationships. While we can't predict the changes we will experience as we grow older, we do know that the most common changes are related to health, driving, living arrangements, the need for assistance, finances and end-of-life issues. Often, by talking about these important life issues early and planning ahead, families will find it easier to cope with the changes, crisis decision-making can be avoided, and personal control can be retained even in difficult situations. While the majority of those surveyed said they are comfortable discussing age-related issues, the reality is they seldom do. The main reason mentioned: No one starting the conversation. In general, when person reaches age 70, or their eldest child reaches age 40 – whichever comes first it is time to start having conversations about aging and making plans for the future. So, how and where do you start? SETTING THE STAGE Research and planning are vital when preparing to start a conversation about aging. Before meeting, you may want to consider the following: Be alert to natural opportunities to talk about aging issues and ask questions. This will help you gather information, little by little, that may be helpful in starting full-fledged discussion later. If someone you know has gone through an agerelated situation, ask them how they started their Make a checklist of the topics you'd like to discuss. This will help you stay on track and keep you from getting overwhelmed. Plan to involve others. Parents may want to talk with all their children together or adult children may want their siblings present. Get on the same page. you are going to involve multiple people in the conversation, is good idea to establish common understanding of what needs to be discussed, who will lead the conversation and who will handle which tasks. Decide when and where you will start the conversation. This is especially important if you are involving multiple people. Plan to meet in person, if possible. These subjects are more difficult to discuss over the phone. If a face-to-face meeting isn't possible, be sure to set aside time to talk uninterrupted. Choose time and place that is comfortable and relaxing. Avoid busy, highstress times like the holidays, possible. 14 LIFE's Vintage Guide Starting the Conversation www.LIFEseniorservices.org CONVERSATION NEEDS ASSISTANCE Before Your Loved One Starting the SECTION 1 Helpful Articles This section features 22 helpful articles, including long-term care basics, legal matters, and useful checklists. SECTION 2 Senior Housing Options Find an extensive directory of more than 140 options from independent living to nursing facilities in a format that allows for easy comparisons. SECTION 1 Helpful Articles for Seniors and Caregivers SECTION 3 Guide to Advertisers 77 Guide to Advertisers SECTION 2 Senior Housing & Care Options 40 Continuing Care Retirement Communities 44 Independent Living 48 Assisted Living 54 Nursing Facilities 64 Home Health 74 Hospice For a searchable, digital version of LIFE's Vintage Guide, visit www.LIFEseniorservices.org and look under the Education & Resources tab. TABLE OF CONTENTS