3 minute read
ARAVADA SPRINGS
Whether it's spring, summer, or fall, a destination awaits your arrival. Aravada Springs sits on the border of Nevada and Arizona. It is located between The Gold Butte National Monument and The Grand Canyon Parashant National Monument. Beauty surrounds this location in every direction. Daytime exploration consists of seeking out petroglyphs, hiking unique rock formations, and unlimited ATV trails. At the end of your day, return to Aravada Springs, where you can enjoy a shower, your warm dinner, and a game of cards with friends in the Rock House Lodge. Step out on the deck and enjoy Stargazing through a high-powered telescope or make S'mores around a campfire. There's plenty of room around the petrified wood fireplace if you prefer to snuggle indoors.
Aravada Springs is a campground offering cozy kingsized beds, electricity, restrooms, a full access kitchen, and WiFi. Choose a Miner's tent that fits your needs. Glamping tents include some extras or choose from a cabin or bunkhouse. You're more than welcome to bring your own tent or RV. They offer hook-ups as well as dry camping. You will enjoy waking up to gorgeous sunrises, peacocks strutting their beautiful feathers, and a warm cup of coffee to start your day. To receive the full ranch experience, pay a visit to their Livestock Zoo. There you will meet Bruno(Steer) and Potato(Pig). They are the best of friends and can be seen lying next to one another on a lazy summer day.
There are two Mini Ponies (Willie and Waylon), two Alpacas (Maverick and Goose), and Carlos the llama. Aravada's famous Haflinger team, Major and Buddy, reside on the property as well. Wildlife sightings such as deer, rabbits, squirrels, butterflies, dragonflies, and tiny bats grace the 200-acre property. The bats even have a bat house. Don't be alarmed; they skim the waters in the evening and help keep pests away.
There's nothing like discovering this desert oasis on a toasty spring/ summer day. A natural spring-fed pond (shown right) welcomes a swing on the rope or an entrance via the twisty slide into its cool refreshing waters. Youth and adults of all ages find this to be the highlight of their visit during warm desert days. Aravada Springs temperatures are generally 10 degrees cooler than neighboring Mesquite and 20 degrees cooler at night. So plan accordingly when you visit.
The voices of ranch ancestors can be heard as you pass the cemetery. Keith and Marilyn Nay and family rest there under the glorious American Flag. As you enter the main gate, the original Nays Ranch is displayed in the metal arch. For over 100 years, people have enjoyed the ranch. It's ownership has stayed in the family line throughout many generations. Those same families enjoy reunions every summer, and tradition is kept alive. Ancestors canned and sold peaches many years ago. The orchards produce 26 different varieties of fruit. In the fall, if you are passing by, there's a generally basket full of apples at the gate, with a sign that reads, "Old West Honor System" and a jar to drop 50 cents into. It's like a Farmers Market in the middle of nowhere.
Guests enjoy the opportunity to customize their experience. A welcome location for a wedding, family reunion, youth camp, retreat, or individual camping. They have a talented guitarist that does campfire concerts, a cowboy poet, and outdoor movies available as add-ons when making reservations.V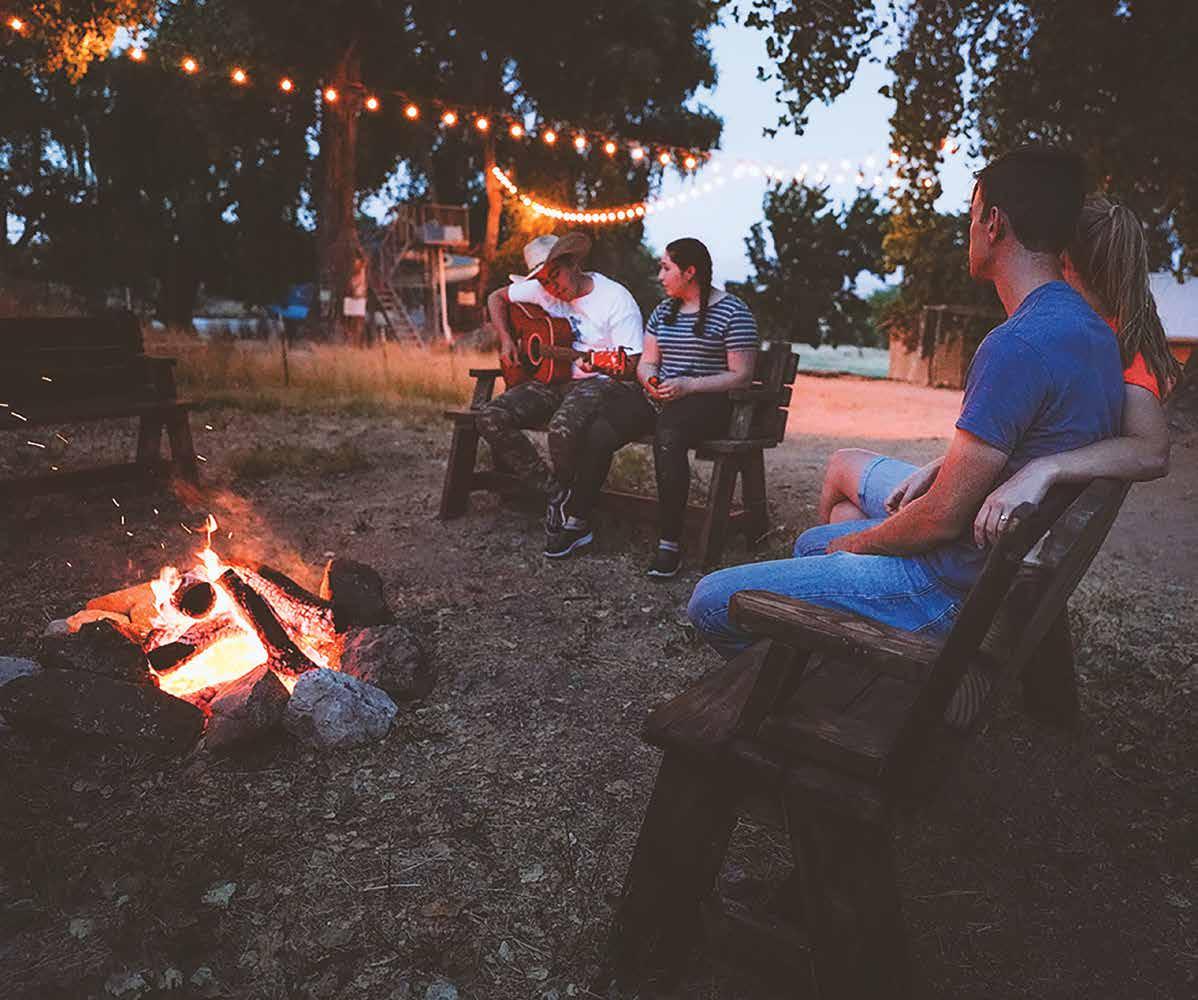 Aravada Springs offers a ranch experience with added luxury. For more information, go to their website, Aravada.com