Some dealers, depending on their location, are veterans at dealing with"Thoseweatherinthe 'hail belt,' the areas where hail is a regular threat, are generally aware of the threat and make the proper preparations to protect their vehicles.
Worry-freeWire-free,GPS.
"There's a certain amount of cli mate changing anyway," he said.
Meteorologists on the local news can make mistakes and those are forgotten the next day.
But for Jacob Robb, meteorologist for Risk Point, a Dallas-based insur er for auto dealers, a bad weather forecast costs money.
Continued on page 3
By Jeffrey Bellant
INNOVATING FOR 30 YEARS. 22PASS1510_D1 PassTime 2022 Print Ad_4-65x2-25.indd 1 8/10/22 4:11 PM
The reason is he likes the variety that comes with his Risk Point job. Doing daily forecasting for the local news network "didn't interest me very much," Robb said. At Risk Point, he's looking at weather patterns nationwide and how they can affect a vast number of locations in various ways. "I'm not sure what I'm going to be doing each day," he said. "I know what the weather is going to be, but my day varies from day to day."
MaterialDated-Rush
Photo Courtesy of Risk Point STORMCHASER: Meteorologist Jacob Robb isn't doing the weather forecast for local news. Risk Point's in-house weatherman monitors storms long before they threaten dealerships. He alerts dealers about incoming danger and offers advice on how to keep lots safe.
"But we help their decision-mak ing by determining whether this is a hailstorm they should worry about or whether it's a hailstorm they don't have to worry about," Robb said."That's where I come in. To help them make better informed deci sions, such as 'This' hailstorm is go ing to be a significant hailstorm, or 'Today' is going to be a significant weather day. You're going to have to be alert and aware." The 'hail belt' includes the Great Plains states of Texas, Oklahoma, Nebraska, Iowa, the Dakotas and a little bit of Colorado. Robb said changing weather pat terns have meant there is less hail in the traditional locations, but it's moving into other locations.
"In the broadest sense, what I'm doing for Risk Point is helping our dealerships make more informed decisions when a storm is coming," RobbRobb,said.who attended the Univer sity of Oklahoma, decided against a career in weather forecasting on television news shows.
Forecaster Helps Dealers Dodge Storms Car News
8/22/2022 UCN Used
IN THIS ISSUE: • CRM • MarketsRetail • Black NumbersBook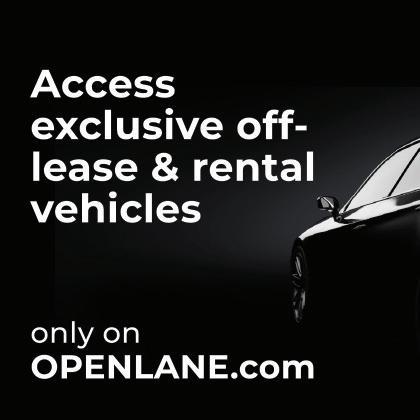 RobbDealersaid.and customer safety comes first, but if there's a chance to save vehicles as well, then it helps both dealerships and the insurer.
On the other hand, if there's a freak hailstorm heading toward ar eas in Florida, they don't generally experience a lot of large hail.
Weather Forecaster –
Robb thinks the benefit of what he can offer is a forecast and advice that's tailored to an auto dealership in a way that a local weather fore caster doesn't do.
"Inflation is also causing repair and labor costs to go way up," Springer said. "So that's a huge piece of it."
Another factor some people may not consider is the numerous sen sors in a car that can be damaged even in a simple fender-bender. "It's not just the cost of the fender anymore, it's the cost to recalibrate the computer systems and replace the sensors," Springer said. "So, repair costs have dramatically in creased over just the last few years, believe it or not, on my side of the business. We're paying a lot more just on Theftrepairs."loomslarge because of the cost of cars, so Risk Point is looking at telematics to put trackers in cars for theft prevention/recovery. For Risk Point, dodging big losses is where the meteorologist comes in.
3 Industry News
Bill Springer
Aside from oncoming storms, dealers can ask Robb any questions regarding insurance, meteorology or general planning for weather issues. What issues keep Robb the busi est?"Hail and flooding tend to be the biggest focus day to day, forecasting or notifying dealers," he said. "I try taking into account any (threaten ing) weather. My biggest focus isn't wind, but if there's a storm that has 90-mile-per-hour winds, I'm going to notify our dealers.
The recent deadly floods that brought so much damage in Ken tucky are an example of how a mete orologist can help Risk Point clients. When Robb's forecast shows ma jor weather may affect a Risk Point dealership, alerts go out.
Some dealers are better prepared than others, simply because certain risks come with certain geographic locations."IfI'm talking about a hurricane heading toward a bunch of dealer ships, Florida dealers know what they're doing."
Scary weather forecasts are not the only thing encouraging dealers to protect their cars
"The goal is to balance between warning dealerships when they need to be warned, but not giving them warning fatigue or warning them at a time when it's not neces sary," Robb said. "There is a fine line we're trying to reach here, getting it as perfect as we possibly can."
Hail passing over a dealership can cause significant losses to vehicle windows, bodies, etc. "But when you have a major flood, you can have total losses, damage that is unrepairable," he said.
"So, if I start notifying them about hail, I have to stress the importance of what you do (to protect) against large hail," Robb said. It's the opposite in Oklahoma, where hailstorms are common and dealers are prepared to move vehi cles quickly at the slightest threat of hail."They might need help in the case of excessive rainfall or flooding, if they're not in a traditional flood zone," Robb said. But not so fast.
The inventory shortage is affect ing insurers like Risk Point just like it is hurting dealers. Because sup ply is so tight, dealers are protecting their cars "more than ever," said Bill Springer, president of Risk Point's Dealer Open Lot program.
Continued from page 1 8/22/2022
"When there's a risk for flooding, for example, we'll send a notification to these dealerships by email, letting them know, 'your area is at x-risk for flooding, so we recommend you have your flood plan ready to go,'"
Some changes that are happening are things meteorologists haven't seen before, which makes it more challenging.Differentweather events pose dif ferent challenges.
"The difficulty dealers had be fore we started doing this is they watched the TV meteorologists who are forecasting a wider area and may speak of hail." A dealer may wonder what to do with the information. Should they shelter their vehicles for this storm? Or is this just a minor storm that may not even affect them?
Robb is able to watch a storm, fol low when it starts to drop hail may be miles ahead of when it gets to a dealership."Thebiggest challenge dealers have is their decision-making itself," Robb said. "Do we shelter our vehi cles or do we not? "Nobody wants to move and shel ter their vehicles if it's not going to rain a Anotherdrop."major problem is when dealers become overconfident on how to deal with a storm. For example, Florida dealers may have experience in dealing with hurricanes, but variables even with in those types of storms can catch dealers by surprise. So, Robb is always reminding deal ers that even with the best forecasts, dealers should prepare for surprises.
"You have weather patterns changing. You always hear about the changing of ocean temperatures.
"When you pool all of these factors together, it changes the way weather plays out, more than anybody really understands. All weather forecast ing is forecasting based on stuff we've seen before, based on data we've seen before."
"One of the areas where Jacob helps us is identifying locations within a storm path," Springer said. "We identify every single one of our dealers in that storm path." Risk Point requires them to have a flood avoidance plan in order to move their cars out of harm's way, Springer said.
Robb also has to be careful not to panic dealerships or overreact to weather issues.
"I have over 1,500 policies and in sure close to 5,500 locations in all 50 states," Springer said. "These include franchised and used car dealerships, and a smatter ing of heavy-duty truck and RV deal erships."Because of a tight supply, a total loss is huge because of the inconve nience of filing a claim. Replacing that vehicle is likely going to cost them more.
"A tree going through a car can ob viously be just as damaging as a hail stone going through a car." Robb doesn't want to limit his fo cus on a single weather factor, but rather pool everything together to get a larger picture of what is hap pening and make decisions about how to forecast and proceed from there.When things are quiet, Robb is prepping on how to best notify deal ers or prepare bulletins for dealers on how to best respond to certain weather events. "It's things like, 'How can you be better prepared, etc.,'" Robb said.
CPO Sales Hold Steady in July
CFPB Issues New Rule
Digital marketing providers have transformed advertising, according to the TraditionalBureau. advertising relies on getting a product or service out to as wide an audience as possible, the CFPB stated on its website.
• Digital marketers provide ma terial services to financial firms: A material service is one that is signifi cant or important. Digital market ing providers are typically materi ally involved in the development of content strategy when they identify or select prospective customers or select or place content in order to encourage consumer engagement with advertising. Digital marketers engaged in this type of ad targeting and delivery are not merely pro viding ad space and time, and they do not qualify under the "time or space" exception.
Certified pre-owned (CPO) sales in July fell to 206,346 units, a level nearly equal to June's volume of 206,443 and down 17% from July 2021, according to Cox Automotive. Since May, CPO sales have been remarkably stable. Sales of CPO are down nearly 17% year to date. Cur rently, they are on track to finish near 2.4 million in 2022. Using estimates from Dealer track, used-vehicle retail sales de clined 13% in July from June, and sales were down 16% year over year. Compared to 2019, used retail sales in July were down 29%, which was the worst comparison against 2019 since January. 1555-7413)
Digital marketers, on the other hand, seek to maximize individu als' interactions with ads. They may harvest personal data to feed their behavioral analytics models that can target individuals or groups that they predict are more likely to inter act with an ad or sign up for a prod uct or Whenservice.digital marketing provid ers go beyond traditional advertis ing, they are typically covered by the Consumer Financial Protection Act as service providers.
The Act contains an exception for companies that solely provide time or space for an advertisement for a consumer financial product or ser vice through print, newspaper, or electronicHowever,media.theCFPB stated today that the exception does not cover firms that are materially involved in the development of content strategy.
• The CFPB, states, and other con sumer protection enforcers can sue digital marketers to stop violations of consumer financial protection law: Service providers are liable for unfair, deceptive, or abusive acts or practices under the Consumer Fi nancial Protection Act. When digital marketers act as service providers, they are liable for consumer protec tion law violations.
The Consumer Financial Protec tion Bureau issued an interpretive rule laying out when digital mar keting providers for financial firms must comply with federal consumer financial protection law. In its rule, released earlier this month on its website, the CFPB went through an explanation of the market and its warning to digital marketers about complying with CFPBDigitallaws.marketers that are involved in the identification or selection of prospective customers or the selec tion or placement of content to af fect consumer behavior are typically service providers for purposes of the law, according to the CFPB. Digital marketers acting as ser vice providers can be held liable by the CFPB or other law enforcers for committing unfair, deceptive, or abusive acts or practices as well as other consumer financial protection violations."WhenBig Tech firms use sophis ticated behavioral targeting tech niques to market financial products, they must adhere to federal con sumer financial protection laws," said CFPB Director Rohit Chopra. "Federal and state law enforcers can and should hold these firms ac countable if they break the law."
Financial firms rely on the exper tise and tools of digital marketing providers that offer sophisticated analytic techniques, aided by ma chine learning and advanced algo rithms, to process large amounts of personal data and deliver highly targeted ads. Financial firms use be havioral analytics to connect with potentialHowever,customers.depending on how these practices are designed and imple mented, behavioral marketing and advertising could subject firms to legalTheliability.CFPB's recent interpretive rule explains:
CR OR SO S W D PAGE 14 News Briefs 8/22/2022 Volume 28 | No.7 Join the Conversation! Visit Used Car News online at www.usedcarnews.com or scan this QR code with your smart phone to be taken directly to the website. 4 Published By General Media LLC USED CAR NEWS (ISSN
is published at : Used Car News P.O. Box 80800 St. Clair Shores, MI 48080 Phone: 586-772-5200 or www.usedcarnews.comFax:800-794-0760586-772-9400CharlesM.ThomasFounder(1947-2002)LyndaR.Thomas,PublisherEmeritusColleenFitzgerald,Publisher Editorial: Jeffrey ManagingBellant,EditorEdFitzgerald,StaffWriter Advertising: Shannon Colby, Account Manager Tony Moorby Columnist: Circulation: subs@usedcarnews.com Production: Tom ProductionSavage,ManagerCeeLippens,WebMaster Used Car News is published every third week. Subscribers: We print advertisements as sent to us by auctions and other advertisers. It is not possible to verify the correctness of listed vehicles in auction ads. Most lists are partial and all lists are subject to last minute changes by auto auctions, so before travelling a long distance for a particular auto auction event, contact the auction by telephone for a fax of vehicles in the sale. Used Car News assumes no guarantees or liabilities concerning the accuracy of any advertisements. All Rights Reserved. Reproduction in any form is prohibited without the written consent of the publisher. OUR ADVERTISING APPROVAL POLICY Payments from first time advertisers must accompany the insertion order. Distribution is guaranteed by the USPS. The advertising reservation deadline is 12:00 noon Thursday, 11 days prior to the issue cover date. Ad materials are due by 5 pm Friday, 10 days prior to issue cover date. For advertising specifications please email colleen@usedcarnews.com.
This summer, a start-up customer relationship management (CRM) firm merged with a private equitybacked dealer management system offering independent dealers a new option for their businesses.
"If you get a call from a customer, and they're saved in Selly, you'll get a pop-up notice telling you, for exam ple, this is John Smith calling, who has an appointment on Friday and is looking at a Ford Mustang."
Selly also offers one-on-one train ing.The merger is just the start for Kl empf"Don't. worry, I've got plenty of years left," he said.
By Jeffrey Bellant
The CRM's path to start-up and the merger began when Klempf was at college in Atlanta. "I started working in the car busi ness when I was 19 years old, while I was going to Emory University in Atlanta," he said. Whenever Klempf wasn't in class, he was at the dealership. "I fell in love with the auto in dustry," he said. "I saw the amazing work ethic that everyone had." But he saw other things, too.
CRM Start-up Merges IntegMetricaReflecro to logistica Data pin-defender ballOPTIM Z RETHE WOR K FLO W W IZ AR D R Y WOR K FLO W W IZ AR D R Y Meet The Vinkat. He doesn't meer-ly improve remarketing processes, he optimizes them. Remarketing SuperPowers Sup er Power Sued p er Power ed re m ar k et i n reg m ar k et i n g PricingPurrrr-fectwww.autoims.com/blog.htmlYourFloorHere. News 8/22/20225
"We built Selly Mobile first, start ing with a mobile app," Klempf said. "It's because I'm a millennial, I was hooked on my smart phone and a lot of my peers were as well, I thought that was where the future was head ing."Selly quickly added a driver's li cense and VIN scanner. The origi nal product was a simple tool on the mobile app for the salesperson to collect lead information. It was something to quickly scan a driver's license to add the customer to the database. If there was a deal, it could scan a VIN to add the vehicle.
An MVP is basically a 1.0 version of a new product that can attract early adopters and get early feedback. Klempf's MVP was the idea for Selly and he spent the next seven years growing the product with a team of more than 25 people.
"Then we grew into a full-blown CRM solution, which includes a tex ting solution for automated texting," Klempf said The core part of the CRM for Selly was internet lead management. The used-car side of the business was al ways in the background, until Lead Venture's 2021 acquisition of Frazer Computing, a longtime player in the used-car market.
AutoManager Acquisition Inc., a subsidiary of The Beekman Groupbacked AutoManager Holdings Group LLC, a provider of dealer management system and website builder tools to independent auto dealerships, merged with CRM pro vider Selly Automotive. As part of the transaction, Au toManager provided Selly with a growth investment to support staff expansion and product develop ment."Istarted Selly in 2014 when I was 23 years old," said Zach Klempf, founder and CEO of Selly Automo tive, a San Francisco-based firm. He was touting the merger during an interview at a national trade show in Las Vegas in June.
As a salesman, the problem Kl empf saw at the dealership was a lot of desktop legacy software – which was hard to use – combined with a high turnover rate of salespeople. "I wanted to do something about it by providing modern software that integrates with their DMS (dealer management software) that's easy to use," Klempf said. "I wanted something that would get buy-in from the salesperson, who's oftentimes the most impor tantSo,user."after graduating, Klempf packed everything he had into his Mustang and moved out to Silicon Valley. He worked at a software firm for almost a year and then made a move."Igot into an accelerator program called Blue Startups, which was started by the guy who basically in vented the video game Tetris and built the MVP (minimum viable product) out there and raised a small amount of capital."
"For a while, the used-car dealer software space was like the redheaded stepchild," Klempf said. "Since (the Frazer acquisition), there's been more excitement and interest in this space."
Selly offers internet lead manage ment, email marketing and a followup system. There are automated texts, from a quick internet response to a delayed two- or three-year re sponse.Ifthe customer doesn't respond to the initial text, the system will send a follow-up to nudge them. "We can 'smart route' a client call to the salesperson who's managing them," Klempf said.
Selly also has a patent for a tool on its mobile app called "Notes Pop."
Beas said he's been able to build relationships and that may give him a leg up on new dealers entering that market.When COVID hit, it was a tough time for all of the manufacturers be cause they didn't know what was go ing to happen. "So, Chrysler had a bunch of elec tric Fiats and I got a call from Chrys ler Capital," Beas said. "They said we see you do a lot of electric ve hicles. So, I bought a whole fleet of Fiats from them and the price was great at the time. "Now you can't even touch them."
"It's not a huge battery, so to charge that at 80%, you're probably looking at no more than 17 to 20 minutes," Beas said. "That will cost between $3 and $4."
Dealer Goes All EV News 8/22/2022 6
"No recalls, no accidents, pretty clean slate," said. What prompted Beas's radical switch to EVs and hybrids? "Being in California, I saw the way this was going years ago," Beas said. "I was just a little hesitant because you didn't know what you were go ing to "Nowget.that we've seen it's a proven business model – and being that gas prices skyrocketed in California –and that California is a leader in this technology, it was a no brainer."
Beas said the question about EV and hybrid batteries and how their durability may affect prices in the long term is still a little murky.
Beas acquires his vehicles through auctions, with some trade-ins. "They are usually off-lease vehi cles," he said. "I buy them from Toy ota, Honda, Chevy, Ford, etc."
"But, in five to seven years, you're going to see a lot more EVs on the road," Beas said.
Beas subs out some recon, but also has some in-house techs. Beas believes that as of this sum mer, he was the only used EV/hy brid dealer in the state. There are traditional dealers that sell EVs and hybrids, but not exclusively.
Even if that wait seems like a long time, Beas said charging stations in California are typically in shopping centers or malls where you can plug and walk away. There are three levels of charging, but if you regularly use a fast-charg ing option – in Beas' experience –you are more likely to deplete the battery.Driving habits seem to affect bat tery life, especially driving at a high er speed, he said. He said the margins are a lot bet ter with his EV/plug-in/hybrid busi ness
"There's no haggling. If they like it, they will pay all the money for it."
He said the typical Kia Soul EV gets about 93 miles of electric range.
Four years ago, Beas changed his dealership to a new business model. "Now we specialize in hybrids, plug-in hybrids and electric vehi cles," he said. "That's all we sell. "We have every brand you can think of – any brand that makes a hybrid, plug-in hybrid or an electric, which is pretty much every manu facturer.""Honda's Prius has a regular hy brid and a Prius Prime, which is a plug-in hybrid," Beas said. "The plug-in hybrid gives you the best of both worlds. When you plug that ve hicle in, it gives you a certain amount of range on full electric. Once that range depletes, then it goes to gas."
Used
Hybrid and plug-in hybrids are essentially the same vehicle, if you don't plug in the vehicle. If you do charge it, it gives you the capacity of driving on full electricity. Beas' vehicles are all below 100,000 miles with model years 2015 to 2021. The average price on his lot is $18,000 to $35,000.
All the talk about electric vehicles has focused on the new-car side. But a California dealership is already making its mark in the used EV and hybrid"We'vemarket.been in business 31 years second generation," said Beto Beas, vice president of Beas Auto Sales in Stockton, Calif. "My father started in 1991 and I took over in 2010. He's still around and helps out in the ac counting side."
"Themodel.recon is pretty much nonexistent," he said. "When you talk about an EV buyer or a hybrid buy er, they're a lot more conscious of maintaining these vehicles. These customers know when their service is due and they're typically a better customer."Theyare not a subprime custom er. They are prime people that come in with a credit union check because they've already done their research.
"We're still a little too new in this technology to figure that out," he said. "But typically, we're see ing these batteries go to 200,000 to 250,000 miles. As we continue to grow in this market, we're seeing that the batteries are made a lot bet ter and more efficient."
By Jeffrey Bellant
Maserati Capital USA, the Maserati logo and model designations are registered trademarks used by JPMorgan Chase Bank, N.A. ("Cha se") under license from Maserati S.p.A.
The tradename "Aston Martin Financial Services" and the Aston Martin logo are owned by Aston Martin Lagonda Limited and are licensed to JPMorgan Chase Bank, N.A. ("Chase").
©2022
The Jaguar word mark, the Jaguar logo, and Jaguar Financial Group are trademarks of Jaguar Land Rover Limited and any use by JPMorgan Chase Bank, N.A. ("Chase ") is under license. The Land Rover word mark, the Land Rover and Oval logo, and Land Rover Financial Group are trademarks of Jagua r Land Rover Limited and any use by JPMorgan Chase Bank, N.A. ("Chase") is under license.
Member FDIC (2 2 009) 09/22 ADESA SeptemberBoston2,9, 16, 23, 30 508 626 7000 ADESA 908SeptemberADESA859816317209704SeptemberCharlotte8,225877653ADESAChicagoSeptember168475512151ADESACincinnati/DaytonSeptember209377464000ADESAGoldenGateSeptember6,208398000ADESAIndianapolisSeptember6,208388000ADESAKansasCitySeptember6,205251100ADESALexingtonSeptember1,292635163NewJersey8,227252200ADESASaltLakeSeptember278013221234ADESATulsaSeptember99184379044ADESAWashingtonDCSeptember147039961100 Columbus Fair AA September 21, 28 614 497 262SeptemberManheim540SeptemberManheim734SeptemberManheim800SeptemberManheim877Manheim404SeptemberManheim2000Atlanta7,8,227629211DallasSeptember13,14,288601651Denver148221177Detroit8,226547100Fredericksburg1,15,293683400Milwaukee14,288354436ManheimMinneapolisSeptember77634257653ManheimNashvilleSeptember27,286157733800ManheimNevadaSeptember237027301400ManheimNewJerseySeptember8,14,286092983400ManheimNewOrleansSeptember289856432061 Manheim SeptemberOrlando6,13,20, 27 800 822 Manheim2886Palm Beach September 1, 28, 29 561 790 SeptembeManheim1200Pennsylvaniar2,8,9,16,22, 23, 80030 822 SeptemberManheim724SeptemberManheim623SeptemberManheim2886Phoenix1,15,299077000Pittsburgh144525555Riverside1,13,15, 27, 29 951 689 Manheim206SeptemberManheim6000Seattle217621600Southern California September 8, 22 909 822 860SeptemberSouthern713SeptemberManheim800SeptemberManheim2261Tampa8,226227292TexasHobby8,226498233AA142927500 ADESA ADESA508SeptemberBoston236267000Golden Gate September 6 209 839 877SeptemberManheim404SeptemberManheim8000Atlanta77629211Dallas138601651 Manheim 800SeptemberManheim609SeptemberManheim615SeptemberManheim262SeptemberMilwaukee148354436Nashville287733800NewJersey142983400Orlando138222886 Manheim Palm Beach September 28 561 790 951SeptemberManheim800SeptemberManheim1200Pennsylvania8,228222886Riverside1,15,296896000 ADESA 800SeptemberManheim614SeptemberColumbus801SeptemberADESA508SeptemberBoston2,306267000SaltLake273221234FairAA214972000Denver148221177 Manheim 800SeptemberManheim800SeptemberManheim609SeptemberManheim540SeptemberFredericksburg153683400NewJersey282983400Orlando63378491Pennsylvania9,238332886 Manheim 860SeptemberSouthern909SeptemberManheim206SeptemberManheim724SeptemberPittsburgh144525555Seattle217621600SouthernCalifornia8,228222261AA142927500 ADESA Golden Gate September 6 209 839 877SeptemberManh404SeptemberManheim8000Atlanta77629211eimDallas138601651 Manheim 561SeptemberManheim615SeptemberManheim262SeptemberMilwaukee148354436Nashville287733800PalmBeach287901200 Manheim 951SeptemberManheim800SeptemberPennsylvania8,228332886Riverside1,15296896000Manheim 404SeptemberAtlanta77629211
SEPTEMBER, 2022 YOUR SOURCE FOR QUALITY, SELECTION AND VALUE A broad selection of pre-owned vehicles from an industry leader
Choose Chase on ADESA.com and OVE.com for quality bank -sourced vehicles. Contact auctions directly for current sale information.
The tradename "Subaru Motors Finance" and the Subaru logo are owned / licensed by Subaru of America, Inc. and are licensed to JPMorgan Chase Bank, N.A. ("Chase").
Neither JPMorgan Chase Bank, N.A. ("Chase") nor any of its affiliates are affiliated with ADESA, Inc. or Manheim, Inc. Each a uction is solely responsible for their website content, sales events, promotions, fulfillment and operation of the auction. JPMorgan Chase Bank, N.A.
"The last car we sold was a 2019 Mercedes GLE with 48,000 miles. We sold it for $52,000."
"My two siblings and I inherited Joe's Auto Sales from my dad back in 2006. My brother and sister kept the original business on the other side of town and I opened mine in 2012.
8/22/2022 Retail Markets
"My customers get a Gold star GPS. We don't do the starter interrupt. Customers usually forget about the GPS as soon as they sign the pa per."I'd prefer if the whole lot was full of Hondas and Toyotas but I'd say we have about 70 percent domestic and 30 percent import. "Our average down pay ment is around $1,200. I try to stay at 36 months, but often times, especially now with the higher prices, we stretch them – 60 months would be the absolute max. "Our average car is 7-8 years old, right around 100,00 miles.
"Our reconditioning is inhouse. I'd say we spend an average of $1,200 on each car."Our advertising is pretty much 100 percent online.
Compiled by Ed Fitzgerald
"I like the Indianapolis Car Exchange auction and Kes ler Schaefer Auto Auction, which I go to every week. It's funny, in Indianapolis it seems like the independent auctions are bigger than the national ones.
"Our inventory is much lower now than previous years. We probably have about 50 right now. We nor mally sell 35-45 per month. "We sell about 50 per cent sedans and 50 percent trucks, SUVs and vans. We do all buy-here, pay-here. I love vans the most because someone who buys a van treats it right, they make their payments – they don't seem to come back like oth er vehicles. I've looked into it and vans do have a lower rate of repossession.
MARYLAND James Makia, owner, Ex clusive Motorcars, Ran dallstown, Md. "We have been in business for 14 "COVIDyears.absolutely caused us to do more business on line. Anything we can do at the dealership; you can do from home. Before COVID, I was buying 80 percent of my cars online. Now I'm buying 100 percent. I liked going to Manheim Pennsylvania and I would go to Florida and a couple other places. I had a lot of good relationships at Manheim, and I still do. It's special when you have one guy that you're buying a minimum of 20 cars from every Friday. He takes good care of you.
"It's hard to tell what CO VID is still affecting. Prices are still high at the auctions, and staff is difficult to find –people who are willing and able to work.
"It (COVID) did create some pent-up demand and it also delayed getting parts. The word is out that every one is paying more and you try to sell as much as you can, but you can only pay so much."We usually kept about 250 cars in inventory. Now we have 180-200. On average, we sell about 120 a month. "We sell about 60 percent sedans, 30 percent SUVs and crossovers and 10 percent trucks."Customers put down an average down payment of $3,000 with an average term of 72 "Ourmonths.reconcosts are about $1,400 per vehicle. We have a full-service department. We employ certified techni cians with extensive experi ence who provide top-qual ity service. We like to get cars that are six years and newer, preferably with un der 70,000 miles. "My advice to new dealers is to enjoy what you do. Take care of your customers, take care of your employees – and they'll take care of you.
INDIANA Drew Krier, owner, Joe's Auto Sales, Indianapolis, Ind.
"I recommend that a new dealer join their state's inde pendent dealer association. I would say a 20 Group would be very good, too. I was in a 20 Group for years and I learned so much through that."The last car I sold was a 2019 Chevy Impala with 85,000 miles. We sold it for $20,995."
"We also have some whole sale motorsports sellers and retail"Ourdealers.MAG Now sale, which is our digital sale, is running 500+ weekly. We utilize the E-Block platform. "All vehicles are from the Pacific Northwest where we've sent out CR writers to write CRs and take photos.
"We had 400 fleet/lease in our Aug. 5 sale and the rest was dealer consignment. "I think we're seeing an in crease in repossessions and subprime inventory. We're seeing that on the rise.
OKLAHOMA Doug Pirnak, general manager, America's Auto Auction - Tulsa, Tulsa, Okla.
"We work that sale in dependently and meet the dealers where they are.
"On average we'll have 130 to 140 bidders, sometimes it's more. About 70% of those are in-lane. "Our average car is prob ably"But$7,000.inour last Wednesday sale of each month we have a Specialty Sale, which are boats and RVs. We're incor porating a few more front line cars into that sale. "We'll run 20 to 30 RVs once a month. It'll be inter esting to see if repos go up. There's not a ton of boats yet. But we'll also have mo torcycles in that sale. "For our regular sales, most of our franchise deal ers are just waiting on new inventory."Mostof the stuff they're getting is the base model. It's supply-and-demand, the same song and dance. A Honda store near here only had three units and two were"Thesold.used market is the same story. They're trying to buy some cars to put on their lots, but they've got to watch their"Theprices.fleet side kind of helps us maintain our growth."While this is a true newcar trade sale, we've got 20% fleet lease. "I think the note lot mar ket, the used-car dealers, will have a good selection of vehicles here soon enough."
108/22/2022 Wholesale
"Some rental units are coming back to the lanes. "Our average price is be tween $18,000 and $19,000. It hovers around that area. We get some Canadian and other late-model product. "The late-model product, in general, has been slower through July. The Canadian product trends with the latemodel stuff because most of it is "Inlate-model.August, we've seen some of our consignors make adjustments so that buyers and sellers are meet ing in the middle. "The trades have been strong and the fleet/lease product has been strong. "At our Aug, 5 sale, we had 550 bidders, with 147 of those"Dealersin-lane.are challenged with getting product through service shops for repairs. They face the same challenges – parts, etc. – as everyone else. "Our monthly motors ports sale is staying steady at 70 units a month. That's sought-after product. Har ley-Davidson is our larg est consignor, plus we have some credit union business.
"I took over the GM po sition in mid-February. I started my auction career here with America's almost 20 years ago. So, it's good to circle back around. "We have three lanes and we were running one when I took over. Now we're run ning two lanes and moving in an upward direction. "Volumes are around 200 vehicles."Atour Aug. 19 sale we sold around 58% to 60%. The week before we sold about 70%. It was a heck of a sale. We're just trying to get some good energy with bidders. Always looking for some good sellers who do it right.
MarketsCompiled by Jeffrey Bellant
WASHINGTON David Blake, general manager, DAA Seattle, Au burn, Wash. "We have four physical lanes and one 'V' or virtual lane."We had 1,100 at our Aug. 5 sale. So, it's been a month-over-month period of growth. We went from a 700 sale to an 800 sale and then jumped up to 1,100 at our promo "Conversionsale. rates are in the high 50s.
www.champtires. com CHAMP TIRES HIGH-QUALITY USED TIRES from • Save you and your customers money Match size, brand, model and tread depth for one, two, three or a full set • Are fully inspected Using a multiple step process, including state-ofthe-art Matteuzzi air testing equipment • Give you access to 40,000+ tires Zero supply chain issues, and inventory grows daily • Ship for free. Fast and free delivery using FedEx Ground to the continental U.S.
September 6-8, 2022 Sheraton Dallas Hotel JakeOwenin Wednesday,Concert September 7 Convention www.naaa.comInfo:
andWholesaleActualValuesResidualProjected 8/22/2022 BlackSource:Book Wholesale Numbers MY seg/type make/model/name 2021-08-01 2022-02-01 2022-08-01 2023-08-01 2024-08-01 2017 Car Toyota Camry 15000 16550 16250 12200 9850 2017 Car Honda Civic 14600 15500 15700 11675 9150 2017 Car Toyota Corolla 13550 14475 14825 11150 8875 2017 Car Nissan Altima 12975 13650 12525 8950 6950 2017 Car Chevrolet Malibu 15225 15825 14175 10025 7575 2017 Car Nissan Sentra 11800 12150 11950 8400 6375 2017 Car Hyundai Elantra 12100 12450 12800 9075 6725 2017 Car Ford Mustang 20750 19650 17850 13775 11300 2017 Car Ford Fusion 15300 16125 14825 10600 8300 2017 Car Hyundai Sonata 13675 13725 13100 9875 7925 2017 Truck Ford F150 31400 29700 28700 23350 20000 2017 Truck Chevrolet Silverado 1500 34000 31700 30000 24700 21125 2017 Truck Toyota RAV4 18400 20050 18700 14200 11675 2017 Truck Ram 1500 29900 28700 26000 20875 18275 2017 Truck Jeep Grand Cherokee 22850 23025 21575 15625 12075 2017 Truck Honda CR-V 21725 23200 21500 16225 13350 2017 Truck Ford Explorer 23525 24175 21200 15775 12600 2017 Truck Chevrolet Equinox 15325 15950 15250 10675 8225 2017 Truck Ford Escape 14425 14675 14000 10175 7975 2017 Truck Toyota Tacoma 29825 30650 28475 24775 22700 2018 Car Toyota Camry 19425 21250 20025 14975 12075 2018 Car Honda Civic 16650 17700 18750 13850 10825 2018 Car Toyota Corolla 16000 16775 16875 12700 10100 2018 Car Nissan Altima 15300 16400 14950 10700 8250 2018 Car Chevrolet Malibu 17300 18500 16325 11575 8775 2018 Car Nissan Sentra 14350 14725 14925 10425 7825 2018 Car Hyundai Elantra 13900 14750 14850 10475 7775 2018 Car Ford Mustang 21900 21625 19950 15550 12850 2018 Car Ford Fusion 17500 19150 17900 12700 9850 2018 Car Hyundai Sonata 16175 17875 16175 11975 9475 2018 Truck Ford F150 36000 33200 31500 26250 23000 2018 Truck Chevrolet Silverado 1500 37300 35900 33700 27825 23800 2018 Truck Toyota RAV4 20925 23175 21300 16325 13550 2018 Truck Ram 1500 33300 32500 29500 23675 20725 2018 Truck Jeep Grand Cherokee 24825 25700 25175 18225 14050 2018 Truck Honda CR-V 23475 25950 24000 18175 15050 2018 Truck Ford Explorer 25600 26975 25650 19200 15400 2018 Truck Chevrolet Equinox 20250 21450 18500 13125 10300 2018 Truck Ford Escape 17075 18475 17075 12350 9600 2018 Truck Toyota Tacoma 32150 33700 31000 27025 24825 2019 Car Toyota Camry 20525 23100 22600 17000 13700 2019 Car Honda Civic 18500 19550 20100 15100 12025 2019 Car Toyota Corolla 17500 18850 19300 14425 11450 2019 Car Nissan Altima 19325 21150 19750 13950 10650 2019 Car Chevrolet Malibu 19350 20750 19200 13900 10650 2019 Car Nissan Sentra 17150 17525 17900 12625 9375 2019 Car Hyundai Elantra 15650 16850 17200 12250 9150 2019 Car Ford Mustang 23450 24225 22750 17650 14525 2019 Car Ford Fusion 19050 20500 19600 14225 11150 2019 Car Hyundai Sonata 18225 20500 19525 14300 11200 2019 Truck Ford F150 39000 37700 36400 30425 26675 2019 Truck Chevrolet Silverado 1500 42000 40600 36000 30175 26175 2019 Truck Toyota RAV4 23875 27275 26325 20350 16925 2019 Truck Jeep Grand Cherokee 27175 28525 27875 20600 16200 2019 Truck Honda CR-V 26125 28650 26550 20375 17100 2019 Truck Ford Explorer 27700 29625 28375 21775 17900 2019 Truck Chevrolet Equinox 21575 23450 20550 14925 11925 2019 Truck Ford Escape 19250 21000 20200 14725 11525 2019 Truck Toyota Tacoma 34400 35525 33450 29250 26875 2020 Car Toyota Camry 22200 25650 24225 18125 14600 2020 Car Honda Civic 20000 21550 22450 17300 13850 2020 Car Toyota Corolla 19350 20950 21900 16625 13425 2020 Car Nissan Altima 20975 22675 22575 16000 12250 2020 Car Chevrolet Malibu 20600 22525 21825 15800 12250 2020 Car Nissan Sentra 19100 20725 20275 15025 11825 2020 Car Hyundai Elantra 17400 19075 19275 14100 10775 2020 Car Ford Mustang 24775 26000 24875 19925 16875 2020 Car Ford Fusion 20850 23300 22725 16450 12975 2020 Car Hyundai Sonata 21875 24125 21800 16400 13125 2020 Truck Ford F150 4 2700 41500 40300 34250 30525 2020 Truck Chevrolet Silverado 1500 44500 42200 40900 34400 29925 2020 Truck Toyota RAV4 25450 29875 28725 22475 18900 2020 Truck Jeep Grand Cherokee 31275 32625 31900 24150 19325 2020 Truck Honda CR-V 27000 31050 28825 22225 18750 2020 Truck Ford Explorer 33925 34825 32550 25775 21750 2020 Truck Chevrolet Equinox 23300 25875 23025 17025 13900 2020 Truck Ford Escape 23675 25775 23875 17975 14450 2020 Truck Toyota Tacoma 36800 37400 36825 32050 29325
SVR502
"I'd rather have a root canal...!" A somewhat glib exclamation we all make at some time or another to avoid something we'd soon er not do. I've said it often enoughHavingmyself.recently under gone the procedure, I won't be so eager to announce the preference – there are many things I would now enter tain rather than to have a rootThecanal.episode started about three years ago with a trip to my regular dentist; a visit that bodes no fear or trepidation. Drills, needles, scraping, prodding and pok ing hold no threat. I even had a crown procedure without numbing – ground the tooth down to a stump with no injection. I ex plained to the perplexed dentist that I had to go to a meeting back at work and didn't want to dribble cof fee down my shirt in front of the other attendees. That was a long time ago; I'm a little wiser now. On this particular visit I complained of a pain in my upper jaw. A small inflam mation was being aggra vated by a swollen sinus sac pushing on a nerve. "We'll keep an eye on it," he said casually but pointed out that a root canal may be necessary at some time. Painkillers and sinus med icine put off the evil day un til a small abscess insisted on immediate attention. The endodontist's office was a sleek, modern affair in a sleek, modern building in a sleek, modern commer cial subdivision; part of the expansionist craziness go ing on around here of late. A bit like kudzu – looks cool but damages everything else that is already there. You have to wonder if the calm and obsequious smiles of the receptionist and staff belie their true nature; may be they're sadists who've found a vocation that in dulges their whims. Who would want to do this?
1234 5 678 910111213 14 15 16 17 18 19 20 21 22 23 24 25 26 27 28 29 30 31 32 33 34 35 36 37 38 39 40 41 42 43 44 Solution to the 8/1/2022 puzzle Solution to this puzzle in the 9/12/2022 issue. Call 1.800.794.0760 for a FREE subscription. Play Online at UsedCarNews.comBy Myles Mellor Across 1. Ford SUV 5. Mid-sized car from Nissan 9. Hyundai luxury car 12. Old VW, in slang 13. The p in mpg 14. Depart 15. Vanity 16. Large tree 17. demandGovernment 19. Luxury car brand 21. On the popularmostcars in America 24. Lotus ___ 25. professionalMedical 26. Corvette color, in song 29. Aston Martin's David Brown, for short 30. _____ 510: brand owned by Nissan 32. Air ____ (plural) 34. Comedian's bit 35. Continental, e.g. 38. Former General Motors car brand 40. Wheel turners 41. Formula One racing legend Bruce 42. Something to believe in 43. Car capacity for passengers 44. G37 automaker Down 1. Maker of the Talon and Vision cars 2. Sports car from Porsche 3. Beginning 4. Auto brand in the 20s 6. Luxury car brand owned by Aston Martin 7. Popular Chevy 8. 12.11.10.BroadcastJellieddelicacyElectricvehicle,abbr.Goupanddown, as in the water 18. It's ___ over 20. Toyota hybrid car 21. Escalade and XT6 for example 22. Former Ford model 23. Framed work 24. Web site address ending 27. Compass direction 28. XKE, for one 31. Everything 32. Louisville Slugger 33. Popular UK Ford car in the 50s and 60s 34. Gas quantitypurchase 36. "Midnight at the ___" song 37. A musical Judd 39. Baseball team number 41. Type of fiberboard, abbr. 14 TonyDisconnectedMoorbyJottingsFrom Tony Moorby • 50-year veteran of the industry • President from 1997–2000 of ADT Automotive • Served as ADESA's executive vice president of sales and marketing • Moorby & 2006–presentAssociates • NAAA Hall of Famer • IARA Circle of Excellence To see past columns from Tony Moorby, columnists/tony-moorbywww.usedcarnews.com/visit 8/22/2022
Dentists' chairs were like barbers' – big and comfy and you could lean back with your feet up. They now look like NASA uses them to put people into space! They ensure there's no escape like the amplexus grip of a toad! The dizzying array of ma chinery, instruments and sundry devices invite im pressions of that tortuous sadism I mentioned before. What could she possi bly do with that elongated probe with a mini flashlight on the end of the beam that swings from one end of the chair to the other? Maybe I've come to the wrong office! The amount of machinery is mind-blowing. What could all this cost? How am I going to pay for it?She doesn't look in your mouth anymore – she has a microscopic probe that does it while she stands and looks through binocular lenses, her hands working remotely, almost disassoci ated with the proceedings. My particular tooth had two roots – she could only do one at a time so I had to return a week later. The prospect of having my jaw held open for an hour with a black rubber door stop gave more anxiety than the injections given through the roof of my mouth as she jiggled and moved the sy ringe around until I thought it was going to appear from my eye socket! Why do dentists ask ques tions in the middle of this? It's impossible to recount the weekend's goings on with a saliva suction tube noisily evacuating the very substance that lubricates speech.Iwas invited to watch television. Huh? Oh, it's on the ceiling you see! A horror movie would have given respite from re ality!
Simple. AffordableProven.GPS. Call Us 1-877-727-7846Today PassTimeGPS.com INNOVATING FOR 30 YEARS. Encore's Battery-powered GPS is Revolutionizing the Industry. This fully self-powered, lightweight design requires no installation and runs on a battery that lasts up to four years. Get the next level of GPS today. Simple,activation1-stepUp to 4 batteryyearslife No requiredinstallationWireless—as in no wires!