Winter warmth WINTER 2023 Volume Three - Issue One FREE! PLEASE TAKE ONE 585KIDS.COM Beat the winter blahs p. 8 The Spot p. 10 Kindness rocks! p. 26 BOOK NOOK Audio book selections — p. 24 JUST FOR KIDS The water table and more— p. 14 FEEDING YOUR FAMILY Brinner time — p. 12

1 2 3 4 5 6 7 8 9 10 June 26 - 30 July 3 - 7 July 10 - 14 July 17 - 21 July 24 - 28 July 31 - Aug 4 August 7 - 11 August 14 - 18 August 21-25 August 28-Sept 1 Mario's Camp Adventure Mission ImPossible Wild West Witchcraft & Wizardry Color Wars Operation Earth Year 3000 Once Upon a Time Rumble in the Jungle Shipwrecked CAMP SESSIONS THEME WEEK WEEK WEEK WEEK WEEK WEEK WEEK WEEK WEEK WEEK REGISTRATION OPENS: JANUARY 30, 2023 YMCA OF GREATER ROCHESTER SUMMER DAY CAMP BEFORE CARE 7 - 9 AM AFTER CARE 4 - 6 PM CAMP HOURS 9 AM - 4 PM NOADDITIONAL CHARGE FORBEFORE & AFTERCARE RochesterYMCA.org SUMMER 2023 Summer Camp is for kids entering kindergarten through ninth grade. Specialty Camps are back! Learn what's available online.
PUT MUSIC ON YOUR SCHEDULE FOR THIS SUMMER! TIO N S EASTMAN SCHOOL OF MUSIC • UNIVERSITY OF ROCHESTER esm.rochester.edu/community (585) 274-1400
When I moved to the Rochester area in 2001 I was not equipped for the winter weather. Before I arrived here I only lived in California, Virginia, and Arkansas. I was in for a huge, eye-opening shock. I grew up almost never having to wear a real winter coat. And I never even owned a hat. This is not an exaggeration, friends.
I was SOFT.
That first winter here was rough. I had a tiny baby, few friends, and a serious lack of winter gear. But as that baby grew into a toddler and another kiddo came along, I knew I had to snap out of my I-hate-the-snow funk. I slowly came to embrace cozy snow days where we lounged in jammies all day. I learned how to properly dress a toddler for playing in the cold. I let the
kids guide our indoor games when we just couldn't get outside because of the weather.
I only wish I had some of the great tips and activities that this issue offers to both kids and parents as the hardest part of the winter season sets in. In these pages you'll learn about ways to embrace the chilly days at home. There are also some wonderful suggestions for places to go when the temperature outside is just too much to bear.
I have several hats now, but I avoid wearing one unless I truly can't avoid it. And ask anyone at the (585) office—I avoid wearing a coat at all costs. But my kids (now eighteen and twenty-one) are true 585ers and dutifully wear their coats and hats and love a good snow day!
FEEDBACK
We'd love to hear what you think! Write to jmilliman@585kids.com or letters to the editor, (585) Kids, 1501 East Avenue, STE201, Rochester, NY 14610.
Caroline Kunze Staff
Tomas Flint, Michael Hanlon Contributing Writers Chloe Adour, Emily DiCesare, Daniel Curry, Terri Ercole, Audrey Mead, Sarah Mead, Cathy Monrad, Anna Overmoyer, Jinelle Vaiana, Deena Viviani
Editorial Interns Chloe Adour, Daniel Curry, Hanna Smith
Vice President, Sales Caroline Kunze Sales & Marketing Michaela Neer
DEADLINES FOR LISTINGS
Calendar listing deadlines for our upcoming issues are as follows:
For Spring 2023 issue: Feb. 10
For Summer 2023 issue: May 10 For Fall 2023 issue: Aug. 10 For Winter 2024 issue: Nov. 10
ADVERTISING
If you'd like to learn about advertising in an upcoming issue of (585) Kids or on our website, please call (585) 413-0040. PLEASE RECYCLE
4 Winter 2023 | 585kids.com
(585)
WHAT WE DO: (585) magazine (585) Kids (585) Hot Off the Press Happy Hours Upstate Gardeners' Journal Custom Publishing The Bulletin of the American Iris Society Newsstand price $9.95 USD www.irises.org Back to school FREE!PLEASETAKE585KIDS.COM - -Plant-based strategies for supporting pollinators Clink! Drinks at home FIND US ON (585) Kids Fall 2022. Published quarterly. Copyright ©2022 by JFM Publishing, LLC, 1501 East Avenue, Rochester, NY 14610. Telephone
Fax
All rights reserved. Reproduction of any text or graphics without written permission from the publisher is prohibited. Newsstand distribution is handled by Wolfe News Service, Inc. (585) Kids assumes no responsibility for
manuscripts.
Hello
families
(585) 413-0040.
(585) 413-0296.
unsolicited
Production
THIS MAGAZINE PRINTED BY Publisher Jane Milliman Creative Director Cathy Monrad Managing Editor Christine Green
Manager
Photographers
—Christine Green, Managing Editor
Chloe Adour is a journalism major at Rochester Institute of Technology.
Emily DiCesare is an E.R. doc by trade, salad blogger by passion, who lives in Brighton with her family.
Daniel Curry is a writer and recent gradutate of SUNY Brockport with a degree in journalism.
Terri Ercole is an elementary school teacher and volunteer with the Center for Youth in Rochester.
Audrey Mead is a curious fifth grader with a passion for reading. She loves Legos, performing in musicals, and writing stories.
Sarah Mead is a writer who loves children's books and dance parties in the kitchen. She lives with her family in Victor.
Anna Overmoyer a traditional and dimensional illustrator who grew up in the forest of Upstate New York. anna-overmoyer.square. site.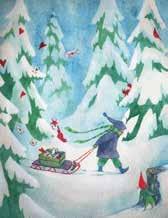 Cathy Monrad, a.k.a Crafty Cat lives with her family in Webster. Cathy is the resident crafter for UpstateGardeners' Journalas well.
Jinelle Vaiana is a freelance writer and copy editor, and a selfproclaimed "word nerd." She's been writing for local publications for more than ten years, and she's also a nonprofit board member and talent acquisition professional. Reach her at jvaiana@585mag.com.
Deena Viviani is the young adult services librarian at Brighton Memorial Library.
585kids.com | Winter 2023 5 WINTER 2023
CONTRIBUTORS Winter warmth WINTER 2023 FREE! PLEASETAKE ONE 585KIDS.COM Beat the winter blahs p. 8 The Spot p. 10 Kindness rocks! p. 26 BOOK NOOK Audio book p.24 JUST FOR KIDS The water table p.14 FEEDING YOUR FAMILY p.12 16 20 26 Winter warmth 8 Beat the winter blahs It's so chilly outside! What can a family do when the days are dark, long, and snowy? Sarah Mead has some wonderful tips for surving winter on page 8. In every issue 4 Deadlines, Hello (585) families 6 Family do-list By Chloe Adour 7 New and noteworthy By Jinelle Vaiana 12 Feeding your family By Emily DiCesare 24 Book nook By Deena Viviani Features 9 Cabin fever escapes By Daniel Curry 10 The Spot By Sarah Mead 23 Pushing towards mindfulness By Terri Ercole 26 Kindness rocks By Sarah Mead Just For Kids 14 Dot-to-dot By Deena Viviani 15 Color your world By Anna Overmoyer 16 Crafty Cat By Cathy Monrad 17 Audrey asks By Anna Overmoyer 18 Meet Stanley By Chloe Adour 20 The water table By Daniel Curry 22 Mindfulness moments By Terri Ercole 8 ON THE COVER Illustration by Anna Overmoyer Design by Cathy Monrad
Anna Overmoyer
BY
ONGOING STORY TIME
Every Tuesday the Rochester Public Library will host story time for children five and under from 11 to 11:45 a.m. with Mr. Mark. Mr. Mark will engage kids by reading, singing, and helping them develop lifelong skills. 11:00–1:45 a.m.
Maplewood Community Library 1111 Dewey Ave. 428-8220 (libraryweb.org)
NATURE SUNDAY EXPERIENCE
Throughout January and February the Genesee Country Village & Museum Nature Center building and surrounding trails will be open to visitors from 10 a.m. to 4 p.m. Explore the nature trails, see wildlife in the snow, and more! Plus, every Sunday visitors can enjoy sledding on the Great Meadow, walks in the Historic Village (please note, paths may be slippery, and buildings will not be open), snowshoeing in the wintery woods, crosscountry skiing, and other outdoor sports. 10 a.m.–4 p.m.
Genesee Country Village & Museum 1410 Flint Hill Rd., Mumford 538-6822 (gvc.org)
THE RINK AT THE LAKE
Visit The Lake House on Canandaigua and skate on its "Magic Ice" until the end of March. Skating on this rink feels just like skating on the lake! Tickets are $5 for kids and $10 for adults. Ages twelve and up.
Thursday & Friday, 4 p.m.–8 p.m. Saturday & Sunday, noon–8 p.m. The Lake House on Canandaigua 770 South Main St., Canandaigua (800) 228-2801 (lakehousecanandaigua.com)
FEBRUARY 3
YOUTH EXPLORERS
The perfect opportunity to have your kids experience rock climbing for the first time! This one-hour program is focused on getting the kids climbing and having fun. Drop them off or stay and watch—either way, trained staff will be there to supervise and keep the fun going. They provide all of the belaying and equipment necessary; students just bring enthusiasm be get ready to climb!
6:30–7:30 p.m. RocVentures Climbing Gym 1044 University Ave. 442-5462 (rocventuresclimbing.com)
FEBRUARY 17
THE LITTLE MERMAID OFC (Opportunities For Creativity) Creations is putting on its performance of the Disney's The Little Mermaid. This family favorite includes music by eight-time Academy Award winner Alan Menken with lyrics by Howard Ashman and Glenn Slater. This fishy fable will capture your heart with its irresistible classics such as "Under the Sea."
Performances February 17 at 7 p.m.; February 18 at 3 p.m.; February 18 at 7 p.m.; and February 19 at 3 p.m. OFC Creations Theatre Center 3450 Winton Pl. 667-0954 (ofccreations.com)
MARCH 11
ROCHESTER ST. PATRICK'S DAY PARADE
The day will be jam packed with funfilled activities including the parade, food,
and local vendors. The whole family is welcome to join the festivities. Pay mind to wear your green or else face the fury of the leprechauns. The Parade begins at 12:30 p.m. East Ave. and Alexander St. heading towards Main St. From there, it continues west on Main St. until it ends at the corner of Fitzhugh St. 12:30 p.m. at East Ave. and Alexander St. (rochesterparade.com)
MARCH 18
MAPLE SUGAR DAYS
Gather family and friends to enjoy an outdoor exploration of the history of maple sugaring in New York State. Start your adventure at the sugarhouse then journey to the nineteenth century to see the techniques and tools that early settlers used to collect sap and make maple sugar. Through March 26 Genesee Country Village & Museum 1410 Flint Hill Rd. 538-6822 (gvc.org)
MARCH 27
PETE THE CAT'S BIG HOLLYWOOD ADVENTURE
Lights! Camera! Action! When Pete the Cat and his buddy Callie sneak into Hollywood Studios, they get lost in the world of the movies. Join Pete, Callie, Ethel the apatosaurus, and Robo-Pete in this rockin' new musical adventure that highlights several fun-filled Pete the Cat books including Cavecat Pete, Pete the Cat and the Treasure Map, and The Cool Cat Boogie
10 a.m.
Smith Opera House 82 Seneca St. Geneva (315) 781-5483 (thesmith.org)
CHLOE ADOUR
MARCH 27
Pete The Cat's Big Hollywood Adventure
FEBRUARY 3
Youth Explorers
ONGOING family do list Photos provided 6 Winter 2023 | 585kids.com
The Rink at the Lake
PAW PATROL LIVE!
Chase, Marshall, Liberty, and the rest of the PAW Patrol gang will visit Blue Cross Arena for two nights on February 21 and 22. For those unfamiliar, this group of rescue pups, led by ten-year-old boy Ryder who adopted and trained them, work together to keep their community safe. In Paw Patrol Live! "Heroes Unite," the mayor has stolen Ryder's robot dog and cloned it. The pups are on a mission to save RoboDog and catch the clones!
This is an interactive live show where audience members are encouraged to help the cast solve puzzles, as well as sing along to musical numbers, dance, clap, and have a great time. For the past six years, the PAW Patrol Live! stage shows have been seen by more than 4 million fans in more than forty countries.
Tickets start at $20 and are available at the box office or on ticketmaster.com. All audience members over twelve months old will need a ticket. The Very Important Pup Package features an opportunity to meet and take photos with two characters, as well as premium show seating. pawpatrollive.com
WONDERS OF WATER
What better way to learn than through immersion? With the Rochester Museum & Science Center's new permanent exhibit, Wonders of Water, visitors will feel submerged as they enter the exhibition and learn about the waters of our region.
This exciting exhibit features an illuminated Luckey Climber, a climbing structure that illustrates the water temperature of Lake Ontario at various depths.
Visitors can learn about life on the USS Scourge, a warship that sank in the lake in 1813, and manipulate a Remotely Operated Vehicle to investigate the HMS Ontario shipwreck of 1780. In the second half of the exhibit, visitors resurface to explore the wetlands, build a spray park, and more.
"This exhibit educates people of all ages in the community on the importance of preserving and respecting water as a resource, in a fun, immersive way! Further evolving the historical function of a museum, Wonders of Water highlights the cultural significance of water to all
people, past and present, and amplifies diverse voices from our community to be heard by a larger Rochester and visitor audience," says Kira Sandoval, RMSC Communications Coordinator.
Access to Wonders of Water is included in general admission to the museum. rmsc.org/exhibits/wonders-of-water
JURASSIC QUEST
Another interactive experience for the whole family, Jurassic Quest at the Joseph A. Floreano Rochester Riverside Convention Center is a self-guided event that brings dinosaurs to life February 24–26!
Billed as featuring "more true-to-lifesize dinosaurs than any other touring dinosaur event," you may need one to two hours to experience all this event has to offer. Kids will love the animatronic dinosaur rides—some walking and some stationary—as well as the craft area, bungee pull, and bounce houses including some bounce areas designated specifically for small children.
Visitors can also dig for fossils, meet baby dinos, and discover ancient oceans. This is a timed-entry event, so tickets are available for specific days and timeslots online at jurassicquest.com. Tickets range
from $19-36, and all guests two years and older will require a ticket. j urassicquest.com
BLUEY'S BIG PLAY
All Dad wants is a bit of a snooze on a lazy Sunday afternoon, but Bluey— everyone's favorite Australian puppy—is determined to get him off the couch! Join Bluey, her sister Bingo, and the rest of the family March 10 and 11 at the Auditorium Theatre for Bluey's Big Play. This stage adaptation of the Emmy Award–winning TV show features life-size puppets to tell this original story by Bluey creator Joe Brumm.
In case you haven't met her: Bluey is a loveable six-year-old pup with tons of energy and a passion for inventing games, which find her and her friends in all kinds of unpredictable situations. Surely, she will use this creativity in her quest to pull Dad into the fun.
Everyone who enters the theatre must have a ticket, regardless of age, and tickets start at $29. VIP Packages are also available and include a meet-and-greet photo opportunity, a VIP lanyard, and a VIP gift. Runtime is fifty minutes events.bluey.tv
new & noteworthy
BY JINELLE VAIANA Photos provided 585kids.com | Winter 2023 7