flip for
SCIENCES + ENGINEERING @UNION
SOCIAL SCIENCES, HUMANITIES +ARTS @UNION
OF LIBERAL ARTS THE POW
Union College is leading the way in equipping students with the knowledge, experience, wisdom, empathy and courage to tackle important societal issues.
A Union education is a powerful one, custom-built for the challenges of this century. Union students are innovative thinkers, strong communicators, problem solvers and active citizens. And because of our exemplary approach to integrating studies of the humanities, social sciences and arts with STEM subjects (science, technology, engineering and math), they are poised to make an extraordinary difference in our world, now and throughout increasingly unknown tomorrows.
Union will prepare you to address age-old questions about the human condition and to understand the dynamic demands of our tech-centric society. Throughout your four years, you will build important foundations in a range of disciplines, develop expertise in your chosen field, make connections essential for creative thought and learn to apply your knowledge in real-world settings.
There is no better choice for a 21st century education.
2 SOCIAL SCIENCES, HUMANITIES + ARTS @UNION OFFICE OF ADMISSIONS / GRANT HALL / 807 UNION STREET, SCHENECTADY, NY 12308 union.edu admissions@union.edu (518) 388-6112
TALKING WITH PROFESSOR DEIDRE HILL BUTLER
There are many good reasons to study arts, humanities and social sciences at Union. Here are few thoughts from Deidre Hill Butler, associate professor of sociology. She also teaches in the Africana Studies, American Studies, and Gender, Sexuality and Women's Studies programs.
Why study the arts, humanities and social sciences at Union?
At Union, we prepare young people to be intellectually curious and courageous. Students learn academic skills and how to experiment with new ways of thinking. We provide them with a safe and supportive environment to test and refine ideas, and to effectively communicate those ideas verbally and in writing."
How does Union embrace diversity in the curriculum?
By exposing students to a range of cultures and social groups— through our common curriculum, Constructive Engagement lecture series and other programs—we help them make connections and develop empathy for the experiences and identities of others. In the process, they strengthen their muscles for critical thinking and challenging stereotypes. These are skills students need for their careers and for the rest of their lives."
What kinds of interdisciplinary opportunities exist?
We combine subjects and majors in so many different ways, and we're exploring new ways all the time. I recently team-taught a course with biology professor Barb Danowski, Social Identities and Science in the Genomic Age, that brought together her upper level cancer cell biology lab with my Introduction to Africana Studies class. We used the best-seller, "The Immortal Life of Henrietta Lacks," as a jumpingoff point to integrate across the two fields. It was a fascinating combination of genetics, bioethics and Afrofuturism."
How would you describe the student-faculty relationship at Union?
It's at the core of everything we do. Academic advisers, class deans and individual professors are committed to helping students discover interests and prepare for their future. It's a shared academic and personal journey all the way."
" "
UNION COLLEGE | 3 "
PROFESSOR DEIDRE HILL BUTLER
ER
THE CLASSROOM EXPERIENCE
SOCIAL SCIENCES, HUMANITIES + ARTS @UNION
4
THE PRINTMAKING LAB FEATURES FOUR PRESSES, AN ACID ROOM FOR ETCHING AND A PRINTMAKING DARKROOM.
Small classes. Top-notch academics and research. Professors who care.
CLASSROOM
SAMPLE COURSES
AFRICANA STUDIES
Contemporary Africa: The history of Africa since 1950 through readings of novels, memoirs and historical accounts, combined with lectures, discussions and films
ANTHROPOLOGY
Education and Culture: An examination of educational systems and their cultural and social environments, with consideration of such factors as the relationship between schools and ethnic and national identities
ART HISTORY
Arts of China: A look at painting, sculpture, architecture, calligraphy, decorative arts and other works of art and artistic traditions in China from the Neolithic period to the early 20th century
ECONOMICS
Business Analytics: A focus on creating business insights from big data, including how to manipulate data, analyze data and use big data for better business performance
ENGLISH
Workshop in Poetry: Discussions of literary technique, workshopping of student writing and consideration of the work of several contemporary poets
GENDER, SEXUALITY AND WOMEN'S STUDIES
Women and Politics in the Muslim World: How issues of politics and gender intersect across the Muslim world, including the Middle East, Sub-Saharan Africa, Central Asia and South Asia
HISTORY
Popular Culture and American History: A study of the popular arts and entertainments of the late 19th and 20th centuries as a lens on the intellectual and emotional life of ordinary Americans
MUSIC
Global Hip Hop: The New York City-based roots of hip hop and the genre as a global vehicle for expression and activism
POLITICAL SCIENCE
The Supreme Court and Judicial Politics: An investigation of the American judicial branch of government, with a focus on the role of judges, the functioning of courts and leading contemporary controversies
SOCIOLOGY
Sociology of Medicine: Perspectives on health, illness, the health professions and institutions, including studies on the social components of diseases, doctor-patient relations and alternative health care systems
STUDIO FINE ARTS
Printmaking, Relief: An introduction to relief printing, including linocut, collograph monotype and woodcut, and to the materials and process of printmaking
THEATER
Stage Combat: An exploration of the use of period and contemporary weaponry as well as safe techniques of unarmed stage fighting
UNION COLLEGE | 5
UNDER
INTELLECTUAL.
CREATIVE. INSPIRING.
Hands-on, faculty-mentored undergraduate research is at the heart of a Union education. All year round, students work closely with their professors—in classrooms, studios, archives and in the field—delving into topics that intrigue and challenge them. And for one day each May, the College suspends classes so that students can share their scholarly and creative interests and talents at the Steinmetz Symposium, a campus-wide celebration with peers, professors and families.
RESEARCH FROM A TO Z
Here's a look at a few recent presentations by students.
Ancient Greek in Chinese Translation
Babylonian Captivity and Rise of Monotheism
Colonial Mining and Contemporary Trust in Latin America
Disparity and Its Implications on Health in France
Effectiveness of U.S. Private Aid
Found in Translation: Language, Meaning and Global Citizenship
George Büchner: An Overlooked Author at the Crossroads of German Literature
How Trade Policies Affect Stock Prices of U.S. Multinational Corporations
"Lies We Tell Our Fathers," Poetry Collection
Nomads: Myanmar Culture and Political Struggles through Large-Scale Paintings
Party Polarization and Presidential Approval
Storytelling in Music and the Redefinition of Late 20th Century Singer-Songwriters
The Unraveling of Global Incarceration Systems
War, Controversy, Space: Rocket Development, 1920s Germany to 1960s America
Women, Religion and Happiness
Zero Tolerance Policy and School Policing
6
SOCIAL SCIENCES, HUMANITIES + ARTS @UNION
GRADUATE
RESEARCH
CLASSIC UNION RESEARCH
Arundhati Gore '24 spent part of her sophomore year doing faculty-mentored research that combined archaeology and geology.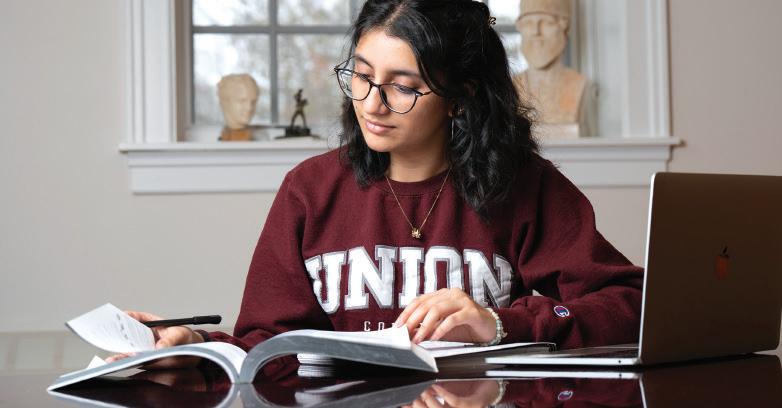 She worked with Angela Commito, senior lecturer in classical archaeology, and Kurt Hollocher, professor of geosciences, as part of an effort to use cultural artifacts to shed light on the socioeconomic dynamics of an Albany, N.Y., neighborhood at the turn of the 20th century.
This involved conducting a heavy-metal analysis of soil samples, painted plaster pieces and ceramics found in an excavated household privy that belonged to the working-class Nicholas Oliver family from 1888 to 1900.
"As a double major in biochemistry and history, with a minor in music, I'm very interested in interdisciplinary research," Gore said. "The intersection between historical objects and scientific analysis was a perfect fit for me."
The joint humanities-STEM project aimed to discover whether heavy metals detected in the privy could have come from discarded objects rather than patent medicines used by the Olivers, as had traditionally been assumed. To perform her research, Gore used Inductively Coupled Plasma Mass Spectrometry, a technique performed by a state-of-the-art instrument that enables Union undergraduates to do advanced analytical work.
"This experiment allows us to see the dramatic change in the quality of urban life, and more importantly, the awareness of heavy metals and their environmental hazards," Gore said.
"It is just the beginning of many other projects that could use this technology for new and exciting discoveries."
UNION COLLEGE | 7
ARUNDHATI GORE
PATHWAYS TO SUCCESS THROUGH ARTS AND HUMANITIES
"Arts and Economics." "Labs and Literature." "Not Your Mother's Art History Class."
These are some of the many essays featured in the 350-page e-guidebook, "Arts and Humanities: Don't Leave College Without Them," created by Christine Henseler, professor of Spanish and Hispanic studies. The subtitle is "Career advice from students to students."
In addition to the dozens of essays written by students, alumni and young professionals, the guidebook includes portraits of young innovators, information about majors and success stories.
All are aimed at helping high school and college students consider "how the arts and humanities can play a foundational and transformational role in their lives and careers," Henseler said, whether they are "thinking about going into the art world, business, medicine, environmental science or any other profession."
The book was inspired by the thoughtful reflections of students in one of her seminar classes, called Why the Arts and Humanities? In particular, it became clear that there are many common misconceptions about the role of arts and humanities in everyday life.
Chapter titles include "Become a Global Thinker," "Beat Out the Competition, Double Major" and "But, Can I Make A Living?"
The answer to that last question is, she says, a resounding "yes."
"Arts and humanities majors go on to become entrepreneurs and change makers at the forefront of some of the most exciting issues and fields today," she said.
Furthermore, "the arts and humanities are emerging as some of the most needed fields in human history. Cultural knowledge and communication with our neighbors, as well as more ethical behavior and logical thinking, are needed now more than ever before."
CREATE. COLLABORATE.
Our facilities offer countless ways to meet your muse and enrich your knowledge.
EXPLORE a wide range of subjects, from anthropology to philosophy in Karp Hall, Lippman Hall and Lamont House. These technology-rich buildings for the humanities and social sciences house classrooms, seminar rooms, and library and study spaces, plus resources for multi-media presentations, literary readings and film screenings.
MAKE your mark in stunning painting, drawing, sculpting and printmaking studios with ample light and space. Tap into your talents in our fully equipped digital media lab, large photography darkroom and photography suites, and woodshop and welding studios. Connect with artists and exhibit your own work in two professional galleries. Find all of this and more in the Feigenbaum Center for Visual Arts
FABRICATE and create in our Makerspaces, interdisciplinary labs that support maker activities using the latest digital and analog tools.
8 SOCIAL SCIENCES, HUMANITIES + ARTS @UNION
STUDY. COLLABORATE.
TUNE IN to a wide spectrum of music in the Taylor Music Center, which offers the intimate experience of a conservatory within a small liberal arts setting. Compose your own music and learn about others' at our All-Steinway school. Enjoy the 100-seat Emerson Auditorium, a choral library, and studios specifically dedicated to music technology, early music and music from around the world.
CONVERSE in multiple languages and build your linguistic proficiency in the Language Center, an intercultural hub with wide-ranging technology and resources. Chat with language assistants and mentors, get help with complex grammar and composition, and take a turn at International Trivia or Around the Globe Karaoke.
DELVE into all aspects of theater, from acting to stage design, in the Yulman Theater. In this modern complex you'll find the Main Stage, which hosts major student productions; the Black Box Theater, a flexible space for staged readings and monologues; an actor's studio and a design studio; and a scenic shop that accommodates stagecraft and specialty construction classes.
MOVE! The 7,000-square-foot Henle Dance Pavillion overlooking Jackson's Garden is a hub for technique classes in ballet, modern, jazz, hip-hop and choreography. It features a spring-floor dance studio and lobby/rehearsal space; 20-foot ceilings that safely permit lifts and aerials; and classrooms, a costume shop and meeting rooms.
ENJOY cultural events in the Nott Memorial, the striking 16-sided National Historic Landmark that is the centerpiece of campus. It is home to the Mandeville Gallery, which exhibits nationally recognized contemporary artists; the Wikoff Student Gallery, which presents student works and the campus-wide LGBTQ+ exhibit; and the annual Lothridge Festival of Dance. You can also attend author readings and guest presentations in the Nott.
READ, research and study in Schaffer Library, which houses the Writing Center, offering peer support and mentoring. Discover the Department of Archives and Special Collections, which contains original and rare manuscripts, prints, drawings, books, maps, photographs, sound recordings and other materials that document the College's history.
UNION COLLEGE | 9
THE CLASS BEYOND
Studying the liberal arts at Union means more than taking classes or working in arts studios. On campus and off, there are great ways to become involved in activities geared toward your interests, including clubs, internships, service and terms abroad.
ON CAMPUS
With more than 130 student clubs (and new ones being formed all the time), here's a sampling of those that draw students from the arts, humanities and social sciences.
• African Dance Club
• American Sign Language Club
• Anime Club
• Bhangra Union
• Chinese Students and Scholars Association
• Classics Club
• Concordiensis student newspaper
• Economics Club (Ceteris Paribus)
• Dance Team
• Empty Bowls
• Film Club
• French Club
• German Club
• Hip Hop Club
• Idol literary magazine
• Kpop Club
• LatinX Dance Club
• Mountebanks Drama Society
• Pep Band
• Philosophy Club
• Pi Sigma Alpha Undergraduate Journal of Politics
• Pre-Law Society
• Russian and European Cultures Club
• Spanish Club
• U Marketing
• WRUC 89.7FM
OFF CAMPUS
Internships
Union students have interned at these and other organizations:
• City Youth Now
• Condé Nast Publications
• Global Fund for Women
• Goldman Sachs
• Hamilton Hill Arts Center
• Hunger Action Network
• Johns Hopkins Center for Talented Youth
• Legal Aid Society
• Madison Square Garden Entertainment Corp.
• Morgan Stanley
• NBC
• New England Center for Children
• New York Department of Environmental Conservation
• New York State Office of the Attorney General
• Saratoga Performing Arts Center
• U.S. Committee for Refugees and Immigrants
• U.S. Dept. of Homeland Security
• U.S. Senate
BHANGRA UNION PERFORMS
10 SOCIAL SCIENCES, HUMANITIES + ARTS @UNION
SIMON GRAY '26 WORKS AT WRUC, UNION'S HISTORIC RADIO STATION.
ROOM
Internship focuses on the theatrical world
Whether in front of the footlights or behind stage, Union students gain experience with a professional theater or dance company as part of an internship course offered through the Department of Theater and Dance. Theater students get involved with downtown Schenectady's historic Proctors theater, whose PB&J Café offers children a lively, interactive musical theater experience. Student involvement ranges from acting and production to management and administrative work.
Economics course aids Schenectady families
When is a college course also a much-needed service to the local community? When it is Union's Volunteer Income Tax Assistance Program, or VITA, which helps local families prepare their tax returns free of charge while giving students hands-on experience in economics. The program, a partnership with the IRS and many local agencies, was created in 2005. Since then, it has helped secure millions in state and federal refunds for hundreds of low-income working families and senior citizens. Students in the service-learning class, Income Tax Policy and Practice, volunteer several nights a week at Union's Kenney Community Center during prime tax season and also help train volunteers at other city sites. They must first complete IRS training and pass a certification exam.
Liberal arts abroad
• Use the ancient temples and tombs of Greece as a living laboratory.
• Take an intensive language course while living with a host family in Seville, Spain.
• Explore environmental policies, social justice and identity politics in São Paulo, Brazil.
With Union's international programs, you'll experience another culture, challenge yourself academically and personally, and develop as a citizen of the world. Most programs are led by our own Union faculty, so you also will get to know your professors beyond the campus environment.
UNION COLLEGE | 11
UNION STUDENTS AND FACULTY TOOK PART IN THE PROCTORS CHILDREN'S SHOW, "STUART LITTLE," THE CLASSIC E.B. WHITE TALE ABOUT A MILD-MANNERED MOUSE LIVING WITH A HUMAN FAMILY.
•
THE VALUE OF A LIBERAL
ARTS EDUCATION
Our emphasis on critical and creative thinking, communications and problemsolving will further your success in graduate school, fellowships and a range of careers. Here's a look at where some of our students headed after graduating.
AFRICANA STUDIES
» Assistant principal, KIPP Massachusetts
» J.D. candidate, Cardozo School of Law, Yeshiva University
» Public health associate, Centers for Disease Control
AMERICAN STUDIES
» Communications assistant, National Museum of American History, Smithsonian Institution
» Production coordinator, Houghton Mifflin Harcourt
» Senior research associate, The Oxbridge Group
ANTHROPOLOGY
» Program supervisor, C.O.C.O.A. House
» Project assistant, Brigham and Women's Hospital
» U.S. Fulbright Scholar, Athens, Greece
ART (HISTORY + VISUAL)
» Manager, stewardship, Institute of Contemporary Art, Boston
» Educator, Hudson River Museum
» Researcher, Catalogue Raisonné, Roy Lichtenstein Foundation
ASIAN STUDIES
» Associate, TrailRunner International, Shanghai
» M.B.A. candidate, Columbia Business School
» Social studies teacher, Bethlehem Central Senior High School
CLASSICS
» J.D. candidate, University of Pennsylvania Law School
» Latin teacher, Indian Mountain School
» PR account associate, LaunchSquad
ECONOMICS / MANAGERIAL ECONOMICS
» Financial adviser, Merrill Lynch
» Investment banking analyst, Barclays
» Data analyst, Bloomberg LP
ENGLISH
» M.A. candidate in English literature, Lehigh University
» Watson Fellow, focus on storytelling dance tradition
» Writer, application services, Epic
GENDER, SEXUALITY & WOMEN'S STUDIES
» Director of grants and advancement, Saga Education
» Master of public health candidate, Columbia University Mailman School of Public Health
» M.D. student, Albany Medical College
HISTORY
» Corps member, Teach for America
» Director, The Schomburg Center for Research in Black Culture
» Director of digital marketing, Choice Waste
LATIN AMERICAN & CARIBBEAN STUDIES
» Community-based service advocate, YWCA Central Massachusetts
» Paralegal, National Immigrant Justice Center
» M.S. candidate in homeland security, American University
MODERN LANGUAGES
» Arms control treaties analyst, U.S. Department of Defense
» Fulbright English teaching assistant, Fulbright Taiwan
» Master of Philosophy candidate, University of Cambridge
» Operations assistant, French Institute Alliance Francaise
» Resident physician, emergency medicine, Boston Medical Center
» U.S. director, Idiomatic Language Services
MUSIC
» Audio engineer, Stwertka Publishing
» M.A. candidate in music business, NYU Steinhardt School of Culture, Education, and Human Development
» Pianist and composer, self-employed
PHILOSOPHY
» Associate, international law, White & Case LLP
» Communities manager, Solutions Journalism Network
» Senior analyst, Walker & Dunlop
POLITICAL SCIENCE
» Judicial law clerk, U.S. Court of Appeals for the Ninth Circuit
» Ph.D. candidate, Duke University
» Special assistant, U.S. Department of Treasury
RELIGIOUS STUDIES
» J.D. candidate, Albany Law School
» Public health analyst, U.S. Health Resources and Services Administration
» Teaching Fellow, English and Religion, Esperanza Academy
SCIENCE, TECHNOLOGY AND SOCIETY
» Associate product manager, Hologic, Inc.
» Editorial assistant, Springer Nature, NYC
» Program coordinator, Community Healthcare Network
SOCIOLOGY
» English teaching assistant, Teaching Assistant Program in France (TAPIF)
» Marketing specialist, Zipcar
» Mental health clinician, The Village for Families & Children
THEATER
» Actor and education director, Arizona Theatre Company
» Director of communications, Jewish Arts Collaborative
» M.F.A. candidate in stage management, University of California, Irvine
12 SOCIAL SCIENCES, HUMANITIES + ARTS @UNION
LIBERAL ARTS
EDUCATION LUMINARIES
ALAN HORN '64 » Entertainment industry executive who has served in key leadership roles at 20th Century Fox, Warner Bros. and Walt Disney Studios
KATE WHITE '72 » New York Times best-selling author of career books for women and mystery novels; former Hearst executive and editor-in-chief of Cosmopolitan magazine
JULIE BRESLOW '87 » Magistrate judge, Superior Court of the District of Columbia, and adjunct law professor at Georgetown Law
BRANDON TORRES DECLET '97 » National intelligence and security expert; previously held senior positions in the NYPD, on the Senate Intelligence and Judiciary committees, and on the House Homeland Security Committee
JENNIFER PASTER '98 » Acting chief, Brookline (Mass.) Police Department; co-founder of the Crisis Intervention Team, dedicated to deescalating situations and seeking viable jail alternatives; advocate for executive women's leadership
DOYIN RICHARDS '98 » Inspirational speaker, Anti-Racism Fight Club founder, author and mental health advocate
BEN SCHWARTZ '03 » Emmy award-winning comedy writer and actor best known for "Parks and Recreation" and "House of Lies"; voice of "Sonic the Hedgehog"
RACHEL RACUSEN '04 » Communications expert who has served as a director and strategic adviser at Snap Inc., the White House, the Obama re-election campaign and the U.S. House of Representatives; as vice president of communications at MSNBC; and as director of public affairs for FEMA
CARLA REEVES '08 » Director, Goulston & Storrs; board member, Volunteer Lawyers Project; Diversity, Equity and Inclusion Section co-chair, Boston Bar Association
ANTONIO (A.J.) GUTIERREZ '10 » Co-founder, vice chairman and chief of marketing and communications, Saga Education; board member, Innovate Public Schools and Summer Search Boston
CLARA BOESCH '14 » Manager, digital experience, the Guggenheim Museum, New York City
UNION COLLEGE | 13
ENGINEERING COMPUTER SCIENCE ECONOMICS
MAJORS
ASTRONOMY BIOCHEMISTRY* BIOLOGICAL SCIENCES BIOMEDICAL ENGINEERING CHEMISTRY CHINESE CIVIL ENGINEERING** CLASSICS
AMERICAN STUDIES ANTHROPOLOGY ART HISTORY ASIAN STUDIES
AFRICANA STUDIES
*major only ** coming fall 2023
MUSIC
MECHANICAL ENGINEERING
MANAGERIAL ECONOMICS* MATHEMATICS
CARIBBEAN STUDIES
WOMEN'S STUDIES GEOSCIENCES GERMAN STUDIES HISTORY LATIN AMERICAN AND
GENDER, SEXUALITY AND
FRENCH AND FRANCOPHONE STUDIES
ENGLISH ENVIRONMENTAL ENGINEERING** ENVIRONMENTAL POLICY ENVIRONMENTAL SCIENCE
62 MAJORS AND MINORS
three courses at a time.
25 countries .
40+ programs in
of students study abroad, with
60 %
Three 10-week terms allow students to focus intensely on
NANOTECHNOLOGY PUBLIC HISTORY STATISTICS
MUSIC TECHNOLOGY
SPANISH
AND HISPANIC STUDIES
TECHNOLOGY
EUROPEAN
STUDIES
ADDITIONAL MINORS
GREEK JAPANESE JEWISH STUDIES LATIN LAW AND HUMANITIES
GLOBAL AND POPULAR MUSICS
FILM STUDIES FINANCIAL AND ACTUARIAL MATHEMATICS
Learn more at union.edu/academics
of students conduct original, faculty-mentored research.
distinct courses offered each year
80 %
600+
62
ELECTRICAL
COMPUTER
ENGINEERING
NEUROSCIENCE ORGANIZING THEME (SELF-DESIGNED) PHILOSOPHY PHYSICS POLITICAL SCIENCE PSYCHOLOGY RELIGIOUS STUDIES STUDIO
RUSSIAN AND EAST THEATER
SCIENCE,
AND SOCIETY SOCIOLOGY
FINE ARTS
ASTROPHYSICS DANCE DATA ANALYTICS DIGITAL MEDIA DIGITAL STUDIES ENERGY STUDIES
majors and minors
Exclusively undergraduate students
at least one internship before graduating.
student-faculty ratio 9:1
of students combine disciplines
by professors (not teaching assistants).
labs are taught
All classes and
of students complete
85 %
AND DISTINCTIVE
75 %
Most Accessible Professors (The Princeton Review, 2023)
ACADEMICS @UNION
EXCEPTIONAL
Top Producer, Fulbright U.S.
Scholar Program award recipients