Welcome
TO THE WINTER 2022 ISSUE OF SEATED
This time of year is often a time for reflection on the past 12 months: we examine our accomplishments, memorable moments, successes and failures, and hopes for the coming year.
At Tripleseat, we've had a nonstop 12 months as a company and as a participant in the world of hospitality. We've supported our customers this year by adding dozens of product updates and new partners (including Square, OpenTable, DoorDash, Targetable, and Kenect), welcomed 3,098 new customers, held our fifth annual EventCamp plus Tripleseat University at EventCamp, and won awards such as the Inc. 5000 Award, the Boston Business Journal's Fast 50 List, APPEALIE SaaS Customer Success Award, and APPEALIE Customer Success Leader Award (given to Brian Neste, Senior Vice President of Customer Experience).
Internally, we've hired 80 new employees, expanded our office footprint to 20,000 square feet, and organized our best company retreat yet, traveling all the way to Reykjavik, Iceland, for several days of adventure this fall.
Our priority in 2023 will be to keep that momentum going and work as hard as possible to bring you the best event management and catering software for restaurants, hotels, venues, and other hospitality industry businesses. Keep an eye out for even more product updates, more partners, more events, and more education in the coming year.
Until then, we've got you covered with an entire issue of industry tips and topics that will help you succeed in 2023. This issue of Seated looks at the top wedding trends for event professionals, why event experiences matter, how to achieve sustainable events, tips for offering live music at your venue, and why kindness and self-care are essential for career success. You'll also find marketing tips, highlights from our EventCamp conference in September 2022, and features on customers like Social Cues, Bosscat Kitchen & Libations, and several restaurants and hotels that are eye-catching spots for winter events.
Enjoy this issue of Seated, and join us in preparing for an exciting new year.
JONATHAN MORSE CEO, TRIPLESEAT
Stoney Creek Hotel Columbia, MO
JONATHAN MORSE
YOUNGREN AZURE COLLIER MATT DIONNE CEO PUBLISHER EDITOR IN CHIEF CREATIVE DIRECTOR EDITORIAL TEAM SPECIAL THANKS The Entire Tripleseat Family HEATHER APSE RACHEL CALKINS NICOLE CATATAO MADDIE FRANZREB LYNN HOLMLUND KATE KENNEDY RACHEL MAZZOLA ELIZABETH SMITH AUBREY UNGVARSKY
Tripleseat HQ 300 Baker Ave, Suite 160 Concord, MA 01742 978.614.0490 info@tripleseat.com tripleseat.com eventup.com CONTACTS 7 Seated | The Winter 2022 Issue
LATHA
COLLABORATORS
30 contents 104 52 62 80 seated magazine VOL. 08 | THE WINTER 2022 ISSUE BRIEFINGS TRIPLESEAT IN THE NEWS 10 TREND REPORT: WINTER 2022 A LOOK AT WHAT'S AHEAD FOR 2023 14 WHAT'S IN YOUR BAG? WITH NATALIE THOMAS 18 THE WINNER OF THE SIP-SATIONAL COCKTAIL CONTEST TOP COCKTAIL WAS CHOSEN DURING A TASTING AT THE EVENTCAMP CONFERENCE 26 FIVE QUESTIONS WITH BOSSCAT KITCHEN & LIBATIONS 20 FEATURES HIGH-END HIDEAWAYS HOTELS TO SATISFY EVERY TRAVELER'S DREAM VACATION 42 UNTANGLING NEW TRADITIONS FOR TYING THE KNOT WEDDING TRENDS FOR 2023 52 WHY SOCIAL MEDIA SHOULDN'T BE YOUR PRIMARY LEAD TACTIC 3 MARKETING CHANNELS YOU SHOULD BE USING OUTSIDE OF SOCIAL MEDIA 58 A COZY HOTEL EXPERIENCE HOW STONEY CREEK BUILT A 'CABIN ON THE LAKE' FEEL ACROSS THE MIDWEST 62 5 COST-EFFECTIVE WAYS TO MAKE YOUR EVENTS SUSTAINABLE MAKE THESE CHANGES TO HELP REDUCE THE IMPACT ON THE ENVIRONMENT 66 POINT. CLICK. PARTY. HOW SOCIAL CUES PROVIDES A TECHNOLOGY-ENHANCED EVENTS EXPERIENCE 70 TRIPLESEAT RELEASES AND PARTNERS FOR A SUCCESSFUL 2023 INCREASE EFFICIENCIES AND IMPROVE THE GUEST EXPERIENCE IN THE NEW YEAR  74 WHY YOUR VENUE SHOULD CARE ABOUT THE METAVERSE A LOOK AT HOW HOSPITALITY BUSINESSES CAN BENEFIT FROM THE NEW DIGITAL LANDSCAPE 76 5 THINGS TO KNOW ABOUT LIVE MUSIC AT YOUR VENUE HOW TO INTRODUCE ENTERTAINMENT THE RIGHT WAY 86 READY, SET, GO 2023 GOALS 83 REINVENTING THE EVENTS INDUSTRY SPEAKERS AT EVENTCAMP CONFERENCE LOOK TO THE INDUSTRY'S FUTURE 80 WINTER BREAK 4 VENUES PERFECT FOR HIBERNATION DURING COLD WEATHER DAYS 30 HOW TO CREATE MEMORABLE EVENT EXPERIENCES IN 2023 TRY THESE 6 TIPS TO STAND OUT TO CLIENTS AND ATTENDEES 90 WHEN KINDNESS IS KING USING EMPATHY TO MAKE A POSITIVE IMPACT ON YOUR BOTTOM LINE 94 A FOCUS ON WELLNESS A CANDID TALK WITH THE COSMOPOLITAN LAS VEGAS'S MICHELLE O'HALA 98 RECHARGE AND REFOCUS IN 2023 TAKE A FEW MOMENTS TO TREAT YOURSELF AS WELL AS YOU TREAT YOUR CUSTOMERS 104 IT'S A TIKTOK WORLD, AND YOUR VENUE NEEDS A PRESENCE WHAT YOUR BUSINESS NEEDS TO KNOW TO STAND OUT ON THIS TOP MARKETING PLATFORM 106 5 TIPS TO DRIVE MORE EVENT LEADS IN 2023 USE THESE IDEAS TO INCREASE BOOKINGS AND REVENUE IN THE NEW YEAR 110
Tripleseat in the News
Tripleseat Captures and Delivers $5 Billion in Group Event Leads to Its
Hotel and Restaurant Customers
Cision PR Newswire, June 28, 2022
During the second quarter of 2022, Tripleseat revealed data showcasing the growing demand for live events.
Tripleseat's Brian Neste Wins APPEALIE Customer Success Leader Award
SalesTech Star, April 27, 2022
Brian Neste, Tripleseat's Senior Vice President of Customer Experience, was recognized as a top customer success executive for SaaS businesses. SalesTechStar shared the announcement that he won an APPEALIE Customer Success Leader Award.
Neste was nominated for the APPEALIE award for his ability to take care of the Tripleseat customers and his strong leadership within the customer success team. He joins an elite class of 33 SaaS customer success leaders for the 2021-2022 SaaS Leader Awards.
"I am honored to be chosen for the Customer Success Leader Award," said Neste, who has worked at Tripleseat for 12 years. "My entire tenure at Tripleseat is focused on helping our customers manage and grow their event business. The customer success team works hard every day to provide the best possible experience with our software."
Tripleseat Integrates with Square to Power Event Commerce
Hospitality Technology, June 10, 2022
When Tripleseat's integration with Square went live this summer, Hospitality Technology posted the details.
Tripleseat customers who use Square will now be able to quickly and easily accept online payments. As booked events progress through the Tripleseat platform, event managers will be able to add online payment deposit options during the contract phase, as well as final payment to close out the event. Customers will be able to view Tripleseat transactions within the Square dashboard, and transactions tab. Additionally, payment records in Square can be filtered by Tripleseat to recognize event revenue holistically.
"Event managers juggle an immense number of details; fortunately, payment collection no longer has to be a pain point. The Tripleseat and Square integration allows event managers to collect deposits and final payments online so the focus can be on the booked experience," said Jonathan Morse, CEO of Tripleseat.
2021 was a record year for social and corporate events and the momentum continues to grow in 2022. Over the last six months, the 15,000+ venues on the Tripleseat platform have experienced a high volume of inquiries for events and meetings. On average, Tripleseat has delivered 25,000 leads per day with an average value of over $10,000 per booking.
"The demand for group meetings and events, large and small, is back," said Jonathan Morse, CEO of Tripleseat. "Social events, weddings, and birthday parties lead the way but corporate demand is starting to come back stronger than ever as more and more companies adopt a hybrid office model and are looking for offsite locations to host their meetings and events."
Event Tech Check: Useful New Tools for Registration, Payment Collection, Venue Management, and More BizBash, July 7, 2022
BizBash noted Tripleseat's integration with Square in its look into the newest tech solutions for events of all types.
"Web-based sales and event management platform
Tripleseat announced an integration with Square, the software, payments, and hardware company. The collaboration will help improve digital payments for both event managers and customers with the ability to add online payment deposit options during the contract phase as a booked event progresses through the Tripleseat platform. Users can also view Tripleseat transactions within the Square dashboard and 'Transactions' tab. Additionally, payment records in Square can be filtered by Tripleseat to recognize event revenue holistically," according to the article.
"
Event managers juggle an immense number of details; fortunately, payment collection no longer has to be a pain point. The Tripleseat and Square integration allows event managers to collect deposits and final payments online so the focus can be on the booked experience."
Jonathan Morse CEO TRIPLESEAT
Repeat Customers Key to Holiday Corporate Event Booking Revenue
Hospitality Technology, July 18, 2022
This article on the Hospitality Technology blog highlights Tripleseat data on corporate holiday event planning.
Tripleseat surveyed 500 corporate event planners about their 2022 holiday plans and discovered the top holiday event trends:
• Hotels are the top choice for hosting corporate holiday events
• 51% start their planning 1-3 months in advance
• Friday is the most popular day of the week for holiday parties
• 55% of planners are booking with a venue they have used in the past
40% of Consumers Plan on Having 3 to 5 Events in the Next 6 Months
Cision PR Newswire, July 21, 2022
Tripleseat's recent survey of hundreds of event planners reveals there is no sign of events slowing down anytime soon. The data made the news in the middle of summer.
Tripleseat surveyed 500 consumers about their event plans. Here are some of the top event trends:
• Birthdays are the No.1 reason for hosting an event
• The summer months are the top season for hosting events
• Some of the top amenities party planners are looking for in an event venue include enough restrooms for guests, a bar package, and a dance floor
• 61% said they were very comfortable planning the event online themselves
"
The demand for group meetings and events, large and small, is back. Social events, weddings, and birthday parties lead the way but corporate demand is starting to come back stronger than ever as more and more companies adopt a hybrid office model and are looking for offsite locations to host their meetings and events."
Jonathan Morse TRIPLESEAT CEO
Meet the Companies Winning in a Time of Change — And Achieving Spectacular Growth Inc.,
Aug. 16, 2022
Inc. revealed that Tripleseat, the leading web-based sales and event management platform for restaurants, hotels, and unique venues, has been named to the Inc. 5000 list, the most prestigious ranking of the fastest-growing private companies in America. The list represents a one-of-a-kind look at the most successful companies within the economy's most dynamic segment — independent businesses. Facebook, Chobani, Under Armour, Microsoft, Patagonia, and many other wellknown names gained their first national exposure as honorees on the Inc. 5000.
"This is the third time Tripleseat has been ranked on the Inc. 5000 list. We're proud of the growth we've achieved and the work we're doing to provide best-in-class event sales and catering management software to restaurants, hotels, and unique venues across the globe," said Jonathan Morse, CEO of Tripleseat.
How Private Dining Can Work for Any Restaurant in 2022
OpenTable, Aug. 26, 2022
Tripleseat partner OpenTable shared recent data in their post on why restaurants should start a private dining program, and how the two companies can streamline the process.
"Demand for private events is growing. More than 61% of respondents to a Tripleseat survey said they plan to host more than three events this year. At least 40% of these will take place in restaurants. And 36% of these events will host fewer than 20 guests according to Tripleseat data. The boom is benefiting restaurants. Some have reported that private dining now represents 30% of their revenue," said the article.
10 11 Seated | The Winter 2022 Issue Seated | The Winter 2022 Issue BRIEFINGS IN THE NEWS
Event Trends for 2022
Modern Restaurant Management, Aug. 29, 2022
The industry blog Modern Restaurant Management featured data on 2022 event trends released by EventUp.
People booking events this year prefer to party on Saturdays, and the celebrations are focused on social occasions, according to new data from EventUp powered by Tripleseat.
Highlights of the EventUp 2022 First Half of the Year Event Trends include:
• The average spend for events is $3,545
• Top celebrations include birthday parties and baby showers
• Saturday is still the most popular day to party
• The average event size is 130 guests
Hotels and Events: The Perfect Pairing for Planners in 2022 and Beyond
Hospitality Net, Sept. 26, 2022
Tripleseat CEO Jonathan Morse wrote about hotel and event trends for Hospitality Net . The article included 10 trends that the industry should watch for in the last quarter of 2022 and at the start of the new year.
Trends were pulled from Tripleseat research and included information such as hotels are the top choice for people booking events, corporate planners prefer booking hotel rooms for holiday celebrations, the rise of business and leisure travel together, the importance of technology amenities, and more.
Tripleseat Partners With
Hospitality Technology, Oct. 6, 2022
Targetable
Tripleseat's partnership with hospitality marketing platform Targetable was mentioned on the Hospitality Technology blog.
The Targetable "done-for-you" digital marketing platform enables brands to reach customers at all stages in the journey, from discovery to loyalty and retention across digital channels. Adding Targetable will simplify the digital marketing process for Tripleseat customers, allowing venues to focus on food, beverage, and incredible guest and event experiences.
The combination of Tripleseat's event management and Targetable's digital marketing platform enables a venue to fully leverage its relationship with Tripleseat and effectively grow its event business. Through Tripleseat, Targetable provides a comprehensive bundle of organic content, paid social media advertising for awareness and customer acquisition in digital channels, and managed email marketing for loyalty and retention.
12 Seated | The Winter 2022 Issue BRIEFINGS
TREND REPORT
A LOOK AT WHAT'S AHEAD FOR 2023
KEEP AN EYE ON THESE HOT TOPICS TO STAY ON TREND
Are you ready to make 2023 the best year yet for your restaurant? If the answer is yes, then now is the time to start planning. Lucky for you, I've done my homework, and I'm here, with conviction, to jump-start your 2023 with a list of noteworthy trends to hang your hat on in the new year.
SUSTAINABILITY TRENDS
The first few trends can be bundled under one umbrella: the sustainability umbrella. I took a trip down memory lane and found that sustainability is mentioned in every Seated trend article I've written, year after year. But it's a trend that we never want to become cliche because it's that important. What can change year after year are the current buzz topics surrounding sustainability, and for 2023 we've got a few new-ish approaches.
1.NEW GLOCAL
The first is a term that isn't necessarily new, but it's gaining popularity because of issues relating to the pandemic — new glocal. New glocal refers to a more purposeful relationship between locally produced and globally imported foods. The hope is that soon, regional availability, rather than price, will be the primary benchmark for whether or not foods and raw materials such as grains are imported or not. This will lead to shorter, more transparent supply chains and a more significant focus on domestic trade.
It's estimated that an average food item travels 1,200 miles from farm to fork. This number cannot come down without the support of the restaurant industry. By turning to your local farms and producers who have migrated from other cultures and are cultivating foods from their homelands on local soil, you can achieve a global dish with local ingredients.
2.
REGENERATIVE FOOD
The following sustainability trend gaining momentum is one with its roots firmly embedded in the climate crisis. Regenerative food is a system of farming and production that works in partnership with the world around us rather than working against it. Much of the food we eat today is produced in a way that degrades our land and water and accelerates climate change and species extinction while making our farms less productive over time. Regenerative food production can significantly reduce greenhouse gas emissions by reducing our reliance on synthetic additives, thus building healthy soils. Healthy soils help restore the natural carbon cycle, making them better able to withstand erosion and hold water, reducing the impact of droughts.
This is all fine and great, but the question remains, what can your restaurant do to promote regenerative agriculture? It's nearly impossible to make a move to only support farms and producers that adhere to a strict regenerative food system — even today, only about 2% of farms worldwide practice regenerative agriculture. But, you can support a program that gives back to these farms, like Zero Foodprint. Created out of a desire to support sustainable farming, Zero Foodprint takes a small percentage of every sale from a participating restaurant. It redistributes that money to farms looking to expand or create regenerative agriculture plots. Hopefully, someday, a restaurant will easily be able only to utilize products produced sustainably, but for now, partnering with a program that contributes to these systems is your best bet.
KATE KENNEDY
14 15 Seated | The Winter 2022 Issue BRIEFINGS TREND REPORT
TECHNOLOGY TRENDS
Next, let's talk about technology. Many, if not all, of the hospitality technology trends for 2023 were built out of necessity during the pandemic. Restaurants were busy trying to devise ways to limit face-to-face interactions while still making a profit. And the popularity of these innovations is only increasing. The restaurant industry still faces a staffing shortage, leading many to turn to innovative technology to keep their operations running. Technology can fill the gaps with online ordering, shorten processing times, and help to monitor employee productivity.
Consumers have also become attached to smart restaurant technology. Whether using tabletop kiosks to place orders or QR codes to pay with mobile devices, diners and restaurant operators are seeing the benefits of restaurant technology. So the most significant technology trend in restaurants as we approach 2023 isn't necessarily one thing but a rise in its popularity in general.
CURBSIDE PICKUP
Another trend that saw a rise in popularity during the pandemic and isn't showing any signs of slowing down is curbside pickup. There are several reasons why this trend will continue to gain momentum in 2023. The first is its ease of execution, and the second is its low price tag. Any restaurant can adopt this trend without incurring huge costs, especially compared to the cost of implementing a delivery system. There's no need to hire additional staff, making the process much more efficient for your customers. Curbside pickup is a guaranteed moneymaker and a trend that your restaurant can implement with little to no overhead.
5.
MARKETING TRENDS
Last but not least, let's discuss marketing your restaurant in 2023. This marketing trend certainly isn't new to anyone, but its popularity in the restaurant industry is increasing tenfold. I'm talking about social media. In a 2020 article published by Toast, it was reported that 27% of guests discover restaurants through Facebook, 25% through social media overall, and 18% through Instagram. I can only imagine that these numbers have risen in the past three years. So basically, almost your entire customer base is searching for their next meal on social media.
Not to mention the rise in popularity of TikTok. TikTok was the most downloaded app in 2021. Everyone from your middle-schooler to your grandmother is on TikTok these days. Tap into your young employees to have them create and manage a TikTok account for your restaurant. Use whatever dance or song is trending to record fun and memorable videos of your staff, food, and venue. You may not go viral, but you're sure to attract some new and returning customers.
THE TIME IS NOW TO ADOPT THESE TRENDS FOR 2023
To sum up, it seems as though 2023 will be full of environmentally friendly choices, innovative technology, and viral TikTok dances for the restaurant industry. No matter how big or small your restaurant business is, there's room for everyone to take advantage of these trends, and that is part of what makes this new year so exciting for our industry. We've weathered the storm and come out on the other end stronger and more willing to adapt and try new things.
#1 Guest and Event Management Software for Hospitality
Built for hospitality
Designed to streamline event planning and group sales for restaurants, hotels, catering, and unique venues.
Access anytime, anywhere
A cloud-based platform available on any device to seamlessly organize events for one venue or hundreds at a time.
Exceptional user & guest experience
Quickly build/update banquet event orders, contracts, and proposals in real-time while streamlining communication in one platform.
Capture every event lead
Use a customizable lead form embedded on your website, social media, or EventUp marketplace.
Accept payments online
Customers can easily and securely pay with any credit card online through partnerships with Clover Connect, Stripe, and Square.
Integrations with leading partners
Customize your experience with leading hospitality software, email marketing, payment processors, and more to keep operations seamless.
3.
4.
BRIEFINGS 16 Seated | The Winter 2022 Issue
LEARN MORE AT TRIPLESEAT.COM
"I love and embrace Tripleseat and have learned how to use it to work smarter and not harder. It really translates into my sales exponentially increasing. And that's the bottom line of everybody's day in this event world."
Marisa Colangelo Director of Private Events Zuma NYC
Event Pros Tell Seated:
What's in Your Bag?
Natalie Thomas is the founder of MTG Hospitality, an events and customer service firm specializing in full-service venue management. MTG currently manages a beautiful wedding venue in northeast Washington, D.C., —
The U.S. National Arboretum — that was recently named the fourth most unique wedding venue in the United States by Brides magazine. They also manage a corporate meeting space in Dupont Circle owned by local Realtor groups.
Thomas first learned the fundamentals of customized VIP concierge service while working as a staffer in both Senate and House congressional offices. Thomas' first events job was in 2004, coordinating Fox Entertainment Group's D.C. events, including movie premieres for congressional members and CEOs and the American Idol party for congressional staff. Thomas recently served as Vice President of Membership for the largest Meeting Professionals International (MPI) Chapter, Potomac.
And because Thomas and I are friends on social media (and IRL), I know that when she's not at work, you can find her either curled up on the couch watching reality TV (mainly Real Housewives) with her adorable cats or looking impeccably chic while enjoying dinner and drinks with her fabulous friends.
Thomas was a panelist on my 2022 EventCamp panel, What Planners are Really Looking for in a Venue. I was able to chat with her about her work, her cats, living a vegan lifestyle, and of course, what she regularly carries in her bag.
THE BAG:
A functional yet stylish backpack.
THE ITEMS: Sunblock
You can often find me at our outdoor wedding space, The U.S. National Arboretum, in Washington, D.C. Sunblock is essential when you work long hours, running around in an outdoor area.
Packable poncho
Did I mention that I'm often working at an outdoor venue? Well, it's not always sunny here in D.C., and I have to be ready to weather any storm.
Megababe Thigh Rescue
Trust me, ladies, this will change your life. Kate agrees.
Change of socks
Having a fresh pair of socks makes a huge difference when running around in sneakers all day. Or if you have to change from regular shoes to sneakers.
Antibacterial wipes
After what we just went through for the past several years, this one should go without saying. But, I do have to admit that I've been carrying these long before 2020.
Red lipstick
I'm a Texas girl, and there is nothing better than a fresh coat of red lipstick to brighten your mood.
KATE KENNEDY
19 Seated | The Winter 2022 Issue 18 BRIEFINGS
Five questions
with Bosscat Kitchen & Libations
RACHEL CALKINS
Dining experiences today are much more than what is served on the plate in front of you. A restaurant or bar experience is about the establishment's ambiance, the community of restaurants or bargoers interested in similar things, the creativity that sets the establishment apart, and the variety of food and drinks to be enjoyed.
Bosscat Kitchen & Libations in Irvine, Calif., will give you the optimal dining experience with its extensive whiskey stash, comforting food, and unique event experiences where you can deepen your whiskey passions with expert guidance.
We talked to Susan Yazarlou, Private Events Manager for Bosscat Kitchen & Libations, Ten Sushi & Cocktail, and Byblos Café, about the latest happenings at Bosscat Kitchen's newest location in Irvine.
1Tell us about Bosscat Kitchen & Libations in Irvine, the newest of the brand's locations. What can be found on the food and drink menus? What sets this location apart from the rest?
We are a whiskey bar and serve American food with a southern twist. Irvine is our newest location, and it is beautiful. We have a stunning whiskey room, which is a signature room for all of our locations. We have a really cool rickhouse barrel wall and Instagram-worthy green wall. We also have a large park (a green space that can accommodate up to 400 people), which we have used for numerous large events.
2What does the private event scene look like at Bosscat Kitchen so far? Describe the private event spaces and the event clientele?
We have four private event spaces. First is the Whiskey Room, which is a beautiful enclosed room with one large 12-top table. This room houses our whiskey wall and our famous bird cages. Leslie Nguyen, Bosscat Kitchen co-founder, who is now nine years sober, created this space using whiskey bottles in the cages to symbolize her prior alcohol addiction and trapping her addiction in the cages.
New location has an emphasis on whiskey and ambiance
Next is our Library, which I like to call our speakeasy room. The Library has a cool vibe, and it houses our whiskey lockers, which are rented annually to whiskey fanatics, clients, and local businesses. We have a beautiful fireplace, trunk wall, egg chairs, and fun lounge seating. It's one of our most popular event spaces. People love it for company happy hours.
Our last two spaces are our patios. The Barrel Patio, which is our smaller, more intimate patio, has one huge L-shaped leather tufted sofa and is positioned right in front of our birdcage wall. Our large patio has a walk-up outdoor bar and our famous "whiskey is my love language" neon sign and green wall.
The majority of our events are corporate parties, which is due to the fact that we are located in a large business area.
Photos courtesy of GBH Photoworks
21 Seated | The Winter 2022 Issue 20 FIVE QUESTIONS
22 23
Tell us about the Bosscat Whiskey Club exclusive membership program. Who is a member, and what are the benefits?
The Bosscat Whiskey Club is an exclusive membership program. Each month members will receive a unique or private selection bottle of whiskey, which our Bar Director, Matt Sharp, chooses. His love for whiskey and experience with distilleries allows him to choose exclusive Bosscat private barrels or more unique and interesting bottles from distilleries we love. Anyone 21+ can become a member of our Whiskey Club. We have everyone from corporate lunch-goers to whiskey connoisseurs in our club.
Whiskey Club memberships also make a great gift — memberships can be purchased in 6-month or 12-month subscriptions. For $75 per month, you get a whiskey bottle of the month, a complimentary signature cocktail with every visit, discounts on merch, and more. Your membership location is where you pick up your bottle, but perks can be redeemed at any Bosscat location.
What Tripleseat features are the most helpful to you when managing the busy events calendar at Bosscat Kitchen?
The Tripleseat templates are the most helpful feature! These save me so much time and make responding to client inquiries much faster.
5This is a winter edition of Seated, so what do you anticipate the holiday season to look like at Bosscat Kitchen? In your opinion, describe what a perfect holiday party at Bosscat Kitchen would look like?
Buyout after buyout after buyout! I predict so much food, alcohol, ice sculptures, live music, and 360 photo booths. It will be so busy and fun!
4 3
25 24 FIVE QUESTIONS
Christmas in the Andes
Announcing the Winner of Tripleseat's First Sip-Sational Cocktail Contest
TOP COCKTAIL WAS CHOSEN DURING A TASTING AT THE EVENTCAMP CONFERENCE IN BOSTON
RACHEL CALKINS
This past spring, Tripleseat launched the first-ever Sip-Sational Cocktail Contest, inviting venues across the globe to think ahead to the end-of-year holiday season and share their best holiday cocktail recipes.
The response blew us away — we received dozens of entries! It was hard work, but the Tripleseat team of cocktail enthusiasts and former bartenders reviewed all of the contenders. They narrowed the list to 12 semifinalists based on creativity, holiday spirit, and overall recipe. Voting then went to the general public, and five finalists were selected.
In a final — and delicious step — we invited the finalists to attend Tripleseat's EventCamp conference in Boston on Sept. 13 to participate in a live sip-off, where EventCamp attendees tasted and voted on their favorite cocktail.
And the winner was Christmas in the Andes by John Marsh of Ellen's in Dallas This creamy, dreamy concoction hooked taste testers with its eggnog base, mint and chocolate flavors, and a generous garnish of chocolate shavings.
"Over the holidays last year, one of my colleagues, Buster Robbins, challenged me to a 'Nog-Off.' She and each made batches of our eggnog recipes to taste and judge. When I heard about Tripleseat's Sip-Sational Cocktail Challenge, I knew I had another opportunity to kick her ass," Marsh said.
"I usually use bourbon and aged rum in my eggnog, but for this, I wanted to do something unique. One of the things I associate with Christmas is candy canes. I wanted to do something with peppermint to reflect that association. The flavors of the peppermint eggnog came up with reminded us of Andes mints, so we decided to reflect that in the name, but subtly. Eggnog is a holiday go-to, but we hope this take on an old favorite reminds you that traditions can be dusted off and freshened up. Buster, who loves to judge, agrees that this is a winner."
Take a look at all the finalist cocktail recipes and try one out for yourself this holiday season!
Company: Ellen's
Location: Dallas, TX
Recipe
Ingredients
8 eggs, separated 3/4 cup sugar
1 quart whole milk (preferably organic)
1 pint heavy cream
8 ounces Claude Chatelier VS cognac
6 ounces Tempus Fugit creme de menthe
4 ounces Tempus Fugit creme de cacao
Callebaut semisweet chocolate block
Instructions
In a large bowl, beat the egg yolks and sugar until thickened and the color has lightened. Stir in the milk, cream, cognac, creme de menthe, and creme de cacao.
In a separate bowl, beat the egg whites until soft peaks form. Fold about a quarter of the egg whites into the other bowl's contents.
Serve in a coupe. Top with more of the egg whites, if desired. Grate the Callebaut chocolate over the finished drink.
Created by: John Marsh
27 26 Seated | The Winter 2022 Issue BRIEFINGS
28 29 Seated | The Winter 2022 Issue Seated | The Winter 2022 Issue
Winter Break
4 VENUES PERFECT FOR HIBERNATION DURING COLD WEATHER DAYS
The coldest season of the year is the best time to get to know the restaurants and venues in your neighborhood. Gathering with a group, sampling food and drinks, and enjoying the atmosphere of a favorite spot or a new location is a satisfying way to escape the long winter days and nights. We'd be happy to cozy up at any of these four venues, which offer something for everyone: a meeting place for those who seek a cold brew, bright lights and games with friends, elegant private rooms to enjoy food and wine, and sophisticated spaces for city-dwellers.
Democracy Brewing, Boston
AZURE COLLIER
30 31 Features
Democracy Brewing, Boston
This Boston worker-owned brewery — which opened its doors on Independence Day in 2018 — is on a mission to re-create the traditional public house, offering multiple beers brewed on-site, a full kitchen, and an old-world event space with a modern touch. Whether you're spending time at Democracy Brewing's room-spanning bar, indulging in a beer flight under the mural in their semi-private lounge, or tucked away in the cozy red-wallpapered private room, you'll feel that every minute spent there is not wasted time.
32 33 Winter Break Features
Electric Shuffle, Texas
Shuffleboard is the newest game to make a comeback, and there's no better place to play it than Electric Shuffle. The tabletop version has been upgraded to allow groups of up to 24 people to play together. Rescuing shuffleboard from the back of the bar, Electric Shuffle combines craft cocktails, brunch, and high-tech shuffleboard, bringing large groups of friends together as well as corporate gatherings for up to 500 people. Housed in a spectacular setting, the venue's spaces create an atmosphere you won't soon forget. Electric Shuffle started in London and recently made its American debut. Its Austin venue opened in November, and its Dallas location celebrated its 1-year anniversary this fall.
34 35 Features Winter Break
PRESS, St. Helena, Calif.
Napa Valley is known for excellent wines and gourmet menus. PRESS Restaurant, located in St Helena, Calif., takes those expectations and raises them with legendary Bay Area purveyors and new culinary talents. Their venue includes three impressive private spaces for intimate parties with a VIP feel. The Harvest Room's natural lighting and view of the front courtyard provide guests with an authentic wine-country chic experience. The Wine Cellar is an exclusive and luxurious private room with prime seating next to the restaurant's 10,000-bottle wine collection and an 18-seat table placed under chandelier lighting. Last but not least, the Rudd Cellar puts guests right next to the action: it's an eight-seat table adjacent to PRESS Restaurant's main wine cellar, and it's chilled for optimum wine storage.
37 36 Features Winter Break
The Kitchen American Bistro, Colorado and Illinois
The busiest cities always need spaces where you can lounge, taste, and forget about the outside world for a while. The Kitchen American Bistro's locations are making it happen in Denver, Boulder, and Chicago. Their event spaces are stylish and chic, with high-quality food and beverages. Denver offers a minimalist, industrial decor in the historic Sugar Building. In Boulder, guests have their choice of sophisticated private spaces with warm lighting and detailed design. The Chicago venue, located in the historic Reid Murdoch Building along the Chicago River, next to city landmarks in the vibrant River North neighborhood, with a spectacular view of the city skyline and a design that honors the building's history while incorporating a fresh interior and warm, reclaimed woods.
39 38 Features Winter Break
The leading global venue marketplace helping restaurants, hotels, and unique venues capture new leads and grow event revenue. Top Google search results Drive new event planners to the marketplace every day Support all event and venue types Cover all markets with one affordable listing Paid marketing campaigns Gain a marketing partner with your listing Commission-free leads All the event revenue stays with you VISIT EVENTUP.COM FOR MORE INFORMATION Generate More Leads with EventUp Premium Package Listings Add final items at the end of an event Guests can confirm charges and pay right away Recognize revenue quicker Start scanning today! Learn more. Are you ready to finalize event charges and payments in real time? Introducing QR Codes
High
End Hideaways
4 HOTELS TO SATISFY TRAVELERS WHO WANT A TASTE OF CITY LIFE, COUNTRY LIFE, OR AN EXOTIC LOCATION
Traveling is a typical resolution for a new year, and who doesn't love to daydream about their next big trip?
Deciding exactly where to go is the first step, but finding a consensus among fellow travelers about the destination isn't always easy. Visualizing yourself at possible hotels can help everyone get on the same page about travel plans.
Sit back and take in these four stunning properties' beauty, luxury, and amenities. They have everything travelers need for a getaway in glamorous cities, a glamping experience in the great outdoors, a relaxing trip with small-town charm, and a cozy stay in the mountains.
The
Standard, Hua Hin
-
42 43 Features High-End Hideaways
AZURE COLLIER
The Standard Hotels, 8 Global Locations
With eight global locations — and many more in development in Lisbon, Brussels, Dublin, Dubai, Mexico, Austin, and Brooklyn — The Standard Hotels are poised for world travel domination. Their city properties (Bangkok, New York City, Miami Beach, and London) include high-rises that provide stunning views, rooms with Instagrammable decor, pools, spas, and various chic bars, restaurants, and clubs to fuel your vacation vibes. Looking to slow down? Check out resorts in Ibiza, Hua Hin, Thailand, and the Maldives for waterfront stays, private villas, and miles of beaches.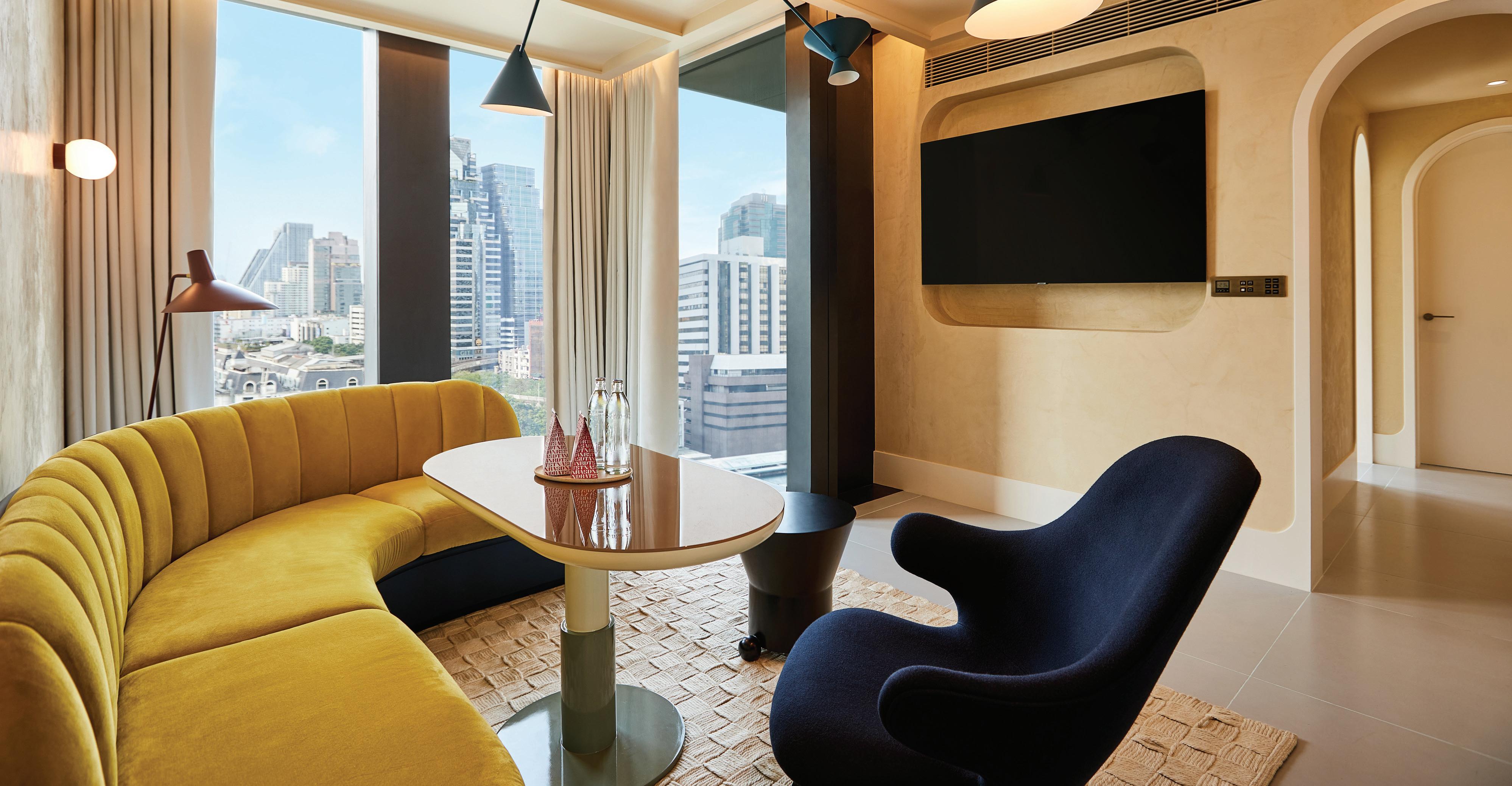 The Standard, Bangkok The Standard, London
The Standard, High Line
44 45 Features High-End Hideaways
The Standard, Ibiza
Sun Outdoors Rocky Mountains, Granby, Colo.
If you enjoy the great outdoors but also like spending time in the great indoors, a glamping experience could be the perfect fit for your next vacation. Sun Outdoors Rocky Mountains located in Granby, Colo., offers it all: proximity to kayaking, fly fishing, hiking trails, and ski resorts, plus a wellness center, a pool, hot tub, a bowling alley, yoga classes, outdoor games, plenty of space by the fire pit, two restaurants, and an event center that hosts weddings, groups, conferences, retreats, and more.
46 47 Features High-End Hideaways
The Liberty Trust, Roanoke, Va.
Located in downtown Roanoke, Va., The Liberty Trust is a boutique hotel in the elegantly restored historic First National Bank building. The hotel's marble-filled lobby, copper doors, grand columns, and tall ceilings bring guests back in time. A former vault houses a high-end wine-tasting room, and a former boardroom has been turned into 400 square feet of event space. Guests can enjoy rooms with luxurious amenities that provide views of the city and the Blue Ridge Mountains. The hotel is close to downtown Roanoke's popular shops, restaurants, and local attractions and is a short drive from outdoor recreation spots.
48 49 Features High-End Hideaways
Skyline Lodge, Highlands, N.C.
Created in the mid-1930s by an architect who studied under Frank Lloyd Wright, the Skyline Lodge in Highlands, N.C., has signature touches like native stone, chestnut wood, and hand-cut cedar shakes. Over the decades, nature has flourished and surrounds the lodge, following the Wright tradition of combining architecture with the environment. Guests can enjoy the recentlyrenovated lodge and amenities like an expansive outdoor courtyard, fire pits, indoor fireplaces, rooms decorated in an old-meets-new vibe, a classic steakhouse serving locally-inspired fare, and a casual bar and restaurant with a view that overlooks the Nantahala River.
50 51 Features High-End Hideaways
Untangling New Traditions for Tying the Knot
WEDDING TRENDS FOR 2023
Is there an event that's been through as many changes as weddings? They started as simple celebrations for the bride and groom's family, but over time, they have included many new traditions like first looks, wedding hashtags, elaborate bachelorette party vacations, signature cocktails, multi-day affairs, or destination-based festivities.
After the last few years, weddings have shifted from these huge over-the-top productions that require families to take out large loans to afford them to intimate, pared-down, more organic, authentic, and sustainable celebrations that put the love back in the spotlight.
Whether you are planning your own wedding, planning a wedding as a professional wedding planner, or are managing weddings at a venue, here are the wedding trends that we have seen gain recent popularity and expect to explode in the coming new year.
We spoke to Pam Blessing, Business Relations Manager at New England's Longwood Venues, who has seen just about everything concerning wedding planning. She's worked in the industry for 15 years and shared her insights on the massive shifts in wedding planning that have been influenced by the shutdowns, scheduling issues, and rebookings due to the COVID pandemic.
One of the first things that changed is when people get married, which typically used to be in the warmer months on weekends. That timetable has been thrown out the window, thanks to an influx of wedding bookings that had to be rescheduled due to the pandemic. The schedule is crowded, and couples are looking for alternative dates.
"The season used to be May to early September, and now it seems that it has been extended from late April to early November, as brides are looking into more fall dates and fall weddings," Blessing said. "We have seen a shift into other days of the week for weddings, such as Thursday nights and even some Monday weddings."
Another trend is celebrations that go late into the night. The after party stays on the dance floor.
"We're seeing more requests for late snacks or afterparty food for guests, and that's served well after 11 pm," Blessing said.
However, when it comes to the numerous details and demands of wedding clients, that has stayed the same, according to Blessing. Wedding planners still need to prepare for an intense planning process with wedding clients.
"As far as expectations go, nothing has changed too drastically," she said.
Let's take a deeper dive into what to expect for the upcoming 2023 wedding season.
Sustainability trends
• Invitations: Rather than pick out costly and wasteful paper invitations and envelopes, use an online invitation and RSVP tracking system like Greenvelope With more than 400 templates to select from and customization options, you can create the invitation to match any wedding theme while saving you money, saving trees, and having better and faster RSVP information.
• Rings: Instead of spending thousands on a new ring, couples can opt for antique jewelry or family heirlooms that are sustainable, often more affordable, and the pieces hold more sentimental value than something new. Your previously-loved ring can also be something old and borrowed.
• Flowers: Try swapping real flowers for fake flowers. This option may not be more affordable than fresh flowers, but it is much more eco-friendly than throwing away fresh flowers at the end of the night. Fake flowers can also be saved forever as a sweet memento from the day that can be displayed in your house for all to enjoy. If you take anniversary pictures each year, you can hold your wedding day bouquet always and forever.
NICOLE CATATAO
53 52 Seated | The Winter 2022 Issue Untangling New Traditions for Tying the Knot Features
Decor trends
• Decorating with pampas grass instead of flowers has exploded as a new floral trend. Pampas grass is easier to come by, much more affordable, and can be brought home for decorations that will last. Pampas grass is easy to grow at home; if you are looking for a DIY project. But note, it takes two to three years to yield a full bloom, so start planting those seeds early. Pampas grass can also be incorporated into traditional floral arrangements to add depth and fullness to avoid purchasing more flowers.
• Start saving all that junk mail and turn it into handmade paper invites. Making new paper from junk or old paper is easier than you think. DIYing paper gives you complete freedom to make the colors and shapes you want. Add seeds to allow guests to grow plants, and incorporate pressed flowers and leaves. Add glitter or sparkles. There are so many ways to customize the paper alone.
• Incorporating disco balls into your wedding theme or decorations adds a touch of fun and playfulness. At night they add an extra layer of sparkle to the dance floor.
Making Paper
SCRAP PAPER
COUCHING
FINSHED PAPER
• Give your wedding a modern look by keeping the decor minimal and opting for more muted monochromatic color schemes. A monochromatic color scheme elevates the look and feel while putting the focus back on you and your partner. Incorporate earth tones for a refreshing and calming aesthetic; there's no need to feel stressed on the big day.
• The photo booth idea has been copied to death. Instead, opt for a selfie or Instagrammable wall. Photo booths can come off a little cheesy, especially with those cutesy masks they often come with. Design a balloon wall, a donut wall, or even a drink wall to allow guests to interact and take photos that can be shared with you.
• Instead of designing your bouquet with a florist, pick out some flowers and greenery that fit within your color palette and allow your significant other to create your bouquet for you. This is an incredibly romantic gesture for your bride or groom to design a special surprise with a floral arrangement.
Fashion trends
• When planning a wedding, the bride and groom may feel pressured to look a certain way on a special day for wedding photos. That may include growing your hair long or having a beard. We are seeing brides and grooms cut their hair or shave their beards off between the ceremony and reception. Have your hair stylist stay to update your look by giving you a trim and a fresh do before celebrating all night long.
• For any bride or groom that wants to customize their wedding day look, order a unique suit jacket. The inner lining can be made with images of pets, kids, or core memories of the couple's relationship leading up to the wedding day.
• For the groom and groomsmen, boutonnieres are out. Pocket squares are in, or opt for nothing at all. I like the idea of each groomsman picking a pocket square that matches their personality.
watercolor or drawing papers are best
For scrap papers. Cut into inch square pieces, soak, & blend with water MOLD & DECKLE Pour water and pulp slurry into a vat MOLD & DECKLE Lift the mold & deckle up through the slurry
Printing,
KITCHEN BLENDER
water
flat surface, or use
stack dryer
Transfer wet sheet from screen to an absorbent surface PRESSING Remove excess
with sponge & brayer DRYING Press onto a
papermaker's
the paper is ready to make into invitations Source: paperslurry.com 55 Seated | The Winter 2022 Issue 54 Untangling New Traditions for Tying the Knot Features
Now
Tech trends
• For faster responses and easier access to a registry list, include QR codes in your invitation. This can push people to let you know if they are available to attend the wedding with just a click. Using QR codes also eliminates paper waste with reply cards and envelopes.
• Virtual weddings are a great alternative to inviting guests from out of town who cannot make the trip or to keep the in-person event small. You can invite as many as you want to a virtual showing for special guests that are attending the virtual event, set up a special delivery to their house of snacks, desserts, or even champagne the day of the wedding. It helps make those guests feel included and special through the screen.
Food trends
• Offer your wedding guests late-night munchies such as pizza or sliders, especially if you allowed them to enjoy an open bar. They will need some greasy food in their bellies to ensure a safe trip back to their hotel or home.
• If your favorite venue is booked for the evening on your desired date, schedule a brunch wedding instead. Tie the knot, sip a few mimosas, then have plenty of time and energy to jet off to your honeymoon.
• Plan individual desserts for guests instead of having them wait for the cake to be cut and handed out, such as cupcakes, donuts, and whoopie pies.
New traditions
• For the ceremony, have your bridal parties stand on the opposite side of you instead of behind you. This way, while you are saying your vows, you can look directly at your closest family and friends when you need a little support.
• Saving the first two rows for parents and grandparents is not a new tradition at all, but instead, have them sit on opposite sides of the aisle, just like the bridal party, so you can look at your own family when you are crying with pure joy and need a little smile from your closest supporters.
• Not every couple wants to celebrate their wedding day with kids involved. Instead of having small children attending only the ceremony, invite a grandmother to be the flower girl. Grandma will be delighted to be included in your special day to help you at the altar and stand by your side.
After the wedding trends
• Going with fresh flowers for your bridal bouquet can be breathtaking and expensive. Why not be able to look at your flowers for years to come? Save your bouquet to send off to a resin artist who can preserve your bouquet and turn it into exquisite art.
• The bride will typically have an engagement ring and a wedding band after the wedding. Most wives would wear those two rings proudly forever, but more and more couples are adding a new ring for each significant milestone, such as big anniversaries or the birth of a child. Couples are building milestone ring stacks to celebrate all of life's most important moments.
Being trendy will help you get booked
With the ability to share everything about a wedding on social media, these trends tend to spread like wildfire to future brides and grooms, so it's important to keep up with them. The venues, planners, and vendors that can execute these popular ideas and personalize them to the couples will be the top businesses that future clients will seek out for their big day.
Seated | The Winter 2022 Issue 56 57 Untangling New Traditions for Tying the Knot
Why Social Media Shouldn't be Your Primary Lead Generation Tactic
3 MARKETING CHANNELS YOU SHOULD BE USING OUTSIDE OF SOCIAL MEDIA
NICOLE CATATAO
When talking with venue owners and in-house event planners, I always ask them about what kind of marketing they do for their events business. I've been working in the online marketing world for my entire career, and I'm a bit of a marketing nerd and am always curious about what others are doing, how they feel it's working, and if I can offer up any help.
Here is what I hear the most: "We're on social media!"
Me: "And how's that working for you?"
Them: "Well, we get leads, but not enough."
Social media marketing works because, as a brand, showing up where your desired audience hangs out in the virtual world and interacting with them organically gives them a glimpse into your venue, so the next time they are looking for a venue to use for hosting a party, they will subconsciously think of your positive interaction.
3.6 billion people use social media apps every single day. Platforms such as Facebook, Instagram, TikTok, Pinterest, and others should absolutely be part of your marketing and event lead generation efforts. These platforms are where people hang out, socialize, gain inspiration, look for new ideas, and spend a lot of time. Social channels should be part of your overall marketing strategy for brand awareness, lead generation, and customer engagement.
However, relying solely on social media efforts won't always help you maximize your events calendar or help you expand your business into new revenue streams. Focusing on lead generation will get you more leads and more bookings. Lead generation is the process of attracting consumers to your brand, piquing their interest enough to convert them by having them submit their personal information, and ultimately closing them into a booked business, in this case, a booked event.
Three marketing channels that should be included in your marketing strategy:
Networking
Networking encompasses attending local professional organization events, trade shows, conferences, local farmers' markets, town celebrations, or even hosting an event at your venue to showcase your services. Any type of gathering where you can mingle, hold a conversation, and talk about your offerings is considered networking. Get out there and spread the word about who you are and what you offer.
Limiting where you market your brand ultimately limits how many leads you can generate. You don't have to be everywhere, but you should take advantage of any and all channels that work for your business and that you can successfully manage. Maximizing touch points with consumers expands your potential reach to help capture as many leads as possible.
1.
Why social media shouldn't be your only source of event leads
59 58 Seated | The Winter 2022 Issue Features Why Social Media Shouldn't be Your Primary Lead Generation Tactic
Email marketing
Email marketing is still invaluable to re-engage past customers and to attract new ones. It requires a database of names; fortunately, event management applications such as Tripleseat streamline the collection, managing, and marketing a collection of names.
Stay relevant with your database of names by emailing them on a consistent basis, such as monthly. Always let your audience know what new things are going on at your venue and what upcoming promotions you have going, or simply send a reminder to book that holiday event before you sell out. Creating urgency, even if you aren't technically almost sold out, encourages folks to take that step immediately to book their favorite venue for their next event.
At the end of each email or newsletter you send, always tell your readers what you want them to do next, with a blurb like, "Share this email with family and friends." Having your audience recommend you to their network is the highest level of word-ofmouth marketing you can achieve. According to ReferralRock, 84% of consumers trust referrals from friends and family more than any other source of information about a brand. Grow your database of names with people who value your brand and venue.
Online venue marketplaces
Online venue marketplaces work in a similar way as standard search engines. This is where planners would search for a venue for their upcoming party or occasion. But on standard search engines, so much time is spent digging through websites, trying to find one with the right aesthetic, the type of space desired, and any needed amenities, all within a set budget.
This is why event planners often turn to a venue directory like EventUp EventUp is the leading global venue directory with more than 15,000 restaurants, hotels, and unique venues. More social, corporate, and wedding planners find their venues on EventUp using advanced filtering to narrow down all the inventory to only those that fit their exact needs. Once they find a venue that will work for them, they submit an event request directly to the venue to finalize the booking.
As a venue showing your spaces on EventUp, you are essentially opening your doors to more than 100,000 planners each month that are actively looking for a space. Any lead that is generated on your listing page is yours alone. EventUp will never resell your leads or charge you a commission for them.
Set up your marketing tools and get started
As with any marketing initiative, you should start small with a test campaign, analyze the data, make tweaks to the campaign based on findings, then expand budgets where you see the highest return on investment (ROI) backed with the power of data knowledge.
Consumers' behaviors are ever-changing — and how we market and engage with them should change just as frequently. That's why marketing can never be a "set it and forget it" model. It's an ever-evolving process to keep up with consumers' ever-evolving needs and interests.
In the future, there will most likely be new channels and new social media platforms that we will have to learn how to navigate and use to our marketing advantage. For now, utilizing social media in combination with networking, email marketing, and your EventUp listing, your events calendar is guaranteed to be fully booked with events.
3.
2.
61 60 Seated | The Winter 2022 Issue Why Social Media Shouldn't be Your Primary Lead Generation Tactic Features
How Stoney Creek Built a "Cabin on the Lake" Feel Across the Midwest
As we approach the winter months, it's hard not to imagine ourselves curling up by a fireplace in a cozy cabin — possibly with a warm drink in hand. Throw in a flannel blanket and a chandelier made of deer antlers, and you may have found yourself in the lobby of a Stoney Creek hotel in Columbia, Mo. Or, if you're more the "bundled up for a stroll along the picturesque river" type, Stoney Creek hotel in Moline, Ill., might be your perfect getaway spot.
Whatever you fancy, if you are looking for a destination with a whole lot of charm, beauty, and history — not to mention hospitality — there is a Stoney Creek Hotel for you.
Founded in 1994, Stoney Creek Inn and Hotels has 12 locations across the Midwest, all of which have dedicated events and meeting spaces on site. Each property has its own unique charm to it, ensuring nothing short of a memorable experience. Whether you're looking for a weekend getaway or planning a rustic wedding or polished business meeting, you can always expect a beautiful space and a team ready to go above and beyond to meet your needs.
We spoke with Mark Creger, Vice President of Revenue Management for Stoney Creek Hospitality, about the different properties within their portfolio and to understand a bit more about what makes them so special.
63 Seated | The Winter 2022 Issue 62 Features A Cozy Hotel Experience
ELIZABETH SMITH
Tell us a bit about the Stoney Creek brand and your properties specifically.
What makes them unique or different?
We have 12 Stoney Creek properties located throughout the Midwest — Wisconsin, Illinois, Iowa, Missouri, and Oklahoma. We offer anything from your rustic "cabin by the woods" experience to your upscale getaway destination. Most of our hotels feature sizeable meeting and event space with on-site event coordinators. A stay at Stoney Creek is an experience that you cannot find at other limited-service hotels, from the unique decor to the genuine hospitality that radiates from our staff.
What is bringing people to your properties right now? Are your guests primarily local to the Midwest or coming in from other areas?
Most of our guests are local to the Midwest, but we often have guests from all over the United States looking for a clean, comfortable place to stay as they pass through or are in town for business.
What are the most popular types of events that you are hosting at your properties? Is it more business travel — conferences and conventions? Or is it more social — weddings, bridal showers, and birthday celebrations?
Before COVID, we had a balanced mix of sales with corporate, government, and associations making up the business travel and sports groups, weddings, and staycationers making up the social/leisure travel. In the last two years, we've seen a big boom in leisure travel, especially sports and staycationers, and less of the corporate travelers. We are hopeful the corporate segment bounces back in 2023.
What makes a Stoney Creek property a great place to bring groups to and host events?
Our unique spaces separate us from the competition. We are a breath of fresh air for attendees of meetings and events that are used to the same stale meeting rooms. Our unique corporate structure allows us to be nimble and go above and beyond for our guests, allowing our staff to do whatever it takes to make the event a success.
How has Tripleseat helped your properties streamline group bookings and event management processes so far?
The lead forms' ease of use for our clients create an efficient and smooth conversion process so we can communicate quickly with them. The easy-touse platform enables our staff to work efficiently and effectively to perform their tasks so that no detail falls through the cracks when assisting the event organizers throughout the planning process. Customizable reporting allows us to easily measure and manage the data to benchmark our KPIs and allows us to make data-driven decisions in all that we do.
What's next for Stoney Creek? Any plans for new properties or renovations/expansions?
We have big goals for Stoney Creek in 2023 and beyond. That involves investing back in our current properties to provide more value for our guests and hopefully manage new hotels so that we can provide an exceptional personal home away from home experience through passionate, genuine hospitality to guests in other markets as well.
64 65 Features A Cozy Hotel Experience
5 Cost-Effective Ways to Make Your Events Sustainable
MAKE THESE CHANGES TO HELP REDUCE THE IMPACT ON THE ENVIRONMENT
RACHEL MAZZOLA
As meeting planners, there are many event details to take care of — from planning a menu that accommodates all dietary needs to ensuring the guest experience is welcoming and all details have been thoughtfully planned out and communicated — and on top of all of that, staying within budget. It may seem like the last thing you need to worry about is how your event impacts the environment. Still, with daily reminders of the impacts of global warming, we have a social responsibility to do our part and help offset any adverse effects of our events.
While nothing is a quick fix, there are easy and costeffective ways to keep your events sustainable. Promoting your efforts is also a great way to show your attendees and community that you care and are committed to being eco-friendly.
1. GO PAPERLESS
With the technology available today, it's a surprise that anyone still has paper at events — but a lot still do! The best part about going paperless and adopting a digital approach is that it is probably one of the cheapest ways to help reduce paper waste.
If you work for a venue, make your sales kits, menus, and floor plans available online for planners who may want to host an event at your venue. As a planner, make all of your attendee resources available online or via a mobile app. Try to reuse items, such as badges and signage, wherever possible. Using recycled paper and materials is an excellent first step if you can't go completely paperless.
2. CUT DOWN ON FOOD WASTE
Did you know that food is one of the biggest waste generators at events? As a venue, having options and ideas to help eliminate food waste for your clients is a great way to show them that it is an easy thing to do.
If you can, find a partner in the area where you can donate leftover food from events, and share that with planners when they are considering your venue. As a planner, ensure you have accurate meal counts and aren't over-ordering. Try to offer vegetarian or vegan options for your entire event where you can (encourage a "meatless meal" or "vegan break" during your event), and source locally whenever possible. By keeping your numbers accurate and opting for more locally sourced menus, you'll be able to save money on your event food budget.
3. REDUCE, REUSE, RECYCLE
Many of us are familiar with the phrase, reduce, reuse, recycle. It has stuck with a lot of us from childhood but is a great way to help save you costs at an event. As a venue, finding items you can reuse and eliminating as many disposables as possible for your event clients can support this. Also, have recycling stations set up around your venue to be easily accessible. It will encourage people to at least stop and think before just trashing items that can be recycled.
As previously mentioned, try saving items and reusing them next year. Signage that can be saved and reused will help protect your budget and the planet. Most attendees throw away their badges and lanyards at the end of the event — instead, have a place where they can drop them off so that you can recycle and reuse plastic badge holders and lanyards.
67 66 Seated | The Winter 2022 Issue Features 5 Cost-Effective Ways to Make Your Events Sustainable
4. MINIMIZE WATER BOTTLE WASTE
One of the most significant single-use items at events is plastic water bottles. Instead of having those available at your events, have water stations or pitchers of water placed at seats.
If you are hosting the event, make a note in your preevent email that asks attendees to bring reusable water bottles. Most attendees probably travel with one anyway. These options are all cheaper than having to pay for single-use water bottles.
5. ENCOURAGE CARPOOLING OR PUBLIC TRANSPORTATION
Travel is another cost-effective way to help reduce your event's environmental impact. To help cut down on carbon emissions, encourage your attendees to take advantage of public transportation or carpool with a friend or coworker.
It helps if your event is in a major city where most attendees are from or work nearby. Make it less intimidating for them by having instructions and locations of the public transportation system in your pre-event email. If any of your attendees are traveling far and by plane to get to your event, research carbon credit, and reforestation programs — you may be able to help offset attendee travel emissions by buying carbon credits.
YOUR ACTIONS CAN HELP CHANGE THE INDUSTRY
As more planners and venues prioritize the environment, it will become a standard that the industry holds for all events and hospitality businesses. Make these changes and be vocal about how you're achieving sustainability so clients and colleagues can be educated and start taking action themselves.
a podcast about hospitality trends
From current hospitality news, food and beverage trends, interviews with event guests, marketing tips and more, Tripleseat's podcast, Two Chicks, Three Seats, will keep you in the loop on all things relatable to anyone in the events industry.
Tune in with hosts Kate Kennedy and Rachel Calkins every other Friday to catch up on the latest hospitality topics. Find podcast episodes on Apple, Spotify, our website, tripleseat.com/podcast, or anywhere else you listen to podcasts.
Want to share your own event professional perspective and experiences as a guest on a future episode? Email us at 2chicks3seats@tripleseat.com!
Kate Kennedy Director, Growth Marketing Tripleseat
Rachel Calkins
68 Seated | The Winter 2022 Issue Features
Social Media & Content Specialist Tripleseat
Point. Click. Party.
SOCIAL
VENUES
Walking into a Social Cues venue requires you to expect the unexpected.
As you approach the Brooklyn site that houses Social Cues' Bushwick space, you're surrounded by stark brick buildings covered in graffiti. However, when you punch in the code and open the door, the inside is the opposite of the outside: bright colors, giant murals, a pink pool table, glittering light from multiple disco balls, and all the comforts of having your own private club by the hour.
And that's just one of the ways Social Cues differs from traditional venues.
Features
HOW
CUES
PROVIDE A FULLY REMOTE, TECHNOLOGY-ENHANCED PRIVATE EVENTS EXPERIENCE
71 70 Seated | The Winter 2022 Issue Point. Click. Party.
AZURE COLLIER
Social Cues is a collection of five venues — with two more in progress — in Brooklyn, N.Y., with a contactless planning process from booking to arrival to payment. Social Cues guests book or send an inquiry about the venue of their choice online for private events, receive an access code for entry, and arrive at the location with guests plus food and beverage. Social Cues takes care of the rest: each space is an Instagrammable wonderland stocked with games, all the equipment you need for audio and visual streaming, and entertainment options like karaoke or photo booths.
We spoke to Andrew Welch, Social Cues Director of Operations, about how the company's concept was created, how it fits into the events industry, and how the venues are designed.
Each venue is really one-of-a-kind. The Bushwick location is known as Wynwood, and its bright murals, white furniture, and glamour reflect its Miami art-focused district namesake. The walls of the East Williamsburg B.S.A. Social Cues — named for the Brooklyn street art found throughout the neighborhood — are covered in the vibrant colors of New York City-themed graffiti and murals. Vogue, located in the Gowanus neighborhood, has artwork as well and an upscale feel with exposed brick, high ceilings, and decor like leather couches and
mood lighting. In the Clinton Hill neighborhood, Surreal is a trip to Wonderland and includes a Mad Hatter mural, Victorian decor, and eclectic art that makes you feel like you have fallen down the rabbit hole. The fifth location — The Gallery — is a mix of modern style and industrial features, accented with abstract paintings and street art.
All Social Cues locations have the same set of amenities, such as karaoke, billiards, darts, pool tables, photo booth, board games, sound system, smart technology, and space for food and beverages.
"Funny enough, no one on the team knows till the last moment what theme the new locations will be. The themes and interiors are worked out by our in-house designers, whose primary focus is to create a moment of surprise and offer something fresh and unique. They never just stick to one genre; it's more a mix of styles or a revamp of iconic themes that they think may appeal to the crowd while referencing the neighborhood the venues are in," Welch said.
Social Cues venues have been booked for just about everything, from a casual get-together or after-work meet-ups to birthdays, game nights, baby showers, engagement parties, holiday parties, or production shoots.
"The beauty about our concept is that everyone can find something for themselves given the variety of amenities offered in addition to all venues being aesthetically different. The styles won't ever be repeated at new locations," Welch said. "It's not your typical event space with an event planner onsite assisting you through the process and a management team ensuring your needs are always met. Clients know ahead of time exactly what they are booking, what Social Cues private lounge comes with, and how it works. All venues are 'smart,' so it's important to follow instructions displayed in each location to ensure your own best experience while at the venue. Still, our team is always available by text or phone should anyone need assistance during their booking."
Social Cues' contactless concept is the perfect fit for a world changed by the COVID-19 pandemic, but its creation was in the works long before anyone heard the phrase "social distancing."
"Many ideas were circulating around how to bring event spaces to the wider audience with a focus on smaller gatherings and offering something new, unique, and competitive to the existing market, but it wasn't really finalized until COVID hit as it became very clear what's been missing in the city and what kind of new perspective on going out can be put out there," Welch said. "Privacy and exclusivity were always highly valued, but the ownership was looking for the triple-A concept: accessible, affordable, and all-inclusive, which ended up happening, and ever since opening our first location, we have been receiving positive feedback from the clients, so demand for this type of night out is there."
A hands-off, fully remote approach has been around the hospitality industry for the last decade, and it's become more common with the introduction of tools like Tripleseat+ Direct, which allows customers to book and pay for events and catering in just a few clicks. It's been popular for younger generations like Millennials and Gen Z, who prefer to use technology for just about everything as quickly as possible.
"I do think it's more understood by the new generation as everything needs to happen very fast and better with a few clicks on your phone; meanwhile, the older generation still puts a lot of thought into an in-person interaction, or at least it's more comfortable for them to talk to someone rather than click on the screen," Welch said. "The remote business model doesn't mean, however, that the service provided is not personalized, which is where the misunderstanding comes from; it's just a different format: digital. I think this is the future, and I can see some other entertainment markets or food and beverage industry taking it on."
From the venue's perspective, the Social Cues concept saves time, money, and manpower.
"On our side, it's a huge labor and time-saving factor as we have what we call a 'silent' team in place. You can always call us, text, or reach us via email, but there won't ever be an in-person interaction. It's the new era where the virtual world is more and more dominating as the booking and access process has been made so easy," Welch said.
This allows Social Cues to spend more of its efforts on the business side and curate each venue's design. Two New York City locations are slated to open before the beginning of 2023, and the company is considering other cities.
"One of the two upcoming venues will have an outdoor space. Our clients kept mentioning that an outdoor terrace would be a great feature for future locations, so we listened, and now it's happening," Welch said. "There is an expansion plan in place to other cities as well, which is very exciting, but I don't want to get ahead of ourselves; let 2023 come first."
72 73 Features Point. Click. Party.
The Tripleseat Releases and New Partners You Should be Using in 2023
INCREASE EFFICIENCIES AND IMPROVE THE GUEST EXPERIENCE WITH THESE RELEASES AND INTEGRATIONS
Targetable's menu of products can help increase your social presence and allow you to acquire new customers and new orders through a variety of channels. Depending on your needs, Targetable can do it all for you or tailor the approach to fit your business. Targetable's digital marketing platform will help keep your venue looking fresh and relevant while you take care of keeping your customers happy. Learn more by visiting tripleseat.com/ marketplace
Keep your event managers and front-of-house in sync
Earlier this year, Tripleseat announced an integration with OpenTable guest center that has made it possible for your restaurant to see Tripleseat event details in OpenTable alongside your regular reservations.
As your hospitality business gets ready to take on the new year, are you looking for software and solutions that will provide even more ways to streamline events, bookings, and catering management?
Tripleseat released new feature updates and launched a number of new partnerships in 2022 that will help you collect leads, drive direct bookings, make payments easier, organize your calendar, increase your marketing traffic, and much more. Read on for a deeper look at our releases and partnerships from the last 12 months.
Increase your direct bookings and off-premise catering business
Events are back in full force, but restaurants still need unique ways to make sure they are meeting their customers where they are. If your business can support different channels, such as off-premise catering, look no further than Tripleseat+ Direct for your direct booking and off-premise catering solution. Tripleseat+ Direct allows customers to book their date and time and customize their menu, decreasing the back and forth with event managers and leaving time to personalize the guest experience.
If you are hesitant to sign up because you lack the staff to complete catering deliveries, Tripleseat+ Direct has partnered with DoorDash Drive to get your orders directly to your guest's doorstep. Increase your catering business without increasing your workload. Curious to learn more? Check out tripleseat.com/success-stories to find out how Maggiano's uses Tripleseat+ Direct to manage and grow its enormous event and catering business.
Finalize event charges in real-time
If there is one release you need to know about this year, QR codes is it. Imagine it is the end of a huge corporate dinner, and they have tallied up quite a few beverages that need to be added to the final bill. We all know what a hectic process it can be to add on-consumption items and ensure there are no discrepancies on the final bill. Tripleseat has a solution that will simplify that process for you.
We are excited to announce the release of QR codes to allow you to finalize event charges in real time on the floor. QR codes provide you with an easy and efficient way to add and review final charges in front of your guests, updating all documents in real time. You can quickly collect online payments in just a few clicks without ever leaving the guests' side. Contact your account manager to enable QR codes today.
Optimize your marketing strategy
Struggling to keep up with your social media accounts or getting tired of coming up with witty posts for your Instagram or Facebook pages? Look no further — Tripleseat has partnered with Targetable to take care of your digital marketing for you.
With this integration, you can match your tables in minutes and make changes as you go. Now your communication between event managers and frontof-house staff is totally streamlined to prevent double bookings. Visit tripleseat.com/marketplace to learn more and set up this integration today to keep events running smoothly, keep your team in the know, and book and host events more efficiently.
Collect payments at your convenience
Tripleseat increased its partnership with payment processors this year by integrating with another industry leader — Square — to power event commerce even more. Our partnerships allow event managers to collect deposits and payments online so that event managers can focus on the booked experience. Sync to Square in minutes with just a few clicks and take payments anywhere. Tripleseat integrates seamlessly with Square to reduce the headache of old-school payments and grow your business efficiently.
Tripleseat also partners with other leading partners, Clover Connect and Stripe since there is no one-sizefits-all solution for anyone. Integrate with one of our partners today to increase efficiency for event managers and improve the customer experience. Check out tripleseat.com/marketplace for more details on each of our payment partners and integrations.
MADDIE FRANZREB
75 74 Seated | The Winter 2022 Issue Features The Tripleseat Releases and New Partners You Should be Using in 2023
Why Your Venue Should Care About the Metaverse
A LOOK AT HOW HOSPITALITY BUSINESSES CAN BENEFIT FROM THE NEW DIGITAL LANDSCAPE
RACHEL CALKINS
The realm of possibility for events is constantly innovating in ways no one would have expected until they become a "norm" in the event world. In-person events will always have our hearts first and foremost, but as an industry, we learned that virtual events could also be impactful. Hybrid events then entered the event space and allowed the combination of the in-person crowd with a virtual audience. Fast forward to now, and we are looking at a fourth event format to gather widespread attendees: the metaverse.
By definition, the metaverse is a virtual-reality space where users can interact with a computer-generated environment and other fellow users. Real people create avatar versions of themselves that interact with the world in an almost seemingly real way. There are now elements of the metaverse that then transfer into the real world. Think of the metaverse as a term that works alongside other terms you may have heard, like cryptocurrencies, virtual reality, augmented reality, etc. But how does this impact the hospitality and events world, where the human connection often comes with being in-person with others?
Let's talk about some innovations the hospitality and events industry has seen thus far involving the metaverse and its companion technologies.
MEMBERS-ONLY ACCESS THROUGH NFTS
The idea of members-only clubs is not a new concept, as they have been around for many years. But, the latest exclusive take on a members-only experience is how it can be taken to the next level: into the metaverse with special access to NFTs (Non-Fungible Tokens), which are unique digital assets that are stored on a blockchain (a digital ledger) and bought and sold using cryptocurrency.
NYC-based NFT restaurant Flyfish Club has adopted this idea, which only accepts membership through purchasing NFTs. While members enjoy the many luxurious perks (such as members-only dining rooms and meals prepared by a master sushi chef) of being involved with Flyfish Club venue in New York City, they also own a piece of the business, which is an investment in a way that members-only memberships have not before.
As another easily digestible example, Starbucks recently announced its plans to take its loyal fanbase into the metaverse by launching Starbucks Odyssey. The current Starbucks Rewards program offers points and perks to those loyal customers whenever they purchase their beverages. The Starbucks Odyssey experience will provide different experiences within Web3 technology to let users earn and own unique digital stamps (NFTs). While we are still in the early stages of this membersonly NFT technology, think about how else hospitality industry membership could be applied. Exclusive wine clubs only accessible in the metaverse, anyone? The possibilities are endless, and the industry is only just getting started.
77 76 Why Your Venue Should Care About the Metaverse
COMMUNITY THROUGH VIRTUAL REALITY (VR) AND AUGMENTED REALITY
(AR)
If you have ever tried on a virtual or augmented reality headset, then you already know what will happen here. Virtual reality takes over your vision completely by showing your eyes a brand new world on the screen within the goggles. If you wear them without the device turned on, you will look blindfolded. Augmented reality, on the other hand, will add to what you see in the surroundings in front of you. This headset is more like a pair of sunglasses than a blindfold, for comparison. And while the headsets will alter your vision, you can use controllers to move your hands in coordination with what's in your line of sight.
The difference between virtual and augmented reality is important, but either idea can be and has been applied to event experiences. On a larger scale, virtual reality headsets can be used to host virtual events with attendees in all corners of the world. The attendees can experience the same event from thousands of miles away by putting on the headset that's playing the same content. And while virtual events on a computer screen also capture a large audience, the headset and controller combination simulates a real-world experience that a virtual event could never provide.
Virtual reality and augmented reality headsets can be a fun addition to an event offering on a smaller and more feasible scale for smaller hospitality businesses. VR rental companies offer rentals of all the equipment you would need for guests to enjoy games and experiences through the headsets alongside one another. Since these headsets are rather pricey to own, guests will be excited to try one out at your event.
LARGE-SCALE METAVERSE EVENTS
Another exciting way that events are occurring in the metaverse is through creating large-scale events like fashion shows and concerts. Big brands, like Nike and Gucci, have created metaverse worlds where people can go to engage with their brands. The first-ever Metaverse Fashion Week event occurred earlier this year. It showed avatar characters wearing never-before-seen pieces from the big brands you would see on all other fashion week runways. Attendees interacted with brands within the metaverse just like in person through VIP digital events. And the best part: items on the runway were available for purchase in the metaverse but received in the real world.
Similar to how a metaverse fashion show works, concerts have also seen millions and millions of attendees, resulting in actual sales for brands through product placement, selling avatar outfits, and ticket sales. Travis Scott, Ariana Grande, and Marshmello are three popular artists who have seen success in metaverse concerts.
We know these large-scale events may not apply to a small business right now. But if you have corporate clients with big budgets looking to break the event norm with the next big thing, then a conference or event in the metaverse is not a crazy idea anymore.
JOIN THE METAVERSE BY STARTING SMALL
If the thought of getting involved in the metaverse is scary, then you are not alone. But if you are interested in staying ahead of tech innovation before it becomes the next norm across the events industry, then now is the time to dip your toes into this world.
Alicia Schiro, Founder of Aced It Events, spoke on a panel at Tripleseat's EventCamp in September about innovation in the hospitality industry. Schiro said that her clients ask for more innovation than ever as a corporate planner. The go-to happy hours and simpler event experiences are not cutting it; people want things they have never experienced at an event. Michael Cirino, Founder of House of Attention, joined Schiro on this panel. Cirino specializes in creating these out-of-the-box experiences that venues can offer to corporate clients.
To start incorporating elements of the metaverse on a small scale, Cirino recommends an NFT claw grab machine. Take the classic arcade game and put an innovative spin on it by making prizes to grab a physical item representing NFTs or cryptocurrencies. Similarly, an NFT photo booth at an event could let guests take a photo of themselves that then is given to them as an NFT to own.
Interactive, immersive art installations can give the similar mind-bending effect of being in the next universe without a VR headset. Area15, a Las Vegas entertainment space, is an excellent example of a venue pushing the boundaries with immersive event offerings.
If you want to be at the forefront of innovation, then the time to innovate is right now. New ideas will emerge, and we are eager to see how these technological innovations will continue to play out for the hospitality and events industry in the metaverse.
78 79 Seated | The Winter 2022 Issue Seated | The Winter 2022 Issue Why Your Venue Should Care About the Metaverse Features
Reinventing the Events Industry
SPEAKERS AT EVENTCAMP CONFERENCE SHARE HOW TO ADAPT TO CHANGES, AND MANAGE SUCCESSFUL EVENTS
AZURE COLLIER
If you had to sum up Tripleseat's 2022 EventCamp conference with one word, it would be reinvention
Speakers at the fall conference, held at The State Room in Boston on Sept. 13, focused on topics such as the future of the hospitality industry, using data to grow your private events program, how to introduce catering and other unique offer ings, technology, marketing, and more.
The urgency around the pandemic and the spread of COVID via gatherings at hospitality businesses and in-person events have lessened, but the effects are still lingering. The industry is cautiously optimistic as business returns and professionals adjust to changes that were implemented due to the pandemic.
ADAPT TO CHANGE TO DRIVE REVENUE
Tripleseat CEO Jonathan Morse pointed out ways that the hospitality industry can adapt to changes and trends to drive revenue. For example, lunch business is not picking up to pre-pandemic levels as some companies operate partially or fully remotely, and employees are spending lunch hours at home.
"They're coming back, but they're not coming back to the way they were," Morse said about workers at offices and lunch crowds. "Start reaching out to those companies now about their meetings during business hours. If you can position yourself as a place where they can have a meeting or a private event, with the audio/visual amenities in place, you can capture revenue."
Catering and delivery are other untapped trends. Consumers relied more on ordering food for delivery during the pandemic, and some prefer delivery to dining out. Tripleseat's add-on product, Tripleseat+ Direct, gives restaurants and caterers an easy way for customers to order catering or book events online. Customers that used Tripleseat+ Direct saw $1 million in off-premises catering sales in 2022.
"Now that they were able to get food delivered to them, they want to start getting food delivered to them in bulk," Morse said.
EVENTS ARE ESSENTIAL
In her keynote speech, Molly Irani, Co-Founder and Hospitality Director of the Chai Pani Restaurant Group, reflected on how lockdowns and reduced business impacted restaurants during the pandemic. Now that people are gathering again, Irani encouraged hospitality professionals to focus on the important role events play in people's lives.
"There is strength and power in coming back together. Coming back together again is not smooth or easy, but it turns out it is essential. Creating that space and celebrating literally gives life back to us," she said. "It's how we felt that stays with us. Coming back together is messy, but it gives us a much-needed sense of belonging."
At the same time, hospitality professionals need to make sure that they and their staff are also cared for. It's important to recognize and manage stress so you can be the best version of yourself at home and at work.
80 81 Features Reinventing the Events Industry
"The stressors are everywhere, it's not just our industry. What we get to control is how we respond to stress. The idea that people in the hospitality industry should have to oppress those needs is an outdated idea," Irani said. "We have to find a more authentic way of running events. Have fun with details but don't take them too seriously. Save your real energy for the big stuff. Make people feel cared for. We get to be a part of creating the best day in someone's life."
COMMUNICATION IS MORE IMPORTANT THAN EVER
As events are returning, event planners are seeing an increase in bookings, including events that had to be replanned and rescheduled over the last two years. They're changing the way they're managing their time. Members of the What Event Planners are Looking for in a Venue panel said they need venues to provide them with as much information as possible so they can make booking decisions quickly.
Sending a form email and asking planners to visit the venue in person isn't going to cut it anymore, said Natalie Thomas, founder of MTG Hospitality
"I can't track that information. If you want to push me to go and see it, it's hard for me to see it without information. It's time management. It's not a good use of my time or the venue's time," Thomas said.
Erin Davies, owner of Erin Davies Consultancy, said the more information up front, the better.
"I want the venues to answer the questions I'm asking," she said. "If it's not in the budget or date, it's not on the list. I want to see the imagery and the flow of events. My favorite thing that people do is send me a sample event proposal. If that kind of thing doesn't appear in a first response, I can't present them as a venue to my client."
TRENDS TO TAKE YOUR EVENTS ABOVE AND BEYOND
Event professionals should also be open to trends that will help make their events memorable experiences. In the "How Technology is Shaping the Future of Hospitality" panel, Michael Cirino, Founder of House of Attention, and Alicia Schiro, Founder & CEO of Aced It Events shared some ideas that will take your events above and beyond a traditional gathering.
"The opportunity for venues is to create new ways to connect with events," Cirino said.
The panelists talked about how creating experiencefocused events, utilizing the metaverse, thinking about dining as entertainment (with examples like cocktails delivered by drone or a laser that engraves logos on food), or over-the-top concepts like a 100-course meal will turn your venue as the go-to place for hosting events.
"This is happening, and it's happening fairly fast," Schiro said about the metaverse. "Think of the metaverse as an extension, another form of entertainment that you can go to for events. What we're doing is bringing the virtual alive. It's another revenue stream."
GET ACCESS TO ALL THINGS EVENTCAMP
Whether you attended EventCamp or missed this year's conference, you can experience all of the sessions by visiting tripleseateventcamp.com and clicking on the link for 2022 videos on the Previous EventCamp Videos section of the website. Check the website in early 2023 for more details on the next EventCamp conference.
READY, SET, GO:
83 82 Seated | The Winter 2022 Issue Ready, Set, Go
2023 Goals
Event and hospitality managers shared
for
Whether personal or professional, have you decided where you want to grow and spend more time in the new year? Share your goals, or photos of your steps to accomplish them on Instagram, tag @Tripleseat, and use the hashtag #Tripleseat2023Goals. Encourage the sales team to be more human in their selling approach. – Shannon Use Tripleseat data to build our sales strategy and increase revenue. – Whitney Increase social media engagement. – Buster Provide more professional development training to my team. – Anonymous Expand offerings to include full-service catering. – Kasey Expand my position to be more hands-on. Book 'em and cook 'em! – Liz Be more consistent with our marketing. – Karsen 84 85 Features Ready, Set, Go
their top goals
2023 at EventCamp this past September.
5 Things You Need to Know When Bringing Live Music to Your Venue
HOW TO INTRODUCE ENTERTAINMENT THE RIGHT WAY
MATT DIONNE
Many venues are searching for new ways to add entertainment to their lineup. And why not? It offers endless variety and can introduce entirely new audiences to your spot. That said, musicians and bands come in many different styles, sizes, and experiences, so it's critical to understand a few things before stepping into the live music arena.
1. Understand your audience and your goals
Maybe you're a restaurant with a line already out the door, have identified some slower nights, and are looking for new ways to draw in business. You could be a venue with sophisticated clientele or thinking about morphing into a rock club. Regardless, you will need to understand what kind of set lists musicians offer to ensure the proper fit. Keep your eyes on your customers when you have specific playlists in your space and pick up on how they respond.
2. Take advantage of moneysaving opportunities
Musicians usually base their pricing on multiple factors. These factors include band size, amount of travel, requested set length, potential marketing responsibilities, and more. While most of these items are typically out of the venue's control, there's plenty a venue can do to negotiate the price with the artist effectively.
Adding a dedicated sound system will add upfront costs to get up and running but will save you money in the long run. Getting paid a little less, coupled with the ability to walk in, plug in, play, and leave without the hassle of setting up and breaking down is very appealing to artists, and just a few nights of live entertainment can pay for two nice main speakers that will continue to save you money.
Other options range from having a dedicated sound person on call to offering food and complimentary drinks (within limits) and lodging. All can drive down the price of hiring artists. While the venue's cost for these items is usually relatively low, each carries significant value for the artist.
Here are five areas to consider before bringing live music to your venue.
87 86 Seated | The Winter 2022 Issue Features
3. Know your best volume level
It can be uncomfortable when you're in a room and nobody can hear the person next to them. It's equally painful as an artist being approached by venue staff and asked to turn the audio down.
It's not always possible, but one step you should take would be to do some homework on what volume your venue can handle. Pick up a decibel meter and set up a stereo before opening one day. Turn up the volume while you and a couple of co-workers take turns walking around the room chatting. Then, when there is a full crowd in your venue, turn the same stereo up to where you feel it is comfortable and determine if that volume still works. Efforts in this area will save countless headaches for everyone involved.
4. Think through your venue's ambiance
Don't leave the overall aesthetic of your events up to the artist or simply dismiss it. Artists are being brought in to perform, and deciding how they sound and look needs to align with your venue's brand. Thinking of just a few things to set a nice stage for your venue and artists can create an atmosphere for your customers that will go a long way.
Take a picture of the performance area and pay close attention to the backdrop, lighting, surrounding distractions, and whether an artist's attire will help support the venue's vibe. Room TVs and bar lights can pull eyes from a performance, and clothing like shorts
and sandals can bring down the quality some venue spaces are going for, so putting together a game plan for these things before the night of performances goes a long way. Then again, if a relaxing beach vibe is the goal, bar lights, shorts, and sandals could be perfect.
5. Document and communicate expectations clearly
Contracts are daunting, but they can keep things clear for both parties and serve as incredible assets on the evening of a performance. Think through the timeline of an evening and write down anything that can help your venue and the artist prepare.
Some suggestions to include are:
• The primary contact at the venue
• Load in and out times, as well as the location
• Set times
• Set break music ownership (if necessary)
• Set break lengths
• Marketing responsibilities
• Cancelation policies
Payment terms
Set yourself up for success
Whether you're planning to introduce live music to your venue or want to bring it back, these tips can help you and the bands you work with be on the same page. Once all of that is in a good spot, find some artists and start enjoying some live music.
EventUp is the leading global venue marketplace with more than 15,000 restaurants, hotels, and unique venues. The marketplace accommodates any venue type and every event type — that's why more social, corporate, and wedding planners use EventUp to plan all of their parties and events.
EventUp offers three robust, affordable packages, giving venues maximum exposure to help generate more leads.
NO COMMISSIONS: EventUp never charges venues for leads or booked events, no matter what package you select.
MORE LISTING FIELDS: Optimize your listing and get more attention by adding details to all applicable fields.
PREMIUM PLACEMENT: Select the package that offers the placement and ranking that best meets your marketing needs and budget.
LONG-TERM LISTING: Listing packages are offered as yearly contracts, with yearly or quarterly payments. Annual payments include two free months.
Schedule a quick 10-minute demo to explore how EventUp can work for you.
GROW YOUR BUSINESS WITH
Baby Showers Birthdays Corporate Events Weddings Anniversaries OR VISIT EVENTUP.COM FOR MORE INFORMATION 88 Features
EVENTUP
How to Create Memorable Event Experiences in 2023
TRY THESE 6 TIPS TO STAND OUT TO CLIENTS AND ATTENDEES
HEATHER APSE
One of the key takeaways from hospitality leaders at Tripleseat's annual EventCamp conference in September was an emphasis on event experiences.
While in the past, events have been centered on food and beverage, expectations have shifted, and people are looking for more meaningful and memorable moments. Whether social or corporate, in-person, remote, or hybrid, it's all about providing an experience worth talking about, said Michael Cirino of New York City-based House of Attention, a leader in the hospitality industry that is leveraging technology to create standout events.
2023 will be a time to rethink ways to trigger an emotional response in event attendees and reap the rewards of happy event planners and attendees. We've covered some ideas to get the event experience wheels turning.
Why are event experiences important?
There are many benefits to creating a more engaging event experience, including the following:
• Provides your venue a competitive advantage
• Causes attendees to be more likely to remember your event
• Creates share-worthy photos and marketable content
• Generates buzz, new leads, and bookings
• Increases loyalty and repeat customers
• Provides potential opportunities for press mentions, sponsorships, and partnerships
Must-have elements for event experiences
What can you add to your events to energize the attendee experience? When brainstorming, consider how your experience ideas directly meet the event goals.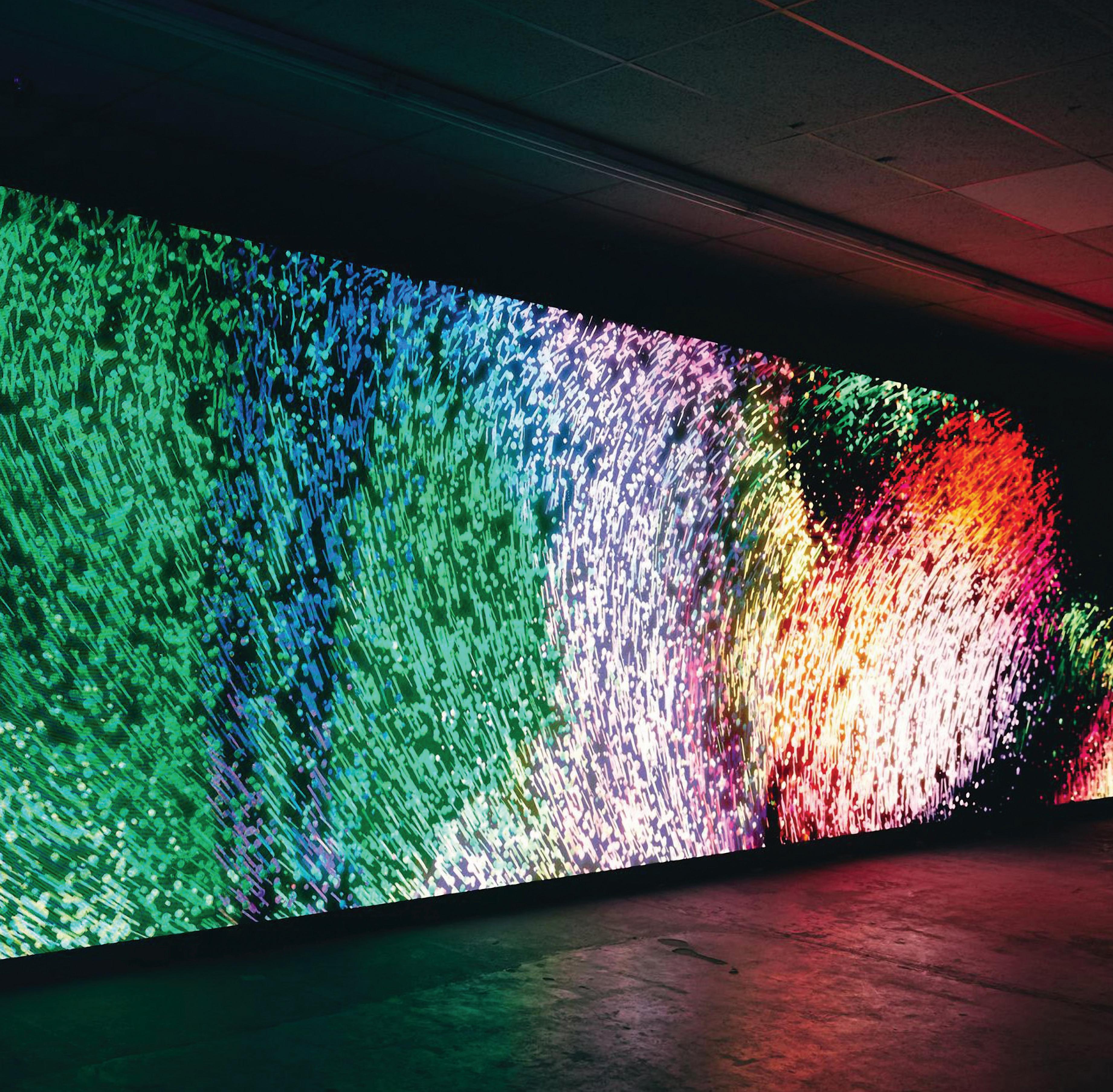 Here is a checklist of attributes your event experiences should have:
• Coordinates with the theme and goals of the event
• Is unique or innovative
• Connects people through shared experiences
• Conveys message or brand
• Prompts meaningful conversations
• Is engaging, memorable, and shareable
• Results in good ROI
The icing on the cake
Adding engaging activities to your events should not take away from your foundation. You should consider adding experimental layers to your events, whether they are small-budget details or large-budget options. Put yourself in your customer's shoes and try to recognize opportunities, and brainstorm creatively for your events. Most importantly, as you innovate your events, make sure to have transparent conversations so that no matter what experiences you integrate, you are still meeting goals and expectations.
91 90 Seated | The Winter 2022 Issue How to Create Memorable Event Experiences in 2023 Features
Immersive and interactive art gallery by House of Attention
Ways to add memorable event experiences
Satisfy the senses
When developing your plan to incorporate more impactful components in your events, try to provide a more immersive experience that triggers the five senses: sight, sound, taste, smell, and touch. While your food and beverages will be a central component, there are other opportunities, including decor, art, lighting, LED video displays, music, sounds, props, hands-on activities, fabrics, furnishings, floral arrangements, and fine dinnerware.
Have you considered incorporating a wine or beer pairing event option where guests can taste wines or beer that pair well with your menu items? This is a simple and inexpensive way to add more of an engaging piece to your events. If budgets are larger, introduce innovative options that are highly immersive and invigorate several senses. Consider large-scale video walls that make a large visual and audio impact. No matter what you add, this will elevate your events and make them stand out.
Add personal elements
Adding either little touches of personal elements or significant customizations for social and corporate events will help make your events stand apart. Speak to the planners and determine personal interests and preferences, corporate branding, and industry ideas to create customized event experiences.
A simple, inexpensive way to personalize your events is to add a monogram or logo on napkins or food items. Or develop a custom cocktail for the event with a catchy or personal name. If your budget is more extensive, you can opt to help with large-scope customized event elements like grand floral or light installations or elaborate backdrops.
Utilize available space
Be sure to consider your venue space and event floor plan and create spaces that draw an emotional connection to anyone who enters them. Sometimes you can rethink the space or capitalize on the square footage you haven't used before. Consider outdoor space, or consolidate storage and leverage the room you have there. Make sure you precisely map how all your rooms can and will be used for events.
Use these spaces to offer guests hands-on features. Alternatively, you can offer a quiet respite spot to enjoy a cocktail. You may want to consider the use of inexpensive items to set the overall feeling, like stand-out furniture, plants, and lighting, but if you have a larger budget, you can add multimedia canvases, lighting and audio elements, and interactive components to your space.
Consider partnerships
We encourage you to seek potential partners to help make your events unique. Seek local companies to help make your venues stand apart by incorporating amazing event experiences.
Look for partnerships for impactful floral, design, scenic, entertainment, tech, and social elements. Vendors that could embellish your events may offer rentals like karaoke equipment, inflatables, arcade games, 360 photo booths, and even high-tech immersive elements.
Use technology
Consider using innovative technology to enhance the attendee journey at the different touchpoints. Technology has come a long way to increase the wow factor for your events.
Event tech can include 3D imaging or video tours of event space, all the way to immersive experiences at the event itself for attendees. Augmented Reality (AR) and Virtual Reality (VR) are emerging as ways to have your attendees be even more engaged.
As shared at EventCamp this year, Cirino uses various technologies to customize and create event memories, including lasered monograms on food and drone bartenders. Talk about a wow factor!
Connect experiences to your venue's brand
Ensure your event venue's brand is recognizable in your events so that guests can connect your brand and the experience itself. Have your staff wear branded attire. Use branded labels and your logo in your space. When marketing these experience-based events, leverage your brand so you become the venue of choice. Use your creativity to make sure that your event venue is remembered.
Use experiences to make your venue stand out
For the new year, make it your resolution to use your passion, creativity, and attention to detail to create impressive and immersive events at your venue. Implement either little or large features into your events and see the benefits of creating more memorable experiences. Your clients and attendees will be more likely to spread the word about your experiences, and you'll become the venue of choice for future events.
1 2 3 4 5 6
Laser customized food and gifts by House of Attention
93 92 Seated | The Winter 2022 Issue How to Create Memorable Event Experiences in 2023
Drone bartender by House of Attention
When Kindness is King
WHY AND HOW YOUR HOSPITALITY BUSINESS CAN USE EMPATHY TO MAKE A POSITIVE IMPACT ON YOUR BOTTOM LINE
HEATHER APSE
For those of us who are in the hospitality business, empathy is certainly something we are knowledgeable about. Compassion and extending kindness to our customers have always been at the heart of our industry's philosophy.
In our current post-pandemic culture, we are seeing an even higher demand for human connection, empathy, and the overall customer experience. Never before is providing exemplary service more vital to our business success. We encourage you to think about how you could improve on extending empathy to your customers. We understand that it can be challenging to fit in empathy exercises with all that you do. These tips can help you take the right steps.
Why is empathy important?
The bottom line is that empathy directly translates into how your customers feel about your hospitality brand, which impacts your profitability.
Connecting and responding to your customers is crucial to your venue, hotel, restaurant, bar, or catering business. The empathy you provide has so many benefits, including your ability to:
• Build brand credibility
• Boost sales
• Improve customer and employee satisfaction
• Gain customer and employee loyalty
• Drive new leads
• Encourage innovation
• Improve communication skills
• Inspire others to be empathetic
Embrace the power you have
It's incredibly empowering to be in the hospitality industry. You have the ability to provide joy to people every day. Because you are able to provide customers with an experience, whether it is hosting a dinner party, a wedding, or a corporate event, you have a significant impact on how they feel.
When difficulty arises with customers, you should put yourselves in their shoes when working to resolve the problem. Recognize that often a complaint occurs when a customer cares about an aspect of the event. Your customers want the same thing you do: event success! Use empathy to treat your customers positively and try to make them feel better. Small efforts of kindness go a long way.
People
MAYA ANGELOU
will forget what you said, people will forget what you did, but people will never forget how you made them feel.
" "
95 94 Seated | The Winter 2022 Issue Features When Kindness is King
Empathy strategies
Here are some strategies that can help you demonstrate empathy in your customer service:
• Be present and listen attentively
• Cultivate curiosity and observe and talk to your customers
• Read nonverbal cues, including facial expressions, tone of voice, and behavior
• Treat your customers as individuals
• Look for opportunities to help and do small acts of kindness
• Understand expectations and deliver positive customer experiences
• Be respectful during difficult conversations and reflect on needs and feelings
• Proactively troubleshoot challenges and problems and offer alternatives
• Be objective and examine any biases
• Foster a customer-centric and empathetic culture
Use these three ideas to get the momentum going in your business:
If you may be interested in taking the next steps in cultivating an empathic culture, it should not take up too much of your budget or your resources. It's about encouraging a core culture that genuinely cares for its customers. Make sure you empower your employees to build on their empathy skills and get creative to have a customer-first mindset. No doubt you'll find more success and profitability.
Have everyone on your team take a turn to share interactions with a negative customer. Then have the rest of the
in
Each week, share with your team an example of an empathetic statement like:
"I totally agree with you."
"Tell me what you see as your choices here."
"I support your position or choice here."
Ask each team member to extend a small gesture of kindness daily, such as holding a door for someone, extending a compliment, or asking, "How can help?"
Have them report back on what they learned.
More empathy = a better culture and increased profitability
1. Implement a new empathy component in your regular team meetings.
team brainstorm ways to respond
an empathetic mindset.
2. Practice using the right words.
3. Make kindness part of the workday.
TRIPLESEATEVENTCAMP.COM SPRING 2023 96 Seated | The Winter 2022 Issue Features
Activities to try to boost your empathy
A Focus on Wellness
Michelle O'Hala is a true hospitality rockstar and one of my favorite Tripleseat customers. She's always so energetic and positive when we talk, and you can tell that she genuinely cares about her work and co-workers and loves what she does. O'Hala will tell you that she is living with intention. Joy, to her, is bringing people together, creating memories, and having a passion for connection.
KATE KENNEDY
shares her advice on work
the hospitality industry 99 98 Seated | The Winter 2022 Issue A Focus on Wellness Features Features
Michelle O'Hala of The Cosmopolitan Las Vegas
life balance and
At The Cosmopolitan of Las Vegas, O'Hala oversees sales for all restaurants, lounges, resort pools, and other entertainment events. Before joining The Cosmpolitan in 2015, she worked for nightlife powerhouse Tao Group and Morton's Steakhouse. With more than 30 years of event sales experience, she leads with grace, integrity, hospitality, and heart.
In addition to her many years of experience working in hospitality, O'Hala is a 20-year yoga practitioner with more than 10 years of experience as a certified yoga instructor. This combination certainly gives her the knowledge and capacity to speak on behalf of maintaining a fulfilling career, home life, and self-care routine.
O'Hala spoke at our 2022 EventCamp conference in September about how she manages a healthy worklife balance in the hospitality industry. I was intrigued by her talk and wanted to pick her brain even more on the topic. We sat down to talk about our shared love for the hospitality industry and our struggles and triumphs when trying to find and maintain a work-life balance. Here's a look at our conversation.
Kennedy: Having been employed in restaurants for many years, I understand first-hand the issue of maintaining a work-life balance while working at a restaurant. Work-life balance is the entire reason why I left restaurants. When I got married and had children, I was worried I wouldn't be able to juggle it all at the level I wanted to. But, like you, many people have done it all and done it well. What advice would you give to a restaurant employee who feels the same way I did?
O'Hala: feel that our industry needs to change. I think we'd agree that over our careers, we've seen that some of the hospitality companies we've worked for were not providing a good enough work-life balance for their employees, and that's the first thing that needs to change.
Since the pandemic, there's been more focus on it, and we know now that all employees deserve a good quality of life. I've been really fortunate, I was at Morton's Steakhouse for 19 and a half years, and they provided excellent work-life balance. I could work and raise my children. would not make the change to working at a hotel until my kids were older because I was afraid of disrupting that work-life balance and having it sway to more of the work side.
I turned down jobs for years and stayed in my little bubble at Morton's doing what loved because I was determined to raise my kids a certain way.
I think some hospitality companies are already providing that balance, but there's much more to come. I think it's a highlight for hotels and restaurants to do better and staff accordingly. I realize we're still in a staffing shortage, so this will take some time. But, I believe this is an important issue that needs to be addressed and changed within the culture of our industry.
We know that some of the best people that work for us are mothers. Mothers are great at time management, completing all the tasks they need every day and making it all work. So I think hospitality companies will evolve to include a better work-life balance knowing that our workforce is diverse and we need to take care of our workforce.
Until that happens, if you're in a situation where there isn't a great work-life balance, placing boundaries between yourself and the restaurant or hotel you work for is essential. I realize this is hard because it's challenging for hospitality workers to say no if they offer overtime or extra hours. But it's crucial to maintain those boundaries for yourself, and your family and employers need to respect that.
Kennedy: agree with you and, at the same time, realize how difficult it is to say no to extra shifts, primarily when you work for tips. I remember always saying yes to extra shifts because saying yes was a guaranteed additional $200-$300 cash in my pocket.
O'Hala: Don't you think we all learned that we could do a little better with a little less during the pandemic? Chasing the dollar is not what we need to do because burnout is not OK. The pace we were all working at before the pandemic is not OK. Nobody at the end of their life will say, "Oh, wish I worked more hours."
I grew up in the '80s and '90s, and corporate America worked hard and logged as many hours as possible. I can remember working 36 days in a row and feeling proud. I worked two jobs at two different restaurants, which was the culture I grew up in. There is something to be said about having a good work ethic and working hard, but not to the point of burnout. That isn't going to do anyone any good.
Kennedy: Recently, people have begun to romanticize that burnout and brag about it any chance they can — which is crazy. Because, as you said, what did you gain from that?
Moving back to the issue of restaurants offering their employees work-life balance benefits — it's clear that you've worked for some large hospitality groups like Morton's and now with The Cosmopolitan. These groups have the means to offer more benefits to their employees. But what advice can you lend to smaller hospitality businesses that may not have the funds and resources of larger groups?
O'Hala: Yes, absolutely. As I mentioned during my EventCamp talk, it doesn't cost anything to meditate or to provide meditation exercises during a pre-shift. have been doing breathing and yoga pre-shifts at Momofuku for a while because the chef is really into yoga and breathing. Every few weeks, I change out of my suit, put on my yoga gear and mala beads, and run down and do a 15-minute yoga session before the shift.
Even if you can hire a yoga or meditation instructor to come once a month or consult with one to build a pre-shift program, that would be great. Or provide resources from your city. Search for free local mental health programs, and provide that information to your employees. There are local organizations in every town; you just have to find them. There are also many online resources and free videos that restaurant operators could learn from themselves and take to their employees during pre-shift.
Kennedy: That's excellent advice, and it would also benefit the restaurant operators themselves, not just their employees.
At EventCamp, you spoke about eight things you do every day to promote wellness in yourself. Can you talk about those eight things and where that list originated from?
O'Hala: So that list came from a dear friend and mentor, Tim Schneider. He founded Aegis Learning and wrote "A Heart for Leadership," "Lead Well," and "Beyond Engagement." You can find more information on Tim and his teachings at discoveraegis.com
Kennedy: How did your journey with Tim begin?
O'Hala: Tim came in to do some leadership training for my team and brought information regarding the emotional guidance scale. There have been a ton of books written about emotional guidance. It's not something I made up or Tim made up. Abraham Hicks invented it, and you can find more information regarding its use online
But Tim's leadership training was very impactful. When he came in to speak to my team, I was blown away because my yoga world and professional world collided. Many things I live by within the yoga lifestyle correlate to Tim's leadership training. Quite honestly, I also brought this guidance to my yoga classes. Every week during class, I'd talk about one of the items on the list and how it can be beneficial and talk through it with my class.
100 101 A Focus on Wellness Features
Kennedy: Clearly, you were already practicing some of the items on the list because you're a yoga instructor. How did you incorporate all of the items into your daily routine?
O'Hala: When I was first introduced to this specific training, a few things stuck out to me, and added those things to my daily routine. If you tweak your daily routine by one or two of these things, I think it can make a difference. For example, the first item on the list is to practice gratitude. I've added an alarm to my phone for 7:45 am every day that tells me to practice gratitude and list what I'm grateful for. What's interesting about writing it down and practicing it for 30 days or more is that the answers change. At first, you write down that you're grateful for your family, your job, etc., but as the days go on, you realize how much you enjoy the little things. Like, wow, I'm grateful for the sun today. I'm grateful for the fresh air I'm breathing. It changes your outlook and how you start appreciating all the small things in your daily life.
The second item on the list is to play and have fun; yes, I do this daily. I love stand-up comedy. So, on my way home from work every day, I listen to the comedy channel on Sirius radio. I purposely make time in my schedule to laugh every day, and I feel the benefits from that.
The third item is providing forgiveness. This is one that I continue to do, and it gets intense. suggest doing this for at least a year. There are things that I added to this list months ago and still haven't removed. So it's essential to practice this one for a more extended period to feel the benefits. It gets intense, and there are a few things on my list that I have yet to forgive myself for.
Next is yoga and meditation. Yoga is actually moving meditation, and because practice yoga frequently, I definitely do this every day. Some nights go into my yoga space and just throw on meditation to listen to; even five or 10 minutes is impactful. They say in our yoga practice that we do this active practice because the yogis sit and meditate for eight hours. I'm not there yet, but even a few minutes is a great place to start. The thing about meditation is that you have to keep going back to it. Somedays, your mind isn't in a great place to meditate; it keeps wandering and wandering. But, there are other days that it feels more manageable. You just have to keep doing it.
Kennedy: To be honest, I've tried to mediate repeatedly and have never been able to concentrate and focus. I'm constantly giving up and then going back to try it again. Any advice to mediation newbies like me?
O'Hala: Right when you wake up, without distractions, if you can turn on a quick meditation from your phone before you do anything else, it's a great place to start. Your mind hasn't fully woken up yet, and it can be easier to focus on the meditation rather than everything else.
Kennedy: I am going to try that and report back. Let's move on to the next item on the list, removing blame and judgment.
O'Hala: practice removing blame and judgment by using the "see good, say good" method. Even with clients or guests, we sometimes get overwhelmed, and you have to try not to judge them. The person who calls me today that needs to book a party of a hundred; instead of wondering why they are calling so last minute and getting bothered by it, focus on the good, the fact that yes, I can accommodate your group, and thank you for the business. See the good and say the good instead of focusing on the negative.
Volunteering is another item on the list. This is something I wish I had the time to do more outside of work, but I do try to mentor people at work as frequently as possible. The next item is to connect deeply, and this is something that I find to be very relevant working in hospitality. think that being at EventCamp was healing for me. Being with our peers in the hospitality industry was so good and felt so good; it was a big part of healing for me.
And finally, the last item is finding your purpose every day. This is an easy yes for me. Every day I know my purpose with my work, which is fantastic to connect those two things because some people can't connect them at all, which is sad to me. I enjoy going to work every day. When I was a server, a food and beverage controller, or in the position I'm in today, I loved coming to work because I love what I do, and it doesn't feel like work.
Kennedy: This is all excellent advice and items that anyone working in hospitality can practice every day in order to achieve a more balanced work-life feeling. On the topic of work-life balance, I feel as though in the world we live in today, it's difficult to unplug when you get home from work. Even working in hospitality, it's so easy to receive texts from co-workers or reply to emails while sitting on the couch when you get home. What advice can you give to people who are never unplugging from their job — no matter what time it is or where they are — because of technology?
O'Hala: It's hard; I get it. Something that I do that I think is helpful is moving my email app to another screen on my phone so it's not visible every time look down. I'll text with friends, but then an email pops up on the same screen, and it's hard not to look at it. So moving my email to the second or third screen has worked well for me.
I'll also put my out-of-office on to create those boundaries. In the message, I'll write that they can call my work cell phone if it's an emergency. But most of these situations are not emergencies, and if they know I'm out of the office, most times, they won't reach out to me.
I do think people today, even though they want things faster, do realize that we all need our alone time and time to recharge. frequently check my texts because I usually work with someone who actually needs something from me right away, but clients use email, and that's why I add my out-of-office message and move my email app to another screen.
I'm just trying to protect my self-care time. That's what this is all about, really taking care of yourself. I need to recharge on my weekends and my days off so that I can give 110% to my co-workers and clients when I am at work. That's true work-life balance.
103 102 A Focus on Wellness Features
Recharge and Refocus in 2023
TAKE A FEW MOMENTS TO TREAT YOURSELF AS WELL AS YOU TREAT YOUR CUSTOMERS
Giombetti: Even just five minutes a day dedicated to recharging your batteries can be beneficial and make all of the difference in the world. What you choose to do to recharge is up to you. Consider things like: a quick lunch or mental break rather than multitasking, a few deep breaths after reading a stressful email from a client, and stretching your lower, back, neck, or shoulders to reduce built-up tension.
Giombetti: I get this question all of the time. People don't often have enough time to sit and eat a full meal or are constantly "doing something," so nutrition needs to be portable. A combo snack like a piece of fruit (like an apple or banana) paired with some nuts is a great way to stay nourished, full, and energetic on the go. You also don't have to worry about refrigeration and can easily stash it in your pocket/bag to nosh on whenever you like. A fruit/ veggie smoothie with a source of protein included is another great option you can sip on whether you make it yourself or grab one pre-made at a nearby grocer, convenience store, or coffee shop.
New Year's resolutions, love them or hate them, are a hot topic this time of year. Whether you are one of the 41% of Americans who view this turn of the calendar as a clean slate, or someone that just knows they need to treat themselves better, it can be hard to follow through on commitments to yourself.
Between the long shifts, the running, squatting, and carrying required in executing events, as well as the upbeat personality to ensure your guests are delighted, it can be easy to get home, flop on the couch, and eat whatever is easy. But your body and mind deserve better. You deserve some of the attention, care, and kindness you exude to customers.
We know it is easier said than done, so we talked with MaryEllen Giombetti, a certified coach, health specialist, and owner of EMPOWERED BY MEG (@empoweredbymeg on Instagram), for some quick tips that you can introduce to your schedule to recharge in 2023.
Giombetti: I always emphasize the importance of setting a regular intention that aligns clearly with your ultimate goal and visualizing what your idea of success in achieving that goal looks and feels like. Next, work on choosing one or two action steps that will move you closer to that vision. It can be as small as, "Today and every day this week, I will begin my day with five minutes of stretching so that I can reduce my back pain," or as big as "For the next three months, I will set aside 15% of my weekly paycheck to save towards my vacation."
At the end of the 12-hour shift, feet are sore, shoulders are slumped, and minds are racing. Before starting a Netflix marathon, what exercises can be done at home for a stronger and more flexible body and mind?
Giombetti: Being realistic with time and energy levels at the end of the day, here are my four go-to stretches and movements.
Chest & shoulder opener
Upper back stretch
Cat-Cow
90-90
Get clear instructions on how to do each movement, as Giombetti demonstrates in this video created for the Tripleseat community. In under 10 minutes, you will find some relief and be ready to take on the next challenge.
LYNN HOLMLUND
What can event and sales professionals do during the day to stay nimble?
A healthy mind is as essential as a healthy body. What tips do you have to decompress and refocus on achieving your goals?
Long days require fuel. What is the perfect snack for busy hospitality professionals?
2.
3.
4.
1.
105 104 Seated | The Winter 2022 Issue Features Recharge and Refocus in 2023
It's a TikTok World, and Your Venue Needs a Presence
WHAT YOUR BUSINESS NEEDS TO KNOW TO STAND OUT ON THIS TOP MARKETING PLATFORM
RACHEL CALKINS
Is your restaurant, hotel, brewery, catering company, or unique venue on TikTok?
If the answer is no, this article will be the turning point that will help you say yes. In late 2021, TikTok became the number one most-visited website on the Internet, passing even Google. Since then, TikTok and Google have battled as the top two most visited websites.
TikTok is where billions of eyeballs are looking for entertainment, peer recommendations, tourist activities, and advice on daily life. There is a place for every industry on the TikTok platform, especially the hospitality and events industry. When scrolling through the main "For You" page, it is common to see bartenders shaking cocktails, chefs plating dishes, wedding planners giving advice, balloon artists building displays, and guests reviewing their restaurant experiences.
There are so many ways your venue can create new content for TikTok, take advantage of user-generated content made by other users, and actively set up ways for guests to get involved in making this content.
Let's talk about what your venue needs to know to stand out and make a mark on TikTok.
CREATING ORGANIC CONTENT
In the marketing world, organic content refers to the content that is posted on social media with no monetary push behind it. Once it is posted on a social media platform, the fate of the post is in the hands of the platform's specific algorithm.
One of the reasons that TikTok shot to popularity is because of the power behind the algorithm. TikTok's "For You" page (FYP) considers any user's scrolling habits to give them a specially targeted stream of videos based on their interests. This is why your FYP will never be precisely the same as your friend's FYP, but it could be similar if you have similar interests. TikTok's special algorithm helps brands, creators, and businesses get in front of their ideal target audiences.
On a high level, the ideal audience member for your hospitality business could have a variety of traits and interests. They could be a fellow industry professional looking for advice, someone planning an event, a foodie looking for restaurant recipes or recommendations, someone in your local area, or a user looking for decor ideas. These traits and interests will dictate their scrolling habits, and TikTok aptly presents them with relevant hospitality business videos.
As you think about what organic content to create for your hospitality business, start with videos that will be of interest to someone in your target audience described above. The foodie looking for restaurant recommendations may want a tour of a restaurant, the top menu picks, behind-the-scenes looks into the creation of menu items, and unique specials offered during holidays. Each of these ideas can be turned into a short TikTok video showing part of the experience at your establishment.
Here is a rapid-fire list of video ideas based on what we see restaurants creating on TikTok. Other video inspiration can also be found by searching industry hashtags on TikTok, like #restaurants #foodreview #nycfood (or insert any city before food), #nycrestaurant (or insert any city before restaurant), #eventdecor, and so on.
• Food experiences, including sparkling drinks, 10-course menus, or secret dining areas
• Food moments like cheese pulls, sandwich cuts, or exciting colors
• How-to videos such as making cocktails, pairing drinks with dishes, demonstrating any unique industry skill
• Event offerings, such as events in action, tips for event planning, or event space tours
• Miscellaneous videos following any trending TikTok sounds, memes, or challenges
107 106 Seated | The Winter 2022 Issue It's a TikTok World, and Your Venue Needs a Presence Features
RELYING ON USER-GENERATED CONTENT
As said at the beginning of this article, TikTok is powerful because of its particular algorithm that gives users the exact content they want to watch. Another reason TikTok has increased in popularity is its user base. Every day people gain popularity on TikTok by offering their recommendations, reviews, and opinions. Some of these people may just post for fun, while others post as a full-time job to their audience of followers who trust their recommendations. Any mentions by a TikTok user with a strong following can result in actual sales at your establishment.
A common way hospitality businesses like restaurants, hotels, breweries, or unique venues can be seen in usergenerated content on TikTok is through reviews. Users will review their experience of a restaurant by sharing videos of the restaurant ambiance, drinks they ordered, every course on the menu they enjoyed, and other fun facts about the restaurant's history, neighborhood, and crowd. Sometimes these users may have a partnership with the restaurant to produce this type of video, but often users will post these reviews on their own to share with their audiences.
If you are lucky enough to get mentioned by a TikTok user on their own accord, it is time to act on that content.
Here's how:
PROMOTING TIKTOK ENGAGEMENT
First, like and comment on the video from the restaurant account to show the user that you care about their experience and your place in the restaurant community.
Then, use TikTok's "duet" feature and post your own video reaction alongside the original video. This duet could be a place where you can thank the video creator and continue adding to the conversation by showing other elements of your restaurant that can be elaborated on further or that were missed in the video.
So far, we have discussed how your business can create its own video content and how you can use the usergenerated content created by fans of your business. Now, let's think about combining the two and discuss how you can purposely encourage your fans to post on behalf of your restaurant.
Similar to how "Insta-worthy" moments made a splash on social media in front of photo walls and neon signs, creating "TikTok-worthy" experiences only increases the chance of videos being taken and posted. So, how can you encourage users to post about your restaurant?
4 3
Repost the TikTok video to your other social media platforms like Instagram or Facebook by clicking the copy link or any of the social sharing icons in the corner of the video.
Save the video to your phone and use it in future promotions while always mentioning the original creator. When working from a desktop, you can even embed the video link into other forms of content, like a website post.
2 1 3 2 1
User-generated content is amazing because it takes no effort from the restaurant's side to create. It is an example of social proof that inspires others who watch that video to visit your establishment. There are countless "foodie" TikTok accounts across the country that specialize in visiting as many restaurants, hotels, and other venues so they can find their favorite places. Take a look at @sistersnacking, @theviplist, and @twotastebuddiez to see some restaurant foodie accounts we follow.
Host a social media contest that requires restaurant goers to take a video eating one specific dish at your restaurant and leave their reviews. Each user who submits a video gets entered into a random drawing for a gift card to your restaurant.
Post a video of your bartender making a signature cocktail and ask your followers to duet the video by making their version of the cocktail. The creator of the best cocktail gets to co-create the bar's next signature cocktail with the bartender.
Think outside of the box when it comes to your specials. The most popular restaurant review videos often experience an extra added level of flare during their experience. Maybe it's an incredible $28 deal for steak, salad, and unlimited fries like New York City-based restaurant Skirt Steak offered, which attracted hundreds of hungry customers. Or perhaps it is a collaboration with a local company, like TikTok user @imma_eat_this describes Jacob's Pickles' pancake dish in collaboration with Magnolia Bakery These are the moments that people want to post about.
Whenever you run a promotion or contest, tell all participants to follow your business' TikTok account, tag you in their posts, and use a custom contest hashtag. This will only help your presence grow to their followers, their followers' followers, and so on.
CREATE A TIKTOK PRESENCE AND REAP THE REWARDS
Now that you know the secret recipe to TikTok success, it is time to get posting with the ideas described in this article. Try a new video every week and track how much attention each piece of content gets and why. Use what works to improve your videos, and your following and customer base will increase over time.
109 Seated | The Winter 2022 Issue 108 It's a TikTok World, and Your Venue Needs a Presence Features
5 Tips to Drive More Event Leads in 2023
USE THESE IDEAS TO INCREASE BOOKINGS AND REVENUE IN THE NEW YEAR
AUBREY UNGVARSKY
As we steadily make our way towards a new year, it's time to look back at 2022 to gain perspective on goals we've hit and goals we want to continue to strive towards. For many, driving more leads will always be at the forefront of business goals because more leads generally mean higher revenue! If driving more leads in 2023 is one of your organizational goals, follow these five tips to help you reach this goal.
1.Expand your food options
The era of the "foodie" continues to live on. A large subset of people makes their weekend or evening plans based on new and exciting foods they can try. Use this to your advantage. Are you in a region with unique food available for you to test recipes on? Are you in an area where most restaurants offer the same options? Here is your chance to make an impact and grow interest in your business.
Not only is the "foodie" demographic growing, but consumers are becoming more and more health aware. Restaurants offering vegetarian, vegan, gluten-free, paleo, kosher, nut-free, dairy-free, and other inclusive food options are definitely winning with lead generation!
2.
Be environmentally conscious
Whether it's to save the turtles by not using plastic straws or reducing the use of plastic to combat climate change, being environmentally conscious can gain significant points in the restaurant and hospitality industry.
There are so many ways that you can incorporate an environmental mindset into your daily practices. Consider where you are getting your food from. Are these sources also practicing with sustainability in mind? How are you packaging food? Can you make improvements to these materials?
Even the most minor step in this direction can significantly impact lead generation and general interest in your business. It's a fact that consumers that care deeply about the environment (as we all should) will spend more on food or accommodations when they know the business operations are ethically sound.
3.
Emphasize convenience
Since the pandemic's start, many businesses have adopted having some sort of convenience factor built into their operations, and most have kept them around since the customers loved the accommodations. If your organization eliminated conveniences like curbside pickup, delivery, online ordering, or contactless processes, you've likely lost a good portion of paying customers. Convenience shouldn't be considered laziness; it gives the gift of time. And we all know the phrase "time is money."
111 110 Seated | The Winter 2022 Issue Features 5 Tips to Drive More Event Leads in 2023
4. Create unforgettable experiences
Consumers have moved on from spending money just to obtain material things. Creating memories and receiving excellent experiences are now what customers are on the lookout for as we continue from 2022 to 2023.
The thought of adjusting your operations to create unforgettable experiences for your customers could be daunting, but these changes don't have to be drastic. You don't need to bring fireworks to the table or anything like that. Starting out, all you need to do is focus on the customer. What can you do to ensure they have a seamless and uneventful time at your location? Is there any way you can personalize their experience by leveraging customer data? Whatever you can do to enhance experiences, you'll create customer loyalty and gain new customers through word of mouth because of the memories you helped create.
5.
Increase social media activity
Creating a presence socially can be very important for your business. This is how you let the world know who you are and what your business is all about. It's where you can tell your own story through images and videos.
This final tip can also encompass all the previous tips to grow your lead count. You should use your social presence to flaunt how environmentally savvy your operations are. Tell the world about all the new and exciting menu items you have. Gloat about your convenience options and let your current and future customers know that you understand how valuable their time is. And, of course, you can hype up how you create memorable gatherings by sharing examples on social media.
Your social presence can act as a two-way street by letting current and future customers in on any updates while also connecting with past loyal customers: win-win!
Put these tips in place now for a successful 2023
Whether you can only focus on one of these tips or you can tackle all of them, this is a great place to zero in on when discussing your 2023 lead goals within your company. Driving the top of the lead funnel can be very daunting, but each of these tips is trending as of late 2022 and will undoubtedly carry over into 2023. So put them in your toolbox so you can start strategizing next year's lead efforts to hit your numbers.
When you implement these ideas, let your customers know by sharing them in your digital marketing efforts, including your website, social media profiles, EventUp listing, digital ads, and email marketing.
Contributors
Jonathan Morse
PUBLISHER, RINGLEADER OF GENIUS CONCEPTS
Jonathan has been involved in the restaurant and hotel business for 30+ years, ranging from a busboy at Abadessa's in Hingham, Mass., to line cook at Atlantic Café in Nantucket, to Floor Manager at Backbay Restaurant Group, to New England Regional Sales Manager for Starwood Hotels. Before starting and becoming CEO of Tripleseat, Jonathan was a VP of Sales for a web startup that delivered business intelligence reporting to the restaurant industry. When not working on making Tripleseat more awesome, Jonathan spends his time with his wife Lisa, twin girls Eliza and Sophie, and son Owen.
Latha Youngren
PUBLISHER, HEAD OF PROPHECY FULFILLMENT
Latha's (pronounced Lay-ta) interest in hospitality began at a young age, which led her to waitress throughout her high school years in Providence, R.I. After graduating from Barnard College and working in publishing for several years in New York City, she moved to Paris where she tended bar and worked at a magazine. After a brief stint in San Francisco, she made her way back to New York City, where she worked in marketing and events for a variety of companies. She landed at Tripleseat full-time in 2014, where she is the Chief Marketing Officer. Latha currently resides in Maplewood, N.J., with her husband and three kids. She enjoys the summer most of all because Rosé All Day is a real thing!
Azure Collier
EDITOR IN CHIEF, AMBASSADOR OF BUZZ
Azure is the Content Marketing Director at Tripleseat and joined the company in 2017 after working as the Social Media Marketing and Community Manager for email marketing company Constant Contact. She also worked in marketing for higher education at Worcester Polytechnic Institute and Fitchburg State University. She started her career as a print journalist in the Midwest at the Times of Northwest Indiana in Valparaiso, Ind., and at the Journal and Courier in Lafayette, Ind.
She received a bachelor's degree in communications and journalism from Purdue University and a master's degree in applied communication from Fitchburg State University, where she completed thesis research on social media and young adults. Azure currently resides with her cats Zoe and Mia in Brooklyn and spends her free time competing in NYC bocce leagues, running or walking in her neighborhood park, and exploring the sights and food of Brooklyn and Manhattan with friends.
Matt Dionne
CREATIVE DIRECTOR, MARVEL OF IMAGINATION
Matt graduated with a bachelor's degree from Stonehill College with a major in marketing, and after about a year in sales, he went back to school to
learn the ropes of graphic design. From there, Matt landed a marketing specialist opportunity with a leading New England credit union, where he worked for 12 years, growing from a marketer and designer to managing a team of designers who owned the design and execution of hundreds of campaigns. After completing his MBA from Fitchburg State University, he took his talents to work with the team at one of the tech industry's leading fault-tolerant services organizations. For six years, Matt led the organization through major branding evolutions, product launches, and owning the creative direction of global marketing campaigns. He is excited to join the Tripleseat family to continue a legacy of bringing creative content, events, and ideas to the hospitality industry. Matt lives in Westminster, Mass., with his wife, three children, and puppy and performs with several local musical acts throughout New England.
113 Seated | The Winter 2022 Issue 112 Seated | The Winter 2022 Issue Features
Heather Apse
CONTRIBUTOR, INFORMATION INQUIRER, AND WIZARDESS OF WORDS
Heather has been a storyteller all her life and was elated to join Tripleseat in early 2022 as a Content Specialist on the Marketing Team. In her college years, she hustled as a hostess, busser, and waitress for several restaurants and venues in order to support her time at UMASS Amherst. With an English degree, she began her career and love of tech, working in customer support for pioneer Internet giant Lycos. Since then, her passion and career have always centered upon writing and helping others. She has contributed all sorts of content for several companies covering topics including internet software, travel, finance, and decor. When she isn't researching or writing, you can find her with her three extremely fun boys and a large, boisterous dog enjoying the outdoors.
Rachel Calkins
CONTRIBUTOR, MASTER OF MISCHIEF
Rachel graduated from the University of Delaware in June 2019 with a degree in marketing. Previously she was part of the Tripleseat team as a marketing intern and loved her experience so much that she returned to begin her professional career with Tripleseat, currently as the Social Media & Content Specialist. You can find Rachel co-hosting Tripleseat's podcast, Two Chicks, Three Seats, and posting all about our amazing Tripleseat customers on Instagram. In her free time, she enjoys watching and playing sports, traveling, cooking, drinking dirty martinis on the weekend with friends, and exploring her new home: New York City.
Nicole Catatao
CONTRIBUTOR, DUCHESS OF VENUES
Nicole has been in the marketing field for more than 14 years. After graduating from Plymouth State University in New Hampshire with a degree in English, she moved to Massachusetts, where she started her career at International Data Group (IDG). While there, she managed online marketing campaigns for high-tech clients for seven years. After IDG, she spent four years at MathWorks managing events. Nicole joined the Tripleseat family in 2018 and is currently the Sr. Marketing Manager of EventUp by Tripleseat. When she isn't connecting event planners with the perfect venue, you can find her dancing in the kitchen to '80s pop music with her husband and two daughters or at the soccer field.
Maddie Franzreb
CONTRIBUTOR, COUNTESS OF QUESTIONS
Maddie attended Boston College, where she participated in every intramural sport possible and first fell in love with the French language while studying abroad in Paris. She spent three years living and working in Paris and the south of France, where a typical dinner usually consisted of a delicious baguette, a hunk of cheese, and some charcuterie. She spent the next nine years in Philadelphia, working in marketing in the consumer products industry and attending as many concerts as possible. She recently relocated to Cape Cod with her fiancé and can be found spending time with her friends and family, including 25 first cousins. Currently working as the Product and Customer Marketing Manager, Maddie joined the team in 2021 and loves working at the intersection of hospitality and technology at Tripleseat.
Lynn Holmlund
CONTRIBUTOR, HERDER OF INGENIOUS SCHEMES
Marketing has been ingrained into Lynn's DNA since childhood, as she preferred jingles and commercials to children's songs and shows while growing up. During her time at Bentley University, she tested marketing fields with internships in sports marketing, field marketing, and high-end retail advertising. With a focus on communication, she received her Masters from Suffolk University and started her marketing career in technology and media at IDG. She is delighted to bring her brand and marketing prowess to the Tripleseat team as VP of Marketing. Outside of the office, Lynn loves traveling to beach destinations with family and friends and dancing, anytime, any place.
Kate Kennedy
CONTRIBUTOR, ORGANIZER OF RANDOM THOUGHTS AND ERRATIC ACTIVITY
Kate has worked in the hospitality industry since she was 15. From bussing tables in high school to bar tending in college and grad school, where she majored in global fashion marketing and merchandising. After college, she moved on to a career as a private events and marketing manager because she loved hospitality a little more than she loved fashion. Kate started working at the best company on the planet, aka, Tripleseat in 2015. Currently holding the position of Director of Growth Marketing, she loves being able to use her vast knowledge of the industry in a non-restaurant setting. Kate resides on the New Hampshire seacoast with her husband and two crazy (but wonderful) children. In addition to her family and friends, Kate's loves include bourbon, fashion, old-school hip-hop, oysters, IPA, and hockey (enjoyed on their own or all together).
Rachel "Mazz" Mazzola
CONTRIBUTOR, SORCERESS OF FUN AND ENTERTAINMENT
Rachel (who goes by Mazz) is the Corporate Events Manager at Tripleseat and a certified meeting professional (CMP). She received her degree in sports, entertainment, and event management from Johnson & Wales University, with hopes to one day plan the Super Bowl. In an unexpected turn of events, she ended up in the exciting world of corporate event planning and never looked back. Mazz has planned events and conferences for companies in the information security, audit, and energy and commodities industries but luckily has landed at Tripleseat, where she is happy to finally be planning events for an industry that aligns with her interests: eating and drinking. If she's not running to catch a flight or trying to get her seat upgraded, you can find her on a spontaneous weekend trip, enjoying nights out with friends, or being lazy and binging Netflix.
Elizabeth Smith
CONTRIBUTOR, BRAND WARRIOR, AND RESIDENT HOTEL EXPERT
Elizabeth graduated from Boston University with a degree in hospitality management and started her career in hospitality at the front desk of a luxury hotel in Boston. After a few years in hotels, followed by some time in the event planning world, she shifted gears, worked at a construction company for eight years, and found her way to marketing. She recently joined the Tripleseat team as the Hotel Marketing Manager and couldn't be more excited to bring her two professional passions together in one role. Elizabeth lives in Boston with her fiancé and rescue pup, Moakley. In her free time, you can find her with family and friends, or scouting out a new donut shop.
Aubrey Ungvarsky
CONTRIBUTOR, CONVERSATION ARCHITECT, AND CONVERSION WRANGLER
Aubrey went to school studying economics and finance on a golf scholarship at the University of Hartford, but it wasn't until a few years after school that she found her love for marketing. Most of her marketing roles have had the best of two worlds to offer: creative freedom to create thoughtprovoking and lead-generating content while still keeping in touch with her love for analytics and understanding the numbers behind it all. Aubrey switched from financial software to hospitality software when joining the best of the best (Tripleseat) and could not be happier! Outside of work, you'll likely find Aubrey outdoors one way or another with her husband and dog, Moose, or out for dinner and drinks with friends.
Photography
@breeandstephen, Austin Distel, Bruno Nascimento, Candice Picard, Christin Hume, Cloris Ying, Dollar Gill, Edgar Castrejon, Fabrizio Magoni, Green Chameleon, Jeremy Thomas, Kaylee Garrett, Kyle Glenn, Lewis Nguyen, LikeMeat photographer Line Tscherning, Max van den Oetelaar, micheile dot com, Mitya Ivanov, Nathana Rebouças, Patrick Tomasso, Priscilla Du Preez, Rachel Calkins, Reid Brand Photograph, Rupixen.com, Samuel Pereira, Shangyou Shi, Sincerely Media, Tammy Chan, Tara Sullivan, Tony Luginsland
114 115 Seated | The Winter 2022 Issue Seated | The Winter 2022 Issue
Your hospitality peers are already benefiting from Tripleseat. Are you ready to join the party? #1 Guest and Event Management So ware for Hospitality Schedule a Tripleseat demo 15,000+ restaurants, hotels & unique venues 6 MILLION events 35% INCREASE in customer revenue