March 2023
March 2023
Jeannette Rowe's World of Books 4 News from the marketplace ............................................ 8 Merchantwise Merchantwise ................................................................ 10 Minecraft ......................................................................... 10 Sonic the Hedgehog .................................................... 12 Activision Blizzard ........................................................ 14 Adopt Me! ..................................................................... 18 Fall Guys .......................................................................... 20 Emoji................................................................................. 20 Sony Pictures .................................................................. 22 Legendary Entertainment 24 May Gibbs 26 We're Going on a Bear Hunt 30 Blinky Bill 32 Magic Mixies Mixlings 32 Miraculous 34 Elf on The Shelf 34 Aardman 34 Wildbrain 36 ACDC 39 Easy Partners 39 Australian Olympic Team ........................................... 40 Claris and Bluey from Jasnor ......................................... 42 BrandTrends: Favorite brands in Australia ................... 44 BrandTrends: Favorite brands in New Zealand ......... 45 Cover Story: Paramount Consumer Products ............... 47 Workwear ranges feature Victoria Bitter ..................... 51 Asembl: Brand Collaborators and Innovators ............. 52 Get Ready to Party with Amscan! ................................. 54 Miffy's Global Explorations ............................................. 56 Spotlight on CentaIP ......................................................... 57 Australian mascots for Expo2020 Dubai 58 Football Australia and the FIFA World Cup 59 Blue Chip celebrates 20 Years 60 The Australian Toy, Hobby and Licensing Fair Toy Fair back in person! 61 Exhibitor List and Floor Plan 62 What's on Show this year 65 Five Years of Preschool Prodigy Bluey 73 100 Years of Warner Bros 74 TOTAL LICENSING AUSTRALIA 6 March 2023 Co-Publisher Editor-in-Chief Francesca Ash francesca@totallicensing.com Co-Publisher Jerry Wooldridge jerry@totallicensing.com Editorial Director/ Editor Rebecca Ash becky@totallicensing.com Office Manager Helen Bowerman helen@totallicensing.com Subscriptions and Circulation www.totallicensing.com Total Licensing Australia is published as a special issue of Total Licensing magazine. Total Licensing Ltd 4 Wadhurst Business Park Faircrouch Lane Wadhurst, East Sussex TN5 6PT England Tel: +44 1892 782220 www.totallicensing.com Japan Agent Roger Berman, ZenWorks rmb@zenworks.jp © 2023 Total Licensing Ltd Printed in Australia
/totallicensing @totallicensing /totallicensing /totallicensing
TERRY RUNYAN'S QUIRKY CATS
Creatif Licensing Corp has announced the debut of Quirky Cats, and other animal collections by designer Terry Runyan. Paul Cohen, president of Creatif Licensing Corp, says that Terry's success is built upon her creativity and her 361k followers on Instagram. In Australia and New Zealand Ladelle Pty Ltd, Victoria, is producing tea ware including mugs, cup & saucer, tea for one, travel mugs, melamine trays, placemats, coasters, kitchen napery such as tea towels, aprons, oven mitts and potholders. Melbourne-based accessories label Erstwilder is bringing Terry's designs to life as wearable art for the first time, with a range of limited-run and collectable accessories bursting with character. Marc Abrahams, Owner and Creative Director at  Erstwilder said  "The Erstwilder community love it when we shine a spotlight on talented artists who share a similar approach to the art of sparking joy. And this collaboration, both stylistically and philosophically, is a match made in heaven. The only challenge this partnership presented, given the breadth of Terry's cute and quirky concepts, was deciding where to stop creating happy, wearable art!"
HAIRY MACLARY CELEBRATES 40 YEARS
Hairy Maclary celebrates his 40th birthday throughout 2023, with an anniversary campaign, including a raft of new licensing partners.
Since its first publication in 1983, Hairy Maclary from Donaldson's Dairy has sold millions of copies worldwide, and has gone on to become a time less classic with children and parents alike.
In celebration of Hairy Maclary's 40th anniversary, Penguin Random House ANZ has partnered both with new licen sees, as well as expanded ranges with current partners in Australia and New Zealand. New Hairy Maclary and Friends partners include New Zealand Post, who will be launching a limited-edition range of stamps and products. In addition, New Zealand Post, in partnership with the Reserve Bank of New Zealand, will release a limited-edi tion coin. Additional anniversary partners include Design works, Macewen (NZ), Designer Bums, Basford Brands, Blue Island Press and Your Decal Shop (NZ).
Penguin Random House ANZ's Senior Brands and Licensing Manager said 'it's an exciting year for our mischievous dog, Hairy Ma clary. We have a great range of anniversary plans, including new publishing, and a national promotion with our independent book stores.'
FUNKO EXPAND INTO AUSTRALIA AND NZ THROUGH BIG WHEEL TOYS AND LET'S PLAY GAMES
Funko Games, recently announced its expansion in Australia and New Zealand with distribution partners Big Wheel Toys and Let's Play Games. These partnerships are the latest moves for Funko Games as it continues to grow its worldwide presence and connect more families and fans through immersive board game experiences.
"Regional partners like Big Wheel Toys and Let's Play Games will be an essential component to our growth in the coming years," said Deirdre Cross, General Manager of Funko Games.
"Both companies have a track record of strategic, sustainable growth across the Oceanic region and we're confident that they'll be able to help us bring the best quality game experiences to fans and families in Australia and New Zealand."
The toy and games industry is on the rise in both countries. According to market  research firm Statista, the toy market in Oceania is currently worth $1.39 billion dollars (USD), and is expected to increase 5.68% annually through 2026.
"Over the past decade, board games sales in our region have grown extensively and I'm confident that Funko Games products will be a key component in the next stage of growth," elaborated Nicholas Rappo, General Manager of Let's Play Games. "Funko Games is a powerhouse creator of tabletop games experiences, and their products align perfectly with Let's Play Games' deep connection with hobby retailers."
"Big Wheel Toys shares Funko Games' passion for pop culture, entertainment, and all things fun," said Cameron Stewart, the owner of Big Wheel Toys. "This is not only a fantastic opportunity for us but also for Australian retailers to support one of the fastest growing game companies in the world."
ROYAL SELANGOR AND DISNEY 100
Royal Selangor are introducing a new Disney100-themed collection inspired by classic stories and characters with strong emotive musical moments.
As The Walt Disney Company cele-
brates its 100th anniversary in 2023, the collection includes Limited Edition pewter-casted figures of Mickey Mouse and Donald Duck from the nostalgic period of 1935 and 1937, re-
spectively.
Conductor Mickey takes his orchestra through their paces in 1935's The Band Concert, Mickey's first cartoon in colour.
Mickey is cast in pewter on a pedestal of composite resin.
TOTAL LICENSING AUSTRALIA 7
FRED AND GRAZZA GO BANANAS!
The Fred & Grazza Go Bananas Live Show launching at the Australian Toy, Hobby and Licensing Fair is a 45 minute performance featuring Fred Gaffney, Australia's legendary Licensing Agent and Grahame Grassby, the ABC's former Head of International Licensing, recounting a collection of stories that happened along their way selling one of Australia's most loved
and iconic TV shows, Bananas in Pyjamas.
Which American president has a Bananas in Pyjamas tie? Did B1 & B2 really get held hostage and put up for ransom in Moscow? Why were the Bananas told to move on by the police in London? These questions and a lot more will be answered as Fred and Grazza go bananas!
BIG YEAR FOR UNIVERSAL
Universal Products & Experiences is gearing up for a big year with massive film releases on the horizon. Illumination's highly anticipated The Super Mario Bros. Movie will kick off the year on 6 April, the next chapter in the Fast & Furious saga – Fast X – will race into theatres 18 May and finally, DreamWorks Animation's Trolls 3 will wrap up the year with a glitter-filled musical celebration on 30 November. Key toy partners will bring each release to life, including Jakks Pacific for The Super Mario Bros Movie; Mattel, JADA and LEGO for Fast; and Mattel and Moose for Trolls 3.
IMOGEN JOY'S DREAM JOB!
Artist Imogen Joy represented by UK agency Creative Sparrow has enjoyed some wonderful collaborations with top Australian brands in 2022. Imogen, originally from the UK, is based in Sydney, has a style which is imaginative, with a strong sense of story-telling. Imogen collaborated with top Australian Author Louise Park on her Grace series published by Berbay Publishing, a best-selling middle grade fiction series. Imogen has illustrated for Grace's Escape and Grace's Secrets to date and looks forward to an ongoing relationship with Louise and Berbay.
Imogen has also created a collection of greetings cards for quirky Australian brand La La Land, a home-grown greetings, stationery and gift brand whose colourful collaborations with artists have taken the market by storm.
The dream job came from Australia Post with a Christmas collectible stamp set collaboration designed exclusively for Christmas Island and sold throughout the territory. The collection shows Santa's arrival at Christmas Island airport, a chief point of arrival for those entering the Indian Ocean locale.
Commenting on the collaboration Imogen said: 'I couldn't believe it earlier when I was approached by the wonderful design team at Australia Post to illustrate a special edition of Christmas stamps based on the beautiful flora and fauna of Christmas Island. It was a dream job and such a treat to see my illustrations on the shelves of outlets across the territory. This illustration journey is so diverse and rich and I'm glad that I've never given up on my dream along the way.'
Imogen and Creative Sparrow are excited to announce some further license collaborations in the coming months and look forward to growing Imogen's profile across the region.
Powerhouse franchises will continue to deliver exciting new content. DreamWorks' Gabby's Dollhouse, which has consistently achieved a #1 kids TV show ranking for past seasons, will have three new season drops on Netflix. Master toy partner, Spin Master, will deliver three new major SKUs including Gabby Girl's Purr-ific Pool Playset, Gabby Cat Friend Ship and an Advent Calendar. Caprice will continue to release new trend driven lifestyle ranges, Scholastic has expanded their publishing range, and new categories launch this year.
Universal will celebrate the 30th anniversary of the iconic film, Jurassic Park – from Universal Pictures and Amblin Entertainment – with major toy partners, Mattel, LEGO and Toy Monster releasing anniversary SKUs. 2024 shows no signs of stopping for Universal. Following the success of The Dragon King series on Netflix, everyone's favourite panda Po will head back to the big screen with DreamWorks' Kung Fu Panda 4. Fans will also be excited to welcome another addition to the highest-grossing animated film franchise with Illumination's Despicable Me 4. Universal Pictures will also release Wicked during the Christmas season.
TOTAL LICENSING AUSTRALIA TLA 49 8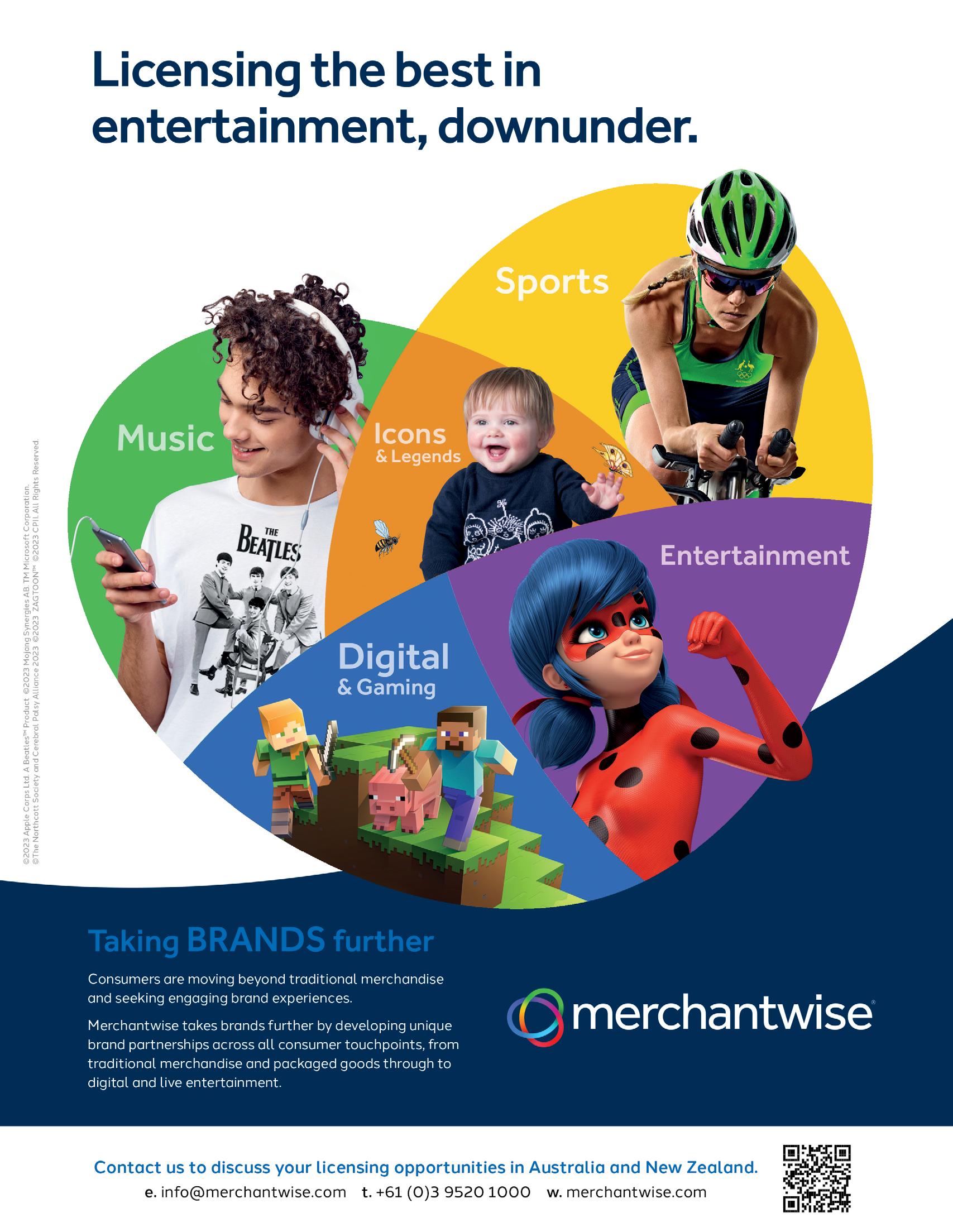 Merchantwise is a leading gaming, digital and entertainment licensing agency in Australia and New Zealand, representing some of the world's best loved brands and developing compelling brand extensions and retail programs for consumers of all ages.
Merchantwise is part of the Merchantwise Group, a full-service brand agency headquartered in Melbourne, with offices in Sydney, Paris and Israel.
Merchantwise shares a sneak peek at the latest news and upcoming gaming and entertainment properties for this year.
keep the Minecraft game fresh to fans old and new.
2022's Minecraft Live event was the best yet, showing fans everything to come from main game updates, to allowing the community to vote for new mobs to be added in the next game update!
Minecraft is a cultural phenomenon and the best-selling vid eo game of all time, with Microsoft having sold over 238 million copies across all platforms. Appealing to a multi-generational player base, the game has seen highs of over 141 million monthly active users, has reached over 1 trillion views on YouTube and is played in every country in the world!
The newest Minecraft title, Minecraft Legends is scheduled for release on April 18th, 2023. It will be a new action strategy game, where players lead their allies in heroic battles to defend the Overworld from the destructive piglins. Minecraft is experiencing incredible success at a retail level across AUS/NZ with products now cemented in all major retailers. BIG W, Target and EB Games are leading the charge across mass and specialty channels.
Two of the biggest 2022 launches across ANZ were in the sleep and stationery spaces, thanks to partners Smiggle and The Oodie.
Smiggle was blown away with the success of their Minecraft range. Products included stationery kits, pencil cases, backpacks and luggage, drinkware & lunchware, keyrings, alarm clocks and safes for fans to store their treasures in. Sales have exceeded expectations so much so that Smiggle will be launching a new range for 2023, so keep an eye out!
What started as a game is evolving into a true evergreen entertainment franchise, comprising of an education edition, consumer products as well as entertainment. With new worlds, biomes and characters to play and constant game updates, there is an infinite number of things to
The Oodie team were overwhelmed with the response to their Minecraft release of teen and adult Oodies and sleep sets. Minecraft shot to the #1 spot in adults and kids Oodies in the first launch week. In 2023 BIG W has become home to a number of world firsts for the Minecraft brand. Building off the incredible success of their first Minecraft digital experience, BIG W launched their newest experience, Minecraft Quest, for customers in January/February 2023.
TOTAL LICENSING AUSTRALIA TLA 49 10
When fans visited a BIG W store, there was a scannable Creeper display to start the Quest. Fans simply used their phones to scan the Mobs across the store, open portals and find the hidden gemstones inside. Find all 5 gemstones and collect a
Minecraft sticker pack instore - perfect for back-toschool fun!
The range features product from an array of local partners including LEGO (construction toys); Mattel (action figures, playsets and roleplay); Plan B (gaming accessories); Hunter Leisure (stationery); Harper Collins (publishing); and Caprice (apparel, bags, accessories).
Released on November 8th 2022, the game sold 2.5 million copies just one month after release.
Paramount have announced that a third Sonic movie is in the works already and scheduled for 2024, as well as a 2023 Paramount+ series starring Knuckles, voiced again by Idris Elba.
Sonic's retail presence has expanded considerably in mass and specialty, with more and more retailers showing support. And with so much in the
The blue blur is back, hotter than ever before and taking over the entertainment space!
With a mind-blowingly successful movie sequel launch in 2022, catapulting it to the most successful video game movie of all time – Sonic the Hedgehog has cemented himself as a standout license for consumer products. Sonic is a $1B franchise and continues to be one of the most popular video game characters of all time.
Sonic The Hedgehog 2's US $403 million box office success (and top 10 at the Australian box office for 2022), catapulted the brand into the spotlight.
Netflix's new Sonic series, Sonic Prime, released on December 15th 2022 and launched the brand to new heights in the 3D-animation space. The series surged to #1 in Australia in the Kids category within 1 week of release, and was the #1 animated show on Netflix worldwide.
Sonic Frontiers is the latest Sonic video game to hit shelves.
pipeline, there is a lot of content to drive excitement for the Sonic space in the next few years!
Zuru Toys launched a Sonic-themed blaster in September 2022, with unprecedented success. It outsold their next-highest performing product, and was the #1 SKU of all licensed and non-licensed designs! They have four more Sonic-themed blasters coming in 2023.
Cotton On have released both kids and adult specialty apparel, along with their fantastic online and in-store 'Game On' campaign.
In the specialty apparel space, Threadheads have continued to bring style and flare for fans across their adult and kids apparel line.
In showbag news, Sonic continues to place in Bensons' top 10 in sales Australia-wide.
New categories for Sonic in 2023 include Plan B for gaming accessories, Hunter Leisure for outdoor & sport, and Impact for puzzles and stationery.
AUSTRALIA TLA 49 12
TOTAL LICENSING
Activision Blizzard® is one of the world's most successful interactive entertainment companies. Its mission, to connect and engage the world through epic entertainment, has never been more important. Through communities rooted in its video games, the company enables hundreds of millions of people to experience joy, thrill and achievement. Activision Blizzard's enduring franchises are some of the world's most popular, including Call of Duty®, Crash Bandicoot™, Warcraft®, Overwatch®, Diablo®, StarCraft®, Candy Crush™, Bubble Witch™, Pet Rescue™ and Farm Heroes™. The company's sustained success has enabled it to support corporate social responsibility initiatives that are directly tied to its franchises. As an example, its Call of Duty Endowment has helped find employment for over 100,000 veterans.
Learn more information about Activision Blizzard at www. activisionblizzard.com.
2023 brings an exciting event for the license, celebrating Call of Duty's 20 year anniversary. With incredibly popular launches for both game launches in 2022, this is an amazing opportunity for potential licensees to jump onboard with this huge brand.
Over the past 2 decades, Call of Duty® has cemented itself as one of the biggest games of all time. Since launching in 2003, the Call of Duty franchise has sold more than 400 million copies and is played in over 170 countries across the globe.
'Call of Duty: Modern Warfare II®' launched on October 28th 2022, and has been the biggest title launch ever for the franchise. In just 10 days, Activision made more than US $1 billion in game sales, making it the quickest CoD title to do so. This newest launch also boasts more than 1 billion games played since launch, the most successful beta campaign they've ever had and was the highest grossing entertainment opening of 2022.
In November 2022, less than one month after Modern Warfare II's staggering launch, Activision continued the hype with the release of Call of Duty: Warzone 2.0®. This is the franchise's second instalment of their Free-to-Play title, with a lot of jam-packed content for fans to enjoy. In just 5 days, over 25 million players jumped in to play the game!
Ooga-Booga!
One of the most popular and iconic mascots to ever grace our screens is a small eastern barred bandicoot named Crash. With over 25 years of heritage, Crash Bandicoot® is as big as ever, and back like never before.
With its multi-generational appeal, Crash is enjoyed by over 14.5 million unique players and is loved by the Gen Z and millennial audiences, ranging from 18 to 40 years old. The resurgence of everyone's' favourite bandicoot is proving to drive the excitement of the next game instalment, Crash Team Rumble®, which was recently announced at the 2022 Game Awards in December. The team-based four-versus-four pits the beloved franchise's cast of characters against each other as they compete to gather more Wumpa Fruit than the opposing team.
Global Master Toy partner, Headstart International, is delivering collectable figures, plush, radio control vehicles and diorama sets to key markets across the globe such as North America, Central and South America, Europe, pockets of Oceania. Streetwear specialist, ThreadHeads, is a Melbourne based print-on-demand
TOTAL LICENSING AUSTRALIA TLA 49 14
business who have taken on Crash, Spyro® and the Activision Classics brands, and launched an incredible range in 2022, with more in development for 2023.
Cotton On also had great reception to their Crash and Spyro ranges, with products ranging across kids and adult apparel and accessories.
rite amongst the gaming community, having received over 100+ game of the year (GOTY) awards by 2022, with millions of monthly players.
From October 2022, the universe's second instalment, Overwatch 2® replaced its predecessor. With a diverse cast of old and new characters, with cross-play and cross-progression between PC and console, this release resulted in a whopping 25 million players joining the game in the first 10 days!
Fans will remember this adorable 90's gaming icon, Spyro! He is one of the most top ranking video gaming franchises there is.
Gliding to popularity in the 90's, this mischievous little dragon made his fiery return back in November 2018 with the compilation game: Spyro Reignited Trilogy®
Spyro is available across all platforms and with a surge in popularity, Spyro provides unique opportunities across mass and specialty retailers.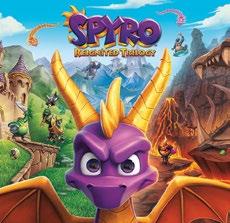 Activision Publishing has a long and storied history of creating some of the industry's best video game franchises, including three of Atari's top 10 bestselling games of all time. Merchantwise have the pleasure of representing iconic titles such as Pitfall!, Kaboom, Grand Prix and River Raid in Australian and New Zealand.
With the game releasing constant seasonal updates roughly every nine weeks and events to entertain throughout the year (such as Lunar New Year, Halloween and Winter Wonderland events featuring exclusive cosmetic items players can purchase or earn), there is a wealth of content to be consumed by fans and players alike yearround.
Blizzard have successfully launched a range of consumer products partnerships in the retail space. Designworks is currently developing an apparel range for the brand which is due to release in 2023.
Overwatch 2®, World of Warcraft, and Diablo are the perfect titles to round out a diverse Activision Blizzard offering under the Merchantwise Group portfolio.
Since its initial launch in 2016, Overwatch quickly became a player-favou-
World of Warcraft® is a massive online multiplayer role-playing game (MMORPG) in which players around the globe assume the roles of heroic fantasy characters and explore Azeroth, a world full of magic and endless adventure. The game is often revered for revolutionising online social play, and the franchise has spawned multiple spin-offs and experiences, including a blockbuster movie, best-selling novels, board games, and remains an enduring pop culture phenomenon amongst millions of players worldwide.
In November 2022, WoW released their latest expansion, Dragonflight. This return to fantasy and adventure has been an absolute hit with everyone who has
TOTAL LICENSING AUSTRALIA TLA 49 16
played so far! With a vault of assets and 2024 celebrating the game's 20th anniversary, there is a lot of opportunity coming up for WoW!
Diablo® is an action role-playing game series of angels versus demons, and takes place in the dark fantasy world of Sanctuary. As heroes, players traverse Sanctuary on a quest to slay the hordes of The Burning Hells in epic, fast-paced combat.
The Diablo franchise is considered one of the most influential of all time, with its unique, dark lore and action-packed gameplay centred around customisable character classes and gear.
Adopt Me! Is the #1 most played experience on Roblox and has been played over 31 billion times. Developed by Uplift Games, it focuses on adopting and caring for a variety of different virtual pets, which can be traded with other players in the game.
Players adopt and care for a multitude of pets which hatch from eggs, which they do in their virtual home. In the game, pets are grouped into 5 classes based on rarity, and there are hundreds that can be adopted, or purchased with the in-game currency, Bucks.
The game is family-friendly and per-
In June 2022, Diablo Immortal® launched the franchise's first free-to-play mobile MMORPG and was met with great reception from players worldwide.
Diablo IV is scheduled to launch June 6th 2023. A brand new trailer was released last December to whet players' appetites. With more than 10 years since the release of Diablo III, there is a lot of excitement for the next era of Diablo, so keep an eye out in the coming months for more announcements and release news!
© 2023 Activision Publishing, Inc. Activision, Call of Duty, Crash Bandicoot, Spyro, Guitar Hero and Skylanders are trademarks of Activision Publishing, Inc. © 2023 Blizzard Entertainment, Inc. Blizzard Entertainment, Overwatch, World of Warcraft, StarCraft, Diablo, Hearthstone, and Heroes of the Storm are trademarks of Blizzard Entertainment, Inc. All other trademarks and trade names are property of their respective owners.
fect for children aged 7+ to get together with their friends online in a safe, fun community, and learn about the responsibilities of pet ownership.
The developers release content updates every week including new pets, new outfits and furniture packs to decorate your home, to keep content fresh for players. With its approachability, cute visuals and fun ways to interact with friends safely online, it's no wonder that Adopt Me continues to be an incredible success in the gaming space.
Jazwares is the master toy licensee, and has developed a range of toys featuring plush, interactive plush, and collectibles. Banter Toys will be distributing the line into retail from April 2023. Merchantwise currently is in the process of securing some of Australia's leading category partners across apparel, accessories, footwear, homewares and bags with the aim to launch product at retail from July 2023.
TOTAL LICENSING AUSTRALIA TLA 49 18
Originally released in 2020, Fall Guys is a cross-platform, massively multiplayer, party royale game where players compete through escalating rounds of absurd obstacle course chaos until one lucky victor remains!
Communication via digital emojis is the ultimate universal expressive language – over 10 billion icons are sent daily through messaging and social media platforms.
In June 2022, the game became 'Free for All' across all platforms, and quickly passed the 20 million player mark within 48 hours, and 50 million within 2 weeks! With enormous growth for the game and the brand in just two short years, Fall Guys is the online gaming community's hottest property in the licensing space.
Inspired by this phenomenon, the emoji company was founded in 2013 and by making huge investments into IP rights and content creation the emoji company built a global brand business and established emoji® as an iconic lifestyle brand worldwide. Today, the emoji® brand is registered in over 150 territories in up to 45 classes for goods and services. There are now more than 25,000 vectorized emoji® brand icons, designs, patterns and customized content pieces available for licensing and merchandising of any kind. In Australia and New Zealand, the brand continues to be popular with partners across a wide range of categories, from fashion from Caprice Australia and automotive accessories with Who-Rae.
In a Valentine's Day 2022 special, The Oodie released a playful his/hers Oodie design, adopting the peach and eggplant emoji® brand icons. The wearable blankets were complimented with matching underwear and socks.
With regular updates including collaboration costumes, there's plenty of opportunity to work with this incredibly vibrant, cute brand.
Big W is the key retail partner stocking our very own Moose Toy's Fall Guys plush.
Looking ahead to early 2023 we are eagerly awaiting the release of emoji® brand´s latest partner, Sydney based bubble tea company, Gong Cha Tea. The emoji® brand will come to life in their 100+ stores, featuring in-store emoji® brandthemed activations, window and floor decals and a whole new range of exciting emoji® brand-themed drinks to enjoy.
Nappy Box Co launched a range of baby products in 2022 that include modern cloth nappies, swim nappies, smocks, wet bags, change mats and more!
2023 will be an exciting year for the brand with global activations as well as new artwork and assets specifically designed to highlight the brand.
TOTAL LICENSING AUSTRALIA TLA 49 20
Based on the true story of Jann Mardenborough, the film is the ultimate wish fulfillment tale of a teenage Gran Turismo player whose gaming skills won a series of Nissan competitions to become an actual professional racecar driver Based on the PlayStation Studios video game and with an all-star cast, this action-packed film is set to release in cinemas globally in August 2023.
In 2022, we saw new products from Hasbro, including a new Ghostbusters Clue, the Plasma Series Neutrona Wand, Plasma Series 2 pack figures as well as the Plasma Series Mini-Pufts. The new Ghostbusters video game – Ghostbusters: Spirits Unleashed from IllFonic, is where you can immerse yourself in the Ghostbusters universe as you protect or haunt multiple unique locations throughout. Ghostbusters: Spirits Unleashed is fun, family friendly, and allows for all levels of player ability.
Sony Pictures
Entertainment will expand on an incredibly exciting chapter of Ghostbusters history, with forthcoming theatrical and animated content in development, including a sequel to the smash-hit, Ghostbusters: Afterlife and two new offerings from Sony Pictures Animation – the first-ever Ghostbusters animated movie and a Ghostbusters animated series – both currently in development.
The iconic Ghostbusters franchise is supported with a broad, year-round program including an impressive roster of global licensees spanning apparel, sleepwear, bags, accessories, homewares, gifts, and more.
Australian Ghostbusters licensees include Designworks International (apparel, accessories, footwear and homewares), Park Avenue Foods (novelty confectionery), Thread Heads –print on demand and Cotton On.
TOTAL LICENSING AUSTRALIA TLA 49 22
In 2023, one of the most anticipated films from Sony Pictures Entertainment is Gran Turismo.
Buckle up for a theatrical ride
I Ain't Afraid of No Ghost
The Karate Kid movie in 1984 was a huge theatrical success for Sony Pictures and the TV series Cobra Kai has become one of the most popular streaming series .
The first season consists of nine episodes and premiered on January 15, 2023. It received acclaim from critics, who praised the performances, writing, production design, and score; several called it the best live-action adaptation of a video game. In January 2023, the series was renewed for a second season. Merchantwise will be seeking new opportunities across a wide array of consumer products, including apparel, accessories, gift and novelty.
Cobra Kai and The Karate Kid have both now become true pop culture icons. In January 2023, it was announced that Cobra Kai has been renewed for a sixth and final season. The final run promises to be "the biggest and baddest" season of all.,
Cobra Kai Australian licensees include Empire Apparel, Designworks International and Thread Heads with successful launches of apparel in 2022 and further releases in 2023.
In 2024, the legend lives on, as we celebrate 40 years of Karate Kid and a new feature film, which will be released in Summer 2024. Merchantwise will be seeking new opportunities across a wide array of consumer products, including apparel, accessories, home, collectibles and gift and novelty.
The Last of Us The new hit series is inspired by the post-apocalyptic award-winning game franchise. Following a global pandemic that has destroyed civilization, a hardened survivor takes charge of a 14-year old girl who may be humanity's last hope.
Legendary Entertainment is a leading media company with film (Legendary Pictures), television and digital (Legendary Television and Digital Media) and comics (Legendary Comics) divisions dedicated to owning, producing and delivering content to worldwide audiences.
Legendary has built a library of marquee media properties and has established itself as a trusted brand which consistently delivers high-quality, commercial entertainment including some of the world's most popular intellectual property, including the Monsterverse (Godzilla vs Kong) franchise, Dune, Enola Homes, Pacific Rim and cult classic film Trick R Treat.
The Monsterverse Expands
The epic new film will delve further into the histories of these Titans, their origins and the mysteries of Skull Island and beyond, while uncovering the mythic battle that helped forge these extra ordinary beings and tied them to humankind forever.
TOTAL LICENSING AUSTRALIA TLA 49 24
As a mature franchise, the Monsterverse continues its expansion with new content releasing in 2023 and 2024, with a new TV series and Monsterverse 5 in cinemas 15th March 2024.
The Monsterverse has a broad licensing program across a wide range of categories including toys, collectibles and apparel.
An Astounding Spectacle
Dune is an epic science fiction film that released in cinemas in 2021 to critical acclaim and achieving over $400M+ at the box office. The film received six Academy Awards, including best cinematography, best production design and best original score. Dune: Part Two is planned for global release in cinemas on 3rd November 2023, with new cast members arriving on the most dangerous planet in the universe, including Christopher Walker, Florence Pugh, Austin Butler, Lea Seydoux and Sheila Yacoub, The franchise will continue its expansion through television and videogames, including the Dune Awakening game which is releasing in Q4 2023.
Dune has a robust licensing program across all tiers of distribution and Merchantwise is seeking new licensing partners for this amazing franchise.
A creepy, darkly comic celebration of the scariest night of the year from writer-director Michael Dougherty Trick 'R Treat takes the Creepshow/Tales from the Crypt approach to nefarious new depths with four interwoven tales set on Halloween night. The film introduces the fan-favourite character of Sam – a seemingly innocent masked trick-or-treater at first sight who is, in fact, a demonic pumpkin-like creature who enforces the rules and traditions of Halloween. Sam has become an icon of the Halloween season in a variety of licensing products, including dress-ups, collectibles, apparel, accessories and cosmetics. Trick 'R Treat is a new Halloween licensing opportunity down under and Merchantwise is seeking new partners to join this pop-culture classic.
The epic battle between Kaijus and Jaegers captivated fans worldwide in the Pacific Rim live action movie franchise from creators Travis Beacham and Guillermo del Toro. Two of pop culture's most perennial tropes, monsters and robots, collided on-screen like never before. The worldwide box office for the films raked in US$700M.
Pacific Rim continues in an anime series written by Craig Kyle (Thor: Ragnarok) and Greg Johnson (X-Men: Evolution).
Lost, alone and hunted by Kaiju, teenage siblings Taylor and Haley are forced to pilot an abandoned jaeger across a hostile Australian landscape in a desperate attempt to find their missing parents. Season one and two are now available on Netflix.
May Gibbs – Inspired by Nature
Iconic Australian author and illustrator May Gibbs continues to capture the hearts and imaginations of generations of Australians with her lovable bush characters, which hold a special place in the Australian consciousness.
Today, May Gibbs is a heritage fashion and lifestyle brand inspired by the Australian bush. With a unique licensing program of over 30 partners across publishing, apparel, bedding, homewares, fabric, toys, stationery, partyware and collectables, May Gibbs is proud to partner with leading Australian brands to bring the stories and characters to life for fans of all ages. Publishing is at the heart of the May Gibbs brand with
TOTAL LICENSING AUSTRALIA TLA 49 26
May Gibbs' original books, Gumnut Babies and Snugglepot and Cuddlepie never out of print for over 100 years. Publishing partner Scholastic Australia continues to expand their catalogue of licensed May Gibbs storybooks for children, with May Gibbs becoming their third best-selling licensed property. Scholastic Australia have also begun publishing a newly reimagined range of May Gibbs's classic stories and never-before published works, ensuring that every Australian child has the opportunity to experience these classic tales.
For the third year running, May Gibbs continued to grow at Big W, with apparel exclusive to Big W at mass, supported by other categories including publishing and hardlines. Regular apparel collections from Caprice Australia released across 2022, with further ranges scheduled for Easter and Winter 2023.
May Gibbs at Big W started in 2022 with a February Baby Week range. Launching with 10 SKUs across toddler girls, toddler boys and footwear, this was a successful start to the third consecutive year of May Gibbs apparel exclusive to Big W at mass. Further apparel ranges launched in time for Mother's Day, with an adorable mini-me range for women, toddler girls and infant. The consistent print story allowed the whole family to match and celebrate the special mother figure in your life. May Gibbs featured once again in July Baby Week, across 10 SKUs for toddler girls, toddler boys, ladies, men's and a minime sleep range.
Big W was the place to be for Christmas with May Gibbs. With a wide range of apparel, publishing, Christmas gifting, tabletop, Christmas
décor and social stationery.The apparel range featured a fun festive theme in a fam-jam matching set across ladies, toddler girls and infant. The Christmas hardlines range included 33 SKUs across décor, tabletop, gifting and wrapping. Plans for Christmas 2023 are already underway for an expanded range.
The May Gibbs and Spotlight Australia partnership continues to grow since its inception in 2021. In 2023 Spotlight will continue to be the exclusive home to May Gibbs sew and furnishing fabrics. The growing range of fabric designs have been eagerly embraced by Australian makers and crafters nation-wide, with home decorators loving the coordinating range of bedding, home décor and napery items. Spotlight will also be stocking compostable May Gibbs partyware in 2023. The program is supported with a strong marketing program across catalogue, digital and instore. May Gibbs Christmas also featured at Spotlight, with their own range of Christmas wrapping including gift tags, wrapping paper, gift bags, cards and baubles, and Christmas fabrics.
In exciting news, May Gibbs launched into two new categories with new partners in 2022. Journey of Something joined as a May Gibbs partner and shortly revealed a fantastic collection of jigsaw puzzles, cards, paint by numbers and sparkle art, targeted at both adults and kids. The range is widely available online as well as through independent gift stockists, and is May Gibbs' first foray into the puzzle and game category. 2023 is already shaping up to be an exciting year with new products in development to further grow this collection. Urban Products released an everyday range of garden and home products. The garden range is the first of May Gibbs gardening products, with a range of planters and garden accessories perfect for any lovers of native flora. The everyday range also includes some home products, including mugs, bamboo serveware, travel mugs, glasses and more. A Christmas range was also available across 100 stores nationally, featur-
TOTAL LICENSING AUSTRALIA TLA 49 27
ing baubles, ornaments, Christmas tabletop and more. The updated everyday and Christmas ranges for 2023 are currently in development.
Fans of the brand are spoilt for choice with several speciality partners releasing beautiful new product ranges. The partnership with Walnut Melbourne continued in 2022 with brand new Winter and Summer children's apparel and footwear collections released, including the popular swimwear line. The collection is now ranged in Myer stores nationally. The partnership will continue in 2023 with a Winter and Summer collection in development, and a family sleep collection to launch. Creative high-end Australian fashion brand Romance Was Born continues to release exciting new capsule collections for women and men, uniquely showcasing the art of May Gibbs. The beautiful range of personalised knit blankets from Namely Co combine heirloom quality pieces with May Gibbs original illustrations. The May Gibbs x Kip & Co collection will return in 2023 with a new range of bedding, apparel and homewares. Further brand-new ranges in development for 2023 include a baby personal care range, showbags, fashion accessories, reusable nappies, and more.
The much-anticipated new outdoor stage show of Snugglepot and Cuddlepie, developed by Eaton Gorge Theatre Company, premiered at Centennial Park in September 2022. The weeklong show was then followed by performances in Wollongong and Bowral's Retford Park, followed by an encore at Centennial Park.
We're Going on a Bear Hunt – We're Going to Catch a Big One!
Originally released in 1989, We're Going on a Bear Hunt is the beloved storybook of a family traipsing through the stunning English countryside to find a bear. The brand is now available for licensing in the Australia and New Zealand territory for the first time!
With rhythmical story-telling by Michael Rosen, and timeless watercolour illustrations by Helen Oxenbury, We're Going on a Bear Hunt has enchanted children and parents alike with its story of perseverance, optimism and a love of nature.
Since it's 1989 release, We're Going on a Bear Hunt has sold over 14 million books worldwide, with 1.4 million of those copies having been sold in Australia alone.
Michael Rosen's retelling of this iconic story has exceeded over 17 million views on YouTube. Due to the success of the book a 30-minute animated TV special was created.
Produced by Lupus Films (The Snowman and The Snowdog) & Walker Productions (Tilly and Friends), the special was enjoyed by over 8 million viewers at launch in the UK and has aired every year thereafter.
Available on Amazon Prime in the US since January 2017. Global sales secured on ABC (Australia), Canal + (France), France TV, SVT (Sweden), NRK (Norway), YLE (Finland), Japan (NHK) and Belgium (VRT)
For over 34 years, readers young and old have been swishy-swashing and splash-sploshing through the award-winning and much-beloved picture book. In 2024, Bear Hunt will be celebrating its 35th anniversary, making it the perfect time to launch a licensing program.
Caprice Australia will be leading the launch of the program, with Bear Hunt infant and toddler apparel program from July 2023. The licensing program for Bear Hunt has been
TOTAL LICENSING AUSTRALIA TLA 49 30
exceptionally popular in the UK, and is expected to follow suit in the Australia and New Zealand market.
Blinky Bill – The Original Aussie Larrikin
Created by Dorothy Wall in 1933, Blinky Bill is the original Aussie larrikin, and an instantly recognisable character across Australia. The 1990s saw Blinky Bill revived in a feature film and TV series that so many of us grew up with.
2023 celebrates some fantastic Blinky Bill anniversaries. It will be 90 years since the original publication of Dorothy Wall's stories of the mischievous koala in the bush, and 30 years since the TV series graced our screens and a whole new generation fell in love with Blinky Bill.
2022 saw Blinky Bill collaborate with La La Land for a Christmas program at Australia Post. This fantastic range included Christmas décor, gift boxes, gift cards, melamine mugs, bowls, plates and trays. Calendars, storybooks and jigsaw puzzles also featured, along with Headstart's adorable Blinky and Nutsy resoftable plush.
The plush is made out of 100% recycled plastic bottles and launched at Australia Post for the Christmas program.
Blinky Bill has partnered with Scholastic Australia for a publishing program, which also launched at Australia Post with a pack of four Blinky Bill storybooks and a Colouring Kit. Scholastic will continue with further releases into 2023, with a deluxe storybook and an Ultimate Colouring Book. Two further titles are in development including an adult colouring book and a storybook with jigsaw set.
Blinky Bill and Smiffy's will continue to supply retailers with dressups. Blinky Bill costumes are available for August Book Week via Big W. Park Avenue Foods will launch new chocolate and confectionery this Easter.
In an exciting new venture, Blinky Bill will be featured at Christmas in Big W in 2023. The range of Christmas décor items will be available in-store.
In 2023, Blinky Bill continues to work with the Bob Brown Founda-
tion as the face for Koala conservation for the protection of native forests and koala habitats, after koalas were labelled as an endangered species.
Who Will You Magically Create?
Introducing Magic Mixies Mixlings from Moose Toys! Kids will love this incredibly cute breed of Mixie created, with a truly magical unboxing experience! Each Mixling belongs to a team with different magical powers which are unlocked using the included magic wand.
The range features four products including: Collector's Cauldron, Tap and Reveal Cauldron, Shimmer Magic Mega Pack and a Magic Castle Playset. In addition to the five teams of Magic Mixies Mixlings figurines to collect.
The Magic Mixies Mixlings toy line performance has been strong at retail to date. Series 3 is in the works and Series 4 will launch at retail in 2024.
Moose has an extensive franchise strategy planned for Magic Mixies encompassing a true "Magic" play experience with toys, animated content, digital gaming, and publishing. There will also be an extensive consumer products program developed in partnership with Merchantwise.
Merchantwise has partnered with Caprice Australia Pty Ltd to launch a range of Softline's products at retail from February 2023. This range includes the first apparel range in Big W. Merchantwise has also partnered with publishers, Hinkler Books and Scholastic Australia with a range of publishing formats including launching from June 2023.
TOTAL LICENSING AUSTRALIA TLA 49 32
Miraculous™ is an inspiring, high-quality CGI-animated superhero franchise set in modern-day Paris. The show follows Marionette & Adrien, constantly juggling their perilous missions as superheroes –Ladybug & Cat Noir - and the daily challenges of their teenage lives.
Elf On The Shelf – A Christmas Tradition
The Elf on the Shelf®:A Christmas Tradition is a fun-filled Christmas tradition that has captured the hearts of children everywhere who welcome home one of Santa's Scout Elves each holiday season. When a family adopts a Scout Elf™ they receive the Scout Elf™, an artfully illustrated hardbound storybook and a keepsake box. For Christmas 2022, The Elf on the Shelf® core range has been extremely popular at Myer Giftorium, Kmart and a range of independents, distributed by PMG Australia and Merchantwise partnered with Vicinity Centres with Elf On The Shelf activations.
The television show rapidly gained momentum, turning Miraculous into a worldwide phenomenon and a global entertainment franchise. It's vast community of viewers and fans can now engage with the brand on all major media platforms. The 5th season has just launched on ABC Me and Seasons 1-3 are available on Netflix. Miraculous has exceptional digital platforms – engaging with fans around the globe and ZAG continues to build the gaming content for Miraculous, including the Miraculous RP game on Roblox, achieving over 500M plays and fast becoming the #1 downloaded game on the platform.
The licensing program in Australia consists of Headstart (distribution for master toy), Caprice Australia (apparel, accessories, home), Bensons Trading (showbags), MJM Australia (puzzles and games), Rubies Deerfield (dress-ups and accessories), Wisdom Brands (oral care), and Happy Hair Brush (personal care). A new summer apparel collection launched in Big W featuring dresses and t-shirts, each with their own accessory.
The Australian licensing program managed by Merchantwise Licensing has been a huge success, with an array of products at retail including outerwear and sleepwear by Mitch Dowd, publishing from Hinkler Books, confectionery by Park Avenue and dress-ups from Rubies.
Christmas décor, drinkware and dinnerware, puzzles and games from Licensing Essentials continue to be popular over the Christmas season with ranges available at BIG W, Target and Kmart, along with an exclusive range of products at Coles.
Cotton On launched their first kids sleepwear range in November and Australia Post launched their second collectible stamp pack and postal numeric cover.
Released in 1993, The Wrong Trousers was the first film starring the beloved duo to win an Oscar and introduced fan favourite Feathers McGraw, a villainous penguin with ambitions to put Wallace's inventions to criminal use. The 30th anniversary celebrations coincide with the production of a brand-new Wallace & Gromit film – the first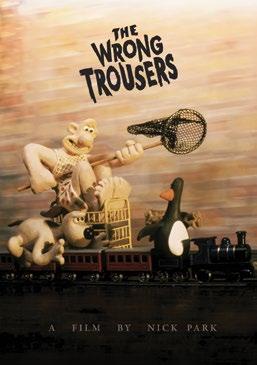 TOTAL LICENSING AUSTRALIA TLA 49 34
since 2008's A Matter of Loaf and Death, which was the UK's most-viewed TV programme of the 2000s with over 16.2 million viewers tuning in to watch. This brand-new, asyet untitled adventure will premiere exclusively on Netflix around the world. It is set for release in 2024. Also currently in production is an interactive, narrative-led, single player VR experience for the Meta Quest all-in-one VR headset. 'The Grand Getaway' will enable users to walk around, explore and get hands-on (or paws-on) within the world of Wallace & Gromit and truly be a part of the pair's adventures for the first time.
Chicken Run –Dawn of the Nugget is the eagerly anticipated sequel to the highest-grossing stop-motion animated film of all time and will be exclusively on Netflix in 2023. Like its predecessor, Chicken Run: Dawn of the Nugget is a comedy action-adventure, and will have an extensive PR and marketing campaign for the launch. A new style guide is available and Merchantwise is seeking new licensing opportunities for this successful film franchise.
Shaun The Sheep has made the long overdue journey to visit his woolly cousins in Aotearoa (New Zealand) in December 2022.
With the rest of the Flock, and The Farmer in tow, Shaun and his pals have moved into Agrodome to spread some mischief and fun on the farm!
Agrodome and Aardman, the multi-award-winning creators of Shaun the Sheep and Wallace & Gromit have joined forces to give Shaun the Sheep the holiday he deserves!
There's no better place than Agrodome, 350 acres of lush New Zealand farmland for Shaun and the Flock to enjoy. With Shaun the Sheep themed activities, dedicated Shaun the Sheep screening sessions, character appearances and more, there is something for everyone to enjoy at Agrodome.
In 2022, Merchantwise was appointed as the Australian and New Zealand sub-agent for WildBrain's beloved portfolio of brands, which includes Strawberry Shortcake,Teletubbies, In the Night Garden and Inspector Gadget. Merchantwise is working closely with WildBrain's leading licensing agency, WildBrain CPLG, to further build each brand's presence in Australia.
A Berry-Sweet Brand With A Rich History
WildBrain's Strawberry Shortcake is one of the world's most adored and recognised brands. Since her creation in 1973, with the release of a simple Valentine's Day greeting card, Strawberry Shortcake has grown and evolved with new content, toys and experiences for every new generation.
Parents who loved her when they were young can now share a fresh new Strawberry Shortcake with their children through the all-new original WildBrain series Berry in the Big City, as well as through new toys, books, games, apparel and events. With an international pres-
TOTAL LICENSING AUSTRALIA TLA 49 36
ence that has generated over USD $4 billion in retail sales since its first launch, Strawberry Shortcake is a true character-brand phenomenon that is celebrated by kids and kidsat-heart worldwide.
The growing international consumer products programme features softlines and hardlines across mass, mid-tier and specialty retailers, including Walmart, Target, Hot Topic, Urban Outfitters and Forever 21. In 2022, following deals brokered by WildBrain CPLG, a range of adult fashion collaborations launched in the U.S., including with PACSUN, Unique Vintage, Dolls Kill and By Samii Ryan, alongside cosmetics ranges from Glamlite Cosmetics.
Expanding on the success in the U.S, in Australia, Big W, Jay Jays and Peter Alexander are already home to Strawberry Shortcake apparel and sleepwear. In the forthcoming year, Merchantwise aims to grow the brand in key lifestyle categories including fashion accessories, apparel and homeware, including products that bring the iconic sweet Strawberry scent to every room.
Cultural icons and fan favourites for 25 years!
Extensive social media touchpoints have also seen the Teletubbies become beloved icons for older fans, adored by celebrities and culture-setters around the world. As a lifestyle brand, Teletubbies continues to captivate audiences, and is a key player in global conversations on pop culture. Merchantwise expect to continue to build out anchor categories for fans of the series of all ages, focusing on apparel, accessories and collectibles.
The perennial bedtime favourite
WildBrain's Teletubbies have been engaging and entertaining audiences across multiple generations for over 25 years. Seen and heard on broadcasters and streaming platforms around the world – including 29 highly popular YouTube channels on the WildBrain Spark network – Teletubbies offer hours of video and music content for fans of all ages.
In the Night Garden is an enchanting and captivating world full of fascinating stories, nursery rhymes, music and humour, which takes preschoolers on an imaginative journey of discovery and understanding. Igglepiggle, Upsy Daisy and Makka Pakka have become a part of bedtime routines for many young fans across the globe. In consumer products, In the Night Garden is a top preschool toy property, offering a creative and playful world to draw inspiration.
Go Go Gadget!
The iconic detective, who has an impressive array of gadgets and gizmos, has gained a loyal fan base across the decades by defeating villains around the world with the help of his fearless niece, Penny. The beloved brand is celebrating its 40th anniversary in 2023, for which Merchantwise is assembling a raft of limited-edition products across apparel and collectibles.
TOTAL LICENSING AUSTRALIA TLA 49 38
Representing many of the world's biggest names in music for Australia and New Zealand, Merchantwise Licensing is the go-to for band merchandising and licensing.
ROMWE X ACDC – Back In Black, again
AC/DC is one of the world's greatest pioneers of rock 'n' roll who were inducted into the Rock 'n' Roll Hall Of Fame in 2003.
Producing 36 albums and selling over 200M albums globally,
AC/DC continues to be one of the most sought after music licenses in the world. Merchantwise brokered a deal with Singapore fast fashion retailer, SHEIN, for a special Back In Black collection of products which launched in November 2022. The range featured apparel, accessories, tech accessories and homewares.
Featuring Iconic Music Artists
In June 2022, Blackmilk Clothing released a second music apparel collection featuring an array of artists including Blondie, Billy Idol, Garbage, and Smashing Pumpkins, for their 90s music artists collection, with a variety of styles selling out in two days.
Easy Partners – Call Me
I'm Alive
New York based Easy Partners represents some of the world's favourites including Blondie, Deborah Harry, Cheech and Chong, James Brown, Mazzy Star, Tori Amos and many more. In 2022, apparel partner Caprice Australia launched Blondie apparel in a range of mass retailers and will con-
tinue to launch additional styles in 2023. Austico Apparel, launched an exclusive merchandise range at Giftbox, featuring cult creators, Cheech & Chong. The products included, apparel, accessories and smoking paraphernalia.
TOTAL LICENSING AUSTRALIA TLA 49 39
Australian Licensing Committee (AOC) - Paris 2024 Licensing Opportunities
Australian's love their sport and there is no bigger sporting event than the Olympic Games.
Australians have watched more than 4.6 billion minutes of Olympics coverage on 7plus, making it the biggest digital event in Australian TV history.
Ahead of the Paris Olympics in 2024 The AOC licensing program will see a wide-ranging and recognisable asset base become available for license, including official Olympic logos as well as the iconic Team mascot, the Boxing Kangaroo. The program will also incorporate specially created assets of Indigenous art commissioned for the Australian Olympic Team.
With a focus on building out a year-round offering for the program, Merchantwise will work with the AOC to develop and enhance the merchandise program for its annual Have a Go campaign, a national grass roots program designed to inspire Australians of all ages to participate in Olympic sports.
Licensing partnership opportunities are now open for discussion across a variety of categories including apparel, fashion accessories, sporting goods, toys & food as well as in ecommerce, location-based entertainment, and consumer promotions.
To discuss opportunities to be involved with the program please contact : Alexandra Warmoll at alexandra@merchantwise.com
TOTAL LICENSING AUSTRALIA TLA 49 40
Be sure to visit Jasnor at the Australian Toy, Hobby and Licensing Fair to see their collection of iconic brands and characters as they celebrate their 35th Anniversary in 2023!
Contact details: 1300 881 940 sales@jasnor.com www.jasnor.com.au