SAT 9TH SEPT 3.00PM
SINGALONG MATILDA THE MUSICAL
Join local charity Hospices of Hope and sing-a-long to family favourite, Matilda.
Tickets: £10, £8 Concessions
THURS 14TH SEPT – SUN 5TH NOV
KARL BLOSSFELDT: ART FORMS IN NATURE
Weekends 12-4pm | Free entry
THURS 21ST – FRI 22ND SEPT
KINDER
Escaping on a Kindertransport train, one small Czech-Jewish girl embarks on a mighty adventure.
Tickets: £13 | Age 9+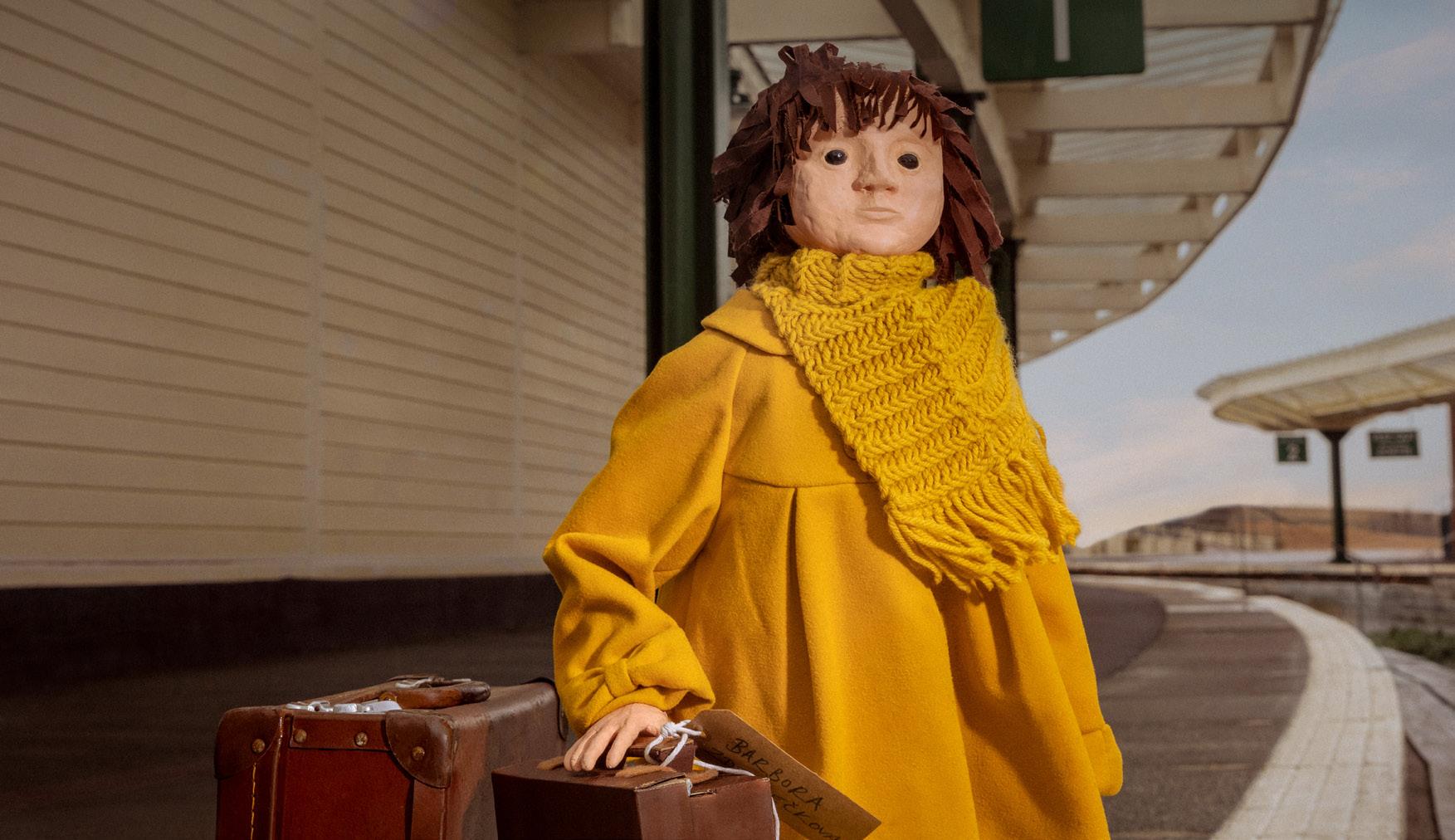 All images part of Wundergarten der Natur', 1932 © Estate of Karl Blossfeldt Courtesy Hayward Gallery Touring
emftheatre.com
emftheatre emforstertheatre emforstertheatre
AUTUMN SEASON 2023
01732 304241
FRI 22ND SEPT, FRI 13TH OCT & FRI 10TH NOV 7.30PM
TONBRIDGE COMEDY NIGHT
Featuring three of the best comedians on the circuit.
Tickets: £14 | Age 16+
FRI 29TH SEPT 7.30PM
RUSSELL HICKS MAKES FRIENDS
Stand-up meets improv. Russell meets people. Come make friends!
As seen on ITV, Channel 4 and Prime Video, Russell brings his exuberant and razor-sharp style to this show.
Tickets: £15 | Age 16+
SUN 24TH SEPT 8.15PM
PIÈCES DE RÉSISTANCE ALLAN BUNNEY CONCERT
Staff and students at Tonbridge School play French Organ Music on the spectacular Marcussen organ in the Chapel of St Augustine.
Tickets: Free, please book.
WED 4TH – THURS 5TH OCT
OH WHAT A LOVELY WAR
Wildly satirical, visually stunning and deeply moving. A classic of modern theatre showing the folly, farce and tragedy of the First World War.
Tickets: £18, £15 students | Age: 11+
STICK MAN
A morning jog becomes a misadventure for Stick Man!
Tickets: £14.50
THURS 19TH OCT 7.30PM
FRONTIER SAPIENS FILM FESTIVAL
Showcasing a collection of adventure, cultural and environmental films all highlighting incredible stories of human endeavour.
Tickets: £18, £15 students | Age 12+
SAT 14TH – SUN 15TH OCT
WED 25TH – SAT 28TH OCT
YOUNG FRANKENSTEIN
It's alive! LAMPS are back with this electrifying adaptation of the much acclaimed film which will leave you in stitches!
A hilarious take on a classic horror story, combining zany antics, a witty script and high energy comedic performances for an unforgettable, adventure in Transylvania.
Tickets: £16 - £22
MON 6TH NOV 7.30PM
DEATH WHO'S COMING TO DINNER
A gripping comedy whodunnit inspired by the golden age of detective fiction.
Join three fearless actors, playing over 15 roles in 85 minutes of fast-paced fun, thrilling action and hilariously gruesome deaths.
Tickets: £15, £13 students
THURS 9TH NOV 7.00PM
SINGALONG ROCKETMAN
Singalong to this epic musical film detailing Sir Elton John's breakthrough years. Starring Taron Egerton & Jamie Bell, enjoy Elton's classic hits all while supporting a great cause.
Tickets: £10, £8 concessions
FRI 17TH NOV 7.30PM
PIÈCES DE RÉSISTANCE ORCHESTRAL MUSIC
Music by Bizet, Ravel, Saint-Saëns and Messiaen played by the Tonbridge School Symphony Orchestra.
Tickets: Free, please book.
SUN 19TH NOV 11.30AM & 2.00PM
LITTLE RED RIDING HOOD
A wolf in granny's clothing, a snowy wild wood, catchy songs and hilarious puppets - all the better to thrill you with!
Tickets: £12 | Age 3+
TUES 21ST – FRI 24TH NOV 7.30PM
THE OUTSIDERS
Set in 1967 Tulsa, Oklahoma, teenager Ponyboy Curtis and his gang of 'Outsiders' are on a quest to find purpose in a world that may never accept them. This is a production by Tonbridge School.
Tickets: £6, £2 concessions
FRI 8TH DEC 7.30PM
PIÈCES DE RÉSISTANCE
PIANO & CHAMBER MUSIC
Music from across the ages including works by Couperin, Fauré, Ravel, Debussy, Daquin and Satie.
Tickets: Free, please book.
Produced by special arrangement with THE DRAMATIC
PUBLISHING COMPANY of Woodstock, Illinois
FRI 8TH DEC – SUN 31ST DEC
Full schedule on our website
Tickets £18 - £27
Family
Matilda the Musical EM Forster Theatre Saturday 9th September NT Live: Hold Date EM Forster Theatre Thursday 14th September Karl Blossfeldt: Art Forms in Nature Old Big School Gallery Thursday 14th September – Sunday 5th November Kinder EM Forster Theatre Thursday 21st –Friday 22nd September Tonbridge Comedy Night EM Forster Studio Friday 22nd September
de RésistanceAllan Bunney Concert Chapel of St Augustine Sunday 24th September Russell Hicks Makes Friends EM Forster Theatre Friday 29th September Oh What A Lovely War EM Forster Theatre Wednesday 4th –Thursday 5th October NT Live: Hold Date EM Forster Theatre Thursday 12th October Tonbridge Comedy Night EM Forster Studio Friday 13th October Stick Man EM Forster Theatre Sat 14th – Sun 15th October Art Talk - Karl Blossfeldt: Art Forms in Nature Old Big School Gallery Monday 16th October Lower Sixth Scholars Concert Recital Room Thursday 19th October Frontier Sapiens Film Festival EM Forster Theatre Thursday 19th October Young Frankenstein EM Forster Theatre Wednesday 25th –Saturday 28th October
PERFORMANCES Singalong
Pièces
Art Workshop - Karl Blossfeldt: Art Forms in Nature Old Big School Gallery Sunday 29th October Death Who's Coming to Dinner EM Forster Theatre Monday 6th November Singalong Rocketman EM Forster Theatre Thursday 9th November Tonbridge Comedy Night EM Forster Studio Friday 10th November Pièces de RésistanceOrchestral Music Chapel of St Augustine Friday 17th November Little Red Riding Hood EM Forster Studio Sunday 19th November The Outsiders EM Forster Theatre Tuesday 21st –Friday 24th November Lower School Concert Chapel of St Augustine Friday 1st December
de RésistancePiano & Chamber Music Recital Room Friday 8th December Aladdin EM Forster Theatre Fri 8th – Sun 31st December THEATRE TALK MUSIC FAMILY ART emftheatre.com 01732 304241 emftheatre emforstertheatre emforstertheatre
Pièces