GROWING OUR FUTURE
SPRING 2023
A TEXAS AGRICULTURAL SCIENCE EDUCATION MAGAZINE
THERE CAN'T BE A GAME WON WITHOUT A GAME PLAN
See what Texas FFA students have to say at mytexasffa.org
My Path to a Career in Agriculture 4 Gowing Our Furture: A Texas Agricultural Education Magazine 614 East 12th Street Austin, Texas 78701 512-472-3128 Editor / Layout Designer / Content Director Ashley Dunkerley Assistant Editor Tori Rosser Cover Photo Shot by Next Level Images 22 8 I Am Texas Agriculture Proud 28 20 15 11 6 SUMMARY Finding Work-Life Balance as an Ag Teacher 12 Texas FFA's Star Greenhand in Agribusiness 18 Dan Owolabi Shares Authentic Leadership Style with Texas FFA 24 I Believe in The Past, Present, and Future of Agriculture 34 Texas FFA's Star Lone Star in Production Making The Impossible Possible: Eden Green Technology 32 Agriculture, Leadership, And Success How To Best Utilize Practicum Classes Texas FFA's Star Chapter in Placement Teacher Resource: Agriculture Newsroom Texas FFA Members Attend Events to Increase Legislative Literacy Texas Young Farmers Updates 38 Are You Proud of Your Program? 30 36 The Real MVPs of Agriculture
FROM THE EDITOR
Agriculture Proud.
Those of us involved in the agricultural science education community comprehend the importance of agriculture. We are well aware of the vital resources that the industry provides to our nation and our world.
We know the letters "FFA" stand for Future Farmers of America. These letters are a part of our history and heritage that will never change. We are raising our country's future farmers and producers. However, we are also raising well-educated consumers and citizens that will ideally spread their wealth of knowledge to their families, neighbors, and future generations.
We know that we must continue to educate and advocate so future generations will, too, be agriculture proud.
We hope you enjoy the Spring 2023 issue of Growing Our Future!
2
Ashley Dunkerley
Icame from a non-agricultural background, and I became interested in the cattle industry after I visited my Aunt's Arizona ranch when I was a teenager. There are two basic steps that lead students into a career. The first step is exposure, and the second step is mentoring. Many people end up in their parent's careers because they were exposed to it. The parent's career is often a good choice, but some students are urged to become doctors or lawyers and end up hating it. Agriculture classes in high school could be a doorway to a career where many students could excel.
When I was a child growing up in the 1950s, I loved all the hands-on classes. In elementary school, my favorite classes were art, sewing,
MY PATH TO A CAREER IN AGRICULTURE
BY: TEMPLE GRANDIN PROFESSOR DEPARTMENT OF ANIMAL SCIENCE COLORADO STATE UNIVERSITY
and woodworking. One of the biggest mistakes many schools have made was removing hands-on classes such as carpentry, welding, auto mechanics, sewing, and art.
Recently, I have talked to college students who have never used tools. Two years ago, I had a student in my livestock handling class who had never used a ruler. These students have been deprived of the opportunity to get exposed to careers where they could make a really good living.
SKILL LOSS IS A REAL ISSUE
There is a link between removing the hands-on classes and a loss of skills that the U.S. really needs. In my new book, Visual Thinking: The Hidden Gifts of People Who Think in Pictures, Patterns, and Abstractions, I write about skill loss. The mechanical equipment we used to invent and manufacture is now imported from
4
"THERE ARE TWO BASIC STEPS THAT LEAD STUDENTS INTO A CAREER. THE FIRST STEP IS EXPOSURE, AND THE SECOND STEP IS MENTORING."
Europe. Almost all the new mechanical equipment for poultry and pork processing now comes from Holland. In Europe, high school students can choose either the university or the technical route. I have worked on livestock equipment design for fifty years. At large packing plants, I worked with talented technicians, welders, and machinery designers who built and designed entire packing plants. Many of these people have now retired and they are not getting replaced. They entered a successful career because they took either a single welding class or a drafting class in high school. Some of them started their own businesses and ended up selling patented mechanical equipment that is still used today. When I look back at the projects I worked on for many major meat companies, I estimate that about 20% of these talented people were either autistic, ADHD or dyslexic. They had great careers that utilized their abilities.
ters will run everything tomorrow. They forget that computers control mechanical devices. Object visualizers are needed to create the tools that are attached to robotic arms and to repair the robots.
OBJECT VISUALIZERS SCREENED OUT
There are two barriers that prevent talented object visualizers from going into careers inventing mechanical equipment. They are the lack of hands-on classes and algebra and calculus requirements for occupations that do not need higher math. Many object visualizers, including me, cannot do algebra. It is too abstract to visualize in pictures. I worked with two talented older people who also could not do algebra. They have multiple patents and sell their equipment around the world. One of them was labeled dyslexic in high school and has many autistic traits.
Many educators and policymakers are not aware that to build a large factory, two types of skills are required. They are the object visualizers like me who think in photo-realistic pictures and the more mathematically oriented university-trained engineers. The object visualizers who work in the shop build and invent complex mechanical equipment. The engineers with university degrees design the parts of the factory that require higher mathematics, such as refrigeration systems broilers, electric power, and water requirements. Today we have lots of engineers who can do all the higher math and program computers, but we have lost many of the "Clever Engineers" who work in the shop. Some policymakers and managers will often say that compu-
In my book Visual Thinking, I have a chapter on scientific research that shows that different kinds of thinking really exist. We need people who can fix things. Many food companies are having increasing difficulty finding people who can repair equipment. Older repair people are retiring. A feedlot human resources person recently told me that they cannot find people to work in the feed mill. I have also observed that the people who repair elevators, escalators, and airplanes are getting older and older. We need the people who can see how mechanical things work. This is essential for future food security and staying technologically ahead.
5
"AGRICULTURE CLASSES IN HIGH SCHOOL COULD BE A DOORWAY TO A CAREER WHERE MANY STUDENTS COULD EXCEL."
"THERE IS A LINK BETWEEN REMOVING THE HANDS-ON CLASSES AND A LOSS OF SKILLS THAT THE U.S. REALLY NEEDS."
BY: STERLING PIENIAZEK TEXAS FFA INTERN
TEXAS FFA'S STAR LONE STAR IN PRODUCTION
LUBBOCK-COOPER FFA MEMBER BUILDS EMBRYO BUSINESS
Karley Rayfield began her embryo business to generate revenue and expand her cow herd.
The Lubbock-Cooper FFA member started KMR Embryos in 2019 to raise and sell Polled Hereford and percentage Simmental show heifers and bulls and also sell embryos to other breeders.
"I never dreamed other producers would be interested in buying embryos from my old show heifers," Rayfield said.
In both production and market livestock operations, one quality that must be present for success is sound livestock. Rayfield has taken the time to properly learn to evaluate her herd regularly. This information is essential when she must make management decisions like which donor cows to flush, sire selection for matings, and adding new females to her herd.
"As I expand my embryo business, my opportunities for management decisions will continue to increase," said Rayfield.
Through her Supervised Agricultural Experience (SAE),
Rayfield has gained skills relating to innovative breeding technologies, as well as financial literacy.
"Understanding the financial end of production agriculture not only prepares me for real-world experiences, but it will also prepare me for life," said Rayfield. "Being able to understand inventory, liability, or depreciation is huge for someone in high school."
Rayfield also participates in a wide array of FFA activities. These activities include chapter conducting and creed speaking, and she has served as an officer in her chapter, district, and area.
"My [SAE] projects, along with leadership and career development events, have always been centered on hard work and dedication."
Upon graduation from high school, Rayfield plans to attend Texas Tech University, majoring in Biology or Animal Science. After completing her undergraduate work, she intends to apply to Texas Tech University Medical School to become a pediatrician.
Rayfield's successful SAE project was recognized as the Star Lone Star in Production at the 2022 Texas FFA State Convention.
6
TEA-Approved IBCs Hosted on the iCEV Testing Platform
American Meat Science Association
Culinary Meat Selection & Cookery
Approved for the Culinary Arts & Food Science and Technology Pathways - IBC ID: 978
American Meat Science Association
Food Safety & Science
Approved for the Culinary Arts & Food Science and Technology Pathways - IBC ID: 994
BASF
Plant Science
Approved for the Plant Science Pathway
IBC ID: 951
Benz School of Floral Design
Principles of Floral Design
Approved for the Plant Science Pathway
IBC ID: 1033
Ducks Unlimited
Ecology Conservation & Management
Approved for the Environmental and Natural Resources Pathway
IBC ID: 1070
Elanco
Fundamentals of Animal Science
Approved for the Animal Science Pathway
IBC ID: 986
Elanco
Veterinary Medical Applications
Approved for the Animal Science Pathway
IBC ID: 987
Equipment & Engine Training Council
Principles of Small Engine Technology
Approved for the Automotive Pathway
IBC ID: 1034
National Horse Judging Team Coaches' Association
Equine Management & Evaluation
Approved for the Animal Science Pathway
IBC ID: 990
7 Scan to learn more about TEA-Approved IBCs
HOW TO BEST UTILIZE PRACTICUM CLASSES
BY: LISA PIEPER CALDWELL HIGH SCHOOL AGRICULTURE SCIENCE TEACHER
Learning to do. Doing to Learn. The FFA motto shows the continuous cycle of lifelong learning. With agricultural education programs growing throughout the state, creating opportunities for students to practice their foundational knowledge is essential for career success.
I have served as an agricultural science educator and FFA advisor at Caldwell High School for 29 years. Throughout that time, I have worked with students to give them opportunities to grow in the fields of study they are interested in by providing and mentoring them in practicum classes.
A practicum class is designed to give junior and senior-grade students an opportunity for a supervised, practical application of knowledge and skills from previous courses they have taken. Whether it's through employment, independent study, internships, assistantships, mentorships, or laboratories, the practicum experience can be designed to best fit the student's educational needs.
Before a student can participate in a practicum, students are required to have completed prerequisite courses. For example, if a student wants to have a practicum in floral
8
"WITH AGRICULTURAL EDUCATION PROGRAMS GROWING THROUGHOUT THE STATE, CREATING OPPORTUNITIES FOR STUDENTS TO PRACTICE THEIR FOUNDATIONAL KNOWLEDGE IS ESSENTIAL FOR CAREER SUCCESS."
design, they must have completed principles and elements of floral design and advanced floral. If a student wants to have a practicum in veterinary science, they must have completed principles of ANFR, livestock production, small animal management, and equine science.
Throughout the years, students at Caldwell High School have had practicum in floral design, research and agriscience, veterinary science, wildlife, ag mechanics, and animal science. Each practicum was specialized to the student's knowledge and overall end goal they have in mind.
Currently, there are two students at CHS with practicum in floral design. Throughout the year, they have been working toward earning their Level 2 TSFA certification, fulfilling monthly orders for the district's Bouquet of the Month subscription service, and assisting at contracted weddings with design and setup at the events. They are also planning an adult floral workshop from beginning to end. From marketing the event, ordering products, brainstorming possible designs, and facilitating the workshop, the students are implementing the prior knowledge from previous courses to practice what they have learned and applying it to real-life situations.
The major reason students take practicum courses is to provide additional
time on tasks for learning specialized skills. A former student from A&M Consolidated High School completed a practicum in veterinary science where she had an internship at the Texas A&M Veterinary School which allowed her to walk in the shoes of a vet student, shadow various classes, and observe surgeries and daily procedures. She would write reports to practice veterinary terminology and academic writing in the classroom. For her final project, the student coordinated a public event where she taught individuals about basic pet care, including proper bandaging, vaccinations, and restraint techniques.
Practicum is for self-motivated and self-driven students as this class is often not teacher-led but student-led. The student is responsible for the project or portfolio's outcome produced at the year's end. The best experience a student can have is one where they put all their effort into making their practicum a success resulting in valuable and applicable knowledge they can bring into their future career.
9
"THE BEST EXPERIENCE A STUDENT CAN HAVE IS ONE WHERE THEY PUT ALL THEIR EFFORT INTO MAKING THEIR PRACTICUM A SUCCESS RESULTING IN VALUABLE AND APPLICABLE KNOWLEDGE THEY CAN BRING INTO THEIR FUTURE CAREER."
AGRICULTURE TEACHERS ASSOCIATION OF TEXAS
SCHOLARSHIP
THE ASSOCIATION OFFERS SCHOLARSHIPS TO MEMBERS' CHILDREN UPON HIGH SCHOOL GRADUATION
APPLICATIONS ARE DUE ON OR BEFORE APRIL 1, 2023
VISIT WWW.TEXASAGTEACHERS.ORG FOR MORE INFORMATION
10
apply now apply now
TEXAS FFA'S STAR CHAPTER IN PLACEMENT
STEPHENVILLE FFA MEMBERS EMBRACES FAMILY PRODUCTION AGRICULTURE LEGACY
TEXAS FFA INTERN
BY: STERLING PIENIAZEK
Sterling Richmond's passion for his family's production agriculture operation paved the path for his successful Supervised Agricultural Experience (SAE).
"Farming and ranching have been in my family for generations," said Richmond. "I work alongside my father, mother, and two younger siblings to keep our operations running."
The Stephenville FFA member started working for his father when he was eight years old.
His first responsibilities included baling hay; however, as the years went by, his duties within the operation grew.
"I help with the transportation of hay, tending to cattle, and I assist with all aspects of the forage operation," said Richmond.
As his responsibilities expanded, so did his skill set.
"I use a multitude of different equipment, tractors,
and implements in the hay operation," said Richmond. "I aerate fields, help with maintenance on our pivots, operate the tedder and baler, and provide any other assistance needed."
The summer months are the busiest season for hay and when he gains the most work hours and valuable experience.
"While I am not receiving monetary compensation for my time, I am gaining valuable experience and skills that I will be able to use in my future," said Richmond. "I would like to eventually work in the agricultural industry and have my own operation or help with the continuation of Cade Richmond Hay, Land, and Cattle."
Through his employment, he is able to assist his family and work to improve his abilities continuously.
"I have developed a large skill set that will help me in my future in and out of the field," said Richmond.
Richmond's successful SAE project was recognized as the Star Chapter in Placement at the 2022 Texas FFA State Convention.
11
FINDING WORK-LIFE BALANCE
BY: JENNIFER GILBREATH AUBREY HIGH SCHOOL AGRICULTURE SCIENCE TEACHER
If we have been in this profession for any significant time, we may have stopped asking ourselves how to achieve a work-life balance as an ag teacher. We all got into education because there was a draw to teaching, not for the summers off or the pay and benefits. We got into this profession because of our love for students, our drive to succeed, and the opportunities we will afford the next generation.
A good ag teacher will put in much more than a typical 40-hour work week, and there is no "off-season." We pour our blood, sweat, and tears into scripts, livestock in the barns, officer teams, lesson plans, greenhouses, multiple fundraisers, alumni and community events, and county fairs; the list never ends. But at what cost?
For many of us, it can be our sanity, our relationships, our marriages, and our very own chil-
dren. When do we say, "I'm going home," "it will be here tomorrow," or the infamous "No?" I realize many of you are reading this article laughing because you know me and my inability to do most of these. However, we are all guilty of it. At what point do we care for ourselves? It needs to start now.
As Texas ag teachers, we are a special breed! Our hearts are bigger than the state, and we would do anything for anyone, especially our students. It's impossible to sit here and say everyone should have the same work-life balance and that burnout isn't a thing. Everyone has to find their sweet spot, which can, and probably will, change and evolve. With this article, I hope to provide some guidance that might help you along the way.
RESPECT YOUR TIME
It is too easy to respond to every text message or email that comes our way, and I am 100% guilty of it too. However, you must set li-
12
AS AN AG TEACHER
mits for yourself. Maybe it's not responding after 8 p.m. or only working a few hours on the weekends. We are not on a 24/7 contract, and we, too, need downtime.
Parents all too often expect us to be on call day and night, but if you set your expectations early and are consistent, you will build a program with limits. I sometimes have to remind my ag parents that they are not working their job 24/7, so why are we? Spend time with your family and friends and do something that is not work-related, even if it's a night on the town.
As a mom of three, I am learning to find a healthy balance with my kids at the livestock barn or show. Some days I feel like I don't get to be just their mom, but being their ag teacher is also a great experience. A wise ag teacher/dad told me to take time for my kids, walk them to and from the gate, and wait for them. A good mom and ag teacher gets to do that. Those words have stuck with me through the last few show seasons. I even tell my show parents, "I'm going to be a mom for 20 minutes," and they absolutely respect it. It's just an expectation I have set.
KNOW WHEN TO SAY "NO"
The first word all of my children learned to say was "no." We thought it was so cute then, but now as a grown professional, I find it almost impossible to mutter. As a young ag teacher, I thought I would be hated or looked down upon if I told a kid, parent, administrator, or another ag teacher no. However, there is a time and place for everything.
Whether you are in a single-teacher or a multi-teacher department doesn't matter. We all have our limits. I hope everyone is dividing and conquering. Make a plan and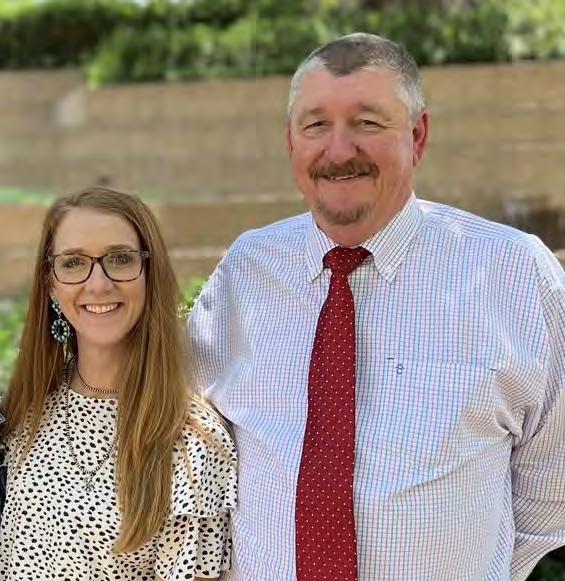 13
"OUR HEARTS ARE BIGGER THAN THE STATE, AND WE WOULD DO ANYTHING FOR ANYONE, ESPECIALLY OUR STUDENTS."
stick to it. We have a calendar between our teacher team, but we also limit ourselves to activities that will benefit our students. We might miss a jackpot or CDE contest because we've been working on record books or have a family obligation. It's ok to say "no."
As a floral teacher, I have had to turn down events because I have livestock responsibilities. As Texas ag teachers, we have put more into our local, district, and area calendars than anyone can imagine. We then
look at the state calendar and are expected to do all those events too. We have to set limits for ourselves; we are human!
PRIORITIZE YOUR HEALTH
Prioritizing your health is one of the most important things we can do for ourselves or our families. As a teacher, I find myself at school with a touch of the stock show crud or the "I'm so tired that I can't see straight" feeling because so much more work is involved in being absent.
A mental health day is as important as a good Sunday afternoon nap. Many of us have some days to spare and need to take one or two. If a day off is outside your wheelhouse, make sure you are seeing your doctor regularly. The reality is we must take care of ourselves.
If you see a fellow ag teacher struggling, help them find the balance that will work for them. We have to do something to keep Texas ag teachers strong.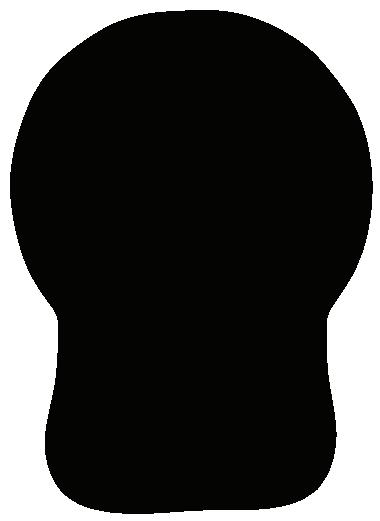 AGRICULTURE NEWSROOM
TEACHER RESOURCE HAVE STUDENTS RESEARCH A SECTOR OF AGRICULTURE OF THEIR CHOICE USING NEWSROOM LINKS. THIS LESSON PLAN INCLUDES ASSIGNMENT OPTIONS ASIDE FROM A TRADITIONAL ARTICLE SUMMARY. WWW.SUPERIORTROPHIES.NET (281)689-5677 SUPERIOR TROPHIES & BUCKLES | HOUSTON, TX Your one-stop shop for custom trophies, buckles, and apparel.
LESSON PLAN
TO THE TEXAS AGRICULTURAL SCIENCE EDUCATION FAMILY
SPRING 2023 STUDENT TEACHERS
16
AG TEACHER SPOTLIGHT
KATELYN EBROM
KARNES CITY HIGH SCHOOL
TENURE: 7 YEARS
WHY DO YOU TEACH AG?
They say when a passion and career come together, you never work a day in your life. That's exactly how I feel about teaching ag. My parents were both teachers, and having grown up in a rural setting, I developed a passion for agriculture at an early age and loved the thought of teaching others about my way of life. Plus, I thoroughly enjoyed my experiences as an ag student. FFA opened many opportunities and really developed me into who I am today. I've been fortunate to have had teachers who invested and believed in me. I wanted to be that teacher for students one day. I worked in the industry right out of college but felt I had missed my mark in life. A couple of years into working, I decided to switch gears and go into teaching, and I haven't looked back since. I love the investment I get to make in young people every day. Not only do I get to teach them about agriculture, but I also get to shape them into successful adults through their experiences with FFA. I tell everyone I love my job and thank God daily that I get to do this for a living. What a true joy it is to be able to answer this calling.
WHAT IS YOUR FAVORITE CLASSROOM MEMORY AS A TEACHER?
Some memories that stick out in my mind involve fun lessons in the classroom. For example, the time we simulated castration or artificial insemination in advanced animal science. Then there was the time in principles of ag when we held a mock meeting to decide which trail mix to make while using the parliamentary procedure rules. The kids were laughing and engaged. It was fun for me and a fun learning experience for them! It made them think about the process and challenged them.
17
BY: STERLING PIENIAZEK TEXAS FFA INTERN
STAR GREENHAND IN AGRIBUSINESS
SUNNYVALE FFA MEMBER'S PET SITTING BUSINESS EVOLVES FROM LOVE OF ANIMALS
Tristan Staley has always had a love for animals. However, her most recent Supervised Agriculture Experience (SAE) has opened her eyes to the business side of agriculture.
In 2022, the Sunnyvale FFA member began her pet-sitting business, "Staley's Sitting."
"It all started with helping my mother's coworker while they were out of town," said Staley. "I really enjoyed this opportunity and decided that this was something that I would like to do."
After extensive research, Staley was able to kick-start her business. As the owner, she creates pet information sheets and books initial visits with pet owners. She gathers pet information, such as feeding instructions, medications, or any specific rules to follow when caring for a client's animal.
"I have to be trustworthy
and responsible," said Staley. "My clients trust me not only in their homes but with their pets' lives. Therefore I do all I can to make sure they are more than content."
Exceptional customer service and active communication are proven to set a business apart. Through her efforts, Staley has learned how to meet her clients' needs effectively.
"I keep my pet owners informed with a daily text message to let them know that their fur babies are doing just fine, along with a picture so they can lay eyes on them."
The FFA member plans to attend Texas A&M University upon high school completion.
"I am excited about what the future holds for myself and my business," said Staley. "After attending college, I plan to [continue to] be a business owner."
Staley's successful SAE project was recognized as the Star Greenhand in Agribusiness at the 2022 Texas FFA State Convention.
18
TEXAS FFA'S
FALL 2022 CHAPTER VISIT HIGHLIGHTS
AREA I - GROOM FFA
"Groom FFA created such a welcoming and amazing environment. We visited with three of their classes, and they were all so engaged in every activity and conversation we had. Their passion for the FFA was truly inspiring. I can't wait to see what they accomplish in the future!" - Campbell
Offield
AREA III - ALVIN FFA
"I had the honor of visiting Alvin FFA during my first week of travel, and it has been one of my favorite moments this past semester. Whether it was watching the members play football outside, singing in the cafeteria, or just interacting with the members, I loved every second. Alvin FFA had one of the most welcoming environments that instantly felt like a home, leaving me feeling inspired by every person I had the opportunity to meet!" - Logan
Jaure
AREA V - CROWLEY FFA
"Spending the morning with this diverse group of students was definitely as much of a learning experience for me as it was for them. This chapter's hospitality and positive attitude made a noticeable appearance in our leadership workshop and facility tour; I felt like I was part of this school." - Austin
Blagg
AREA VII - DAVINE FFA
"Davine FFA was quite the hidden gem. This chapter showed immense energy and engagement with the workshop. I felt so welcomed by this chapter, and I'm proud that they represent the area I call home." - Tommy
Egbert
AREA IX - WARREN FFA
"The Warren FFA chapter visit was one of my favorite fall visits. This was partially due to the Warren FFA Chapter Officers welcoming me, Windsor, and Bryce as if we had been their best friends for life. We stayed up late playing many different card games and were able to develop a deep bond with one another." - Brandon
French
AREA XI - SHINER FFA
"I don't think I stopped smiling once during our visit with Shiner FFA. Each student was kind, funny, engaged, and happy to be there; their eagerness to learn and to help each other grow was remarkable. Watching them interact with one another was like watching a family, and they quickly made us feel like a part of that family. Shiner FFA, you guys are something special!" - Laura
Beth James
AREA II - NEW HOME FFA
"One of the most impactful chapters I had the opportunity to visit was the New Home FFA Chapter. Seeing how eager the students were to be involved and truly learn was inspiring. Everyone was involved, and the energy was unmatched." - Zoee
Nolen
AREA IV - WOODSON FFA
"As soon as we walked into the gym, Woodson FFA was energetic! They never stopped listening and brought a whole new perspective of kindness to our attention."- Windsor
Godfrey
AREA VI - WHITE HOUSE FFA
"From the first greeting at the door to the overwhelming excitement during our presentation, this chapter blew me away. These guys made me proud to represent Area VI, and I am looking forward to seeing the great things they will accomplish." - Joseph
Nelson
AREA VIII - BOSQUEVILLE FFA
"While this chapter might be small in numbers, they are full of life and passionate about learning about the FFA. This chapter taught me the true meaning of growth and determination and inspired me to continue growing. My time with this group of students and ag teachers will forever be one of my core memories, and I am very thankful to be from the same area as Bosqueville FFA!" - Ty
Williams
AREA X - MCALLEN MEMORIAL FFA
"This chapter stands out from my week of area travel due to the genuine nature of our visit. This stop wasn't scheduled and was the product of a quick phone call asking to come to talk to the members. We had a great time with a fun little Q&A, and I would feel welcome at McAllen Memorial any day!"- Nathan
Atkinson
AREA XII - ROSEBUD-LOTT FFA
"We had an amazing time at Rosebud-Lott. They were engaging, ready to learn, and welcomed us with open arms!" - Bryce
Fisher
19
EDEN GREEN TECHNOLOGY
BY: LAURA BETH JAMES TEXAS FFA STATE VICE PRESIDENT A TEXAS FFA OFFICER BUSINESS AND INDUSTRY EXPERIENCE
Making the impossible possible. Putting another innovative spin on the world's most crucial industry. This is what Eden Green Technology has been doing since 2017, and they say this is just the beginning.
This past winter, the 2022-2023 Texas FFA state officer team had the opportunity to tour Eden Green during a leadership development training. To say the experience enthralled us would be an understatement. As soon as we arrived, we were greeted by warm, welcoming employees who made us feel right at home. After hearing a brief overview of our tour, we stepped into a small room to suit up in hair nets and aprons before entering the first greenhouse.
When I heard we would be touring greenhouses, I envisioned small, humid enclosures with
low ceilings and damp concrete floors; however, the greenhouses of Eden Green paint a much different picture. These facilities are unlike any I've seen before; instead of growing out, Eden Green grows up. They utilize vertical farming technology and advanced hydroponic systems to produce five million pounds of leafy greens annually on 99% less land than conventional operations. Along with greens like lettuce and kale, Eden Green also grows various herbs, fruits, vegetables, and more. Just 48 hours after these crops are harvested, they'll appear on local grocery store shelves. This quick turnaround time helps increase nutritional value and accessibility while decreasing transportation costs and food waste.
This sustainable business venture is more than just a way to turn a profit. For brothers Jacques and Eugene van Buuren, the founders of Eden Green, it's
20
MAKING THE IMPOSSIBLE POSSIBLE:
a way to save lives. During a trip to South Africa, the brothers witnessed a heartbreaking scene: a young boy stashing food in his pockets to take home for his sister since it wasn't his day to eat. Food insecurity is a harsh reality that approximately 821 million people face daily. Instead of simply feeling sympathy for the people in this situation, the van Buuren brothers decided to take action. Shortly after, Eden Green was born. They began with the goal of making healthy food accessible for everyone while retaining a high level of productivity and sustainability.
From the time we spent with the Eden Green team, it's evident that they have gone far beyond reaching this goal. By coupling a genuine desire for change with cutting-edge technology, they are doing what all of us in agriculture strive to do: feed a hungry population. And they do it well.
21
"THEY ARE DOING WHAT ALL OF US IN AGRICULTURE STRIVE TO DO: FEED A HUNGRY POPULATION."
TEXAS FFA MEMBERS ATTEND EVENTS TO INCREASE LEGISLATIVE LITERACY
More than 600 Texas FFA members and advisors took "Learning to Do" one step further by attending the annual Agricultural Science Education and Texas FFA Day at the Capitol and Legislative LEAD. On February 22nd through 24th, students had the opportunity to visit the state capitol in Austin to learn about the legislative process and how it relates to agriculture.
Attendees witnessed state government in action and heard directly from those responsible for making changes in the state legislature, including Texas Agriculture Commissioner Sid Miller, Texas Workforce Commission Chair Bryan Daniel, and Office of Texas Governor Deputy Chief of Staff Jordan Hale.
"I had an amazing time," said Hunter Daniels, Fort Stockton FFA. "I learned a ton about the legislative process and how to advocate for agriculture properly."
Members had the opportunity to learn about leadership, civic engagement, and empowerment during an interactive tour of the State Capitol.
"I learned how to be involved and advocate for agriculture through policy, whether on the local or state level or even higher," said Graham Wristers, Klein Oak FFA.
Texas FFA Day at the Capitol has occurred annually since 2010, and then in 2021, the Texas FFA Foundation introduced Legislative
22
"IT IS IMPORTANT FOR FFA MEMBERS TO BE ACTIVE IN GOVERNMENT RELATIONS AND BUILD RELATIONSHIPS."
- AUSTIN BLAGG, TEXAS FFA STATE VICE PRESIDENT
LEAD. These experiences give agriculture students insight into how the capitol's daily activities impact their everyday lives as citizens, students, and Texas FFA members.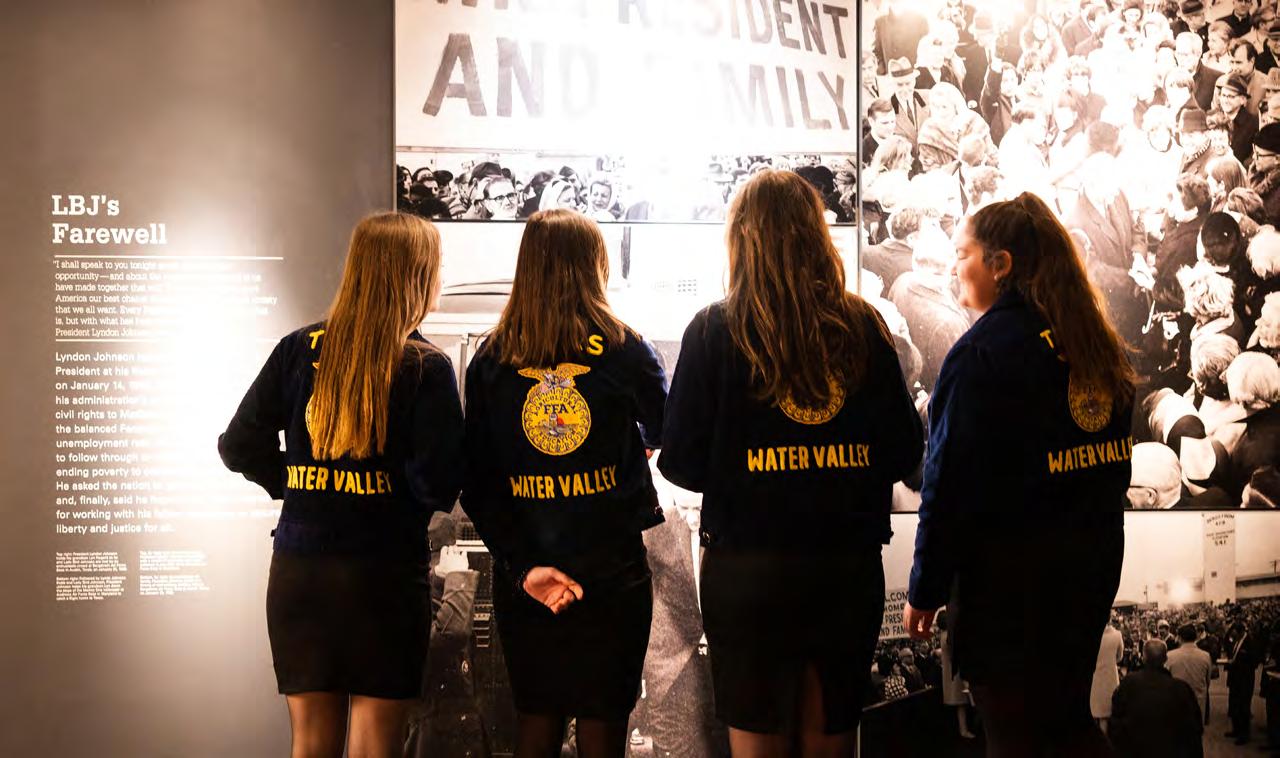 Additionally, this event provides students a platform to advocate for the continued support of agriculture and agricultural education.
The Texas FFA state officer team visited 150 House Representative offices and 31 Senate offices to deliver informatio-
nal packets that provide current facts, statistics, and valuable information. The team spoke with any available legislators and staffers to advocate for FFA, career and technical education, and agricultural science education.
"As young agriculturists, it is important for FFA members to be active in government relations and build relationships to ensure sustainability in production agriculture and agricultural science education," said Austin Blagg, Texas FFA State Vice President.
"MEMBERS HAD THE OPPORTUNITY TO LEARN ABOUT LEADERSHIP, CIVIC ENGAGEMENT, AND EMPOWERMENT DURING AN INTERACTIVE TOUR OF THE STATE CAPITOL."
SHARES AUTHENTIC LEADERSHIP STYLE WITH TEXAS FFA
BY: AUSTIN BLAGG TEXAS FFA STATE VICE PRESIDENT
Developing an international faith-based entrepreneurial network to promote the many businesses of worldly leaders is a niche market. Still, with people like Dan Owolabi, this idea has quickly become a reality.
At NewPointe Community Church, a megachurch in his hometown, Dan served as the lead pastor for over four years. He has since decided to expand his work on a global scale, where he serves as the Executive Director of Branches Worldwide. This faith-based platform helps connect business leaders with experienced mentors to help develop their spheres of influence within their communities. Dan and his team have successfully spread support to leaders in 17 countries, including Nicaragua, Tanzania, Brazil, and Uganda. The connections facilitated
by Branches Worldwide are meant to provide these entrepreneurs with mentorship, valuable resources for their businesses, and exposure to a global network.
Dan is a co-founder of Owolabi Leadership, where he presents keynote speeches to various audiences about his leadership philosophies across the country. From college campuses to virtual events, Dan's message has empowered leaders everywhere to become the most authentic versions of themselves. In addition to being a motivational speaker, Dan is also a published author. His most recent book, "Authentic Leadership: How To Lead With Nothing To Hide, Nothing To Prove, & Nothing To Lose," breaks down the most effective ways to practice a genuine leadership style and was a #1 release on Amazon in 2020.
The Texas FFA Association is fortunate to have created a lasting relationship with this servant leader, who has recently shared priceless leadership development with this year's state officer team. In addition, Dan Owolabi will be bringing that same energetic inspiration to the 2023 Texas FFA Convention as a keynote speaker.
24 DAN OWOLABI
"IT'S IMPORTANT NOT TO PRACTICE WHAT YOU PREACH, BUT TO PREACH ONLY WHAT YOU'VE PRACTICED." - DAN OWOLABI
AG TEACHER SPOTLIGHT
DANIEL PHILLIPS
FAIRFIELD HIGH SCHOOL
TENURE: 21 YEARS
WHY DO YOU TEACH AG?
A big reason I teach ag is the influence my two high school ag teachers had on me and their impact on my life. As ag teachers, we must educate our students to continue the work in the agriculture industry to take care of the world for future generations.
WHAT IS YOUR FAVORITE CLASSROOM MEMORY AS A TEACHER?
My favorite memory is during the 2012-2013 school year. I was awarded the Teacher of the Year for Fairfield ISD, Teacher of the Year for the VFW, and selected as the first Justin Boots Teacher of the Year for Texas.
WHY DO YOU BELIEVE THAT AG EDUCATION IS SO IMPORTANT?
Agriculture is the backbone of this country, and as ag teachers, we are responsible for educating our students so they can continue the traditions and improve on how agriculture is used every day. Also, the hands-on aspect of agriculture classes makes learning fun, and we have something to offer every student.
WHAT ADVICE WOULD YOU GIVE YOURSELF AS A FIRST YEAR TEACHER?
I advise a first-year teacher to take a deep breath and relax. I started mid-year, so I was overwhelmed at the beginning. After I got the first full year under my belt, things settled down, and I was able to get comfortable as a teacher and FFA advisor.
25
JAY AND JORDAN TREES FATHER AND DAUGHTER
"I WILL SAY THAT I HAVE TAKEN ON MY DAD'S PERSONALITY IN THE CLASSROOM AND REALLY ENJOY WHEN MY STUDENTS ARE GETTING THEIR HANDS MOVING AND LEARNING BY DOING."
WHEN DID YOU KNOW YOU WANTED TO WORK IN AG EDUCATION?
"I knew I wanted to be in ag education from a very young age, and my dad had a lot to do with that decision. I enjoyed watching him have a successful career and the ability to be a family man still. I wanted that for myself in my future. My mom is also in education, and my grandparents and I think that just set a foundation for how impactful teachers can be on young minds."
- JORDAN (DAUGHTER)
IS THERE A BIT OF A FRIENDLY COMPETITIVE RIVALRY?
"At the end of the day, we love competing because we only make each other better at our job. We enjoy bouncing ideas off one another, asking questions, and getting constructive feedback. I know I always have my biggest cheerleader behind me, rooting me on, and he has the same!" - JORDAN (DAUGHTER)
WHY DO YOU THINK AG EDUCATION IS SO IMPORTANT? HOW DOES THIS PLAY INTO YOUR FAMILY'S INVOLVEMENT?
"Fortunately, I knew before many kids my age where our food comes from, and my brother knew the same. It made us more aware of the world around us and what we were doing, whether it was raising livestock for show or just a garden in the backyard. There was more of a purpose to it. My brother currently works a trade, and I know that his hard work ethic comes from his time on the baseball field and in an ag classroom. Agriculture is a family-involved industry, and ag education is the same way."
- JORDAN (DAUGHTER)
26 HIGHLIGHTING FAMILIES IN AG EDUCATION
Teach Ag Tips
TRAVELING WITH STUDENTS
BY: RAY PIENIAZEK, AG TEACHERS ASSOCIATION OF TEXAS EXECUTIVE DIRECTOR
1. You should always check with your school what the correct documentation is needed to travel with students. All schools are different as to the proper forms and procedures to follow.
2. You should always have emergency contact information on each student you travel with, so you can contact them if an issue arises. Knowing which parent or guardian is the right one to contact is also very important.
3. You should have a parent permission form for the student to travel with you during the year or for each one. It would be best to verify with the district what is acceptable for a permission slip.
4. A good practice would be to provide an itinerary for the parents of the students who are traveling with you. Provide leave time, what vehicles you are traveling in, where you are staying overnight, and the return time.
5. Please be aware that parents may have apps on the student's phone that may indicate where they are and even how fast the vehicle is traveling when they track them. One of these apps is called Life360.
6. When staying at hotels, request that all rooms be on the same floor and near each other. If they are on separate floors, be sure and have an adult chaperone on each floor. You should always have a curfew for your students to be in their room. They should not leave the room unless they are with an adult. Check each room to ensure that the boys and the girls don't have adjoining rooms. Never allow boys and girls to occupy the same room unless you are in the room or the door is open.
7. In most situations, if students leave your sight they should always be with at least one other student or a group of students.
8. Always check your school district's policy on students staying in the same room as the teacher. It is best that students always have their own rooms, even if it is just one student in that room.
9. Some agriculture teachers take the students' phones away at night, and some even remove the telephones from their room. If you do this, make sure your administration is okay with it and that the parents know you are doing this.
10. Always submit your list of names traveling with you to a school official before departure. If someone does not show up and it is a school day, make sure the attendance clerk knows that they are not with you.
11. If you drop your students off and leave while they are in a contest, make sure this is an acceptable practice in your district. Is the expectation you stay where they are, or is it okay to leave the site? Also, do your best to promptly return to them after the competition so they do not feel abandoned.
12. If students violate school rules on the trip, you are duty-bound to report those actions to the school immediately or upon return to the school. You should get the number of a school official to report to if an emergency happens.
27 AgricultureTeachersAssociationofTexas
I AM TEXAS AGRICULTURE PROUD
BY: LYNITA FOSTER PRESIDENT OF THE AGRICULTURE TEACHERS ASSOCIATION OF TEXAS AND MADISONVILLE HIGH SCHOOL AGRICULTURE SCIENCE TEACHER
Two thousand four hundred twent-seven dollars. Though I never asked them, I can imagine how much this figure scared my grandparents. This is the amount they promised to pay for a few acres of land in the Fellowship community.
In the 1930s, this was a large sum. They worked the land from sun up until dark. When the farm wasn't producing enough to make the payments, my grandpa worked in town for five-day stretches, leaving his young son (my dad) and grandma directives for running the farm. They worked for years to pay off that debt, but I am grateful they did not give up. Those same acres eventually became the same ones my brothers and I played on, hunted on, fished on, raised fair projects on, camped on, and grew up on.
We learned how to wake up early to care for the living things we were responsible for. We came home from school knowing the chores came first. We experienced the beauty of clear, starry nights, the joy of the new calves born in the spring, and the sweat of a summer hayfield. I was blessed to have the chance to grow up agriculture proud.
This opportunity is becoming increasingly rare, and census data shows that only 12% of Texans live in rural areas. I learned about agriculture as an inheritance. But I don't think you have to grow up on a farm to be agriculture proud.
The entire population benefits from agriculture multiple times daily, 365 days a year. From the warm bedding that lets us rest,
our stylish or comfy clothes, and the delicious morsels that travel from mouth to stomach, agriculture sustains our lives. American farmers provide 360 million tons of commodities each year. Since 1948, farm productivity has tripled. This increased yield has occurred while using less land and less water.
America has one of the world's safest and most diverse food supplies, and Americans spend a smaller percentage of their income on food than most other countries. The accomplishments of the agriculture industry are astounding, and we work in the one industry that sustains all others. For these reasons, I am agriculture proud.
But what about the future? How will this vital industry remain strong? The answer, of course, is our outstanding youth. Agricultural science education is the lifeline, and it has never been stronger. Two hundred twenty-two thousand students are learning and experiencing agriculture hands-on through AFNR courses and SAEs. The state legislature has recognized career and technical education's valuable role in developing tomorrow's leaders.
The Texas FFA, Texas FFA Foundation, and the ATAT recently met to align our vision and goals better. We are constantly working to make things even better, and I am Texas agricultural science education.
However, my deep admiration for ag education is based on more than statistics and meetings. It is based on the times I see ag teachers at school long after everyone else has left. It happens when one ag teacher
28
AGRICULTURE TEACHERS ASSOCIATION OF TEXAS
helps another train a contest team, even though they know their schools are competitors. I know it when ag teachers give and give but don't give up. Texas ag teachers work tirelessly. They put in long hours for little pay. They invest themselves in the young people they serve. I couldn't be more proud of my associates in this profession. I am ag teacher proud.
One of the best things about all this is that it lasts a lifetime. I was shopping last week when a middle-aged stranger came up and started saying the FFA creed just because he saw the FFA emblem on my shirt. I've had elderly gentlemen talk to me in restaurants, remembering when they donned the blue corduroy jacket. These fond memories show they are, at least in part, what FFA made them.
When you think about it, the talent on display at FFA events is impressive. Students who take advantage of the opportunities ag programs provide are changed for the better forever. I have been blessed to see students use skills learned in FFA to excel in college and varied careers. Because of impacts that last a lifetime, I am agriculture student proud.
We are standing on broad shoulders. Much hard work has been poured into our industry, associations, profession, and students. We have the privilege of carrying this legacy even further. When I prayed over how to best serve as an officer, my leading role was telling ag teachers that you are doing a good job. We don't always get a lot of thank yous. I know that when I get a "come see me" text from my principal, it is usually to tell me something I did wrong instead of something I did right. But even on those bad days when you feel discouraged or just plain exhausted, I hope you can find a way to push through. Like the mortgage on my grandparent's farm, things that matter take time and come with struggles. You may not see the reward immediately, but keep fighting and leading because, in the end, I hope you can be proud of the most important of all – you can be proud of yourself.
AGRICULTURE TEACHERS ASSOCIATION
TEXAS NEWSLETTER
OF THE
80
THINKING PAST YEARS
THE DOINGS AND HAPPENINGS IN YOUR ASSOCIATION
April 1981
By: W.H. Meischen, VATAT Executive Director
Agriculture has always been one of the leading enterprises in Texas. Many of the young boys and girls you are training and developing will be some of the leading farmers and ranchers in the next 25 years. The responsibility of teaching Vocational Agriculture was never more important than it is today. Production Agriculture and the agri-business industry job opportunities were never better than they are today. Your dedicated teaching and leadership abilities can make the difference as your graduating seniors enter the job market. Your graduates should know what the world of work is all about. There is no doubt that if young people are interested in Agriculture, Texas is the place to be.
29
AN EXCERPT FROM A PAST
OF
TEXAS
ARE YOU PROUD OF YOUR PROGRAM?
BY: RAY PIENIAZEK AGRICULTURE TEACHERS ASSOCIATION OF TEXAS EXECUTIVE DIRECTOR
As I pondered this quarter's topic of agriculture pride, I can think of many times my students made themselves, their teachers, their teammates, their parents, and their school and community proud. Students, both in and outside the classroom, do activities and actions that should make you proud. If you have not told your students you are proud of them, what's stopping you? They want and need your appreciation regularly.
What happens in your agriculture classroom that makes you proud? Do you share with as many people as possible when good things happen? Something good happens every day that you could report to someone. One idea might be to pick one to two students each week and send a note to their parents saying why they should be proud of their child. You can choose not to tell the child you are doing it, so they get some praise at home.
My students would write in journals every day when they came to class. I read every response to the quote or question of the day, which gave me a chance to provide private feedback and tell them they were doing a great job or that their response was appreciated. Another practice may be to have each student practice telling each other good things so they can feel proud of themselves once or twice a month.
Here are some ways to tell your students you are proud of them, as taken from Sa-
rah Barkley's "30 Ways to Say I'm Proud of You to Someone Special."
1. I am in awe of your talent and accomplishments.
2. Look at how far you have come from where you started.
3. It isn't always easy, but you did the right thing.
4. That is a huge accomplishment that not everyone can reach.
5. I am proud of you, and that will never change.
6. You have accomplished so much already, and I can't wait to see what you do next.
7. I always knew you could do it.
8. I know it was hard, but you got it done.
9. I am incredibly impressed by how hard you worked and how much you accomplished.
10. You are such an inspiration and role model for those around you.
11. I can't stop bragging about you!
12. You did a good job, even if it didn't go the way you wanted it to.
13. Wow, good job! What did you do differently this time?
14. All your hard work has paid off.
15. It has been an honor to watch you come this far.
You never know how much one of these statements may do for one of your students!
What makes you proud of your FFA program and agricultural science depart-
30
AGRICULTURE
TEACHERS ASSOCIATION OF
ment? Do you share good things with your school? Think about sharing an agricultural thought each week with your faculty. It could be as easy as a statistic about agriculture in your community.
I get letters from student teachers thanking me for coming to speak to blocks and read about how many of them are following their agricultural passion. Share it with the school if you're proud of your agricultural passion. Offer help to other faculty members with lessons on agriculture. It might create a bond between you and your coworkers and increase support for your students.
How do you showcase the types and diversity of agriculture in your community? Agriculture in your community might look different than in other communities, but we must teach and share how agriculture is important to all of our communities.
Each time you involve someone from the community in your ag program, you
make sure they and the community know how important it is. Asking your friends on social media for help to get speakers in your classroom will also show the community you are proud of what you are teaching.
Being a role model in showing how proud you are of your students and their involvement in agriculture is something you should always be doing. Be proud of what you contribute to the future of agriculture by training the next generations of agriculturalists. Those around you are watching every action you take. Make your students, community, and school proud they have an agricultural education program.
2023 INDUCTEE NOMINATIONS
WE ARE NOW ACCEPTING NOMINATIONS FOR THE 2023 AGRICULTURE TEACHERS ASSOCIATION OF TEXAS HALL OF FAME
31
"BE PROUD OF WHAT YOU CONTRIBUTE TO THE FUTURE OF AGRICULTURE BY TRAINING THE NEXT GENERATIONS OF AGRICULTURALISTS."
FOR MORE INFORMATION
VISIT TEXASAGTEACHERS.ORG
AGRICULTURE, LEADERSHIP, AND SUCCESS
BY: AARON ALEJANDRO TEXAS FFA FOUNDATION EXECUTIVE DIRECTOR
There is something special about being in the great outdoors. Open skies, trees, brush, ponds, lakes, fields of grain, hay, livestock, natural habitat, and wildlife. There is something different about the calm, insights, and experiences that come from nature. On the other hand, look around a city, what do we see? Buildings, bridges, streets, noises, and an atmosphere of hurry. We can learn much from both environments, but agriculture is where we learn the most about life, leadership, and success.
LINCOLN VISION
Let's look at the parallels between life, leadership, and success and how we can take lessons from agriculture. We can see the examples through a few essential filters: Vision, Seeds, Genetics, Work Ethic and Harvest.
Success in life is a pathway similar to the cultivation of food. Our country is blessed with three vital and renewable resources: youth, agriculture, and leadership. The FFA combines all three to form well-rounded leaders today who become dynamic influencers tomorrow. When we think about the homes, communities, state, and country we want, what are we planting, caring for, and nurturing? Let's grow the future we want.
What do you see? Do you see an opportunity? Is it an open field with the potential for harvest? Is it a prospect for livestock production or wildlife management? Do you see an opportunity for personal growth or career success? Vision is an important component of effective leadership. A vision is defined as a clear, distinctive, and specific view of the future and is usually connected with strategic objectives. Effective leaders define vision and communicate it to foster enthusiasm and commitment throughout the organization. The ability to express a vision and inspire others differentiates a leader.
SEEDS
Isn't it amazing…what we plant is what grows. Where we plant those seeds is important too. We need to plant where we have the resources, access, and teamwork to accomplish the growth and harvest of our efforts. We have to clear the land, plant the seeds, weed when necessary, overcome challenges/adversities (weather, pest, disease, market forces,
32
TEXAS FFA FOUNDATION
"IF AGRICULTURE HAS TAUGHT ME ANYTHING, IF YOU WANT TO KNOW WHAT THE FUTURE IS… GROW IT." – AARON ALEJANDRO
"THE PHILOSOPHY OF THE CLASSROOM IN ONE GENERATION WILL BE THE PHILOSOPHY OF GOVERNMENT IN THE NEXT." – ABRAHAM
consumer demands), and harvest when the time is right. Success in life is much the same way. We have to plant the seeds of success we want. Nurture the opportunities we hope to render the greatest outcomes and capitalize on the opportunity when it presents itself.
GENETICS
What does it take to raise champion animals? First, we have to assess our herd. What animals represent the genetics we want, and which must be culled? We then have to put the genetics we want in place to create the champion herd we desire. What happens next? It is a gestation period; it doesn't just happen right away. You must care for the animals, feed them, water them, and nurture them. When babies are born, what must they do to be great? That's right … nothing … it is in their DNA. Much like genetics, organizational culture, and core values become the "DNA" of a person's life or organization. Be sure to establish the genetics to create positive work environments and positive attitudes to create positive results.
WORK ETHIC
Work ethic is the dedication and responsibility to understand the importance of getting the job done, even in tough times. People always ask me what separates young people in agriculture/FFA from their peers. My answer is always quick and the same, "In the world of agriculture, if we don't do our jobs … something dies." We have to be resilient and purposeful when accomplishing the tasks involved in agriculture. Success in life is the same way. You have to show up, put in the work, be resilient, look for best practices, find people to give you responsibility and hold you accountable, and be grateful for the opportunity and those who provided it.
HARVEST
Raising a crop or livestock is rewarding, knowing your work will feed, clothe, shelter, or even heal others. Much like agriculture, a successful servant leader is empowering and encouraging to those around them. The harvest of success allows others to feel valued, appreciated and encouraged to strive for a goal of personal and professional excellence. Success is gained from the achievement of our goals but also from the happiness and satisfaction derived from pursuing those goals.
Agriculture, leadership, and success have much in common. They all require a focus on the future, hard work, positive attitudes, teamwork, and gratitude. We have to work hard to reach goals and achievement. Our country is blessed with abundant agriculture and agriculturists, young people with dreams and ambitions that will touch the future, and leadership development organizations like the FFA. Let's go to work and grow the most incredible future for those who will follow in our footsteps.
33
Birthday How: Do you know anyone who loves and believes in the Texas FFA? Maybe you? Create a birthday fundraiser with a minimum goal of $100. Where: You can donate through the Facebook Birthday Portal or Texas FFA Foundation Donor Perfect website. We'd be honored to have your help in giving the best gift ever - $1 Million. You can provide a dedicated gift for the Texas FFA Convention Endowment.
Happy
Texas FFA Legacy Style
"WHEN TILLAGE BEGINS, OTHER ARTS FOLLOW. THE FARMERS, THEREFORE, ARE THE FOUNDERS OF HUMAN CIVILIZATION."
– DANIEL WEBSTER
I BELIEVE IN THE PAST, PRESENT AND FUTURE OF AGRICULTURE
BY: JENNIFER JACKSON TEXAS FFA ASSOCIATION EXECUTIVE DIRECTOR
At approximately 9000 BC, our ancestors in Mesopotamia (now Iraq) began breeding plants and animals. These methods started taking hold worldwide, and word spread that seeds could be saved and replanted season after season. People could plant roots instead of roaming in search of food, and because of this, civilizations formed. Interestingly enough, some crops, such as rice and wheat, are credited for the development and success of some economies. Interactions with wild animals exposed us to a more accessible food supply. Humans soon discovered that providing basic needs for these animals secured a ready food source for their community as well. The techniques of selective planting, crop breeding, and rotation have been around since as long as 3500 BC, and though many advancements have been made since, we have those who came before us to thank for the crops we rely on today.
As recently as the 1950s, scientists began studying the double helix structure of DNA and the genetic code of animal and plant cells. All of this led to the incredible advancements that make modern-day agriculture thrive and feeding a growing population a possibility.
Flash forward to those who came before us…the ones you know. The farmers and ranchers who, without many of the luxuries we have today, worked to cultivate, plant, and harvest the land. The ones who kept herds of animals healthy without any mandates from the health department but
rather a need to keep animals sound and healthy so that they could feed their families through trial and error. The ones who realized processes for mechanized agriculture and developed machines and implements that take days off of current-day tasks.
When we think about our growing population, projected to reach 9 billion by the year 2050, and the decline of our natural resources, we must look to the agricultural industry. These individuals are dedicated to finding safe means to feed the planet because our other options are hunting wild animals and gathering and growing our own crops to eat.
In 1917 legislation called for agricultural education, and seeds were planted just 11 years later. As a result, the greatest organization on the planet was formed to educate our young people about the agricultural industry, challenge them, and provide them with skill trades to provide for their families.
34 TEXAS FFA ASSOCIATION
"AN ORGANIZATION WHERE TRADITIONS WERE CREATED; VALUES, ETHICS, AND MORALS WERE PASSED ON TO THESE YOUNG INDIVIDUALS WHO HAD ASPIRATIONS OF BEING SUCCESSFUL FARMERS, RANCHERS, OR TRADESMEN."
An organization where traditions were created; values, ethics, and morals were passed on to these young individuals who had aspirations of being successful farmers, ranchers, or tradesmen. Then significant strides were made to offer greater opportunities to all individuals; the FFA soon saw a need to offer membership outside the original demographic. Since then, education opportunities have only increased along with the technology and accessibility to these opportunities.
When it boils down to it, we must take great pride in our history and realize that our most valuable resources are the young people who will one day find a solution to meet the challenging needs to sustain the planet. Just as those who came before us and the pioneers who continuously develop new technologies to find efficient means to feed our world. When you put it all into this perspective, this can seem like an insurmountable task. However, most people reading this article are likely as passionate about agriculture as I am. It's exciting to
think that we get to wake up every day and share that passion with our students and share all the incredible knowledge regarding the industry and, hopefully, instill in them to desire to pursue careers within an agricultural field or become advocates who value and appreciate the incredible progress that has been made since those initial seeds were planted. My hope is that we continue to plant those seeds both actually and metaphorically.
35
PLANET." Texas FFA Supporters save up to 15% o BAR* at over 6,100 hotels in the U.S. Book today at wyndhamhotels.com and use Corporate Code 1000028580 or call 800-407-9832 and ask for the Texas FFA Supporters discounted rate *Subject to availability at participating hotels. Blackout dates and certain restrictions may apply. Discount for Texas FFA Supporters is 11-15% off our Best Available Rate (BAR) at Wyndham hotel family of brands. Savings are discounted from property's BAR excluding taxes, resorts/service fees, incidentals, gratuities, or additional per room, per night charges that may be imposed. BAR means best, non-qualified, unrestricted, publicly available rate on the Internet for the hotel with equivalent terms, date and accommodations requested. Rate is subject to cancellation or change at any time and void where prohibited by law. Cannot be combined with any other discounts, offers, group rates, or special promotions. Cancel 24 hours prior to 4PM day of arrival to avoid 1 night charge plus applicable tax. Reservations must be guaranteed with a valid credit card. © 2021 Wyndham Hotels & Resorts, Inc. All rights reserved. All hotels are independently owned and operated except certain hotels managed or owned by a subsidiary of Wyndham Hotels & Resorts, Inc. LA QUINTA INN & SUITES BY WYNDHAM SAN ANTONIO DOWNTOWN SAN ANTONIO, TX
"WHEN IT BOILS DOWN TO IT, WE MUST TAKE GREAT PRIDE IN OUR HISTORY AND REALIZE THAT OUR MOST VALUABLE RESOURCES ARE THE YOUNG PEOPLE WHO WILL ONE DAY FIND A SOLUTION TO MEET THE CHALLENGING NEEDS TO SUSTAIN
THE
THE REAL MVP s OF AGRICULTURE
BY: LIZ TREPTOW, WEIMAR HIGH SCHOOL CTE DIRECTOR AND ADVISOR
Before the 2023 Super Bowl, Texas Farm Bureau posted, "The real MVP of tonight's game? Agriculture!" I was super excited and thought it would be incredible for agriculture to get the spotlight at some point during the game; after all, there would have been no game or ball without it!
Our little town has a Super Bowl of sorts around the same time as the big game. We still have a chapter show for our FFA members, and I like to call it the "Super Bowl" Stock Show because everyone, and I mean everyone in town, comes to watch the show and support our FFA members. It is one of the few things that they can actually watch, and the citizens of Weimar attend in mass. You can definitely say they are agriculture proud! But boy, are things different in a small town than where I came from.
Thirty-one years ago, we (Bill Treptow and I) moved to Weimar from the big city and a big school district where things like setting up for the show, inviting buyers, securing livestock judges, etc., were essentially done for us. Our big city show lasted multiple days, culminating in an auction on the last day. Easy peasy.
Now we move to a school district where they moved the buses out of the bus barn so we could set up pens for housing and a show ring right in that SAME bus barn. After the steers were judged, we would break for lunch, start tearing down the show ring, and set up for the auction that evening. Talk about a different way of conducting a
show - it was a mad rush from one thing to the other. On top of that, we did not really know anyone and did not require the kids to send out invitations to buyers but relied on the FFA members and their parents to do the invitations.
I remember vividly days before the show asking Bill repeatedly how things could possibly work out!? Had someone invited the auctioneer? Were buyers going to come? Who would catch bids? Who would keep up with the sale? His reply then and every day before was, "Don't worry, they will come. It's just how it happens around here; people will show up." That was great in theory but definitely not overly reassuring!
The funny thing, though, is that they really did show up and have done so every year
36
TEXAS FFA ALUMNI AND SUPPORTERS
since! That first year, literally 30 minutes before the sale (seriously), the sale barn auctioneer walks in, the owners of the local auction barn show up to catch bids, the buyers take their seats, the community of Weimar fills the bleachers, and we begin with a tap of that same auctioneer's gavel. In thirty-one years, many things have changed, but so many have remained the same. Our kids do send out invitations to buyers now! We have our own project facility built with donations from community members. We have a two-day show and sale (but that only started after Covid). However, that same auctioneer still walks in, the owners of the local auction barn still show up to catch bids, the buyers still take their seats, the community of Weimar still fills the bleachers to overflowing, and we still begin with a tap of that gavel.
Looking out across the bleachers, one will see parents, siblings, civic groups, grandparents, business owners, FFA alumni, and maybe even an NFL running back –all there to proudly support FFA members who are definitely involved in agriculture!
I t's our honor to be your trusted technology partner since 2009.
UPDATES
BY: SANDRA CHOATE, TEXAS YOUNG FARMERS EXECUTIVE SECRETARY
The State Association of Young Farmers of Texas is actively celebrating Agriculture in 2023! In January, we hosted our 75th State Convention in Huntsville. Members toured the agriculture production operations run by the Texas Department of Corrections and Sam Houston State University Gibbs Ranch to see improvements that have been made. We also heard from the lumber industry and visited the HEARTS Museum.
We had our annual scholarship auction Saturday afternoon to support our young agriculturalists as they embark on their future. Thank you to Capital Farm Credit for sponsoring the auction, including the online portion provided by 3SOne Goal. Our scholarship applications are due April 1; if your community has a Young Farmer Chapter, talk to your ag teachers about how to apply. If your community doesn't have a Young Farmer Chapter check out our website to see how to start one.
The highlight of the convention was the recognition of our State Young Farmer Award winners Saturday evening. We were fortunate to have U.S. Representative Pete Sessions join us for our award session. Thank you, Representative Sessions, for helping us honor our winners. We would also like to thank the Farm Credit Bank of Texas for sponsoring our awards this year, allowing us to present a monetary award to each winner.
Texas Young Farmers will finish 2023 by hosting the National Young Farmers Education Association Institute December 6-10 in College Station, Texas. Everyone is invited,
and we would love to have you. For more information, visit our website at www. txyoungfarmers.org.
THANK YOU TO OUR SPONSORS
We would also like to thank all our sponsors who helped make our convention a success.
• Texas FFA Foundation
• RVOS Insurance
• AgWorkers Insurance
• Producers Coop of Bryan
• Texas Farm Bureau
• Capital Farm Credit
• Farm Credit Bank of Texas
38
YOUNG
TEXAS
FARMERS
The Outstanding Member Award Kimberlee Brown of the Gonzales Chapter
The Outstanding Family Award
The Charlie Rodriguez Family of the Gonzales Chapter
The Sundowner Award
Robert Bland of the Gonzales Chapter
Spring forward 3/12/2023 Spring into Savings Spring into Savings Consolidate high interest credit card debt and take that family vacation in the Spring with a NEW vehicle or start planning for your Summer Vacation! Visit www.vatatcu.org or email info@vatatcu.org for more information! Spring Closures: Our offices will be closed in observance of the following : Friday 4/07/2023: Good Friday Monday 5/29/2023: Memorial Day Join us in welcoming Gabrielle Johnson into our family! She is our new loan originator/member services representative and will be able to help with all your account needs!
RASHAYLA JOHNSON
LACI KEEL
MICHAEL KEITH
KELSIE KENNON
GOWER LESTER
BRITTNEY MACHADO
KAYLEE NEWBROUGH
ASHLEY NIXON
MADISON OWENS
KATHERINE PALMER
ERICA PAVLISKA
REBEKAH PEARSON
CHEYENNE PETERS
SAMANTHA PODLUCKY
CLARA PRICE
TAALOR RATCLIFF
EMILY REILEY
LACY RENO
WYATT RICKLY
ILIANA RODRIGUEZ
STERLING ROUNSAVALL
SLOAN ROWLAND
BOBBY RYNEARSON
KYNDAL SLIGH-CAMPBELL
MADISON STAAB
JAKE STEWART
KENDALL STONE
TAYLOR TRAVIS
JOURDAN TUCKER
KELLIE VICTORY
MORGAN WATERS
COURTNEY WEEKS
MEGAN WHITED
AUNNIKA WITTNER
40 MENTEES MENTORS AGRICULTURE TEACHERS ASSOCIATION OF TEXAS 2022-2023 ZENAIDA ALANIZ HOLLY ATKINSON LAWTON BERRY EVAGAIL CALVERT MAEGAN CARROLL MAKENZIE CEGELSKI SHELBY CLAYTON KINLEE COBEL KODEE CROUCH TRAVIS DAVIDSON COLTON DEAETH GABRIEL DOHERTY JESSIE DYKES JODIE FINKE DALTON FOWLER JIM ALLSUP MARCO BARRIENTES MISTY ERMIS RICK FLEMING STEVE FORSYTHE DEAN FUCHS LACHO GARZA RODNEY MARTINE DARIN MARTINEZ BARNEY MCCLURE WENDY MEADOWS JIM MISSILDINE CHARLES PRAUSE KAY RICHARDS BOBBY ROSENBUSCH MIKE SAMMON BARBIE SCHMIDT WADE SHACKLEFORD LIZ TREPTOW ROBERT WASHINGTON RON WHITSON DIEDRE WILLIAMS MARY WILSON RALPH WILSON GERALD YOUNG CRYSTAL GALINDO EMILY GWINN JENNA HAGE SUSAN HALL AMY HARRIS JENNA HOLLOWAY JORDAN HORAK JAMIE HUBBELL ADRIEN HUNT BAILEY HUNTER CASE JENNINGS
LOBBYIST WORKING FOR INTEREST INVOLVING AGRICULTURAL SCIENCE EDUCATION AND RELATED TEACHERS
ACTIVE MEMBERSHIP BENEFITS
TIMELY LEGISLATIVE UPDATES CONCERNING AGRICULTURAL SCIENCE EDUCATION
ANNUAL PROFESSIONAL DEVELOPMENT CONFERENCE REGISTRATION FEE IS WAIVED
ACCESS TO LEGAL ASSISTANCE
ACCESS TO A $1 MILLION PROFESSIONAL LIABILITY INSURANCE POLICY
YEARLY SUBSCRIPTION TO THE ASSOCIATION'S QUARTERLY MAGAZINE, GROWING OUR FUTURE
ACCESS TO THE ASSOCIATION'S WEBSITE, INCLUDING THE CAREER PAGE
ACCESS TO THE ASSOCIATION'S ONLINE MEMBERSHIP DIRECTORY
ELIGIBILITY TO APPLY FOR THE ASSOCIATION'S STUDENT SCHOLARSHIP (MEMBER'S CHILDREN ONLY)
ELIGIBILITY TO APPLY FOR THE ASSOCIATION'S AWARDS AND RECOGNITION PROGRAM
ELIGIBILITY TO APPLY TO BE A PART OF THE ASSOCIATION'S PROFESSIONAL NEW TEACHER MENTORING PROGRAM
ELIGIBILITY TO PARTAKE IN THE KENNETH HUGHES LIFE INSURANCE PLAN
ACCESS TO THE ASSOCIATION'S AGRICULTURE SCIENCE TEACHERS CRISIS FUND
ACCESS TO THE VATAT CREDIT UNION
ACCESS TO A DISCOUNT AT WYNDHAM HOTELS NATIONWIDE
ACCESS TO THE AGRICULTURAL EDUCATION FORD TEXAS FFA LEADERSHIP CENTER FOR MEETINGS OR SMALL GATHERINGS
MAKE YOUR CATALOGS STAND OUT. FOIL STAMPING, EMBOSSING, DIE CUTS, RAISED UV, SOFT TOUCH Don Denny Cell: 806-789-7713 Office: 806-794-7752 slategroup.com/cattle