New Hope Christian Academy
® Mar./Apr. 2023 Vol. 2 Issue 1 PHILADELPHIA
ExclusiveSpecsForMen and Women www.ladyespecs.com
God Is A Much Better Driver Than I Am
There Are No If, Ands, Or Buts About It!
What if? That thought comes to mind when I consider what my life could be. What if I didn't live in a particular city, or attend a certain high school? What if I had chosen a different career path or traveled a different road in life? What if I had never applied action to my dream? What if God didn't choose me to be paired with His vision?
A Letter from the Editor
What if tomorrow didn't arrive? All of your plans, hopes and dreams wouldn't have a street to park on. What if everything that you decided to put off until tomorrow never happened? There would be no reason to save for a rainy day, and you could spare someone the trouble of making promises. What if your last opportunity seemingly expired today? What would you do?
I will be the first to admit that my life has been anything but simple. For the most part, it has been full of winding roads and quite noisy at times. The love and encouragement of my mother, grandmother, and others surely help to soften me; I surely miss my grandma. Yet, the storms and shortcomings I've endured have done their job and toughened me a little.
I've been told that I often seem like I do too much. Honestly, I feel like I am not doing enough and I'm a firm believer in knowing that God wouldn't put anything on me that I couldn't handle. I sometimes wonder how life would be if I chose to sit idle and accept what it presented to me. I have found that to be very boring. In my opinion, opportunity is a blessing that isn't afforded to everyone. A challenge to me is an adventure. What is the worst that can happen? If I do nothing, I fail, and if I try I don't, but instead learn something new about myself. Relinquish your pride and in return acquire life.
I have learned that my peace lies in the space between the good times and bad times, and for me to enjoy and experience peace, I must work for it. I have also learned that life will get tough, and when we get knocked down, God doesn't expect us to stay there. There are lessons in all experiences, and getting up and trying to get it right again is part of God's lesson.
There was a point in my life when I didn't know if I was coming or going. With every move I made, it was the wrong one. There were also times when I would move or react to whatever thought came into my mind. Again, that turned out to be the wrong thing to do. My point is everything I had done, I did it without seeking guidance from God beforehand. I was driving my own ship, yet I was going nowhere and fast.
While I made a mess of my life, God was there, like He always has been. He allowed me to make those bad decisions and provided grace to ensure I would survive them. During the times when I continued to make the same mistakes over and over again, God continued to cover me because there was a lesson that I needed to learn.
The best advice ever given to me happened when someone told me to make my tomorrow happen today. In doing so I have pressed my way through doors with a key that only hope provided. I have also learned the difference between what God blesses me with and what life can burden me with as well. I compare it to knowing when to be confident and when to be quiet, because someone may get it confused with being arrogant.
Make you tomorrow happen today, but most importantly make it count. Life is but a whisper and we must put ourselves in a position to hear what it is telling us.
Despite everything I have experienced thus far, God has been right there with me. When it appears things aren't moving fast enough, I know that God is governing the speed at which things are happening. When we get in God's way, we block Him from blessing us. Get out of God's way and allow God to drive. You might just learn that life is a lot easier from the passenger seat.
Terry L. Watson Editor/Founder
Terry L. Watson
4 4 HuamiMagazine.com November/December 2014 Want To Advertise? Call (336)340-7844 Editor In Chief Terry L. Watson Alana Allen - Deputy Editor Writers Tonya Dixon Terry L. Watson Alana Allen Jeuron Dove Photographers Perfect Lenz Photography Shaw Photography Group Still Shots Photography Who Shotya Photography www.huamimagazine.com HUAMI MAGAZINE is published quarterly by the Mykel Media Company. Any reproduction of any portion of this publication is prohibited without written permission from the publisher prior to doing so. Mykel Media doesn't accept responsibility for statements made by individuals featured or advertisers. Comments concerning this publication E-mail at terrywatson@huamimagazine.com (336) 340-7844 On The Cover Photo by Shaw Photography Group
Terry L. Watson Publisher Terry Watson Writer Marissa Dick Writer Dorjea' McClammey Writer Chris Kelly Photographer Todd Youngblood Photographer Still Shots Photography Photographer www.huamimagazine.com General Inquiries huami.philadelphia@gmail.com Email Want To Advertise? Call 336-340-7844 Mykel Media Company LLC Greensboro, NC 2023 All Rights Reserved Scan The QR Code Above To Visit Our Website terry.editor@yahoo.com 336-340-7844 A Letter From The Editor
Tamara Smith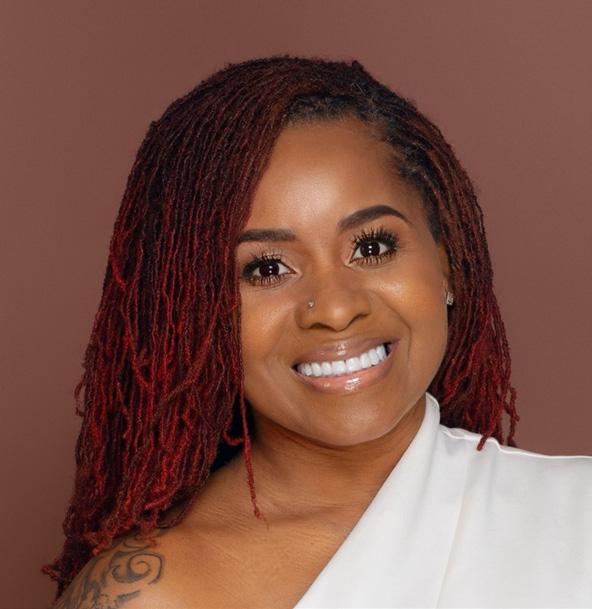 5 MARCH/APRIL 2023 PHILADELPHIA CONTENTS The Vision. The Foundation Khadijah Butler 6 On The Cover Also Featured Huami Magazine Cutest Baby Zoelle Scott Jeanice Sherai, LLC Jeanice Sherai 25 26 The High Point Hush Puppies Nicholas Sturdifen 22 Being Your Authentic Self Shuntina Manuel 30 18 Nicole Harrison Her journey to become physically fit has turned into a full fledged business. CreoleFit Athletics. Amite, LA 10 14 Joy Cook She is the peoples publicist. Her firm has helped thousands of people around the country. Learn more about her story. Greensboro, NC Christopher
Meet the visionary of Smart Technology Corporation. He has built his business by faith. Greensboro, NC
Jackson
New Hope Christian Academy
By Monica Montgomery
Sisters Kimberly Gegner and Alicia Williams-Clark are setting the standard in private Christian education in the Abington, Pennsylvania, area. New Hope Christian Academy is a private, faith-based school that services kindergarten through twelfth-grade students. New Hope offers small classroom sizes, which maximize personal attention--enabling students to reach their full potential.
"Our courses are designed to promote excellence. We are committed to offering the best and most advanced educational opportunities available. With our individualized, innovative curriculum, students progress at their own pace," Alicia, one of the co-founders of NHCA, explained.
One primary truth proven over time is that great things are birthed out of need and adversity. Kimberly, a mother of five, wasn't getting the support she needed for her oldest daughter Mary. "Mary came to our family through foster care and adoption. She was diagnosed with ADHD and ODD (oppositional defiance disorder). Mary struggled in school. By the time my daughter was in eighth grade, she could no longer function in a traditional classroom setting. She acted out in every way possible, her grades were very low, and it got to the point that homeschooling was my only option. By this time, I had three children—Mary, her older brother, and at that time, a new baby. I knew I had to do something, but I couldn't and didn't want to do it alone. So, I called Alicia and told her what was happening, and she was immediately like, let's do it together," Kimberly shares. The sisters started a homeschool co-op based out of their father's church.
During that time, Kimberly was in graduate school at Eastern University, working on a master's in Urban Economics development. "While working on my master's degree, I started to conceive of a Christian school that catered to non-traditional students who looked like us and was affordable on every budget. The school would have a holistic approach, focusing on mind, body, and spirit," Kimberly explained. "This was different from any faith-based schools in Philly at the time."
Understanding right away that their family wasn't the only ones who needed the smaller non-traditional approach to education, applying her Economic development background, Kimberly and Alicia built a model of a Christian school that was funded by businesses instead of tuition. With their model in place, the sisters jumped in heart first. Now eighteen years later, the school is thriving and growing simply through word of mouth and having a reputation for excellence.
When the school started, Alicia didn't yet have her bachelor's degree, but both sisters received Ed.S. in their specified areas. Kimberly's is in Educational Leadership, and Alicia's is in Mathematics Education. Kimberly admits that the idea to open a Christian school was seeded with the vision of the church it was birthed from.
7
Photos Provided by New Hope Christian Academy
"Vision for the school is aligned with that of the church, which is very social justice oriented. We wanted to create a learning environment that would produce social capital, meaning active and productive community members. These students would help to build their communities from the inside out. Our curriculum isn't just academics but also focuses heavily on character building. We wanted to make sure that the alumni of our school go on to improve and elevate society as a whole due to having had the New Hope Christian Academy educational experience," Kimberly explained.
"New Hope Christian Academy is committed to educating each student's mind, body, and spirit. We believe that the holistic education of children, with a strong emphasis on entrepreneurship, will build strong people, families, and communities, ultimately changing the world," Alicia shares. "From the start of the co-op, this has been our vision."
When the homeschool co-op started in September 2004, it had five students. The following year they had seventeen students. "Initially, it was Kim's oldest son and daughter and our three younger siblings," Alicia explains. "We playfully called them the Fab Five because they were the first five students enrolled. But once people saw how it worked for them, word got around. Church members and other people we were affiliated with approached us about allowing their children to join, and things just grew from there."
The school does very little advertising. Most of their students are word-of-mouth referrals. Part of the reason is that the NHCA experience isn't for everyone. "We focus on students who don't do well in the traditional school setting. There is an excessive amount of young black males who don't excel in the traditional classroom. These students function much better in smaller focused groups where they can receive more individual instruction and move at a comfortable pace," Kimberly explains.
Although NHCA is a private school, it is certified through the state and works in conjunction with the title 1 school district their students live in. Title 1 districts are known to have students who experience higher rates of economic hardships and childhood trauma.
"This is also why tuition is so low. We were taught that lack of funding should never keep you from making something happen. And in some cases, students may receive sponsorship. That is how we run our school," Alicia explains.
In the eighteen years the school has been in operation, it has seen rough times, but that didn't stop Alicia and Kimberly. "When we started the school, we only had five students, so it was no problem to house the school at the church. But when the school expanded, we quickly outgrew the small space the church provided," Alicia said. "Our biggest obstacle has always been finding a building to house the school."
At times the sisters had to take on other jobs to pay for facilities so they could hold classes. "Things were so bad at one point that we went without salaries. Thankfully we both have very loving and supportive husbands who believe in what we are doing," Alicia shared. "We had to use our gifts and talents to keep the doors open," Kimberly said jokingly. "I sold baked goods, and Alicia used her graphic designing degree to earn extra money for the school."
8
New Hope Christian Academy 1052 Easton Road Philadelphia, PA 19150 www.nhcatech.com 877-566-0650
At one point, NHCA had to fold into another local Christian school because they had no place to hold classes. "That was really hard, but we didn't give up," Kimberly explained. "I went with our students and taught at the new school, while Alicia went and worked a regular nine to five so we could regain our footing."
One year later, the school reopened, and all of the original NHCA students returned. "The school administrator admitted that she tried to get some of the students to stay, but they weren't having it," she said proudly. "They all came back."
Over the years, the enrollment for NHCA has fluctuated between thirty and sixty students. Currently, they have fifty students enrolled. The school employs seven full-time teachers, three part-time staff members, and one SEL counselor. Kimberly and Alicia also teach. Alicia works with Elementary students, and Kimberly works with Middle and High School students.
The most significant achievement Alicia and Kimberly like to recognize is when they can celebrate their alumni. "We host a New Year's Breakfast and an end-of-the-year festival for our alumni every year," Kimberly explained. "We have students who now have their bachelor's and Master's degrees who are coming back and working with us. That's the social capital I was talking about," she said proudly.
To hold true to its vision statement, NHCA will keep its enrollment at a maximum of sixty students. But they have been asked about expanding. "We have had great success with our students and the model that we use. I wouldn't want to increase the class size. But we may open a second location using the same model," Kimberly explained. "We have been contacted by several organizations asking us if we would be interested in setting up schools in areas like ours around the country. We've even been asked if we were going to write about what we've achieved. I can see us growing to around ninety to a hundred students over two campuses. I think that would be ideal for what we are attempting to maintain. Our current goal is to grow our staff. I used to love being in the classroom, but as I get older and the students seem to get younger, I see myself taking on more of an administrative role. I would be focusing on mentoring new teachers and staff development. It takes dedication, patience, and a calling to teach our children. I see myself helping to cultivate that in new teachers. I want to instill in them the New Hope Way." h
9
Joy Cook
Rainmaker and Risk Taker
The People's Publicist
By Terry L. Watson
Photos Provided by Joy Cook
An often-used aphorism states, "If you know, then you know". Regarding Joy Cook, having knowledge and access to her has proven to be beneficial and value-added.
Joy Cook is a mother, a mogul, and a media maven. She is also an experienced public and media relations professional, entrepreneur, and consultant. She is highly skilled in building relationships, fostering engagement, and impactful storytelling across traditional and emerging platforms. Joy has successfully mastered and is reimagining the multifaceted world of communications while serving as a mentor and educator for the next generation. She is a trailblazer and expertly guides clients from all professions to next-level success. Her clients have been featured on international platforms and made history as a direct result of her strategies and knowledge of effectively communicating in a noisy world.
Born in Hollywood, California, Joy shares she was destined to be a star. However, her parents had other plans. Her childhood experience happened thousands of miles from Hollywood, in the Bull City community of Durham, NC. She was educated in Durham County Schools and is a member of the first graduating class to go 9th through 12th grade at Riverside High School. "I am proud of my heritage and roots of growing up on Tobacco Road," she says. Joy grew up in the legendary "Old Farm" neighborhood and attributes her success to her upbringing and her parents, who were attorneys and teachers.
With a sound foundation prepared by her parents, Joy was ready to answer her calling. She is a two-time graduate of the University of North Carolina at Greensboro and a Thread at Yale graduate, holding positions on numerous boards and commissions. While at Yale, she studied under the first woman editor of the New York Times, Jill Abrams. Joy currently serves as Chief Communications Officer and Associate Vice Chancellor for Strategic Communication at Fayetteville State University, a public Historically Black University founded in 1867 and the second oldest in the University of North Carolina System. She is also the owner of Joy Cook Public Relations Group. Her company specializes in the art of Strategic Communication. "We are in tune with influencers and why trends really do matter. Our passion and commitment to innovation and excellence make us the top choice for breakthrough public relations and digital engagement results," she says.
Since assuming her position, Joy has been anything short of busy. She has built a team of strategic communications, executive communications, media relations, campus news, photo/video production, writing, marketing, administrative and project management professionals. Her focus is to advance and promote the reputation of FSU through messaging, storytelling, earned media, and community engagement. As the chief communications officer, Joy has revamped and streamlined FSU's digital presentation of news items, increased its visibility throughout the community, deepened connections with various local and regional media and communications partners, and secured storylines for the university with major publications such as The Washington Post and Diverse Issues in Higher Education. Some of her most recent projects include productions where she was executive producer.
11
Joy has over 20 years of experience and training in public and media relations, publicity, and digital engagement. In 2010, she founded Joy Cook Public Relations Group (JCPR), where she serves as the CEO and lead strategist. JCPR is one of the longest-running minority-owned PR firms in the Triad and enjoys a clientele of presidents and professionals. Additionally, she has facilitated media training programs for elected officials, as well as C-Suite and executive-level professionals. In 2013, Cook was named one of the Business Journal's "40 Leaders Under 40" Award Winners. Joy and JCPR Group have been recognized with myriad accolades over the past decade. Joy and her clients have been featured on various news and media outlets, including HLN, CSPAN, BBC, FOX, CBS, ABC, NBC, ESSENCE Magazine Online, NPR, and more.
With her skills on full display, Joy has successfully navigated the intersection between traditional and digital media platforms. She has also embraced and mastered the art of social media as an effective and realtime marketing tool. Affectionately titled "Ms. Twitter" by the front page of a popular publication, Joy has positioned herself as one of the nation's top authorities on Twitter (@JoyCookPR) and stays abreast of current and emerging mediums poised to make an impact. Even more, she is the author of the multiple best-selling book, "Watch the Company You Tweet: A 4 Step Guide on How to Make an Impact on Twitter."
Joy's start in public relations happened while working at radio station UNCG 103.1, located on the campus of UNC-Greensboro. She found a passion for publicizing local independent artists, and her interest grew from there.
When asked what she loves most about what she does, Joy responds, "I love that I am a KING maker. I love that I have the ability to turn oblivion into national prominence. I've had several mentors that I attribute to my career success. I have learned that success leaves clues, and I have surrounded myself with the best teachers".
While she wouldn't change how things have happened along her professional journey, Joy notes that some of the challenges she has faced have helped her become the woman she is today. "I left East Carolina University my freshman year to start a family. I returned to UNCG to finish twice over and start my career, all while being a young mother. In 2010, I left my corporate job to start Joy Cook Public Relations Group. That is exactly 13 years from today. In all that I've accomplished, I wouldn't change anything. I feel like I am just getting started," she says.
As she looks forward, Joy says her plans are to continue to impact people's lives by telling the stories that make the world go round. h
HuamiMagazine.com Philadelphia - March/April 2023 12
Joy Cook Joy Cook Public Relations Group www.joycookpr.com 336-970-8131
Smart Technology Corporation
By DorJea' McClammey
He is described as someone who can make just about, well, anything! Christopher Jackson is the owner of Smart Technology Corporation. Based in Greensboro, NC, Smart Technology Corporation is leading the way in the areas of Precision Machining, Injection Molding, and Assembly Fabrication. They also offer various services, including engineering design assistance, reverse engineering, prototyping, and flexible, short-run production. Additionally, Smart Technology Corporation offers 3D scanning capability and can capture up to two million measurement points for a scanned subject, resulting in a precision of about 1.5 microns, or 0.00006 of an inch.
Christopher currently resides in the Triad area of North Carolina but was born and raised in Warsaw, North Carolina. He grew up playing baseball and was very good, so good that he had plans to play professionally. Unfortunately, tragedy struck when Christopher became a victim of a crime that put him in a coma. When he came out of it, he was on disability for three years, and his doctors said he would be 80% medically dependent for the rest of his life. Christopher did not let this discourage him, and he continued to work hard and ultimately regained his mobility.
Now outfitted with a new lease on life, Christoper attended Guilford Tech Community College and received a degree in machinery technology. He also became a machinist and tool maker. After about eight years, he enrolled in North Carolina A&T State University and obtained his Applied Engineering degree. Christopher would later work in various industries, including medical, consumer goods, and automotive, gaining plenty of experience from processing tools, plastics, and materials. Soon he would begin to design his own tools.
Christopher worked as a senior engineer for a company that extruded rubber and helped them launch the X5, X6, and X7 BMW series. He was also working on the new X8 BMW when the Covid 19 pandemic hit, resulting in his being laid off.
At that point, Christopher was so tired of starting over. His wife, Jackie, encouraged him to start his own company, and on the 5th day in October 2020, Smart Technology Corporation was born. "Smart Technology Corporation is a place where we do everything smart. We use the best materials and employ the best people to produce products. Our motto is, "there is no wasted time with Smart Technology". If you can imagine it, we can make it," he says.
15
www.smarttechnologycorp.com 336-404-3995 "Smart Technology Corporation is a place where we do everything smart. We use the best materials and employ the best people to produce products."
Photos Provided by Christopher Jackson
Christopher has customers from all over, including the medical field, consumer goods, the communication industry, and small and local businesses. "When you come to Smart Technology with an idea, no one is turned away. We can design, develop, mass produce, and market our client's products. Any plastic or metal products, tools, pieces, big or small, we can make," he says.
At Smart Technology Corporation, a culture of inclusiveness and teamwork has been established. By having those components in place, the feeling of ownership has been easily embraced by everyone. "I don't say you work for me. You work with me," says Christopher. "Having that type of work relationship creates a culture of loyalty within the business."
What separates him from the competition? While getting certified, Christopher wanted to become a Minority Business Enterprise. That certification gives his company access to connect with other billion-dollar companies looking to work with minorities. By 2025, corporations will aim to do trillions of dollars in business with certified MBEs in America. While there are over 30,000 companies in the same industry, African Americans run only six, and Smart Technology is one of them.
Getting his footing in such an underrepresented industry has come with some challenges. One was obtaining capital funding and resources to buy the equipment needed to operate. With continued research, he was able to create a joint partnership with a company that already had the facility and resources.
Despite the challenges, Christoper highlights his family as the #1 inspiration that keeps him going. He aims to create a legacy for his kids that will give them financial independence. In addition, he wants to leave something as a reminder of who their father was and what he did.
Moving forward, Christopher plans to provide an opportunity to NC A&T and GTTC students affiliated with the applied engineering department. These opportunities include internships, co-ops, and job opportunities. The goal of Smart Technology Corporation is to become a billiondollar company with a true community impact. "Yet, the biggest dream is to be one of the first black billionaire companies in the United States of America or the world."
Christopher's advice for future entrepreneurs looking to follow in his footsteps is sensible. "If you want to start your own company, find a mentor, find someone willing to give you information, and how to do and what to do. I wasted time and money trying to do and learn everything simultaneously," he says.
To learn more about Christopher Jackson and Smart Technology Corporation and all of the amazing services they provide, please visit their website. h
HuamiMagazine.com Philadelphia - March/April 2023 16
Make Yourself A Priority
By Terry L. Watson
Nicole Hornsby-Harrison's mission to help others is rooted in her belief that healing comes through a sound emotional and spiritual foundation. Her passion for the mental and physical well-being of those around her has helped to grow her fitness empire, Creole Fitness.
Nicole owns CreoleFit Athletics and is the Executive Director of the A.G.A.P.E Project, a nonprofit that focuses on her community's physical and mental health. A native of Amite, LA, she is also a dynamic certified personal trainer, actress, author, Army Veteran, and woman of faith who is passionate about helping people journey through life as their best selves.
As a personal trainer, Nicole offers various services and products, including meal prep consultation, meditation, weight training, boxing, and many CrossFit workouts. She also makes custom blend supplements, waistbeads, and detox drinks. She says her products are designed to assist or motivate those on their fitness, mental health, and wellness journey. Additionally, Nicole is a mental health coach, author, and motivational speaker.
So how did Nicole get started with fitness? She shares, "I have always been an athlete, but I was burnt out on anything fitness when I exited the military. I took a few years off and began boxing and supporting my youngest daughter while she trained as a UFC fighter. I never thought about training anyone, but somehow I started working with one client, and things took off from there."
Several academic achievements complement Nicole's passion. She has a master's degree in criminal justice and is currently pursuing her Doctorate in Public Administration. She is married to Rashund Harrison, and they have five kids: Desiree, Kierra, DeAndre, Xavier, and Tiara. They also have five grandchildren: Aijah, Reign, Raelin, Keem, and Kayden.
19
Photos Provided by Nicole Hairston
"I never thought about training anyone, but somehow
I started working with one client, and things took off from there."
Helping people reach their goals and conquer their fears are two things Nicole says she loves to do. Embarking on her own personal fitness journey gave her a sense of empowerment, which she tries to duplicate with her clients. "Working on myself helped me to transform her from an insecure young woman to a passionate wife, mother, businesswoman, and community leader," she says.
Working on herself is something Nicole learned to do after facing a huge challenge in her life. On the eleventh day of February 2022, Nicole suffered a heart attack. "My life changed in a matter of minutes. I had zero blockages and learned that my heart attack was stressinduced. Since then, I've been spreading awareness of mental health while caring for myself. Months following my heart attack, I held my first annual Mental Health and Wellness 5k Run/Walk. I've visited five countries and written three books, one memoir, and one journal. I am living now, and I do not take anything for granted anymore," Nicole says.
Other challenges Nicole has faced include getting her culture to change their relationship with food and fitness. "The younger generation is catching on, but I have a lot of work to do for my generation," she says.
As a businesswoman and entrepreneur, Nicole remains willing to share information and tips with other aspiring business owners. She says, "Whatever you do, don't give up. Run towards your fears and invest in yourself. If your friends and family can shop at Walmart and Target and not question their prices, then they shouldn't question yours. Do not allow family and friends to depreciate or devalue your product and service. Real friends won't ask for discounts or freebies, they will support you without hesitation and won't mind paying."
Be on the lookout for a future brick-and-mortar location for CreoleFit Athletics. Nicole's vision does not only include a gym but also "ninja warrior" type obstacles for those who love to push themselves to the limit. She also plans to spread mental health and wellness by promoting her memoir, Pruned, and her journal and recipe book, Pruned By June. Her annual "It's Ok Mental Health & Wellness 5k Run/Walk is scheduled for July 2023. Please visit their website to learn more about Nicole Hornsby-Harrison and CreoleFit Athletics.
21
Nicole Harrison CreoleFit Athletics www.creolefit.com 504-616-2655 h
Dr. Nicholas Sturdifen
Changing The Landscape of Baseball in The Triad
By DorJea' McClammey Photos Provided by Life Push, LLC
Businessman, family man, author, and visionary. Dr. Nicholas 'Nic' Sturdifen appears to do it all.
Nic, as he prefers, is a proud product of Newport News, Virginia. As a man of Christ, he loves being able to show the love of Christ in everything he does. Nic has several degrees, an undergrad, two master's, and a doctorate. Nic is a Qualified Mental Health Professional certified by the Virginia Board of Counseling. He is an author and has written two books, the Center of Influence and the 5 Phases of Human Engagement. Also, Nic owns High Point Hush Puppies, a collegiate-level summer league baseball team located in High Point, NC.
With all his endeavors, Nic has found time for more; he co-owns Life Push LLC with his wife, Kaylin. Founded in 2014, Life Push LLC is a human services engagement company that offers mentoring, counseling, and family development. They are also directly engaged with public school systems.
Why did a very involved businessman decide to buy a minor-league baseball team? Nic responds, "I'm big on access. Baseball can be an expensive sport that not many minorities have access to play. I wanted to create a space for athletes of all shades where they could engage and play," he says. Nic shares he also wanted to let young black men and people of color everywhere know that they don't just have to play the sport; they can own a team too. "I really want us to be an example of what that looks like, someone who looks like them and is involved with team ownership." Most importantly, The High Point Hushpuppies helps to support players who wish to create a path to professional baseball.
Nic's athletic background doesn't include baseball. He grew up playing soccer and played football at the collegiate level. "Baseball always sparked my interest, yet unfortunately, like many other minorities growing up, I didn't have access to the sport and wasn't introduced to it. I know that baseball is deeply rooted in communities across the country, in the world for that matter, and I figured it would be good to be a vehicle to help underserved communities," he says.
Philadelphia - March/April 2023 HuamiMagazine.com 23
"I'm big on access. Baseball can be an expensive sport that not many minorities have access to play. I wanted to create a space for athletes of all shades where they could engage and play."
Having The Highpoint Hush Puppies located in the Triad made good sense to Nic. He says he wanted to continue upholding and honoring High Point's history. While he supports getting more African Americans involved with the sport of baseball, he says he doesn't want to make it a black-and-white thing. "This isn't a black team, it's not a white team, this is a team open and accessible for everyone," he shared.
Nic says his biggest inspiration is time. He explained that we all have a limited time here on earth, and he's motivated by wasting his share. His focus is to help others and lead them into a better place. His biggest fear is when it's all said and done, he'll look back and wish he had done more and pressed harder. He wants to leave empty, knowing he gave it all and left behind a legacy for his kids and generations.
He also finds rest in the work of others who have come before him. He shares, "I look back at each generation, and I can see the progress. Every generation is responsible for building on the shoulders of the previous generation. From my great-grandparents to my children, work happened, and the work must continue."
As for the future of Nic and The High Point Hushpuppies, he plans to continue growing the team and changing the perspective of baseball and what it can be. He also plans to continue helping others, providing affordable entertainment to families, and bringing more revenue to the Piedmont triad area. Yet, his vision doesn't end with baseball. Nic plans to own a soccer team and even build a school.
For those who may follow his path, here's some advice that Nic offers. "Understand this, to be successful, especially in entrepreneurship, you will have to be either lucky or blessed. I recommend being blessed because luck can run out. You must have strong-rooted faith before you jump in. Also, stop waiting on other people to believe in you, because their beliefs have nothing to do with your success," he says.
www.highpointhushpuppies.com h
To learn more about Nic Sturdifen and The High Point Hush Puppies, please visit their website.
HuamiMagazine.com Philadelphia - March/April 2023 24
MAGAZINE Zoelle Alaiya Scott
Cutest Baby
To submit photographs to be placed in the Huami Magazine Cutest Baby feature, please send a detailed email to huami.cutestbaby@gmail.com
The daughter of Charita Jackson
Jeanice Sherai, LLC
By Terry L. Watson
Jeanice Sherai Durrah of Greenville, SC, loves her family. She says that most people who know her instantly make a connection to her family, as she readily expresses how she cherishes the time they spend together.
Jeanice is also a woman of God and a Believer in Jesus. She is the wife of Victor Durrah, Jr., and together they share a daughter, Victory Jeanice Durrah, whom they profess as the love of their lives. "She is a combination of both of us in the most grace-filled and compassionate way that only God could do," Jeanice says.
Professionally, Jeanice is a Certified Life Coach, Mental Health Coach, and Holy Yoga Instructor. Her brand, Jeanice Sherai LLC, was launched in 2018 and is a mental wellness company that offers privately booked Christian-based yoga classes to small/ large groups, nonprofits, schools, and more. Their mission is to promote whole minds and present moments in every life encounter. "Our vision is to see a world free from anxiety and depression," Jeanice says. She has worked with autistic adults, at-risk teenage girls, and women, helping them to walk into the life God has promised them. Through her Leadership Workshops, she utilizes a specially crafted curriculum called ThinkBIG.
Jeanice is a business owner and full-time corporate employee. She has a Bachelor of Science in Computer Science Degree, a Master of Business in Finance, and a Master of Information Systems in Computer Security. She's a Certified Life Coach, Six Sigma Green Belt, Guided Christian Meditation Specialist, Mental Health Coach, and Holy Yoga Instructor. She has also authored several books, including "Decide Today is Your Day: 21 Affirmations Guaranteed to Change Your Life", and "Goal Digger: A Goal Setting Workbook". Another book she has published is "31 Days of Faith: From Familiarity to Freedom, " co-written with her husband, Victor. Other books published by Jeanice are "How Do You Know When It's God?, and "Victory Smiles", a children's book about her daughter and also co-written with my husband. She also hosts the podcast, The Better in Ten Show, and is a YouVersion™️ Bible Plan partner.
27
Photos Provided by Chris Kelly
Jeanice was featured as the Opening Speaker at the Dear CLT Brunch in Charlotte, NC. She has also been a featured writer for Forbes, Boss Babes, and She Wins Society (formerly known as Women By Choice). She is also the Co-Founder of Queen of the Mountain, an annual retreat inviting women to unite to be restored, release what is heavy to God, relax, and draw closer to God in their season. "I love helping people relax. I believe that it's needed. God gifted me with a talent that allows people to enter my space and walk out free of anything heavy they may have been carrying."
Jeanice became certified as a Holy Yoga Instructor in 2019, and in January 2020, she started her business. "In the two years prior, I felt God leading me to transition from a woman who was writing about her pains and hardships and coaching women in that place to a woman who had been freed and helping women learn how to relax and enjoy this freedom. This birthed my vision," she says.
The benefits of yoga are extensive and often not considered when it comes to its major impacts on our health. "When we think of freedom, we often connect it to wealth but not health. Yoga contributes to eliminating anxiety, fighting depression, lowering the risk of Alzheimer's and dementia, lowering blood pressure, increasing our sleeping patterns, protecting our muscles from injury, and so much more. Like many other African Americans, my family history consists of diabetes, high blood pressure, and high cholesterol. I not only wanted to help us choose intentionally to relax, but I desired for those I encounter to understand that freedom is also directly connected to our choices concerning our health," she says.
Loving people and serving God while doing so is her signature. She says she finds inspiration from her parents and is motivated by their faith, encouragement, and hard work. "They have indeed been an example of how to operate in life. The values instilled in me and the foundation set by them will carry me for a lifetime," she says.
Running a business can be challenging, and Jeanice has faced a few herself. "When creating a business, you may want to be validated by the wrong things. You can allow this to be a measuring tool concerning your success, but man can not measure what can only be understood Eternal. I've overcome these challenges by shifting my perspective from those things in the world to the One that called me."
Her advice to others who may follow in her footsteps is to keep going. "There is no destination. When you reach one goal, it will never be enough, you will always want to go bigger. So enjoy the journey."
Moving forward, Jeanice plans to continue to serve others. "I want people who look like me to live long, healthy lives and not just live, but indeed be able to enjoy it even in their senior years.," she says.
h
Instagram: @jeanicesherai
Facebook: @jeanicesheraiLLC
www.jeanicesherai.com
28
"Like many other African Americans, my family history consists of diabetes, high blood pressure, and high cholesterol. I not only wanted to help us choose intentionally to relax, but I desired for those I encounter to understand that freedom is also directly connected to our choices concerning our health."
Pastor
Love Operates In Truth
By Terry L. Watson
To truly connect with your inner core, it requires you to be willing to be open with yourself. This means removing every layer and misconception and revealing some things you may have never thought about doing. This is a true example of self-truth. Minister Shuntina Manuel has done just that and allowed her life to serve as an example of God's unwavering love for us all.
Shuntina is the founder of EMPOWER, formally known as Woman Be Transformed. Shuntina is a worshipper and firm believer in the word and power of God. As a pastor and mentor, she is committed to a lifestyle of service that promotes permanent change and enhanced authenticity. "My ministry did not begin with me saying I wanted to start a ministry. It began with God putting the vision in my heart. That vision was a women's ministry that affirms all women. My passion will always be to utilize my experiences, insight, and influence to help others evolve into the best version of themselves," she says. Her ministry is built on a foundation of empowerment, transcending gender, ethnicities, and generations; her only target is to redeem the lost through the demonstrated power of God's love and restoration.
Shuntina is a native of Greensboro, NC. She is a women's advocate and female minister who believes in educating, empowering, and equipping all women. Furthermore, Shuntina has been gifted by the grace of God to impact women from various walks of life.
It was in 2018 when Women Be Transformed came to fruition. The first event was held at the Spartanburg Marriott in Spartanburg, SC. Since evolving to EMPOWER, it has successfully reached and guided women to awaken healing, wholeness, and love for themselves and others. EMPOWER assists women in various transitions in their personal life; spiritually, socially and relationally.
Philadelphia - March/April 2023 HuamiMagazine.com 31
Photos Provided by Shuntina Manuel
Shuntina shares how she finds life in women who can be truthful with themselves. "I am most inspired by truth. I am inspired by strong women who are unafraid to speak the truth in love. This is not bitter, caustic, cutting, or polluted with sarcasm. It's not judgmental arrogance, either. It's a love encounter with other women who are focused on clearing the path for the next generation. It's women who are not embarrassed or too proud, or afraid to share their stories. Women who invest their lives in others because they understand it's not all about them," she says.
What Shuntina loves most about EMPOWER is the ability of her ministry to serve as a safe place where women can support each other. The area of support that EMPOWER focuses on is developing an authentic relationship with Christ and one another through prayerful and intentionally planned events, including fellowship. She also shares that she finds inspiration in those who have shown unconditional love to her. These same individuals have significantly impacted her life and helped her become the woman she is today. These individuals include her mom, her dad, grandparents, aunts and uncles, and various family members and friends. She also acknowledges several mentors for pouring into her life and ministry. "A common denominator is that they have all loved me unconditionally and each reflects God's Love for me," she says.
Shuntina is hosting the Safe Room Experience at the Spartanburg Marriott in Spartanburg, SC in March. The event is FREE to attend and will include special guests Prophetess Kristy Lyles and Dr. Elisa Lashell Harney. Moving forward, Shuntina will continue to EMPOWER women to be the best version of themselves by providing a safe place for them to come and be free.
To learn more about The Safe Room Experience and other events Pastor Shuntina Manuel hosts, please contact her directly.
Philadelphia - March/April 2023 HuamiMagazine.com 33
"It's a love encounter with other
women who are focused on clearing the path for the next generation. It's women who are not embarrassed or too proud, or afraid to share their stories.
Women who invest their lives in others because they understand it's not all about them."
h