florals a petal for every season WHERE TO WED 2022 featured venues WEDDINGS reen ountainG M the details bridesmaids dresses, cakes and shoes REAL WEDDINGS Featured Vermont 2021 weddings
1
2 real weddings6 Hannah & Evan Brandon, VT 14 Kat & Dom Stowe, VT 30 Jessica & Austin Stowe, VT 22 Melanie & Max Milton, VT CONTENTS 2022 50 From 'yes' to 'I do' A breakdown on planning 68 The details Cakes, shoes and bridesmaids dresses features 60 Where to wed 2022 featured venues 38 Florals A petal for every season 52 Generations of tradition Stowe Community Church 52 An iconic place to tie the knot 30 Jessica & Austin 68 Delightful desserts 50 You're engaged, now what? 42 Wells & Jeremy Shelburne, VT 70 Solemates 38 Petal pics
SEPTEMBER OF LAST YEAR, we tied the knot in Sedona, Arizona, at our dear friend's house. We could not have asked for a better day, ceremony and small celebration. It was perfect. I hope this issue of our wedding magazine brings you inspiration in planning your special day, and that day sets the stage to your happily ever after. " "When you enter marriage, you enter into life's most important relationship. It is a gift, given to bring comfort when there is sorrow, peace when there is unrest, laughter when there is happiness and love when it is shared. Real love goes far beyond the feelings of romance and bliss. It is caring more about the well-being and happiness of your marriage partner than your own needs and desires. Love makes burdens lighter because you divide them. It makes joys more intense because you share them. It makes you stronger so you can become involved in life in ways you dare not risk alone. Real love says you are stronger together than when you are apart. — Rev. Gordon Garvey, Officiant for Katerina & Martin
Contributing Styles-Ashley, Caleigh Cross Ad Katerina Hrdlicka, Braley Bryan Meszkat, Judy Kearns, Mike Kitchen Brock, Patrick Immordino, Wendy Ewing
Nicole
IT WAS ONE OF THOSE perfect June days and we decided to hike SterlingMartyPond.grabbed a backpack with water and a few snacks and off we went. We made it up the amazing rocky climb and continued on Snuffy's Trail to the lookout. Surprised to be the only ones there, we took the best seat at the best spot. Marty dug into the pack for what I thought was a victory snack, but in stead pulled out a crumpled piece of paper with his signature scribbly script."Hmm, I thought. This is different." It was at that moment I realized the sweat on his forehead wasn't from the hike. He was nervous. But he successfully made it through the extremely thoughtful and sweet words, reached back into the pack and this time pulled out a white athletic sock.Ifound myself thinking again, "Hmm… this is un usual." Marty reached deep into the sock and pulled out a tiny wooden box. As you might have already guessed, that box held a stunning ring. A ring I have not taken off since. (As I came to understand later, the sock was a layer of protection and a way of concealing the contents from me!)
ArtPublisherEditorDirector
Design
Gregory J. Popa Gregory J. Popa & Katerina Hrdlicka Katerina Hrdlicka
savannahbrown.comrgonzalezphotos.comcapturedbyrebeccamarie.comoliverpariniweddings.commadisonannestudio.comkimberlydavisphotography.comllphoto.comkarensigler.comjesseschloffphotography.comjulialuckett.comvickphotography.comisaacwasuckphotography.comgmphoto.zenfolio.comcorynkiefer.comcolettekulig.comamybennettphoto.comameliamariephoto.comacphoto.picsAllison KathleenJimGordonAmeliaClarkeMarieAmyBennettColetteKuligCorynKieferMillerIsaacWasuckDowing-VickJuliaLuckettJesseSchloffKarenSiglerLandwehrleKimberlyDavisMadisonAnneOliverPariniRebeccaMarieRebekahGonzalezSavannahBrown Contributing Photographers Green Mountain Weddings cover Rebecca Marie photo · Adriane Schultz florals Stowe Weddings cover photo · Savannah Brown weddings@stowereporter.com · 802.253.2101 stoweweddings.com · greenmtnweddings.com · vtcng.com Weddings is published by the Vermont Community Newspaper Group P.O. Box 489, 49 School St., Stowe VT 05672 WEDDINGS 2022 4 ART DIRECTORfrom the KATERINA HRDLICKA & MARTIN WERTH, SEDONA, ARIZONA, SEPTEMBER 2021 — REBEKAH GONZALEZ PHOTOGRAPHY
Writers & Editors Avalon
Sales
Kristen
5
Twenty-nine-year olds Hannah Cohen of Westford and Even Kelley of North Reading, Mass., after tying the knot at The Lilac Inn in Brandon, found the perfect mix of adventure and relaxation for their honeymoon — Hawai'i's Big Island.
"We got to swim with sea turtles, hike an active volcano, learn how to surf, ride horses through the mountains, and eat plenty of fresh fish and poke," says Hannah, who admits the couple has caught Hawai'i fever. "We are already itching to go back and visit Kaua'i and Maui."
The couple again involved family — and the ring — during a ring warming ceremony before their vows. "Our closest family and bridal party all took a turn holding our rings and blessing them with prayers and well wishes for our marriage and life together. We really felt the support that surrounded us that day."
VERMONT AND HAWAI'I. Does it get better than that?
6 hannah & evan AUGUST 14, BRANDON,2021VT
In 2019, while on their annual hike to Sterling Pond, Evan dropped to one knee and asked Hannah to marry him, holding an acorn-shaped ring box he'd carved by hand over several months leading up to the proposal. "Surrounded by some close friends and family who had joined us for the hike, I enthusiastically said 'yes,'" Hannah recalls.
Still, Vermont is the couple's favorite place. Hannah is from Vermont, as is Evan's dad, so it's like he too grew up in the Green Mountains as the family often visited. The couple now lives in the Boston area. Before they met, Evan had accepted a job offer down South, and despite only being together for a few months, they "decided to give a long distance relationship our best shot," Hannah says. "We spent almost two years flying back and forth from Vermont and Florida. Each time we reunited, it confirmed what we had was incredibly special and there wasn't anything that could keep us apart."
SAVANNAH BROWN PHOTOGRAPHY
7
REAL RENTALSGROOM'SPHOTOGRAPHYWEDDINGSVENUEDESSERTSFLOWERSMUSICRINGSHAIRBRIDE'SATTIREATTIREINVITESANDCATERINGSavannah Brown The Lilac Perrywinkle's,DJStitchdownBluehouseInnBakeshopFarmBurns(ScottLavalla)Ring+Grove Co. Maria from Prime Salon Allure TheMintedSuitsupply,BridalsDaziLilacInn 8
9
10
11
12
91 MAIN STREET, STOWE VILLAGE 802.253.3033 ~ STOWE@FERROJEWELERS.COM WWW.FERROJEWELERS.COM/STOWE LIKE US ON FACEBOOK.COM/FERRO.JEWELERS 13
AMY BENNETT PHOTOGRAPHY
Dom and Kat also rolled with their honeymoon plans. On the way to Cape Cod, they both learned they'd tested positive for COVID19."Despite having to quarantine all week, we made the best of it. We ordered lots of fried clams and lobster rolls for takeout, watched the Australian Open, and laughed at the absurdity of the fact that we will one day be telling our grandkids that we were quarantined on our honeymoon," says Kat. "Believe it or not, we had a great time!"
Besides trusting in each other, the couple also put faith in their wedding planner, Nancy Dwyer of NJOY Weddings & Events, to sweat the small — and much of the big — stuff. "Our approach to our wedding day was to be relaxed and just enjoy the experience," says Kat about their August 2021 wedding at Town and Country Resort in Stowe. "We were spoiled with Nancy, and our advice is to trust your wedding planner as much as possible. Don't try to control too much. Just roll with it."
Kat recalls how their romance blossomed: "As we dated and got to know each other more, it became clear that we were two peas in a pod. Our values and beliefs aligned, our senses of humor were in sync, our goals and ambitions were supported by the other. We became a dynamic duo in everything we did, while still maintaining our independence. Our mutual respect for each other lent itself to falling in love easily and deeply."
14 kat & dom AUGUST 28, 2021 STOWE, VT YOU NEVER KNOW WHAT BRINGS a couple together. For Kat and Dom, it was awkward chopstick handling and a shared ability to laugh at themselves. Kat, 33 — that's Katherine Dwyer of Stowe — and Dom, or Dominic Foti, 37, of Vero Beach, Fla., actually met a decade earlier, but it wasn't until that date over sushi in 2017 that the couple became, well, a Domcouple.laterproposed while hiking the road into Smugglers Notch in Stowe, Kat's favorite hike, with Kat excitedly repeating one phrase on the way back down: "Oh my God. Oh my God. Oh my God!"
15
16 REAL WEDDINGS
OTHEREVENTPHOTOGRAPHYPLANNERVENUEOFFICIANTSFLOWERSCATERINGCAKEDESSERTSTENT&RENTALSBANDINVITATIONSBRIDEATTIREMAKEUPHAIR Amy Bennett Photography NJOY Weddings & Events Town & Country Resort Bob & Heather Anderson A Schoolhouse Garden Black Diamond Catering Vermont Sweet Tooth North Country Cakes & Donuts Party Plus Rentals AmandaMirrorBHLDNZolaEncoreMirrorHopcraft 17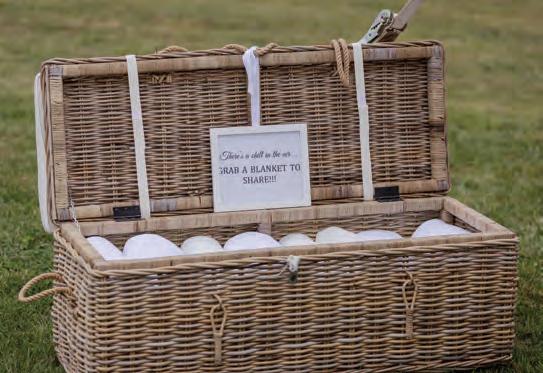 18 REAL WEDDINGS
19
Celebrate in style NJOY WEDDINGS & SWEETEVENTSWORDS " The weddidng of my dreams..." " We'll be thanking you for a long time! " Nancy Jeffries-Dwyer, Owner/Stylist 802.229.8665 • njoyevent.comnancy@njoyevent.comWeddingDesign,Planning & Production Event Coordination & Management Family DestinatonCelebrationsHoneymoons PhotographyLyonsPatricia S ALLY C ARPENTER PHOTOGRAPHY MASTERFUL • TRANSCENDENT • EMOTIONAL sallycarpenter27@gmail.com | Tel: 802·672·8888 | Text: 518·577·4147 sallycarpenterphotography.com@saldenalie VermontWeddingPhotographers 20
21
PHOTOGRAPHY REAL WEDDINGS
22 melanie & max SEPTEMBER 4, 2021 MILTON, VT
Max, 29, and Melanie, 30, also opted for a private vow reading, what they call, "hands down, the best part of our wedding day. We both wanted to share our feelings on the deepest level and we knew that we wanted it to just be the two of us to experience that moment."
PHOTOS — AND FAMILY — have played an important role in the relationship of Max and Melanie Morgan, two Vermont transplants from Atlanta and Lebanon, N.H., respectively. In fact, the first photo of the couple — on their first date, no less — depicts them with 30 friends all dressed in Wild West clothing taken at an old-timey studio on Church Street in Burlington.
JULIA LUCKETT
For this couple, who tied the knot at the Maquam Barn and Winery in Milton, including their parents throughout the day was important. "We made the decision early on to have both of our parents walk us down the aisle. That was a very special moment to all of us."
A pro mountain biker, Max was traveling the world on the race circuit, but would always return to Vermont and Melanie when he could, just as she would travel to Asheville, N.C., to see him. Melanie eventually found a job in Atlanta, which cut the long distance between them to a three-hour drive. The couple moved back to Vermont in 2020. "Our love story started in Vermont and we both knew pretty instantly that we wanted to be married here," says Melanie. But first, back to photos and family. The couple knew they wanted "part of our story" displayed throughout the wedding and reception. Their wedding planner, Lindsay Leichthammer, also hand-painted watercolor table numbers and place cards with a peach theme as a nod to Max's Georgia roots. "Ryan also served as our officiant, which was a full circle moment as we met at his wedding in 2016," Melanie says.
Then, on a subzero day in January 2021, Max and Melanie skipped their usual ski at Stowe, opting instead for a relaxing dog walk at Red Rocks in South Burlington with their fiends, Ryan and Chelsea. Ryan, a photographer, had his camera, "of course," remembers Melanie. "Overlooking Lake Champlain and the Adirondacks, Max got down on one knee and proposed with our dog, Harley, by our side. Ryan captured that moment and the moments that followed, which are some of our favorite photos."
23 GROOM'SEVENTPHOTOGRAPHYVENUEPLANNERDESSERTSFLOWERSMUSICRINGSHAIRMAKEUPBRIDE'SATTIREATTIRE Julia Luckett Photography Maquam Barn & Winery Lindsey Leichthammer Events Sweet Simones, Ben & Jerry's Clayton Floral Men in Black, Boston Ideal Diamond Corporation Ashley M Studios Mirror TheAlexandraMirrorGreccoBlackTux
REAL WEDDINGS 24
25
26 REAL WEDDINGS
27
28 REAL WEDDINGS
29
SAVANNAH BROWN PHOTOGRAPHY
WHEN COVID-19 CANCELS YOUR overseas wedding plans in Scotland, what's a couple to do? Elope, of course.
Austin proposed on a surprise trip to Scotland while Jessica was studying abroad. She thwarted his initial plan to pop the question at Kilchurn Castle after she saw a sign warning of fines up to £1,000 for trespassing. They ended up walking along the beach of Loch Awe, and just past a glen of trees, Austin proposed with the castle in the background."We'rebest friends with many shared passions and have found that some of the best moments of our lives were when we were doing something together," says Jessica. "While neither of us can pinpoint the exact moment, we both realized that we were meant to be together because of all the small acts of kindness, love and support that we show each other every day — too many to count. They chose Mt. Mansfield because it's the site of their first hike together and it's where Austin taught Jessica how to ski. The mountains and surrounding landscape also reminded them of lush, green Scotland. Oh, and Austin's great-great-uncle was a pastor at the Stowe Community Church in the 1950s for 10 years.
30 jessica & austin JUNE 16, STOWE,2021VT
"We didn't want to keep postponing our life together," says Jessica Junker, 30, of Arlington, Va., who wed Austin Von Ohlsen, also 30, of Ridgefield, Conn., atop Mount Mansfield last June. "Once we made that decision, we also decided to keep things simple, which made our wedding day very flexible and low Insteadstress."ofarehearsal dinner, for example, the couple hiked Mt. Mansfield as a trial run, and enjoyed a leisurely breakfast together before getting ready for their big day. "Savannah was a rock star," says Jessica, talking about their photographer, who also served as elopement planner and officiant.The couple first met in an undergraduate English class at the University of Virginia called Heroes and Villains. And, despite a few stolen glances across the classroom, they didn't officially meet until four years later.
"We have been together ever since and definitely believe in the expression, 'better late than never!"
31
32 REAL HAIREVENTPHOTOGRAPHYWEDDINGSVENUEPLANNERDESSERTSFLOWERSRINGSANDMAKEUPBRIDE'SATTIREGROOM'SATTIRESavannah Brown Mt. King'sPistilSweetSavannahMansfieldBrownSimone'sProductionsJewelryinAlexandria, Virginia Lush MikaellaSalonBridal Collection by Paloma Blanca Ted Baker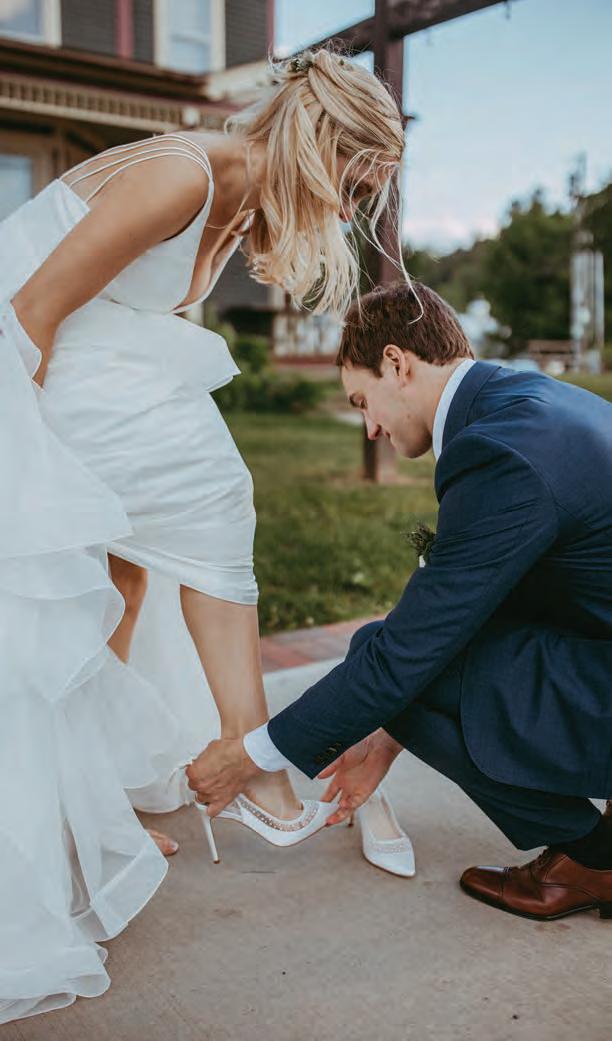 33
34
35
PEOPLE ARTS & EVENTS DINING SHOPPING OUTDOORS LIFESTYLE THINGS TO DO STOWE 36
stowemountainchapel.org stowemountainchapelweddings@gmail.com PhotographyBrownSavannah Nestled on the side of Mt. Mansfield the Stowe Mountain Chapel is the perfect location for an intimate event in natural surroundings. All inclusive of faiths and weddings. Ski in – Ski out during winter or simply enjoy the magic of a Vermont Wedding anytime. 802.851.1135 or 800.562.0616 • cwcruises.com • honeymoon@cwcruises.com — MAKING VACATION DREAMS COME TRUE SINCE 1989 — Locally owned and operated — It's your honeymoon, let Royal Caribbean give you the Royal Treatment on a honeymoon cruise to; Alaska, Europe, Caribbean, Bermuda, Bahamas, Panama Canal, Hawaii, Australia/New Zealand, New England, Mexico, South Pacific or Asia. Say "I DO…want to celebrate our marriage on a Royal Caribbean cruise with YOU!" 37
CORYN KIEFER PHOTOGRAPHY KIMBERLY DAVIS PHOTOGRAPHY SPRINGflorals ALLISON CLARKE PHOTOGRAPHY a petal for every season ALLISON CLARKE PHOTOGRAPHY ALLISON CLARKE PHOTOGRAPHY KATHLEEN LANDWEHRLE PHOTOGRAPHY
— Adriane Schultz lead florist and designer Anaphora Flowers anaphoraflowers.com
WINTER florals
EACH FLORAL ARRANGEMENT should begin with a color palette. I tend to stay soft in the spring with white and blush tones and move to more colorful hues like pink and peach for summer. Fall and winter months lend themselves to burnt orange, deeper reds and purples, while the holidays are festive and can go in many different directions.
ISAAC WASUCK PHOTOGRAPHY SAVANNAH BROWN PHOTOGRAPHY AMELIA MARIEAMYPHOTOGRAPHYBENNETTPHOTOGRAPHY COLETTE KULIG PHOTOGRAPHY JULIA LUCKETT PHOTOGRAPHYAUTUMNflorals SUMMER florals 39
AREWEDDINGYOUREADY?
7th Floor Suite overlooking Burlington and Lake Champlain 100 Bank Street, Downtown Burlington 802.861.2273 | barevt.com Interested in CoolSculpting®? Schedule your consultation today to see if CoolSculpting® is right for you. We're excited to offer the CoolSculpting® ELITE treatment, which freezes and kills treated fat cells and eliminates them for good with little to no downtime.*
Fast forward a year, to July 2021, and Jeremy, 32, from Lehman, Pa., and Wells, 30, of Shelburne, got a redo with many of the wedding day traditions they'd missed the first time around: Walking down the aisle, a beautiful lakeside setting, poignant, emotional toasts to the couple. Plus, they got to offer their vows of love again, this time surrounded by all the important people in their lives. "I've read my vows probably a dozen times now — twice in public — and still couldn't make it through without tearing up. What was different from last summer's ceremony with just our parents and siblings was I was able to really focus on what Wells was saying during her vows," Jeremy says. It was an emotional moment in a day of them, said Jeremy, sitting on a bench together, tucked behind the garden after the ceremony, listening to their fathers give speeches, beginning to reflect on what a wonderful day it had been. "One of my favorite moments was the dancing," adds Wells. "You couldn't drag me off that dance floor!"
JEREMY STULL AND WELLS GRIFFIN got married twice. To each Whenother.COVID-19
"A family friend pulled me aside during cocktail hour to express how important weddings are … how weddings serve as a reminder, that your vows put everything into perspective as to why people fall in love and get married," Wells remembers. "Those words are important for both those who listen with excitement for their eventual love story and those who listen with experience and fond memories of their own wedding day."
postponed the couple's June 2020 wedding at the Brick House at Shelburne Museum, they improvised. They married on their planned wedding day in Boston's Public Garden, surrounded by their parents and siblings.
JULIA LUCKETT
Despite a few pangs of guilt — getting married in a traditional way during a pandemic — Wells and Jeremy say they made the right choice to get married "again."
PHOTOGRAPHY
42 REAL WEDDINGS wells & jeremy JULY 10, SHELBURNE,2021VT
43
44 REAL TRANSPORTATIONTENTEVENTPHOTOGRAPHYWEDDINGSVENUEPLANNERFLORALSCATERINGDESSERTS&RENTALSPHOTOBOOTHBRIDE'SATTIREGROOM'SATTIRE Julia Luckett Photography The Brick House at Shelburne Museum Chris Griffin A Schoolhouse Garden Bevo VermontCateringSweet Tooth Vermont Tent Company Photobooth Planet North Premier TheEverthineCoachBridalBlackTux
45
46 REAL WEDDINGS
47
48 REAL WEDDINGS
49
NOW WHAT?you're engaged SELECT YOUR INVITATIONSGO FOR SPREADFITTINGSTHEWORDGET MARRIED! SET BUDGETA FIND YOUR VENUE, SET A DATE PICK YOUR MATES HIRE YOUR TEAM CHOOSE A DRESS SHOP FOR RINGS PLANCEREMONYYOUR GET YOUR PAPERWORK IN ORDER DETAILSLASTFINALIZE-MINUTE 50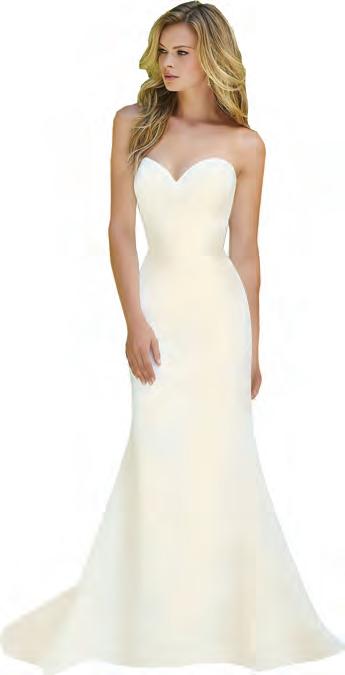 1189 Cape Cod Road, Stowe, VT 802.253.1800 | events@jcogs.org | jcogs.org Member and non-member pricing available All are welcomed Beautiful event space in the center of Stowe Indoor and outdoor spaces for your special day THE UNIVERSITY OF VERMONT EVENT SERVICES www.meetatuvm.com Venues for ceremonies & receptions with 'Best Day Ever' level service Celebrate in the heart of Burlington 51
52 FEATURE
CROSS >> 53 VICK PHOTOGRAPHY
Among the most photographed buildings in Vermont, the church draws photographers looking to capture the classic charm of a white church with a proud, imposing spire nestled among a Vermont village. It was among the first non-denominational churches in New England, its congregation coming together in 1918, the product of a merger of three Protestant congregations in the area. Stowe Community Church has been holy ground for weddings, funerals and holiday celebrations through generations. Couples travel nationwide to marry here, in the church's minimalist sanctuary, their wedding ceremonies scored by the historic Simmonds Tracker pipe organ painstakingly maintained and vaulted in the balcony. CHURCH BY CALEIGH
SINCE 1863, STOWE COMMUNITY CHURCH has elegantly held court on Main Street, a beckoning, storied bride all in white, wedded to historic downtown Stowe.
generations of tradition STOWE COMMUNITY
54
"Stowe Community Church is an icon of Stowe and of Vermont," Rev. Dan Haugh, pastor at the church, said. "A lot of couples envision this picturesque wedding nestled in the Green Mountains of Vermont with a white steeple in a charming quaint village," and the church illustrates those ideals, he said.
HaughHaughchuckled.became pastor in 2021 and has already performed more than 10 weddings. Haugh says for many of the couples who marry in the church, the building itself has been a presence in one or both families for generations, whether through attending Sunday services, taking part in the choir, or falling in love with the church's beauty during return visits to town."Alot of people have some connection with the church. They had grandparents who live here, they themselves were baptized at this church, they attended services or have a connection just with Stowe — maybe they grew up"Theyskiing."know Stowe and when they have an opportunity to get married," they want to take that step here, Haugh said.
"It's so perfect for a wedding — the openness and high ceilings, so much light through the big windows, the simple elegance of the space," she said. "Our ceremony felt absolutely magical. We had the details all locked in in advance, but everything felt new and special when it all came together for real. Our processional was an acoustic slide-guitar version of the theme from 'Jurassic Park' — not kidding — and as the doors opened, I stepped through with my parents at this perfect musical moment to walk up the aisle. The space is big but once you're standing on the altar with your partner, holding hands and looking out at your friends and family, you feel this shimmering, loving energy reflecting around the sanctuary and shining around you, filling up the whole church. It's a really special place," NormandeauPhotographersrecalled.love the light, too.
"We've had several photographers and videographers say that the church has the best lighting that they've ever worked with in any venue. That was by design. The pictures are absolutely breathtaking when they're inside the
"When we moved here, when our friends and family came, they said, 'You are living in a Hallmark movie,'"
"Stowe Community Church was a big part of my life growing up," Hannah Normandeau said. "I attended services, but also spent a great deal of time there singing in a youth choral group from age 3 through middle school, plus other musical events like the annual Messiah Sing-In, and other volunteer and extracurricular activities. My parents still sing in the church choir, they were married in the church, and I was baptized there."
THE NORMANDEAUS ARE ONE SUCH COUPLE.
So, in essence, Normandeau met her venue before she met her husband, Joey. She always knew she'd get married at Stowe Community Church and says she didn't consider another venue when planning her 2018 wedding.
REV. DAN HAUGH — AMY BENNETT PHOTOGRAPHY FEATURE
OPEN AND AFFIRMING "You can work with them to create a really special ceremony that reflects you and your partner through music, words and rituals," Normandeau said. That personalization is key, Haugh says, and it's where he spends a lot of time with each couple. "I always craft and create a ceremony from scratch. Every couple gets unique language and unique vows." He begins working with couples three to six months in advance, either in person or over video conference. "Part of that is the process of planning for it. There are certain questions that are asked about their hopes and dreams for their lives together and their marriage. It gets couples to interact with one another, reflect individually and talk with me about that. Many couples have never done that before. They haven't really spent the time to be intentional about thinking about their marriage. They're excited for it."Haugh's job is to help pinpoint what will make the day shine forBythem.the wedding day, "it's theirs and it's meaningful to them. It's special. The language resonates with who they are. There's no set homily or anything. Everything is handcrafted for the couple's desires," he said. Stowe Community Church is open and affirming. "No one is excluded from the fellowship and membership of this church community," Haugh said. In 2017, the congregation voted to permit same-sex marriage in the church's sanctuary, and Duncan Hughes and Cameron Stowe were the first such couple to wed there in an intimate, emotional ceremony. "My parents were married at Stowe Community Church in the 1960s," said Hughes. "Both of them passed away shortly before I met my fiancé, so they never got a chance to meet him or to see us together. Having our ceremony there felt as close as possible to actually having them with us at our wedding. Standing in the exact same spot they did when they got married was very meaningful for both of us," he "Thesaid. building itself was important — the architecture of the church represents both the simplicity and the beauty of Vermont. To me, that incredibly tall spire reaching toward the sky represents transcendence and hope. We also wanted a non-denominational church that was going to be friendly to us, members of the LGBTQ community," he said. "Because we were planning the ceremony from Boston, we wanted a place that would provide excellent communication and planning support."
55 sanctuary. People know that, and that's another reason they choose to get married in the church," Haugh said. Christina Strong is another Stowe native who chose the church for her November 2021 wedding for the meaning it holds for her"Onfamily.Dec. 4, 1982, my grandmother walked my mom down the aisle to marry my father and 39 years later, that was the same aisle she walked me down to marry my husband, James," Strong said. "I spent my formative years at the church as part of the cherub and youth choirs. Every Christmas Eve, my family attended the service, which was a cherished tradition. When my father passed in 2020, we held a beautiful celebration of his life. It isn't just a church to me; it is a place that my family has gone to for decades to celebrate life's most precious moments, both bitter and sweet."
>> NORMANDEAU WEDDING 2018 — KAREN SIGLER PHOTOGRAPHY
"We are doing something very important here, so let's do it in an important way," she said. "If you want to get married like royalty, think of the royal weddings we've observed over the years. They're not in a meadow. They're in a big cathedral. The Vermont version of a cathedral is the New England-style church," Jeffries-Dwyer said. "The assets of that church, for me, and why I would recommend it to a client, is that iconically beautiful, historic building."One of her favorite parts of wedding ceremonies is "that one part of the day when I'm standing behind the bride and the dad and or the mom, when we have the doors closed to the sanctuary. They live the past, the present and the future in one moment. There's that beautiful Simmons organ playing, and I open the doors and it's a brush of love and incredible exhilaration that you feel. The music is so powerful, the space is so beautiful and the windows with the light coming in make it a stately, gracious experience," Jeffries-Dwyer said. Whether or not a couple is traditionally religious, Haugh says many find value in spirituality. "This is a special moment that's different than other moments. Every time you walk back into a church you'll be reminded of your vows and that special moment. It will bring you back to that day when you said to your beloved, 'Yes, I want to commit my life to you,' and you heard those words back to you. Doing that ceremony in a church provides that distinction and that sacredness," he said. "People flock to this little village and the church is this grand lady on Main Street," Jeffries-Dwyer said. "She is so stately. What an honor and a privilege it is to look back on your wedding and say, 'I was married in that building.'"
56 FEATURE LIKE VERMONT ROYALTY Nancy Jeffries-Dwyer has been an independent wedding planner for 34 years, first in Toronto and now in Stowe. She says the architecture, setting and atmosphere at the church lend a sense of pageantry to a wedding ceremony that's hard to find at other venues.
Couples considering a Stowe Community Church wedding can contact Haugh at dan@stowechurch.org or visit stowecommunitychurch.org/weddings.
57 AMY BENNETT PHOTOGRAPHY
58
Traditional Wood Fired Italian Cuisine Rehearsal Dinners • Intimate Weddings Off-Site Catering available CHEF OWNED CUCINA Italian Fare & Wood Fired Pizza 18 Edson Hill Road, Stowe VT 802.253.5677 | salutevt.com CHAMPLAIN CLASSIC CHARTERS champlainclassiccharters.com • 631-748-0013 • info@champlainclassiccharters.com Butter is located at Slip B-13, King Street Dock, Burlington VT 05403 - Just ask anyone where "The SPOT on The Dock" is… "Champlain Classic Charters killed it!" "The Captain thought of everything" "By far the highlight of the weekend!""We didn't want to get off the boat " 59
60 VENUES THESE THREE ICONIC WEDDING VENUES feature some of the most intimate — and quirky spots — that make Vermont special, from an elegant manor house and a boat on Lake Champlain to a small goat farm in the Green Mountains. goats, boats and lakeside inns HERE'S WHERE YOU SHOULD SAY 'I DO' BY AVALON STYLES-ASHLEY JESSE SCHLOFF PHOTOGRAPHY >>
61 31 Lower Main Street in Johnson, VT (802) 635-7483 | (800) 899-6349 | marvinscountrystore.com BLESSED SACRAMENT CATHOLIC CHURCH For more information on weddings: bscvt.com | 802.253.7536 | 728 Mountain Road, Stowe Located in the picturesque resort town of Stowe Vermont
This is not your average love boat. Named for one of the state's colonial founders, the Spirit of Ethan Allen is the only cruise ship to chart the waters of Lake Champlain and its dreamily romantic setting against the Adirondacks and Green Mountains makes it a popular spot for nuptials.
62 VENUES
The cruise ship hosts all manner of wedding events, from receptions to rehearsal dinners to ceremonies — elopements included — offering two private decks or the whole shebang if your party plans to charter the entire vessel. Their wedding package strives for a stress-free event on the water, with catering and waitstaff, bar set up, tables, chairs, a DJ or other music services, and more, all included.
SPIRIT OF ETHAN ALLEN MADISON ANNE STUDIOS
Food from the board galley is also provided, with various menus specializing in nouveau American cuisine that are customizable. More information: soea.com.
63
Perched on a hill with mountains to the east and west, and the Battenkill flowing through, Hildene makes for a perfectly tucked away wedding venue among the Green Mountains.
Built at the turn of the 19th century in Manchester, Hildene was once the summer home of Abraham and Mary Todd Lincoln's only son who lived to adulthood, Robert. The name of the estate, which sits on 412 rolling acres, comes from the two old English worlds, "hil" meaning "hill" and "dene" meaning "valley with stream." Before saying "I do" in the apple orchard or against a sunset backdrop, visit the Nubian goats and sink into the history of Robert and his wife Mary's life in Vermont.
HILDENE
JESSE SCHLOFF PHOTOGRAPHY
Pro tip: If you haven't yet set the date for your celebration, spring is baby goat season. More information: hildene.org.
64 VENUES
A wedding at Hildene offers a true farm-to-table experience. The farm grows fruits, vegetables and herbs harvested yearround and its free-range, pasture raised non-GMO chickens provide delectable eggs. The creamery at the goat dairy produces award-winning goat and cow's-milk-aged and soft cheeses.What attracts many couples, aside from the goat farm, beautiful Georgian revival mansion and walking trails, is the estate's history.
Planning luxury bespoke weddings throughout New England (802) 324-1433 | jackie@jaclynwatsonevents.com | jaclynwatsonevents.com 802-342-1046 | melissadmusic.com/custom-songs MadeVermontSongs Turn your story into a song! "Vermont Made" Custom Songs. Your own heirloom/original song that captures your unique love story, written and recorded by BMI recording artist Melissa D, a Vermont based songwriter. Perfect for your first dance or ceremony. Your story + music = huge impact! FULL-SERVICE SALON Dedicated and Acclaimed Stylists Wedding Hairstyles and Makeup Massage, Facial, Nail and Waxing Services 232 MOUNTAIN ROAD | 253-7378 | SALONSALONVT.COM 65
NORTH HERO HOUSE COURTESY PHOTO
66 VENUES
When the North Hero House opened in 1891, guests began arriving at the beautifully restored country inn by paddle wheel steamer. Today, a small marina and outdoor restaurant overlook Lake Champlain, and the inn still welcomes guests for spontaneous getaways, private parties and weddings.Theinn is the perfect spot for a smaller, intimate wedding on the water, with 26 guest rooms to accommodate family and friends, and an adjoining space connecting to the elegant Colonial Dining Room for gatherings up to 80 guests. Awards have followed the quaint spot for years, from winning an Innkeeper of the Year award to being named one of New England's Top Restaurants.Couplesoften say "I do" on the Steamship Pier with the sparkling lake and mountains at their backs. More information: northherohouse.com.
802-888-6978 ~ PeakDJ.com A FOUNDING MEMBER OF THE VERMONT ASSOCIATION OF WEDDING PROFESSIONALS Discreet,ProfessionalPrepared,DJs Seven-Time WeddingWire.com Couples' Choice Awards Winner We have all the pieces to customize your rings to be as unique as your love for each other 67
DETAILS JULIA LUCKETT PHOTOGRAPHY "" cakes COLETTE KULIG PHOTOGRAPHY JULIA LUCKETT PHOTOGRAPHY Qu'ils mangent de la brioche. Marie Antoinette likely never said the one quote most attributed to her but do make sure to "Let them eat cake" — your guests that is. Brioche translates from the French as a bread full of butter and eggs. These cakemakers take the concept one step further.
69 AMY BENNETT PHOTOGRAPHY JULIA LUCKETT PHOTOGRAPHY OLIVER PARINI PHOTOGRAPHY
70 JULIA LUCKETT PHOTOGRAPHY " " shoes Give a girl the right shoes, and she can conquer the world. — Marilyn Monroe SAVANNAH BROWN PHOTOGRAPHY
71 JULIA LUCKETT PHOTOGRAPHY SAVANNAH BROWN PHOTOGRAPHY COLETTE KULIG PHOTOGRAPHY JULIA LUCKETT PHOTOGRAPHY
COLETTE KULIG PHOTOGRAPHY " bridesmaids SAVANNAH BROWN PHOTOGRAPHY "Asking your friend to be a bridesmaid is one of the modern paradoxes: no one actually wants to do it, but everyone would be offended if you didn't ask. — Mindy Kaling DETAILS bridesmaids 72
JULIA LUCKETT PHOTOGRAPHY AMY BENNETT PHOTOGRAPHY SAVANNAH BROWN PHOTOGRAPHYJULIA LUCKETT PHOTOGRAPHY
74
Jesse photographed our wedding in October 2020 and exceeded every expectation we had! Not only did the photos come out unbelievable, but Jesse captured all of the fun and love from the day. He made us feel at ease from the start, which made everything run smoothly. He knows all the best spots in Stowe for photographs and guided us through how to get exactly what we were looking for from our photos. We had so much fun with him! Highly, highly recommended —Kathryn & Tommy
Vermont Wedding & Family Photography Jesse Schloff • Stowe, VT • @jesse_schloff_weddings • 802.224.6835 • jesseschloffphotography.com
75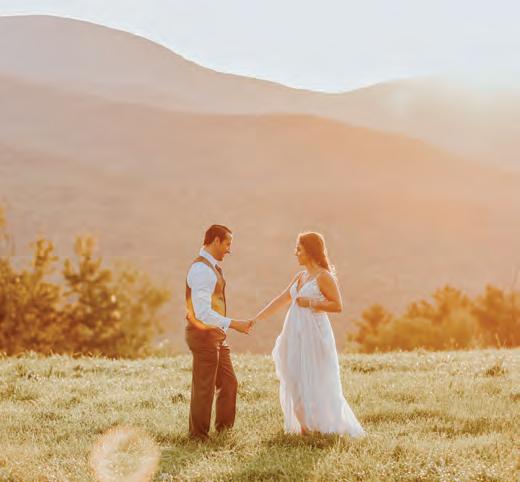 Enjoy EVERY moment of your special day! che arry@thyme2dine.com • (802) 888-2946 • thyme2dine.com Call Thyme 2 Dine for your upcoming bridal shower, bachelor/ette party, rehearsal dinner or intimate wedding. Contact Chef Larry for more information or to reserve your special date. MAKE MEMORIES THAT LAST A LIFETIME WE HELP YOU FIND THE PERFECT BAND FOR YOUR EVENT Rest assured, Best Bands has got you covered for the best day of your life! best bands BestBands.com | 800.639.6380 featuring A House on Fire! 76 802.777.0169 mwyarddoctor@gmail.com — over 30 years of excellent service — • LAND CLEARING • TREE REMOVAL • DRIVEWAYS • FOUNDATIONS • SEPTIC SYSTEMS • UTILITY INSTALLATION • PONDS Let us build the foundation for your happily ever after hom e
GIFTS AND FAVORS
WEDDINGS DIRECTORY
Ashley's Hair Studio (802) 730-6095, 450 Williamson Road, Jeffersonville Private spa-like setting offering an array of services to prepare brides and wedding parties for that special day. Offering hair cuts for the whole family. Custom colors, including balayage and specialized styles. Manicures, pedicures and waxing. Complimentary consultation for any service. Bare (802) 861-2273, barevt.com
For 10 years, Bare Medical Spa has been the #1 provider of aesthetic medical treatments in Burlington, VT. Our services include cosmetic injections, body contouring, laser and skincare treatments, and much more! Feel confident before your big day with our highly skilled and caring staff! Mirror Mirror (802) 585-7713, (802) 861-7500, mirrormirrorvt.com
Your premiere destinations for luxury, beauty, wellness and home accessories with stores and day spas in Burlington and now in Stowe! Salon Salon (802) 253-7378, salonsalonvt.com Salon Salon is a world-class, full-service Aveda Concept Salon. For 30+ years, we have offered an array of services to prepare brides for their special day. We offer blowdry styles, updos, makeup applications, manicures, pedicures, facials, massage, waxing, lash extensions and hair extensions. We can accommodate large wedding parties and have an exceptionally talented staff to service every need
Green Mountain Dry Goods (802) 244-1320, 132 Waterbury-Stowe Road, Waterbury A well-curated collection of Vermontdesigned, Vermont-made, Vermont-inspired gifts for all ages. We're the gateway to your Waterbury-Stowe Road shopping experience. 77
CHARTERS CRUISES FLOWERS
Our country store is focused on all things maple, offering a carefully curated selection of our favorite products from Vermont and beyond. Our amenity-sized syrups are the perfect wedding favor to compliment your special day. Visit us to discover pure goodness from the heart of Vermont.
CATERINGBEAUTY/WELLNESS
Donald L. Baker II ~ USCG Captain "Butter" is at Slip B-13, King Street Dock, Burlington, (631) champlainclassiccharters.com748-0013, Whether you are hosting a bachelorette or bachelor event, corporate/team-building retreat, or milestone, birthday, anniversary, wedding proposal (awe…), or intimate reunion, we're dedicated to providing a memorable experience that you'll talk about for years to come.
Butternut Mountain Farm ~ Marvin's Country Store (800) 899-6349, marvinscountrystore.com
Edelweiss Mountain Deli (802) 253-4034, edelweissstowe.com Our culinary team prepares locally-inspired fresh foods, including both catered and to-go meals, sandwiches, salads, soups and baked goods. Specialty food and beverage retail includes great beer and wine selections along with a wide range of small-batch distilled spirits from Vermont's Black Flannel Distilling Co.
Vermont Made Weddings/ Catering by Dale (802) 497-1499, cateringbydale.com CBD Events combines the talents of fully trained wedding coordinators to manage the months before your special day, including day-of service, coupled with our over-the-top, world savvy chefs, to create a seamless and chic farm-to-table dining experience utilizing food locally sourced, here in Vermont.
Thyme 2 Dine ~ Chef Larry Cornblatt (802) 888-2946, thyme2dine.com Call Thyme 2 Dine for your upcoming bridal shower, bachelor/ette party, rehearsal dinner or intimate wedding. From hors d'oeuvres to full-service buffets, all food is prepared on-site using the freshest ingredients available. Farm-raised, local and organic upon request. Creative menus, including Mexican fiestas, Asian street foods, Italian feasts and BBQs.
Clearwater Cruises (802) 851-1135, (800) 562-0616, cwcruises.com It's your honeymoon, let Royal Caribbean give you the Royal Treatment on a honeymoon cruise to: Alaska, Europe, Caribbean, Bermuda, Bahamas, Panama Canal, Hawaii, Australia / New Zealand, New England, Mexico, South Pacific and Asia.
Anaphora Flowers (802) 730-9088, anaphoraflowers.com Elegant luxury garden style arrangements, that are pretty and romantic. Using gorgeous color palettes, eye-catching and fine details, makes Anaphora the perfect choice for your wedding flowers. From the simplest details to largest focal points, we create the vision for your dream wedding in Vermont and New England.
Richard J. Wobby Jewelers (802) richardjwobbyjewelers.com476-4031, In the tradition of a family-owned, full-service jeweler, Richard J. Wobby Jewelers in Barre combines expertise and caring to help make each gift and jewelry choice perfect! From our wide selection of beautiful, in-stock diamond and gemstone jewelry and wedding bands, to custom creations made just for you, we can fulfill your dreams. 802 Events (802) 777-16952, 802events.com
Peak Entertainment, Inc. (802) 888-6978, peakdj.com - Discreet, personalized, professional DJs with 5-star reviews - Weddingwire: Couple's Choice Awards - The Knot: Best of Weddings - Modern Bride Magazine: One of the "150 Hottest Bands and DJs in the U.S." Amy Bennett Photography 78 Jess Boutique (802) 660-4004, jessboutique.com
Stowe Kitchen Bath & Linens (802) 253-8050, stowekitchen.net Stowe Kitchen Bath & Linens offers a lifetime of experience and an exceptional team to service your wedding registration. We offer the most exquisite collection of furniture, homewares, and cookware for your home, including Le Creuset, Vietri, Cuisinart, Breville, and more. Have fun and let us provide the gifts. Open daily on the Mountain Road in Stowe.
Best Bands (800) 639-6380, bestbands.com
Jess Boutique pairs an extensive, uniquely curated collection with exceptional, personalized service for women seeking the perfect ensemble for any special occasion or event, including bridal parties, mothers and guests.
GIFTS AND JEWELRYFAVORS
A PQProduction (802) 272-6153, apqproduction.com
Bow ties, neckties, pocket squares and other groom and kids accessories for weddings. All designed and handmade right here in Middlebury, Vermont, since 1993.
MUSIC, ENTERTAINMENT AND DISC JOCKEYS Ferro Estate & Custom Jewelers (802) 253-3033, @ferro_jewelers_stoweferrojewelers.com/stowe, Located in Stowe, next to Town Hall, Ferro Estate & Custom Jewelers specializes in vintage and estate jewelry, fine diamonds, contemporary designer pieces and the custom design of engagement rings and wedding bands. As a family-owned business, and member of the American Gem Society, the Ferros have built their reputation on originality and quality.
Vermont Made Songs (802) melissadmusic.com/custom-songsmelissad@melissadmusic.com,342-1046, Turn your story into a song! "Vermont Made" Custom Songs. Your own heirloom/original song that captures your unique love story, written and recorded by BMI recording artist Melissa D, a Vermont based songwriter. Perfect for your first dance or ceremony. Your story + music = huge impact!
Our goal is to provide the appropriate entertainment that will ensure you, your family, and friends have a fantastic time at your wedding! 802Events is prepared to go over every detail before your big day so that everything runs smoothly. Contact us for DJ, photo booth, sound, and lighting services!
Beau Ties of VT (802) 388-0108, beautiesltd.com
WEDDINGS DIRECTORY
The most trusted name in live entertainment … Vermont is the ultimate wedding destination; it follows that your Vermont wedding should have an amazing band! Best Bands brings you the Northeast's very best, from cutting-edge modern bands, to classy-classic groups; we'll help you find an inspiring band based on your tastes, budget and band availability.
GOWNS, FORMAL ATTIRE AND ALTERATIONS
Professional wedding DJ services, live sound reinforcement and engineering and rentals for your event. From your ceremony to the last dance, we ensure you'll love your music on your special day. Local to central Vermont and familiar with the venues, you are in good hands! We take care of all the details, speakers, microphones and power, so you don't have to! Live sound for bands, backline and rentals, too. My Own Maple info@myownmaple.com "My Own Maple" provides custom designed labels on pure Vermont maple syrup. Shipping included! The perfect favor for any occasion, as well as a sweet "Thank You!" Free sample labels.
MUSIC, ENTERTAINMENT AND DISC JOCKEYS
The Barn at Boyden Farm (802) 598-5509, boydenbarn.com Majestic mountain views and authentic farm property venue for your Vermont wedding or special event. Expansive outdoor property / HVAC indoor space. Envision any event with the elegant rustic charm of Boyden Farm as your host. Basin Harbor Club (802) 475-7818, basinharbor.com Basin Harbor is an extraordinary lakeside setting perfect for your special day Whether your event is for 30 or 300, this historic resort offers accommodations for your entire group. Breathtaking Adirondack views and incredible sunsets frame every wedding affair. From your welcome reception to your farewell brunch, Basin Harbor's experienced wedding team will take care of every detail.
Jesse Schloff Photography (802) 224-6835, jesseschloffphotography.com@jesse_schloff_weddings, A Stowe local, I have explored the area for more than 15 years, building an extensive portfolio of authentic, timeless places to capture the story of your wedding, from the classics to the off-the-beaten-trails to breathtaking scenics. I have an eye for interesting, beautiful imagery and mix contemporary, photojournalism and portraiture styles to exceed expectations.
Idletyme Brewing Company (802) 253-4765, idletymebrewing.com Idletyme Brewing Company is an all-in-one event space that has an upscale surrounding with a laid back, rustic feel. Our space is perfect for small parties or weddings of up to 250 people. Creating a unique once-in-alifetime experience has never been easier. Email events@idletymebrewing.com for availability today!
JCOGS Outdoor Tent and Social Hall Event Space ~ Jewish Community of Greater Stowe (802) 253-1800, events@jcogs.org, jcogs.org, 1189 Cape Cod Road, Stowe Beautiful party space in the center of Stowe. Host your next event at JCOGS. Weddings, Mitzvahs, Fundraisers, Dinners, Conferences. Member and non-member pricing available. All are welcomed. Stowe Community Church (802) 253-7257, stowecommunitychurch.orginfo@stowechurch.org, Getting married in Stowe? Tie the knot in a cherished ceremony at the historic, interfaith based Stowe Community Church. Couples treasure the iconic 19th century building and high steeple as their wedding backdrop. Its spacious sanctuary, Simmons Tracker pipe organ and Steinway grand piano make it a perfect choice. Stowe Mountain Chapel stowemountainchapel.org Nestled on the side of Mt. Mansfield, the Stowe Mountain Chapel is the perfect location for an intimate event in natural surroundings. All inclusive of faiths and weddings. Ski in – Ski out during winter or simply enjoy the magic of a Vermont Wedding anytime.
Blessed Sacrament Church (802) 253-7536, bscvt.com Beautiful and unique Catholic church on the Mountain Road in Stowe. For more information on weddings, please see our website (bscvt.com) or call the office at (802) 253-7536.
79 RECEPTION, REHEARSAL AND WEDDING SITES Amy Bennett Photography PHOTOGRAPHY AND VIDEOGRAPHY PLACES OF WORSHIP
The Barn at Smugglers' Notch (802) 644-9222, barnatsmuggs.com A 5,500 sq. ft. post-and-beam wedding and event barn with heat and air conditioning, luxurious bridal suite, gardens, cobblestone patio and unobstructed, panoramic mountain views! With natural light from south-facing windows and doors, the main event room will be filled with warmth and rustic elegance.
WEDDINGS DIRECTORY
Sally Carpenter (802) 672-8888 (Tel), (518) 577-4147 (Text), sallycarpenterphotography.comsallycarpenter27@gmail.com, International, award winning wedding and fine art portrait photographer. William Benjamin Weddings (860) 671-9934, wb-weddings.com Videos by Award Winning Vermont Documentary Filmmakers. We pride ourselves on personalized service and great communication. Offering High Quality 4K Video, Drone Aerial Video and Super 8mm film options. Specializing in Quintessentially Vermont Wedding Videos.
Celebrate in the heart of Burlington! Host your ceremony in the Ira Allen Chapel and dance the night away in the Davis Center ballroom, which comfortably seats up to 250 guests, or hold your reception in our intimate Alumni Pavilion. Indulge in farm-to-table catering and locally made libations. Couples enjoy our "best day ever" level service and a single invoice for all services to simplify the planning process.
Sterling Ridge Resort (802) 644-8265, sterlingridgeresort.com
University of Vermont (802) 656-5665, uvmevents.com
NJOY Event Planning (802) 229-8665, njoyevent.com Simply Stunning Weddings . . . created for you one detail at a time! The NJOY team provides full-service event styling and planning, and is dedicated to creating "Best Days Ever" for each client. Meticulous attention to detail, and with an artist 's eye for the finest aesthetic in design, your wedding team of professionals delights in creating exceptional fetes and treasured memories.
Real Simple Stowe Vermont Weddings (802) 793-6293, janreynolds.com Real simple weddings at a lovely Stowe site - or site of your choice - with International Celebrant Jan Reynolds. Full packages include: our Stowe home wedding site, consultation, vow guidance, ceremony, delicious bites, bubbly, photography - $499.99. Mini packages include: Just the 2 of you! And a beautiful ceremony followed with bubbly - $199.99.
Trapp Family Lodge (802) weddings@trappfamily.com253-5770, Situated on 2,500 acres overlooking the classic New England Village of Stowe, Vermont, and the surrounding mountains, our picturesque lodge offers indoor and outdoor venues that are perfect for a wedding in any season. SERVICES SeaComm Credit Union (800) 764-0566, seacomm.org After the planning and celebration of your big day, you are faced with the challenge of incorporating your individual finance, together. This can be an overwhelming task, however money management can be a rewarding journey with your spouse, and SeaComm Credit Union is available to guide and support your vision.
RECEPTION, REHEARSAL AND WEDDING SITES
Jaclyn Watson Events specializes in custom bespoke weddings & events based in New England. Our couples come to us from all over the world looking for a destination wedding that is close to home and to the heart. Our mission as your production company is to create a celebrated experience that helps forge unforgettable memories for all those in attendance. Salute (802) 253-5677, salutevt.com Romantic and cozy, surrounded by beautiful gardens. Authentic wood-fired Italian cuisine. Located right on the Mountain Road in Stowe. Intimate weddings, rehearsal dinners and off-site events. Chef owned and operated.
WEDDINGS DIRECTORY
Colette Kulig Photography 80 Town & Country (802) 876townandcountrystowe.com,253-7595,MountainRd.,Stowe
At Town & Country we offer newly renovated motel rooms with prime location. Lodging, food and drink. Easy access to the Stowe Recreation path and river from our backyard! And Cady trails across the street! Once you stay with us, you'll see why travelers keep coming back year after year!
RECEPTION, REHEARSAL AND WEDDING SITES
Jaclyn Watson Events (802) 324-1433, jaclynwatsonevents.com
With stunning mountain views and on-site lodging in log cabins and luxury homes, Sterling Ridge Resort is the quintessential Vermont wedding destination. Located just outside the charming town of Jeffersonville, the property's natural beauty and peaceful atmosphere create the ideal outdoor setting for an intimate wedding celebration.
The Lodge at Spruce Peak sprucepeak.com/weddings Nestled at the base of the Green Mountains, Spruce Peak offers a variety of authentic Vermont backdrops for your special day. From a tree-lined village green to a private terrace overlooking the majestic Mt. Mansfield. Make your wedding as unique and unforgettable as your love at Spruce Peak.
2038 MOUNTAIN RD, STOWE | 802.585.7713 3 MAIN STREET, SUITE 102, BURLINGTON | COCKTAIL802.861.7500+WINE INDEX TO ADVERTISERS 802 EVENTS 78 APQPRODUCTION 78 ANAPHORA FLOWERS 65, 77 ASHLEY'S HAIR STUDIO 77 BARE MEDICAL SPA 40, 77 BARN AT BOYDEN FARM 29, 79 BARN AT SMUGGLERS' NOTCH 5, 79 BASIN HARBOR CLUB 21, 79 BEAU TIES OF VERMONT 49, 78 BEST BANDS 76, 78 BLESSED SACRAMENT CHURCH 61, 79 BUTTERNUT MOUNTAIN FARM 61, 77 CATERING BY DALE 77, BACK COVER CHAMPLAIN CLASSIC CHARTERS 59, 77 CLEARWATER CRUISES 37, 77 EDELWEISS 67, 77 FERRO JEWELERS 13, 78 GREEN MOUNTAIN DRY GOODS 76, 77 IDLETYME BREWING CO. 13, 79 JACLYN WATSON EVENTS 65, 80 JESS BOUTIQUE INSIDE FRONT COVER, 78 JESSE SCHLOFF PHOTOGRAPHY 75, 79 JEWISH COMMUNITY OF GREATER STOWE 51, 79 JULIA LUCKETT PHOTOGRAPHY 74 LODGE AT SPRUCE PEAK 3, 80 MARTIN WERTH EXCAVATION 76 MIRROR MIRROR 77, INSIDE BACK COVER MY OWN MAPLE 58, 78 NJOY EVENT PLANNING 20, 80 PEAK ENTERTAINMENT 67, 78 RICHARD WOBBY JEWELERS 67, 78 REAL SIMPLE STOWE VERMONT WEDDINGS 80 SALLY CARPENTER PHOTOGRAPHY 20, 79 SALON SALON 65, 77 SALUTE 59, 80 SAVANNAH BROWN PHOTOGRAPHY 63 SEACOMM FEDERAL CREDIT UNION 61, 80 STERLING RIDGE RESORT 75, 80 STOWE COMMUNITY CHURCH 58, 79 STOWE KITCHEN BATH & LINENS 67, 78 STOWE MOUNTAIN CHAPEL 37, 79 THYME 2 DINE 76, 77 TOWN & COUNTRY RESORT 80 TRAPP FAMILY LODGE 1, 80 UVM EVENT SERVICES 51, 80 VERMONT MADE SONGS 65, 78 VERMONT MADE WEDDINGS 77, BACK COVER WILLIAM BENJAMIN WEDDINGS 29, 79