• 2022
Fall
This is another female bred in our program that is now in the donor pen. She had a very successful show career for Hallie Hackett, including a 2021 Cattlemen's Congress Reserve Grand Championship. She is a homozygous polled purebred. She is a daughter of Smith Just Because, a breed leading sire and out of our donor, McCrary Smith Look At Me, who was the 2018 Superbowl Grand Champion for Hayden Hackett. She's loaded with muscle and mass, yet so clean in her lines and feminine. You can add EPD superiority also as she ranks in the top 1% of the breed for API and 3% for TI. Look at her genotype, phenotype and EPD profile—you will be impressed! We also want to invite you to Synergy on Sept. 24th. This is the 15th year for this event and we are excited to be back. Our lots are 128-135 in the catalog.
LOOK AT ME IS RIGHT
We ask you to study Smith McCrary Look At Me Dixie!
Mark & Martha McCrary 903/667-5735 • Mamamc4@aol.com903/278-6810 307 North Runnels DeKalb, Texas 75559 We accept calf scramble certificates www.mccraryfarms.net
Smith Sweet Bella Trudy 232J A three-quarter daughter of LLSF Pays to Believe, the powerful Simmental sire and sire of National Simmental Champions. Trudy's dam is Smith Sweet Bella, a daughter of Smith Bella three-quarter donor is polled and ranks in the top 20% of the breed in 11 EPD categories and has top 2% ranking for API and a top 1% for TI. She is Lot 7 in the Synergy sale and dam to scholarship lot. will be utilizing her in per centage and purebred Simbrah herds very confident she will continue to add the highest of quality to the Bella Bella legacy in to study all the Bella Bella influenced lots selling Sept. 24 in will join and evaluate the entire
Synergy. We hope you
Bella This
Tim Smith, Joel Isgrig & Haley Smith P.O. Box Giddings, TX
78942 smithgenetics1@gmail.com512/587-7896 PAGE 2 Fall, 2022• SIMBRAH World Some points to consider about water Water information for periods of drought Tips to Aid Conscientious Producers on Commodity Prices A look at the bottom line of feed commodities Consequences of Drought Management tips to utilize as the drought continues Supplemental Feeding A guide to providing your herd supplemental feed during the drought 18141310 News You Can Use Save the Date Index to AdvertisersPhoto27276 by Victor Guerra at La Muñeca Cattle Co.
our
our
us
offering.
WeSimbrah.inviteyou
Another toBella Build Our Program On!
and we're
we're
We
330,
• Dec.
Private Treaty Bull Sale, Campbellton, Texas And mark your calendars for TSSA Annual Meeting Feb. 11 in San Antonio! For more information visit www.texassimmentalsimbrah.com 825 Usener St. #726 Houston, Samhodges90@icloud.com903/701-7929Texas TSSA Officers: President-Sam Hodges Vice President-Brandon Martin Secretary/Reporter: AK Phillips Treasurer: David Grimes PAGE 3Fall, 2022SIMBRAH World •
Brothers Opening
• Oct.
• Oct.
Join us at these upcoming events! • Sept. 20-South Texas Simbrah Online Sale • Sept. 24-Club 1835 Online Sale, Hamilton, Texas • Sept. 24-25 Synergy XV Sale and Show, Giddings, Texas • Sept. 30-Southern Jewel Cattle Company's Precious Gems Sale, Victoria, Texas • Oct. 1-La Muñeca's 35th Annual Junior Roundup, Linn, Texas • Oct. 1-Peach Creek Ranch Online Heifer Sale, Granger, Texas •
• Oct.
Oct. 11-State Fair of Texas Open Simbrah Show, Dallas, Texas 12-State Fair of Texas Junior Simbrah Show, Dallas, Texas 22-State Fair of Texas Open Simmental Show, Dallas, Texas 23-State Fair of Texas Junior Simmental Show, Dallas, Texas 4-Simbrah Summit, Graham Feedyards, Gonzales, Texas 19-22-9th Annual LMC & 2-4-TSSA Southern Showcase, Brenham, Texas 3-Tom Day of
• Nov.
• Nov.
Friends Giving THANKS Sale • Dec.
HR Mega Red is also a red, homozygous polled, three-quarter bull. He is sired by Mr Strack Y254, who did an outstanding job for us for several calf crops. His dam also goes back Sand Ranch Hand. He ranks in the top 15% of the breed for API and top 20% for TI. Take a look at their calves pictured here and better yet, come to the ranch and see lots of them.
PAGE 4 Fall, 2022• SIMBRAH World Siring good!em'
We're proud of the calves we're raising from our herdsires, HR Red Label and HR Mega Red.
LOT 114 IN SYNERGY Sired by HR Red Label LOT 115 IN SYNERGY Sired by HR Mega RedWe hope to see you at Synergy on. Sept. 24th—We have seven lots in the sale, lots 112-118.
281/455-58967918STACKQUALITY...QUANTITY...INTEGRITYFARMSCR497|Marquez,Texas77865
HR RED LABEL HR MEGA RED
Red Label is a red, homozygous polled, three-quarter son of LMC Red Alert and out of a Sand Ranch Hand bred dam. He ranks in the top 20% of the breed for API.
OctoberSaturday,29,2022 1:00 PM At the Ranch, Winona, Texas Located one mile south of I-20 on FM 757 Midway between Tyler and Longview Selling 75 Simbrah Heifers — Bred, Born and Raised at 7P Ranch • Breds and Pairs with 5 Open F1 Simbrah Heifers ready to breed this Fall • Most are ½ Simmental ½ Brahman heifers resulting from the mating of productive 7P Ranch Simmental cows to ONE Brahman AI sire – Mr Kallion 1352 • The pairs and bred heifers were bred to calving ease Angus bulls • The Disposition is Excellent on these cattle due not only to the way they have been handled but also because of the great disposition genetics from the 7P Ranch dams AND Mr Kallion 1352 • Most are registered with the American Simmental Association and also eligible to be Golden Certified registered with the American Brahman Breeders Association Also Included in the Sale Offering 50 Simmental and SimAngus™ Bulls 40 Simmental and SimAngus™ Females Go to www.CattleInMotion.com to view online catalog and videos of our sale offering AND for live broadcast with internet bidding available on sale day. www.7PRanch.com Call us today for your catalog Auctioneer: Mark Tillman • 210-216-6754 • TX LIC# 9642 Sale Consultants: Warren Garrett • 903-316-2889 Marty Ropp • 406-581-7835 Mr Kallion 1352 By using sexed semen, Mr Kallion 1352, one of the leading bulls in the Brahman Breed, is the sire of ALL the Simbrah heifers in the sale offering. H396H325H313 H380H366H203H182 PAGE 5Fall, 2022SIMBRAH World •
Smith Have No Fear is a homozygous black, homozygous polled three-quarter sire with a proven pedigree. He is sired by the Simmental great, SVF Steel Force and out of the great LMC Diva, who is now deceased. He is a powerful member of that cow family and will continue her greatness.
Detonator is out of Smith Ciao Bella and Satisfies. He is a full brother to Smith Mi Bella Cara. Talk about strong and getting stronger—progeny from Have No Fear x Detonator daughters have built in recognition, greatness and will be forceful contributors to our program and the breed.
SMITH HAVE NO FEAR SMITH DETONATOR
FRALISE FARM AND RANCH, LLC/TRIPLE J RANCH
Jake and Amber Tortorice • 409/782-5892 (Jake) 409/287-3234 (Amber) Jake and Mary Tortorice • Sour Lake, Texas • jt@raosbakery.com
We think we have put together a very strong base for our program by combining the genetics of Smith Have No Fear 909B and Smith Detonator. We are crossing Have No Fear on our Detonator daughters and the results have been very impressive.
PAGE 6 Fall, 2022• SIMBRAH World AND STRONGERSTRONG
The 2022 Simbrah Summit will be held at Graham Feedyards, Gonzales, Texas on Nov. 4th. The day will feature information on the American Simmental As sociation's (ASA) Carcass Expansion Project (CXP) and keys to understanding the feedlot business and a tour of Graham Feed Yards. In addition there will be infor mation about the Simbrahs currently on feed. For more information, reach out to Luke Bowman with ASA at lbowman@simmgene.com.
SIMBRAH SUMMIT SCHEDULED FOR NOV. 4. Graham Feedyards will be the site again for the Simbrah Summit
TSSA ANNOUNCES SOUTHERN SHOWCASE DATES
The Texas Simmental/Simbrah Association (TSSA) is hosting Southern Showcase Dec. 2-4th in Brenham, Texas. The association plans to hold a wide range of events during the weekend, including junior and open shows, sale and a social gathering. President Sam Hodges says that volunteers and spon sors are needed. For additional information watch the respective groups websites and Facebook pages and Hodges can be reached at 903/701-7929.
OFFERING
DON'T MISS THIS HEIFER!! RGV ESTRELLA - talk about mama cow material! She is sired by LMC Gold Medal and out of a Smith Sargeant daughter bred by Baring Cattle Co that was Reserve Division in Houston for us a few years ago. This October 2021 heifer has Gold Medal, Sargeant, PRR Black Major and PRR Morning Star all in her pedigree. Estrella is heavy boned and deep bodied with a ton of capacity. Puppy dog gentle as well! Owned with Thomas Garza. RGV QUIET SUCCESS is a December 2021 fancy show heifer prospect sired by the International Champion, Hagan Hush Money and out of a RFI Bad Medicine daughter that goes back to LMC HS Rocco and my donor, RGV Destiny. As said above, she is a genetic powerhouse. She is fancy fronted, travels well and has the show look you're looking for. She sells halter broke and ready to show.
PAGE 7Fall, 2022SIMBRAH World • We're Bringing Our BEST ........ TO THE SOUTH TEXAS SIMBRAH SALE ON SEPT. 20, 2022 sale will be on www.premierlivestockauctions.com
ONLINE
Once again, a silent auction will be held at Synergy, Sept. 24th. to raise funds for Simbrah promotion. Bel va and Twila Johnson are coordinating the items and auctions. Please contact them at belvajohnson@sbc global.net to provide details on your donation to the auction and/or to place bids.
PEACH CREEK RANCH TO CONDUCT SALE
RGV CATTLE COMPANY
We have selected 3 heifers that we feel will compete in any show arena and will contribute to your bottom line as mama cows and we invite you to get logged in and ready to bid on Premierlivestockauctions.com
SIMBRAHS PART OF CLUB 1835
A multi-breed online sale, Club 1835 will be held on Sept. 24th. Simbrahs will be part of the offering that will be on SConlinesales.com. For more information contact Webb Fields at 903/563-3260.
SALE Sale host, Tim Smith announces that Synergy XV will be held Sept. 24-25. It will include a sale of approxi mately 100 lots of purebred and percentage Simbrah and Simmental cattle, a junior show for qualifying heifers, showmanship and educational contests. Si mulcast bidding will be provided on DVAuctions.com. For additional information contact Smith at 512/5877896 or smithgenetics1@gmail.com. You may also visit the Synergy Facebook/Twitter accounts or their page on www.smithgenetics.com.
NEWS...(CONTINUED FROM PAGE 6)
SOUTH TEXAS HOLD
RGV RFI BLACK PERFECTION is my favorite of the offering. She will be the first heifer to be sold at public auction out of our popular sire, RGV DRC Paying the Bills. This November 2021 heifer has it all – beautiful lines, walks like a cat, and is phenotypically flawless. Add the genetics – talk about outcross. Paying the Bills on top andis out of a LMC Chairman X Smith Satisfies daughter on the bottom. Sells halter broke and ready to show. Coowned with Reavis Farms.
SILENT AUCTION SCHEDULED FOR SYNERGY XV
Rene, Gina, Olivia, Ava & Emma 34729 Black Buck Drive Edinburg, Texas 78542 Rgvrene@aol.com956/279-2200 SALE INFO: SEPT 20, 2022 PREMIERLIVESTOCKAUCTIONS.COMON South Texas Simbrah Sale will be held on Sept. 20 at www.PremierLivestockAuctions.com. For more infor mation follow them on Facebook or contact Marshall Curl at 956/537-6510.
SYNERGY XV DATES ANNOUNCED
The Onstot family invites everyone to join them for their Annual Peach Creek Ranch Online Heifer Sale on Oct. 1st on www.SmartAuctions. Viewing of offering will be available at their open house on Sept. 24-25. For more information follow the ranch on Facebook.
BREEDERS TO
PAGE 8 Fall, 2022• SIMBRAH World
PAGE 9Fall, 2022SIMBRAH World • MarshallTRIPLEReneRGVVictorLABenBROLACOCONSIGNORS:CATTLECO.Hill-(956)227-8239MUNECACATTLECO.Guerra-(956)607-5515CATTLECO.Vela-(956)279-2200CCATTLECurl-(956)537-6510 TRIPLE C CATTLE: 3CC KORA Sire: 3CC-CTCF MANSFIELD Dam: 3CC RUBY B003 ASA # 4051510 PB RGVSimbrahCATTLE CO.: RGV RFI BLACK PERFECTION Sire:RGV DRC PAYING THE BILLS Dam: RGV RFI PURE PERFECTION ASA #: 4083410 PB Simbrah LA MUNECA CATTLE COMPANY: LMC SSC CATALINA 5D/307 Sire: LN LMC 12TH MAN Y238 Dam: LMC DAYDREAM 5Z/173 An aspiration on the champion LMC SSC Catalina 5D/307 donor sells. She is a proven LN LMC 12th Man daughter out of the profitable LMC Daydream cow. OPPORTUNITY KNOCKS! BROLACO CATTLE CO.: BLCO Red Scout ASA # 4086709 Sire: Smith RFI Black Sails Dam: Top C Girl Scout ASA # Maternal4086709sister to the 2015 FWSSR Grand Champion Simbrah Female pictured above Taking Us On An Adventure Smith Adventurer 814F Polled Purebred Simbrah Bull Sired by Smith Just Because and out of Wentz Smith Superior, a Nu Wave II x Triple P Juliet He'sdaughter.polled and ranks in the top 10% of the breed API and 5% for TI. We are impressed with his length, clean lines, muscle and mass and his presence. Plus there's the baldy face. His calves have arrived and they areCheckimpressive.outour two Adventurer daughters that will sell Sept. 24th in Synergy. They are lots 119 and 120. David and Thuy Grimes KALEB FONTENOT AND KATARINA AXTELL Henderson, www.tmplivestock.com832/594-7530Texas|Dgrimes012@gmail.com
By Ted McCollum III, PHD, PAS-ACAN, Extension Beef Cattle Specialist
As the drought continues and temperatures remain above normal, cattle water becomes of greater concern. We have recent reports of cattle deaths in or around watering points suggesting death associated with water consump tion. Dr. Robert Sprowls from the Texas Veterinary Medical Diagnostic Laboratory in Amarillo is also seeing more cas es than normal associated with water.
1. Water deprivation occurs when cattle cannot consume an adequate amount of water. Water is a nutrient just as protein, vitamins and minerals and reduced water intake results in reduced performance. Water deprivation can be fatal or can lead to circumstances that can be fatal (see wa ter intoxication below).
Couple the low water intake from forage with the higher, more stressful temperatures this summer and intake of water from drinking sources takes on greater importance than "normal" years or even years with hot stressful tem peratures but with green forage that can be grazed.
Most would immediately associate this with a well that cannot pump enough water to keep up with cattle needs, or a breakdown of a well or watering system, or a pond or creek drying up. These certainly are of great concern but water deprivation can occur in circumstances when we perceive there is an adequate amount of water available.
PAGE 10 Fall, 2022• SIMBRAH World
SOME POINTS TO CONSIDER ABOUT CATTLE WATER
The lack of water from forage is more important than we credit. How many people would think of going out to work for a few hours without a jug of water to drink from peri odically? The water in the grazed forage is the cow's "jug of water" that rehydrates her while she is out on the range or pasture. Heat stress can be less of a problem in years when the forage is actively growing and green even though ambient temperatures may be high because of water intake from grazed forage. But this year is different. The risk of heat stress is greater because we have high am bient temperatures combined with dry dead forage. The cow's "jug of water" is relatively empty this year and the risk of heat stress and water-related problems are greater.
Dr. Sprowls indicated that water deprivation, water intox ication and water quality all play a role in cases they have investigated. These three may act independently but of ten they are interrelated.
Because little or no forage growth has occurred this year, the forage contains very low amounts of water. An 1150 lb. cow grazing green forage containing 50 to 70% moisture consumes about 30 to 70 lbs. of water daily (the equivalent of about 3.5 to 8.4 gallons) from the forage she grazes. This year, as a result of no forage growth and a relatively low intake of dry forage, daily water consumption from grazed forage is probably around 3 to 5 lbs. (or 0.4 to 0.6 gallons).
• When working cattle, do not hold them for long periods in pens without water
Cattle behavior may lead to water deprivation. Cattle de velop preferences for grazing sites, loafing areas, and, if more than one watering point is available, they may de velop a preferred watering location in a landscape. So, a grazing area with multiple watering points may appear to have an adequate supply of water. However, if cattle have a preferred site and that site breaks down, dries up, or the water quality declines and reduces consumption, then wa ter deprivation will occur.
• If deaths are occurring and water is a suspect, do not initially rule out any aspects of deprivation, intoxication, water quality, or toxic plants. Reexamine what has occurred for the few days leading up to the deaths and then try to identify the causes.
• If a grazing area has multiple water sources and one or more of those breaks down, dries up, etc., it may be necessary to push cattle to the other sources of water
Fall, 2022SIMBRAH World •
• When moving cattle to new pastures, always drive them to the water sources so they know where the water is located
Limitingdeprivation.water intake when cattle are moved to a new water source may be next to impossible. But if cattle are dehydrated, it may be worth the effort to allow them to drink but then find a way to limit the amount immediately 3.consumed.Waterquality can directly cause problems in cattle or may indirectly cause problems. High consumption of so dium, calcium, magnesium salts and sulfates can lead to unthriftiness and in some cases can be fatal. Nitrates in the water may also be of concern. Coupled with reduced water intake these issues can become even more of a concern. Water quality can indirectly affect performance and health by reducing water consumption which exacerbates heat stress and can lead to water intox ication once cattle locate or can access palatable water. Hot sunny days and warm stagnant water lead to bluegreen algae blooms. Some species of blue-green algae are toxic. Consumption of the algae or the toxins from the al gae can be fatal. The dead animals are usually found close to the watering site. Oftentimes the algae is concentrat ed on the downwind side of the pond as a result of wave action. Dead rodents, birds or fish along the downwind side of the pond may indicate the presence of blue-green algae. Limiting access to the downwind side of the pond by cattle may reduce risk of toxicity. Copper sulfate can be used to limit algae growth but caution must be exercised because excess copper sulfate can lead to stream pollu tion and can harm fish and plant life.
•Considerations:Aspondsdraw down, check water quality to determine if problems may be present
• Observe cattle at watering sites to see if they are readily consuming the water
• Make certain weaned calves are familiar with water locations
4. Don't rule out toxic plants that may be present around watering locations. The immediate area around ponds and tank overflows is disturbed and the moisture profile in the soil is better than out in the pasture. Even though drought conditions exist, disturbance and moisture are conducive to weed growth. Pigweed, kochia, Russian thistle, dock, buffalo burrs, etc. can grow in these areas, they are green, and may be attractive to cattle. If cattle deaths are occur ring, see what has been grazed off around the watering area. Water may not be the culprit.
• As ponds draw down, salt and other inorganic materials become more concentrated in the water. It may be necessary to remove salt licks from the pastures to avoid salt toxicity and/or reduced water consumption
• Realize that introducing cattle to water after a period of reduced water intake has risks
Water quality can affect palatability of water and reduce consumption. In some cases, consumption may cease. So, the supply of water may be adequate but the cattle are de prived because they cannot or will not consume enough of the water. Total Dissolved Solids (TDS) and Total Soluble Salts (TSS) are two water quality measures that in them selves can lead to poor performance and possibly death. But TDS and TSS are also related to water intake. As the concentrations increase, water intake is reduced. Salinity of water limits intake just as salt in feeds can limit intake. Hence water quality can lead to water deprivation.
Cattle with no familiarity of a grazing area can also suffer deprivation. Do not assume cattle will find water. When cattle are moved to new pastures, take them to water and observe their consumption to determine if they willing consume the water.
• Do not use salt-limited feeds if water intake is a concern
2. Water intoxication occurs when cattle (or any other an imal, including humans) overconsume water and usually occurs following a period of reduced water consumption or increased water loss from the body. The cattle are de hydrated and consume an excessive amount of water. Electrolyte balance in the body is disrupted and water in toxication occurs and can be fatal. In cases of acute water intoxication, dead cattle will be found near the watering Watersite. intoxication typically follows water deprivation. So, a key to avoiding water intoxication is avoiding water
son,
PAGE 12 Fall, 2022• SIMBRAH World No Limits
CRC
> 04J He
traits,
With these two sires, Smith Price Just Lookin' 037J and Like Never Before at the lead of our program we see no limits on the quality of Simbrahs we can produce. We believe they add tremendous genetics and desired phenotypic traits, as well as strong EPD profiles.
Smith like never before328g Polled three-quarter son of Smith Practical and out of Smith Isgrig Bella Notte. He com bines the genetics of Devil's Cut, Broker and Bella Bella. We have heifers available from Like Never Before. His EPD profile reflects a top 2% for calving ease; top 3% for mater nal calving ease; top 10% for birthweight; top 20% for API and top 15% for TI.
Smith Price Just Lookin'037J
Inquiries Welcomed 5mm ranch | giddings, texas | purebred/percentage simbrah cliff & sandra marshall | 512/799-4471 | cliff.marshall@gmail.com LEADINGPROGRAMOUR> Smith JCC The ThrillSmith JCC The Thrill
API and TI. We own him with Smith Genetics. He's
This is a three-quarter Smith Lubbock and his dam is a Flying B Cut He's black and polled. was the 2022 National Percentage Simbrah Grand Champion Bull. numbers are impressive ranks in the top 20% of the breed for eight including top 10% for leading
Polled Purebred Simbrah. Sired by Smith Just Because, a Stout, out of a Diva daughter. His dam, Smith SWFS Detonation combines the Bella Bella and Priceless cow families. Talk about a pedigree he has it. Plus he's got muscle, clean lines and stoutness. He ranks in the top 1% for calving ease and maternal calving ease; top 2% for birthweight; top 15% for API and top 20% for TI.
also! He
Above daughter.
our program and we're excited to have calves arriving soon. Cattle For Sale—Call Us. JOHNSON CATTLE CO. Wayne Johnson Wjohnson4945@sbcglobal.net830/391-2571 Tim Smith, consultant smithgenetics1@gmail.com512/587-7896 Follow us on Facebook: Johnson Cattle Company, Pleasanton, Texas > > > > > > KB ) BARINGcattleco. Your source for: Simbrah, Simmental and Brahman cattle. Halter broke-Ready to show. THANK YOU to all our customers who bought cattle this year and congratulations on your successes. BARING CATTLE CO.KB ) Roy Baring Jr. | 210/867-6650 Ryan Baring | 210/867-6653 Melo Flores | 956/457-2434 B & M CATTLE is a smaller operation that prides itself on producing the type of cattle that perform well in the pasture, yet still compete in the show ring. With an aggressive AI program, utilizing some top genetics of both the past and present, as well females from top breeders, we strive to have calves that are functionally correct, sound, along with eye appeal. Our herd sires, SMITH GASTON 272D, (a son of RFI Real Deal) and LMC BBS FAO JULIO 5F/178, (a son of LMC Upgraded 3B/155) are loading their calves with power, mass, and muscle. These calves are showing a lot of style and performance as well. GIVE US A CALL FOR YOUR SHOW CALF PROJECTS, HERD SIRES OR REPLACEMENT FEMALES. Brandon and Mary Hebert 7500 Harris Road • Bell City, LA 70630 337-370-8864 • brandonhebert60@gmail.com
His
By Justin Waggoner, Ph.D., Kansas State Beef Systems Specialist
Tips to aid cost conscientious producers on commodity prices
Additional costs such as freight, grain processing, and shrink may also be included.
Most Extension professionals can also assist producers with evaluating commodities or put them in contact with Extension specialists with training in nutrition.
Focus on efficiency. Feed to gain is always important, pe riod. It is the benchmark by which feeding programs can most easily be evaluated. Feeding technologies like ion ophores or feeding management strategies such as limit‐feeding should also be considered to further improve feed
Seekconversions.thecounsel of a nutritionist or other professionals. Nutritionists, not only balance rations but also assist pro ducers with evaluating commodities and estimating the effects of any ration changes on animal performance.
PAGE 13Fall, 2022SIMBRAH World • MaternallyDRIVEN At 6G Ranch, we are driven to produce the most fertile and productive female for the harsher climates of the Gulf Coast and South. We continue to look for fresh and new genetics that will add Maternal Strength to not only our herd but also the Simbrah breed. Through the infusion of maternally strong Fleckvieh genetics, we have continued to make progress on improving both the reproductive and milking ability of our 6G Females. We still have a great selection of both show prospects and replacement heifers (open & bred) at the ranch. Give us a call & come see our selection of Maternally Driven females! FRED & SHARON GRAHMANN Rock Island, TX 77470 Eagle Lake Location: 125 Arrow Road • Eagle Lake, TX 77434 Home: 979/234-3967 • Fred 979/758-2178 Michael: 361/772-0188 Leroy: 979/758-4671 Email us at msgrah71@yahoo.com The increased commodity prices we are expe riencing have many cattle producers consider ing the costs associated with their feeding and management programs. Here are a few tips that might aid cost conscientious producers. Reduce commodity shrink and feed waste. How much of the commodities you purchase are lost in storage and han dling before they make it into the bunk? On most oper ations, these losses range from 2‐10% depending on the commodity. Although these losses are minimal, they do add up (1% of a ton = 20 lbs; 1% of 20 tons = 400 lbs.). The cost associated with minimal losses may add substantial cost to a commodity (400 lbs. at $250/ton = $50 or $2.50/ ton). These losses often occur when commodities are han dled or being loaded into feed mixers. The key to reducing commodity loss comes down to increased awareness.
•• •••
Evaluate commodities on a cost per unit of energy or crude protein basis. These calculations should be done on a dry matter basis to facilitate an appropriate com parison between dry commodities, such as corn, and wet commodities, such as silage or wet distiller's grains.
Maximize use of commodities or ration ingredients pro duced on‐farm. I am sure there are many different ver sions of the old saying "the best way to make a profit with land and livestock is to walk the crops off the farm". On‐farm commodities, especially forages, are usually more cost‐effective than purchased commodities. Increasing the inclusion of on‐farm produced commodities in the diet or even including a small amount of lower‐cost in gredients like straw may reduce ration costs. However, the impacts of these changes must be evaluated against cattle performance.
Reducing Nutrient Demand
PAGE 14 Fall, 2022• SIMBRAH World
1. Sort Cows by Expected Nutrient Requirements. As previously mentioned, sorting cows by physiological status can result in a significant improvement in efficiency of feed and hay use. To demonstrate the physiological sta tus x nutrient requirement interaction, a 5 year old, 1150 lb. F1 cow is used as an example in Table 2. Obviously, attempting to feed these two cows in the same group will probably result in a) an over-fed dry cow (inefficient use of purchased feed/hay) or, b) an under-fed lactating cow (accelerated body condition loss and/or restricted milk production, resulting in depressed calf growth rate).
Managing the Consequences of Drought
The preferred option would be to put cows in a small pas ture or trap; the least productive area should be consid ered so as to minimize damage to the forage resource in the more productive pastures. If small pastures/traps are not available, selected water troughs can be turned off or ponds fenced off and thereby concentrate animals near available water. Caution: Concentration of animals (includ ing wildlife) around water will increase the demand placed on that water supply and can result in increased disease transmission from wildlife to livestock. In addition, as sur face water supplies decline, be conscious of water quality and temperature. Regardless of where cattle are pastured, shade and protection from inclement weather should be
1. Minimize the activity (travel) of cattle. The energy re quired for maintenance is significantly affected by activity as indicated below.
EnergyConfinedSaved by confinement 1.710.68.9(16%)
The drought which started in early 2022 has left producers with very little, if any hay and pastures are dried up as well.
2. Some thought has been given to the economics of retaining the "nucleus" herd versus complete cattle liquidation.
Table 1. Effect of Activity on Maintenance Energy Requirement Location NEm, Mcal/day* Large Pasture; Low Forage Availability
Reducing Nutrient Demand, Optimizing Feed Use, and Reducing Management Expenses by Rick Machen, Ph.D., Former Extension Livestock Specialist, Texas A&M University
Critical Prerequisites
4. Moving the cows to leased grazing or a confinement feeding operation is not an option.
1. Cows (including heifers) have been culled to remove those with faults and those with limited immediate production potential.
2. Protect the long term productivity of the forage re source. Complete removal of standing biomass: a) reduces the ability of the soil to capture rainfall when it comes and b) reduces the ability of the grass to respond when soil moisture is available. Grasses often attempt to respond to small, seemingly insignificant rainfall events - if livestock are there to nip off the green growth, plant health and root vitality are impacted. Concentration of wildlife as a result of water management (previously mentioned) could help to alleviate the grazing pressure applied by wildlife on grass regrowth.
It goes without saying that, during drought, both the forage resource and livestock performance suffer. There fore, reduction of the "wear and tear" on both should be a drought management consideration. If forage availabil ity across the ranch is less than adequate to meet grazing animal needs, consider concentration of the cattle in one pasture or trap. By doing so, stockmen can:
*1150 lb F1 cow, middle 1/3 gestation. Data generated with NUTBAL, 1996.
provided. Heat or cold stress can increase daily mainte nance energy requirements 20-50% depending on severi ty (CSIRO, 1990).
2. Purchase Hay and Supplement to Meet Requirements or Confine and Feed a Complete High Energy Ration. If cattle are left on pasture and forage is severely limited, purchase hay first and then supplement the hay to meet performance (CONTINUED
Optimizing Purchased Feed Use
ON PAGE 16)
3. A range/pasture condition assessment has been performed to determine forage availability.
PINE SIMBRAHSRIDGE Visit our website for information on these sires. PRR Pavilion 716D PRR Pinnacle 676D PRR Big Easy 626G PRR Cherokee 833b Pine Ridge Simbrah are unique in the world. Black skinned, red hair, blaze faced, polled, flank as deep as chest, moderate, spring of rib and long. Over 35 years of harvesting and we are producing 85% to 95% Choice. Our Simbrahs are truly hot weather cows--that NEVER stand in the pond to cool despite 100F plus weather. They can take the heat! Our cattle cross extremely well with other breeds. PAGE 15Fall, 2022SIMBRAH World •
Drought is not only mentally taxing but can be physically exhausting as well. If accompanied by extreme tempera tures, any efforts which reduce the time and labor in volved in cattle management will prove rewarding. Con centration of livestock, as suggested above, will:
PAGE 16 Fall, 2022• SIMBRAH World
Likewise, the least essential, most marketable group of cattle should be kept closest to a shipping facility. In the event liquidation of additional cattle is imperative, the next to go are close at hand and can be penned and load ed with fewer personnel and less stress on the animals. A positive attitude -drought increases its maintenance cost yet, the cattleman's survival depends on it. Every day that passes brings the next good rain one day closer. and additional info.
jan. 23 Junior Heifer Show Simmental&Simbrah jan. 29 Open Show SimGenetics Purebred, Percentage & Simbrah Divisions FWSSR.com Entry Applications, Premium Lists, Rodeo Tickets
Data produced by NRC Model Application, Nutrient Requirements of Beef Cattle, 7th Rrevised Edition, 1996.13.58.64.9(57%)
purchasing of hay and/or supplements could result in substantial savings, especially when "non-typical" feedstuffs are considered. If facilities (pens, bunk space, bulk feed storage/handling equipment) are available and a source of high energy, feedlot-type rations is close-by, consider feeding cows. Seldom will sacked feeds be eco nomically feasible.
Table 2. Nutrient Requirement vs Physiological Crude Protein, lb. Energe (NEm), Mcal A. w/ 60 day old calf at side B. 30 days Differencepostweaning(A-B) 0.81.342.14(60%)
Reducing Management Expense
goals. If equipment is available to handle round bales, la bor cost is minimized when compared to feeding small square bales. Free-choice access to hay frequently results in excessive hay consumption. Consider limiting access to hay by a) unrolling round bales so all cows can eat at the same time or b)restricting access to x hours per day. If of fered intact, round bales should always be fed in a hay ring. Otherwise, significant amounts of hay will be Cooperativewasted.
•decrease time and personnel requirements for feeding, evaluating livestock and checking water, •decrease vehicle expense (fuel, tires, maintenance) •per haps reduce the number of water delivery systems (pumps, windmills) to be maintained.
Topanga Liv 158B Sired by Smith Have No Fear and out of Smith Bella Amelia 526B. She combines two elite cow families-Bella Bella and Diva. Study how powerful she is, the dimension of muscle and amount of bone, plus the femininity. We have flushed her to Smith Made Solid and Smith Follow My Lead. We're excited for these calves to arrive.
2020 National Champion Percentage Bull, owned by Smith & Reavis. Sired by W/C HOC HCC Red Answer 33B and out of Smith Ciao Bella. We have a number of calves arriving later this year, sired by this standout. Smith Emmitt 58G Here are three individuals we have chosen to help us do just that. Cattle Co and Janessa King and Family Zephyr, Texas • 325/200-8740 A daughter of Smith Have No and from the Smith Annie Lou Cow Family
BuzzWorthy is a polled, purebred, black son of Smith Just Because and out of Smith Marked Spirit 123D. He ranks in the top 10% of the breed for both API and TI. And he's strong in CE with a top 4% ranking, a top 10% BW and a top 3% MCE. Plus note his power, depth of body and strong hip with that eye catching baldy face. Mark Melson P.O. Box 1085 Caldwell, TX 77836 www.melsonsimbrah.commelsonsimbrah@gmail.com979/777-0771 Follow us on Facebook Watch how we use him and the impact he's going to have on our program and the breed. Smith Bella Amelia Ann 188H Embryos from this great female and Practical were some of our first purchases. Liv is from the Topanga/Debutante Cow Family. That initial purchase has already produced 3JK Livin Purdy Practical, who was born in the Fall of 2021. We're very pleased with how she is maturing and we see her making a statement in the breed.
3JK
SETTING OUR PROGRAM
BUILDING OUR HERD WITH PROVEN GENETIC LINES. Jeremy & Lauren Ebert 8584 Creek View Lane Plantersville, Texas 77363 P: TimJLRanch2017@gmail.com361/290-0078SmithConsultant:512/587-7896 Smith J&LR Fearless Annie
Every decision, every purchase, every mating. we take very seriously as we want our program to excel and to put us on the road to producing some of the highest quality SimGenetics.
He's Smith Bar CB BuzzWorthy 123j.
Scott
UP TO EXCEL!
Fear
line.
PAGE 17Fall, 2022SIMBRAH World • -and-He's worthy of some talk will create some buzz!
. . . .
Remember also that if high-energy grain supplements are chosen to compensate for short grass (probably being fed at more than 2 to 3 pounds per day), feeding frequen cy may affect animal performance. Feed grain supple ments daily (as opposed to skipping days and increasing amounts). This will help keep acidosis problems in check and minimize the inhibitory effects of grain on digestibility of pasture forage.
As an alternative, supplements that are high in digestible fiber, such as wheat mids, soybean hulls, peanut skins, etc., can also be used to extend forage supplies. These sup plements provide energy, but because they are lower in starch, they lessen undesirable effects on the digestibility of pasture forage.
When forage quality and/or quantity is affected by drought, livestock producers are usually faced with decisions about supplemental feeding. First, they must determine whether they can afford to supplement, and if so, then decide what to supplement and how to manage feeding. If the drought continues or worsens, they will also need to decide when to stop supplementing and start selling live stock. Whether to supplement When deciding whether or not to feed during a drought, the first question a producer should ask is, "Can I afford to meet the animal's nutrient requirements?" rather than, "How much can I afford to spend on feed?" (and hope that whatever is in it does the job).
The goal of a supplemental feeding program is to augment a forage-based diet. Therefore, having a proper stocking rate is critical, because even in drought situations, the ma jority of dry matter consumed by livestock should come from pasture forage. This typically means adjusting stocking rate to a level ap propriate for forage supply, and then supplementing pro tein to improve diet quality and forage consumption. In planning, remember that an average 1,000-pound cow will consume 20 to 30 pounds of dry forage per day or 2 to 3 percent of her body weight.
Supplementation in relation to forage quality and quantity
By Bruce B. Carpenter and Charles R. Hart, Assistant Professor and Extension Livestock Specialist, Associate Professor and Extension Range Specialist; The Texas A&M University System
Either hay or high energy supplements may be used to extend or partially replace existing forage supplies. Note, however, that this comes at higher cost, and when more than 3 pounds of high energy supplements are used, it re sults in lower efficiency of feed conversion. Therefore, this technique is probably best reserved for spe cific, short-term situations. Supplementing large amounts of energy in any form for long periods is usually uneco nomical.
PAGE 18 Fall, 2022• SIMBRAH World Supplemental Feeding
A good place to start is with a monitoring program for an imal body condition. As always, this should be a routine part of management. To further define what specific di etary nutrients may be lacking and in turn, what kind and how much of the supplement might remedy the problem, livestock managers can use additional tools such as forage testing and fecal analysis. Results of these tests can indi cate the diet quality of free-ranging animals.
For more information, see Extension publication B-6067, Supplementation Strategies for Beef Cattle. What to supplement When evaluating supplements, remember that there are no "magic bullets." Animals will perform as long as the sup plement compensates for the nutrients that are lacking in
If protein were the only concern, then the 38 percent cube would be the better buy. However, if grass is not only dor mant but also in short supply, then the 20 per- cent cube, fed at twice the rate, would probably be a more complete feed because it would provide some extra energy as well. Note however, that this would add 30 percent to the over all cost of the supplemental feeding program.
Be cautious: Some pre-formulated molasses supplements may use high levels of nonprotein nitrogen (NPN), such as urea, as their primary "protein" source. High NPN supple ments are not drought supplements. If and when they are used, it should be in situations such as this: forage is abun dant, but dormant; dietary protein requirements are low (dry mature females); and protein deficiency is only minor.
For example: You are comparing two types of cubes to add crude protein to the livestock diet. One cube contains 38 percent crude protein, the other 20 percent. Which is the better buy?
The form of supplement—be it block, tub, cube, meal, etc.—is unimportant as long as the animal consumes enough of it to compensate for nutrients lacking in the pasture diet. If animal supplemental requirements are par ticularly high, some types of self-fed supplements may lim it intake to a level below what is needed.
First, calculate the cost per pound of crude protein. The 38-percent cube provides 760 pounds of crude protein per ton of bulk feed; at $280 per ton, it costs $0.37 to pro vide a pound of protein. The 20 percent cube provides 400 pounds of actual protein per ton of bulk feed; at $210 per ton, it costs $0.53 to provide a pound of crude protein.
PAGE 19Fall, 2022SIMBRAH World • THE WHO DAT CALVES ARE Winning • Leroux 3JP, sired by 3JP Who Dat • AJSR Grand Champion Bred and Owned Purebred Simbrah Bull • Exhibited by Jess Pool • Queen V 3JP, sired by 3JP Who Dat • AJSR Grand Champion Bred and Owned Purebred Heifer • Exhibited by Jarrett Pool THE RESULTS ARE COMING IN QUEEN V 3JP LEROUX 3JP 3JP WHO DAT • 2018 State Fair Grand Champion • 2019 International Champion in Houston • 2019 Roundup Champion • Sired by LN LMC 12th Man Y238 and out of H-3 Sweet Thang • Sire of the AJSR Bred and Owned Champion Purebred Bull and FemaleSEMEN FOR SALE ON WHO DAT AND LMC TROOPER, A HOC BROKER X PIONEER WOMAN SON! CONTACT US FOR DETAILS. POOL FARMS Josh, Heather, Jarrett and Jess Pool • Henderson, Texas Josh 903/646-3123 • Heather 903/557-0877 Pool_heather@hotmail.com A dry cow requires a minimum of 7 percent crude pro tein in her diet just to keep the digestive system microbes healthy and working on forage digestion. Therefore, the first limiting nutrient in dormant or drought-stressed for age is usually protein. When evaluating supplements, the most important fac tors to consider are nutrient content and price per pound of nutrient(s) in the supplement. To choose the right one for your herd, you need to not only calculate the cost per pound of supplement, but also consider the supply and quality of available forage.
Molasses is another energy supplement that is often used to stretch forage supplies. It is convenient because it can be self-fed, and in most cases it also contains some type of protein additive.
(Feed management tips continued on page 20)
•••• • CompanyTindleCattle Lott, 254-721-9615Texas SIMMENTAL AND SIMBRAH CATTLE T The
Other feed management tips include: Buy and store feed in bulk. You can sometimes trim a few dollars by forward contracting. Feed protein supplements less often. Supplements high in natural protein may be fed as infrequently as twice or even once per week. Conversely, feed high-energy sup plements daily to avoid chances of acidosis.
PAGE 20 Fall, 2022• SIMBRAH World Smith Mi Bella Cara —adding genetics of this Bella Bella Cow Family member. JEOFF AND LORI WILLIAMS 1048 Heather Ct., Royse City, TX 75189 | 972-207-5275 Tim Smith, consultant - 512/587-7896 Smith SWFS Detonation Smith Detonator x Smith Priceless daughter influencing our herd. ADAM BROWN 225 Bridgestone Way Buda, TX 512/587-7896281/795-901978610TimSmithConsultant Our Smith Sweet Bella (pictured) daughter, Johnson Legacy 82F just produced a fancy show heifer, sired by Smith Steppin' Up Your Game that will be campaigned by the Pilat Family. Contact us for your Simbrahs! BEE CATTLE COMPANY | KENNY & TWILA JOHNSON P.O. Box 446 | Kenedy, Texas 78119 | 361/438-3413 | topprice82@icloud.com Tim Smith, consultant - 512/587-7896 (Feed management tips continued from page 19) Feed management tips Sort and feed livestock by age, body condition and pro duction status (growing vs. mature, lactating vs. nonlactat ing, etc.). If reductions in stocking rates are needed, begin by cull ing the open cows. If numbers need to be reduced further, follow by culling lactating females in poor body condition (they probably won't re-breed anyway).
Use a good 1:1 calcium-to-phosphorus mineral. Inject vitamin A or provide it in frequently fed supple ments if it has been more than 3 to 4 months since the diet has included any green forage.
In many situations, supplementation strategies are just a best guess, unless something is known about diet quality in relation to animal requirements. A lot of that guesswork can be removed by using some of. continuing Service
drought is requiring producers to supplement already. (Texas A&M AgriLife Extension
photo)
Tim Smith, Founder www.simbrah-simmentalsuperbowl.netLaMunecacattle@aol.comCarlosSmithgenetics1@gmail.com512/587-7896Guerra,Founder956/802-1641
SAN ANTONIO JUNIOR HEIFER BREEDING SHOW WEEK IN SAN ANTONIO, TEXAS
For more information, see previous year sponsors and to see our 2022 payout to juniors, visit: www.simbrah-simmentalsuperbowl.net .
The 2023 event will be once again held during the San Antonio Livestock Show Junior Breeding Heifer Show and we hope you are planning to be part of it. Juniors to qualify you must purchase a heifer from a participating sponsor and also enter the San Antonio Junior Heifer Show.
PAGE 21Fall, 2022SIMBRAH World •
Grand Champion Percentage Simbrah, exhibited by Avery Glueck. $500 for grand. Grand Champion Percentage Simmental, exhibited by Caiman Cody. $500 for grand.
Sponsorships now being accepted for 2023 at $1,000 each, payable by December 31, 2022.
Our 2022 event marked our 30th anniversary and we marked it in style by awarding over $65,000 in prize monies, scholarships and awards.
Overall Showmanship Kylee Evans. $1,500 win. Grand Champion Simbrah Female, exhibited by Bailey Buzzard. $1,500 for grand. Grand Champion Simmental Female, exhibited by Megan Brown. $1,500 for grand.
Scholarships were awarded to 42 exhibitors through a drawing. $250 each.
Showmanship saw the top 2 in each division receive belt buckles, plus monies were paid to the top 10 in each of the 14 divisions.
The Superbowl consists of showmanship (14 age divisions in 2022), an overall and reserve overall showman, Purebred Simmental and Simbrah Shows, as well as Percentage Simmental and Simbrah Shows.
Entry information will be posted on the website this fall and follow us on Facebook.
Coming back to Superbowl 2023
AI Consulting & Sire Selection | AI & ET Equipment Sales | Professional Exporting Semen & Embryo Warehousing | AI/Palpation Clinics | TruTest Scales WWW.BOVINE-ELITE.COM(979)693-0388|(800)786-4066(979)693-7994(FAX)INFO@BOVINE-ELITE.COM3300LONGMIREDRIVECOLLEGESTATION,TX77845 TOBY TRIESCH Utilizing the service of Smith Dirty Mike N Black, polled Simmental son of W/C Executive Order and out of WLE Gracie Babe Y854. Tim Smith 512/587-7896Consultant 1667 Hallmark Canyon Lake, Texas 830/554-038878133
Kaleb Fontenot 6869 S. FM 1486 RD MONTGOMERY, TX SMITH832/651-481977316ADVENTURER814F: His service at work in my herd. PAGE 23Fall, 2022SIMBRAH World • Maiorano SIMMENTALS AND SIMBRAHS BOB & TAMMY MAIORANO 678 Moss Rose Lane, Driftwood, Texas 78619 Tim Smith, 512/587-7896consultant•smithgenetics1@gmail.com
J&L Cattle Services, owned by Joe and Lanna Hens gens, will host an online sale on Oct. 15-16 on Best Sales.com. Their operation is home to Simbrah and Brahman cattle. Please contact them at 337/945-3234 or 985/992-9119 for additional information.
HAND
Justin Boone LaGrange, proud big brother, is excited to introduce La Muñeca's newest cowgirl, Sylvie Elena LaGrange. Sylvie was born May 18th, 2022 weighing 7 lbs. 2 oz. and 20 inches long. Her parents, Cristina "Tina"and Justin LaGrange are happily enjoying their new family of four. Both families have been farmers or ranchers for several generations.
The American Junior Simbrah Roundup was held this summer and drew entries of Simbrah cattle and ex hibitors from three states. Full details, photos of all contest winners and all champions can be accessed at www.simbrahworld.com under the junior news tab.
ANNOUNCES THEIR FALL
LA MUÑECA EVENTS
La Muñeca Cattle Co., Linn, Texas, has announced their annual LMC Roundup & Futurity will be held at the ranch Oct. 1st. They will also host their LMC & GIVING Thanks Online Sale, Nov. 19-22th on www.CattleinMotion. This sale benefits a number of scholarships and causes, including American Junior Simbrah Roundup. For additional details follow them on social media and/or visit their website www.la munecacattle.com.
SALE
NEW AT LA MUÑECA
PAGE 24 Fall, 2022• SIMBRAH World HODGESCattleCompany We have added Smith RFI SWSFS First Lady to our donor lineup. A powerful Nu Wave II x Topanga daughter. Sam Hodges 903/701-7929 825 Usener Street #725 Houston, TX CattleSamhodges90@icloud.com77009locatedinDeKalband Giddings,SIMMENTALTexas & SIMBRAH BULLS & FEMALES NEWS...(CONTINUED FROM PAGE 6)
J&L CATTLE ANNOUNCES DATE
Friends
AMERICAN JUNIOR SIMBRAH ROUNDUP HELD
PAGE 25Fall, 2022SIMBRAH World • Samuel M. Hodges 903/701-7929Associate (cell) shodges@fordbergner.comwww.fordbergner.com 713/260-3926 (office) "Call or text today to schedule a free consultation with Sam to discuss your LLC and Business Entity Formation and Operation, Estate Planning, or Probate legal needs. DALLAS HOUSTON AUSTIN NEWS...(CONTINUED FROM PAGE 6)
NEW ARRIVAL IN WINTTERS HOME
Westyn Jane Wintters was born on July 26th to par ents Mason and Emily Winters of Lindale. Texas. She weighed 6 lbs. 9 oz. and was 19 inches. She was wel comed by big brother Ross and grandparents Jason and Amanda Mullins and Mark and Michelle Wint ters. Her mother is a former junior Simbrah exhibitor, sweetheart and director. Both of her parents are ag teachers at Mineola High School, Mineola, Texas.
PAGE 26 Fall, 2022• SIMBRAH World CHRIS BAKER SMITH SWFS JUST A DIVA A Diva daughter and dam to Smith Just Because. Calves coming sired by OBCC CMFM Deplorabull D148, sire of National Simmental champions. A member of Smith Genetics Kentucky Division Chris Baker 1560 Spillman Morning View, KY 859/630-305241063 For morecontact:information, Tim Smith, 512/587-7896consultant Now Headed to Our Donor Pen! SMITH CRACK A SMILE 805H | SMITH BELLA XTRA STRETCH DAUGHTER AJSA NATIONAL COW/CALF CHAMPION PAIR THE SANSOM FAMILY Don, Anika, Kayla and Jakob << 2103 Tigerpoint, Brenham, Texas 77833 Don: 979/203-6583 | Anika: 324/200-8543 This powerful donor is influencing our herd. She has already produced two herd sires, Smith Steppin' Up Your Game and Smith Adventurer 814F. CODY TRIESCH 219 Peaceful Lane, Blanco, Texas 78606 | 512/750-2338 Wentz Smith Superior Y18 Tim Smith, consultant - 512/587-7896 KENTUCKY DIVISION Quarter Horses, Simmental, SimAngus and Simbrah Cattle Paula Duncan, Susan & Ray Dieckmann, and Bill & Ginny Smith WLE Smith Big Wig H39 A polled Simmental out of Wesner's donor, CMFM Dew T Stroke 39ZB. He's at work in our herd. For information, contact Tim Smith smithgenetics1@gmail.com | 512/587-7896 A polled three-quarter sire that we are utilizing in our program. Sired by Knappes Pendleton and out of Smith Wentz O Eve, a Smith Evan x Oprah donor. He ranks in the top 4% of the breed for API and 3% for TI smith 7n savage Phillip Garrelts 11933 Perrin Beitel | San Antonio, TX 78217 | 210/279-1830 Tim Smith, consultant - 512/587-7896 RODRIGO DA SILVA 8609 WOOD STORK DR. AUSTIN, TX 512/850-945478729 This is an excellent female working in our herd. A daughter of Lub bock and Diva. We have calves coming, sired by Follow My Lead, a three-quarter son of WLE Big Iron and a Smith Satisfies sired daughter. Tim Smith, consultant - 512/587-7896 Utilizing the genetics of Triple P Juliet. MIKE AND SUSAN WILLIAMSON | 7605 Rustling Cove, Austin, TX 78731 | 512-565-7588 Tim Smith, consultant - 512/587-7896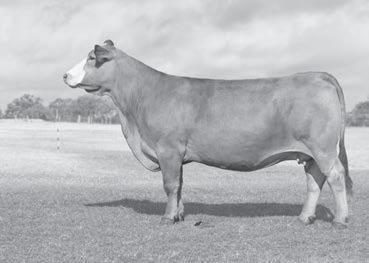 PAGE 27Fall, 2022SIMBRAH World • • Sept. 20-South Texas Simbrah Online Sale • Sept. 24-Club 1835 Online Sale, Hamilton, Texas • Sept. 24-25 Synergy XV Sale and Show, Giddings, Texas • Sept. 30-Southern Jewel Cattle Company's Precious Gems Sale, Victoria, Texas • Oct. 1-La Muñeca's 35th Annual Junior Roundup, Linn, Texas • Oct. 1-Peach Creek Ranch Online Heifer Sale, Granger, Texas • Oct. 11-State Fair of Texas Open Simbrah Show, Dallas, Texas • Oct. 12-State Fair of Texas Junior Simbrah Show, Dallas, Texas • Oct. 15-16-J&L Cattle Services Fall Online Sale • Nov. 4-Simbrah Summit, Graham Feedyards, Gonzales, Texas • Nov. 19-22-9th Annual LMC & Friends Giving THANKS Sale • Dec. 2-4-TSSA Southern Showcase, Brenham, Texas • Dec. 3-Tom Brothers Opening Day of Private Treaty Bull Sale, Campbellton, Texas 2023 • Jan 23-Fort Worth Livestock Show Junior Simbrah Show, Fort Worth, Texas • Jan 29-Open SimGenetic Shows, Fort Worth, Texas • Feb. 11-TSSA Annual Membership Meeting, San Antonio, Texas 3JK Ranch 17 4S Cattle 26 5MM Ranch 12 6G Ranch 13 7N Ranch 28 7P Ranch 5 Baker, Chris 26 Baring Cattle Co. 12 Bee Cattle Co. 20 Bell Farms 23 B&M Cattle 12 Bovine Elite 22 Brown, Adam 20 Burch Cattle 26 Buresh Cattle Co. 23 Da Silva, Rodrigo 26 Fisher Family Cattle 23 Fontenot, Kaleb 23 Ford-Bergner, LLP 25 Fort Worth Livestock Show 16 Fralise Farm & Ranch 6 Garrelts, Phillip 26 Glueck Cattle Company 22 Golden Star Simbrah 23 Goodwin, Floyd 22 Grinstead 22 Hodges Cattle Co 24 Hutto, Kathy 23 J&L Cattle Services 4 J&L Simbrah 6 Johnson Cattle Co. 12 La Muneca Cattle Co. BC Laz y SF Ranch 22 Lopez, Anthony 22 Lost Cause Ranch 22 Maiorano SimGenetics 23 McCrary Farms IFC Melson Simbrah 17 Monte Christo Ranch 25 Pine Ridge Ranch 15 Pool Farms 19 Reagan, Terry 23 Reavis Farms IBC Reeves, Ronnie 23 RGV Cattle Co. 7 Robertson Farms 22 Sandifer, Brian & Britni 23 Simbrah-Simmental Superbowl 21 Smith Genetics 1,2 Smith Genetics Kentucky 26 Strack Farms 4 Taylor Simbrah 22 Texas Simmental/Simbrah 3 Tindle Cattle Co. 20 TMP Livestock 9 Triesch, Cody 26 Triesch, Toby 22 Triple P Ranch 6 Williams, Jeoff & Lori 20 Williamson, Mike & Susan 26
awarding one from our family,
Synergy Catalog, Lots 121-125.
to
WE'RE Focused WE'RE COMMITTED TO RAISING QUALITY SIMBRAHS AND SIMMENTALS, AS OUR FOCUS IS ON GREAT COWS AND PROVEN COW FAMILY LINES. WE HAVE ASSEMBLED A VERY HIGH QUALITY SET OF DONORS AND WORK HARD AT FINDING NOT JUST QUALITY, BUT UNIQUE MATINGS THAT WILL IMPROVE OUR BREEDS. WE INVITE YOUR INQUIRIES! STF ONYX 451W A two time Louisville Champion Simmental. She carries Dominance breeding. We have embryos from her and County O and Fort Knox. We're very excited about the impact these will add to our Simmental program. LMC BETM BARBIE 5Y/8 From the She Moves Cow Family and sired by Johnnie Walker! The Barbies have had great success in the show ring and are proving themselves in the pastures.
Be sure to check out our lots
Ranchespjnieschwietz@sbcglobal.netwww.7nranch.net956/460-6002locatedinDonnaandFalls
SMITH FULL KARAT 49B A very productive member of the Pure Diamond Cow Family. This polled purebred is sired by Smith Nu Approach and out of Diamond herself. in the This is the be as a way remember Pete, Sr. PETE NIESCHWIETZ P.O. Box 330 • Falls City, Texas 78113 City
15th annual event, and we are proud to be a participant. Be sure and check out the Synergy Scholarships—we will
our leader,
At La Muñeca, we believe success is best when shared so along with Boening Bros., we are consigning an aspiration on your pick of these three exciting new 3/8 Simmental x 5/8 Brahman donors sired by Polled Pappo and out of Jennie Walker in the South Texas Simbrah Sale on September 20, 2022 online at Premier Livestock Auctions. You can aspirate these females to any Purebred Simmental bull you can acquire semen on and start your own NEW ERA IN SIMBRAH. Imagine the possibilities!
A NEW ERA IN SIMBRAH
If you've got the Simmental donor in mind, we are sharing semen private treaty on these two exciting full brothers to the donors above. We appreciate the early semen buyers on Masterpiece and Presidente. Check out the intriguing Masterpiece daughter above currently in Emerson Posey's show string. We're proud of our long-stand ing partnership with the Boening Family which dates back to the 1980's. They assembled a good herd of Simmental cows to utilize these two up and coming studs. To infuse new blood geared toward adding more milk and performance we aspirated some of our 3/8's 5/8's donors to Fleckvieh bulls. LMC BBS Raz Matazz is out of the Ryann donor above and sired by VPFS Brantz 12B. We appreciate Tanna Primrose purchasing this striking donor prospect.
Blount Farms' JSSC Wide Body donor JSSC Zazu is among our favorite red Simmental cows, so we utilized her red son JBC Powerglide 30F. This mating out of the Brooke donor above produced several eye appealing calves including LMC BBS Reba. Best wishes to Brant ley Kennedy on this capacious donor prospect.
LMC BBS Ryann LMC BBS Masterpiece
LMC BBS Kayla LMC BBS Masterpiece Daughter LMC BBS Brooke LMC BBS Presidente LMC BBS Reba You are invited to our 35th Annual LMC Jr. Roundup & LMC Futurity on October 1, 2022 at La Muñeca. It is an all-day family oriented, free, fun and educational field day.
Simbrahs, Simbraviehs and POLLED Brahmans CARLOS and SISTER GUERRA FAMILY PO Box 81 • Linn, TX 78563 956-383-7566 (Office) Carlos 802-1641 • Victor 607-5515 Carlos Jr. 330-1963 • email: LaMuñecaCattle@aol.com Please visit our website at www.LaMuñecaCattle.com
BBS Jennie Walker has been a prolific donor for 13 years now. This LMC EF JW Black daughter won the coveted San Antonio Junior Show in 2009 as a pair for Kayla Korzekwa. Jennie Walker was bred by and is owned with Boening Bros.
LMC BBS Raz Matazz
LMC LN Polled Pappo is a popular, proven, many times champion Red Brahman AI Sire making big things happen worldwide in the Brahman and Simbrah breeds. Owned with La Negra Cattle Co.