 SEASIDE SANCTUARY
Located in one of the most picturesque and prestigious waterfront locations on the Côte d'Azur, this one-of-akind, traditional Provençal-style villa is a world unto itself. Nestled within the heart of the esteemed and private "Domaine des Parcs", it's just a short drive from Saint-Tropez town and its beautiful marinas, where a plethora of amenities, including five-star hotels, restaurants, luxury boutiques and extensive nightlife can be found.
Encompassing 1,100 square metres, this breathtaking villa has been lovingly refurbished with high-end amenities complemented by sophisticated interior design. The home's highlights include a 200-square-metre living room; seven en-
suite bedrooms; two kitchens, one of which is professionalgrade; a bar; a cinema room; a Hammam massage room; a sauna and a fitness area. There is also a garage with space for seven cars, plus outdoor parking and staff housing on the property. The surrounding 10,000-square-metre estate offers lovely, well-maintained French gardens and plenty of places to relax or entertain around two heated swimming pools.
The nearby La Môle airport, located only fifteen kilometres southwest of Saint-Tropez, offers residents easy access to private aircraft, with helicopter transfers connecting Pampelonne, Nice, Monaco and the wider Côte d'Azur region.
BERRY & QUINTI MONACO INTERNATIONAL REALTY +377 97 97 15 20 • +33 680 864 709 • www.berry-quinti.com
BOLOU Fine Jewellery Jægersborg Allé 25 DK - 2920 Charlottenlund Denmark +45 2810 7676 www.bolou.dk @bolou_finejewellery boutique@bolou.dk
GLOBAL PRESENCE
A look at Thirty-Nine Monte-Carlo's reciprocal wellness and social clubs scattered across the globe.
AT YOUR SERVICE
Fine Living Services is a leading lifestyle management and bespoke luxury concierge company in Greece and beyond — FOUR finds out why.
CHEF SAFARI
Hot on the heels of opening his first standalone restaurant at Hotel Café Royal in London, chef Alex Dilling takes us on a tour of his favourite food and drink spots in the British capital.
Lifestyle Fine Dining
CHRISTIAN JÜRGENS Restaurant Überfahrt, Germany
SAILING IN STYLE
Searching for the ultimate sailing experience? Look no further than SAILUXE, Italy's preeminent luxury catamaran charter company.
SEBASTIÁN VARGAS
CLARE SMYTH Core, London
GLENN VIEL Restaurant L'Oustau de Baumanière, France
Los Félix, Miami 70
THE KING OF CHEESES
FOUR uncovers the secrets behind Italy's most prized dairy product: Parmigiano Reggiano.
ITALIAN ICON
Loved for its distinctive taste, Prosciutto di Parma is one of Italy's most cherished gourmet gifts. FOUR finds out why this delicacy is a cut above the rest.
FESTIVE SERVES
A look at what makes No. 3 Gin one of the world's best gins. Plus, a trio of lip-smacking cocktail recipes perfect for the festive season.
COCKTAIL PAIRING
Premium cigars and expertly crafted Italian brandy: a match made in heaven. Above 21 at FIVE Palm Jumeirah pairs the choicest Cuban cigars with the exclusive Vecchia Romagna Riserva 18.
10 CONTENTS
34 46 58
22
24
28
82
88
18
90
93
A heartfelt interview with Thomas Jecklin, General Manager of Zadún, a Ritz-Carlton Reserve in San José del Cabo, Mexico. 103
TRAVEL COLUMN
Vista is once again leading the pack in business aviation with its new Membership offerings for its VistaJet and XO brands.
FOUR takes a closer look at what these entail.
HOTEL HOT SEAT
106
A visit to Hotel Kö59, a modern masterpiece set alongside the famed Königsallee in the spirited city of Düsseldorf. 108
DÜSSELDORF'S DARLING
DOMINICAN DREAM
Dominica offers a wealth of beautiful nature — but that's not all. It's also a hot spot for savvy international investors. 110
ALPINE OPULENCE
A visit to the illustrious Cheval Blanc Courchevel, a sumptuous slopeside retreat nestled in the heart of the stunning French Alps. 114
CHECK IN
A look at the Mediterranean's most magical hotels, set on some of the region's prettiest islands. 116
GLORIOUS GREECE
FOUR learns more about Five Star Greece, which has been at the forefront of the country's luxury villa rental market for 22 years. 124
MERRY MALDIVES
Velaa Private Island Maldives is pulling out all the stops this festive season and FOUR gets a taste of the magical moments that await. 128
Property & Design
136
DESIGN COLUMN
Calvin Tsao, co-founder of award-winning architecture firm TsAO & McKOWN, shares how he creates multi-sensorial spaces inspired by the human experience.
ST. MORITZ IN THE SPOTLIGHT
Engadine properties are in high demand, but does this sought-after Swiss region have the supply to meet this need? FOUR speaks with St. Moritz Sotheby's International Realty to find out.
141
THE DEMIGODS OF DESIGN
FOUR takes a look at the incredible work of Stefan Mauritz and Thomas Mang, the dynamic duo behind German architecture and design firm MangMauritz.
CONTENTS
Travel
12
144
Everyone who knows me is very aware of the fact that I'm obsessed with this time of year—and now that I think about it, there are a handful of reasons why the festive season holds such a special place in my heart. First and foremost, it's because it's a time when friends and family unite to spend good old quality time together. People travel from all corners of the globe to meet up with their loved ones; this is just the most beautiful sentiment. Of course, with these group gatherings comes indulgent feasts, late-night chats over a glass of red wine and days spent unwinding doing pastimes that elude you during the hustle of the year. For one, I know my family is a sucker for a great meal, and it's undoubtedly our shared love language — and many of the chefs in this edition cite this as their inspiration behind cooking, too. Both Glenn Viel, the mastermind behind three-Michelin-starred l'Oustau de Baumanière in France, and Sebastián Vargas, the gastronomic spirit behind Michelin-starred Los Félix in Miami, were raised in families that put food front and centre. Mealtimes were how they connected, and this fostered an unyielding passion for the culinary arts. Albeit Clare Smyth of three-Michelin-starred Core in London and Christian Jürgens of three-Michelin-starred Restaurant Überfahrt in Germany found their fervour for food through different means, they are equally as obsessed with their craft, aiming to please diners with heartfelt hospitality and world-class cuisine. Starting on page 33, FOUR finds out precisely what else makes these talented cooks tick, from their passions to their inspirations and philosophies.
The festive season wouldn't be complete without a few toasts along the way, and to usher in the merry spirit, we're spotlighting some of the best drinks in the business. First off, on page 90, we get a taste of No. 3 Gin, winner of the World's Best Gin four times at the International Spirits Challenge. We then head to Dubai for an exclusive cocktail and cigar pairing with Above 21 at FIVE Palm Jumeirah and Vecchia Romagna Riserva 18 brandy.
As always, our travel section is a treasure trove of inspiration — meaning there are endless ideas here for planning that perfect family getaway. From a cosmopolitan weekend in Düsseldorf to a luxury layover in the French Alps, a bucket-list trip to the Mediterranean or a spellbinding sojourn in the Maldives, we've rounded up a selection of extraordinary journeys in the world's most stunning destinations to enthuse that inner travel bug. See all this and more starting on page 101.
The holidays might also mean you'll finally find time to zhuzh up your home — and our property and design section, starting on page 135, is chockfull of artistic insights to spur those creative juices on.
With the year drawing to a close and 2023 rearing its head, we hope this edition — our last for 2022 — adds an extra dose of joy to this already merry time. From all of us at FOUR, we wish you the happiest festive season and all the best for the new year ahead. See you in 2023!
Clarisse Beeby Chief Editor
No:
DMCC Business Centre,
No 1,
SLOANE INTERNATIONAL DMCC All rights reserved. All material in FOUR magazine is wholly copyrighted and reproduction without written permission from the publisher is strictly forbidden. Neither this publication nor its contents constitute an explicit endorsement by FOUR magazine of the products or services mentioned in advertising or editorial content. While every effort has been made to ensure accuracy, FOUR magazine shall not have liability for errors or omissions.
COVER Velaa Private Island – Made of Dreams. Set on its own stretch of paradise in the Noonu Atoll, this ultra-luxurious resort redefines the experience of the Maldives. Find out more at www.velaaprivateisland.com.
Don't forget to stay up-to-date with news, recipes and features on our website at four-magazine.com or via Instagram at @four_magazine.
SLOANE INTERNATIONAL DMCC CEO Antioco Piras DIRECTORS Emidio Sessa DIRECTOR OF PUBLISHING Matt Walvish CHIEF EDITOR Clarisse Beeby CONTRIBUTING EDITOR Kate Jackson CHIEF DESIGNER Pieter Stander OPERATIONS MANAGER Barbora Salava SALES EXECUTIVES Lourens Adendorff Mark Sullivan Tim van Niekerk Robin Scott Dominic Uys Unit
14
3699,
Level
Dubai, UAE ©
www.four-magazine.com
WELCOME
Gold has been the strongest currency for 6'000 years and is therefore considered a solid long-term investment. As the largest independent precious-metal trader in Europe outside the banking system, we can help you to compile your personal investment portfolio with bars and coins, as well as purchasing precious metals that are already in your possession. All Degussa bars are produced in Switzerland. Furthermore, they are LBMA-certified and bear a bank security number. And you're welcome to store your valuables with us in your personal safe deposit box if you wish.
Further information and online shop at: DEGUSSA-GOLDHANDEL.CH
S C AN THE C O DE TO W I N G DLO ZURICH I GENEVA I FRANKFURT I MADRID I LONDON
degussa: the simplest way to invest in precious metals.
MEMBERSHIPS: SHOWROOMS: Bleicherweg 41 · 8002 Zurich Phone :
403 41 10 Quai du
5 · 1201 Geneva Phone:
14 00 V ER AND S CHW ZE R B E R UN M MSI KIT E R SOON ALSO IN DUBAI
044
Mont-Blanc
022 908
CREATED WITH PASSION.
GIVEN WITH LOVE. RECEIVED WITH JOY.
Smoking seriously harms you and others around you
#timebeautifullyfilled davidoff.com
Lifestyle
PHOTO: SAILUXE © NICOLAS CLARIS
MAKING LUXURY LIVING A REALITY
Founded by specialists in the VIP pampering business in Greece and worldwide, Fine Living Services was envisioned to address the demand for tailor-made travel and concierge services. Luxury tourism is a steadily growing sector in Greece, and only a handful of companies possess the appropriate resources and expertise to handle VIP planning and luxury event management services. Fine Living Services is one of these select few.
The company currently operates through its offices in Greece, the United Kingdom and Monaco. The head office is situated at 51 Souidias Street in Kolonaki, next to the historical centre of Athens. In 2016, the brand also launched a London office in the prestigious Belgravia neighbourhood, while the Monaco outpost is housed in Le Panorama at 57 rue Grimaldi, right in the heart of the Principality.
Fine Living Services is a lifestyle management company offering bespoke luxury services to VIPs and high-net-worth individuals, both in Greece and around the world. Through its experience over the last few years, the company has
CLOCKWISE FROM ABOVE With its international associates, Fine Living Services is able to allocate rooms in some of the world's leading hotels and resorts, including the fivestar L'Apogée Courchevel; Giannis Stasinopoulos, CEO of Fine Living Services; from organising bespoke events to securing the best table at top restaurants, Fine Living Services' expert team can make any request a reality; Fine Foods Collection offers an exclusive selection of gourmet products and is proud to exclusively represent prestigious brands like Petrossian Paris caviar, Joselito ham and Edmond de Rothschild Heritage wine.
built an impressive international client base brimming with society's elite. Every customer is unique, which is why all its services are tailor-made and customised. From last-minute restaurant reservations to bespoke travel bookings, access to exclusive events, luxury yacht and helicopter charters or even assistance with home management and day-to-day errands, its expert team can aid with every and any need.
By working alongside international associates and leveraging its in-depth knowledge of the industry, the company can deliver the extremely high-standard services that clients demand on a 24/7 basis, all year round. Passionate about providing luxury services through and through, excellence and dedication lie at the heart of everything Fine Living Services does. They will satisfy any request, no matter how far-fetched or bizarre it might be.
The company's CEO, Giannis Stasinopoulos, is a travel expert and, as such, always ensures that clients are offered the finest accommodation and the best table at the most exclusive restaurants, anywhere in the world. He personally considers each client's needs and desires, and with the
As the oldest and largest concierge company in Greece, Fine Living Services are well-versed in offering unique lifestyle management and bespoke luxury services to VIPs and high-net-worth individuals around the world.
18
help of his firm's experts, he creates a complete package of high-quality services.
Throughout the years, Fine Living Services has established partnerships with esteemed hotel chains such as the Oetker Collection, Cheval Blanc, Four Seasons Hotels and Resorts, the Mandarin Oriental group, Rocco Forte Hotels, One&Only and many others. In the private aviation sector, they are proud ambassadors of VistaJet in Greece and work with only the best operators of helicopters and private jets locally, with safety being the first and foremost priority. As one of the region's most exclusive yacht chartering companies, they also offer the most luxurious yachts for charter in Greece and the eastern Mediterranean.
Fine Living Services also caters for yachts up to eighty metres long with competitive pricing. Through its sister company, Fine Foods Collection, they take care of the food and beverage provisions and, thus, can offer A to Z services. Culinary solutions can also be provided to vessels ideal for large groups, such as those hosting events, weddings or other celebrations.
In addition to the above, they are one of the very few VIP service agents in Greece that have the capacity to allocate rooms at some of the most exclusive summer and winter
destinations in Europe and globally, even under very short notice. The company invests substantial funds to maintain availability in leading Greek hotels. At the same time, thanks to their international associates, Fine Living Services' agents may even be able to allocate rooms and suites for clients in sought-after hotels in luxurious international destinations such as Ibiza, Saint-Tropez, Gstaad, Courchevel, Saint Moritz, Saint Barthélemy and the Maldives, among others.
Furthermore, the company can provide clients with reliable and discreet, high-quality security services, which are available on a 24/7 basis in Athens and many other European destinations. All of the security guards that Fine Living Services works with are well-trained and experienced and will assure total comfort and safety on any occasion or under any circumstance. From home security to VIP transfers, event security or even bodyguarding services, they are always available to assist with any level of protection one may require.
Fine Foods Collection is the newest member of the exclusive Fine Group. Ever striving for perfection, Fine
19 LIFESTYLE
»
« Foods Collection has gathered the world's most premium delicacies based on excellent ingredients, skilled artisan producers and unforgettable tastes. The company is proud to exclusively represent prestigious brands like Petrossian Paris caviar, Joselito ham, Edmond de Rothschild Heritage wine, Peck Milan specialities and many others, creating a collection of deli products that will impress even the most gourmand of clientele.
Fine Foods Collection offers a variety of top-class epicurean products and specialises in making the finest hampers for businesses or personal gifts for any occasion, which can be individualised and tailored to the customer's needs. In addition, it caters for special events and can bring impressive settings to life, such as crystal ice caviar bars, Jamón Ibérico carving stands and many more ideas.
At Fine Foods Collection, all gourmet goods are available for immediate 24-hour delivery to any destination throughout Greece or Europe. The products are always delivered fresh, some even alive, and with a premiumquality guarantee. The company is proud to admit that it has catered luxury products to some of the world's most illustrious personalities, from Hollywood stars to fashion legends, international HNWIs and even members of royal families. Moreover, thanks to the organisation's strategic position between Athens and London, the company is in the perfect location to deliver luxury gourmet products to any cosmopolitan destination throughout Europe, the Middle East, Africa and even the Americas.
With its main goal of making the impossible possible, Fine Living Services are not just travel agents; they are
ABOVE Fine Living Services works with some of the world's most exclusive hotel chains, including the Oetker Collection and its luxurious property in the Caribbean: Eden Rock — St Barths.
BELOW Fine Living Services has a global reach, and can arrange bespoke trips to sought-after international destinations, including a stay at The Woodward hotel in Geneva.
alchemists. Their priority is making their client's needs a reality, all in the blink of an eye. The company's passion for luxury and exclusivity, combined with its love for exploring the world, make its services unique. Whether you're looking for a one-of-a-kind summer holiday in Greece spent visiting the top hotels and restaurants, chartering incredible yachts and hosting awe-inspiring parties, or if you'd prefer an unforgettable winter getaway skiing in Saint Moritz or a tropical trip to Saint Barthélemy, Fine Living Services guarantees the most unbelievable experiences. To them, it's not just about creating a holiday itinerary; it's about making the most incredible, unforgettable memories.
20 LIFESTYLE
Soft and velvety feeling
FROM MONACO TO THE WORLD
Thirty-Nine Monte-Carlo is the Principality's most exclusive wellness club, but its luxurious lifestyle offerings extend much further than the borders of Monaco. With nineteen reciprocal clubs worldwide, the Thirty-Nine way of life can be experienced everywhere, from Europe to Asia and the Middle East.
Nestled on the iconic Avenue Princesse Grace in Monaco, Thirty-Nine is a sumptuous haven of wellbeing. With the best sporting equipment, expert trainers and delicious and nutritious cuisine, there's no place in the Principality that's more in tune with creating a healthy lifestyle. Naturally, balance is one of the venue's guiding tenets, so members also have access to a range of on-site business and social facilities, such as elegant meeting rooms and private event spaces.
Thirty-Nine has always attracted discerning clientele who value discretion and professionalism. With many of its members being frequent travellers, the brand has created partnerships with nineteen international reciprocal clubs to ensure its valued clients always have effortless access to the Thirty-Nine way of life. Whether in Europe, Asia, the Middle East, Oceania, and soon North America and Africa, each reciprocal club offers the same excellent standard as the inaugural Monaco address. To be part of this sought-after network, the international club's philosophy must align with that of Thirty-Nine: the service must be of the highest quality, the space must be inspirational and inclusive, and the modern facilities must be outfitted with top-of-the-range equipment.
Two kinds of reciprocal clubs are available globally: social and complete. The social venues offer members access to privileged areas for dinners and business meetings while travelling. These include Vinnustofa Kjarval in Iceland, City University Club in London, 1880 in Singapore, Jolie's Club in Mumbai, and We Are_ in Paris.
On the other hand, the complete reciprocal clubs feature everything the social venues offer, plus a full range of
wellness and sports services, so members can continue enjoying the comprehensive Thirty-Nine Monte-Carlo experience while abroad. The Quorum in Gurgaon and Mumbai, Tattersalls Club in Sydney, Capital Club in Dubai, South Kensington Club in London, Tower Club in Singapore, TATOÏ Club in Greece, Le Yacht Club in Beirut and Champion Spirit in Paris are some of the full-service Thirty-Nine partners located around the world. As an added benefit, both annual and thirty-day members have access to the entire network of reciprocal clubs.
Underpinned by the goal of creating a community where like-minded people can learn and grow together, ThirtyNine is pioneering a new generation of benevolent wellness clubs that won't go out of fashion. Instead, it will grow stronger with each new partner and member, paving a new way forward for healthy living on an international scale.
22 LIFESTYLE
CLOCKWISE FROM LEFT Spinning class in the gym at Tattersalls Club in Sydney © Warren Rivas; dining at We Are_ in Paris © Antonin Biez (FOCAL 77); dish on the menu at Vinnustofa Kjarval's restaurant in Iceland.
FIVE-STAR SAILING
Sailing holds its very own kind of majesty — there's no feeling quite as incredible as being free at sea, surrounded by the wonder and grace of Mother Nature. As one of the finest yacht charter companies in the Mediterranean, SAILUXE takes heed of this and kicks it up a notch, delivering the magic of sailing combined with the height of luxury and first-class hospitality.
As an extension of Spartivento Yachts and Charter, which was founded in 2001 with the aim of becoming the foremost luxury sailing charter company in the Mediterranean, SAILUXE delivers the most exclusive boating experience on the Italian coast. Boasting the largest charter fleet for sailing holidays in southern Italy, Spartivento has over one hundred boats and catamarans under its helm, and only the best of these have been selected as part of SAILUXE's fleet.
Akin to five-star hotels on water, all of SAILUXE's catamarans are equipped with every comfort guests could desire. Superlative service lies at the heart of the SAILUXE experience, and as such, each of the brand's vessels comes complete with an expert crew, including an
OPPOSITE & ABOVE
The Lagoon 55, one of the stunning catamarans available to charter through SAILUXE © Nicolas Claris.
experienced captain, professional hostess and Gambero Rosso-trained chef. To ensure pure enjoyment at sea, the new and meticulously maintained catamarans are outfitted with state-of-the-art equipment, such as generators, air conditioners and marine desalinators for unlimited fresh water onboard.
Calling upon the extensive knowledge and experience Spartivento has garnered in the luxury charter industry over the last two decades, these SAILUXE boats have been specifically curated to make every moment at sea a blissful one. Comprised of the latest and greatest boats on the market as produced by Lagoon, the leading shipyard in catamaran production worldwide, these sublime vessels are entirely customisable to the users' needs, with every aspect considered down to the smallest detail. This personal touch also extends to the journey itself, which is tailormade to suit the preferences of those onboard. With a focus on showcasing some of the country's most beloved destinations, including Sicily, the Amalfi Coast and Sardinia, SAILUXE offers the opportunity for travellers to discover the boundless beauty the Italian shoreline bears, all in absolute luxury. »
As leaders in Italian catamaran charters, SAILUXE creates unique sailing experiences that blend breathtaking moments in nature with unsurpassed luxury.
25 LIFESTYLE
« Ranging from 42 to 65 feet, there's a boat in SAILUXE's fleet for every requirement. For couples or small families, there's Zubbibu, the spacious, three-cabin Lagoon 42 that sleeps up to six passengers. Bigger groups can opt for the modern and elegant Fico (meaning "cool") or the expansive and exclusive Fichissimo (meaning "super cool"), which both sleep up to ten guests. The Fichissimo, in particular, is one of SAILUXE's most premium catamarans, complete with myriad lounging spaces to lap up the endless sea views. For those looking for ultimate comfort, then Strafico (meaning "extra cool") — the latest addition to the fleet — is the best option. This Lagoon 55 is equipped with all manner of amenities and is sure to please even the most discerning of travellers — its spectacular flybridge with several sunloungers is the perfect place to toast to the good life while savouring an aperitivo at sunset.
For those who want to fully immerse themselves in the azure Mediterranean waters, SAILUXE's catamarans have various sea toys available for use, such as Seabobs, foil boards, wakeboards and stand-up paddle boards, guaranteeing endless entertainment while sailing.
CLOCKWISE FROM TOP LEFT Paco, the spacious, twelve-sleeper Lagoon 51 that is available as part of SAILUXE's fleet © Gilles Martin-Raget; sumptuous double cabin in Paco © Nicolas Claris; outdoor dining area on the Lagoon 55 © Nicolas Claris.
Additional luxuries onboard include the guests' selection of bed linen and pillows, SAILUXE bathrobes and towels, Comfort Zone sustainable bathroom amenities, hairdryers, Wi-Fi and Illy coffee machines.
Food plays an integral role while on vacation, and to deliver the most gourmet experience onboard, SAILUXE only works with chefs who have graduated from the prestigious Gambero Rosso Academy in Palermo. This guarantees an excellent standard of cuisine while at sea, with a bespoke menu created based on guests' requests and selections. From contemporary interpretations of traditional Italian classics such as spaghetti alle vongole, parmigiana di melanzane or even homemade cannoli to fine-dining dishes inspired by renowned Italian chefs, the culinary options are endless. What's more, menus can even be customised to suit specific dietary regimens.
For added indulgence, SAILUXE has also worked with NIO Cocktails and mixologist Patrick Pistolesi of Drink Kong in Rome, ranked number sixteen on The World's 50 Best Bars 2022 list, to design a ready-to-drink cocktail for guests. Inspired by the Mediterranean landscape and Italian palate, these refreshing concoctions blend flavours and scents of basil, bergamot and ginger to ignite the taste buds and invigorate the soul. To keep the good times coming, every vessel receives a gift basket with five of these 'Wild Sailor' cocktails, alongside fruits and other thoughtful offerings.
Much more than just a sailing holiday, SAILUXE creates a unique experience tailored to each guest's needs and personal style. Complete with every luxury under the sun, these are trips that will remain forever etched in one's memory.
26 LIFESTYLE
SLEEPING CULTURE
INNOVATIVE
SINCE 1847
made of cotton/linen
made from 100 % recycled fibres www.brinkhaus.de
For our environment. Bags
Filling
CHEF SAFARI
After cutting his teeth at some of the world's best dining venues, Alex Dilling has recently opened his first standalone restaurant at Hotel Café Royal in London. To mark this special occasion, Alex takes us on a tour of his favourite restaurants and bars in the British capital.
Alex Dilling has made an international name for himself with his stellar cuisine. As Executive Chef of Hélène Darroze at The Connaught and The Greenhouse, he maintained the twoMichelin-star status of both restaurants, following which he spent some time traversing the globe, creating pop-up gastronomic events with esteemed chefs and dining venues. Now, back on his native British soil, he's bringing his revered French-inspired cuisine to London with his latest restaurant, Alex Dilling at Hotel Café Royal.
"The opening of my restaurant at Hotel Café Royal is a culmination of my experiences working around the world and with some of the most exciting and talented chefs for over twenty years. Alex Dilling at Hotel Café Royal represents everything that I love about French cuisine and being able to work with the most incredible products meticulously sourced from artisans and producers from the United Kingdom and the rest of Europe. My dream, together with my talented team, is to not only be one of the most ambitious restaurants in the country but one where our guests feel at home and can come time and time again. There is no better location for this than in the iconic Hotel Café Royal," says Alex.
Open as of 1 September 2022, this sleek fine-dining venue serves dishes rooted in classic French cuisine reinterpreted with a modern and creative touch. Diners can expect dishes such as boullibase with marinated red mullet, cockles and oyster cream; l'oeuf doré with smoked sturgeon, potato and aged Kaluga caviar; and a dessert
CLOCKWISE FROM TOP LEFT Chef Alex Dilling
© Lisa Tse; escabeche of red mullet with bouillabaisse consommé on the menu at Alex Dilling at Hotel Café Royal © Justin De Souza; interior of Fallow restaurant.
with Araguani chocolate, smoked Piedmont hazelnut and Tahitian vanilla.
In celebration of Alex opening his first standalone restaurant, the renowned chef takes FOUR on a foodie tour of London, sharing all his favourite dining venues in this fabled city, which is so rich with gastronomic prowess.
RESTAURANTS
"I love all of these restaurants as I can see the identity of the chef within the cuisine, and whether fine dining or casual, they are all places I feel relaxed and know I will eat extremely well," says Alex.
28
Fallow
Located in the heart of St James's, Fallow is a contemporary eatery where conscious creativity takes centre stage. Led by chefs Jack Croft and William Murray, guests can expect a variety of snacks and main meals, spanning from vegetarian to sea- and land-based fare.
Claude Bosi at Bibendum
Nestled within the iconic Michelin House in central London, this two-Michelin-starred venue serves the height of French haute cuisine. To the backdrop of beautiful stained-glass windows, guests can savour well-balanced dishes packed with bold flavours and oozing with technique.
Andrew Edmunds
Established in 1985, Andrew Edmunds is set in a beautiful eighteenth-century townhouse and offers a seasonal menu complemented by an impressive yet reasonably priced wine list. This, paired with its laid-back atmosphere, has made it a favourite among locals.
Casse-Croûte
This Bermondsey gem radiates all the charm of an authentic French bistro. It may be quaint, but it packs a punch in culinary excellence. Serving only three plates per course, with dishes changing almost daily, the food is always fresh, seasonal and full of flavour.
CLOCKWISE FROM TOP
LEFT Entrance to Claude Bosi at Bibendum, which is set within London's iconic Michelin House; plantain caramelised in ginger and kelp, served with Uziza jam at two-Michelinstarred Ikoyi © Maureen M. Evans; dishes at Blacklock © Haydon Perrior; outdoor seating at Andrew Edmunds in Soho.
Ikoyi
Ikoyi, the West African restaurant founded by friends Iré Hassan-Odukale and chef Jeremy Chan, has catapulted to international fame over the last year, winning various awards for its incredible cuisine. Blending African spices with micro-seasonal British ingredients, the fare here is unmatched elsewhere in London and is a must-visit for those looking for a unique fine-dining experience.
Blacklock
Blacklock is the place to go if you're craving a good, hearty, carnivorous meal. At all four of its outposts across the city, Blacklock pays tribute to the traditional London chophouse, »
RESTAURANT DIARY 29
« serving a variety of unpretentious dishes and its speciality: meat still attached to the bone.
Lisboeta
This knockout from Portuguese chef Nuno Mendes is an ode to Lisbon in all her glory, exuding all the vibrance and character this city is loved for, delivered right in the heart of London.
Orrasay
This elegant Notting Hill spot is the ideal cure for those good-food cravings. Its menu spotlights produce from the Western Isles, focusing on fish and seafood cooked to perfection and served in an intimate, relaxing space.
BARS
"A great bar is somewhere I feel comfortable, and that has a genuine sense of hospitality. From the darkest pub to the best bar in the world," says Alex.
The Cow
A Notting Hill gastropub bursting with friendliness and cheer, The Cow is a must-visit for that oyster fix. Take a seat, sip on a Guinness, enjoy a selection of prime British fare and soak up the good vibes.
CLOCKWISE FROM
TOP LEFT Selection of Portuguese dishes served at Lisboeta © Eleonora Boscarelli; Voronoi cocktail as part of the Formae menu at The Connaught Bar; The Green Bar at Hotel Café Royal © Filip Latka.
The Punchbowl
A classy space set within a historic 1750 London public house, The Punchbowl is one of the oldest pubs in Mayfair. As such, it's well-versed in hospitality, so expect moreish food and great vibes in abundance.
The Connaught Bar
An esteemed venue set within one of the city's most prestigious hotels, visiting The Connaught Bar is nonnegotiable when in London. It nabbed the top spot on The World's 50 Best Bars 2021 list, an undisputable testament to its incredible drinks offerings.
The Cock and Bottle
One of West London's most charming and beautifully restored traditional pubs, The Cock and Bottle offers an array of local craft beers and a solid wine list, all in an inviting setting.
The Green Bar
Set within the five-star Hotel Café Royal, this luxurious venue is renowned as one of London's most exclusive bars. Its menu spotlights botanicals and tonics, along with classic and modern cocktail creations.
Queens of Mayfair
With a good selection of wines plus an array of signature cocktails on offer, this pretty London spot is ideal for an after-work drink or a lengthly weekend brunch.
30 RESTAURANT DIARY
Discover
Emerald and Revive at www.fine2dine.com @fine2dine
Oxido
CLARE SMYTH
Core, London
2
CHRISTIAN JÜRGENS
Restaurant Überfahrt, Germany
GLENN VIEL
Restaurant L'Oustau de Baumanière, France
1 3 4
SEBASTIÁN VARGAS
Los Félix, Miami FOUR CHEFS
HEART AND SOUL
The essence, the crux, and central to the talented team around her, Clare Smyth, of three-Michelin-starred Core, personifies everything that the restaurant's name suggests. FOUR catches up with the celebrated chef ahead of the first anniversary of Oncore, her Australian outpost, and to find out more about the recent launch of her first recipe book, Core.
PHOTOGRAPHY BY JODI HINDS
With local produce and homegrown ingredients being part of her identity, Clare Smyth has set a new standard for fine dining in the United Kingdom. Having recently opened her first international outpost in Sydney, Australia, Clare uses the same ethos to amplify the fine produce and producers available across the diverse Antipodean landscape.
Using only the produce available locally, her goal is to give each ingredient the attention, care and delivery it deserves, thereby changing our understanding of how food works. It is also a step towards a more sustainable food industry, something that we all realise is necessary for the future of farming, food production, and the planet's health.
Given that the last couple of years has also seen many changes within the hospitality industry and food/transport logistics, Clare explains how this has affected her flagship restaurant, Core, in London: "Overall, the restaurant has continued to flow quite nicely. This year has been a bit turbulent, what with coming out of COVID and the staffing crisis hitting the kitchen, so for us, it's very much about maintaining the quality of our standards rather than getting involved in anything crazy.
"Next year, however, we are planning on a complete refurb of the restaurant. Even though it's only five years old, I just want to give it everything it deserves to have. It's been an amazing journey so far, so I want to make it really world-class. We will introduce a bar on the side, giving it its separate identity and improving the physical space to offer the best guest experience possible."
As always, Clare is wholeheartedly committed to highlighting the best of British produce and combining this with a great dining atmosphere. To achieve this at Core, she sources only the finest ingredients grown in the United Kingdom for every dish and spends a generous amount of time giving each element the attention it deserves. This meticulous process often means that dishes aren't changed for months and tend to flow with the natural cycle of the seasons.
"We are so ingredient-led that the menu changes as the seasons do, and, luckily, produce at the moment is just incredible. For example, the langoustines and ceps coming down from Scotland are just unbelievable — probably some of the best I have ever seen in my life! This year they have just landed to be the perfect conditions for these ingredients. I don't know if we are seeing even more of them come in because of Brexit, maybe because they are not getting sold as easily and readily to Europe and beyond, but, as a result, we are actually getting access to an even better selection of produce such as shellfish, game, etc."
By flying the flag for innovation and homegrown cultivation, Clare allows the story of each specialist supplier and each unique ingredient to unfold playfully on the plate. She understands the hard work it takes to create such prime produce and gives thanks for this with each carefully crafted and flawlessly executed dish.
"I am incredibly proud and in love with our produce, so when chefs come to the United Kingdom now and see what we are producing, they are just blown away by the quality of what we have on our doorstep. »
36 CLARE SMYTH
LEFT Oncore by Clare Smyth is set on the 26th floor of the Crown Sydney building, which overlooks the Sydney Opera House and Harbour.
THE ART OF FUSION



BIG BANG UNICO GOURMET
Damascus steel case. In-house UNICO chronograph movement. Limited to 200 pieces.
«
"We are constantly meeting new producers and suppliers that are so great. Again, that entrepreneurial spirit in Britain means that we have new people doing new things all the time, which is just really inspiring and fun. We have recently been working with Sutton Hoo chickens, which are just beautiful chickens and super people. I think the quality of our poultry is coming through much more now, too.
"I am also currently working on a dish with Britishgrown celtuce and Scottish langoustines. Celtuce is a great vegetable, and it has a texture and flavour similar to the stem/ root of lettuce, with hints of celery. It's green, juicy, and, when roasted, has a flavour oddly similar to beef.
"Equally, we have a cep tart which, again, is just showcasing these amazing Scottish ceps we have in season at the moment. We mix the ceps with toasted yeast and confit egg yolks, particularly the small, irregular ones produced by young hens, which would usually be thrown away. They are perfect for this tart and taste delicious."
Ever enthused by what nature can provide us with, given the right conditions and the various ways this can be utilised in the kitchen, Clare has subsequently amassed an impressive recipe portfolio. Two years ago, she decided to collate her hard work, resulting in the highly anticipated Core cookbook. Containing over sixty signature recipes from Core, plus a further seventy invaluable recipes that cover basic techniques for bread, stocks and sauces, this cookbook is a beautiful documentation of Clare's journey as a chef via the culinary arts.
"As a chef, I have been around for quite a few years and have forgotten half the dishes I have created. It's quite funny
when I talk with my chefs, and we reminisce or remember back to a time based on specific dishes, so it seemed a shame that we hadn't put them into something.
"When we opened Core, we wanted to put a stop to that and create a record, if you will, of the things we were producing. Things will move on, times will change, and things will go out of fashion, but it's all a journey, and I think that's the part that is really important to document. You know, so much work and development go into the dishes that sharing this with people is really special.
"I also think the journey that we have taken towards really celebrating British produce, growers, and producers has been a new work for me. It has also taken me on a new path, as we are very restrictive about it, and I always try to keep the team on track with this ethos. Our Development Chef and Johnny, our Head Chef, often suggest great ingredients, like citrus, but they aren't British, so we can't use them — simple as that.
"It's important to me that we stay true to the vision and I think quite often restricting yourself is quite good because it's amazing what you come up with when choices are condensed. For example, we currently have a cheese and onion dish on the menu. The extraction and what we have managed to do with onion is phenomenal — you would never think it is vegetarian. The depth of flavour is something else, and it surprises people because usually, they think these ingredients are used to flavour something else before being thrown away, but it's not the case at Core. We respect each ingredient and use it to its fullest so that you can see on the plate how much you can do with it." »
LEFT Potato and Roe, one of the signature dishes at Core by Clare Smyth in London.
RIGHT Coffin Bay Scallops, celeriac, vin jaune and black truffle, on the menu at Oncore by Clare Smyth.
« Not only does Clare stay true to spotlighting local ingredients, but she also fervently believes that you are only as good as your team, with the kitchen staff, front-of-house, and producers all integral to the overall dining experience.
"I work with producers that have the same values as I do. Fostering a community and a connection. These people are my friends and colleagues that I have the most tremendous respect and admiration for. Their stories are stories that I want to share with diners through my food.
"So, the book was not only a tremendous amount of work in itself, but it also highlighted all the commitment and dedication of the people around me. I have to acknowledge my team — they were there with me every day, Johnny and Antonio, in particular, and they just worked so hard on the book and deserve all the credit. Antonio did so much of the styling for the photos, and Johnny worked on the recipes, so it really was a collaboration of us together for quite some time."
Given that Clare is recognised globally for her precision and scrupulous approach to everything she does, the launch of her Australian outpost, Oncore by Clare Smyth, in late 2021 set all tongues wagging in the culinary world. Located on the 26th floor of a world-class dining destination, Crown Sydney, Oncore offers an exceptional dining experience overlooking one of the most iconic views of Sydney Harbour.
"I had never had a plan to open in Australia. I do have a connection to Australia, and I am there a couple of times a year, but it was really the opportunity presented to me and that particular site that swayed me. When I saw the plans for the location, it was just a no-brainer. I get offered many things all the time, all over the world, as you can imagine,
and you rarely get something like that. It was brand new, I could do what I wanted, it overlooks Sydney Harbour, I knew the produce was amazing, and I was familiar with the place. So, for me, it was a unique opportunity that I thought, yeah, this is very good.
"Also, remember that these things are a labour of love. They don't just happen overnight. They are painstakingly mapped out, and you go over the design of every wall, every feature, and every detail with a fine-toothed comb. It was worth it all, though — I am very proud to have been part of the process and [to now] see how everything works and comes together. It's a stunning location, and I enjoy spending time there; it's like a second home to me."
Using her experience and approach from Core, Clare has placed produce and teamwork at the forefront of the Australian venue because she understands that quality and integrity in these aspects are what is really at the heart of any successful restaurant. Similarly, her focus on sourcing the best of British produce has, in turn, encouraged the championing of premium Australian ingredients within Oncore's impressive menu.
"I just love it. I am so proud of it. It's such a lovely restaurant, and it's really something special. I couldn't wish for a better site and location to be in, and I am very proud of the team there and everything they have achieved. I've got Alan, the Head Chef there, and I have known him since he was twenty. So to see him grow up and be a Head Chef, I feel like a proud mom. He has really matured into the role and works seamlessly with Michael, the Restaurant Manager, who is also superb. We just have a great team. »
40 CLARE SMYTH
LEFT Core Apple — a timeless classic on the menu at Core by Clare Smyth.
POSH TRADING COMPANY is a luxury British brand propelled by a penchant for the bespoke and unusual. This London based, family business, prides itself on creating the ultimate in luxury home accessories, furniture and gifts. Their collection of premium placemats are handcrafted by artisans using the ancient art of lacquering. The application of silver and gold leaf results in stunning pieces, sure to complement both contemporary and traditional decors alike.
Explore the collection at www.poshtradingcompany.com and follow on Instagram @poshtradingco
« "The produce there is also just awesome. I feel really blessed because Australia also shares the same entrepreneurial spirit as the United Kingdom, so it is just producing such exciting produce and projects all the time. Not only that, but they are doing it really well, so the quality is just exceptional.
"When I was over last time, I paid a visit to a truffle farm in western Australia, and the truffle production is insane. The quality is just mind-blowing. Same for David Blackmore's Wagyu — just exceptional beef — and Malfroy's honey — this honey is naturally harvested from the Blue Mountains, but only when there is enough honey for them to farm. Sometimes it's four to six years before you can even take that honey, so you can imagine how special it tastes. The biodiversity of the Blue Mountains just creates a truly unique flavour. We've also found great potatoes, lamb, fish, seafood, and wines, and it's just so exciting to keep discovering all the amazing things being produced in this super-diverse
landscape. I am really lucky to work with such amazing and talented producers who are transforming the face of local ingredients. It's a really enjoyable journey."
By cooking in the style that comes most naturally to her, Clare has created an outpost that runs smoothly alongside Core. The ideology is the same for both venues because the kitchen uses the produce around them, allowing the seasons to dictate the dishes they will create. The recipes use the same tried and tested processes that Clare has spent years refining, just with the addition of prime Australian produce.
"Of course, there are now the evolutions that have come from the dishes that we have created in Sydney. Hopefully, they may come towards the United Kingdom, but the more time I spend there, the more we create dishes specifically for the Australian market.
"For example, Australia has much more of a fusion cooking style. There's a melting pot of cultures, ingredients and dishes that are very commonplace here. There are »
LEFT Interiors of three-Michelin-starred Core by Clare Smyth in Notting Hill, London.
RIGHT Poached langoustine, English wasabi, peas and rose geranium, a dish served at Core by Clare Smyth in spring.
42 CLARE SMYTH
"I work with producers that have the same values as I do. Fostering a community and a connection. These people are my friends and colleagues that I have the most tremendous respect and admiration for. Their stories are stories that I want to share with diners through my food."
« obviously some native ingredients in Australia that we don't have in Britain, so although we are not using strictly British produce, we are using what we have around us and sticking to this core philosophy. There are also things that are just very popular in the Australian culture, so we work with this, too, such as lamb, which sells out whenever it's on the menu.
"We also have a great bar setup. Ryan, the Bartender at Oncore, is someone that I am really enjoying working with. He is really pushing the boundaries in terms of serving premium cocktails that are finished at the tables. We have actually found that cocktails are slightly more popular in Australia. The Asian clientele, in particular, tend to drink a cocktail rather than more wine or beer with their meal, so they expect something exceptional. They are really interested in the theatre and the experience of that, and we are working on this and refining our premium cocktail offerings and ingredients — we just want people to enjoy themselves!"
Creating what Clare calls the "enjoyability factor" continues to set her apart from many traditional gourmet chefs. Clare wants people to have a genuinely great time, avoiding all the pretentiousness or pomp of the more classic fine-dining experience.
"The welcome at Oncore is a huge thing for us. When guests arrive, we want them to be greeted with good energy and [to know] that we are happy to see them. This is the same for both restaurants, and making people feel welcome is hugely important. The ambience, the music, the people — we want it to be relaxed and fun so that people have an
enjoyable and high-energy experience. It's absolutely fine dining, but it's more a foot-tapping kind of fine dining."
By focusing on the good old-fashioned art of hospitality, Clare has created two unique spaces that share the same warmth and comfort that can only come from someone's heart and soul. Guests can feel at home in Clare's restaurants, and this sensation is often hard to find in a world where chefs tend to put themselves in the spotlight of the experience. And, as someone who is undeniably caring and considered about her work, as well as a self-confessed risk avoider, one can only wonder what comes after a life-changing restaurant launch in Australia.
"Well, we are currently looking at a couple of new sites in the United Kingdom. We will choose one of them, and when Core closes for the renovations next year, we will take the team to the new venue. We are also thinking of doing a little tour, so during August and September 2023, you may see us elsewhere in the world. I think it's fun for the team to do something different and to work with different markets and products. It helps us expand and grow as a business and individuals, and the renovations will be the perfect opportunity to use this time to do that."
There is no question that it's Clare's dedication and hard work that has contributed to her success. She has been finetuning her culinary skills since the age of sixteen and truly believes that it is a chef's responsibility to learn how to do things properly and sustainably. With an unwavering focus on creating a successful venture but also an understanding that this is only possible by growing a family from your team, Clare has become a guiding light for the restaurant industry.
44 CLARE SMYTH
LEFT Core Teser — a dessert inspired by one of Clare's favourite childhood sweets that features milk chocolate, malt and hazelnut.
Appartamento
ROCKET APPARTAMENTO. The perfect espresso machine to start your #rocketathome experience. HANDMADE IN ITALY | ROCKET-ESPRESSO.COM
FOR THE LOVE OF TASTE
Like most chefs, Christian Jürgens hopes to delight diners with food so tasty it leaves a lasting impression for years to come. What sets this German culinary master apart, though, is that he does so with unmatched skill, using the best ingredients to create extraordinary cuisine that's well worth its three-star status.
PHOTOGRAPHY BY JAN GREUNE, VIVI D'ANGELO & MARTIN KREUZER
Christian Jürgens has become a global gastronomic name owing to his marked ability to create outstanding food. Like an artist, he uses the plate as his canvas to create masterpieces that revolve around exceptional taste. Always seeking to surprise and delight his diners, his mission is simple: expose the palate to something unforgettable that will continue to conjure a beautiful memory forever more.
As the chef of Restaurant Überfahrt at lake Tegernsee in Germany, a restaurant lauded with three Michelin stars and five out of five Fs in Feinschmecker, it may come as a surprise that he almost didn't become a professional cook — Christian's star-studded culinary career all happened by chance.
"The fact that I became a chef was pure coincidence. Actually, I was destined for a different profession: our family has been a butcher dynasty for generations. I was also supposed to take over my parents' butcher store in Unna at some point, which included several businesses. But when I was sixteen, I left home and ended up with my sister, who ran a restaurant with a party service in Hanau. At my sister's restaurant, a dishwasher was on sick leave. We were raised to help out when needed, so I jumped in and washed plates, pots and pans. I knew this from home as I had helped out in the family business from an early age, delivered small orders or made enrichments. If there was nothing to wash, I peeled potatoes, onions and finger carrots or cleaned chanterelles — everything that nobody likes to
do in the kitchen. I felt comfortable in the environment, and I liked the atmosphere. At one point, the chef took me aside and said, 'Looking at what you're doing here, have you ever thought about doing an apprenticeship in cooking?' And that is how I started my career."
Christian's dream of attaining a Michelin star became apparent when he began his apprenticeship, and this aspiration stuck with him until he earned it in 1998 while at Marstall restaurant in Munich. It took him all of three minutes after that moment to realise that he wanted the second star against all odds — and just four years later, he achieved his goal, winning two Michelin stars during his tenure at Kastell restaurant at Wernberg Castle. This time, his desire for the third star was instantaneous, and he gave it his all to receive the Michelin Guide's highest ranking. And he did — in 2013 for his gourmet restaurant at the Althoff Collection's Seehotel Überfahrt on the shores of lake Tegernsee. Now, he stops at nothing to retain it every year, working with the utmost dedication to his craft to ensure he remains at the top of his game.
To deliver the best cuisine possible, he calls upon the skills he learned in his younger years — these were vital teachings that he recalls fondly to this day. Before he won any of his stars, he trained with Gerd Käfer, Heinz Winkler, Jörg Müller and Eckart Witzigmann, and more than anything, he remains thankful for what these chefs taught him.
"I had the great fortune to work with gifted chefs. What I was able to learn would go beyond the scope of this story. I can only say this much: I am grateful for everything »
48 CHRISTIAN JÜRGENS
LEFT Restaurant Überfahrt features an elegant interior with oak tables and natural tones.
Wine from Austria . The Taste of Terroir.
WWW.VELICH.AT (98-99)
(99-100)
Parker 95 Parker
Parker
"At the beginning and at the end is the taste. It is above everything, and each of our dishes must have a surprise. I want our guests to say: 'Wow, I've never eaten something like that before.' And we strive to have the continuity to bring this to every table, on every plate, every day."
« I was able to experience with Käfer, Winkler, Müller and Witzigmann. And these experiences are part of the basis on which all my work is based today. Many thanks to all the people who have let me share their knowledge!"
A key takeaway from his stages with these chefs was understanding the product's importance, which is precisely what guides his cuisine at Restaurant Überfahrt. The ingredients are the foundation of every dish, and as such, they must be of the highest quality. In addition, Jürgens aims to source as locally as possible, regardless of the price tag.
"We source our products worldwide. Decisive for the purchase of our products is the quality. Local producers always have priority, even if they are higher in price than other suppliers, because it is our goal to promote local producers."
Transforming these ingredients into dishes requires an initial inspiration, and its origin is ubiquitous, says Christian: "Inspiration can be found everywhere: on a walk, grocery shopping at the market, at daily work or in conversation with co-workers. The sources are almost endless; you just have to find them, let them affect you, and be willing to leave your comfort zone. I don't know what drives me — all I can say is that standing still and maintaining is not my thing. I want to move forward and create."
When he does begin conceiving his dishes, it's always a team effort, with the whole brigade involved in the process. The idea will be tinkered with until a first test can be produced, and if everyone is happy, it will be placed on the menu. If not, and there is room for improvement, the
concept is tweaked until the entire team is satisfied. And the criteria for this approval is that the dish is, above all, tasty.
"At the beginning and at the end is the taste. It is above everything, and each of our dishes must have a surprise. I want our guests to say: 'Wow, I've never eaten something like that before.' And we strive to have the continuity to bring this to every table, on every plate, every day.
"Each of our dishes should be remembered by our guests as a highlight. One example of this is our BEE STINGS dish. We have chosen the classic German cake as a model for this and transformed it from sweet to savoury. Our BEE STINGS creation consists of mousse from the best German asparagus. It is filled with green asparagus ice cream and stands on brioche soaked in asparagus juice, finished with crunch from pine nut brittle. The whole dish gets the flavour twist from Ossetra caviar from Siberian sturgeon, produced especially for me by Altona Caviar."
Although Jürgens wants every dish to be distinctive, there are a few signature creations that hold a special place in his heart. In particular, THE CUBE is one such invention that has been on his menu for over two decades.
"The first signature dish I made is called THE CUBE. It was created 22 years ago, and since then, it is impossible to imagine our restaurant without it, as guests ask for it every night. It is a potato cube filled with liquid egg yolk, served on Périgord truffle mousseline with truffle salad. Until this dish was put on the menu, there were seemingly endless amounts of potatoes for our staff over weeks and months, as it took quite a long time to crack the secret of the potato cube." »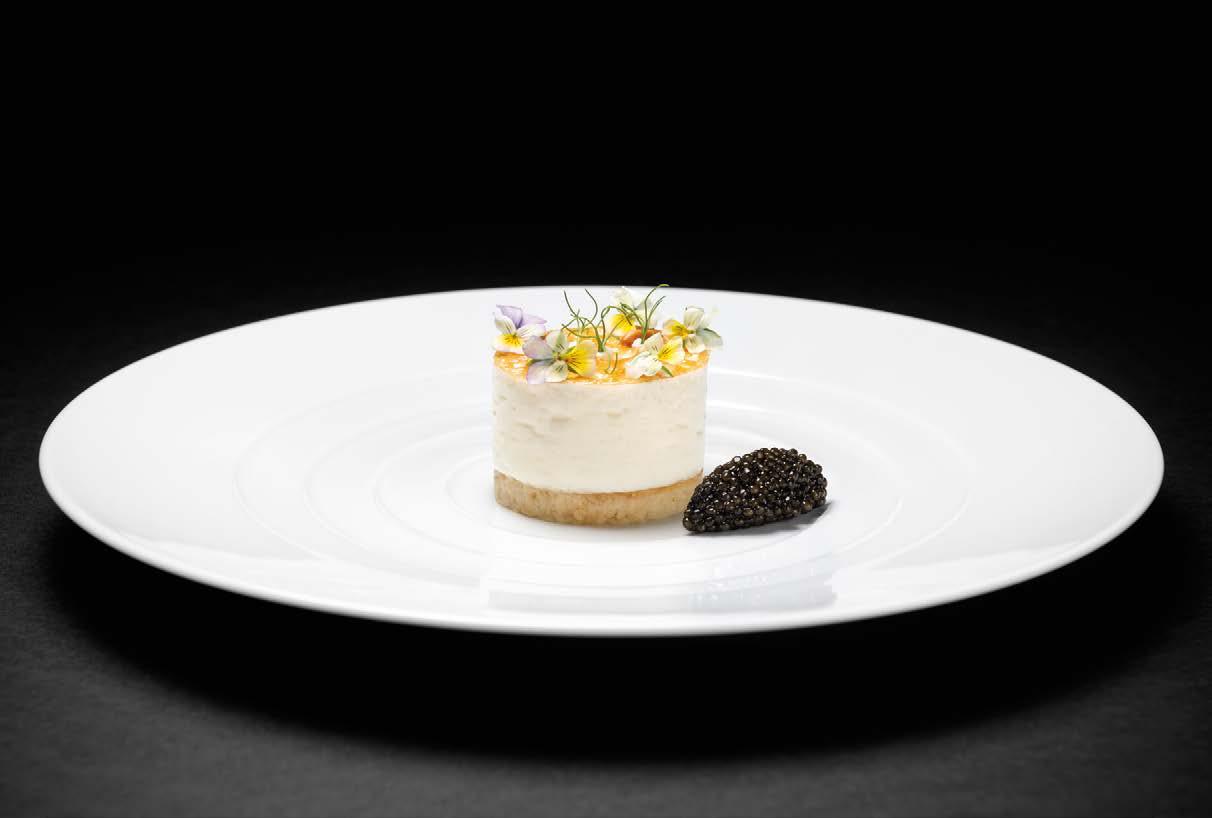 PREVIOUS SPREAD A WALK IN THE GARDEN: Marinated vegetables, lettuce, herbs, cream.
52 CHRISTIAN JÜRGENS
RIGHT BEE STINGS: Pine, asparagus, tarragon, brioche, German premium caviar from Siberian sturgeon — exclusive edition Christian Jürgens.
| info@kuehnsilber.de |
7171 41031
highest quality
sonja-quandt.com
+49
handmade
silver
« This notion of taking extra time to ensure that a dish is perfect before presenting it to diners is one of the many reasons why Christian is so successful. Always aiming to do better, he learns from his mistakes and challenges himself to foster continued growth while respecting his team and adhering to a set of moral principles inherent in his kitchen.
"The drive for constant improvement and reflection is the key to success. I reflect every day about my kitchen and myself personally. In both these regards, I try to become a little better than the day before. This is not always easy for my environment, so my effort is to bring my environment closer to what I do to be better understood and supported. In my opinion, the team makes the difference, which is why I also want to lead my team in the best possible way.
"In my restaurant, my employees and I live by certain values. These are loyalty, honesty, commitment, quality, respect and authenticity. I run my restaurant according to these values and create a good working atmosphere with my employees. For me, it is very important that we are all present in our restaurant every day with great joy and commitment and that we stand together even in difficult times. We live by the principle of all for one and one for all.
"A three-star restaurant demands full attention every day — especially since I work in the dual role of chef and managing director. The big challenges in today's world are to find suitable and committed employees, have access to outstanding products and generate good business results despite the enormous cost pressure. It's essential to set the course so that committed, motivated employees have the »
LEFT The evolution of the famous THE CUBE is Jürgens' GOLDEN EYE with bio-egg yolk, herbal spinach and black truffle.
RIGHT TURBOT: Turbot, ox marrow, umami glace, leek oil.
54 CHRISTIAN JÜRGENS
"The drive for constant improvement and reflection is the key to success. I reflect every day about my kitchen and myself personally. In both these regards, I try to become a little better than the day before."
« opportunity to start a family and still be able to work at the highest culinary level in the long term. My goal is to run a three-star restaurant that pleases guests with its culinary delights and gives employees the kind of workplace they have always wanted!"
Creating a welcoming environment for diners is effortless when the team is happy and passionate about their work. Christian wants guests to experience this feel-good ambience, which fuses sublime food with standout service, ensuring that the trip to the restaurant is well worth it.
"Our guests should be able to let themselves go, and we are there to catch them and read every wish from their eyes. The best compliment after a visit to our restaurant is when you remember it — even after a long time. Both in a culinary way and from the overall feeling, we want to create a long-lasting memory."
The wine list is definitely an unforgettable aspect of the restaurant. More of a "book", as Christian describes it, it showcases a selection of some of the world's top wineries, from Germany to France, Italy and the States.
"We have designed this book with a lot of love. Many of our guests keep our wine book at the table until the end of the evening because they can't get enough of it. We offer a pairing selection for each menu, which is specially matched to the individual dishes by the Head Sommelier and me."
With its casual yet elegant aesthetic, the restaurant has been designed to further enhance the dining experience while not distracting from the main event: the food. Most of the dishes are served on white tableware designed by
Stefanie Hering from Berlin, with whom Jürgens has been working for many years as part of an enjoyable and inspiring collaboration. Mirroring the lakeside setting, the interiors feature a natural palette with sand-hued armchairs and dark oak tables, perfectly contrasting the pearly porcelainware. Deerskin and photographs by famous German photographer Silke Laufs line the walls while views of the beautiful surroundings seep in from the windows. Akin to a living room, the space has been intentionally envisioned to make visitors feel comfortable —there's even a specially curated cheery soundtrack that plays. Christian is most pleased when he hears enthusiastic laughter and clapping sauntering in from the dining room, and every detail has been meticulously considered to facilitate this joyful culinary experience.
What's more, Christian goes over and above to create stellar gastronomic offerings beyond the borders of his restaurant. With his partnerships with prominent global brands, he is often involved in organising special events and designing products that have a lasting impact.
"I have long-standing collaborations with sensational partners. For example, Audemars Piguet and I designed the fiftieth anniversary of the Royal Oak this year. As a brand ambassador for BMW, I have already organised numerous events this year, and it will be interesting to see what else we create together for our customers for the rest of 2022 and in 2023. With my partner Gaggenau, we created an absolute highlight this year at the Fuorisalone in Milan, and we are also planning events for a very limited number of guests. I'm excited to see the other highlights 2022 and 2023 offer."
56 CHRISTIAN JÜRGENS
RIGHT AUTUMN LEAVES: Chocolate, blackberries, lime cream, crunchy leaves.
brand
POETRY ON A PLATE
Lauded as the youngest chef in France to receive three Michelin stars, Glenn Viel of l'Oustau de Baumanière perfectly blends innovation with tradition. Committed to celebrating local Provençal ingredients, many of which are grown in the estate's gardens, he does so with a playful touch and imaginative spirit.
PHOTOGRAPHY BY VIRGINIE OVESSIAN & PAULINE DANIEL
Born in Versailles, Glenn Viel hails from a military family. His father, albeit a soldier, was still an avid cook, as was his grandmother, and Glenn's passion for the culinary arts stems from his food-loving kin. After moving around the country in his childhood, living in Satory, Poitiers, Le Mans and La Réunion, he eventually settled in Saint-QuayPortrieux, Brittany, to undertake a diploma in cooking at La Closerie. From 1998 to 2000, he continued with a vocational baccalaureate at Lycée Sainte-Catherine in Le Mans before completing his internship with Joël Boillaud at the Hostellerie du Nord in Auvers-sur-Oise.
After graduating, he spent time honing his craft in some of the top kitchens in Paris, including Le Meurice under chef Marc Marchand, Plaza Athénée with JeanFrançois Piège and the Hyatt Madeleine. Thereafter, his work saw him traversing the globe, first moving to Morocco to take up a sous-chef position at the Hyatt Regency in Casablanca, followed by time spent in Marseille, Nice, Corsica and Courchevel. In Marseille, he attained his first Michelin star in 2008 while helming the stoves at Peron restaurant. In 2013, the second star came for his work at Kilimanjaro in Courchevel. He even spent time in Cheval
Blanc Courchevel's kitchens during the winter of 2013-2014 before he was headhunted for the role of Chef de Cuisine at l'Oustau de Baumanière.
At the time, Jean-André Charial, the grandson of the five-star hotel's founder, was looking for a fresh face to take control of the then two-Michelin-starred kitchen. Charial, who had been at the helm of the stunning French property for fifty years, had his eyes set on attaining three stars, and Glenn was precisely the chef he had in mind to achieve this. However, Glenn was initially uninterested in the role until Charial promised the budding cook carte blanche in the kitchen. Well, mostly— Viel had to honour the spirit of Baumanière and keep some of the restaurant's classic dishes that had forged its stellar gastronomic reputation. In particular, retaining the Alpilles roast lamb, the iconic millefeuille and the vegetable menu were non-negotiable. Glenn agreed, and in 2015, he donned his chef whites in this two-star kitchen for the first time. Now, seven years later, l'Oustau de Baumanière has Glenn's whole heart. Leading the kitchen with passion and pride, he creates standout cuisine that remains traditional at its core yet offers a window into Glenn's creative side, all while championing locally sourced produce. »
60 GLENN VIEL
LEFT L'Oustau de Baumanière's shaded outdoor dining terrace.
LEFT Apple dessert by l'Oustau de Baumanière's award-winning Pastry Chef, Brandon Dehan.
RIGHT Glenn Viel operates his own organic vegetable garden at Baumanière, which supplies much of the fresh produce used in his three-Michelinstarred kitchen.
« Always on the hunt for a new project, Viel has spearheaded various additions to Baumanière during his tenure at the estate, which holds an impressive history: it was the first Relais & Châteaux property created in France in 1945. Over and above establishing an ever-growing organic vegetable garden that supplies much of the restaurant's fresh produce, he's also opened an educational farm on-site with chickens and pigs, and has implemented a circular agricultural system where kitchen waste is used as fertiliser for the garden.
Proudly devoted to putting the environment first, the chef's nature-forward ethos is further supported by his commitment to sourcing as close to home as possible, giving local producers and artisans a special place in his cuisine. Not only does this aid in supporting the surrounding community, but it also reduces transport distances, thereby minimising greenhouse gas emissions. The same goes for staff and their work commutes: these have been decreased thanks to the estate offering 53 affordable residences nearby. Efficient waste and plastic management are also key to l'Oustau de Baumanière's green outlook. Dedicated to preserving Mother Earth where possible, Glenn's efforts to reduce l'Oustau de Baumanière's environmental impact
have even been recognised by the Michelin Guide. In addition to its three-star rating, the restaurant was awarded a green star for sustainability this year.
Endlessly inspired by the surrounding natural world, Glenn uses this as his muse to create conscious cuisine that celebrates the Provençal terroir. Living organically is a way of life at Baumanière, where the estate's bees produce the honey utilised in the restaurant, and the fruit from Vallée des Baux olive trees are pressed to supply the golden-hued oil used to prepare the dishes. He even makes his own butter from milk sourced from a nearby farm. This is ultra-local food, prepared with skill and rooted in respect for the land.
Underpinned by the idea of going back to the basics, Glenn's culinary philosophy seeks to spotlight the unique flavour of each ingredient through refreshingly simple dishes. But that doesn't mean they lack ingenuity: armed with an artful imagination, the chef conjures up the most magnificent culinary masterpieces that delight diners with every bite. Unpretentious, pure in flavour and teeming with emotion, his cuisine preserves Baumanière's traditional spirit while adding a dash of youthful creativity.
Unique to Glenn's dining experience is the inclusion of bread perfectly matched to each dish. Working hand »
64 GLENN VIEL
RIGHT Beef 'sandwich' with veal jus and milk and hay jam.
LEFT Elegant interiors of l'Oustau de Baumanière.
RIGHT Red mullet.
« in hand with the property's baker, who's been part of the team for five years, the duo envision distinctive loaves to complement each course. The current menu features the likes of seaweed bread, which accompanies the red mullet dish, and fig-walnut country bread, which is served with the diner's selection from the cheese trolley. Another pioneering addition to Viel's culinary repertoire is his "seasoning pebbles". A one-of-a-kind culinary technique that has gained international acclaim, this system uses a concentration of vegetables and shellfish, such as celery, mushrooms and langoustines, to replace salt and impart the necessary flavouring to dishes.
A show of true gastronomic talent, this seasoning revolution is a testament to Glenn's personal philosophy: he's a cook who wants to maximise the dynamism of his kitchen. Always pursuing perfection and originality, his mind endlessly ticks away, thinking of new ideas and dishes to improve his culinary offering. He's not scared of taking risks or having fun either because stagnation stifles creativity — and this is something he never wants to do. His biggest inspiration comes from dreaming up a crazy idea and working to realise it on a plate. He creates food that is guided by emotion, and it's food that he wants to make —
not food he has to. Referring to his gastronomic creations as poetry, he strips down ingredients to their bare essence to understand their meaning and then composes a dish that translates the produce's inherent beauty and purity to the diner. By the same token, as is often true of poetic verses, not every person will understand Glenn's vision but, instead, is given the opportunity to develop their own interpretation of the dish. And this is exactly what the chef hopes will be the case: he wants guests to arrive with no expectations or preconceived notions of the cuisine— they ought to experience it authentically, from a blank slate, for themselves.
Offering two set menus at the restaurant, "A stroll" and "1987", each course tells a story. Often attached to a quirky name, which gives a glimpse of Viel's playful personality, the creations are pared back in presentation. They are beautiful, still, but err on the side of simplicity — and for a good reason. Rather than causing a visual stir, the chef wants the taste to take centre stage — leaving the flavour to surprise the palate rather than preempting the senses and creating expectations with elaborate plating. And on the flavour front, guests won't be disappointed. With dishes such as squid accompanied by a milky crustacean emulsion; a layered cep tart with creamy coffee and roast garlic; »
66 GLENN VIEL
« grilled carabinero prawns with fennel and lemon; and milk-fed lamb with spinach and seaweed, the "A stroll" menu is a display of utter Mediterranean gastronomic magic. Meanwhile, "1987", the plant-based menu, spotlights fresh vegetables sourced from the estate's garden and neighbouring farms, all cooked in a unique way to best bring out the their natural splendour. From tender butternut to beetroot with a trio of citrus and a touch of tarragon; compressed vegetable roots; and confit carrot with honey, creamed vanilla and verbena sorbet, this menu puts the rich, vibrant bounty of the Provençal landscape in the limelight.
An inspirational leader to his kitchen brigade, Glenn equips his team with the knowledge and skills that allow them to achieve their very best every day, which is then flawlessly translated onto the plate. Loyalty, mutual respect, and trust are the guiding tenets of the restaurant and are essential to its success. With l'Oustau de Baumanière being awarded three Michelin stars since 2020 — first achieved when Glenn was just 39, making him the youngest French chef with this accolade at the time — and boasting an 18.5/20 rating from Gault & Millau, there's no doubt that Glenn and his team are definitely achieving their goal of delivering the highest calibre of cuisine.
To complement the exceptional fare, the restaurant offers a sophisticated ambience. The black-and-white dining room features graceful round tables draped in crisp linens and adorned with stunning tableware crafted by local ceramist Cécile Cayrol and hand-blown glass creations by Alban Gaillard. With its large shaded alfresco terrace facing the estate's verdant gardens and tranquil pool, the restaurant also invites diners to enjoy gourmet moments in the heart of the serene French countryside.
Boasting one of the most impressive cellars in the country, guests can pick a wine from over 50,000 references, including some over 150-year-old bottles, to pair with their meal. Offering a selection of some of the world's best wines, the list includes Bordeaux and Burgundy's top producers, such as Lafite Rothschild, Latour, Margaux, Haut Brion, Yquem and Romanée Conti.
A destination that brims with the quintessential Provençal charm, l'Oustau de Baumanière is where sublime cuisine coalesces with the finest wines and a breathtaking setting. A display of the pinnacle of French art de vivre, there's no place quite like it. Timeless and transcendent, it promises unforgettable moments in abundance.
68 GLENN VIEL
RIGHT The iconic Baumanière mille-feuille with Madagascan vanilla cream and pistachio Florentine.
HONOURING HERITAGE
Set amidst the bustle of Miami's Coconut Grove, Los Félix radiates with its very own kind of energy. Using indigenous ingredients and cooking methods, chef Sebastián Vargas shares the culinary heritage of Mexican matriarchs, celebrating their work through food that bellows with flavour and imagination.
PHOTOGRAPHY BY WILLIAM HEREFORD & VANESSA DIAZ
|
|
|
Every kitchen is unique Handcrafted in the Swiss Alps More than 75 years of heritage
Designed in Saanenmöser, Manufactured in Lenk, Switzerland. Visit one of our showrooms in Bern and Saanenmöser | www.zbaeren.ch | +41 (0)33 744 33 77 Saanenmöser
Gstaad
Bern
Lenk
LEFT Nduja spicy pork sausage, grilled dates, sweet corn, charred chayote and nasturtium, served with homemade Milpa corn tortillas.
RIGHT Vinyl DJ sets add to Los Félix's lively ambience.
"For me, restaurants are a beautiful accumulation of different cultures, professions and philosophies. One of the very few industries in the world that always has the doors open to anyone wanting to pursue this passion, this art."
« theory and knowledge. I learned so much and was exposed to incredible resources, chefs and people, and it was exactly where I needed to be to continue."
After graduating, Sebastián worked in a few restaurants before joining the team at Los Félix. One of his most formative tenures was with chef Magnus Nilsson at Fäviken restaurant in Sweden. Moved by Nilson's commitment to the food itself, this experience is one of the reasons why Vargas doesn't tie himself down to one kind of cuisine. Instead, his culinary philosophy is influenced by various global cuisines, and he takes the greatest inspiration from how certain foods have framed significant moments in his life.
"For me, Magnus Nilsson is a master of what cooking and restaurants should be. It's such a pity that he closed Fäviken and that perhaps not many people understood or were fortunate enough to experience his restaurant. It was a beautiful synchronicity and balance between food and what a food philosophy should be. You know, it wasn't about the stars, the chef or the awards; it was about finding foods that spoke because of culture, history and the surrounding environment. He made this and the team behind it the protagonist of the experience, which, I think, created a truly magical place," says Vargas.
"A lot of restauranteurs or chefs are still working with the mentality of it being about them or an image of what they should be. For me, restaurants are a beautiful accumulation of different cultures, professions and philosophies. One of the very few industries in the world that always has the doors open to anyone wanting to pursue this passion, this art.
"So, I think my philosophy towards food nowadays, more than ever, is to truly give voice to those who are part of this community. You know, to all of the farmers, the suppliers,
the fishmongers: to really give voice to every individual that makes up a restaurant."
Together with restaurateurs Pili Restrepo and Josh Hackler, the trio proudly abides by this notion at Los Félix. Working with small producers in Miami and sourcing indigenous ingredients from Mexico, the restaurant shines a light on farmers who share a real passion and skill for their craft, which resonates with Los Félix's fervour for food and commitment to preserving the planet.
"We are working with fishmongers who only use linecaught or spearfishing methods to catch the fish, so this means that the catch can vary. We don't call them and ask them what they have got, but they tell us what the catch of the day is, and we work with that. We also don't buy fish that weighs below forty pounds because we don't want to encourage the fishing of species that haven't had time to grow properly or go through their full life cycle," says Sebastián.
"We try to work with a closed loop, which means we also compost all our organic waste. We work with a company here in Miami that has a farm, so they come and take all the organic waste and compost it on-site. They keep most of it or send it to other farms around the area, but we also use some of the compost for the plants we have at the restaurant. We have been pretty adamant that we want to contribute to the produce by way of giving life to the soil. Little by little, we are sowing our seeds and hoping to make a change in any way that we can," adds Pili.
"We started working with really small farmers, and people are paying attention to what we are doing. Hopefully, this, by default, will encourage them to also work with small producers and start following suit with sustainable waste management options. You know, it takes a village, so we can »
76 SEBASTIÁN VARGAS
RIGHT Los Félix's culinary offering is rooted in the the concept of sharing, with a variety of dishes on the menu that spotlight traditional Mexican recipes and flavours.
« only hope to inspire the community with our restaurant and what we believe in."
"With our corn, we source this from traditional Milpa farmers from around Mexico, and it translates into the farms we support here around Miami and Florida. They all practise this idea or philosophy of Milpa, which is basically to respect the soil and the growth cycle of crops in a way that is unique to each product. Instead of commercialising agriculture and inviting more and more crop variants, you actually look at what supports each other when it comes to planting," says Vargas.
"I believe corn is like the mother ingredient that connects the whole of Latin America. In many ways, those roots are very present in almost every dish that I make. It's what is closest to me in one way or another. It's in stories, memories, or a particular dish; there is always some traditional Columbian element that helps it evolve into something new. It's definitely within the restaurant's DNA and the dishes' flavours."
"The intention of how we do things and who we work with, having a purpose within our choices, is carried into the wine programme. So, we work with small farmers practising organic, biodynamic farming in the vineyard and winemaking. The wine programme focuses on wine from the Americas, so a lot of United States wine, but also a lot of South American wines, like Mexican, for example. We also have wines from Spain and Portugal," says Josh.
"The wine menu changes almost every week. The nature of natural wine is that the yield is so small that we may only get four cases of a specific wine, so we put it by the glass, and once it's gone, it's gone. The same goes for the bottle. It's very intensive, it's very hands-on, and it's very deliberate."
Whether through the food or wine, every aspect of Los Félix hopes to envelop guests in a multi-sensory experience that honours the authentic and traditional, telling the stories of the Mexican ancestors who led with wisdom, tenderness and ferocity. Throughout each dish, this spirit is preserved while referencing Josh, Pili and Sebastián through their passions, preferences and memories.
"The menu is relatively small, but everything has a purpose and is something we love to eat ourselves. Creativity kicks in when you start with stories, memories, or things inspired by actual life events. We bring a little bit of inspiration from every corner of our childhood and upbringing to add another dimension to our dishes. For example, we use corn milled in the oldest corn mill in North Carolina. It dates back to 1767, and it's very meaningful because Josh is from South Carolina, so this ties in nicely. We use this freshly milled corn in our grits and masa pancakes," says Vargas.
"We have a dish that exists in most of the world, which is tacos al pastor: a long chunk of marinated meat cut like a shawarma. It was introduced to Mexico from the Middle East and is a great blend of cultures. It is difficult to find a good one, and I feel ours is changing that. It's such a simple mix of tortilla, meat, onions, cilantro and pineapple with a squeeze of lemon. It's just so tasty and delicious; I personally eat one every day!"
On the other hand, Josh and Pili are huge fans of the tamale. "The tamale is probably my favourite dish right now," says Josh. "It's pastured organic chicken that we smoke in-house. We use fire quite a lot, and we are actually going to be doubling down on that technique of cooking with fire in the coming months, which we are »
LEFT The restaurant's interior was envisioned as a homely space where guests would feel comfortable and welcome.
RIGHT Grilled Florida pink wild-caught shrimp, North Carolina-milled grits, black truffle emulsion, lime caviar, shaved truffle and scallions.
78 SEBASTIÁN VARGAS
« really excited about. We combine the smoked chicken with the beautiful tamale, which also has a Columbianinspired picadillo criollo and charred cilantro salsa. It's an amazing dish."
"I am not the biggest fan of traditional tamale, but this one has really blown me away," adds Pili. "It's so light and tasty, and there's such a burst of flavours with the smokiness and acidity. It really inspires the idea of traditional homestyle cooking but takes it to a whole new level."
This idea of creating a familiar, unassuming space is put forward in more than just the food: the restaurant's setting also aims to create a warm and inviting ambience akin to someone's home. Complete with various artworks and even a DJ booth spinning vinyl records, it's a vibrant venue that combines Mexico's ancestral heritage with Miami's infectious energy.
"We had a lot of space constraints for the restaurant, so we had to create something magical within it. We did everything ourselves, from the design to collecting tiles and deciding on the colour palette. We wanted guests to feel like they are entering a really special venue and are aware of the fact that our concept was moved by our indigenous, ancestral story," says Pili.
"This concept is also apparent in the mural that we conceived. We had a few ideas and options for the big wall, but we went with the beautiful hand-painted mural. Its earthy tones give a lovely otherworldly feel and reflect the connection to the land, sky and beginning of the universe. It's a small place, but we have created a calm, warm and relaxed feel. We also use candles on the tables, which isn't something you find much in Miami, but it felt like an extension of our homes which I guess is what we are all about."
The Miami crowd certainly appreciates this laid-back vibe, which sets the tone for a unique gastronomic experience unmatched elsewhere in the city. Lauded with a Michelin star and included in Bon Appétit's 50 Best New Restaurants 2022 list, Los Félix is making waves in Miami's food scene. Yet, the team remains grounded in its attitude: the focus continues to be on creating a genuine gustatory experience that celebrates Mexico's heritage through and through.
"Anywhere, not just necessarily Miami, when you do things with purpose, intention and authenticity, as well as hard work, the rest sort of follows. We didn't start the restaurant thinking about what we think will be popular or how to gain recognition, but thinking about things that mean something to us with thought and intention. When you approach things in that way and really try to make a neighbourhood, city or idea better, then people notice. That's what has been amazing about what we have created. We were a nobody in a city where none of us had a track record, and, in one year, we have received some of the highest recognition in this industry. It's just an incredible feeling to know people are paying attention to us. We are super grateful and thankful for that," says Josh.
"None of these things were ever expected, and we were never working for them; that's the most beautiful part of it. A lot of people and restaurants get obsessed with the awards and recognition because, for them, it means they are successful. I think if you build something that you are proud to bring your family, friends and loved ones to, then whatever recognition comes after that is glorious. Apart from that, it's not our motivating factor. For us, this is about enjoying what we do, creating a community, and making people happy," concludes Sebastián.
80 SEBASTIÁN VARGAS
RIGHT Envuelto (Colombian-style wrapped corn cakes) with sweet corn, guava, queso fresco, Meyer lemon, pistachio and bee pollen.
4-40 BANTA PLACE FAIR LAWN, NEW JERSEY GV Design Group Chateau 310 SRD Building Corp. Kitchens by Design SSI CELEBRATING 50 YEARS IN BUSINESS 201-791-0440 WWW.RANGECRAFT.COM
A TERRITORIAL TREASURE
Only a select five provinces in Italy can produce Parmigiano Reggiano. The veritable king of cheeses, this prized dairy product remains deeply rooted in its origins, offering a globally renowned, distinctive flavour that tells the tales of its unique territory.
Parmigiano Reggiano is held in high regard across the globe, and rightfully so. As one of the world's oldest and richest cheeses, it's a product that has always remained firmly bound to its territory. And it's this sacred land that endows this dairy treasure with its incredible, legendary taste.
The history of Parmigiano Reggiano dates back to the Middle Ages, with the first written mention of a cheese from Parma appearing in a notarial deed from 1254, found in the State Archives of Genoa. It was monks who pioneered Parmigiano Reggiano production, as they wanted to create a dairy product that could travel well and remain preserved for a long time. They found a solution by increasing the wheel size of their cheese and allowing it to mass dry — and with this, Parmigiano Reggiano was born, laying the foundation for this remarkable Italian delicacy as we now know it.
Produced today as it was nine centuries ago, Parmigiano Reggiano holds strong ties to its origins. Since its beginnings, and as is continued today, it has been handcrafted
ABOVE To receive the Parmigiano Reggiano Protected Designation of Origin certification, every step of the cheese's production process must take place in the Italian provinces of Parma, Reggio Emilia, Modena, Mantua to the right of the Po river, and Bologna to the left of the Reno river.
OPPOSITE Parmigiano Reggiano undergoes a minimum maturation of twelve months, and thereafter, the cheese can be aged up to 45 months or longer. The length of maturation endows the cheese with different taste and texture characteristics, making this a very versatile ingredient in the kitchen.
using only three ingredients: milk, salt and calf rennet. The craftsmanship and production techniques have remained steadfast, with very few changes over the last several hundred years — owing to the decision to keep the cheese free of any additives. Its entirely natural production is governed by strict specifications registered with the European Union, as Parmigiano Reggiano holds Protected Designation of Origin (PDO) status.
A PDO product is one that has distinctive characteristics based on its links to a specific area of origin, and through the European Union's system of PDO certification, it ensures that producers and consumers of such products are safeguarded from imitations. For a cheese to bear the Parmigiano Reggiano PDO mark, it has to be produced according to a precise set of rules. First and foremost, it must be made exclusively in the area of origin. From the production of the cow's milk to the processing into cheese, the minimum twelve-month maturation, the packaging, and the Parmigiano Reggiano PDO grading, every step has to take place in the Italian provinces of Parma, Reggio Emilia, »
82
« Modena, Mantua to the right of the Po river, and Bologna to the left of the Reno river.
Furthermore, Parmigiano Reggiano must be crafted using artisanal and natural methods as outlined in the Product Regulation and Specifications. These include rigorous Production Procedures and Standards, a special diet for cows known as the Feeding Regulation for Dairy Cattle, and rules for using the hot-iron mark as part of the Marking Regulation. Only if the cheese meets these requirements can it be considered authentic Parmigiano Reggiano — the most genuine expression of "Made in Italy" agriculture.
Parmigiano Reggiano's individualistic taste is an allencompassing reflection of its territory, which means that no other cheese in the world can have the same traits. This unbreakable bond boils down to the microbiological characteristics of the raw milk used. By feeding on the vegetation specific to the area of origin, the cattle produce special milk, brimming with unique and intense bacterial activity. This microbial flora is influenced by regiondependent factors; in particular, the local forage, grass and hay that constitute the main feed of the cows dedicated to the production of Parmigiano Reggiano. The PDO diet specifications indicate that at least fifty percent of the cattle's natural forage should be grown by the dairy
ABOVE Parmigiano Reggiano holds strong ties to its territory: the flavour of the cheese is heavily influenced by the land on which the cows are reared, as most of their feed must be sourced from the designated area of origin.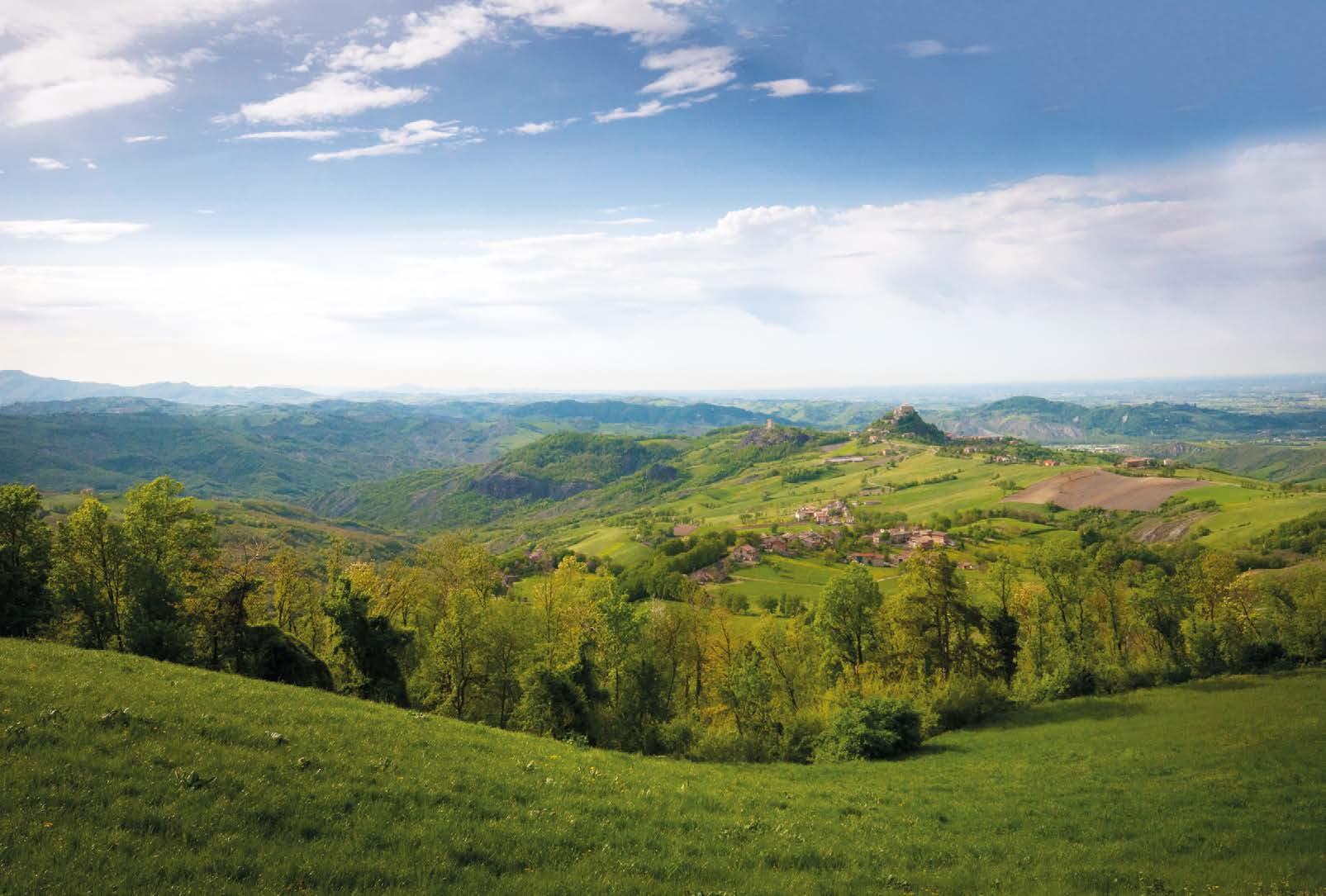 BELOW Parmigiano Reggiano is a prized Italian product that reflects the skill of the local cheese masters, while honouring the region in which it is produced.
farm, and at least 75 percent should be produced within the surrounding production area. Consequently, this has resulted in feed providers almost entirely comprising familyrun farms with long-standing connections to the region.
Over and above the local forage, the regulations also outline that the feed must be entirely vegetablebased, containing cereals such as barley, wheat and corn. Additionally, only feed producers registered with the Feed Manufacturer List established by the Parmigiano Reggiano Cheese Consortium are permitted as suppliers. The stringent »
84 TASTING
NOTES
TASTING NOTES
« conditions for the raw materials that constitute the cows' feed mean that some substances are forbidden, even though they may be common in standard animal fodder. Fermented feed, including silage, is among those which are banned, as they lead to the presence of bacteria in milk, such as heat-resistant clostridia spores, that cause harmful fermentations and result in defects in the cheese during its lengthy maturation. All in all, the strict guidelines ensure that the milk, and thus the final Parmigiano Reggiano wheels, do not develop tainted aromas or flavours or lose its typical qualities.
To further retain the cheese's one-of-a-kind characteristics, the milk is used raw. This means that it does not undergo any heat treatments (it is not refrigerated or pasteurised), and therefore, it features all the richness of lactic ferments naturally present in it. Furthermore, additives and preservatives are strictly prohibited, including using enzymatic additives or laboratory-selected bacteria that would change the activity of the microbes inherent in the raw milk.
Once the Parmigiano Reggiano formation process begins, it's the expertise of the cheese master that makes all the difference. Their skilled hands perform the timehonoured technique of enhancing and favouring the lactic bacteria that facilitate the positive lactic fermentations required for the success of Parmigiano Reggiano production. Once this step is complete and the cheese wheels have been formed, they move onto maturation, which ranges from a minimum of twelve months to 45-plus months.
The duration of maturation is what gives Parmigiano Reggiano its different flavours and textures, and these
CLOCKWISE FROM
LEFT The raw milk used to produce Parmigiano Reggiano contains no additives and does not undergo any heat treatments during the cheese production process; much of the land in the designated area of origin is farmed by families with long-standing ties to the region; after maturation, Parmigiano Reggiano begins to develop stronger flavours and a more crumbly texture, delivering a delicious taste experience time and time again.
varying characteristics make it a remarkably versatile ingredient in the kitchen. During ageing, the action of the enzymes released by lactic bacteria causes proteins to break up into smaller pieces, free peptides and amino acids — the protein chain's building blocks. Known as proteolysis, this mechanism of protein breakdown determines the structure and sensory properties of Parmigiano Reggiano.
At 24 months, Parmigiano Reggiano reaches a degree of maturation that fully expresses its typical characteristics, including a perfectly balanced richness of aromas and flavours on the nose and palate. Prior to this, between twelve and nineteen months of ripening, the cheese is crumbly and simultaneously sweet and sour, with delicate scents of milk, yoghurt and butter — ideal for use in salads and cold dishes. The maturation of 27-34 months creates a more robust taste with spicy and nutty notes. The texture is also particularly crumbly and works well in filled pasta or when eaten with fruit and honey after a meal. After this point, the cheese will become a darker yellow colour as it continues maturing, developing a more smoky and meaty flavour, best paired with a full-bodied red wine. No matter which selection is preferred, Parmigiano Reggiano will always gift diners a delicious eating experience marked by unexpected and unparalleled flavours and aromas.
86
g
l ly S
ly
w w w b a rt o n - f a m i ly - w i n e s c o m
M a
i c a
a i n t - J u l i e n , E l e g a n t
B a r t o n
THE TASTE OF TRADITION
Prosciutto di Parma, one of the world's most beloved delicacies, is the result of a special relationship between man and nature, but it's also a versatile, delicious and hundred-percent Italian product with nutritional added value.
OPPOSITE Prosciutto di Parma undergoes a curing and ageing process that lasts for a minimum of twelve months but can continue up to twenty months and more.
LEFT The production area of Prosciutto di Parma is restricted by precise boundaries and is located in the hills south of the Italian town of Parma.
BELOW Prosciutto di Parma is a versatile, tasty ingredient that pairs perfectly with bread, fresh fruit and vegetables.
Since Roman times, the unique climatic conditions of the Parma region have made it possible to produce the highest quality hams that have been appreciated by gourmets for centuries. "Prosciutto" is derived from the Latin word "perexsuctum" meaning "dried" — an indication of its long history and ancient roots.
Nowadays, the tradition of Prosciutto di Parma is as strong as ever and is guaranteed by Italian and European law. The production area is restricted by precise boundaries and is located in the hills south of the town of Parma. Prosciutto di Parma was awarded PDO (Protected Designation of Origin) status by the European Union because of its traditional production method and strong bond to a geographical area.
The hams are made from the rear haunches of pigs born, raised, and slaughtered in Italy, and curing is controlled carefully so that the ham absorbs only enough sea salt to preserve it. The curing and ageing process lasts for a minimum of twelve months but can continue up to twenty months and more. By the end, a trimmed ham will have lost more than a quarter of its weight through moisture loss, helping to concentrate the flavour. The meat becomes tender, and the distinctive aromas and flavours of Prosciutto di Parma emerge. At this point, it's fondly called "dolce", meaning its taste is delicate and has a pleasant balance between savoury and sweet.
From a nutritional point of view, Prosciutto di Parma contains a good amount of antioxidants, such as vitamin E and selenium. These inhibit the action of free radicals, the main cause of ageing and degenerative diseases, and restore the body's physiological balance. Prosciutto di Parma also contains considerably more unsaturated (64.9 percent) than saturated fats (35.1 percent), with a high presence in the form
of oleic acid (45.8 percent). This ensures that saturated lipids and cholesterol are present in minimal amounts in the fat of Prosciutto di Parma. The vitamin content of Prosciutto di Parma (in particular, for vitamins B1, B6, B12 and PP) helps to achieve very high proportions of the recommended daily amount. The same can be said for mineral salts — phosphorus, zinc, iron and selenium — which are present in very significant quantities in Prosciutto di Parma.
In the case of Prosciutto di Parma, which is predominantly protein, something interesting occurs during curing: the breakdown of the proteins into smaller molecules and individual amino acids. In addition to giving this food a very high overall digestibility, this separation process means that the essential amino acid content is also high: its immediate bioavailability makes Parma Ham an excellent food for children, athletes, elderly people, and anyone who has problems digesting proteins.
By law, Prosciutto di Parma does not contain any additives, such as nitrites and nitrates, which are commonly used in the preparation of other charcuterie products. The only ingredients allowed by the Production Specifications are, in fact, pork and salt. The fire-branded Ducal Crown is Prosciutto di Parma's guarantee of authenticity for consumers. When you purchase pre-sliced packets, the golden emblem set on a black background certifies that the ham is genuine Italian Prosciutto di Parma, produced according to PDO regulations.
When it comes to enjoying and pairing Prosciutto di Parma, less is more. However, it can be used as a fantastic ingredient in recipes; its true nature is enhanced by pairing it with fresh fruit or vegetables, bread or grissini, creamy mozzarella or goat's cheese, and a glass of sparkling white wine. Thus, it's perfect for the upcoming festive season or any other time of the year.
89 TASTING NOTES
FESTIVE CHEER(S)!
Packing a bright, crisp and refreshing flavour punch, No. 3 Gin is a gift that keeps giving.
Delivering a taste experience wrapped in juniper, citrus, and spice, it's the perfect tipple to usher in the merry spirit, especially in the form of a festive serve…
Glistening tinsel, twinkling lights, and jolly sounds — these are the quintessential joyinducing aspects of this time of year. And, of course, nothing says festive season more than raising a toast with your loved ones over the holidays. To add that extra sparkle to this merrymaking, there's no better tipple than No. 3 Gin: as the only gin to have been awarded World's Best Gin four times at the International Spirits Challenge, this sensational spirit promises a flavour experience that'll have tastebuds jingling all the way.
The high quality and unsurpassed taste of No. 3 Gin is the result of meticulous attention to detail in every stage of production. Made in a unique, hundred-year-old pot still in Holland using traditional methods, only the most carefully selected ingredients are incorporated, including coriander, angelica root, cardamom, grapefruit peel, sweet orange peel and juniper. To get the recipe just right, more than two years were spent painstakingly refining each step,
ABOVE As the winner of World's Best Gin four times, No.3 Gin is the ideal tipple to celebrate with this festive season.
OPPOSITE With it's pure, crisp and refreshing taste, No. 3 Gin is the perfect addition to a Christmasinspired cocktail creation, like this Festive Stroll, featuring No. 3 Gin, ginger liqueur and cranberry juice infused with mulled wine spices.
and with perfection as the end goal, the gin was crafted in collaboration with the world's top master distillers and experts in liquid design, including Dr David Clutton — the only person in the world to have a PhD in gin. Consequently, it boasts the distinct flavours of a London dry gin distilled with the utmost expertise and devotion.
Brought to the market by London's oldest wine and spirit merchant, Berry Bros. & Rudd, which was established in 1698, this superb gin embodies the brand's ideals of precision and passion. From humble beginnings to becoming a worldrenowned tipple, No. 3 Gin has taken the drinks industry by storm, winning a host of awards for both the spirit itself and its sublime packaging, from respected contests such as the San Francisco World Spirits Competition, the International Wine & Spirit Competition and The Global Spirits Masters.
Staying true to the strict regulations for a London dry-style gin, No. 3 Gin brings juniper to the fore, both on the nose and palate. Botanicals are infused in the second
90
distillation and support the juniper with floral and spicy notes, complemented by plenty of citrus zing. Only the very best ingredients are used to infuse the gin, with each batch carefully inspected before being added.
No. 3 Gin's pursuit of perfection extends further than just what's in the bottle, though. To ensure maximum enjoyment, the brand has collaborated with worldrenowned glassware artisans Nude to create the ultimate martini glass. Combining the ideal balance of temperature, retention and aesthetics, this limited-edition glass effortlessly elevates the martini — and thus the No. 3 Gin — drinking experience.
Developed using scientific expertise and design savoir faire, this bespoke glass has been specially crafted to keep its liquid cooler for almost twice as long as a classic glass. This, in turn, preserves the cold, clean smoothness of an exceptional martini. The exclusive new glassware is hand-blown from crystal and perfectly harmonises form with function. Simple yet elegant, with a subtle turquoise base that takes cues from and complements the No. 3 bottle, it's more than deserving of its place on that festive dining table or celebratory drinks trolley. The epitome of style and substance, it delivers an extraordinary cocktail experience time and time again. Now all that's left is to make that delicious drink — here are some recipes for a trio of fabulously festive sips, specially created by No. 3 Gin…
TINSEL(TINI)
40ml No. 3 Gin
1 bottle Lustau Rosé vermouth 10g pine needle tea
Make a pine needle tea infusion by placing ten grams of pine needle tea in a bottle of Lustau Rosé vermouth and leave it for a couple of hours. Strain before using.
To make the cocktail, add the No. 3 Gin and 20ml of the infused vermouth to a mixing glass filled with ice and stir until the cocktail is ice-cold and diluted. Pour into a martini glass and finish with grapefruit zest.
FELIZ G&T
50ml No. 3 Gin 10ml Monin Winter Spice syrup 10ml lemon juice Indian tonic water
Add No. 3 Gin, syrup and lemon juice to a highball glass filled with ice, top up with tonic and quickly stir to mix all together. Decorate with candied grapefruit and burnt rosemary.
To make candied grapefruit, sprinkle some sugar on a slice of grapefruit and melt it until slightly brown with a blow torch. For the rosemary, use the blow torch to slightly burn the top of the herb.
MULLED MAYFAIR
50ml No. 3 Gin
500ml cloudy apple juice star anise and cardamom pods juice of half a lemon thumb-sized piece ginger, grated
Lightly toast three star anise and five cardamom pods in a pan. Add the cloudy apple juice, lemon juice and ginger and simmer on a low heat for twenty minutes (do not let it boil).
To make the cocktail, add the No. 3 Gin to a heat-proof cup and top with 150ml of the hot mulled apple juice. Garnish with an apple fan.
91 MIXOLOGY
REFLECTIONS-COPENHAGEN.COM @REFLECTIONSCOPENHAGEN
The Art of Blending
Mastering the art of blending is no easy feat — whether it's a mixologist conjuring up avant-garde cocktail creations with the ideal combination of ingredients, a cigar maker producing the perfect smoke with an expert blend of tobacco or a leading Italian brandy house creating a palate-pleasing serve using a bespoke balance of aged spirits, each takes meticulous care, consideration and expertise. Bars and lounges also showcase the ultimate skill of blending, creating a sublime space where the ambience, drinks and service harmoniously coalesce to deliver a unique experience. As such, it seemed fitting for this pairing feature to put this art of blending in the spotlight — and in the most exclusive way possible. Working with the team at FIVE Palm Jumeirah's upscale cigar lounge, Above 21, and Gruppo Montenegro's premium Vecchia Romagna Riserva 18 brandy, this is a true celebration of life's finer things. Taking cues from the hotel's dare-to-be-different personality, this modern, Gatsby-esque space exudes all the glamour of
Dubai, complete with views of the beach and the city's glittering skyline beyond. Adding to its allure, Above 21 is a haven for high-end spirits and rare cigars. Using its expertise in this regard, the lounge's team has crafted a selection of drinks using Vecchia Romagna Riserva 18 and paired them with the choicest Cuban cigars. Comprised of a blend of brandies aged for a minimum of eighteen years, Vecchia Romagna Riserva 18 is an extraordinarily sophisticated sipping wine distillate. Its intense aromatic profile is the result of refinement in French oak barrels previously used to age the famous Amarone della Valpolicella, a prestigious Italian red wine. Boasting a beautifully dark and rich hue, this remarkable spirit features spicy cinnamon, pimento and clove notes, complemented by bold walnut and fig undertones, and finished with hints of tobacco leaf, making it the ideal partner for a cigar. Served in an expertly crafted cocktail, neat or on the rocks, Vecchia Romagna Riserva 18 is a rare spirit that embodies the beauty of craftsmanship and perfection.
»
93
COCKTAILS PHOTOGRAPHY BY SAMBHAV MEHRA
PAIRING 1
94
drink
Vecchia Romagna Riserva 18 served on the rocks.
cigar Montecristo Open Junior
PAIRING 2 cocktail
Stir all ingredients together and serve in a Wormwood coupe glass. Garnish with a cherry on a metal pick.
95
40ml Vecchia Romagna Riserva 18; 20ml bitter Italian apéritif; 17.5ml Amaro liqueur; 5ml Benedictine; 1 dash of orange bitters.
cigar Romeo y Julieta Churchill
PAIRING 3
96
drink
Vecchia Romagna Riserva 18 served neat.
cigar H. Upmann Magnum 50
The Brilliance of Fine Cut Crystal
Est 1776
Handmade since 1776
www.royalbrierley.co.uk
PAIRING 4
98
PHOTOGRAPHY BY SAMBHAV MEHRA
15ml
7ml
5ml
serve
cocktail 40ml Vecchia Romagna Riserva 18;
Kahlua;
Amaretto liqueur;
Ledaig 10 Years Islay Single Malt. Stir all ingredients together and
in an old fashioned glass. Garnish with a chocolate shard. cigar Trinidad La Trova
Luxurious chalet holiday with private spa
A stunning panoramic loft and six luxury chalets. Exceptional architecture and extravagant interiors combined with wellness in utmost privacy. Infinity pools, natural swimming ponds, a gym, an idyllic park set amongst the picturesque hills in the heart of Austria's fabled south. golden-hill.at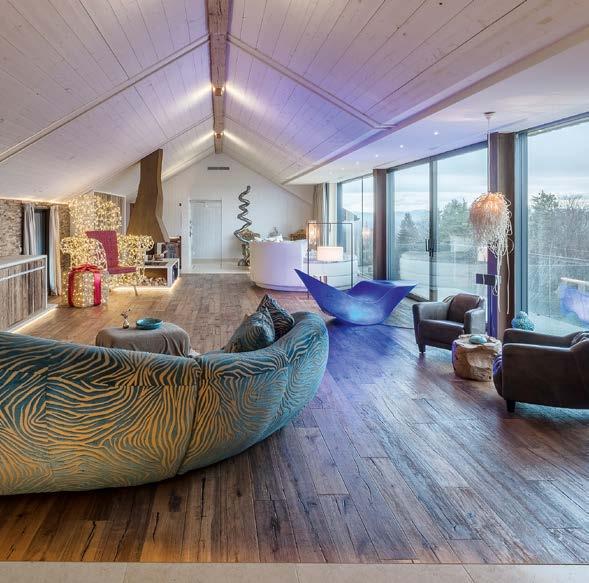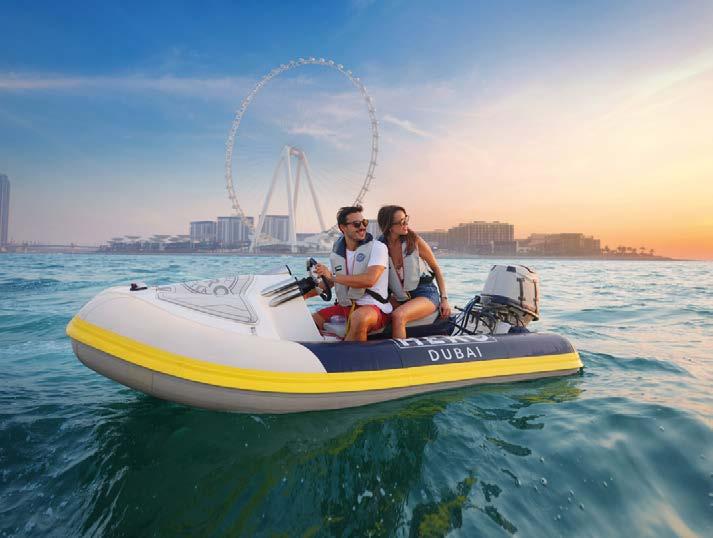 Contact us to book your adventure info@hero-experiences.com | +971 4 440 9827
The Hero Experiences Group offers the most luxurious and immersive adventures in the United Arab Emirates. Embark on premium and sustainable desert safaris in Range Rovers and have dinner in a secluded desert oasis. Fly in a private hot air balloon 4,000ft above the pristine Dubai desert, followed by a gourmet breakfast. Drive along Dubai's glistening coastline while captaining your own boat as your dedicated guide shows you iconic landmarks. The group aims to inspire individuals to drive positive change – it's Your Life. Your Story. Be A HERO.
HERO ODYSEA DUBAI'S FIRST SELF-DRIVE BOAT TOURS
HERITAGE ECO AND LUXURY
MOST EXCLUSIVE ADVENTURES SCAN TO VISIT WEBSITE
BALLOON ADVENTURES DUBAI SUNRISE HOT AIR BALLOON FLIGHTS PLATINUM
DESERT SAFARIS DUBAI'S
Travel
PHOTO: ZADÚN, A RITZ-CARLTON RESERVE
IN CONVERSATION WITH THOMAS JECKLIN
Thomas Jecklin, the General Manager of Zadún, a Ritz-Carlton Reserve in San José del Cabo, Mexico, shares how he brings his hospitality dreams to life while supporting his team and creating a welcoming environment for his guests at this unique, five-star desert resort.
CLOCKWISE FROM TOP
HOW DID YOU GET INTO THIS LINE OF WORK?
When I was fourteen, I watched a TV show called Hotels with my mother, and I fell in love with it — all of the travelling, great food and nice people. A few years later, I started to watch Dreamboat, which was about a big German cruise liner doing all of those fantastic tours from Europe to overseas. I loved that show even more because they travelled "for free", learning languages and about new cultures. That was the moment I decided to join this beautiful industry.
LEFT Thomas Jecklin, the General Manager of Zadún, a Ritz-Carlton Reserve in San José del Cabo, Mexico; arrival pavilion at Zadún, a RitzCarlton Reserve; exterior of Candil bar at Zadún, a Ritz-Carlton Reserve.
WHAT DO YOU STRIVE TO BRING TO THE TABLE AT ZADÚN, A RITZ-CARLTON RESERVE AS GENERAL MANAGER?
First and foremost, taking care of our ladies and gentlemen (our people) — providing them with an excellent quality of life, helping them build career plans, and making them feel special and part of our big Ritz-Carlton and Marriott International family. It's our happy Ladies and Gentlemen that genuinely care about the guest, which triggers this very special relationship of "ladies and gentlemen" serving »
103 HOTEL HOT SEAT
« "ladies and gentlemen". But at the same time, we continue to curate more unique local experiences for our guests by showcasing the beauty of our Reserve, Los Cabos, and Mexico overall. We will continue to invest in innovation and have more surprises to come soon.
WHAT ARE SOME OF THE THINGS YOU'VE LEARNED IN YOUR CAREER THAT ARE KEY TO YOUR MANAGEMENT METHOD?
We are in the "people business", and it is all about how you make your guest and team members feel. It's the human connection that makes our industry so special. During the last few years, we learned, even more than before, that people absolutely love to travel and connect. In fact, most of us need it. It's the way we connect, disconnect and relax. Technology enables us to communicate easier and faster and to do things more efficiently, but at the end of the day, it's about relationships, and that is best done in a person-to-person environment. In the business world, there is a shift towards a more balanced soft-skills versus hard-skills way of thinking; meaning that leadership, and with that, motivating and helping others to shine,
CLOCKWISE FROM ABOVE Equis bar at Zadún, a RitzCarlton Reserve; the pool at Spa Alkemia at Zadún, a Ritz-Carlton Reserve; spacious villa with a sea view at Zadún, a RitzCarlton Reserve.
has become an even more important and complex task. Quality of life has become even more crucial during the last few years, so that's what I focus on with my Guidance Team. It's basically about taking care of your people, so they take care of your guest.
WHAT DO YOU THINK GUESTS LOOK FOR IN THEIR STAY?
They want to feel special and cared for. It's about personalisation, and that begins with the anticipation of needs, even prior to arrival. In the luxury space, each stay needs to be perfect. It's also about creating experiences that might have an educational piece to them. Taking care of the planet is a worldwide trend, and guests are asking us what we do about it. Food and beverage are also key components when guests decide where they will stay; in this world, it's about fresh, local, and honest food. People tend to eat more balanced, exercise more and are more conscious about their way of life, and mindfulness has become very important as well.
HOW DO YOU KEEP THE HOTEL'S HIGH-QUALITY STANDARDS CONSISTENT?
Hire the best talent in the industry, then train and motivate them. Be an excellent coach and help your team to be successful. Also, empowering our team and having fun. The team genuinely cares about our guests while also providing memorable experiences that bring Mexico's vibrant culture, traditions and rituals to life.
WHAT ARE SOME OF THE CHALLENGES YOU FACE, AND HOW DO YOU OVERCOME THESE?
Challenges are opportunities to learn, grow and overcome. Like in all industries, it's never going to be easy all the time. It's like in sports; you have to train well, focus and keep yourself motivated to keep going. My biggest motivation is my family, and I am very thankful for how they support me.
WHAT IS IT YOU ENJOY MOST ABOUT YOUR ROLE?
To be around people, learn, grow, win and celebrate. I am very proud and thankful to be in the Ritz-Carlton and Marriott International family — my company for the last 26 years.
104 HOTEL HOT SEAT
REACHING NEW HEIGHTS
Since its inception, Vista has endeavoured to make private aviation as simple and enjoyable as possible. As part of its pioneering path, the company has further streamlined its global subscription offerings across its leading VistaJet and XO brands, making flying easier than ever.
As the world's largest On Demand aviation services provider, Vista Global Holding (Vista) has garnered a stellar reputation for delivering premium solutions that make flying an effortless experience. In the first half of 2022, the company saw an impressive 43 percent year-on-year growth in its Member base, and on the back of this increased demand, Vista has launched two new memberships that will further simplify business aviation for its jet-setting clientele.
In addition to this increased interest in Vista's offerings, the company's client demographic has also shifted in recent months, with younger Members joining and a faster turnaround in contract sign-ups as travellers seek an effective, global Membership solution to fly immediately. Through its new, evolved Membership options, Vista can now ensure that every private aviation client has access to a simple, flexible and secure solution for their flying needs.
The two new Memberships include the VistaJet VJ25, VistaJet's new agile membership for high-quality, low-frequency travel, and the XO Membership, a new
streamlined and innovative all-access deposit membership for XO flights.
Thomas Flohr, Vista's Founder and Chairman, said: "The evolution and simplification of our offering reaffirms
106
Vista's commitment to offering a full suite of flexible solutions for all Members across VistaJet and XO. We have listened to our clients to understand their rapidly changing needs, and we have optimized our Membership structure accordingly."
"The VJ25 Membership is ideal for anyone looking for the iconic VistaJet service with minimum commitment, while the streamlined XO Membership delivers the most advanced digital service with instantly bookable flights. We believe that these new flexible products will allow even more Members to enjoy our services on the renowned Vista Members' fleet of over 360 aircraft — to provide the most innovative and advanced flying solutions at the very best value to every client around the world."
The VistaJet VJ25 Membership is an agile, three-year private flight subscription designed for more flexible travelling and includes 25 to 49 flight hours per year. VJ25 Members have access to the Vista Members' fleet of over 360 aircraft globally and will benefit from guaranteed availability on the largest global range fleet available On Demand, including the game-changing Bombardier Global 7500 to fly 17 hours non-stop. Furthermore, Members will enjoy the renowned VistaJet service — from fully equipped business suites to relaxing family spaces, all served by Cabin Hosts trained by the British Butler Institute, MedAire, Norland College and Wine & Spirit Education Trust. On board, clients will be able to sit back and relax en route to their destination with private dining curated by some of the world's most renowned chefs and restaurants. Post-flight, Members will also be offered invitations to a selection of VistaJet's Private World events and benefits through its worldwide partners' network. Added advantages of the VistaJet VJ25 Membership also include access to aircraft at a fixed rate on every guaranteed day as well as dynamic rate options on forty high-demand days throughout the year.
CLOCKWISE FROM OPPOSITE, TOP The new VistaJet VJ25 membership offers travellers access to Vista Members' fleet of over 360 aircraft; all VistaJet's aircraft are served by professional Cabin Hosts trained by the British Butler Institute, MedAire, Norland College and Wine & Spirit Education Trust; the XO app allows travellers to book private flights and seats instantly; Vista's fleet of aircraft all boast refined interiors complete with fully equipped business suites and relaxing family spaces.
XO, meanwhile, is simplifying its Deposit Membership structure by replacing its tiered solutions with a new, single-level XO Membership. This is the world's only private aviation solution that allows travellers to book private flights and seats instantly, and in doing so, the XO Membership will provide valued Members and clients with an even more streamlined way of organising travel. With a $100,000 fully refundable minimum deposit, no black-out days or expiration, and a dynamic price structure, it is genuinely the most efficient, accessible, and transparent option in private aviation. The new XO Membership also offers access to 2,450 aircraft, including the Vista Members' fleet, when available; there are no booking fees, and clients can fly immediately after signing up. To round this membership off, clients will also be granted access to special offers, from hospitality to events and incredible experiences.
107 TRAVEL COLUMN
COSMOPOLITAN CHARISMA
Right in the heart of Düsseldorf, adjacent to the famed Königsallee, sits the modern marvel of Hotel Kö59. A hub of luxury lifestyle, premium hospitality and exquisite gastronomy, Hotel Kö59 is the place to be and be seen when visiting this bustling German city.
Düsseldorf has long been known as a melting pot of remarkable art, culture and cuisine. It's place where people go to indulge in all the luxuries life has to offer and experience the delight of authentic Rhenish joie de vivre In the centre of this beloved German city sits Hotel Kö59, a five-star address that effortlessly intertwines exceptional hospitality, modern design and superb cuisine to deliver contemporary living at its best.
From the hotel's privileged location on the stunning Königsallee boulevard, where mature trees and gently flowing water set the scene, guests can easily reach the old town of Düsseldorf, plus various museums, galleries, boutiques and cafés, within just a few steps. But if you're visiting for work and not leisure, Hotel Kö59 will make any business trip an effortless affair with its world-class event and meeting facilities.
CLOCKWISE FROM TOP LEFT Hotel Kö59 holds a privileged position on to the famed Königsallee in Düsseldorf © Ydo Sol; interior of Restaurant Kö59 by Björn Freitag © Guenter Standl; Superior Suite interior at Hotel Kö59 © Peter Weihs.
After a hard day of work or play, the hotel's spacious rooms and suites offer the perfect respite. With elegant interior design, beautiful views and all manner of luxurious amenities, the accommodations make guests' comfort a top priority. Conceived with the most striking architecture, Hotel Kö59 beguiles the eye at every turn, and the light-flooded atrium is no exception. Reaching a height of forty metres, it's the hotel's architectural pièce de resistance and the perfect place to unwind while sipping on a late-afternoon tipple.
Lovers of fine food will take great pleasure dining at Restaurant Kö59 by Björn Freitag. The menu here brims with a tantalising selection of seasonal, regional and international dishes, all created with outstanding flavour as the focus. To complement the stellar fare, the restaurant offers an array of top vintages from its exclusive wine bar, which can be enjoyed while lapping up the views of the breathtaking Königsallee.
A destination dedicated to fostering unforgettable moments for its guests, where warm and attentive service reigns supreme, there's no better place to stay than Hotel Kö59 when visiting the fascinating city of Düsseldorf.
108 TRAVEL
Only here can you ski a private mountain, accessible exclusively by heated snowcats that provide endlessly groomed runs. Carve fresh tracks across 600 acres of varied and unmatched terrain, and warm up in a luxury mountainside yurt for a gourmet lunch catered just for you. Explore more of the Medicine Bow National Forest by snowmobile or horseback. Refine your skills in the kitchen with a cooking class, cheese and wine tasting, or distillery experience. Whether you're seeking adventure or a one-of-a-kind wellness getaway, the beauty of a Wyoming winter has something for everyone.
BOOK YOUR WYOMING ADVENTURE AT BRUSHCREEKRANCH.COM | 307-327-5284
YOUR
Escape WINTER IN THE AMERICAN WEST
OWN
A TICKET TO PARADISE
Dominica, known as the "Nature Isle of the Caribbean", is not a typical Caribbean island like neighbouring Martinique and Guadeloupe. Its mountainous terrain and 365 rivers and lakes make it the ideal destination to rejuvenate, relax and refocus.
Set in the eastern Caribbean Sea and forming part of the Windward Islands chain in the Lesser Antilles archipelago, the Commonwealth of Dominica is one of the world's most picturesque islands. Its rugged landscape is punctuated with lush, untouched forests and cascading waterfalls. Home to many rare plants, animals, and bird species, it's a place where the beauty of nature prevails.
Although the COVID-19 pandemic impacted the country's tourism industry, the local government's immediate response meant that cases were minimised, and the death rate due to COVID-19 remains zero. Now, tourists are once again being invited back to this Caribbean paradise. The Cabrits Resort Kempinski and the boutique hotel Secret Bay have reopened, and United Airlines operates daily flights from Miami to Dominica.
The country isn't only a tourist hot spot, though. It also offers exceptional opportunities for international investors, says Christos Vardikos, Attorney at Law – Vardikos & Vardikos, Consul of the Commonwealth of Dominica and Vice President of the Consular Corps in Greece.
OPPOSITE Sailing the Caribbean Sea.
ABOVE Dominica is home to a stunning coastline with picture-perfect beaches and crystal-clear waters.
Since 1993, Dominica has welcomed foreign investors to become citizens of the island with full rights by making an economic contribution to a government fund and, as of 2015, via investment in government-approved real estate options. Known as the Citizenship by Investment Programme (CIP), successful applicants unlock a wealth of benefits, including increased travel freedom to over 140 countries and territories and the ability to pass citizenship down to future generations. Over the last four years, Dominica has been ranked as the best destination for second citizenship by experts at the Financial Times' PWM magazine. Furthermore, the Citizenship by Investment Unit (CBIU) introduced a remote filing process during the Hurricane Maria period in 2017, and as a result, all filing during the COVID-19 era has proved swift and smooth.
The entry-level for the CBI Programme is US$100,000 for the Government Fund and US$200,000 for the Real Estate option. Both are cost-effective solutions, and the Dominica CBI option has changed the lives of many people around the globe. Recently, enhancements were brought to the programme by redefining the qualification »
111 TRAVEL
« for dependents, granting the possibility of adding new dependents in the post-naturalisation period.
In addition, post-citizenship support services are available to all newly adopted citizens. The country now offers assistance with driving licence acquisition, tax processes, and social security registration, just to name a few. Sophisticated investors, who do not choose the jurisdiction for the international mobility this citizenship offers, may opt for advantageous tax and estate planning solutions, too.
Dominica also runs a very successful ship and yacht registry. Registering a vessel under the Commonwealth of Dominica is efficient, straightforward and cost-effective, and the Dominica Maritime Registry provides the client with administrative and technical support throughout the process. The Registry offers owners cost-effective vessel registration with no tonnage tax or size restrictions.
Dominica Maritime Registry has many convenient international locations to process registrations quickly and electronically to maintain cost-effectiveness. One of the main advantages it presents to the owners is to allow private yachts to charter out for a period of up to 84 days. This will enable yacht owners to recoup some of the operational costs associated with ownership, and this chartering privilege exempts the yacht from having to be registered as a commercial yacht. The registry also provides a free self-inspection programme to help yacht owners ensure safety onboard their craft. Dominica International Maritime Registry offers technical and statutory services to its fleet of vessels, and its global network of inspectors and surveyors allows for easy assessment coordination at competitive pricing.
As a fully-fledged international law firm, Vardikos & Vardikos provides professional ship and yacht registration services and is a government-approved service provider for the Citizenship by Investment Programmes on the Caribbean islands of Dominica and St Lucia. With its
CLOCKWISE FROM TOP
LEFT Dominica runs a very successful ship and yacht registry, making it the perfect destination for vessel owners; Roseau, the capital city and chief port of Dominica; Dominica boasts a beautiful natural landscape with myriad mountains, forests, rivers and waterfalls.
headquarters in Athens and satellite offices in Dominica, Antigua & Barbuda and St Lucia, the experienced Vardikos & Vardikos team can efficiently offer its expertise to clients around the world.
Find out more at www.vardikos.com or contact Christos Vardikos directly at +306932488888 and info@vardikos.com.
112 TRAVEL
visitantiguabarbuda.com WE HAVE BEACHES WHITE SAND GORGEOUS WE ALSO HAVE IF THAT'S MORE YOUR THING PINK SAND BEACHES
SECRET SANCTUARY
A haven of hospitality hidden in the snow-dusted French Alps, Cheval Blanc Courchevel is the epitome of a winter wonderland where luxe accommodation meets Michelinstarred dining and world-class wellness.
Set in the prestigious Jardin Alpin of Courchevel 1850, with direct access to the world's largest ski domain, Trois Vallées, Cheval Blanc Courchevel was the first Cheval Blanc Maison opened by the esteemed LVMH Group. Offering uncompromising luxury and privacy delivered with quintessential French savoir faire, this 36-key sanctuary is the ski-in, ski-out destination of travellers' dreams.
Open from 9 December 2022 to 10 April 2023, this sumptuous address combines traditional hospitality with a contemporary spirit to treat visitors to an indulgent, all-
CLOCKWISE FROM TOP LEFT Exterior of Cheval Blanc Courchevel set in the prestigious Jardin Alpin of Courchevel 1850 © V. Mati; dog sledding is one of the many outdoor activities guests can take part in while staying at the Maison © Fabrizio Marco Nannini; Superior Deluxe Room at Cheval Blanc Courchevel © Fabrizio Marco Nannini.
encompassing alpine escape. Bountiful breakfasts in bed are followed by days filled with adventure: from paragliding high above the tree tops to hot-air-balloon rides, snow sledding down the slopes, personalised shopping experiences and candle-lit movie nights, every tailor-made experience is specially devised by the Maison's expert Ambassadeurs to create memories that will last a lifetime.
Back at the Maison, guests can retire to elegant rooms and suites that usher in an intimate, inviting ambience. Envisioned by renowned interior designer Sybille de Margerie, the accommodations echo the alpine locale with an added luxe touch. Impressive artworks from Gilles Hoang, Lars Zech and Macduff Everton line the walls, while custommade furniture adorned with animal skins, cowhide, and buttery leather offer a warm embrace.
To continue experiencing unmatched moments of rest and relaxation, guests can visit the Cheval Blanc Spa. Set in a sleek, wood-clad space, this oasis of wellbeing offers an assortment of signature treatments curated by Guerlain. Performed by skilled therapists, each has been specially conceived to boost energy levels, soothe sore muscles and provide recuperation from cold temperatures, high altitudes and winter sports. New for this winter is the "Rêve sous les étoiles" treatment: a face and body massage ritual inspired by the galaxy. This deeply relaxing therapy skilfully combines long, delicate movements with
114
enchanting accessories, such as light-filled rock crystals to awaken the complexion and brighten the eye area, and golden hot stones to warm up the body and transport you to a dreamland.
The hotel's selection of bars and restaurants also work wonders for the soul, offering delicious cuisine and cocktails to refuel for fun-filled slopeside adventures. Enveloped in a striking red cloak, Le Restaurant de Cheval Blanc Courchevel welcomes diners at any time of day to enjoy brasserie-style fare bursting with flavour. Choose from an array of creative starters, gourmet mains and decadent desserts, all served
CLOCKWISE FROM TOP
LEFT La Terrasse de Cheval Blanc is the Maison's outdoor dining venue that spotlights wood-fired cooking © Le Barn Studio; the sumptuous interiors of The Cigar Yurt © Fabrizio Marco Nannini; indoor jacuzzi at Cheval Blanc Courchevel © V. Mati; the luxe dining room of three-Michelin-starred Le 1947 à Cheval Blanc, designed by Sybille de Margerie © V. Mati.
against the backdrop of convivial banquettes, lacquered round tables and a wood-burning fireplace.
Special occasions call for extraordinary meals, and this is precisely what Le 1947 à Cheval Blanc delivers. The only three-Michelin-starred dining venue in Courchevel, this restaurant, helmed by award-winning chef Yannick Alléno, serves intriguing gastronomic creations inspired by locally sourced, seasonal produce. The interior also charms with its unique style, blending a white-hued, futuristic aesthetic with comforting touches, all in an intimate space that overlooks the open kitchen. For the 2022/2023 season, Anissa Boulesteix will join Alléno, promising a new and exciting dining experience for guests visiting the Maison.
Also led by Alléno is La Terrasse de Cheval Blanc, a cosy outdoor venue with oversized sofas and chairs set around a bonfire with views of the glistening snow-capped peaks in the distance. Here, wood-fired cooking and shared meals take centre stage, with smoky flavours permeating every dish on the menu. Expect meats grilled to perfection over an open flame, paired with fire-baked potatoes and topped with luxe delicacies such as truffle and caviar. For dessert, sample heart-warming sweet treats such as a melting cookie with pecan nuts and stracciatella ice cream or a profiterole with warm chocolate sauce and vanilla ice cream. After dinner, head to The Cigar Yurt for a calming nightcap perfectly paired with a premium cigar.
With every facet of Cheval Blanc Courchevel designed with thoughtfulness, pleasure and sophistication in mind, it's a place where strong emotional connections and memorable moments are delivered in abundance.
115 LUXURY LAYOVER
Coast to Coast
The Mediterranean's azure waters are dotted with numerous picturesque islands whose coastlines beckon even the most seasoned travellers. These veritable paradises are home to some of the world's best hotels, and FOUR takes a closer look, travelling from the shores of Cyprus to the hills of Corsica and everywhere in between.
Parklane, a Luxury Collection Resort & Spa, Limassol
Occupying a lush 24-kilometre-long strip on Cyprus's southern coastline, Parklane, a Luxury Collection Resort & Spa, Limassol is the ideal destination for a luxurious, nature-imbued getaway. Offering 222 rooms, 34 suites, and 18 villas, each blessed with endless vistas of the glittering sea and surrounded by 100 acres of pristine landscaped gardens, this five-star hotel is where globetrotters go to make the most beautiful Mediterranean memories. Each accommodation boasts an elegant aesthetic, carefully conceived by Harrods Interiors and accented with art pieces curated by Atelier 27 Paris. With personalised touches, white-glove service and topclass amenities, the essence of distinctive Cypriot hospitality is omnipresent here.
The property's dining options are equally stellar; with six restaurants and bars offering unique culinary experiences, any palate will be easily pleased. For those keen on sampling the best Mediterranean fare, NAMMOS is the ideal choice. With a chic ambience and a superb menu with gourmet delights, this restaurant effortlessly blends a cosmopolitan lifestyle with a gastronomic adventure. LPM, meanwhile, evokes the affectionate culture of coastal southern France, serving simple Mediterranean ingredients prepared with skill, and accented by a selection of excellent cocktails. For more laid-back dining, head to the alfresco restaurant and bar Il Teatro, where southern Italy's cuisine takes centre stage in the form of wood-fired pizzas and fresh pastas.
After you've treated yourself to a delicious meal or spent the day unwinding at one of the hotel's trio of swimming pools, why not allow the indulgence to linger a little longer by visiting the renowned Kalloni Spa? A space dedicated to pampering the mind and body, this 3,000-square-metre haven of relaxation offers a multitude of results-driven treatments performed by professional therapists. Ticking all the boxes for a wonder-filled Mediterranean getaway, Parklane, a Luxury Collection Resort & Spa, Limassol is the perfect choice for a memorable holiday any time of the year.
PREVIOUS SPREAD Hvar island in Croatia, which is home to Maslina Resort © Nikola Radovani.
CLOCKWISE FROM TOP LEFT Parklane, a Luxury Collection Resort & Spa, Limassol is nestled on Cyprus's southern coastline © matthewshaw. co.uk; Deluxe Room at The Phoenicia in Malta; One-bedroom Park View Villa with private pool at Parklane, a Luxury Collection Resort & Spa, Limassol © matthewshaw.co.uk.
2 The Phoenicia
Boasting an enviable location adjacent to the Triton Fountain in Valletta's City Gate Square, The Phoenicia is one of Malta's leading luxury hotels. Long regarded as a national Maltese treasure, this iconic address has hosted stars, socialites and the crowned heads of Europe over its sixty-year history. Loved by locals and visitors alike, there's no more fitting place to experience the best of this vibrant island than The Phoenicia.
With Valletta's most notable landmarks in easy reach, guests can spend the day discovering all the magic this historic walled city — which is also a UNESCO World Heritage Site — has to offer. From marvelling at Caravaggio's paintings to exploring the magnificent harbours and sauntering down cobblestone streets to try out one of the quaint local cafés, endless splendour awaits in Malta's capital. And once you've had your fill, retiring back to your deluxe accommodations is an effortless affair.
Designed in collaboration with Peter Young, the interiors of the hotel's 132 rooms and suites blend original features with modern touches. The beautifully preserved tiles and high ceilings are brought to life with a Mediterranean-inspired palette featuring shades of crisp white, deep blue and pops of magenta. The locally sourced furniture honours the island's roots, while premium linens and soft lighting add a dash of elegance. Each room or suite also offers picturesque views of the harbour or city via large windows or private balconies.
The hotel's five dining venues also celebrate the locale, presenting a selection of the finest Maltese fare. Much of the produce used is grown on-site in the Kitchen Gardens, and with a team of award-winning chefs, these fresh, local ingredients are transformed into culinary masterpieces. Phoenix Restaurant and The Bastion Pool Bar & Restaurant both have alfresco seating, allowing diners to savour delicious bites while lapping up the views of the hotel's scenic, manicured gardens spanning seven acres.
118 CHECK IN
1CYPRUS
MALTA
designing without boundaries.
The Nest. Chalet in the Swiss Alps. #AStudioformaDesign. studioforma associated architects ag | Swiss architecture and design firm with over two decades of savoir faire. Kernstrasse 37, 8004 Zurich, Switzerland | designlab@studioforma.ch | +41 44 296 18 71 www.studioforma.ch | Follow us on Instagram: @studioformadsgn
Maslina Resort
Hvar has a well-deserved reputation as one of the Mediterranean's most captivating islands. Its central town may be renowned for its vibrant nightlife, but around every corner of this Croatian gem lies endless natural splendour, and Maslina Resort takes heed of this, immersing guests in the island's beauty at every turn.
Located near Stari Grad, one of the eastern Adriatic's oldest towns teeming with charming cobbled streets and stunning historic buildings, Maslina is a five-star resort with mindful luxury at its core. Every facet of this Relais & Châteaux property is guided by the alchemy between premium hospitality and a sincere respect for the environment.
The resort's thoughtful, non-intrusive architecture flawlessly coalesces with the striking natural landscape, which is punctuated with indigenous flora such as olive groves, terraced vineyards and dense pine forests. French and Mediterranean design styles characterise the fifty rooms and three villas, each envisioned to unite interior and exterior living. The prominent use of local materials such as Brač stone, exotic Iroko wood, brushed brass, and terracotta tones further
CLOCKWISE FROM ABOVE Maslina Resort on the island of Hvar boasts non-intrusive architecture that blends in with the natural environment © Nikola Radovani; pool area at Maslina Resort; The Bar at Maslina Resort.
highlight the resort's dedication to celebrating its location, while elements of the surrounding nature are ever-present in the design palette, which features hues inspired by the island's cerulean waters, pearly white rocks, and emerald foliage.
Wellness is the crux of Maslina Resort, and the Pharomatiq Spa fully immortalises this notion. With a modern fitness room, a beauty salon, various relaxation sections and a dedicated Aqua Thermal area with a Finnish sauna, aromatherapy steam bath, Turkish Hammam, and cold plunge pool, it's a destination designed for restorative experiences. All the treatments and wellbeing programmes offered fuse Western and Eastern massage techniques, fitness, and mindfulness practices, while utilising amenities made using homegrown, organic herbs and locally sourced essential oils.
Much of the produce used to create the resort's contemporary Mediterranean cuisine is also harvested from the on-site Organic Garden. The food and drink offerings across all three dining venues are guided by an "earth-to-the-table" philosophy where ingredients and wines are sourced as locally and seasonally as possible.
120
3
CROATIA
4
Villa Sant'Andrea, A Belmond Hotel, Taormina Mare holds pride of place on its private beachside location on the Bay of Mazzarò in Sicily. The property itself dates back to 1919 when an aristocratic family built the beguiling residence among lush, subtropical gardens. Surrounded by the fragrance of verdant gardens and spellbinding sights of the sea, this five-star, secluded address has garnered a reputation as one of the most romantic properties in the region.
The hotel's location bestows its guests with the best of both worlds: days can be spent lounging on the exclusive-use pebbled beach or by the infinity pool framed by sensational sea vistas. On the other hand, guests wanting to explore Taormina can take a threeminute cable car ride to the town centre to enjoy a host of cultural attractions or indulge in a spot of shopping.
When back on the property, guests will be delighted by freshly baked Sicilian sweets in-room, which go down a treat while admiring the hotel's stunning 1950s aesthetic that recalls all the charm of old-world glamour. Each of the 71 rooms and suites has its own balcony or terrace, furnished with outdoor
CLOCKWISE FROM ABOVE
Villa Sant'Andrea is set on the Bay of Mazzarò in Sicily © Belmond / Tyson Sadlo Photographer; outdoor terrace for alfresco massages at Villa Sant'Andrea © Belmond / Tyson Sadlo Photographer; Ristorante Sant'Andrea offers outdoor dining with beautiful sea views © Belmond / Tyson Sadlo Photographer; bedroom of the Zagara Presidential Suite at Villa Sant'Andrea © Belmond / Ricardo Labougle.
seating and bedazzled with bright geraniums. Expansive marble-enveloped bathrooms, king-sized beds, exquisite artworks, satellite televisions and wireless internet also come standard.
A haven of high-end hospitality, Villa Sant'Andrea pulls out all the stops to ensure guests have the most comfortable, relaxing stay. At the wellness centre, nestled in the depths of the terraced gardens and overlooking the sea, an array of superb spa experiences await, with treatments taking guests on a multi-sensory journey guided by the island's healing atmosphere.
The hotel's dining venues also celebrate its heritage, with Ristorante Sant'Andrea spotlighting seasonal ingredients in traditional Italian dishes such as homemade risotto, burrata and Sicilian tomato salad, eggplant parmigiana and a variety of pastas. For wine lovers, the property also offers a tour of Mount Etna's best wineries, while those who prefer to admire this majestic volcano from afar can do so on an exclusive boat trip that ventures along the Sicilian coast.
121 CHECK IN
Villa Sant'Andrea
SICILY
Hôtel Casadelmar
A sleek and sophisticated hotel set on the outskirts of the town of Porto-Vecchio on Corsica's southwest coastline, Hôtel Casadelmar pays tribute to its striking peninsula at every turn. Its meticulously tended gardens spread out across nearly three acres, and are the idyllic backdrop for this modern hotel, which has a design that seamlessly blends into this nature-forward milieu.
Ushering in the calm-meets-jovial lifestyle of the island, the hotel's rooms feature bright fabrics, stone floors and ample space. Each also boasts a panoramic outdoor terrace complete with sunbeds and sweeping sea views. Other amenities include docking stations, internet access, minibars, Nespresso machines and flat-screen televisions. There is also a luxurious three-bedroom villa hidden within the lush grounds, perfect for families or groups wanting to enjoy the beauty of Corsica in complete privacy. Offering 250 square metres of space, plus a private heated pool and large outdoor area, it's a sumptuous retreat made for special moments with loved ones.
The hotel is also home to a two-Michelin-starred gourmet restaurant helmed by Italian chef Fabio Bragagnolo. Set in a glass-encased, light-filled dining room, it presents a menu jam-packed with delicately flavoured, expertly prepared Mediterranean delicacies.
La Residencia
La Residencia, A Belmond Hotel, Mallorca perfectly exemplifies the Mediterranean dream. Perched on a hilltop between the Tramuntana Mountains and the Mediterranean Sea, this scenic property overflows with Spanish island charm. A sun-kissed escape where rustic beauty reigns supreme, days here can be spent relaxing poolside, wandering through the ancient olive groves or wading in the waves. With the quaint village of Deià on the hotel's doorstep, there's also ample opportunity to explore this UNESCO World Heritage site and all the extraordinary nature, culture and history it bears.
Back home at La Residencia, the guest rooms and suites summon moments of serenity amidst the island's peaceful hills. White-washed walls, terracotta flooring and beamed ceilings give the spaces an authentic charm while still offering the height of hospitality — something which the Belmond group is famous for. The Junior Suites, all with balconies, pay tribute to the location's heritage through the inclusion of myriad Mallorcan antiques. On the other hand, the Executive Suites reflect a love for the outdoors; each has a private plunge pool, garden or terrace complete with alfresco living areas, and sublime sea and mountain views.
Heralded as Mallorca's most artistic hotel, La Residencia takes great pride in showcasing various artworks, with its private collection exhibited everywhere from the guest rooms to the sculpture garden. Art lovers can also enjoy further immersion on a visit to Deià — known for being a hotspot for artists and writers — with the property's resident curator, Cecilie Sheridan, to learn about its history and meet up-and-coming creatives.
La Residencia is also home to some of the area's best dining venues, all of which echo Mallorca's vibrant yet laid-back spirit. Fine-dining restaurant El Olivo, which has become renowned on social media for its sprawling terrace shaded by age-old trees and overlooking the verdant mountainscape, offers a gastronomic journey brimming with Mediterranean flavours. Café Miró, meanwhile, celebrates the island's artistic heritage, serving a selection of tapas-style dishes to a backdrop of thirty-plus original Joan Miró paintings.
ABOVE Aerial view of La Residencia, the village of Deià and the Tramuntana Mountains © Belmond / Tyson Sadlo Photographer. BELOW Pool area at Hôtel Casadelmar in Corsica.
The daily buffet-style brunch is another taste sensation not to be missed, serving a selection of fan-favourite treats such as hazelnut éclairs, traditional French flans and freshly baked breads.
The property's serene spa, which is curated by the famed British brand ESPA, offers a wide array of treatments dedicated to beauty and relaxation. The wellness centre is also home to a sauna, Hammam, sensory shower, fitness room and hair-dresser. Another place to indulge in a little leisure time is the on-site solarium, a secret space nestled in the property's serene south-facing grounds.
122 CHECK IN
MALLORCA 5
6
CORSICA
GREECE'S
CRÈME DE LA CRÈME
Five Star Greece has been at the forefront of the country's villa rental market for over two decades. As veritable matchmakers, they find the ideal villa to suit their client's needs, guaranteeing a holiday that's as effortless as it is enjoyable.
Founded in 2000 by Ileana von Hirsch and Evi Aidonopoulou, Five Star Greece is the oldest independent villa rental company in Greece. By always staying true to the philosophy of matching discerning clients to villas and yachts that perfectly suit their needs, Five Star Greece has remained an undeniable leader in its field, delivering a service that is second to none in Greek holiday rentals.
Five Star Greece is headquartered in London, but Greece has a special place in Ileana's heart, as she hails from an old Ithacan shipping family. And this Grecian heritage led Ileana to establish her now incredibly successful company.
"I founded Five Star Greece almost accidentally over twenty years ago when my sisters and I inherited an extravagantly beautiful but impractical beach house on
124
the island of Ithaca in Greece that needed to be brought back to life and required more cash than we had available," explains Ileana. "We had to find a way of commercialising it, and back in those days, there was no luxury Greek villa market at all — Greeks didn't rent their houses out, and there was simply no conception on the part of foreigners that there were any wonderful Greek houses that might be for rent. We were lucky enough to have had Madonna as one of our very first clients, and after that, we would go to Greek friends with lovely houses and say, 'It goes without saying that you don't rent your house out, but if Madonna wanted it for two weeks next year, would you consider it?' And, of course, they would. Now the pendulum has swung the other way and renting out your house via a prestige agency like Five Star Greece, often off-market, is a sign of status and something to be proud of."
Whether in search of a contemporary island oasis or a chic village retreat, Five Star Greece has it all, with a burgeoning portfolio of properties that encompasses only the best of the best. But it doesn't stop there; the company's team of professionals also advises on all matters regarding Greece to ensure their clients experience the country's finest offerings.
By spending a lot of time getting to know each individual and their wants and needs while visiting Greece, the company goes over and above to make their client's dreams come true. One aspect that makes Five Star Greece stand out is the fact that it's a boutique agency. By remaining small, privately owned and independent, Five Star Greece can focus on what's really important: the client, says Ileana: "Instead of having commercial backers and obligations to meet revenue targets, we can focus exclusively on offering the best possible advice to clients and only accepting villas into our portfolio where we feel very comfortable that our client will have a great time and expectations will be met and, if possible, exceeded."
Underpinned by complete honesty and transparency while offering the highest standards of behaviour, service and hospitality, Five Star Greece's philosophy has resulted in the company garnering a stellar reputation with its
CLOCKWISE FROM OPPOSITE, ABOVE Panoramic views from the terrace of an exclusive property in Greece; landscaped gardens of Villa Mou, an elegant sevenbedroom residence on the island of Corfu; aerial view of a secluded island villa in Greece; lunch on the patio at a luxe Grecian home, set to the backdrop of the sea; outdoor relaxation area at Private Island Retreat in Greece © Manuel Zublena.
clients. With mutual respect and trust as the guiding tenets, the company forges relationships that withstand the test of time and deliver exceptional results.
"The villa and yacht business is built on relationships and expertise," says Ileana. "If you behave decently over many years, have great knowledge of Greece, love the country deeply, and your advice is honest, you gain the trust and respect of a hugely precious network of quality suppliers who prioritise your clients and go the extra mile for you. It also means that we have the accumulated wisdom to understand what clients really want, think creatively, solve problems and offer those unexpected extras. I don't think anyone has been at this longer than I have in Greece — I am even sometimes called 'the doyenne', which makes me feel a hundred years old, but it does mean that people listen to me!"
"I am touched by how many of our clients consider us to have become their friends and stay in contact even after they have returned home. We get to know people, their families, their likes and dislikes, what makes them happy, and how to solve their problems, and I think clients just enjoy the feeling that they have us as friends who can look after them and give them honest advice." »
125 TRAVEL
« As for what Ileana believes the company's unique selling point is, it's all about exclusivity, she admits: "I think that where we stand apart in a now fully mature and even over-saturated industry is our ability to present off-market villas and estates to clients who want something special and then to provide the discreet and smooth service to go with it."
"Our team of six are almost like a close family and totally dedicated to making sure that our guests experience Greece in the best possible way for their individual taste and needs, and our guests appreciate our very personal approach. We are fast, responsive, detail-oriented, imaginative and pay close attention to what our guests tell us. The team offers complementary skills, so there is always an expert on hand to advise on any villa, yacht or destination, and even cast a guest's horoscope. Meanwhile, on the logistics side, our unsung heroes in the office liaise seamlessly with our local concierges to ensure guests get to their villas, track lost luggage, arrange wine deliveries, book taxis and tables, deal with health emergencies, arrange special requests and solve problems as fast as possible. In the end, it is simple — if we have succeeded in creating a wonderful holiday full of memories and have been a pleasure to deal with, people stay loyal!"
Luckily for Ileana, her job is made even easier courtesy of her deep admiration for Greece and its people. With so much beauty on offer, her passion for the country grows stronger every time she visits.
"I fall in love with Greece and the Greeks every time I go," says Ileana. "Greeks are brave, clever, chaotic, hospitable, soft-hearted, emotional, generous, funny, honourable, undisciplined, provocative, individualistic, talented, impatient, philosophical, patriotic, and totally
ABOVE Villa with sea views on the island of Mykonos © George Fakaros.
BELOW Alfresco dining overlooking the pier at the Private Island Retreat in Greece © Manuel Zublena.
irresistible. The country is heartbreakingly beautiful, from the chestnut forests, lakes and high mountains to the white pebble beaches and translucent water, the village fiestas or panegyria with bouzouki music and dancing, white churches, goat bells, the scent of herbs, hiking paths, the colourful boats, storms, stars and full moons, and the sea everywhere. Each island has its own personality, and visitors often find their special island that becomes their own, to where they return again and again, which welcomes them as one of its children."
To find out more about Five Star Greece and its selection of villas, visit www.fivestargreece.com
126 TRAVEL
Tailored To Your Lifestyle AN EXCLUSIVE COLLECTION OF MORE THAN 2,000 PROPERTIES IN GREECE'S MOST DESIRABLE AREAS LUXURY VILLAS | BEACHFRONT RETREATS | BRANDED RESIDENCES Tel: +30 210 6996311 E: residential@savills.gr kentriki.gr | savills.gr Greece's Luxury Homes Finest Collection of
Gourmet Paradise
An oceanside oasis brimming with all of life's finest offerings, Velaa Private Island Maldives is the idyllic destination for a funfilled, flavour-packed festive break.
The Maldives holds its very own kind of magic, one imbued with the ultimate paradisical touch, and Velaa Private Island takes full advantage of this while stepping it up a notch. This exclusive, five-star resort, set on a secluded isle in the heart of the Noonu Atoll, is a place of pure enjoyment, where luxurious accommodation, impeccable cuisine and superlative service intertwine to deliver an extraordinary experience that will be remembered for years to come.
For the upcoming festive season, Velaa Private Island has curated an incredible itinerary of events that not only highlight the destination's beauty, but also showcase its gastronomic excellence in all its glory. The resort's array of stellar gourmet experiences kicks off in November with its gastronomy month, which will see some of the world's top chefs visiting this slice of paradise to cook at Aragu Signature Restaurant alongside Culinary Director Gaushan de Silva. Suspended above the water, this picturesque dining venue blends panoramic ocean views with first-class cuisine and has become one of the most revered restaurants in the Maldives, courtesy of Gaushan's extraordinary culinary prowess. Officially the first and only restaurant in the country to be voted into Asia's 50 Best Restaurants list in 2021, Aragu offers an innovative Asian twist on modern
CLOCKWISE FROM ABOVE Entrance to Velaa Private Island Maldives, which is situated on its own stretch of paradise in the Noonu Atoll; the resort will celebrate its ninth anniversary this year with a special gala dinner on 20 December; Aragu's Culinary Director, Gaushan de Silva.
European cuisine that blends the chef's Sri Lankan heritage with his superb kitchen skills.
No stranger to the spotlight, de Silva has won multiple accolades over his 27-year tenure as a chef. He started cooking at age sixteen, and it wasn't long before his passion for the culinary arts saw him travel to Europe and work in some of the world's top dining venues. These included »
128
« three-Michelin-starred Noma in Copenhagen, threeMichelin-starred Alain Ducasse au Plaza Athénée in Paris, two-Michelin-starred Restaurant Édouard Loubet in Bonnieux and Michelin-starred Yam'Tcha in Paris. He even cooked for the Royal Family at the Royal Palace in Jordan before he joined Velaa's team when the resort opened in 2013.
Since the restaurant's establishment, Gaushan has always endeavoured to deliver a transcendent dining experience, and he does so by using the highest-quality, sustainably sourced ingredients to create a multi-sensory menu brimming with a whirlwind of flavours. Key to his method of producing culinary magic is the perfect seasoning, followed by the inclusion of myriad spices and herbs to impart unique tastes, smells and colours to his dishes. Seafood is also a prominent player in his cuisine and is the muse behind much of Aragu's offerings, which, too, celebrate the awe-inspiring ocean through its overwater location and impeccable interior design.
In keeping with Aragu's ethos of creating standout cuisine fit for discerning globetrotters, the restaurant will host a trio of exceptional chefs for a selection of exclusive four-hands dinners this November. Those visiting include chef Maxime Gilbert of two-Michelin-starred Écriture in Hong Kong, Filipino culinary master Jordy Navarra of Toyo Eatery in Manila, and Natsuko Shoji of Été in Japan, who was lauded as Asia's Best Pastry Chef in 2020 and Asia's Best Female Chef 2022 by The World's 50 Best Restaurants.
The list of marvellous festivities continues in December, with Velaa Private Island's ninth birthday celebration taking place on 20 December 2022. In honour of the prestigious property's anniversary, guests are invited to
ABOVE Aragu is the resort's signature, fine-dining restaurant that is perched above the ocean.
BELOW Every year, Velaa Private Island unveils a new, opulently decorated gingerbread house to kick off the Christmas festivities.
raise a glass with speciality cocktails from Avi Bar in the evening, followed by a gala dinner on the tennis court. Surrounded by a jovial ambience and set in one of the most scenic locations on the planet, guests can dine and drink while enjoying a performance by the world-renowned French music group Charly's Angels, all in honour of Velaa Private Island.
The lead-up to Christmas continues with even more gourmet adventures and fun-filled activities for the whole family, with a jam-packed calendar of events designed for merry moments among loved ones. On 23 December, the resort will unveil its grand 2022 gingerbread house, which will be welcomed with a selection of freshly-baked spiced cookies and mulled wine for guests. »
130 TRAVEL
WWW.COR ACORARESORTS.COM THE LEADING PREMIUM ALL-INCLUSIVE RESORT IN THE MALDIVES Time
« On 24 December, the festive cheer will come to full fruition with the Christmas Eve cocktail party and gala dinner. Start the evening by sipping on perfectly mixed cocktails and snacking on lip-smacking canapés while the sky illuminates in a palette of pastel hues as the sun sets below the horizon. Then, as the fairy lights begin to twinkle at dusk, guests can head to Athiri Restaurant for an international flavour affair, with a selection of festive global dishes served to the sounds of soothing tunes from the resort's in-house pianist.
Christmas Day in paradise is all about Santa's arrival! Held between 11:00 and 12:00 on 25 December, this exciting event will light up the younger guests' eyes — as the beloved Saint Nicholas makes a grand entrance, he'll deliver a sleigh full of gifts, sprinkling an extra dose of festive cheer on this special occasion. But this doesn't mark the end of Velaa's festive fun. On 26 December, Aragu once again shines brightly in the limelight when chef Gaushan presents a spellbinding Sri Lankan and Maldivian gastronomic journey. Offering an inventive tasting menu prepared with traditional, fresh Sri Lankan and Maldivian ingredients and elevated with a riot of Indian spices and flavours, this is an unmissable dining experience that will leave your palate yearning for more.
To end 2022 with a bang, Velaa will host a trio of sensational New Year's Eve events on 31 December. The evening will begin with a chic sunset soirée, followed by a gala dinner and after-party filled with the finest food and world-class entertainment. Set all the senses alight as you
CLOCKWISE
FROM TOP
LEFT Many of Velaa
Private Island's festive events incorporate live entertainment from international musicians; the resort's in-house pianist ensures that dinners are accompanied by soothing tunes throughout guests' visits to the island; the Christmas Eve gala dinner features a variety of delicious global dishes.
eat, drink and dance the night away, ending the year on a high note with a theatrical performance and celebration with the amazing "Katya" experience.
As for ringing the New Year in, Velaa will do this with a laid-back brunch on the beach. With toes in the sand, rustling palms overhead and endless ocean vistas beyond, guests can enjoy a selection of international dishes for lunch, followed by a seaside dinner at sunset complete with an upbeat live music performance by the young French singer and songwriter, EMJI.
To round off the festive season spoils, Aragu will host a special dinner on 4 January 2023, which will showcase a selection of Guashan's favourite indulgent ingredients. From caviar-doused signature creations to truffle-infused masterpieces, this dinner will leave guests feeling inspired and excited for the new year ahead.
From its calendar of joy-inducing events to its awardwinning cuisine and superb accommodation, Velaa Private Island strives to deliver only the best to its guests. A place full of wonder, indulgence and warm hospitality, this resort is an ode to the Maldives in all her majesty, where guests can feel carefree and cared for while being embraced by all the beauty and splendour this tropical paradise bears.
132 TRAVEL
LIMITLESS ADVENTURE
By combining Italian watersport passion with Austrian engineering excellence, Belassi has become an industry leader in the production of cutting-edge watercraft. Its new Marine Hypercraft, Burrasca, is a testament to its design excellence, offering unmatched power and performance at the push of a button.
HANDMADE POWER AND ELEGANCE
The ocean provides freedom without any paths or trails. It is the perfect environment for the unique Marine Hypercraft Burrasca developed for anyone who wants to discover the limits of gravity. The jet-powered watercraft combines 320 horsepower with unique driving performance, like extreme cornering speeds with the best acceleration you can find.
Every Burrasca, from its engine to its hull, is manufactured in Leiben, Austria and built from more than 2,000 parts, all individually assembled by hand. Four years of development work have gone into the Marine Hypercraft Burrasca and made Belassi a winner of the German Brand Award as well as the Red Dot Award.
ABOVE With unparalleled power and performance, the Burrasca is made for endless adventure.
BELOW The Belassi Team is designing the next electric Marine Hypercraft. They are currently testing the behaviour of the powertrain on a diagnostic machine.
INDIVIDUALITY AND DESIGN
The Burrasca aims to redefine the personal watercraft category with elegance and speed. Hand craftsmanship, technology and perfection in design are the principles on which the Burrasca is created. Since the production is all in-house, Belassi has complete control over all processes and parts. For this reason, the Burrasca is fully customisable in terms of colour and finishing. No matter how specific the wishes are, each Burrasca can be personalised to a client's identity and is an expression of an individual lifestyle that continually tests the limits in the search for perfection and self-realisation.
ELECTRIFYING WATERCRAFT
Sustainability and e-mobility are global megatrends, and no sector can afford to bypass them. Belassi is taking on this challenge to bring high-performance watercraft into a new era. Currently, Belassi is testing an electric-powered personal watercraft. The company's engineers are studying the behaviour of the electric powertrain with the aim of creating this vehicle as small and light as possible. The goal is not just to build a new product but to create a modern handmade masterpiece that embodies the Belassi spirit and quality in every component to revolutionise the e-watercraft market.
www.belassi.com
133 FOUR PROMOTION
LONDON | DUBLIN | COPENHAGEN | SYDNEY | NEW YORK | WORLDWIDE www.havwoods.com/four LUXURY WOOD FLOORING FOR ANY INTERIOR
Property & Design
7 WEST 57TH STREET IN
PHOTO:
MANHATTAN © SEAN HEMMERLE
DECODING THE DEMAND FOR ENGADINE RESIDENCES
Enrico F. Sbrizzai, General Manager of St. Moritz Sotheby's International Realty, takes stock of the situation in the Engadine real estate market, which is characterised by a marked imbalance between steadily growing demand and an increasingly dwindling supply.
WHAT ARE THE MAIN FEATURES OF THE CURRENT SITUATION IN THE UPPER ENGADINE REAL ESTATE MARKET?
The months following the pandemic confirm a trend that had already become apparent during the most difficult period of the health emergency but which, on closer inspection, can already be traced back to previous years. The demand for residences in the Upper Engadine has never waned; on the contrary, it has continuously increased over the years. Meanwhile, the supply has gradually dwindled to the point where there is a real shortage of properties of all types, levels and quality standards for sale. The last few months, and in particular the changes in lifestyles imposed by the pandemic, have, if possible, resulted in a further increase in the Swiss population's desire to have a home with open spaces, such as balconies, terraces and gardens. And this goes for other countries, too.
ABOVE Exterior of Chesa Frieda in Zuoz.
OPPOSITE Enrico F. Sbrizzai, General Manager of St. Moritz Sotheby's International Realty.
People want to live in an area where greenery and nature are dominant and, therefore, where pure air can be breathed all year round.
WHAT CAUSES THE DEMAND FOR HOLIDAY/ SECONDARY HOMES TO EXCEED THE SUPPLY?
In order to give an explanation for this chronic housing shortage, one has to refer, in addition to the dynamics mentioned above, to the decision taken on 11 March 2012, when the Swiss population decided to put a brake on the construction of holiday/secondary homes. Not to be underestimated then, in the current situation, is the fact that the economic and political framework, marked by a post-pandemic recovery, but still conditioned by serious uncertainties regarding future prospects, induces potential sellers to take their time, postponing for the time being a final decision regarding their real estate. »
136 PROPERTY
HOW DOES COMPETITION GENERATE A MARKED CONCENTRATION ON FINDING SALES MANDATES IN THE ENGADINE?
The excess of demand over the availability of properties on offer induces a good number of potential sellers to carry out real estate transactions without using traditional sales channels. In other words, we are witnessing the presence of improvised sellers who, enticed by the abundance and ease of finding enquiries, believe they can privately conclude a purchase or sale. This obviously leads to a distortion of the market and introduces risks for buyers. This is especially true when you consider that the building stock in St. Moritz, for example, is made up of prestigious villas which have always enjoyed particular confidentiality in the case of private negotiations, without even being put on the market. In addition, the stock, to a large extent, also comprises flats dating back to the 1960s, 70s and 80s. These flats, in particular, do not always present all the standards currently required and therefore require in-depth knowledge from qualified professionals who can share constant updates on the market situation.
WHY IS IT IMPORTANT TO DETERMINE A PROFESSIONAL EVALUATION OF THE SALES PRICE WHEN BUYING AND SELLING?
The knowledge and constant analysis of price dynamics over
CLOCKWISE FROM TOP LEFT Entrance hall of Chesa Frieda in Zuoz; interiors of Chesa Frieda in Zuoz; living area of Chesa Frieda in Zuoz.
the medium to long term, which can only be guaranteed by the experience of a professional in the sector, undoubtedly avoids the risk of buying and selling based on incorrect assessments of the actual value of a property. Excessive euphoria caused by an abundance of requests can, in fact, generate inappropriate over-valuations that, in addition to harming the buyer, can encourage speculative phenomena that can generate dangerous distortions in a price trend that usually tends to grow in a long-lasting and constant manner.
WHAT MARKETING OPERATIONS ARE NEEDED TO DETERMINE THE BEST CONDITIONS FOR A SALE AND PURCHASE?
I believe that the best marketing strategy consists of, above all, making use of the experience that guarantees a wealth of technical, economic and financial knowledge in order to move correctly and effectively in a complex market such as real estate. Of course, in addition to having recourse to the traditional communication channels of the sector, St. Moritz Sotheby's International Realty has the extraordinary advantage of being part of a network with offices in over seventy countries, which allows us to be in constant contact with a qualified international clientele.
To find out more, visit St. Moritz Sotheby's International Realty's website at www.stmoritzsir.ch or call the office at +41 (0) 81 836 2551
138 PROPERTY
ALPINRIVIERA GREAT ESTATES GMBH • STEINMATTSTRASSE 43, 3920 ZERMATT +41 27 968 19 16 • INFO@ALPINRIVIERA.CH • WWW.ALPINRIVIERA.CH ZERMATT – MATTERHORN SWITZERLAND NEW DEVELOPMENT • CHALET HOTEL • 15 ROOMS AND SUITES • CLOSE TO TOWN AND SKI LIFTS SPA / GASTRONOMY • AVAILABLE FOR INTERNATIONAL INVESTORS Welcome to AlpinRiviera Great Estates GmbH, a local company made of local experts. Buying a property requires a certain degree of trust. Our goal is to be your trustworthy and reliable partner in the international real estate market and offer you high-quality real estate opportunities.
www.jardinico.com
INSPIRED BY THE HUMAN EXPERIENCE
For Calvin Tsao, co-founder of award-winning architecture firm TsAO & McKOWN, design is all about creating multi-sensorial spaces. Whether it's a luxe condo in NYC, a five-star hotel in China or an emblematic museum in Taiwan, each of his firm's varied projects unites the spatial and spiritual in a harmonious, soothing environment.
me the most — the immensity of the human experience and that through design, one can enhance and shape it.
TELL US A BIT ABOUT TSAO & MCKOWN…
Throughout the years, our practice has developed two features (or strengths, if you will). First, we made a conscious decision not to specialise in any area; we do not delineate among the pillars of architecture, interior design, product design and landscape. We've done homewares, packaging, exhibitions, residential, commercial and civic projects. This distinguishes us from other firms. What unites these typologies for us is the common denominator: to address human needs and aspirations, combined with a thorough knowledge of history and supported by our ever-advancing craft.
We look to history for insights and precedents. We study human behaviour, consciousness, dimensions, and spatial perception. We look to new technology to advance craftsmanship, balance the visual with the sensorial, and, most significantly, find ways to bring harmony to living. We deliberately do not adhere to any particular style, relying instead on a methodology of inquiry into the intention behind the programme/brief.
Our projects are never trying to be visually trendy. Our signature is not simply visual but sensorial — it has to be experienced. It is spatial because design, for us, is about a three-dimensional human environment, not a stage set to look at. »
HOW DID YOU GET INTO YOUR LINE OF WORK?
I started out as a theatre major but switched to the 'world stage' when I decided to pursue a master's in architecture at Harvard. There, I learned to think critically and broaden my perspective and worldview through learning from history. At the same time, the school's rigorous training helped me develop my craft.
Upon graduation, I was fortunate to be taken under the wings of I. M. Pei, where, through his gentle guidance, I was able to navigate the complex discipline of practice. I also learned the importance of design in the perpetuation of human culture: that our built environment can impact human lives physically as well as spiritually. This is what inspires
141 DESIGN COLUMN
ABOVE Calvin Tsao
© Brigitte Lacombe.
RIGHT Living area of a model residence in One United Nations Park, designed by TsAO & McKOWN
© Sean Hemmerle.
CAN YOU SHARE DETAILS ON SOME OF YOUR LATEST PROJECTS?
So far, we have been very fortunate to maintain this diverse practice. With One United Nations Park and 7 West 57th Street (both in New York City), we had the chance to work alongside the late Mr Solow, who was such a sage in the real estate industry. Delving a bit deeper into the design for 7 West 57th Street — a new boutique condo building on Billionaires' Row in Manhattan that is move-in ready — we approached the design very thoughtfully, ensuring residents were equipped with a highly functional layout that allowed them to immediately feel like they were home while giving them the room for personal expression in their art, décor and heirlooms. We wanted these truly unique full-floor two-bedroom residences to feel like a respite from the dynamic city just outside. The design here is sophisticated, sleek, and contemporary, with bespoke finishes and smart-home features.
For a stylish one-bedroom model residence at One United Nations Park, we envisioned space for a working professional in the city and imagined them as someone who would want to relax after work and occasionally host friends. To accomplish that goal, the firm prioritised efficiency in the design and used architectural forms to heighten zones for activity. Muted, warm colours and natural materials are key themes throughout the home.
Working with Mr Solow on One United Nations Park and 7 West 57th Street was a dream come true, as he was able
to appreciate the value of this way of design. For 7 West 57th Street specifically, the integrity of construction truly allowed us to shape spaces with the perfect proportions for living, complemented by bespoke details that elevate the urban living experience. At the time of construction, we incorporated stunning cove lighting throughout the homes. The sophisticated Bulthaup kitchens we created are also beautiful and showcase bronze-finished cabinets and white marble countertops. The bathrooms are finished in a Statuario Venatino marble accompanied by double frameless glass mirrors encased with a lightbox and sidelights, while powder rooms were designed with Giallo Elena limestone floors. Overall, the homes here have been designed for buyers who appreciate high-end finishes and sophisticated interior design.
ANY WOW MOMENTS IN YOUR CAREER THAT STAND OUT?
My personal 'wow' moments have been when I discover a connection with my client, student, or end user, and what I understand of them is spot on. That feeling of getting something right is amazing! Also, when I realised that what I learned and developed is shared and that it will be passed on. This is also my favourite aspect of my work: sharing with like-minded people.
142 DESIGN COLUMN
CLOCKWISE FROM LEFT Façade of 7 West 57th Street in Manhattan; bedroom in the penthouse of 7 West 57th Street; the kitchens in the 7 West 57th Street residences feature Bulthaup kitchens with bronze-finished cabinets and white marble countertops. Images © Sean Hemmerle.
ELLI O TJA MES INTERIORS
LONDON | SINGAPORE London - 39 Old Church St, London SW3 5BS, United Kingdom (+44) 20 452 54543 Singapore - 1 Marina Blvd, Level 20, Singapore 018989 (+65) 6727 7535
THE FUSION OF PERSPECTIVES
With its holistic approach, German firm MangMauritz fuses architecture and interior design in a unique way — and shows that true harmony is a matter of perspective.
OUTSIDE
From the outside, this is a building with a special architectural history. Constructed in 1870 on Bahnhofstrasse in Zürich as a progressive object at the time by architect Ferdinand Stadler, it featured a mansard roof and an unconventional floor plan. Forty years later, in 1910, the villa was demolished stone by stone and beam by beam — only to be rebuilt about a kilometre away on the shores of Lake Zürich at Bellerivestrasse. Why? Because the then 58-year-old owner, Mina Schwarzenbach, was said to have hoped for more peace and quiet in her daily life from the proximity to the lake. In 2019, the historic villa was refurbished, and the core was renovated. This was done to restore its architectural and design quality and make the historic building ready for the future based on the latest standards.
144
INSIDE
MangMauritz had the task of fusing the exterior radiance with the interior of the villa. In the context of an extension to a family office, the interior of the historic building has been sublimated in a contemporary way. Exceptional workplaces require a holistic solution that considers analogue and digital working methods and changes in a modern office environment. At the same time, the generous architecture of the old building was to be transferred into a coherent ambience — for meetings with employees and customers that are both structured and relaxed. An interplay of light and shadow sets the scene for the high rooms, while fabrics by Dedar, furniture by Promemoria and a round sofa by Meridiani are placed in contrast to the stucco and panel floors. It is the consummate details that once again make the difference. »
145 DESIGN TALKS
TWO MASTERMINDS. ONE PHILOSOPHY.
Dipl. Ing. architect Stefan Mauritz gained experience at companies such as Rolls-Royce and Feinkost Käfer before establishing as an independent architect. With graduate architect Thomas Mang, he has a congenial partner who has worked with star architect Helmut Jahn in Chicago, gained experience in New York and supervised his first projects in Switzerland and Monaco. Together, Mang and Mauritz have perfected a philosophy of holistic architecture and interior design in recent years. In the holistic implementation of their projects, service and closeness to the customer are at the centre of their work; from design and planning to execution and furnishing, every step is personally accompanied against uncompromising quality standards.
Find out more at www.mangmauritz.com
146 DESIGN
TALKS
RM 07 01 INTERGALACTIC In house skeletonised automatic winding calibre 50 hour power reserve (± 10%) Baseplate and bridges in grade 5 titanium Variable geometry rotor Case in Carbon TPT set with diamonds and 5N red gold prongs Central dial in Carbon TPT set with 5N red gold prongs ® ®