September 2023 Saskatchewan's Premier Cattle Industry Publication Beef Business Saskatchewan`s Premiere Cattle Industry Publication Working for Producers Publication Mail Agreement #40011906 A Saskatchewan Stock Growers Association Publication COMMERCIAL CATTLE EDITION Adair Sales & Marketing Company Inc. 306-773-0996 | info@adairreps.com 8 Weeks Saves 8% BAUMALIGHT.COM Pre-order your Baumalight generator now for delivery in 8 weeks and get an 8% discount
Endovac was first presented to me as an immune stimulant, and we started using it on commingled cattle coming from multiple high stress environments to our ranch. I saw a higher immune response in these cattle and started using Endovac on all of our cattle at all five locations. We have a 2,000 head cow/calf operation and 500 head of stockers with ranches in south Florida and south Georgia. Whenever calves go through the chute, they receive a shot of Endovac. We currently run between .5% and 1% mortality on our calves. And on top of all that, with the price, you can't go wrong.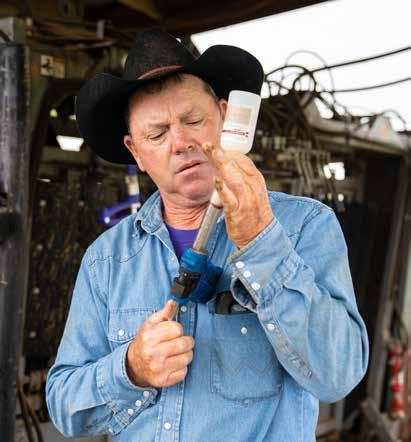 Matt Pearce, Pearce Cattle Company
ENDOVAC-Beef has been a Game Changer for me. I run a good sized cow-calf operation in addition to starting cattle. 100% of my cattle get ENDOVAC-Beef. Since using ENDOVAC we don't have to treat as many cattle for respiratory, or even other common problems like pinkeye and foot rot. I am getting my Pasteurella and the stimulant that makes the vaccine work better with ENDOVAC-Beef. If everybody knew what I knew, everyone would be using it!
Brad Haun, Haun Ranch
DUC Conservation Easements (CEs) pay approximately 30% of current land values, and have no restrictions on haying or grazing*. Contact us to find out how our CEs and other farm-gate programs increase your bottom line and put money back in your pocket: Call 1-866-252-3825 or email du_regina@ducks.ca ag.ducks.ca
"A Ducks Unlimited Canada conservation easement hits all cylinders for our beliefs in conservation and for how our operation runs, including soil health and grazing. It was also a huge financial boost for our operation!"
– CHRIS AND JENNA HUBICK, STRASBOURG AREA RANCHERS AND DUC PROGRAM PARTNERS
*Some conditions apply. Contact DUC for details.
Proud to be your conservation partner
A Saskatchewan Stock Growers Association (SSGA) Publication
General Manager: Chad MacPherson
Box 4752, Evraz Place, Regina, SK S4P 3Y4
Tel: 306-757-8523 Fax: 306-569-8799
Email: gm@skstockgrowers.com
Website: www.skstockgrowers.com
Managing Editor: Kori Maki-Adair
Tel: 403-680-5239 Email: kmaa@shaw.ca
Agri-business Advertising Sales: Diane Sawatzky
Tel: 306-716-4271 Email: sales@skstockgrowers.com
Livestock Advertising Sales:
Tel: 306-757-8523 Email: livestocksales@skstockgrowers.com
Subscriptions
Box 4752, Evraz Place, Regina, SK S4P 3Y4
Tel: 306-757-8523
Fax: 306-569-8799
Email: office@skstockgrowers.com
Subscription Rate: One year $26.50
(GST included) Published five times per year
Design and Layout: Jackson Designs | Candace Schwartz
Tel: 306-772-0376 Email: candace@jacksondesigns.ca
Prairie Conservation Action Plan (PCAP)
Manager: Carolyn Gaudet
Box 4752, Evraz Place, Regina, SK S4P 3Y4
Tel: 306-352-0472
Email: pcap@sasktel.net
Fax: 306-569-8799
SSGA reserves the right to refuse advertising and edit manuscripts. Contents of Beef Business may be reproduced with written permission obtained from SSGA's General Manager, and with proper credit given to Saskatchewan Stock Growers Association. Articles submitted may not be the opinion of SSGA. SSGA assumes no responsibility for any actions or decisions taken by any reader from this publication based on any and all information provided.
Publications Mail Agreement #40011906
Return undeliverable Canadian addresses (covers only) to:
Saskatchewan Stock Growers Association Box 4752, Evraz Place, Regina, SK S4P 3Y4
• Kori Maki-Adair
• Dr. Tammy Nemeth
• Jason Pollock
• Leah Switzer
• Blake Weiseth
• Garth Woods
•
5 www.skstockgrowers.com | ©BEEF BUSINESS | SEPTEMBER 2023 Contents
Did you know that SSGA is Saskatchewan's oldest agricultural association? ?
6 Interprovincial and International Cattle Marketing 7 Drought Relief Straw Drop 8 Stock Growers Welcome AgriRecovery Announcement 9 Cleanfarms' Unwanted Pesticides and Old Medications Events across SK 10 Recommended Read: Tales from The Minor Ranch 12 SSGA Launches Member Benefits Marketplace MARKETS AND TRADE 14 Livestock Marketers of Saskatchewan Directory 16 Retail Meat Price Survey 18 Weekly Market Charts 19 Saskatchewan Feedlot Directory
20 Beef Market Outlook 2023 Fall Run 22 Clear View Angus: Conserving Habitat to Sustain A Way of Life 24 Satellite-Based Forage Insurance Pilot Prepares for Launch 28 New Global Language Impacting Livestock Producers SCIENCE AND PRODUCTION 30 Active Missing Livestock Files 31 Update on Annual Report and Reminder 34 Water Infiltration Research: After Two Years, A Story Unfolds 36 Managing a Short Feed Supply ASSOCIATION NEWS, REPORTS AND EVENTS 37 Honourary Lifetime Membership Goes to Sherri Grant 38 SSGA President's Report 40 SSGA 2023 Annual General Meeting Resolutions 42 Wilma Rose Switzer Celebration of Life STEWARDSHIP 46 Plant Species at Risk Found in Sandy Soil 48 Saskatchewan Stock Growers Foundation Summer Update BUSINESS 50 Calendar 51 Advertiser Index 52 Business Directory • Terry Bedard
Garner Deobald
Carolyn Gaudet
Mindy Hockley
Maddy Lazurko
INDUSTRY NEWS
FEATURES
•
•
•
•
Chad MacPherson
This magazine is printed on paper that is comprised of 50% re cycled pa per a nd 2 5% p ost-consumer w aste. I t i s acid-free, elemental chlorine-free and is FSC certified T le h c i y s c M e a R g e a s z a in le e P Follow us on: fb.com/skstockgrowers @SK_StockGrowers Cover photo courtesy of: Janelle Liebreich, Merit Cattle Co. Radville, Saskatchewan
Contributors