approachable. real. vulnerable. true.
Diana BITNER DR.
THE BIG M: METHODS FOR MANAGING MENOPAUSE —AND MORE GIRLFRIEND GETAWAYS SAVING FOR YOUR CHILD'S FUTURE
Published by Serendipity Media, LLC Volume 12, Issue 2
VOLUME 12, ISSUE 2
www.westmichiganwoman.com
PRESIDENT & PUBLISHER
Kasie Smith
Serendipity Media, LLC
MEDIA SALES CONSULTANT
Susan Smalley
susan@serendipity-media.com
866-252-7108
MANAGING EDITOR
Sarah Suydam
ART DIRECTOR
Courtney Van Hagen
PRODUCTION ASSISTANT
Emily Alspaugh
MARKETING DIRECTOR
Loren Eisenlohr
MARKETING COORDINATOR
Rachel Syrba
Kelsey Shoemaker
SALES & ACCOUNTING COORDINATOR
Megan Marshall
West Michigan Woman is published bimonthly by Serendipity Media, LLC; 535 Cascade West Parkway SE; Grand Rapids, MI 49546. Periodical postage is pending at Grand Rapids, MI, and additional mailing offices. Subscription information can be obtained through the above address, by calling 616-458-8371, or by logging on to www.serendipity-media.com
Editorial submissions and/or query letters, Attn: West Michigan Woman magazine; 535 Cascade West Parkway SE, Grand Rapids, MI 49546. Submissions of photographs, articles, and other material is done at the risk of the sender, and Serendipity Media, LLC cannot accept liability for loss or damage. Unsolicited materials will not be returned.
POSTMASTER: Send address
changes to West Michigan Woman c/o Serendipity Media, LLC; 535 Cascade West Parkway SE; Grand Rapids, MI 49546.
All rights reserved. West Michigan Woman content may not be photocopied or reproduced or redistributed without the consent of the publisher.
THE COVER
DR. DIANA BITNER: Approachable. Real. Vulnerable. True.
page 18
LETTER + ONLINE page 4
SPOTLIGHT page 6
WELLNESS page 8
The Big M: Methods for Managing Menopause—and More
HOME page 12
Conquering the Basement Blues: Transforming Your Home's Lower Level
RELATIONSHIPS page 16
What Is Love Bombing? Tips for Recognizing and Avoiding This Manipulation Tactic
SPECIAL SECTION page 24
Women's Health
FINANCIAL page 38
Saving for Your Child's Future
TRAVEL page 40
Girlfriend Getaways
Q&A page 44
Liz Della Croce: Inspired Dishes and Vibrant Flavors
WMW : WESTMICHIGANWOMAN.COM 3
2023 contents
October/November
© 2023 Serendipity Media LLC
(photo © Kelly Braman Photography)
West Michigan Woman is published by Serendipity Media
KASIE SMITH | President & Publisher | kasie@serendipity-media.com
As I'm writing this note, we're headed into the final weekend of summer. I'm not ready for it to come to an end, but as it does every year, the leaves begin to turn, the mornings are cool and the days become shorter. With that fall transition comes beautiful autumn foliage, football frenzy and all things pumpkin spice—it's an amazing time here in West Michigan! As we move forward into this season, so does the rest of life. Whether you're moving toward fall sports, seeing your kids go off to school or college, or are navigating through different phases of life, the changing of seasons is quite symbolic of the lives we live … constantly in transition.
For Dr. Diana Bitner, a profound transition happened in 2003 upon attending a women's health meeting, where she discovered how much we actually know about menopause and midlife. Not fully included in her initial medical education, she was moved by the knowledge she learned and became dedicated to finding ways to help her clients progress through life's stages, addressing the concerns and questions that aging brings.
By 2015, Dr. Bitner was named Menopause Practitioner of the year by the North American Menopause Society and today is the Chief Medical Officer and Co-founder of "true. Women's Health," a concierge practice dedicated to supporting women of any age. Dr. Bitner has a passion for supporting and educating women through what can be some of the most pivotal transitions in life. To learn more about her journey and the lessons she's learned along the way, turn to page 18.
Whether you're transitioning through perimenopause, menopause or any other physical consideration, this issue is chockfull of resources to consider. Hormone replacement therapy has come a long way and more information is available than ever before. Page 8 offers insight from local experts and new revelations on the subject. In addition, our Special Section offers information on everything from breast augmentation, gynecological and individual health care, to women living with ADHD.
In life, we're constantly evolving, learning new things, and preparing for what might come in the future—whether that's preparing financially for your children's future education, renovating your home or simply growing as an individual. Our hope here at West Michigan Woman is that we provide you with bits of knowledge that help make these transitions a little easier by informing and inspiring you through the stories of local women and experts.
RECEIVE FRESH CONTENT
in our FREE eNewsletter!
THE "BEST OF" found only on westmichiganwoman.com
Top Read articles last month: What Your Mother Never Told You About Aging
Delicious Tailgating Snacks!
The Rise of Pickleball in Grand Rapids
Exploring a Plant-Based Dietary Lifestyle
JOIN
4 OCTOBER/NOVEMBER 2023 : WMW LETTER A
US ONLINE
PURE AUTUMN BLISS IN LUDINGTON
A PILATES REVOLUTION: MASTERCLASS PILATES WITH A PERSONAL TOUCH
Pilates used to be stuffy and intimidating, but not when you walk into a Pilates in East class with owner and Master Instructor, Ahmé Bovée, or one of her Bovée Pilates™ trained instructors. It's a local, authentic grassroots movement that's going viral, and it all started here in West Michigan with Bovée. Her unique approach builds body
AN ENVIRONMENT WITH A POSITIVE MINDSET
How can we age more gracefully and with a positive mindset? At Beacon Hill at Eastgate, a Life Plan Community, this is always top of mind as we plan activities and offerings for our residents. What can we do to create an environment that sustains this positive mindset?
Come autumn, Ludington emerges as the perfect destination to embrace the enchanting beauty of the season. Nestled amid nature's splendor on the shores of Lake Michigan, Ludington offers an unforgettable experience for fall enthusiasts.
Hikers, bikers, and paddlers alike will relish the opportunity to traverse the stunning landscapes draped in vibrant hues of red, gold and orange. With miles of scenic trails and picturesque waterways, Ludington provides the ideal backdrop for nature lovers seeking to immerse themselves in the season's magic.
Beyond nature's canvas, Ludington's downtown exudes charm, offering a delightful culinary journey. Savor the finest local brews and indulge in culinary delights at quaint eateries, making every meal a memorable experience.
Plan your quintessential fall getaway to Ludington, where every moment paints a picture of pure autumn bliss. See pureludington.com
Ad on inside front cover and page 1.
One of the best ways to find purpose is to participate in regular activities that bring you joy, such as recreation or enrichment classes, and robust relationships or a spiritual practice. Activities or practices in a group setting can foster connections, which provide extra reinforcement for the good feelings associated with the activity. Many of our activities and outings are designed to promote socialization, as peer support is one of the best ways to build a positive mindset.
Seeking opportunities for gratitude and purpose is scientifically proven to improve your mindset, and that's a secret to aging that's worth sharing! See beaconhillgr.org
Ad on page 35.
6 OCTOBER/NOVEMBER 2023 : WMW SPOTLIGHT
Photo © Pure Ludington
Photo © Justin Haylee Photography
positivity, confidence and results—like magic.
"We use positive psychology and tap into the natural intelligence of the body. It's all about knowing how to reveal the natural potential in each individual," explained Bovée.
Curious to see what you're missing? Mention code WMWM and try a class for free!
Pilatesineast.com | info@pilatesineast.com |
Ad on page 7.
MAKE YOUR DREAM SPACE A REALITY!
In January 2021, Jonathon and Gretchen Bird opened a Closets by Design franchise in Grand Rapids. Born and raised locally, Jonathon wanted to get back to his roots and share his woodworking and manufacturing talents to help residents and businesses utilize space more efficiently. The pair felt an immediate alignment with a brand that has a reputation of integrity and is a leader in customer service and satisfaction since 1982.
Closets by Design of West Michigan is a full-service business that designs, manufactures and installs organizational solutions for a variety of needs. Closets, pantries, laundries, garages and home offices—just to name a few. Their team is eager to work together and turn your dream space into a reality! Visit westmichigan.closetsbydesign.com
Ad on page 14.
WMW : WESTMICHIGANWOMAN.COM 7
Photo © Jen Kieff
616.242.9595
Photo © Closets by Design
THE BIG M: METHODS FOR MANAGING MENOPAUSE— AND MORE.
IIn ancient times, the three phases of a woman's life were referred to as maiden, mother and crone. Today, they're known as prepubescence, reproductive years and menopausal/ postmenopausal. More recently, there's been more dialogue around another stage: perimenopause. Quite possibly, this one is the most difficult to pinpoint because it can last for up to a decade, present with symptoms that could be signs of other health concerns, and be erratic enough that we may just think we're losing our minds.
For decades, both perimenopause and menopause have been widely misunderstood and neglected topics. Even the term postmenopause suggests there's an end to menopause, when, in fact, there's no other side—even if symptoms improve over time.
Let's examine how each term is defined:
The time right before menopause, perimenopause typically starts when women are in their 40s, and may be identified by irregular periods, hot flashes, vaginal or bladder issues, and mood changes. It ends at 12 consecutive months without a menstrual cycle.
At that one-year point is when menopause begins. Menopause can also happen abruptly with certain medical treatments or ovary removal. Either way, the ovaries stop releasing eggs and pregnancy is not possible.
Post-menopause is the time after menopause has occurred, and it will last the rest of our lives.
That's the quote-unquote "easy" part. To learn more about changes in the menopause conversation, misperceptions about treatment options, ways to mitigate bothersome symptoms, and how to position ourselves for a more comfortable shift, we talked with Dr. Barbara DePree with Holland Hospital Women's Specialty Care and Natasha Peoples, Family Nurse Practitioner with Spectrum Health Women's Health & Wellness Center.
8 OCTOBER/NOVEMBER 2023 : WMW
BANNISTER WELLNESS
BY ALLISON KAY
WHY IT NEEDS MORE ATTENTION
If menopause were simply about the cessation of our periods, many of us might be jumping for joy. The reality is, lower estrogen production could contribute to the development of serious conditions, such as cardiovascular disease, type 2 diabetes, and osteoporosis—and, it can cause weight gain and joint pain, affect sexual health and decrease pelvic floor function. Also, the vasomotor symptoms (VMS)—hot flashes and night sweats—that are prevalent in most menopausal women can be disruptive in significant ways, especially in affecting sleep.
If, for example, we enter menopause at 52, we likely have a significant part of our lives left.
"One of the reasons we're trying to put some energy into better understanding menopause is because it encompasses about 40% of a woman's lifetime," DePree said. "We feel like it's important to understand the impact of hormones or absence of hormones for that significant duration."
EASING THE TRANSITION
It seems a foregone conclusion that menopause will create discomfort and we just have to suffer through it. Beyond our physical wellbeing, menopause symptoms can also affect us mentally and emotionally. However, it doesn't have to be this way.
Both DePree and Peoples stress the importance of being proactive with our habits in our younger years, in preparation for perimenopause and menopause. Often though, our 30s and 40s are filled with responsibilities that make it difficult to put ourselves first.
"Most people go into menopause having not set themselves up for success, and now they have to try to fix everything," said Peoples. "That's why I love it when I have a new patient consult with someone who's just starting the transition, because we can talk about what's coming and what proactive steps they can take."
These include: Drinking adequate water every day; limiting caffeine, simple carbs and sugars; adopting a healthy diet, such as plant-based or Mediterranean; and engaging in regular exercise, including weight bearing. And, prioritizing sleep. Continued...
WMW : WESTMICHIGANWOMAN.COM 9
FEATURED IN THIS ARTICLE:
Dr. Barbara DePree Headshot © Holland Hospital Natasha Peoples Headshot © Corewell Health
DR. BARBARA DEPREE Holland Hospital Women's Specialty Care
NATASHA PEOPLES Family Nurse Practitioner with Spectrum Health Women's Health & Wellness Center
"One of the reasons we're trying to put some energy into better understanding menopause is because it encompasses about 40% of a woman's lifetime."
Wellness Stock Photo © Adobe Stock
TO HRT OR NOT HRT?
Here's where things get interesting. For years, there's been a belief that hormone therapy could cause more harm than good, and thus, many doctors and patients have avoided it. This notion surfaced thanks to results from Women's Health Initiative trials that suggested it could cause a greater risk for certain diseases. Over time, we've learned this caution might not be warranted, and that for healthy women without contraindications, it can be a valid option. And now, there's also a non-hormonal medication available that effectively addresses VMS, called Veozah. For those reluctant to try hormone therapy, or can't, this is an exciting solution that both DePree and Peoples support.
NEXT STEPS …
Even as we enter a new understanding of menopause and its treatments, our primary care physicians may not yet be in step. DePree and Peoples recommend seeking out a local Menopause Certified Specialist, who can be found via a practitioner search on menopause.org. WMW
CONTRIBUTOR
ALLISON KAY BANNISTER has been a West Michigan resident since 1987 and a professional writer since 2002. A GVSU alumna, she launched her own freelance writing business in 2017. Allison is a cookie connoisseur, word nerd, aspiring gardener, and metastatic breast cancer thriver who loves traveling in Michigan and beyond, and enjoys art, world cuisine, wine, music, and making homemade preserves.
10 OCTOBER/NOVEMBER 2023 : WMW WELLNESS (continued)
BY SARAH SUYDAM
CONQUERING THE BASEMENT BLUES: TRANSFORMING YOUR HOME'S LOWER LEVEL
12 OCTOBER/NOVEMBER 2023 : WMW HOME
LLet's face it—basements can be a bummer! But, with a little elbow grease, they certainly don't have to be. Whether your lower level needs finishing or you're looking to transform it into a guest space, home gym, home theater or otherwise, we connected with the experts at Renaissance Roofing, Exteriors, and Remodeling to discuss how renovations can make your basement a functional space in your home.
While you may be unsure of which route to choose for your basement, Amy Riebel, Designer for Renaissance Roofing, Exteriors, and Remodeling, says there are a number of design choices that rise to the top for their clients.
"The most popular options are a kitchen and wet bar for entertainment, a home movie theater, wine cellars, home gyms, adding additional baths, bedrooms and offices, and even ActivWall windows and doors for easy access to the outdoors," she said,
noting some considerations to make right off the bat. "First, you want to consider the condition of your basement, along with the layout and design, so you can work with the space you have for your dream renovations."
Next, you should ensure your space is insulated and water-proofed.
"Since it's easy for moisture to build up in basements, you wouldn't want your new basement renovation to take a turn for the worst," Riebel explained. "Lastly, embrace the many possibilities of what your basement could be—think outside the box and try something new from your typical color schemes and designs."
One suggestion Riebel and the team always make is to bring water downstairs if plumbing is not already in place.
"We've worked with several clients who opted not to include a bathroom or wet bar in their renovation and regretted it
WMW : WESTMICHIGANWOMAN.COM 13
Photos © Renaissance Roofing, Exteriors & Remodeling
Continued...
afterwards," she said. "Make the basement an extension of your living space!"
As with all renovations, Riebel says the budget range can vary based on selections and features.
"On average, our basement renovation projects begin around $50k and can go up from there," Riebel said, explaining that it's always a good time to be thinking about a basement renovation, but advanced planning is needed. "Some clients plan six months in advance and have a plan in mind when they contact us. Others need more guidance and consulting. No matter where they are, we can help them to their goal! Typically, basement renovation projects can begin within four weeks of signing a contract with us and usually take three to four months to complete"
Renovations can be stressful, but working with the pros ensures you've got support along the way.
"The renovation process begins with clients clearing out their space, and we'd want to address any leaks or water issues prior to beginning the remodel," Riebel said. "Clients work with our designers on selections early in the process so all materials can be ordered and crews scheduled accordingly."
Ultimately, the possibilities with basement and lower level remodels are endless. The space is part of your home, so why not make it work for you and your family, while also adding value to your home?
"Basements can often be an afterthought, but we've seen a real shift since COVID in that thought process. People want to optimize and utilize every inch of their homes—as they should!" Riebel said. "Your home is never hopeless, with the right set of eyes. There are always ways to improve your space when you partner with an experienced and knowledgeable team."
WMW
14 OCTOBER/NOVEMBER 2023 : WMW
HOME (continued)
WMW : WESTMICHIGANWOMAN.COM 15
WHAT IS LOVE BOMBING? TIPS FOR RECOGNIZING AND AVOIDING THIS MANIPULATION TACTIC
You're back on the dating scene and seeing someone new. They're seemingly everything you've been looking for, immediately saying all the right things, surprising you with gifts, sharing their deepest secrets and emotions with you, are eager to commit, etc. You think to yourself, "Wow, I've never had someone open up so quickly and trust me with these feelings or treat me so well!"
You may think it's going great … until you realize it isn't.
A term you may have heard in the relationship realm in recent years is "love bombing," an unfortunately common manipulation tactic used in order to quickly gain control over another person in a relationship by bombarding them with lavish gifts, intense emotional expressions of connection and vulnerability, grand gestures and more.
According to Georgianna Poulos, LMSW, Psychotherapist at Mindful Counseling GR, love bombing is designed to get the victim as ensnared as possible, as quickly as possible, and is a form of emotional and psychological abuse.
Poulos shared some common ways that love bombing presents itself in a relationship include someone who's unusually good at expressing an intensity
of caring early in the relationship, making you feel like the most important thing in the world and special beyond measure; someone who wants to spend all their time with you and might present as "sad," "angry" or "disappointed" if you spend time with others; and someone who early on showers you with big, expensive or frequent gifts.
Love bombing could also be seen when "Someone is overly flattering, making you feel like that person has never loved anyone more," Poulos said. "[This could also be] someone who may pressure you to commit to the relationship by making future plans—talking about the future often, even discussing moving in together or getting married as soon as possible."
There are some questions you can ask yourself if you think you may be a victim of love bombing. Poulos suggests asking yourself:
< Do you feel comfortable around this person, or do they often make you nervous?
< Can you state particular characteristics about them that you love?
< Are they willing to have you spend time alone, even if they'd like to be with you?
< Are they glad you have other friends?
< Do they have interests besides you?
< How do they handle being confronted or criticized?
"If you think you're being love bombed, start by telling a trusted friend or family member—someone who can help you be objective when the love bomber may continue to make you question your reality," Poulos said. "If it feels safe, speak to your romantic partner in a safe and neutral environment and set firm boundaries, such as taking things more slowly, asking for space or making requests around fewer gifts."
Poulos notes to pay attention to whether your boundaries are being respected, and if not, start making plans to safely exit the relationship, again enlisting a trusted friend or family member for support.
16 OCTOBER/NOVEMBER 2023 : WMW
RELATIONSHIPS BY SARAH SUYDAM
Y
But what if you suspect love bombing is happening to a friend or family member, and not yourself?
"Remember that a love bomber preys on their victims' insecurities and vulnerabilities, so approach your friend with kindness and tact," Poulos suggested. "Share specific examples of things you've observed, and be open with your friend about how they feel in their relationship, and about your observations. Like other abuse and control tactics, love bombing aims to isolate victims and make it so the abuser is the only person they have, so be sure to communicate support for your friend."
To try and avoid love bombing from the get go, Poulos says it's all about being curious about you "Ask yourself how you've shown up in past relationships, what your known insecurities and vulnerabilities are, and whether you find external validation very important,"
Poulos said. "If you're a people pleaser, or experience a lot of guilt in your relationships, practice setting boundaries."
If you find yourself in a love bombing situation and are struggling, Poulos emphasizes remembering that it's human to want to connect and be loved, and to have compassion for yourself.
"The blame of love bombing is solely on the perpetrator of this behavior and it's not your fault someone did this to you," she said. "If you feel confused and conflicted after a love bombing experience, know that it's normal and is one of the hallmarks of being love bombed."
Say to yourself:
» "I can trust myself," or "I can learn to trust myself."
» "Their behavior is not my fault."
» "I learned from this."
» "I deserve love, I deserve safe love." WMW
WMW : WESTMICHIGANWOMAN.COM 17 Relationships Stock
Stock
Photo © Adobe
If you find yourself in a love bombing situation and are struggling, Poulos emphasizes remembering that it's human to want to connect and be loved, and to have compassion for yourself.
COVER STORY
Cover & Layout Photos © Kelly Braman Photography
Candids Provided by Dr. Diana Bitner
Hair by Antonia O'Bryan
BY SARAH
Diana BITNER DR.
IIt's not surprising to learn that throughout her life, Dr. Diana Bitner has garnered an incredible number of lessons. But of them all, a select few serve as a compass, guiding her passion for helping women live happy and healthy lives.
Adopted at birth by a family in Grand Haven, Dr. Bitner's upbringing was relatively normal. However, as a teenager, the family unit she'd known until that point became dismantled. Thankfully, in what would end up being a profoundly life-changing event, Dr. Bitner found herself taken in by a family she babysat for (Kathy and JB Gilleland), who remain her family to this day.
Upon seeing her potential, Kathy and JB would ask Dr. Bitner questions, affording her the space and time to process and realize for herself how she felt about something. Dr. Bitner recalled the buildup to earning enough money to study as a rotary exchange student in Brazil her sophomore year and its massive influence on the rest of her life.
"I was 15 and responsible for getting $1,000 in my bank account. It was two or three days before my trip and I only had $960," Dr. Bitner said, wrongly assuming at the time that her father would simply give her the $40 she needed. "I cleaned houses, I babysat, I did yard work … I returned a new pair of jeans and shoes I'd just gotten the day before."
In the nick of time, Dr. Bitner earned enough money for her trip, understanding how to take responsibility for herself in the process.
"I learned that I can't just wait for somebody else to do things for me—I have to do it myself," she said. This lesson is one that permeated through her education and continues to be present in her career today.
Inspired by the books centered on fictional WWII nurse Cherry Ames, Dr. Bitner knew from age 10 that she wanted to become a doctor. With tips and strategies for success from father JB (a physician himself), Dr. Bitner dug in. Upon attending Central Michigan University and graduating as valedictorian, she went on to receive her medical degree from Wayne State
WMW : WESTMICHIGANWOMAN.COM 19
SUYDAM
approachable. real. vulnerable. true.
University School of Medicine and completed her residency in obstetrics and gynecology at Butterworth Hospital.
In the years following, Dr. Bitner's career soared and she became proficient in the delivery of babies and procedures like hysterectomies. However, she eventually became motivated to narrow her focus after noticing a gap in care between what women need and what they receive with traditional medical care. Women would come to Dr. Bitner with questions about their sexual health and aging, drawing her toward a path that would allow her to comfort women in stressful situations and provide them with knowledge that they had options.
"I went to my first women's health meeting in 2003 and was blown away about how much we actually know about menopause and midlife, but it simply wasn't part of our education," she said. "Once I knew, I couldn't unknow all this knowledge—other women deserve to know, too."
Dedicated to becoming an expert, Dr. Bitner got to work. She joined the North American Menopause Society, was named the 2015 Menopause Practitioner of the Year, trained with the International Society for the Study of Women's Sexual Health, gave lectures and created a number of resources for women, including: The Sex Deck; the peer-reviewed Menopause Transition Scale; a nationally acclaimed book, I Want to Age Like That –Healthy Aging Through Midlife and Menopause ; and much more. It all clicked.
Since that meeting 20 years ago, the vision for a concierge practice dedicated to supporting women of any age with primary care, weight management, sexual health concerns, menopause care and more persisted in Dr. Bitner's mind. Today, as Chief Medical Officer and co-founder of "true. Women's Health," Dr. Bitner and her colleagues have brought that vision to life. After lots of "nos" and hurdles, "true." was established in June 2020 alongside co-founder and CEO Allyn Lebster, and now serves thousands of women in West Michigan in a truly personalized and innovative way.
"It was the scariest thing I'd ever done, besides getting divorced," Dr. Bitner said of taking the leap. "But doing this work has never been about me—it's been about women feeling safe. And I want to support women in living their truth, whatever that looks like."
The same way in which Dr. Bitner felt seen in her youth by people like Kathy and JB, her fourth-grade teacher and grade school librarian, is now how she in return sees her patients, offering them a place where they feel heard, acknowledged and understood. Dr. Bitner views "true." as a culmination of everything she's worked toward over the course of her life and hopes the practice lives on long after she eventually retires.
But for now, it's all about connecting women with the quality care they need.
20 OCTOBER/NOVEMBER 2023 : WMW COVER STORY
Dr. Bitner and Allyn Lebster. © Chase Loreto with Leverage Marketing Dr. Bitner and Dr. Domenic Federico. © Dr. Bitner
"It was the scariest thing I'd ever done, besides getting divorced. But doing this work has never been about me—it's been about women feeling safe. And I want to support women in living their truth, whatever that looks like."
"We're figuring out how we can reach more women with the team we have right now," Dr. Bitner explained, noting the possibility of potentially franchising "true." in the future. "How do we help other doctors and guide them into innovation in the same way? Because women deserve this kind of care—now."
From Dr. John MacKeigan and Dr. Domenic Federico to her loving fiancé Steve and intuitive Aunt Norma, Dr. Bitner is thankful for the wisdom bestowed upon her from her many professional mentors and personal supporters. She feels most like herself when she's connecting directly with patients, cooking and sharing quality time with her children (Megan, Pixie and Owen) and Steve's, relaxing on the water and cranking music during a stationary spin bike session. You may even catch her speeding (and sometimes drifting) by in a F3 race car.
Reflecting on her journey thus far, Dr. Bitner offers a reminder for others working toward their own goals:
"Getting to do what you want takes time, effort, vision and little steps that add up over time. Examine how you feel. Identify what's hard and name your barriers. Learn from the 'nos.' Trust your gut and always remember to do what's right." WMW
OCTOBER IS BREAST CANCER AWARENESS MONTH
Dr. Bitner reminds women to know their risk factors, including those related to lifestyle such as limiting alcohol consumption, leading an active lifestyle and incorporating fresh produce into your diet.
22 OCTOBER/NOVEMBER 2023 : WMW
COVER STORY
Identify what's hard and name your barriers. Learn from the 'nos.' Trust your gut and always remember to do what's right.
Dr. Bitner with Susanne Pettigrew, PA-C, MSCP and Dr. Celia M. Egan, MD, MSCP, DABOM. © Chase Loreto with Leverage Marketing
Skip Barber Lime Rock. © Dr. Bitner
SPECIAL SECTION Special Section Photos © Adobe Stock
WOMEN'S HEALTH
ADHD IN WOMEN: WHAT TO KNOW
BREAST IMPLANTS: CONSIDERATIONS AND UNDERSTANDING THE RISKS
BY
SARAH SUYDAM
ADHD IN WOMEN:
WHAT TO KNOW
Our understanding of ADHD has evolved over the years, especially as it relates to women. According to Dr. Shannon Drabek, a psychologist at Pine Rest's Psychological Consultation Center, ADHD was originally referred to as "hyperkinetic reaction of childhood," and it was not until around the 1960s that the American Psychiatric Association (APA) recognized it as a mental health condition. Diagnostically, ADD and ADHD have since been combined under the same umbrella, meaning ADHD presents itself in a number of ways.
"Gone are the days where we assume a 'one-size-fits-all' presentation for ADHD; there's much more nuance," Dr. Drabek said. "Our understanding
of ADHD is consistently evolving. Our current understanding is that there are both environmental and genetic components related to an ADHD diagnosis."
Dr. Drabek explains that experts now know that when making a diagnosis, many overlaps exist in symptom presentation between ADHD and other disorders, such as anxiety.
"No longer are we just looking for externalizing behaviors and specific decline in academic performance," she said. "We know that individuals who may be high achieving academic students may greatly struggle with focus and attention, especially as related to their peers."
SPECIAL SECTION
WOMEN'S + HEALTH COLLECTIVE
RETHINKING GYNECOLOGICAL
CARE FOR THE MODERN PATIENT
Pelvic Rehabilitation is the highly specialized treatment of the pelvic region, including the abdomen, low back and hips. From simple exercises to perform at home to lifestyle changes, patients will feel knowledgeable, comfortable and confident with their individual programs, while continuing to make progress long after pelvic rehab is over. Visit whcollective.com.
26 OCTOBER/NOVEMBER 2023 : WMW
SPECIAL SECTION
Photo © Emily Tillman
ADHD research, Dr. Drabek says, has been traditionally more heavily focused on biological males, undoubtedly leading to delays in diagnosis and referral bias. Today, however, more women are receiving ADHD diagnoses, a trend Dr. Drabek attributes to a deeper understanding of women's experiences by women themselves and their healthcare providers.
"Many women that come into my office not only didn't know they had ADHD growing up, but the possibility [of a diagnosis] was not offered to them," she said. "Women are amazing and are taking matters into their own hands, seeking referrals and testing by themselves as they're screaming from the rooftops: 'It's not just disruptive or impulsive behaviors that represent ADHD!' Women seem tired of suffering in silence."
According to Dr. Drabek, common ADHD symptoms in women are usually less obvious and can include: Trouble with sustained focus, namely on nonpreferred activities; indecisiveness; overspending; forgetfulness; losing or misplacing items; restlessness; fidgeting; trouble with multitasking; procrastinating; trouble keeping environmental space orderly; lack of full task completion; hyper focus on areas of interest; conversational impulsivity; emotional dysregulation;
WMW : WESTMICHIGANWOMAN.COM 27
Continued on page 30 ...
"Gone are the days where we assume a 'one-size-fits-all' presentation for ADHD; there's much more nuance," Dr. Drabek said. "Our understanding of ADHD is consistently evolving. Our current understanding is that there are both environmental and genetic components related to an ADHD diagnosis."
TRINITY HEALTH
PROVIDING SUPPORTIVE, INDIVIDUALIZED HEALTH CARE FOR WOMEN AT EVERY STAGE
Our team at Trinity Health understands how difficult it is for women to juggle their busy schedules. That's why we want to help to keep you feeling your best.
"Women's health is lifelong with potential new medical concerns through each stage of life," said Katherine Kirby, DO. "Routine preventative care visits help ensure education and monitoring of reproductive and gynecological conditions."
Women's health exams monitor your wellbeing. Unlike scheduling an appointment because you have a cold or flu, well-woman visits focus on each woman's unique health care needs. Our providers tailor each appointment to your age and lifestyle. Appointments focus on:
» Screening for medical issues.
» Establishing a baseline for your general health (monitoring health blood pressure and cholesterol).
» Discussing your mental health and any concerns.
» Assessing your risk for future medical issues.
» A physical exam and pap smear, if needed.
» Preventative screening for cervical or breast cancer.
» Updating vaccinations.
In most cases, you should schedule your first health screenings at the first signs of puberty and then we can provide personal recommendations for follow ups based on your age, sexual activity, and personal and family history. These visits also provide an opportunity to share any health concerns you may have and help you build a relationship with your provider.
To take charge of your health, don't wait to schedule an appointment until something goes wrong. Instead, play an active role in your health and wellness by booking regular women's health exams.
WMW : WESTMICHIGANWOMAN.COM 29
SPECIAL SECTION
See TrinityHealthMI.org/WomensHealth.
Trinity Photo. © Ariel Skelley | Katherine Kirby, DO. Photo © Riversedge Photography
RESOURCES:
Children and Adults with Attention-Deficit/ Hyperactivity Disorder
» chadd.org
Attention Deficit Disorder Association
» add.org
Pine Rest Christian Mental Health Services
» pinerest.org
trouble with time management; daydreaming; and comorbid anxiety and mood disorders.
"ADHD traits, especially for women, can be seen as a character judgment rather than understood as a mental health condition," Dr. Drabek said. "Women are more likely than biological males to have the predominantly inattentive form of ADHD, which often doesn't display as many external or disruptive behaviors, leading to symptoms being unnoticed or not as commonly associated with more traditional views of ADHD."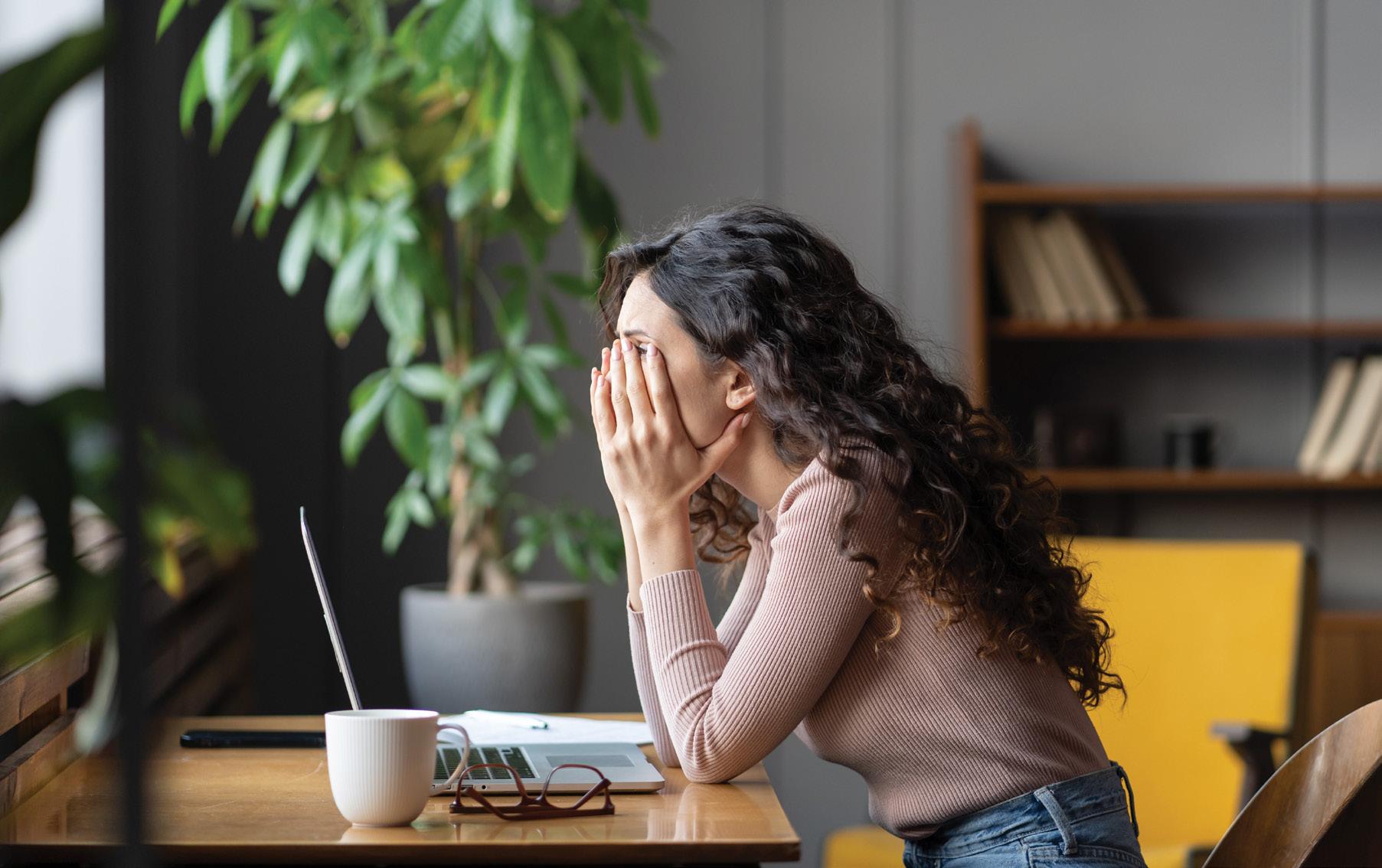 Starting to sound familiar? Dr. Drabek strongly recommends a comprehensive evaluation with a clinical psychologist, if so.
"This allows for an extensive clinical interview, collateral interview, review of developmental and historical information, performance-based testing, record review and self-report forms," she said. "It takes time to sort through potential underlying and overlapping symptoms—time that shouldn't be rushed and should be a collaborative discussion between client and examiner."
Oftentimes, referrals can be made to clinical psychologist practitioners who specialize in assessment and diagnosis, much like Pine Rest's Psychological Consultation Center.
"After such an assessment, a report is completed and reviewed with the client," Dr. Drabek said. "We make an effort to most clearly differentiate between diagnosis/es and to, most importantly, then suggest recommendations for treatment."
DR. SHANNON DRABEK Psychologist at
Rest's Psychological Consultation Center
30 OCTOBER/NOVEMBER 2023 : WMW SPECIAL SECTION
FEATURED IN THIS ARTICLE:
... continued from page 27.
Pine
Photo © Pine Rest Christian Health Services
HYPERBARIC WELLNESS CENTER
WHAT IS HYPERBARIC OXYGEN THERAPY?
Dr. Tony Aboudib, DC has brought hyperbaric oxygen therapy (HBOT) to the Grand Rapids area with the opening of the Hyperbaric Wellness Center—and for $100, you can try it yourself. Because damaged cells take longer to heal, or may not be able to heal at all, Dr. Aboudib knew that HBOT could help those who need it. In a hyperbaric chamber, air pressure is increased up to 3 ATA—many times higher than normal air pressure. Oxygen is dissolved into the body's fluids, plasma, bones and the central nervous and lymphatic systems, along with being carried into areas where circulation is diminished or blocked.
This allows extra oxygen to reach damaged tissues and for the body to support its own healing process. Increased oxygen also enhances the body's immune system and the ability of white blood cells to kill bacteria and viruses. It also reduces swelling and allows new blood vessels to grow more rapidly.
At Hyperbaric Wellness Center, two different hyperbaric chambers are available: The Hypercube (more space for those with claustrophobia) and the Fortis "Tube," set to slightly higher pressures.
A Functional Medicine and Functional Neurology practitioner, Dr. Aboudib attends many postgraduate programs, goes the extra mile for his patients and has found HBOT to be beneficial for many patients with a range of conditions. HBOT can work in conjunction with other treatments for conditions including:
» Cancer
» Long-Haul COVID
» Alzheimer's
» PTSD
» Traumatic Brain Injury
» Post-Stroke
» Diabetic Ulcers
» Eye Conditions
» Autism
» Lyme Disease
» Multiple Sclerosis
» Chemo Brain
» Soft Tissue and Fracture Healing
» Mold and Heavy Metal Toxicity
» Trigeminal Neuralgia
» Auto-Immune Disease
The clinic is offering a $100 introductory pricing for a one-hour HBOT initial visit. For a free consultation and to learn more about HBOT or any of Hyperbaric Wellness Center's alternative wellness treatments, call 616.608.7547 or visit hyperbaricwellnesscenter.com.
WMW : WESTMICHIGANWOMAN.COM 31
SPECIAL SECTION
Photo © Oxyhealth | Inset Photo © Hyperbaric Wellness Center
BREAST IMPLANTS:
CONSIDERATIONS AND UNDERSTANDING THE RISKS
The decision to get breast implant surgery is one that can be lifechanging in a positive way for so many. However, it's a decision that shouldn't be made lightly. Every individual's situation is different, as are their reasons for undergoing this procedure, so of course there are specific considerations and risks to know about. And by fully understanding your risks ahead of time, you'll be thoroughly equipped with the information needed to make the best decision for yourself.
To learn more, we tapped the expertise of Dr. Jessica Thompson, Breast Surgical Oncologist with Corewell Health West Comprehensive Breast Center.
Dr. Thompson shares certain factors that can increase one's susceptibility to risks associated with breast implants, including those with pre-existing medical conditions and/or autoimmune conditions, in addition to those who use tobacco. She emphasizes that individuals who may be contemplating breast implants should be aware of the various potential risks, some of which can present themselves right away or several years after implant placement.
32 OCTOBER/NOVEMBER 2023 : WMW SPECIAL SECTION
Individuals who may be contemplating breast implants should be aware of the various potential risks, some of which can present themselves right away or several years after implant placement.
"Early complications related to breast implant surgery include infection, hematoma, wound separation, thickened scarring, pain and temporary or permanent altered sensation," Dr. Thompson said. "Complications that may develop months to years following implant placement include implant deflation or rupture, capsule contracture, displacement, asymmetrical appearance, contour irregularities and emotional distress."
And while Dr. Thompson acknowledges that breast implant illness is not an official clinical diagnosis, it's still serious.
KEYSTONE PHARMACY
REVITALIZE YOUR WELLBEING WITH KEYSTONE COMPOUNDING PHARMACY'S TAILORED HORMONE REPLACEMENT PROGRAMS
Did you know? 80% of women will have some form of hormonal imbalance at some point in their lives. Hormones are the orchestra conductors of our health and keeping them balanced is key to harmonizing your vitality.
Imagine estrogen dominance, where mood swings, bloating and sleep disturbances reign. Conversely, estrogen deficiency might usher in mood slumps and bone health concerns. Then, there's progesterone deficiency, marked by anxiety, irregular periods and more. These imbalances aren't just discomforting—they can be life-altering. Our programs, guided by experts, address these issues at their roots. Therapy rekindles energy, balances moods and revitalizes cognition. Harnessing nature's power, our specialists optimize supplements to your unique needs, offering natural solutions like black cohosh and DIM, aiding symptom relief.
Ready for transformation? Booking an appointment is a breeze. Visit keystonerx.com or call 616.974.9792 and embark on a journey to revitalize wellness with Keystone Compounding Pharmacy, where science and nature align.
WMW : WESTMICHIGANWOMAN.COM 33
SPECIAL SECTION
Photo © Robin K. Photography
"[Breast implant illness] is a condition characterized by the manifestation of wideranging symptoms, such as fatigue, cognitive impairment, musculoskeletal pain, headache and rash," she said. "In certain circumstances, future surgeries may be indicated for maintenance, replacement or removal of breast implants."
There are a number of additional factors individuals should consider before making the decision to move forward with implants, including that the appearance of augmented or reconstructed breasts may be affected by weight changes, pregnancy and menopause.
"Individuals with silicone-filled implants are subject to asymptomatic implant rupture, therefore the FDA recommends screening with either MRI or ultrasound examination within five to six years following placement and every two to three years thereafter," Dr. Thompson said, noting these imaging studies are performed separately from screening mammograms for breast cancer detection.
According to Dr. Thompson, cancer development related to breast implants is a topic of ongoing research and medical discussion. Just last fall, the FDA shared that in rare cases, certain cancers may develop in the capsules surrounding breast implants.
"There have been a number of cases of breast implant-associated anaplastic large cell lymphoma (BIA-ALCL), a rare type of nonHodgkin's lymphoma, linked to breast implants," Dr. Thompson said, explaining that BIA-ALCL is not a breast cancer, but rather a malignancy of the immune system that develops in the scar tissue (capsule) or fluid that forms around the implant.
"The risk of BIA-ALCL is higher in those with textured-surfaced implants compared to smooth surfaces, presumably related to increased inflammation," she explained. "Additionally, the
FDA is investigating a possible association between breast implants and the development of squamous cell carcinoma and lymphomas other than BIA-ALCL, however there are very few reported cases documented."
Overall, Dr. Thompson says the risk of cancer related directly to breast implants appears to be low at this time, however, she notes it's important to promptly report new breast and/or implant-related changes to your healthcare professional.
Of course, for questions and insight relating to your own personal health and questions related to breast implants, be sure to talk to your doctor.
DR. JESSICA THOMPSON Breast Surgical Oncologist with Corewell Health West Comprehensive Breast Center
34 OCTOBER/NOVEMBER 2023 : WMW SPECIAL SECTION
FEATURED IN THIS ARTICLE:
The decision to get breast implant surgery is one that can be life-changing in a positive way for so many. However, it's a decision that shouldn't be made lightly.
Photo © Corewell Health
BEACON HILL AT EASTGATE
DECREASE YOUR RISK OF FALLING
Preserve mobility and promote confidence with a fall prevention strategy! As you age, falls can put you at risk of serious injury. With just a few simple tips, your fall risk can decrease tremendously:
» Stay physically active.
» Maintain a safe living environment.
» Improve lighting.
» Wear appropriate footwear.
» Use assistive devices.
» Be mindful of medication side effects.
» Regular vision and hearing check-ups.
» Exercise caution on wet or slippery surfaces.
» Be aware of your surroundings.
» Stay hydrated and maintain a healthy diet.
At Beacon Hill at Eastgate, a Life Plan Community, wellness is a large component of our programming. We provide many ways for residents to build strength for balance, like our Aqua Motion class—an easy and fun way to stay active in our indoor pool. Other fun exercise classes include Cardio Drumming, Dynamic Balance, Renewed Strength, Spin30, Walking Club and Yoga. See beaconhillgr.org
WMW : WESTMICHIGANWOMAN.COM 35
Photo © Justin Haylee Photography
SPECIAL SECTION
36 OCTOBER/NOVEMBER 2023 : WMW
PLAN AHEAD AND GIVE BACK WITH WOMAN'S LIFE!
Woman's Life Insurance Society values the confidence that comes with building financial security for yourself and your family, the community-based causes that matter most to you, and the connections that bring people together.
Life insurance from Woman's Life can help you plan ahead to protect your family from the financial burdens they may face should you pass. Owning your own coverage can provide positive options and financial support when it's needed most.
A Woman's Life fixed-deferred annuity can help you accumulate funds and prepare for your financially secure retirement. With competitive current interest rates, the security of a minimum guaranteed rate*, and affordable premium options, you can plan your future with confidence.
Woman's Life believes in the power of women coming together to make a difference and that connecting with others is essential to building a strong community. That's why Woman's Life provides a framework for women to build friendships and engage in community outreach.
The Woman's Life Chapter Financial Support Program** provides grants, matching funds, and other resources to support the nonprofit organizations, community causes, and individuals in need that matter most to you— from soup kitchens to scholarships and more!
Planning ahead for your financial security and giving back to help those in need are key to achieving your goals and living your best life.
*Current interest rates are not guaranteed and are subject to change but will never go below the guaranteed minimum rate as stated in your contract at the time of purchase. Speak with a Woman's Life Representative or call Woman's Life for complete costs and details.
**Chapter Financial Support Programs are available to active Woman's Life Chapters. Visit WomansLife.org for more detail.
WMW : WESTMICHIGANWOMAN.COM 37
VISIT WOMANSLIFE.ORG AND BUILD A BRIGHT FUTURE FOR YOURSELF, YOUR FAMILY AND YOUR COMMUNITY!
Photos © Woman's Life Insurance Society GENERAL ADVERTORIAL
SAVING FOR YOUR CHILD'S FUTURE
IIf you're a parent, setting your child up for future financial success is among the many considerations you have when it comes to managing your funds. But what are the best ways to go about ensuring your children are rewarded for your efforts down the line? We chatted with Leanne Rahn, Fiduciary Financial Advisor with Fiduciary Financial Advisors, to learn more.
Parents who are in a financial position to save for their child's future, Rahn explained, have the power to lay a solid foundation, whether through higher education savings, general savings or retirement savings. And while timing may vary based on one's own individual financial goals and situation, getting started sooner rather than later is recommended.
"If parents are taking advantage of putting their child's long-term savings into investment vehicles, compound interest will be on their side," Rahn said, noting the two most common mistakes parents can make are not prioritizing their own financial health and failing to utilize investment vehicles or vehicles earning more than bank rates. "Assuming we're talking long-term savings, having the savings be complacent in cash is really working against them. Inflation will eat away at the savings over time, leaving parents with less purchasing power when the time comes to use the funds. Investing doesn't always have to mean extremely risky and scary."
Rahn outlined some of her favorite ways parents can save for their child's future:
38 OCTOBER/NOVEMBER 2023 : WMW
FINANCIAL BY SARAH SUYDAM
529 Plan
"This is a tax-advantaged account where earnings grow tax-free (federal and state) if used for qualified education expenses," Rahn said. "Additionally, in Michigan, up to $10k a year in contributions are state tax-deductible (if married filing jointly; $5k a year if filing single). The main intention for this account would be saving for your child's future education and parents can reap great tax benefits from this vehicle. If funds are not used for education, the distributions will be hit with a 10% penalty, plus taxes will be due."
The list of qualified educational expenses under this plan has grown to include books, supplies, software, primary or secondary education (rules apply), certain room and board expenses, and more.
"The 529 Plan is a great tool to grow long-term education savings while receiving tax benefits and it can provide additional flexibility with any unused funds," Rahn said.
Roth IRA
While primarily thought of for retirement, a Roth IRA can also be a savings vehicle for your child's future. Because Roth IRAs are funded with after-tax dollars, owners have the ability to pull contributions at any time (tax and penalty-free) before the standard age of 59 ½.
"The key word here is contributions, not earnings. If a parent is thinking about using Roth IRA funds for education purposes, earnings can be pulled without penalties, however, taxes will be due," Rahn said. "Keep in mind that Roth IRA distributions will count as income for FAFSA purposes and can affect the amount of financial aid a student receives."
UGMA/UTMA Accounts
"Otherwise known as a Custodial Brokerage Account, a UGMA/UTMA is an account where savings can be used for any intended purpose, as long as it's in the benefit of the minor," Rahn said, sharing examples such as car savings, future business savings and education opportunities. "Note that UGMAs/UTMAs do affect financial aid ability and don't have special tax-advantages as it relates to education (like the 529 Plan or Roth IRA vehicles do). The tax benefit they may provide is not at the time of contribution, but rather at the time unearned income has been generated."
While these account types offer flexibility with your intention with the funds, it's important to note children gain full control of UTMAs/UGMAs once they reach the majority age of 18 in Michigan.
"If parents aren't comfortable giving their child full autonomy and control over their savings at the legal age, then this may not be the best savings vehicle," Rahn said.
According to Rahn, working with a fiduciary financial advisor can provide confidence, structure, and guidance on how to best grow your child's savings and ensure the plan is aligned with the timeline, risk tolerance and overarching goals.
"The biggest thing I'd encourage parents to consider before deciding on a vehicle is what they want the savings to be intended for," she said, adding that parents have a large influence on how children view money. "If we think about our own stories with money and how it was (or wasn't) talked about growing up, I guarantee it affects how we handle money today." WMW
The information contained herein has been obtained from a third party source which is believed to be reliable but is subject to correction for error. Fiduciary Financial Advisors LLC does not give legal or tax advice. The information contained does not constitute a solicitation or offer to buy or sell any security and does not purport to be a complete statement of all material facts relating to the strategies and services mentioned. Past performance is not a guarantee or representation of future results.
WMW : WESTMICHIGANWOMAN.COM 39
Financial Stock Photo © Adobe Stock
FEATURED IN THIS ARTICLE:
LEANNE RAHN
Fiduciary Financial Advisor with Fudiciary Financial Advisors
Photo © Mista Marie Photography
BY SARAH SUYDAM
GIRLFRIEND GETAWAYS
40 OCTOBER/NOVEMBER 2023 : WMW TRAVEL
Photo © VisitPalmSprings.com
SSometimes, you just need a good trip out of town with your best friends. Whether you're planning a trip for next year or next month, keep reading for some of our favorite out-of-state destinations for trips filled with unbridled fun, deep friendship and countless belly laughs.
Get a true Gulf Coast experience with a trip to the Bradenton area of Florida, which includes the pristine beaches and attractions of Anna Maria Island and Longboat Key. Accommodations abound, including Silver Surf Gulf Beach Resort and Waterline Villas & Marina, along with the newly opened Mello by the Beach—a charmingly mod escape.
Take the Gulf Island Water Ferry to downtown Bradenton, enjoy shopping on Pine Avenue, dine sustainably with a view at The Sandbar, elevate your beach time with the luxury cabana rental setup services of Beach Suites and more. You could even enjoy oceanside massages in an open-air tiki hut, thanks to Sea-Renity Eco Spa.
For an experience centering natural beauty, spirituality and wellness, a trip to Sedona , Arizona might be just the thing. Here, your group could take a Jeep tour to feel the mystic energy found at one of the area vortexes, open your minds with an intuitive or tarot card reading, practice yoga perched atop the destination's red rocks, enjoy a leisurely hike and more. Dining options also abound, like the healthy options found at the upscale Secret Garden Cafe and authentic dishes at Hiro's Sushi and Japanese Kitchen.
WMW : WESTMICHIGANWOMAN.COM 41
Top to Bottom: Photos © Serena Folding / Visit Portland, Serena Folding / Visit Portland, Arizona Office of Tourism, VisitPalmSprings.com
Heritage monuments and parks delve into the area's Native American culture and history, while a number of art galleries share the perspectives and creations of local artists and artisans. Also worth considering is admiring the area's gorgeous scenery from above with a hot-air balloon ride! And if you're up for a drive, the Grand Canyon is a mere two hours away.
In Portland , Maine, world-class eats, cobblestone streets and coastal vibes abound. Lay your heads at the Inn on Carleton, a fully restored 1869 landmark building in Portland's prestigious West End neighborhood, or take things in a more rustic direction with a stay at a nearby cabin or adventure resort. Fantastic views of the Portland Harbor and a bustling nightlife scene are easy to find in Old Port, while tours for almost anything you can think of allow for a true custom Northeast experience for your trip. Be sure to rent a bike on Peaks Island to truly feel the coastal air.
Of course, you can't leave Maine without enjoying some delicious eats. Try the Lobster Roll Flight at Highroller Lobster Co., the Belgian frites at Duckfat, and the oysters at Eventide Oyster Co. Reservations are highly encouraged!
For a trip that's all about lounging poolside and soaking up the California sun, look no further than Palm Springs , a desert oasis recognized for its year-round warmth, Desert Modernism architecture and LGBTQIA+-friendly community. Choose from a number of boutique hotels (many of which are adults only), including the neon-clad Saguaro Palm Springs, rustic-chic Sparrows Lodge, and nationally-recognized L'Horizon Resort & Spa.
When you're not lounging by the pool, see the sights with a ride on the Palm Springs Aerial Tramway, enjoy brunch on the patio at Spencer's (at the foot of the San Jacinto Mountains), hop aboard a cannabis bus tour, take a swing at one of the area's world-class golf courses and order a cocktail at Bootlegger Tiki.
42 OCTOBER/NOVEMBER 2023 : WMW TRAVEL
Left to Right: Photos © Zack Smith Photography, Bradenton Area Convention & Visitors Bureau / Madden Media, Chris Granger
The party vibes and rich cultural significance are strong in vibrant New Orleans , which is often recognized for its Mardi Gras celebrations. But if collecting beads down Bourbon Street isn't necessarily your thing, the Crescent City still has plenty to offer. Plan your trip around one of the city's many other festivals, enjoy a beignet and views of Jackson Square at Café Du Monde, sip on a sazerac during a walking cocktail tour, indulge in the sounds of live music on Frenchman Street, dine on signature New Orleans dishes on Muriel's cast iron balcony, shop the boutiques on Magazine Street and more.
New Orleans is also known for being one of (if not the most) supernatural places in the country. Exploring the spookier side of the city is simple, thanks to bountiful nighttime ghost or cemetery tours and a number of haunted hotels and attractions. Even vampire lore has found a home in the Big Easy. WMW
WMW : WESTMICHIGANWOMAN.COM 43 LEARN MORE ABOUT EACH DESTINATION: BradentonGulfIslands.com • VisitSedona.com • VisitPortland.com • NewOrleans.com • VisitPalmSprings.com
Photo © Bradenton Area Convention & Visitors Bureau
LIZ DELLA CROCE: INSPIRED DISHES AND VIBRANT FLAVORS
Since 2010, Liz Della Croce has grown a loyal following of health-conscious readers from all over the world as creator and author of The Lemon Bowl®, a healthy food and travel blog. Focusing on seasonal ingredients and whole foods, Liz's recipes are inspired by global flavors, including the Syrian and Jewish dishes of her childhood.
Liz's talents have been showcased through live tv appearances on the TODAY Show, in addition to various national publication features including Woman's World , Good Housekeeping , Real Simple , Shape , Food Network blog and more. In 2013, Liz founded Fresh Air Retreat, a high-level, intimate retreat connecting expert food influencers with brands to learn, grow, network and foster connections. She'll be hosting her 10th annual #FreshAirRetreat in Austin, Texas this fall.
WHAT MAKES YOU SO PASSIONATE ABOUT FOOD AND EATING WELL?
My dad is a doctor, so growing up I learned from an early age the power of food to help prevent disease. My mom would always take me to the Fulton Street Farmers Market on the weekends to stock up on seasonal Michigan produce including strawberries, asparagus, peaches and more. In my early 20s, through portion control and regular fitness, I achieved weight loss success.
WHAT'S YOUR ADVICE FOR SOMEONE WHO WANTS TO START COOKING MORE FOR THEMSELVES/THEIR FAMILY BUT ARE STRUGGLING TO FIND THEIR RHYTHM?
Taking 20 minutes to meal plan on a Sunday will save you hours throughout the week (and hundreds of dollars from avoiding takeout or the drive thru). Set yourself up for success by planning your meals for at least four to five nights of the week. I like to start by scoping out the flyer section at my local grocery store, then building a meal around what's on sale. Another tip is to cook once and eat twice. For example, I recently slow cooked a three-pound beef chuck roast on a Sunday, which I used throughout the week in salads, wraps, burrito bowls and more.
TALK ABOUT YOUR INVOLVEMENT WITH THE AMERICAN CANCER SOCIETY'S TASTE OF HOPE EVENT!
It's a huge honor to be returning for a second year to judge Taste of Hope 2023. As a home cook, I have so much respect and admiration for all the local chefs who make the Grand Rapids culinary and restaurant scene so rich and exciting. If you're a foodie looking for a fun night out with friends and colleagues, I highly recommend getting involved with Taste of Hope. Not only is it to raise much needed funds for ACS, but it's so important we show up and cheer on all of the hard working restaurant professionals who will be working hard to make the event a huge success. WMW
Q&A BY SARAH SUYDAM
S
Liz Della Croce.
out over 1,500 healthy and delicious recipes at TheLemonBowl.com, and follow Liz on social @TheLemonBowl.
Photo © Alejandro Photography
Check
TASTE OF HOPE: A CHEFS COMPETITION , a fundraising event hosted by the American Cancer Society, takes place on November 6, 2023 at Frederik Meijer Gardens. Learn more at acstasteofhopewmi.org.