SCENIC BYWAYS & ROAD TRIPS
Includes Fold-out Map Inside
Scenic Byways
1-2 GETTING STARTED Regions to Explore
3-22
PACIFIC COAST
Pacific Coast
Scenic Byway
Cape Flattery
Scenic Byway
Strait Of Juan
De Fuca Scenic Byway
Cranberry Coast
Scenic Byway
Hidden Coast
Scenic Byway
23-30
THE ISLANDS
San Juan Islands
Scenic Byway
Whidbey Scenic Isle Way
31-42
VOLCANO COUNTRY
Mt. Baker Scenic Byway
Chuckanut Drive
Mountains To Sound Greenway
White Pass Scenic
Byway
Chinook Pass
Scenic Byway
Spirit Lake Memorial Highway
43-52
CASCADE LOOP
Cascade Loop
Scenic Byway
Stevens Pass
Greenway
North Cascades
Scenic Highway
Whidbey Isle
Scenic Way
53-60
COLUMBIA GORGE
Columbia Gorge
Scenic Byway
61-70
NORTH
CENTRAL
Okanogan Trails
Scenic Byway
Coulee Corridor Scenic Byway
71-78
SOUTH
CENTRAL
Yakima River
Canyon Scenic Byway
Yakama Scenic Byway
79-88
NORTHEAST CORNER
Sherman Pass Scenic Byway
North Pend
Oreille
International Selkirk Loop
89-95
SOUTHEAST CORNER
Palouse Scenic Byway
Lewis & Clark Trail Scenic Byway
Published by Scenic365 LLC
1-877-260-2731 | info@scenicwa.com
Publisher: Jennifer Coleman
Sales & Marketing: Audrey Fraggalosch & Jennifer Coleman
Editorial: Audrey Fraggalosch
Publication Design & Illustrations: Sierra Rozario
Cover Photo: San Juan Islands ©Christopher Teren Photography
All rights reserved. ©2023 Scenic365 LLC.
Reproduction without written permission is prohibited.
INSIDE BACK COVER FOLD OUT MAP
Getting Started
Pacific Coast
The Islands VolcAno Country columbia
SCENIC WA 1
These 29 officially designated scenic byways pass through the varied geographic regions of Washington, reflecting the depth of its scenic, cultural and historic landscapes. Discover wild Pacific beaches, temperate rainforests, snow-capped volcanic peaks, wilderness lakes and rivers, desert coulees and canyons, rolling hills and vineyards– Washington delivers on the stunning and spectacular! river
gorge
Welcome to our insiders' guide to Washington's Scenic Byways and the best road trips in the Evergreen State.
To help plan your next road trip, this guide includes illustrated regional maps with points of interest and descriptions of byway routes and highlights. There's also a fold-out map on the inside back cover with all 29 scenic byway routes. Our Scenic Byways are the heart and soul of Washington and we hope to inspire you to hit the road soon!
SCENIC WA 2 @ScenicWA facebook.com/ 365WashingtonState Visit our website at ScenicWA.com to explore road trip ideas, feature stories and an interactive map! Order our full-size paper road map for FREE at Shop.Scenic365.com Cascade Loop Northeast Corner NORTH CENTRAL SOUTH CENTRAL Southeast Corner
Pacific Coast
©Capture.Share.Repeat
Pacific Coast
PACIFIC COAST SCENIC BYWAY
Length: 350 miles, US-101
Driving Time: 10 hours
Local Planning Resources: olympicpeninsula.org
CAPE FLATTERY SCENIC BYWAY
Length: 12 miles, SR-112
Driving Time: 30 minutes (each way)
Local Planning Resources: olympicpeninsula.org
STRAIT OF JUAN DE FUCA SCENIC BYWAY
Length: 61 miles, SR-112
Driving Time: 1.5 hours (each way)
Local Planning Resources: olympicpeninsula.org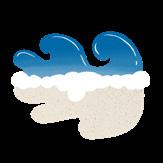 PACIFIC COAST
Port Townsend Forks Westport Long Beach Olympia Port Angeles 1 7 8 2 3 4 q 6 9 5
AT A GLANCE
1 Long Beach Peninsula
Discover 'the world's longest beach'. Explore 28-miles of continuous sandy beach, two lighthouses, a boardwalk and a paved oceanfront bike path.
2 World-class Fishing in Westport
The seasoned crews of the Westport charter fleet guide guests to fantastic fishing experiences that include Salmon, Halibut, Rock & Ling Cod, Crab, and Albacore Tuna.
3 Waterfall Trail
The Olympic Peninsula receives hundreds of inches of rainfall each year and is home to three temperate rainforests that are full of magical, misty waterfalls to explore!
4 Lake Crescent
Discover the pristine waters of this deep, glacially carved lake. You can camp on the shores or stay at Lake Crescent Lodge - an historic lodge and perfect launching point for your Olympic Peninsula adventure.
5 Cape Flattery
Be amazed by the dramatic headlands, seastacks and hidden coves at Cape Flattery. This is the northwestern most tip of the contiguous United States and is the ancestral home of the Makah people.
6 Hurricane Ridge
A place that makes you feel like you're on top of the world! Located near Port Angeles, Hurricane Ridge is the most easily accessed mountain area within Olympic National Park.
7 Port Townsend
Surrounded on three sides by water, Port Townsend is home to the largest Wooden Boat Festival in North America. Tour marinas and boatyards, or stroll through boutiques and galleries on Water Street.
8 Lake Cushman
Surround yourself in stunning beauty at the east entrance of Olympic National Park. Snow capped peaks, dense forests and mossy solitude await in this gorgeous area near Hoodsport.
9 Hood Canal Shellfish
Hood Canal offers a bounty from the sea. Many State Parks and DNR beaches are open for public shellfish harvesting; all you need is a license, boots, bucket and a sense of adventure!
q Thurston Bountiful Byway
This 60-mile route near Olympia offers many unique experiences - from farm fresh products crafted by local makers, to charming small town communities.
CRANBERRY COAST SCENIC BYWAY
Length: 49 miles, SR-105
Driving Time: 2 hours
Local Planning Resources: experiencewestport.com
HIDDEN COAST SCENIC BYWAY
Length: 41 miles, SR-109
Driving Time: 1 hour
Local Planning Resources: visitgraysharbor.com
PACIFIC COAST 6
Hummel Photography
Sequim Lavender
©Jason Hummel
Photography
Hood Canal Oysters
Pacific Coast Scenic Byway
The 350-mile Pacific Byway epitomizes the Evergreen State. It outlines the entire Olympic Peninsula, meanders through a national park and lush rain forests, along oyster-packed inlets and ocean beaches, then extends south to the border with Oregon. Plan to pack your binoculars and boots and take your time… you're in for a treat….anytime of the year!
Imagine strolling under the moss-draped canopy of an old-growth rainforest, hiking in alpine meadows with jaw-dropping mountain views, or walking along miles of wild and sandy beaches with sea stacks and tidepools all in the SAME day.
PACIFIC COAST 7
Above clockwise: Long Beach Boardwalk ©Jason
©Explore Hood Canal
Hood Canal
Enjoy spectacular scenery and world-class activities along the Hood Canal, a majestic saltwater fjord. Get out on the water …start with a dip or a paddle and top it off with a dive. The Canal is known among scuba divers worldwide for its gentle currents and curious rock formations. For guaranteed thrilling mountain and waterfall views, venture into Olympic National Park and Forest. Choose from easy day hikes with the family to overnight excursions.
This natural waterway offers unparalleled shellfish, shrimp, crab and salmon. Stop by a farm retail outlet or head to the beach to gather your own. There's a thriving culinary scene with farm-to-table dining experiences and some of the best tasting rooms in the Northwest. Oysters, wine, microbrews, live music, the West Coast Oyster Chucking Championship and so much more come together every year at the annual Oysterfest on the first weekend of October in Shelton.
Sequim Lavender & Dungeness Spit
Located in the "rainshadow" behind the Olympic Mountains, Sequim is famous for its endless sunshine and beautiful lavender fields. At local farms you can find lavender plants to take home and plant in your garden as well as all things lavender, including honey, tea, essential oils and more.
Nearby Dungeness Spit is the longest natural sand spit in the United States. Enjoy hiking along this gorgeous 5 mile sandy spit out to the historic lighthouse.
KITSAP PENINSULA
Formed by Puget Sound to the west and Hood Canal to the east, the Kitsap Peninsula is home to small welcoming communities like Bainbridge Island, historic Port Gamble, Scandinavian-inspired Poulsbo and the county seat, Port Orchard. Each has its own unique waterfront to explore.
PACIFIC COAST 8
Timed tickets are required for admission Open Tues–Sun, year-round | bloedelreserve.org ONE
GARDENS
—USA Today, 2020
OF THE 10 BEST BOTANICAL
IN THE U.S.
Strait of Juan de Fuca National Scenic Byway
Nestled along the Strait of de Fuca, this 61-mile coastal route begins west of Port Angeles. It's long on curves (249 all together) and is a favorite among those who love remote places where wild forests meets the sea. The historic fishing villages of Clallam Bay and Sekiu offer an authentic Northwest outdoor experience.
Cape Flattery Tribal Scenic Byway
The only tribal scenic byway in Washington, this 12 mile route leads to the northwest tip of the continent. This is the ancestral home of the Makah; visit the Makah Cultural Research Center to learn more about the tribe's history and culture. Don't miss the Cape Flattery Trail. This easy 0.75 hike leads to stunning views of Tatoosh Island with its historic lighthouse and the seemingly endless Pacific.
PACIFIC COAST 9
Above: Ozette Triangle, Olympic National Park ©Jason
Hummel Photography
Olympic National Park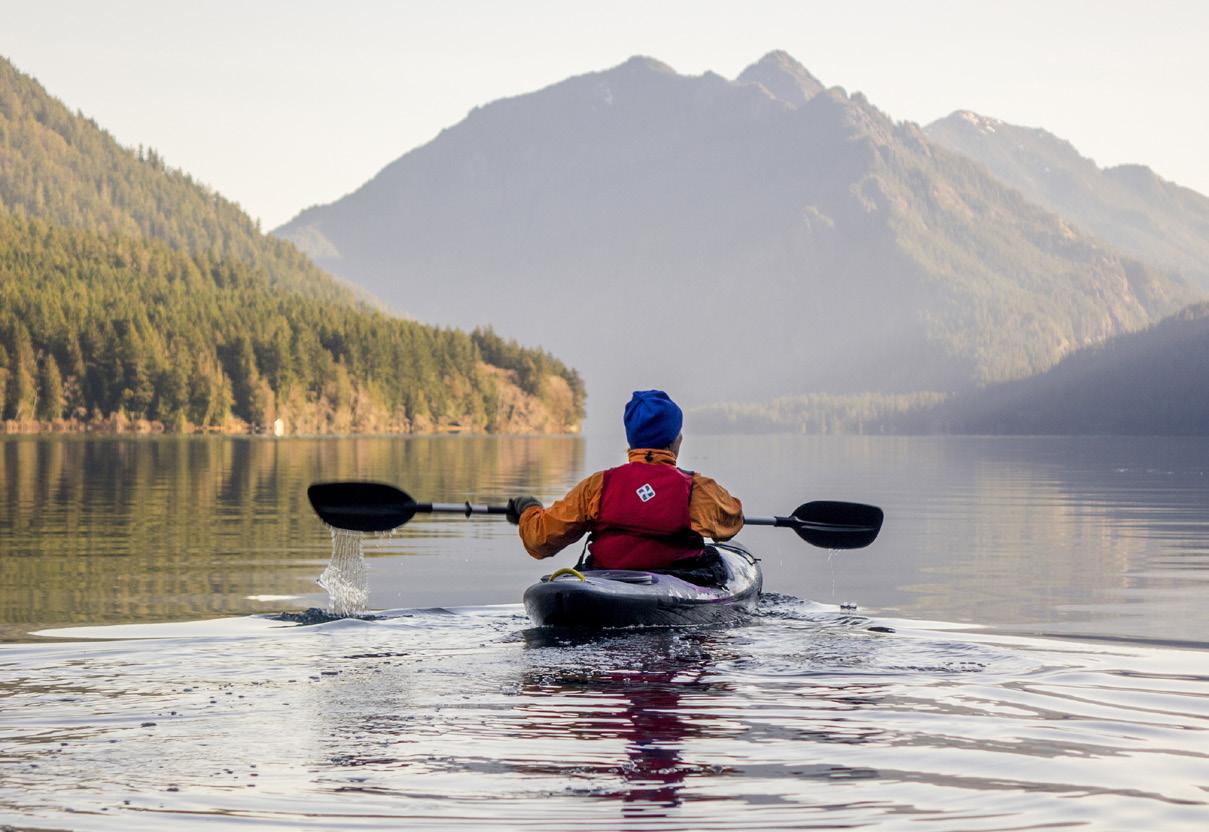 Hurricane Ridge, south of Port Angeles, provides the most popular access to Olympic National Park. A paved road twists and turns 17 miles up to the 5,200 foot summit. There you'll find jaw-dropping 360-degree views of mountain peaks, forested valleys, and the Pacific Ocean all the way to Canada. Hikers can spot marmots and deer, and enjoy alpine meadows full of lupine and glacier lilies.
Lake Crescent & Waterfalls
The drive along Lake Crescent is spectacular year-round. The sparkling sapphire color of the lake itself is worth the trip. Stop by the historic Lake Crescent Lodge, built in 1915. Near the lodge, the Storm King Ranger Station is the starting point for an easy 2-mile round trip hike to beautiful Marymere Falls. Hear the roar and feel the spray as the water drops nearly 90 feet into a small plunge pool. It's the perfect setting for a photo-op.
PACIFIC COAST 10
Railway in Washington's beautiful Olympic Peninsula! Book your reservation now! VCRAILRIDERS.COM
Pedal
the historic Simpson Logging Company
Above: Kayaking Lake Crescent ©Olympic Peninsula Tourism
Enjoy cozy coastal lodging inside Olympic National Park. TheKalalochLodge.com 866-662-9928 OLYMPIC GOLD
If you continue down the road heading west, it's a 20-mile drive and then easy hike in to Sol Duc Falls. The hike to the falls is beautiful with old growth trees amidst a lush rainforest landscape. Afterwards, enjoy a relaxing soak in the nearby 106-degree mineral pools. Waterfall buffs can find over 20 waterfalls on the Olympic Peninsula. For exact locations, checkout the waterfall trail brochure and map at: olympicpeninsulawaterfalltrail.com
Hoh and Quinault Rainforests
Don't miss the Hoh Rainforest, one of the last old-growth temperate rainforests in the western hemisphere. This is one of the most remarkable places on the planet! Annual rainfall measures in feet (14 feet a year is the average), so remember your rain gear.
PACIFIC COAST 13
Above: Hole in the Wall, Rialto Beach ©Michael Matti
✓ ✓ ✓ CozyBeachTown FreshSeafood SandyBeaches ExperienceWestport,Washington's favoritesurftown! ExperienceWestport.com PlanyourtriptotheWashingtonCoast!
RAZOR CLAMS
Razor clams are a Washington delicacy. Some of the best clamming can be found around Grayland and the unpopulated beaches north of Ocean Shores, from Copalis Beachto Moclips. Be sure to check with the WA Department of Fish & Wildlife for open clamming dates and requirements before you go!
Several hikes will lead you through the mossdraped canopy and among the ancient giants. Try the 0.8 mile Hall of Mosses trail for starters and you won't be disappointed. Wildlife and bird watching opportunities abound too!
In the Quinault Rain Forest you can also see and touch the world's largest Sitka Spruce. This towering giant is estimated to be roughly 1,000 years old, the tree stands 191 feet tall and 17.7 feet in diameter.
Pacific Beaches
If you're longing for waves crashing, gulls squawking, salt spray and whales spouting, we recommend checking out these beaches. Washington's beaches are often the rugged  "wear your shoes" kind of beaches. While beautiful in their own right, they're not always the sand between your toes kind. Be mindful of your footwear and the tides.
La Push and nearby First, Second and Rialto Beach offer fantastic rugged wild beach experiences and hikes. Low tides reveal shallow pools and other treasures. Watch for whales, sea lions and otters offshore, and a variety of seabirds gliding overhead.
Ruby Beach is famous for its reddish sand, magnificent sea stacks, driftwood and shallow tidepools. Enjoy hiking along one of the most pristine Pacific Ocean beaches on
Kalaloch pronounced (Clay-lock) is a wide sandy beach, perfect for beachcombing and birdwatching any time of the year. Stay at
PACIFIC COAST 15
Above: Ruby Beach
©Andy Porter Photography
Kalaloch Lodge, a legend in its own right, overlooking the ocean. They offer camping and cabins too. Gorgeous sunsets and rainbows add to the magic.
Hidden Coast & Cranberry Coast Scenic Byways
The Hidden Coast Scenic Byway is aptly named as Washington's coast is not always obvious and hides her treasures in bays and inlets. The North Beach area of Grays Harbor stretches from Ocean City to Moclips. Here you'll find unpopulated beaches that are perfect for beachcombing, clamming, and lingering over sunsets. This 41 mile route is a birdwatcher's delight, with thousands of migrating shorebirds stopping here.
Above clockwise: North Head Lighthouse ©Visit Long Beach Peninsula Tidepooling ©Jason Hummel Photography
Cranberry Harvest ©Capture.Share. Repeat
PACIFIC COAST 16
ACCOMMODATIONS
CHATEAU WESTPORT
Stay. Work. Play. Our oceanfront property offers an abundance of rooms to choose from, including ocean-view suites, kitchenettes, and dog-friendly rooms, all with high-speed internet.
710 S Hancock Ave, Westport, WA 98595
360-268-9101 | ChateauWestport.com
VACATIONS BY THE SEA
Oceanfront condos make the best headquarters for beach fun! Spacious 1 & 2 bedroom condos with all the comforts of home. Westport, Washington
360-268-1119 | vacationbythesea.com
EXPERIENCES
BIGFOOT SURF SCHOOL
Start your surfing adventure with BigFoot Surf School at Westhaven State Park - the place to learn to surf! Weshaven State Park, Westport, WA
360-515-7969 | Bigfootsurf.com
OCEAN
SPORT FISHING
The best outfit for bottom fishing for Black Rock Fish and Ling Cod, Halibut Fishing, Coho and Chinook Salmon and Albacore Tuna trips. Our boats are the Pacific Fin II and Good Life.
360-268-1000 | oceansportfishing.com
GRAYS HARBOR LIGHTHOUSE
At 107 feet tall, the Grays Harbor Lighthouse is the tallest lighthouse in Washington State! Visitors can climb 135 steps to the lantern room for breathtaking views for miles around.
1020 W Ocean Ave, Westport, WA 98595
360-268-6214 | wsbhs.org/lighthouse
INTERNATIONAL MERMAID MUSEUM
Teaching ocean ecology from seashore to sea floor immersed in mermaid mythology uniting world oceanic cultures. Open daily 11 to 6.
1 South Arbor Road, Aberdeen, WA 98520
360-648-2224 | MermaidMuseum.org
RESTAURANTS
ALOHA ALABAMA
Head to the Westport Docks to enjoy Washington's favorite southern BBQ with a Hawaiian Twist! 2309 Westhaven Drive, Westport, WA 98595
360-268-7299 | alohaalabama.com
BLUE BUOY RESTAURANT
Family owned restaurant with marina views and delicious breakfast & lunch options. Fresh, local seafood = superb crab omeletes and homemade clam chowder daily!
2323 Westhaven Drive, Westport, WA 98595
360-580-8065 | OPEN 7 days a week at 8am
PACIFIC COAST 17
REAL ESTATE SIPS
SPIVEY REALTY GROUP
Helping folks buy, sell, and invest in real estate in the simplest, most profitable way.
Grays Harbor Real Estate Made Simple.
101 N Montesano St. Westport, WA 98595
360-519-6886 | GraysHarborRealEstate.com
WINDERMERE - WESTPORT
Our professional brokers have over 110 years of combined experience in assisting clients buying and selling property on the South Beach. We look forward to hearing from you!
2601 Westhaven Dr. Westport WA, 98595
360-268-1234 | WindermereWestport.com
SHOPS
TIDES & ANCHORS BOUTIQUE
CLASSY. COASTAL. CASUAL. Comfy clothing, candles and candy, family friends and the furry, find the BEST the beach has to offer at Tides and Anchors Boutique!
2421 Westhaven Dr. Westport, WA 98595
(360) 268-7730 | Open 7 Days A Week!
WESTPORT WINERY GARDEN RESORT
Home of Ocean's Daughter Distillery, the Sea Glass Grill, and the International Mermaid Museum. All ages welcome. Open daily 11 to 6
1 South Arbor Road, Aberdeen, WA 98520 360-648-2224 | WestportWinery.com
Westport'sFreshCatch
Westport'sFreshCatch
MERINO'S SEAFOOD MARKET
MERINO'S SEAFOOD MARKET
MERINO'S SEAFOOD MARKET
Not just a seafood market, we are "The Taste of Westport" from Fresh Fish, to Premium Canned Seafood, Custom Processing, and now Fish N' Chips.
Not just a seafood market – we are "The Taste of Westport". We offer fresh fish, premium canned seafood, custom processing, and Fish n' Chips!
301 Harbor Ave, Westport, WA 98595
Not just a seafood market, we are "The Taste of Westport" from Fresh Fish, to Premium Canned Seafood, Custom Processing, and now Fish N' Chips.
301 Harbor Ave. Westport, WA 98595
360-268-5009 | merinoseafoods.com
360-268-5009 | merinoseafoods.com
BRADY'S OYSTERS
301 Harbor Ave, Westport, WA 98595 360-268-5009 | merinoseafoods.com
BRADY'S OYSTERS
BRADY'S OYSTERS
Head to Brady's for oysters, fresh or smoked fish, crab and clams! Don't forget to grab a famous bumper sticker while you're there.
3714 Oyster Place E, Aberdeen, WA 98520
360-268-0077 | bradysoysters.com
Head to Brady's for oysters, fresh or smoked fish, crab, and clams! Don't forget to grab a famous bumper sticker while you're there.
Head to Brady's for oysters, fresh or smoked fish, crab and clams! Don't forget to grab a famous bumper sticker while you're there.
3714 Oyster Place E, Aberdeen, WA 98520
SEAFOOD CONNECTION
360-268-0077
3714 Oyster Place E, Aberdeen, WA 98520 360-268-0077 | bradysoysters.com
Fresh, local seafood. Dungeness Crab, Albacore Tuna, shellfish and more. Family friendly business with responsibly sourced product. Fisherman owned and operated.
SEAFOOD CONNECTION
SEAFOOD CONNECTION
Fresh, local seafood from a family-friendly, fisherman owned-and-operated business. We have Dungeness crab, Albacore tuna, shellfish, and more – all responsibly sourced.
Float 8 Westhaven Dr. Westport, WA 98595 360-268-1328 | Open 7 days a week!
Fresh, local seafood. Dungeness Crab, Albacore Tuna, shellfish and more. Family friendly business with responsibly sourced product. Fisherman owned and operated.
Float 8 Westhaven Dr. Westport, WA 98595
Float 8 Westhaven Dr. Westport, WA 98595
360-268-1328 | Open 7 days a week!
360-268-1328 | Open 7 days a week!
PACIFIC COAST 18
BURIED TREASURES
People of all ages love to comb the beaches looking for treasures, anything from sand dollars, shells, sea glass, and agates to fishing debris and Japanese glass fishing floats.
Further south in Grays Harbor, explore the Cranberry Coast Scenic Byway, named in honor of the tart berry farmed in bogs. Cranberries once grew wild here, and the wild beauty of the Pacific is what this scenic byway is all about. Fly a kite, hook a salmon or catch a wave along this 48 mile maritime route.
Westport
Westport is a cozy little beach town, true to its roots and maritime heritage. Visitors will enjoy exploring the local seafood markets, restaurants, and beach-themed shops sprinkled throughout this seaside town, offering a little something for everyoneincluding locally caught fresh and smoked seafood, candy shops, and of course, ice cream. A short walk down the docks, and you'll get a sense of the lively marina district. Watch the commercial fishing boats coming and going or drop your fishing line or crab pots. In the summer, head to the docks for the opportunity to purchase seafood directly from the local fishermen.
Every year people from around the world come to Westport for its world-class sportfishing. Fishing put Westport on the map, and salmon is one of the most exciting sport fish ever known. The Westport charter fleet's seasoned crews guide people to fantastic fishing experiences that include Salmon, Halibut, Rockfish, Lingcod, Crab, and Albacore Tuna. All ages and levels of experience are welcome.
A whale watching or birdwatching charter is also a thrilling way to get out on the water.
PACIFIC COAST 19
Above: Riding the Waves in Westport ©Capture. Share.Repeat
California Gray Whales can be seen off the Washington coast every year in March, April, and May. If you're interested in seabirds, take a charter boat offshore to view unusual species like puffins, shearwaters, stormpetrels, skuas, and if you're lucky, albatross. People don't often think about surfing in Washington's cold waters, but Westport is recognized as one of the most popular surfing destinations in Washington, Oregon, and British Columbia. There are three main surf breaks, which can accommodate every skill level from beginner through advanced. The consistency of surfable waves and the frequency of clean surf combined with convenient access gives surfers a reason to take the easy drive to the coast.
All maritime lovers will enjoy visiting the Westport Maritime Museum, a former Coast Guard Station, and the Grays Harbor Lighthouse - the tallest lighthouse in Washington with a 360° view.
If you're looking to disconnect and recharge, Westport offers miles and miles of easily accessible beaches for walking, beachcombing, wading in the water, kite flying, or just relaxing in the sand. Looking for solitude, find your special spot to sit and watch the waves, keeping an eye out for migrating seabirds, whales, and other local wildlife. Gorgeous summer sunsets and exciting winter storm watching make the beach popular year-round.
WASHINGTON'S TALLEST LIGHTHOUSE Discover
Washington's tallest lighthouse! Grays Harbor Lighthouse stands 107-feet tall. Visitors can climb the 135 steps up to the lantern room to take in unobstructed views of the Pacific Ocean and the nearby town of Westport.
PACIFIC COAST 20
LONG BEACH KITE FESTIVAL
For colorful fun in the sun, don't miss the annual summer Kite Festival! You can join the fun with your own kite flying adventure on the longest beach on the West Coast.
Long Beach Peninsula
With 28 miles of sandy spit, and the longest beach on the West Coast, the Long Beach Peninsula is THE place for beachcombing, chasing waves, pounding surf and so much more! This popular year-round destination is sought out not only for its expansive beach, but also for its historic lighthouses, small towns and working waterfronts, kite festival, and abundant fresh seafood-Willapa Bay oysters, Dungeness crab, butter clams and salmon to name a few. Talented chefs are drawn to the region for its abundance.
A family favorite for generations, the lively town of Long Beach offers colorful shops, renowned restaurants, an arcade, go- carts and a great boardwalk above tall grasses.
Three miles south of Long Beach, visit the port town of Ilwaco with its working waterfront lined with art galleries, boutique hotels, fishing charters and a summer Saturday market.
South of Ilwaco at the southern base of the peninsula, explore Cape Disappointment State Park and the Lewis and Clark Interpretive Center. Don't miss the two nearby lighthouses, Cape Disappointment and North Head, which
PACIFIC COAST 21
VisitLongBeachPeninsula.com The Coast is Calling.
At the north end of the peninsula visit historic Oysterville and Leadbetter State Park. This oceanfront park borders the Willapa Bay National Wildlife Refuge, a haven for shorebirds.
JOHN WAYNE'S WATERFRONT RESORT
A quiet, relaxing waterfront retreat with 9 fully equipped cabins. Spacious RV sites with full hook-ups, cable television and Wi-Fi. Located on the calm waters of Sequim Bay, near the Northeast entrance of Olympic National Park.
360-681-3853 | www.johnwayneswaterfrontresort.com
OLD ALCOHOL PLANT INN - PORT HADLOCK
Escape from the everyday along the shores of Port Townsend Bay on the Olympic Peninsula. Walk through our onsite sustainable gardens, enjoy the rotating art exhibits or dine in Spirits Bar & Grill or simply enjoy the harbor views from one of 25 unique boutique suites.
360-390-4017 | www.oldalcoholplant.com
PORT GAMBLE GUEST HOUSES
Historic waterfront vacation rentals close to Seattle, offering a quiet and private "home away from home." Located in the picturesque town of Port Gamble, one mile east of the Hood Canal Bridge.
360-447-8473 | www.portgambleguesthouses.com
THE CANTERBURY INN - OCEAN SHORES
Cozy accommodations in Ocean Shores - voted as one of the best vacation getaways in Washington! Explore six miles of sandy beach, 23 miles of interconnecting fresh water canals and a quaint beach town.
360-289-3317 | www.canterburyinn.com
VISIT SUNNY SEQUIM
Friendly faces, local lavender, unique shops and outdoor adventure can all be found in sunny Sequim, Washington!
800-737-8462 | www.visitsunnysequim.com
EXPLORE THE SHORES
Discover Washington's favorite getaway at Ocean Shores! Enjoy miles of sandy shoreline, fresh-water canals, and family friendly activities & events in this beachfront getaway.
360-289-4411 | www.tourismoceanshores.com
THE GREY GULL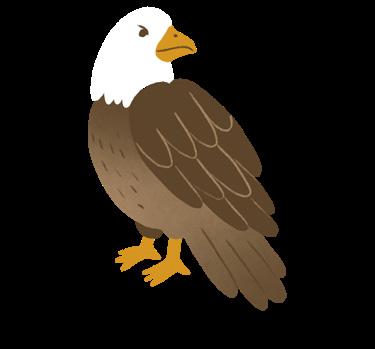 The Grey Gull in Ocean Shores is Washington's favorite for a coastal getaway. Condominium-style rentals with fireplaces, balconies and kitchenettes. Outdoor pool and spa, dry sauna, BBQs, picnic area, fire pit, and access to the beach.
360-289-3381 | www.thegreygull.com
RED LION HOTEL - PORT ANGELES HARBOR
Nestled between the Strait of Juan de Fuca & Olympic National Park, this is the perfect home base for adventure! Newly renovated waterfront rooms are perfect after a day of exploring. All the comforts of home, and they're pet-friendly!
360-452-9215 | www.portangelesharborhotel.com
PACIFIC COAST 22
The Islands
©Carina Skrobecki Swain
San Juan Islands & Whidbey Scenic Isle Way
SAN JUAN ISLANDS SCENIC BYWAY
Length: 120 miles (includes 30 mile ferry ride)
Driving Time: 2.5 hours
Local Planning Resources: visitsanjuans.com
WHIDBEY SCENIC ISLE WAY
Length: 54 miles, SR-20 & SR-525
Driving Time: 75 minutes
Local Planning Resources: whidbeycamanoislands.com
San Juan Island
Orcas Island
Lopez Island
Whidbey Island
Camano Island
1 2 6 3 5
Located on Fidalgo Island, this vibrant coastal community is accessible by bridge. Anacortes is the perfect launching point for kayaking excursions or a day trip into the San Juan
Washington State Ferry Drive or walk aboard a Washington State Ferry for the ultimate Pacific Northwest experience.
Known as the 'gem of the San Juans', Orcas Island is home to an eclectic mix of arts and culture, lush forests, pristine lakes and Mt. Constitution - the highest point in the San
Lime Kiln Lighthouse
Explore Lime Kiln Point State Park located on the west end of San Juan Island. The lighthouse is perched on a rocky outcropping and is the perfect place to watch for whales. This park is known as the best place to see whales from shore!
5 Deception Pass State Park
Explore miles of saltwater shoreline, old growth forest and breathtaking views from over 35 miles of trails woven through this most visited state park in WA.
6 Oak Harbor
Oak Harbor is named for the native Garry oak trees that grew in abundance there. Smith Park, located downtown, is a treasure trove of Garry oak trees, giving visitors a sense of what it must have been like when acres of oak trees dominated the landscape.
7 Fort Casey
This historic state park includes a marine camping area, a lighthouse and sweeping views of Admiralty Inlet and the Strait of Juan de Fuca.
8 Langley
This charming 'village by the sea' is surrounded by lush forests and distant views of the Cascade Mountains. Explore Seawall Park, a small but scenic park along Langley's main street with picnic tables, beach access and a great view of Saratoga Passage.
As you drive off the ferry, take a deep breath and relax into Island Time. Everything moves at a slower pace here. You'll notice there's less traffic and the rural countryside is a welcome sight for city eyes. Watch for bald eagles soaring above and water views that will keep you gasping with delight. Keep an eye out for artist's studios, romantic wineries, and quaint farm stands that sell fresh veggies.
Don't just drive by, stop and enjoy the beauty and bounty of island life. Ask the locals about their favorite places to eat or just walk the beach. You'll be surprised at how many choices you have. There is a highly developed food and craft beverage scene here. Breathe, relax and unplug!
FERRY CROSSING TIMES
Anacortes – Lopez Island: 50 mins
Lopez Island – Orcas Island: 40 mins
Orcas Island – San Juan Island: 60 mins
Mukilteo – Clinton (To Whidbey Island) 20 minutes
ISLANDS 26
GLANCE
AT A
DECEPTION PASS
Deception Pass Bridge spans the gap between Whidbey Island and Fidalgo Island. This iconic bridge opened in 1935 and depending on the tide, sits about 18 stories above the water, creating a spectacular frame for this saltwater canyon.
There's something about Whidbey Island that attracts artists. As a result, you'll discover many galleries, art walks and open studio tours all year long.  It's also rich in history with historic forts, lighthouses and Ebey's Landing National Historic Reserve.
In historic Coupeville, be sure to pick up a walking-tour map of more than 50 buildings listed on the National Register of Historic Places. Many of these house waterfront shops, art galleries and restaurants. Top chefs, local wine and craft brews, farmers markets with fresh organic produce, there's everything a foodie could want hereincluding a Musselfest to celebrate the world famous Penn cove mussels.
On the south tip of Whidbey, Langley is the perfect seaside town to slow down for a weekend, while enjoying an array of quaint
ISLANDS 27
Above clockwise: ©Jason
Hummel Photography Whidbey Scenic Isle Way
shops and restaurants. This is also a great place to watch gray whales feeding near shore from February through May.
Camano Island

The unique appeal of Camano Island is that it offers visitors a remote island experience without waiting in line for a ferry. Don't expect trendy tourist traps. There are a few restaurants, art galleries, country-style grocery stores and bed and breakfasts to welcome visitors. Here you can walk on wideopen, uncrowded beaches with spectacular sea and mountain views.
San Juan Islands Scenic Byway
A trip to the San Juan Islands includes one of the most scenic ferry rides in the state and each of the four islands that the ferry stops at has a distinct vibe. Enjoy the gorgeous scenery, local farm-to-table dining, and wildlife watching, notably orca whales.
San Juan Island welcomes visitors at Friday Harbor with water view restaurants, shops, galleries, and the Whale Museum. Orcas Island is known for its pottery, vibrant food culture, the historic Rosario Resort and Moran State Park. No trip to Orcas Island is complete without a visit to the top of Mt. Constitution (2409 ft) with its panoramic views of the Islands.
Lopez Island offers great cycling and beachcombing at Spencer Spit State Park. The smallest of the 4 islands with ferry service, Shaw Island has limited camping and visitor amenities.
ADMIRALTY HEAD LIGHTHOUSE
This lighthouse is a must-see. It sits on a bluff in the center of Fort Casey on Whidbey Island. The lighthouse, is staffed by friendly, knowledgeable volunteers, who also expertly maintain it.
ISLANDS 28
Make part of your Friday Harbor experience We're walking distance from the mainland! whalemuseum.org Open Daily • 360-378-4710 ext. 30 62 First St. N., Friday Harbor, WA, 98250
The protected waters around the San Juan Islands are perfect for kayaking, sailing, fishing, whale watching, and birding. Many of the smaller islands and rocks are wildlife refuges that provide homes for birds,
WATCHING
Endangered orca (or killer) whales live in the San Juan Islands year-round, and this is one of the best places in the world to see them in the wild. Visit Lime Kiln Point State Park on San Jusan Island, commonly know as Whale Watch Park-the only park in the world dedicated to shore-based whale watching.
Anacortes is home to thousands of boaters and the Washington State Ferry Terminal that connects travelers to the San Juan Islands. It's easy to get out on the water here with whale watching cruises, kayak tours, and fishing charters. Kayakers love the city's Seafarers' Memorial Park, which features a pristine cove and its own small boat dock. On the Fidalgo side of Deception Pass State Park, many kayakers choose to launch from Rosario Beach. Also popular among those interested in the south Fidalgo area are the Deception Pass boat tours. On terra firma, walkers, hikers, and cyclists can explore over 50 miles of multiuse trails in the Anacortes Community Forest Lands.
Downtown Anacortes charms with antique stores, boutique shops, art galleries and plenty of eateries. Every summer Anacortes celebrates its maritime heritage with the fun-filled Waterfront Festival and its local artists with the renowned Anacortes Arts Festival. Anacortes has something for everyone to enjoy.
ISLANDS 29
Explore a truly unique Scenic Byway experience, with two island driving tours and a marine highway! VisitSanJuans .com Orcas Island • San Juan Island / Friday Harbor
A treasured attribute of island living is the miles of marine coastline waiting to be explored.
Volcano Country
©Scenic Washington
MT. BAKER SCENIC BYWAY
Length: 58 miles, SR-542
Driving Time: 1.5 hours (one way)
Local Planning Resources: bellingham.org
CHUCKANUT DRIVE
Length: 24 miles, SR-11
Driving Time: 45 minutes
Local Planning Resources: bellingham.org
MOUNTAINS TO SOUND GREENWAY
Length: 101 miles, I-90
Driving Time: 1.5 hours
Local Planning Resources: mtsgreenway.org
VOLCANO COUNTRY 33
Volcano
Bellingham Burlington Everett Centralia Enumclaw Seattle 1 2 6 7 4 5 3
Country
AT A GLANCE
1 Peace Arch State Park
Visit the only Washington state park that consists of two parks in two countries. Created as a symbol for peace, the dramatic Peace Arch rises from the lawns and flowering gardens on the U.S./ Canada border in Blaine.
2 Artist Point
Located at the end of the Mt Baker Byway, Artist Point boasts 360-degree views of Mount Shuksan and Mount Baker, as well as access to many hiking trails. Accessible from Julyearly October.
3 Savor Bellingham Award winning restaurants offering locally sourced ingredients. Craft beverage culture means many craft breweries to choose from, but also cideries, distilleries, wineries, local kombucha, and more.
4 Padilla Bay National Estuarine Research Reserve
Located in Skagit Valley, an easy walk along the shallow bay offers views of the mud-flats and surrounding estuary. Stop in to the interpretive
center to learn about the ecosystem of Padilla Bay.
5 Skagit Valley Tulip Festival
This annual event, designed as a driving tour with multiple access points, is held from April 1-30 and celebrates millions of tulips bursting into bloom.
6 Snoqualmie Falls
One of WA's most visited waterfalls, the falls make a dramatic 270-foot plunge from a cliff with multiple viewing points, above and near the pool at the bottom.
7 Seattle Space Needle
From 520-feet above ground, you can trace the outlines of the Cascade Mountains against the horizon, enjoy views of Mt. Rainier or track ferries and boats as they cruise through Elliott Bay.
8 Mount Rainier
Be amazed by the views at Reflection Lakes. One of the most iconic views of Mt. Rainier can be found here - in summer, the lakes are bordered with dazzling wildflowers.
9 Mount St. Helens
Experience the amazing landscape of a volcanic blast zone! See nature's amazing ability to emerge from ashes to regrow the forest.
WHITE PASS SCENIC BYWAY
Length: 119 miles, US-12
Driving Time: 2.5 hours
Local Planning Resources: whitepassbyway.com
CHINOOK PASS SCENIC BYWAY
Length: 85 miles, SR-410
Driving Time: 3 hours
Local Planning Resources: visitrainier.com
SPIRIT LAKE MEMORIAL HIGHWAY
Length: 52 miles, SR-504
Driving Time: 1.25 hours (one way)
Local Planning Resources: visitmtsthelens.com
VOLCANO COUNTRY 34
Above: Hiking Near Mt. Adams ©Jason
Hummel Photography
Did you know that the tallest mountain peaks in Washington are volcanoes? You can see their huge snow-capped domes from miles away. The tallest of these is Mount Rainier at 14,410 feet, capped with more than 35 square miles of snow and ice year-round. After Mount Rainier, the next tallest mountains are Mount Adams, Mount Baker, Glacier Peak and Mount St. Helens. Enjoy exploring volcano country!
Bellingham
Mount Baker, also known as Koma Kulshan, is a 10,781 foot glaciated volcano in the North Cascade Mountains. Make Bellingham your base camp for fun excursions to the mountains and nearby islands. Savor farm-to-table menus, craft brews, family moments, a vibrant arts scene and charming historical treasures. Bellingham,
VOLCANO COUNTRY 35
WA 360.756.1005
Waterfront Hotel Luxurious Spa Lively Restaurant Special Events
thechrysalisinnandspabellingham.curiocollection.com
A Road With A View!
bellingham.org
MOUNT BAKER
Mt. Baker offers one photo op after another! Many people take photos of Mt. Shuksan from Picture Lake thinking it is Baker. Just remember that volcanoes are cone-shaped and head to Artist Point (only open from JulyOctober) for the Baker shot!
Mount Baker Scenic Byway
Mount Baker Scenic Byway winds along the banks of the Nooksack River, through small logging communities, past waterfalls and alongside an old-growth forest. This 58-mile trek ends at the base of a 10,781foot volcano. Mount Baker has some of the most photographed scenes in the Pacific Northwest, including Picture Lake with its Mount Shuksan backdrop. The end of the road at Artist Point is only open between July-October (due to excessive snowfall) and is a popular destination for summer hikes with panoramic views. You can enjoy a variety of hikes from easy to longer day or overnight trips.
In winter, deep powder and record snowfall delight skiers and snowboarders.
Chuckanut Drive Scenic Byway
The Chuckanut Drive Scenic Byway is renowned for its gorgeous Salish sea and San Juan Island views. This 24-mile trip hugs the sheer sandstone cliffs of the Chuckanut Mountains—the only place where the Cascades meet the sea—and offers views of the San Juan Islands along the way.
Start or end in the historic walkable district of Fairhaven, at the south end of Bellingham. Here you'll find boutique shops, great eats, art galleries, waterfront hotels and more. A sunset walk or paddle along nearby Taylor Dock is a perfect ending to your day!
Mount Rainier National Park
Soaring up to 14,410 feet, Mount Rainier stands as an icon in the Washington landscape. It towers above Seattle and locals talk about "the mountain being out" on clear days, as if it were the sun. The gateway to Mt. Rainier is actually south of Seattle, past Tacoma. If you have time check out the Museum of Glass and the Le May-America's Car Museum in Tacoma. From Tacoma you can take the Nisqually entrance to the Park.
VOLCANO COUNTRY 37
Above:
Mt. Rainier National Park ©Greg Balkin
Crystal Mountain Gondola
When it comes to activities, there is no shortage of fun from guided horseback rides to miles of hiking trails that start at the base and climb to the summit. Take a ride on the gondola to the top and enjoy a leisurely hike down the mountain as you pass through beautiful alpine lakes and acres of wildflowers.
Paradise
There are few locations within the entire national park system as stunning as Paradise. It is nestled on the south slopes of Mount Rainier at an elevation of 5,400feet among wildflower meadows punctuated with glistening snowfields and groves of gnarled firs and hemlocks. In addition to its breathtaking scenery and role as a portal into the surrounding wilderness, park visitors will find an array of services, including the beautiful historic 1916 Lodge.
White Pass Scenic Byway
If it's majesty you crave, this is your route! Sitting sentry on your drive are three volcanoes—Mt. Rainier, Mount St. Helens
TIPSOO AT THE TOP
On the White Pass Scenic Byway, the best view of Mt. Rainier is at the Goat Rocks Viewpoint on the west side of White Pass. At Chinook Pass, the most frequently photographed area is Tipsoo Lake at the pass summit.
PLAN YOUR TRIP OVER 300 VEHICLES | CAFÉ ON-SITE Tacoma, WA | Open Thursday – Monday | 10am 5pm americascarmuseum.org
WILDFLOWERS LOOKOUT TOWERS? Hike or bike, glamp or camp, backpack or horseback… or Find trip ideas at visitrainier.com There's no wrong way to Rainier
summertime; there are plenty of lakes to take a dip in. A tent will serve you well as camping is plentiful along this route. The meadows, lakes and hills of this landscape are home to wildlife such as elk, bighorn sheep and black bears. Eagles and red-tailed hawks are your constant companions as you head east.
Chinook Pass Scenic Byway
Running from the rolling fields of Enumclaw west of the Cascades to the Naches Valley east of the range, the Chinook Pass Scenic Byway offers glimpses of majestic Mount Rainier—one of the tallest mountain peaks in the U.S. Lake Tipsoo at the summit is a great rest stop to take photos and stretch your legs. Be sure to load up on fresh-picked fruit and vegetables at the many roadside stands in the Naches Valley.
MOUNT RAINIER FOR WINTER FUN
Mt. Rainier National Park and the surrounding area offer fantastic places for skiing (downhill and backcountry), snowboarding and snowshoeing.
VOLCANO COUNTRY 40
Above: Crystal Mountain ©Jason Hummel Photography
R O A D T R I P !
D I S C O V E R W A S H I N G T O N ' S V O L C A N O C O U N T R Y O N T H E W H I T E P A S S S C E N I C B Y W A Y W W W . W H I T E P A S S B Y W A Y . C O M
Volcanic Monument
Our most famous and active volcano, Mount St. Helens, blew its top in 1980. Before the eruption, Mount St. Helens had a beautiful 9,600 ft. snow-capped peak. The top 1,312 feet of the mountain and most of the north side was blasted away, leaving a huge gaping hole big enough to fit a city. Since the eruption, plants have started growing back and wildlife has flourished again. You can explore many hiking trails and even peek into the crater of this reallife volcano.
Spirit Lake Memorial Highway
This is the only scenic byway in the U.S. that takes you right into a volcanic blast zone. The Spirit Lake Memorial Highway (SR-504) is a 52-mile journey into the scene of the epic eruption.
JOHNSTON RIDGE OBSERVATORY
At the end of the byway is the Johnston Ridge Observatory, where visitors are only 5 miles from the crater and lava dome of Mount St. Helens. Get ready for some awe-inspiring views!
WILLOWS LODGE - WOODINVILLE
Located on five garden-like acres bordering the Sammamish River in the heart of Woodinville's wine country, Willows Lodge is a luxurious escape. Fine dining, spa and cozy accommodations await!
425-424-3900 | www.willowslodge.com
HOLIDAY INN EXPRESS BELLINGHAM
Located minutes from downtown Bellingham, we surround our guests in modern comfort at reasonable rates.
360-671-4800 | www. hiexpress.com/bellingham
HOTEL BELLWETHER
Hotel Bellwether is a luxury, boutique hotel situated on Bellingham Bay, just steps from Squalicum Harbor marina. Suites feature stunning city and island views with luxe amenities. Lighthouse Bar & Grill on siteone of Bellingham's best steak & seafood restaurants!
360-392-3100 | www. hotelbellwether.com
VOLCANO COUNTRY 42
Above: Hiking the Pacific Crest Trail ©Jason Hummel Photography
Cascade Loop
©Thomas Barwick/Digital Vision via Getty Images
Cascade Loop National Scenic Byway
STEVENS PASS GREENWAY
Length: 90 miles, US- 2
Driving Time: 2 hours
Local Planning Resources: cascadeloop.com
NORTH CASCADES SCENIC HIGHWAY
Length: 140 miles, SR-20
Driving Time: 3 hours
Local Planning Resources: cascadeloop.com
WHIDBEY SCENIC ISLE WAY
Length: 54 miles, SR-20 & SR-525
Driving Time: 75 minutes
Local Planning Resources: whidbeycamanoislands.com
AT A GLANCE
1 Everett Everett is an all American city with a one-of-a-kind personality, a mashup of the extraordinary and the offbeat. Explore the scenic waterfront, or discover historic downtown.
2 Skykomish & Snohomish River Valley
This valley stretches along Hwy-2 into the Cascade Mountains. Explore cozy restaurants and historic lumber towns or hike through the forests beneath towering mountain peaks.
CASCADE LOOP 45
1
9 2
La Conner Everett
North Cascades National Park Oak Harbor
Burlington
3 Leavenworth
A Bavarian Village in the mountains, fun in every season, enjoy world-class wine, food, beer and loads of outdoor recreation.
4 Apple Capital
Visit apple country located in the Wenatchee Valley. This fertile valley is the leading producer of apples, cherries and pears in Washington.
5 Lake Chelan
The perfect place to jump into summer! Swimming, waterslides, and outdoor recreation options are endless in this sun-kissed valley.
6 Twisp
Sunny days and crisp nights await in this artists haven. Stroll the shops and galleries; be sure to stop in at Cinnamon Twisp Bakery for their namesake treat!
7 Methow Valley Trails
120-miles of world class Nordic ski trails in the heart of the Methow Valley. Ski in winter, hike in summer!
8 Washington Pass Overlook
Stretch your legs at one of the most stunning reststops in Washington!
9 Diablo Lake Overlook
The views here are breathtaking - from the turquoise waters of Diablo Lake below to the soaring mountain peaks. This is a rest area you shouldn't miss!
q La Conner
Charming waterfront town known for its friendly people, boutiques, art galleries and annual daffodil festival.
CASCADE LOOP 46
5 3
6 4
Winthrop
Leavenworth Wenatchee 7 8
Chelan
Twisp
The Cascade Loop is the ultimate Washington road trip and has recently been designated as a National Scenic Byway. Circling the heart of Washington through jaw-dropping landscapes, this 440-mile byway includes three other scenic byways (Stevens Pass Greenway, North Cascades Scenic Byway, Whidbey Scenic Isle Way) in its loop.
It's a place of snow-capped mountain peaks, sparkling lakes and rushing rivers, evergreen forests, bountiful orchards and more. The outdoor recreation and culinary experiences are endless.
Hike deep into forests and up mountain trails, dip into rivers and lakes, play cowboy or cowgirl, stand under the pink haze of apple blossoms in spring, pick up luscious fruit at road side stands later in the summer, and stop at local wineries during the fall harvest. You'll discover small towns that delight with amazing local eats, brews and festivals. Bring a hearty appetite for farm fresh food, fun adventures and save room in the car for goodies (cherries, apples, pears, wine) to take home.
Everett Waterfront
Spend some time strolling along one of the west coast's largest marinas where you'll find plenty of waterside dining and the local farmers market. Check out historic downtown Everett with its locally owned boutiques, eateries and the vibrant Schack Art Center.
Stevens Pass Greenway
Head east from Everett and follow the 90-mile byway along the Skykomish River. It winds past evergreen forests and waterfalls, climbs over rugged mountains and drops down into orchards. It ends in Peshastin, where the best pears in the world are grown.
CASCADE LOOP 47
Above: Liberty Bell Mountain, North Cascades Scenic Highway ©Cascade Loop
Above clockwise:
Diablo Lake Overlook
©Cascade Loop
Rafting the Wenatchee River
©Cascade Loop
Snowshoeing ©Carina
Skrobecki Swain
Sky Valley & Stevens Pass
You will pass through small historic towns in the Sky Valley that delight travelers with spectacular scenery and year-round outdoor fun. Whitewater rafting and kayaking are popular on the Skykomish River. There are hundreds of gorgeous hiking trails to choose from—Wallace Falls, Bridal Veil Falls and the Iron Goat Trail are among the most popular. Nearby Stevens Pass Recreation Area is one of the state's premier winter destinations for skiing and snowboarding and converts to a mountain bikers dream in summer.
Leavenworth Bavarian Village
The architecture is right out of Bavaria but then again, so is the rugged alpine landscape and outdoor recreation. Leavenworth delivers high-voltage Bavarian memories year-round with everything from yodeling to schnitzel. Enjoy festive outdoor beer-andbratwurst gardens, wine-tasting rooms, and hugely popular festivals such as Maifest, Oktoberfest, and Christmas Lighting. Whether inside or out, the environment is so authentic you'll feel like you just got dropped into the heart of the Alps.
THEY SPEAK BEER HERE
Prost! Taste some of the most awarded beers in the state of WA in the authentic setting of a Bavarianstyle village.
Farm fresh Wenatchee
From Leavenworth, continue on to Wenatchee. Located on the Columbia River, Wenatchee is best known for its apples, but it has a nice outdoor sculpture collection and the unique Pybus Public Market (open yearround). The nearby river and surrounding mountains provide endless opportunities for hiking, biking, skiing and wildlife watching.
CASCADE LOOP 49
Lake Chelan
A favorite family summer destination for generations, have fun boating, waterskiing and swimming in Lake Chelan. Enjoy wine tasting at over 30 wineries that hug the breathtakingly beautiful lake shore. Be sure to also schedule some time cruising up the lake to the remote village of Stehekin.
North Cascades Scenic Byway
This 140-mile scenic highway is one of those roads people line up for-literally. In spring when the road re-opens after the winter closure (November-May) there's a line of cars waiting to take this spectacular route. The landscape changes dramatically as you pass from the Methow Valley and ascend into the jagged mountain peaks and glaciers of North Cascades National Park and then descend into the green, pastoral Skagit Valley.
Twisp
Beautifully situated in the heart of the Methow Valley, there are plenty of good reasons to pull over in Twisp. From a worldclass coffee roaster to a great bakery and vibrant arts community—not to mention near unlimited outdoor recreation, Twisp is worth a stop.
Arts and culture thrive — galleries, music, live theater and festivals abound. Visit the rotating art exhibits at the Confluence Gallery & Art Center along with an amazing gift shop featuring the talents of local artisans. Well over 100 artists and craftspeople call the Methow Valley their home, and their work encompasses practically every medium.
Old West Winthrop
Just a few miles up the road, you'll enter the old west town of Winthrop. Put on your cowboy hat or boots and have fun exploring the downtown with its Wild West flair and the oldest saloon on the West Coast. Look for restaurants serving locally grown fare and walk, bike (or ski) the 124 miles of trails running through town that link the entire Methow Valley. With trails that take you from the valley floor to the mountain tops, from the national forests to state wildlife lands to the North Cascades National Park, the scenery here can't be beat.
Washington Pass Overlook
Everyone—even non-hikers—can enjoy the soaring Liberty Bell Mountain views from the top of Washington Pass, (5,477 feet) the highest point on the highway. A paved path cuts through pine-scented forest to
VISIT THE OLD WEST IN WINTHROP
The mystique of the old west is still part of the Methow Valley experience. Almost completely surrounded by wilderness, Winthrop and the upper Methow Valley beckon adventurers of all kinds.
CASCADE LOOP 50
NORTH CASCADES NATIONAL PARK
With over 300 magnificent glaciers, spectacular wildflower-covered mountains, and glimmering alpine lakes, this park is sure to inspire you! Enjoy hiking, backpacking, camping and snow sports.
the overlook, where Liberty Bell and Early Winters Spires dominate the view.
Diablo Lake
Another "must do" is the pull out to Ross and Diablo lakes. The beautiful turquoise-blue color of the water is the result of glacial silt. If you want more gorgeous views, take the popular boat tour of Diablo Lake.
Entering the Skagit Valley
You'll descend from the mountains into the bountiful Skagit Valley. This area is perhaps best known for the annual Daffodil and Tulip Festivals in March-April. Over 90 different crops are grown in these fertile fields dotted with quaint farmhouses and heritage barns. Pick up some farm-fresh fruit and veggies at local markets. Visit Burlington during Berry Days in June, when they celebrate local berry harvests and dairies. Don't miss a side-trip to the Bow-Edison area to experience the charm of a one street town and some great local food, cafes, bakeries, as well as eclectic art galleries. As you head west, take an easy side trip to La Conner. This cute waterfront town is the stuff of dreams for die-hard browsers—but with plenty of options for those who would just prefer to sit and contemplate life with a hot cup of coffee in hand or stroll through the renowned Museum of Northwest Art.
Deception Pass to Whidbey Island
Don't miss this beautiful "island" part of the Cascade Loop. Hike, fish, walk the unspoiled beaches or explore the quaint seaside towns along this charming coastal "sea leg" of the Cascade Loop.
CASCADE LOOP 51
Open Daily to Everyone | Exit 226 | skagitfoodcoop.com Love at First Bite
REQUEST A FREE TRAVEL GUIDE FOR THE CASCADE LOOP NATIONAL SCENIC BYWAY
Washington State's Ultimate Road Trip! Experience 440-miles of amazing scenery and recreation on the Cascade Loop National Scenic Byway.
509-662-3888 | www.cascadeloop.com
WINTHROP WA - ADVENTURE AWAITS!
Experience starry skies, sunny days, and the endless outdoors. Discover boutique shopping, local restaurants, craft breweries and wine as you stroll along the western boardwalks in this charming mountain town.
509-996-2125 | www.winthropwashington.com
MEERKERK GARDENS
This beautiful 53-acre woodland treasure on Whidbey Island showcases many species of rhododendrons as well as unique hybrids. Walk the serene trails and enjoy the reflection ponds, nature and panoramic views of Puget Sound.
360-678-1912 | www.meerkerkgardens.org
TWISP CHAMBER OF COMMERCE
As the smallest Creative District in Washington State, Twisp is a dynamic center for art, culture and cuisine, with a down-to-earth atmosphere and friendly attitude.
509-997-2020 | www.twispwa.com
METHOW VALLEY CHAMBER MUSIC FESTIVAL
The Music Festival promotes appreciation of chamber music. The annual program brings in top musicians from around the world to produce four summertime concerts, June 15, 17, 22 and 24, 2023, held at the Methow Valley Community Center in Twisp. Tickets on sale starting April 8th.
509-997-5000 | www.methowmusicfestival.org
MONROE CHAMBER OF COMMERCE
Monroe has a bustling Downtown with breweries, boutiques, a gorgeous river to picnic at, events all throughout summer like Music in the Park, Farmers Market and the Fair Days Parade. Enjoy the races at the Evergreen Speedway or grab a scone at the Evergreen State Fair!
360-794-5488 | www.choosemonroe.com
CASCADE LOOP 52
Columbia Gorge
©Jason Hummel Photography
Columbia River Gorge Scenic Byway
Length: 90 miles, SR -14
Driving Time: 2 hours
Local Planning Resources: skamania.org
mtadamschamber.com
AT A GLANCE
1 Hulda Klager Gardens National Historic Site celebrating Ms. Klager who began hybridizing lilacs in 1905. Gardens preserved and maintained in her memory, containing more than 90 varieties of lilacs, as well as Victorian gardens and a farmhouse.
2 Fort Vancouver National Historic Site
Explore the lands and structures at the center of fur trade and military history in Washington.
3 Camas & Washougal
Camas has beautiful treelined streets, boutique shopping and small town charm. Do the free tour of Pendleton Woolen Millls Factory in Washougal.
4 Beacon Rock State Park
This 848-ft tall landmark, located on the shores of the Columbia River, has
a trail to the top with switchbacks, handrails and bridges, offering views of the Columbia River Gorge.
5 Gorge Waterfalls
Find the tumbling water of Rodney and Hardy Falls located near Beacon Rock State Park. Look for the 'pool of winds', the place where crashing water will spray you with mist.
6 Maryhill Museum of Art
A castle-like chateau perched above the Columbia River, this museum houses a worldclass art collection and the nearby Stonehenge replica.
7 Columbia Hills State Park
More than 100 Native American pictographs are tucked into the rocks, including the famed 'She Who Watches' which tell the stories of ancient peoples that lived in this region.
COLUMBIA GORGE 55
St.
2 3 4
Vancouver Stevenson Camas/Washougal Mount
Helens
Like the Grand Canyon, the Columbia River Gorge is a testament to the power of flowing water. For more than 40 million years, the Columbia River has carved a deep gash into the volcanic rock of the Cascade Mountains. This spectacular river canyon is 90 miles long and up to 4,000 feet deep. The high canyon walls create a natural wind tunnel, making the Gorge one of the windsurfing capitals of the world.
National Scenic Area
The Columbia River Gorge has been designated a National Scenic Area and for good reason. You'll be awestruck by its natural beauty. Here you can see more waterfalls than anywhere else in the country. But the Columbia River Gorge isn't just spectacular scenery and outdoor fun. There's plenty of hand-crafted beer, local wines and farm-to-table dining.
Columbia River Gorge Scenic Byway
This scenic drive is 100 miles long and follows the Washington side of the Columbia River from Vancouver to Maryhill. Enjoy small towns with plenty of local flair, hiking, camping and getting out on the water. Try windsurfing or ripping across the river with a kiteboard!
Vancouver
Start your journey in Vancouver. Its rich history spans from the Lewis & Clark expedition in 1806, when Meriwether Lewis had the wisdom to characterize the area as "the only desired situation for settlement west of the Rocky Mountains."
Fortunately for history buffs, Vancouver hasn't forgotten its past. Historic attractions, museums, and parks will take you back. You'll
SASQUATCH SEEKERS
Don't miss this photo-op in front of the Skamania County Chamber of Commerce—put your face in Bigfoot and say cheese! By official decree, Sasquatch is a protected species in Skamania County.
COLUMBIA GORGE 56
Goldendale
White Salmon
5 6
Above clockwise: Panther Creek Falls ©Jason Hummel Photography

Kiteboards near White Salmon ©Jason Hummel Photography
Klickitat River ©Jason Hummel Photography
find plenty of fascinating ways to experience Vancouver's roots from the Native American fur trade days, to the settlement of Fort Vancouver, to the establishment of one of the oldest cities in the State of Washington. Situated along the curves of the mighty Columbia River, Vancouver holds a wealth of cultural and recreational experiences for visitors. The river is a magnet, drawing people to connect with one another and with the natural world. Relax to the rhythms of waves lapping the shore. The half-mile long riverfront waterfront park offers river access, public spaces, and expansive walking and biking. Come experience Vancouver's new waterfront, from shopping to sipping and dining to water sports and parks.
COLUMBIA GORGE 57
Camas and Washougal
Camas has a charming downtown with tree-lined streets. Originally a mill town, it has been revitalized to include fine shopping, dining, and art galleries while still maintaining its historic feel. The Camas Hotel, a century old, beautifully remodeled European boutique style hotel is located downtown. On First Fridays, downtown galleries, shops and restaurants are open late into the evening. Camas has a seasonal farmer's market, too.
Just a little farther down the road, you'll discover Washougal home to the Pendleton Woolen Mills factory. Enjoy a free tour and shopping in the company store. Across the street, visit the Two Rivers Heritage Museum, an historic gem.
Grab a free art map and take a self-guided Washougal public art tour. The city has over 30 installations of sculptures, murals, stained glass, and even dugout canoes. Objects may be historical, educational, or whimsical.
Columbia Gorge Interpretive Museum
This is a 'must-stop' if you're interested in the geological and human history of the area. In the museum's theatre you can experience the cataclysmic formation of the gorge during a 12-minute movie complete with teeth rattling sound.
Columbia Hills State Park
More than 100 Native American pictographs are tucked into these rocks. Take one of the guided tours (reserve in advance) to see some of the sacred art, including the famed "She Who Watches." Several examples line the
OUR INDIGENOUS CULTURE
From the history of the original people, the Cascade Chinook, to those interested in the Lewis and Clark saga, there are traces of the past all along this byway.
www.skamania.org
COLUMBIA GORGE 58
Home to world-class hiking, biking, kiteboarding and waterfalls, Skamania County, Washington is the perfect place to experience all that the Columbia River Gorge has to offer!
After your adventures, grab a pint of award-winning craft beer, sip and savor outstanding wines or feast on local fare from any of our popular restaurants. Skamania County is a world of adventure, less than an hour from Portland, Oregon
~ Enjoy
food, wine, craft beer and cocktails
~ Explore unique shops, antiques, theatre, galleries
~
~ Stroll down beautiful tree-lined streets ~ Stay and relax in a luxury boutique hotel
local food, wine, craft beer and cocktails
~ Explore unique shops, antiques, theatre, galleries ~ Stroll down beautiful tree-lined streets ~ Stay and relax in a luxury boutique hotel
Discover the Delights of Camas and Washougal, WA as you enter the Columbia River Gorge Historic Charm Awaits You Tourism support provided by City of Washougal and City of Camas lodging tax funds Let our downtown surprise you. Find out more at DowntownCamas.com NATURAL BEAUTY AWAITS in every corner of Washougal. Come for the hiking, birding, history, water sports and more and stick around for great dining, shopping and craft breweries.
local food, wine, craft beer
Stroll
~ Stay
relax in a
Discover the Delights of Camas and Washougal, WA as you enter the Columbia River Gorge Historic Charm Awaits You Tourism support provided by City of Washougal and City of Camas lodging tax funds Let our downtown surprise you. Find out more at DowntownCamas.com NATURAL BEAUTY AWAITS in every corner of Washougal. Come for the hiking, birding, history, water sports and more and stick around for great dining, shopping and craft breweries.
Enjoy
and cocktails Explore unique shops, iques, theatre, galleries ~
down beautiful tree-lined streets
and
luxury boutique hotel
Enjoy
Discover the Delights of Camas and Washougal, WA as you enter the Columbia River Gorge Historic Charm Awaits You Tourism support provided by City of Washougal and City of Camas lodging tax funds Let our downtown surprise you. Find out more at DowntownCamas.com NATURAL BEAUTY AWAITS in every corner of Washougal. Come for the hiking, birding, history, water sports and more and stick around for great dining, shopping and craft breweries.
local
CW-scenic WA ad-2020.indd 1 2/19/20 3:26 PM
parking lot so you don't need a reservation to glimpse a few of these cultural treasures.
Outdoor Fun at White Salmon
White Salmon is an ideal jumping-off location for hikers, mountain bikers, skiers, whitewater rafters and kayakers, and casual tourists. Between the White Salmon River, Columbia River Gorge, Gifford Pinchot National Forest, Mount Adams and Mount Hood, there's no shortage of nearby outdoor excursions.
Maryhill Museum & Stonehenge
The byway ends at the Maryhill Museum of Art, constructed by visionary northwest road builder Sam Hill. Perched on the banks of the Columbia River, you can tour the museum and Stonehenge replica. At nearby Maryhill Winery with its panoramic views of the Columbia River, relax and enjoy fine wine and live music on the popular Tuscan-style vine-covered terrace on summer weekends.
Goldendale Observatory State Park
Sky-watchers won't want to miss a side-trip to this hilltop park, just north of Goldendale. It houses one of the nation's largest, most accessible public telescopes. The newly renovated site is famous for its dark skies and informative science programs.
"WINE DOWN" IN THE GORGE
With over 30 wineries in the Columbia River Gorge wine region, stop and taste as you tour the Gorge.
Relax at one of our ten romantic getaway cabins in the Columbia River Gorge. Stroll through our lush gardens. Soak in a spa tub with lavender bath salts. Enjoy a relaxing in-cabin massage. Dream it and we'll work to deliver it.
509-427-7777 | www.CarsonRidgeCabins.com
360-254-3100 | www.heathmanlodge.com
COLUMBIA
GORGE
Above: Columbia Gorge area Vineyard
©Andrea Johnson Photography
This beautiful hand-crafted Northwest mountain lodge was meticulously designed to capture the spirit of the Pacific Northwest. Enjoy an onsite pool, fitness room, electric vehicle charging station and restaurant, Hudson's Bar & Grill.
HEATHMAN LODGE - VANCOUVER
CARSON RIDGE LUXURY CABINS
North Central
©Justin Haug
OKANOGAN TRAILS SCENIC BYWAY
Length: 80 miles, US-97
Driving Time: 2 hours
Local Planning Resources: okanogancountry.com
COULEE CORRIDOR SCENIC BYWAY
Length: 150 miles, SR-17 & SR-155
Driving Time: 3.5 hours
Local Planning Resources:
NORTH CENTRAL
tourgrantcounty.com North Central Oroville Omak Moses Lake 1 4 2 6 3 8 7
AT A GLANCE
1 Loup Loup Ski Bowl
Located near Twisp on Hwy-20, great for skiers of all skill levels. Groomed runs in the powdery Okanogan snow.
2 Dark Skies at Night
One of a few remaining 'dark sky' locations in Washington, perfect for stargazing at night.
3 Sasquatch Sighting
Standing atop Disautel
Pass near Omak, this multidimensional 18-foot tall metal sculpture weighs about 1,500 lbs and has a rotating arm that swings with the wind.
4 Okanogan Ghost Towns
Several abandoned gold-mining towns can be located in this region, including Nighthawk which is one of the the oldest mining districts with claims dating to the 1860s.
5 Grand Coulee Dam
Grand Coulee Dam is the largest electric power producing facility in the U.S. and one of the largest concrete structures in the world!
6 Sun Lakes & Dry Falls State Park
This desert oasis is full of dramatic scenery and remnants of ice-age floods that carved the landscape ages ago.
7 Moses Lake
One of the largest ORV areas in the state is located just four miles outside of Moses Lake. Set up camp and head to the dunes located on the southern tip of the lake, then cool off with some water sports after a day in the sand!
8 Ginkgo Petrified Forest
One of the most unusual fossil sites in the world. Petrified wood, stained by mineral deposits and hardened into rock, is on display at the Interpretive Center.
Wilderness embraces much of north central Washington. To the north in Okanogan Country, you'll find sparkling lakes, soaring mountains, high plateaus, and winding river valleys. To the south in the Coulee Corridor you'll discover a much different landscape of desert lakes, deep canyons, coulees, and fields of sunflowers in full bloom. Find fishing lakes, desert hikes, dusty museums, and the fields that grow your food. This region's natural beauty and agricultural bounty create a feeling of journeying to an out-of-the-way, undiscovered natural oasis.
Okanogan Trails Scenic Byway
Spanning 80 miles from Oroville south to Pateros, the byway follows the Okanogan River with stunning valleys and rugged hillsides until it flows into the Columbia River.
BIRDER'S PARADISE
The Coulee Corridor
Scenic Byway features more than half of Washington's 346 annually recorded bird species.
NORTH CENTRAL 64
Above clockwise:
North Central
Washington ©Justin Haug
Dry Falls
©Washington
Department of Natural Resources
Ancient Lakes
©Beautiful Washington
Historical markers tell the story of a rich history of natives and early homesteaders along the route.
The byway accesses the Audubon Society's Great Washington Birding Trail; Osoyoos Lake Memorial Park along with Alta Lake and Conconully State Parks as well as the Highland Historic Loop and the Many Lakes Historic Loop.
CAMPING IN THE COULEE CORRIDOR
Take a boat to a lakeshore campsite, swim in the warm water, or stay the night in a cowboy town. Experience the magic of Coulee Corridor!
Along the way, stop for locally grown produce and fruit. Thirsty? Check out the local wineries, breweries, cideries or coffee roasters. In summer, the cool mornings and warm sunny afternoons are perfect for hiking, biking, and horseback riding. The fun doesn't stop when the snow hits! Enjoy miles of groomed Nordic ski trails, downhill skiing and snowmobiling.
Coulee Corridor Scenic Byway
One of the greatest ice age floods on earth left in its wake a fusion of geological, historical and cultural awe, which we now call the Coulee Corridor. This 150-mile scenic byway, connecting Othello and the Grand Coulee, is famous for its beautiful and uncommon landscape of coulees, basalt cliffs and canyons.
NORTH CENTRAL 65
NORTH CENTRAL 66 Visit the Dry Falls Visitor Center and learn about the world's largest prehistoric waterfall—four times the size of Niagara Falls- that used to flow over the surrounding cliffs. Another compelling attraction that staggers the imagination is the Grand Coulee Dam. Take the free tour and stand on the mighty dam itself! Explore wind and solar technology at the Wild Horse Wind Facility Open 9 a.m. - 5 p.m., April through October Daily wind turbine tours at 10 a.m. and 2 p.m.
info on
and recreation permits, go to pse.com/wildhorse 25905 Vantage Highway, Ellensburg, WA wildhorse@pse.com | 509-964-7815
For
tours
Above: Grand Coulee Dam ©Gregg M. Erickson
67
Above:
Grandfather Cuts Loose the Ponies
©Craig Goodwin Photography
Grandfather Cuts
Loose the Ponies by David Govedare is a sculpture of 15 wild horses that crowns a prominent central Washington hillside and is an inspiring sight for travelers along Interstate 90 as they enter Grant County from the west. It captures a mystical spirit from a time when real wild horses roamed these steppes.
Birding & Columbia National Wildlife Refuge
Grab your binoculars and Audubon Coulee Corridor Trail Map for some exciting birdwatching here. You can expect to find black-crowned night herons and great egrets (both of which nest here in the summer), bald eagles (in the winter) and 35,000 sandhill cranes (during spring and fall migration) to name a few striking species. Explore the Columbia National Wildlife Refuge, which protects more than 230 species of birds. Enjoy the birdsong by day and coyote chorus at night.
Wildhorse Wind Facility
Take a tour or explore the educational displays to learn more about wind and solar technology, as well as the area's unique natural history. Outdoor trails lead to a solar array, blade, turbine generator, gearbox and additional displays. Enjoy wildflowers in bloom and 360 degree views of Mount Rainier, Mount Adams, Mount Hood and the Columbia River Basin.
Moses Lake Museum and Arts Center
Don't miss a visit to the Moses Lake Museum & Arts Center to explore the human and natural history of the Columbia Basin and celebrate the works of regional artists.
NORTH CENTRAL
NORTH CENTRAL 68
Don't miss Waterville, WA— the gateway to the Waterville Plateau, and home of the famous Big Bend Round-Up for over 100 years.
It is home to the Adam East Collection of Native American artifacts, local historical exhibits, a fine art gallery, museum store and a giant Columbian Mammoth metal sculpture. Admission is free.
Outdoor Fun
With more than 140 lakes and reservoirs, Grant County offers world-class fishing, hunting, bird watching, hiking trails and camping. In the summer lakefront resorts, state parks and recreational areas are packed with people fishing, waterskiing and soaking up sun.
Steamboat Rock State Park, with 50,000 feet of shoreline, is popular for swimming, boating and waterfront camping. Whether you come with a fishing pole, a wakeboard or a pair of binoculars, you'll find paradise here.
EDEN VALLEY GUEST RANCH
Discover cozy cabins, play and picnic area, campfire, horse hotel and trail system for hiking, horses, mountain biking and ATV's. Family & pet friendly accommodations in pristine north-central Washington.
509-485-4002 | www.edenvalleyranch.net
MOLSON MUSEUMS & GHOST TOWN
Old Molson Ghost Town Museum - daylight tours April through November
Molson Schoolhouse Museum - 10am - 5pm daily in summer.
www.molsonmuseums.org
Funded by City of Oroville & Okanogan County Tourism Advisory Board
BEST WESTERN PEPPERTREE PLUS - OMAK
Enjoy modern comfort and a family-friendly atmosphere in pristine Okanogan County. Best Western Peppertree Inn gets you close to Omak's best outdoor family adventure activities.
509-240-9281 | www.bestwesternomak.com
NORTH CENTRAL 69
Above:
River Fishing ©Jason Hummel Photography
GRANT COUNTY WASHINGTON Grant County Tourism Commission P.O. Box 37, Ephrata, WA 98823 800.992.6234 tourgrantcounty.com Just Natural Ingredients Watchable Wildlife • Fishing • Hunting Camping • Hiking • Golf ing RVing • Wine Tasting For more information about Grant County Accommodations, RV Parks and Campgrounds:
South Central
©Jason Hummel Photography
South Central
AT A GLANCE
1 Oak Creek Wildlife Area
Located near Naches, the WA Department of Fish & Wildlife manages this land that is home to the Yakima elk herd as well as mule deer, California big horn sheep & mountain goats.
2 Yakima River Canyon
This rugged canyon divides the hills of sage covered desert between Yakima and Ellensburg and is known for its year-round sport fishing.
3 Umtanum Creek Canyon
Trek through a desert canyon wilderness, over the Yakima River via a suspension bridge. Watch for bighorn sheep, mule deer and many species of birds.
4 Central Washington Agricultural Museum
The largest agricultural museum in the Pacific Northwest! See original machinery used by early settlers for farming and cultivating the land.
5 Toppenish Murals
Discover the 'city of murals.' Murals on downtown buildings depict the cultural diversity of the region and reflects the city's theme: "where the west still lives."
6 Walkable Wine Tour
Prosser Vintners Village is located in Yakima Valley's wine country and is designed for a casual stroll; the village has excellent local wineries to sample all within walking distance.
7 Water Sports in Tri-Cities
Clover Island Marina in Kennewick offers easy access to the Columbia River to enjoy boating and other fun water sports.
SOUTH CENTRAL 73
5 1 6
2
4
Yakima Prosser Zillah Toppenish
3
To Goldendale
Length: 22 miles, SR-821
Driving Time: 75 minutes
YAKAMA SCENIC BYWAY
Length: 76 miles, US-97
Driving Time: 1.5 hours
Local Planning Resource: visityakima.com
VisitTri-Cities.com
Blessed with almost 300 days of sunshine, south central Washington lies in the rainshadow of the Cascade Mountains. It's dry and warm here and you can smell sagebrush in the air. There's endless sunshine and blue skies. Tumbleweeds roll across fields and magpies sit on fenceposts. Put on your sandals and shorts and start exploring this wide-open beautiful countryside.
Farm fresh
Savor the details of the landscape. You'll see farms, orchards, vineyards, desert hills, pine forests, and dry grasslands. Large rivers and valleys cut across the terrain. Irrigation along the Columbia and Yakima Rivers has turned these valleys, with their rich volcanic soil and ice-age flood silt, into fantastically fertile farmland. This is where the world's best apples and cherries are grown. Some roadside farm stands have been in the same families for generations. People flock here to hand-pick and stock up on seasonal fruits and veggies.
ROADSIDE FARMSTANDS
Don't forget to leave some extra room in the car to bring home some farm-fresh fruit and local estate wine to share with friends and family.
SOUTH CENTRAL 74
Tri-Cities
Walla Walla
7
Washington Wine Country
Wine Country
You'll quickly discover that you've landed in Washington's Wine Country. Vineyards and wineries abound. Stop at one of the many tasting rooms dotting the countryside between Yakima, Prosser, the Tri-Cities and Walla Walla. While you're sampling wine, you'll often hear amazing stories about the art of winemaking or how the grapes are grown from the actual winemaker. With 120 wineries scattered throughout the Yakima Valley, where do you start your wine tasting adventure?
Yakima: Home to a pleasant mix of urban and rural wineries, Yakima is a great place to start any wine tasting adventure. Enjoy the local night-life as you taste your way through the Downtown Yakima tasting rooms.
Zillah: Many of the 17 wineries in the Rattlesnake Hills region are located within the very vineyards that grow the wine grapes. Each winery offers a unique tasting room setting, some with views of snow-capped Mt. Rainier and Mt. Adams.
Prosser is the birthplace of the Washington wine industry, This quaint little town is home to more than 30 wineries, 12 of which are within walking distance of each other in Vintner's Village. Prosser is also home to the Walter Clore Wine & Culinary Center,
SOUTH CENTRAL 75 Above clockwise: Wine Tasting ©Yakima Valley Tourism Vineyard Sipping ©Yakima Valley Tourism Walking Through Hops ©Yakima Valley Tourism
a unique wine tasting and educational destination focused on Washington State wine and agriculture.
Red Mountain is the smallest and warmest wine grape growing region in Washington. A magical combination of sun, soil, slope, wind and geology produces red wine grapes that are highly prized for creating wines of superb concentration and depth, which consistently earn critical acclaim. There are a dozen wineries here with some beautiful tasting rooms.
The Tri-Cities , also known as the Heart of Washington Wine Country, provides delightful opportunities to discover why the region is one of the top wine destinations in the world! Whether you're new to trying wine, a seasoned wine aficionado, or an overall adventurist – there's something for every kind of traveler with more than 200 wineries within a 50-mile radius. Our blend of small-town charm with cosmopolitan amenities allows for more intimate wine experiences.
WINE TASTING IN THE YAKIMA VALLEY
With over 120 wineries and five AVA's in just 70 miles, wine tasting in the Yakima Valley is a rewarding and unique experience.
SOUTH CENTRAL 76
Local Craft Beverages
Many visitors come here for the wine tasting and are delighted to discover a lively craft beverage scene that includes beer, wine and spirits. Seventy-five percent of the nation's hops are grown here. What makes this place unique is being able to sip your favorite craft beverages among the fields, vineyards and orchards where the ingredients are grown. It's no surprise that you can enjoy amazing wine, beer and farm-fresh fare in local eateries and breweries. Authentic and delicious Mexican food is easy to find too.
Yakima River Canyon Scenic Byway
Experience the short 27-mile trip along this curvy canyon road between high desert sage-covered hills. There are gorgeous view points along the way and you'll see hawks soaring above and fly fishermen below. In the summer inner tubing down the river is a popular way to beat the heat.
Yakama Scenic Byway
Named for the local Yakama Indian Nation, this byway begins near Union Gap, home to the unique Central WA Agricultural Museum. Don't forget to stop in Toppenish and see the 75 painted outdoor, historical murals. Further along is the Goldendale Observatory State Park, with access to one of the nation's largest public telescopes. The byway ends on the banks of the Columbia River. Visit the nearby Maryhill Museum and Stonehenge Memorial and then relax in the beautiful tasting rooms at the Maryhill Winery!
SOUTH CENTRAL 77
Above left to right: Spring Barrel Tasting ©Yakima Valley Tourism Trail Running near Naches ©White Pass Scenic Byway
SOUTH CENTRAL 78 Explore the Heart of Washington Wine Country®! Beautiful weather, amazing outdoor recreation, and a mouthwatering culinary and craft beverage scene. Download our FREE visitor's guide at: www.VisitTri-Cities.com | 800-254-5824 WINE TASTING IN SUNNY TRI-CITIES, WA
Northeast Corner
©Nicolas James Photography
SHERMAN
Length: 88 miles, SR-20
Driving Time: 2 hours
Local Planning Resources: itsreal.life
NORTH PEND OREILLE SCENIC BYWAY
Length: 27 miles, SR- 31
Driving Time: 1 hour
Local Planning Resources: porta.us
INTERNATIONAL SELKIRK LOOP
Length: 287 miles, SR-31 & SR-20
Driving Time: 7 hours
Local Planning Resources: selkirkloop.org
NORTHEAST CORNER 81
PASS SCENIC BYWAY
Northeast Corner Republic Colville Metaline Falls Spokane Newport 7 2 6 5 8 3
AT A GLANCE
1 Republic
Republic has "air you can't see and water you can't taste", referring to its pristine qualities. Expect a large dose of small town charm and scenic beauty in this quiet area of Northeast Washington.
2 Ferry County Rail Trail
This fabulous rail-trail is accessible year round, with 28-miles of resurfaced and restored pathway for nonmotorized recreation.
3 Log Flume Heritage Site
Follow a paved path through this lovely interpretive area set in a cool forest of pines, larches, and cottonwoods along cascading Sherman Creek.
4 Colville Tribal Sculptures
Find the lifesize metal sculptures by local artist Smoker Marchand that dot the landscape in northeast WA. They tell the story of Native American life in the Okanogan Highlands.
5 Pewee Falls
The water trail offers small boaters and paddlers the opportunity to travel a designated route along the Pend Oreille River. You will see abundant wildlife, historical points of interest along the way and the view of Pewee Falls is breathtaking!
6 International Selkirk Loop
This 208-mile loop offers solitude and magnificent scenery as it meanders from Northeast Washington into British Columbia then back to the U.S. via Idaho.
7 Bowl and Pitcher
One of the most popular attractions in Riverside State Park, the Bowl and Pitcher is a geologic phenomenon with large basalt rocks popping up along the edges of the Spokane River.
8 Ritzville
Walk the streets of this small farming town and find a beautiful Carnegie Library and a collection of metal sculptures crafted by local artisans. Sculptures depict people that have made lasting impacts on the community.
The northeast corner of Washington is in many ways the Evergreen State's "Last Great Place". Its remoteness and isolation contribute to a feeling of pure wildness. This is a hiker's paradise with hundreds of miles of trails through forests and across mountains. You'll experience fragrant pine groves and summer meadows bursting with wildflowers. In autumn, you'll be awestruck by hills that are streaked gold by larches and aspens. In this untamed corner of Washington, moose, elk, wolves, lynx, black bears, bobcats, cougars and the occasional grizzly still roam. At night while camping, you'll be serenaded by the wild song of a loon. If you want to get "far from the madding crowd", this is your next great road trip adventure.
NORTHEAST CORNER 82
PEND OREILLE RIVER WATER TRAIL
The Pend Oreille River Water Trail covers 70 miles of the Pend Oreille River. The Water Trail begins in Oldtown, ID, then follows the river north through Pend Oreille County, WA all the way up to Boundary Dam.
Sherman Pass Scenic Byway
Don't be fooled by this byway's short length, it's long on natural beauty and history. This route was used by Native Americans on their way to fish and by wagon trains. The byway begins in the frontier town of Republic, where you can dig for fossils. Continue east across Sherman Pass-Washington's highest maintained pass at 5,575 feet—and then through Colville National Forest, a must-do destination for hikers and campers. The byway ends in the town of Kettle Falls, a recreational haven on Lake Roosevelt.
North Pend Oreille Scenic Byway
This captivating 27-mile drive through Colville National Forest is a favorite of wildlife and waterfall enthusiasts. In addition, discover massive dams, small town charm and the largest big-game population in the lower 48 states. Visit Metaline Falls, one of the best small art towns in America and check out the Cutter Theatre and Museum. Explore Gardner Cave, the longest limestone cavern in WA. Schedule a tour of Boundary Dam and the backwaters behind the dam to get beautiful views of Pee Wee Falls. The byway parallels a stretch of the Pend Oreille River's emerald waters and is part of the International Selkirk Loop.
NORTHEAST CORNER 83
Above: Paddling in Pend Oreille ©Joanie Christian Photography
International Selkirk Loop
This 280-mile scenic drive encircles the spectacular Selkirk Mountains of Washington, Idaho and British Columbia. Play on crystal clear rivers and lakes, amid snow-capped peaks and abundant wildlife. Find charming towns filled with fascinating history and things to do. Travel quiet byways by car, bike or motorcycle and experience North America's only multinational scenic drive. Don't forget your passport!
If you start your travels in Newport, the southern gateway to Washington's slice of the International Selkirk Loop, take a stroll through Newport's charming downtown and visit the local museum.
Just east of Newport, Pioneer Park's Heritage Trail offers visitors a chance to view how the Kalispel Tribe historically used this area. The trail has 12 interpretative displays and an elevated boardwalk that overlooks remains of a 4,000 year old camas oven.
Stop by the Ranger Station on the edge of Newport for maps and information on camping, lakes, and trails in the area. Explore over 1 million acres of public lands in the Colville National Forest. Enjoy your journey along this scenic route all the way north past Metaline Falls to the Canadian border.
NORTHEAST CORNER 84
Above: Exploring the International Selkirk Loop ©International Selkirk Loop
WASHINGTON'S LARGEST STATE PARK
Discover the largest State Park in Washington at Mount Spokane State Park. Spanning 12,444 acres, Mount Spokane State Park has over 100 miles of trails within the dense forest of the Selkirk Mountains and boasts a multitude of panoramic views, meaning you can hike for days and not see the same view twice!
City of Spokane
What if you could take a vacation that lets you have it all? A visit to Spokane satiates every interest: outdoor adventure, culinary quests, artistic endeavors, and nightlife pursuits. First-time visitors will find themselves saying, "I had no idea," when seeing all Spokane has to offer. Built around the banks of the roaring Spokane River and Falls, the city is ideal for a quick getaway, family vacation, or romantic weekend.
The social threads of Spokane create an easy juxtaposition of city lifestyle mingled with the mountains, trails, and waterways surrounding the city. Spokane is a knockout in every season. Being a four-season destination means seeing her in all her outfits. You can find sun and heat, snow and cold, rain and color.
No visit is complete without a stop in the 100-acre Riverfront Park–the former 1974 World's Fair site– in the heart of downtown Spokane. Take a turn on the Looff Carrousel, feed the Garbage-Eating-Goat, slide down the giant Radio Flyer Red Wagon, lay under the twinkling lights of the US Pavilion, skate on the Numerica Skate Ribbon, or ride over Spokane Falls in the Numerica SkyRide.
With natural beauty comes excellent things to do outside. Top-notch skiing, snowboarding, Nordic track, and tubing are available at five area ski resorts. In summer, myriad lakes mean fishing and boating.
You'll find hiking, running, meandering, whatever you prefer, in the state's two largest state parks: Mount Spokane State Park and
NORTHEAST CORNER 85
Above: Manito Park ©Visit Spokane
Riverside State Park. The two cover a combined total of nearly 25,000 acres. Located just nine miles northwest of downtown Spokane is Riverside State Park. There's something for every outdoor enthusiast. The park has hiking and biking trails, horse trails complete with an obstacle course, and a 60-foot round pen, plus it is ORV-friendly. We'd be remiss if we didn't mention plenty of campsites.
Every season is the perfect time to visit Mount Spokane State Park. You'll always get a different view with hiking, biking, and horse trails. The mountain is home to Mt Spokane Ski & Snowboard Park if you love winter sports. Stop at the historic Vista House for a photo op.
If city parks are more your jam, take a perambulatory walk in Manito Park. The 90-acre park has five distinct gardens–Nishinomiya Tsutakawa Japanese Garden, Rose Hill, Ferris Perrenial Garden, Duncan Garden, and Lilac Garden–to wander through. Wander past the Mirror Pond, as well, and stop for a snack in the summer months at the Park Bench Cafe.
You'll need more than a few days to taste what Spokane is cooking. Innovative chefs collaborate to create dishes that inspire. Bakers make delectable pastries. Baristas elevate the coffee experience. Spokane lives up to the Pacific Northwest stereotype with its abundance of craft breweries, wineries, cideries, and, yes, even a meadery. Get a taste of Spokane with each sip you take.
SCULPTURE
Look for the Salmon
Chief sculpture located near Spokane Falls. Created by local artist Smoker Marchand, this statue was installed as a reminder of this native heritage site, a place where the salmon were once so plentiful it was difficult to see the rocks in the riverbed beneath them.
Above: Monroe Street Bridge Numerica Skyride at Riverfront Park ©Visit Spokane
The Spokane region is quickly becoming known for its flourishing and welcoming art scene. It's all thanks to entities like Spokane Arts and Terrain. Stop at one of the many art galleries and museums, ponder the numerous murals, and enjoy the vast public art scattered around the city. Spokane offers an opportunity to explore small-city America with your entire family. It's a place that hasn't fallen under the cold, shiny spell of high-rise glass and steel. It's a place with charm and personality, and affordability. It's a city with a story. Visit and write your chapter.
BOUNDARY DAM & RECREATION AREA
2023 Boundary Dam Tour Season Open! Visit Boundary's Vista House, with observation deck, or explore the Forebay Recreation Area. Great camping, day use area, group picnic shelter and boat launch.
509-446-3083 | www.seattle.gov/city-light/in-thecommunity/tours-recreation-and-education/boundarytours-and-recreation
INTERNATIONAL SELKIRK LOOP
A spectacular 280-mile scenic drive around the Selkirk Mountains in Washington, Idaho & British Columbia.
Order our FREE travel guide at: www.selkirkloop.org
THE CUTTER THEATRE
A performing and visual arts center located in Metaline Falls, the Cutter Theatre is the brightest star in Northeast Washington! This historic building is a community events hub, art gallery, and library.
509-446-4108 | www.cuttertheatre.com
BEST WESTERN PEPPERTREE AIRPORT INN
Located just minutes from Spokane Airport, this hotel is a welcoming home base for PNW visitors. Whether you're catching a flight, or exploring outdoors, this modern, dog-friendly hotel offers Spokane's warmest welcome.
509-624-4655 | www.bwspokane.com
NORTHEAST CORNER 87
Above: Fall in Spokane ©Visit Spokane
Southeast Corner
©Visit Lewis Clark Valley
Southeast Corner
PALOUSE SCENIC BYWAY
Length: 208 miles, SR-27
Driving Time: 4-5 hours
Local Planning Resources: palousescenicbyway.org
LEWIS & CLARK TRAIL
Length: 572 miles, US-12
Driving Time: 12 hours, Clarkston to Long Beach
Local Planning Resource: pullmanchamber.com
AT A GLANCE
1 Steptoe Butte
The quartzite rock of the butte is said to be over 400 million years old and offers amazing views of the Palouse region of southeast Washington.
2 Pullman
Pullman is a vibrant city with unique restaurants, shops, galleries and boutiques. Also home of Washington State University. Go Cougs!
3 Palouse Falls State Park
Enjoy the dramatic view of Washington's official waterfall. Surrounded by an arid desert landscape, the water plummets 198-feet to the pool below.
4 Historic Dayton Depot
Originally built in 1881, it is the oldest passenger train station in WA. The Depot has been beautifully restored and is now a museum with revolving exhibits featured in the upstairs gallery.
5 Patit Creek Campsite
Over 80 life size steel sculptures representing how the Lewis & Clark Corps of Discovery made camp along their route in the 1800s.
6 Walla Walla
Downtown Walla Walla has many outdoor public art installments as well as boutiques, galleries and wine tasting rooms.
SOUTHEAST CORNER 91
1
2 5 4
3
Plan to make the parched and picturesque southeast corner of Washington your next great getaway. The rolling wheat hills of the Palouse are a photographer's dream and a visitor's delight. Magnificent buttes give way to panoramic views and the horizon seems to go on forever.
You might see a hawk circling above or hear the buoyant, flutelike melody of a western meadowlark ringing out across a field. There's a feeling of remoteness here with long abandoned barns and rural farm roads with very little traffic.
Wheat and grapes love the fertile soils. Come taste some of the nation's finest wine and explore this spectacularly scenic region.
Walla Walla Wine
The Walla Walla Valley's rich farming history now includes more than 3,000 acres of prime vineyards and more than 120 wineries. There are five main winery and tasting room areas to visit, so plan to spend at least a day or two here.
Walk down the Main Street of Walla Walla and drink in its small town charm. Check out the historic grandeur of the Marcus Whitman Hotel. You might want to map out your winery tours in the hotel's cozy Vineyard Lounge and make this your home base.
BARNS OF THE PALOUSE
Picturesque barns dot the Palouse hills landscape. Some stand as ancient witnesses to the first settlers. They beckon us to stop and ponder the past and the beauty of these rolling hills.
SOUTHEAST CORNER 92
To Spokane
Colfax
Dayton
Clarkston
Pullman
Walla Walla
6
Within 4 blocks of downtown Walla Walla you can walk to a large concentration of tasting rooms. And it's no surprise that there are fine restaurants to complement the local wine. Enjoy Spring Release Weekend in May, and Holiday Barrel Tasting in December to celebrate newly released wines.
Hiking and Cycling
For outdoor enthusiasts, the Blue Mountains on Walla Walla's doorstep provide numerous locations and trails to hike, cycle and soak in the sun and scenic beauty.
Find the perfect blend of wine, culture, and beauty in Walla Walla, named America's Best Wine Region by USA Today three years running.
SOUTHEAST CORNER 93
23VWW005 Visit Walla Walla Explore it all at WallaWalla.org Fly from Walla Walla and check your first case of wine for free!
Inside& Out
Cycling in the Walla Walla Valley
Passatempo
Above: Walla Walla at Sunset ©pnwaerialist
Palouse Scenic Byway
The 208-mile Palouse Scenic Byway combines extraordinary scenery with charming small towns. The Palouse is an artist's dream. Its beauty lies in the unique layering of the gently rolling hills with the changing colors and light. Thousands of acres of wheat fields turn from lush shades of spring green to yellow to autumn gold and brown with the seasons.
Pullman for Small Town Charm
Make Pullman your hub for exploring the Palouse. This is a vibrant college town where you can enjoy local craft beer and wine, dine on menus created with local foods and maybe even take in a live show at one of the local theaters.
Swing by the WSU Creamery to take home a round of its famous Cougar Gold Cheddar and allow time to tour the Grizzly Bear Research Center.
SOUTHEAST CORNER 94
Above: Rolling Hills of the Palouse ©Beautiful Washington
The Palouse is popular for cycling with over 35 miles of paved bike paths and full-on single track mountain biking, as well as road riding through the gentle rolling hills.
Plan to see and taste (a free sample) from the world's largest bowl of lentil chili at the National Lentil Festival in August. This popular food fest includes the legendary lentil cook-off, entertainment, a parade, and the Tour de Lentil Bike Ride.
You'll experience a sense of nostalgia for an older, small-town America along this byway. Enjoy antiquing and a delicious lunch at a local bakery. Snap a photo of the iconic Dahmen Barn wagon wheel fence or Codger Pole in Colfax. Stroll down memory lane at the vintage Texaco Station in Rosalia. Steptoe Butte State Park
Don't miss driving up the circular route to the top of this 3,612 foot butte to enjoy unparalleled views of the Palouse. Shoot a panorama of the 200-mile view of the rolling sculpted landscape, to share with family and friends!
Palouse Falls State Park
The park offers a dramatic view of Washington's 'official' waterfall. If you visit at sunset, watching the light and shadows change along the canyon walls is a memorable experience. Linger a little longer and enjoy the relaxing sound of "Aput Aput," (meaning "Falling Water") the Palouse Indian name for the falls.
Dayton is a charming, Americana town in southeast Washington. Discover small town charm, history, abundant outdoor recreation, great food, and local spirits in Dayton.
509-382-4825 | www.historicdayton.com
SOUTHEAST CORNER 95
DAYTON CHAMBER OF COMMERCE
Our State Symbols
bird: Willow Goldfinch
flower: Coast Rhododendron
native tree: Western Hemlock
marine mammal: Orca Whale
prized sport fish: Steelhead Trout
fruit: Apple vegetable: Onion
preserved gem: Petrified Wood
Washington, My Home
flag: Green with official state seal
seal: Portrait of George Washington
capitol: Olympia
waterfall: Palouse Falls
ship: Lady Washington
Where will your next ADVENTURE TAKE YOU?
HIGH STEEL BRIDGE
Explore mountain top to fjord depth. With access to pristine trails, lakes, streams, and shellfish rich beaches, Hood Canal is a perfect base for your next adventure. Book a stay on the #wildsideWA
Plan your itinerary: (866) 922-7469
MOUNT ELLINOR
LENA LAKE TRAIL
HOOD CANAL
LAKE KOKANEE