Economist: Expect 'inevitable' recession by 2024
By Andy Owens Contributing Writer
Business owners should expect a recession to hit the U.S. economy in the first half of 2024, a Daniel Island economist said during an annual economic forecast in December.
Stephen Slifer, a former chief economist for Lehman Brothers and former senior economist for the Federal Reserve, told hundreds of business owners, professionals and government o cials in Charleston that the national economy continues to remain strong even with rising in ation fears and a looming recession.
" e stock market has gotten whacked pretty good this year," he said. "Yet, the economy keeps hanging in there."
If a recession does come in 2024, businesses could experience a recovery during the second half of that year, he said.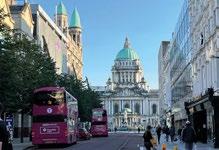 Slifer, who writes a column for SC Biz publications and operates a data analytics rm in Charleston, said several indicators that economists watch are predicting a recession.
"When are we expecting some sort of a recession?" Slifer said. "I don't want to oversimplify this, but there's a couple of things that I'm looking at. ere's all sorts of leading indicators."
Slifer said the real funds rate and the yield curve, along with speci c federal policy changes, give economists a reason to think a recession will occur in 2024.
e real funds rate is essentially the real interest rate with a subtraction for in ation, which indicates the actual cost of borrowing money and what a lender might expect as a return for lending money. Along with the real funds rate, Slifer said economists also look for an inverted yield curve.
"It's just the di erence between long rates and short rates," Slifer said. "Usually, long rates are higher than short rates, so
INSIDE Upfront 2 SC Biz News Briefs 4 In Focus: Workforce and Staffing 16 List: Professional Staffing Firms 18 List: HR and Payroll 19 At Work ............................. 20 Viewpoint 23 Pounds for dollars What the strength of the British pound means to the S.C. economy. Page 8 Coffee in a clutch Drive-thru java is having a moment in the Midlands. Page 4 Focus Staffing expert talks about how COVID permanently changed the workplace. Page 16 Forecasting 2023 Economist Stephen Slifer shares what the tea leaves tell his trained eye. Page 12
The NAI commercial real estate companies in Greenville and Columbia have merged. Page 10 VOLUME 16 NUMBER 1 ■ COLUMBIABUSINESSREPORT.COM JANUARY 2023 ■ $2.25 Part of the network State loses early convert to GOP Arthur Ravenel dies after long life and long career. Page 21
A merging of the firms
See ECONOMIST, Page 11
CSX designates Kershaw County rail location as a Select Site to attract economic investment. Page 6
BOUND for DEVELOPMENT