26 minute read
Unique Experiences in Denmark
UNIQUE EXPERIENCES IN DENMARK 2022Special  Theme:
Winter garden as it looks year round.
Just a short walk from Copenhagen central station, you can surround yourself by palm trees, marble and thousands of years of art on a visit to Ny Carlsberg Glyptotek, one of the most popular art museums in the Danish capital.
The museum is built around the private collection of founder and Carlsberg brewer Carl Jacobsen, who had a vision of making art accessible to the people. Gain insight into the cultures of ancient Greece, Rome
Small island, huge welcome
Enjoy inspiring special exhibitions, a superlative permanent collection of art and archaeological objects, and summer all year round at the Ny Carlsberg Glyptotek.
On Nyord, a small island south of Zealand, Denmark, you'll find Strågården ('The Straw Farm'), a small B&B run by the couple Kenneth Lau Rentius and Marianne Stolt Petersen. Despite having only 32 permanent residents, Nyord welcomes around 300,000 guests each year.
and Etruria, the root of European art, history of ideas and politics.
Glyptoteket is also the home of Denmark's largest collection of French 19th century and Impressionist art. Experience the works of artists including Manet, Monet, Degas and Sisley, as well as van Gogh, Cézanne and Rodin, concluding with Picasso and Gauguin. At the centre of the museum, made up of four different architectural buildings, visitors can sit and take in the winter garden – a beautiful oasis next to the café.
Special exhibition: Suzanne Valadon The ever-changing programme of special exhibitions at Glyptoteket offers a different perspective from the permanent exhibition. Until and including the month of July, visitors will be able to enjoy the exhibition Suzanne Valadon – model, painter, rebel
and learn the story of a French artist who challenged the social norms of the times.
Suzanne Valadon (1865-1936) defied hard odds to become a successful painter with her honest portrayal of women with confidence: strong bodies, curved shapes and pubic hair. She began her career and escaped poverty by becoming a model for the renowned Montmartre painters. Through her art she confronted social norms of the time and raised her own independence by becoming the first self-taught female to exhibit at Salon de la Nationale des Beaux Arts. With her art, gender, class and lifestyle, Valadon not only challenged her social destiny, but also contributed to creating new ways for the art with her uncompromising works.
Web: www.glyptoteket.com
Marianne and Kenneth, who both have roots on the island of Nyord, decided to move to the island permanently in 2016. Two years later, they started renting out rooms. "Strågården is an old farm with a thatched roof and a modernised interior," says Kenneth. "The building is listed, as is the case with several buildings on Nyord."
Staying at Strågården doesn't mean getting a key and minding your own business. The couple strives to make their guests feel welcome. "We take time to talk to our guests," Marianne says. "Many return, and some of them have become close friends of ours."
Guests come from all parts of Denmark as well as all over Europe. The couple has even had visitors from Chile and Canada.
Peace and tranquility are what keep guests coming. The island has a large nature reserve, and since there's a car ban, you can go for undisturbed walks in the beautiful countryside. At night, it's possible to see thousands of stars. The light pollution is very limited, which is why Nyord is a certified international Dark Sky Park and Dark Sky Community. "On the island, we have about five lamp posts in total," Marianne explains. "In the dark, you can see another galaxy with the naked eye."
Kenneth, a certified Dark Sky guide, enjoys taking visitors on guided tours – a popular activity among the guests of Strågården. "The fact that you can lie on a sun lounger and see things that are millions of lightyears away is just incredible," he says. "It's hard to believe until you've seen it for yourself."
Web: www.nyordbed.dk Facebook: Strågården Nyord Instagram: @straagaarden_nyord E-mail: mail@nyordbed.dk
Photo: Sebastian Nils
Otters, sea eagles, badgers and kingfishers are just some of the animals you can experience in Kolindsund Natur on Djursland. This 2,800-acre nature area has a rich wildlife and an interesting history – a story you can partly experience with your own eyes when hiking or biking around the area as you'll undoubtedly come across the three pumping plants from 1872, which are still fully functioning today.
If you are someone who enjoys both fascinating history and stunning nature, a visit to Kolindsund Natur will be right up your alley. This hidden gem of a nature spot is flat as a pancake despite being in the heart of Djursland, an area otherwise known for its hilly landscape. Kolindsund Natur is two metres below sea level, which means that you have to cross dikes to enter the area. "It is almost like a mini-Holland. We have about 95 bridges in the area," says Jens Prang-Andersen, one of the landowners of Kolindsund Natur.
Kolindsund Natur is owned by 100 landowners, and despite a big part of the area being used for agriculture, there are still plenty of things to do and explore. Originally, Kolindsund Natur was a huge lake, and a myriad of treasures have been found in the area, some of which are on exhibition at the National Museum. After losing huge amounts of land to both Germany and Norway in 1864, in 1872 it was decided that the lake had to be drained so that the area could be used for agriculture.
"A British company built three pumping plants to drain the lake. They called it Pumpelaget Kolindsund. In the early 1920s, the British company sold Pumpelaget Kolindsund to landowners, and today landowners own both that and Kolindsund Natur," explains Prang-Andersen.
The pumping plants are still used to drain the lake to avoid flooding. At full capacity, the pumping plants can pump out 7,000 litres per second.
The best ways to explore the beautiful nature and rich history of Kolindsund Natur are by foot, mountain bike or canoe. There are several marked hiking trails that take you around the area. The canals make for a peaceful canoe trip (just remember to bring your own canoe), and with permission, you are welcome to grab your fishing rod and catch your own dinner. With a bit of luck, you might even catch a glimpse of a sea eagle or one of the rare kingfishers. "We have a very rich birdlife, but you can also spot otters, deer and badgers," says Prang-Andersen.
Web: www.kolindsundnatur.dk Facebook: Kolindsund
Møns Klint, must-see sights.
Luxury escape: nature retreat, lounge and lake view, sauna and outdoor bath. Villa Huno Gourmet Restaurant, from farm to table.
Villa Huno Møns Klint: Unique glamping and lake spa
The eco-luxury escape of glamping explores the experience of connecting to nature. Dive into the peaceful world of Nordic natural wellness retreats and glamping getaways – a prospect that is sure to excite any luxury traveller.
Located near the world-renowned attraction Møns Klint and embedded in the enriching nature and wilderness of Eastern Møn, the Villa Huno Glamping and Lakeside Spa is surrounded by floral fields: a place where hills, valleys, woods and lakes meet – a hidden gem in the heart of some UNESCO-listed locations and the Møn biosphere reserve.
The historic Klintholm Estate has been owned by the Scavenius family for several hundred years. The seventhgeneration owners, Carl Gustav Scavenius and Inger Marie Kirketerp Scavenius, have established a small sustainable village consisting of a luxurious lakefront boutique hotel and gourmet restaurant, as well as the newly built glamping community next to the picturesque landscape of Jydelejet, where painters, ever since the 18th century, have found inspiration in the romanticism of the pure Danish nature.
Fall asleep under thousands of stars shining through the stargazing roof windows in the exclusive tents, and wake up to nature humming with birdsong from the ancient tree tops. Guests are invited to spend their holiday in the heart of the nature of magnificent Møn, in tents with views across either lake, forest or fields.
As a guest at Villa Huno Glamping, you can spoil yourself at the luxurious Aborre Lake natural spa facilities both day and night. Enjoy a calm swim in the 19-metre-deep forest lake, relax in the warm sauna while enjoying the panoramic lake views, and refresh yourself under the outdoor showers next to the lake. During your stay, you will be able to attend outdoor yoga sessions, as Villa Huno invites yoga teachers from the local Møn community of mindfulness.
Sustainability and environmental responsibility are among the core values of Klintholm Estate, and the boutique hotel and glamping therefore offer their guests certified organic and vegan products of soap, shampoo, conditioner and lotion from the Danish skincare brand Yroli.
Villa Huno Glamping and Lake.
Dark sky at Møns Klint.
Destination Denmark: An exclusive getaway
In this exclusive getaway experience, the guests will be met with new luxury, where a superior boutique hotel business is embracing farm-to-table principles by working with its own as well as local craftsmen. The Klintholm Estate has its own orchard with fruit trees and bushes, fields of grazing Hereford cattle, and kitchen gardens where the chefs handpick herbs and collect the eggs from free-range chickens.
From the farm shop next to Klintholm Estate, you'll be able to bring home the Klintholm Estate's own Hereford delicatessen and local goods from, among others, the award-winning artisan diary Hårbølle Mejeri, as well as other organic products. The area surrounding Villa Huno Boutique Hotel, Glamping and Spa offers endless opportunities of experiences, and Villa Huno Møns Klint is the perfect destination for hikers. The unique location allows you to walk from the hotel and glamping area to Møns Klint and explore the sights of the wilderness and uninterrupted landscape of Møn.
Villa Huno Glamping and Lake Spa.
Møns Klint UNESCO and Biosphere Reserve.
Villa Huno Gourmet Restaurant & Boutique Hotel.
From farm to table:
Villa Huno Gourmet Restaurant
The kitchen of Restaurant Villa Huno is anchored in the unique location and the breathtaking landscape that surrounds the area of Eastern Møn.
Villa Huno Restaurant is known for its craftmanship and high-quality gastronomy. With a belief in seasonal changes to the menus, the kitchen focuses on simple dishes that allow the individual ingredients to speak for themselves, in a taste sensation that embraces the core value of using their own and local products from Møn.
A symphony of greens from the kitchen garden combines with fruits and berries, either from the restaurant's own fields or from other nearby hedges, beaches and woods. In addition, the Klintholm Estate has its own 100 per cent grass-fed Hereford cattle, supporting the Klintholm Estate's rewilding and sustainability effort. On the spacious terrace of Villa Huno Restaurant, guests can enjoy late spring, hot summers and early autumn evenings, with wines from the family heritage of Château Kirwan in Bordeaux, or the delicacy of the refreshing qualities of natural wines, complementing the gastronomical experience. Villa Huno is proud to be among the first gourmet restaurants in the world with a Natural Wine Sommelier certificate.
Web: villahuno.com Facebook: Villa Huno Instagram: @villa.huno
Villa Huno kitchen garden.
Klintholm Estate Hereford cattle.
Left: Løgstør is located in the middle of Denmark's largest fjord – the Limfjord – and it is precisely the fjord's strengths in the form of mussels and maritime cultural heritage that have formed the basis for healthy development. But without a solid voluntary commitment, it would never have succeeded. Here is one of the city's volunteer groups having a meeting on Fredrik VII's Canal. Right: Nordic Clinker Boats traditions have been inscribed on the UNESCO Representative List of the Intangible Cultural Heritage of Humanity. Bottom: At the Mussel Festival, the mussels are typically cooked over a campfire.
Creating experiences in the city of mussels
Løgstør is a prime example of a volunteer success story. Here, local volunteers took responsibility for the future of the city by completely transforming it and giving it a new identity as the city of mussels.
Where some see obstacles, others see opportunities. That is exactly what happened, and is still very much happening, in the town of Løgstør in the northern part of Denmark. Back in 2008, the town faced a challenge. Everything was getting more centralised and online shopping really took off, so it was difficult to keep both inhabitants and shops around. The urban ecosystem was threatened.
Neither the centralisation nor the internet seemed to be slowing down – so instead of trying to fight it, the local residents got together and started focusing on their historical heritage and the local aspect. How could they make the area more attractive to themselves as well as tourists? How could they make Løgstør better?
"The sense of volunteerism and pioneering spirit in terms of taking responsibility for the town is incomparable, and it's the people living here who are to be acknowledged for the turnaround the place has experienced over the last two decades," says Anders Bloksgaard, museum director at the Limfjord Museum, which has cooperated on many of the new initiatives in the city.
One of the first things was to capitalise on the Limfjord and all it has to offer, in particular its blue gold: the mussels. The first Saturday in April each year is dedicated to a Mussel Harvest Party, where one tonne of mussels comes in by boat in the old harbour. They are then transported by a horse-drawn carriage and prepared by the city's chefs, so that visitors can taste the delicious delicacy for free.
"During the summer, we also have a Mussel Festival, which connects gastronomy to art and music. It lasts for three days, and during those days the harbour is full of people and hosts several different concerts," says Bloksgaard.
This year, the Mussel Festival will take place on 8-10 July.
A promising future You could say that the blue gold has given Løgstør a whole new identity, which is why Løgstør is today known all over Denmark as the city of mussels. But it's about much more than mussels; Løgstør has become a vibrant place full of cultural events.
"The Mussel Harvest Party and the Mussel Festival became a catalyst for more events, such as our annual Jazz Festival, our concerts in the harbour during the summer, a Maritime Festival and much more. Løgstør used to be a town focused on industrial matters, but now it's known for its many experiences and events," says Bloksgaard.
The transformation has not only resulted in a better area for its inhabitants and tourists, which was originally the ambition. It has also had the effect that more people now want to move there. Some of the people who have taken part in the festivals are even buying houses in the area –a great success, but that does not mean that Løgstør is now resting on its laurels.
"The only reason we have succeeded is because so many people have helped out in making the town better. The locals have pulled together and helped out with everything, but we have also had investors who, in some cases, have invested their own money to keep the development going. It's great to see what the town has become today, but we all still remember the situation 15 years ago, so we will continue to keep improving it," says Bloksgaard, who predicts an exciting future for Løgstør: "The activity created throughout almost two decades has meant that more boats are now passing through the harbour, which is why the municipality has decided to expand the harbour. They too have seen the potential in the town and how the water surrounding it creates something rather unique."
He adds: "We are also working on reopening the King Frederik VII's Canal, so one day we will be able to have boats sailing by like we did 150 years ago. We keep our feet on the ground, but I can't help thinking that the future of Løgstør looks very promising."
Mussel Harvest Party: Saturday 2 April Mussel Festival: Friday to Sunday 8-10 July Maritime Festival: Monday 9 September
Web: www.muslingebyen.dk Facebook: Muslingeby Instagram: @muslingebyen
Top left: The annual Mussel Harvest Party always takes place on the first Saturday in April, kicking off the season in Løgstør. Bottom left: The city has many culturalhistorical sites of value, in particular the Limfjord museum and King Frederik VII's Canal. Right: Beautiful wooden ships for the Maritime Festival.
Feel the music –vibrant city life, fairytale islands, and a wild dolphin
Listen to local musicians while sipping locally made world-class whisky at the docks. Go island hopping in the South Funen Archipelago. Explore cosy alleys with quirky shops. Indulge in culinary temptations and enjoy scenic beach attractions less than a 15-minute walk from the city centre. Svendborg no doubt makes for a memorable weekend getaway – and when you go, don't forget to stop by the harbour and say hello to Delle, Svendborg's most cherished, playful resident.
Nestled in the South Funen Archipelago, Svendborg boasts somewhat of a fairytale-like location. Here, you'll find charming cobbled streets with one-of-a-kind boutiques, idyllic houses and historic cottages that look like something straight out of a film, world-class culinary experiences, locals that know how to enjoy life, and live music like none other.
"We have quite the music scene here in Svendborg. People are constantly jamming and playing music in alleyways, back yards, bars and in the streets. We have live music every single night. It gives the city a distinctive, creative vibe," says Anja Mia Haas, event manager at VisitSvendborg. With more than 700 live concerts each year, there certainly is something for everyone. Whether you are a jazz lover or a folk music enthusiast, you dig rock music or just can't get enough of blues, you'll find a concert or festival here that is right up your alley.
The sweetness of life Svendborg is a city that is buzzing with life year-round, from the creative docks area at the harbour and a vibrant city centre with quirky boutiques in the Latin Quarter, to cosy cafés where you can easily linger for hours while sipping coffee and simply watching the lively city life unfold.
"With its cobblestone streets, specialty stores and an abundance of cafés and restaurants, Svendborg offers a city experience with a little twist. It is a really charming city with a very rich cultural life," says Haas.
An absolute must when visiting Svendborg is treating yourself to local food. Whether you dine in a restaurant, stop by a farm stand or visit one of the many farm shops, your taste buds will be pleasantly surprised.
"The quality is very high, and a lot of the food is locally grown and harvested. Sometimes, we find new and exciting ways to use the ingredients or do a spin on traditional recipes, like the internationally recognised Skarø ice cream that produces sustainable luxury ice cream with innovative ingredients such as seaweed, birch sap and lactic acid bacteria. We also have world-class distilleries that keep winning international awards. We are in many ways a blessed area. In fact, once people move here, they tend to never move away again," says Haas, herself once a newcomer, with a smile.
Svendborg truly is a place for bon vivants. So much so, in fact, that it was the first Danish municipality to be Cittaslow certified. Cittaslow originates from Italy and is, in its essence, all about slow living, the enjoyment of life, and excellent craftsmanship. It is a way of life that Svendborg fully embraces.
Island hopping with a dolphin If during your visit to Svendborg you need a little break from city life, the opportunities are plentiful. The South Funen Archipelago consists of 55 islands and islets, and what better way to explore some of them than by island hopping?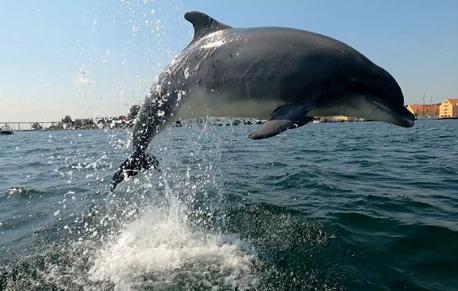 "Just a 30-minute ferry ride from the buzzing city life, you can experience the tranquillity of the islands. They offer extraordinary experiences in nature with mesmerising coastal landscapes. Each island has its own history worth exploring," says Haas.
What will make your ferry ride even more memorable is Delle, Svendborg's very own dolphin, who is a pure ray of sunshine with his playful nature. He will 'wave' you off when your ferry or boat sets sail – he just can't help it – and he is playful by nature and a pure thrill to be around with.
"Delle came from Scotland two years ago. He is wild, but he has really become a part of the city, and he brings so much joy to everyone living in and visiting Svendborg," Haas smiles.
When you are done exploring the beautiful islands – although with 55 of them, will you ever really finish exploring? – more experiences in nature await. There are hiking and mountain bike trails aplenty, which take you through the hilly landscape with gorgeous ocean views. You can also go horseback riding, a fun and different way to explore the beautiful nature. Or how about exploring sea life by canoe or kayak? If you want the full nature experience, you can choose to spend a night in a shelter.
"Svendborg is ideal for an active holiday, whether you are craving amazing nature or culinary and cultural experiences. Svendborg will move your heart and mind," Haas enthuses about the abundance of opportunities for living the good life in the South Funen Archipelago.
Web: www.visitsvendborg.dk Facebook: VisitSvendborg Instagram: @visitsvendborg
Photo: Jesper Stig Andersen
Photo: Knud Mortensen Photo: Andreas Mørk
Rosenborg. Photo: Peter Nørby
The Royal Collection: Treasures and castles of the Danish Royal family
Visiting the three castles in the Royal Collection is a fantastic opportunity to experience some of the extraordinary treasures and history of the Danish Royal Family, past and present. Entering the breathtaking palaces is like taking a step back in time, while the current exhibitions bring you back to the present day.
"This is a very special year for Denmark and for us," explains museum director Thomas C. Thulstrup. "In 2022, we celebrate 50 years of sovereignty for HRH Queen Margrethe and the 50th birthday of Crown Princess Mary."
The Royal Collection is marking the occasions with two special exhibitions honouring these remarkable women.
Three very different castles Rosenborg castle in central Copenhagen was built in the early 17th century as a summer residence for King Christian IV.For over 400 years, the Royal Danish Lifeguard has protected the most precious treasures of the Kings and Queens of Denmark at Rosenborg, including the crown jewels, so stunning that they alone are worth a visit.
The castle itself is remarkable, and the surrounding Kongens Have ('the king's garden') is magnificent all year round. Rosenborg truly is one of the most striking remaining palaces of the Danish Royal Family. Amalienborg is one of the four palaces that make up Christian VIII's Palace, and it has been the main residence of the Royal Family in Copenhagen since the late 18th century. Here, you can visit the Queen's Reference Library, look inside Christian X's study, visit the Fabergé Chamber and, finally, see the Gala Hall,
Amalienborg, Christian VIII's palace. Photo: Peter Nørby
which is still to this day used by the Royal Family on special occasions.
Koldinghus, meanwhile, is over 750 years old and was for many centuries the most important royal castle in Denmark. It was an intentionally menacing presence towering over the city of Kolding, guarding the country's southern borders. The castle burnt down in 1808 and was for years reduced to a romantic ruin. Today, however, Koldinghus is a modern museum and host to large international exhibitions. It attracts visitors from all over the world, to experience the splendour of the building's prize-winning restorations, the exhibitions, the view from Kæmpetårnet ('the giant tower'), and lunch in renowned restaurant Madkælderen.
The language of jewellery "The Royal Collection is more than the castles and the treasures within," explains Thulstrup. "It is a glimpse into the lives of the Danish Royal Family, both historically and present day."
This is particularly evident in two current exhibitions. The extraordinary A Queen's Jewellery Box – 50 years on the throne told in jewellery, at Amalienborg, celebrates the golden jubilee of the Queen, her life and reign. It tells the story of the young princess from ascension to today through her own deliberate use of jewellery.
"The exhibition highlights a particular form of communication for the Queen that many may not be aware of," says Thulstrup. "To the Queen, jewellery is not just a decorative element that has to match a given dress or outfit. When she wears a particular piece of jewellery, it contains a reference to these memories, and nothing is left to chance when the Queen chooses what jewellery to wear."
One such piece on display is the brooch she wore on her ascension to the throne on 15 January 1972, a now-iconic horseshoe-shaped brooch, which was a gift from her father to mark his signing of the revised Constitution that made her his successor. A long line of strong women Koldinghus also houses a special exhibition about Crown Princess Mary and four previous crown princesses of Denmark. This is a celebration of the Crown Princess's 50th birthday and her role. "We are focusing on both the official role and the opportunities that follow," Thulstrup says. "Through unique historical and private material and, crucially, the words of Crown Princess Mary, it becomes clear that the crown princesses in the Glücksborg dynasty are incredibly strong women."
The exhibition explores what it means to be a part of a Royal family, what the role requires of you privately and publicly, and the many opportunities to influence and to do good. All these women have made a difference to the lives of many people and to Denmark. The current Crown Princess is an exceptional example of this, so it is fitting that the exhibition is in celebration of her 50th birthday, as well as a look back through the history of the Royal Family that she joined in 2004 before becoming the Crown Princess of Denmark.
The Royal Collection offers a unique way of experiencing and learning more about the cultural institution that is the Royal Family, and how it has shaped Denmark. The historic and current perspectives of the exhibitions make Rosenborg, Amalienborg and Koldinghus exciting and relevant places to visit time and again.
Mary &Kronprinsesserne exhibition poster. Koldinghus aerial shot.
AQueen'sJewelleryBox – 50years on thethronetoldthroughjewellery 14 January to 23 October 2022, Amalienborg Museum, Christian VIII's Palace
Mary&Kronprinsesserne 1 February to 30 December 2022, Koldinghus Tickets to exhibitions are available online.
Web: www.kongernessamling.dk Facebook: Koldinghus, Rosenborg, Amalienborg Instagram: @koldinghus @rosenborgcastle @amalienborgmuseum
A Queen'sJewellery Box exhibition poster.
Calling all gourmet lovers
If you are a true foodie, chances are you will have heard of the world-famous oysters from the Limfjord. With Seaside Safari, you get a unique opportunity to pick your own oysters from the ice-cold water and learn how to cook them perfectly. It is a true haven for gourmet enthusiasts.
Imagine standing on a beach overlooking the beautiful Limfjord, enjoying a fresh oyster with just a hint of Stauning Whisky. This is the exact experience you will get with Seaside Safari, which has been offering tours such as oyster, seal and dolphin safaris for 14 years now.
"It has never been more popular to get out into the wild and spend time in nature. The oyster safaris in particular are popular among gourmet lovers as we have some of the best oysters in the world here in the Limfjord. We have guests coming all the way from New Zealand and the US to taste the oysters," says Michael Madsen, owner of Seaside Safari.
Standing in the ice-cold water in waders while picking your very own oysters is an experience you will remember for life. "Some of the oysters we eat raw with a bit of whisky. Others you'll learn how to prepare on a grill in different ways. And the best part is that you get to bring home oysters aplenty, so you can cook your hand-picked oysters for your friends," says Madsen.
In addition to oysters, the Limfjord offers a plethora of other seafood. If you are lucky on a seafood safari, you might catch a lobster or a couple of crabs. The entire time, an experienced guide will be there to provide you with tips and tricks, and when you get back to the beach, you'll cook your freshly caught seafood together with a chef. If you are looking for a family event, Seaside Safari also offers seal and dolphin safaris, which are real hits among kids. Here, you can experience 300-kilogramme seals resting on a sandbar in the sun or happily splashing around in the sea. More recently, dolphins have been spotted in the area, too.
"We have a big group of dolphins that migrated here from Scotland. It's just a very spectacular feeling, seeing these animals up close," says Madsen.
Cooking oysters Eat your oysters raw with just a little bit of whisky for a supreme taste. Grill them with just a touch of wild herbs or a bit of garlic butter, sour cream and breadcrumbs for a delicious treat. In the spring, serve your oysters with strawberries for a fresh and tasty starter.
Web: www.jyllandsakvariet.dk Facebook: JyllandsAkvariet Instagram: @jyllandsakvariet