52 minute read
Swedish Culture Special
SWEDISH CULTURE SPECIALSpecial  Theme:
Zanele Muholi, NtozakheII, Parktown, 2016. From exhibition at Bildmuseet. Photo: © Zanele Muholi Courtesy of the artist and Stevenson, Cape Town/Johannesburg/Amsterdam and Yancey Richardson, New York.
Photo: Textilmuseet Borås Art Museum, Walking to Borås by Jim Dine. Photo: EmilDalqvist
Photo: Gamla Linköping
Gimme, gimme, gimme –more Swedish culture!
From landscapes painted by a prince to a children's book character that's travelled the world, here's our pick of unmissable cultural experiences for your next trip to Sweden.
Are you curious about Vikings? A photography fanatic? Interested in chamber music or the ways of living of days gone by? There are countless high-quality, well-curated museums in Sweden, including gems that rarely make the tourist lists. In addition, there's the country's rich textile production history and a bold, innovative art scene.
Whether you're looking for historical insight and reflection, to be wowed by stunning views and jaw-droppingly impressive art, or to be challenged to think outside the box when it comes to all things design and social commentary, Sweden has plenty of options.
Add world-class service, award-winning food and unspoiled nature to explore in between your cultural activities, and we guarantee that you'll have a wonderful break in Sweden – good for both head and heart.
For information about travel, accommodation, attractions and more, please visit: www.visitsweden.com and www.sweden.se
The Swedish Chamber Orchestra. Photo: Nikolaj Lund
View of the Zanele Muholis exhibition at Bildmuseet, 2021–2022.
Meet the gaze of Zanele Muholi
Synonymous with world-class contemporary international art, Bildmuseet in Sweden's Umeå is home to high-quality exhibitions, thought-provoking collaborations and stunning architecture. The museum is currently hosting a powerful collection of photos from world-renowned Zanele Muholi, and its doors are wide open.
When it comes to Bildmuseet, it's not only what's on the inside that counts. The museum is in itself a piece of art, with architecture that attracts the eye. Designed by renowned Danish firm Henning Larsen Architects, the sevenfloor purpose-built building has a wooden façade with large windows and sits next to the serene Ume River. It's fitting, really, that this somewhat bold building is home to Muholi's striking collection, giving its significance and importance a platform to flourish.
Zanele Muholi is a South African photographer and visual activist whose work has been exhibited all over the world. Muholi has portrayed the lives of people within the LGBTQIA+ community for over a decade, empathy and pride always taking centre stage. Now, and until 8 May, around 100 photos and video installations divided into eight themes are on display at Bildmuseet. "We're thrilled to be showing Zanele Muholi's work here at the museum and inviting the public to discover and engage with this important collection of art," says Brita Täljedal, one of the display's curators.
The exhibition presents Muholi's career as photographer and activist and includes photos that are both beautiful and captivating. One of the series on show is Only Half the Picture, which documents people who have been victims of hate crime because of their sexual orientation. In this series, a sense of love, intimacy and strength features alongside intense images alluding to traumatic events. Because although South Africa's 1996 constitution promised equality for the LGBTQIA+ community, people in this group are still targets of violence and prejudice.
Stories of bravery Another theme – and perhaps the most impactful – is the ongoing series Somnyama Ngonyama, which translates to 'Hail the Dark Lioness'. A collection of self-portraits, these powerful and reflective images explore themes including labour, racism, Euro-centrism and sexual politics. At first glance, they bring the mind to editorial fashion shots, but as you look closer, you realise that they're anything but.
In one image, Muholi wears clothes pegs in their hair to pay tribute to their mother who worked as a housekeeper to feed her eight children. "Muholi is a very intelligent and innovative photographer who delivers political messages in ways that really strike a chord," explains Täljedal. In their own words, Muholi takes back their Blackness because they feel it's been staged by privileged white people. In these photos, Muholi has deliberately increased the colour contrast so that their skin looks even more Black and their eye whites even more white. Captivating and serious, yet playful.
There's also Faces and Phases, an ongoing series that has brought Muholi international recognition. The collection holds over 500 portraits of individuals within the LGBTQIA+ community, celebrating their lives and bravery. These people risk everything by living authentically in the face of oppression and discrimination. 'Faces' refers to the individuals in the photos, while 'phases' refers to transitions regarding sexuality, gender and identity, but also changes in their everyday lives. "Each subject looks directly at the camera, challenging you as a viewer to hold your gaze. It's quite powerful," says Täljedal. The heart of art "I believe that art overall can affect people in different ways to news and other media. It gives us another way of looking at the world, with new perspectives, and is absorbed differently by our brains," says Täljedal. "And that's the power of art."
Asked why she thinks Muholi's work has such great impact on people globally, Täljedal says she believes it's the combination of strong, visual photography and political content – as well as the calculated composition and level of empathy found in each piece of work. "I think that we all have something to learn from Zanele Muholi," she concludes.
View of the Zanele Muholis exhibition at Bildmuseet, 2021–2022.
Web: www.bildmuseet.umu.se Instagram: @bildmuseet Current and upcoming exhibitions at Bildmuseet:
Zanele Muholi Until 8 May
Iwo Myrin: Memories from theTaiga Until 17 April
Eva Kotatkova: What Does a Turtle FeelThrough theCarapace? 8 Apr to 4 Sep
Swedish Picture Book of the Year 18 Mar to 16 Oct
Mats Jonsson: Still Sámi 17 Jun to 30 Jan 2023
Nancy Holt: Inside Outside 17 Jun to 2 Apr 2023
Left: Zanele Muholi, Mellisa Mbambo, Durban South Beach, 2017. © Zanele Muholi. Courtesy of the Artist and Stevenson, Cape Town/Johannesburg/Amsterdam and Yancey Richardson, New York. Middle: Zanele Muholi, Qiniso, The Sails, Durban, 2019. © Zanele Muholi. Courtesy of the artist and Stevenson, Cape Town/ Johannesburg/Amsterdam and Yancey Richardson, New York. Right: Zanele Muholi, Bona,Charlottesville, 2015. © Tate. Purchased with funds provided by the Africa Acquisitions Committee 2017.
Left: The dining room at Prince Eugen's Waldemarsudde. Middle: Prince Eugen's piece Molnet. Right: The castle building and the park. Photo: Kjell Renblad
Immersive experience at Prince Eugen's Waldemarsudde
Beautifully situated on Djurgården in Stockholm is Prince Eugen's Waldemarsudde, a much-loved and award-winning art museum. Visitors come to see the artist's home, the fascinating collection and temporary exhibitions, as well as the lush park and garden.
Prince Eugen's Waldemarsudde consists of a main building, built in 1903–1905 as a residence for Prince Eugen, and a gallery building that was added in 1913. The prince was one of the leading landscape painters of his time. He was also an important art collector and a central figure in the Swedish cultural world, and the museum displays a selection of his paintings, a collection including works by Anders Zorn, Carl Larsson and Carl Milles, and temporary exhibitions.
"This is not your average museum. It's a former artist's home, a former Royal home – and it's situated in a lush environment with an amazing view over the inlet to Stockholm," says Karin Sidén, superintendent and director general at Prince Eugen's Waldemarsudde. "Both locals and tourists enjoy spending time here, admiring the architecture and the homely feeling in the residency, being fascinated by the works of art, going for a stroll in the park and garden with beautiful flower beds and sculptures, and finishing with lunch or fika."
Renowned works and contemporary names Over the years, Waldemarsudde has arranged a number of critically acclaimed exhibitions with Nordic and European art. The museum's programme is varied, with some of the most renowned pieces of art as well as exciting contemporary names. This spring, it hosts the new exhibition Nikolai Astrup – Visions of Norwegian Nature until 29 May. This is the first monographic exhibition featuring the popular Norwegian artist in Sweden for over 60 years, with around a hundred works, mainly oil paintings and woodcuts.
From 14 May, the museum will feature the 19th-century artist colony at Önningeby on the island of Åland, an often overlooked group. The exhibition Light over Sea and Land – The Önningeby Colony on Åland highlights important works by Swedish and Finnish artists illustrating the island's rural landscape and the beautiful archipelago, along with portraits and genre paintings from life in the community.
From 3 September, Waldemarsudde will present a research-based exhibition showing the diversity in the works of the famous Swedish painter Isaac Grünewald. And from 12 November, visitors can see works by one of Sweden's most eminent contemporary artists, Charlotte Gyllenhammar, shown inside the galleries and in the museum park.
Prince Eugen in his atelier. Photo: Prince Eugen's Waldemarsudde's archives
Web: www.waldemarsudde.se Facebook: prinseugenswaldemarsudde Instagram: @prinseugenswaldemarsudde
The permanent exhibitions.
Calling all history lovers
Behold Jamtli, a magical museum for children and adults alike, where history, art and culture meet. Pay this historical hotspot a visit and you'll find Nationalmuseum Jamtli, an arena for art and design, accompanied by an open-air museum and indoor exhibitions. That's three for the price of one.
Jamtli is the regional museum of Jämtland and Härjedalen and can be found in Sweden's Östersund. It has played – and still is playing – an important role in preserving the region's fascinating history, through interactive and engaging displays and events. Perhaps that's the reason why Jamtli has cemented itself as one of the most popular tourist attractions in the area.
Nationalmuseum Jamtli is a branch of the Swedish National Museum, and its current display Nordic Myths will run until 18 April. This summer will see the launch of Nordic Nature – Ideal and Reality, a new exhibition where artists depict Nordic nature from the 17th century onwards. "A collection of art and crafts will showcase various eras and their view of nature as a source of beauty, but also as economical resources, science objects and identity symbols," explains Jamtli's Christina Wistman. The exhibition holds around 130 works of art by artists including Elias Martin, Pehr Hilleström, Bruno Liljefors, Helmer Osslund and contemporary artist Frida Fjellman.
Once you've soaked up the art shown at Nationalmuseum Jamtli, there's lots more to explore. Head to the indoor museum where the Jämtland region's cultural history comes to life. This includes both temporary and permanent exhibitions, such as Vikingar (Vikings), where the ancient woven cloths called 'Överhogdalsbonaderna' can be found. These fabrics have existed for more than 1,000 years and depict a world miles away from the one we live in today.
Since the 1980s, Jamtli has also been working on its living history project, Jamtli Historyland. During the summer, this takes place in Jamtli's open-air museum and is brought to life by actors and animals. Visitors are invited to take part in various role-playing activities that demonstrate how people lived in the 18th, 19th and 20th centuries.
If guests fancy a break during their visit, they can sit down at the museum's cosy café. And before they leave, they can stop at the gift shop, which has been described as Östersund's best. So, whether you're young (or slightly less so), a true history fanatic, or just curious about the world, it's fair to assume that you're about to fall in love with Jamtli.
Jamtli Historyland 1975.
Web: www.jamtli.com Facebook: jamtlimuseum Instagram: @jamtli_ostersund
The Swedish Chamber Orchestra. Photo: Nikolaj Lund
Setting the tone for classical music –now and in the future
They strongly believe in what they do. They work hard and make sure to develop, with the future always in sight and with heritage in mind. We are of course talking about one of the world's most successful orchestras, the Swedish Chamber Orchestra. Touring internationally, recording albums and now starting their own podcast – these are just a few of the things that make this group vibrant and always relevant.
With a lot going on, it's indisputable that the Örebro Concert Hall really is the place to be. Here you'll find the members of the Swedish Chamber Orchestra, all 39 of the musicians with each their own rehearsal room, something that is rare. The freedom that it gives, to have their own space, is an important part of the orchestra's success. It gives each and every one of the musicians a security and a homely spot in their everyday work space.
"The difference between a chamber orchestra and a symphonic orchestra are two buses," jokes Gregor Zubicky, artistic director for the orchestra, "but the sound they create is bigger than the sum of its parts. We're bringing classical music, and sometimes we add a modern twist. We're so glad to be able to bring our music not only to a Swedish audience, but also on tour internationally. The reception we get when we meet our audience is absolutely fantastic, both at home and on tour."
Dausgaard and Fröst – the conductors One of the reasons why the Swedish Chamber Orchestra has gained international renown is its conductors, starting with the previous conductor Thomas Dausgaard, who developed the orchestra's rich sound and stood for continuity, stability and hard work during his 22 years with the orchestra. In 2019, he handed over the baton to Martin Fröst, a well-known clarinettist with significant international recognition. With Fröst as conductor, a new era started that increased the orchestra's artistic scope.
"We're privileged that everyone we work with is so talented; not only our own musicians, but also the international musicians who join us and bring their own competence and perspectives. In doing so, we keep classical music alive and continue to develop the sound with every new meeting," says Emily Öjdemark, marketing manager.
Recently, Martin Fröst won the International Classical Music Award for Artist of
a conversation led by Zubicky and always with a guest, like guest conductors, solo artists or solo musicians of the week. There will also be episodes where Zubicky and Fröst are discussing classical music, performances and more," says Öjdemark.
To make classical music more widely available, the orchestra also gives performances on Wednesdays. These start a little earlier, allowing people to elevate their normal after-work drink with a concert. And without the typical intermission, the Wednesday concert finishes in time to head home for dinner.
Wirénsalen. Photo: Lena Larsson
the Year. Considered one of the breakout stars of his generation, he is known for his boundary breaking performances, both as a solo clarinettist and as a conductor. He performs regularly in roles with orchestras such as the Royal Concertgebouw Orchestra, the New York Philharmonic, the London Philharmonic and the Saint Paul Chamber Orchestra among others. He was recently voted the Greatest of All Time as one of the three greatest clarinettists of all times, the other two being Benny Goodman and Artie Shaw.
"Fröst certainly shapes our performances and elevates them to a level that we're all so pleased to be able to share with our audience," says Zubicky. "He's great at bringing out the best in our highly professional musicians and selecting pieces that really showcase everyone's talents."
Soundscapes – the Swedish Chamber Orchestra podcast One of the key aspects of the orchestra's work is bringing those talents to everyone –including people who may not consider themselves classical music fans. "Market research has shown us that people sometimes think that they don't like classical music, but when they attend a concert they find that they actually do like it," says Öjdemark. "They get swept up in emotion while listening. That's magic!"
"We want our concerts to be as accessible as possible, to everyone, and that's one reason why we started Soundscapes – the Swedish Chamber Orchestra podcast. It is
You'll find the orchestra's home at Örebro Concert Hall, which was originally built in 1932 and then rebuilt in 2015. The Concert Hall seats 724 people.
You can buy tickets on the Concert Hall website, follow the orchestra's everyday life through its social media channels, and listen to the music on the YouTube channel.
You can find the Soundscapes podcast wherever you choose to listen to podcasts, or via the links below.
Web: www.orebrokonserthus.com/ svenska-kammarorkestern Facebook: Svenska Kammarorkestern Instagram: @swedishchamberorchestra YouTube: /Orebrokonserthus
Martin Fröst, chief conductor. Photo: Nikolaj Lund Emily Öjdemark, marketing manager. Photo: Lena Larsson Gregor Zubicky, artistic director. Photo: Nikolaj Lund
One of Sweden's most visited museums, where history comes alive
The open-air museum Gamla Linköping is one of Sweden's most visited museums. As you enter, history comes alive and you can experience with all your senses what everyday life was like for ordinary people more than a hundred years ago.
Gamla Linköping Open-Air Museum has around 450,000 visitors per year. Last summer, it was one of Sweden's most popular museums, coming in fourth place overall, according to the Swedish Museums Association (Riksförbundet Sveriges Museer).
"Open-air museums have had an advantage during the pandemic with a lot of outdoor activities for visitors, while indoor museums might have been forced to stay closed," says Tina Karlsson, museum director. "At Gamla Linköping, we quickly adapted to the new requirements and moved even more activities and events outside. We introduced self-guided and digital tours, and our guides welcome visitors in the open air."
Step into history with all your senses Visitors can experience history coming to life as they stroll through over 100-year-old wooden houses, cobblestone alleyways and gardens in the old town neighbourhood. They can literally see, listen to, feel, taste and smell history. With its combination of activities across generations and small shops, cosy cafés and restaurants, this popular destination has something for everyone.
Gamla Linköping is open throughout the year, with 20 separate museums telling the story of people's everyday lives and destinies of the past. Visitors can learn traditional crafts such as rope making, try old-fashioned ways of cooking, and understand what it was like to go to school or work in a town shop – or, suggests Karlsson, take part in a guided tour of the authentic homes from the early 1900s.
In addition to its extensive programme of activities, the museum expects to welcome more visitors when Linköping hosts the Swedish Championships Week (SM-veckan) from 28 June to 3 July. During this week, participants in more than 30 sports will come to Linköping to compete, and there will be plenty of activities around town. "It's a huge event that attracts a big audience, and we're looking forward to welcoming many more curious visitors to our open-air museum."
Web: www.gamlalinkoping.info Facebook: gamlalinkoping Instagram: @gamlalinkoping
Photo: Beatrice Törnros
Photo: Beatrice Törnros
Hurrah for 50 years with Alfie Atkins
It's a year of celebrations at Alfons Åbergs Kulturhus – or, the Alfie Atkins Cultural Centre. The beloved character Alfie Atkins was created by Gunilla Bergström 50 years ago, and there is plenty of fun to be had throughout the year.
Children's book author and illustrator Gunilla Bergström first invented Alfie Atkins (known in Sweden as Alfons Åberg) in 1972 in the first book, Good Night, Alfie Atkins. Her series of 26 books has been translated into more than 30 languages, and Alfie is a much-loved character for millions of children all around the world. Alfie Atkins is not a superhero; he is just ordinary, like most of us, and in the books we get to experience his everyday universe and adventures.
These days, Alfie Atkins lives in an old seed shop located at the Garden Society in Gothenburg. The listed building has been transformed into a creative cultural centre with authentic '70s décor. Here, curious visitors can watch theatre performances daily, play and get up to mischief, climb and discover the block of flats where Alfie Atkins lives, meet the scary monster and, of course, see the famous helicopter. There is also a mini cinema, a hot-dog stand and a jungle labyrinth to explore.
Celebrations in the spirit of learning 2022 is a year of celebrations at the Alfie Atkins Cultural Centre. "We celebrate 50 years together with Alfie Atkins," says Anna Forsgren, CEO. "Throughout the year, we will offer even more fun activities, such as new performances and storytelling. Also, the centre opened ten years ago, and we will continue to commemorate Alfie Atkins creator Gunilla Bergström with a new exhibition about her work as an author and illustrator and a recreation of her studio." "Of course, we are relieved that the restrictions are being lifted and we can welcome visitors to take part in our activities again," continues Forsgren. The centre maintains its focus on strengthening children's rights and learning and has developed its digital offering further in response to the pandemic. There are more digital performances and interactive lessons, such as Chemistry with Alfie Atkins, plus a new digital meeting place based on what children wish to watch.
The Alfie Atkins Cultural Centre is incredibly popular and welcomes more than 60,000 visitors per year. All activities are included in the admission fee, and visitors can also take a well-deserved break at Malcolm's Café or check out Daddy Atkins' gift shop.
Web: www.alfonskulturhus.com Facebook: AlfonsAbergKulturhusGoteborg Instagram: @alfonskulturhus
Dancing shoes.
Performance and play
If you want to live out your childhood dreams of performing on stage, the Swedish Museum of Performing Arts is your next stop. In the middle of Stockholm, visitors get a chance to step into a different world.
When approaching the museum, don't forget to take a close look at the building it's housed in. Kronobageriet, originally a bakery from the 17th century, is one of Stockholm's oldest surviving industrial buildings. Throughout the years it has housed the aforementioned bakery, weaponry and a distillery, and today it forms a core part of the history the museum invites us to explore. As a nod to the building's history, the on-site café is a labour of love, offering lunch and pastries, and is well worth a visit.
Once you get inside, a whole new interactive world awaits you. Would you like to learn more about the Swedish pop phenomenon, with ABBA and Max Martin at the forefront? Or perhaps classic Swedish authors and filmmakers like August Strindberg, Astrid Lindgren and Ingmar Bergman? The permanent collection, built up over 100 years, consists of over 50,000 items. The items on display range from musical instruments from the 17th century through to today, to puppets, theatre costumes and much more.
"It's hard to pick out one item that's the biggest draw," says Christina Sköldkvist, museum director. "It's really the breadth of the collection that gets people's attention. We've got everything from beautiful creations from Ingar Bergman's theatre productions, to an oboe da caccia that is believed to have been used by Bach himself, to mention just a few things. Our collections also form a sort of timeline of how society and technology have developed over time, so it becomes almost like an overview."
Interaction and play Immediately inside, the opportunities are endless. Unlike at many other museums, a lot of the exhibits are interactive and offer the chance to create your own music, art and dance pieces. "Our visitors walk in through the doors and you can tell they're almost shocked by everything you can see and do here," says Sköldkvist. "It's a very interactive experience, so alongside all the beautiful items on display you're also invited to create your own art."
The range of visitors is huge, but the museum is particularly popular with
schools and families. In addition to the tours and self-guided exploration, the museum offers all-day workshops for adults and children of all ages. "It's incredibly important to us to give children and young people a chance to find their artistic expression. For some children coming here and picking up an instrument, it's the first time they've ever had a chance to do that. It opens up a whole new world for them, and it's a privilege to be able to be part of that."
Theatre productions from start to finish Beyond their ongoing work with the schools of Stockholm, the museum also collaborates regularly with theatre companies across the city. Companies of every size, including Dramaten, the Royal Dramatic Theatre, use the great hall for performances and open rehearsals, inviting the public into the process of creating a great production.
"Working with contemporary theatre companies is obviously something that's central to our mission," says Sköldkvist. "Our visitors get a chance to pull back the curtain, as it were, to get a feel for what it's like backstage in the theatre. It's a lot of hard work to put on a great production, and getting to see what that's like is often the highlight of someone's visit!"
And of course, even in this case the museum offers plenty of opportunities to try it out for yourself, as part of the current On Stage exhibition. With items carefully curated to tell the story, nothing is too small to play its part – from a costume from Louis XIV's royal ballet, to contemporary rap lyrics about identity. Who knows what you'll discover?
Things you can try include… Dancing on an interactive dance floor. Digital try-on of theatre make-up. Try on costumes from real productions. Produce your own song using samples from the museum's collection. Play the floor-to-ceiling strings in the Sound Forest. Create your own puppet show with lights, sound and scenography.
Web: scenkonstmuseet.se Facebook: scenkonstmuseet Instagram: @scenkonstmuseet
Puppet show. Children dancing.
Person using the interactive dance pod. Exterior of the building.
Unique place for unique space
Färgfabriken is the exhibition hall that consistently produces thought-provoking exhibitions, inspiring new ideas in a playful atmosphere. Inhabiting an old industrial building in the area of Lövholmen, the hall and location have been uniquely preserved from redevelopment, with time turning into a hub for artists and creativity.
Since opening in Stockholm in 1995, their unwavering drive to showcase contemporary art, architecture and urban planning have produced numerous exciting exhibitions, and 2022 will be no different. The main act for spring and summer is a retrospective exhibition of Åke Pallarp (1933-2013), a Swedish artist who has brought life and art to public spaces in the most unexpected of ways. For anyone visiting the Swedish capital and its surroundings, the likelihood of bumping into his art is big: the famous interior of the underground station Stadion was created in collaboration with artist Enno Hallek. Altar pieces, film posters as well as a water tower have been designed in his complex, subtle and humorous spirit.
"The exhibition is a collaboration between Färgfabriken and his family. He was an artist
Portraitoftheartistas a wolf, Åke Pallarp, 1968. Photo: Sture Pallarp
who moved between painting, sculpture and architecture and whose creative spirit has had a fantastic impact on our surroundings, which we are honouring in this exhibition," says Elsa Bladh, project coordinator.
The unique location provides a perfect spot for creative inspiration in the exhibition hall, café and shop, where local artists are frequently represented. The bustling atmosphere is channeled into projects, promoting new ideas and solutions to social problems – simply put, art as a tool for a better future. What's not to like?
Photo: Åke E:son Lindman
Web: www.fargfabriken.se Instagram: @fargfabriken
Art and play for 20 years
In a converted barn in Bålsta, 40 minutes outside Stockholm, you'll find a fantastic collection of original comics and cartoon-inspired art. Boasting pieces by artists such as Pablo Picasso, Keith Haring and Andy Warhol, the museum is truly one of a kind.
year you visit, you can always be sure you'll find a carefully curated collection of one-ofa-kind exhibitions.
This special museum, founded by Lasse Åberg, the iconic Swedish cultural personality, is celebrating its 20th anniversary in style. "We've been going for 20 years now," says Carina Åberg, CEO of the museum, "and we're delighted to be able to showcase all these unique collections. We're all very passionate about this museum, which is constantly evolving."
One of the collections taking pride of place is one of the biggest and best collections of antique Disney memorabilia in the world, as well as objects related to the world's first cartoon character, The Yellow Kid, who first appeared in 1895.
For younger visitors, there's an opportunity to play in Trazankojan – the Tarzan hut – over three floors with slides, playhouses and regular screenings of the Swedish children's film Trazan och Banarne. During the spring and summer this year, the museum is building a fantastic playground, based on Lasse Åberg's well-known character Trazan Apansson, due to open in September.
In addition to the permanent collections, the museum also hosts regular temporary exhibitions. Currently, the gallery corridor is hosting art by cartoonist Maria Frölich, and from the end of March you'll be able to see pieces by iconic Swedish children's book author Sven Nordqvist. No matter what time of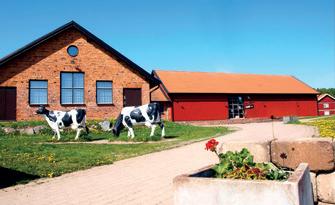 The Yellow Kid.
Web: abergsmuseum.se Facebook: AbergsMuseum Instagram: @abergsmuseum
Left: Try a dessert from a previous year's menu. How about a red whiskey dessert with a gold medallion? Middle: The tailcoat worn by King Carl XVI Gustaf and the gown worn by Queen Silvia in 1995, and by the Crown Princess Victoria in 2018. Photo: Dan Lepp. Right: Find out what it takes to serve the guests at the banquet.
Ever dreamt of being a guest at the Nobel Banquet?
Have you ever dreamt of rubbing shoulders with Nobel Prize laureates and experiencing the banquet first hand? A visit to the Nobel Prize Museum is the next best thing. The exhibition The Nobel Prize banquet – behind the scenes, will put you right at the heart of the event.
As one of Stockholm's main tourist attractions, the new exhibition at the Nobel Prize Museum allows you to taste, feel and hear what it's like to be a VIP at one of Scandinavia's most cherished events. "We had the idea for an exhibition based on the Nobel Prize banquet for several years," says museum director Erika Lanner. "As soon as we found the right angle, we got the ball rolling."
The banquet has been televised in Sweden since the 1960s and has since become a true cultural phenomenon. "Swedes have taken it to heart," adds Lanner. "We celebrate it at home, in schools, care centres –all over the country."
Why not have a bite to eat in the bistro during your visit? Book a luxurious Nobel lunch alongside a glass of Champagne for the ultimate experience. Pick up a souvenir at the shop, or try your hand at flower binding with the best in the business.
"We have fantastic chefs in our bistro," continues Lanner. "Order something from one of the previous year's menus from the banquet, and combine it with a tour of the exhibition."
Fashion statement What would a banquet be without fashion? Some of the most memorable creations are on display: Crown Princess Victoria of Sweden made a statement for recycling in 2018, when she wore a dress also worn by her mother, the Queen of Sweden, several years earlier, in 1995.
"We have highlighted a few creations with specific statements," Lanners says. "Former Minister of Culture in Sweden, Alice Bah Kuhnke, wore a dress with a folded paper bolero and drew attention to the melting ice of the Arctic. It really made an impression."
What's more, renowned photographer Anders Petersen shares a variety of his work at the exhibition too. "A more artistic perspective – one you don't see that often," says Lanner. "He was granted access to move freely at the banquet, catching angles that press photographers can't."
There really is something for everyone here, be it fashion, the history of the event, or the culinary delights through the years. If your destination is Stockholm, be sure to pay a visit to the Nobel Prize Museum and the exhibition The Nobel Prize banquet – behind the scenes.
Web: www.nobelprizemuseum.se Facebook: NobelPrizeMuseum Instagram: @nobelprizemuseum
Where the city meets the arts
However, and whenever, you arrive in Borås, you will be greeted by art. When you are gliding into the city by train, you can enjoy Jaume Plensa's House of Knowledge. If you arrive by car, you will most likely bump into Walking to Borås, a nine-metretall statue of Pinocchio by Jim Dine. And if you step off the bus at the travel centre, you will overlook Alice Aycock's Devil Whirls. The source behind these fantastic views is Borås Art Museum, a well-established museum focusing on international artists, sculptures and contemporary art.
Borås is, because of all its public art constellations, known as the sculpture city. Around 100 sculptures are displayed within the city, introducing visitors and locals to culture on a daily basis, whether they think about it or not.
"Our city is filled with art that's available to the public, so you will consume art without even knowing it," says Eva Eriksdotter, head of the museum. "The pieces
are sometimes thought-provoking and can kickstart conversations, and they've become part of the city's identity; we are often called the art city. Additionally, seeing our public sculptures and constellations can inspire people to come and see what we have inside the museum, too."
The museum features both Swedish artists and international talents. For example, in 2021, it displayed Janet Echelman's spectacular constellation 1.78 Borås, a 100-foot-long creation hovering over Borås main square. 2022, meanwhile, will see them open up for Nathalie Djurberg's and Hans Berg's latest artworks.
"What differentiates us from most museums is that we focus on the international scene and are lucky to have been given generous donations from our local business community. This has enabled us to invest in prominent art by some world-famous artists, which is truly special!" Eriksdotter enthuses. "We want to bring these fantastic pieces for everyone to enjoy."
Up-and-coming exhibitions at Borås Art Museum include Vidunderligheter, a Finnish contemporary art exhibition featuring seven different artists who explore existential questions including how we see the world, social and societal structures, and environmental perspectives in a humorous, poetic, bizarre way. The exhibition will be available from 14 May until 11 September 2022.
In addition, the museum will this autumn once again unite the art within the museum with the outside world and is due to host an art exhibition about light –another chance to open up and combine art with everyday life.
Vibrationby Xavier Veilhan. Photo: Sofia Carlenberg
Web: boraskonstmuseum.se Facebook: Borås Konstmuseum Instagram: @boras_konstmuseum
Ian Berry with his work Paradise Lost from the series Hotel California. Photo: Debbie Bragg
Beloved legends in denim
Layer upon layer of denim in different shades have become incrdible pieces of art. Until 1 May, you can experience Ian Berry's denim magic in Material World at the Textile Museum of Sweden.
Born in Huddersfield, a town with a long-standing textile tradition, Ian Berry is a creative force and influence in the denim industry and has been named one of the top 30 artists under 30 in the world. With scissors, glue and second-hand jeans, Berry cuts and layers the fabric to make photo-realistic portraits and scenes.
As the first museum in Sweden to showcase Berry's work on a large scale, the Textile Museum of Sweden presents Material World until 1 May. The exhibition includes, for instance, Hotel California, a series inspired by hotels and swimming pools in the western US state, where Berry cleverly catches the light and reflections on the water, as well as Giant Jacket and Lockdown Living Room, a recreation of his home during the pandemic.
"I've been portraying social and contemporary issues and what better material to use than what I think is the material of our time, denim," says Berry. "But now, I have been looking more at what the material is and the stories behind it. The Textile Museum is the perfect location to show that."
From cowboys to punk culture In Denim Legends, Berry explores why we wear jeans, from workwear for cowboys to '50s movie stars, and later pop and punk culture. The celebration includes portraits of icons such as James Dean, Madonna and Bob Dylan – all playing a part in our love for denim. Denim Legends is an evolving installation where visitors are asked, 'Who is your Denim Legend?', and their opinions can shape the final piece.
Included are also two guest designers who have interpreted Berry's work. Dutch designer Jonathan Christopher has created garments inspired by the most notable bodies of work and Swede Lill O Sjöberg complements the denim stories and rock history with a drum kit and guitar in Twood (textile wood), a new sustainable material made of discarded jeans. Everybody has a relationship to denim, and the exhibition appeals to a big audience, including people who might not normally visit galleries. Comments by fascinated visitors include: "the best exhibition I've ever seen" and "seeing it in real life is so much better!".
Photo: Debbie Bragg
Material World is showing at the Textile Museum of Sweden until 1 May 2022. The museum is located in the Textile Fashion Center on Skaraborgsvägen 3A in Borås.
Web: www.textilmuseet.se Facebook: Textilmuseet Instagram: @textilmuseet
The story of Birgit Nilsson: The Dream. The Passion. The Legacy.
Birgit Nilsson was an icon, a performer and, later in life, also a teacher. But first and foremost, she was a singer – a singer who came from a tiny place in Sweden and with a view to enter the wider stage; not knowing exactly how to get there, just that she definitely would.
Now there's a museum based on her life, located in Västra Karup, the small town she is from. In fact, the museum is located on the very farm she grew up on. And here, at the Birgit Nilsson Museum, they are carrying on her legacy. "We have the honour of telling the story of Birgit Nilsson: how she lived, how she fell in love with music, and how she took over the world of opera. We are very fortunate to be able to carry on the legacy she left behind. Therefore, this year's theme at the museum is 'The Dream. The Passion. The Legacy'," says Gitte Lindström-Harmark, manager at the Birgit Nilsson Museum.
The Birgit Nilsson Museum is not an ordinary museum. The opera singer's legacy has been the foundation of a large organisation, which invites visitors not only to learn about her life, but also to follow in her footsteps and make their own dreams come true. "Even before she finished her career, she decided that she wanted to give back to the industry she was so passionate about. That's why she created the Birgit Nilsson Prize, a prize awarded for outstanding achievement in classical music. This prize is now one of the most prestigious classical music prizes in the world. Beyond this, she also created the Birgit Nilsson scholarship, which is given to a young Swedish singer every year."
Moreover, the museum invites young singers to participate in masterclasses, something that wasn't always a part of the plan – at least not for Birgit Nilsson herself. Lindström-Harmark explains: "Birgit was asked early on if she would be interested in teaching her skills at some point. But she was hesitant to the idea. She had herself experienced such poor teachers and didn't want to risk becoming one herself. But one day, her friend Peggy Tueller at the Manhattan School of Music asked her to join one of her masterclasses. She decided that she was ok with answering some questions, and when she was asked by a student how it feels to hit a High C, she explained it in the most beautiful and detailed way. This was when she discovered that she had a knack for teaching and started giving masterclasses."
A stipend, farmlands and the Aida cake Every year, in August, the museum hosts The Birgit Nilsson Days. During these days, the museum presents the stipend, which is now worth 200,000 SEK, arranges masterclasses, and invites everyone to a grand concert involving hundreds of musicians and international singers. "This is truly what carrying on her legacy is about. Her passion for music and her dream to succeed make her legacy, and she has given us the opportunity to pass these on to others. Birgit used to say, 'Achieve something you've always dreamed of, and you'll experience something you never could have dreamed of'," Lindström- Harmark explains. The museum is located close to the west coast in Sweden and is surrounded by farmland. It consists of Birgit Nilsson's family home and the stables, barns and fields around it. The stable has been made into a cafe, which offers baked goods that Birgit herself used to make. Around the area, the museum has created a hiking trail where you can enjoy the scenery and listen to Birgit sing using the QR codes available along the way. "We knew from the very start that we wanted to have a café here at the museum, and it's so wonderful that we can take Birgit's legacy with us into the café as well. She loved to bake and created many recipes herself. The Aida cake is a must," Lindström-Harmark smiles.
A wish come true Birgit Nilsson took her first step towards her dream of becoming an opera singer when she started studying at The Royal College of Music in Stockholm in 1941. Here, she was taught how to master her rare talent, and how she could go on to become something extraordinary. But her big break came two years later, when she was called in as a substitute to perform Weber's Der Freischütz at the Royal Swedish Opera in Stockholm. This opportunity is what, in the end, made her leave Sweden and conquer Europe, and then the rest of the world. She performed everywhere from the Met in New York to the Bolshoi Opera in Moscow, before once again returning to Sweden and ending her career, having achieved her dream.
"In some way, she always knew she was going to make it. Every time she saw a falling star, she wished she could be a singer. One wish, her entire life – and it happened," Lindström-Harmark concludes.
Web: birgitnilsson.com/en Facebook: Birgit Nilsson Museum Instagram: @birgitnilssonmuseum
Photo: Mickael Tannus
The tourists' choice: A destination out of the ordinary
The four most popular museums in Sweden are predictably located in Stockholm. Number five on the list, however, might come as a bit of a surprise – in terms of both its location and what kind of museum it is. Found in the northern city of Umeå, this museum is dedicated to guitars.
As is the case with many success stories, his did not follow an ordinary template. It began with a couple of brothers and their personal – and huge – interest in guitars. "It's all about the twin brothers Samuel and Michael Åhdén, who have devoted their lives to guitars, amplifiers and related paraphernalia. They've spent 45 years creating the collection," Fredrik Fagerlund, founder and head of PR at the museum, explains.
This mecca for aficionados opened in 2014 but has already been crowned by international music magazines as the finest guitar collection in the world. And the visitors clearly agree: Guitars – The Museum's
average rating on TripAdvisor is 5.0. This is quite an achievement after only three years.
Additionally, the museum challenges gender stereotypes about men and guitars and appeals to all genders, with equal numbers of male and female visitors. What is the secret behind the success? To Fagerlund, the answer is quite simple: "We provide two tours daily, at 1pm and 3pm, often guided by the brothers themselves. The tours include stories that bring both laughter and tears to the visitors' eyes. It's about the brothers' lives, their experiences of collecting, and of course also facts about the guitars," he says.
A trip to Umeå is clearly not complete without a visit to Guitars – The Museum.
Web: www.guitarsthemuseum.com
Get drawn into creativity
Teckningsmuseet is a museum dedicated to drawings and illustrations, showcasing Swedish and international artists in captivating exhibitions. The premises are beautifully located in Laholm, southern Sweden, and offer the perfect spot for cultural nourishment and inspiration, as well as a great day out for all ages.
2022 will be an exciting one for Teckningsmuseet. In addition to its 30th anniversary, two highly anticipated exhibitions will run simultaneously throughout the spring, to be replaced by a monumental summer exhibition.
Tommy Sveningsson's and Roj Friberg's dreamy drawings inaugurate the year, focusing on surreal depictions of nature, landscapes and the human experience. "Our exhibitions are created to give visitors a holistic experience – Sveningsson was heavily inspired by Friberg's drawings, and the exhibition will highlight these points to expand the knowledge and appreciation of their art," says artistic director Frida Talik.
The summer takeover will consist of work by the legendary artist Lasse Åberg. His playful and humorous take on pop culture has made him one of the most cherished Swedish artists in modern times, and his drawings will be on display throughout the summer.
While the museum showcases established artists, it also encourages visitors to create their own art. The drawing studio is fully equipped with artist materials, paper and pens, welcoming inspired visitors to continue the cycle of creation and bring treasured impressions from their day back home.
Admission to the museum is free, so what are you waiting for? Be inspired and bring forth the inspiration after a nourishing day at Teckningsmuseet in Laholm.
Web: www.teckningsmuseet.se Instagram: @teckningsmuseet
The light installation LuminousOperating System by Mikael Ericsson illuminates Hallands Konstmuseum when darkness falls.
Tarik Kiswanson, Grandfather'sBlazer, 2022, and AssembledOpacity #4, from the exhibition Nest.
Metamorphosis and masterful artistry
Hallands Konstmuseum is the art museum on the west coast in Sweden that serves as home to a collection brimming with work from some of the biggest Swedish artists along with unique historical artefacts. An exhibition calendar packed with exciting names is customary, making this a haven for hungry art lovers all year round.
Searching, hovering, transforming – these three words best encapsulate the work of artist Tarik Kiswanson, the main act of spring 2022 at Hallands Konstmuseum. Despite being born in Halmstad, the museum's home town, his work is more commonly known abroad. After studying in London and Paris, he had work exhibited at a number of institutions around France, Centre Pompidou being a prominent example.
Hallands Konstmuseum now proudly presents Kiswanson's first exhibition on Swedish ground. Nest promises a spellbinding contemplation of the artist's search for identity and origin, being of Palestinian descent, through sculpture, drawings and installations. What does the influence of time, culture and family do to one's sense of self? The fabrics of life are interwoven with each other, metaphorically and literally, in an installation where garments descended from his family, in addition to historic garments from the museum's collection, are presented together and X-rayed. What does it reveal about him and life around him?
"Kiswanson's art is about a metamorphosis, about moving from one space to another and the lingering vacuum in between. How do we grasp the time of transcending into something else, from one identity, cultural and personal, to another? We've been following Kiswanson for many years, and to finally exhibit him on our premises is beyond exciting," says Magnus Jensner, museum director.
The permanent collection consists of some of the most influential names in Swedish art, as well as unique collections of textile, archaeological treasures and local photography. Halmstadsgruppen, Gösta-Adrian Nilsson, Olle Baertling, Thea Ekström, Söndrumskolonin and Lotta Antonsson are just a handful out of many more names in the museum's possession and on view in various constellations throughout the year.
Vårsalongen, the highly anticipated exhibition where emerging, locally connected artists showcase their work is opening in April. "We're constantly expanding our rich history with a growing collection and through mind-boggling exhibitions by groundbreaking artists. Despite our relatively small size, we push boundaries and shape the world of art, not only in Sweden but also abroad. We've done so from the beginning and will continue the tradition for as long as we can," concludes Jensner.
The exterior of the museum.
Web: www.hallandskonstmuseum.se Facebook: Hallands Konstmuseum Instagram: @hallandskonstmuseum
Where myth meets truth
Although the Viking era ended long ago, Stockholm's dedicated Viking Museum continues to grow, evolve and attract. It's the ideal place to learn more about this historical epoch, and a fantastic destination to feed curiosity – for adults and children alike.
Recent years have seen a spike in the general interest in Vikings. This is hardly surprising, considering the wave of Viking-themed TV shows, films and games that have been released for the public to indulge in. For the Viking Museum, this is great from an awareness and diversity point of view, as the demand for Viking knowledge comes from all different directions. "Not only do we welcome children who are learning about Vikings in school, but we also have visitors from all over the world who are simply curious about this mythical period in Scandinavian history," explains Anne Charlotte Ytter, museum director. An interactive experience So, who were the Vikings? Were they brutal, vicious looters, or is there more to their story? Pay a visit to the Viking Museum for a thorough introduction to the Viking era, told in innovative and interactive ways. You'll meet the Vikings through films, scenery, projections and sound effects, as well as archaeological objects.
There are guided tours available throughout the day in both Swedish and English, led by the museum's knowledgeable guides. Dressed in Viking gear to look the part, the guides will answer any questions you might have and share their specialised expertise. Many of them are professional archaeologists, which means that the tours will be slightly different depending on who's leading it.
The Norse mythology is present everywhere, and the museum's many replicas let you explore life as a Viking with all your senses. "Visitors will learn about raids, journeys and mastery in ship building, but also about everyday life at the farm," says Ytter.
Ragnfrid's Saga And that's not all. For an even deeper dive into the world of Vikings, visitors are invited to experience Ragnfrid's Saga. This 11-minute long adventure ride begins at Frösala Farm, where Ragnfrid and her husband Harald are introduced.
Visitors are then taken on a remarkable trip where they witness plundering in the west and slave trade in the east. Ragnfrid herself narrates the saga, with a little help from sound effects, lighting and atmospheric sceneries.
The historical value When asked about the importance of the Viking Museum, Ytter says that we should all know our history. "Of course, it's not all about Vikings, and perhaps I'm biased, but I do have a special interest in this era specifically. It's a definitive time in Nordic history, a time when the Scandinavian countries were formed and when Sweden began the process of uniting under one king and religion," she explains. "It really is an incredibly important and interesting part of Scandinavian history."
Also worth mentioning is that this museum is in constant development. Ongoing research and discoveries within archaeology and history mean that the museum must update its offering regularly. This goes for any information and trivia shared, as well as the scenic exhibitions. "It's important for a museum to grow in line with society, and we strive to do exactly that," says Ytter. And speaking of change, there are several new exhibitions planned for the Viking Museum, so keep an eye out to know what's coming.
Shop, eat and drink like a Viking The museum's shop alone is well worth a visit. Ytter describes it as a treasure full of totally unique goods, including local handicraft and souvenirs produced by the museum itself. Everything is selected with care, adding to the overall experience of exploring the lives of Vikings.
Hungry for more? Head to the museum's own restaurant, which boasts stunning views over Stockholm. Named Glöd (which translates as 'ember'), this eatery offers genuine Nordic food, in the form of both simple dishes like salads and sandwiches, and à la carte. "Of course we also offer the chance to try mead, all Vikings' favourite drink," promises Ytter. "We've developed our own product together with a local brewery, and we offer mead tasting here at the museum," she adds. There are also traditional Swedish cinnamon buns and coffee for those who just fancy something sweet.
Ready to stand face to face with a Viking? Then steer your ship towards Stockholm and immerse yourself in the fascinating world of the Vikings.
Web: www.thevikingmuseum.com Facebook: thevikingmuseum Instagram: @thevikingmuseum TikTok: @thevikingmuseum
Oasis for local art history, craftsmanship and contemporary art By Malin Norman | Photos: Rackstadmuseet
The Rackstad Museum is a fascinating mix of local art history in Arvika combined with craftmanship and contemporary art.
The Rackstad Museum outside Arvika dates back to the famous artist and sculptor Christian Eriksson, who grew up in the area, where the family had a farm and a furniture workshop. Although initially he intended to develop his furniture craft, Eriksson entered the world of art in France. While living in Paris, he built the home and studio Oppstuhage in the mid 1890s, as he wanted to move back home with his French wife Jeanne Tramcourt. This old building is now part of the Rackstad Museum, and visitors can see how the artist lived and worked.
The museum hosts a permanent exhibition that shows early 20th-century arts and crafts, such as textiles, furniture and ceramics made by members of the Rackstad Colony. The small group consisted of friends Gustaf Fjæstad and Maja Fjæstad, Bjorn Ahlgrensson and Fritz Lindström, and other artists and artisans who were active in the area at the time.
The other exhibition hall houses the museum's temporary displays of contemporary art. This year, the museum presents Arvika Konsthantverk – 100 år av lustfyllt
skapande, which tells the story of Sweden's oldest cooperative for arts and crafts.
"The Rackstad Museum is unique in that it has one foot in the world of art and the other in crafts," says museum director Anneli Strömberg. "You can sense the heritage, experience the old furniture workshop run by Christian Eriksson's family, see works by the Rackstad Colony, and discover new artists in the temporary exhibitions. Also, we have a wonderful garden, a shop and a café – it's an oasis where you can relax after exploring."
Opening hours: Tuesday to Sunday: 11am to 5pm
Web: www.rackstadmuseet.se Facebook: rackstadmuseet Instagram: @rackstadmuseet
Swedish industrial history meets the future
If you like to explore old tractors and construction machines, the Munktell Museum is going to be a veritable paradise for you. Here, you can climb up and step inside old, restored machines. But it's not just about the past, as simulators and the latest VR technology bring you into the future.
The Munktell Museum in Eskilstuna is a popular destination for the whole family, including curious children who love tractors, people interested in steam engines, and real tech enthusiasts. The museum opened in 1991 in the heart of Sweden's industrial district and is owned by Volvo Construction Equipment, one of the world leaders in construction machinery, dating back to engineer Johan Theofron Munktell.
In 2008, it was named the world's best museum in its category. The collections include around 200 objects that represent Sweden's industrial history – everything from pioneering engineering to modern construction machines. In addition to the exhibition halls of around 3,000 square metres, the museum has a repair workshop and an auditorium with room for 100 people, plus facilities for conferences and events, and a popular café.
"Here, you can follow the progress of Volvo Construction Equipment through nearly 190 years of innovation, see machines that have been restored, and even climb up and step inside," says Jannicke Serneberg, museum director. "But we also show how history meets the future with interactive elements and digitalisation." Visitors can try simulators and experience the latest VR technology, and there are lots of events throughout the year.
The Munktell Museum is located in Munktellstaden, an old industrial district in central Eskilstuna, which has been renovated and now houses everything from culture and education to sports, music and food.
The Munktell Museum is open six days a week. Monday to Friday: 10am to 4pm Saturday: 11am to 4pm Sunday: closed
Web: www.munktellmuseet.com Facebook: Munktellmuseet Instagram: @munktellmuseet
Legendary expeditions and local recollections
Gränna, the picturesque little town overlooking the Vättern shores, is the birthplace not only of the candy cane, but also of one the great Swedish Arctic explorers, Salomon August Andrée. Grenna Museum showcases the Andrée expedition's enthralling story as well as a unique Polar Centre and the area's local history in captivating exhibitions all year round.
125 years ago, on 11 July 1897, three men –Andrée, Nils Strindberg and Knut Frænkel – took off into the air in a balloon from Svalbard, with a mission to map the unexplored North Pole. Heroic intentions ended in tragic outcomes, and their story is being exhibited through memorabilia, photographs and diary entries at the Grenna Museum.
To mark the 125th jubilee, the museum has arranged a number of exciting events. "We are publishing an insightful, unique diary written by a man who was present during the preparations for the excursions, along with a perfect replica of an ice hut that the men built during their ordeal on the ice. Weather allowing, numerous hot air balloons will be hovering through the air space," says Håkan Jorikson, museum director.
Their interactive Polar Centre entices people with unique stories from expe-
The balloon Örnen ('the Eagle') after it had landed on the ice in the Arctic. ditions around the world. The rich local history is also displayed through various exhibitions, where the life of candy cane inventor Amalia Erikson is in permanent focus alongside temporary shows. Female photographers in the area, as well as Gränna during the 1960s, will be two of many focal points, clearly highlighting that what the town lacks in size, it makes up for in rich history.
Web: www.grennamuseum.se Instagram: @grennamuseum
The entrance to Grenna Museum.