22 minute read
Sunny Slope Sips and Golfing Greens
Scandinavian Lifestyle
Refreshing beers after crisp days in the mountains
Ski bums and outdoor enthusiasts, there is still time to soak up some winter sun in the mountains. Whether staying at a fancy ski hotel or in a comfy cabin, hitting the slopes or cross-country skiing at a slower pace, or just enjoying some down-time on a sunny terrace – there are some delicious beers available for quenching your thirst, perfect for snowy winter days.
For great taste without a huge ABV, a crushable Czech-style pilsner will be refreshing after a day on the slopes. Going slightly darker, a sessionable Amber Lager has a nice balance of caramel malt and hop bitterness. Meanwhile, a classic Dunkel, a dark lager, juggles flavours of chocolate, bread crust and caramel, but without being too sweet, and usually also goes well with food.
If you like hoppy beers, Swedish brewery Beerbliotek has a superb one for relaxing with friends in the cabin. Sällskapsdryck is an easy-drinking American Pale Ale full of citrus and stone fruit with pronounced bitterness. Norway's Lervig has a fantastic IPA, suitably called Field Trip, brewed with kveik yeast. Think pineapple, mango and tangerine coupled with intense hops. And To Øl in Denmark tempts with Blizzard, a dry-hopped winter wheat IPA described by the brewery as "a turbid white thunderstorm in your glass".
Beer is often best enjoyed fresh, so try a local brewery if you get the chance. For instance, Fjäll-Plzner by Sälens Fjällbryggeri is a Czech-style pilsner with notes of crispbread, apricot, caramel and orange. Its hazy IPA, called Fjälldimma, sounds delicious too, with well-balanced fruitiness and hop bitterness. Fjällen by Åre Bryggcompagni is a juicy, double dryhopped American Pale Ale with hints of mango, pineapple, grapefruit, rosemary and honey. Also based in Åre, Svartberget brews Smokey Mountain, a smoked rye beer reminiscent of charcuterie and rye bread, perfect when curling up on the sofa by a crackling open fire.
Malin Norman is a certified beer sommelier, beer judge and member of the British Guild of Beer Writers. She writes about beer for ScanMagazine, beer magazines and beer suppliers.
A burden shared is a burden halved –why group exercise is a secret to fitness fun
We've all been there: dragging ourselves to the gym after work, vowing that tomorrow will be the day we join that 6am spin class, or tying the running shoes on with a big sigh. But what if there's a way for you to feel motivated to get moving, which doesn't involve strict exercise plans or 5am alarms?
Enter group exercise. Or, as a start, surround yourself with people who exercise. Psychology and exercise researchers have long known that the people around us influence us, so if you surround yourself with people who exercise regularly, it will naturally change your thought patterns and your feelings about moving your body. You'll start to perceive exercise as something more desirable, positive and doable.
But what's even better than just surrounding yourself with people who exercise is joining them. Scandinavians are known for combining socialising with exercise. In Denmark, one in three people is part of a private sports club for sports such as tennis and football, and Sweden's largest fitness organisation, Friskis & Svettis, has 107 clubs throughout the country and sees groups of gymnasts take to local parks to move together to up-beat music.
For the majority of these people, it's not just about exercise; it's also about the social aspect, meaning that they're more likely to show up. As many as 75 per cent of Danish children participate in sport on a regular basis, and newcomers in Denmark are encouraged to join a sports club as soon as possible.
Studies show that you are more likely to stick with working out if you enjoy it, and researchers say that exercising with others can help with that enjoyment – that's even if you find the activity difficult and you wouldn't usually enjoy it. Exercising in a group makes it a fun social activity. So, if you are struggling with your fitness plan, why not join one of the many sports societies and clubs like the ones they have in Scandinavia? It seems like they're onto something…
Heidi Kokborg is a journalist and health coach from Denmark. She runs her own online business and writes a column for ScanMagazineabout health and wellness in Scandinavia. Web: www.heidikokborg.com
A visit to flavourful India
Spicy, flavourful, rich – these are all words that come to mind when thinking about Indian food. Curry Leaves in Sønderborg offers an authentic, scrumptious and tempting array of Indian dishes. Here, you can gorge on deep-sea delights, savour a delicious vegan dhal, or enjoy a sizzling hot plate of lamb curry – all while being taken care of by the friendly and attentive staff.
"What are the odds of running into sublime Indian food in Sønderborg…? I don't know but that is exactly what you can expect from Curry Leaves. And then you also get the best and kindest service in the kingdom. The dishes are balanced, tasty and you will not leave feeling hungry."
This is just one of the many five-star reviews of Curry Leaves on TripAdvisor. The family-run restaurant is highly popular, and once you taste the food yourself, it is easy to see why. When entering the restaurant, you are greeted by smiley, friendly staff and a scent that instantly transports you to India.
"Owning a restaurant is hard work, and it means you are often away from friends and family. To us, our guests are our friends and family. Every guest that walks through the door is welcomed like a close friend or a family member," smile Sinthu Sivakumar and Sivakumar Sivasamy, the owners of Curry Leaves. In India, there is always room for one more person at the table, and there is always enough food to go around – a philosophy that shines through at Curry Leaves.
The land of spices Indian cuisine is as colourful and diverse as the country itself. You will be tempted by soft samosas dipped in a yogurt mint sauce, freshly baked naan, mouth-watering butter chicken, dhal and vindaloo – all washed down with a mango lassi. Seeing as India is one of the largest countries in the world, with hundreds of dishes, Curry Leaves decided right from the get-go to only serve the most popular and most delicious dishes from the Indian kitchen.
"We make everything from scratch, and we also make our own spice mixes. We believe this makes the food even tastier,
and it smells better. Of course, we also adapt the recipes a little bit to please the taste buds of westerners. For instance, we often hold back on the chilli as we have discovered that most Danish people are not used to too spicy food," explains Sivakumar.
If you aren't a big fan of very spicy food, don't worry. Indian cuisine consists of a lot more than simply chilli. It's no coincidence that India is known as the spice capital of the world. Besides chilli, most Indian dishes include spices like cumin, cardamom, cinnamon, garlic, ginger, black pepper and – naturally – curry leaves. And as for the chilli, well how much or how little you want is completely your own choosing.
Recipes passed down through generations In India, there is a saying that the food changes every 100 kilometres. But there is one thing that ties all Indians together: chai. Oh, how Indians love their chai. At Curry Leaves, you can get a traditional masala chai – 'masala' means spices in Hindi, and 'chai' means tea – but beware, it is highly addictive, and you will want to come back for more.
While each family usually has their own recipe, often times, chai is made from black tea with cardamom, cinnamon and other ayurvedic spices. The chai is then mixed with full-fat milk and a touch of sugar. When drinking the tea, it can feel like time slows down for a moment, and it is best enjoyed in the company of friends and family.
"Whether it is food or beverages, we follow recipes and techniques passed down through the family, which bring you the rich taste of Indian foods. We always serve freshly prepared dishes that are presented in a tempting way," says Sivakumar.
If you have always wanted to visit India, then a visit to Curry Leaves is a wonderful place to start. Indian food is a reflection of culture, habit, identity and history. It might surprise you how almost every dish has a story, or a tale tied to it.
With its welcoming atmosphere and delicious food, Curry Leaves will leave you with memories that shine bright long after you have enjoyed the last bite of your curry and the last sip of your chai.
Web: www.curryleaves.dk Facebook: CurryLeavesRestaurant Instagram: @curryleaves_sonderborg
Above: Many of the school's students love creativity – either as a study programme focused on art, or in the form of ceramics or drawing classes. Bottom: The school has well-equipped music rooms as well as a sound studio, which is always open to the music students.
Combining academics and creativity
Mandarin, Latin, biotechnology, eSport and IT tech – these are just some of the subjects Vardeegnens Gymnasieforberedende Efterskole offers. The boarding school prepares students for A-levels while also allowing them to express themselves creatively in different ways. This is a boarding school for ambitious students who wish to be challenged and to advance their studies.
Vardeegnens Gymnasieforberedende Efterskole is the place to be for ambitious, high-achieving students who are looking for extra challenges before starting their A-levels. The boarding school specifically focuses on preparing the students for what awaits them during their A-levels, while also giving them plenty of opportunity to engage in creative subjects like painting, music or writing. Students certainly don't need to be straight-A students to attend the boarding school; but they do need a can-do spirit, a willingness to learn and a good work ethic. "Our students like learning, and they want to deepen their studies. This is a boarding school for students who love going to school. We have students who are primarily maths orientated and others who are more language orientated, but they all do their best – even if the subject is not where they are naturally at their best. It's important that the drive and motivation come from the students and not their parents," explains Poul Roed, principal at Vardeegnens Gymnasieforberedende Efterskole.
For students who wish to learn more languages, the boarding school offers languages such as Mandarin, Cambridge English, Latin, French, German and Spanish. For those more focused on STEM subjects, there are also opportunities aplenty, including biotechnology, eSport and tech subjects. In fact, the school offers a programme called MakerSpace, which is focused on everything related to IT, programming and technology.
The school also offers a myriad of other study programmes dedicated to music,
Left: The school is located in natural surroundings near a forest but within cycling distance from the city. Right: On the MakerSpace programme, the students learn to programme their own robots. Here they are designing parts for 3D printing.
theatre and musical, art, writing, and a programme called GamerSpace, for those with a passion for gaming. Students can combine up to three study programmes.
Let the creative juices flow "It's very important to us that we combine academics with creativity. That's also why we offer these creative programmes; the students don't have to choose a specific study programme, but most of our students do. Many of them are multipassionate, and we think it's important that they get a chance to express themselves creatively, while also focusing on their academic studies," explains Roed. "It gives the school a very special atmosphere when you offer both academic and creative classes, and it is fantastic to watch and feel creativity thrive."
Students can attend creative classes like drawing, pottery, creative writing, music and painting alongside their academic classes, and once a year they put on a musical. "Each student helps with the musical one way or another. Some act and sing, some make costumes, while others are in charge of sound. They do everything together," says Roed. The musical is always a well-known one, and it is one of the highlights of the school year.
A strong sense of community While the students do have a jam-packed curriculum, they still have time to have fun, watch films together and go on exciting school trips. Every November, the students travel to Berlin – a trip that is partly planned by some of the students. "The students plan part of the trip, and they are allowed to have input. The rest of the trip is planned by the teachers," says Roed.
Then, each March, there is another trip, when the students can go either on a fun skiing trip to Norway or travel to France on an exchange. In France, they stay with students from a local French school, which Vardeegnens Gymnasieforberedende Efterskole works with. This is a fantastic opportunity for those wishing to experience French culture in an authentic way, connect with foreign students and improve their language skills.
"The trips are also a way to strengthen the sense of community we have at the school. During their time here, the students develop very close and strong friendships that last a lifetime, and they grow academically, creatively, as well as personally."
Vardeegnens Gymnasieforberedende Efterskole is a boarding school that prepares students for their A-levels.
The boarding school is for ninth and tenth grade students. Every year, around 120 students attend the school.
Web: www.vge.dk Facebook: Vardeegnens Gymnasieforberedende Efterskole Instagram: @vgeefterskole
Left: Every year, the students put on a musical. Middle: The writing study programme teaches students various writing techniques and genres. Each year, the school publishes a book with the students' own pieces. Right: Academics play an important role at the boarding school. Here the students are at a biotechnology class.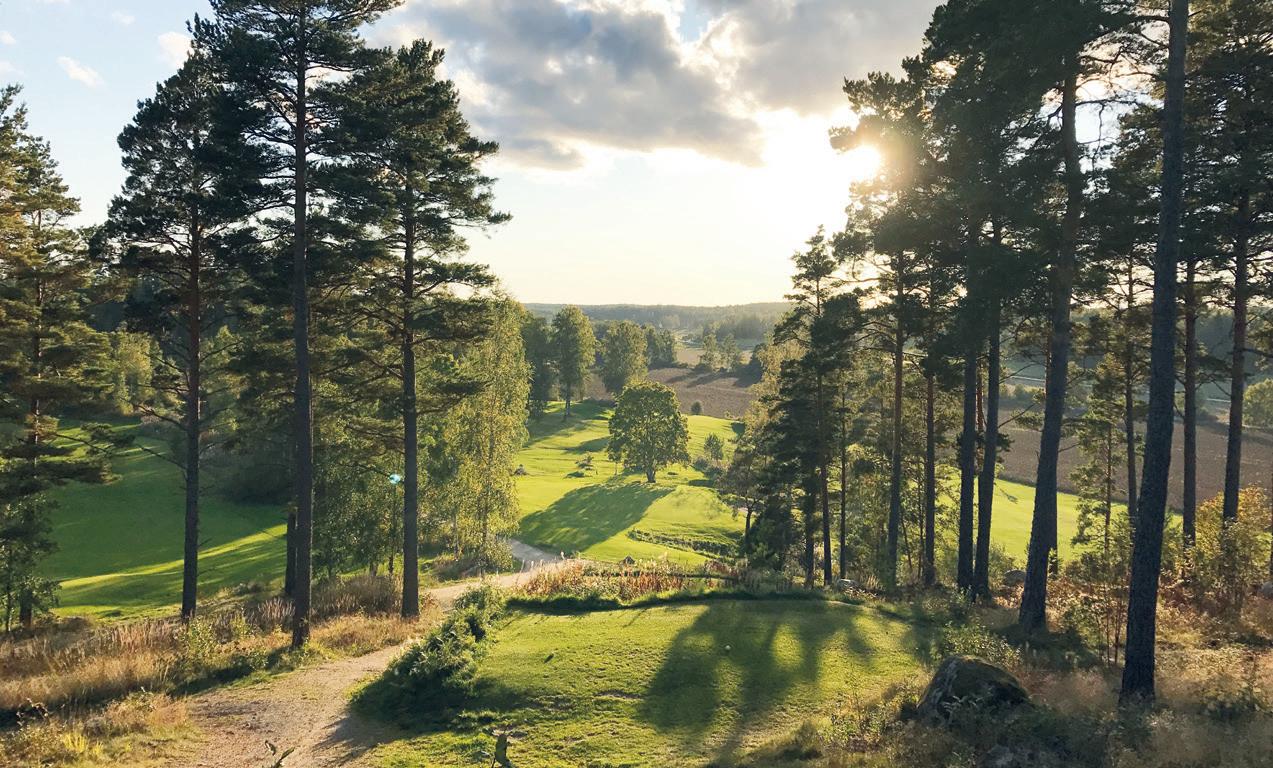 A golfing break in the Finnish archipelago
Bjärkas Golf & Country Club is a family business, dedicated to providing guests with some rest and recreation in a beautiful setting, in the Kimitoön island region. Especially for those who know their putts from their birdies and fairways, this is an ideal location for a family break – by par.
The Bergholm family has owned the property that Bjärkas Golf & Country Club stands on since the late 1600s, and possibly even longer than that. During its long history, the premises served as a seamen's room, where a log of boat crews that were going to and coming from sea was taken. It was Finland's largest seamen's room, and it kept a log of some of the country's biggest vessels – some of which sailed as far as the Americas and the Caribbean. The seamen's room closed its doors in the late 1920s. "You can really feel this place has had a long and colourful past," says Fredrik Bergholm. Today, his children are the 16th generation in the family to reside there. Bjärkas Golf & Country Club has won the prize for Finland's best golf hotel four times at the World Golf Awards – the most prestigious awards programme in the golf tourism industry. Bjärkas Golf is located in the village of Nivelax, on Kimito island in southern Finland. The country club is a great way to explore the Kimitoön island region. "We're located near the idyllic town of Dalsbruk, the town of Salo is around 60 kilometres from us, and for families, Moomin World is about an hour's drive away. Most of our guests come here by car, and the central location serves as a perfect base for those wanting to explore the towns and surrounding nature," says Bergholm.
Bjärkas has an 18-hole Par-57 course, made up of 15 Par-3s and three Par-4s. The resort attracts seasoned golfers look-
ing for a relaxing break, but families aren't left high and dry either. The golf course is on hilly terrain, which gives golfers the chance to take in breath-taking views of the surrounding nature.
"It is perhaps not your typical golf course, but it offers the perfect challenge for golfers of all skill levels. With a distance of around five kilometres, the course is very manageable, even with kids in tow," says Bergholm.
A stunning location, with plenty of activities The Bergholm family has focused on creating a peaceful retreat for visitors. Bjärkas has a number of villas and apartments available, ranging from apart-hotel-style accommodation to a suite. All the rooms are kitted out with each their own kitchen and bathroom. Aside from golf, there is also a sauna, as well as a ping pong and a pool table.
and days out for the whole family, from stunning hiking trails to fishing, foraging for berries, and skiing in the winter," says Bergholm. For swimming, the Norrlammala limestone quarry is only a five-minute drive away, and there are tennis courts and a padel field just a few kilometres away.
In addition, the country club also has a restaurant that caters to larger groups, as well as a meeting room, kitted with a projector and other equipment required to host a successful business meeting. The property also has a garden and a terrace, complete with a barbecue.
Sustainability is important for Bergholm, and so, two years ago, a solar plant was installed at Bjärkas, and now the property is largely run with solar power. The property has five electric car spaces, and guests get a free charge of their vehicle while staying at Bjärkas. "We are continuously moving towards greener energy. This way, everyone's a winner," Bergholm adds.
From business clients to families, there is something at Bjärkas for everyone. "We can tailor our guests' visits to suit their needs. We've wanted to emphasise the fact that this is a peaceful retreat for those looking for a relaxing time in a beautiful setting," Bergholm concludes.
Web: www.bjarkasgolf.com Facebook: Bjärkas Golf Instagram: @bjarkasgolf
Kongsvingers Golfklubb is beautifully situated in the midst of a forest.
Time to swing!
Do you want to hit a golf course while on holidays in Norway? Are you having a stopover at Gardermoen and would like to use it for something relaxing, recreational and fun? Or are you a devoted golfer looking for unique courses to try out your skill? Whoever you are, Kongsvingers Golfklubb has something to offer.
Golf might not be the first thing that comes to mind when you think of Norway, but the sport has had a major upswing in the country in recent years, fuelled both by successful athletes and by Norwegians' love for outdoor recreation.
Not even Covid put a halt to the growth of golf in Norway. On the contrary, since it was considered safe and Norwegians were allowed to practice it for most of the pandemic, golf has continued to flourish even in the past two years.
A unique spot Although golf courses are scattered around most of Norway by now, one of the most popular destinations is in a small town in the eastern part of the country, Kongsvinger. "We are a small club in a big world, but what we can offer is truly unique," explains Daniel Larsson, administrative director at Kongsvingers Golfklubb, and points to the birch-tree adorned court, immersed in peace and quiet, and the all-encompassing Norwegian nature.
Together, the surroundings and the quality of the services offered have earned Kongsvingers Golfklubb the title of Norway's Best Golf Course, awarded by World Golf Awards no less than seven times, something Larsson is clearly proud of. "This is a small place, but our court is generally known to be a very good spot," he says and explains that they had over 7,500 visitors last year, well above the average for a Norwegian golf club. "It's not only the court – it is the entire package:
the quietness, the nature, the services offered," he stresses.
A complete offer Whoever you are, what your objectives are and what level you play at, Kongsvingers Golfklubb has something to offer. This small but professional and friendly club offers all guests a very special golf experience at very competitive prices compared to the more expensive alternatives in and around the capital, Oslo.
Besides the main court and the practice courts, Kongsvingers Golfklubb offers free equipment rental, changing rooms and shower facilities, a well-equipped pro shop and a meeting room for those who want to mix business with recreational pleasure. The club also boasts an on-site restaurant that seats 85 people, run by a local chef who serves dishes made of local produce.
Several instructors are also ready to give golfers, at all levels, quality lessons to improve their game.
Accommodation: from an old fortress to a forest cabin To cater for all visitors, the club has also teamed up with different local hospitality spots to offer different types of accommodation that suits all budgets and tastes. Choose between the fashionable and historical hotel and the old Kongsvinger Fortress, typical Norwegian-style cabins in the forests catering for tourists, and budget hotels or camping.
"We've had guests from all over the world," Larsson smiles. He remembers in particular a Japanese couple who had a layover of several hours at Gardemoen airport and, rather than waiting there, rented a car, drove to Kongsvinger, rented equipment and enjoyed themselves on the golf course before they headed back to Gardermoen to catch their flight to Helsinki.
Precisely that proximity to Gardermoen, Norway's main airport, is another benefit of Kongsvingers Golfklubb. The drive is just over an hour, making it even easier for visitors to include a session on the court in their trip – or for those who come from other parts of the country to spend the weekend there.
"Booking is also fairly easy," Larsson explains in that friendly manner emblematic of smaller places. "You can book via our website or by calling us – or you can show up and hope for available spots."
A bright-looking future The success of recent years has emboldened the staff at Kongsvinger, who are now planning to further expand their offer. They are updating their practice facilities to include a nine-hole course and are constructing a garage for golf carts.
For an outsider, Kongsvingers Golfklubb with its large stretches of green fields tucked in among birch trees and forests, undeniably seems like a wonderful place to spend a relaxing few days. It can even make those who have never golfed before want to try and have a swing of the golf club!
The club house at Kongsvingers Golfklubb is a good place to relax after golfing.
Web: www.kongsvingergolf.no Facebook: Kongsvingergolf Instagram: @kongsvingergolf
Nature, peace and golf
Looking for a short break from the hustle and bustle of the roaring city life? One of eastern Norway's finest golf clubs offers peace, fun and incredible rural surroundings. Along with beautiful nature, Kjekstad Golf Club provides two excellent courses and magnificent Norwegian scenery for both beginners and professional golfers.
Since its establishment in 1976, the two-course golf club has proved itself as one of eastern Norway's finest. The club's facilities include an 18-hole and a 9-hole course, as well as various practice areas, pitching and putting greens, and much more.
"Our courses are known for being fun and challenging, where you may very well end up playing your way across forest ponds and might encounter a rabbit or two along the way," says Bjørn Lohne, managing director at Kjekstad Golf Club.
Kjekstad Golf Club, known for being a sight for sore eyes, is located in the middle of a forest. Both its courses are integrated into its natural surroundings, and players are treated to an idyllic experience of trees, lakes and hills. The 18-hole course, which was designed by Jan Sederholm and finished in 1988, is a distinctive forest course. The club has made it clear that they wish for their players to encounter and experience nature while playing.
"We have a strong focus on providing high-quality courses, and our slogan is 'you get the nature experience for free'," Lohne explains. "I once asked a couple how the day had been. They replied that they had an amazing time but could not remember how the actual game had ended." Only half an hour south of Oslo, Kjekstad Golf Club in Røyken can easily be reached by both car and public transport. Lohne recommends travelling by car, should you be bringing your own gear. "If you don't have equipment, it is also possible to hire everything you need," he says. "We are proud to offer a wide range of courses and training areas, so whether you are a beginner or a semi-professional player, everyone is welcome to join in."
Web: www.kjekstad-gk.no Facebook: kjekstadgolf
www.lisessystue.no post@lisessystue.no Tel. +47 91701266
Proper needlework will last a lifetime.
Lises Festdrakt is made of quality fabrics and tailor-made to each individual customer in our tailor shop. This garment can be inherited through generations!