S A G E M O N T L I F E
Student-Powered Innovation
A Lifelong Journey of Service
Mel Nelson, Head of School
What if your child developed a lifelong commitment to serving their community?
Posing the question above is simply the starting point for developing active and responsible human beings. It is not by chance that one of the values and goals of our Sagemont mission statement is developing students who have " a deep understanding of social responsibility as active agents of change "
Change agents are all of us. Change agents inspire and influence others and they transform the world in which they live. Change agents are empathetic, innovators, and researchers, who question the world around them to better understand their place and potential impact.
On Veteran's Day, I had the pleasure of visiting Washington D.C. alongside our principals, Ms. Myers and Ms. Vigna for an educational exploration of the city's monuments to celebrate and honor the many agents of change in our history. It was truly remarkable as we explored the World War II Memorial. We walked through the Mountain of Despair at the Martin Luther King Jr. Memorial then ended at the Stone of Hope, which is the unfinished statue of MKL that stands before a wall of inspirational quotes that represents the ideals of hope, justice, and love. We continued our weekend journey celebrating agents of change and showing our respects at Arlington Cemetery, the Vietnam Memorial and so much more. It was a powerful weekend celebrating men and women who put their lives on the line to protect our freedoms. As we talk to our kids, it is vital that we communicate to them that they too are as powerful and can make an impact in our world, in their own way. To instill a journey of creating impact starts with small acts of kindness and we take this responsibility seriously at Sagemont
For November, it warms my heart to celebrate the many initiatives our student agents of change have started and how our Sagemont educators provide many pathways to aid in our students' discovery of their potential. I posed the question again, "What if your child developed a lifelong commitment to serving their community?"
Well, guess what? This is a reality that can be and should be fulfilled. In the great words of Dr. Martin Luther King Jr., "Life's most persistent and urgent question is, 'What are you doing for others?'"
Sincerely yours in transformative educational excellence,
Mel Nelson
November 2022
Sagemont Upper School
Felicia Myers, Upper School Principal
Photo of the MLK monument in Washington D.C. taken during professional development on how to best expand students' perspectives during educational travel
At Sagemont, community impact and being an active agent of positive change are ingrained in our school mission and educational pillars. Students are empowered to take responsible risk, embrace curiosity and innovate for tomorrow.
From students inspired by a required course to design a future with environmental sustainability at the forefront, to students passionately advocating for breast cancer awareness and research, to the creation of the first ever Clubs Head of Community Service at Sagemont, it is a privilege to watch our students challenge the status quo and strive to redesign a better future.
This year, Sagemont 8th grade students are preparing for the Future City Competition in which they will compete with other schools nationwide. The goal is to design and model the best, most innovative, environmentally conscious, and sustainability focused city capable of lasting 100 years into the future. Mr. Flores and Mr. Curtis have worked tirelessly with students to find mentors who are best capable and qualified to help the students understand the fundamentals of city planning, design, and construction, in addition to climate change issues, sustainability methods, and most importantly to Florida, how to embed resiliency against hurricanes across a city landscape.
For the city design, the students selected Sarasota, Florida as the base city for all of their planning and proactively asked the city of Sarasota for their help in understanding the current landscape and how changes are implemented over time. The class was successful in coordinating
Learn more about the competition: https://futurecity.org
with Sarasota's Planning department, and during the first week of November, students participated in an engaging seminar and discussion with Mr. Nikesh Patel, City Engineer, Dominic Fantauzzo, Engineering Tech III and the City Planning Director, Steven Cover. The presentation included basic city design principles and provided the students with a view of how the city is meeting the challenges of climate change and rising temperatures, which inspired students to incorporate this newfound knowledge into their Future City design.
12th grade student, Leiah Litwin, is no stranger to serving her community. Leiah is currently the President of the Sagemont chapter of the student committee of Not My Daughter... Find a Cure, a non profit organization dedicated to raising funds and awareness for breast cancer.
Leiah has been volunteering with the organization since the 7th grade, and was recently selected to be the opening speaker at the annual fall luncheon. Her classmates, Sean Jean Mary and Alexandra Arencibia, also volunteered their time to help make the event a success.
When asked why she became involved six years ago, Leiah
Seminar and discussion with the Sarasota City Planning Department
said that "My mom had been volunteering with Not My Daughter for years and my aunts were diagnosed with breast cancer, so I was starting to understand what cancer meant. Seeing my mom's involvement and what a difference it was making in the community inspired me to become involved."
To better enhance our school commitment to service, a new position to the Club's Board of Directors was added this year Head of Community Service and Fundraising. Wahaab Malik was selected to fill this position based on his dedication to serving his community. When asked about his perspective on service and what the position means to him, he responded that "Volunteering is so important to help your community and to lend a helping hand to those who need it most. This new position is important to help organize different community service opportunities for the clubs and ensure the club members are receiving the hours they need. Bringing awareness to the importance of service to the entire school is vital."
Sean, Leiah and Lexi volunteering at the Not My Daughter luncheon
Wahaab Malik, Clubs Head of Community Service
Leiah on the cover of Parkland's Spectator Magazine
Sagemont Lower School
School Principal
It is never too early to begin learning about generosity and giving back to the community. At a very young age, our Sagemont students are provided with opportunities to learn that even a simple act of kindness can have a great impact. Additionally, valuable life skills are learned along the way including collaboration, communication, responsibility, leadership, time management, and goal setting.
We kick started November off by having "Bagels with BSO," our local Broward Sheriff's Department. These men and women serve our community and protect us each day without asking for anything in return, so at Sagemont it was important to pause and thank them for what they do. The morning with our local BSO was truly celebratory! They started their day by joining our Morning Media team to conduct our daily morning announcements. The students, teachers, and our Sagemont Lions Cheerleaders welcomed the officers with our Lions school spirit, pom poms, posters, and cards. The entire student body and staff lined the walkway and greeted the BSO department with high fives as they made their way through the campus. The pledge was conducted by the Student Council followed by the Sagemont Show Choir singing the National Anthem. We also had special performances by our Sagemont Bucket Drummers and Little Lions Cheerleaders. A certificate of appreciation was presented to BSO Captain Cavalieri as a recognition to the entire BSO department. Our Sagemont students loved the opportunity to celebrate those who give to their community. The following was remarked by Officer Brad, whom our Lower School families see most mornings in carpool. "We were all blown away with this event. We all felt it today. We are blessed to have your two campuses in our city. We will continue to be there for you and your school forever. Thank you Sagemont."
Monica Vigna, Lower
Each November, Sagemont students partner together to honor those who served our country by raising funds for the Honor Flight of South Florida. This was an initiative taken by one of our students last year and has expanded with the collaboration and involvement of our basketball players. The Honor Flight Network is a national network of independent hubs working together to honor our nation's veterans. They provide our veterans with an all expenses paid trip to the memorials in Washington D.C., a trip many of our veterans may not otherwise be able to take. Participation in an Honor Flight trip gives veterans the chance to share the momentous trip with other veterans, to remember friends and comrades lost, and share their stories and experiences. Our students and Sagemont Lions Cheerleaders greeted these veterans when they returned from their trip this month. We greeted them with loud cheers, handshakes, strong school spirit, and most importantly with love and appreciation. For the next Honor Flight, our students have begun to write cards, which will be distributed to the veterans. We want you to be a part of celebrating our veterans and helping to raise funds for the next Honor Flight. We will be honoring our veterans at our second annual Hoopsgiving on November 26th at 5:45 p.m. at the Upper Campus. Join us on this evening at a basketball classic that you do not want to miss. We will be donating $5 from each ticket sold during the event to Honor Flight of South Florida to help fly our veterans to Washington DC.
Sagemont students are always giving back and participated once again in the school wide Harvest Drive. The school collected an incredible amount of donated canned food for those in need. The Student Council along with NEHS sorted and counted all of the donated cans. Students truly took ownership of this event and were extremely proud of their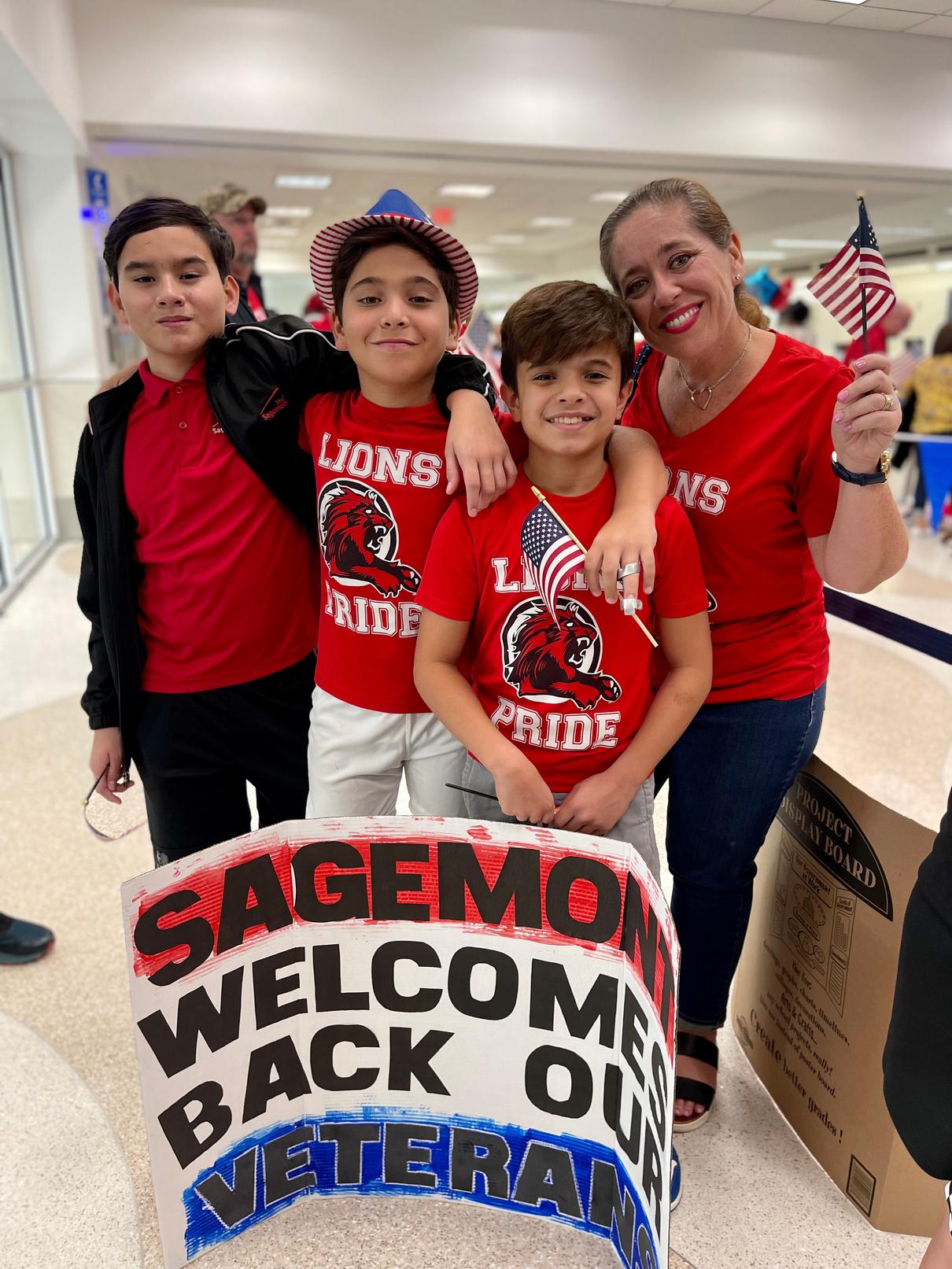 College Counseling
Tera Sweeting, Upper School College Counselor
November 1st marked one of the major college deadlin applications for Early Action and Early Decision. This d they submit their final document that showcases their ac programs, test scores, and community service. At the cl were well prepared to meet this deadline because they have had the opportunity to work alongside me and our phenomenal English department faculty leader, Lubna Yasmin, on college essay support and all college items every day since school started. Additional preparation for this submission also occurred in and outside of Sagemont. Throughout the past few years, our seniors have all made a conscious effort to explore different college campuses and make connections with outside stakeholders. In addition, frequent campus tours have allowed our students to experience and learn more about various college programs and gain a better understanding of the student life experience. The Sagemont College Counseling Department, in partnership with college recruiters, assisted with the admission application, registration, financial aid, and college bound events.
Just recently, one of our bright senior students, Annave Noel, took the initiative to speak with a college recruiter from one of the top Historically Black Public Colleges and Universities. She expressed interest in scheduling a tour of the "Hills" of Florida Agricultural Mechanical University, FAMU. This sparked a collaboration between Sagemont, the college representative, and the Florida alumni community to create an immersive upcoming student experience visiting Tallahassee. Included in this experience will be various meet and greet opportunities with deans of school, student organizations, campus tours, and dining in their college student center.
Our college counseling class continues to cultivate an atmosphere of curiosity and exploration. We encourage students to explore different possibilities for their future. In our continued efforts to enhance our program, planning for student experiences has already begun for this summer. College programs and campus tours will be arranged to promote in person experiences to better prepare our students for the big decisions that lay ahead.
"Education is our passport to the future, for tomorrow belongs to the people who prepare for it today." Malcolm X
C O L L E G E V I S I T S
Sagemont students have had the opportunity to meet with college and university representatives from across the world. Below are the colleges and universities that have visited our campus this school year and the list continues to grow.
Alcorn State University
Barry University
Boston College
Boston University
Bryant University
Clemson University
College of the Holy Cross
Columbia College
Dean College
Drew University
Eckerd College
Embry Riddle Aeronautical University
Emmanuel College
Fairfield University
Fairleigh Dickinson University
Flagler College
Florida A&M University
Florida Atlantic University
Florida Memorial Aviation University
Florida State University
George Mason University
High Point University
Hult International Business School
INTO University Partnerships
Jacksonville University
Kennesaw State University
Lafayette College
Lees McRae College
LIM College
Loyola University Maryland
Lynn University
Massachusetts Maritime Academy
Savannah College of Art and Design
Savannah State University
Seton Hall University
Spelman College
St Thomas Stetson University
Sullivan University
SUNY Cortland
Texas A&M University
The American University of Paris
The University of Alabama
The University of Tampa University of Albany University of California Riverside
University of Chicago University of Connecticut University Of Delaware University of Florida
University of Maryland University of Miami University of Oregon
University of Saint Andrews University of Tennessee, Knoxville University of Toledo
Valdosta State University
Vassar College
Verto Partnerships University Virginia Tech
Miami International Institute of Art & Design
Michigan State University
New College of Florida
New York Film Academy
Nova Southeastern University
Oglethorpe University
Regis University
Rensselaer Polytechnic Institute
Rider University
Ringling College of Art & Design
Rollins College
Saint John's University
Saint Mary's College
School Counseling
Community Service is a pivotal part of the Sagemont experience. Our school is continuously seeking out ways to make an impact on our community. Whether it be through hosting service events to better inform our students on volunteering efforts or engaging in fundraising opportunities through the sale of yummy treats from Pride Rock, we are eager to give back. This school year, we have focused many of our fundraising efforts on providing funds for the local organization, HANDY.
Handy is an award winning, non profit organization that was founded in 1985 and has met the needs of more than 50,000 Broward County children in foster and relative/nonrelative care. Handy serves children and youth ages nine to 25 years old, who have been removed from their homes due to domestic violence, substance abuse, physical and/or sexual abuse, and abandonment, as well as, older youth who are aging out of the Foster Care system, youth who may be homeless or on the verge of being homeless, and youth who are currently unemployed and/or have been out of school for over a semester or have dropped out.
For many youths, Handy's Live Program is often the only stable and familiar factor in their lives, where services are tailored to meet individual needs, such as assistance for food, clothing, beds, housing, prevention education regarding dropout, pregnancy, substance abuse, employment skills and training and college preparation services, love, and so much more.
Last year Sagemont families helped to raise $2,000 to fund a college scholarship for a Handy recipient. We were so happy to band together to do this and this year we have continued this effort. Please read the letter below from last year's recipient. To support this amazing cause go to https://www.handyinc.org/donate/
August 21, 2022 Weston Rotary Scholarship
Dear Sagemont School, I am honored to be a recipient of the 2022 Rotary Weston Scholarship for my educational expenses, and I would like to express my sincere gratitude for your continued support to students who need it most. I am a first time college student majoring in Dentistry, and I aspire to one day be one of the top dentists in the state of Florida. At some point, I want to start my own clinic, and this will give me the chance to guide businesses toward prosperity and good teeth. This scholarship has opened many doors for me and the chance for a brighter future that will play a key role in shaping me into becoming a successful dentist in the near future. Donors like you make life brighter for a young, educated man who came from a poor country who never thought he would get the opportunity to be able to attend college let alone obtain a scholarship. I cannot express my gratitude enough, and I want you to know that your generous support will allow me to achieve my dreams.
Thank You!
Sincerely, Cleevens Louis
Luann Burrows, Upper School Counselor Contact Information: Upper
Grade
extension 305
School Campus: 6th 12th
Luann Burrows 954.389.2454
Email: lburrows@sagemont com
School Counseling
Maritza Zea, Lower School Counselor
As the Lower School Campus and the Upper School Campus continue to collaborate, it significantly impacts student success. Last week, Ms. Mejias invited me to speak to the National Honor Society members about the Sagemont Sibling Mentor Program, and the meeting was a success! Thirteen students signed up to volunteer. The mentor program has been a part of our community commitment for over a decade. The Sagemont Sibling Mentor Program is a thirty minute weekly commitment/meeting of a Sagemont National Honor Society student (mentor) with a girl/boy attending Sagemont Lower School Campus (mentee). The NHS members who volunteer as mentors must complete an application and write an essay about what they want to accomplish in mentoring a younger student. In addition, Ms. Zea interviews each volunteer to review their responsibilities as a Sagemont Sibling Mentor. Each NHS mentor is paired with a mentee with whom they develop a relationship in a structured manner through regular meetings and activities supervised by Ms. Zea.
The selected NHS mentors meet with their mentees to talk, draw, and play games or sports on the playground. Mentors offer support and encouragement to help the mentee's positive and healthy development over some time. Mentors can make a profound difference in the lives of their mentees at an early age and in turn, strengthen their community connections. The goal is to open doors for building lasting relationships that will help the mentee's journey find their place in the Sagemont family and, later on, the larger community.
Student volunteers with the Sagemont Sibling mentor program go from being part of the National Honor Society at the Upper School Campus to being part of something larger than themselves. They are committed to advancing opportunities for students. Mentoring a younger student is rewarding and gives purpose to those who commit to such a program. Below is what a few mentors said after being asked to describe how the meeting with their mentees went.
Cameron Gibson, Sagemont Sibling Mentor
Contact Information:
School Campus: PK3 5th Grade Maritza Zea 954.384.5454 extension 3417 Email: mzea@sagemont com
to
The
Lower
Commitment
Community:
Sagemont Sibling Mentor Program
"Yesterday Cantron and I had a lot of fun. We played some basketball, which included H.O.R.S.E and Around the World. Even though he had some trouble reaching the basket, he enjoyed it. After that, we played Hide and Seek, which seems to be his favorite game to play. When it came time for me to go and for him to go to the office, we were walking, and he said, "I always miss people that I have fun with," so I said, "Like who?" and he said, "You." That made me feel proud that I could be there to spend time with him. He has a big heart, for sure. "
Adam Wasserman
December 2010
"I am just emailing to tell you how the past meeting went. I brought cards from Zachary's favorite T.V. show, "Naruto", because I happened to have them. He seemed interested in the cards and was talking about them to his friends and me. I told him that he might borrow the box to look through them. Also, I told him that each time we met, he could take a few to keep. He seemed to be talking and having a lot of fun. Otherwise, we just talked about what was happening at school and other subjects that he found fascinating. I had a great time, and I hope Zachary also had a great time."
Braedon Villano
April 2011
"I would like to let you know that yesterday with Gabriela went well. She was super excited when she beat me at the tick tack toe, and we talked a lot on the playground, which I feel made a more comfortable atmosphere. I look forward to coming to the many meetings ahead."
Rebecca Jordan
November 2012
"I typically spent time with my mentee talking, reading books, helping with school work, or playing games with her. She is engaged by picking a game she enjoys. For example, as we play in Connect Four, my mentee figures out my moves or what she will do next. Also, we do other activities that she likes, such as drawing. A few times, we competed on who could draw the fastest or draw for fun. She is happy because she enjoys our activities, and sometimes we play basketball. We take turns putting the ball in the hoop. I learned that being a mentor meant being mindful of finding ways to motivate my mentee with activities they like to do, making her feel valued as a person. Being a mentor has taught me not to keep everything to myself but give it to others. My mentee was excited to see that I enjoyed being with her. I was also bonding with my mentee and getting to know her. Having this connection makes me understand that having a younger student look up to me as a mentor is an honor and great responsibility "
Ivonne Duran
April 2016
"It has been a great few months being able to speak with my mentee. He is a great kid! Over the last few weeks, he and I have been making an "imaginary world" based on his fun 4th grader ideas. We made this little map depicting this world that my mentee enjoyed immensely. Sharing this with his family meant a lot to me. I will continue to be a mentor when I go to college."
Alex Scaff
May 2022
Sagemont students know that mentoring helps children lead healthy and productive lives. Young people with mentors have more positive visions of themselves and their futures, achieving more positive outcomes in school and their communities. This program demonstrates the great collaboration and commitment between the Upper and the Lower School Campus!
Shane Marcey, Athletic Director
As part of our commitment to service, the athletic department has implemented seasonal service projects to be carried out by the coaching staff and their respective teams. We expect our athletes to make quality contributions not only in competition and in the classroom, but also within their communities.
In October, the women's varsity team, along with the middle school team, hosted their annual junior varsity tournament. Our teams met and collectively decided to transform the tournament into a "PINK" event, donating a portion of the proceeds towards breast cancer awareness. They renamed the event to Sagemont's "Her Fight is Our Fight" Invitational, purchased breast cancer jerseys, invited other teams to participate, and sold pink tournament T shirts to both campuses. In total, the program will be donating over $1,200 to support breast cancer awareness! We look forward to our winter service project, as our men's varsity basketball program is once again hosting their Hoopsgiving Invitational over the Thanksgiving weekend. Not only has this event quickly become one of the most sought after early season events in South Florida, featuring 18 of the top high school basketball programs in the area, but it also serves as a platform to raise funds for the Honor Flight of South Florida.
Our winter sports programs are in high gear as boys' middle school soccer began its season last week, while men's varsity basketball plays in their preseason event this weekend. Finally, our varsity cheer program has begun preparing for their return to the competition platform when they compete in the UCA Championships at ESPN's Wide World of Sports in February! Be sure to visit us at www.sagemontathletics.com for all our teams' schedules so you can come to support our Lions!!
text
UPCOMING EVENTS A T H L E T I C S Athletics
Nov 22: Men's Basketball Season Opener; 7 pm Nov 25-26: Hoopsgiving Invitational; 6 pm
Innovation & Technology
Estefania Martinez, Innovation & Technology Coordinator
That is how Miguel Moreda, an 11th grader at The Sagemont Upper School, feels about being able to give back to his school.
Miguel Moreda has been a part of our Sagemont family since kindergarten. Throughout his years, he has always shown a passion for technology and assisting others. Miguel has been provided with an enriching opportunity to serve as my student aide this school year. Within this role, Miguel will dive into his passion for technology and provide technical assistance to his teachers and peers. Miguel aspires to a future career in the computer software industry and through this new opportunity, he will obtain hands on experience and tackle new challenges daily.
Miguel has shared that one of the most rewarding aspects of being a part of the Sagemont family is being able to give back. As a member of our baseball team, he and his teammates have volunteered many hours to support various organizations through concessions stand sales at volleyball and basketball games. In addition to providing support for these great organizations, he truly enjoys serving those in our community who have come out to support our athletics program!
Miguel is also involved in numerous clubs and organizations, one of which is the National Spanish Honor Society. Being a part of the National Spanish Honor Society allows him to participate in a wide range of events at the Lower School. Recently, he volunteered his time to help with Trunk or Treat and the Hispanic Heritage Festival at the Lower School. Throughout all of these events, he assisted with student activities and provided a great deal of technical support, many of which required quick thinking and skill! Miguel genuinely enjoys being able to visit the Lower School and provide support to the younger students, as he feels it is a true full circle experience for him.
"The only way to discover the limits of the possible is to go beyond them into the impossible."
Arthur C Clarke
"There is nothing more rewarding than giving back and making a difference in the lives of people in this great community."
A Day in the Life
Written by Sagemont Life student editor, Serena Mair
The Difference a Day Can Make in the Community
Exploring career opportunities in the 21st century school system, The Sagemont School encourages the development of highly applicable skills such as programming and the formulation of education in computer science. With the instruction and guidance of Upper Campus teacher, Ms. Mejias, middle school students Kristin and Edmund Pate alongside Megan Eddy gave back to their community through the development of the Sagemont Environmental Recycling Collection app. With school wide access, Sagemont students are encouraged to participate in this step toward a better school environment.
Daily instruction and committed attitudes have come together to formulate a lifelong journey of service in the hearts and minds of young individuals. On a day to day basis, these students meet to discuss their ideas and growing interests in the application of knowledge earned right here on campus. Participation in the Robotics Club to help enrich the extracurricular value and STEM career oriented courses provide the foundational opportunity for student innovation and excellence in the community.
Connecting the issue of climate change and the need for environmental protection with the encouraged cognitive skills of our school's learning outcomes, these students have used their daily accessible resources at Sagemont to a further degree as active agents of change, in order to gain a deeper tion.
Sagemont Innovator Spotlight Sagemont Innovator Spotlight
Alessandro Blanco
7th Grade
What does being innovative mean to you?
"For me, being innovative is taking an existing idea and making it better or making it into something new! You could also be innovative by seeing that something is needed or missing in an industry, for example, and then create something that will meet that need."
What co-curricular activities do you take part in, both at school and outside of school?
"This year I achieved my black belt in Martial Arts, which has been a 5 year journey for me. At school, I participate in the Science club, Chess club, and Stocks club. I also attend coding classes on Saturdays where I have just finished Java Script and am currently learning Unity."
What is your favorite subject?
"My favorite subject in school this past year has been Astronomy. The reason for this is that I find the subject fascinating and I enjoy learning about this topic. It always leaves me asking questions and wanting to know more!"
How do you plan to use your innovative skills for the future?
"My dream is to attend MIT. Here I would like to further my programing skills so that I can become a software engineer. I would like to create software and achieve something that has not been done before. I hope to continue to innovate throughout my life."
Sagemont Innovator Spotlight Sagemont Innovator Spotlight
Lexi Arencibia
10th Grade
What does being innovative mean to you?
"Being innovative is to be creative. To introduce new ways of doing things, to be original and to not do what everyone else doing."
In what ways are you innovative?
"I am always looking for ways to make things better, either in my house or in the world. I constantly have ideas for new businesses or designs. When I walk into a business, I think about ways it could be enhanced or more productive. I help out with art festivals, help a lot within school activities and out of school ones too, and I find solutions to problems."
What is your favorite subject?
"My favorite subject in school is Entrepreneurship. Although Entrepreneurship isn't a core subject, it is my favorite because it can give you a clear image of your future. It can help you understand what is going on in the world and the impact businesses and consumers have on it."
What extracurricular activities do you take part in, both at school and outside of school?
"I take part in NJHS, Film Club, Music, DECA, and cheerleading at the school.
Outside of school I help/raise money for different organizations, play piano, run a business of my own, and volunteer my hours at a horse farm sometimes."
Sagemont Innovator Spotlight Sagemont Innovator Spotlight
Thomas Balding
11th Grade
What does being innovative mean to you?
"To be innovative is the ability to see past what you ' re told, and think outside of the box to find new methods or ideas. An innovative person may also be described as creative or even unconventional."
What co-curricular activities do you take part in, both at school and outside of school?
"I'm a Scuba diver, I play the piano, and I'm going to be doing acrobatic diving during the summer. Outside of school, I like to study subjects on my own, filling my whiteboard with what I'm learning. I usually find myself thinking about higher dimensional geometry or the properties of subatomic particles."
What is your favorite subject?
"While I love Programming and History, I must say the studies of Mathematics and Physical Sciences are my favorites. Between Math and Science, I can't decide, the two are so connected to each other that it's hard to see how one exists without the other. Math and Science are my favorite subjects because, in an era where we are just beginning to develop technologies to explore the vast cosmos, these studies help us predict or see what is unknown or hidden from our view. Math and Science make it possible to wonder, hypothesize and learn of the knowledge and beauties that lie beyond the reach of our senses. "
Sagemont Alumni Spotlight Sagemont Alumni Spotlight
Alexandra Rangel-Santos
Sagemont Class of 2009
Undergraduate: Worcester Polytechnic Institute
Bachelors of Science: Electrical and Computer Engineering Graduate: Worcester Polytechnic Institute
Masters of Engineering: Power Systems Engineering
Graduate: Indiana University Kelly School of Business Administration Masters of Business Administration, 2024
Life After Sagemont:
"I went to school at Worcester Polytechnic Institute where I studied Electrical and Computer Engineering. WPI has a very hands on and project oriented curriculum. To graduate, you must complete a humanities, an interdisciplinary, and a major project. The Interdisciplinary Qualifying Project (IQP) is in groups and consists of students from different majors coming together to solve a social problem. The idea behind it is technology meets society and has students thinking about who they are problem solving for. Most of the time, engineers get so caught up in what they are designing, they forget why and who they are designing for. Engineers end up over engineering. I had the opportunity to go to one of the project centers and I lived in Hong Kong for three months. I worked for the Chinese University of Hong Kong, under the architecture department, under a German professor, on how to maintain public spaces as urbanization was occurring. Also, while I lived in Hong Kong, a few of my classmates and I traveled to Macau where we bungee jumped from the tallest platform in the world.
For my Major Qualifying Project (MQP), I lived in Silicon Valley, CA and I worked for Stanford Research Institute (SRI International) in their Geospace program. We created the image processing program for a fisheye lens camera system installed through the United States that captured auroras traveling. The processed images are then geo located on a map of the United States for real time display on a website. This system will be used to study macroscopic scale auroras and airglows over the country. SRI International used this to get high school students involved in space science education using this system.
I completed an extracurricular project with a friend named Thomas Hunter, where we created a solar lighting system for a dock in the small town of Salisbury, MA. Our prototype was to assist our crew team late in the evenings and early mornings to be able to get back to the dock without damaging the boats. Our prototype was implemented.
Additionally, I played volleyball all four years at WPI. I was also part of Alpha Xi Delta which exposed me to many strong inspiring women.
I was hired out of school by Eaton Corporation and I have been with this company ever since. Eaton is a large power distribution manufacturer of electrical equipment. We manufacture equipment that keeps electricity running in our homes all the way to the utility. I started my career with their Electrical Engineering Services System team I did 2 years as a Power System Engineer doing a short circuit, coordination, arc flash studies and I realized that sitting behind a desk was not for me. I did a 180 and moved into our Power Systems Automation team which was 100% field. When I mean field, I drove a big Silverado pickup truck, I had tools in the bed of the truck, and I spent a lot of time on construction sites. I helped implement and maintain electrical power monitoring systems in facilities from small commercial buildings to hospitals, industries, and data centers. I lived a year in Amsterdam commissioning a large data center and had the opportunity to also support the Ireland projects.
I have worked for the past four years as an Application Engineer for one of the components' product lines getting our products incorporated into specifications but also incorporated into other customers' designs. It is a hybrid role between being the technical expert and sales. I currently have national responsibility in the OEM vertical. I spent a lot of my time visiting customers all over the United States and supporting them on how to use our product, but also how to incorporate it into their designs I am also tasked with driving our digital strategy on how we help our customers make "smart" connected solutions in their products. It is so much fun! I get to talk to customers from so many different backgrounds. I can be helping a customer who needs one of our products for their drilling skids in the middle of the oil fields, or I could be talking to a customer that's building an EV Charger. My customers are so different that I get to learn about a new application every time. I am in the process of transitioning into a new role within Eaton where I will be an Area Sales Manager for New England. It has been a very humbling opportunity to be able to keep growing and developing within the same organization."
Started Sagemont in 5th Grade!
How did Sagemont ignite your passions?
"Sagemont helped ignite my passion for personal development. I am the type of person that I have a hard time staying put. I constantly want to maximize my potential and be the best person I can be. I like getting pushed out of my comfort zone and most importantly learning. If you are not learning at least one thing new every day, then you are not allowing yourself to better yourself. When I was at Sagemont, Mrs. Echeverri and I founded the Environmental Club. This was something that we took from nothing and it became one of the largest clubs. We implemented the first recycling program and hosted beach cleanups. I saw a problem and realized there was an easy solution to it. At 14 did I know how to start a club or how to get in contact with a recycling company? Absolutely not. But, Sagemont has the strong support of teachers and staff that are there to help students navigate and support them through their crazy ideas. If you have an idea, go do your sales pitch, and find buy in from one of your teachers to endorse and support you This is how real life works "
"There was not just one individual at Sagemont who inspired me. Sagemont had an incredible group of teachers and staff that shaped me and my future. I always had an interest in computers and technology, and it was not until I took Mrs. Jennifer Melendez, now Ms. Cool's, class that I wanted to pursue computers in college. Interestingly enough, I took my first computer science class in college, and I thought " nope, not coding the rest of my life." I switched from a computer science minor and focused on the electrical part of my electrical and computer engineering degree
When Christine Cunningham took over the volleyball program, she became a crucial person in my life. She gave me tons of guidance and most importantly discipline. At the time, Ms. Cunningham worked in the Media Center. She allowed me to work in the media center as an intern during the summer. I had the responsibility of helping to reimage and set up all the laptops for the school year when the students would drop off their laptops. I also learned how to change parts and components in a computer such as memory and hard drives. In my senior year, I was given the opportunity to add this as a class. It was this hands on experience that made me realize that I wanted to go into engineering. Not only that, but she also was an important part of my prioritizing one sport and doing it well enough to start thinking about college.
Sagemont Staff Inspiration:
I would say the last person that truly made an impact was Ms. Simpson, now known as Ms. Nelson. She was the guidance counselor at the school and in my senior year, she moved to the position of a college counselor. I would not have gone to Worcester Polytechnic Institute if it wasn't for getting pushed to look at other schools, where I could potentially do both school and volleyball. I would have probably stayed at a local university and not played volleyball if it wasn't for the support of these three incredible people "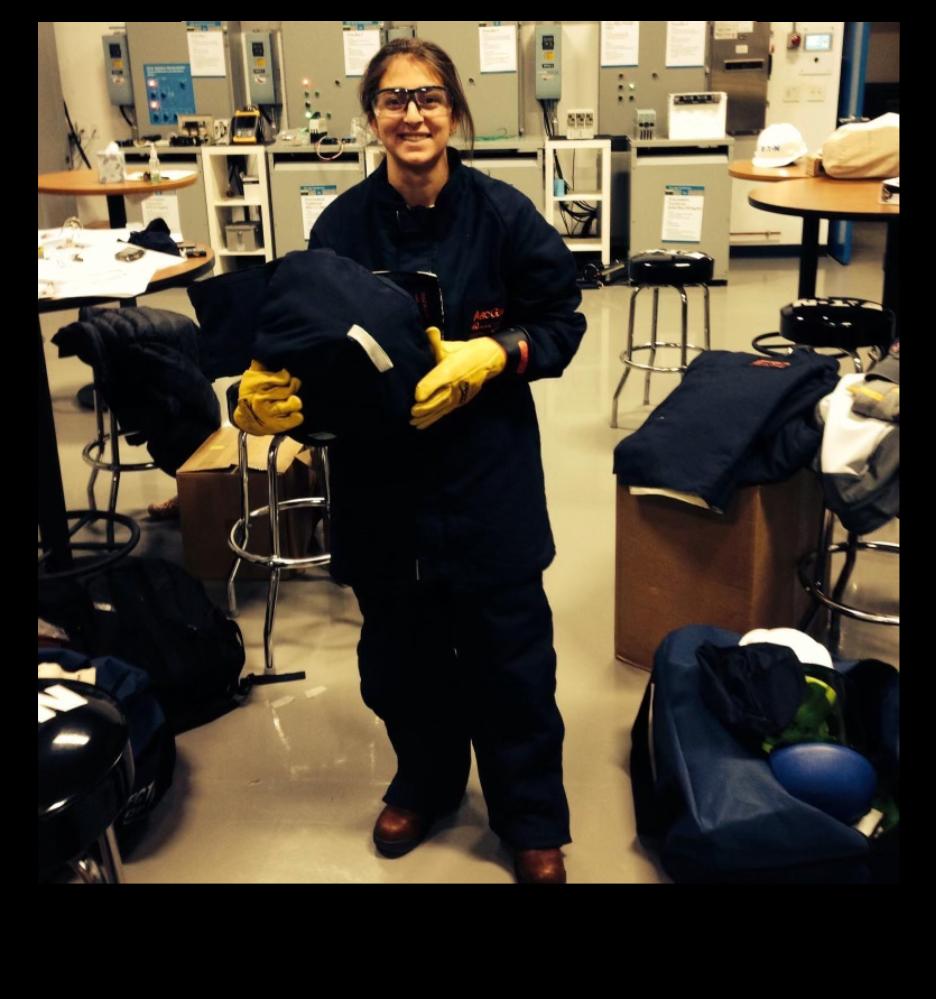 "My biggest advice is to push yourself out of your comfort zone and don't be afraid to fail. Take the big shots when given an opportunity. Use failure as an opportunity of learning. Failure gives you an opportunity to take a step back and see what you could do differently if you had an opportunity to do it all over again.
My second piece of advice is that I want all the students to think about three aspects of yourself that you value the most. I have a list of at least seven. Three of mine that are most important to me are accountability, passion, and transparency When I say I am going to do something, I do it Actions speak louder than words Don't just talk about it, be about it. I put all of me into the work I put out. I am very passionate about the work that I do and it is a true representation of who I am. Lastly, integrity/transparency is going to go a long way. Be honest and clear about a situation or what may be going on. There is huge value in honesty and always speaking the truth. If you stick to your values, this will go a long way not just in your personal life but in your education and career.
Lastly, for women, support each other. Be an advocate for other women as you go into your career. You can support each other and that support goes a long way. When you start your career you may see other women as competitors. DON'T."
Do you have any advice for our current Sagemont students?
UPPER SCHOOL
SSagemont agemont Staff Spotlight Staff Spotlight CLASSES
HOW DO YOU IGNITE CURIOSITY AT SAGEMONT ?
In alignment with Sagemont's mission statement, inspiring students through exploration and innovation is a daily goal of mine. Curiosity is a great part of exploration and learning. Each student has an individual learning style, whether it be visual, auditory, read/write, or kinesthetic. As a teacher, it is important to allow students to demonstrate their curiosity and let them lead. It is paramount for them to make connections and understand causes and effects through their inquisitiveness as they share knowledge with others.
HOW DO YOU EQUIP YOUR SAGEMONT STUDENTS TO TACKLE THE REAL WORLD ?
To equip middle school students to tackle the real world, incorporating Sagemont's learning outcomes of cognitive, interpersonal, and self awareness skills into our daily learning is critical. One way we do this is through intensive novel study. Students evaluate fiction and reality through discussions and project based learning. This includes honing skills of effective communication and the ability to make connections and comparisons to the real world. It is important to build awareness of fiction and reality to be able to take responsible risks and develop confidence and independence.
TEACHER EDUCATION Florida International University Bachelor of Science, Special Education K-12
Speech & Debate Academic Support
& ACTIVITIES English
SSagemont agemont
Staff Spotlight Staff Spotlight
UPPER SCHOOL TEACHER
EDUCATION
Florida Atlantic University
Bachelor of Science, Criminal Justice
HOW DO YOU IGNITE CURIOSITY AT SAGEMONT ?
I ignite curiosity in my students by allowing students to be creative, and explore all possibilities of any situation and/or scenario. I encourage open discussion and collaborative thinking to allow students to be fully immersed in a topic. I create a safe space for my students to express themselves, and I have established an intentional collaborative learning environment for them to thrive.
HOW DO YOU EQUIP YOUR SAGEMONT STUDENTS TO TACKLE THE REAL WORLD ?
I consistently encourage my students to take risks and allow opportunities for selfassessment within learning activities. I provide a culture in which my students not only explore all possibilities but also learn through trial and error. In life, everything is about trial and error and finding a solution that works for you.
CLASSES & ACTIVITIES Social Studies NewtoSagemont!
Florida Atlantic University Bachelor of Arts, Early Childhood Education I begin building the foundation with my students to tackle the real world by providing them with multiple opportunities to engage in dramatic play. During dramatic play, students assume various roles such as
a doctor or owning and operating a pet shop! Dramatic play builds confidence in my students, sparks creativity, and prepares them to tackle real-life situations. HOW DO YOU EQUIP YOUR SAGEMONT STUDENTS TO TACKLE THE REAL WORLD ?
YOU IGNITE CURIOSITY AT SAGEMONT ? I ignite curiosity by encouraging my students to explore their surroundings through hands on activities. I expand on their imagination through immersive learning centers that will ignite questions and wonder while encouraging collaboration.
SCHOOL TEACHER PRE-SCHOOL
Staff Spotlight
Spotlight Ms.Hartstonehas beenateacherat Sagemontfor4 years!
EDUCATION
being
HOW DO
LOWER
SSagemont agemont
Staff
SSagemont agemont
LOWER SCHOOL TEACHER
HOW DO YOU IGNITE CURIOSITY AT SAGEMONT ?
Science class is hands on and so much fun! I love to start with a demonstration that catches the students' attention, followed by a lesson teaching the principles behind the demonstration, with open discussions, questions, and answers.
Through Science class, I do my best to teach students key life skills, including the ability to communicate, remain organized and focused, form their own opinions based on observations and experiments, and encourage social interactions when they share or present their thoughts and ideas to the class
"In the short time that I have been with the Sagemont family, I have been very impressed by the intellectual acumen and maturity of the 3rd, 4th and 5th grade classes. My students genuinely inspire me each and every day to give them my very best and to continue to inspire and challenge them. I am so excited to see the continued growth of my Sagemont students!"
EDUCATION Florida International University Bachelor of Science, Engineering, Industrial and Systems Engineering
HOW DO YOU EQUIP THE SAGEMONT TEAM TO TACKLE THE REAL WORLD ?
NewtoSagemont!
Staff Spotlight Staff Spotlight CLASSES & ACTIVITIES Science Environmental Club
Sagemont'sNew Sagemont'sNew Partnerships Partnerships
My Peacebuilder Foundations is an interactive, online course delivered in sequential modules for high school students and members of youth clubs and organizations.
Course completion achieves understanding of fundamental drivers of conflict and peace, the ability to imagine innovative approaches to change, and skills to frame an issue problem statement and create a peace project idea.
Through the course, students learn to use established frameworks to consider how power, conflict, violence and peace intersect. Among these are four that are well known in conflict resolution and peacebuilding: Galtung's Triangle of Violence to distinguish different types of violence; 5 Spheres of Peace to examine right relationships; Eight Pillars of Peace to understand systemic drivers of conflict & peace; Conflict Mapping to analyze a specific conflict.
The course is delivered through a series of online modules that leverage the NewGen Peacebuilders 7H Framework. Course completion achieves understanding of fundamental drivers of conflict and peace, the ability to imagine innovative approaches to change, and skills to frame an issue problem statement and create a peace project idea.
Mrs. Nelson sits down with Mrs. Nelson sits down with Inside South Florida Inside South Florida Correspondent, Miriam Correspondent, Miriam Tapia! Tapia!
PTO
The Sagemont School's Parent Teacher Organization
Lower School
The season of gratitude has arrived at The Sagemont Lower School! We have been planning our Annual Thanksgiving Luncheon for our Lower School students, teachers, and staff members. We at the PTO truly understand and appreciate how everyone on campus makes our children's learning experience extra special In the spirit of appreciation, we will have a special surprise for our teachers come next week too!
Most importantly, THANK YOU to all parent volunteers and Sagemont staff that helped in making our Halloween Bash a success and so much fun! The Dome was transformed into a spooky and fun venue with a DJ, photo booth, games, glow sticks, and an Italian feast with a delectable dessert bar to complete the night. All the children truly enjoyed the event and we loved hearing about how much they enjoyed their time at the Halloween Bash! This is truly what makes all of our hours as parents and PTO members worth it.
Thank you to all of our Room Parent Coordinators, Specialist Coordinators, and our Sagemont Families for attending our monthly PTO meetings and for your involvement in the many events in the month of October! We appreciate your support and your collaboration in making our children's school experience so memorable.
Important Dates: Thanksgiving Luncheon for students, teachers, and staff is November 17 and the December PTO Meeting is on 12/14 at 8:45 am in The Lower School Multi Purpose Room (MPR).
Upper School
Thanksgiving is a time of togetherness and gratitude." And no one knows this better than our PTO. We are extremely thankful to all the families that have graciously donated money to the cafeteria renovations. The Balding, Carrillo, Romaniw, Issa, Alhadeff, Piteo Mato, Jones, and Panqueva Cortes Families we thank you!
We are grateful for the volunteers that have taken the time to help us during Halloween, during pizza Fridays, and the ones that will make our Thanksgiving Luncheon run smoothly We know that this year our volunteers have gone above and beyond what we expected and for that we are thankful.
On Thursday, November 17th, the PTO sponsored a Thanksgiving lunch for all our middle and high school students, as well as staff. We transformed the athletic center into a beautiful dining area where all the students can share in this special time of eating together. Because Sagemont is a small school, we are able to provide this meal and have everyone together to share on this special occasion.
We wish our Sagemont Families a Happy Thanksgiving.
Join us at our next PTO meeting on Wednesday, December 7th.
Sagemont School Resources Sagemont School Resources Sagemont Calendar of Events Upper School Resources Lower School Resources Stay connected! Follow us on Facebook and Instagram! @TheSagemontSchool
hoopsgivingbasketball.com
STUDENT-POWERED Innovation!
An academic environment in which students are encouraged to pursue passions, challenge the status quo and analyze their impact on the world.
Purposefully designed curriculum and instruction inspires academic excellence through intellectual exploration, entrepreneurship and innovation.
Students are encouraged to take responsible risks and develop a deep understanding of social responsibility as active agents of change.
Kristin Sorokin
Life, Editor-in-Chief
Sagemont