Buying or selling a home? | Loadshedding advice December 2022 R45.00 Incl. VAT 9772219724008 22008 Volume 12 Issue 4 December 2022 Good news from the The company that can! Fourways Group: COVER STORY What will 2023 bring? systems explained Cool roofs HOT SUMMER! for the Young designers Mother City Mother City Fourways Group: Cool roofs RISE TO THE FORE PV home PV home Renovation trends Renovation trends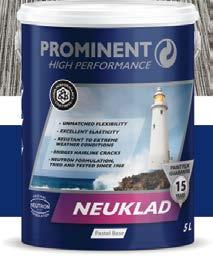 Gareth Griffiths editor@tobuild.co.za
Welcome to our December edition. It's been an extremely tough year on the whole for the entire design, construction and professional sector but then the effect of the lockdowns and a pandemic-driven economy are still biting deep, as are other factors.
Mohau Mphomela, Executive Director of the Master Builders Association North, recently said in a statement that the hoped for rebound in the economy for 2022 had been severely set back by factors such as the unsettled geopolitical climate and disrupted markets.
Stats SA says that at the end of Q2 this year the construction sector was in the worst shape of all industries and that by September, the industry growth rate was -2.4%, with civil infrastructure projects increasingly delayed. The South African Institution of Civil Engineering 2022 Infrastructure Report Card lists the country as 'D' – at risk of failing. Compounding this, there is intimidation, extortion and violence on construction sites, with the added threat of the construction mafia.
However, there have also been cases where growth has been positive, retail has been buoyant and tourists are returning. The V&A Waterfront, one of SA's prime international and domestic destinations, is reporting a comeback driven by increased retail and tourist spending within its precinct. They have also made considerable investments in 'futureproofing' its assets in line with climate change -driven events such as water security, energy security and an immediate and long-term commitment to carbon/energy climate strategies. Read more about their bold plans in the News section of this edition.
Likewise, other developers have reported growth and positive things in the development of multi-unit residential complexes, apartment housing, retail complexes, mixed use/residential precincts or 'cities' and sustainably-built warehousing.
Does the phrase, "it is always the darkest just before dawn" still apply? We hope so.
Happy holidays.
To Build
To_Build
Publication
To_build_publication
NOTE
Gareth 4 volume 12 | issue 4 www.tobuild.co.za
EDITOR'S
YEAR GUARANTEE RESILIENT. PROVEN. TRUSTED PVC COMPOSITE DECKING MANUFACTURER +27 87 610 0866 l connect@nowatech.green www. nowatech.green YEAR GUARANTEE RESILIENT. PROVEN. TRUSTED PVC COMPOSITE DECKING MANUFACTURER +27 87 610 0866 l connect@nowatech.green www. nowatech.green
6 volume 12 | issue 4 www.tobuild.co.za NEWS & VIEWS 10 Property icon passes away 10 Global expertise on water heating solutions launches 12 Good news from the Mother City 14 15 years of Green Building COVER STORY 16 Fourways Group: The company that can!
– PROJECT 20 Boardwalk Mall precinct brings a new experience to visitors 24 Regenerative design at the Helderberg Centre ADVERTORIAL 28 Create a clean space, with the Geberit Acanto bathroom series ARCHITECTURE – INTERVIEW 30 Sharné Bloem - regenerative design professional CONSTRUCTION – LEGAL 34 Choose your contract adjudicator wisely
– OPINION 36 Construction: a promise and a possibility? 38
– OUTDOOR
FEATURE 38 Throw open your doors and embrace the outdoor living trend
– OUTDOOR
42 Outdoor living:
furniture
44 EGGER
be
–
FIXTURES 46 Beautiful and budget-friendly kitchen worktops
–
48 Young designers rise
–
& COATINGS 52 Downsizing? Colour makes your living space look larger
–
54 Refurbished facilities in Midrand get 6 Star Green rating
–
56 Black & White from Firenze 28 52 CONTENTS
–
TRENDS 58 Renovation
will 2023
–
62 Planning
outdoor entertainment
24 DECEMBER 2022
ARCHITECTURE
CONSTRUCTION
DESIGN
LIFESTYLE
DESIGN & CONCEPTS
LIFESTYLE FEATURE
Patio
ADVERTORIAL
'Interior Match': Designed to
together DESIGN
KITCHEN FURNITURE
DESIGN
KITCHEN
to the fore DESIGN & CONCEPTS
PAINT
INTERIOR DESIGN
PROJECT
DESIGN
DÉCOR TRENDS
DESIGN & CONCEPTS
RENOVATION
trends… What
bring? DESIGN & CONCEPTS
TIMBER OUTDOOR AREA
your
area
MODERN DESIGN. MADE THE OLD-FASHIONED WAY.
At Swartland, we only know one way to make doors and windows, and that's to last. Our Kenzo range is built from strong, lightweight aluminium-alloy frames allowing for expansive walls of light, space and seamless integration with nature. Kenzo windows and doors require very little maintenance and never need to be painted – the perfect combination of durability and affordability. All products are SANS 613 certified and compliant.
Call us on 086 110 2425 or visit www.swartland.co.za for more info.
6 Carlton Crescent, Parklands, 7441 | Tel: 021 424 3625 | Fax: 086 270 9693 Email: info@tobuild.co.za | Website: www.mediaxpose.co.za
PUBLISHER
Elroy van Heerden Mays elroy@mediaxpose.co.za
EDITOR (& Imaging)
Gareth Griffiths editor@tobuild.co.za
SUB-EDITOR Tessa O'Hara tessa.ohara@gmail.com
CONTENT MANAGER Wadoeda Adams artwork@mediaxpose.co.za
EDITORIAL CONTRIBUTORS
Adv Bryan Hack Digby Wesson Kim Williams Koketso Shabalala Orlando Luis Otto Botha Reinhart Schwendinger Stephanie Forbes Wesley Soule
DESIGN AND LAYOUT
Anja Bramley artwork1@mediaxpose.co.za Shaun van Heerden Mays artwork2@mediaxpose.co.za
MEDIA PARTNERSHIPS
Maurisha Niewenhuys maurisha@mediaxpose.co.za
ADVERTISING SALES MANAGER
Rene van Heerden rene@tobuild.co.za
ADVERTISING SALES
Jacqui Marsh jacqui@tobuild.co.za Lindie van den Abeele lindie@mediaxpose.co.za

DIGITAL MARKETING MANAGER
Jay-Dee van Rensburg digital@mediaxpose.co.za
SOCIAL MEDIA CO-ORDINATORS: Kyla van Heerden social@mediaxpose.co.za Ketsia Makola Kiangebeni ketsia@mediaxpose.co.za
DISTRIBUTION & SUBSCRIPTIONS
Shihaam Gyer distribution@mediaxpose.co.za Sherwin Kastoor sherwin@mediaxpose.co.za
WEBSITE ADMINISTRATOR
Justin McGregor justin@mediaxpose.co.za
CHIEF FINANCIAL OFFICER
Shaun van Heerden Mays shaun@mediaxpose.co.za
RECEPTIONIST
Daniëla Daniels receptionist@mediaxpose.co.za
Disclaimer: The views expressed in this publication are not necessarily those of the publisher or its agents. While every effort has been made to ensure the accuracy of the information published, the publisher does not accept responsibility for any error or omission contained herein. Consequently, no person connected with the publication of this journal will be liable for any loss or damage sustained by any reader as a result of action following statements or opinions expressed herein. The publisher will give consideration to all material submitted, but does not take responsibility for damage or its safe return.
DISTRIBUTION On The Dot | Media Support PICTURE CREDIT 123rf.com | pixabay.com PRINTED BY PUBLISHED BY 8 volume 12 | issue 4 www.tobuild.co.za DIY – LANDSCAPING 66 Have your garden and eat it DESIGN & CONCEPTS –BATHROOMS 68 Design the perfect sustainable bathroom DIY – DRILLS & HOLES 70 Drills, drills and those holes we need ADVERTORIAL 72 Nowa Tech Introducing NowaBatten – 100% recycled mixed plastic as decking substructure material ELECTRICAL – SOLAR PV 74 PV home systems explained ADVERTORIAL 78 Quality indoor braais by Thermo Fires MATERIALS & SUPPLIERS – STEEL AWARDS 80 Inspiring SAISC Steel Awards 2022 MATERIALS & SUPPLIERS – INSULATION 84 Cool roofs - for the hot summer! MATERIALS & SUPPLIERS – FLOORS 86 Case study: Toyota Material Handling GREEN BUILDING – HVAC 88 The name to know for intelligently optimised air comfort RENEWABLE ENERGY – SAFETY AT HOME 90 Opinion: What you should know before investing in solar PV GREEN BUILDING – AIR CONDITIONING 92 Shift to clean air technology: Nature's solution 94 CLASSIFIEDS 68 90 Follow us... To Build Publication To_Build To_build_publication CTP printers CAPE TOWN
Protects, nourishes and colours wood in one easy application Contact Us: (011) 444 7221 info@jaxoleum.co.za www.jaxoleum.co.za