MATCH
Find your
Shop in store or online at SissysLogCabin.com PERFECT
Publisher Kelly Fraiser (ext. 101) kelly@athomearkansas.com
Editor in Chief
Stephanie Maxwell Newton (ext. 102) stephanie@athomearkansas.com
Art Director Bailey Dougan (ext. 106) bailey@athomearkansas.com
Online Editor
Laura LaRue (ext. 104) laura@athomearkansas.com
Advertising Art Manager Taylor Evans taylor@athomearkansas.com
Contributing Copy Editor Susan Darcey
Contributing Photographer Molly Anne Sandefur
Contributing Writers Tiffany Adams and Virginia Brown Account Managers
Isabella James (ext. 103) isabella@athomearkansas.com
Olivia Bynum (ext. 105) olivia@athomearkansas.com
Billing billing@athomearkansas.com
SUBSCRIPTIONS
Call 818.286.3115 or email subscribe@athomearkansas.com for customer service
Annual subscriptions: $15.95 Single copy: $3.95 plus shipping and handling
ADVERTISING
For information about advertising in Weddings in Arkansas or At Home in Arkansas, call 501.666.5510 or email kelly@athomearkansas.com
Editorial & Advertising Office 2207 Cottondale Lane Little Rock, AR 72202 501.666.5510
Loft 1023 has four rooms that can be used together or separately for events big or small. 1023 West Seventh Street Little Rock, Arkansas (501)566-4776 loft1023.com An urban event venue located in the heart of downtown Little Rock.
This issue contains listings of some of the products, manufacturers, distributors and retailers represented in this issue. Space limitations prevent sourcing of all items. Although extreme care is taken to provide correct information, Weddings in ArkansasTM cannot guarantee information received from sources. At Home in Arkansas TM Weddings in Arkansas is published 2 times a year by Root Publishing, Inc. Opinions expressed in articles, letters or advertisements, unless otherwise noted, do not necessarily reflect the opinions of the publisher or the staff. Every effort has been made to ensure that all information presented in this issue is accurate and neither Root Publishing, Inc. nor any of its staff, is responsible for omissions or information that has been misrepresented to the magazine. Copyright© 2015 Root Publishing, Inc. All rights reserved. No part of this publication may be reproduced or transmitted in any form or by any means, electronic or mechanical, including photocopy, recording or any information storage and retrieval system, without the permission in writing from the publisher. All pictorial material reproduced in this book has been accepted on the condition that it is reproduced with the knowledge and prior consent of the photographer concerned. As such, Root Publishing, Inc. is not responsible for any infringement of copyright or otherwise arising out of publication thereof.
We make every effort to correct factual mistakes or omissions in a timely and candid manner. Information can be forwarded to Stephanie Maxwell Newton, editor; At Home in Arkansas TM; 2207 Cottondale Lane; Little Rock, AR 72202 or by email at stephanie@athomearkansas.com. Volume 20, Number 2
Fall/Winter 2022 | weddingsinarkansas.com 5
6 WELCOME inspiration 9 SEVENTIES
12 COTTAGE
14 GROWING
16 CONTEMPORARY
19
style 23 TRENDING TRADITIONAL Classic silhouettes
jewels
real weddings 31 MAGGIE HURST + AUBREY BERKOWITZ 34 KAILEY BROADDRICK + MARK BUCK 37 HAILEY BUSH + BRAD COOPER 40 KAILEY POWELL + RUSSELL LOWRY 43 LIBBY WHITBECK + LOU WOOD 47 LAUREN ALFORD + BLAKE SPILKER 50 MADISON DERDEN + JOSH CROOK special section 53 TRENDSETTERS last look 64 SHARE THE LOVE on the cover Bridal bouquet by Vase & Vine in Clarksville. Photography by Molly Anne Sandefur. See
23. 34 31 IN THIS ISSUE
STYLE
CHIC
LOVE
ELEGANCE Wedding planning duo L & Co. creates a bright and beautiful styled shoot.
TAKE IT FROM A PRO A local aesthetician and makeup artist offers her advice for beauty to-dos before the big day.
and shining
create bridal looks to stand the test of time.
page
From the Editor
If you're planning a wedding, you've probably noticed the seemingly endless supply of inspiration available from sources like Pinterest, Instagram, and wedding blogs. With all of that information just a click away, I'm glad you chose to pick up this magazine and flip through the pages—I like your style!
While you'll find Weddings in Arkansas in these online spheres as well, I'm still a fan of analog experiences. So much of what I do every day takes place in the digital realm (emails, so many emails!), and I find it refreshing to sit back and fall into one of my favorite magazines. I'll relax with a throw blanket and a cup of coffee, start reading and, before I know it, the issue is covered in dog-eared pages and sticky notes. It's a slower, more meaningful experience than scrolling, and I encourage you to approach wedding prep the same way.
Planning a wedding can be hectic to say the least. Look for moments to pause. Plan a date night with your fiancé where you had your first dinner out together. Ask your grandparents what was special about their own wedding day. Keep a mental snapshot of every dress you try on and every cake you taste. In the grand scheme of things, your engagement— and wedding day—will seem to fly by, and you'll want those memories to revisit after the confetti has settled.
Best wishes!
On the Blog
Weddings in Arkansas doesn't stop here—there's more vendor news, real wedding features, and inspiring styled shoots online at weddingsinarkansas. com/blog.
Submit Your Wedding
Want to see your big day (or styled shoot!) featured in the pages of our next issue? Visit weddingsinarkansas. com/submit for information.
Get in Touch!
We love hearing from our readers. If you have a question, correction, or simply want to share your thoughts on a story, email stephanie@ athomearkansas.com. You can also find us on Facebook (@weddingsinarkansas) and Instagram (@weddingsinar).
Stephanie Maxwell Newton, Editor in Chief STEPHANIE@ATHOMEARKANSAS.COM
6 Weddings in Arkansas | Fall/Winter 2022 WELCOME
Photos by Rett Peek (portrait) and Erin Wilson Photography & Films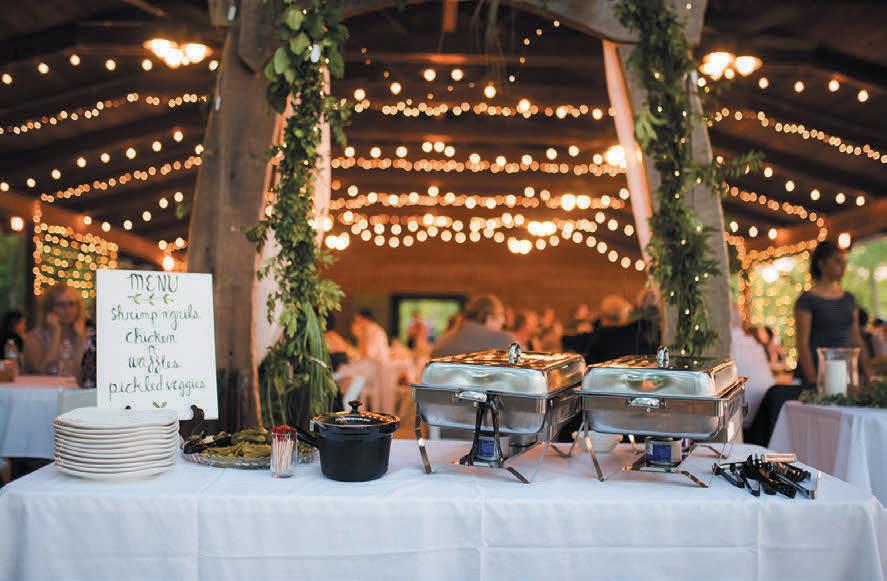 MOUNTAIN HARBOR RESORT & SPA Tri-Pennant Family of Resorts (870) 867-2191 • 1-800-832-2276 MountainHarborResort.com 994 Mountain Harbor Road Mount Ida, AR 71957 A FULL-SERVICE DESTINATION WEDDING VENUE • Premier Lodging • On-site Dining & Catering • Turtle Cove Spa • Personalized Service • Award-winning Staff • Multiple Lake-side Venues CELEBRATING 68 YEARS OF MAKING MEMORIES Mountain Harbor has multiple picturesque lakeside venues to make your wedding magical. at Harbor Begin your new life
Seventies Style Seventies Style
Three-tier wedding cake with buttercream icing, accented with gold-colored frosting details and fresh florals.
Ambrosia Bakery Co., Hot Springs
AMBROSIABAKERYCO.COM
Fall/Winter 2022 | weddingsinarkansas.com 9
PRODUCER STEPHANIE MAXWELL NEWTON PHOTOGRAPHER MOLLY ANNE SANDEFUR STYLIST BAILEY DOUGAN
INSPIRATION
Retro hues and vintage design elements inspire a super groovy gathering
"Davida" letterpress wedding invitation, save-the-date card, and lined envelope by Andrea Streeter for Bella Figura.
The Social Type, Little Rock
THESOCIALTYPELR.COM
INSPIRATION
Founded by Sissy Jones in 1970, Sissy's Log Cabin has grown into the mid-south's largest familyowned jewelry store with six locations. Today, Sissy's son Bill carries on his family's legacy by serving as CEO of the company. "As a graduate gemologist from the Gemological Institute of America, I bring years of experience to help educate those shopping for bridal in my stores," Bill says. "We offer the 'Sissy's Experience.' Every time you walk into Sissy's Log Cabin you can expect four things: exceptional service, an expansive selection, an extraordinary experience, and
quality pieces."
One trend Bill is currently seeing in engagement rings is using a large diamond center stone in a petite setting surrounded by stackable bands. He recommends newly engaged couples approach their wedding jewelry with budget, style, and inspiration in mind.
"We encourage those shopping for an engagement ring to speak with friends and family, or to bring in a photo to help us guide you through the process," he says. "Purchasing an engagement ring should be fun and easy. At Sissy's, we make that happen!"
(501) 663-0066 | sissyslogcabin.com | @sissyslogcabininc Pine Bluff • Little Rock Heights • Little Rock Promenade • Jonesboro • Conway • Memphis
Fall/Winter 2022 | weddingsinarkansas.com 11 ADVERTISEMENT
Experience You Deserve the Best From the elegant glass and wood walls to sweeping views of the Little Rock skyline, the Clinton Presidential Center will exceed your every expectation. Call today to reserve your space. 501-748-0454 | www.clintoncenterweddings.org
Bill Jones, CEO of Sissy's
Log Cabin
Extraordinary
Photo: Selavie Photography and Bella Baxter Special Events
COTTAGE chic
Bouquet of blue hydrangeas, ivory spray roses, lisianthus, thistle, blue delphinium, ivory phlox, and parvifolia eucalyptus. Tipton & Hurst, Conway, Little Rock, and Pine Bluff
INSPIRATION
TIPTONHURST.COM 12 Weddings in Arkansas | Fall/Winter 2022
Classic meets current in this charming wedding theme
Three-tier chocolate wedding cake with a hexagonal base layer, painted fondant frosting, cream cheese filling, and faux flower accents.
Blue Cake Company, Little Rock
THEBLUECAKECOMPANY.COM
Custom thermography-printed invitation suite personalized with a wedding monogram and venue illustration along with coordinating program, reply card, and belly band.
Pen & Ink Paperie, Little Rock
PENANDINKPAPERIE.COM
INSPIRATION
Fall/Winter 2022 | weddingsinarkansas.com 13
INSPIRATION
"Underwood V.2" blind deboss and letterpress invitation, reply card, savethe-date card, and lined envelope by Jessica Downs for Bella Figura. The Social Type, Little Rock THESOCIALTYPELR.COM
Four-tier almond cake with raspberry filling and a crackled fondant finish featuring ruffles, flowers, and gold accents.
Cakes by Robbin, Bentonville
CAKESBYROBBIN.COM
Bouquet of garden roses, lisianthus, seeded eucalyptus, silver dollar eucalyptus, Italian ruscus, salal, lemon leaf, and olive branches.
Tanarah Luxe Floral, Little Rock
TANARAHLUXEFLORAL.COM
Fall/Winter 2022 | weddingsinarkansas.com 15
greenery and
offer
upscale
INSPIRATION
Abundant
floral motifs
an
garden feel
CONTEMPORARY ELEGANCE
Wedding design duo L & Co. craft a sophisticated wedding scene with a mix of modern and vintage accents
16 Weddings in Arkansas | Fall/Winter 2022 INSPIRATION
WRITER VIRGINIA BROWN PHOTOGRAPHER ALLIE ATKISSON IMAGING MODEL ALLISON SNODGRASS
CLASSIC COMBINATIONS
L & Co.'s desire to bridge traditional and modern styles is evident in the tabletop design. Gold-rimmed glass chargers are paired with classic white plates against the wooden table. "It's not just crisp and clean, but the two together maintain a rusticness," Lauren says. Antique-inspired gold flatware adds to the vintage vibe. Instead of a typical wedding cake, the duo had Three Best Bakery create individual cakes in ombré colors.
For their first styled shoot since launching wedding design business L & Co., sisters Lauren Webb and Lesley Roberts were determined to create a lasting impression. "We wanted to showcase what we could do and who we are," Lauren says.
They started with a story: "This bride is independent and beautiful, and she wants to have a fun, bubbly wedding and break out of the traditional realm," Lauren says. To bring this vision to life, they created a romantic scene at Hidden Willows, a venue in Cabot recently opened by the owners of Curly Willow Designs floral shop. Here, the designers offset the venue's stark, industrial accents with organic florals and feminine touches. For example, the bride's traditional lace gown and pearl accessories balance the venue's steel beams, large windows, and garage door.
A bright, cheerful palette amplified the story. "We wanted to bring different colors together but make it cohesive, fun, and bold," Lauren says. This was accomplished through the floral design and table accessories, both of which incorporate cornflower blue. For flowers, Curly Willow Designs created table arrangements and a floating arbor using a blend of stock, garden and spray roses, ranunculus, and delphinium in a range of creamy yellow, sherbert oranges, and bright blue hues. A mix of greenery lends a lush garden feel throughout for an unforgettable effect.
Fall/Winter 2022 | weddingsinarkansas.com 17 INSPIRATION
A modern velvet chair is an unexpected touch against the set-up's industrial and rustic tones. "You can make anything work as long as you play off the colors," Lauren says.
FUN WITH TEXTURE
Introducing a mix of textures helped the sisters accentuate vintage elements in the contemporary space. For example, a wooden farmhouse table with a black metal base instantly added warmth and inspired them to bring in more wood elements, like cross-back chairs (below) and a vintage settee (above).
18 Weddings in Arkansas | Fall/Winter 2022 INSPIRATION
Blue stemware and linens reinforce the palette, and the effortless placement of a gauzy table runner gives the tablescape a laidback look.
Resources
BRIDAL GOWN The Bridal Cottage CAKES Three Best Bakery FLORAL DESIGN Curly Willow Designs HAIR Kari Davis, Revive + Co. JEWELRY Tara & Co. Fine Diamonds
MAKEUP Madie Mazur, Madie Mazur Beauty PHOTOGRAPHY Allie Atkisson Imaging
PLANNING & DESIGN Lauren Webb and Lesley Roberts, L & Co. RENTALS Eventology
VENUE Hidden Willows
TAKE IT FROM A PRO
WRITER STEPHANIE MAXWELL NEWTON PHOTOGRAPHER CAMERON & ELIZABETH PHOTOGRAPHY
Fall/Winter 2022 | athomearkansas.com
Aesthetician Lavonne Wood offers advice on wedding day prep based on decades of experience—and her own recent nuptials
"Portraits
In her 24 years of experience as a makeup artist and aesthetician, Lavonne Wood has helped hundreds of women prepare for their wedding day. So when she met the man of her dreams, Curtis, and the two started planning for their own big day, she was up to the task. It wasn't until after the last of the cake was enjoyed and guests had gone home that she realized they had overlooked capturing some of the most intimate moments of the day. "When we got photos back, I was like, Where are my beauty shots? Where are my portraits?" she
says. As a beauty professional, the irony of the oversight was not lost on Lavonne. But instead of regret, she saw an opportunity. "I told Curtis, I kind of want to put my dress back on and do bridals."
So, several months after they wed, she and her groom recreated their elegant wedding day looks for the camera. For Lavonne, this meant Old Hollywood-inspired hair and makeup that would never go out of style. "I'm a big advocate of classic, timeless makeup where you don't look back like, Oh my gosh, what was I thinking," she laughs. "I knew I wanted to incorporate this
20 Weddings in Arkansas | Fall/Winter 2022
When looking for a venue for their styled shoot, photographers Cameron & Elizabeth suggested the Edgemont House, a Spanish Colonial Revival style home in North Little Rock. "It just fit me to a T," Lavonne says.
are a legacy of a time in your life," Lavonne says of her desire to recreate her and her husband's wedding looks for a special photo session months after the wedding.
ABOUT FACE
For everyday upkeep, Lavonne uses what she calls the Simple Seven. It's "what every person should have in their skin-care arsenal no matter what: cleanser, daily moisturizer, sunscreen, toner, serums (such as Vitamin C and retinol), eye cream, and night cream," she says.
Skinscript is one of her preferred brands because it's plant-based, paraben-free, and good for all skin types and skin tones.
beautiful, iridescent emerald green shadow with a smokey eye and nude lip."
However, the foundation for Lavonne's wedding look began long before the day of, and she suggests all her clients view beauty as more than booking hair and makeup appointments. "It's all about getting people on a consistent skin-care regimen," she says, noting that achieving healthy skin is a monthslong process. Want to know her secrets? Read on for a timeline of Lavonne's tips for getting that wedding day glow.
GLOW-UP GUIDE
6 MONTHS BEFORE
"If you have hyperpigmentation, start with a chemical peel, then regular facials once a month," she says, noting that protecting your skin from the sun is imperative after a chemical peel. "Also, if you're not already on a skin care regimen, now is the time to start."
3 MONTHS BEFORE
Skin rejuvenation treatments such as microneedling or microchanneling (Lavonne's favorite) are recommended to treat dry skin, fine lines, and visible pores. "It's great to get one of these therapies once a month even for anti-aging effects."
1 WEEK BEFORE
The week before or early in the week of your wedding is a good time for an oxygen facial, which boosts collagen production. "This really helps hydrate the skin and help all your products penetrate more," Lavonne says. "You end up having this amazing glow after you get it done.
2-5 DAYS BEFORE
Lavonne recommends dermaplaning to remove dry skin and vellus hair (also known as "peach fuzz") for better makeup application. This is also the time to get your eyebrows shaped.
2 DAYS BEFORE
"If you're going to do lash extensions or a lash lift and tint , get those done two days before," she says. "I recommend getting something semipermanent so you don't have to worry about makeup on your honeymoon."
1 DAY BEFORE
Last but not least, don't forget to get that manipedi! "I always say wait until the day before, even if you're doing gel or dip, just because things can happen," she says.
Follow Lavonne on Instagram (@lavonnebeauty) and see more from her styled shoot at weddingsinarkansas.com.
Fall/Winter 2022 | weddingsinarkansas.com 21
Lavonne's recommendations for luminous skin leading up to the wedding day
Local Resources
INSPIRATION
BRIDAL GOWN Low 's Bridal HAIR & MAKEUP Lavonne Wood, Lavonne Beauty PHOTOGRAPHY Cameron & Elizabeth Photography VENUE The Edgemont House
The Hot Springs Country Club is a full-service venue for wedding receptions, rehearsal dinners, banquets, events and catering. The banquet staff at HSCC wants to ensure you have a relaxed and stress-free wedding day. Come see our beautiful banquet room with its wraparound veranda overlooking our state-of-the-art golf course. When it comes to your wedding, our banquet coordinator works with you; taking care of all the details to make sure your day is perfect!
Donna Bryant, Banquet Coordinator | office: 501.623.4981, ext. 4 | cell: 501-617-1812 | banquets@hotspringscc.com | hotspringscc.com
22 Weddings in Arkansas | Fall/Winter 2022
501-380-0035 | @thepinesconway thepinesconway.com Silks-a-Bloom.com WEDDINGS - SPECIAL EVENTS - SEASONAL DESIGN
photo
by Benjamin Martin Photography 119 Roden Mill Rd, Conway, AR 72032
ERIN WILSON PHOTOGRAPHY
TRENDING TRADITIONAL
Satin, silk, and shimmering diamonds bring timeless elegance to today's bridal fashion
PRODUCER STEPHANIE MAXWELL NEWTON PHOTOGRAPHER MOLLY ANNE SANDEFUR ART DIRECTOR BAILEY DOUGAN MODEL BRAE DENTON HAIR & MAKEUP ARTIST LAVONNE WOOD
STYLE Fall/Winter 2022 | weddingsinarkansas.com 23
Shot on location at Trapnall Hall in downtown Little Rock.
Romance
ROMANCEDIAMOND.COM
Armadani flower-shaped diamond earrings with a double-strand diamond choker and diamond tennis bracelet, both by A. Link, and a diamond engagement ring and wedding band.
Diamond Co. Jewelers, Fayetteville and Rogers
STYLE 24 Weddings in Arkansas | Fall/Winter 2022
Dress and pearl-studded veil from Low's Bridal
Ines Di Santo "Smitten" square-neck crepe trumpet gown and "Promise Crystal Drops" earrings by Untamed Petals.
Tesori Bridal, Fayetteville
Fall/Winter 2022 | weddingsinarkansas.com 25 STYLE
TESORIBRIDALFORMAL.COM
14K white gold diamond tassel necklace, 14K white gold diamond drop earrings, and 5.01CT diamond and platinum ring.
Sissy's Log Cabin, Pine Bluff, Little Rock, Jonesboro, Memphis, and Conway
SISSYSLOGCABIN.COM
STYLE 26 Weddings in Arkansas | Fall/Winter 2022
Strapless silk gown with a dramatic bow detail and flared fit.
Low's Bridal, Brinkley LOWSBRIDAL.COM
Bridal bouquet featuring 'Townsend' snapdragons, apricot button dahlias, 'Sahara' roses, blush butterfly ranunculus, white calycina, dusty miller, wax flower, and orange amaranthus.
Vase and Vine, Clarksville
STYLE Fall/Winter 2022 | weddingsinarkansas.com 27
VASEANDVINEFLORAL.COM
STYLE 28 Weddings in Arkansas | Fall/Winter 2022
Savin London "Lottie" gown featuring hand-painted florals and a large bow detail in the back (see page 23). Earrings are "Louise" by Untamed Petals. Tesori Bridal, Fayetteville TESORIBRIDALFORMAL.COM
Satin off-the-shoulder dress with a sweetheart neckline and veil edged in beading.
Low's Bridal, Brinkley
LOWSBRIDAL.COM
Jewelry from Sissy's Log Cabin
STYLE Fall/Winter 2022 | weddingsinarkansas.com 29
30 Weddings in Arkansas | Fall/Winter 2022 901 Kellogg Acres Road | NLR, AR 72120 501.838.9224 | info@thevenueatoakdale.com An exceptional venue for a variety of occasions! SCAN HERE Beautiful custom wedding and party invitations, stationery, cups, napkins, programs and more curated by designers and tailored to fit your style. 5819 Kavanaugh Blvd., Little Rock, AR 72207 (501) 661-9929 | thesocialtypelr.com
Carina Skrobecki
Photographraphy:
MAGGIE + AUBREY
LITTLE ROCK 5.14.22
STEPHANIE PARSLEY PHOTOGRAPHY
You could say Maggie Hurst and Aubrey Berkowitz were meant to bee —the two met through the dating app Bumble while living in Austin, Texas. They began dating in August 2019 and knew things were serious after celebrating the holiday season together, first in Little Rock with Maggie's family and then in Colorado Springs with Aubrey's. "After driving together for over 2,300 miles in one car, with two dogs, and spending time with our families, we knew this might be the real deal," Maggie says.
The following year while in Little Rock for Thanksgiving, Aubrey popped the question at the Junction Bridge overlooking the Arkansas River. The proposal was followed by a surprise celebration with members of both families, including out-oftowners from Texas and Colorado who all made the trip to toast the happy couple.
Maggie had always wanted a spring wedding, and the two decided on First United Methodist Church for their ceremony
and the Country Club of Little Rock for their reception. "Since I was a little girl, I have always been in love with fairy tales, especially the ones with enchanted forests. Once we were engaged, I realized I hadn't outgrown my love of this theme, and it was immediately how I envisioned our wedding day—but with an adult vibe," Maggie says. She describes the end result as feeling like a party based on A Midsummer Night's Dream.
During the buffet-style reception, guests dined on everything from shrimp cocktail to beef tenderloin along with queso and barbecue sliders as a nod to Aubrey's Texas roots. "Plenty of food and a full bar were important to us. We wanted everyone to have a festive evening," Maggie says. Her cake was a five-tier traditional white wedding cake while the groom's table featured Lammes Texas pralines.
When the party ended, guests showered the couple with sprigs of lavender as they made their exit in an antique car. After a honeymoon at Zemi Beach House in Anguilla, Maggie and Aubrey are now at home in Austin.
32 Weddings in Arkansas | Fall/Winter 2022
REAL WEDDINGS
IT'S A DATE
Maggie and Aubrey selected May 14 as their wedding date because the number is a special one: The birthdays of Maggie, her mother, and her grandmother all fall on the 14th of different months.
Maggie wore her mother's veil as a part of the traditional something old.
SENTIMENTAL SUITE
The duogram created for the invitation from the couple's initials was further customized with meaningful symbolism in a wreath around the letters: bluebonnets for their connection to Texas, magnolias for Maggie's time spent at college in Mississippi, sweet peas for Maggie's nickname, and wisteria, which is a native plant growing in their own backyard. Additionally, the mockingbird is the state bird for both Arkansas and Texas.
GARDEN DREAM SETTING
Fall/Winter 2022 | weddingsinarkansas.com 33 REAL WEDDINGS
Local Resources
BRIDAL GOWN Unveiled BRIDESMAIDS DRESSES Bella Bridesmaids CAKE Mickey's Cakes & Sweets CATERING & VENUE (RECEPTION) Country Club of Little Rock ENTERTAINMENT (CEREMONY) James Stanley ENTERTAINMENT (RECEPTION) The Party Jammers (Memphis) FLORAL DESIGN Tipton & Hurst HAIR Studio 2121 MAKEUP Jessica Humerick PAPER
GOODS By Invitation Only PLANNING Sheila Vaught PHOTOGRAPHY Stephanie Parsley Photography RENTALS Central Arkansas Entertainment and Eventology RINGS Sissy's Log
Cabin TRANSPORTATION Arkansas Destinations VENUE (CEREMONY) First United Methodist Church VIDEOGRAPHY Sunflower Films
Florist Tipton & Hurst, which has a family connection to the bride, achieved a magical ambience with a mix of arrangement styles throughout the venue. Hues of lavender, eggplant, antique gold, dusty rose, and lush green create the desired effect.
Aubrey's must-have for the big day was a great live band, and The Party Jammers from Memphis fit the bill.
KAILEY + MARK CENTERTON 6.7.22
B. MATTHEWS PHOTO
SOMETHING GREEN
Kailey was gifted her grandmother's embroidered handkerchief to use on her wedding day. Its green hue matches the palette of the day seamlessly.
ailey Broaddrick and Mark Buck met through mutual friends during their time as students at the University of Central Arkansas. After eight years dating, Mark proposed on a trip to St. Petersburg in southwest Florida. "We took a walk on the beach one night and I was looking for seashells. When I turned around, he was down on one knee," Kailey recalls.
While she is from Little Rock and he is from Conway, the two chose to be married in Northwest Arkansas where they now live. They planned a late spring wedding, and one of the first details they selected was the venue. "Mark wasn't even there when I toured Kindred North. I was so sure that it was our venue as soon as I got there that he trusted me not to have him see it first," Kailey says. The couple were particularly drawn to its mix of modern and rustic styles, which echo their own tastes. "Being true to our style was really important to me. I wanted everyone at the wedding to think, Oh yeah, this is totally a Kailey and Mark wedding," the bride says.
The floral design played heavily into conveying their style as well. Kindred North and Kindred Blooms took Kailey's inspiration and ran wild: They played off the idea of a fairy princess garden with romantic, natural blooms, climbing vines, and even a living wall of moss and ivy. "We felt like we were in a greenhouse or a big rolling field the whole time, and I could not stop smiling," Kailey says.
Following the celebration, the couple left through a tunnel of sparklers held by well-wishers. After a cruise to the Bahamas, they are now at home in Fayetteville.
PRIZE PUP
The couple incorporated their dog, Chester, into the ceremony. Additionally, they had her likeness printed on koozies and named their signature drink after her.
KFall/Winter 2022 | weddingsinarkansas.com 35 REAL WEDDINGS
WEDDING DAY MUST-HAVE
"One thing we had to have was a photographer who really captured the joyfulness and love of our wedding day," says Kailey. "It was something we all really wanted so we knew immediately we wanted to reach out to BJ Matthews. He brings so much personality, light, and fun to the day and to his photos."
36 Weddings in Arkansas | Fall/Winter 2022 REAL WEDDINGS
Local Resources
BRIDAL GOWN Tesori Bridal CAKE The Cake Occasion CATERING Catering
Unlimited ENTERTAINMENT Mega DJ Company FLORAL DESIGN Kindred Blooms
GROOM'S & GROOMSMEN'S SUITS Bell & Sward Gentlemen's Clothier HAIR & MAKEUP (BRIDE) Lauren Welnicki MAKEUP (BRIDESMAIDS)
Brittany Robbins
PHOTOGRAPHY
B. Matthews
Photo PLANNING & DESIGN Christa Wilkins, JLK
Weddings RENTALS AND VENUE Kindred North
Kailey and Mark shared their first dance to "I Love How You Love Me" by Bobby Vinton.
HAILEY + BRAD CAVE SPRINGS 6.11.22
CORRIE CHILDERS PHOTOGRAPHY
HAILEY'S FAVORITE MEMORY OF THE DAY
Walking down the aisle. "I have walked down the aisle many times as a bridesmaid, but I couldn't have prepared myself for the emotions I felt this time. I looked out and saw everyone who is important to Brad and me. It was so special, and I will remember it forever."
COOPER
FAMILY FRIENDLY
The couple love spending time with their six nieces and nephews and wanted them to play a role in the celebration. "It meant so much to us to have them included," Hailey says.
38 Weddings in Arkansas | Fall/Winter 2022 REAL WEDDINGS
"I envisioned special moments but also a great party where we could dance the night away."
—HAILEY
Aday on Table Rock Lake sparked love for Hailey Bush and Brad Cooper. Three years later, while on a trip to Colorado, Brad proposed during a hike overlooking a beautiful frozen lake. "The lake has always been special to us," Hailey says. She said yes, and the planning began soon after.
While she is from Missouri and he is from Kansas, the two now live in Bentonville and decided to plan a summer wedding celebration in Northwest Arkansas. They worked with Elizabeth Gorman and Emily Ellis of Kate & Company to pull off their dream day. "I envisioned special moments but also a great party where we could dance the night away. We wanted our guests to have an experience," Hailey says of her goals for the day. The Reserve at Osage House turned out to be an ideal location for their vision to come to life. "I loved how modern the venue was, and it also feels very Bentonville," Hailey says.
As foodies, the couple opted for a variety of tastes buffet-style rather than a seated meal. These included Southern selections, a carving station, appetizers, and even late-night pizza delivery. Taking the same approach for the confections, Sips and Sweets NWA created a dessert bar featuring cookies, brownies, fudgesicles, and cake pops along with a small cake for cutting.
After dancing late into the evening to the tunes of JukeBoxx, Hailey and Brad made their exit through a tunnel of friends and family holding sparklers. The joyous celebration was followed by a honeymoon in Tahiti and Bora Bora before the newlyweds made their way back home to Bentonville.
Fall/Winter 2022 | weddingsinarkansas.com 39 REAL WEDDINGS
Local Resources
CAKE Harps CATERING The Event Group CATERING (DESSERTS) Burton's Creamery and Sips and Sweets NWA ENTERTAINMENT (RECEPTION) JukeBoxx FLORAL DESIGN Jules Event Design
HAIR Jillian Genz MAKEUP Artistry by Veronica PHOTOGRAPHY Corrie Childers Photography PLANNING & DESIGN Emily Ellis and Elizabeth Gorman, Kate & Company RENTALS Eventology VIDEOGRAPHY Wedding Stories by Korrie VENUE The Reserve at Osage House
BRAD'S FAVORITE MEMORY OF THE DAY
The last dance. "It was just us on the dance floor, and it was so special seeing all of our friends and family surrounding us…It wasn't about the celebration, it was all about us."
Peonies, ranunculus, anemones, and roses brought Hailey's bouquet the bright yet romantic feel she desired.
+
SPRINGS 6.12.21
KAILEY
RUSSELL ELM
COURTNEY GARRETT PHOTOGRAPHY
CLASSIC BEAUTY
Silks A Bloom used eucalyptus, peonies, hydrangeas, and anemones to create the day's dreamy florals. "One of my favorite pieces of the reception was the beautiful hanging floral arrangement that was over the dance floor," Kailey recalls. "They were so wonderful to work with and wanted to make sure everything was perfect."
Fayetteville natives Kailey Powell and Russell Lowry met in seventh grade at McNair Middle School. More than a decade later, while the couple were living and working in Dallas, Russell popped the question at a rooftop bar overlooking the city's skyline. Friends in town helped him pull off the proposal and joined in on the celebration after Kailey said yes. "It was such a fun and exciting night to celebrate together and with our friends," Kailey says.
It was important to both the bride and groom to be married in Northwest Arkansas where their love story began. A yearlong engagement (to the date!) gave them time to plan, starting with the venue. "We loved the views that Heroncrest offered, and
we were one of the first couples to get to use it," Kailey says. The couple worked with wedding planner Natasha Gates to create a dream day that was equal parts modern and classic, incorporating neutral hues with pops of blue and plenty of stunning floral displays.
At the reception, guests enjoyed a seated dinner before cake was served. "We loved that this provided more time for people to sit and chat with one another," Kailey says. After dinner, a DJ got the party started with the couple's favorite songs.
At the end of the night, the couple shared a private last dance before being sent off through a tunnel of sparklers held by well-wishers. Following a honeymoon in the Maldives, they are now at home in Texas.
Fall/Winter 2022 | weddingsinarkansas.com 41 REAL WEDDINGS
Kailey and Russell's first dance was "Sure Thing" by Miguel.
THE LOVE BUG
The Volkswagen Beetle that Russell drove in high school played a special role as their getaway car. "When we would have off-campus lunch, we would take the Bug out to get lunch together," Kailey recalls. "Everyone would always know it was us."
42 Weddings in Arkansas | Fall/Winter 2022 REAL WEDDINGS
Resources
Local
BRIDESMAIDS
DRESSES
Tesori Bridal CAKE Shelby Lynn's Cake Shoppe CATERING Catering Unlimited ENTERTAINMENT (RECEPTION) Groove Productions FLORAL DESIGN
Silks A Bloom HAIR White Pine Beauty Bar PAPER GOODS Shindig Paperie RENTALS Eventology PHOTOGRAPHY Courtney Garrett Photography PLANNING & DESIGN Natasha
Gates Events VENUE Heroncrest VIDEOGRAPHY Nilo Productions
KAILEY'S WEDDING DAY MUST-HAVE "A DJ that played all the jams. Groove Productions made sure that their playlist was top notch," Kailey says, adding that they still receive compliments on how much fun guests had dancing.
The bride's cake featured an assortment of flavors, including Kailey and Russell's favorite, hummingbird.
LIBBY + LOU LITTLE ROCK 9.18.21
STEPHANIE
PARSLEY PHOTOGRAPHY
Miles away from their native Little Rock and Fort Worth, respectively, Libby Whitbeck and Lou Wood struck up a conversation about East Africa at a party in Washington, D.C. "Lou was five months from moving to Malawi with the U.S. Department of State, and I studied Swahili in college and had previously lived in Tanzania," Libby says. "Lou was only in D.C. for training before moving, and we were inseperable for those few months. We eventually took on the challenge of dating very long distance for the two years he worked in Malawi."
Lou popped the question post-safari when Libby was visiting him in Africa. In August 2019, "he proposed to me on his back 'khonde'—the Chichewa word for patio—with wine, music, and lights," Libby recalls. Postponed twice due to COVID-19, the couple worked with Anne-Claire Allen Planning & Design
over the course of two years to design a celebration reflective of them. When looking for a reception venue, they fell hard for Little Rock's Dreamland Ballroom. "We loved the jazzy 1920s vibe of Dreamland," Libby says. "Without even knowing about all the famous artists like Ella Fitzgerald and Duke Ellington who played there in the past, you feel like you are walking into a piece of history." A jewel-toned palette, mix of wildflowers and greenery, and antique or period-replica furnishings enhanced this look throughout the ballroom.
At the reception, guests dined on Southern fare while singing along and dancing to the sounds of White Ford Bronco, a '90s cover band. At the end of the night, a path of glowing sparklers lit the way for the couple's departure. After a honeymoon in France and Portugal, Libby and Lou are now at home in Washington, D.C.
44 Weddings in Arkansas | Fall/Winter 2022 REAL WEDDINGS
The couple's whimsical invitation suite featured custom illustrations of Libby, Lou, Dreamland Ballroom, and even their pup, Teddy.
Libby wore earrings made of tanzanite, "a stone particular to a part of the world Lou and I love and initially connected over," Libby says.
"I snuck a beer into the chapel and pulled Libby into the bathroom where we shared a private moment and a cold beer prior to walking down the aisle. My mom snapped a picture of us. That is my favorite
from our wedding of just the two of us."
SETTING THE TONE
A mix of styles and a rich palette came together to create the couple's vision for their celebration. "The vibe was that of a party in 1920s New Orleans—loud music, rich colors with lots of greenery, and historic touches. It fit great with the grandeur of the historic Dreamland Ballroom," Libby says.
Fall/Winter 2022 | weddingsinarkansas.com 45 REAL WEDDINGS
LIBBY'S ADVICE FOR BRIDES-TO-BE
"A week or so before the wedding, let go! You can't control anything at that point, and it's time to take it all in and enjoy yourself."
LOU'S FAVORITE MEMORY OF THE DAY
picture
STRIKE UP THE BAND
Having a live band was top priority for Libby and Lou. "We both love to dance and sing, so we wanted our wedding to be a big, vibrant party," Libby says. White Ford Bronco, a '90s band they were familiar with from D.C., brought the exact energy they wanted.
ARTFUL PRESENTATION
Once
46 Weddings in Arkansas | Fall/Winter 2022
Local Resources
CAKE Mickey's Cakes & Sweets CATERING Heritage Catering FLORAL DESIGN Tanarah Luxe Floral ENTERTAINMENT (RECEPTION) White Ford Bronco HAIR Suzy Balkman MAKEUP Belle & Blush PLANNING & DESIGN Anne-Claire Allen Owens, Anne-Claire Allen Planning & Design PHOTOGRAPHY & VIDEOGRAPHY Stephanie Parsley Photography RENTALS Eventology and White Door Events TRANSPORTATION Arkansas Destinations VENUE (CEREMONY) St. Mark's Episcopal Church VENUE (RECEPTION) Dreamland Ballroom
a mood was established for the reception, Libby had the idea to have their cake displayed on a birdbath. A floral installation around the base and flowers on the cake highlight its splendor.
LAUREN + BLAKE
LELA & LYLA PHOTOGRAPHY
LITTLE ROCK 7.2.22
The first look is a favorite memory for both Lauren and Blake. "When I saw her, we both got very emotional," Blake says. "It's made the whole day really start to feel real!"
Sweethearts Lauren Alford and Blake Spilker met at Lakeside High School in Hot Springs and dated for seven years before Blake asked for Lauren's hand in a surprise engagement. The story unfolds like this: Lauren's friends invited her to have drinks at Agasi 7, a rooftop bar in downtown Little Rock. When they arrived, the venue was dark and vacant—until Lauren saw Blake outside waiting, along with a photographer to capture her look of surprise. "I looked at my friends and they just pushed me outside. I was in shock!" she recalls. The unforgettable evening set the stage for a summer wedding, and plans soon began to take shape.
The couple had almost a year to fine-tune the details and enlisted the help of JoBeth McElhanon of Lilias & Olive. "I was a typical girl growing up who always had a wedding Pinterest board, and it constantly changed as I grew into my personal style," Lauren notes. "My own style and taste came out when JoBeth started helping us plan. She really encouraged me to be confident in my choices."
The couple wanted to be married in the Catholic Church, and they selected St. Edward, a historic Gothic Revival church in downtown Little Rock. "It is so beautiful; it looks straight out of Italy," Lauren says. After the ceremony, guests followed the couple to the nearby Clinton Presidential Center for an enchanting celebration. Candles and roses lined the main table while large floral centerpieces composed of roses, hydrangeas, and lilies filled the room. "We wanted it to feel magical and elegant," Lauren says. Guests dined on a traditional Southern menu of chicken, pulled pork, mac 'n' cheese, and green beans before enjoying a slice of strawberry wedding cake and chocolate groom's cake. After one last private moment on the dance floor, the couple made their getaway in an antique car driven by the bride's parents.
48 Weddings in Arkansas | Fall/Winter 2022
MOMENT TO REMEMBER
REAL WEDDINGS
A PERFECT MIX
Lauren notes that the traditional church venue paired with the more modern reception is a true reflection of her and Blake's styles. Shades of light purple accented the invitations, table linens, and floral design.
Fall/Winter 2022 | weddingsinarkansas.com 49
Local Resources
CAKE Custom Cakes by Michelle Mayer CATERING 42 Bar and Table ENTERTAINMENT (CEREMONY) Little Rock String Quartet ENTERTAINMENT (RECEPTION) DJ Xavier Riley
DESIGN
Lilias
Olive TRANSPORTATION
Center
FLORAL DESIGN Tipton & Hurst HAIR Jessica Crump and Mayra Godoy MAKEUP Adrianne Brooks, Whiplash Beauty RENTALS Central Arkansas Entertainment, Eventology, Nüage Designs, Premier Event Group of Little Rock, and Roll'n Wrapz RINGS Sissy's Log Cabin
PAPER GOODS By Invitation Only PHOTOGRAPHY Lela & Lyla Photography PLANNING &
JoBeth McElhanon,
&
Arkansas Destinations VENUE (CEREMONY) St. Edward Catholic Church VENUE (RECEPTION) Clinton Presidential
The bride's cake was styled with a modern flair in their favorite flavor, strawberry.
LAUREN'S ADVICE FOR BRIDES-TO-BE
REAL WEDDINGS
"Enjoy every moment—big, small, stressful, and happy. It's all going to be perfect because you're marrying the love of your life!"
MADISON
JOSH
TRADITIONAL TAKE
Classic white flowers and greenery were accented with blue hydrangeas, Madison's favorite flower, in the table arrangements. Blue and white vases lined the tables, adding to the timeless look.
adison Derden and Josh Crook met through mutual friends during their freshman year at the University of Arkansas. The pair dated for seven years, often talking about marriage and fielding the question, "So, when are you two going to get engaged?" However, Josh was able to catch Madison off guard after dinner one evening. He called Madison out to the backyard under the guise of seeing a cute trick by one of their dogs. When she got there, he was down on one knee. "Josh and I had recently bought our first home in Memphis together, and since this is and will always be such a special place for us, he chose to have an intimate proposal here at home," Madison says.
Wanting an outdoor fall wedding in her hometown of Little Rock, the couple selected October 9 as their date. After looking at photos of Goodwin Manor online, Madison asked her mom and maid of honor to visit it for her. "I
trusted that if they thought it was perfect, it would be," says Madison, who ended up saying yes to the location without even seeing it herself. "It is such a grand and stunning venue but still warm with the comforts of a home," she says, noting it also beautifully showcased Arkansas's hillside views and fall foliage—two more aspects the couple loved about the location.
From there, Madison focused on how they wanted the day to feel. "I wanted all of our wedding party, family, and guests to feel welcome, comfortable, and to just have a great time," she says. A high-energy live band and different lounge areas and seated table options throughout the venue played into this. Guests dined on Southern fare and creole options as a nod to the groom's home state of Louisiana. Following the band's last song, Madison and Josh made their exit through a tunnel of sparklers. After a honeymoon in Hawaii, they are now at home in Memphis.
50 Weddings in Arkansas | Fall/Winter 2022
M REAL WEDDINGS
LITTLE ROCK 10.9.21
+
BRITNEY
LOGAN PHOTOGRAPHY
ABOVE IT ALL
After a private dinner, Madison and Josh shared their first dance to Led Zeppelin's "Thank You" while on a balcony overlooking guests. "This let us have time to get a first look at all of our guests and the reception area and really take it in," Madison says.
THE SWEETEST THING
"We cake tasted and cake tasted!" Madison says with a laugh. "Once we tried Hannah Lavender's, we knew she would be doing our cake; it was just a matter of choosing what flavor, considering they were all so delicious."
The couple ended up choosing champagne buttercream, giving their traditional tiered cake a flavorful twist.
PUP SURPRISE
Josh's only request for the big day was that their dogs, Ozzy and Roux, play a role. Madison told her groom a white lie that the venue would not allow it, then coordinated with her maid of honor to have the pups surprise him for a quick hello and pictures immediately after the ceremony.
Fall/Winter 2022 | weddingsinarkansas.com 51 REAL WEDDINGS
Local Resources
BRIDAL GOWN Unveiled BRIDESMAIDS DRESSES Bella Bridesmaids CAKE Sweet Lavender Bake Shop CATERING
Heritage Catering ENTERTAINMENT (CEREMONY) Kathy Cooper ENTERTAINMENT (RECEPTION) Emerald Empire Band FLORAL DESIGN All in Bloom & More and A New Bloom HAIR Meghan Foster, Blonde and Joel's Salon LIVE ARTIST Kristen Hess MAKEUP Belle & Blush PAPER GOODS By Invitation Only RENTALS Central Arkansas
Entertainment and Eventology TRANSPORTATION Twin City Limousine VENUE Goodwin Manor WEDDING PLANNING & DESIGN Shannon White PHOTOGRAPHY Britney Logan Photography
52 Weddings in Arkansas | Fall/Winter 2022 Come See What Everyone Is Talking About! SCHEDULE A TOUR TODAY! 501.975.3203 PleasantValleyCountryClub.net Call Stormi Foster - Director of Catering and Events
TRENDSETTERS
Are you starting the planning process for your own perfect day? Get to know wedding professionals who can help bring your vision to life
A Special Weddings in Arkansas Promotion
Photo by B. Matthews
Photo
Buzz Events
The devil is in the details for Bartus Taylor. As the founder and creative director of Buzz Events he works tirelessly to make sure even the most intimate event moments shine. "It's not about the money spent, but the creativity put into the project," he says. "You can do just a small event and it can look extravagant because of the tiniest details that have gone into it."
Though he may make it look effortless, it has taken a decade for Bartus to arrive at this point in his career. "When I started I had a clear idea of the services I wanted to provide for every client; however, not owning a business before, I had no idea where to start. I had to work endlessly to understand how this would be received by the community," he says. After working on some of the most elevated events in New York, he sought to bring the same level of creative direction
to clients in the Natural State. "The question I mostly asked myself was, 'Is Arkansas ready? Is the community ready for what I want to provide in a completely full-service firm?'"
The answer turned out to be a resounding yes. Buzz Events has grown to be one of the most sought-after wedding and event design firms in the state because of this approach, in which Bartus and his team take care of every element of client events. First, there are discussions about Pinterest boards and inspiration, overall aesthetics, and guest lists. Buzz Events designs most of their clients' wedding invitations, save-the-date
cards, and coordinating stationery inhouse, which helps create a completely streamlined design from start to finish.
For the reception, his team is involved in not just finding a venue and catering, but also food presentation, serving wares, table styling, room layout, event lighting— the works. "Our challenge is to understand our clients' style and how they live their lives," he says, noting his goal is to integrate that feeling into every piece of the big day. In addition to all the meaningful, memorable details, Buzz Events also takes care of the mundane, such as RSVP management and returned invitations.
FAYETTEVILLE
TRENDSETTERS
Bartus Taylor on celebrating 10 years in business
"We don't want our clients to have to do that. They're busy! So we handle all of it," he says. Selecting groomsmens' gifts and sending off the bridal gown for cleaning and preservation are just a couple of the other tasks Buzz Events takes off their clients' plates.
Several years ago, hoping to bring even more parts of the process in-house while passing the savings on to his clients, Bartus undertook a hands-on education in floral design. "Within a broad range of clients, some prefer not to spend over a certain amount when it comes to florals. With that, I asked myself, 'How can I help them have a beautiful event without spending that money?'" he says. The answer was to provide floral design himself. "I learned from one of the best florists I've ever come across, Pam Pemberton from Flora." He learned from Pam for months—all while still operating Buzz Events—to gain the experience necessary. "That made a significant
difference because my clients could then use that money toward something else. But I also fell in love with it. It became a kind of therapy for me," he says, describing late evenings alone in his studio creating arrangements while instrumental music fills the air. "In those moments I'm in a creative space with myself. For me, that's fulfilling."
Over the years, Bartus has been intentional in growing Buzz Events' reputation, but not necessarily the size of his team. In total, he and three associates—including Brandi Magaña, whom he calls his right-hand woman— take care of every client. "I've always valued quality over quantity," he says. "Many of my associates have been young ladies I've mentored through the years, and I'm so proud of them and everything they accomplish. That I'm able to share with them what I was also taught in the past is truly special."
479.287.4131 buzzevents.biz @buzzevents
Brandi Magaña and Bartus Taylor
"You have to have the heart, soul, dedication, and patience to put into this work. The glitz and glamour is there, but it's there for the clients."
TRENDSETTERS
—Bartus Taylor, Buzz Events
The Heights & Pleasant Ridge Town Center | Little Rock cobblestoneandvine.com | 501.664.4249 Wedding Registry CREATE YOUR PERFECT 11/11 TRENDSETTERS
Cobblestone & Vine
Cobblestone & Vine has been a fixture of the interior design world in Arkansas for more than 30 years. "We are in the business of helping customers create beauty in their homes," says Laura Hathaway, wedding registry coordinator. "We are always on the hunt for exceptional pieces curated for the modern home, and we recently expanded our registry at our Little Rock
stores with the intention of offering our brides and grooms the most special design accessories and tabletop pieces available."
Among their glassware and tabletop lines are favorites such as Juliska, Vietri, Match, La DoubleJ, LVM Ceramics, and Estelle Colored Glass. They also carry bedding, table linens, and, of course, a range of elevated home furnishings.
Laura's advice to couples registering is that more is more. "Think longterm; register for 12 versus six settings, because you will be entertaining. And don't hesitate to register for bold, extravagant items," she says. "At Cobblestone & Vine, we proudly offer everything necessary to create timeless luxury and joyful details for the bride and groom's new home."
5100
and 11525 Cantrell Road | 501.664.4249 | cobblestoneandvine.com | @cobblestoneandvine
Kavanaugh Blvd.
Photo (Tabletop) by Christa Masters. Other Images curtosity of vendors.
TRENDSETTERS
LITTLE ROCK
CABOT
Bella Terra Estate
Jennifer Wallace founded Bella Terra Estate in 2016 with 20 years of experience in interior design and event planning. After her husband retired and their kids left for college, the Wallaces decided it was time for a change; they moved from North Little Rock to Cabot, bought 14 acres of land, and opened Bella Terra Estate soon after.
With Bella Terra Estate, Jennifer builds on her background planning weddings large and small while overseeing all aspects of the venue. "Our company offers everything from a basic rental to full-service," she says. Their all-inclusive package
includes catering, florals, décor, entertainment, photography, a cake, and excellent customer service both in the months leading up to the wedding and during day-of coordination. Her advice to newly engaged couples is to choose a venue first, noting that Bella Terra Estate stands out because it is so versatile. "We have indoor and outdoor ceremony sites and are capable of pulling off rustic, traditional, and formal weddings all within our venue," she says. "Most importantly, our all-inclusive weddings are second to none because they are customizable, beautiful, easy on the bride, and a huge bang for your buck."
58 Weddings in Arkansas | Fall/Winter 2022
Wallace 501.231.1728 • BellaTerraEstate.com TRENDSETTERS
500 Highway 89 East bellaterraestate.com @bellaterraestate Jennifer
Lilias & Olive
JoBeth McElhanon launched event planning business Lilias & Olive in 2018. "After the birth of my son and death of my older brother, I had one of those a-ha moments where I realized how precious life is," she says. "Both events spurred my desire to lean into my gifts for hospitality, design, and storytelling, and to do work I truly love."
Lilias & Olive stands out due to JoBeth's customized approach to every event, whether it's a wedding, bridal luncheon, rehearsal dinner, or nonprofit event. "We don't do
cookie-cutter," she says, describing details, such as custom fabric designs, that make each event she touches special. "My curiosity is insatiable, which is to my client's advantage," she says. "I am constantly researching art, books, movies, travel, fashion, and celebrations throughout history to find details that make an event personalized and unique. My overall goal, especially for weddings, is for a client to look at photos a month after the event and 20 years after the event and think, I wouldn't change a thing."
501.350.4144 liliasandolive.com @liliasandolive
Fall/Winter 2022 | weddingsinarkansas.com 59
LITTLE ROCK
Photo by Jason Masters
TRENDSETTERS
EVENT DESIGN, PLANNING, & COORDINATION
WEDDINGS | REHEARSAL DINNERS | CELEBRATIONS
JoBeth McElhanon
501.350.4144 | LILIASANDOLIVE.COM | @LILIASANDOLIVE
BY JOBETH MCELHANON
Pen & Ink Paperie
Kim Rickett, co-owner of Pen & Ink Paperie, comes from a long history of paper people. "My family has been in the printing business here in central Arkansas for more than 30 years," she says. While the family's other ventures include commercial and promotional printing, Kim founded Pen & Ink Paperie in 2019 as a fullscale design studio and printing company for wedding products. "We aim to be a one-stop shop for all of your printing needs throughout the wedding-planning process," she says. "Our diverse range of services allows us to offer everything from custom stationary and invitations to large-
scale signage. Everything is handled in house, from the preliminary design to the physical production."
Kim's advice for the newly engaged is to start planning early for invitations—as well as any other custom art that may be a part of their vision for the perfect day. "We've seen a growing popularity with acrylic signage, from larger welcome signs to acrylic invitations and placecards," she says, noting custom artwork like monograms and depictions of the venue are also trending. "We love meeting directly with couples to understand their vision and help bring it to life."
11223 Otter Creek E Blvd. 501.749.3079 penandinkpaperie.com @pen.and.ink.paperie
Wedding & Event Invitations & Stationery
60 Weddings in Arkansas | Fall/Winter 2022 TRENDSETTERS MABELVALE
Rickett
Kim
Heritage Catering
Kim Henderson fulfilled a lifelong dream when she opened Heritage Catering in 2017. "My parents owned a small business growing up, and I think I've always had an entrepreneurial spirit," she says. With Heritage Catering, Kim offers fullservice catering, beverages, service equipment, and staff, and they begin each job with a detailed discussion of the client's budget, tastes, preferences, and personal style. "This is a good place to bring in family recipes or other ideas that will make the menu really special," she says.
Whether planning a sit-down dinner or roaming hors d'oeuvres
for your guests, Kim encourages engaged couples to be creative with their menus. "We can take a concept for an overall feel of the wedding and make the food a prominent part of the experience," she says. To that point, trends like comfort foods, local ingredients, and charcuterie spreads are currently popular because they can be implemented across a range of styles and budgets. "You can have confidence in our food knowing that all our ingredients are top quality and housemade," Kim adds. "Our past experiences, family traditions, and shared memories are what Heritage is all about."
315 N. Bowman Road 501.246.3787 heritagecateringar.com @heritagecateringar heritagecateringar.com • 501-246-3787
Fall/Winter 2022 | weddingsinarkansas.com 61 December 2022 | athomearkansas.com TRENDSETTERS
LITTLE ROCK
Kim Henderson
We can't wait to share our love of food and passion for good Southern hospitality with you!
Legacy Acres
They say necessity is the mother of invention, and such was the case for the foundation of Legacy Acres in Conway. "The original owner was looking for something perfectly white for her daughter's upcoming wedding, and it seemed to only exist in her imagination," says Camryn Crain, who came on as co-owner in 2022. Inspired by the knowledge that there would be other Arkansas brides looking for a similar venue, she built Legacy Acres. Its 40 acres encompass a ballroom, chapel, outdoor pavilion, and suites where the bride and groom's parties can get ready. "The opportunities are limitless and
brides can go as far as their dreams reach," Camryn says.
Legacy Acres has the unique offering of a Friday/Saturday package, which gives clients the luxury of an extra day for set-up, rehearsal, and even a rehearsal dinner in the space. Camryn's advice to brides- and grooms-to-be is to invest in a wedding planner.
"They are the most magical resources to our brides because they have 'been there, done that' many times before," she says. She also says if you have your heart set on a particular date or venue, reach out early—it's never too early to book your dream day.
100 Legacy Acres Drive 501.733.0375 legacyacresar.com @legacyacresar
TRENDSETTERS CONWAY
A PREMIER EVENT VENUE @legacyacresar info@legacyacresar com 501 733 0375 Photography: Kayleigh Ross Photography
Ashton Kremer, Camryn Crain, and Caroline Crain
Emily Wren founded wedding coordination business With Great Love to help brides and grooms experience their wedding days as truly enjoyable, stress-free celebrations. "Our aim is to help streamline the planning process, allowing the couple to focus on the joy of the moment," she says. Emily's background is in both weddings and nonprofit events, which gives her a varied perspective on planning. "I have long been passionate about organizing, details, and planning, and I delight in working through multiple tasks to weave together an exceptional event," she says.
In addition to full-service, partial, day-of, and virtual packages, With Great Love has a unique offering called The Husband Special. "While many vendors are geared towards the bride, we haven't forgotten the groom!" Emily says. With this package, her husband, Justin, takes care of planning a bachelor party, ordering groomsmen's suits, gathering RSVPs, and more. "This means there's someone to guide the groom, so the bride doesn't have to," she adds. "I love the unique stories behind each wedding and want to bring the day together to be as enjoyable as possible for everyone involved."
Fall/Winter 2022 | weddingsinarkansas.com 63 TRENDSETTERS
BENTONVILLE
Love
With Great
913.660.5861 @withgreatloveevents
Wren
Photo by Roam Photography Co
Emily
@withgreatloveevents 913.660.5861 Wedding Planning Service wglWITH GREAT LOVE
Paige Reed Photography
64 Weddings in Arkansas | Fall/Winter 2022 LAST LOOK It sure is sweet to see all the ways people celebrate #weddingsinarkansas! Use this hashtag or tag us (@weddingsinar) on Instagram for the chance to see your photo featured in our next issue. Share the Love @oliveviewevents @oliveviewevents @emilygevents @lavenderbakes @whitepinecoordination @mostjoyfulday @osagehouse @thebeautybandit_ @pigmintdotcom @bearded.bouquet
Clockwise from top left: Photos by Olivia J Photography, Tatum Nelson, Melly M. Jones Photography, Sweet Lavender Bake Shop, Germinani Photography, TJ Stansbury, Lynleigh Mead Photography, Kati Mallory Fine Art Photography, Bearded Bouquet, and Emma Farr Photo.
TM Thousands of Special Plus Size Gowns Sizes 0-34 Boutique Area Brinkley, Arkansas Personal Consultant for Each Bride Appointment Required. Please Call 870-734-3244 or Visit lowsbridal.com Semi - Annual 1/2 Price Sale December 9, 2022 - February 4, 2023 and June 16, 2023 - August 5, 2023