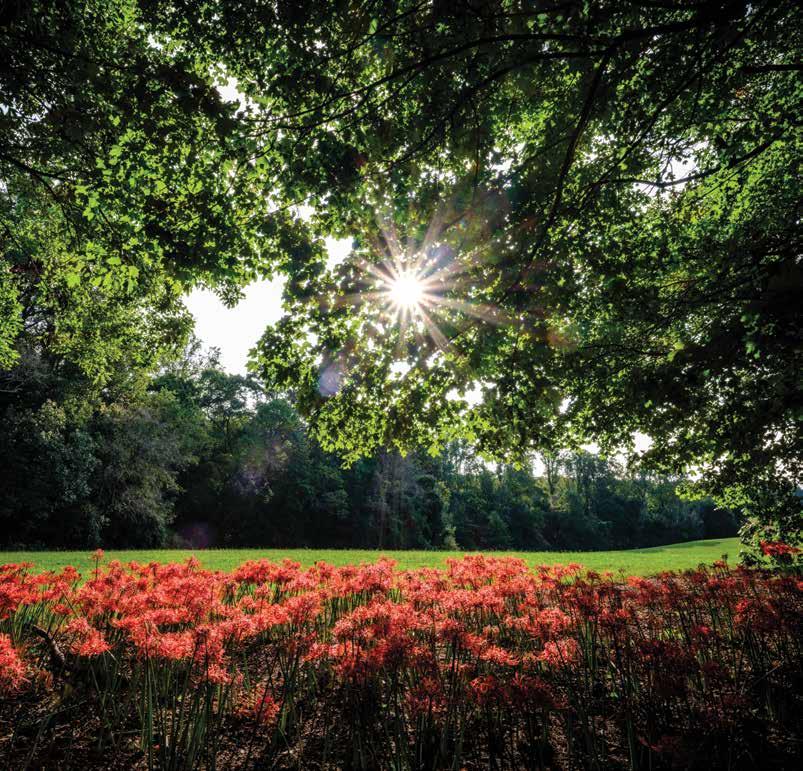 NEWS & BLOOMS FROM REYNOLDA GARDENS OF WAKE FOREST UNIVERSITY
FALL/WINTER 2022
HOURS Gardens Dawn to dusk Greenhouse Tuesday–Friday: 10–4 WEB reynolda.org/gardens SOCIAL @reynoldagardenswfu / reynolda.gardens EMAIL gardens@reynolda.org TELEPHONE 336.758.5593
Wild Reynolda by Amy Dixon
Reynolda-Inspired Activities for Kids & Families by Forrest Allred Borage: A Bearer of Bees, Bliss … and Betrayal by Joey Martin Reynolda Gardens Orchid Buds by Hayden Shuping
Making Waves in the Vegetable Gardens by Michelle Hawks
The Soul of a Gardener: Nancy Neill Spencer by Amy Dixon
Celebrating the Future of Reynolda Gardens
New Friends of Reynolda Gardens
Tribute Gifts
On the cover: Brilliant red spider lilies bloom at Reynolda each fall. / Photo: Ken Bennett
DIG in STAY CONNECTED 4
16 18 20 22 23
7 10 14
FROM the DIRECTOR
Dear Friends,
Reynolda Gardens is steadfast in its commitment to serve as a horticultural oasis for the community. While landscape architects originally advocated for the Formal Gardens to be an extension of the main residence, Katharine Smith Reynolds wanted her gardens to be an extension of the greenhouses. This design allowed the gardens to be accessible to the estate's guests from Reynolda Road. Now, we welcome tens of thousands of visitors each year to connect with nature in a setting that inspires.
As we reflect on our history, we also look to the future. Cooler nights and the smell of Osmanthus (tea olive) let me know that fall has arrived, the time of year when we begin to wind down the growing season and prepare for winter. For Reynolda Gardens, this season has typically been a time of increased activity as projects commence. Indeed, 2022 is shaping up to be a banner year.
Thanks to the continued support of our donors and Friends, and in large part due to a successful fall fundraiser (see pp. 20–21), the Lower Formal Gardens will soon see a flurry of activity. A complete refresh of the Pink & White Garden, Blue & Yellow Garden, and central walk beds will begin. Brand new slate walks—widened to allow for greater accessibility—will frame these spaces. Additional electrical work and more drainage, crucial to improving the Gardens's infrastructure, also will be completed. Finally, the English boxwood hedges framing much of the interior spaces will receive a whole new changeout, as more than 40% of the hedges are drastically undersized, in poor health, or missing altogether. We plan to emerge in March having brought this area to its full potential.
Planting new areas and the eradication of invasive plants will continue along the trails we have worked on over the past year. Improvements along the trails will continue, thanks to generous donors like Nancy Neill Spencer who prioritize this care in their gifts to Reynolda Gardens (read more about Nancy on p. 18).
This shared vision for the future would not be possible without the support we receive from you, Friends of Reynolda Gardens, and for that we are humbled and grateful. We take our stewardship of this unique landscape seriously, knowing the impact that Reynolda has on so many people, in so many remarkable ways.
See you in the garden.
Jon Roethling