The city, coast & beyond... SUNDERLAND AUTUMN 2022 SUNDERLANDVIBE.COM @SunderlandVibe SunderlandVibe @SunderlandVibe RestaurantWeek
Take the kids for free all day, every day Up to three children aged 11 and under can travel for free on Metro and the Shields Ferry with a fare paying adult.
AUTUMN 2022 @SunderlandVibe SunderlandVibe @SunderlandVibe TO ADVERTISE CALL 0191 500 7865 OR EMAIL LUCY@ALLIES-GROUP.COM 10 30 years as a city Sunderland celebrates three decades 12 Get your shop on! Check out the new arrivals at the Bridges 14 Bold Beauty The best barbers and salons in town! 16 Riverside 2024 An exciting development update 18 University turns 30 Happy Birthday University of Sunderland! 20 Theatre Treats Big things at Sunderland Empire! 22 Arts & Culture Music, theatre, shows and more... 26 Kids & Family A bumper bag of family fun!
THIRTY years ago, Sunderland secured city status, a reflection of the shared hope and ambition of its three component boroughs. In the years that have followed, the city has demonstrated its collective strength, transforming from a place of heavy industry to a weightless world of tech, trading mining for motor manufacturing and shipbuilding for service centres. A programme of investment over the last few years has shifted the dial in Sunderland. Thousands of new jobs are being created. A new urban quarter – Riverside Sunderlandis taking shape in the heart of the city. And out to the coast, it's impossible to miss the transformative investment in our seaside – what a place it is becoming.
There have been ups and downs, highs and lows along the way – but the next 30 years look incredibly bright for Sunderland, led by its wonderful people.
#
Allies Group Ltd, Enterprise House, Kingsway, Team Valley Trading Estate, Gateshead, NE11 0SR PublisherAllies-group.comChristopher March chris@allies-group.com Editorial Johnathan Ramsay johnathan@allies-group.com Advertising Debi Coldwell debi@allies-group.com Lucy Andrews lucy@allies-group.com Design studio@allies-group.com
3
It's easy to see why we are also driving investment in new homes to capitalise on the increasing number of people drawn to our friendly city by the sea.
hello SunderlandVibe
All contents copyright ©2022 Allies Group Ltd. All rights reserved. While every effort is made to ensure accuracy, no responsibility can be accepted for inaccuracies, howsoever caused. No liability can be accepted for illustrations, photographs, artwork or advertising materials while in transmission or with the publisher or their agents. All content marked 'profile feature' is paid for advertising. All information is correct at time of going to print, August 2022. ISSN 2633-4518
4 Food & Drink A look inside Black's Corner 6 Restaurant Week Time to grab some tasty deals 8 Behind the bid How Sunderland became a city!
Cllr Graeme Miller leader of Sunderland City Council
Even before they opened in September 2017, Jonny was already hard at work contacting British cheese and charcuterie producers to collaborate with Blacks Corner's farm-to-table concept.
"I'm so pleased with how Blacks Corner has developed into a hub for the village and wider areas. We're a family-run business working hard to make a true brick and mortar site a success for us and our customers.
Local spotlight:restaurantBlacks
We're from the local area and when the building came-up-for sale back in 2016, it was a no-brainer for us. The building was in such a poor state that we couldn't even take a mortgage out on it. It had no running water, no heating and the inside required so much work.
Now, with Brexit food shortages plaguing the supermarkets and the absurd cost of living to contend with, more and more restaurateurs are set to look closer to home for readily available and economically viable British produce over the coming months.
This quaint Wearside village has its own speed and its beloved neighbourhood bistro, Blacks Corner, is quite happy to match this laidback tempo.
4SUNDERLANDVIBE.COM
A wonderful neighbourhood eatery nestled in the picturesque village of East Boldon, the opening of Blacks Corner in 2017 was a realised childhood dream for local restaurateur, Jonny Dryden and his friend, Chris Lowden. We check in to get the lowdown on the latest plans...
Once the basics were added, we decided to finish the restaurant with a 'bricks and mortar' approach and I think people can see that when they dine with us. We've left the historic red brick walls bare, we've painstakingly recycled every old element that was left behind, brushed it down with our bare hands and given it a new lease of life whether it be for practical or decorative use."
There's nowhere else in the North East that
Life moves slowly in East Boldon. A gentle breeze from the North Sea trickles through the branches of nearby oak trees, a fluttering of birdsong fills the mid-morning air and the unmistakable aroma of freshly cooked breakfast fills 1 St John Terrace.
"The farm-to-table idea is something that remains as vitally important today as it did back in 2017. We work with a great range of producers across the UK to showcase some of the best flavours available in Britain.
Corner
Perched upon a feature oak island nestled in the heart of the restaurant during busy brunch service, Jonny takes a sip of his coffee, looks around and beams with pride.
Completing the 'envelope' of the building will be the biggest task. It's a stunning spot that sits on the peninsula in its own area, so aside from the delicate restorations, we need to ensure that we drive back to the Tram Shelter.
There was an old white picket fence and flower beds with white hydrangeas that used to surround the building and those features are something we're hoping to restore."
Alongside a refined version of its incredibly popular menu, Blacks Corner By The Sea will also offer an express service counter where dog-walkers, passers-by and those in a hurry can swing by for a flat white and something sweet as the North Sea glistens in the distance. A wonderful neighbourhood bistro centred on Sunderland's award-winning coastline serving up British produce? Sounds like a recipe for success.
With Blacks Corner fever at an all-time high, BC's community cuisine is set to double with a second spot as they branch out into a brand new location over the coming months, breathing new life into Seaburn's Grade II listed Tram Shelter.
champions British produce to the extent that we do. There are fabulous cheese counters and lovely wine stores, but our restaurant celebrates real, hard-working growers and their incredible produce. We talk about the producers more than we talk about ourselves. That's the celebration here, the crux of Blacks Corner." The menu at Blacks Corner is what sets the restaurant apart from the rest. The choice is concise, well thought out and brimming with freshly baked goods such as cheddar crostinis, Spanish flatbreads and hearty sourdough slices. Farmhouse cheeses are carefully curated from across the British Isles before being allowed to mature in Bermondsey, London by a team who ensures quality is at its best on arrival to East Boldon. Whereas, BC's British artisan charcuterie focuses on breeds that are free-range and roam wild from places such as Monmouthshire, Kent and more locally, RegardlessNewcastle. of whether you're nipping in for a breakfast bite, tucking into a lateafternoon dinner or settling in for a teatime meal, flavour is the name of the game at Blacks Corner and people simply can't get enough.
The family-run team, which also includes Jonny's sister and Chris's father in law, are aiming to have Blacks Corner By The Sea fully open to the public in time for spring 2023, keep up to date with their progress here at blackscorner.co.uk
With work already underway and continuing throughout the year, Jonny and the team will be undertaking a series of sensitive restoration works to the fishscale roof, cast-iron columns, rainwater goods and existing timber frames.
5 @SunderlandVibe SunderlandVibe @SunderlandVibe
Part of the plans will also enclose the tram shelter by replicating the details and proportions of the existing building, with plans including a delicatessen, an accessible WC and a kitchen. "A great deal of the project consists of outdoor work and our aim is to complete as much as that as possible while we still have decent weather to work with. It would be a nightmare trying to install delicate wooden sash box windows in January…
I'M SO PLEASED WITH HOW BLACKS CORNER HAS DEVELOPED INTO A HUB FOR THE VILLAGE AND WIDER AREAS.
There'll also be plenty opportunity to indulge at regular participants such as the ever popular Asiana, The Old Vestry, Chilli Mangoes, 808, The Engine Room and House of Zen, where you can tuck into your favourite comfort food with dishes like mixed grills and juicy steaks on the menu - or you can try out Spent Grain's spectacular brunch menu to really start the day with a bang. Each participating venue will be putting together a menu for £5, £10 or £15, allowing foodies to return to their favourite eatery or to try somewhere new.
Since the last event, a whole host of new and exciting places to eat, drink and be merry have opened up across the city centre and we can't wait to tuck in. New kids on the block include the likes of My Delhi, a colourful and authentic Indian restaurant specialising in street food.
The tastiest date on Sunderland's calendar is upon us… Restaurant week is back! From 17-25 September foodies near and far will be able to dine out at cafes, restaurants, bars and pubs at a bargain price, with a whole host of special deals up for grabs.
"Sunderland has an incredible selection of restaurants offering a huge range of cuisines," said Sharon.
FOR THE LOWDOWN ON PARTICIPATING VENUES, JUICY DEALS AND EXTRA INFO, VISIT: SUNDERLANDBID.CO.UK 17
Tuck into RestaurantSunderland'sWeek
"There's been a whole host of new places opened in recent months and we are hoping that they will come on board and take up the opportunity to show off their skills to people from across Sunderland and the wider North East." - 25 September
AUTUMN 2022 6
Venues are currently being encouraged to sign up to take part in the event, which always proves a huge boost for the local Sharoneconomy.Appleby, Chief Executive of Sunderland BID which organises Restaurant Week is looking forward to showcasing the city's fastgrowing food scene.
SUNDERLANDVIBE.COM AUTUMN 2022 8
They understood that we were a changing place and that the component parts of Sunderland, Washington and the Coalfields were beginning to gel in a really exciting "Andway. I think there was a sense of pride.
"It was a really exciting time. People had got behind the bid for city status in a big way, and having it confirmed was a time to celebrate all the things that make Sunderland a great place.
"There was definitely a mood of change and opportunity in the air," said Bev, who now works as a senior strategy manager within the corporate affairs team at the "Aftercouncil.years of decline – and with all the indicators of deprivation we had at that time - there was a sense of a step change coming to Sunderland. Nissan had given us a huge confidence by choosing to locate its plant in Washington, and we had the Polytechnic transforming into a University at the same time. Meanwhile, new communities were establishing themselves, and eco-systems building in places like Doxford Park, which started to see its first contact centres emerge at the turn of the 90s. There was a definite feeling that it was Sunderland's time and that city status would augment that and help us land more big investment, attract more businesses, and create prosperity that would benefit our people – which is ultimately what it's all about."
Putting the industrial decline of the 80s behind it, the city developed its bid, making the case for the many opportunities that city status would unlock, as well as the challenges it would help to resolve.
"I think, 30 years on, having built our way out of industrial decline and formed a new, more resilient economy and more resilient communities, it feels like we're ready for the next chapter; that we're on the precipice of the next big period of transformation for Sunderland. I can't wait to see what the next 30 years hold, and ultimately, the thing that excites me is the way in which the change we're seeing will change lives for people in Sunderland. That's when we will know that it's all been worth it."
FOR MORE INFORMATION MYSUNDERLAND.CO.UK/30YEARSVIST
The sense that Sunderland should be recognised alongside its near-neighbours of Durham and Newcastle as a regional driving force, particularly with Nissan as part of our business community, and the role it was beginning to play in powering the wider region's economic resurgence as the supply chain spun out of it. It was Sunderland that was absolutely at the beating heart of the North East economy."
Bev remembers well hearing the news that the city had secured its new-found status in 1992.
"Retailers and restaurants joined in the celebrations, coming up with offers to get people exploring their city. Everybody wanted to be part of the activity; to play a part in celebrating.
"As we mark 30 years of city status, I could not be prouder to be from this great place and to continue to play a part in its economic and social development.
30 years on: Behind the bid to make Sunderland a city 30 years ago, an 18-year-old Beverley Poulter sat down in Sunderland Civic Centre, as part of the team tasked with preparing a bid to establish Sunderland as Britain's newest city. A moment of opportunity was upon Sunderland. Just eight years from the opening of Nissan's game changing plant at Washington, the building sense of unity across the three boroughs of Sunderland, and huge investment spilling into business parks like Doxford International felt as though city status would bring about the many benefits now needed to establish Sunderland regionally, nationally and Ledinternationally.bythethen-assistant chief executive of the council, Phil Wright, a small team built the case for city status, emboldened by the will of thousands of people ready to see a change in their hometown.
"When we talk to senior Government officials, and indeed Ministers to share Sunderland's story with them and work in partnership to build on the positive change we have seen, what we hear played back to us is such a positive narrative. They don't often come across other cities or places with our spirit and energy. They haven't seen other places that have the vision that we have in Sunderland and are always hugely impressed at how we are making it an exciting reality.
"There was absolute confidence amongst us that we would secure this status for Sunderland," Bev says. "Our people deserved it. They'd been hugely resilient in the face of such adversity following the decline of heavy industry, and I think they were all energised by the opportunity to live in a young ambitious city. They recognised the economic advantages it would bring.
"Gorgeous clothes, easy wear, easy care, great service and very well priced!" "Friendly,helpful staff and great clothes at very reasonable prices. Always new stock coming in which means so much choice every visit. Love it.." "Bou-chique is a lovely independant shop with a variety of clothes that you cant find in the big high street shops. The staff are lovely and really helpful" CLOTHING ♦ BAGS ♦ ACCESSORIES ♦ FOOTWEAR 2 Bridge SunderlandSt SR1 1TA 07376 722 bou-chique.co.uk353/bou_chique_sunderland /bouchique
As you may know, the original Sunderland Museum and Winter Gardens was established in 1846. However, in 1941, during World War II, the Winter Gardens were damaged by a mine and needed to be demolished the following year. It wasn't until 2001 that a lottery funded project would see the Winter Gardens rebuilt as an extension of the museum. Since then they've been an incredible asset to the city - who doesn't love a stroll through the gardens?
SUNDERLANDVIBE.COM AUTUMN 2022 10
1997TheStadiumofLight
1998TheNationalGlassCentre
The2000BridgesExtension
In September of the new millennium Sunderland's top shopping destination underwent a multi-million-pound extension, reportedly bringing 700 jobs to the region. At the time, the development of the centre brought with it big brand stores like Debenhams, HMV, Topshop, Next, Principles and Allsports, solidifying the Bridges as Sunderland's go-to space for city centre retail therapy!
The National Glass Centre
On Valentine's Day in 1992 Sunderland was granted city status by Her Majesty Queen Elizabeth II, marking a turning point in the history of Sunderland going forward. In the 30 years since that fateful day Sunderland has developed into a thriving city, bustling with business, innovating new technologies and stamping it's name as one of the UK's fastest rising new cities. In celebration of this landmark anniversary we've taken a look back on three decades of big moments for the city…
In July 1997 Sunderland AFC solidified itself as one of England's biggest football clubs with a move to a brand-new future proof stadium. Having played at Roker Park since their inception in 1898, the move to a much larger all-seater stadium was monumental for the club. First opening with 43,000, before being upgraded to 49,000 seats in 2000, The Stadium of Light is England's 9th largest football stadium and undoubtedly an iconic city landmark.
Sunderland celebrates 30 years as a city!
1992 proved to be a pivotal year for Sunderland. Not only was our metropolitan borough granted city status, Sunderland Polytechnic officially became a university. Since then the university has seen thousands of students pass through its doors and follow their dreams. Some notable names include broadcaster Alison Walker, DJ Jordan North, comedian Chris Ramsey and many more.
Built on the former site of J.L. Thompson and Sons shipyard, The National Glass Centre has become one of Sunderland's go-to cultural attractions. Since it opened its doors in 1998, The National Glass Centre has played host to numerous mesmerising exhibitions that celebrate Sunderland's illustrious history of glass making. From vintage Pyrex to one-off artistic masterpieces, you never know what you'll get with The National Glass Centre!
University1992OfSunderland
Winter2001Gardens
The2002Metro
Sunderland2008AquaticCentre
It was good news for all the keen swimmers in 2008, as the Sunderland Aquatic Centre opened its doors in the company of Princess Anne and a bundle of fireworks! The impressive indoor sports complex is home to the only Olympicstandard swimming pool anywhere between Glasgow and Leeds. With top of the range facilities and an Olympic pedigree, the Aquatic Centre has been a fantastic addition to the city.
2021CityHall
One of the newest additions to the fast developing Vaux Site, the new headquarters of Sunderland City Council is a beautiful addition to the city. The City Hall building is a stylish and futuristic looking piece of architecture that's further added to Sunderland's fresh new look.
Despite it only being four years old, the Northern Spire bridge has quickly become one of Sunderland's most iconic pieces of architecture. The breathtaking structure is a sign of things to come in the Riverside area as further developments are expected to transform this part of the city in the very near future.
Celebrating Sunderland's maritime and industrial heritage, Keel Square has become a picturesque meeting place in the heart of the city that we can all be proud of. Constructed in 2015, Keel Square marked a huge step forward in the ambitious development plans for the city centre. We can't wait to see what the future holds for this beautiful part of the city.
Northern2018SpireBridge
11 @SunderlandVibe SunderlandVibe @SunderlandVibe
The iconic yellow and black carriages of the Tyne and Wear Metro could first be seen hastily transporting people around the region in 1980, when the service originally began. However, it wasn't until 22 years later, in 2002, that Sunderland would be added as a station!
2015KeelSquare
Kerry Grannon, Area Manager at Trespass said the company was delighted to be opening in Sunderland. "This store is the latest opening in our expansion across the UK," said Kerry. "We know the people of Sunderland love the outdoors and they will appreciate the mix of style, quality and good value that Trespass will bring."
The Bridges shopping centre has been a significant part of Sunderland's history since being opened by Princess Royal, Anne in 1988. In February 1992, Sunderland was granted city status by Her Majesty Queen Elizabeth II, marking a turning point in the history of Sunderland.
Over the past 30 years we've witnessed our wonderful hometown transform into a thriving, bustling and busy city. The Bridges in particular has been no stranger to change and development.
Adjacent to the shopping centre used to be the old central bus station. In 2000 the station was demolished and the land was acquired by the Bridges which allowed a significant expansion creating more room for businesses to blossom.
Leading Labels is a multi-branded clothing retailer with 25 years' experience across the UK and Ireland. We're delighted to see this new addition to the Bridges which will provide Sunderland shoppers with an impressive range of great quality branded menwear from Blue Inc, while the women's labels include Izabel London, Regatta and Solo, among many others.
Celebrations all around! As we commemorate 30 years of Sunderland as a city, the Bridges welcomes three new fantastic additions…
The perfect spot for those looking to be pampered or try out the latest beauty trend.
A welcomewarm
More recently, the Bridges is home to three new and exciting stores… and hydrafacials, along with laser hair removal, dermal fillers and anti-wrinkle treatment, Laser Clinics is the place to go to achieve your aesthetic goals. All treatments on offer here are performed with medical-grade equipment and advanced technology and are all performed by experienced practitioners, and trained therapists.
SUNDERLANDVIBE.COM AUTUMN 2022 12
Trespass Trespass offers a range of clothing, footwear and equipment for use outdoors. Here you'll find the likes of waterproof jackets, walking boots, rucksacks, wetsuits, walking poles and more; covering everything from hiking to walking and watersports. As the weather starts to change and the leaves begin to fall, we look forward to autumn walks in the countryside and windy strolls along the beach - both of which Trespass can supply the equipment and attire to keep you safe and bundled up warm.
Leading Labels
Keeping warm >> Trespass Women's Padded Jacket Long Length Audrey X, £125.99 Want to be your own boss? Our free BICStartUp workshops are for you… • How to start a business • Launching a business from home • Creating a winning business plan • Managing your business finances • Spreading the word about your business • Branding for beginners • Promoting your business online To book your place or to find out more, call 0191 516 6111 or email info@ne-bic.co.uk ne-bic.co.ukOnline every month We've picked out three of our favourite Trespass products for the season ahead.... @SunderlandVibe SunderlandVibe @SunderlandVibe Seasonal musthave >> Trespass Women's Casual Hoodie Ronee, £69.99 As always, the Bridges is a bustling shopping centre thriving with the best of the best, giving the people of Sunderland a place to pick up everything they need. From brilliant high street stores to kit out your wardrobe, get your beauty essentials and try out the latest trends, as well as shops to pick up entertainment must-haves and tick off your weekly food shop list. We can't wait to see what the next 30 years will bring. Vibe's Top Picks Practically perfect >> Trespass BootsWaterproofMen'sWalkingFinley,£43.99
Fresh cuts and bold beauty
THEKEEPSUNDERLANDFACEBOOK.COM/
AUTUMN 2022
The Black HairdressingDoor
One of the hottest names in Sunderland for hairdressing, The Black Door Hairdressing team over by Mackie's Corner have built up quite the following for their beautifully structured haircuts, range of fabulous beauty products and super friendly service since opening. The Insta-worthy boutique salon has a fresh vibe complete with a sleek interior that celebrates the heritage of Mackie's Corner, with cool brick walls, lush wood flooring and ambient lighting – perfect for a new-look selfie.
One of Sunderland's most popular spots for all things self-care, Borough Road's Envi Hair and Beauty is a must-visit when you're looking to spice up your style! Offering a range of beauty treatments, including hair styling, make-up, eyebrow & lash work, nails, botox & fillers, and ear piercings. With a team of experienced therapists and stylists on-hand to make your every beauty dream come true, there's really no reason not to pop into Envi!
The Keep
Pure Bliss
SUNDERLANDVIBE.COM14
This stylish Blandford Street barber has quickly become one of the most popular barber shops in Sunderland with its reputation for slick cuts and top class customer service. In fact, it's a reputation that's been recognised nationwide, as Tommy Blades was named as one of the top 3 barber shops in the country at the 2022 UK Hair and Beauty Awards. The shop's director, Tom, also placed in the top 10 best barbers in the UK! What more reason do you need to visit Tommy Blades?
Laser Clinics
THEBLACKDOORHAIRDRESSINGFACEBOOK.COM/
THEBRIDGES-SHOPPING.COM
A classic high street barber shop, The Keep is all about sharp cuts, fresh fades and uber-stylish barbering. Take a seat and crack open a can as you wait in their shabby-chic shop, complete with exposed brick walls and proper comfy chairs. The Keep is everything you need and want from a classically cool high street barber!
Treat yourself to some TLC in Sunderland this Autumn at some of the city's best and brightest salons, barbers, cosmetic clinics and beauty shops!
There's plenty to smile about this autumn as the new flagship store for Laser Clinics opens its doors in the Sunderland shopping mecca that is the Bridges. Renowned across the UK for their outstanding aesthetic treatments such as laser hair removal, cosmetic injectables and skin treatments, you'll be beaming after chatting with the super friendly team at Laser Clinics.
TOMMYBLADESBARBERSHOPFACEBOOK.COM/
PUREBLISSSPA.CO.UK Tommy Blades
NATALIEANDVICTORIAFACEBOOK.COM/
Envi Hair and Beauty
Never has a name been so apt for a spa than Pure Bliss, because it's exactly what the Sea Road beauty spot provides every visit! Providing a whole range of beauty treatments, Pure Bliss has everything you need to give your look a boost. A stand out from Pure Bliss' treatment list is the variety of amazing facials they have on offer. They provide Decléor, Eviron, Hydro and Guinot facials. There's truly something for everyone at Pure Bliss, get yourself booked in ASAP!
CMOL1986©TM DAILY MAIL MIGHTY MIZ IS REVOLUTIONARYSTILL ' ' Calls cost up to 7ppm plus your standard network access charge WED 2 - SAT 19 NOVEMBER 2022 atgtickets.com/sunderland | 0844 871 7615 WED 16 NOV 7.30PM | MON 14 NOV 7.30PM TICKETS SELLING FAST! FROM JUST £13 - SEE MIDWEEK FOR BEST AVAILABILITY
Riverside Sunderland – led by the council – has aims unlike any masterplan seen before in Sunderland. And unlike those of the dim and distant past, this is a vision that is delivery focused and - for the most part – funded.
17 @SunderlandVibe SunderlandVibe @SunderlandVibe
And these are all committed investments that we know will be underway or in train within the next three years. All of this investment will create thousands of new jobs for people in Sunderland as well as a city centre to be proud of.
Change welcomes opportunities
In 2019, the council revealed it had the backing of Legal & General, to the tune of £100m, which would deliver three important buildings on the Riverside site. First, City Hall, which now stands as a remarkable flagship. And then two further commercial buildings, Maker and Faber, set to open their doors in 2024.
It's happening now, and by 2024, there will be undeniable change right across the site, from the former Vaux Brewery site at the heart, to the Crowtree site and from Farringdon Row to Sheepfolds. The whole footprint of this important city centre site will be changing.
2024 WILL BE A MILESTONE FOR US, WITH A HUGE AMOUNT OF VISIBLE CHANGE. as health buildings, leisure spaces, and homes appearing that will make this the most exciting place to live, work and play.
2024 is a key moment for the city. We'll see new office buildings opening, we'll see new pedestrian routes bringing communities together and an extension of the city centre, as well
By 2024, Sunderland's cityscape will be undergoing the most rapid period of change in living
Just a few short years ago, the former Vaux Brewery site stood barren. A gaping hole in the city centre, having once been an industrial heart, where beer that was pumped out in bars around the world was Now,brewed.it'sanew inviting landscape that is beginning to form. A cityscape befitting of the ambitious place Sunderland now is, two striking buildings stand proudly on the site, piercing the skyline and marking the intent of the council as it drives ahead with its plans. But this is merely the start.
The UK's most ambitious regeneration project, Riverside Sunderland, is gathering pace. New buildings are rising from the ground while the city's unpolished gems – heritage buildings that had fallen into disrepair – are shining once again. Now, the city sets its sights on the projects it intends to take forward by 2024, as Riverside Sunderland moves into its next phase.
memory…
SUNDERLANDVIBE.COM AUTUMN 2022 18
In 1992, HM The Queen granted Sunderland city status to mark the 40th anniversary of her accession to the throne. It was then that Sunderland Polytechnic became the University of Sunderland. Dr Anne Wright, who had been the Rector of the Polytechnic, became the first Vice-Chancellor of the University – and one of the very first female VCs. Thirty years on, the University is today changing the lives of students regionally, nationally and Throughoutinternationally.September staff and students will mark the anniversary with a series of celebration events across the city. When the University was looking at creative ways to celebrate the 30th anniversary of Sunderland becoming a university, we turned to one of our own, Sunderland graduate and Live Illustrator Katie 2012Chappell.Illustration and Design graduate Katie has worked as an illustrator for the last decade.
An History...Illustrious
Now Katie is employing two additional illustrators, and has big clients including the NHS, Facebook and "WhenApple.the Pandemic happened I moved the business completely online, and it went bonkers. People were suddenly meeting online all the time, and they needed a way to make meetings more exciting, and live illustration became really popular," said Katie.
Explore the changing face of the University of Sunderland as we take a look back at its 30 year history, from 1992 to 2022.
Katie's innovative idea was an immediate hit, and she quickly picked up high-profile clients, including Facebook, Twitter, Apple, Johnson and Johnson, ITV, NSPCC, The National Trust, The World Health Organisation, BT, and the NHS. Now, Katie has contributed her skills to our celebration of the 30th anniversary of Sunderland becoming a university. Katie's illustration traces a path from 1992, with the founding of the university by our first ViceChancellor Dr Anne Wright and continues over the next 30 years with the development of St Peter's Campus (1994) and London Campus (2012) right up to the opening of our innovative new Anatomy Centre in 2022.
19 @SunderlandVibe SunderlandVibe @SunderlandVibe
The Osmonds - A New 13Musical-17September
They're one of music's most iconic family units, with millions upon millions of records sold. And now you can, for the first time, see a sensational new musical celebrating the illustrious career of The Osmonds! This huge musical tells the official story from Jay Osmond about the five brothers from Utah who were pushed into the spotlight as children and went on to create smash hits decade after decade. Expect to hear chart topping anthems like Love Me For A Reason, Crazy Horses, Let Me In, Puppy Love, One Bad Apple and many more! From tongue-in-cheek comedies and broadway hits to all-time classic shows and new theatrical smashes, Sunderland Empire has some incredible shows lined up in the coming months!
Epic nights at the Empire!
Les Misérables 2 - 19 November Vive la Revolution! Tickets are already flying out for Les Misérables in November, as the global musical phenomenon arrives in the city for a scintillating run at Sunderland Empire. After nearly a decade since the last sell-out UK tour, Cameron Mackintosh's critically acclaimed production of Boublil and Schönberg's classic musical heads to Wearside with glorious new staging and dazzlingly reimagined scenery inspired by the paintings of Victor Hugo. Including iconic tracks such as I Dreamed a Dream, Bring Him Home, and Master Of The House, Les Misérables is undisputedly one of the most popular musicals around and promises to be one of the hottest events in the city this year…
White Christmas 28 November - 3 December
ATGTICKETS.COM/SUNDERLAND
SUNDERLANDVIBE.COM AUTUMN 2022 20
The Book of Mormon 18 - 29 October
The Book of Mormon is headed to Sunderland Empire and this outrageous musical comedy from the creators of South Park, Avenue Q, and Frozen is certain to blow your socks off. This musical phenomenon follows the misadventures of a mismatched pair of missionaries, sent on a mission to a place that's about as far from Salt Lake City as you can get. Now with sold-out productions in London and on Broadway, The Book of Mormon has become a global sensation - and it's heading to Sunderland this October. A musical must!
The most wonderful time of the year is upon us once again! Kicking off the festive season in style at Sunderland Empire, White Christmas is the perfect way to give yourself that warm Christmassy feeling. Join veterans Bob Wallace and Phil Davis as fuelled by love, the all singing, all dancing duo follow the stunning Haynes Sisters, Betty & Judy to a Vermont lodge for a special Christmas show! A tale of love and friendship, White Christmas features the dazzling songs Blue Skies, Sisters, Count Your Blessings Instead Of Sheep, The Best Things Happen While You're Dancing, I've Got My Love To Keep Me Warm and the most famous festive song of all, White Christmas. Get your tickets now for this timeless romantic comedy that warms the hearts of all ages.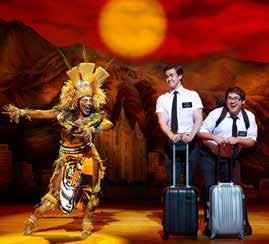 Oh the entire finale is my favourite as it is just one big fat rock'n'roll number.
21
For those who don't know, could you tell us a bit about the story of Rock of Ages? Rock of Ages is set in Los Angeles, California in the mid 1980s. It's about a rock club called The Bourbon Room, which is absolutely legendary, every single band you could think of has played there. It's an icon of the rock'n'roll world and absolutely the place to be, but the local council are attempting to close it down so we're fighting them. Alongside all of that there's a beautiful love story, lots and lots of jokes and, of course, some of the most incredible music from the 80s like "Here I Go Again", "The Final Countdown" and "I Want To Know What Love Is". And how does your character, Dennis fit into this?
As well as acting, you've also been part of many bands over the years. Have you been enjoying indulging your musical side in Rock of Ages? Oh yes, it's incredible to be able to put your two passions together – one being acting, of course, and the other being music, which is something I've loved throughout my life. To put those together is a perfect marriage, and in a vehicle such as Rock of Ages it is a whole lot of fun as well!
Audiences may know you best from your time on television, particularly as Curly Watts in Coronation Street. What are the biggest differences between working TV and theatre?
If you're a seasoned theatre-goer or you've never been to a show before - it doesn't matter - you will have a lot of fun. If you want to come dressed in your leather trousers and embrace your inner 80s rock star then do it!
Audiences are absolutely loving it because it's just bonkers.
TV is a totally different skill and technique to theatre. Not least because you may put something in the can after filming and not get the payback of that for months or even years. You can almost film it, and then forget about it. With theatre however, it's obviously live and live theatre is one of the last true shared experiences you can have – along with football! In the theatre you are all together and sharing one experience which is happening live, right in front of you and there's not a lot of that left. That in itself generates its own energy and excitement as no two shows are the same. The show that you come to see will never be exactly the same as any other, which is quite an exciting thought.
Once you've done the hard work of learning the lines and where to stand we can just have so much fun with it.
No stranger to the spotlight, television's Kevin Kennedy has left the cobbles of Coronation Street far behind him as he takes to the stage and embraces his inner rock'n'roll star in the UK Tour of Rock of Ages. We caught up with Kevin for an insight into his new-found rock'n'roll lifestyle ahead of the show's September run, 6 - 10, at Sunderland Empire...
Rock of Ages boasts some of the biggest hits of the 1980s as its soundtrack. Are you a fan of 80s rock music?
However, once the show gets going it's so much fun and no longer feels like work.
Numerous moments! Although what I really enjoy is watching the other members of the cast doing their big solo numbers because they're all so incredibly talented and it's great to watch and learn from them. It's been so lovely to see them grow into their characters from the first rehearsal through to our performances on tour now, where it all comes to fruition.
A cafetière, some coffee (obviously), my Manchester City mug, and of course the most important thing – a PlayStation!
So, Dennis is the owner of The Bourbon Room and he's an absolute rock guru. He's given all these now legendary bands their stars and he's been in bands himself. He's a very interesting man to play – he's got a good heart at his core but he's a child of his culture and loves the wild side of the rock'n'roll lifestyle! He's a lot of fun to play!
From Corrie star to rock guru: Kevin Kennedy Q&A
What about a favourite song?
Do you have any 'must-have' items whilst on tour?
They can just expect to have a great time.
Do you have a favourite moment or number in the show?
I was a young-ish man in the 1980s and not a huge fan of some dance music, so the last refuge of guitar music to a certain extent was that brilliant American glamrock that we showcase in Rock of Ages. The other performers in the show play their own instruments and perform live on stage - I have huge respect for that. Are there any challenges to performing this style of music on stage? It requires a lot of energy!
Finally, what can audiences expect when they come and see Rock of Ages?
SUNDERLANDTHEPOINTFACEBOOK.COM/
From internationally renowned vocal groups and indie rock legends to iconic DJs and hotly tipped newcomers, there's a frightening amount of talented musicians making their way to Sunderland this Autumn! Brandy Clark 6 September The Fire Station has pulled it out of the bag with this one, the 10x Grammy nominated and CMA-Award winning artist Brandy Clark is coming to Sunderland! She's in the midst of another landmark year in her career, further solidifying herself as one of our generation's most respected songwriters and musicians with her new Grammynominated album Your Life is a Record. Don't miss the chance to hear Brandy's world renowned musicianship live, as she takes to The Fire Station stage armed with a variety of fantastic new tracks!
SUNDERLANDVIBE.COM AUTUMN 2022 22
SUNDERLANDCULTURE.ORG.UK
INDEPENDENTSUNDERLAND.COM
Deacon Blue star Ricky Ross is heading down from Scotland this September to bring us lucky lot some bonnie live music from his brand new solo album, Short Stories Vol. 2! You're in for a magical night with Ricky at the piano, sharing stories from his forthcoming autobiography Walking Back Home, as well asserenading you with some of the best tunes from his acclaimed career. You might even hear the song voted 'Scotland's Greatest Song', the Deacon Blue smash hit Dignity! We can't wait for this one at The Fire Station.
Ricky Ross 27 September
Scarily good music
SUNDERLANDCULTURE.ORG.UK
The Subways 21 September
The Craig Charles Funk & Soul Club 30 September
Cancel all of your Friday plans… The Craig Charles Funk & Soul Club show is coming to Sunderland and it's an absolute must for your September social plans. The BBC 6 Music favourite will be spinning an electric assortment of all things funk and soul, featuring everything from original tracks Motown crackers through to the current soul sounds currently on the airwaves. You'll also be treated to some of that classic Craig Charles patter throughout so get your tickets for the soul train now before Craig calls you a wazzock!
Since bursting onto the scene way back in 2005, garage indie-rockers The Subways have won troves of fans across the globe with their explosive rock 'n' roll and wild live performances. Their debut album Young For Eternity rocked the international music charts, whereas their floor-filling single Rock & Roll Queen dominated dancefloors. Strap in for them tearing the roof off The Independent when they touch down in Wearside this September! Expect a high-octane night of big riffs and big choruses at one of the region's finest community-run venues.
SUNDERLANDCULTURE.ORG.UK
Hotly-tipped Scottish indie rockers Wrest are making their way to Wearside this October, taking to Independent Sunderland stage for one huge night of soaring riffs and mega melodies. Reminiscent of bands like Frightened Rabbit, The National, Idlewild, Snow Patrol and We Were Promised Jetpacks, this Edinburgh outfit have all the making of the next big band out of the North. Having already sold out venues across Europe and the UK, the Wrest lads are expected to do the same again in Sunderland. Be sure to grab your tickets now, whilst you still can!
23 @SunderlandVibe SunderlandVibe @SunderlandVibe
SUNDERLANDCULTURE.ORG.UK
9WrestOctober
INDEPENDENTSUNDERLAND.COM
Ladysmith Black Mambazo 26 October
Iconic South African vocal group Ladysmith Black Mambazo are set to play their first UK tour in a number of years this October, setting their sights on a huge show at The Fire Station. It'll be a night of spinetingling soulful ballads, traditional upbeat dance songs, all with perfectly timed harmony work that's a treat for the ears. Dubbed South Africa's cultural ambassadors by Nelson Mandela, this is going to be one special performance by a special group!
Ever wanted to see four of the UK's most celebrated female singer-songwriters all on one stage at the same time? Of course you have, it's a music lover's dream come true! Woman to Woman sees Beverly Craven, Judie Tzuke, Julia Fordham and Rumer join forces and perform their classic hit singles and album tracks alongside their fantastic band. This unforgettable experience at The Fire Station will be a chance to hear much-loved hits like Promise Me, Happy Ever After, Welcome To The Cruise, and so many more!
SUNDERLANDCULTURE.ORG.UK
Leading the charge in forward thinking alternative music for over a decade now, Public Service Broadcasting are hitting the road once again! Fresh off the heels of their fourth album, 2021's Bright Magic, the band are loaded with fresh material that pushes boundaries and paints vivid pictures. Bright Magic has been called the band's most varied and cerebral record to-date, pulling no punches with their vivid sonic soundscapes. You truly have to experience Public Service Broadcasting live to appreciate their next level musicianship, don't miss your chance when they hit The Fire Station this October!
Public Service Broadcasting 3 October
Woman To Woman 21 October
Meanwhile, three children's theatre shows have also been confirmed; Room on the Broom (September 21), The Tiger Who Came to Tea (October 4) and The Very Hungry Caterpillar (November 16).
On September 17, the original people's poet, John Cooper Clarke, brings his I Wanna Be Yours live show to the auditorium. The show, touring the US, UK, Europe and Canada, is a mix of classic verse, extraordinary new material, hilarious ponderings on modern life, good honest gags, riffs and chat – a chance to witness a living legend at the top of his game.
AUTUMN 2022 24 After The Fire Station Auditorium's brilliant debut programme – Firestarters – came to a successful conclusion in June, the venue is gearing up to an action-packed new season of events which kick off this September. Tamsin Austin, Director of The Fire Station, said: "Our next programme is packed with great music, theatre and comedy and we're really looking forward to welcoming audiences back into the venue. We're sure our programme will attract new people into the city centre, as well as bringing back those who've already enjoyed a night or two out at The Fire HighlightsStation."forthe new season include award-winning singer songwriter Brandy Clark (September 6); The Story of Soul (September 15); Queen tribute Radio Ga-Ga (September 16); The Squeeze's Chris Gifford (September 18); Deacon Blue's Ricky Ross (September 27); indie rock group Public Service Broadcasting (October 3); Transatlantic Blondie (October 8); folk rock band Turin Brakes (October 10); jazz folk pairing The Unthanks (October 12); Kathryn Tickell and The Darkening, who played the venue's opening night (October 23) and Beth Nielsen Chapman (November 13).
Some of the UK's top comedians, legendary rock, pop and folk icons and one of the country's leading performance poets all feature in an exciting programme at Sunderland's newest cultural venue.
The Fire Station is preparing for its hot new programme!
Away from the musical programme, the laughs will be provided by Pub Landlord AlMurray (October 1); Mock the Week favourite Milton Jones (November 9); acclaimed stand-up Hal Cruttenden (January 21) and Live at the Apollo star Justin Moorhouse (February 18).
The Royal Northern Sinfonia (RNS) will return on October 8, December 1, February 16 and May 11. Multi-buy packages for The Fire Station's RNS performances are available through the venue's website –with up to 20% off ticket prices!
FOR MORE INFO AND TO DISCOVER MORE EVENTS THIS AUTUMN SUNDERLANDCULTURE.ORG.UKVISIT SUNDERLANDVIBE.COM
The new season has a lot to live up to after the success of Firestarters - more than 18,200 tickets were sold across 60 Theperformances.venueopened with a successful and emotional night featuring Wearside-born Marty Longstaff, aka The Lake Poets, and legendary Northumbrian musician and composer Kathryn Tickell and her band The Darkening. Since the opening night, bands, singers and musicians from a wide range of genres have performed at the £11m venue, which was developed by Sunderland Music, Arts and Culture (MAC) Trust and is run by Sunderland Culture. Tamsin explained: "The venue has given Sunderland what the city needed, a top quality, brand-new, mid-scale home for music and performing arts. The response we've had, both to the building and to Firestarters, has been overwhelming. "We were very proud of the quality of music we presented during Firestarters, but our opening programme also featured dance with the brilliant Southpaw Dance Company; children's theatre with the Smartest Giant in town; comedy with Mock the Week regular Gary Delaney; Shakespeare with The Globe's Julius Caesar and community theatre with Open House, an incredible few days which gave local talent a fitting platform to shine."
On the other hand, older audiences can enjoy the Elysium Theatre Company's version of Ibsen's The Doll's House on October 13.
APPLY AT SUNDERLANDCOLLEGE.AC.UK EVENT MORE. Big smiles all around at Sunderland College as students celebrate a fantastic results day!
Sunderland College students celebrate outstanding results
Principal Toni Rhodes said: "We are absolutely delighted to see so many students get the results they hoped for "Thistoday.year has been incredibly difficult year following the pandemic and for some the first time they have sat an exam, however we could not be prouder of every and every one of them and wish them all the best in wherever their journey takes them next."
Students at Sunderland College are celebrating making the grade after collecting their A-Level and vocational Hundredsresults. of the college's students received their results today (Thursday 18 August) with many accepting offers from some of the country's leading universities, progressing to higher level apprenticeships, or starting a new career.
Another delighted student, Cadence Boxall, 18, will be studying Media, Communications and Culture at Newcastle University after receiving AAB in Business Studies, Media Studies and Sociology. She said: "I am so excited and happy. I have had lots of opportunities made available to me at college and the staff and teachers were so motivating." Milo Coates will also be attending Newcastle University to study History after receiving A*BB in Sociology, English Language and History. The 18-year-old said: "I'm surprised and overjoyed that I got the grades needed for university. I've had nothing but support from my lecturers who really care about their subjects and students and I couldn't have done it without them. Those studying vocational courses also impressed with a high proportion of subjects receiving a 100% pass rate including Engineering, Computing, Sports Coaching and Applied Science. UK medal winning swimmer, Pru Hubbard, achieved D*D*D* in Sports Coaching will be continuing her studies at Sunderland College on a Foundation Degree. The 18-year-old said: "I was so proud when I saw my results. My lecturers have been so supportive in balancing my studies and sport and pushed me to reach my full Uniformpotential."Public Services student Jake Gray will be studying Paramedic Science at the University of Sunderland in September. After receiving D*D, he said: "I'm so relieved and exhilarated. Sunderland College is a great college with amazing staff and I've really enjoyed my time here." For the first time since the pandemic began, students sat exams in May and June, and then faced an anxious wait to find out if all their hard work had paid off. Results were available to collect from Bede and City campuses from 8am with those unable to pick up their results in person receiving an email later in the Themorning.college's Matrix Standard accredited Careers team also hosted drop-in support and one-to-one appointments offering advice and guidance on grades, clearing and course options.
Sunderland College is accepting applications now from 2022 school leavers for its wide range of A-Level subjects, vocational and technical courses including T Levels.
FOR A COURSE ONLINE
OR VISIT AN OPEN
The number of students receiving A*-C grades also increased by 7% on 2019. Outstanding individual achievements included Jared Turnbull, 18, who is heading to Teesside University to study Forensic Science. He said: "I was so shocked when I saw I got an A* for Criminology, I was over the moon. Thanks to Sunderland College I found myself as a person; the level of expertise and care from the tutors is amazing and helped nurture me."
TO FIND OUT
25 @SunderlandVibe SunderlandVibe @SunderlandVibe
Sunderland College Sixth Form's overall pass rate for A-Levels was higher than pre-pandemic, with 10 subjects including Business, English Literature, Mathematics, Physics and Psychology receiving 100%.
Are you ready to see some huge smackdowns and top rope acrobatics when Megaslam hits Sunderland this September? Taking over the Grand Hotel for one night only, the superstars of Megaslam will be putting on a two hour wrestling extravaganza for the whole family. This entertainment spectacular will see some of the world's top wrestling stars go head to head in dazzling match ups to see who the champion really is! Get your tickets now and secure your spot ringside to the best show in town. September 2022 will forever be known as Slamtember after this epic show!
DOWNATTHEFARM.CO.UK
SUNDERLANDVIBE.COM26
Room On The Broom
From jaw-dropping wrestling shows to your favourite stories coming to life on stage, there's so much exciting family fun going down in Sunderland this season!
MEGASLAM.CO.UK
SUNDERLANDCULTURE.ORG.UK Animal Fun Farm Yipee! The Animal Fun Farm is open and full of super cute animals for the whole family to meet. Take in the beautiful colours of autumn as you make friends with a whole host of furry, fuzzy and fun farm animals. There's even rides too; you can take a ride on a tractor, on the bumpy barrels or on your very own quad bike - what a treat! Open every weekend and on school holidays until 30 October, now's the perfect time to visit. There's even a pumpkin week between 23 - 30 October where you can pick your very own halloween pumpkins!
SUNDERLANDCULTURE.ORG.UK
The Tiger Who Came to Tea is celebrating 12 years on stage and over 50 years as Britian's best-loved picture book this year! Take the opportunity to see this heartwarming story adapted into a stunning live stage performance at The Fire Station this October. This classic tale of teatime mayhem will have your whole family laughing, smiling, and jumping out of their seats as everyone's favourite big stripey pal makes an unexpected visit in Sunderland! Would you let him in?
Megaslam 2022 Live Tour 25 September
An packedactionAutumn!
AUTUMN 2022
21 - 22 September
Iggety ziggety zaggety zoom! Hop on the broom with the witch and her cute cat in Tall Stories' super exciting adaptation of Room on the Broom, the best-selling picture book by Julia Donaldson and Axel Scheffler. The whimsical witch and her trusty cat are travelling on their broomstick when they pick up some weary hitch-hikers - a friendly dog, a beautiful green bird and a frantic frog. But the broomstick isn't meant to carry so many passengers and - CRACK - it snaps in two! Will there ever be room on the broom for everyone? Find out in the magical Olivier Award-nominated show at The Fire Station this September. It's a magical show that the whole family can enjoy!
The Tiger Who Came To Tea 4 - 5 October Who doesn't love this beauty of a book!
SUNDERLANDWALL.COM
Sunderland Wall If your children have been driving you up the wall with their constant climbing on your neatly arranged furniture then we've got just the place for you! Take those energetic tikes to Sunderland Wall, one of the largest indoor climbing centres in the UK, for a proper climbing experience. Catering for children aged five and up, Sunderland Wall let's children release their inner monkeys in the safest way possible, under expert tuition from their experienced climbers. Book in for a class or have an extra special birthday party there. It's a great experience that the whole family can get stuck into, the only question is… who will become the family climbing champion?
Silksworth Sports Complex & Ski Slope Did you think skiing was a sport only reserved for the winter? Not at all!
Silksworth Sports Complex & Ski Slope is the perfect place to hit the dry slopes with your family and find your ski legs this Autumn. Open to anymore aged four and up, the dry ski slope is a super fun experience that'll have you coming back again and again. If your sure skiing isn't your thing, then why not get some friends together and book out the 3G football pitches for some 5-a-side action! One thing's for sure, if you love sports then a visit to Silksworth Sports Complex & Ski Slope with the family is a must.
EVERYONEACTIVE.COM
5 minutes with the champ!
What does it take to become a Megaslam champion?
My finishing move right now is a Sitout Double Chokebomb, it's a hard hitting finisher that's brought me a lot of success over the years. But some people are working it out now, so I've invented a new move that I'll be experimenting with in the ring too. I can't give you the details, only the name… The MassiMale. What can the Megaslam fans of Sunderland expect when you step foot in the ring this September?
The Megaslam fans are part of Team Megaslam and I will always be loyal to them. As Megaslam Champion, I will give all of myself to make sure they go home happy. It's always a mix of enthusiasm and trepidation every show, but I can't wait to hit Sunderland this September!
Megaslam Wrestling Champion Massimo gives Sunderland Vibe an insight into what makes a champion, ahead of the huge Megaslam show at the Grand Hotel this September!
You've wrestled all over the world with countless big names, but who's been your favourite wrestler to work with? I've achieved a lot in my career, but one of my biggest dreams was always to go wrestle in Japan. I was lucky enough to realise that dream in recent years, living and wrestling there with some of the best. My favourite match ever was taking on Minoru Tanaka over there. He was always an inspiration of mine, I used to watch him as a teenager. Going toe-to-toe with him was a dream come true. Are there any other wrestlers on the Megaslam roster fans should keep an eye out for at the show? There are plenty of talented wrestlers on the Megaslam roster, people like Jack Morris, Alexander Dean, Stixx, Robbie X Martin Kirby or Colt Miles are all worth watching. I'm keeping myself prepared to defend the Megaslam Championship against any of them! Can you talk us through your finishing move?
@SunderlandVibe SunderlandVibe @SunderlandVibe 27
I am very proud to be the Megaslam Champion; it took so much effort and countless sacrifices over the past 12 years. To follow my dream I had to leave my country and my family, I had to learn a new language and do thousands of hours of practice in the ring to become the wrestler I am today. I travelled a lot too. I've trained in Canada with my mentor Rob Fuego, I trained with the Dudley Boys in the USA, I have been in four different dojos in Japan for over a year and I've also learned the lucha libre style in Mexico. It's this mix of training and styles that helped me become the Megaslam Champion!
Looking after your Wellbeing this winter
The reduced level of sunlight in autumn and winter may cause you to want to hibernate and close your front door to the world. The lack of sunlight may disrupt your body's internal clock and can lead to low mood so aim to spend a few minutes outside each day to help beat the winter blues.
As we continue through winter, it's a good idea to think about the simple things we can do to look after our mental health, and how to spot the signs that we might need some additional support. Get expert advice from Getwww.nhs.uk/every-mind-mattersActive
Now that the darker nights are creeping in, taking steps for your winter wellness has never been more important. To help you on your way, we've put together some simple tips to help you enjoy your healthiest winterBeatingyet! the winter blues
Exercise has been proven to have a positive impact on mood, mental alertness and reduce stress. Wrap up warm and enjoy a brisk walk or swap your outdoor activities for indoor ones to help you to remain healthy throughout winter. Find out more about getting active Staywww.sunderland.gov.uk/activesunderlandatConnected
Remember to still stay connected with friends for a boost or pop in to see elderly loved ones. Even a checkin phone call could make all the difference to those who might feel isolated.
During the winter months there are a number of bugs that can make us unwell and there are steps we can take to help protect ourselves and loved ones.
Find out more about local support to quit at www.stopsmokingsunderland.nhs.uk or speak with your local pharmacist for advice.Get vaccinated and help stop the spread!
Quit for good Quitting smoking is one of the best things you will ever do for your health. Giving up for good can feel like a big hurdle but there's lots of support to help and if you make it to just 28 days smoke-free you are five times more likely to stub out the habit for good. By stopping smoking, you will benefit from clearer skin, improved oral health, a stronger immune system, and a reduced risk of many types of cancers, as well as saving you money!
Are you aged over 18 and live, work, study or volunteer in Sunderland? And passionate about health and promoting healthy lifestyles? Then Sunderland City Council wants to hear from you! Join the growing number of Sunderland Health Champions and be part of an incredible network, support people across the city and have the opportunity to complete free training to help people to improve their health and wellbeing. For more information visit health-champions/www.livelifewell.org.uk/
Covid is still circulating in communities across Sunderland and it's important to stay up-to-date with your Covid vaccinations to help prevent you becoming seriously unwell. Remember, it's never too late to get your first, second or booster vaccination and the autumn booster campaign for those eligible will start in September. You can check your eligibility and book a vaccine appointment at www.nhs.uk/coronavirus or visit one of our Sunderland Covid-19 vaccine walkin clinics or contact your GP. For information about local walk-in clinics seewww.sunderland.gov.uk/vaccine-walkinEatwell
Become Champion''HealthSunderlanda
Winter has lots of delicious food to enjoy, like hearty stews and warming soups. Prioritise seasonal veggies like beetroot, kale, and carrots, which are chock-full of vitamins and minerals that will boost your immune system and protect your health. While simple recipes like porridge or stewed apples provide healthy, low-cost meals that will fill you up and keep you warm. Make sure you eat at least one hot meal a day to keep your body warm, and regulate your temperature and metabolism by drinking plenty of water alongside your hot drinks. Stock up on tinned and dried food too, in case the weather turns and you're not able to make it to the shops. The NHS website has more tips and advice on staying well this winter, visit www.nhs.uk/staywell
The flu vaccine is offered every year to help protect people at risk of getting seriously ill from flu. If you're eligible, get yours as soon as possible. Find out more at www.nhs.uk/flu
Smoove & Turrell
SUNDERLANDCULTURE.ORG.UK
Cara Dillon – Upon A Winter's 14NightDecember Cara Dillon, one of the most celebrated folk voices to have come out of Ireland, brings her annual Christmas show "Upon A Winter's Night" to Sunderland! The overwhelming success of previous tours cement this magical festive experience as a firm tradition for many years to come. A far cry from "Jingle Bells" and "Santa Baby", Cara will be joined by her wonderful band who weave Celtic and folksy rhythms alongside reverent and atmospheric carols while Cara holds the darkness at bay with the purity of her voice. Get your tickets now for this night of magic at The Fire Station.
Emmerdale villain Michael Wildman stars as Abanazar, joined by the fabulous Miss Rory as Widow Twankey and we say Alreeeeeet to Tom Whalley as Wishee Washee! This hilariously over the top Christmas extravaganza will have you laughing, singing and falling off your chairs in glee. Filled with mystical adventure, stunning sets and costumes, a lamp load of comedy and sensational song and dance, it's the canniest panto in town. 30
North East Vegan Festival 2022
There's nothing quite like a festive shindig with Smoove & Turrell at Pop Recs! One of the North East's finest soul and funk bands is heading to Sunderland for a glorious festive throwdown. Renowned for their signature style of funk that fuses elements of Northern soul, hip-hop and electronica, join these Northern icons for an enthralling evening of tip-top tunes and explosive live antics. Smoove & Turrell promise an unforgettable evening of world-class music.
6GUNDecember
12 November
FACEBOOK.COM/POPRECSLTD
100% Soul! The Festive Special 3 December
The Magic of Motown 18 December Seen by over a million people since its debut in 2005, it's always a treat when The Magic of Motown show comes to town! The epic Motown spectacular, filled with all the hits, glittering costumes and dazzling dance routines that you've come to expect, will be hitting The Fire Station for a super winter show. You will be going Loco down in Acapulco as an array of incredible performers take you back down memory lane with all the Motown classics from artists such as, Marvin Gaye, Diana Ross, Stevie Wonder, The Temptations, The Supremes, The Four Tops, Martha Reeves, The Jackson 5, Smokey Robinson, and many, many more.
SUNDERLANDCULTURE.ORG.UK
SUNDERLANDCULTURE.ORG.UK
Vegans and veggies rejoice! The biggest vegan festival in the North East is coming back to Sunderland once again for a huge day of delicious foodie delights at the Stadium of Light. From 10am to 5pm you'll be spoilt for choice with some of the best vegan food vendors from up and down the country right on your doorstep. Dive head first into a plant-based taste adventure that directly helps animals. The festival is run and organised by Farplace Animal Rescue charity and all profits will be used to help towards their fight for greater animal welfare across the country. A win for your tastebuds and the animal kingdom!
Glaswegian rockers GUN are back with a brand new album and they're hitting the road to celebrate! The hard rocking fivepiece are thundering their way to The Fire Station this December, armed with a whole bag of new tracks to blow the roof off the place. Boasting top 20 albums and singles, and a MTV Europe Music Award for Best Cover for their massive take on Cameo's 'Word Up', they have performed shows with everyone from The Rolling Stones to Bon Jovi to Iron Maiden. This is a mustsee band with plenty to shout about and boundless optimism. Get your tickets now!
100% Soul returns to The Fire Station for a Diaries at the ready! It's time to plan ahead for the most magical season of all... one off festive special for the ages! Get in the festive spirit with a night of timeless soul and motown classics, cherry picked and performed in dazzling fashion by the outstanding Voices of Virtue Gospel Choir. Their full band and brass section will also be joining the choir, belting out tunes that are sure to inspire mass sing-a-longsthey might even sneak in some Christmas classics too! So, if you love some classic soul music with a festive twist then don't miss the return of this amazing show.
NORTHEASTVEGANFESTIVAL.COM
SUNDERLANDCULTURE.ORG.UK
SUNDERLANDVIBE.COM AUTUMN 2022
9AladdinDecember - 2 January
6 November
Francesca.Regan@Foundationoflight.co.uk Foundation of Light Charity no: 1089333
Sponsored by 15th December 2022 WANT TO BE A PART OF THIS SPECIAL EVENT? FOR FURTHER INFO CONTACT: Foundation of Light is delighted to host its exclusive Carols of Light fundraising concer t at the stunning Durham Cathedral. Last held in 2011 to mark our 10th anniversar y, this spectacular event, produced by Sir Tim Rice, will include a star-studded programme of enter tainment hosted within this magnificent setting. This major fundraising event, suppor ting the work of Foundation of Light, will be the culmination of the 21st year since our inception, bringing together Patrons, Trustees, par tners and suppor ters as well as the people who benefit from our work. This musical extravaganza will feature readings and musical performances from a line-up of special guests, in what will truly be an evening to remember.
*Offer valid until 16/10/2022. UK bank account holders only, 16+. Direct Debit membership. Must pay 1 month in advance, this will be used to cover your final month. Participating centres only. Must cancel by 20th of month in order for the DD payment to stop on the 1st of the following month. A joining fee of £1 applies. See www.everyoneactive.com/1-pound-joining-fee-terms/ for full terms Join online at everyoneactive.com/join Everyone Active manages Sunderland City Council's Leisure Centres on its behalf. EVERYONE ACTIVE IN JOININGONLYSUNDERLAND£1FEE