ON THE SCREEN. Royal celebrations. WELLBEING FIRST. Fashion musthaves. DINING OUT. Wanderlust awakenings. FRAGRANT RECIPES. Inspiring designs. ADVENTURES AT SEA. Suave style. TIMELESS CREATIONS . Garden buys. FATHER'S DAY INSPO. Big names. LUXE.
ISSN 2042-1931 9 772042 193002 81 ISSUE 81 MAY/JUN23 £5
WHERE SOLD luxe magazine £5.00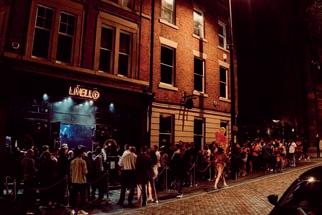 AVEIKA.CO.UK | 0191 233 3732 | INFO@AVEIKA.CO.UK | 10-15 SANDHILL, QUAYSIDE, NEWCASTLE, NE1 3AF BARLIVELLO.CO.UK | 0191 233 3733 LOWER DEAN STREET, NEWCASTLE UPON TYNE, NE1 3JE 0191 247 4044 WWW.HUDSONNEWCASTLE.CO.UK AVAILABLE MONDAY-FRIDAY & SATURDAY UNTIL 5PM 0191 233 3734 | ABOVENEWCASTLE.COM LOWER DEAN ST, NEWCASTLE UPON TYNE NE1 3JE AFTERNOON TEA | COCKTAILS | WEDDINGS | EVENTS & MORE
SUNDAY - THURSDAY ALL DAY FRIDAY 12-7PM & SATURDAYS 12-5PM 2-COURSES
| 3-COURSES
SET MENU 2-COURSES £17.95 3-COURSES
2 FOR £12 ON ALL CLASSIC COCKTAILS
SET MENU
£17.95
£21.95
£20.95
While you may have seen my name appear in the front of these pages for quite some time now, it's an honour to take the opportunity to formally introduce myself and say hello to our lovely luxe readers. For those who don't know me, I'm Chris March, CEO of Allies Group and publisher of Luxe Magazine. I've been overseeing luxe since its inception and ordinarily, I remain behind the scenes directing the pace of things to come. However, as our wonderful editor, Elysia, has recently welcomed her beautiful baby girl, Nora, into the world, I'll have the pleasure of introducing this special magazine - a project very close to my heart, and one I'm most certainly looking forward to. As Elysia navigates motherhood of two under two and all of the joy it brings, you'll be in safe hands with myself, Nicole and the rest of the Luxe team. Last issue, it was a privilege to print our 80th edition of this wonderful magazine and I'm delighted to be introducing our 81st with the incredible Lewis Cope sitting proudly as this issue's cover star.
This time of year is always a treat. We're embracing the back end of spring and beginning to welcome the warmer climes of summer; we're spending more time outdoors and everything just seems that little bit brighter. We've got plenty to look forward to as we head towards the summer months, not least an extra long weekend to celebrate the King's Coronation. With that in mind, this issue is brimming with feel-good content. We've been out and about trying and testing new menus across the region, we've got fashion must-haves, skincare advice, travel inspiration, Father's Day delights and we're shining a special light on the world of wellbeing. All of that, plus our insightful watch edit and interviews with creatives and business folk who make our region tick. Find a sunny spot in your garden, sit back, relax and enjoy our latest issue - I know I'm going to.
Remember to check in with us online at luxe-magazine.co.uk
See us on social at:
Twitter: @TheLuxeMagazine
Instagram: @theluxemagazine
ISSUE 81 MAY/JUN23
contents
8>> The agenda
Time to fill those diaries
16>> 10 things luxe loves
Our seasonal must-haves
18>> Father's Day delights
Ways to treat the man in your life
20>> Big screen news
Lewis Cope chats life on Emmerdale
22>> Mediterranean chic
Sleek styles for warmer climes
Rosie Bath is the creative genius behind Cera Cotton - a brand new homeware brand bringing Wax Cotton products to the North East. When she is not growing her brand and crafting together new creations, she can be found spending time with family and friends or embracing the great outdoors. Her luxe things in life include: dogs, terriers in particular with their feisty personalities, the countryside, and sipping on a gin and tonic.
29>> SPF heroes
Skin-loving products and expert advice
33>> Spa in session
A nature-inspired spa break
34>> Good energy
Discovering energy therapy at The Harmonic Egg
40>> Luxe reviews
New foodie treats to try
46>> A relaxing retreat
Luxe checks in to a coastal hideaway
48>> Finding paradise
Setting sail on a luxury yacht charter around Croatia
56>> Preparing for summer
Give your garden a makeover with our luxe picks
60>> A sustainable future
Beautiful wax cotton creations from Cera Cotton
65>> The watch edit
Exploring the world of luxury watches
76>> It takes two
Top tips for Luxe mamas with two under two
80>> Social diary
Eyes and teeth time
THE LUXE TEAM
Christopher March publisher - chris@allies-group.com
EDITORIAL
This issue's cover star is the wonderful Lewis Cope, one of the newest actors to join the cast of Emmerdale. When not on set, Lewis can be found back in his hometown of Hartlepool visiting loved ones. His luxe things in life include simple pleasures; friends and family, his colourful career and good TV.
Elysia Fryer head of content - elysia@allies-group.com
Nicole Wood nicole@allies-group.com
Caroline Dask caroline@allies-group.com
Contributors: Julie Burniston, Jessica Chipman, Faraday Gamble-Gittings
SALES
Debi Coldwell director - debi@allies-group.com
Lucy Andrews lucy@allies-group.com
PHOTOGRAPHY
Kevin Gibson info@kgphotography.co.uk
Nicky Rogerson nicky@kgphotography.co.uk
DESIGN
David Stubbs creative director - dave@allies-group.com
Euan Underwood euan@allies-group.com
Facebook: @luxemag Our
If you wish to advertise with us please contact our sales team: Debi Coldwell: debi@allies-group.com / 07910 918366
Allies Group Ltd, Enterprise House, Kingsway, Team Valley Trading Estate, Gateshead, NE11 OSR allies-group.com
All contents copyright ©2023 Allies Group Ltd. All rights reserved. While every effort is made to ensure accuracy, no responsibility can be accepted for inaccuracies, howsoever caused. No liability can be accepted for illustrations, photographs, artwork or advertising materials while in transmission or with the publisher or their agents. All information is correct at time of going to print, April 2023.
Harriett McHugh is the brains behind the Northumberland-based sustainable fashion brand, Just Harry. Her work focuses on the deconstruction and reconstruction of preloved denim jeans, creating a timeless collection of jackets and accessories. Her luxe things in life include: Elvis, her beautiful black labrador, the ocean, and her friends and family.
MAY/JUN23 3 luxe-magazine.co.uk WELCOME
partners
our QR code and keep up-to-date with the latest luxe moments.
Scan
luxe is published bi-monthly by Allies Group Ltd