$ 5 . 95 | JANUARY 2023 WWW.REALMAINEWEDDINGS.COM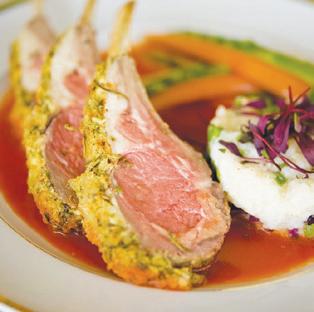 www.daysjewelers.com
AS I WRITE THIS letter for each issue of Real Maine Weddings, I take the time to think back over the last six months of the Maine wedding season. Each time, I am reminded of the talent and creativity represented in the diverse group of professionals, both in the images submitted and in the people I work with in my own business. I continue to be humbled to work with such talented and passionate professionals. I recently appeared with a group of Maine wedding professionals on a local tv news segment about the Maine wedding industry and its recovery from the pandemic. When it aired, it struck me how I continue to be grateful to work alongside the owners of the businesses represented. The Maine wedding industry is full of genuinely remarkable people dedicated to helping create memorable wedding days for their clients.
You will notice in this issue that we have kept the format from the last and arranged things according to Maine's many diverse geographical regions: Aroostook, Maine Highlands, DownEast & Acadia, Kennebec Valley, MidCoast, Lakes and Mountains, Portland, and Maine Beaches. There are so many great opportunities available to engaged couples looking to get married in these regions of the great state of Maine! I love that we have started framing the submissions we receive this way, and I hope that you enjoy looking at things with these regions in mind.
It is exciting for all of us to be at the beginning of the 2023 wedding season! Keep an eye out for our newly revamped website, designed to be used specifically as a resource for engaged couples and anyone looking for assistance as they start the planning process. As always, let us know if there is anything we can do to assist you in your planning. We would love to help you in any way that we can!
Sincerely,
REAL MAINE WEDDINGS
Brought to you by Real Maine Weddings LLC P.O. Box 386 Patten, Maine 04765 www.realmaineweddings.com
PUBLISHER
Christine Parker christine@realmaineweddings.com
EDITOR
Reuben Bell III editor@realmaineweddings.com
ART DIRECTOR
Sandy Flewelling
CULTURAL DIRECTOR
Fausto Pifferrer
PROOFREADER
Robin Switzer
Real Maine Weddings is published twice a year by Real Maine Weddings, LLC. Stories and photography published in Real Maine Weddings are for their quality and editorial interest. They are not associated in any way with the photographer's or related vendor's decision to advertise or not to advertise in Real Maine Weddings
We welcome reader and advertiser input. Submitted story leads, ideas, and other input will be subject to Real Maine Weddings' unrestricted right to edit and publish in the magazine or on the web. Please address written correspondence to P.O. Box 386, Patten, ME 04765.
For advertising questions, please email Christine Parker, Real Maine Weddings director of sales, at christine@realmaineweddings.com
Real Maine Weddings is sold at newsstands from Maine to upstate New York and distributed at select wedding shows along the East Coast and Day's Jewelers' and bridal salons throughout Maine. Newsstand Cover Date: January 2023, published January 2023. Vol. 16, No. 1, © 2023. Advertisers, photographers, and their agents are responsible for the copyrights and accuracy of all material they submit.
Nothing in this issue may be copied or reprinted without written permission from the publisher.
For more information, visit www.realmaineweddings.com.
Cover photo by Kim Chapman Photography
2 | www.realmaineweddings.com
EDITOR'S NOTE
Reuben Bell
CREATE YOUR PROVINCE LAKE WEDDING 18 Mountain Road • Parsonsfield, ME • 207-793-9612 • provincelakegolf.com Stunning views of the Ossipee Mountains Custom designed menus • Tailored bar service Restored wedding barn Tented receptions up to 250
PHOTOS: SABIN BECKWITH
CONTRIBUTING PHOTOGRAPHERS
88 Clementine 88clementine.com
BrightWorks Photography brightworksmaine.com
caron&co photography wed-pix.com
Chris Keeley Photography chriskeeleyphotography.com
Elizabeth Ivy Photography elizabethivyphotography.com
Elysian Photography elysianphoto.mypixieset.com
Haven Photography havenphotos.com
Jenn Marie Photography jennmarie.photography
Jess Sinatra Photography jesssinatraphotography.com
Kasey Ivan Photography kaseyivanphotography.com
KH Film khfilm-photography.com
Kim Chapman Photography kimchapman.com
LAD Photography ladphotography.com
The Libbys Photo & Films thelibbysphotoandfilms.com
Life in Focus lifeinfocusweddings.com
Melissa Gebert Photography melissagebert.com
Sam Nappi Photography samnappi.com
Taylor Jan Photography taylorjanphoto.com
Trina Dinnar Photography trinadinnarphotography.com
The Wild Bunch Photography wearethewildbunch.com
4 | www.realmaineweddings.com
custom menus | locally sourced & grown foods (207) 803-8402 | BRIDGTON, MAINE | MANECATERING.COM
We help couples create a candle favor that represents the time of year and the theme of their weddings. Customized candle tags help create a thoughtful thank you or a small reminder of the special day you had when guests light them at home.
www.coastalkreatives.etsy.com | Cassandra@CoastalKreatives.com
CANDLE FAVORS & GIFTS
HANDMADE
REGIONAL WEDDINGS & INSPIRATION SHOOTS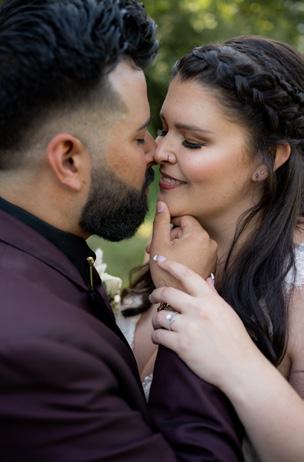 Maine Regions / 61
Gorgeous real Maine weddings and inspired shoots from each of Maine's eight geographical regions.
The Maine Beaches / 63
Greater Portland & Casco Bay / 73
Maine Lakes & Mountains / 83
Kennebec Valley / 96
Maine's Midcoast & Islands / 101
Downeast & Acadia / 109
The Maine Highlands / 117
Aroostook County / 121
6 | www.realmaineweddings.com
TABLE
(TOP TO BOTTOM, L TO
KIM
78 64 118 110 97 122 102 88
OF CONTENTS PHOTOS:
R) JENN MARIE PHOTOGRAPHY; KH FILM; SAM NAPPI PHOTOGRAPHY; 88 CLEMENTINE;
CHAPMAN PHOTOGRAPHY; HAVEN PHOTOGRAPHY; JESSICA SINATRA PHOTOGRAPHY; BRIGHTWORKS PHOTOGRAPHY
FOR MORE INFORMATION ON THESE PROPERTIES VISIT WWW.MAINEVENUEPARTNERS.COM OR CALL 207.423.9622 MAINE VENUE PARTNERS + LA BLUE Forge on the Falls NOW BOOKING Hockomock Point NOW BOOKING Coveside Bed & Breakfast NOW BOOKING MOLLY BRETON & CO LYNN KARLIN
MAINE TIPS
Planning Pages / 10
The countdown has begun! Practical tips and advice to jump start the planning process.
Trends / 12 What's trending in the wedding universe in 2023? We've got you covered.
50 Things / 14 A list of things to remember when planning your Maine wedding.
Licensed to Wed / 18 A step-by-step guide to make your Maine wedding official.
INSPIRATION
Catering / 34 Everything old is new again... with a twist.
Maine Jewelry Trends / 42 Tips for picking the perfect wedding jewelry.
Inspiration / 92
Maine wedding photographers share fresh ideas for Maine wedding magic!
MAKE IT MAINE
Floral Guide / 22
Gorgeous bridal bouquets, centerpieces, and boutonnieres created by Maine florists.
Maine Cakes / 28 Creative cakes and desserts made by Maine bakers.
Cheers! / 36 Inspired cocktails and recipes from Maine Spirits.
Maine Wedding Fashion / 46 Modern romance on the banks of Rangeley Lake.
DIRECTORY / 125
Barns; Catering/Bakeries/Confections; Catering; Cheers, Entertainment/Bands/DJ; Event Designers & Wedding Planners; Event Rentals and Tents; Florists; Gifts; Jewelry; Local Experts; Officiants; Photo Booths; Reception/Event Centers/ Rehearsals; Transportation; Videography; Wedding Garment Care/Dry Cleaning/Preservation
8 | www.realmaineweddings.com
L
TABLE OF CONTENTS 28 92 44 46 38 22 34
PHOTOS: (TOP TO BOTTOM,
TO R) ELIZABETH IVY PHOTOGRAPHY LAD PHOTOGRAPHY; COURTESY OF DAY'S JEWELERS; KIM CHAPMAN PHOTOGRAPHY; CARON&CO PHOTOGRAPHY; MELISSA GEBERT PHOTOGRAPHY; MOLLY BRETON & CO.
HOW EXCITING!
You are recently engaged and starting to plan your wedding. There are so many moving parts and possibilities. Where do you start? Here are some tips and suggestions to help you get started. Remember: there are no hard and fast rules to wedding planning anymore. Sit down with your partner and determine what the essential pieces are to you. Everything else will fall into place.
wedding is different, and you'll discover what is essen
Did you know?
Whether you are a native "Mainah" or planning a destination wedding, thank you for choosing to have your wedding here and helping keep Maine moving in this significant way! Weddings in Maine represent $1,000,000
in annual revenue. Everything you spend on venue rentals, catering, hair & makeup, transportation, equipment rentals, photography, videography, etc., supports a small local business. Every dollar goes back into the local economy, and we love you for that.
W
E DDING
CURVING YOUR CEREMONY CHAIRS
O N Y
The guests at the ends of each row will be able to see better, and no one feels left out. You'll be able to see your guests better. It looks beautiful and elegant in photos. And, best of all, the rounded edges of rows make it feel like you're getting a big hug during the ceremony!
Three things to consider when hiring your wedding planner/coordinator:
1. PERSONALITY. Meet in person or Zoom with them and get to know them. Do you jive with that person and feel comfortable?
2. TRUST. After meeting, do you feel confident they will have your back and make the best decisions for your big day?
3. REVIEWS/REFERENCES. Check out their social media and wedding websites for reviews from past clients!
— Renee Strange-Farnham, Strange Events
10 | www.realmaineweddings.com PLANNING
EW D D I N GS 101 • WED D INGS
•
•
101
WE D D I N SG 101
DEW D ISGN101 • where to begin
CERE M
semi-circle creates a more intimate ceremony and helps all your guests see you. When the chairs are curved ever so slightly around the ceremony spot... pro tip
It creates a cozier experience for your guests. Your guests will hear everything better as the sound bounces off the curved rows of chairs.
40% CATERING & VENUE 15% PHOTOGRAPHY 10% MUSIC 10% FLOWERS 10% DÉCOR 5% ATTIRE 3% TRANSPORTATION 3% STATIONERY 2% FAVORS 2% CAKE
BUDGETING 101 Every
-
It is customary to feed the professionals you have hired for your wedding celebration. This team varies but often includes your event planner , photographer, band or DJ, and officiant . Talk to your caterer about the best way to feed the team efficiently — timing is everything! Your caterer can also walk you through the best options for vendor meals. Sometimes the team eats the same meal that the guests are having. Sometimes a separate buffet area is set up for the team members to eat on their schedule. Figure out what works best for your particular situation.
HONEYMOON ESSENTIALS
You are thinking ahead and planning your honeymoon. Good idea! Where to start? A travel agent: 1) saves you time by doing the research for you, 2) has access to exclusive promotions, 3) is your advocate if anything goes wrong on the trip.
— Maria Northcott, Steward and Porter Travel by Dream Vacations
PHOTOGRAPHY: Getting Started!
You might think you should be able to compare photographers the way you'd compare plumbers — who can do the job at the price you want to pay and guarantee it will turn out the way you want. Considerations such as personality, products, artistic styles, how working with us will make you feel on your wedding day, and how you'll feel with the finished product afterward should be on your radar.
HELPING THOSE IN NEED THROUGH
YOUR WEDDING
A new national program has just launched that offers meals directly from your wedding to hungry people in your area! Ask your caterer if they have heard about the You Can Have Mine Initiative. This program lets individual members of the vendor team choose to waive their meals at your wedding and donate the dollar amount to a local shelter or food bank, where it will go straight to feeding hungry kids and adults in your area. Every bite counts when you are food insecure.
—Fausto Pifferrer, Blue Elephant Events and Catering
We all have different pricing structures, shooting styles, and ways of interacting with our clients. Some photographers charge a low base price and let you add options to customize your finished package. Others have an all-inclusive price, which may or may not include prints, files, albums, or other products.  Some won't share pricing until they meet with you, and some photographers write custom quotes for each wedding. Your wedding will be different from any other we'll see this year, so please forgive us if we spend a little more time trying to understand how we can help you before just quoting you a price. You're not a leaky faucet to us, and you probably want more than just a washer replaced!
— Will Von Wenzel, Focus Photography
Real Maine Weddings JANUARY 2023 | 11
F E E D YOURVEN D ORS
catering
FIRST LOOK WITH DAD
He's been on your side since day one. Your wedding day is likely loaded with meaning for him. Consider giving Dad his moment with a first look.
Photo by Jessie Dineen Photography
NEON SIGNS
Custom neon signs are a whimsical way to light up your big day. And when the party is over, it will look great hanging on your wall at home.
Photo by Dzmitry Ryshchuk
UNUSUAL PETS
We've seen a lot of dogs at weddings over the last few years and we love it. But when the cows and goats and chickens show up, that's quite a party!
Photo by Jessie Dineen Photography.
12 | www.realmaineweddings.com PLANNING EW D D I N GS 101 • WEDD INGS 101 • WE D D I N SG 101
• DDEW I SGN 101
• trends
Real Maine Weddings JANUARY 2023 | 13
Co.
Molly
Breton &
Katelyn Mallett Photography
Rachel Buckley Weddings
20 08 2022 MAINE AND NEW ENGLAND WEDDING & EVENT BAND 207.619.4148 info@plushmusiclive.com plushmusiclive.com
Molly Quill Photography
Plush
Photo Credit: